WWDC 2020
Apple's WWDC 2020 event will be digital only due to the ongoing coronavirus outbreak.
By MacRumors Staff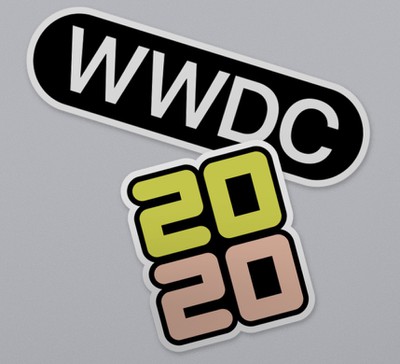 2020 Worldwide Developers Conference
Apple's 31st Worldwide Developers Conference will be a digital-only event in 2020, with no physical gathering planned due to the spread of the coronavirus around the world.
The virtual WWDC event will kick off on June 22, and it will be free for all developers. Apple says that the online event will allow millions of creative and innovative developers to get access to future versions of iOS, iPadOS, macOS, watchOS, and tvOS, as well as engage with Apple engineers. Apple plans to hold a keynote event to announce new software, presumably on June 22 when WWDC begins.

WWDC normally takes place at the McEnery Convention Center in San Jose, California, and Apple typically charges $1,599 for a ticket to attend, but this year's event will not have a cost associated with it. Apple normally holds WWDC early in June, but this year's event is later in the month to give Apple additional time to prepare the digital format.
Apple plans to provide a full digital WWDC experience complete with online keynote and developer sessions. "We are delivering WWDC 2020 this June in an innovative way to millions of developers around the world, bringing the entire developer community together with a new experience," said Phil Schiller, Apple's senior vice president of Worldwide Marketing.
Apple will announce more information about its upcoming digital WWDC event via email and on the Apple Developer website in the coming weeks, and we'll update this roundup as we learn more information about the planned sessions and events for developers.
Note: See an error in this roundup or want to offer feedback? Send us an email here.
What We Expect to See
WWDC will see Apple previewing new software updates that will then launch in September 2020. We're expecting iOS 14, iPadOS 14, tvOS 14, watchOS 7, and macOS 10.16 to be introduced, but we don't know much about these updates as of yet.
We'll fill out this section as we learn more about what will be included in the software updates. As of now, there are no hardware updates rumored specifically for June.
An early test version of iOS 14 leaked, providing insight into a whole range of features that could be included in the update. We've listed a few below, but make sure to check out our iOS 14 roundup for complete details.
Home Screen - Apps on the Home screen may get a list view so you can see everything installed in one easy to see spot.
Fitness App - Apple is working on a fitness app that will let users download guided workout videos on iPhone, iPad, Apple TV, and Apple Watch.
Messages - Messages may get @mentions in group chats, a feature for retracting iMessages, typing indicators for group chat, and an option to mark messages as unread.
AR App - Apple may be planning to introduce a new AR app in iOS 14, which could allow users to see more about the world around them using AR.
Third-Party Default Apps - Users might be able to set third-party apps as the default mail, browser, and music apps on their devices in lieu of Apple's own apps.
Apple Pencil - Apple is working on a feature that will allow users to handwrite text in any text input field using Apple Pencil, with the handwritten content then converted into standard text before it's sent.
Third-Party Wallpaper Packs - Apple may allow developers to create wallpaper options for the iPhone that would be able to be installed through the Wallpaper section of the Settings app.
watchOS 7
watchOS 7 will bring new watch face features, parental controls, and more, with details outlined below. Make sure to check out our watchOS and Apple Watch roundups for more details.
Share Your Face - watchOS 7 will allow users to share specific watch face configurations with one another.
Infograph Pro Watch Face - There's a new Infograph Pro watch face that includes a tachymeter. A tachymeter can be used to compute speed based on travel time.
International Apple Watch Facewatch face that will show flags from different countries.
Photos Watch Faces - In watchOS 7, watch faces created from photos can be made using a shared album in addition to individual photos and groups of photos from albums.
Parental Controls - watchOS 7 will add features for managing an Apple Watch for a child with a parent's phone.
Schooltime - Allows parents to manage which apps and complications can be used during specific hours.
Control Center - Control center will feature new toggles for sleep mode and noise detection.
Architecture - In watchOS 7, apps are no longer based on extensions, which is a holdover from when apps required a phone app to function. That was eliminated in watchOS 6, and now in watchOS 7, apps will not have an extension base.
Blood Oxygen Tracking - According to code found in a leaked version of iOS 14, Apple is working on a watchOS 7 and Apple Watch Series 6 feature that will allow the Apple Watch to detect blood oxygen levels. It's not entirely clear if the feature will be limited to new Apple Watch Series 6 devices or if it will come as a software update in watchOS 7, as it may be possible for older Apple Watch models to detect blood oxygen levels.
Past WWDCs