WWDC 2017
June 5–9, 2017 in San Jose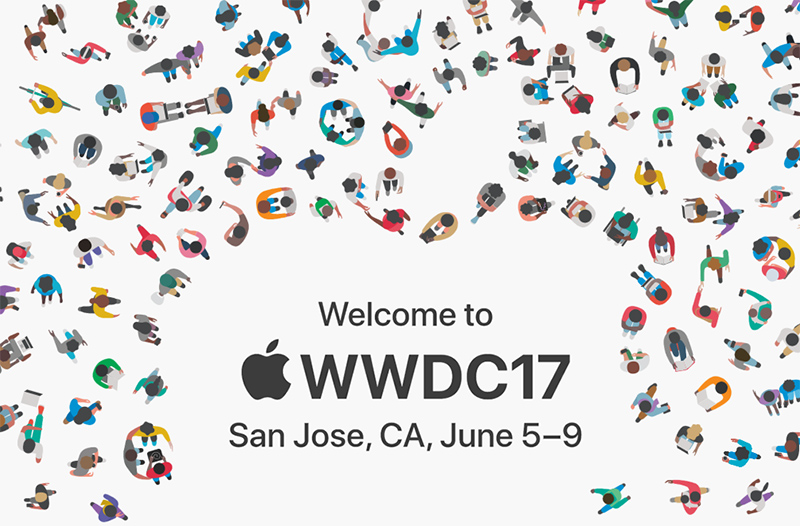 At a Glance
WWDC is Apple's annual Worldwide Developers Conference where developers can attend sessions and meet with over 1,000 Apple engineers. The event includes a first-day keynote where Apple typically introduces upcoming software and occasionally new hardware. The 2017 conference will be held June 5–9 in San Jose, California. Tickets are priced at $1,599 and were distributed through a lottery system.
What's expected
iOS 11
macOS 10.13
New versions of watchOS and tvOS
Possibly new hardware
Worldwide Developers Conference
Every year, Apple holds an annual Worldwide Developers Conference, giving thousands of developers from around the world a chance to meet up with Apple engineers and sit in on valuable workshops and software sessions. The event has typically taken place at the Moscone West Convention Center in San Francisco, but the 2017 edition will be held Monday, June 5 through Friday, June 9 at the McEnery Convention Center in San Jose, California. It will be the first time since 2002 that Apple has held WWDC in San Jose.

McEnery Convention Center in San Jose (Image via San Jose Convention & Visitors Bureau)
Apple typically begins each conference with a kickoff keynote on the first day, where the company makes major announcements and sets the stage for the remainder of the week. Keynote events often include a look at upcoming products and services and a first glimpse at new operating systems.
In 2017, Apple is expected to unveil the latest versions of iOS and macOS, and we may also see new versions of watchOS and tvOS, the operating systems that run on the Apple Watch and the Apple TV. News on additional products that might make an appearance will likely be shared as we get closer to the conference date. Most of Apple's Mac lineup remains due for an update and some products could potentially see refreshes at the event.

Apple announced the official dates for the 2017 on February 16, several months earlier than usual. The early announcement was likely planned to give potential attendees and others making plans in association with the conference additional time to consider their arrangements given the change in location.
Tickets
For many years, WWDC tickets were available to any registered developer willing to purchase them, but as Apple's popularity has grown and the size of the conference has remained relatively the same due to space and staffing constraints, tickets have been much harder to come by.
WWDC sold out for the first time in 2008, and by 2013 tickets for the event were selling out in just two minutes. Starting in 2014, Apple moved to a lottery system, and the company has continued to use that system since that time.
In 2017, WWDC tickets are priced at $1,599 and Apple began taking ticket applications on Monday, March 27. Ticket entries were accepted until March 31 at 10:00 a.m. Pacific Time, after which Apple held the ticket lottery. Developers who won a ticket have been notified and have had their credit cards charged.
Apple is also providing WWDC Scholarships to students and STEM members, and began accepting applications on March 27, at 10:00 a.m. Pacific Time. This year, applicants were asked to create a visually interactive scene in Swift Playgrounds that can be experienced in three minutes. Apple judged applications based on technical accomplishment, creativity of ideas, and the content of written responses. Applications were accepted through Sunday, April 2 at 5:00 p.m. Pacific Time, and winners have now been notified.
As has been the case in previous years, developers between the ages of 13 and 17 must have their tickets purchased by a parent or guardian who is also an eligible member. All tickets sold are limited to the applicant and cannot be sold, resold, or transferred.
Expected Announcements
iOS 11
Apple is rumored to be working on a social networking app that's similar to Facebook, Snapchat, and Instagram, focusing on giving users a way to share video. The app will let users record video, make edits, add doodles, and send it to friends.
Apple's goal is to make capturing video simple and easy with one-handed video controls and a streamlined editing process.
We don't know exactly when Apple will unveil its social networking app, but if development continues, it could be introduced as part of iOS 11.
There are also rumors suggesting Apple has some iPad-specific updates in the works, and with so little focus on the iPad in iOS 10, iOS 11 could include these rumored additions. Specifically, Apple is said to be working on expanded Apple Pencil support for the iPad Pro, which would be combined with hardware improvements to introduce features like smoother on-screen zooming, panning, and scrolling.
Additional detail about iOS 11 will likely come out in the months ahead of the Worldwide Developers Conference.
macOS 10.13
2017 will bring the second iteration of the macOS operating system, which was updated from the traditional "OS X" nomenclature in 2016. We don't yet know what to expect from macOS 10.13, but it will undoubtedly feature another name that reflects the California landscape.
tvOS 11 and watchOS 4
Alongside iOS 11 and macOS 10.13, we will also likely see new versions of tvOS and watchOS. We have no hints on what to expect from the updates as of yet, but both operating systems will likely continue to receive features that heavily integrate with iOS.
Past WWDCs
WWDC 2016
At WWDC 2016, Apple made the following announcements:

- Apple Announces iOS 10 With Overhauled Messages App, Rich Notifications, and More
- Apple Unveils macOS 'Sierra' With New Continuity Features, Window Tabs, Apple Watch Login, Siri, and More
- Apple Announces watchOS 3 With Dock, Control Center, New Watch Faces and Apps, and More
- Apple Debuts New tvOS Features Including 'Single Sign-On', Enhanced Siri and More
WWDC 2015
At WWDC 2015, Apple unveiled the following services and software:

- Apple Announces iOS 9 With Proactive Siri, Maps Transit, iPad Multitasking and More
- Apple Announces OS X El Capitan With Split View, Contextual Spotlight, Updated Apps and More, Launches in Fall
- Apple Announces watchOS 2 With Native Apps, Third-Party Complications, and More
- Apple Announces 'Apple Music' With 'Beats 1' Live Radio Station, Launches June 30 for $9.99/Month
WWDC 2014
At WWDC 2014, Apple unveiled the following services and software:

- Apple Announces OS X Yosemite with Improved Cross-Device Connectivity and New User Interface
- Apple Announces iOS 8 with Interactive Notifications, QuickType, More
- Apple Announces 'iCloud Drive' and 'Mail Drop' Features for OS X Yosemite
- Apple Updates iMessage with Improved Group Messaging and Video and Audio Messages
- 'QuickType' Keyboard for iOS 8 Offers Context-Aware Predictive Typing Suggestions
- iOS 8 to Include Support for System Wide Third-Party Keyboards
- Apple to Enhance App Store with 'Explore' Tab, App Bundles, Beta Testing, and More
- Apple to Discontinue Support for iPhone 4 in iOS 8
- Apple Announces Significant SDK Improvements with New 'Swift' Programming Language, CloudKit and More
WWDC 2013
At 2013's WWDC, Apple unveiled iOS 7, OS X Mavericks, iWork for iCloud, the Mac Pro, and new MacBook Airs.
WWDC 2012
2012's event saw the introduction of the MacBook Pro with Retina Display, iOS 6 and its standalone Maps app, OS X Mountain Lion, MacBook Pro and MacBook Air updates, and a redesigned AirPort Express.