WWDC 2019
Apple's 2019 WWDC event is will take place from June 3 to June 7.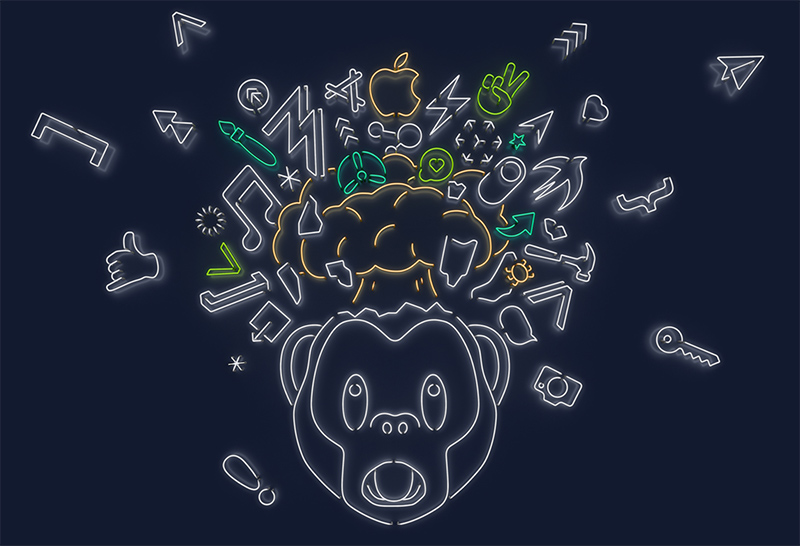 At a Glance
WWDC is Apple's annual Worldwide Developers Conference where developers can attend sessions and meet with over 1,000 Apple engineers. The event 2019 event, which will take place on June 3–7 in San Jose, California, will include a first-day keynote where Apple will introduce upcoming software and new hardware.
Expected Announcements
iOS 13
macOS 10.15
watchOS 6
tvOS 13
2019 Worldwide Developers Conference
Every year, Apple holds an annual Worldwide Developers Conference near its Cupertino campus in California to give thousands of developers from a round the world a chance to meet up with Apple engineers and attend valuable workshops and software development sessions.
For many years, WWDC was hosted at the Moscone Center in San Francisco, but starting in 2017, Apple moved to the McEnery Convention Center in San Jose, California, where this year's conference will be held. WWDC 2019 will take place from Monday, June 3 to Friday, June 7.
Apple kicks off each conference with a keynote on the first day, where the company makes major announcements and sets the stage for the rest of the week. Keynote events typically offer a look upcoming products and provide the first details on new operating systems, though some years there are no hardware announcements.

In 2019, we're expecting to see new versions of iOS, macOS, watchOS, and tvOS for sure, and as the date of the conference approaches, we'll likely hear more about what to expect at WWDC.
What We Expect to See
iOS 13
At WWDC, Apple will introduce iOS 13, the next-generation version of iOS. We've already been hearing rumors about what to expect in iOS 13, and the update set to include some useful new features.
Dark mode, introduced on macOS in Mojave and a long-desired iOS feature is finally coming in iOS 13, and other features are in the works like a new sleep mode that mutes incoming notifications and darkens the Lock screen, and makes the Lock screen darker.

Changes and updates are coming to several apps, including Mail, Messages, Maps, Reminders, and Health, plus the update will include overall speed improvements and bug fixes.
For the iPad, Apple is planning to introduce a feature for displaying multiple windows in a single iPad app using a tab view, and a multitasking feature for using two windows of the same app side by side is in the works. There will be multiple new features focused on the iPad in iOS 13. Apple is adding support for displaying multiple windows in an iPad app using a tab view, and iPad apps will support stackable, moveable cards within apps.
The Files app is going to be revamped, new gestures for undo/redo are coming, as are new gestures for selecting multiple items in table/collection views. Most importantly, iOS 13 is going to get a new volume HUD that's perhaps less obtrusive than the current one, and there's a revamped Find My iPhone app coming that also merges the features available in Find My Friends, and there could be a new tracking feature that works even without a Wi-Fi connection using proximity to other devices.
For full details on iOS 13, make sure to check out our iOS 13 roundup.
macOS 10.15
The next-generation version of macOS, macOS 10.15, will be unveiled at WWDC. We don't know a lot about the update as of yet, but Apple is working on a new universal apps feature, which first debuted in macOS Mojave and iOS 12, and will expand to developers in iOS 13 and macOS 10.15.
Apple's aim is to let developers design a single app that works with either a touchscreen or a mouse and trackpad based on whether it's running on iOS or macOS. This universal app feature would likely significantly increase the number of apps available on Macs while also cutting down on developer workload to create cross-platform apps.

As part of its continued Marzipan efforts, Apple is planning to introduce new Music, Podcasts, and Books apps in macOS 10.15. These new apps will be available alongside a new TV app designed for the Mac, which Apple has confirmed is in the works and has said will be available in the fall.
Other new features include support for using an iPad as an external display, window snapping, a Siri Shortcuts app, support for Screen Time and iMessage Effects, and a revamped Find My iPhone app.
Starting with macOS 10.15, 32-bit apps will no longer work, so some of your older apps may stop working when you upgrade. macOS 10.15 will be limited to 64-bit apps and will not run older 32-bit apps.
For more on what's coming in macOS 10.15, check out our macOS 10.15 roundup.
Other Software Releases
Along with iOS 13 and macOS 10.15, Apple will unveil new versions of tvOS and watchOS. tvOS 13 Is expected to be a minor update, but watchOS 6 will bring some exciting new features to the Apple Watch, as outlined below.
In watchOS 6, Apple has several major features planned that will overhaul the watchOS operating system. The Apple Watch is gaining its own App Store, so users can download apps right from their wrists for the first time.
New health applications are said to be in the works, with Apple set to introduce a "Dose" app for pill reminders and a "Cycles" app for tracking menstrual cycles. Apple plans to add a Calculator app, a Voice Memos app, and an app for listening to audiobooks, plus Animoji and Memoji stickers are coming to the Apple Watch.
New complications will be included in watchOS 6 that will show the status of audio books, the battery life of hearing aids, rain data, and the level of external noise.
There will be new watch faces as well, including "Gradient" that makes a gradient out of a color the user chooses and two new "X-Large" faces showing jumbo numbers in different fonts and colors. A "California" dial will look like a classic watch face but with a mix of Roman numerals and Arabic numerals, and the "Solar Analog" face is getting redesigned with a watch face that looks like a sundial.
Mac Pro
Rumors suggest Apple is considering previewing the redesigned Mac Pro that's in the works at WWDC. Since early 2017, Apple has been working on a high-end high-throughput Mac Pro aimed at Apple's pro user base. It will feature top-of-the-line components and a modular design that makes it easy to upgrade parts.
Apple has not made a firm decision about showing off the Mac Pro at WWDC, so it might not happen.
Tickets
Due to overwhelming demand and the sheer number of App Store developers, Apple offers tickets to WWDC via a lottery system. Prospective attendees enter a lottery and can only attend WWDC if they are awarded a ticket. For the past several years, tickets to WWDC have been priced at $1,599 each, and 2019 is no exception.

To enter the ticket lottery, developers were required to submit an entry on Apple's developer website. Registration for tickets closed on March 20, 2019 at 5:00 p.m. Pacific Time, and developers who won a ticket were notified on March 21.
Apple also provided 350 WWDC scholarships with free tickets and accommodations to students and STEM organizations around the world. Applicants needed to create an interactive Swift Playground able to be experienced within three minutes. Apple took applications until Sunday, March 24, 2019 at 5:00 p.m. PDT, with scholarship winners notified on Monday, April 15.
Past WWDCs