iPad Pro
Apple introduced new 10.5 and 12.9-inch iPad Pro models in June of 2017.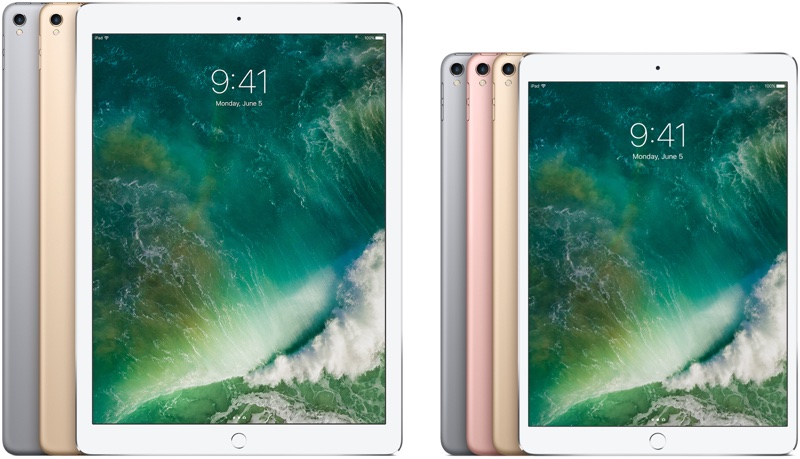 At A Glance
Apple's pro-level tablet, available in 10.5 and 12.9-inch sizes. Both models feature A10X processors, ProMotion displays, four-speaker audio systems, and 12-megapixel rear-facing cameras with optical image stabilization.
Features
12.9-inch 2732 x 2048 or 10.5-inch 2224 x 1668 display
A10X processor
Four-speaker audio system
Optional Smart Keyboard
Optional Apple Pencil
Available in Silver, Gold, and Space Gray, with 10.5-inch model also available in Rose Gold
What's Next for the iPad Pro
Apple is rumored to be working on a new high-end 2018 iPad Pro that is said to adopt many design elements from the iPhone X. The device will feature slimmer edges, a faster processor, a custom Apple-built GPU, and a TrueDepth camera with support for Face ID.
With Face ID, the new iPad will be able to be unlocked with facial recognition, alleviating the need for Touch ID. With no need for Touch ID, Apple planning to eliminate the home button in the new device, replacing it with more screen.

2018 iPad Pro mockup via Benjamin Geskin
It will continue to feature a standard LCD display, though, with Apple unable to use OLED at this time due to technical and financial constraints.
A report from Taiwanese site Economic Daily News has suggested Apple will introduce an iPad Pro with a display that measures in at approximately 11 inches, which is in line with reports suggesting the device could have slimmer bezels. With less bezel, a new iPad Pro could indeed feature a larger screen size without increasing the physical dimensions of the tablet. Reliable Apple analyst Ming-Chi Kuo has said Apple is working on two new iPad Pro models, to measure 11 and 12.9-inches.

2018 iPad Pro mockup via Benjamin Geskin
In iOS 11.3, there are strings of code that refer to a "modern iPad." Ahead of the release of the iPhone X, it was referred to as the "modern iPhone" in code, so the reference to "modern iPad" suggests Apple is working on an iPhone X-style iPad with slimmer bezels and a TrueDepth camera system that enables Face ID.

Another iPad Pro mockup by Álvaro Pabesio
Apple is expected to make a significant investment in LG Innotek to secure 3D sensing modules for Face ID in iPhone and iPad models in 2018. LG Innotek will supply 3D sensing modules that include a flood illuminator, dot projector, and other key Face ID components.
A Chinese source has suggested Apple's 2018 iPad Pro models could feature 8-core processors that are based on TSMC's 7nm manufacturing process. The "A11X Bionic" chip could include three high-performance "Monsoon" cores and five energy efficient "Mistral Cores." That's up from two high performance cores and four energy efficient cores in the A11 Bionic in the iPhone X, iPhone 8, and iPhone 8 Plus.
Apple is said to be aiming to introduce the new iPad "a little more than a year" after the last iPad Pro update according to Bloomberg, suggesting it will see a launch sometime around September of 2018. Ming-Chi Kuo believes the iPad Pro will be released sometime in the third quarter of 2018, which also indicates a September launch.
Apple in July registered seven new iPad models with the Eurasian Economic Commission, something that the company does ahead of a new product launch. This suggests refreshed iPad and Mac devices are in the works and could be coming soon.
There are a total of five new iPad model numbers, which could correspond to Wi-Fi and Cellular iPads in two different sizes, though it is difficult to suss out information based on model numbers alone. At the very least, the filing confirms new iPads are on the horizon.
iPad Pros in iOS 12
iOS 12 introduces tweaked iPad gestures that are similar to gestures on the iPhone X, which, when combined with a new look for the menu bar, suggest next-generation iPad Pros will indeed feature a notch-style layout with a TrueDepth Camera System and no Home button.
Accessing Control Center is now done from a swipe down from the right side of the menu bar, while a swipe on the Dock of the iPad brings up the Home screen, the same gestures that are available on iPhone X.
The menu bar, meanwhile, has information that's split between the left and right sides of the display. Time, day, and date are located on the left of the display, while Wi-Fi/LTE connection, Bluetooth status, and battery life are displayed on the right.
Apple in iOS 12 brought its Animoji AvatarKit to the iPad, suggesting an iPad equipped with Face ID is launching in the near future. AvatarKit requires a TrueDepth camera for real-time face tracking and it does not work without it. Prior to iOS 12, the AvatarKit framework was limited to the iPhone X.
Apple's 2017 iPad Pro
At the Worldwide Developers Conference keynote on June 5, 2017, Apple introduced new 12.9 and 10.5-inch iPad Pro models, bringing feature parity to its Pro tablet lineup for the first time. With the exception of screen size, the 10.5 and 12.9-inch iPad Pro models offer the same exact features, making the size of the display the only deciding factor users need to consider when purchasing a new iPad Pro.
The 12.9-inch iPad Pro's design is unchanged, but the 10.5-inch iPad Pro is a new model that replaces the previous 9.7-inch iPad Pro. The 10.5-inch iPad Pro is 20% bigger, with the larger display made possible through a small size increase and bezels that are 40% thinner. Apple says it chose the new screen size because it's perfect for a full-sized on-screen keyboard and full-sized Smart Keyboard.

The 12.9-inch iPad Pro measures in at 6.9mm thick and it weighs 1.49 pounds, which is just a half-pound heavier than the 6.1mm 10.5-inch iPad Pro. Both models are available in Gold, Silver, and Space Gray, and the 10.5-inch iPad Pro is also available in Rose Gold.
With a resolution of 2732 x 2048, the 12.9-inch iPad Pro's display offers 5.6 million pixels, more than any other iOS device, while the new 10.5-inch iPad features a 2224 x 1668 display. Both iPads adopt new ProMotion display technology, which features a 120Hz refresh rate for impressive improvements to motion and animations that must be experienced in person.
Because of the improved refresh rate, motion content on the screen is smoother, crisper, and more responsive, and the Apple Pencil is faster, with a 20ms latency that makes it feel just like writing on paper. ProMotion also dynamically adjusts refresh rate, which can save significant battery life.

The iPad Pro displays are also the brightest ever, offering 600 nits of brightness, and they include True Tone support for auto white balancing, P3 wide color gamut for more vivid, true to life colors, and ultra low reflectivity. With the display improvements, the iPad Pro can display HDR video for the first time in iOS 11.
Inside, the new iPad Pro models are equipped with hardware that puts them on par with desktop-class machines, able to run software previously limited to non-mobile devices. An A10X Fusion chip, the fastest chip Apple has created, offers 30 percent faster CPU performance and 40 percent faster GPU performance compared to the A9X in the previous-generation iPad Pro models. Both models include 4GB RAM.
Apple has brought the 12-megapixel camera from the iPhone 7 to the iPad Pro, with optical image stabilization, quad-LED True Tone flash, wide color capture, and 4K video support. There's also a 7-megapixel front-facing camera with auto image stabilization, Retina flash, and wide color capture.
Both models now support USB 3 transfer speeds and fast charging using one of Apple's USB-C charge adapters paired with a Lightning cable. With this setup, an iPad Pro can be charged in half the time. Touch ID, 802.11ac WiFi, fast LTE, and quad speakers are all features available in the new iPad Pro.
Despite the new display and the much faster processor, the new 10.5 and 12.9-inch iPad Pro models continue to offer up to 10 hours of battery life, which Apple calls all-day battery.
Storage space in the iPad Pro starts at 64GB, with 256 and 512GB options also available. Pricing for the 10.5-inch iPad Pro starts at $649, while pricing for the 12.9-inch iPad Pro starts at $799. Cellular models are available for an additional $130.

Apple is continuing to offer the Apple Pencil and the Smart Keyboard as optional accessories for the iPad Pro. The Apple Pencil is a pressure-sensitive stylus with multiple sensors that can detect metrics like position, force, and tilt, while the Smart Keyboard is a battery-free keyboard powered by the Smart Connector on the back of the iPad Pro.
Design
The new iPad Pro models will look familiar to anyone who has seen an iPad in the past, with smooth, rounded edges and a thin bezel around the display, which is thicker at the top at the bottom where the front-facing camera and the Home button are located. At the top, there's a sleep/wake button and a headphone jack, and at the bottom, there's a Lightning port for charging.
On the right side, there are volume control buttons, and on the left, there's a Smart Connector. There are four speakers, located at the top and bottom of the iPad Pro, and both models also feature a rear-facing camera with round True Tone flash.

Design wise, the 12.9-inch iPad Pro is almost identical to the previous 12.9-inch iPad Pro model, measuring in at 12 inches tall, 8.68 inches wide, and 6.9mm thick. It weighs 1.49/1.53 pounds, with the cellular model being slightly heavier.

The 10.5-inch iPad Pro is slightly heavier and taller than the previous-generation 9.7-inch iPad Pro, measuring in at 9.8 inches tall and 6.8 inches wide. It's just as thin, though, with a depth of 6.1mm. It weighs 1.03/1.05 pounds, which is a bit heavier than the 0.96 pound 9.7-inch iPad Pro.

According to Apple, the 10.5-inch size was chosen to replace the 9.7-inch iPad Pro because it is the ideal size to support a full-size on-screen keyboard and a full-size Smart Keyboard.

Both iPad Pro models are available in Silver, Gold, and Space Gray, but the 10.5-inch iPad Pro is also available in Rose Gold, a color that isn't available for the 12.9-inch iPad Pro.
Display
Both iPad Pro models continue to use LED-backlit Multi-Touch Retina displays, with the 10.5-inch model featuring a resolution of 2224 x 1668 with 264 pixels per inch and the larger 12.9-inch iPad Pro featuring a resolution of 2732 x 2048 with 264 pixels per inch.
While the base displays are similar to previous-generation iPad Pro models, the new iPad Pro models feature new ProMotion technology resulting in what Apple says are the best displays it has ever made.
ProMotion introduces a 120Hz display refresh rate, which makes all motion content on the screen smoother, crisper, and more responsive. It's a dramatic difference that needs to be experienced in person, but as an example, ProMotion is smooth enough that you can read the text on an iPad while you're scrolling. Games are designed to play smoothly without distracting artifacts with the 120Hz refresh rate, while movies and videos look better than ever.

The higher refresh rate brings significant Apple Pencil improvements, reducing latency to an industry best 20ms. With the improved latency, the Apple Pencil is more responsive, so drawing feels much more fluid and natural. It's closer to the experience of drawing on paper.
ProMotion also includes dynamic refresh rates that can change depending on what you're looking at. When you're scrolling, playing a game, or watching a video, the refresh rate might be set at up to 120Hz, but when you're reading a web page or looking at a photo, you don't need a 120Hz refresh rate, so the display adjusts, saving power for better battery life.
Like previous-generation iPad Pro models, the 2017 iPad Pro models include True Tone support, which uses ambient light sensors to detect the white balance of the lighting in the room, adjusting the color and intensity of the iPad's display to match for a more natural, paper-like viewing experience.
P3 wide color gamut is also built in, with higher color saturation for more vivid, true-to-life colors, and there's a new antireflective coating that Apple says results in ultra low 1.8 percent reflectivity that's unparalleled.
The new iPad Pro features a display that's 50 percent brighter than previous models, at 600 nits of brightness. With the extra brightness and the wide color support, the iPad Pro can display HDR video in iOS 11 for a more immersive cinematic experience.
A10X Fusion Chip
New iPad Pro models feature an A10X Fusion chip with an embedded M10 coprocessor, which includes a 12-core GPU and a 6-core CPU with three high performance cores and three high-efficiency cores, all controlled by an Apple-designed performance controller. With the high-end chip, iPad Pro is super fast for pro-level tasks like photo and video editing.

Compared to the A9X chip in previous-generation iPad Pro models, the A10X Fusion chip delivers 30 percent faster CPU performance and 40 percent faster graphics performance. Both iPads also include 4GB of 1600MHz LPDDR4 RAM.
The A10X Fusion chip in the iPad Pro was built on TSMC's 10-nanometer FinFET process, and are the first 10-nanometer TSMC chips built into a consumer device.
That doesn't mean a whole lot for end users, but the chips are much smaller for more space savings inside the device, while also being more powerful than previous-generation chips.
Camera
The iPhone 7's 12-megapixel camera has been ported to the new iPad Pro, bringing optical image stabilization, which is able to compensate for small movements and hand shakiness when taking a photo to allow for longer exposure times.
The camera features a 6-element f/1.8 aperture lens that lets more light into the sensor, plus there's a high-speed sensor and an Apple-designed image signal processor that sets exposure, focus, and white balance while using wide color capture for more true-to-life images. Wide color gamut support brings richer colors, especially for greens and some shades of red.

A True Tone four-LED rear flash puts out more light and reaches further, plus it has a flicker sensor that can read the flickering of artificial lighting and can compensate for it in both photo and video.
Along with these photo features, the camera also enables 4K video recording at 30fps and 1080p video recording at 30 or 60fps. 1080p Slo-mo video support is available at 120fps and 240fps at 720p.
Front-Facing Camera
The 7-megapixel front-facing FaceTime HD camera is also available in the new iPad Pro, with new sensor technology for sharper images, auto image stabilization to reduce shakiness, wide color capture for better color, and a Retina flash feature.
Battery Life
Both iPad Pro models continue to offer up to 10 hours of battery life when surfing the web on Wi‐Fi, watching video, or listening to music, while Cellular models offer up to nine hours of battery life when browsing the web.
The 10.5-inch iPad Pro features a 30.4-watt-hour lithium battery, while the 12.9-inch iPad Pro features a 41-watt-hour lithium battery.
Other Features
Speakers
The iPad Pro uses a four-speaker system for louder, more immersive audio. Speaker housings are machined directly into the iPad's unibody enclosure and are sealed with a carbon fiber cap, allowing for clear, crisp sound.

All four of the speakers produce bass frequencies, but the two speakers at the top of the iPad are dedicated to higher frequencies. These speakers recognize whether the iPad is in landscape or portrait mode and adjust accordingly for well-balanced sound regardless of position.
The speakers are accompanied by dual microphones for calls, video recording, and audio recording.
Smart Connector
The iPad Pro's Smart Connector is an interface method that allows it to communicate with and power accessories that have been designed for it. The interface can transfer both power and data, so accessories do not need to include batteries.

Apple's Smart Keyboard works with the Smart Connector in the iPad Pro, and there are a limited number of third-party accessories that support the port.
Touch ID
The iPad Pro includes second-generation Touch ID, which allows the device to be unlocked with a fingerprint rather than a passcode. Second-generation Touch ID is faster and more accurate than the Touch ID fingerprint sensor built into earlier Apple devices.
Touch ID is also used as a password replacement on the iPad Pro, and it can be used to make purchases within apps and on websites that support Apple Pay.
Connectivity
The iPad Pro supports dual band 2.4/5GHz 802.11a/b/g/n/ac Wi-Fi and MIMO for download speeds up to 866 Mb/s, along with Bluetooth 4.2.
The cellular iPad Pro models, which feature LTE advanced for speeds up to 450Mb/s, support up to 25 LTE bands.
Both models come with an embedded Apple SIM along with a second SIM slot to make it easy to switch between multiple carriers when traveling.
Sensors
All iPad Pro models feature a three-axis gyroscope, an accelerometer, an ambient light sensor, and a barometer for determining elevation. The same sensors are in the iPad Air 2 and the iPad mini 4.
Lightning Port
Upgraded Lightning ports capable of supporting USB 3.0 transfer speeds are included in both iPad Pro models, allowing accessories like the Lightning to SD Camera Adapter to take advantage of USB 3.0 speeds when transferring content to the iPad Pro.
With a Lightning to USB-C cable, the iPad Pro can be charged using a USB-C Power Adapter, taking advantage of a fast charging feature built into the tablet. With the USB-C Power Adapter, charging takes less time than with the standard 12W Power Adapter that ships with the iPad Pro. Previously, this fast charging feature was limited to the 12.9-inch iPad Pro, but it is now available for both models.
Operating System
The new iPad Pro models ship with iOS 10, but they were designed with Apple's next-generation operating system in mind, iOS 11. iOS 11 overhauls the iPad interface and introduces features like a Dock for much-improved multitasking, a new App Switcher, a Files app for managing files, Drag and Drop for moving text, photos, and files, and much more.
For a complete look at all of the features coming to the iPad Pro in iOS 11, make sure to check out our iOS 11 roundup.
Accessories
Apple Pencil
The Apple Pencil, introduced in 2015 alongside the first iPad Pro, is a stylus that offers unparalleled precision and integration with the iPad. It's designed to have a natural feel that mimics the sensation of using a pencil or a pen, and with the updated iPad Pro models, it offers a nearly lag-free writing and drawing experience.
Pressure and positioning sensors built into the Apple Pencil allow it to detect a range of forces, enabling pressure-sensitive drawing and writing. A light press results in a lighter line, while a thicker line can be drawn by pressing the Apple Pencil harder against the screen.

Two tilt sensors in the tip of the Apple Pencil are able to determine the orientation and angle of the hand holding it, so it's possible to add shading by tilting the Apple Pencil and using the side of the tip. It's a similar motion to using charcoal or a standard drawing pencil.

The Apple Pencil has a 12 hour battery life and charges through a built-in Lightning connector at the bottom of the device, which plugs into the iPad Pro. It is able to charge enough for a half hour of use in just 15 seconds, so it's never non-functional in a pinch.
Smart Keyboard
While the iPad Pro has an on-screen keyboard, Apple has also designed a standalone hardware "Smart Keyboard" in sizes that fit both the 12.9 and 10.5-inch iPad Pro models. The Smart Keyboard for the 10.5-inch iPad Pro is larger and more comfortable to use than the previous keyboard designed for the now-discontinued 9.7-inch iPad Pro.
The Smart Keyboard's keys are covered in a woven fabric that's laser ablated to the shape of each key, so they have a soft feel. The fabric on the keys provides the tension, allowing Apple to keep the keyboard thin (4mm) because there's less need for traditional hardware.

There are no wires or standard keyboard components inside the Smart Keyboard. Instead, there's a thin sheet of nylon etched with metal inside the two outer layers of the Smart Keyboard, which serves as the base conductive material for a two-way flow of power and data provided by the Apple Smart Connector on the iPad Pro. Since it's powered by the iPad Pro, there is no battery and no need to charge the Smart Keyboard.
When not in use, the Smart Keyboard serves as a Smart Cover for the iPad Pro, so it's always handy and easy to transport. When used as a keyboard, the Smart Keyboard has a portion that folds into a triangle like a traditional Smart Cover for the iPad to rest on. The keyboard can also fold up behind the iPad Pro to let Smart Keyboard serve as a stand for watching videos.
Pricing and Available Models
There are a total of 12 iPad Pro models, six in each size. There are three WiFi only models in each size, available in 64, 256, and 512GB capacities, and three WiFi + Cellular models that are also available in 64, 256, and 512GB capacities.
All of the iPad Pro models come in Silver, Gold, Rose Gold, and Space Gray for the 10.5-inch version and Silver, Gold, and Space Gray for the 12.9-inch version.

In September of 2017, Apple made the unusual move of increasing the cost of iPad Pro models with higher storage by $50 to account for rising flash storage prices. All 256 and 512GB iPad Pro models are now more expensive, but the 64GB models are the same price.
The 64GB 10.5-inch iPad Pro is priced at $649, while the 256GB model is priced at $799 and the 512GB model is priced $999. Cellular models are an additional $130.
The 12.9-inch iPad Pro is priced at $799, while the 256GB model is priced at $949 and the 512GB model is priced at $1149. Cellular models are an additional $130.
As of January 2018, Apple is offering refurbished 10.5-inch iPad Pro models at discounted prices from its online refurbished store. Customers receive a 15 percent discount when purchasing a refurbished model.
How to Buy
The new iPad Pro models are available for purchase from the online Apple Store and from Apple retail stores. Other retailers, like Amazon, Best Buy, and B&H Photo are also selling the new iPad Pro, sometimes at discounted prices.
Apple also offers discounted 10.5 and 12.9-inch iPad Pro models from its online store for refurbished products. Refurbished iPads offer the same warranty as iPads that are purchased new and each one has been tested by Apple.
Best Prices