iPad Pro
Updated models with edge-to-edge displays, Face ID, and USB-C.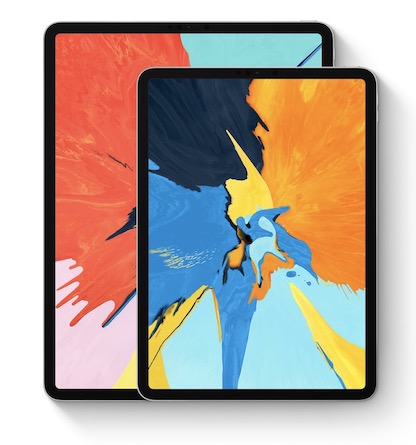 At A Glance
Apple in October 2018 introduced upgraded 11-inch and 12.9-inch iPad Pro models that feature edge-to-edge displays that do away with the Home button, slim bezels all the way around, and a TrueDepth camera system that enables Face ID. Apple's latest iPad Pro models work with the Apple Pencil 2 and revamped Smart Keyboards.
Features
12.9-inch 2732 x 2048 or 11-inch 2388 x 1668 display
A12X processor
Ultra thin redesigned body
Edge-to-edge display without Home button
Up to 1TB storage
TrueDepth Camera with Face ID
Optional Apple Pencil 2 and Smart Keyboard
Available in Silver and Space Gray
The Redesigned 2018 iPad Pro
Apple in October 2018 overhauled its iPad Pro lineup, introducing revamped 11 and 12.9-inch tablets that adopt an iPhone XS-style design with an edge-to-edge display, slim bezels, and no Home button.
With no Home button for navigation or biometric authentication, the iPad Pro features a TrueDepth camera system with Face ID to replace Touch ID. Face ID on the iPad Pro works in both portrait and landscape orientation.
The 11-inch model replaces the 10.5-inch iPad Pro, offering more display in a body that's the same size. The new 12.9-inch iPad Pro has the same 12.9-inch display but in a smaller body with 25 percent less volume. Both of the new iPad Pro models are super thin at 5.9mm, with Apple eliminating the headphone jack.
Design wise, the new 11 and 12.9-inch iPad Pro models feature a reimagined aluminum chassis featuring flat, rounded edges reminiscent of the iPhone SE, which wrap around the new Liquid Retina display. Apple says the new iPad Pro models feature its most advanced display ever with wide color support, True Tone for adjusting to the ambient light, and ProMotion 120Hz refresh technology.
Inside, the 2018 iPad Pro models are equipped with an eight-core A12X Bionic chip that offers 35 percent faster single-core performance and up to a 90 percent boost during multi-threaded tasks compared to previous-generation models. A new seven-core Apple-designed GPU offers twice the graphics performance.
According to Apple, the iPad Pro is faster than 92 percent of all portable PCs, and even with the increased speed, the new models offer all-day 10-hour battery life.
A next-generation Neural Engine is included, offering improved performance for Core ML tasks and augmented reality features. Most of the iPad Pro models feature 4GB RAM, but the higher-capacity 1TB models have 6GB RAM.
Instead of a Lightning port, the new iPad Pro adopts a USB-C port that lets it connect to USB-C accessories including 4K and 5K displays. The USB-C port on the iPad can also be used to charge accessories like the iPhone and Apple Watch.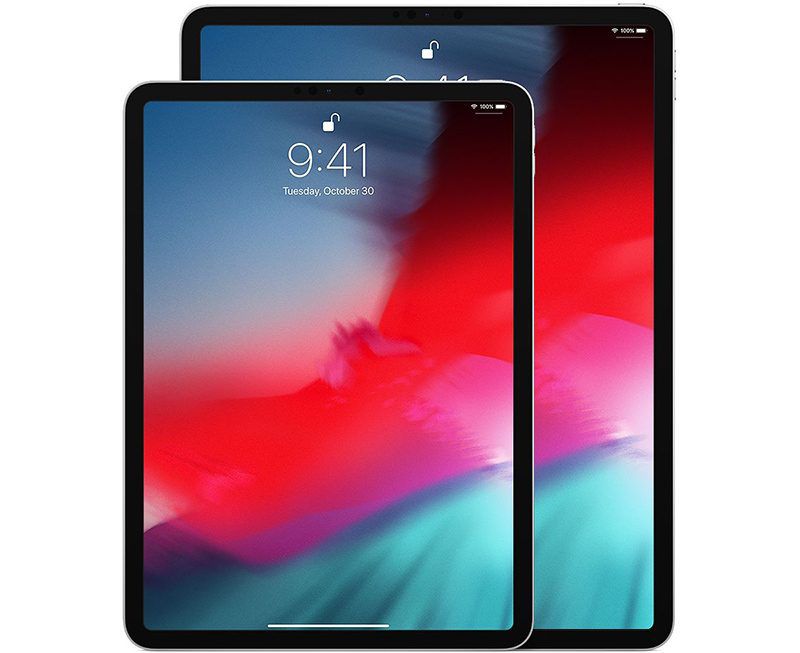 At the back of the iPad Pro, there's a 12-megapixel f/1.8 aperture camera with Smart HDR, a Quad-LED True Tone Flash, wide color, and support for 4K video recording at up to 60fps. Unlike previous iPad Pro models, the new version does not support optical image stabilization, instead using auto image stabilization.
The front-facing TrueDepth camera features a 7-megapixel lens with support for Portrait Mode, Portrait Lighting, Animoji, Memoji, and Smart HDR.
Other iPad Pro features include four speaker audio, five microphones, Bluetooth 5.0, and Gigabit LTE.
The iPad Pro is equipped with a series of magnets that let it connect to a second-generation Apple Pencil that supports tap gestures, simple pairing, and wireless charging. Apple is also selling a new Smart Keyboard Folio alongside the iPad Pro and Apple Pencil 2.

Apple is selling the iPad Pro in Silver and Space Gray, with 64GB, 256GB, 512GB, and 1TB storage options. Pricing on the iPad Pro starts at $799 for the 11-inch model and $999 for the 12.9-inch model, with cellular options available for an additional $150.
The Apple Pencil 2 that is made for the new iPad Pro is priced at $129, and the Smart Keyboard Folio is priced at $179 for the 11-inch model and $199 for the 12.9-inch model.
Note:
See an error in this roundup or want to offer feedback?
Send us an email here
.
iPad Pro Reviews
Ahead of the launch of the 2018 iPad Pro models, Apple provided several media sites with review units, and we've gathered up a selection of reviews of the new tablet below.
Most reviewers agree the iPad Pro is incredibly powerful and is able to easily complete any task that's thrown at it, but it continues to be hampered by the iOS software that's not good enough to allow the iPad Pro to serve as a complete PC replacement.
On the iPad Pro's Design:
Engadget's Chris Velazco:
Apple says this is the iPad it's wanted to build all along, and I'm not surprised. All the horsepower tucked away inside (and there's a lot of it) is more accessible because of this streamlined design, and I don't think I could go back to an iPad that wasn't this trim.
TechCrunch's Matthew Panzarino:
The overall aesthetic is much more businesslike and less 'friendly' in that very curvy sort of Apple way. I like it, a lot. The flat edges are pretty clearly done that way to let Apple use more of the interior space without having to cede a few millimeters all the way around the edge to unusable space. In every curved iPad, there's a bit of space all the way around that is pretty much air. Cutting off the chin and forehead of the iPad Pro did a lot to balance the design out and make it more holdable.
Daring Fireball's John Gruber:
The flat sides of the iPad look cool and feel good. I think this is not just the best-looking iPad ever, but the best looking iOS device ever. Round corners and flat everywhere else. No notch. The sides are even nicer than those of the iPhone 5/SE -- more pleasing to the touch. I'd like to see iPhones adopt this look.
On the Liquid Retina Display:
iMore's Rene Ritchie:
Apple's doing all the color management and individual color calibration you expect here, so iPad Pro looks dead accurate — so much so that, like iPhone XR, it can be hard to tell Apple LCD from Apple OLED in anything but the deep blacks and the off-axis. And yeah, that's still impressive.
The Verge's Nilay Patel:
Apple keeps saying the iPad Pro now has an "all screen design" that "goes from edge to edge," but let's just be honest: nothing about these bezels is edge-to-edge. It is, however, an extremely nice 264ppi LCD screen, and I continue to be a fan of Apple's fancy technique to round off the corners of LCDs. Apart from the corners, the new iPad Pro display is substantially the same as last year's Pro, with Apple's extremely smooth 120Hz ProMotion variable refresh rate system, True Tone automatic color calibration, and wide color support. This is one of the best, most accurate mobile displays you can look at.
On Face ID:
WIRED's Jeffrey Van Camp:
It works well, and doesn't require that cut-out notch on the screen like the iPhone. It's not quirk-free, though. We usually hold our iPhones in a portrait (vertical) orientation because that's just how they fit in our hand. With an iPad like this, you almost always use two hands, and that means there isn't really a "right" or "wrong" way to hold it.

From time to time, my hands would sometimes accidentally block the Face ID camera when I held it in landscape (widescreen) orientation. And if it's lounging around, my face may also be out of view. As I've gotten used to keeping my head in front of the tablet screen, and my hands away from its front-facing camera, Face ID evolved from a hindrance to a helpful, secure aid.
On the Apple Pencil 2:
iMore's Rene Ritchie:
The new Apple Pencil has the same tip and core technology as the original but just about everything else has changed. There's no cap on the back to lose anymore and no Lightning plug either. It charges inductively now by magnetically piggy-backing right onto the side of the iPad Pro. It uses a series of magnets carefully arranged with alternating poles to force precise alignment and, when it gets it, locks into place with a satisfying, AirPods style thunk.
TechRadar's Gareth Beavis:
We had a few issues with the Pencil. The first is with synchronisation: when it clips on magnetically, it's supposed to pair with the iPad Pro (which ours did) and then be ready to use when removed (which ours did not always do). It also came unclipped easily when the iPad Pro was taken out of a rucksack, with the Pencil slipping off into some dark recess rather often. There were multiple times when we'd remove it to no result - another connection was needed to get it to work, and we'd have to 'tap to connect'. Not what you'd expect for something that costs $129.
On the USB-C Port:
Pocket-lint's Stuart Miles:
Included in the box is a 18W USB-C charger that means you can charge much faster and if you're a heavy user you'll need it. Using USB-C means you can charge it with your MacBook charger and it also supports reverse charging - so you could use it to charge your iPhone if your battery is low.
The Verge's Nilay Patel:
I tried a handful of USB-C hubs with an assortment of USB-A, HDMI, card readers, and Ethernet ports, and everything worked as intended... other stuff didn't work, though: printers didn't do anything. A Native Instruments Maschine mk3 audio controller sat in silence. A Beyerdynamic USB-C microphone only worked when we used an A-to-C cable plugged into a hub.

USB-C is still kind of messy and weird, so you'll just have to try things and see what works for you. But one extremely important category of devices will definitely not work: iOS does not support external storage. You can plug as many flash drives or hard drives as you want into the iPad Pro's USB-C port, and nothing will happen.
Daring Fireball's John Gruber:
I firmly believe that the iOS Files app should show attached USB drives. I believed this before, when USB peripherals needed to be attached using a Lightning adapter, but now that iPad Pros have a USB-C port, it seems downright silly that USB drives don't appear in the Files app. I think the iPad's old policy of not even having a Files app at all made sense. I'm glad Apple added the Files app, but it made sense not to have one in the name of simplicity. But it doesn't make sense to me to have a Files app but not show the contents of USB drives when you connect them. This just feels spiteful.
The Washington Post's Geoffrey Fowler:
A new kind of port on the iPad Pro can also drive a second screen. I plugged it into my office monitor just like I do my laptop. That idea intrigued me: What if the iPad Pro had become powerful enough to be a transformer? Imagine if you could use it with fingers on the go, then get to the office and plug it into a docking station and it became a MacOS device working with big screen, keyboard and (yes!) a mouse?

Nope. Even driving an external monitor, the iPad Pro remains an iOS device you have to control with fingers (or Pencil) on the iPad, and run with apps designed only for iOS. The full PC transformer is actually the idea with Microsoft's Surface Pro, sold for $800 and up, which flips between touch screen and traditional desktop mode, and works with a trackpad or mouse. Apple's iPad Pro is unapologetically a finger and stylus-only machine.
On the iPad Pro's Battery Life:
Mashable's Raymond Wong:
Battery life is also as excellent as on previous iPads. Apple advertises "up to 10 hours" for mixed usage and I got just about exactly that for reading, playing some games, watchings lots of YouTube and Netflix, and typing out some of this review. More intensive apps like Rush CC and iMovie will drain your battery quicker, so keep that in mind. But even still, I still got around 7-8 hours while working with pro-level apps.
On an iPad Pro Replacing a Computer:
WIRED's Jeffrey Van Camp:
It doesn't feel like the world is ready to treat my iPad as an equal to a PC yet—even if that iPad is a lot more powerful and user friendly. Now that Apple has declared the iPad is a PC, it should take more of the guardrails off of iOS.
Engadget's Chris Velazco:
In the process of putting together our review, I've been trying to do everything - writing, image editing, formatting the layout - right from the iPad. The experience has been mixed, to say the least. This version of the iPad has come the closest to actually replacing my work computer, but it's still not there yet. As always, your mileage will vary; I can imagine a few scenarios where this iPad Pro could all but replace a standard laptop for daily use.
The Washington Post's Geoffrey Fowler:
The $1,000 tablet was powerful enough to let me write, edit photos and publish this column with little more than my finger, a stylus and a keyboard case. But I also never figured out an efficient way to multitask, sit with decent posture and work for hours, or keep it balanced on my lap. Filing expense reports with my finger frustrated me to the point I wrote a sonnet to my missing mouse. How do I love thee? Let me count the ways. How your speed and precision fill my days.
Other Reviews: Laptop Mag, CNET, Australian Financial Review, Resource, The Independent, CityNews, and HardwareZone.
Issues
Bending
Some 2018 iPad Pro models feature a slight bend in the aluminum chassis, which Apple claims is normal and a side effect of the manufacturing process. Apple does not believe this is a defect, and says that it is not a problem that's going to get worse over time.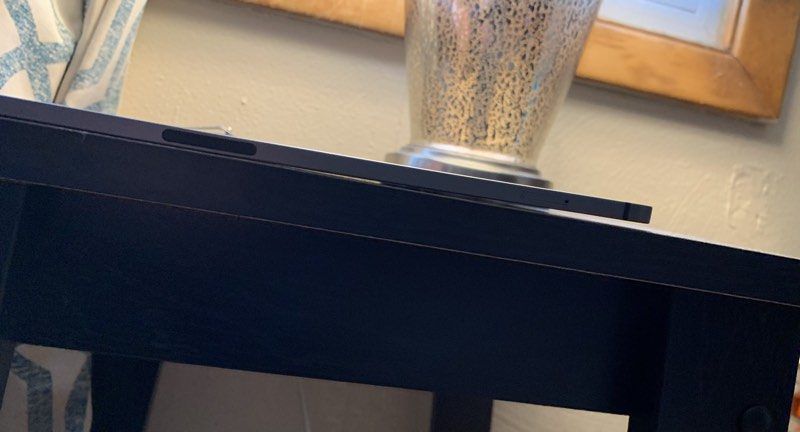 Not all iPad Pro models are affected, but those that are feature a noticeable bend in the body of the device. Apple says that concerns over the structural rigidity of the iPad Pro are unfounded and that it stands by the product.
Apple's VP of hardware engineering Dan Riccio sent an email to an iPad Pro user suggesting the iPad Pro meets Apple's high quality standards for design and manufacturing.
Relative to the issue you referenced regarding the new iPad Pro, its unibody design meets or exceeds all of Apple's high quality standards of design and precision manufacturing. We've carefully engineered it and every part of the manufacturing process is precisely measured and controlled.

Our current specification for iPad Pro flatness is up to 400 microns which is even tighter than previous generations. This 400 micron variance is less than half a millimeter (or the width of fewer than four sheets of paper at most) and this level of flatness won't change during normal use over the lifetime of the product. Note, these slight variations do not affect the function of the device in any way.

Again, thanks for reaching out and I hope the above explanation addresses your concerns.
Apple offered further information in a support document, suggesting that some LTE iPad Pro models with antenna splits may have "deviations in flatness" that are more visible from certain viewing angles during normal use.
Apple says these variances do not affect the strength of the enclosure nor the function of the product. Unfortunately, it's not clear if this entirely addresses the bending that some people have seen as some iPad Pro owners who do not have an LTE model have also noticed bending.
Still, Apple says that its iPad Pro models meet a flatness specification of no more than 400 microns. Users with devices that do not meet Apple's specifications are encouraged to contact Apple to get a replacement unit.
Display Stuttering
Some 2017 and 2018 iPad Pro owners have complained of screen stuttering issues, with the iPad Pro models sometimes refusing to register touch gestures, stuttering with scrolling, and missing keystrokes.
Apple hasn't commented on this issue, but several users with affected units under warranty have been able to get replacement devices.
How to Buy
The iPad Pro can be purchased from the Apple online store and Apple retail locations, as well as third-party retailers like Best Buy and Amazon.
Pricing on the 11-inch iPad Pro starts at $799 for 64GB of storage, with 256GB of storage available for $949, 512GB of storage available for $1149, and 1TB of storage available for $1349. Models with cellular connectivity are available for an additional $150 over the base price for each storage tier.

Pricing on the 12.9-inch iPad Pro starts at $999 for 64GB of storage. 256GB of storage is available for $1149, 512GB of storage is available for $1349, and 1TB of storage is available for $1549. Models with cellular connectivity are available for an additional $150 over the base price for each storage tier.
The Apple Pencil 2 that goes along with the iPad Pro is available for $129. The Smart Keyboard Folio for the 11-inch iPad Pro can be purchased for $179, and the Smart Keyboard Folio for the 12.9-inch iPad Pro can be purchased for $199.
Apple in September 2019 started selling refurbished 2018 iPad Pro models in many countries, offering the tablets at a 15 percent discount compared to the equivalent brand new models. Apple is also selling a discounted version of the Apple Pencil 2 through its refurbished store.
iPad Buyer's Guide
If you're trying to figure out which iPad is best for you out of Apple's current tablet lineup, make sure to check out our iPad Buyer's Guide, which goes through each of the available options and helps you figure out which iPad will meet your specific needs.
Design
2018 iPad Pro models are available in two sizes: 11 inches and 12.9 inches. The 11-inch model replaces the previous 10.5 model and it offers a larger 11-inch display in a body that's the same size as the 10.5-inch iPad.
The 12.9-inch iPad Pro keeps the 12.9-inch display but with the bezel reduction, the overall size of the device is smaller and more compact so it's not as overly large as the previous model. The overall volume of the 12.9-inch iPad Pro has been decreased by 25 percent.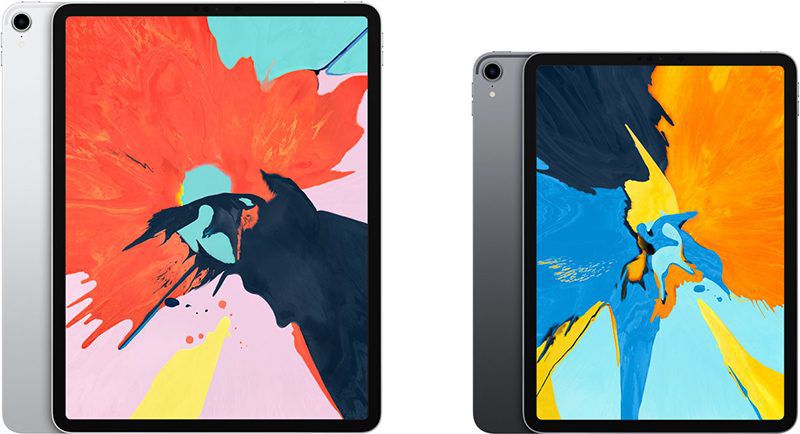 Apple's 11-inch iPad Pro measures in at 9.74 inches long and 7.02 inches wide, while the 12.9-inch model measures in at 11.04 inches long and 8.46 inches wide, so it's over an inch wider and taller than the smaller model.

Both iPad Pro models are just 5.9mm thick, which is noticeably thinner than the previous 10.5 and 12.9-inch iPad Pro models. The 10.5-inch iPad Pro was 6.1mm thick and the prior 12.9-inch iPad Pro was 6.9mm thick, so it's a major change for the larger model.
Apple has shaved some weight off of the 12.9-inch model, which now weighs 1.39 pounds, while the 11-inch iPad Pro continues to weigh 1.03 pounds.
Design wise, the 2018 iPad Pro models look different from the 2017 and earlier iPad Pro models with an edge-to-edge display that eliminates the Touch ID Home button at the front of the device. The top and bottom bezels have been slimmed down, resulting in a smaller 6mm bezel at the top, bottom, and sides of the iPad's display.

Rather than smooth, rounded edges that taper into the back of the tablet, the new iPads have a flat, more industrial band around the sides that is reminiscent of the design of the iPhone 4 or the iPhone SE.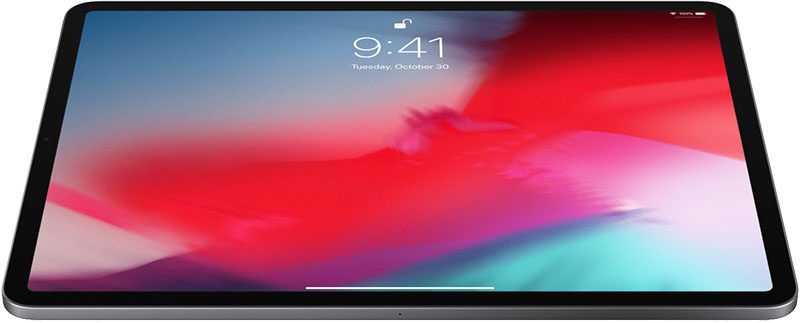 The body of the 2018 iPad Pro continues to be made from aluminum in either a Silver or Space Gray color.

At the top of the iPad Pro, there's a sleep/wake button along with two speakers. On the right side, there are volume up and down buttons, a magnetic connector, and a nano-SIM tray on cellular iPads.

The back features a single-lens rear camera that protrudes slightly from the body of the device along with a microphone and a Smart Connector for the Keyboard Folio accessory, and at the bottom, there's a USB-C port and two additional speakers.
The front bezel of the iPad Pro houses the TrueDepth camera system that enables Face ID and a set of three microphones.
No Headphone Jack
One notable change to be aware of with the 2018 iPad Pro is the lack of a headphone jack. On prior models, there was a headphone jack at the top of the device opposite the sleep/wake button, but in this version, it's been removed.
The elimination of the headphone jack was likely done to slim down the overall thickness of the tablet, and it brings the iPad Pro in line with the iPhone. Apple's iPhones have not featured a headphone jack since the iPhone 7, which has given Apple customers time to get used to the change.

Bluetooth headphones can be used with the iPad Pro, as can USB-C headphones, but to use 3.5mm headphones, Apple's 3.5mm to USB-C adapter is required. The adapter prevents charging while the headphones are in use because it requires the single USB-C port on the device.
USB-C Port
Instead of a Lightning port, the 2018 iPad Pro models feature a USB-C port for charging and connecting accessories. USB-C allows the iPad Pro to be connected to 4K or 5K displays, cameras, and other USB-C devices.
According to Apple, the USB-C port in the iPad supports USB 3.1 Gen 2 transfer speeds.

With the USB-C port, the iPad Pro can be used to charge an iPhone or an Apple Watch.
Navigation With No Home Button
With no Home button on the iPad Pro, the gestures used for navigation have changed and are identical to the gestures used on the iPhone X, XS, XS Max, and XR.

You can get to the Home screen with a quick swipe up from the bottom of the display, while a swipe and hold gesture from the bottom of the screen brings up the app switcher. When in an app, a slower upwards swiping motion brings up the iPad's dock, where you can access additional apps for multitasking purposes.

Swiping down on the right side of the top of the display brings up the Control Center, and a swipe from the left or the center brings up the Lock screen/Notification Center. A left swipe from the Home screen continues to bring up the Today center widgets.
Face ID and TrueDepth Camera System
Rather than authenticating and unlocking through a Touch ID fingerprint, the iPad Pro uses the Face ID feature that first debuted in the iPhone X to unlock the device through facial recognition.
Face ID does all of the same things that Touch ID does, like unlocking your iPad, allowing access to third-party passcode-protected apps, confirming purchases, and authenticating Apple Pay payments.

Face ID uses sensors and cameras built into the top bezel of the iPad Pro, and Apple calls its multi-component setup the TrueDepth camera. To create the scan of your face that's used for authentication purposes, a dot projector projects over 30,000 invisible infrared dots onto your face.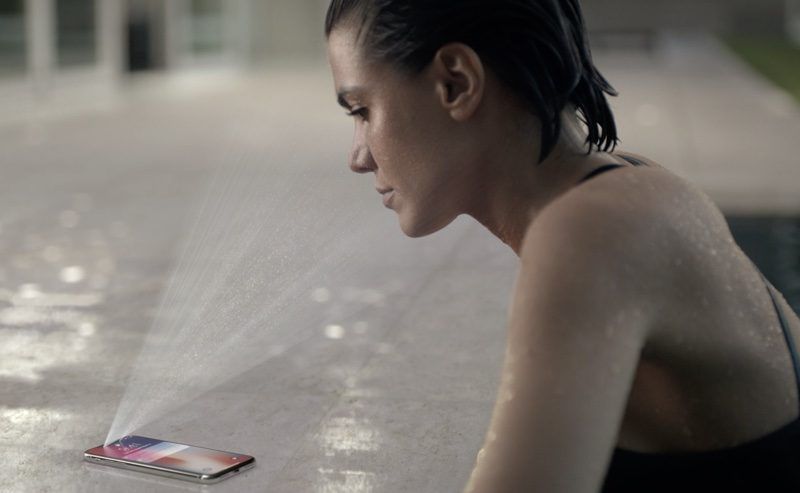 Dot projector image of Face ID on iPhone
The dot map is read by an infrared camera and the structure of your face is relayed to the A12X Bionic processor in the iPad Pro where it is transformed into a mathematical model.
It takes just a fraction of a second for the iPad Pro to scan your face, recognize you, and unlock the device. Face ID is more secure than Touch ID, and it is unable to be fooled by a photo, mask, or other facial imitation. An "Attention Aware" security feature makes sure your iPad Pro only unlocks when you look at it with your eyes open, so it knows not to work when there's not a live person in front of it.
Face ID data is encrypted and stored in the Secure Enclave of the A12X chip. Authentication happens on device, with no data stored in the cloud, sent to Apple, or accessible by apps.

Apple has designed Face ID to work in the dark, when wearing sunglasses, and with the face partially obscured by beards, glasses, makeup, scarves, and other accessories. Face ID is also able to adapt to changes in the face, so if you're slowly growing out a beard or your hair, it continues to recognize you.
Face ID on the iPad Pro works in both landscape and portrait orientation, a feature unique to the iPad. With iPhones, the device must be held in portrait orientation for Face ID to work properly.
An iPad Pro teardown suggests the new iPad Pro models are using the same TrueDepth camera hardware that's used in the iPhone, but in a slightly modified form factor.
Display
Apple tends to introduce display improvements with each new iPad Pro iteration and the 2018 model is no exception. According to Apple, the "Liquid Retina" edge-to-edge LCD display in the 2018 iPad Pro is its most advanced yet.
Liquid Retina is a name that Apple first used for the LCD in the iPhone XR, and it features all of the display technology Apple has introduced in the last few years.

Apple says that the iPad Pro models use subpixel anti-aliasing for the rounded corners, with individual pixels that are tuned to make sure the edges are smooth and distortion free.
Wide color support ensures rich, vivid colors that are true to life and accurate, while True Tone adjusts the display to match the white balance of the lighting in the room to make the screen easier on the eyes.
ProMotion display technology with a 120Hz display refresh rate is included, which makes motion content on the screen smoother, crisper, and more responsive for reading, gaming, watching movies, and more.

The iPad Pro's display refresh rate is dynamic and can change depending on what you're looking at as a battery saving measure. If you're watching a movie or playing a game, the refresh rate is at 120 Hz, but if you're reading a web page or looking at a photo, you don't need a 120 Hz refresh rate, so it adjusts accordingly.
Like previous-generation models, the 2018 iPad Pro display features 600 nits brightness, 1.8 percent reflectivity, an antireflective coating, and a fingerprint resistant coating.
The 11-inch iPad Pro features a resolution of 2388 x 1668, while the 12.9-inch model has a resolution of 2732 x 2048, and both have 264 pixels per inch like prior models.
A12X Bionic Chip
The 7-nanometer A12X Bionic is an upgraded, faster version of the A12 Bionic included in the iPhone XS, XS Max, and XR.
There are eight cores inside of the A12X Bionic chip, four high-performance cores and four efficiency cores, all of which can be accessed at one time thanks to a new performance controller.
Single-core performance with the A12X is up to 35 percent faster than the A10X Fusion chip in the previous-generation iPad Pro models. By involving all of the cores at once, multi-threaded tasks are up to 90 percent faster.
An included seven-core GPU designed by Apple offers up to twice the graphics performance for richer AR experiences and console-quality graphics when gaming.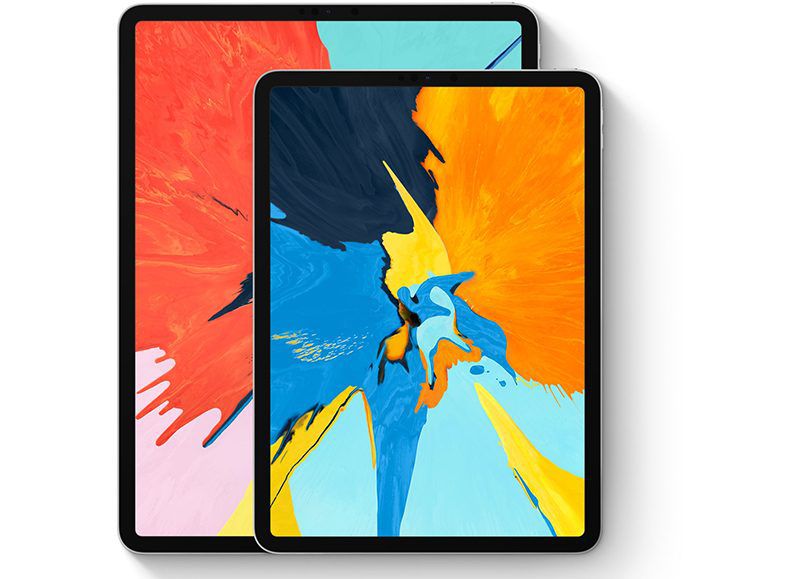 Apple says its iPad Pro is faster than 92 percent of all portable PCs sold between June 2017 and June 2018, and early benchmarks suggest that information is accurate.
On a Geekbench benchmark, the iPad Pro earned an average single-core score of 5,025 and a multi-core score of 18,106, which is not far off from the 2018 MacBook Pro models. The new iPad Pro models are by far Apple's fastest iPad Pro models, especially when it comes to multi-core performance.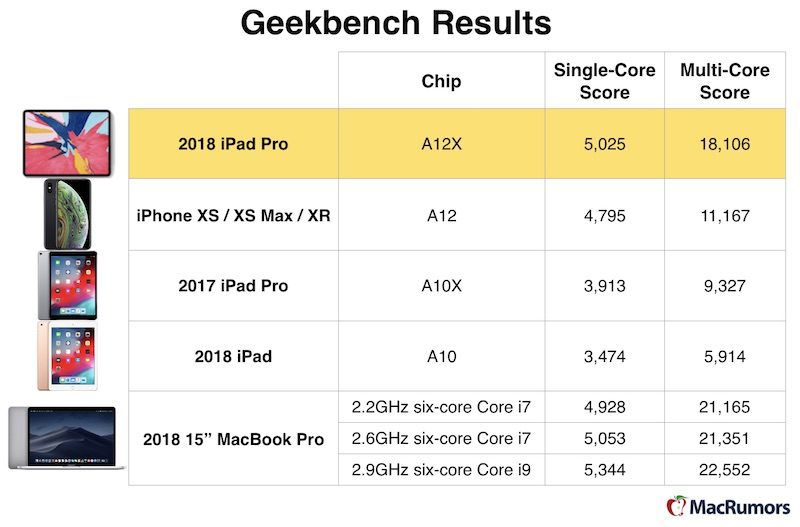 Neural Engine
The A12X includes a Neural Engine that's able to perform five trillion operations per second, allowing more than ever to be done in real time. The Neural Engine powers all of the machine learning features in the iPad Pro, like photo search, Face ID, and augmented reality experiences.
Apple's Neural Engine allows for faster Face ID facial recognition, faster plane detection for augmented reality apps, and speed improvements for other tasks that use real-time machine learning. Developers are also able to take advantage of the A12X Bionic improvements through Core ML, Apple's machine learning feature that can be used in apps.
Cameras
There's a 12-megapixel f/1.8 rear-facing camera in the iPad Pro. Like the iPhone XS, XR, and XS Max, it supports Smart HDR, a Quad-LED True Tone flash, wide color capture, and like prior models, Live Photos.

Apple has removed optical image stabilization from the camera and is instead using simple auto image stabilization. The change was necessary because the reduced bezels of the iPad Pro required the reworking of the camera in the device.

For video capture, it can record 4K video at 30 or 60 fps and Slo-mo video for 1080p at 120 fps and 720p at 240 fps.
The TrueDepth camera system at the front of the iPad Pro features the same 7-megapixel camera that's in the iPhone XS, XS Max, and XR. It supports Portrait Mode for capturing images where the main subject is in focus and the background is blurred, and Portrait Lighting adjustments are available.
It also works with Animoji and Memoji in Messages and FaceTime.
Battery Life
The 2018 iPad Pro models continue to feature 10-hour battery life when surfing the web, watching video, or listening to music, which Apple considers all day battery life. With cellular models, that drops down to nine hours when browsing the internet over LTE.
The 11-inch iPad Pro model features a 29.37 watt-hour battery with a 7,812mAh capacity while the 12.9-inch iPad Pro is equipped with a 36.71 watt-hour battery.
Apple ships the new iPad Pros with an 18W USB-C Power Adapter and a one meter USB-C charge cable.
Other Features
Storage Space
There are four storage space options in the iPad Pro. You can get it with 64GB of storage on the low end, with 256GB, 512GB, and 1TB of storage space also available for an additional cost.
The 1TB storage space option is new to the 2018 iPad Pro models and it is the highest storage capacity offered in an iPad to date.
Speakers and Microphones
There are four speakers in the iPad Pro, two at the top and two at the bottom, which enable stereo sound. It is also equipped with a total of five microphones for calls and video recording.
The 2018 iPad Pro models feature a new woofer and tweeter pair in each corner of the device for wider stereo sound that offers a better audio experience in both portrait and landscape orientation.
Smart Connector
The Smart Connector on the iPad Pro is designed to allow it to communicate with and power accessories like the Smart Keyboard Folio. The Smart Connector interface is able to transfer both power and data, so accessories that connect to the iPad Pro through it do not need batteries.
On the 2018 iPad Pro models, the Smart Connector has been relocated to the back of the device.
Connectivity
Like previous iPad Pro models, the 2018 iPad Pros support 802.11ac Wi-Fi and Bluetooth 5.0.
For Wi-Fi + Cellular models, Gigabit LTE is supported for the first time. The iPads work with multiple LTE bands, including 1, 2, 3, 4, 5, 7, 8, 11, 12, 13, 14, 17, 18, 19, 20, 21, 25, 26, 29, 30, 34, 38, 39, 40, 41, 46, 66, and 71.
There are two SIM options in the iPad Pro: a physical nano-SIM slot at the side of the device and an eSIM, or digital SIM, which is designed to work without the need for a physical SIM card.
The physical nano-SIM slot supports the Apple SIM that is designed to let users swap between carriers without a hassle. Many carriers in the U.S. and other countries support the Apple SIM, but for those that don't, like Verizon, a physical SIM card is still required.
Accessories
Apple Pencil
Alongside the new iPad Pro models, Apple introduced a second-generation Apple Pencil that's designed to work with them. The Apple Pencil 2, priced at $129, has a new design that does away with the Lightning port at the top of the accessory because it's now able to wirelessly charge via the iPad Pro.
The Apple Pencil 2 is able to connect to the iPad Pro using magnets, and when attached magnetically, it inductively charges. Pairing is also done through this magnetic attachment.

Gesture support is included with the second-generation Apple Pencil, and with a tap, you can change brushes or quickly switch from a brush to an eraser without having to pick up the pencil and select a new tool.
Like the first Apple Pencil, the new model is designed to work across the iPad Pro, with first and third-party apps, though it has been specifically designed for use with writing and sketching apps. It features advanced palm rejection, extreme precision, and imperceptible lag for a paper-like writing experience that's unmatched by third-party styluses.

Pressure support allows thinner and thicker lines to be drawn by increasing the amount of pressure on the iPad's screen, and side nib detection allows for shading when the Apple Pencil is tilted.

Apple Pencil 2 features a new matte finish and it has flat edges on two sides to prevent it from rolling. The original Apple Pencil had a rounded body that had a tendency to roll off of a desk.

The first-generation Apple Pencil is not compatible with newer iPad Pro models and the second-generation Apple Pencil is not compatible with older iPad Pro models.
For the first time, the Apple Pencil 2 can be engraved with a custom message or name.
For more on the Apple Pencil, make sure to check out our full Apple Pencil guide.
Smart Keyboard
Apple's Smart Keyboard Folio works with the 2018 iPad Pro models. It's similar to the Smart Keyboard available for earlier iPad Pros, but with an included back case to protect both the front and back of the iPad when it's not in use.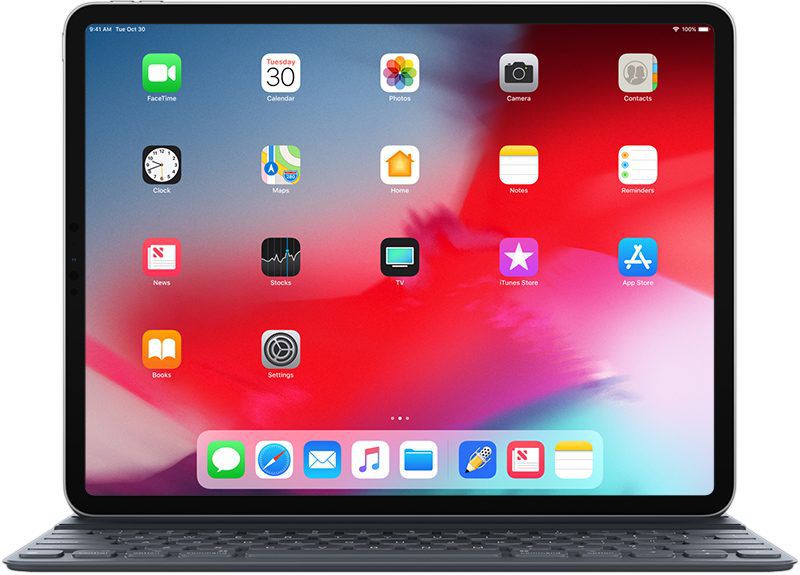 The Smart Keyboard Folio connects to the iPad Pro using the Smart Connector on the back of the device, which provides power. Because it uses power from the iPad Pro, the Smart Keyboard Folio does not have a battery and does not require charging to use.
Opening up the front cover of the Keyboard Folio wakes up the iPad Pro much like a standard Smart Cover, and it can be folded back into two different viewing angles. One viewing angle is ideal for lap use, while the other is designed for use when on a flat surface like a desk.
iPad Pro Smart Keyboard Folio compared to other third-party keyboards
The Smart Keyboard Folio offers a full-size keyboard with the same soft-touch keys from the original Smart Keyboard designed for earlier iPad Pro models. Apple provides an onscreen shortcut bar for functions like copy and pasting and changing font style, and there are keyboard shortcuts for switching between apps, searching, accessing the Home screen, and more.
What's Next for the iPad Pro
Early 2020 iPad Refresh
Current rumors suggest we could see two iPad Pro refreshes in 2020, one early in the year that introduces triple-lens cameras and then a second refresh later in the year with a higher-end model with 5G connectivity.
There were actually rumors that Apple would release an iPad Pro with a triple-lens camera setup in 2019, but that didn't happen, and it looks like the technology could come in an early 2020 refresh.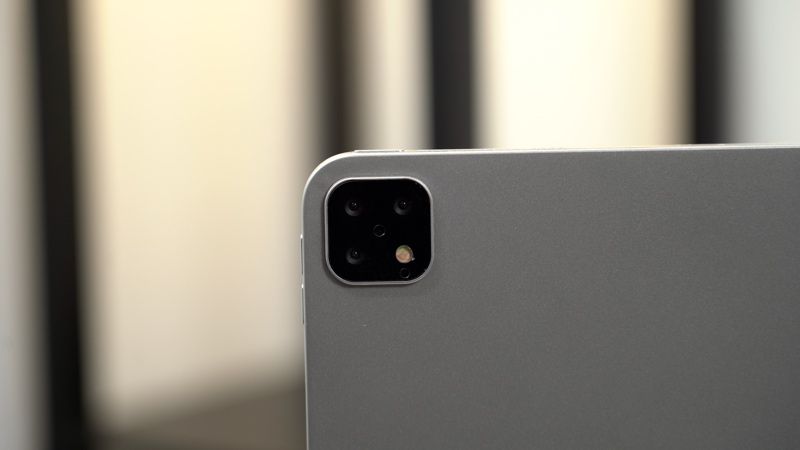 An iPad Pro dummy with square-shaped camera
Apple analyst Ming-Chi Kuo, who often has accurate insight into Apple's plans, has said that the next iPad Pro update will come during the first half of 2020, perhaps sometime in March, with Apple planning to release a next-generation model with a rear-facing time-of-flight (ToF) camera system that would allow for 3D models to be captured using the iPad Pro and then edited with the Apple Pencil for an "all-new productivity experience."
A Time-of-flight camera system is designed to determine the distance between objects by measuring time it takes a laser to get from the camera and the subject at each point in an image. It basically calculates the time it takes for the laser to bounce off of objects, creating a 3D image of the surrounding area to allow for more accurate depth perception and better placement of virtual objects. It should also result in photos better able to capture depth.
Recent rumors indicate Apple is planning to hold an event on Friday, March 31, so if new iPad Pros are in the works for the first half of 2020, they could be announced at this event.
There is some uncertainty about the launch date of the iPad Pro as rumors have suggested it could be pushed back due to production delays caused by the coronavirus outbreak in China. If the iPad Pro launches on time, it supplies could be constrained.
Cases and Dummy Models
In late 2019, there were dummy models said to depict the next-generation iPad Pro, with the models featuring a square-shaped camera setup modeled after the iPhone 11 and 11 Pro. Dummy models are often based on device schematics and dimensions provided by Apple suppliers and are used for developing cases.

As of February, we've been seeing new iPad Pro cases said to be for new models that feature a square-shaped camera cutout to accommodate the rumored camera system update.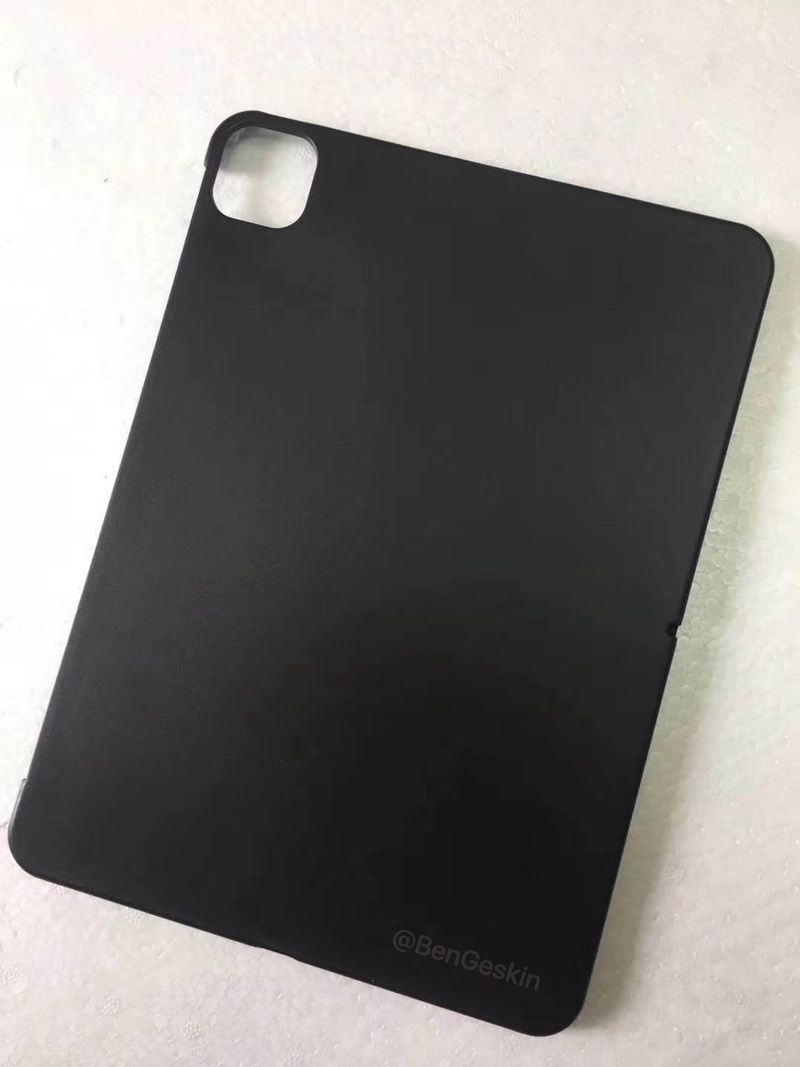 Fall iPad Refresh - 5G and mini-LED
Apple in the fourth quarter of 2020 is rumored to be planning to release a high-end 12.9-inch iPad Pro with a mini-LED display supplied by Innolux, with the updated device coming after the refresh expected earlier in the year.
It's unusual for Apple to release two iPad Pro updates in the same year, so it's not clear if rumors are inaccurate or if we're just expecting a single high-end iPad to go along with the rest of the lineup refreshed earlier in the year.
Apple analyst Ming-Chi Kuo has said that the iPad coming in the fall will be equipped with a new A14X chip in addition to the mini-LED display.
Mini-LED displays will use approximately 10,000 LEDs, with each one below 200 microns in size. Mini-LED technology will allow for thinner and lighter product designs while also offering good wide color gamut performance, high contrast and HDR, and local dimming, which dims the backlight behind black areas of the screen while keeping bright parts lit.
Taiwanese site DigiTimes, believes Apple is working on a 5G iPad with mmWave support, which would likely be positioned as an iPad Pro. The 5G iPad could be released in the fall, and it could be the same as the rumored mini-LED iPad Pro.
DigiTimes also believes Apple may be planning to release a Smart Keyboard with a scissor switch design for the next-generation iPad Pro. Apple switched to scissor keys for the 16-inch MacBook Pro, released in late 2019, after many years of issues with the butterfly keyboard. The new Smart Keyboard could feature backlighting and it could come in the second half of 2020.
Other iPad Pro Rumors
Other rumors have also suggested Apple is in talks with Samsung over OLED displays for future iPad Pro models, suggesting Apple is perhaps considering transitioning to OLED displays for the iPad Pro at some point, but it's not known if this will happen in 2020 or later, nor how this meshes with mini-LED rumors.
OLED displays could bring benefits like increased brightness, deeper blacks, better contrast, faster response times, and sharper colors, and thinner devices as OLED panels are slimmer than LCDs.
A sketchy rumor has suggested Apple is working on an iPad with a foldable display set to be launched as soon as 2020, which, if it actually exists, would presumably be an iPad Pro.

Jeff Lin, the IHS Markit analyst who made the claim, said that the foldable iPad will feature a display in the 12-inch range with 5G connectivity. UBS also predicts Apple will introduce a foldable iPhone or a foldable iPad by 2021, though this is just speculation.
Best Prices