Mac Pro
A new modular Mac Pro is in development and is set to launch in 2019.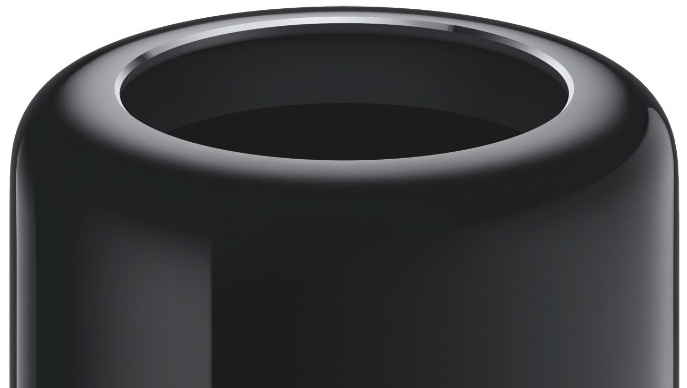 At a Glance
Apple's radically redesigned Mac Pro hasn't been updated since December 19, 2013 aside from an April 2017 price cut, but a new high-end high-throughput modular Mac Pro machine is in the works and will launch in 2019.
Current Mac Pro Specs
Ivy Bridge E Xeon processors with up to 12 cores
Dual AMD FirePro GPUs standard
Fast PCI Express flash storage
Thunderbolt 2, USB 3.0, HDMI, and 802.11ac Wi-Fi
Striking compact cylindrical design
Current Pricing
3.5GHz Quad-Core: $2999
- 16 GB RAM, Dual AMD FirePro D500

3.0GHz 8-Core: $3999
- 16 GB RAM, Dual AMD FirePro D700

12-core model also available
What's Next for the Mac Pro
In April 2017, Apple executives Craig Federighi and Phil Schiller sat down with several journalists and explained Apple's plans for the future of the Mac Pro.
Apple is developing a high-end high-throughput modular Mac Pro system that will facilitate regular upgrades to meet the needs of Apple's pro user base. It will ship alongside an upcoming Apple-branded pro display, which rumors suggest will be 31.6 inches with a 6K resolution and "outstanding picture quality" enabled through a new Mini LED-like backlighting design.
Apple is said to be considering previewing the new Mac Pro at the Worldwide Developers Conference, set to take place from June 3 to June 7.
Apple in 2017 first announced it was in the process of "completely rethinking" the Mac Pro, a task that would take longer than a year to complete. The new Mac Pro is set to launch at some point in 2019.
Apple has a team working on the Mac Pro, which will be designed for the company's "demanding pro customers." According to Schiller and Federighi, Apple is committed to making it the highest-end desktop system able to accommodate VR and high-end cinema production. Apple has also put together a "Pro Workflow Team" to tailor the Mac Pro and other Apple products to its professional users.

Modular Mac Pro concept from Curved.de
The upcoming Mac Pro will have a new design to better accommodate future upgrades and higher-end hardware. Apple says the design of the current Mac Pro restricted the company's ability to upgrade it. Because the current casing was designed for dual GPUs, it doesn't have the thermal capacity to work with larger single GPUs, necessitating a total redesign.
I think we designed ourselves into a bit of a thermal corner, if you will. We designed a system that we thought with the kind of GPUs that at the time we thought we needed, and that we thought we could well serve with a two GPU architecture... that that was the thermal limit we needed, or the thermal capacity we needed. But workloads didn't materialize to fit that as broadly as we hoped. Being able to put larger single GPUs required a different system architecture and more thermal capacity than that system was designed to accommodate. And so it became fairly difficult to adjust.
It was unusual for Apple to announce an update long before its prospective availability, but Apple executives wanted to reassure the company's professional user base that Apple is still committed to pro-level machines. Apple marketing chief Phil Schiller went as far as apologizing for the "pause in upgrades and updates," as it has been more than four years since the last Mac Pro update.
In April 2018, Apple gave another update on the Mac Pro and confirmed plans to launch it in 2019. To develop the Mac Pro in a way that will meet the needs of its pro customers, Apple's Pro Workflow Team has hired multiple creative professionals who are working on real projects and using Apple products in their workflows to find kinks for Apple to solve. This work applies to the development of the Mac Pro and other Apple machines and products.
Like the iMac Pro, the upcoming Mac Pro will use an Apple designed ARM-based co-processor inside to handle some tasks. In the iMac Pro, the T2 chip integrates several components including the system management controller, image signal processor, SSD controller, and a Secure Enclave with a hardware-based encryption engine.
Intel in December 2018 announced new 10-nanometer "Sunny Cove" Xeon chips that Apple could potentially use in an upcoming Mac Pro. The chips are set to be ready later in 2019, which is when we expect to see Apple's redesigned machine.
As customers wait for a new Mac Pro, current machines have seen a significant price drop. The 4-core Mac Pro has been discontinued, and the 6-core machine is now available at entry-level pricing.
Current Mac Pro
In April 2017, alongside an announcement about a future revamped Mac Pro, Apple reshuffled the existing Mac Pro lineup and significantly dropped prices, giving customers more machine for less money. Both the stock 6-core and 8-core machines and CPU/GPU upgrades have become much more affordable.
No new hardware was announced, but the 4-core Mac Pro was discontinued and the 6-core Mac Pro has become the new entry-level $2,999 machine, with 8 and 12-core options also available. Last updated on December 19, 2013, the Mac Pro continues to offer Ivy Bridge E processors, dual GPUs, PCI Express-based flash storage, and Thunderbolt 2 connectivity. With all hardware outdated, customers who can wait for at least a year or two for a new Mac Pro machine should do so.
The 2013 Mac Pro, which is now four years old, features a unique cylindrical design that wraps all of the machine's components around a unified thermal core which absorbs heat from throughout the machine and disperses it through a vertically-oriented fan that draws air in from the bottom of the machine and vents it out through the machine's top.

Can't innovate any more, my ass. Phil Schiller - Apple Senior Vice President of Marketing
At the heart of the Mac Pro lies a single Xeon-class Ivy Bridge E processor with up to 12 cores, paired with dual AMD FirePro graphics chips for maximum performance. PCI Express flash storage offers data transfer rates of up to 1250 MB/s, while four-channel DDR3 EEC memory running at 1866 MHz delivers up to 60 GB/s of memory bandwidth.
Connectivity includes six Thunderbolt 2 ports delivering data transfer speeds of up to 20 Gb/s and daisy-chaining of up to 36 devices, four USB 3.0 ports, an HDMI 1.4 port, and two Gigabit Ethernet ports. With Thunderbolt 2 and the dual-GPU setup, the Mac Pro is able to support up to three 4K displays. Wireless support includes the latest 802.11ac Wi-Fi standard as well as Bluetooth 4.0.
The Mac Pro starts at $2,999, with the entry-level version offering a 3.5Ghz 6-core Intel Xeon E5 processor, dual AMD FirePro D500 GPUs, 16GB of memory, and 256GB of PCIe-based flash storage. The 3.0 Ghz 8-core version with 16GB of memory starts at $3,999, with additional configure-to-order options for 12-core Xeon E5 processors, AMD FirePro D700 GPUs, up to 64GB of memory and up to 1TB of flash storage.
Pricing for individual build-to-order components, relative to the base $2999 Mac Pro model, are as follows:
CPU (Stock: 3.5GHz 6-Core Intel Xeon E5) - 3.0GHz 8-core: +$800 - 2.7GHz 12-core: +$2000
Graphics (Stock: Dual AMD FirePro D500 with 3GB GDDR5 each) - Dual AMD FirePro D700 with 6 GB GDDR5 each: +$200
RAM (Stock: 16GB 1866MHz DDR3 ECC - 3x4GB) - 32GB (4x8GB): +$400 - 64GB (4x16GB): +$800
Flash Storage (Stock: 256GB PCIe-based) - 512GB: +$200 - 1TB: +$600
Flash storage prices were lowered by $100 to $200 on October 27, 2016, following Apple's Mac-centric event.
Multiple teardowns of the Mac Pro, from both iFixit and OWC, have revealed that the Mac Pro's Intel Xeon E5 processor is socketed and removable, allowing for future upgrades. All CPUs in the Mac Pro use the same LGA 2011 socket standardized on the Mac Pro's motherboard.
Unlike most of Apple's Macs, the Mac Pro is highly accessible thanks to non-proprietary torx screws and an easily removable case. Its accessibility earned it an overall repairability score of 8 out of 10 from iFixit.
Video Card Repair Program
Some Mac Pros manufactured between February 8, 2015 and April 11, 2015 have faulty video cards that can cause distorted video, no video, system instability, freezing, restarts, and shut downs.
Apple has initiated a repair program for affected machines and will fix the issue free of charge. Both graphics cards must be replaced on Mac Pros exhibiting issues, and customers with problematic machines should visit an Apple retail store, an Apple Authorized Service Provider, or call Apple support to find out if they are eligible for a free repair.
How to Buy
In More Detail

The form factor of the previous Mac Pro dated all the way back to the introduction of the Power Mac G5 in mid-2003, carrying over to the Mac Pro in 2006 when Apple moved from PowerPC processors to Intel chips. Development on the Mac Pro tower stagnated in recent years, with the last major update coming in mid-2010. Users waited almost two years for an update following that launch amid reports that Apple was "questioning" the future of the line, and were ultimately extremely disappointed to receive only a minor speed bump in mid-2012, an update which failed to move to Intel's then-latest Sandy Bridge E processors or bring innovations such as Thunderbolt that had already debuted on other Mac lines.
In response to the outcry over the extremely minor mid-2012 update, which resulted in Apple quickly retracting its "New" label in its online store, the company took the unusual step of confirming to reporters that a redesigned Mac Pro would be coming in 2013. Apple CEO Tim Cook shared similar information in an email to a disgruntled customer.
As 2013 rolled around and there was still no sign of the Mac Pro update, Apple announced that it would be discontinuing the tower Mac Pro in Europe as of March 1 due to the machine's lack of regulatory compliance regarding fan blade and electrical port protection. Hope for a quick replacement was raised by a report from a French reseller claiming Apple had indicated the new Mac Pro would be arriving in the spring. Further rumors indicated an update might occur in April or May, but those claims failed to come to fruition. As it turns out, the Mac Pro saw delays because of issues with screws manufactured in the U.S.
In the weeks leading up to WWDC 2013, supplies of the Mac Pro began to tighten amid word that Apple was continuing to work on "something really different" for the next Mac Pro.
WWDC 2013 did finally bring a sneak peek at the new Mac Pro, but with a release scheduled for later in the year. Alongside the sneak peek, Apple rolled out a new feature page on its website, and several months later even began showing a teaser ad in movie theaters. A second unveiling with additional information on the new Mac Pro took place in October 2013, with Apple narrowing the launch date to "December."
Since 2013, the Mac Pro has gone without an update, once again leaving professional users questioning Apple's commitment to higher-end machines. In response, Apple executives have apologized for the lack of updates and announced plans to introduce an entirely revamped modular Mac Pro machine in the future. The new Mac Pro is still in development and will not be ready until 2018 or later.
Computing and Graphics Performance
The Mac Pro takes advantage of Intel's Ivy Bridge E Xeon E5 processors, maxing out at 12 cores. Unlike the previous Mac Pro, however, the redesigned machine has just a single CPU with no room for a dual-CPU configuration. That Xeon CPU is supported by "blazing fast" memory, a four-channel DDR3 memory controller running at 1866 MHz. The setup offers memory bandwidth of up to 60 GB/s, twice that of the previous Mac Pro.
Benchmarks on the Mac Pro running a 12-core Intel Xeon E5 v2 processor at 2.7 Ghz have demonstrated somewhat modest performance gains over the previous generation Mac Pro, with 32-bit single core scores in the range of 2928 and multi-core scores in the range of 29665. 64-bit performance is slightly better, resulting in scores of 3087/32437.
Our engineering team has spent quite a bit of time thinking about the technology available today, and what could be possible for the future of a pro desktop…what would be a new form factor, new design, new capabilities for another ten years. And the engineering team has come up with something truly revolutionary, truly radical. Phil Schiller
Geekbench 3 scores first published in September 2013 provide even more data points on the performance of the Mac Pro. On the 32-bit Multi-Core Geekbench 3 scoring, the 8-core Mac Pro registers a score of 24429, on par with scores achieved by the highest-end 2010 and 2012 Mac Pro models running dual 6-core processors for a total of 12 cores. The Mac Pro also handily beats the Geekbench performance of earlier 8-core models. Additional benchmarks for the 6-core model showed up in early November, allowing for a good overview of the raw processing power of the various Mac Pro models.
Where Apple has really beefed the horsepower on the Mac Pro is in the graphics department, with dual GPUs standard across the line. The Mac Pro includes dual AMD FirePro GPUs with up to 6GB of VRAM, offering up to seven teraflops of computing power, roughly three times that of the previous Mac Pro. That graphics setup provides enough horsepower for software developers to tap into for their applications, supporting such demanding tasks as seamless editing of 4K video while rendering effects in the background, all while driving up to three 4K displays.
Flash Storage
Apple's Mac Pro uses all-flash storage, an expensive proposition but one that offers significant benefits in the way of speed. With PCI Express flash storage, the Mac Pro is able to support data transfer speeds of up to 1250MB/s, up to 2.5x faster than SATA flash drives such as those found in a number of Apple's other Mac products. The Mac Pro's flash storage is also as much as ten times faster than 7200-rpm SATA spinning hard drives commonly used in the previous Mac Pro.
Early tests revealed impressive SSD performance, seeing read/write speeds in excess of 900 MB/s. FCP.co found read speeds of 880 MB/s and write speeds of 985.5 MB/s. Macworld saw similar results with the Black Magic app, at 952.8 MB/s write and 920.5 MB/s read speeds.
Thermal Core/Fan
All of the components responsible for the heavy lifting in the Mac Pro are arranged around a unique thermal core, a single piece of extruded aluminum serving as a heat sink for the entire machine. The design, which also maximizes airflow, allows the heat sink to maximize heat transfer under a variety of different load conditions, offering better performance than with separate heat sinks for each component.

That thermal core is responsible for the cylindrical design of the Mac Pro, with the machine being topped a single large vertically mounted fan that draws air up from the bottom and through the thermal core before venting it out through the top. By optimizing fan blade size, shape, and number, Apple has been able to minimize air resistance, increasing efficiency while keeping fan noise to a minimum.
Expansion and Connectivity
At just one-eighth the volume of the previous Mac Pro, the revamped design focuses on external expansion rather than dedicating large amounts of internal space to expansion bays. For maximum performance of external peripherals, Apple has leveraged Intel's Thunderbolt 2 technology, which doubles throughput over the previous Thunderbolt standard to 20Gbps in each direction. By connecting a PCI expansion chassis to a Thunderbolt 2 port on the Mac Pro, a host of peripherals become compatible with the machine. And with six Thunderbolt 2 ports each supporting up to six devices daisy-chained on them, the redesigned Mac Pro offers significant support for external expansion. Thunderbolt 2 also allows users to connect up to three 4K displays to the Mac Pro.
Beyond Thunderbolt 2, the Mac Pro also includes four USB 3.0 ports, an HDMI 1.4 port for maximum compatibility with televisions and other types of displays, and a pair of Gigabit Ethernet ports for connecting to multiple networks. All of the ports are located on a dedicated I/O panel on the rear of the Mac Pro, with the panel automatically illuminating when the machine senses that it is being rotated.
As for wireless connectivity, the Mac Pro naturally includes support for the latest 802.11ac Wi-Fi standard, which is supported by Apple's AirPort Extreme and AirPort Time Capsule base stations. The Mac Pro also includes support for Bluetooth 4.0 connections, allowing for wireless communication with a variety of devices.

Production
Apple's redesigned Mac Pro marks a significant milestone for Apple, as it represents the return of Mac production to the United States. Apple CEO Tim Cook has announced in late 2012 that the company would be bringing some Mac production back to the U.S., although he did not specify which line would be make the transition. Speculation quickly suggested that the Mac Pro could become Apple's new "Made in the U.S.A." product, and Apple ultimately confirmed that speculation at WWDC. Reports indicated that Apple would be working with Flextronics to produce the new Mac Pro in Austin, Texas, which Tim Cook confirmed ahead of the Mac Pro's December 19, 2013 launch.