Apple TV
Apple's fifth-generation Apple TV, launched September 22, 2017.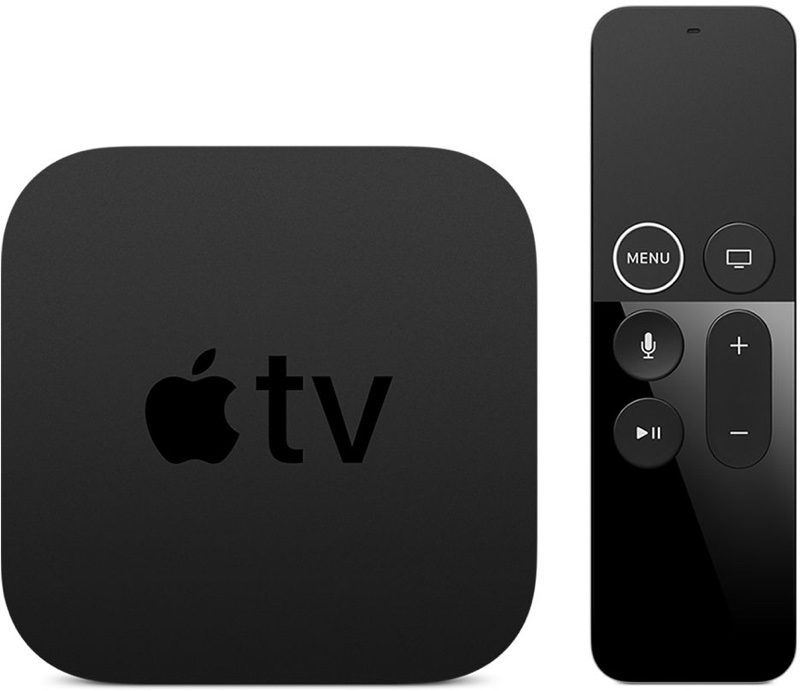 At a Glance
Apple's fifth-generation Apple TV features an A10X Fusion processor and 32 to 64GB of storage, along with support for 4K HDR for the first time.
Features
4K support
HDR support
Touch-based remote that doubles as a controller
A10X Fusion processor
32 or 64GB storage options
Deep Siri integration
The New Apple TV 4K
In September of 2017, Apple introduced the new Apple TV 4K, its first update to the set-top box since 2015. There are two key technologies at the heart of the new Apple TV: 4K and HDR, both of which bring cinematic quality to everything you watch on the new box.
4K support brings incredible detail to the Apple TV with four times the number of pixels as HD. 4K resolution is defined as 3840 x 2160, while HD is 1920 x 1080. While the 4K Apple TV offers improved resolution, its support for high dynamic range (HDR) is perhaps even more important. HDR brings richer, more vibrant colors and supports a wider range of colors.
As iTunes chief Eddy Cue said on stage when introducing the Apple TV 4K, 4K is about the number of pixels, but HDR is about better pixels. Apple TV 4K supports both the HDR10 industry standard and Dolby Vision, a higher-quality version of HDR with even better color.
The Apple TV 4K is meant to be paired with television that supports both 4K and HDR technology. Without an accompanying 4K television, the Apple TV 4K experience won't be the same. To get the most out of the Apple TV 4K, 4K content is also required.

Apple is offering 4K movies through its iTunes Store, and 4K content is also available through Netflix, Amazon Prime Video, and other streaming services. YouTube isn't supported, though, as it uses an incompatible format.
The tvOS interface has been redone in 4K with sharper text, and more vibrant images. Videos captured on the iPhone can be viewed in 4K on the Apple TV, and all of the Apple TV's animated video screensavers have been remastered in 4K. It supports apps like Apple Music and allows the Apple TV to serve as a HomeKit hub and an access point for controlling all of the connected devices in your home.
Inside, the Apple TV 4K is equipped with an A10X Fusion chip, the same chip used in the 2017 iPad Pro models. The Apple TV is twice as fast when it comes to CPU performance and four times as fast when it comes to GPU performance, enabling a whole new class of apps and games.
There have been no design changes to the Apple TV, so it continues to look like a simple black box that plugs into a television using an HDMI cable. There's a new Gigabit ethernet port included, and the USB-C port that was on the previous device has been removed.
It ships with an included Siri Remote for control purposes, and the Siri Remote has seen some slight design tweaks. The Siri Remote is used for navigation, accessing the Siri personal assistant for voice searches, and as a game controller when playing games.

The Apple TV 4K is available in 32 and 64GB capacities to store downloaded apps and content, with the 32GB model priced at $179 and the 64GB model priced at $199.
How to Buy
The new Apple TV 4K can be purchased from the Apple online store or from Apple retail stores around the world. It is also available from third-party retailers like Best Buy, Target, and Walmart. 32GB of storage space is priced at $179, while 64GB of storage is priced at $199.
Apple is also continuing to sell the fourth-generation Apple TV, which does not support 4K. It is available for $149.
Refurbished fourth and fifth-generation Apple TV models are available for purchase at a discount from Apple's online store for refurbished products. Refurbished Apple TV models are just like new models, come with the same warranty, and have been inspected and guaranteed by Apple.
Hardware and Design
Like the fourth-generation Apple TV, the new fifth-generation Apple TV 4K is a simple, unobtrusive black box that's about the size of the palm of your hand. There's an Apple TV logo at the top, and aside from that, the Apple TV is black on all sides and blends well with any home decor. It's small enough that it fits on any shelf or TV unit, taking up very little space.

At the back of the Apple TV 4K, there's an HDMI 2.0a port, a Gigabit Ethernet port, and a port for the power cord. Compared to the previous-generation Apple TV, the new Apple TV gains the Gigabit Ethernet port (instead of 10/100) and loses a USB-C port that used to be available for things like downloading developer betas and taking Apple TV screenshots.

The Apple TV 4K measures in at 3.9 inches on each of its four sides, and it is 1.4 inches tall. It weighs just under a pound at 15 ounces. Inside, there's a new replaceable fan and a total of eight exhaust ports to support the improved processor.

Processor and Internals
Inside the Apple TV, there's an A10X Fusion chip, which is the same chip used in the 2017 iPad Pro models. The A10X Fusion is a much faster chip than the chip that was available in the fourth-generation Apple TV, with 2x the CPU performance and 4x the GPU performance. The Apple TV also has 3GB RAM to support 4K.
With the new chip, the Apple TV 4K can run much more system intensive games and apps, allowing for games that can take advantage of the 4K display.
For storing games and downloaded content, the Apple TV is available in either 32 or 64GB capacities. Most people do not need more than 32GB of storage, but those who plan to download many apps or games may want to go with 64GB.

For connectivity, the Apple TV 4K supports simultaneous dual band (2.4GHz and 5GHz) 802.11ac Wi-Fi with MIMO and Bluetooth 5.0.
Siri Remote
Sold alongside the Apple TV as an input method, the rectangular Siri Remote features a built in touch surface used as a general "select" button and touch pad, a Menu button, a Home button, a Siri button for activating Siri, play/pause buttons, and standard volume controls. The Siri Remote connects to the Apple TV using a Bluetooth 4.0 connection, and can also control elements of a TV set like Bluetooth using an IR transmitter.
The touch surface on the remote is used as a touch-based navigation method, allowing users to swipe through the App Store, the Home screen, and content within apps, as well as fast forward, rewind, and perform other TV control gestures. It takes up about one-third of the remote.

When held down, the Siri button on the remote activates Siri, and Siri on Apple TV works much like Siri on iPhone. There are two microphones built into the remote so Siri commands can be heard, with Siri relaying information back on the television screen.
In 2017, the Siri Remote has been slightly redesigned. There's a new white ridge around the Home button, which makes it easier to determine which end of the remote is in your hand without needing to look down at it.
At the bottom of the Siri Remote, there's a Lightning port that's used for charging with a standard Lightning cable. The Siri Remote needs to be recharged every few months.
Because there's an accelerometer and a gyroscope built into the Siri Remote, it can be used as a controller for many Apple TV games.
The Siri Remote is only available in a handful of countries: Australia, Canada, France, Germany, Japan, Spain, the UK, and the United States. In other countries, there is no built-in Siri support, and the remote is called "Apple TV Remote." Instead of bringing up Siri, the microphone button on these remotes brings up an on-screen search app.
Remote App
Along with the physical Siri Remote, the Apple TV can be controlled using a Remote app that's available in the App Store for the iPhone, iPad, and Apple Watch. The Remote app has a layout that's similar to the Siri Remote, offering virtual controls for navigating the Apple TV interface, accessing Siri, and controlling volume. On the iPad, details about what's playing are also shown in the app.

Bluetooth Accessories
The Apple TV also supports third-party Bluetooth gaming controllers that can be used in lieu of the Siri Remote when playing a game from the tvOS App Store, and a Bluetooth keyboard can be connected.

4K and HDR
4K delivers four times more pixels than standard HD (3840 x 2160 vs. 1920 x 1080) and paired with HDR support, the Apple TV 4K offers brighter, more realistic colors along with much greater detail. Both HDR10 and Dolby Vision are supported, with the latter being the preferred HDR standard because it offers a wider range of colors.

HDR and 4K are both noticeable upgrades over 1080p high definition, especially so when it comes to HDR. 4K (also called ultra high resolution) offers more pixels and with HDR, you get deeper reds, more vivid greens, brighter blues, clearer yellows, and more contrast and color range in scenes with both light and dark elements.

4K on left, 4K HDR on right
The Apple TV 4K requires a compatible 4K television to properly display content at a 4K resolution, and you also need to supply an HDMI cable for connecting the television to the Apple TV. Apple recommends a cable compatible with HDMI and Dolby Vision, and more specifically, an HDMI cable that has a Compatible Dolby Vision mark.
For the best experience, a TV that supports 4K and HDR at 60Hz (50Hz in Europe) is required, but it works with 4K Standard Dynamic Range, 4K High Dynamic Range, and 4K Dolby Vision.
The Apple TV 4K also works with a TV that has a 30Hz HDR refresh rate (25Hz in Europe) but lower refresh rates can result in choppy video, so Apple's recommendation for TVs that don't support HDR at 60Hz is to lower resolution to 1080p at 60Hz and letting the television upscale to 4K.
4K Streaming
To stream content in 4K from iTunes, Netflix, or another source, Apple recommends that customers have a minimum connection speed of 25Mb/s. If an internet connection isn't fast enough for transferring 4K content, Apple downscales the video quality.
Apple does not allow users to download 4K content from iTunes, with 4K content limited to streaming.
Supported Photo and Video Formats
The Apple TV 4K supports H.264, HEVC (H.265), HEVC Dolby Vision, and MPEG-4. As for photos, it can display images in the following formats: HEIF, JPEG, GIF, and TIFF.
Supported Audio Formats
Supported audio formats include HE-AAC, AAC (320Kb/s max), protected AAC, MP3 (320Kb/s max), MP3 VBR, Apple Lossless, FLAC, AIFF, WAV, Dolby Digital 5.1, and Dolby Digital Plus 7.1 surround sound. In the future, Apple may add support for Dolby Atmos.
Compatible Content
The Apple TV 4K can play 4K content from a range of sources. Apple has made deals with movie studios to offer a wide selection of 4K movie titles in iTunes, which are available for the same price as HD movies.
Apps like Netflix and Amazon Prime Video (released in late 2017) also offer content that can be streamed in 4K.
YouTube offers 4K content but it is not compatible with the 4K Apple TV at this time as Apple does not support the VP9 format YouTube uses for 4K.
The Apple TV 4K is designed for 4K content and the picture looks the best when streaming or playing 4K resolution TV and movies, but non 4K HDR content is compatible. With non-HDR and lower resolution movies and TV shows, the Apple TV upscales the content.
Regardless of your setup and the content you're watching, Apple TV 4K always chooses the settings that are going to give you the best picture.
Apple TV as a Cable Box Replacement
Apple has been working with some cable providers to offer the Apple TV as a replacement for a traditional cable box. CANAL+ in France, Salt in Switzerland, and DirecTV in the US all allow customers to replace their cable boxes with Apple TV, gaining all of the same functionality through dedicated apps.
In 2019, Charter Communications began offering the Apple TV 4K to its customers, with Charter users able to access all of their live channels and on-demand programs through a Spectrum TV app on Apple TV 4K, iPhone, and iPad.
Verizon also offers the Apple TV 4K for free to customers who subscribe to its 5G broadband service, available Indianapolis, Houston, Los Angeles, and San Francisco.
tvOS
The fourth and fifth-generation Apple TVs run an operating system called tvOS, which was built to offer up a simple, easy-to-navigate television watching experience.
tvOS puts content front and center with an app-centric design that includes an App Store, Siri integration, a dedicated TV app for highlighting content from a range of different apps, HomeKit support, and more.

For more on tvOS, make sure to check out our dedicated tvOS roundup, which includes details on the latest version of the operating system.
Apple's Rumored Streaming Service
Apple is working on multiple original television shows, which will be available through a streaming TV service that Apple will introduce at an upcoming March 25 event. The subscription service will house Apple's own content, but it will also allow for customers to sign up for add-on services such as Showtime and STARZ for an additional fee, though Netflix says it won't be participating. Apple is said to be scrambling to get these deals in place ahead of when the service is unveiled.
At least some of Apple's content will be available for free, and the upcoming streaming TV service will be distributed through the Apple TV app.
Third-party content is said to be the actual focus of Apple's TV service, with Apple planning to offer bundles that include multiple cable channels for a reduced fee. Apple could, for example, bundle Showtime and STARZ and sell it at a price lower than what customers might pay individually. Apple would sell the content through the Apple TV app and keep a portion of the revenue.
Apple has been telling entertainment companies who will have content available through its streaming service to be ready for a debut in the spring, though rumors indicate the service will not actually launch until the summer or the fall.
Apple is planning to launch its TV service in more than 100 countries in 2019, starting first with the U.S. before expanding to additional locations. The TV service may also be bundled with other Apple services, such as Apple Music and an Apple News service.
At Apple's upcoming March event, Hollywood stars that will be in some of its original TV shows will be in attendance.
Original Content Efforts
Apple first delved into original content as a way to promote its Apple Music service, but with over a dozen television shows now in the works, Apple's original content efforts have evolved into something more serious.
The company's first original television show, "Planet of the Apps," debuted in June of 2017. Using a "Shark Tank"-style format, "Planet of the Apps" paired app developers with investors and then let the developers attempt to persuade the investors to make an investment.
Apple's second original television show, "Carpool Karaoke: The Series," debuted in August of 2017. The TV show is based on the highly popular "Carpool Karaoke" segment from "The Late Late Show With James Corden," pairing celebrities and musicians together to sing along in car rides. Both of these two shows are available via Apple Music and are used to promote the Apple Music service. Apple renewed "Carpool Karaoke" for a second season, and in May of 2018, made the show available for free through the TV app. The second season of the show premiered October 12, 2018.
"Planet of the Apps" was later discontinued, while "Carpool Karaoke" continues to be available. Following its experimentation with reality TV, Apple made a much broader push into original programming and has dozens of TV shows in the works.
To head up its content creation division, Apple hired former Sony Pictures TV executives Jamie Erlicht and Zack Van Amburg. The two lead Apple's video efforts on a worldwide scale, reporting directly to Apple iTunes chief Eddy Cue. Erlicht and Van Amburg have helped produce shows like "Better Call Saul," "The Crown," "Sneaky Pete," and more. Erlicht and Van Amburg, along with multiple other TV executives and hires, have inked some high-profile deals and have secured multiple new TV shows and movies for Apple.

Apple is said to be aiming to produce television shows with broad appeal that are also tame enough to be shown in an Apple Store. The company wants to avoid content that includes nudity, raw language, and violence. It has turned down pitches that include edgier themes, and it has also had a dispute with "Amazing Stories" showrunner Bryan Fuller over its desire to produce family friendly content.
Apple does not want to risk tainting its wider brand image with risqué television content, which has led to the shelving of "Vital Signs," a semi-autobiographical show that followed the life of hip hop artist Dr. Dre. Apple CEO Tim Cook was said to be "troubled" by scenes depicting guns, sex, and drug use, and Cook ultimately told Apple Music exec Jimmy Iovine it couldn't be shown.
Though Apple is rumored to be focusing on family friendly content, some reports have suggested the company's TV content could be more varied. Apple is said to be on the hunt for a "Breaking Bad" type of show along with "different" content, so long as it has substance and isn't gratuitous.
Apple is also exploring unusual formats that don't fit in traditional 30 and 60-minute time slots, and it is said to be experimenting with advanced interactive and immersive content.
To better promote its original content, Apple has been hiring strategists to arrange screenings and other publicity events in an effort to receive consideration for awards like Oscars and Emmys.
Apple's Upcoming Original TV Shows
Apple first delved into original television programming in 2017 with the release of "Planet of the Apps" and "Carpool Karaoke," but under the leadership of Jamie Erlicht and Zack Van Amburg, the company has been inking deals for multiple original television shows. Apple has more than two dozen original TV shows in the works.
Apple has finished filming on its first wave of shows, including "Are You Sleeping?" starring Octavia Spencer; Ronald D. Moore's "For All Mankind"; M. Night Shyamalan's thriller series; Charlie Day and Rob McElhenney's unnamed comedy; and "Dickinson" starring Hailee Steinfeld. These shows could be among the first to debut on Apple's streaming TV service.
Amazing Stories
Apple is teaming up with Steven Spielberg's Amblin Television and Comcast's NBC Universal TV production unit to create new episodes of sci-fi series "Amazing Stories." "Amazing Stories" is a science fiction and horror series created by Spielberg that originally ran on NBC from 1985 to 1987. Apple will create 10 new episodes of "Amazing Stories" alongside Amblin and NBC Universal, with plans to spend more than $5 million per episode, its first high-profile project. Spielberg is likely to be an executive producer for the new version of the show.
"Once Upon a Time" co-creators Adam Horowitz and Edward Kitsis will serve as executive producers and showrunners on the series.
Morning Show Drama
Apple's second high-profile show will be a morning talk show drama starring Reese Witherspoon and Jennifer Aniston. The show is described as an "inside look at the lives of the people who help America wake up in the morning." Apple has inked a deal for two seasons of the show, which is untitled as of yet.

Witherspoon and Aniston will star and executive produce, and each will earn $1.25 million per episode for the show. "Bates Motel" co-creator Kerry Ehrin is set to serve as showrunner.
Steve Carell, best known for the U.S. version of "The Office," will star in Apple's morning show drama alongside Witherspoon and Aniston. Carell will play Mitch Kessler, a morning show anchor "struggling to maintain relevance in a changing media landscape."
Billy Crudup and Gugu Mbatha-Raw have also joined the cast of the upcoming show. Crudup will play Cory Ellison, a "forward-thinking president of the network news division," while Mbatha-Raw will play Hannah Shoenfield, a "whip-smart and charming" booker of talent.
For All Mankind
Apple in December placed a straight-to-series order for an untitled space drama developed by Ronald D. Moore, who is best known for creating the 2004 reboot of Battlestar Galactica. Apple's new show "explores what would have happened if the global space race had never ended."
Several actors have signed on to play roles in the upcoming sci-fi drama. Joel Kinnaman has signed on to play Edward Baldwin, a top NASA astronaut, while Michael Dorman and Sarah Jones will play Gordo and Tracy Stevens, a prominent NASA couple.
Kinnaman previously played Takeshi Kovacs in "Altered Carbon," along with Will Conway in "House of Cards." He's also known for roles in "Easy Money," "Suicide Squad," and "RoboCop." Michal Dorman has been in "Patriot" and "Wonderland," while Sarah Jones has starred in "Damnation," "The Path," and "Alcatraz.
"For All Mankind" has finished shooting its first season and it could be one of the first shows to debut on Apple's new TV service.
Are You Sleeping
Apple has ordered 10 episodes of a drama called "Are You Sleeping," based on a novel by Kathleen Barber and it focuses on a podcast that reopens a murder case, similar to the popular "Serial" podcast.

The novel the show is based on explores how the reopening of the murder case impacts the victim's daughter and disrupts her life. Sarah Koenig, who created and produced the "Serial" podcast, will consult on the series.
The series will star Octavia Spencer, known for her roles in "Hidden Figures" and "The Shape of Water" as Poppy Parnell, a reporter aiming to uncover the truth behind a decades old murder through her podcast.

Aaron Paul from "Breaking Bad" will play murderer Warren Cave, whose guilt is in question, with Lizzy Caplan (Masters of Sex), Ron Cephas Jones (This is Us), Elizabeth Perkins (Weeds), Mekhi Phifer (ER), Michael Beach (Sons of Anarchy), Tracie Thoms (UnREAL), Haneefah Wood (Nurse Jackie), Moon Bloodgood (Code Black), Billy Miller (Suits), Brett Cullen (Narcos), and Hunter Doohan (Westworld) also set to star in the show.
Caplan will play twin sisters Josie and Lanie, whose father's murder is re-examined on the podcast. Bloodgood will play Cath Min, Poppy's best friend, while Miller will play Alex Dunn, Lanie's husband. Cullen will play Owen Cave, Warren Cave's father, and Doohan will be playing a younger Warren Cave.
Jones, known for "This is Us," plays Poppy's father, Leander "Shreve" Scoville. Perkins will play the role of Cave's mother, while Phifer will play the role of Markus Knox, detective and friend of Poppy's. Beach plays Ingram Rhoades, attorney and husband of Poppy, and Thoms plays Desiree Scoville, Poppy's opinionated older sister. Wood plays Poppy's other sister, Cydie Scoville.
Filming on the first season of "Are You Sleeping" has already wrapped up, suggesting this show will be one of the first to debut on Apple's new streaming TV service.
Home
"Home," Apple's first docuseries, will over a never-before-seen look inside of the most extraordinary homes in the world, delving into the imaginations of the visionaries who dreamed them up and built them. Based on the show's description, it sounds a little bit like MTV's "Cribs" but with more of a design and architecture focus.
Apple has ordered 10 one-hour episodes of the "Home" docuseries, which is produced by Matt Tynauer and Corey Reese of Altimeter Films.
See
"See" is an epic world-building drama that's set in the future, but other than that, little is known about the show so far.
It was written by Steven Knight, known for "Peaky Blinders" and Francis Lawrence, known for this work on three movies from "The Hunger Games" franchise.

"See" will star Jason Momoa in the lead role of Baba Voss, a fearless warrior, leader, and guardian, while Alfre Woodard will play Paris, an advisor and a priestess.
Sylvia Hoeks is set to play Queen Kane, a spiritual and military political head, while Archie Madekwe will play Kofun, an intelligent son.
You Think It, I'll Say It Comedy
Apple has ordered 10 episodes of a half-hour comedy show based on the "You Think It, I'll Say It" short story collection by Curtis Sittenfeld, which "upends assumptions about class, relationships, and gender roles in a nation that feels both adrift and viscerally divided."
The series was originally set to star Kristen Wiig, but she had to drop out after scheduling conflicts with "Wonder Woman 1984," where she plays villain Cheetah.
Untitled drama from Damien Chazelle
Apple signed a straight-to-series order for a drama series from "La La Land" creator Damien Chazelle. Little is known about the series at this time, as Apple has declined to share details.

Chazelle, who won multiple awards for both "La La Land" and "Whiplash," will write and direct every episode of the series.
Little America
Little America is based on a series of true stories features in Epic Magazine that paint a portrait of America's immigrants. The show will look at "the funny, romantic, heartfelt, inspiring, and unexpected lives of immigrants in America."
The series is being written by Kumail Nanjiani and Emily V. Gordon, known for their award winning film "The Big Sick," and Lee Eisenberg, known for his work on "The Office." Nanjiani and Gordon will also executive produce, alongside Alan Yang, "Master of None" co-creator, and Eisenberg.
Apple officially ordered episodes of "Little America" in June.
Swagger
"Swagger" is a drama series based on the early life and career of NBA star and Golden State Warriors player Kevin Durant. The show was inspired by Durant's experiences as a youth playing basketball, and it will highlight the world of Amateur Athletic Union (AAU) basketball, taking a look into the lives of players, their families, and coaches.

Imagine Television, led by Brian Grazer and Ron Howard, will produce alongside Kevin Durant's Thirty Five Media. Both Durant and Grazer will serve as executive producers, while Reggie Rock Bythewood will write and direct. Bythewood is known for his work on "Notorious," a movie that shared the story of Notorious B.I.G., and television series "Shots Fired."
In December 2018, Apple placed a straight-to-series order for "Swagger," which means production is moving forward on the show.
M. Night Shyamalan Thriller
Apple has ordered a psychological thriller written by Tony Basgallop and produced by M. Night Shyamalan, known for movies like "Signs," "Sixth Sense," "Unbreakable," "The Village," and "Split."
The first episode of the series will be directed by Shyamalan. Apple has ordered 10 episodes of the show, and each one will be a half hour long. Filming on the first season has already been completed.
Toby Kebbell and Lauren Ambrose are set to star in the show, which will follow a a young couple, Dorothy (Ambrose) and Sean Turner (Kebbell), who hire a nanny to help care for their newborn child. Also in the cast is Rupert Grint, who will play the younger brother of Ambrose's character. Kebbell is known for his role of Koba in the "Planet of the Apes" films.
Central Park
"Central Park" is Apple's first animated TV series, developed by Loren Bouchard, well-known for popular cartoon "Bob's Burgers."
The series is a musical comedy, which was written by Bouchard, Josh Gad, and Nora Smith. It tells the story of a family of caretakers who live in Central Park and end up saving both the park and the world.
Apple has ordered 26 episodes of the show in total, split into two 13-episode seasons. "Central Park" is produced by 20th Century Fox and stars Josh Gad, Leslie Odom Jr., Titus Burgess, Kristen Bell, Stanley Tucci, Daveed Diggs, and Kathryn Hahn.
Isaac Asimov's "Foundation"
Apple is working on a TV series adaptation of the popular sci-fi series Foundation written by well-known sci-fi author Isaac Asimov.

Foundation follows psychohistory expert and mathematician Hari Seldon who is able to predict the future. Seldon creates a group called the Foundation to preserve humanity's collective knowledge ahead of the impending fall of the Galactic Empire.
Emily Dickinson Series
Apple has given a straight-to-series order for a show about the life of famous American poet Emily Dickinson, who is set to be played by Hailee Steinfeld.

The show has been described as a comedic look into Dickinson's world exploring the constraints of society, gender, and family from the perspective of a budding writer who doesn't fit into her own time.
Jane Krakowski, known for roles in "Unbreakable Kimmy Schmidt" and "30 Rock," will also star in "Dickinson" as Mrs. Dickinson, Emily's mother. Filming on the first season has already wrapped up.
Little Voices
"Little Voices" is a half-hour dramedy from executive producers J.J. Abrams and Sara Bareilles, which has been described as a love letter to "the diverse musicality of New York."
The show will explore the lives of several characters in their 20s as they struggle to find their "authentic voice." The first season will consist of 10 episodes, which will feature original songs crafted by Bareilles.
Shantaram
Apple is working on a TV adaptation of Gregory David Roberts' 2003 novel "Shantaram." Shantaram is a fictional novel that focuses on a character named Lin, who is a convict that flees an Australian prison and then disappears into the city of Bombay.
"American Hustle" screenwriter Eric Warren Singer will serve as showrunner and executive producer. Singer worked on "Only the Brave" and wrote the script for the upcoming sequel "Top Gun: Maverick."
Hilde Lysiak drama
Apple ordered 10 episodes of a drama series about Hilde Lysiak, a child journalist who publishes a newspaper called the Orange Street News in her hometown of Selinsgrove, Pennsylvania.

The show will follow a young girl who moves from Brooklyn to the small lakeside town her father is from, where she unearths a cold case that everyone else in the town had attempted to bury. The story is based on Lysiak's own efforts to report on a murder in Selinsgrove, where she was the first person to expose it.
Child actress Brooklyn Price, who is known for playing Moonee in "The Florida Project," will star as Hilde Lysiak in the show.
Calls
Apple has ordered an English-language adaptation of French series "Calls," which began airing in France in 2017. "Calls" is a short-form series that tells stories based on snippets of audio taken from real-life situations with minimal use of visuals.
Many of the "Calls" episodes fall into the horror/mystery genre, with Apple expected to use the general format of the series in its adaptation.
Time Bandits
Rumors suggest Apple may turn 1980s fantasy movie "Time Bandits" into a TV series. "Time Bandits" featured the story of an imaginative 11-year-old boy, Kevin, who gets sucked into a fantastical adventure with a band of dwarves during the Napoleonic Wars in Italy.

Kevin and the band of dwarves travel through time using a magical map, visiting ancient Greece, the Titanic, and more, all while fighting off an evil being intent on stealing the time travel map.
Time Bandits will be directed by Taika Watiti, known for his work on "Thor: Ragnarok" and "What We Do in the Shadows."
Pachinko
Apple has secured the rights to create a TV show based on Min Jin Lee's bestselling novel "Pachinko," which chronicles the lives of four generations of a poor Korean immigrant family in Japan. Apple officially ordered eight episodes of the show in March 2019.
The story begins in 1911 with the birth of Sunja, who becomes involved with a married yakuza, falling pregnant and facing ruin in her small village. The town's minister offers her a new life in Japan as his wife, where she is alone, lost, and unable to speak the language. The book then follows the Sunja's family through eight decades and four generations.
The TV adaptation of "Pachinko" will be written and produced by Soo Hugh, who will also serve as showrunner. Hugh has previously worked on "The Terror," "The Whispers," "Under the Dome," and "The Killing."
Rob McElhenney and Charlie Day Video Game Comedy
Apple has ordered a half-hour scripted comedy show created by Rob McElhenney and Charlie Day, which is set in a video game development studio. Rob McElhenney and Charlie Day are best known for popular comedy show "It's Always Sunny in Philadelphia," which the duo have starred in since 2005 alongside Glenn Howerton, Kaitlin Olson, and Danny DeVito.
The series will star F. Murray Abraham, Imani Hakim, David Hornsby, Danny Pudi, Ashly Burch, Charlotte Nicdao, and Jessie Ennis, along with McElhenney.
Abraham is set to play C.W. Longbottom, a seasoned writer who works at a video game studio, while Nicdao will play poppy, a lead engineer at the studio. Hornsby will play david, a "hapless, emasculated" producer, and Pudi will be brad, an alpha male working in the monetization department.
Burch will be playing Rachel, a game tester who feels undervalued, while Hakim will play Dana, a "sweet and studious" game tester who loves gaming. Ennis will play Jo, Hornsby's over-eager assistant. Filming on the first season has already finished.
Losing Earth Climate Change Project
Apple has purchased the rights to develop a project based on the New York Times Magazine story "Losing Earth: The Decade We Almost Stopped Climate Change."
Written by Nathaniel Rich, "Losing Earth" covers the 10-year period from 1979 to 1989, a decade when "humanity settled the science of climate change and came surprisingly close to finding a solution" but ultimately failed to act due to various political forces. Apple plans to turn the article into a TV show, with Nathaniel Rich to executive produce.
Defending Jacob
Apple has given a straight-to-series order for drama series "Defending Jacob," which will star Chris Evans, known for his roles in "Captain America" and "The Avengers."
"Defending Jacob" is a thriller based on William Landay's bestselling novel of the same title. The book covers the murder of a 14-year-old boy and his friend Jacob, who may have committed the crime.
Jaeden Martell, known for playing a key role in "IT," will play Jacob, while Chris Evans will play his father Andy. Michelle Dockery, best known for her role as "Lady Mary Crawley" will play Jacob's mother.
Bastards
Apple is in negotiations to purchase the rights to Israeli drama series "Nevelot," aka "Bastards," a violent and mature drama series that revolves around two military veterans who go on a killing spree targeting young people "because they believe today's kids don't understand the sacrifices of their generation."
"Homeland" creator Howard Gordon is working on the adaptation, which could star Richard Gere. Apple is in a bidding war with Showtime, FX, and Amazon for the show and it's not clear if the company will win the bid. It is an unusual choice for Apple, though, as past rumors have suggested Apple will focus on more family friendly fare.
My Glory Was I Had Such Friends
Apple has given a straight to series order for a new show called "My Glory Was I had Such Friends," starring actress Jennifer Garner and executive produced by JJ Abrams.
The show is based on the 2017 memoir by Amy Silverstein, which follows a group of women who supported Silverstein as she waited for a second life-saving heart transplant.
Garner and Abrams previously worked together on well-known TV series "Alias," which ran between 2001 and 2006.
Simon Kinberg Sci-Fi Series
Apple has signed a deal for a 10 episode season of a new sci-fi series described as a large budget, ambitious, character driven show.
It will be executive produced and developed by Simon Kinberg, known for his work on the "X-Men" series of movies. No additional info is known on the show as of yet, but it is set to go into production in the summer.
CIA Drama Series
Brie Larson, known for her role in "Captain Marvel," is set to star in an upcoming drama series that's based on the experiences of undercover CIA operative Amaryllis Fox, who wrote a memoir called "Life Undercover: Coming of Age in the CIA."
Larson will star in and produce the series, which will offer a look into a young woman's journey in the CIA.
Partnerships
Oprah
Apple announced a multi-year production partnership with Oprah Winfrey in May 2018. Apple says it is teaming up with Oprah to create original programs that "embrace her incomparable ability to connect with audiences around the world.

Jason Katims
Well-known producer, writer, and show creator Jason Katims has departed Universal TV after inking a multi-year deal with Apple. Katims will now be creating content for Apple under his True Jack Productions banner. Katims has been responsible for many high-profile television shows, including "Parenthood," "Friday Night Lights," "Roswell," "Rise," and "About a Boy."
Justin Lin
Apple has signed an exclusive TV development deal with Justin Lin's Perfect Storm Entertainment company.
Justin Lin is known for directing several of the movies in the "Fast and Furious" franchise, including the 2009 "Fast and Furious" revival movie, "Fast Five," and "Fast and Furious 6." He also directed "Star Trek: Beyond" and has worked on episodes of "Community" and "True Detective."
Lin's deal with Apple comes after he spent six years working with Sony Pictures TV. His company, Perfect Storm Entertainment, developed several Sony TV shows for CBS including "Scorpion," "S.W.A.T," and "Magnum P.I." Specific details on television shows that Lin will develop for Apple are unknown at this time, but Perfect Storm Entertainment will be exclusively creating content for Apple.
Sesame Workshop Partnership
Apple is partnering with Sesame Workshop to create several different television shows for kids.
Sesame Workshop is a non-profit organization that develops educational children's programs such as Sesame Street.

Under the terms of the deal, Sesame Workshop will develop live-action and animated shows, plus an Apple-exclusive puppet series. Content created for Apple will be original and will not include "Sesame Street," which airs on PBS and HBO.
Fremantle
Apple is in talks with RTL Group, the largest broadcasting and production company in Europe, about a potential partnership. RTL Group owns Fremantle, which co-produces reality TV shows and game shows like "American Idol," "America's Got Talent," "The Price is Right," and "Family Feud."
It's not known what the partnership would entail nor what kind of content RTL Group would create for Apple.
Movies
In addition to purchasing multiple TV shows, Apple has started acquiring the rights to select films. So far, Apple's film selection is limited, but the company may be planning to expand it ahead of unveiling some kind of streaming service.
A24 Deal
Apple has hired entertainment studio A24 to produce multiple films for its upcoming streaming service. Apple has signed a multiyear agreement with A24, but no details on the films A24 will produce are available at this time.
A24 is responsible for movies like "Moonlight," "Room," "The Witch," "Ex Machina," "The Spectacular Now," "It Comes at Night," "Lady Bird," "The Disaster Artist," "Hereditary," and more.
The first film produced under the A24/Apple partnership will be "On the Rocks," directed by Sofia Coppola and set to star Bill Murray and Rashida Jones.
"On the Rocks" will follow a young mother who reconnects with her larger-than-life playboy father on an adventure through New York. Production on the movie is set to start in February 2019.
The Elephant Queen
Apple has acquired global rights to "The Elephant Queen," a feature-length documentary about an elephant matriarch who leads her herd to find a new watering hole.

Hala
Hala, directed by Minhal Baig and executive produced by Jada Pinkett Smith, is a coming-of-age movie that follows the life of Hala, a 17-year-old girl attempting to navigate her social life as a teen in Chicago and her obligations as the only child to Pakistani immigrants.

Wolfwalkers
Wolfwalkers is an animated film from Cartoon Saloon, a company that Apple was rumored to be working with starting in June 2018.
Wolfwalkers, like other Cartoon Saloon films, is set in Ireland. Robyn, an Irish girl, is set on wiping out the demonic, evil wolves until she meets a wild native girl, Mebh, whose friendship leads her to discover the world of the Wolfwalkers.
The Apple TV of the Future
For a long time, there were a slew of rumors suggesting Apple planned to debut a full high-definition television set, spurred by Walter Isaacson's Steve Jobs biography, which suggested Jobs wanted to revolutionize the television industry much like he transformed computers, music players, and phones. "I finally cracked it," Jobs was quoted as saying.
"I'd like to create an integrated television set that is completely easy to use," [Jobs] told me. "It would be seamlessly synced with all of your devices and with iCloud."..."It will have the simplest user interface you could imagine. I finally cracked it." Walter Isaacson - 'Steve Jobs'
Apple was reportedly unable to come up with a feature set compelling enough to warrant entry into the highly competitive television market, despite years of research. It is not clear if Apple will revisit its television set project in the future, but it is always possible Apple will reevaluate its plans as technology improves.
For time being, though, Apple is focusing its resources on improving the Apple TV set-top box, the TV app, and the tvOS App Store, revolutionizing television through the integration of content and interface without having to develop an actual television set and enter a brutally competitive market.
Older Apple TV Models
While the Apple TV roundup pertains to the fourth and fifth-generation Apple TVs that have been available since 2015, some people continue to use older versions of the Apple TV.
First, second, and third-generation Apple TVs run a different operating system and do not have access to a dedicated App Store with games, entertainment, and other apps. Instead, these Apple TVs use different channels offered by various content providers, along with several Apple apps like iTunes.
Older Apple TVs continue to function, but are not updated as often as the fourth and fifth-generation Apple TV models, and do not have the same range of content available.
As of May 25, 2018, security changes prevent the first-generation Apple TV from accessing the iTunes Store. Second-generation Apple TV models and later continue to work with the iTunes Store.
What's Next for Apple TV
Apple is considering creating a lower-cost Apple TV dongle similar to the Amazon Fire Stick or Google Chromecast. The device would be available at a lower price than the current Apple TV set-top boxes, and it would be able to be plugged into the back of a television set.
Apple is said to be contemplating an Apple TV dongle to promote its upcoming streaming television service in the works. A lower-cost dongle would make the service, which will be limited to Apple devices, more accessible to existing and potential customers.