Apple TV
Apple's fourth-generation Apple TV launched October 26, 2015.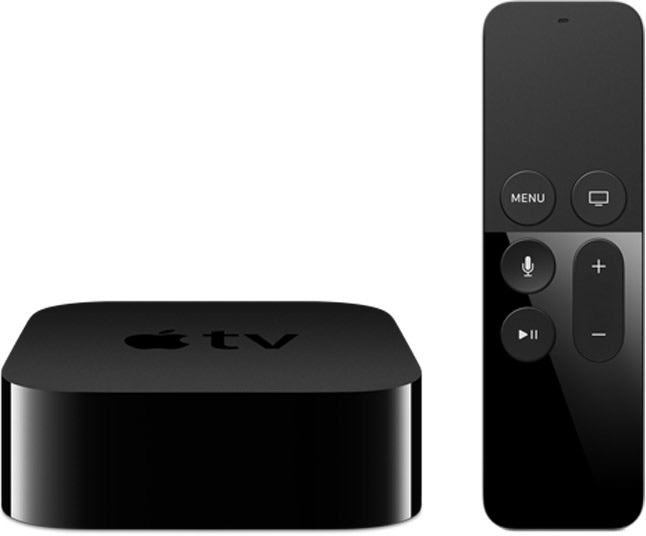 At a Glance
Apple's long-awaited fourth-generation Apple TV features an A8 processor and 32 to 64GB of storage, along with a touch-based remote control that doubles as a gaming controller. It has a brand new operating system, "tvOS," which includes deep Siri integration and a full App Store.
Features
Full App Store with SDK for developers
New "tvOS" operating system
Touch-based remote that doubles as a controller
A8 processor
32 or 64GB storage options
Deep Siri integration
What's Next for the Apple TV
Apple is rumored to be working on a fifth-generation Apple TV that's able to stream ultra high-definition 4K Video. Codenamed "J105," the upcoming Apple TV is able to output content in more vivid colors, and it could be released as soon as this year.
Apple did not include 4K in the original 4th-generation Apple TV due to the high price, but costs have come down and competition has increased, necessitating the 4K feature.
Evidence of a fifth-generation Apple TV surfaced in developer logs in March. An Apple TV game developer spotted a device identified as AppleTV 6,2, which was running tvOS 11 and came from an IP address linked to Apple's headquarters in Cupertino.
Apple TV6,2 does not correspond to an existing model, with the current Apple TV using an identifier of TV5,2.
A 2015 rumor from DigiTimes suggested Apple was working on a fifth-generation Apple TV as early as late 2015 with a launch planned for 2016, but that did not happen. It's not clear if any part of that rumor was accurate, but the site suggested the next Apple TV features a CPU that will "dramatically improve the device's hardware performance."
A rumor from VentureBeat suggests the next Apple TV could include features to allow it to better compete with products like the Amazon Echo and the Google Home. It could include a dedicated microphone and speaker, along with expanded Siri capabilities. Rumors suggest Apple is planning to open up Siri to developers, which would go a long way towards improving the personal assistant and bringing it closer to Echo functionality. Additional computing infrastructure could be added to facilitate the new Siri features.
Ahead of the launch of the fourth-generation Apple TV, the set-top box went several years without a significant update. It remains unclear how often Apple will update the Apple TV now that a recent version has been released. It could potentially be updated on a yearly basis like the iPhone, but there was no Apple TV update in 2016, suggesting an every-other-year or multi-year update schedule.
The Current Apple TV
Apple introduced the long-awaited fourth-generation Apple TV set-top box at its "Hey Siri" media event on September 9, 2015, giving the world an updated look at Apple's vision of the ideal television experience. The new box became available for purchase online on October 26, 2015, with the first deliveries occurring on October 30, 2015.
The Apple TV, which connects via HDMI to compatible television sets, focuses on what Apple says is the foundation of a great set-top box: powerful hardware, a modern operating system, a fun and easy user experience, powerful tools for developers to create apps, and a dedicated App Store.
Combined, these factors are aimed at expanding the available content on the Apple TV and making it easy for users to sort through that content to find new movies to watch, new TV shows to follow, and new games to play.

According to Apple, "Apps are the future of television," which has led the company to focus on software as much as hardware. The Apple TV includes 2GB RAM and an A8 chip that's much faster than the A5 in the previous version, allowing the device to support a full App Store with both casual and console-quality games, in addition to a range of apps that offer everything from live TV to weather reports. It also supports 1080p video at 60 frames per second.
To take the work out of watching TV, the Apple TV includes Siri support for searching for content by voice commands. Universal search capabilities also allow users to search through multiple apps at once to find exactly what they're looking for.
When looking for a movie, for example, it's possible to search through iTunes, Netflix, Hulu, HBO, and Showtime all at once to find content, which is a lot simpler than attempting to find a movie or a show using the search feature in each individual app.
Siri is accessed through the new Siri Remote, which includes a glass Touch panel for navigating through the Apple TV interface as one would on an iPhone. The remote has two microphones for picking up on Siri voice commands, and a built-in accelerometer and gyroscope let the Siri Remote double as a game controller. With Bluetooth 4.0, the Apple TV also supports third-party gaming controllers and Bluetooth keyboards (as of tvOS 9.2), and there's a dedicated Apple TV Remote app for iOS devices that mimics the physical Siri remote.
The Apple TV runs tvOS, an operating system designed just for the Apple TV. It brings an iOS 9-style redesign to the television set, and Apple has revamped all of its apps for the new operating system with a heavy focus on highlighting content to make it easier than ever to find things to do on your TV. There are new screen savers and a new Apple Music app that brings Apple's streaming Music service to the television for the first time.
To store apps, games, TV shows, movies, and music, the Apple TV includes either 32 or 64GB of storage space and it supports super fast 802.11ac Wi-Fi.
How to Buy
The fourth-generation Apple TV became available for purchase on Monday, October 26, 2015, and the first deliveries began arriving just a few days later. The Apple TV is available in 32 and 64GB configurations, with the 32GB version priced at $149 and the 64GB version priced at $199.
The Apple TV can be purchased from the online Apple Store and from Apple's retail stores. As of January, Apple is also offering discounted refurbished versions of the fourth-generation Apple TV from its online refurbished store.
For almost a year after the Apple TV 4 was released, Apple continued to sell the third-generation Apple TV at lower $69 price point, but on October 4, 2016, the third-generation Apple TV was discontinued. Apple now only sells the more expensive fourth-generation Apple TV models.
Hardware and Design
Design wise, the fourth-generation Apple TV isn't much to look at. It continues to use the same black square design as previous Apple TVs, but it's thicker and heavier. It measures in at 3.9 inches wide and deep like the existing box, but it's 1.4 inches tall, an increase of half an inch. It weighs just under a pound, at 15 ounces. The size increase of the new Apple TV may have been done to accommodate the new A8 processor, as a teardown revealed a much larger heat sink in the new set-top box.

A8 Processor
The Apple TV uses a 64-bit A8 processor, which was first introduced with the iPhone 6. It's a huge improvement over the A5 chip in the third-generation Apple TV, and it allows the set-top box to run high-quality console-style games.
With the A8 processor, Apple-designed technologies like Metal are supported, allowing game and app developers to get maximum performance from the chip with the best possible graphics and graphical effects.
RAM
The Apple TV includes 2GB of SK Hynix LPDDR3 SDRAM, significantly more than the 512MB of RAM included in the third-generation Apple TV.
Audio and Video Support
With the iPhone 6s and 6s Plus now able to capture 4K video, there was some hope that the fourth-generation Apple TV would support 4K video, but it does not. It supports 1080p video at 60 frames per second.
It includes Dolby Digital Plus 7.1 sound, with support for the following audio formats: AAC, MP3, Audible, Apple Lossless, AIFF, and WAV. It also supports JPG, GIF, and TIFF photo formats.
Storage Space
The Apple TV is available in 32GB and 64GB capacities, but Apple limits the initial install size of each individual Apple TV app to 200MB because apps on the Apple TV use on-demand resources. Apps larger than 200MB must be broken into downloadable bundles that can be accessed as required. Each time an app used, it needs to download the required assets from iCloud as needed, saving storage space on the Apple TV. This can result i some short wait times when installing large apps and games.
It is not clear why Apple put this limitation in place, but it may be related to App Thinning, an iOS 9 feature that cuts down on the size of apps by installing only what's needed. Apple TV apps, like Apple Watch apps, are universal and included with their iOS and iPad counterparts, so there are a lot of assets dedicated to each device that are not necessarily required.
Apple is also likely keen on preserving storage space for content like television shows, movies, and music.
Wi-Fi and Bluetooth
The Apple TV supports 802.11ac Wi-Fi with MIMO and it includes Bluetooth 4.0 for connecting to accessories such as game controllers and keyboards. The Apple TV is also able to connect via Bluetooth to Bluetooth-enabled headphones and speakers, something that was not possible with the previous-generation Apple TV. With a set of Bluetooth headphones, Apple TV users can watch television without bothering others in the room.
The Apple TV only supports two Bluetooth controllers at one time, limiting the number of players are able to play games together on the device using controllers as an input method. As of tvOS 9.2, the Apple TV 4 also supports Bluetooth keyboards.
Ports
On the back of the Apple TV, there's a spot to plug in a power cable, an HDMI 1.4 port, a 10/100BASE-T Ethernet port, and a USB-C port, for "service and support."

HomeKit
The fourth-generation Apple TV is able to serve as at at-home hub for HomeKit devices, allowing them to be controlled when away from home. The now-discontinued third-generation Apple TV is also able to serve as a hub but does not support the setup of HomeKit automation or user permissions.
Remote Control
External Design
The set-top box part of the new Apple TV may not have gotten much of an exterior revamp, but the Apple TV remote that accompanies it has seen a major overhaul to let it handle Siri commands and function as a gaming controller.
Available in black to match the set-top box, the new "Siri Remote" does away with the click wheel on the old Apple TV remote, replacing it instead with a glass Touch surface that lets users scroll through content on the Apple TV as they would on an iOS device.

Touch controls on the Siri Remote are an important part of the Apple TV navigation experience, which is designed to be simpler and streamlined in comparison to other set-top and cable boxes. According to Apple, the touch surface on the Apple TV remote is designed to feel "fluid and precise," and so natural that a user never needs to look down at the remote to hunt for a button.
On the remote, a thumb can be used to swipe, scroll, select, and move around the screen, putting an end to clunky button-based interactions, and a click anywhere on the surface makes a selection. It's also possible to use the touch surface for fast forwarding and rewinding, which is more precise than other methods of scrubbing through content.

While the top of the Siri Remote is made of glass, the bottom half of is made of aluminum. It has two built-in microphones to let it hear Siri commands, along with a menu button, a home button, a Siri button that activates the personal assistant, a set of volume up and down buttons for controlling volume, and a button for pausing and playing shows.
At the bottom of the Siri remote, there's a Lightning port that's used for charging with the included Lightning to USB Cable that can be plugged into a USB port on a computer or an iOS power adapter. According to Apple, the Siri Remote's battery lasts for several months on a single charge.
Internal Features
Along with an IR transmitter for use with television sets, the Siri Remote has Bluetooth 4.0 to communicate with the Apple TV, so line of sight is not required to use the set-top box.

With the IR transmitter, the Siri Remote can control the volume on a TV or A/V receiver, so there's no need to switch between multiple remotes. There's an accelerometer and a gyroscope built into the remote, which, along with the touch portion, allows it to be used as a gaming controller for iOS games.
Because it accepts IR input, the new Apple TV can also be controlled by older Apple TV remotes, including those dating back several generations.
Apple has also released an Apple TV Remote app for the iPhone and iPad that mimics the look of the Siri Remote. It offers all of the features of the Siri Remote, serving as a way to access and navigate through content and play games.
Accessories
The Siri Remote has its own dedicated accessory, the Remote Loop, which attaches the bottom of the Siri Remote to the wrist so it doesn't fly out of a hand during motion-based gameplay.
Siri Remote vs. Apple Remote
The Apple TV remote that has Siri built-in is only available in a handful of countries: Australia, Canada, France, Germany, Japan, Spain, the UK, and the United States.
In other countries, Apple simply calls the remote an Apple TV Remote and disables the built-in Siri support. Instead, the microphone button on these remotes brings up the onscreen search app. The remotes are identical, however, and Siri can be used on an Apple TV Remote if the Apple TV is logged into an account tied to a country where Siri is supported.
Siri's limited availability on the Apple TV is reportedly due to pronunciation and translation issues for movie and television show titles. These problems will need to be overcome before Siri can expand to additional countries, but Apple does plan to add Siri integration for more countries and languages in the future.
tvOS
The fourth-generation Apple TV runs a new operating system named "tvOS," which takes iOS 9-style design elements and translates them to an Apple TV interface. Content wise, the Apple TV continues to offer the same channels and apps, like iTunes and Photos, but all of the Apple-created apps have been redesigned for the new system.
tvOS was designed to put content front and center, but with a familiar design that's easy to navigate. The tvOS home screen is organized into different apps, much like on an iOS device, and opening one of those apps delves into the content inside.
Navigating through tvOS is done through the touch-based remote and through Siri voice commands. Most-used apps, like Netflix or Hulu, can be added to the top row of the Home screen for quick access, and when selected, content from within the app is displayed above. With Netflix, for example, content from a user's playlist might populate the top bar whenever Netflix is selected.

tvOS Current Version
The current version of tvOS is tvOS 10.2, released to the public on March 27. tvOS 10.2 is a relatively minor update that introduces scrolling improvements, bug fixes, and performance enhancements.
Apple has also seeded the first beta of an upcoming tvOS 10.2.1 update to developers, which appears to focus on bug fixes and performance improvements rather than outward-facing features.
For full details on tvOS 10, make sure to check out our full tvOS roundup.
App Store
A full App Store is the most important feature in tvOS, as it allows users to customize what they do on the device, choosing which apps and what content to install. The App Store features traditional apps like Netflix and Hulu, but it's also open to all iOS and Mac developers, introducing a wealth of new content for the Apple TV. Apple began allowing developers to submit apps for the new Apple TV App Store on October 22, 2015.
Supported apps include sports apps, weather apps, news apps, concerts, educational programming, and more, but there's a limitation to be aware of when it comes to apps - no WebKit or UIWebview support. Without WebKit, there's no tool for browsing the web on the Apple TV, so all apps that use WebKit to display information need to find another way to display that content on the Apple TV.
For example, a Twitter or Facebook app on the Apple TV might not be possible because there would be no way to open up web links shared on the sites. It also means websites and web browsing isn't an Apple TV feature, a restriction Apple likely put in place to avoid the hassles of attempting to navigate a website from across the room with a remote.
Games
In addition to traditional media apps, iOS game developers are able to bring their games to the television through Apple's set-top box. Developers can make their apps universal, making them available on iOS devices and the Apple TV alike, which makes it possible to start a game on an iOS device and then switch over to the larger television screen using Handoff capabilities.

The Siri Remote is the primary control method when playing a game on the Apple TV, but Apple-approved game controllers can be connected via Bluetooth, and with multiplayer games, the iPhone and the iPod touch can be used as controllers with the Apple TV Remote app, revamped in August of 2016.
With the built-in gyroscope and accelerometer, the Siri Remote can be used much like a Wii Remote, as a motion-based game controller. It can serve as the steering wheel in a racing game, or as a tennis racket or bat in a sports game. The Touch surface even serves as a virtual directional pad for use in endless runners, platformers, puzzle games, and more.
Games can also use third-party Made for iPhone certified Bluetooth controllers for games, and as of tvOS 10, controllers are able to be required, meaning games don't need to be built with Siri Remote support.
Siri
Siri integration is a key part of the tvOS experience on the new Apple TV, and Siri is able to answer to a range of commands to make finding content on the Apple TV easier than ever before. As Apple says, the idea is to "take the work out of watching TV," which it does by pairing Siri search with the touch-based Siri Remote.
Siri on the Apple TV is activated by pressing on the dedicated Siri button on the Siri Remote and then speaking a command. Siri can respond to a huge range of requests on the Apple TV, doing everything from offering up movie recommendations to revealing the actors in a television show.
As on iOS, Siri can open apps and games and respond to commands that are more than simple content searches. For example, Siri can display sports scores, movie times, weather, and stock status. Siri can also be used to change specific settings with commands like "Turn on Enhanced Speech," a feature that boosts dialogue and softens music and sound effects, or "Turn on closed captioning" for subtitles.
One of the neatest Siri perks is a feature that replays content. During a TV show or movie, ask Siri "What did he just say?" or a similar command and Siri rewinds 15 seconds and temporarily turns on captions. Rewinding and fast forwarding can also be done with voice commands like "Fast-forward five minutes," or "Play from the beginning."
Siri displays information on the cast in a movie or television show when queried. Asking questions like "Who directed this movie?" or "Who stars in this movie?" brings up a list of the cast. Siri can filter based on cast, director, date, or age rating.

With commands that bring up extra content, like behind-the-scenes information, sports scores, or weather, the information is displayed at the bottom of the Apple TV interface so it does not interrupt the show or movie that's on the screen. Tapping on the remote opens the bottom bar full screen, pausing the television show or movie that's playing, and it's simple to switch between tasks with a swipe of the remote.
Systemwide Search
Siri's impressive content abilities are enabled in part by a systemwide search feature that lets tvOS search through multiple apps to bring up different movie and television content suggestions. At launch, supported apps include Netflix, iTunes, Hulu, HBO Go, and Showtime, but Apple has been steadily expanding the number of apps that can be searched using the new feature.
In the United States, universal search is available for more than 50 apps, ranging from popular channels like Disney, Syfy, MTV, The CW, and USA, to more niche channels like Telemundo, MUBI, and Lifetime. Apple maintains a full list of all the apps that work with universal search in a search support document.
While universal search is available for many apps in the United States, it is much more limited in other countries. To find out which apps work in which countries, check out Apple's list.
The "TV" App
Apple worked with television content providers and video companies to create a universal digital TV guide for the Apple TV and iOS devices, which is called simply "TV." The TV app for tvOS was officially introduced in tvOS 10.1, which was released to the public on December 12, 2016.
Apple's goal is to help users discover all of the different television channels that are available through dedicated apps from companies like HBO, Netflix, and ESPN without requiring customers to open up each app to view the content. The TV app also includes a feature to allow users to play TV shows and movies with a single click and it syncs content between all of user's devices.
The Single Sign-On feature in tvOS 10 is a major part of Apple's TV guide plan and it integrates with the TV app to make signing in simpler. First introduced with tvOS 10, Single Sign-On is designed to allow customers with a cable subscription to sign into the Apple TV once and access all of the content available to them with cable authentication. Single Sign-on became available in December of 2016.
Content Struggles
No More Streaming Television Service
Apple was rumored to be working on a streaming television service to accompany the new Apple TV, but following delays and difficulties negotiating deals with content providers, Apple has reportedly shelved its streaming TV plans once again.
Apple is not abandoning its plans for a television service entirely, but it has so far been unable to secure the deals that would allow it to sell a bundle of channels for $30 to $40 per month because media companies want more money for content and they are reluctant to unbundle their channel offerings.
Rather than working on a streaming service at this time and dealing with the ongoing frustration of trying to establish deals with content providers, Apple is instead focusing on its tvOS App Store, which serves as a platform that gives media companies the tools to sell content directly to customers.
Apple is using the Apple TV and tvOS to provide third-party content through an Apple-designed user experience and interface that's able to make the television-watching experience more streamlined and simple. Apple iTunes chief Eddy Cue has said that existing television interfaces are "pretty brain dead," hinting at Apple's line current line of thinking. According to Cue, television is continuing to improve gradually, getting better each year as restrictions relax and content providers become more comfortable with emerging technology.
Ambitions and Negotiation Troubles
Based on the rumors dating back to 2009, Apple's television strategies have continually shifted over the past few years as it has failed to establish necessary deals to fulfill its ambitious television plans. Apple was originally aiming for a full a la carte television service that would replace traditional cable packages, allowing consumers to untether themselves from existing cable providers and existing subscription packages.

Unsurprisingly, both cable and content providers were resistant to the idea, the former because such a service would entirely disrupt the television industry and the latter because providing content to Apple could anger cable providers and upset existing revenue streams. Pushback from from current TV industry giants has been a sticking point for Apple over the years, preventing the company reaching deals that would allow it to enter the television market. Apple has also declined to back down from the terms that it wants, using negotiation tactics described as "assertive" and "hard-nosed." iTunes chief Eddy Cue, who leads these talks, refuses to settle for less than what Apple is demanding, leading to the end of negotiations on many occasions.
After facing continued negotiation troubles, Apple reportedly scaled back on its television ambitions, shifting its focus to working alongside cable companies instead of against them. Over the years, Apple has been rumored to be working on television products ranging from a cable box replacement to a service that would combine cable content with an Apple interface, commercial skipping, and additional cloud-based DVR functionality.
With the proliferation of web based streaming television services and standalone content packages from companies like Netflix, HBO, and Showtime, the television industry is growing used to the idea of web-based television services, so there was hope Apple would be able to launch a streaming television service to accompany its fourth-generation Apple TV.
Apple was rumored to be working on a web-based service that would bundle approximately 25 channels for $30 to $40 a month. Apple met with multiple content providers to discuss the service, including ABC, CBS, Fox, Disney, Viacom, and Discovery, along with dozens of local affiliates, but it was ultimately unable to secure the deals it needed to launch the service.
Apple is even said to have considered purchasing Time Warner at the end of 2015, but discussions never progressed beyond a preliminary stage. While the purchase did not go through, it does suggest Apple is serious about getting into original programming.
Apple's content-related television plans are once again said to be on hold, with Apple now focusing on its tvOS App Store.
New Tactic - Original Programming
Though Apple's streaming plans are on hold, there have been rumors Apple is exploring the possibility of original television, mainly as a way to promote Apple Music. Apple executives have met with TV producers and Hollywood studios to discuss the possibility of original television programming that would be offered exclusively to Apple customers. Discussions with Hollywood execs are being led by iTunes chief Eddy Cue and iTunes VP of content Robert Kondrk, and are ramping up with recent hires.
Apple's first original show is said to be a dark semi-autobiographical drama called Vital Signs, starring Beats co-founder Dr. Dre. Apple is planning to make six episodes of the series, each of which will reportedly focus on a different emotion and the way Dre's character handles it. It's rumored to be very dark, reflecting at least in part on the life of Dr. Dre. It will be available to Apple Music subscribers, and some rumors suggest Apple may not have plans to broaden its original content efforts beyond Apple Music promotion at this time.
Apple is also working on an original non-scripted television show that will be focused on the App Store. Called "Planet of the Apps," the show is said to "spotlight the app economy." A potential release date is not known, nor has Apple specified how the TV show will be distributed. Apple iTunes chief Eddy Cue has said the show should not be taken as a sign that Apple is planning to make a deeper dive into original television programming, but a recent report from Fast Company suggests Apple is indeed aiming to take on Netflix and Amazon with its own original programming offerings, courting "triple a-list" talent for the project.
In July, Apple purchased an unscripted television series based on the highly popular "Carpool Karaoke" segment from "The Late Late Show With James Corden." Apple iTunes chief Eddy Cue said the show is the "perfect fit" for Apple Music, where it will debut. Apple plans to use the show to drive online activity for the streaming music service. Apple will air 16 half hour episodes of Carpool Karaoke, with each episode featuring a different host. Apple's version of Carpool Karaoke will feature non-musical celebrity guests in addition to traditional musical guests.
Apple's plans have reportedly evolved into a making a deeper push into original programming in order to promote Apple Music. Apple is said to be planning to launch shows that are similar in quality to highly popular series' like Netflix's Stranger Things and HBO's Westworld.
Though Apple plans to air the shows on Apple Music, the proposed shows reportedly do not have any particular relationship to music, unlike Carpool Karaoke and Vital Signs, two shows that are already in the works. Rather than competing with Netflix and Amazon Prime Video, Apple is aiming to use the content to give it an edge over competing music services like Spotify, hence the focus on Apple Music.
Over the last several months, Apple has been in talks with producers about purchasing rights to scripted television programs, and the company is also said to be hiring marketing people to promote the content. Apple may also eventually expand into movies, but those plans are said to be "more preliminary."
Apple's Eddy Cue held meetings with Paramount Pictures and Sony Pictures in February of 2017, but the content of the discussions is unknown. Apple is allegedly looking for a "transformative acquisition" and is "preparing something big" but previous rumors have suggested Apple is just dabbling in original content as a way to promote Apple Music.
According to iTunes chief Eddy Cue, Apple is not in the business of trying to create TV shows and it's not aiming to compete with Netflix or Comcast. Apple is, he said, trying to help content creators develop innovative content for Apple's platform and it is not actively attempting to buy any studio at this point in time.
Apple CEO Tim Cook says Apple has a "toe in the water" testing original television content for Apple Music and use that to gauge how to move forward. "With our toe in the water, we're learning a lot about the original content business and thinking of ways we could play in that," he said during a January 2017 earnings call.
The Apple TV of the Future
For a long time, there were a slew of rumors suggesting Apple planned to debut a full high-definition television set, spurred by Walter Isaacson's Steve Jobs biography, which suggested Jobs wanted to revolutionize the television industry much like he transformed computers, music players, and phones. "I finally cracked it," Jobs was quoted as saying.
"I'd like to create an integrated television set that is completely easy to use," [Jobs] told me. "It would be seamlessly synced with all of your devices and with iCloud."..."It will have the simplest user interface you could imagine. I finally cracked it." Walter Issacson - 'Steve Jobs'
Apple was reportedly unable to come up with a feature set compelling enough to warrant entry into the highly competitive television market, despite years of research. It is not clear if Apple will revisit its television set project in the future, it is possible Apple will reevaluate its plans as technology improves.
For time being, Apple will focus its resources on improving the Apple TV set-top box and the tvOS App Store, revolutionizing television through the integration of content and interface without having to develop an actual television set and enter a brutally competitive market.