Apple TV
Apple's fifth-generation Apple TV, launched September 22, 2017.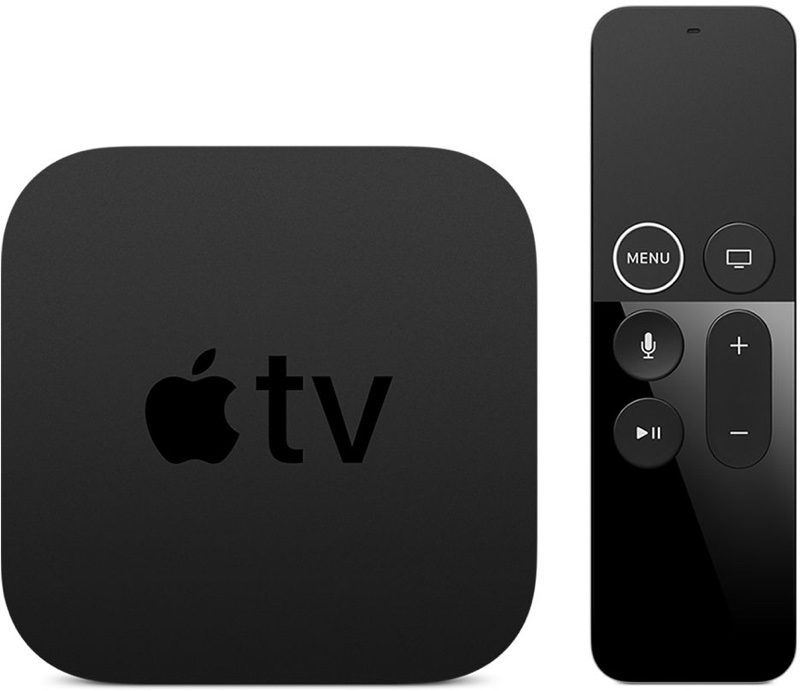 At a Glance
Apple's fifth-generation Apple TV features an A10X Fusion processor and 32 to 64GB of storage, along with support for 4K HDR for the first time.
Features
4K support
HDR support
Touch-based remote that doubles as a controller
A10X Fusion processor
32 or 64GB storage options
Deep Siri integration
The New Apple TV 4K
In September of 2017, Apple introduced the new Apple TV 4K, its first update to the set-top box since 2015. There are two key technologies at the heart of the new Apple TV: 4K and HDR, both of which bring cinematic quality to everything you watch on the new box.
4K support brings incredible detail to the Apple TV with four times the number of pixels as HD. 4K resolution is defined as 3840 x 2160, while HD is 1920 x 1080. While the 4K Apple TV offers improved resolution, its support for high dynamic range (HDR) is perhaps even more important. HDR brings richer, more vibrant colors and supports a wider range of colors.
As iTunes chief Eddy Cue said on stage when introducing the Apple TV 4K, 4K is about the number of pixels, but HDR is about better pixels. Apple TV 4K supports both the HDR10 industry standard and Dolby Vision, a higher-quality version of HDR with even better color.
The Apple TV 4K is meant to be paired with television that supports both 4K and HDR technology. Without an accompanying 4K television, the Apple TV 4K experience won't be the same. To get the most out of the Apple TV 4K, 4K content is also required.

Apple is offering 4K movies through its iTunes Store, and 4K content is also available through Netflix, Amazon Prime Video, and other streaming services. YouTube isn't supported, though, as it uses an incompatible format.
The tvOS interface has been redone in 4K with sharper text, and more vibrant images. Videos captured on the iPhone can be viewed in 4K on the Apple TV, and all of the Apple TV's animated video screensavers have been remastered in 4K. It supports apps like Apple Music and allows the Apple TV to serve as a HomeKit hub and an access point for controlling all of the connected devices in your home.
Inside, the Apple TV 4K is equipped with an A10X Fusion chip, the same chip used in the 2017 iPad Pro models. The Apple TV is twice as fast when it comes to CPU performance and four times as fast when it comes to GPU performance, enabling a whole new class of apps and games.
There have been no design changes to the Apple TV, so it continues to look like a simple black box that plugs into a television using an HDMI cable. There's a new Gigabit ethernet port included, and the USB-C port that was on the previous device has been removed.
It ships with an included Siri Remote for control purposes, and the Siri Remote has seen some slight design tweaks. The Siri Remote is used for navigation, accessing the Siri personal assistant for voice searches, and as a game controller when playing games.

Apple TV 4K runs tvOS 11, the newest version of the tvOS operating system. tvOS 11 continues to put the "TV" app front and center, giving Apple TV customers a way to find all of their favorite movies and television shows in one easy-to-access place.
The Apple TV 4K is available in 32 and 64GB capacities to store downloaded apps and content, with the 32GB model priced at $179 and the 64GB model priced at $199.
How to Buy
The new Apple TV 4K can be purchased from the Apple online store or from Apple retail stores around the world. It is also available from third-party retailers like Best Buy, Target, and Walmart. 32GB of storage space is priced at $179, while 64GB of storage is priced at $199.
Apple is also continuing to sell the fourth-generation Apple TV, which does not support 4K. It is available for $149.
Refurbished fourth and fifth-generation Apple TV models are available for purchase at a discount from Apple's online store for refurbished products. Refurbished Apple TV models are just like new models, come with the same warranty, and have been inspected and guaranteed by Apple.
Hardware and Design
Like the fourth-generation Apple TV, the new fifth-generation Apple TV 4K is a simple, unobtrusive black box that's about the size of the palm of your hand. There's an Apple TV logo at the top, and aside from that, the Apple TV is black on all sides and blends well with any home decor. It's small enough that it fits on any shelf or TV unit, taking up very little space.

At the back of the Apple TV 4K, there's an HDMI 2.0a port, a Gigabit Ethernet port, and a port for the power cord. Compared to the previous-generation Apple TV, the new Apple TV gains the Gigabit Ethernet port (instead of 10/100) and loses a USB-C port that used to be available for things like downloading developer betas and taking Apple TV screenshots.

The Apple TV 4K measures in at 3.9 inches on each of its four sides, and it is 1.4 inches tall. It weighs just under a pound at 15 ounces. Inside, there's a new replaceable fan and a total of eight exhaust ports to support the improved processor.

Processor and Internals
Inside the Apple TV, there's an A10X Fusion chip, which is the same chip used in the 2017 iPad Pro models. The A10X Fusion is a much faster chip than the chip that was available in the fourth-generation Apple TV, with 2x the CPU performance and 4x the GPU performance. The Apple TV also has 3GB RAM to support 4K.
With the new chip, the Apple TV 4K can run much more system intensive games and apps, allowing for games that can take advantage of the 4K display.
For storing games and downloaded content, the Apple TV is available in either 32 or 64GB capacities. Most people will not need more than 32GB of storage, but those who plan to download many apps or games may want to go with 64GB.

For connectivity, the Apple TV 4K supports simultaneous dual band (2.4GHz and 5GHz) 802.11ac Wi-Fi with MIMO and Bluetooth 5.0.
Siri Remote
Sold alongside the Apple TV as an input method, the rectangular Siri Remote features a built in touch surface used as a general "select" button and touch pad, a Menu button, a Home button, a Siri button for activating Siri, play/pause buttons, and standard volume controls. The Siri Remote connects to the Apple TV using a Bluetooth 4.0 connection, and can also control elements of a TV set like Bluetooth using an IR transmitter.
The touch surface on the remote is used as a touch-based navigation method, allowing users to swipe through the App Store, the Home screen, and content within apps, as well as fast forward, rewind, and perform other TV control gestures. It takes up about one-third of the remote.

When held down, the Siri button on the remote activates Siri, and Siri on Apple TV works much like Siri on iPhone. There are two microphones built into the remote so Siri commands can be heard, with Siri relaying information back on the television screen.
In 2017, the Siri Remote has been slightly redesigned. There's a new white ridge around the Home button, which makes it easier to determine which end of the remote is in your hand without needing to look down at it.
At the bottom of the Siri Remote, there's a Lightning port that's used for charging with a standard Lightning cable. The Siri Remote needs to be recharged every few months.
Because there's an accelerometer and a gyroscope built into the Siri Remote, it can be used as a controller for many Apple TV games.
The Siri Remote is only available in a handful of countries: Australia, Canada, France, Germany, Japan, Spain, the UK, and the United States. In other countries, there is no built-in Siri support, and the remote is called "Apple TV Remote." Instead of bringing up Siri, the microphone button on these remotes brings up an on-screen search app.
Remote App
Along with the physical Siri Remote, the Apple TV can be controlled using a Remote app that's available in the App Store for the iPhone, iPad, and Apple Watch. The Remote app has a layout that's similar to the Siri Remote, offering virtual controls for navigating the Apple TV interface, accessing Siri, and controlling volume. On the iPad, details about what's playing are also shown in the app.

Bluetooth Accessories
The Apple TV also supports third-party Bluetooth gaming controllers that can be used in lieu of the Siri Remote when playing a game from the tvOS App Store, and a Bluetooth keyboard can be connected.

4K and HDR
4K delivers four times more pixels than standard HD (3840 x 2160 vs. 1920 x 1080) and paired with HDR support, the Apple TV 4K offers brighter, more realistic colors along with much greater detail. Both HDR10 and Dolby Vision are supported, with the latter being the preferred HDR standard because it offers a wider range of colors.

HDR and 4K are both noticeable upgrades over 1080p high definition, especially so when it comes to HDR. 4K (also called ultra high resolution) offers more pixels and with HDR, you get deeper reds, more vivid greens, brighter blues, clearer yellows, and more contrast and color range in scenes with both light and dark elements.

4K on left, 4K HDR on right
The Apple TV 4K requires a compatible 4K television to properly display content at a 4K resolution, and you also need to supply an HDMI cable for connecting the television to the Apple TV. Apple recommends a cable compatible with HDMI and Dolby Vision, and more specifically, an HDMI cable that has a Compatible Dolby Vision mark.
For the best experience, a TV that supports 4K and HDR at 60Hz (50Hz in Europe) is required, but it will work with 4K Standard Dynamic Range, 4K High Dynamic Range, and 4K Dolby Vision.
The Apple TV 4K will also work with a TV that has a 30Hz HDR refresh rate (25Hz in Europe) but lower refresh rates can result in choppy video, so Apple's recommendation for TVs that don't support HDR at 60Hz is to lower resolution to 1080p at 60Hz and letting the television upscale to 4K.
4K Streaming
To stream content in 4K from iTunes, Netflix, or another source, Apple recommends that customers have a minimum connection speed of 25Mb/s. If an internet connection isn't fast enough for transferring 4K content, Apple will downscale the video quality.
Apple does not allow users to download 4K content from iTunes, with 4K content limited to streaming.
Supported Photo and Video Formats
The Apple TV 4K supports H.264, HEVC (H.265), HEVC Dolby Vision, and MPEG-4. As for photos, it can display images in the following formats: HEIF, JPEG, GIF, and TIFF.
Supported Audio Formats
Supported audio formats include HE-AAC, AAC (320Kb/s max), protected AAC, MP3 (320Kb/s max), MP3 VBR, Apple Lossless, FLAC, AIFF, WAV, Dolby Digital 5.1, and Dolby Digital Plus 7.1 surround sound. In the future, Apple may add support for Dolby Atmos.
Compatible Content
The Apple TV 4K can play 4K content from a range of sources. Apple has made deals with movie studios to offer a wide selection of 4K movie titles in iTunes, which are available for the same price as HD movies.
Apps like Netflix and Amazon Prime Video (released in late 2017) also offer content that can be streamed in 4K.
YouTube offers 4K content but it is not compatible with the 4K Apple TV at this time as Apple does not support the VP9 format YouTube uses for 4K.
The Apple TV 4K is designed for 4K content and the picture looks the best when streaming or playing 4K resolution TV and movies, but non 4K HDR content is compatible. With non-HDR and lower resolution movies and TV shows, the Apple TV upscales the content.
Regardless of your setup and the content you're watching, Apple TV 4K will always choose the settings that are going to give you the best picture.
tvOS
The fourth and fifth-generation Apple TVs run an operating system called tvOS, which was built from the ground up to provide a simple, easy-to-navigate television watching experience. tvOS is designed to put content front and center, with a familiar app-centric design that's controlled through the touch-based remote and Siri voice commands.
tvOS features a full App Store for downloading a range of different apps and games that can be used on the Apple TV, and it features several built-in apps, much like iOS. Built-in apps include Photos for accessing your Photo Library on the Apple TV, Apple Music, Podcasts, Computers for Home Sharing, and TV, an app that aggregates TV and movie content from a wide range of apps.

Siri integration is a key part of tvOS, allowing users to search for specific content via voice for quicker content access, and there are useful features to make television watching simpler, like Single sign-on for automatically signing into third-party apps that require cable authentication with your cable credentials.
Current Version - tvOS 11.3
The current version of tvOS 11 is tvOS 11.3, released to the public on March 29. tvOS 11.3 includes enhancements to Match Content support, automatic frame rate switching on the fourth-generation Apple TV, and automatic mode switching for AirPlay video sessions.
Apple has also seeded five betas of an upcoming tvOS 11.4 update to developers and public beta testers. tvOS 11.4 reintroduces support for AirPlay 2, a feature that was removed from iOS 11.3 ahead of its release.
TV App
On the Apple TV, a lot of content is made available through third-party apps for individual cable channels or cable services. For example, there are apps for HBO, CBS, FOX, NBC, and a whole range of other channels, some of which require a subscription to a cable service to access.
It's a hassle to have to navigate through dozens of apps to find all of the television content available to you, and so Apple designed the TV app to do all the work for you. The TV app aggregates content from more than 60 different TV and movie apps, putting it all in one easy-to-access place.

The TV app is available on the Apple TV and iOS devices, and it keeps track of what you're watching and syncs progress across all of your devices. So if you start a TV show on your iPad, you can pause and then finish it up from the same spot on your Apple TV.
Apple's TV app will also remember what episode of a show you were on, and it'll display all of the content you've been watching in an "Up Next" section. Another section, "Watch Now," displays recommended content and a list of curated and trending TV shows and movies, while Library houses your iTunes Movie collection and Store allows for content purchases from iTunes and other services.

The TV app works hand-in-hand with Single sign-on, allowing you to enter your cable credentials once and then sign into all of the apps you have access to through your subscription.
Apple has big plans for the TV app and plans to introduce improvements on a regular basis. As of tvOS/iOS 11.2, the TV app features support for live sports, with a whole Sports hub for sports fans. The Sports hub offers up access to all kinds of live games, with the TV app surfacing the most interesting and exciting games based on score, time left, and more. The Sports section of the app will also change based on season and will offer live content from a range of sources.
In February of 2018, Apple also added a new live news section to the TV app, allowing users to get direct access to live news channels like Bloomberg, CBS News, Cheddar, CNBC, CNN, and Fox News.
Some content providers make a select amount of content available for free, but many apps require you to have an existing cable subscription to access content on the Apple TV or on mobile devices. Live content, for example, requires an appropriate subscription to access content. Like the Apple TV, the TV app itself doesn't offer its own content -- it aggregates third-party content from many sources.
In the near future, Apple may introduce an option to purchase subscriptions to streaming services directly within the TV app, alleviating the need for customers to purchase subscriptions from third-party apps and websites.
The TV app is available on the Apple TV and iOS devices in the United States, Canada, Australia, France, Germany, Sweden, Norway, and the UK. A list of apps available for the TV app in each country is available in an Apple support document.
Siri
Siri on the Apple TV is activated by pressing the dedicated Siri button on the Siri Remote and then speaking a command. Siri can respond to a huge range of requests on the Apple TV, doing everything from offering up movie recommendations to revealing the actors in a television show.

As on iOS, Siri can open apps and games and respond to commands that are more than simple content searches. For example, Siri can display sports scores, movie times, weather, and stock status. Siri can also be used to change specific settings with commands like "Turn on Enhanced Speech," a feature that boosts dialogue and softens music and sound effects, or "Turn on closed captioning" for subtitles.
Siri understands topics and can answer topic-based searches like "Show me movies from the 80s," or "Show me movies that feature dinosaurs," or "Find documentaries about architecture." Siri can also understand when multiple topics are included in a single command, such as "Show me spy movies from the 1960s" or "Show me high school comedies from the 90s."

A Siri feature called Live Tune-In lets Siri open up live TV content in apps with commands like "Watch ESPN" or "Watch CBS," and Siri can also find content within apps. For example, "find me YouTube videos with kittens" launches the YouTube app and show the relevant search results, as does a command like "find me comedies on Netflix."
Siri also works alongside a systemwide search feature in tvOS that allows searches to bring up content from multiple apps like Netflix, iTunes, Hulu, HBO Go, Showtime, and more. So if you search for something like "Harry Potter," all of the various apps where you can watch a Harry Potter movie will come up. A list of apps that support systemwide search can be found in an Apple Support document.
One of the neatest Siri perks is a feature that replays content. During a TV show or movie, ask Siri "What did he just say?" or a similar command and Siri rewinds 15 seconds and temporarily turns on captions. Rewinding and fast forwarding can also be done with voice commands like "Fast-forward five minutes," or "Play from the beginning."

Siri displays information on the cast in a movie or television show when queried. Asking questions like "Who directed this movie?" or "Who stars in this movie?" brings up a list of the cast. Siri can filter based on cast, director, date, or age rating.
With commands that bring up extra content, like behind-the-scenes information, sports scores, or weather, the information is displayed at the bottom of the Apple TV interface so it does not interrupt the show or movie that's on the screen. Tapping on the remote opens the bottom bar full screen, pausing the television show or movie that's playing, and it's simple to switch between tasks with a swipe of the remote.
HomeKit
The Apple TV, like the iPad, can serve as a home hub that connects to your HomeKit products and allows them to be accessed remotely when you are away from home. For remote access to HomeKit devices, an Apple TV or an iPad is a requirement. Otherwise, HomeKit products only work when you're connected to the same Wi-Fi network.
Apple's Content Ambitions
Apple has been trying to make the television watching experience better for many years, but has struggled time and time again reaching deals with cable companies, movie studios, and other content providers.
Content providers have continually resisted Apple's attempts to create a cable bundle or a set of standalone channel packages because it would disrupt the television industry and upset existing revenue streams. Apple has also refused to settle for less than an ideal experience, making it difficult to negotiate.
Apple wanted to make its own streaming television service, offering a bundle of channels for around $30 to $40 per month, but because it was unable to establish the necessary deals, Apple abandoned that plan.
Instead, Apple has shifted focus to the tvOS App Store, developing it into a platform that provides media companies with the tools to sell content directly to customers while allowing Apple to control the television-watching experience and user interface.
Apple is also following in the footsteps of Amazon and Netflix is pursuing original content.
Original Content Efforts
Apple is dipping a toe into original programming right now as a way to promote its Apple Music service.
The company's first original television show, "Planet of the Apps," debuted in June of 2017. Using a "Shark Tank"-style format, "Planet of the Apps" paired app developers with investors and then let the developers attempt to persuade the investors to make an investment.
Apple's second original television show, "Carpool Karaoke: The Series," debuted in August of 2017. The TV show is based on the highly popular "Carpool Karaoke" segment from "The Late Late Show With James Corden," pairing celebrities and musicians together to sing along in car rides. Both of these two shows are available via Apple Music and are used to promote the Apple Music service, and Apple has renewed "Carpool Karaoke" for a second season, and in May of 2018, made the show available for free through the TV app.
Apple is making an even deeper push into original programming, with the company rumored to be pursuing high caliber shows like "Stranger Things" and "Westworld." Apple is aiming to invest over $1 billion in original programming in the coming months.

To head up the company's push into original video programming, Apple hired former Sony Pictures TV executives Jamie Erlicht and Zack Van Amburg. The two will lead Apple's video efforts on a worldwide scale, reporting directly to Apple iTunes chief Eddy Cue. Erlicht and Van Amburg have helped produce shows like "Better Call Saul," "The Crown," "Sneaky Pete," and more.
Former Amazon Studios executive Morgan Wandell joined Apple's video content team in October of 2017. Wandell will serve as international creative development for worldwide video at Apple. Apple has also hired Channel 4 alum Jay Hunt as creative director for Europe.
Other hires include Michelle Lee, a creative executive under Matt Cherniss, and Philip Matthys and Jennifer Wang Grazier, who will handle business affairs for the video team. Tara Sorensen heads up kids programming, Tara Pietri handles legal affairs, and Carina Walker is an international creative executive. All three are former Amazon employees.
Apple has been inundated with scripts and packaged projects, with executives Zack Van Amburg and Jamie Erlicht meeting frequently with agents and studio executives in Hollywood. Apple has gained "overnight status" in Hollywood thanks in part to its new location at The Culver Studios, receiving scripts right alongside Netflix and HBO.
Apple iTunes chief Eddy Cue said in February of 2018 that Apple is "completely all in" on original content. According to Cue, Apple has no plans to buy a company like Netflix or Disney because the focus is quality, not quantity. "You need to have a great story," he said. He also confirmed Apple is "making big investments" and that "money isn't an issue."
Apple is said to be aiming to produce television shows with broad appeal that are also tame enough to be shown in an Apple Store. The company wants to avoid content that includes nudity, raw language, and violence. It has turned down pitches that include edgier themes, and it has also had a dispute with "Amazing Stories" showrunner Bryan Fuller over its desire to produce family friendly content.
The first of Apple's television shows could debut as soon as March of 2019, but it's still unclear how Apple will allow viewers to watch. Apple programming could be accessed through Apple Music, or as part of an as-of-yet unannounced subscription television streaming service that would be available in the TV app.
Apple's Upcoming Original TV Shows
Apple first delved into original television programming in 2017 with the release of "Planet of the Apps" and "Carpool Karaoke," but under the leadership of Jamie Erlicht and Zack Van Amburg, the company has been inking deals for multiple original television shows.
Apple has more than a dozen original series in the works, but release dates are still a ways away so we don't know a lot about each one just yet. Each show and its premise is outlined below.
Amazing Stories
Apple is teaming up with Steven Spielberg's Amblin Television and Comcast's NBC Universal TV production unit to create new episodes of sci-fi series "Amazing Stories." "Amazing Stories" is a science fiction and horror series created by Spielberg that originally ran on NBC from 1985 to 1987. Apple will create 10 new episodes of "Amazing Stories" alongside Amblin and NBC Universal, with plans to spend more than $5 million per episode, its first high-profile project. Spielberg is likely to be an executive producer for the new version of the show.
"Once Upon a Time" co-creators Adam Horowitz and Edward Kitsis will serve as executive producers and showrunners on the series.
Morning Show Drama
Apple's second high-profile show will be a morning talk show drama starring Reese Witherspoon and Jennifer Aniston. The show is described as an "inside look at the lives of the people who help America wake up in the morning." Apple has inked a deal for two seasons of the show, which is untitled as of yet.
Witherspoon and Aniston will star and executive produce, and each will earn $1.25 million per episode for the show. "Bates Motel" co-creator Kerry Ehrin is set to serve as showrunner.
Space Drama
Apple in December placed a straight-to-series order for an untitled space drama developed by Ronald D. Moore, who is best known for creating the 2004 reboot of Battlestar Galactica. Apple's new show "explores what would have happened if the global space race had never ended."
Are You Sleeping
Apple has ordered 10 episodes of a drama called "Are You Sleeping" starring Octavia Spencer. Are You Sleeping is based on a novel by Kathleen Barber and it focuses on a podcast that reopens a murder case, similar to the popular "Serial" podcast.
The novel the show is based on explores how the reopening of the murder case impacts the victim's daughter and disrupts her life. Sarah Koenig, who created and produced the "Serial" podcast, will consult on the series.
Home
"Home," Apple's first docuseries, will over a never-before-seen look inside of the most extraordinary homes in the world, delving into the imaginations of the visionaries who dreamed them up and built them. Based on the show's description, it sounds a little bit like MTV's "Cribs" but with more of a design and architecture focus.
Apple has ordered 10 one-hour episodes of the "Home" docuseries, which is produced by Matt Tynauer and Corey Reese of Altimeter Films.
See
"See" is an epic world-building drama that's set in the future, but other than that, little is known about the show so far.
It was written by Steven Knight, known for "Peaky Blinders" and Francis Lawrence, known for this work on three movies from "The Hunger Games" franchise.
Kristen Wiig Comedy
Apple has ordered 10 episodes of a half-hour comedy show starring Kristen Wiig. The series is based on the upcoming "You Think It, I'll Say It" short story collection by Curtis Sittenfeld, which "upends assumptions about class, relationships, and gender roles in a nation that feels both adrift and viscerally divided."
Untitled drama from Damien Chazelle
Apple signed a straight-to-series order for a drama series from "La La Land" creator Damien Chazelle. Little is known about the series at this time, as Apple has declined to share details.
Chazelle, who won multiple awards for both "La La Land" and "Whiplash," will write and direct every episode of the series.
Little America
Little America is based on a series of true stories features in Epic Magazine that paint a portrait of America's immigrants. The show will look at "the funny, romantic, heartfelt, inspiring, and unexpected lives of immigrants in America."
The series is being written by Kumail Nanjiani and Emily V. Gordon, known for their award winning film "The Big Sick," and Lee Eisenberg, known for his work on "The Office." Nanjiani and Gordon will also executive produce, alongside Alan Yang, "Master of None" co-creator, and Eisenberg.
Swagger
"Swagger" is a drama series based on the early life and career of NBA star and Golden State Warriors player Kevin Durant. The show was inspired by Durant's experiences as a youth playing basketball, and it will highlight the world of Amateur Athletic Union (AAU) basketball, taking a look into the lives of players, their families, and coaches.
Imagine Television, led by Brian Grazer and Ron Howard, will produce alongside Kevin Durant's Thirty Five Media. Both Durant and Grazer will serve as executive producers, while Reggie Rock Bythewood will write and direct. Bythewood is known for his work on "Notorious," a movie that shared the story of Notorious B.I.G., and television series "Shots Fired."
M. Night Shyamalan Thriller
Apple has ordered a psychological thriller written by Tony Basgallop and produced by M. Night Shyamalan, known for movies like "Signs," "Sixth Sense," "Unbreakable," "The Village," and "Split."
The first episode of the series will be directed by Shyamalan. Beyond the detail that it's a psychological thriller, little else is known about the series at this time. Apple has ordered 10 episodes, and each one will be a half hour long.
Central Park
"Central Park" is Apple's first animated TV series, developed by Loren Bouchard, well-known for popular cartoon "Bob's Burgers."
The series is a musical comedy, which was written by Bouchard, Josh Gad, and Nora Smith. It tells the story of a family of caretakers who live in Central Park and end up saving both the park and the world.
Apple has ordered 26 episodes of the show in total, split into two 13-episode seasons. "Central Park" is produced by 20th Century Fox and stars Josh Gad, Leslie Odom Jr., Titus Burgess, Kristen Bell, Stanley Tucci, Daveed Diggs, and Kathryn Hahn.
Isaac Asimov's "Foundation"
Apple is working on a TV series adaptation of the popular sci-fi series Foundation written by well-known sci-fi author Isaac Asimov.
Foundation follows psychohistory expert and mathematician Hari Seldon who is able to predict the future. Seldon creates a group called the Foundation to preserve humanity's collective knowledge ahead of the impending fall of the Galactic Empire.
Other Show Rumors
Netflix is in advanced negotiations with President Barack Obama and his wife Michelle to produce a series of TV shows for the service. Executives from Apple have also expressed interest, but it sounds like Netflix has the deal nearly locked down.
The Apple TV of the Future
For a long time, there were a slew of rumors suggesting Apple planned to debut a full high-definition television set, spurred by Walter Isaacson's Steve Jobs biography, which suggested Jobs wanted to revolutionize the television industry much like he transformed computers, music players, and phones. "I finally cracked it," Jobs was quoted as saying.
"I'd like to create an integrated television set that is completely easy to use," [Jobs] told me. "It would be seamlessly synced with all of your devices and with iCloud."..."It will have the simplest user interface you could imagine. I finally cracked it." Walter Isaacson - 'Steve Jobs'
Apple was reportedly unable to come up with a feature set compelling enough to warrant entry into the highly competitive television market, despite years of research. It is not clear if Apple will revisit its television set project in the future, but it is always possible Apple will reevaluate its plans as technology improves.
For time being, though, Apple is focusing its resources on improving the Apple TV set-top box and the tvOS App Store, revolutionizing television through the integration of content and interface without having to develop an actual television set and enter a brutally competitive market.
Older Apple TV Models
While the Apple TV roundup pertains to the fourth and fifth-generation Apple TVs that have been available since 2015, some people continue to use older versions of the Apple TV.
First, second, and third-generation Apple TVs run a different operating system and do not have access to a dedicated App Store with games, entertainment, and other apps. Instead, these Apple TVs use different channels offered by various content providers, along with several Apple apps like iTunes.
Older Apple TVs continue to function, but are not updated as often as the fourth and fifth-generation Apple TV models, and do not have the same range of content available.
Starting on May 25, security changes will prevent the first-generation Apple TV from accessing the iTunes Store. Second-generation Apple TV models and later will continue to work with the iTunes Store.
What's Next for Apple TV
Prior to the new Apple TV 4K introduced in 2017, the set-top box went two years without an upgrade following the October 2015 release of the fourth-generation Apple TV.
The Apple TV is not a product that Apple refreshes every year, so it may be another couple of years until the next update. As for what that update might include, we haven't heard any rumors as of yet.