iPad mini 5
iPad mini 5 rumored for spring 2019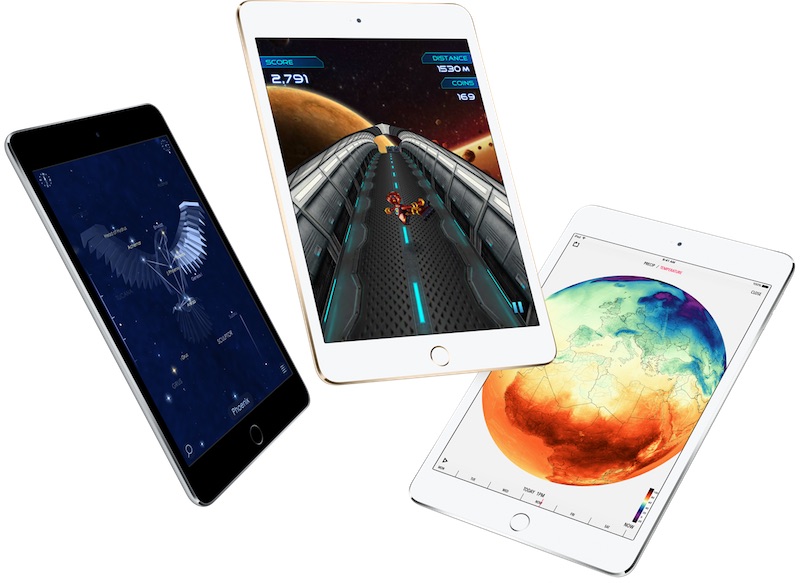 At a Glance
Though the iPad mini hasn't been updated since September 2015, rumors suggest an iPad mini 5 is in the works and could come during the first half of 2019.
Possible Features
7.9-inch Retina display
Lower cost display panel
Upgraded processor
Apple Pencil support
Headphone jack
What's Next for the iPad mini
Multiple reliable sources have said that Apple is working on a new version of the iPad mini, which will feature an upgraded processor (possibly the A10 or A10X), a lower-cost display panel, and a more affordable price tag.
Not much is known about the iPad mini 5, but it's expected to be similar to the current iPad mini to keep costs down. Japanese site Mac Otakara says the iPad mini 5 will look similar to the iPad mini 4, based on discussions the site had with accessory makers who have heard details on Apple's plans, and leaker Steve Hemmerstoffer has also said no major changes are in store. The iPad mini 5 is said to have the same dimensions as the iPad mini 4, with a thickness of 6.1mm and a 7.9-inch display. It will continue to have a Lightning connector, Touch ID, and a 3.5mm headphone jack.
Code found in iOS 12.2 indicates it could offer support for the Apple Pencil and the Smart Keyboard. It will also retain the headphone jack, a feature removed on the iPad Pro models.
Citing supply chain sources, China Times says Apple will launch a new fifth-generation iPad mini in the first half of 2019 in order to revitalize flagging iPad sales, a rumor that's also been repeated by DigiTimes. Bloomberg says that Apple could introduce the iPad mini 5 "as soon as spring."
Apple in January registered seven new iPad models with the Eurasian Economic Commission, and at least some of these are believed to be the iPad mini. The others may be a new version of the low-cost 9.7-inch iPad.
The model numbers include 2123, A2124, A2126, A2153, A2154, A2133, and A2152. These filings, which are required for encrypted devices sold in Armenia, Belarus, Kazakhstan, Kyrgyzstan, and Russia, are usually made not too far ahead of when a device launches, so the new iPad mini could be coming soon.
References to four new iPads (iPad 11,1 to iPad 11,4) have been spotted in iOS 12.2, and these numbers could also pertain to new cellular and WiFi iPad mini models. It's possible that Apple is planning to release the new iPads right around when iOS 12.2 sees a public launch.

Apple is planning to hold a services-focused event on March 25, but rumors suggest the iPad mini 5 will not make an appearance. Apple could instead announce the new tablet via a press release sometime in March, and there have been rumors pointing towards a late March launch.
Case Leaks and Photos
Back in December, a case said to be for the fifth-generation iPad mini leaked, but it's not believed that it's an accurate representation of what we can expect from Apple's tablet. It features quad speaker cutouts, and quad speakers are an iPad Pro feature that are unlikely to make their way way to a lower-cost iPad option.

A cutout on the side suggests possible Apple Pencil support, which is in line with rumors, as is the headphone jack at the bottom.
Along with the case, a photo of an unreleased iPad mini surfaced in January. The device is a rose gold iPad mini, a color never released, with a rounded antenna band.

The iPad in the photos otherwise looks quite similar to the current fourth-generation iPad mini, with two speakers, a Lightning connector, and a headphone jack. Earlier photos suggested a new iPad mini could feature an A9 chip, but later information suggests either an A10 or an A10X.

It's not entirely clear if this iPad mini is the future iPad mini that Apple's working on, but it's certainly possible given its resemblance to the iPad mini 4 in light of rumors suggesting few design changes.
The iPad mini 4
After the 2014 iPad mini 3 was received with disappointment because it only included a minor Touch ID update, Apple totally overhauled the iPad mini in late 2015, introducing the iPad mini 4. The iPad mini 4 is essentially an iPad Air 2 in a smaller, iPad mini-sized package.

The iPad mini 4 is significantly thinner than previous-generation iPad mini models, measuring in at just 6.1mm thick like the iPad Air 2. Size wise, it's still 7.9 inches when measured diagonally and it continues to be the smallest tablet in Apple's iPad lineup, which also includes the 9.7-inch iPad Air 2 and the 12.9-inch iPad Pro.
Aside from a much thinner body, the iPad mini 4 retains the same general design elements of the previous iPad mini, with a Retina display, rounded corners, thin bezels, and a Touch ID home button. It uses a new laminated gapless display technology for enhanced contrast and more vibrant colors, plus there's an antireflective screen coating that cuts down on glare.

Inside, the iPad mini 4 has an A8 processor and M8 motion coprocessor, the same chips used in the iPhone 6, and it has 2GB of RAM, allowing it to support features like Split-View Multitasking. It includes an 8-megapixel rear camera with an f/2.4 aperture and support for 30 fps 1080p HD video. For the first time, the iPad mini can capture large panoramas up to 43 megapixels and 720 fps Slo-mo video. It also supports time-lapse video and can take burst mode photos.
There's also a 1.2-megapixel front-facing camera with an f/2.2 aperture that lets in 81 percent more light. The camera supports 720p HD video recording, HDR videos, and burst mode selfies. It also includes dual microphones for FaceTime calls.

With 802.11ac WiFi, the iPad mini 4 offers much faster maximum connection speeds than previous iPad models, and it includes Bluetooth 4.2 technology and support for 20 LTE bands.
How to Buy
The iPad mini 4 became available for purchase on September 9, 2015. Available in Gold, Silver, and Space Gray, all models of the iPad mini 4 ship out within 24 hours.
On March 21, 2017, Apple began offering the iPad mini in a single 128GB capacity, priced at $399 for the Wi-Fi only model and $529 for the Wi-Fi + Cellular model. The $399 price point is the same price as the previous 32GB iPad mini 4, so Apple has added more storage space at no additional cost.
In More Detail
Design and Display
The iPad mini 4 looks like a smaller version of the iPad Air 2. It's just as thin, and it weighs only 0.65 pounds, making it the ultimate portable tablet. At 6.1mm thick, it's 18 percent thinner than the iPad mini 3.

It continues to use the same 7.9-inch 2048 x 1536 Retina display from the iPad mini 2 and iPad mini 3 and it uses the "gapless" production technique first introduced in the iPad Air 2. This combines three layers (cover glass, touch sensor, and LCD) into one layer, reducing thickness.

According to Apple, the fully laminated display in the iPad mini 4 produces more vivid colors and better contrast than previous iPad mini displays. The laminated display of the iPad mini 4 brings the LCD layer closer to a user's eyes for a more immersive experience.
The iPad mini 4 also uses an anti-reflective coating that reduces glare to make the display more readable outdoors in the bright sunlight compared to older versions of the iPad mini.
According to some testing by DisplayMate, the iPad mini 4's color and accuracy are on par with the iPad Air 2, iPhone 6, and iPhone 6s, with an improved 101 percent color gamut. This is much better than previous iPad mini models, which had 62 percent color gamut with poor color saturation.
The iPad mini 4 has a screen reflectance of 2 percent, compared to 6.5 percent in the iPad mini 3. With a lower screen reflectance, the new iPad mini has improved readability in real-world viewing conditions. It also has between 2.5x and 3.5 higher contrast in ambient light than the iPad mini 3.
In a series of display tests comparing the displays of the iPad Pro, the iPad mini 4, and the iPad Air 2, the iPad mini 4 was the winner, with DisplayMate calling it "unquestionably the best and most accurate LCD tablet display we've ever tested."
Processor
Instead of using the A8X processor from the iPad Air 2, the iPad mini 4 has the 64-bit A8 processor that was first used in the iPhone 6. The A8 in the iPad mini 4 runs at 1.5 GHz, which is slightly faster than the 1.4 GHz it runs at in the iPhone 6 and 6 Plus. Apple likely elected to use the A8 over the A8X because of heat-related concerns with the smaller body of the iPad mini 4.

Because the iPad mini 4 uses a slower chip than the iPad Air 2 to drive the same display resolution and internals, performance won't be as good on the smaller tablet, but it is still a substantial improvement over the iPad mini 3. It has a 30 percent faster CPU than the iPad mini 3 and 60 percent faster graphics.
RAM
The iPad mini 4 includes 2GB RAM, an improvement over the 1GB of RAM in the iPad mini 2 and the iPad mini 3. 2GB of RAM improves performance in apps like Safari and it allows the iPad mini 4 to support the latest software features, including full split-screen multitasking.
Battery
Internally, the iPad mini 4 has a smaller battery than the iPad mini 3 because of its thinner design. The battery measures in at 5124 mAh, while the iPad mini 3 had a 6471 mAh battery. Despite its smaller size, the iPad mini 4 continues to offer the same battery life as the iPad mini 3 because of performance optimizations.
The iPad mini 4 lasts for up to 10 hours when surfing the web on Wi-Fi, watching videos, or listening to music. It lasts for up to 9 hours when surfing the web using a cellular data network.
Camera
The iPad mini 4 has an 8-megapixel camera, which is similar to the 8-megapixel camera in the iPhone 6 and 6 Plus. It includes an advanced image signal processor that offers improved face detection, faster focusing, and better noise reduction.

With the 8-megapixel camera, the iPad mini 4 is capable of capturing 1080p HD videos, and it also supports both 120 FPS Slo-Mo videos, high-resolution panoramas, and Burst Mode photos.
A new 1.2-megapixel FaceTime HD camera has also been included in the iPad mini 4, with an improved sensor and a larger f/2.2 aperture that lets in 81 percent more light compared to the camera in older models. The front-facing camera can capture 720p HD video.
Touch ID
The iPad mini 4 comes equipped with a Touch ID fingerprint sensor, adding an additional layer of protection to the tablet and enabling it to make Apple Pay payments within apps.

Touch ID is also able to replace the traditional passcode functionality on the iPhone, cutting down on the time that it takes to unlock the phone, make purchases, and access sensitive content within apps.
Other Improvements
Apple's iPad mini 4 includes a motion coprocessor with a gyroscope, accelerometer, GPS, and compass functionality. It also includes a barometer for the first time, which can measure altitude based on air pressure.
The iPad mini 4 supports 802.11ac Wi-Fi with MIMO support, which is twice as fast as 802.11n. Apple advertises speeds of up to 866MB/s with the new Wi-Fi chip.

Cellular + Wi-Fi models support LTE Advanced, using carrier aggregation to offer LTE connection speeds of up to 150MB/s. The iPad mini 4 includes support for up to 20 LTE bands, allowing it to connect to high-speed LTE networks in many locations across the world.
The iPad mini 4 includes the Apple SIM for WiFi + Cellular models, giving users the freedom to move between carriers at will when traveling.
Best Prices