Apple Announces iOS 17 With 'StandBy' View, Journal App, Siri Changes, and More
Apple today announced iOS 17, the next major operating system for the iPhone, introducing a range of new communication and sharing features.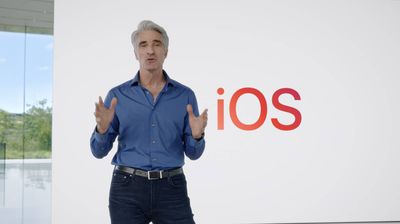 ‌iOS 17‌ features personalized contact posters with photos, Memojis, and eye-catching typography that appear during calls and in the updated address book. A new Live Voicemail feature brings live-transcription in real-time, allowing for old-school call screening. Users can now pick up the phone mid-voicemail and transcription is handled-on device.
Messages now offers improved search features, an arrow to jump to the first unread message in a conversation, easier inline replies with a swipe gesture, inline location sharing, and a new Stickers experience. iMessage apps and the camera have now been moved to a new plus button.
Check In is a new feature that gives updates on your location to let family or friends know when you get home safely. If you're delayed, it can recognize that and check in with you. If you don't respond, it can share an alert with friends, sharing location, battery, and cell service status.
Users can AirDrop content by bringing their iPhones close together and transfers can now occur in the background. It is also now possible to swap numbers with someone new via "NameDrop," enabling users to share contact information when phones are brought close together.
There are updates to keyboard and dictation, bringing improvements to autocorrect via a new "transformer" language model and sentence-level correction.
‌iOS 17‌ also introduces a new "Journal" app. The app sources new memories using people, places, activity, music, and photos that users can add to daily journal entries. Users can set reminders to remember to write a daily entry. Journal comes to ‌iPhone‌ later this year.
A new mode called "StandBy" provides a view for displaying the time, widgets, and other information when the ‌iPhone‌ is horizontal. Users can now simply say "Siri" instead of "Hey ‌Siri‌," and ‌Siri‌ will understand follow-up commands that do not include the trigger word.