Apple Announces OS X Yosemite with Improved Cross-Device Connectivity and New User Interface
Apple today announced the latest version of its Mac operating system, OS X Yosemite. The sequel to last year's OS X Mavericks, Yosemite includes a user interface redesign, as well as major new features focusing on seamless integration between Mac and iOS devices, a new cloud storage system called iCloud Drive, as well as the ability to make phone calls and send text messages through an iPhone.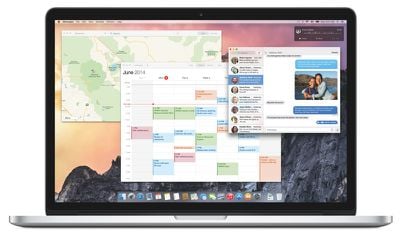 Continuity
Continuity is the biggest new feature of OS X Yosemite, improving the connection between Macs and iOS devices. With Continuity, it's possible to share files between Mac and iOS devices and it's also possible to make phone calls on a Mac via an iPhone.
AirDrop finally allows users to share files, photos, and more between iOS devices and Macs. Previously, this feature only allowed files to be shared from Mac to Mac or from iPhone to iPhone, which means sharing files from an iOS device to a Mac will now be far easier. Apple also debuted Handoff, which is a feature that allows iOS devices and Macs to recognize one another, letting users seamlessly transition from one device to another. For example, if a webpage is opened on Safari on a Mac, a user can pick up an iPhone and continue browsing that same site on his iOS device. In a demo on stage, the function was used to show an email started on the Mac continued on an iPhone.
Through Continuity, iPhone communications integration allows users to make and answer phone calls sent to their iPhones right on their Macs. "Green bubble" SMS messages from Android also now show up on Macs, and it's easier than ever for a Mac to connect to an iPhone hotspot.
Design and Notification Center
The new UI is very similar to the flat look of iOS 7 with translucent windows, a new dock and app icons and an all-new notification center with a Today pane and both first- and third-party widgets like Weather and SportsCenter. There's also a new dark mode, which lets users turn the overall interface into the more darkened tone of Notification Center.


Spotlight
Spotlight has a brand new interface which looks somewhat like third-party Mac apps like Alfred and Quicksilver and pops up in the center of the desktop. The new Spotlight allows users to not only search through their computer, but online through sources like Wikipedia, Yelp and for live movie times. In addition, Spotlight can do unit conversions, like converting miles to kilometers.
iCloud Drive
Another significant new feature is iCloud Drive, a Dropbox-like service that syncs documents across Macs, iOS devices and Windows. It offers an iCloud storage folder directly within Finder so users can see exactly which files they have in iCloud and it is accessible from both Macs and iOS devices. Apple has introduced new pricing for iCloud with the debut of iCloud Drive. The first 5GB of iCloud storage is free, while 20GB costs $0.99 per month and 200GB costs $3.99 per month. Tiers of up to 1TB are also available.


Mail
Improvements to the Mail app in Yosemite include Mail Drop and Markup. Mail Drop's intention is to solve the problem of sending attachments that are far too large and result in failed sendings. iCloud now encrypts the attachments and sends the recipient a link to the attachment if it's too large. Attachments are limited to 5 GB. Markup allows users to sketch and doodle on emails, much like Evernote's Skitch.
Safari
Safari has also seen improvements with a new "bird's eye" tab view, improved Privacy windows, and support for advanced HTML5 video, allowing for a 2 hour increase in battery life when streaming Netflix. The new tab view, essentially designed to replace the existing bookmarks bar, allows users to see a bird's eye view of all open tabs and lets users to bunch tabs together. Smart suggestions, which display favorite sites directly under the search bar, also help to replace the bookmarks bar.
As far as Privacy goes, users are now able to open a separate private window that does not affect existing windows or tabs, whereas previously, turning on privacy affected all open content. Safari includes 6.5x faster Javascript, with WebGL, SPDY, IndexedDB, Javascript Promises, CSS Shapes and more.
OS X Yosemite is available today to registered developers and will be launched to the public this fall. There will also be an public open beta program launched later this summer. OS X Yosemite will be a free upgrade for all users.
MacRumors readers can discuss the upcoming OS X version in our new OS X Yosemite forum.