AirPods
Are the AirPods Pro around the corner?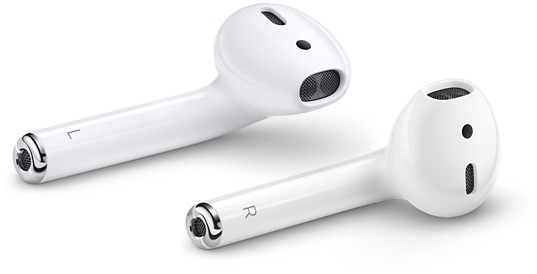 At a Glance
Wait! Don't buy AirPods yet. Rumors suggest AirPods Pro are coming soon. The most recent AirPods were released in March and are wireless, entirely cord-free earbuds.
AirPods 2 Features
"Hey Siri" functionality
Optional wireless charging case
New H1 chip
50 percent more talk time
Twice as fast at switching devices
AirPods Pro Rumors
While the AirPods 2 are the current version of Apple's popular wireless headphones, we've started to hear rumors that Apple is going to introduce a higher end AirPod called the AirPods Pro. The rumored devices are expected to be sold alongside the AirPods 2, but with additional "Pro" features such as noise canceling and a new in-ear design.

Evidence of the new AirPods have been found in the recent iOS Betas. The leaked icon show an angled in-ear design.
The icon looks similar to a recently leaked photo which claimed to be parts of an upcoming AirPods revision

Given all this, we recommend not buying AirPods at this time and waiting at least a few weeks until we see what happens. The rumors have suggested an imminent release of these new AirPods.
Apple's Second-Generation AirPods
Apple in March 2019 overhauled the AirPods and introduced the first ever update with a handful of useful new features that make the Apple-designed earbuds better than ever. AirPods now support hands-free "Hey Siri" functionality, allowing users to control volume and swap songs through voice commands, so there's no longer a need to tap on the AirPods with a finger to activate Siri in this version.
The updated AirPods are equipped with an updated H1 chip, which replaces the W1 chip and brings connectivity improvements. AirPods connect more quickly to your devices for an even more hassle-free experience, and switching between devices while listening to music is now two times faster. The H1 chip in the second-generation AirPods supports Bluetooth 5.0, which should bring better range.
AirPods pair up with iPhone, iPad, iPod touch, Apple Watch, Apple TV, and Mac, and thanks to the H1 chip, you can easily switch between Apple devices. AirPods also pair with Android phones and other Bluetooth-enabled devices using traditional Bluetooth pairing methods.
Apple's newest AirPods come with an optional Wireless Charging Case that enables Qi-based wireless charging. You can get the new AirPods without the charging case for $159, with the Charging Case for $199, or you can buy just the Charging Case for your existing AirPods for $79.
There have been no design changes to the AirPods, so they continue to look similar to the standard Apple EarPods but without the cord. AirPods are completely wire-free, and continue to be available only in white with no other color options available.
AirPods offer up to five hours of battery life when listening to music, and the case provides an additional 24 hours of battery life. The new AirPods are more efficient with the H1 chip and talk time has increased from two hours to three hours.

When you open up the Charging Case, the AirPods inside connect to your device automatically, and using built-in sensors and an accelerometer, the AirPods can detect when you put them in your ears or take them out, playing and pausing audio accordingly.
Beamforming microphones enable clear, crisp calls, and there are tap gestures built in for changing tracks, changing volume, and activating Siri if you don't want to use the Hey Siri feature. A separate voice accelerometer kicks in when you're speaking to block out ambient sound.

You can use both AirPods at once or just one if you want to keep an ear free to listen to the environment around you, and Apple designed the AirPods to offer high-quality AAC audio that sounds great with everything from songs to podcasts.

The second-generation AirPods refresh lacks some of the features that were rumored, such a a new color, but the H1 chip for improved connectivity and device switching times, the extra hour of talk time, the "Hey Siri" functionality, and the Wireless Charging Case make this a solid update. Some of the previously rumored features could come in another update that's in the works and set to launch in 2020.
With the launch of the second-generation AirPods, Apple has discontinued the first-generation AirPods.
Note: See an error in this roundup or want to offer feedback? Send us an email here.
How to Buy
Apple is selling the second-generation AirPods in three different arrangements. You can get the new AirPods and no Wireless Charging Case for $159, or choose to purchase the new AirPods with Wireless Charging Case for $199.

There's also an option to purchase the Wireless Charging Case on a standalone basis without the AirPods for $79, which is handy if you just want wireless charging capabilities but already have perfectly good AirPods. AirPods can be purchased online or in Apple retail stores.
Apple offers a $29 AppleCare+ plan for AirPods, which extends the standard warranty and allows for two replacements for accidental damage.
New Features Coming in iOS 13
Starting in iOS 13, you can pair two sets of AirPods to one iPhone or iPad so you can watch a movie or listen to music with a friend.

There's also a new feature that's designed to read incoming messages from messaging apps so you can hear what's important and dictate a response even when your iPhone isn't in reach. The feature works with Messages and other third-party apps like WhatsApp.
Design and Internals
The second-generation AirPods look just like the first-generation AirPods, with no design changes or updates. The AirPods are reminiscent of the Apple EarPods that Apple has long sold alongside the iPhones, but the AirPods have no wires.
AirPods are entirely wire-free, and are made from a shiny white plastic. The AirPods are designed to nestle into the ear, and due to the shape, can fit a variety of ears. AirPods do not offer noise canceling or sound isolating features, so you can still hear the environment around you.

Though AirPods were designed to have a universal fit that accommodates many ear sizes, not everyone finds them comfortable, and some people don't like to wear them during exercise. For the most part, though, AirPods stay in the ears.
Each AirPod has a tail or a stem that comes down out of the ears to provide stability and additional space to house internal components.

Because there are no wires, AirPods are able to operate independently. You can wear both or just one, and when work together, they work like standard earphones thanks to the technology inside.
AirPods feature a motion accelerometer and dual optical sensors that enable tap gestures and a feature called ear detection. AirPods can tell when they're placed in the ear and when they're taken out, so when you put them in, your music plays. And when you pull one out, your music pauses.

Built-in dual beamforming microphones in the AirPods enable both voice calls and Siri commands, and there's a secondary speech-detecting accelerometer that's able to filter out background noise and focus on your voice.
AirPods are not water resistant, but in the second-generation model, Apple did add a water repellent coating to the circuit board.
H1 Chip
Apple's first-generation AirPods used a W1 chip, but the second-generation version features an upgraded H1 chip. The H1 chip is what enables the "magic" of the AirPods, allowing for an efficient Bluetooth connection with an increased range, longer talk time, and switching between your Mac and iOS devices.
The H1 chip provides a key feature tied to iCloud - simple device switching. Your AirPods are tied to your iCloud account and can be paired to all devices signed into that same iCloud account with just a couple of taps.

The H1 chip features reworked audio architecture that improves synchronization. When switching between devices while listening to music on an iPhone, Apple Watch, or iPad, connect times are two times faster, and when making phone calls, your AirPods connect 1.5 times faster. Gaming latency has also been reduced by 30 percent.
Automatic switching is tied to Apple devices, but the AirPods also have a traditional Bluetooth connection so you can pair them to any Bluetooth device including Android smartphones and PCs.
Hey Siri
Apple's H1 chip powers a new hands-free Siri feature that lets you activate Siri with a "Hey Siri" command instead of needing to tap on the AirPods to activate the personal assistant.

Hey Siri is a feature that's available across iPhones, iPads, the Apple Watch, and Macs, and now it's also an AirPods function. Siri can provide hands-free access to changing the volume of the AirPods, selecting a song, placing a phone call, and more.
Supported Gestures and Siri Commands
The AirPods support several double tap gestures, which can be customized using the Settings app on an iPhone or iPad. AirPods can be set to do the following:
Activate Siri

Play/Pause music

Skip to the next track

Go to the previous track

Turn off audio content
With the second-generation AirPods, you can also activate Siri without a tap using the "Hey Siri" feature, but on older models, you need to tap.
Two taps when using AirPods for calls also either answers the phone or hangs it up, which is worth noting if you often use your AirPods for phone calls.
With Siri, you can use voice commands to control your music, ask simple questions, get weather information, ask for the battery life of your device or your AirPods, get directions, control the volume, and more. Siri is the only way to control the volume of the AirPods without your iPhone as there are no volume controls on the AirPods themselves.
Sample AirPods Siri commands:
Play some new music

Play my "Favorites" playlist

Skip to the next song

Turn down the volume

Turn up the volume

Call mom

Pause my music

What's the battery life of my AirPods?

What's the temperature outside?
AirPods Charging Case
With the launch of the second-generation AirPods, Apple introduced a new kind of AirPods charging case, designed to work with Qi-based wireless charging accessories.
With the new AirPods Wireless Charging Case, the AirPods can be charged with any Qi charger that you might already have for your iPhone. It was originally conceived for use with the AirPower, but Apple canceled the AirPower. The Wireless Charging Case is still ideal for other Qi charging pads, though.
Apple is continuing to sell the original AirPods Charging Case that does not have wireless charging capabilities for those who do not need the feature. AirPods with the regular case are $159, the price of the first-generation model, but the wireless charging feature is more expensive and Apple is charging $199 for the AirPods with Wireless Charging Case.

The Wireless Charging Case is also available on a standalone basis and can be paired with the first-generation AirPods for those who want wireless charging without having to shell out for a whole new set of AirPods.
You can tell the standard Charging Case from the Wireless Charging Case by the location of the LED indicator. On the standard Charging Case, the LED is located inside the lid between where the two AirPods are stored, but on the Wireless Charging Case, the LED is located on the front so you can see at a glance if the AirPods are charging on a wireless charging base.

The Charging Cases that Apple provides for the AirPods are used to add additional battery life and to store the AirPods when not in use so they don't get lost.
Similar in size to a container of dental floss, the small Charging Case fits easily into a pocket or a bag. The AirPods slide right into the charging case, and a magnetic connection along with a lid that snaps shut keep the AirPods in place. Opening the lid while near an iOS device is what initiates the simple pairing process that the AirPods are known for.

While the AirPods are located inside the case, the case charges them up, so long as the case itself has remaining battery power. Both cases have LEDs, and orange indicates charging while green indicates a full charge.
You can charge the standard Charging Case using a Lightning cable, while the Wireless Charging Case can be charged with a Qi wireless charger or a Lightning cable.
Battery Life
The AirPods last for up to five hours of non-stop music listening on a single charge, but if you're using them for phone calls, the battery drains faster.
The second-generation AirPods last for up to three hours when talking on the phone, while the original AirPods last for two hours. Improvements in battery life come from the new H1 chip and the fact that the second-generation AirPods support Bluetooth 5.0.

With the AirPods Charging Case or Wireless Charging Case, you can get more than 24 hours of listening time or up to 18 additional hours of talk time. There is a quick charge feature, so putting your AirPods into the Wireless Charging Case for 15 minutes gives you three hours of listening time.
According to an AirPods 2 teardown conducted by iFixit, the AirPods 2 Charging Case is equipped with a 398 mAh battery, the same as the previous-generation model, while the AirPods themselves continue to feature 93 milliwatt hour batteries.
AirPods How Tos and Guides
Below, you'll find a small selection of the guides that we've written for the AirPods, but we also have a full AirPods master guide that has everything from beginner tips to advanced tricks for the AirPods.
AirPods 1 vs. AirPods 2
Apple's second-generation AirPods feature the same design as the original AirPods, but there are a few new internal features including an H1 chip that enables "Hey Siri" functionality, faster device switching, and other functions, along with the new Wireless Charging Case.
For a full overview of the differences between the original AirPods and the second-generation AirPods, make sure to check out our New AirPods 2 vs. Old AirPods 1 guide.
Compatible Devices
AirPods work with all iPhones from the iPhone 5 and newer, aka every iPhone introduced since 2012. AirPods are not compatible with older iPhones, such as the iPhone 4s.

As for iPads, AirPods are compatible with the iPad Air, iPad mini 2 and later, 5th-generation iPad and later, and all iPad Pro models. The AirPods work with all Apple Watch models, starting with the original Apple Watch.
AirPods are also compatible with the 6th-generation iPod touch, the Apple TV 4K, the fourth-generation Apple TV, and they can connect to other non-Apple devices over a standard Bluetooth connection.
To use the second-generation AirPods, iOS 12.2 or later is required.
AirPods Alternatives
Along with the AirPods, Apple now sells the Powerbeats Pro, earbuds that have many of the same features but are designed for a more active lifestyle.
Powerbeats Pro work like AirPods, but are more expensive at $250 and have a design that features more traditional earbud tips and earhooks to hold them in place. Powerbeats Pro are water resistant to hold up to sweat and have a longer battery life than AirPods, but the carrying case is much larger.
Watch the video above to see a comparison of the Powerbeats Pro and the AirPods, and make sure to check out our Powerbeats Pro vs. AirPods guide and article.
What's Next for the AirPods
Apple is rumored to be working on updated third-generation AirPods that are expected to be released during late 2019 or early 2020, with a fresh design and some new functionality like noise cancelation.
According to Bloomberg, Apple's third-generation AirPods will feature an updated design and improved water resistance that will allow the AirPods to hold up to "splashes of water and rain."
The AirPods aren't likely to be entirely water resistant, however, and won't be able to be submerged in liquid. These third-generation AirPods are also rumored to include noise cancelation features and will increase the distance that AirPods can be listened to away from an iPhone or iPad thanks to a stronger connection.
Apple analyst Ming-Chi Kuo also believes Apple will launch new AirPods models that will feature an "all-new form factor design" and a higher price than the current second-generation AirPods.
Apple in iOS 13.2 leaked an icon that may depict the third-generation AirPods, featuring a new design that has an AirPods-style body with traditional rubber ear tips that go inside the ears.

The addition of rubber tips could potentially be for the active noise cancelation feature that Apple is rumored to be introducing.
The icon also appears similar to an AirPods leak from September, suggesting that leak may be accurate. The AirPods in the photo feature a large hole where a rubber tip would be located along with a larger charging case.

According to China Economic Daily, the third-generation AirPods will feature a new in-ear design, previously seen in an icon leak, and the new earbuds will also allegedly be called the "AirPods Pro."
The AirPods Pro are said to cost around $260 and are also rumored to include a new metal design that increases heat dissipation. China Economic Daily also believes the AirPods Pro will be released at the end of October.
Apple's High-End Over-Ear Headphones
Apple may round out its audio wearable lineup with a set of high-end over-ear headphones, which, according to Apple analyst Ming-Chi Kuo, are under development at Apple's Cupertino headquarters.

Apple-branded over-ear headphones concept by Curved.de
Kuo says Apple is aiming to have "own-brand high-end over-ear headphones" with an "all-new design" that will be "as convenient as AirPods" but with superior sound quality. Given the information about "own-branded" and a new design, these headphones would presumably be separate from the current Beats-branded headphones that Apple sells.
Bloomberg says Apple's upcoming over-ear wireless headphones will feature active noise-canceling and will be aimed at the high-end market. Apple was said to be aiming for a launch date in the second half of 2019 for the over-ear headphones, but we've heard no additional rumors so the headphones may be delayed.
Apple currently has Beats Studio3 wireless over-ear headphones that feature Pure Adaptive Noise Canceling, and Apple-branded headphones could feature similar technology.
Best Prices