AirPods
Apple's completely wireless earbuds.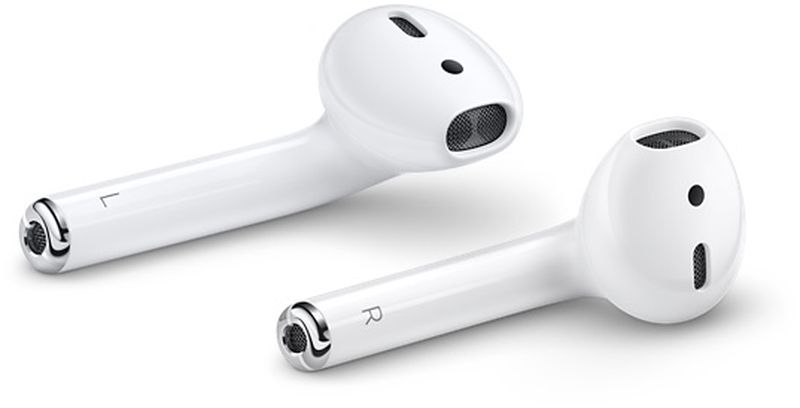 What's Next for AirPods
Multiple reports have suggested Apple is working on new third-generation AirPods with a form factor similar to the AirPods Pro, featuring a new case, a shorter stem, and perhaps replaceable ear tips, though rumors appear to be mixed on this point.
There's a possibility that the new earbuds will have Pro-like silicone tips, but it's also possible they'll have a tipless design like the current AirPods. Though the AirPods 3 will look similar to AirPods Pro, they will be more affordable and will lack higher-end Pro features like Active Noise Cancellation. Battery life could be notably improved thanks to improvements to the case, and Apple is working on a new wireless chip.
The third-generation AirPods are expected to adopt a more compact integrated system-in-package (SiP) that's similar to the SiP used in the AirPods Pro, which will allow the audio features of the AirPods to be integrated into a casing more similar in design to the AirPods Pro. Current AirPods use surface-mount technology (SMT).
AirPods 3 Leaks
Some rumors and leaked designs have indicated the AirPods 3 will have silicone ear tips like the AirPods Pro, but images that were shared in March by 52audio appear to depict a set of AirPods with an AirPods Pro-style design and no silicone ear tips.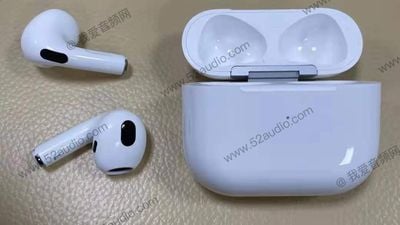 Instead, the AirPods appear to be a hybrid between the AirPods and the AirPods Pro, offering an AirPods Pro look but with a body that fits into the ear without an ear tip.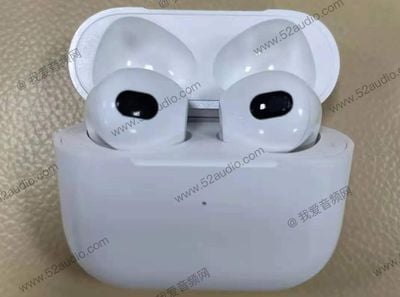 The AirPods case that leaked also does not appear to have the space for silicone earbuds to be added.
Other leaked renders images, such as these that surfaced in February 2021, clearly have a design that suggests the AirPods 3 will indeed have silicone ear tips, so the ear tip status is unclear.

The AirPods in the leaked images feature a shorter stem, while the case is wider to accommodate the new design.
Release Date
Apple held an iPhone-centric event on September 14, but the AirPods were not announced as expected. Instead, Apple could debut the AirPods at a second fall event that's in the works. Rumors have suggested that the new AirPods are already in production and are likely to launch before the end of 2021.
Read More
We have more on the upcoming AirPods 3 in our dedicated AirPods 3 guide, which highlights all of the rumors and leaks we've seen so far.
AirPods With Health Sensors?
Future AirPods could include light sensors, which could be used for health monitoring features. DigiTimes has suggested the new sensors could be included in AirPods in one to two years, and Apple analyst Ming-Chi Kuo has said that future AirPods will include health-related functionality. Health monitoring features could let the AirPods monitor heart rate, step counts, and health conditions, as well as detect head movements.
Apple's vice president of technology Kevin Lynch in June 2021 said that Apple may one day build health sensors into the AirPods to provide users with additional health data. It's not clear when and if these if these health sensors will be coming to the AirPods.
Apple's Second-Generation AirPods
Apple in March 2019 overhauled the AirPods and introduced the first AirPods update with a handful of useful new features that make the Apple-designed earbuds better than ever. The AirPods 2 support hands-free "Hey Siri" functionality, allowing users to control volume and swap songs through voice commands, so there's no longer a need to tap on the AirPods with a finger to activate Siri.
The updated AirPods are equipped with an updated H1 chip, which replaces the W1 chip and brings connectivity improvements. AirPods connect more quickly to your devices for an even more hassle-free experience, and automatic switching between devices while listening to music is now two times faster. The H1 chip in the second-generation AirPods supports Bluetooth 5.0, which should bring better range.
AirPods pair up with iPhone, iPad, iPod touch, Apple Watch, Apple TV, and Mac, and thanks to the H1 chip, you can easily switch between Apple devices. AirPods also pair with Android phones and other Bluetooth-enabled devices using traditional Bluetooth pairing methods.
Apple's AirPods 2 come with an optional Wireless Charging Case that enables Qi-based wireless charging. You can get the updated AirPods without the charging case for $159, with the Charging Case for $199, or you can buy just the Charging Case for your existing AirPods for $79.
There have been no design changes to the AirPods, so they continue to look similar to the standard Apple EarPods but without the cord. AirPods are completely wire-free, and continue to be available only in white with no other color options available.
AirPods offer up to five hours of battery life when listening to music, and the case provides an additional 24 hours of battery life. The new AirPods are more efficient with the H1 chip and talk time has increased from two hours to three hours.
When you open up the Charging Case, the AirPods inside connect to your device automatically, and using built-in sensors and an accelerometer, the AirPods can detect when you put them in your ears or take them out, playing and pausing audio accordingly.
Beamforming microphones enable clear, crisp calls, and there are tap gestures built in for changing tracks, changing volume, and activating Siri if you don't want to use the Hey Siri feature. A separate voice accelerometer kicks in when you're speaking to block out ambient sound.

You can use both AirPods at once or just one if you want to keep an ear free to listen to the environment around you, and Apple designed the AirPods to offer high-quality AAC audio that sounds great with everything from songs to podcasts.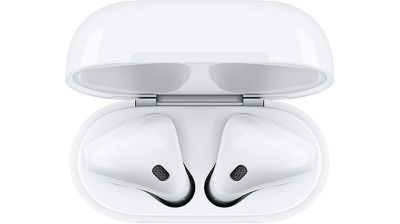 The second-generation AirPods refresh lacks some of the features that were rumored, such a a new color, but the H1 chip for improved connectivity and device switching times, the extra hour of talk time, the "Hey Siri" functionality, and the Wireless Charging Case make this a solid update.
With the launch of the second-generation AirPods, Apple has discontinued the first-generation AirPods. As of October 2019, Apple also sells the AirPods 2 alongside the AirPods Pro, a higher-end $249 version of the AirPods with Active Noise Cancellation and a new design with silicone ear tips.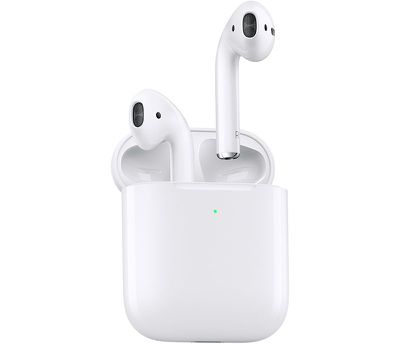 Apple occasionally releases firmware updates for the AirPods, and the current firmware version is 3E751, which was introduced in September to add support for automatic device switching.
Note: See an error in this roundup or want to offer feedback? Send us an email here.
How to Buy
Apple is selling the second-generation AirPods in three different arrangements. You can get the new AirPods and no Wireless Charging Case for $159, or choose to purchase the new AirPods with Wireless Charging Case for $199.

There's also an option to purchase the Wireless Charging Case on a standalone basis without the AirPods for $79, which is handy if you just want wireless charging capabilities but already have perfectly good original AirPods. AirPods can be purchased online or in Apple retail stores.
When purchasing from Apple's website, AirPods Charging Cases can now be engraved with Apple allowing either text characters or an emoji to be added.
Apple offers a $29 AppleCare+ plan for AirPods, which extends the standard warranty and allows for two replacements for accidental damage.
AirPods may be in short supply in early 2020 as Apple could face manufacturing delays due to the coronavirus outbreak in China. Many factories in China are experiencing staffing shortages and travel restrictions, which has the potential to impact production.
AirPods Features Added in iOS 13
As of iOS 13, you can pair two sets of AirPods to one iPhone or iPad so you can watch a movie or listen to music with a friend.

There's also a new feature that's designed to read incoming messages from messaging apps so you can hear what's important and dictate a response even when your iPhone isn't in reach. The feature works with Messages and other third-party apps like WhatsApp.
Design and Internals
The second-generation AirPods look just like the first-generation AirPods, with no design changes or updates. The AirPods are reminiscent of the Apple EarPods that Apple has long sold alongside the iPhones, but the AirPods have no wires.
AirPods are entirely wire-free, and are made from a shiny white plastic. The AirPods are designed to nestle into the ear, and due to the shape, can fit a variety of ears. AirPods do not offer noise canceling or sound isolating features, so you can still hear the environment around you.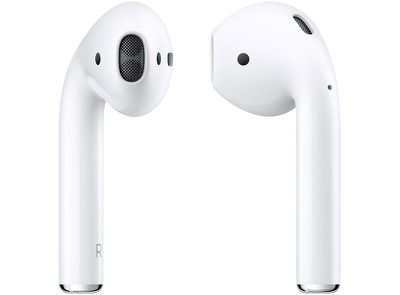 Though AirPods were designed to have a universal fit that accommodates many ear sizes, not everyone finds them comfortable, and some people don't like to wear them during exercise. For the most part, though, AirPods stay in the ears.
Each AirPod has a tail or a stem that comes down out of the ears to provide stability and additional space to house internal components.

Because there are no wires, AirPods are able to operate independently. You can wear both or just one, and when work together, they work like standard earphones thanks to the technology inside.
AirPods feature a motion accelerometer and dual optical sensors that enable tap gestures and a feature called ear detection. AirPods can tell when they're placed in the ear and when they're taken out, so when you put them in, your music plays. And when you pull one out, your music pauses.

Built-in dual beamforming microphones in the AirPods enable both voice calls and Siri commands, and there's a secondary speech-detecting accelerometer that's able to filter out background noise and focus on your voice.
AirPods are not water resistant, but in the second-generation model, Apple did add a water repellent coating to the circuit board.
H1 Chip
Apple's first-generation AirPods used a W1 chip, but the second-generation version features an upgraded H1 chip. The H1 chip is what enables the "magic" of the AirPods, allowing for an efficient Bluetooth connection with an increased range, longer talk time, and switching between your Mac and iOS devices.
The H1 chip provides a key feature tied to iCloud -- simple device switching. Your AirPods are tied to your iCloud account and can be paired to all devices signed into that same iCloud account. With iOS 14, automatic device switching has been enabled, so the AirPods can automatically switch between iPhone, iPad, Mac, and Apple Watch as you use them with no need to access Bluetooth controls to swap devices.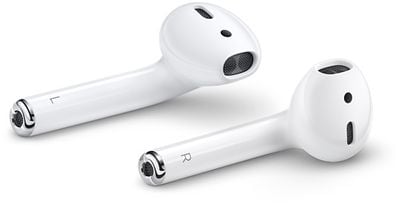 Automatic switching works with the AirPods 2, AirPods Pro, Powerbeats, Powerbeats Pro, and Beats Solo Pro, and devices must be updated with the latest software updates (iOS 14 or later, watchOS 7 or later, tvOS 14 or later, or macOS Big Sur or later).
The H1 chip features reworked audio architecture that improves synchronization. When switching between devices while listening to music on an iPhone, Apple Watch, or iPad, connect times are two times faster, and when making phone calls, your AirPods connect 1.5 times faster. Gaming latency has also been reduced by 30 percent.
Automatic switching is tied to Apple devices, but the AirPods also have a traditional Bluetooth connection so you can pair them to any Bluetooth device including Android smartphones and PCs.
Spatial Audio
Starting in June 2021, Apple is adding a new Spatial Audio with Dolby Atmos feature to Apple Music, which allows AirPods owners to listen to specially designed Spatial Audio tracks.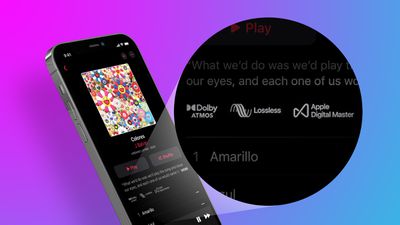 Spatial Audio with Dolby Atmos is designed to provide an immersive, multidimensional audio experience that allows artists to mix music in a way that makes it sound like the notes are coming from all around you.
Apple Music automatically plays Dolby Atmos tracks on all AirPods and Beats headphones with an H1 or W1 chip, as do the built-in speakers of the newest iPhones, iPads, and Macs, plus the HomePod.
Apple is adding new Dolby Atmos tracks on a regular basis, and Apple Music offers up a curated selection of Dolby Atmos playlists. At launch, there were thousands of Spatial Audio songs available across a wide range of genres.
Spatial Audio also works with the Apple TV app and third-party apps, providing a movie theater listening experience on the AirPods Pro.
Hey Siri
Apple's H1 chip powers a new hands-free Siri feature that lets you activate Siri with a "Hey Siri" command instead of needing to tap on the AirPods to activate the personal assistant.

Hey Siri is a feature that's available across iPhones, iPads, the Apple Watch, and Macs, and now it's also an AirPods function. Siri can provide hands-free access to changing the volume of the AirPods, selecting a song, placing a phone call, and more.
Supported Gestures and Siri Commands
The AirPods support several double tap gestures, which can be customized using the Settings app on an iPhone or iPad. AirPods can be set to do the following:
Activate Siri

Play/Pause music

Skip to the next track

Go to the previous track

Turn off audio content
With the second-generation AirPods, you can also activate Siri without a tap using the "Hey Siri" feature, but on older models, you need to tap.
Two taps when using AirPods for calls also either answers the phone or hangs it up, which is worth noting if you often use your AirPods for phone calls.
With Siri, you can use voice commands to control your music, ask simple questions, get weather information, ask for the battery life of your device or your AirPods, get directions, control the volume, and more. Siri is the only way to control the volume of the AirPods without your iPhone as there are no volume controls on the AirPods themselves.
Sample AirPods Siri commands:
Play some new music

Play my "Favorites" playlist

Skip to the next song

Turn down the volume

Turn up the volume

Call mom

Pause my music

What's the battery life of my AirPods?

What's the temperature outside?
AirPods Charging Case
With the launch of the second-generation AirPods, Apple introduced a new kind of AirPods charging case, designed to work with Qi-based wireless charging accessories.
With the new AirPods Wireless Charging Case, the AirPods can be charged with any Qi charger that you might already have for your iPhone. It was originally conceived for use with the AirPower, but Apple canceled the AirPower. The Wireless Charging Case is still ideal for other Qi charging pads, though.
Apple is continuing to sell the original AirPods Charging Case that does not have wireless charging capabilities for those who do not need the feature. AirPods with the regular case are $159, the price of the first-generation model, but the wireless charging feature is more expensive and Apple is charging $199 for the AirPods with Wireless Charging Case.

The Wireless Charging Case is also available on a standalone basis and can be paired with the first-generation AirPods for those who want wireless charging without having to shell out for a whole new set of AirPods.
You can tell the standard Charging Case from the Wireless Charging Case by the location of the LED indicator. On the standard Charging Case, the LED is located inside the lid between where the two AirPods are stored, but on the Wireless Charging Case, the LED is located on the front so you can see at a glance if the AirPods are charging on a wireless charging base.

The Charging Cases that Apple provides for the AirPods are used to add additional battery life and to store the AirPods when not in use so they don't get lost.
Similar in size to a container of dental floss, the small Charging Case fits easily into a pocket or a bag. The AirPods slide right into the charging case, and a magnetic connection along with a lid that snaps shut keep the AirPods in place. Opening the lid while near an iOS device is what initiates the simple pairing process that the AirPods are known for.

While the AirPods are located inside the case, the case charges them up, so long as the case itself has remaining battery power. Both cases have LEDs, and orange indicates charging while green indicates a full charge.
You can charge the standard Charging Case using a Lightning cable, while the Wireless Charging Case can be charged with a Qi wireless charger or a Lightning cable.
Battery Life
The AirPods last for up to five hours of non-stop music listening on a single charge, but if you're using them for phone calls, the battery drains faster.
The second-generation AirPods last for up to three hours when talking on the phone, while the original AirPods last for two hours. Improvements in battery life come from the new H1 chip and the fact that the second-generation AirPods support Bluetooth 5.0.

With the AirPods Charging Case or Wireless Charging Case, you can get more than 24 hours of listening time or up to 18 additional hours of talk time. There is a quick charge feature, so putting your AirPods into the Wireless Charging Case for 15 minutes gives you three hours of listening time.
According to an AirPods 2 teardown conducted by iFixit, the AirPods 2 Charging Case is equipped with a 398 mAh battery, the same as the previous-generation model, while the AirPods themselves continue to feature 93 milliwatt hour batteries.
Battery notifications, added in iOS 14, let you know if you need to charge your AirPods so you can keep them topped up at all times. Apple has also introduced Battery Health features for AirPods, which preserve battery longevity by limiting the amount of time the AirPods spend at 100 percent battery level when charging.
Headphone Accommodations
Added in iOS 14, Headphone Accommodations is a new Accessibility option that can amplify soft sounds and adjust certain frequencies for an individual's hearing to make music, movies, phone calls, and podcasts sound more crisp and clear with AirPods.
For more on everything that's new with the AirPods in iOS 14, make sure to check out our guide.
AirPods How Tos and Guides
Below, you'll find a small selection of the guides that we've written for the AirPods, but we also have a full AirPods master guide that has everything from beginner tips to advanced tricks for the AirPods.
AirPods 1 vs. AirPods 2
Apple's second-generation AirPods feature the same design as the original AirPods, but there are a few new internal features including an H1 chip that enables "Hey Siri" functionality, faster device switching, and other functions, along with the new Wireless Charging Case.
For a full overview of the differences between the original AirPods and the second-generation AirPods, make sure to check out our New AirPods 2 vs. Old AirPods 1 guide.
Compatible Devices
AirPods work with all iPhones from the iPhone 5 and newer, aka every iPhone introduced since 2012. AirPods are not compatible with older iPhones, such as the iPhone 4s.

As for iPads, AirPods are compatible with the iPad Air, iPad mini 2 and later, 5th-generation iPad and later, and all iPad Pro models. The AirPods work with all Apple Watch models, starting with the original Apple Watch.
AirPods are also compatible with the 6th-generation iPod touch, the Apple TV 4K, the fourth-generation Apple TV, and they can connect to other non-Apple devices over a standard Bluetooth connection.
To use the second-generation AirPods, iOS 12.2 or later is required.
AirPods Pro
Apple in October 2019 introduced the AirPods Pro, a higher-end version of the standard AirPods. The AirPods Pro take design cues from the original AirPods, but have a new look to support silicone ear tips, needed for noise cancellation.
Compared to the original AirPods, the new AirPods Pro offer superior sound quality, noise cancellation technology, and a new control method that involves touching the stem to do things like change tracks or activate noise canceling.
The AirPods Pro use the same H1 chip and have similar battery life (slightly less with Active Noise Cancellation enabled), plus there's a wireless charging case. Cost wise, the AirPods Pro are $249, so $50 more expensive than the AirPods with Wireless Charging Case and $100 more than the AirPods with standard case.
AirPods Alternatives
Along with the AirPods, Apple now sells the Powerbeats Pro, earbuds that have many of the same features but are designed for a more active lifestyle.
Powerbeats Pro work like AirPods, but are more expensive at $250 and have a design that features more traditional earbud tips and earhooks to hold them in place. Powerbeats Pro are water resistant to hold up to sweat and have a longer battery life than AirPods, but the carrying case is much larger.
Watch the video above to see a comparison of the Powerbeats Pro and the AirPods, and make sure to check out our Powerbeats Pro vs. AirPods guide and article.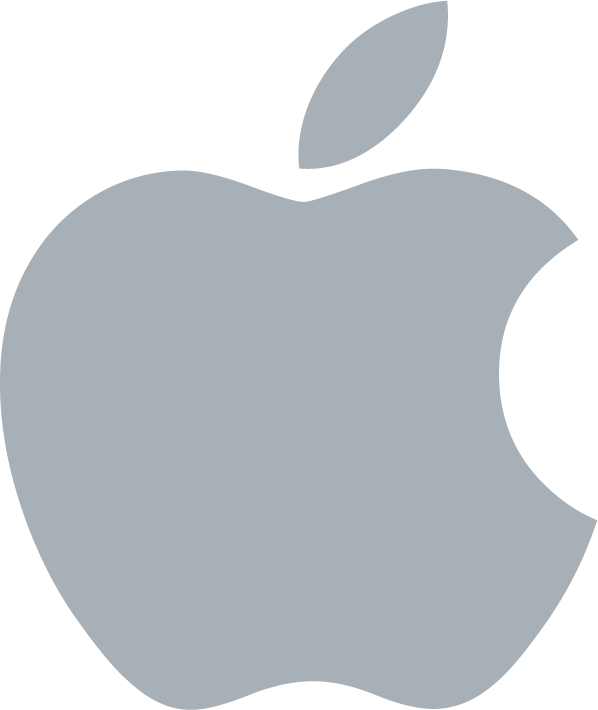 AirPods Timeline