Apple Updates Entire MacBook and MacBook Pro Lineup With Kaby Lake CPUs and Faster Graphics
Apple announced internal updates to its entire range of MacBooks today at its WWDC keynote, with all models shipping today.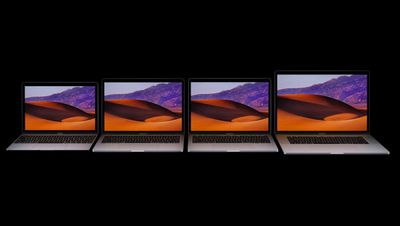 The main upgrade announcement is that seventh generation Intel Kaby Lake processors are now included in all upgraded 12-inch MacBooks and MacBook Pros. The 12-inch MacBook now supports up to 1.4 GHz Core i7 processor with Turbo Boost up to 3.6 GHz, and can be purchased with up to 16GB of RAM.
Meanwhile, the updated 13-inch MacBook Pro features Kaby Lake processors up to 3.5 GHz Core i7 with Turbo Boost up to 4.0 GHz, and the 15-inch MacBook Pro goes up to 3.1 GHz Core i7 with Turbo Boost up to 4.1 GHz.
Intel Iris Plus Graphics 640 are included in the base configuration of 13-inch MacBook Pro, with Intel Iris Plus Graphics 650 included in the higher spec option. Elsewhere, the 15-inch MacBook Pro now comes standard with more powerful Radeon Pro 555 discrete graphics with 2GB video memory, while a Radeon Pro 560 with 4GB memory is also available as an option.
In addition, the updated 12-inch MacBooks feature new SSDs that are up to 50 percent faster than those found in the previous generation, according to Apple.
Finally, the MacBook Air, one of Apple's most popular notebooks, received a new 1.8GHz processor to bring it up to speed with equivalent ultra-slim laptops.


The 12-inch MacBook starts now starts at the lower price of $1,299. Meanwhile, the 13-inch MacBook Pro with function keys starts at $1,299 or $1,799 with Touch Bar. The 15-inch MacBook Pro with Touch Bar starts at $2,399.
The updated iMac, MacBook, MacBook Pro and MacBook Air are available to order today on apple.com, and available to buy in Apple Stores starting on Wednesday, June 7.