The MacRumors guide to upcoming products is designed to provide an overview of everything that we're expecting to see from Apple, both in the near and more distant future. Dates listed are not always concrete, but are based on the most recent rumors and information that we have.
We're updating the guide on a regular basis, so it will be the go-to place to see every Apple product that's on the horizon at a glance. For more detail on the rumors we've heard about each upcoming item, make sure to click on the links to visit our roundups.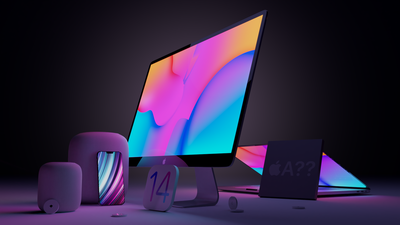 September 2020 Event
Apple held an event on Tuesday, September 15, unveiling the new Apple Watch Series 6, Apple Watch SE, iPad Air, and eighth-generation iPad.
The new 2020 iPhone lineup was not unveiled and may instead come at an event set to be held later in the year, perhaps in October.
October 2020 Event
Apple held a second fall event on Tuesday, October 13. This event saw the launch of the iPhone 12 models and the HomePod mini, along with Apple's MagSafe Charger and accessories.
November 2020 Event
Apple held a third fall event on November 12, 2020 that saw the company introduce the first Apple Silicon chip, the M1, along with the first Macs that are equipped with the M1 chip. The MacBook Air, 13-inch MacBook Pro, and Mac mini were refreshed with Apple's M1 Apple Silicon chip. Apple also introduced macOS Big Sur.
We are not expecting any additional events in 2020, and it's likely that the M1 Macs were Apple's final 2020 product release. That said, there are still AirTags and AirPods Studio that we're awaiting. These products could launch in 2020 via press release, but it's more likely Apple is holding these until 2021.
Products With Unknown Release Dates
High-End Over-Ear Headphones - Apple is rumored to be working on high-end over-ear Bluetooth headphones with an all-new design and superior sound quality and they could be called "AirPods Studio." There may be two versions in development, a premium model with leather-like fabrics and a fitness-focused model with lighter, breathable materials. Detachable ear cups and headband padding may be included, which would allow these components to be swapped out. The headphones are expected to feature Active Noise Cancellation like the AirPods Pro. Apple is targeting a fall 2020 launch date, and pricing could be around $350.
AirTags - Apple in iOS 13 introduced a new Find My feature that lets iOS and macOS devices be tracked even without a data connection by taking advantage of Bluetooth, and rumors suggest Apple could also expand this into a Tile-like Bluetooth tag that could be attached to any item. It may feature AR support for locating an item in a room and leashing to alert you when an item being tracked moves too far from an iPhone. Apple analyst Ming-Chi Kuo expected AirTags to launch in the first half of 2020, but that did not happen, and now rumors suggest a launch could happen in October alongside new iPhones.
Refreshed iMac - Apple refreshed the 27-inch iMac in August, but there are still rumors of a 23 to 24-inch iMac with "iPad Pro design language" and thinner bezels similar to the bezels on the Pro Display XDR, which could come in late 2020 or early 2021. This iMac is also expected to have an Apple Silicon chip and an Apple-designed GPU.
MacBook Pro - Apple analyst Ming-Chi Kuo says Apple is working on an updated version of the 16-inch MacBook Pro, with a launch that could happen later in the year, perhaps in October or November. The new 16-inch machine could potentially include a mini-LED display. There are also rumors of a 14.1-inch MacBook Pro with a mini-LED display, but it's not clear if that's coming in 2020. Apple's plans to unveil mini-LED devices in 2020 may have been delayed until 2021, however.
Apple TV Set-Top Box - Apple is working on a new version of the Apple TV with an updated processor and a redesigned Apple TV remote that could have a Find My-like feature that allows the remote to be tracked down when it's lost within the house. There could be two variants, one with an A12 chip and one with an A14X chip with Apple allegedly working towards console-level games for Apple Arcade. The new Apple TV is expected to launch in 2021.
AirPods 3 - Apple is said to have been planning to release new AirPods in March, but an event didn't take place and the AirPods were delayed. There have been rumors suggesting Apple is working on AirPods that have the same design as the AirPods Pro, but without Active Noise Cancellation, allowing Apple to sell them at a lower price point. AirPods rumors are a bit confused right now though. Apple analyst Ming-Chi Kuo believes new AirPods Pro won't come out until late 2021
iPad mini 6 - Apple is rumored to be working on a ne iPad mini with mini-LED display, which could also be available in a new 8.5 to 9-inch size option. This new iPad mini is rumored to be coming in 2021.
AR Smart Glasses - Apple is working on augmented reality smart glasses that could come at some point in the next few years. The glasses are said to feature a dedicated display, built-in processor, and an "rOS" or reality operating system. Input will be via touch panels, voice activation, and head gestures, and it's said to support applications ranging from mapping to texting. The first rumors suggested Apple's AR glasses would come in 2020, but now it's sounding like the product will see a release in 2022.
Apple Car - There have been a lot of twists and turns in the saga of Apple's electric car development, but reliable Apple analyst Ming-Chi Kuo believes Apple is still planning on a full autonomous vehicle rather than just an autonomous car software offering, with a launch to happen between 2023 and 2025.
2020 Product Refreshes and Announcements So Far
Apple in March started releasing new 2020 products, with a list of the new and refreshed devices below.
Apple's 2019 Product Refreshes
Guide Feedback
Know of an upcoming product that we've missed on this list or see an error that needs to be fixed? Send us an email here.