The MacRumors guide to upcoming products is designed to provide an overview of everything that we're expecting to see from Apple, both in the near and more distant future. Dates listed are not always concrete, but are based on the most recent rumors and information that we have.
We're updating the guide on a regular basis, so it will be the go-to place to see every Apple product that's on the horizon at a glance. For more detail on the rumors we've heard about each upcoming item, make sure to click on the links to visit our roundups.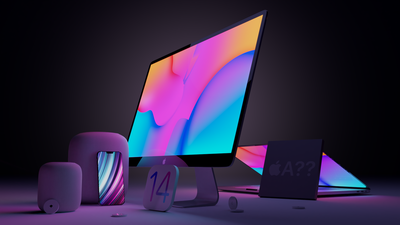 First Half of 2021
There are rumors that Apple will hold an event in March early in the year, where we could perhaps see new iPads and Macs that are rumored for release during the early months of 2021. All of these devices are rumored for release in the first half of 2021, but there's no guarantee they'll come in March.

WWDC
Apple holds the Worldwide Developers Conference every year, and in 2021, we're expecting to see iOS 15, iPadOS 15, watchOS 8, tvOS 8, and macOS 12. Apple previously used incremental numbers for macOS updates, but given that we've already had software updates numbered macOS 11.1, we can assume that macOS updates will now go up an entire number similar to iOS updates.
We don't know anything about any of these software updates as of yet, but we should start hearing details in early 2021.
Fall Event
Products Coming in Late 2021
Products With Unknown Release Dates
Beyond 2021
2020 Product Refreshes and Announcements
Apple in March started releasing new 2020 products, with a list of the new and refreshed devices below.
Guide Feedback
Know of an upcoming product that we've missed on this list or see an error that needs to be fixed? Send us an email here.