AirPods Pro
Apple's new second-generation noise-cancelling AirPods.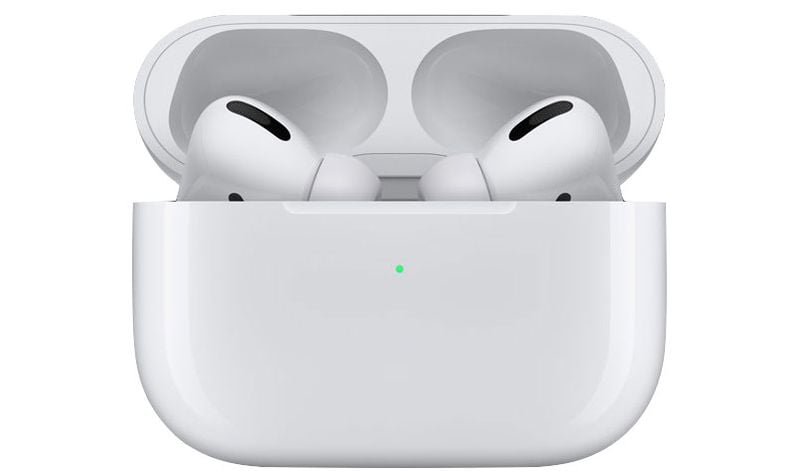 AirPods Pro 2
Apple in September 2022 finally refreshed the AirPods Pro, introducing a second-generation model for the earbuds that originally launched in 2019.
The AirPods Pro 2 are similar in design to the original AirPods Pro, featuring a rounded design with silicone ear tips and a short stem that harken back to the first AirPods. As with all AirPods, the AirPods Pro come only in white, with no other color options available.
Apple added an updated H2 chip that enables new capabilities, including Active Noise Cancellation that's twice as good. Noise-cancelling microphones and a rear vent detect sound coming in, countering it before it reaches the ear. Apple says the second-generation AirPods Pro reduce noise by sampling incoming sound at 48,000 times per second.
Transparency mode has been updated with an Adaptive Transparency feature that is designed to reduce loud environmental noise without blocking out all sound. It can cut down on the sound of a passing vehicle siren, construction tools, loud speakers at a concert, and more. This is done using on-device processing enabled by the H2 chip.
Along with an H2 chip, the AirPods Pro 2 are equipped with a low-distortion audio driver and a custom amplifier, which Apple says bring richer bass and crystal-clear sound across a wider range of frequencies.
For a more customized fit, AirPods Pro now have silicone ear tips in XS, S, M, and L sizes, with XS available as the new size option.
Personalized Spatial Audio is available for an optimized, immersive surround sound experience with dynamic head tracking, and Adaptive EQ customizes the sound so you hear songs as they were intended based on how the AirPods Pro fit in your ears.
The AirPods Pro 2 stems now include Touch control, adding physical media playback and volume adjustment options that can be accessed right on the earbuds. A swipe up or down on the AirPods Pro touch sensor enables volume adjustments, and a press can change the music or answer phone calls, plus "Hey Siri" support is included.
AirPods Pro features like seamless switching between devices signed into the same iCloud account, quick one-tap setup, and audio sharing are all supported.
Battery life is improved and the AirPods Pro 2 last for up to six hours on a single charge when Active Noise Cancellation is turned on. The included charging case provides a total of 30 hours of listening time, six hours more than the prior-generation model.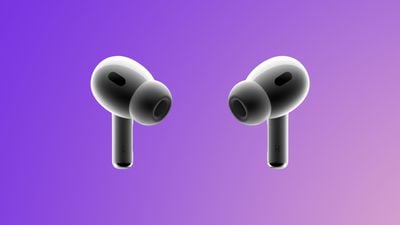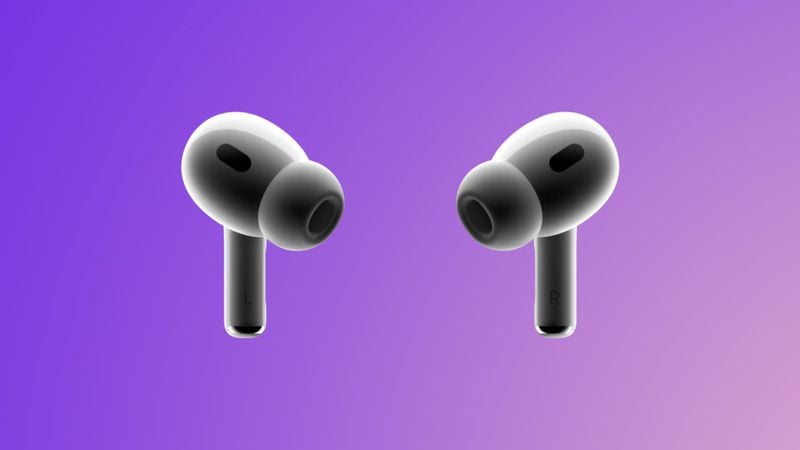 The AirPods Pro 2 MagSafe Charging Case can be charged using Qi, MagSafe, or the Apple Watch charging puck, a new feature. The case is IPX4 sweat and water resistant and it is now equipped with a lanyard loop so you can add an optional lanyard.
There's also a built-in speaker in the case so you can find your AirPods Pro charging case with Find My should it become lost, and with Precision Finding that uses the new U1 chip, the Find My app can direct you right to your lost AirPods Pro case.
Note: See an error in this roundup or want to offer feedback? Send us an email here.
How to Buy
The AirPods Pro launched on September 23 and can be ordered from the Apple online store or purchased in an Apple retail location. AirPods Pro are priced at $249, and can be customized with a Memoji, Animoji, or emoji engraving.
AirPods Pro Design
The second-generation AirPods Pro feature the same design as the original AirPods Pro, despite rumors that we could see some major changes. There were rumors of a stemless design, but that did not pan out, and Apple is continuing to use the same rounded in-ear bud with flexible silicone tips and a short stem.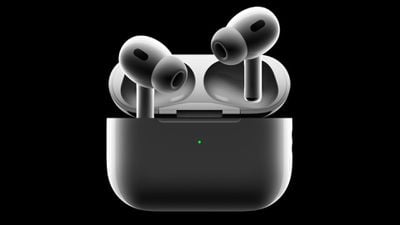 Apple designed the silicone tips to confirm to the contours of each individual ear, ensuring a comfortable fit and a good seal, an important factor for noise cancellation. The AirPods Pro 2 tips come in extra small, small, medium, and large, and the tips click into place on the AirPods Pro for easy swapping.
The AirPods Pro measure in at 30.9mm tall and 21.8mm wide, identical to the original AirPods Pro. They weigh 5.3 grams.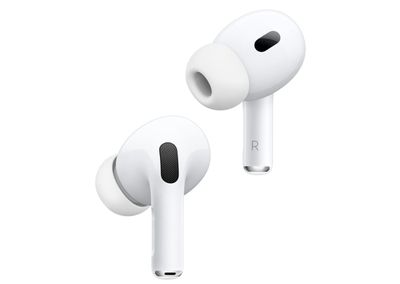 There is a new skin-detect sensor in the AirPods that is designed to better detect when the AirPods are removed from the ears in order to preserve battery life.
The new AirPods continue to feature a vent system for pressure equalization when using Active Noise Cancellation. It is designed to minimize the discomfort that can happen with other earbud designs.
MagSafe Charging Case
Apple is selling the AirPods Pro 2 with an updated MagSafe Charging Case that has a magnet inside for use with MagSafe charging accessories.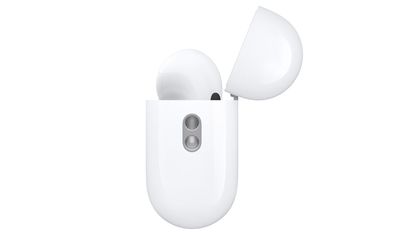 The case measures in at 60.6mm wide, 45.2mm tall, and 21.7mm thick, so despite the addition of a new charging feature, the case is identical to the first-generation AirPods Pro case, though it is slightly heavier. The AirPods Pro MagSafe Charging Case weighs 50.8 grams for a total weight of 56.1 grams with the AirPods Pro inside. The original AirPods Pro case weighed 45.6 grams.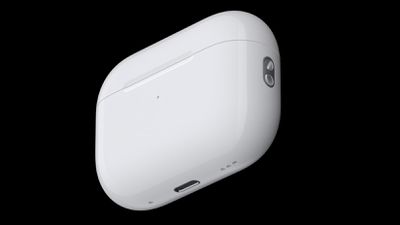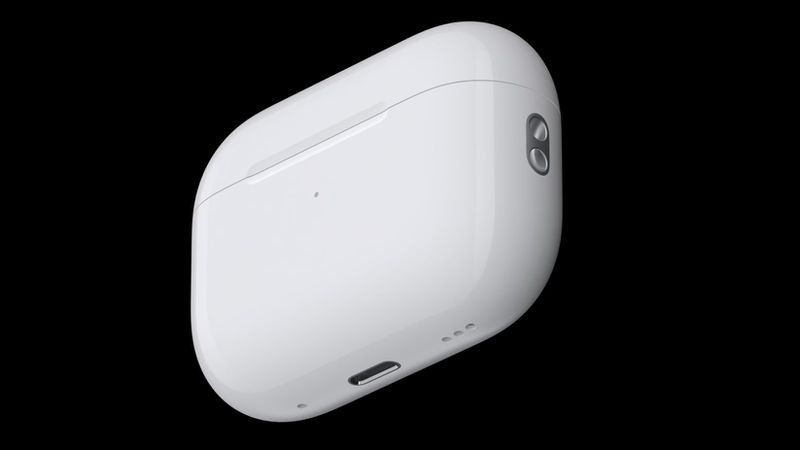 New to the Charging Case this year is a lanyard loop for attaching third-party lanyards, and a speaker that can allow the case to play a sound when used with the Find My feature.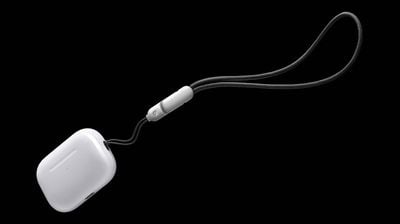 There is a U1 chip in the MagSafe Charging Case which allows it to work with Precision Finding in the Find My app with an iPhone that has a H1 chip.
Water Resistance
Apple says that the AirPods Pro and the MagSafe Charging Case are "sweat and water resistant," offering IPX4 water resistance. IPX4 water resistance was also a feature of the original AirPods Pro, but the case is more water resistant now.
IPX4 water resistance means the AirPods Pro and the case can hold up to sweat and light rain, but they should not be submerged and liquid exposure should be avoided when possible. Apple's warranty does not cover water or sweat damage.
Ear Tip Fit Test
To get the perfect fit and best audio experience, Apple offers an Ear Tip Fit Test for the AirPods Pro. After placing the AirPods Pro in each ear, Apple uses advanced algorithms and the microphones in each AirPod to measure the sound level in the ear and compare it to what's coming from the speaker driver.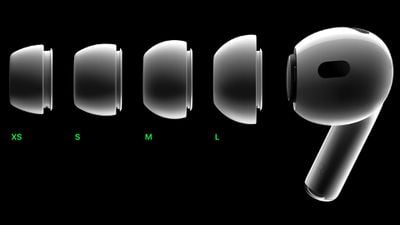 The algorithm then detects whether the ear tip is the right size and has a good fit, or if it should be swapped out for another size to create a better seal. AirPods Pro silicone tips come in XS, S, M, and L, with XS offered as a new option.
Active Noise Cancellation
Active Noise Cancellation (ANC) has been notably improved, and the AirPods Pro 2 cancel up to twice as much noise as the prior-generation AirPods Pro.
ANC uses the microphones built into the AirPods Pro along with Apple's software algorithms to adapt sound to each person's ear. The outward-facing microphone detects external sound so the AirPods Pro can analyze environmental noise, while the inward-facing microphone listens to the sound coming toward the ear. ANC adapts the sound signal reaching the ears 48,000 times per second.
The second-generation AirPods are equipped with a new driver and improved acoustic algorithms to reduce more unwanted noise.
Adaptive Transparency
Apple updated the AirPods Pro with a new Adaptive Transparency feature that builds on the Transparency mode introduced with the first-generation AirPods Pro.
Transparency Mode is designed to allow AirPods Pro users to hear the world around them, listening for traffic, train announcements, and more while also not blocking out music, podcasts, and other audio content.
Apple's new Adaptive Transparency uses on-device processing to reduce loud environmental sounds to a more comfortable level. It can lower the volume of a passing vehicle siren, construction tools, or loud speakers at a concert.
Sound Quality
Apple's second-generation AirPods Pro are outfitted with an updated custom high-excursion low-distortion Apple driver and a custom high dynamic range amplifier, which Apple says brings richer, deeper bass and crystal-clear sound at all volume levels.
Microphones
There are two dual beamforming microphones and an inward-facing microphone for Active Noise Cancellation purposes.
Adaptive EQ
Adaptive EQ is designed to improve sound quality by taking into account the shape of the ear. The feature uses computational audio and an updated internal microphone pointed toward the ear to optimize sound for each person.
Sound is tuned in real time based on the fit of the AirPod in the user's ear, with the AirPods Pro adjusting and tuning the low and mid frequencies for consistent playback every time.
Apple says the new H2 chip uses new adaptation algorithms to process sound more quickly, tuning audio at the precise second that it is heard, for higher-fidelity sound. Phone calls also sound more natural thanks to voice enhancement algorithms.
Spatial Audio
Apple introduced Spatial Audio in 2021, bringing a surround sound like experience to Apple Music, the Apple TV app, and more. With Dolby Atmos tracks in Apple Music, the AirPods Pro can provide a multi-dimensional audio experience that makes it so the sound comes from all around you.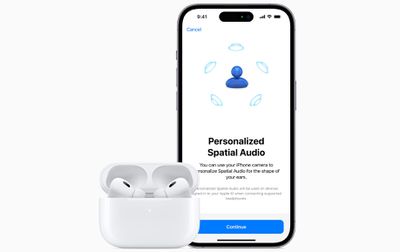 Spatial audio applies directional audio filters and subtly adjusts the frequencies that each ear receives to place sounds virtually anywhere in space for an immersive listening experience. The feature uses sensors in the AirPods Pro along with sensors in the iPhone or iPad to track the motion of a person's head as well as the position of their device, comparing the motion data and remapping the sound field so that it stays anchored to the device even as the head moves.
Dynamic head tracking works with spatial audio and on Group FaceTime calls so it sounds like the FaceTime participants are right in the room with you.
The AirPods Pro also support Personalized Spatial Audio, which is an iOS 16 feature. With Personalized Spatial Audio, you can use your TrueDepth camera to scan the area around you to create a custom sound experience.
H2 Chip
There is a new H2 chip inside the AirPods Pro 2, which is an improvement over the prior H1 chip. The H2 powers all of the features in the AirPods, including Active Noise Cancellation, Transparency Mode, and Adaptive EQ.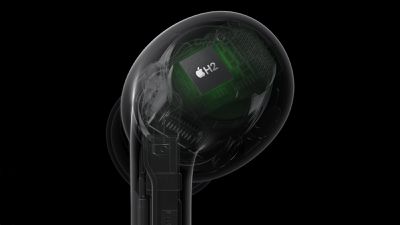 The H2 chip also continues to enable the features AirPods have come to be known for, including fast switching between Apple devices that are signed into the same iCloud account, "Hey Siri" support, instant pairing, and Audio Sharing, which allows more than one set of AirPods to be paired to a single device.
Bluetooth
The AirPods Pro support the latest Bluetooth 5.3 specification. Bluetooth 5.3 includes enhancements that can improve reliability and energy efficiency. The specification also includes LE Audio, but Apple does not yet appear to have implemented support for LE Audio.
Other Sensors
There's a motion-detecting accelerometer and a speech detecting accelerometer in the AirPods Pro in addition to the skin-detect sensor. All of these sensors work together to power AirPods features like ear detection.
Gesture Support
Swipe up or down on the stem to adjust the volume
Press once to play/pause
Press once to answer an incoming phone call
Press twice to skip forward
Press three times to skip back
Press and hold to swap between ANC and Adaptive Transparency
Battery Life
On their own, the AirPods Pro 2 offer up to six hours of listening time, or 5.5 hours with Spatial Audio and Head Tracking enabled. When used for talking, the battery lasts for a total of 4.5 hours. The AirPods Pro 2 earbuds feature a battery capacity of 49.7 mAh, up 15 percent from 43.2 mAh capacity of the prior-generation AirPods Pro earbuds, which accounts for some of the difference in battery life.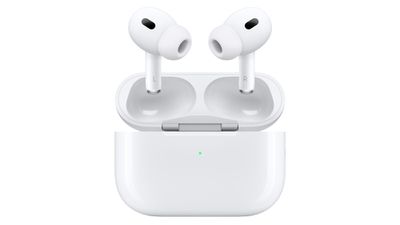 The MagSafe Charging Case has a battery capacity of 523 mAh, up just 4 mAh over the prior-generation case. With the MagSafe Charging Case, the AirPods Pro 2 offer up to 30 hours of listening time and 24 hours of talk time before needing to be recharged. Charging can be done using a MagSafe charger, a Lightning cable, a Qi-based charger, or, new this year, the Apple Watch charger.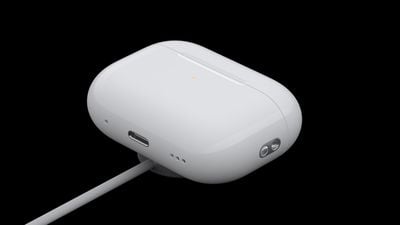 Apple says that five minutes in the charging case provides the AirPods Pro with one hour of listening time or one hour of talk time.
Find My
Both the AirPods Pro 2 and the MagSafe Charging Case work with the Find My app, so if any component is lost, it can be located using another Apple device. The Charging Case has a U1 chip so it can be tracked down with Precision Finding on a compatible iPhone, and with the new built-in speakers, the case can play a sound so it's easier to find.

Other AirPods Options
The AirPods Pro are available alongside the third-generation AirPods, priced starting at $169, and the over-ear AirPods Max, priced at $549.
Apple's third-generation AirPods are similar to the AirPods Pro, but without silicone ear tips and without Active Noise Cancellation technology. The AirPods Max do feature ANC, but are larger over-ear headphones made from aluminum.