Apple Watch Series 6
Apple's newest Apple Watch, introduced September 15.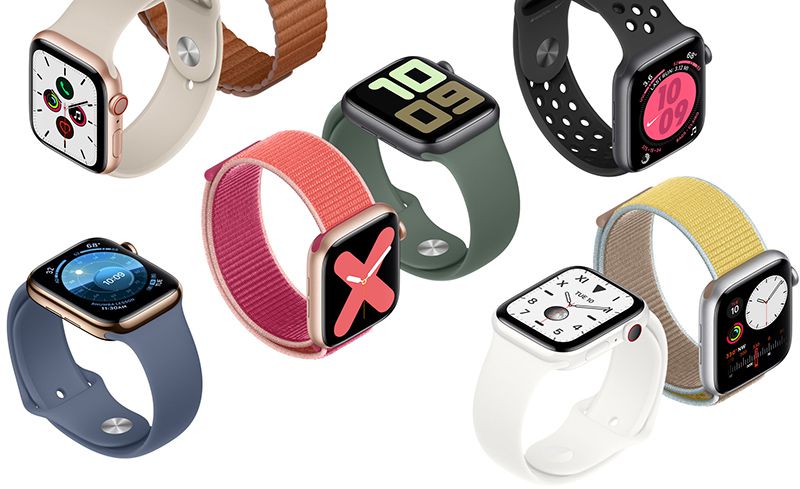 Should You Buy an Apple Watch Series 6?
The Apple Watch Series 6 is part of Apple's latest generation of smartwatches, featuring an always-on display, the S6 chip, an always-on altimeter, and blood oxygen monitoring, at a price of $399.
Announced in September 2020, the Apple Watch Series 6 is one of the newest Apple Watches in Apple's lineup, but it is approaching the end of its product cycle. Apple tends to release new Apple Watch models every September, and there is no reason to suggest that a new Apple Watch Series 7 will not be launching as normal this fall.
There are signs of an Apple Watch Series 7 with a number of upgrades and improvements, and the launch of this device is believed to be just a couple of months away. This means that unless you immediately need a replacement device, the vast majority of people should wait until a new model arrives in the fall.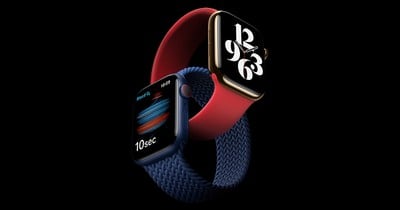 While the Apple Watch Series 6 is Apple's most full-featured, high-end smartwatch for those who want features like blood oxygen monitoring, ECG, an always-on display, and more premium finishes, users who are looking for a more affordable option should consider the Apple Watch SE. Starting at $279, the Apple Watch SE offers many key Apple Watch features, such as an optical heart rate sensor and fall detection, but at a lower price that balances functionality and affordability.
On the other hand, if price is your main concern and you don't need advanced health functions, the Apple Watch Series 3 may be more appropriate than the $399 Apple Watch Series 6 as it offers many of the Apple Watch's core features for just $199. There are some tradeoffs with the Apple Watch Series 3 because it is a much older model, such as a smaller display, an older chipset, and the lack of a compass, fall detection, ECG, and blood oxygen monitoring.
Apple Watch Series 6
The Apple Watch Series 6, released in September 2020, is the current iteration of the Apple Watch that originally launched in 2015. The Apple Watch Series 6 is identical in design to the Series 5, but there are some notable health-related features along with a faster chip for better performance.
There's a new sensor in the Apple Watch Series 6 that enables Blood Oxygen monitoring that measures oxygen saturation in the blood for better understanding of fitness and wellness. When oxygen saturation (also known as SpO2) levels drop, it can be a sign of a serious illness.
Blood oxygen monitoring is enabled through four clusters of red, green, and infrared LEDs along with four photodiodes on the back of the Apple Watch, all of which measure light reflected back from blood. A custom algorithm included in the new Blood Oxygen app measures blood oxygen between 70 and 100 percent. On-demand testing is available through the app, and the watch also occasionally takes background measurements when a person is inactive, including during sleep. Data is available in the Health app.
The Apple Watch Series 6 continues to be available in 40 and 44mm size options, and it has the same thinner, smaller case introduced in the Series 4 along with the low power (LTPO) OLED Always-On display introduced in the Series 5. In the Series 6, the Always-On display is 2.5 times brighter than Apple Watch Series 5 when outdoors, so it's easier to see in bright sunlight.
Apple Watch owners can access Notification Center and Control Center, tap on complications, and swipe to change faces when their wrists are down with the Always-On display in the Series 6. Apple has also added an always-on altimeter that's more power-efficient, which can be seen on the watch face at all times and provides information on elevation changes as small as one foot.
Apple Watch Series 6 is water resistant and supports Apple Pay purchases like prior models, plus it has all the same health-related features in addition to blood oxygen monitoring. Apple Watch Series 6 is able to do things like monitor steps taken, calories burned, stairs climbed, and heart rate, plus it can take ECG readings, track sleep, look out for falls with fall detection, make emergency calls with SOS, and watch out for overly loud sounds.
Like the Apple Watch Series 5 models, Series 6 models feature a black ceramic and sapphire crystal backing and a Digital Crown with haptic feedback. The Digital Crown has built-in sensors for ECG readings.
There's an updated S6 System-in-Package chip in the Apple Watch Series 6, which is based on the A13 Bionic in the iPhone 11. It is up to 20 percent faster, allowing apps to launch 20 percent faster, and it offers the same all-day 18-hour battery life. Apple Watch Series 6 offers faster charging and can be charged to full in 1.5 hours. Battery life has been improved for tracking workouts like indoor and outdoor runs, too.
New to the Apple Watch Series 6 is the same U1 chip and band antennas introduced in the iPhone 11 models, which Apple says enables short-range wireless location to support new experiences like digital Car Keys. Apple offers the Series 6 with both GPS and GPS + LTE functionality. LTE Apple Watch models can operate over LTE without an iPhone nearby.
This year's Apple Watch models come in aluminum, stainless steel, and titanium, with Apple introducing new blue and (PRODUCT)RED color options for the aluminum models. Stainless steel Apple Watch models come in silver and a dark gray graphite shade, while titanium models come in silver and space black.
Apple is continuing to sell Apple Watch Nike and Apple Watch Hermès models, with both featuring new band options. Nike models are available only in aluminum, while Hermès models come in stainless steel.
Alongside the Apple Watch Series 6, Apple introduced the lower-cost Apple Watch SE, which is priced starting at $279. The Apple Watch SE is identical in design to the Apple Watch Series 6, but it is lacking several key features to keep costs down. It has an S5 chip that was in the Series 5, but it lacks an always-on display, comes only in aluminum, has no blood oxygen sensor, doesn't do ECG readings, has no U1 chip, and doesn't support 5GHz WiFi.
Other than that, it supports all basic Apple Watch functionality such as heart rate monitoring, fall detection, activity monitoring, emergency SOS, Apple Pay support, sleep tracking, water resistance, and more. It comes in cellular and GPS options much like the Series 6.
There are three new Apple Watch band options this year, two of which eliminate closures and straps. The Solo Loop and Braided Solo Loop are available in soft silicone and braided yarn, respectively. Each one slips over the hand and onto the wrist, with Apple offering nine sizing options. There's also a new Leather Link band that's a redesigned version of the Leather Loop.
With the new Apple Watch models and watchOS 7, Apple introduced a Family Setup feature that lets kids use Apple Watches without owning an iPhone. Parents can pair multiple Apple Watches to their iPhones for management purposes, so children can use the connectivity, safety, and fitness features of the Apple Watch. There's a special Activity rings experience for children, along with a new parent-controlled Do Not Disturb mode called Schooltime to help kids stay focused and attentive while learning.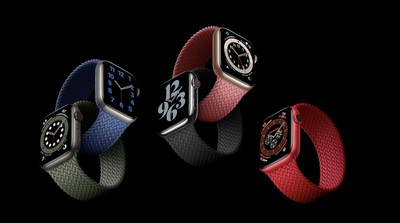 Apple Watch Series 6 and Apple Watch SE models are available for purchase from the online Apple Store. Pricing on the Series 6 starts at $399, while pricing on the Apple Watch SE starts at $279. Apple is also continuing to sell the Apple Watch Series 3 at pricing starting at $199.
Note: See an error in this roundup or want to offer feedback? Send us an email here.
How to Buy
Apple Watch Series 6 can be purchased from the online Apple Store and Apple retail stores as of September 18. Pricing on the Apple Watch Series 6 starts at $399 for non-LTE models and $499 for LTE models.
Pricing varies based on case material, band, and collection, with entry-level pricing for each case material and size available below.
40mm Aluminum Non-LTE - $399

40mm Aluminum LTE - $499

44mm Aluminum Non-LTE - $429

44mm Aluminum LTE - $529




40mm Stainless Steel (LTE only) - $699

44mm Stainless Steel (LTE only) - $749




40mm Titanium (LTE only) - $799

44mm Titanium (LTE only) - $849




40mm Nike Non-LTE - $399

40mm Nike LTE - $499

44mm Nike Non-LTE - $429

44mm Nike LTE - $529




40mm Hermès (LTE only) - $1249

44mm Hermès (LTE only) - $1299
Apple Watch Series 6 models are available in many countries around the world, with pricing that varies based on location. Apple offers refurbished versions of some older Apple Watch models, and there are trade-in offers if you're upgrading from an older Apple Watch.
Issues
Some Apple Watch Series 5 and SE models have experienced a bug that can cause them not to charge after entering Power Reserve mode. This was fixed in watchOS 7.3.1, but Apple Watch owners who have already experienced this problem will need to contact Apple for a free Apple Watch repair.
Reviews
Ahead of the launch of the Apple Watch Series 6, members of the media were able to test it out and shared their thoughts with potential buyers. Most of the reviews of the new device have been positive, praising the brighter Always-On display and the blood oxygen monitoring feature.
From reviews, it's worth noting that it can be difficult to get an accurate blood oxygen reading because the band needs to be tight on the wrist and the arm needs to be held still.
Some reviewers were unhappy that the Series 6 didn't get a notable increase in battery life, while other reviewers were pleased with the speed of the new S6 chip. For those considering a purchase, make sure to check out our full review roundup for impressions and don't miss our video roundup.
Design
When it comes to design, Apple Watch Series 6 casing looks identical to the Apple Watch Series 5, featuring slim-bezeled displays in 40 and 44mm size options to fit a variety of different wrists.


The Apple Watch Series 6 measures in at 10.4mm thick and it continues to feature the same square-shaped design that Apple has used since the Apple Watch launched in 2015. With no design changes to the case, the Apple Watch Series 6 works with all previous-generation Apple Watch bands.
Apple's 40mm models measure in at 40mm high and 34mm wide, while the 44mm models are 44mm high and 38mm wide. Weights range from 30.5 grams to 47.1 grams depending on both size and casing material, with the stainless steel Apple Watch models being the heaviest.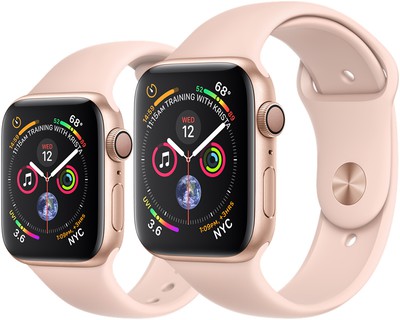 All Apple Watch Series 6 models feature a black ceramic and crystal back that houses multiple sensors for heart rate monitoring, blood oxygen monitoring, and ECGs. Compared to the Series 5, there are twice as many LEDs on the bottom. The Apple Watch Series 6 has four LED clusters and four photodiodes to support the health monitoring features.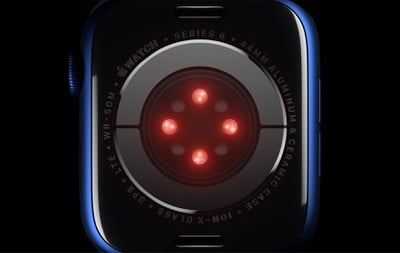 A Digital Crown on the side of the Apple Watch is available for navigation purposes, and there's a Side Button that's used to bring up frequently used apps, access emergency services, confirm Apple Pay purchases, and more.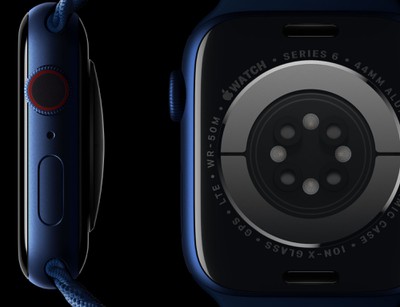 The Digital Crown is equipped with haptic feedback that offers a precise, mechanical feel when scrolling through lists and controlling various aspects of the Apple Watch, and it is key for the ECG app because it has a built-in electrode that works in tandem with the sensors on the Apple Watch.
Note that the Digital Crown looks different depending on the Apple Watch model you purchase. LTE models have a red ring around the Digital Crown so you know that they have LTE functionality, while GPS-only models lack the red ring.
Always-On Display
Like the Apple Watch Series 5, the Apple Watch Series 6 features an OLED ultra low power temperature poly-silicon and oxide display (LTPO) to enable an Always-On Retina display, which allows time, complications, and other information to be continually visible with the screen no longer going black when the Apple Watch is not in use.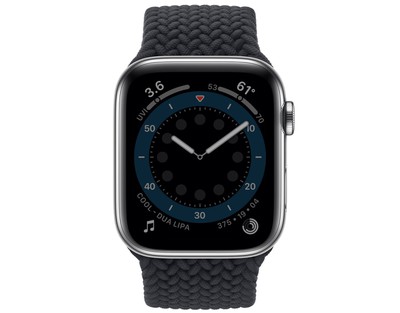 With the Always-On display, you don't need to raise your wrist to see the time, and when using the Workout app, workout metrics are visible at all times so you can keep track of metrics like how many calories you're burning, how far you've run, and how long you've worked out.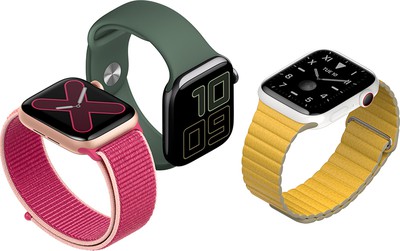 The display dims when the wrist is down in order to preserve battery life, but key features like watch hands stay lit all the time. Touching the watch face or raising the wrist brings the display back to full brightness, and to minimize battery drain, Apple has optimized watch faces for the feature. The Apple Watch's display also has a variable refresh rate that drops from 60Hz to as low as 1Hz when the watch is inactive.
The Always-On display of the Apple Watch Series 6 is 2.5 times brighter when outdoors when the wrist is down, which makes it easier to see when exercising in bright sun. There's also an always-on barometric altimeter that continually tracks elevation changes in realtime for hiking, skiing, and similar activities.
The Apple Watch Series 6 offers many of the same display specifications as the Apple Watch Series 5, such as 1000 nits brightness. The aluminum Apple Watch models feature Ion-X glass to protect the display, while stainless steel and titanium models use sapphire crystal glass. Sapphire crystal glass offers better scratch resistance than Ion-X glass because it is a harder material, which means the models with sapphire crystal models are resistant to scratching and everyday wear.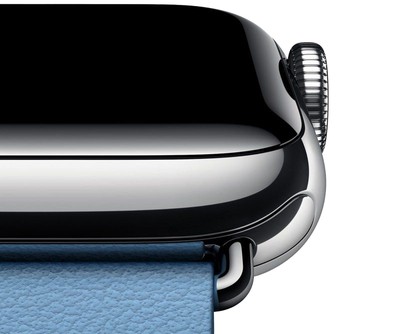 The 40mm Apple Watch Series 6 features a resolution of 324 x 394 pixels, while the larger 44mm Apple Watch Series has a resolution of 368 x 448. This translates to a 759 mm² display area for the 40mm Apple Watch and a 977 mm² display area for the 44mm Apple Watch.
No More Force Touch
Those who have owned several versions of the Apple Watch are familiar with the Force Touch gesture that popped up interactive menus and settings when pressing down on the watch display with a finger. Apple removed Force Touch in watchOS 7, so those gestures are no longer available.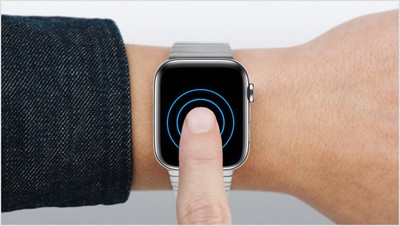 All of the functionality enabled by Force Touch continues to be accessible on the Apple Watch, but through new swipe down gestures. For the most part, anything that used to be possible with Force Touch can be done by using a finger or the Digital Crown to scroll down to access additional settings.
Clearing all notifications, for example, can be done by swiping down to the top of the notification list. Composing a message in Messages is done with the same swipe down action.
In some cases, gestures are replaced with new icons that you can tap, such as when accessing controls with the Camera app, or with new screens you can swipe between, as is the case when changing a Move Goal in the Activity app. Other options have been moved to the Settings app, and in the case of creating new watch faces, it's been swapped with a long press gesture.
Casing Materials
The Apple Watch Series 6 comes in three materials this year, with Apple eliminating the ceramic option and offering aluminum, stainless steel, and titanium Apple Watch models. Aluminum Apple Watch models are the most affordable, while titanium models are the most expensive.
Apple introduced two new aluminum colors this year: a royal blue shade and a (PRODUCT)RED that's bright red. The two new colors are options alongside the traditional silver, space gray, and gold shades.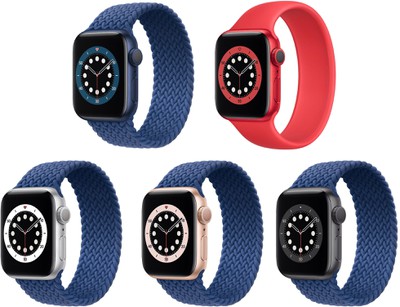 Aluminum Apple Watches
Stainless steel Apple Watch models are available in silver, gold, and graphite, which is a deep gray shade. The titanium models are available in a natural color (a gray silver) and space black.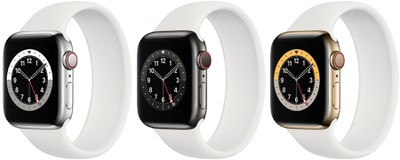 Stainless steel Apple Watches
Aluminum Apple Watch models are made from 100 percent recycled 7000 series aluminum, are lightweight, inexpensive, and designed for an active lifestyle, while stainless steel models are heavier, more expensive, and designed for everyday wear rather than focused on activity.
Titanium Apple Watch models offer the durability of the stainless steel models along with a brushed finish, but are lighter in weight and resist staining. Compared to stainless steel models, titanium models have darker, more matte coloring.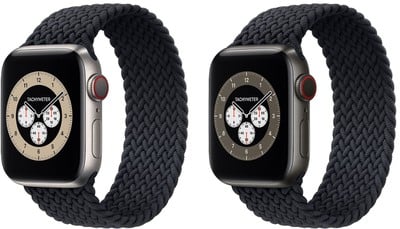 Titanium Apple Watch models
Both stainless steel and titanium models feature sapphire crystal displays that are more scratch resistant than the Ion-X glass used for aluminum models. Aluminum models are available with and without LTE connectivity, while stainless steel and titanium models are LTE only with no cheaper GPS only models available.
When it comes to specific weights, the titanium models weigh 13 percent less than the stainless steel models, which are the heaviest of the Apple Watch models, and several of the Series 6 models are a bit lighter than the Series 5 models. Weights of each model are below:
40mm
Aluminum: 30.5 grams
Stainless Steel: 39.7 grams
Titanium: 34.6 grams
44mm
Aluminum: 36.5 grams
Stainless Steel: 47.1 grams
Titanium: 41.3 grams
Apple in January introduced a special Black Unity Apple Watch Series 6 paired with a Black Unity Sport band. It's an aluminum Apple Watch model and is priced starting at $399. The Apple Watch has "Black Unity" engraved on the back, while "Truth, Power, and Solidarity" are laser engraved on the interior of the fastening pin on the band.
Water Resistance
Series 6 Apple Watch models are rated for immersion in water as deep as 50 meters thanks to seals and adhesives. The speaker, which needs air to produce sound, is the only point of ingress and has been designed to expel water from itself using sound vibrations after exposure to moisture.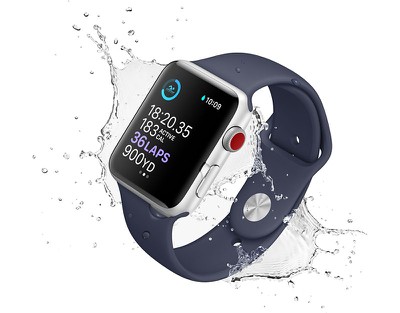 Because it is rated for 50m immersion, the Apple Watch can be used when swimming in the ocean or in a pool. It is only suited to shallow water activities, though, and can't be used for scuba diving, waterskiing, showering, or other activities that involve high-velocity water or deep submersion.
Apple's Apple Watch warranty does not cover water damage, so it is best to use caution when exposing the watch to water.
S6 Chip
There's a faster dual-core S6 System in Package (SiP) in the Apple Watch Series 6, which is based on the A13 Bionic processor used in the iPhone 11.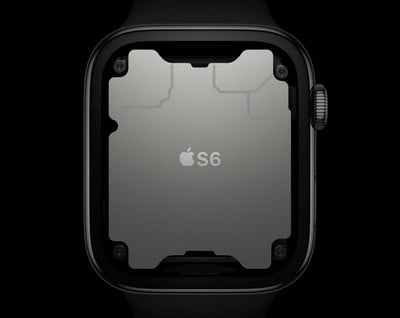 According to Apple, the S6 SiP is up to 20 percent faster than the S5 chip in the prior-generation Apple Watch, allowing apps to launch 20 percent faster. It offers the same 18-hour battery life, which Apple considers to be "all-day" battery.
Health Features
Apple Watch Series 6 offers the same health features available in the Series 5, plus blood oxygen monitoring. A second-generation optical heart rate sensor calculates metrics like calorie burn, resting heart rate, and a heart rate that's too high, and the electrical heart rate sensor can be used for taking electrocardiograms, while new LEDs and infrared light enable blood oxygen monitoring.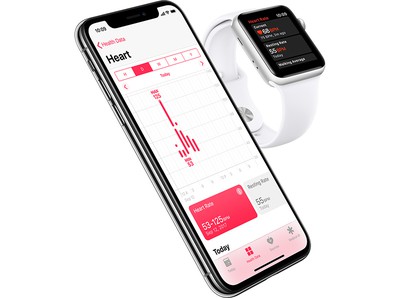 A built-in accelerometer and gyroscope enable other important health-related features such as fall detection.
The Apple Watch can detect a low heart rate, a high heart rate, and an abnormal heart rate, monitoring for health problems like atrial fibrillation and sending notifications when anomalies are detected.
Blood Oxygen Monitoring
The sensors on the back of the Apple Watch enable the blood oxygen monitoring feature available in the Apple Watch Series 6. Blood oxygen saturation in a healthy individual is around 95 to 100 percent, and when the percentage of oxygen in the blood drops below that, it can be indicative of a serious health issue that needs immediate attention.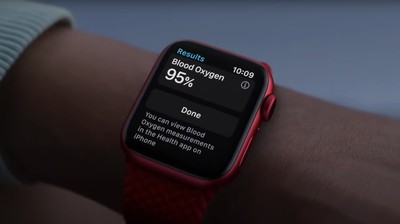 Green, red, and infrared LEDs shine light onto the blood vessels in the wrist, with photodiodes measuring the amount of light reflected back. Apple's algorithms then calculate the color of the blood, which is an indication of how much oxygen is present.
Bright red blood is well oxygenated, while darker blood has less oxygen, and that is how the Apple Watch makes its determination about blood oxygen level. The Series 6 can measure blood oxygen between 70 and 100 percent.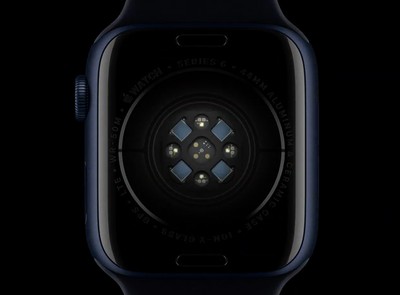 Blood oxygen measurements can be taken on demand using the new Blood Oxygen app that's installed on the Apple Watch. To take a measurement, make sure the Apple Watch is snug on the wrist, open the app, stay still, and keep the wrist flat. Tap the Start button and then hold your arm steady for 15 seconds.
At the end of the elapsed time, the Apple Watch provides a reading of your blood oxygen level, with the data stored in the Health app on the iPhone.

The Apple Watch Series 6 also takes some blood oxygen measurements in the background and this is set up when the Apple Watch is set up. These settings are available in the Health app on the iPhone. Tap Browse > Respiratory > Blood Oxygen > Set Up Blood Oxygen.
Blood oxygen measurements happen when there is no movement, and based on your daily activity, the number of readings per day and the time between readings varies. Blood oxygen measurements result in a bright light on the wrist that can be distracting in dark rooms, so background measurements can be turned off for Sleep Mode and Theater Mode if desired through the Apple Watch's Settings app.
During sleep, blood oxygen measurements are only taken if the Track Sleep with Apple Watch option is enabled and the watch is being used for Sleep Tracking purposes.
Keeping still is essential for accurate measurements, and the watch must be able to make good contact with the top of the wrist through a snug wristband. Apple says that tattoos can impact performance, as can skin perfusion, or the amount of blood flowing through the skin. In cold weather, for example, readings can be affected.

Postures like having the arm hanging at your side or fingers in a fist position can cause unsuccessful measurements, as can motion, and if the resting heart rate is above 150 beats per minute, the Apple Watch won't be able to provide a successful blood oxygen reading.
According to Apple, blood oxygen measurements taken with the Apple Watch Series 6 are not meant for medical use and are designed for "general fitness and wellness purposes." Because blood oxygen monitoring does not require the same regulatory approval as ECG readings, it is available in more than 100 countries, with a list that can be found on Apple's website.
ECGs
Electrodes in the back of the Apple Watch and the Digital Crown work together to allow users to take single-lead electrocardiograms, just like in the Apple Watch Series 4. An ECG measures the electrical activity of the heart and can be used to diagnose health conditions by a doctor.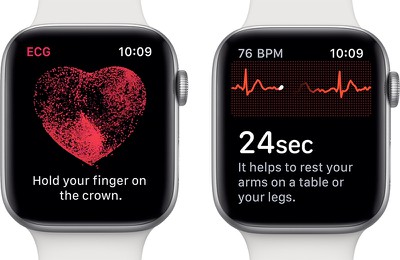 ECGs are captured by holding a finger on the Digital Crown of the Apple Watch and can detect a sinus rhythm (normal), an abnormal result, or, sometimes, an inconclusive result that should be shared with a doctor. As of watchOS 7.2, the ECG is able to detect atrial fibrillation at heart rates above 100 beats per minute.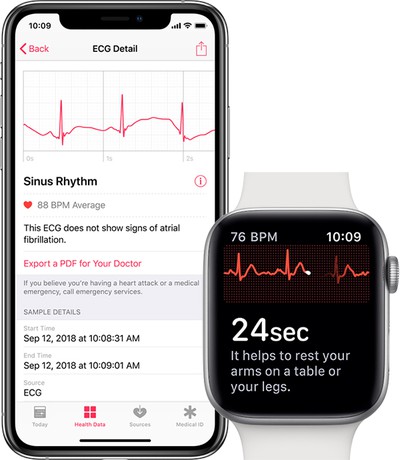 A single-lead ECG like the Apple Watch means there are two points of contact measuring the electrical sensations of your heart. Clinical electrocardiograms done by your doctor can have 6 to 12 leads for greater accuracy, but the Apple Watch offers the convenience of being able to take an ECG anytime anywhere in approximately 30 seconds.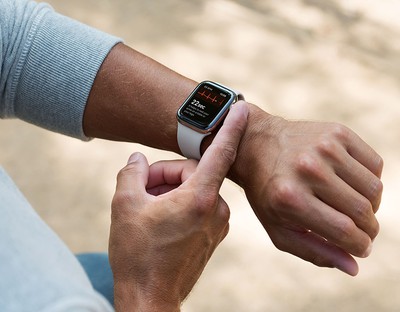 Because regulatory clearance is required for the ECG feature, it is limited to Apple Watch users in select countries, with a list available on Apple's Feature Availability website. Apple is continually bringing ECG functionality to new countries and most recently introduced it in Australia and Vietnam.
Sleep Tracking
With watchOS 7, the Apple Watch Series 6 can be worn at night to monitor your sleep, with Apple providing data on how long you sleep each night. The feature also offers up useful tools for getting a better night's sleep, with details available in our Sleep Tracking guide.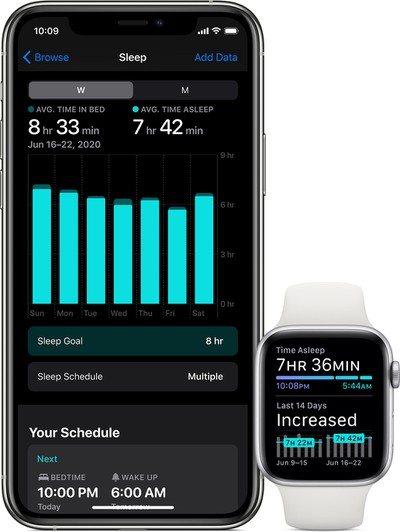 Sleep tracking is available on older Apple Watch models as well, as it is enabled through software rather than hardware, but the Series 6 brings better battery efficiency and faster charging so you can charge your Apple Watch quicker in the morning after a night's sleep.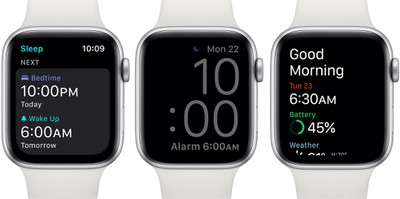 Battery
According to Apple, the Apple Watch Series 6 offers all-day battery life up to 18 hours. The new Apple Watches charge faster than ever, which is useful for features like the Sleep Tracking that was introduced in watchOS 7.
The 44mm Apple Watch includes a 1.17Wh battery that's 3.5 percent larger than the battery in the Series 5, while the 40mm Apple Watch includes a 1.024Wh battery that's 8.5 percent larger than the battery in the Series 5.
The new Apple Watch models can charge to 80 percent in an hour or full in 1.5 hours. With the Series 5, a full charge took 2.5 hours. Battery life has been optimized for tracking workouts like indoor and outdoor runs.
Apple bases "all-day" battery life estimates on 90 time checks, 90 notifications, 45 minutes of app use, and a 60-minute workout with music playback via Bluetooth. For LTE models, Apple assumes four hours of LTE connection and 14 hours of connection to an iPhone.
In some situations the Apple Watch drains faster, such as when using the device as a phone or when doing a workout. Here are Apple's battery life estimates for each activity:
Audio playback from storage - Up to 11 hours

Streaming audio over LTE - Up to 8 hours

LTE talk time - Up to 1.5 hours

Family Setup Battery Life - Up to 14 hours

Indoor workout - Up to 11 hours

Outdoor workout (GPS) - Up to 7 hours

Outdoor workout (GPS + LTE) - Up to 6 hours
Connectivity
Apple Watch Series 6 models are equipped with an Apple-designed W3 chip, and there are two variants available: GPS and GPS + Cellular. GPS + Cellular models have a built-in LTE chip and can connect to LTE without an iPhone, while GPS models are WiFi only.
LTE
LTE connectivity has been available since the Apple Watch Series 3, and with an LTE connection, the Apple Watch is untethered from the iPhone and does not require an iPhone or known WiFi network for an internet connection.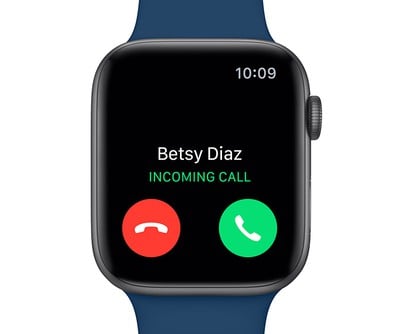 The Apple Watch is not entirely independent from the iPhone, though, because LTE connectivity through a carrier requires an Apple Watch and an iPhone 6s or later to share a cellular plan with the same carrier. The Apple Watch also does not have the battery capacity to be used full time without an iPhone nearby.
Apple Watch LTE models are available in many countries around the world, with a full list on Apple's website.
U1 Chip
Apple added a U1 chip in the Apple Watch Series 6, which is the same Ultra Wideband chip that first debuted in the iPhone 11 lineup. The U1 chip enables highly accurate short-range wireless that Apple says supports new experiences like Car Keys, the feature that allows an Apple Watch (or iPhone) to be used in lieu of a physical car key.
The U1 chip will also allow the Apple Watch Series 6 to track AirTags with watchOS 8.
Emergency SOS
LTE connectivity enables an international Emergency SOS feature that was first released with the Series 5. With Emergency SOS, the Apple Watch can make international calls to emergency services regardless of where the device was originally purchased or if there's an active cellular plan.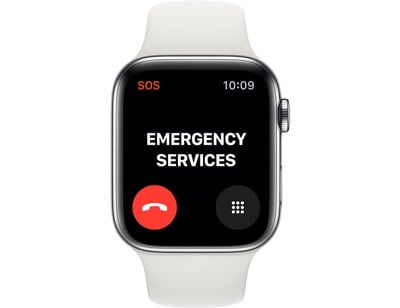 That means if you're traveling to another country and are injured or in a situation where you need help, you can activate the SOS feature on the Apple Watch by holding down the Side button to automatically get in touch with that country's emergency services.
International emergency calling works with the Apple Watch's fall detection feature, so if that's enabled, it automatically places an emergency call if the watch senses the user has taken a hard fall and remains motionless afterward.
WiFi, Bluetooth, and GPS
Apple Watch Series 5 supports 5GHz 802.11b/g/n Wi-Fi (up from 2.4GHz in the Series 5) and Bluetooth 5.0. Compared to Bluetooth 4.2, Bluetooth 5.0 offers longer range, faster speeds, larger broadcast message capacity, and better interoperability with other wireless technologies.
GPS has been included in the Apple Watch since the Series 2, and all Series 6 models, LTE and non-LTE, feature a GPS chip that allows the Apple Watch to determine its position without needing to be near an iPhone.
With GPS, the Apple Watch is able to keep tabs on speed, distance, and route when you're walking, running, hiking, or biking, providing more insight into your fitness activities. GPS, GLONASS, Galileo, and QZSS systems are supported for positioning technology across multiple countries.
Other Features
Unlocking Face ID iPhones With Apple Watch
introduce an "Unlock with Apple Watch" feature that's designed to allow an iPhone with Face ID to use an unlocked and authenticated Apple Watch as a secondary authentication measure when a mask is worn.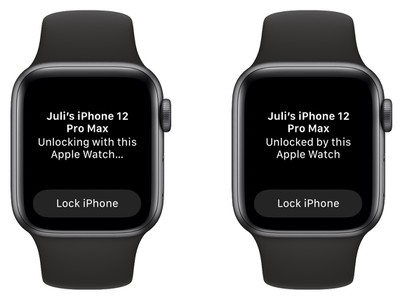 Face ID is not able to work when a person is wearing a mask, so the Apple Watch authentication method prevents iPhone users from having to constantly enter a passcode when wearing a mask. It's similar to the Apple Watch unlocking feature on the Mac and can be enabled in the Settings app under Face ID & Passcode.
An unlocked Apple Watch paired with Face ID can unlock the iPhone when a mask is worn, but it's only for mask usage. The Apple Watch cannot be used to authenticate Apple Pay or App Store purchases, nor can it be used to unlock apps that require a Face ID scan. In these situations, the mask needs to be removed or a passcode/password needs to be used instead.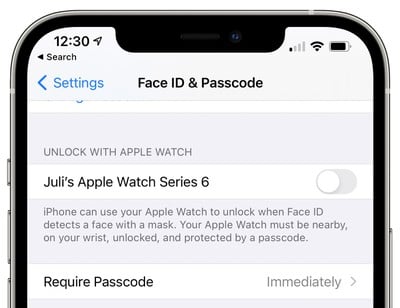 When the Apple Watch unlocks the iPhone, you'll feel a haptic tap on the wrist and will receive a notification on the watch, much like how it works when using the watch to unlock a Mac.
Sensors
Apple Watch Series 6 features electrical and optical heart rate sensors, LEDs and infrared light for blood oxygen monitoring, a next-generation accelerometer used for fall detection among other things, a gyroscope, an ambient light sensor, and a more battery-efficient barometric altimeter to track flights of stairs climbed, elevation gains when climbing, and more. Note that the altimeter can be inaccurate in some weather conditions.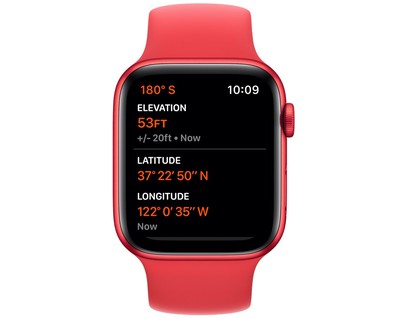 Compass
There's a built-in compass and a Compass app that lets users see their heading, incline, latitude, longitude, and current elevation. Compass functionality is included in the Maps app to let users see which way they're facing when getting directions.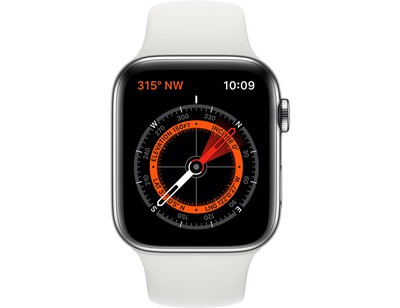 Storage Space
Apple Watch Series 6 models feature 32GB of storage space for music and apps.
No Power Adapter
The 2020 Apple Watch models do not come with a 5W power adapter in the box like prior Apple Watch models, with Apple instead relying on people to use their existing power adapter options. Apple does continue to provide an Apple Watch charging puck and cable alongside the Apple Watch.
Nike and Hermes Models
The Nike Apple Watch was created in partnership with Nike and is designed specifically for runners. Nike Apple Watch models are all made from aluminum and are the same price as the standard aluminum Apple Watches.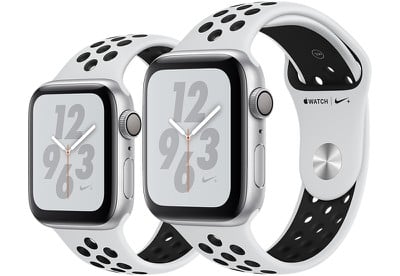 Nike has designed special software for the Nike Apple Watch, which is designed to motivate runners to stay active. Nike Apple Watches include unique Nike-designed watch faces and are available in silver and black aluminum with matching perforated bands or Sport Loops in a selection of different Nike-exclusive colors.
The Hermès Apple Watch collection was created in partnership with French fashion house Hermès and features some of the most expensive Apple Watches Apple offers because of the high price of the bands.


All Hermès models feature a silver or space black stainless steel Apple Watch body paired with one of the Hermès signature hand-crafted leather bands and an additional orange Hermès-branded Apple Watch Sport band. Hermès Apple Watches include unique watch faces based on Hermès watch designs.
Available Bands
Apple has designed several types of bands for the Apple Watch, which it updates on a regular basis, debuting new band options during fall and spring media events, as well as other times throughout the year.
Apple offers an Apple Watch Studio feature that allows most bands to be paired with most Apple Watch casing options so specific Apple Watch band and casing pairings are no longer required when making a purchase.
Available bands include the Sport Band, Sport Loop, Milanese Loop, Modern Buckle, Link Bracelet, Leather Link, and new Solo Loop and Braided Solo Loop that came out alongside the Series 6.
Solo Loop
The Sport Loop is similar to the Sport Band, but it's the first Apple Watch to feature a slip-on design with no buckle or clasping mechanism. It's made from a stretchy liquid silicone rubber that can stretch to fit over the hand and then collapse to fit tightly on the wrist.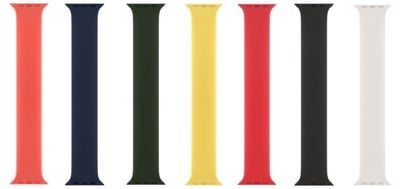 Apple says that it's ultra-comfortable because there are no overlapping parts, and it's simple to slip on and off. It's swim-proof, sweat-proof, and treated with UV for a silky finish. The Solo Loop is priced at $49, and unlike all of the other Apple Watch band designs, it comes in nine different sizes for each watch casing size.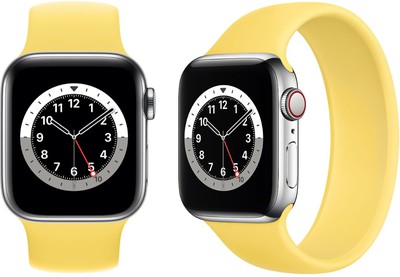 Apple offers a printable size guide so you can find the model that best fits your wrist, or you can use a measuring tape to check wrist size. You need to make sure to get a good measurement before ordering because of the multiple size options, so check out our guide for tips.
Some people have had fit issues with the Solo Loop and the Braided Solo Loop given the specific sizing requirements, which has prompted Apple to provide more tailored fit instructions. When measuring with the tool, there should be a snug but not too tight fit, and those in between sizes should size down. Apple also warns that the Solo Loop can stretch a bit over time because of the material that it is made of. Apple does allow returns of the band if you need a different size, but it's best to get a good fit to begin with.
Braided Solo Loop
Like the Solo Loop, the Braided Solo Loop is a new Apple Watch designed without a buckle or clasp of any kind. It's made from a stretchable recycled yarn interwoven with silicone threads so it can fit over the hand before wrapping around the wrist.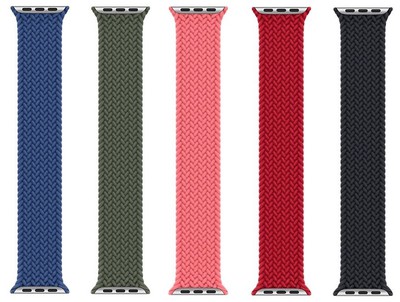 Apple says the soft, textured feel of the band is sweat and water-resistant, plus ultra-comfortable to wear. The Braided Solo Loop also comes in nine sizes for each Apple Watch casing size, so wrist measurements are required to order (or there are fitting options in Apple's retail stores).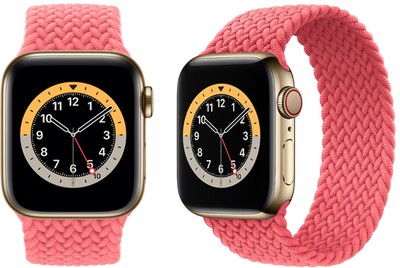 The Braided Solo Loop is one of Apple's more expensive band options at $99, and the same sizing caveats apply to the Braided Solo Loop.
Sport Band
Apple's Sport Bands are the company's lightest, most comfortable bands, made from a flexible and lightweight fluoroelastomer. Because they're ideal for use when exercising or engaging in vigorous activity, most of Apple's aluminum watches ship with Sport Bands.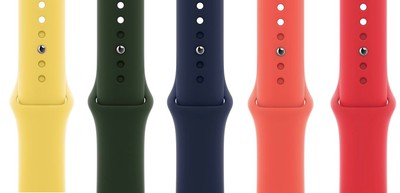 Pricing starts at $49 for the Sport Bands, which come with three pieces to adjust the size. Apple offers Sport Bands in S/M, M/L, and L/XL size options.
Sport Loop
Designed to be soft, breathable, and lightweight, the Sport Loop is made from fabric that wraps around the wrist for a tight but comfortable fit.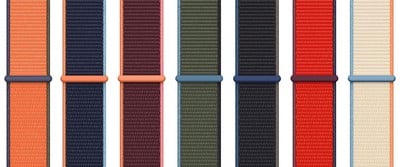 It's made from a velcro-like double-layer nylon and comes in a range of colors, with Nike-branded Sport Loops also available. The 40mm version fits wrists sized 130 to 190mm, while the 44mm version fits wrists sized 145 to 220mm. Apple charges $49 for the Sport Loop.
Nike Band
The unique perforated Nike Apple Watch bands that come with Nike watches are also available for purchase on a standalone basis.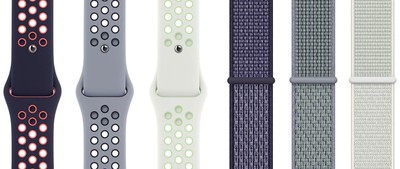 Nike bands are made from a high-performance fluoroelastomer and are available for both 40mm and 44mm Apple Watch models, plus Apple sells Nike-branded Sport Loop options in unique colors. The bands fit wrists sized 130 to 200mm. Nike Bands are priced at $49.
Milanese Loop
The stainless steel Milanese Loop, available in 40mm and 44mm sizes, is a flexible metal mesh band that wraps around the wrist. It's made of such a fine metal material that it's comfortable to wear all day long, and it's surprisingly lightweight.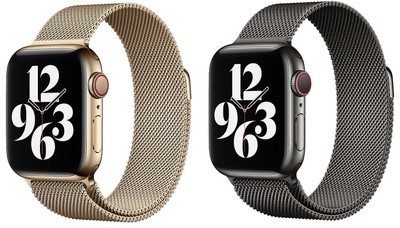 The Milanese Loop is priced at $99, and it comes in silver, gold, and space black.
Leather Loop
The Leather Loop, made from quilted Venezia leather, is another band that wraps around the wrist instead of using a clasp. It has two pieces, with one feeding through a loop in the other and then magnetically attaching to itself for a secure fit. It's priced at $99 and is only available for 44mm watches. The Leather Loop fits wrists sized 150mm to 210mm.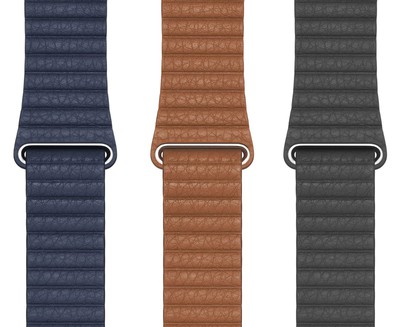 Leather Link
The Leather Link is new alongside the Apple Watch Series 6. It's similar to the Leather Loop, but with a two-piece design that doesn't involve a loop. The Leather Link is made from Roux Granada leather sourced from France, and it has flexible, molded magnets that wrap around the wrist for a comfortable fit.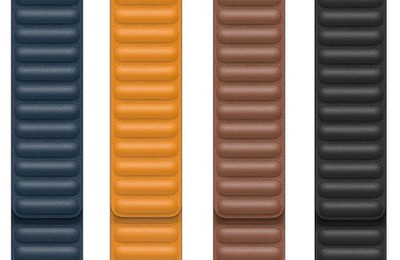 While the Leather Loop is not available for the smaller 40mm Apple Watch, the redesigned Leather Link fits both 40 and 44mm models. It comes in small/medium and medium/large and fits wrists sized from 130 to 180mm.
Modern Buckle
The Modern Buckle, made from supple Granada leather, is a band that's designed to work with the smaller 40mm Apple Watch models. It features a two-piece magnetic buckle and an inner layer of Vectran weave for strength and scratch resistance.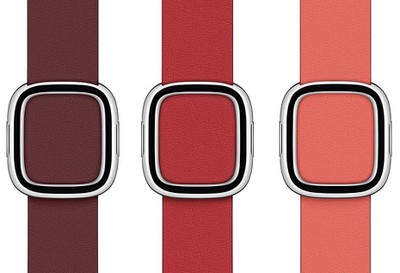 Link Bracelet
The 316L stainless steel alloy Link Bracelet, available in 40mm and 44mm sizes, is Apple's most expensive band made in-house. Available in silver ($349) and space black ($449), the Link Bracelet resembles a high-quality traditional watch band.


The 40mm model fits wrists sized 135 to 195mm while the 44mm model fits wrists sized 140 to 205mm. A 6-link add-on kit expands its size from 205mm to 245mm for an additional $49.
Hermès
Along with Hermès Apple Watches, Apple sells a selection of standalone Hermès bands, designed by the fashion house. Hermès bands are available in an assortment of colors.


As these are bands created in partnership with a French fashion houses, prices are more expensive than Apple's own bands. Hermès bands start at $340 and go up from there.
Apple Watch SE and Series 3
Alongside the Apple Watch Series 6, Apple introduced the Apple Watch SE, which is a new low-cost option that offers many of the same features as the Series 6, but with a more affordable price tag. It is, however, lacking some key health functions in order to keep prices low.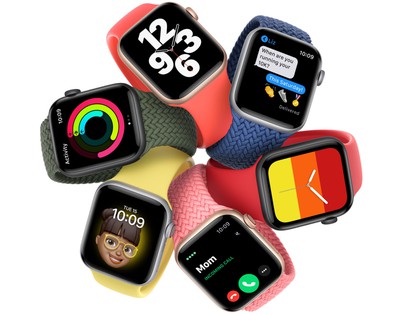 Compared to the Series 6, the Apple Watch SE lacks ECG and blood oxygen monitoring support and it is equipped with an older S5 chip instead of the faster S6 chip. It's also only available in aluminum, the cheapest and lightest of the Apple Watch casing materials.
Other than that, it has all of the same safety and health tracking functionality, and it is available in LTE and GPS only models. Pricing on the Apple Watch SE begins at $279 vs. $399 for the Series 6.
As an ultra low-cost option, Apple is continuing to sell the Apple Watch Series 3, priced starting at $199. The Series 3 has an older design with a smaller display, a much slower S3 chip, and no blood oxygen sensor or ECG function. It is GPS only and lacks a few other bells and whistles like always-on altimeter and compass that are found in the other Apple Watch models.
We have some comparisons between the different Apple Watch models below that are worth checking out if you're planning a purchase.
watchOS 7
Apple Watch Series 6 and Apple Watch SE models run an operating system called watchOS, and come with watchOS 7 installed.
The watchOS 7 update includes several new watch faces, such as a GMT watch face that shows multiple time zones, Count Up for tracking elapsed time, Chronograph Pro with a tachymeter, Typograph for displaying numerals in custom styles, Artist with art by Jeff McFetridge, Memoji for putting a Memoji on Apple Watch, and Stripes in customizable patterns.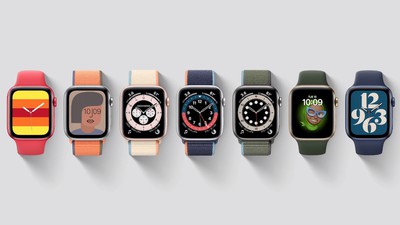 A Sleep app lets you track your sleep by wearing your watch at night, providing sleep analysis in a simple, easy-to-interpret format. The watch uses the accelerometer to detect subtle movements associated with breathing, so it knows when you're sleeping or awake.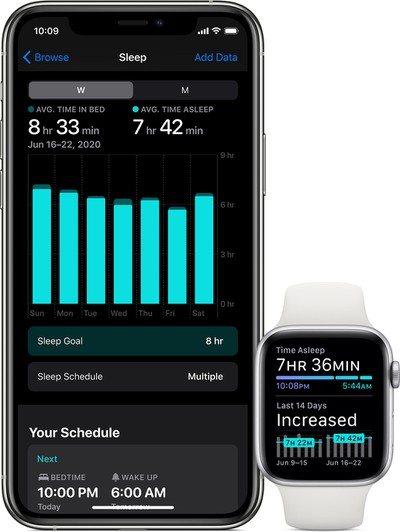 A Wind Down feature helps you establish a healthy bedtime routine, while Sleep Mode automatically turns off your screen and enables Do Not Disturb. When you wake up, the Apple Watch plays soft sounds or uses a haptic alarm, and it offers up a weather report and battery information so you can get your day started.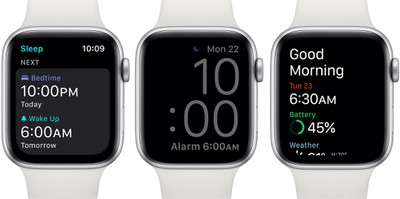 watchOS 7 brings a Family Setup option that lets iPhone owners manage and set up Apple Watches for children or older family members who don't own iPhones. Parents control contacts and downloaded apps, there's a Schooltime mode to limit Apple Watch features when necessary, and location tracking with Find My is available.
With Family Setup, kids can call and text their parents, talk to Siri, stream music, download apps, use the new Memoji app to create Memoji, and use Apple Pay with funds provided by parents. Family Sharing also includes Activity tracking options that provide Move minutes instead of active calories burned, and activity tracking has been optimized for children.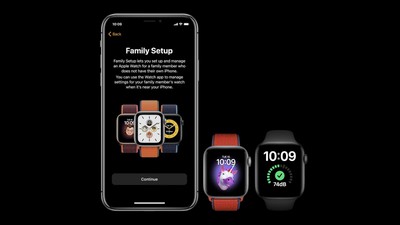 There's a handwashing detection feature that's useful because we're all washing our hands more often than usual. It lets the Apple Watch listen for sounds of water and then starts a 20-second timer to remind you to wash your hands for the appropriate amount of time.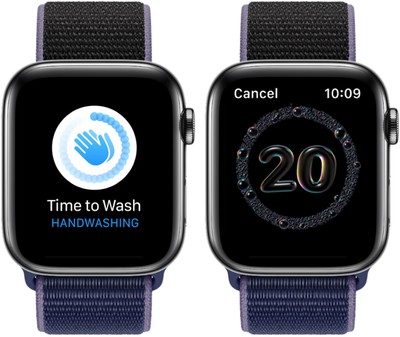 The Activity app has been renamed Fitness and there's a refined interface, and later this year, the Fitness app works with the new Fitness+ service that lets Apple Watch owners access guided workouts on Apple TV, iPhone, and iPad. The new Fitness app also allows users to customize Activity goals, including Stand hours and Exercise minutes, and the Apple Watch is able to measure low-range VO2 max, stair ascent speed, stair descent speed, and six-minute walk estimate, all of which can be found in the Health app.
Apple launched a new Apple Fitness+ workout service that's designed for the Apple Watch, and it works alongside an iPhone, iPad, or Apple TV with home workouts available in the Fitness app on those devices. With Apple Fitness+, watch metrics are shown on the screen as you work out, and there are a wide range of workouts. We have more info on Apple Fitness+ in our Fitness+ guide.
The Maps app features cycling directions in line with the new cycling feature on the iPhone, and Siri now provides spoken translations. Apple also introduced a new Siri Shortcuts app for the Apple Watch so you can access all your Shortcuts right on your wrist.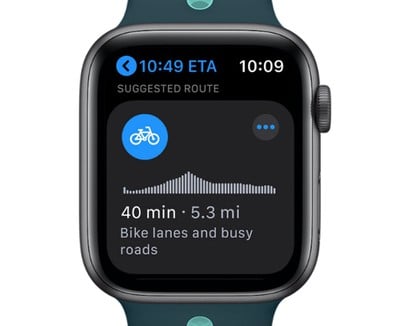 watchOS 7 does more to protect hearing health with a weekly listening notification and an option to automatically reduce loud sounds when you're wearing headphones. A max volume setting also helps to prevent hearing damage.
There are many more new features included in watchOS 7, so make sure to check out our full watchOS 7 roundup for details, and our tips guide for some hidden features.
Apple Watch Rumors Series 7 Rumors
Design Changes
According to Apple analyst Ming-Chi Kuo, who often accurately predicts Apple's plans, the Series 7 could feature the first significant redesign the Apple Watch has seen in several years.
Bloomberg believes the new Apple Watch will have thinner display bezels and will use a new lamination technique that brings the display closer to the front cover, with updated screen technology. Because of this new design, the Apple Watch may be slightly thicker, but the thickness increase won't be noticeable to users.
Leaker Jon Prosser, who has a mixed track record predicting Apple's plans, says that the Apple Watch Series 7 will feature a flat-edged design that's similar to the iPhone 12 or the iPad Pro, which would be a departure from the curved edges of the current Apple Watch models. He says that Apple is also considering new color options, such as a green shade to go along with the blue color option introduced in 2020.
Updated Processor and Connectivity
Apple updates the processor in the Apple Watch each year and the Series 7 will be no exception. The Apple Watch Series 7 is rumored to include a smaller "S7" chip that uses double-sided technology for module miniaturization. A smaller S7 chip will allow more room for other components, and one source suggests Apple will use this extra space for a bigger battery or new health sensors. Apple is also expected to introduce improved wireless connectivity and an improved U1 Ultra Wideband chip.
Rugged Apple Watch
According to Bloomberg, Apple is considering launching an Apple Watch "with a rugged casing aimed at athletes, hikers and others who use the device in more extreme environments," potentially as soon as 2021 or 2022 at the earliest. The model has sometimes been dubbed the "Explorer Edition" internally, and purportedly features "the same functionality as a standard Apple Watch but with extra impact-resistance and protection."
Further in the Future
Apple is rumored to have a team of biomedical engineers working on a method for non-invasively monitoring blood glucose levels using optical sensors, technology that could potentially make its way into the Apple Watch at some point in the future. Such a feature would make diabetes management much easier because it would not require puncturing the skin.
There have been rumors that Apple will add blood glucose monitoring capabilities to the Apple Watch Series 7 using a non-invasive optical sensor, but Bloomberg says that a blood sugar sensor will not be ready for commercial launch for several more years.
Blood glucose monitoring has been a feature that Apple has been working on for years, based on rumors, but it is a serious health feature that would likely require regulation.
Apple supplier Rockley Photonics is working on an advanced digital sensor system that allows wearable devices to monitor biomarkers like core body temperature, blood pressure, body hydration, alcohol, lactate, glucose trends, and more, using optical sensors. This technology could eventually make its way to the Apple Watch given the partnership between Apple and Rockley.
Apple was also considering adding a body temperature sensor in the 2021 Apple Watch, but Bloomberg says it is instead likely to be introduced in the 2022 update.
Haptic Buttons
Rumors indicate a future version of the Apple Watch will adopt solid state buttons that don't physically click but instead provide haptic feedback to users when the buttons are touched, but it's not clear when this is coming. Apple introduced haptic feedback for the Digital Crown in the Series 4, and haptic feedback could potentially extend to the side button in a later Apple Watch model.
Further in the future, the Apple Watch may do away with buttons altogether, with the sides of the device adopting support for touch and swipe-based gestures.
MicroLED Displays
Apple reportedly has a secret manufacturing facility in Santa Clara, California where it is designing and producing test samples of displays that use microLED, a technology that will follow OLED. microLED screens can result in devices that are slimmer, brighter, and use less power. Rumors suggest an Apple Watch with a microLED display could launch in three or four years.
Apple Watch Patents
Apple has patented several interesting technologies that could potentially be used in future Apple Watch devices, such as a biometric authentication feature that authenticates identity based on the wearer's skin pattern. Such a feature would eliminate the need for a passcode when wearing the Apple Watch.

Another patent describes a self-tightening Apple Watch band that would adjust during intensive activities like running or working out for accurate heart rate readings, and loosen up afterward. The tightening could also be used for directions, workout reps, and more.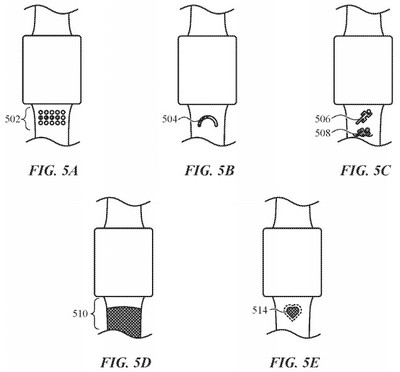 A third patent describes an Apple Watch band with an LED indicator that would visualize the progress of an activity or task, providing a visual indicator when completing a workout or an Activity ring, for example.
Apple in December 2019 published a patent describing how the Apple Watch could help doctors monitor the symptoms of Parkinson's patients using sensors to keep track of tremors. Apple believes this method of data tracking will allow users to better track their symptoms so they can plan activities around symptom patterns.
A 2020 pair of patents suggest Apple is researching Touch ID and an under-display camera for the Apple Watch. Apple describes a side button with an integrated Touch ID fingerprint sensor that could be used for user identification and device unlocking. Currently, the Apple Watch unlocks with a passcode and also when the paired iPhone is unlocked.
As for an under-display camera, the patent describes a two-stage display technology that includes a camera that are externally visible only when engaged.
In 2021, Apple outlined a radical redesign of the Apple Watch in a patent filing, featuring a rounded watch face, wrap-around flexible display, and digitally-customizable watch bands.

Apple has filed several other patents covering the possibility of moving hardware into the Apple Watch's band, including batteries, speakers, kinetic power generators, haptic feedback devices, and even cameras.
There's no word on whether these patented features will make it into an actual Apple Watch in the future, but it's interesting to see what Apple is working on and considering behind the scenes.