Apple Watch - Series 2
Apple's second-generation Apple Watch. Launched September 16, 2016.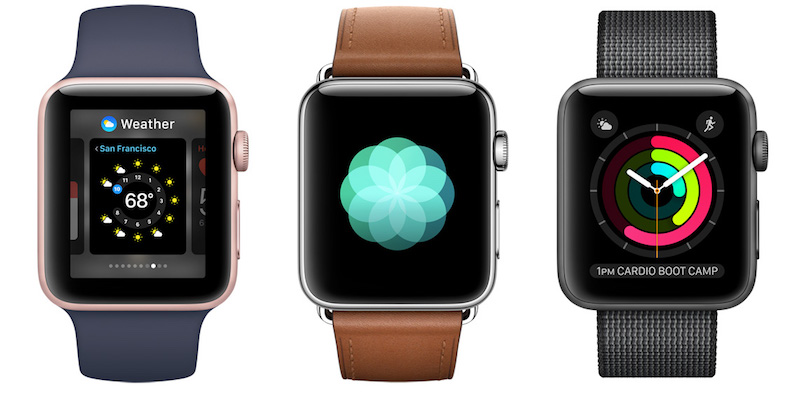 At a Glance
Apple Watch Series 2 launched on September 16, 2016 with GPS, 50-meter water resistance with swimming support, a brighter display, and a faster processor. New band options debuted on March 21, 2017, but a more substantial upgrade isn't expected until the fall.
Apple Watch Series 2 Features
Two sizes: 38mm and 42mm
Faster processor
50-meter water resistance
Swimming tracking features
GPS chip
Same form factor
High-end ceramic material
New bands
March 2017 Update - New Apple Watch Bands
On March 21, 2017, Apple released a new Spring Apple Watch band lineup that includes options like Striped Woven Nylon, new Classic Buckle colors, new Sport Band colors, and Hermès bands in new colorways.
No new band materials have been introduced, but the Nike Sport bands, previously only available with the purchase of a Nike Sport Apple Watch, are now sold separately.

The Classic Buckle has also had a small design tweak and now features a more prominent buckle.

All of the new Apple Watch bands can be purchased from the Apple website or from Apple retail stores starting on March 24.
What's Next for the Apple Watch
For 2017, Apple is rumored to be working on a third-generation Apple Watch that could debut towards the end of the year, likely alongside the iPhone 8. At this point in time, we're hearing mixed rumors about the upcoming device, but more information should become available as the launch date approaches.
Early rumors from KGI Securities analyst Ming-Chi Kuo suggested the third-generation Apple Watch could perhaps feature the first design changes to the Apple Watch since it was introduced in 2015, but other rumors now point towards a more minor update that includes under-the-hood hardware improvements rather than design updates.
According to rumors out of the Asian supply chain, Apple is planning on introducing a third-generation Apple Watch in the third quarter of 2017 focusing primarily on improving battery life and performance. Better battery life is said to be the main goal of the third-generation watch with few design and hardware updates.
The third-generation Apple Watch is said to use a new glass-film touchscreen that replaces the current touch-on lens implementation, according to a rumor shared by DigiTimes. Shipments of the component are rumored to start in the second half of the year, hinting at a fall launch for a third-generation device.
Apple could introduce cellular connectivity in the third-generation Apple Watch, a feature that has been long rumored for the device. According to Susquehanna Financial Group analyst Christopher Rolland, Apple plans to include a SIM card in the Apple Watch 3 for LTE connectivity.
Previous rumors suggested Apple was researching low-power cellular chips for future versions of the Apple Watch, and it's possible the technology will be ready for 2017.
Standalone cellular connectivity would further untether the Apple Watch from the iPhone, a process that started with the introduction of GPS in the Apple Watch Series 2. With a cellular connection, Apple Watch owners would not need an iPhone nearby to do things like make phone calls and stream Apple Music content, but a separate data plan would likely be needed.
In 2017 or later, Apple may also be planning to switch to micro-LED displays for the Apple Watch. Micro-LED displays can be thinner and lighter with improved color gamut, increased brightness, and higher resolutions.
Based on patents Apple has filed, future versions of the Apple Watch could potentially be able to determine a user's identity through their heart rate and unique cardio rhythms. Future Apple Watch models could also potentially incorporate haptic feedback into Apple Watch bands, freeing up valuable internal space for other components and allowing for a thinner body design. Apple has filed several patents covering the possibility of moving certain hardware into the band, such as batteries, speakers, kinetic power generators, haptic feedback devices, and more.
With the original Apple Watch, Apple planned to include sensors that measured things like the conductivity of the skin, blood oxygen level, and blood pressure, but the company was unable to get solid results with the sensors, ultimately deciding to scrap the technology for the first Apple Watch. These features could perhaps be added in a future version of the device, but it is not clear when, and they may not make it into the third-generation update.
Apple Watch - Series 2 Models
The Apple Watch Series 2 is the second-generation Apple Watch, first introduced on September 7, 2016 and released to the public on September 16, 2016. Design wise, the Apple Watch Series 2 looks identical to the first-generation Apple Watch, which has been renamed "Apple Watch Series 1" with a few upgrades of its own, but it features several internal upgrades.
Available in 38 and 42mm varieties, the Apple Watch Series 2 is the same size and shape as the original Apple Watch (albeit slightly thicker), but it has been constructed with superior 50m water resistance and better seals, making it suitable for swimmers for the first time.
The Apple Watch Series 2 continues to measure metrics like steps taken, calories burned, and pulse rate, and it can track many activities using the Workout app. Positioned as a fitness device and designed to encourage users to be more active, the Apple Watch and watchOS 3 include health-focused features and built-in activity reminders, much like the original Apple Watch.
Inside, there's a new dual-core S2 chip that's 50 percent faster than the processor in the original device, and a new GPU offers 2x better graphics performance for apps that open much faster and do more.
An NFC chip allows it to work with Apple Pay, Apple's payment service, and a Taptic Engine provides haptic-based notifications and other feedback to wearers.

Apple Watch Series 2 includes a redesigned 1,000 nit display that's a full two times brighter than the first-generation watch, making it easier to see when outdoors in bright sunlight. A GPS chip included in the S2 is able to record precise distance, speed, and pace data for running, walking, and hiking, even when away from the iPhone.
Like the original Apple Watch, Series 2 is available with mid-priced stainless steel (Silver and Space Black) and lower-priced aluminum "Sport" bodies (in Silver, Gold, Space Black, and Rose Gold), plus Apple has also introduced a new high-end glossy white ceramic "Edition" model that replaces the 24k gold models. Apple Watch Sport models start at $369, stainless steel models start at $549, and ceramic models start at $1,249. Prices vary based on band selection and casing size.
Apple has teamed up with both Hermès and Nike to offer Apple Watch Series 2 models with exclusive software, bands, and watch faces. Nike's Apple Watch is an Apple Watch Sport, with prices starting at $369, while Hermès models are all stainless steel Apple Watches with Hermés-designed leather bands.
Alongside the Apple Watch Series 2, Apple is also selling Apple Watch Series 1 models at prices starting at $269. Apple Watch Series 1 has been upgraded with the same dual-core S2 chip that's in the Series 2 models, minus the GPS chip. Aside from the faster processor, Series 1 models are otherwise unchanged from the first-generation Apple Watch models and do not include the new display or improved waterproofing.
Sales of the Apple Watch Series 1 and 2 models have been strong, with the Apple Watch setting an all time revenue record during the first quarter of 2017, suggesting significant sales during the holiday quarter. Apple said demand was so strong that it couldn't keep up during the holidays, and Apple is quickly gaining ground on competitors like Fitbit.
How to Buy
As of September 16, the Apple Watch Series 1 and Series 2 models can be purchased from the online Apple Store or from Apple's retail locations. Following a second wave launch on September 23, the new devices are available in more than 40 countries around the world.

Pricing on the Apple Watch ranges from $269 for the entry-level Series 1 Sport models and goes up to $1,499 for Series 2 Hermès models. Pricing varies based on casing size and band selected, with 42mm models priced $50 higher than 38mm models for all Apple Watch options.
Hermès models are available for purchase in stores as of September 23, 2016. Nike+ Apple Watch models became available in multiple countries around the world on October 28, 2016.
Apple sells the Apple Watch in pre-arranged configurations, so it is not possible to pair any case with any band. For the Series 2, there are 11 Sport options all priced starting at $369 and 9 stainless steel options at prices ranging from $549 to $1099.
The ceramic Apple Watch Edition is sold with a single band at $1,249 for 38mm or $1,299 for 42mm. There are four Hermès models starting at $1,149 and four Nike+ models starting at $369.
In addition to being available at the Apple Store, Apple Watch Series 1 and 2 models are also available from major retailers like Walmart, Target, Best Buy, and Kohl's, along with hundreds of smaller stores. The Apple Watch was initially available in pop up shops at several high-end department stores, but in early 2017, the locations at Galeries Lafayette in France and Selfridges in the U.K. were shut down.
In December of 2016, Apple began offering refurbished Apple Watch Series 1 and Series 2 models, dropping prices by $40 to $80. Refurbished stock fluctuates on a regular basis, but it offers a good way to get an Apple Watch at a discounted price.
Reviews
Reviews of the Apple Watch Series 2 have been favorable, and many media sites who have tested the device have had high opinions of it. TechCrunch, for example, calls the Series 2 "the first real Apple Watch" that's more useful than the original because of its faster processor, improved water resistance, "noticeably brighter" screen and GPS chip.
The Wall Street Journal calls the Series 2 a product you don't "need" but may "want." The publication also referred to the GPS chip as the Apple Watch's "greatest strength and greatest downfall" because of its utility and its battery drain. In testing, a 20-minute run ate up 20 percent battery life.
The Verge pointed out some of the flaws in the Apple Watch Series 2, including the continued need to charge every day, issues with raise to wake, and syncing troubles, but overall liked the improvements.
For a list of reviews that go more in-depth on the features in the Apple Watch Series 2, make sure to check out our dedicated review roundup.
Design
When it comes to design, the Apple Watch Series 2 is identical to the original Apple Watch. It features a rounded, rectangular body in two sizes (38mm and 42mm) that is able to snap into an array of interchangeable bands thanks to built-in lugs.
Beyond the touchscreen, there are two methods of input on the device -- a Digital Crown for controlling much of the interface and selecting apps and a side button that brings up the app dock as of watchOS 3.

All Apple Watch models include a Retina HD display and a ceramic backing with four built-in sapphire-covered sensors to measure heart rate using green light technology that keeps track of the pace of blood flow beneath the skin.
The front of the Apple Watch can be customized with a range of unique watch faces featuring traditional watch-style designs, characters, animated images, and more, all of which can be personalized with complications and variations in appearance.
The Apple Watch Series 2 comes in Stainless Steel, Space Black Stainless Steel, Silver Aluminum, Space Gray Aluminum, Gold Aluminum, Rose Gold Aluminum, and Ceramic.
Ceramic
The 18-karat gold and rose gold Apple Watch Edition models were discontinued in favor of the new ceramic Apple Watch. Made from a glossy white ceramic with a pearl-like shine, the Apple Watch Edition comes with a special cloud-colored white Sport band.

According to Apple, the ceramic material is the "ultimate combination of beauty and strength." Because it's four times harder than stainless steel, the ceramic Series 2 Apple Watch sees less scratching.
Waterproofing and Swimming Improvements
To improve the water resistance of the Series 2, which is now rated for immersion as deep as 50 meters, Apple created new seals and designed new adhesives for the device. The speaker, which needs air to produce sound, is the last point of ingress and is specially designed to expel water from itself following moisture exposure.
Apple tested the waterproofing in the Apple Watch extensively, simulating thousands of swimming strokes and emulating years of water exposure to ensure an airtight enclosure.

Apple also used a fitness lab and analyzed more than 700 swimmers to develop new water-based "Pool" and "Open Water" activities that accurately determine calorie burn when swimming. These new algorithms get more precise over time, tailoring to each individual. For details on what it's like to use the Apple Watch as a swimmer, make sure to check out our hands-on post.
According to Apple, while the Series 2 Apple Watch can be used for shallow-water activities like swimming in a pool or ocean, it should not be used for scuba diving, waterskiing, or other activities that involve high-velocity water or deep submersion.
Display
Apple has designed a new display for the Series 2, and it's the brightest display that's ever been included in an Apple product at 1,000 nits. Because it's so bright, the display is easier to see when outdoors on a sunny day, even in direct sunlight. According to Apple, it "makes all the difference" when outside. For comparison's sake, the original Apple Watch has a 450 nit display.
The stainless steel Apple Watch and the ceramic Apple Watch Edition continue to feature a scratch-resistant sapphire display while the less-expensive Sport models use Ion-X glass.
Internal Upgrades
Processor
Apple Watch Series 2 features a dual-core second-generation (S2) system-on-a-chip. According to Apple, it is 50 percent faster than the S1 chip in the original Apple Watch and includes a new GPU with 2x better graphics performance.

With a more robust processor and better GPU, apps open faster and developers can create new kinds of apps that weren't able to run on the Apple Watch before.
GPS Chip
New to the S2 is a built-in GPS chip that allows the Apple Watch to determine its position without needing to be near the iPhone, effectively lessening the Apple Watch Series 2's dependence on an iPhone.
GPS in the Apple Watch keeps tabs on speed and distance when you're walking, running, or hiking, and following the end of an activity, there's a color-coded route available that shows your overall pace and different speeds at each point on the path. Developers are able to take advantage of the GPS chip and develop apps that use it.
Aside from the GPS chip, the Apple Watch still relies on the iPhone for connecting to LTE and Wi-Fi networks, but it is able to connect to known Wi-Fi networks on its own.
Battery Life
There are larger batteries in both the 38 and 42mm versions of the second-generation Apple Watch, but it continues to offer the same battery life of up to 18 hours. The GPS chip and brighter display likely draw additional power, eating up the added battery reserves. Apple was, however, able to introduce some significant battery life improvements in the watchOS 3.1 update, and now the Series 1 and Series 2 models often last for more than 18 hours before needing to be recharged.
Broken down, the Apple Watch offers three hours of talk time, 6.5 hours of audio playback, and eight hours when working out. It takes 1.5 hours to charge the Apple Watch to 80 percent and two hours to charge it to full.
The 38mmApple Watch has a 273 mAh battery, 33 percent larger than the 205 mAh battery in the original 38mm Apple Watch.
Other Features
The Apple Watch Series 2 features 802.11b/g/n 2.4GHz Wi-Fi, Bluetooth 4.0, and 4GB of internal storage for music. It also includes a heart rate sensor, accelerometer, gyroscope, ambient light sensor, and two microphones for better call quality.
Collections
Apple changes its Apple Watch collection and updates available bands on a regular basis, generally debuting fresh inventory during spring and fall media events. New band colors and products have been introduced in September of 2015, March of 2016, September of 2016, and most recently, March 21, 2017.
When new bands are released, Apple offers the Apple Watch in new combinations, retiring older watch and band combinations in favor of new looks. Band combinations, watch faces, and casing materials can be paired together using Apple's interactive Apple Watch Gallery prior to purchasing. As of March 2017, Apple has simplified its offerings and now severely limits the band selections for various Apple Watch models.
Sport
The Apple Watch Sport collection is the watch collection with the lowest price tag. Aimed at fitness enthusiasts, the Sport watches do not have a sapphire display, instead featuring a lightweight strengthened alumina-silicate Ion-X glass that's "especially resistant to scratches and impact."
Apple's Sport collection also features a lightweight anodized aluminum casing in either Silver, Space Gray, Rose Gold, and Gold anodized finishes. With the Ion-X glass and the aluminum casing, the Sport collection watches are 30 percent lighter than stainless steel models.

The Apple Watch Sport is available with a variety of Sport Bands in different colors to match each casing color. Sport Bands that ship with the Apple Watch Sport include buckles or closures that match the finish of the watch they're included with, while additional bands have silver closures or buckles.
Stainless Steel
The Apple Watch stainless steel collection includes Apple Watch models that feature stainless steel casings in a highly polished silver color and a space black shade. These watches feature a durable, scratch-resistant sapphire crystal display and are Apple's mid-priced devices.

The Stainless Steel Apple Watch Series 2 models can be purchased with Sport Bands in black or white or the Milanese Loop.
Edition
The Edition collection is Apple's high-end luxury lineup, and in 2016, the only Edition Apple Watch for sale is a pearly white ceramic model that ships with a matching white Sport Band.

The Ceramic used for the Apple Watch Edition is four times stronger than stainless steel and is Apple's most durable watch overall thanks to a sapphire crystal display. Apple ships a Magnetic Charging Dock alongside the ceramic Apple Watch Edition, a bonus accessory that doesn't come with any other Apple Watch model.
Nike
The Apple Watch Nike+ was created in partnership with Nike and is designed specifically for runners. It features an aluminum Sport body, which is the lightest body, and it comes with a unique perforated band that's stretchy, light, and breathable.

Nike has designed special software for the Nike+, which is designed to motivate runners to stay active. Nike+ Apple Watches include unique Nike-designed watch faces and are available in silver and black aluminum with matching perforated bands in a selection of different colors.
Hermès
The Hermès Apple Watch collection was created in partnership with French fashion house Hermès and features some of the most expensive Apple Watches Apple offers because of the high price of the bands.

All Hermès models feature a silver stainless steel Apple Watch body paired with one of the Hermès signature hand-crafted leather bands and an additional orange Hermès-branded Apple Watch Sport band. Hermès Apple Watches include unique watch faces based on Hermès watch designs.
Bands
Apple has designed seven types of bands for the Apple Watch: Link Bracelet, Sport Band, Leather Loop, Modern Buckle, Classic Buckle, Woven Nylon, and Milanese Loop, all made from a variety of materials to match different tastes and at varying price points. Bands listed below are the currently available selections.
Sport Band
Apple's Sport Bands are the company's lightest, most comfortable bands, made from a flexible and lightweight fluoroelastomer. Because they're ideal for use when exercising or engaging in vigorous activity, most of Apple's aluminum Sport watches ship with Sport Bands.

Pricing starts at $49 for the fluoroelastomer Sport Bands, which come with three pieces to adjust the size. Apple offers Sport Bands in S/M, M/L, and L/XL size options. Apple currently offers the Sport Band in Camellia, Pebble, Azure, White, Pink Sand, Midnight Blue, Black, Turquoise, Yellow, Concrete, Ocean Blue, Cocoa, and Red. Camillia, Pebble, and Azure (pictured above) are new colors for spring 2017.
Nike Band
As of March 2017, the unique perforated Nike Apple Watch bands are available for purchase on a standalone basis. Nike bands are made from a high-performance fluoroelastomer and are available for both 38mm and 42mm Apple Watch models. The bands fit wrists sized 130 to 200mm.

Priced at $49, the Nike Apple Watch bands are available in Black/Volt, Anthracite/Black, and Pure Platinum/White.
Woven Nylon
Apple's Woven Nylon Band, made from more than 500 threads woven together, is priced at $49. One of Apple's newest bands, the Woven Nylon band is another inexpensive, lightweight, water-friendly band option that's great for a wide range of activities.

The 38mm Woven Nylon band fits wrists sized 125 to 195mm and the 42mm Woven Nylon band fits wrists sized 145 to 215mm. Apple offers the Woven Nylon band in 13 colors, striped and solid. Striped colors (pictured above): Orange, Berry, Red, Pollen, and Tahoe Blue. Solid colors: Midnight Blue, Pearl, Black, Light Pink/Midnight Blue, Yellow/Light Gray, Space Orange/Anthracite, Toasted Coffee/Caramel, Navy/Tahoe Blue.
Classic Buckle
Made from fine calf leather with a traditional buckle closure, the $149 Classic Buckle is available in 38 and 42mm sizes. The 38mm model fits wrists sized 130 to 195mm wrists and the 42mm model fits wrists sized 150 to 215mm.

The Classic Buckle comes in Berry, Red, Taupe, Sapphire, Saddle Brown, Midnight Blue, Black. As of March 2017, the Classic Buckle received a minor design tweak that makes the buckle more prominent.
Modern Buckle
The $249 Modern Buckle is made from a soft Granada leather and features a large magnetic buckle at the back. It is designed for the smaller Apple Watch and only fits 38mm models.

The Modern Buckle fits wrists sized 135mm to 180mm and is now available in just Black and Midnight Blue.
Milanese Loop
The stainless steel Milanese Loop, available in 38mm and 42mm sizes, is a flexible metal mesh band that wraps around the wrist. It's made of such a fine metal material that it's comfortable to wear all day long, and it's surprisingly lightweight.

The Milanese Loop is available in Silver ($149) and Space Black ($199) to match the finishes of the Stainless Steel Apple Watch. The 38mm model fits wrists sized 130 to 180mm, while the 42mm model fits wrists sized 150 to 200mm.
Leather Loop
The Leather Loop, made from quilted Venezia leather, is another band that wraps around the wrist instead of using a clasp. It's priced at $149 and is only available for 42mm watches. The Leather Loop fits wrists sized 150mm to 210mm and is available in Smoke Gray and Midnight Blue.

Link Bracelet
The 316L stainless steel alloy Link Bracelet, available in 38mm and 42mm sizes, is Apple's most expensive band made in-house. Available in Silver ($449) and Space Black ($549), the Link Bracelet resembles a high-quality traditional watch band. The 38mm model fits wrists sized 135 to 195mm while the 42mm model fits wrists sized 140 to 205mm. A 6 link add on kit expands its size from 205mm to 245mm for an additional $49.

Hermès
Along with Hermès Apple Watches, Apple sells a selection of standalone Hermès bands, designed by the fashion house. Hermès bands are available in an assortment of colors.
The Single Tour, a standard leather band, is available for 38 and 42mm Apple watches and is priced at $340. It comes in a light brown/gray shade, saddle brown, light blue, purple (38mm only), dark blue, yellow, and red.

The Double Tour, a leather band that wraps twice around the wrist, is available for the 38mm Apple Watch and retails for $490. It is available in five colors including a dark teal, brown, brown/gray, blue, and red. The Double Tour is available in Small/Medium and Medium/Large, but the larger band is available in fewer colors.
The Double Buckle Cuff, new in 2016, is designed for the 38mm Apple Watch and features dual buckles. It comes in a light brown/gray shade, saddle brown, blue, and red.
Apple Watch Series 1
Apple is continuing to sell the first-generation Apple Watch, which it is now calling the Apple Watch Series 1. The Series 1 is identical to the original Apple Watch, but it features an upgraded dual-core S2 chip. The chip is the same one that's in the Series 2 Apple Watch, but it does not have the GPS component.

Apple Watch Series 1 also does not ship with a USB power adapter for the magnetic charging cable, while Apple Watch Series 2 does.
Series 1 Apple Watch models are less expensive than Series 2 models, priced at $269 for the 38mm version and $299 for the 42mm version.
Software
All models of the Apple Watch are able to run the latest operating system, watchOS 3. watchOS 3 is a major upgrade compared to watchOS 2, introducing instant-launch apps, an app dock for easier access to favorite apps, navigation improvements that include left and right swipes to change the watch face, and a new Breathe app designed to guide users through daily deep breathing sessions to relieve stress.
There are three new watch faces, a new Activity Sharing feature, an SOS option that automatically calls emergency services when needed, and an Apple Watch can also be used to unlock a password protected Mac with new Continuity functionality.
To learn more about the features in watchOS 3, make sure to check out our full watchOS 3 roundup.