Apple Reveals All-New Mac Pro With Up to 28-Core Processor and 1.5TB of RAM, Starting at $5,999
Apple today at its WWDC 2019 keynote unveiled its long-awaited Mac Pro redesign.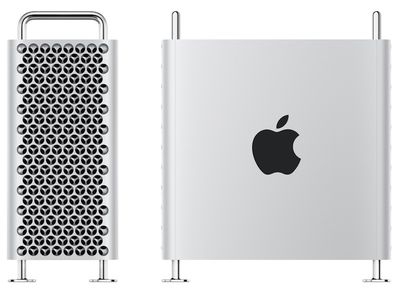 The all-new Mac Pro is an absolute powerhouse with up to 28-core Intel Xeon processors, up to 1.5TB of ECC RAM, up to 4TB of SSD storage, up to AMD Radeon Pro Vega II Duo graphics with 64GB of HBM2 memory, and eight PCIe expansion slots for maximum performance, expansion, and configurability.
The new design includes a stainless steel frame with smooth handles and an aluminum housing that lifts off for 360-degree access to the entire system. The housing also features a unique lattice pattern, which has already been referred to as a cheese grater, to maximize airflow and quiet operation.


Apple says the new ‌Mac Pro‌ provides over 300W of power and has a "state-of-the-art thermal architecture" to allow the processor to run "fully unconstrained all the time." This is a significant change from the previous ‌Mac Pro‌, which Apple eventually admitted led it "into a bit of a thermal corner."
The new ‌Mac Pro‌ features Apple Afterburner, a new accelerator card that can decode up to three streams of 8K ProRes RAW video and 12 streams of 4K ProRes RAW video in real time, effectively eliminating proxy workflows.


Apple's marketing chief Phil Schiller:
We designed Mac Pro for users who require a modular system with extreme performance, expansion and configurability. With its powerful Xeon processors, massive memory capacity, groundbreaking GPU architecture, PCIe expansion, Afterburner accelerator card and jaw-dropping design, the new Mac Pro is a monster that will enable pros to do their life's best work.
Apple says the new ‌Mac Pro‌ starts at $5,999 in the United States with an eight-core Intel Xeon W processor, 32GB of DDR4 ECC RAM, AMD Radeon Pro 580X graphics, and 256GB of SSD storage and will be available to order in the fall.
Apple also introduced a new 32-inch 6K display named the Pro Display XDR that will also be available in the fall starting at $4,999.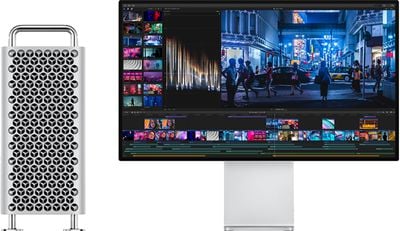 More details can be found on Apple's new Mac Pro page on its website. While not advertised, the current Mac Pro remains available to purchase for now.