Apple Display 6K
Apple is working on its own 31.6-inch 6K display for future release.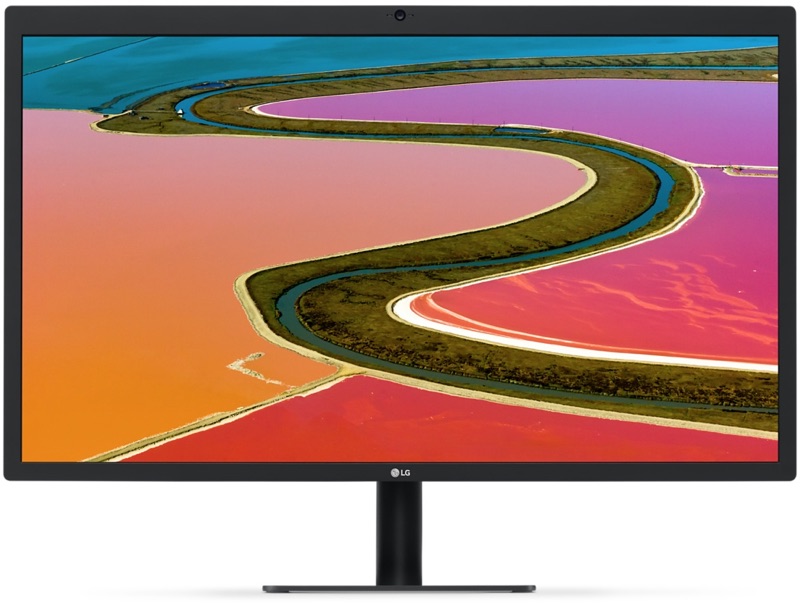 At a Glance
Apple discontinued its nearly five year old Thunderbolt Display on June 23, 2016, but the company is working on a 6K "pro" display to accompany a future Mac Pro machine.
Apple's Upcoming Display
31.6-inch display size
6K resolution
Premium price tag
Companion to upcoming Mac Pro
Apple's Display Plans
On June 23, 2016, Apple discontinued the Thunderbolt Display. Existing stock was sold in stores and online, but Apple is no longer manufacturing new displays.
While no Apple-branded display is available at the current time, Apple executives Phil Schiller and Craig Federighi in 2017 shared news about Apple's work on a revamped high-end modular Mac Pro, which will ship alongside a "pro display" as part of its modular system.
Apple analyst Ming-Chi Kuo says that Apple has major plans in store for the Apple display coming in 2019.
According to Kuo, Apple is working on a massive 31.6-inch display with an impressive 6K resolution. It could feature a new mini LED-like backlighting design, which would offer "outstanding picture quality." Mini LED displays can offer seamless mosaicking, higher brightness and lower reflectivity than traditional LCD displays.
Little else is known about the display at this time, but we'll likely be hearing more about it as a release date for the Mac Pro approaches. Kuo says he expects the 6K display to launch in either the second or third quarter of 2019 with an "all-new design" targeting a "very high-end position," suggesting it will be expensive.
Apple is said to be considering previewing its new Mac Pro at the Worldwide Developers Conference, set to take place from June 3 to June 7. If the Mac Pro is shown off, it's possible Apple could also announce and preview the rumored 6K Apple Display.
While we wait on the release of an Apple-branded display, Apple has partnered with LG to offer 4K and 5K UltraFine displays in its stores. Apple has also introduced Thunderbolt 3 across much of its Mac lineup, allowing Macs to be used with 4K and 5K displays from third-party manufacturers. The Blackmagic eGPU, which Apple also offers in retail stores and created in partnership with Blackmagic, further expands display capabilities for Macs.
23.7-inch UltraFine Display
The Apple online store and Apple retail stores are now carrying a 23.7-inch UltraFine Display, a replacement for the 21.5 and 27-inch LG displays that were previously available. The new $700 monitor is limited to retail stores and is not yet available online.
At 23.7 inches, the new UltraFine display sits between the original 21.5-inch 4K and 27-inch 5K display, and it appears to offer a 3840x2160 resolution. That's less than the resolution of the previous 21.5-inch LG 4K display, but is still considered ultra HD.

The new display appears to offer the same design as the previous 4K/5K LG displays, offering a pair of Thunderbolt 3 ports and three standard USB-C ports on the back. Two Thunderbolt 3 ports is a new addition, allowing for Thunderbolt 3 accessories to be daisy-chained.
LG 4K and 5K Displays
Apple in 2016 started selling two displays created in partnership with LG, the 4K and 5K UltraFine Displays. The two displays were made available in lieu of Apple's own displays, and have the same features one would expect from an Apple-designed display.
At the current time, Apple has stopped selling the 4K and 5K LG displays, though other retailers continue to offer them and they have not been discontinued by LG. Apple is instead selling the new 23.7-inch UltraFine 4K display.
The 27-inch 5K LG UltraFine Display, priced at $1,299.95, features a 5120 x 2880 resolution and P3 wide color gamut for brighter, more true-to-life colors. It uses multi-stream transport to connect over two DisplayPort 1.2 channels, but it connects over a single Thunderbolt 3 cable that can also charge a MacBook Pro with up to 85W of power delivery.

There are three downstream USB-C ports built into the back of the display to power additional devices and accessories, plus it includes built-in stereo speakers, a camera, and a microphone. Because it requires Thunderbolt 3 connectivity, the 5K LG UltraFine Display is only compatible with the 2016 MacBook Pro, which features support for Thunderbolt 3.

The 21.5-inch 4K LG UltraFine Display, priced at $699.95, offers many of the same features, including P3 wide color gamut, charging capabilities, additional rear ports, and built-in stereo speakers. Its smaller resolution of 4096 x 2304 means it only requires a USB-C connection for power, so it is compatible with any Mac equipped with USB-C.
Issues
The 27-inch 5K LG UltraFine Display suffers from an issue that causes flickering and freezing when it is placed too close to a wireless router. In all displays manufactured after February 2017, LG is implementing a fix in the form of additional shielding, and Apple is holding new shipments until fixed models are available.
A shielding repair is also available for displays manufactured before February 2017, and customers affected by the touter issue should get in touch with Apple or LG to arrange for a repair. The shielding repair effectively fixes the Wi-Fi interference problem. To determine whether or not a display has the updated shielding hardware, check out our guide.
Hands-On Look at the LG 5K UltraFine Display
If you're considering purchasing an LG 5K UltraFine Display, it's worth checking out our hands-on look at the accessory. The display itself is gorgeous, but there are some compromises with the design -- it's plastic and doesn't fit Apple's usual aesthetic, but some have not found it to be overly obtrusive.