iOS 14 Features New Translate App With Support for 11 Languages and Offline Mode
Apple today announced that iOS 14 features an all-new Translate app for translating conversations, with support for 11 different languages at launch and an offline mode for private voice and text translation.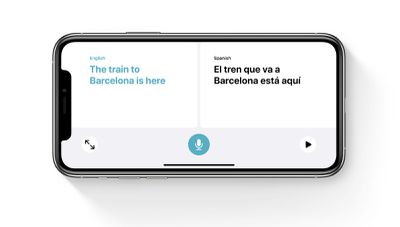 Supported languages include Arabic, Chinese, English, French, German, Italian, Japanese, Korean, Portuguese, Russian, and Spanish.
When you place your iPhone in landscape orientation, a microphone button appears as a quick way to begin translating. The side-by-side user interface makes it easy for two people to have a conversation in different languages.
Here's how Apple explains the feature:
Automatic language detection transcribes the original and translated text on the appropriate sides of the screen, followed by translated audio. Translate uses advanced on-device machine learning and the powerful Apple Neural Engine to enable natural-sounding conversations.
Users can save translations in the Favorites tab, which also displays a recent history.
iOS 14 is available in beta for registered Apple developers today, with a public beta to follow next month. The free software update will be released in the fall for the iPhone 6s and newer.