Mac mini
Now with Apple's M1 chip with up to 3x faster CPU, up to 6x faster graphics, and up to 15x faster machine learning.
By MacRumors Staff
The M1 Mac mini
Apple in November 2020 updated the Mac mini to introduce new low-end and mid-tier models equipped with the new M1 chip, which is the first Apple-designed Arm-based chip for Mac that Apple has introduced.
This is the first significant update Apple has made to the Mac mini since October 2018, and the new M1 models are sold alongside a higher-end model with a 6-core Intel Core i5 chip.
The M1 chip in the Mac mini is Apple's first System on a Chip for Mac, integrating GPU, CPU, RAM, and other components for improved performance and efficiency. The M1 in the Mac mini has an 8-core CPU with four high-efficiency cores and four high-performance cores along with an integrated GPU that has 8 cores.
In the Mac mini, the M1 chip's CPU offers 3x faster performance than the previous-generation entry-level model and the GPU offers 6x better graphics performance. Machine learning workloads are up to 15x faster thanks to the 16-core Neural Engine, and the Mac mini is 5x faster than the best-selling Windows desktop in its price range.
There are no design changes to the Mac mini, and it continues to feature a flat, square-shaped 1.4-inch thick, 7.7-inch wide aluminum unibody enclosure. The M1 Mac mini is available in Silver, while the Intel Mac mini is available in Space Gray.
Apple says the M1 Mac mini's advanced thermal design sustains performance while the machine remains cool and quiet. It is configurable with up to 16GB RAM, while the Intel model can support up to 64GB. Both models can be upgraded to up to 2TB storage space.
The M1 Mac mini supports a single display in full 6K resolution and one 4K display over HDMI, while the prior-generation models support up to two 5K displays. Other features include WiFi 6 support for faster WiFi speeds, and a Secure Enclave for improved security. The M1 Mac mini has two Thunderbolt 3/USB 4 ports, two USB-A ports, an HDMI 2.0 port, and Gigabit Ethernet.
Pricing on the M1 Mac mini starts at $699 for 8GB RAM and a 256GB SSD, while a model with a 512GB SSD is available for $899, The Intel model with 6-core 8th-generation Intel Core i5 chip and UHD graphics 630 is available starting at $1,099.
At this time, buyers should hold off on the 2018/Early 2020 Intel-based Mac mini until the performance differences between the Intel chips and the new Apple M1 chips become clearer.
Note:
See an error in this roundup or want to offer feedback?
Send us an email here
.
How to Buy
The M1 Mac mini can be ordered from the online Apple Store or purchased in Apple retail stores. Apple in February 2021 began offering a refurbished version of the M1 Mac mini that's available at a discount.
Intel Mac mini vs. M1 Mac mini
Planning to buy a Mac mini and aren't sure which version to buy? Make sure to check out our comparison guide that will help walk you through a decision. In a nutshell, the M1 Mac mini is more affordable and more powerful than the remaining Intel model, and it is the better buy.
Issues
Some M1 Mac mini models are affected by an issue that can cause pink squares or pixels to appear on a display connected to an M1 Mac mini. Apple is aware of the problem and is working on a fix. For those experiencing this problem, Apple recommends putting the Mac mini to sleep, waiting two minutes and then waking the Mac mini, unplugging the display, and adjusting the display's resolution.
Some Mac mini owners have run into an issue with the Mac mini failing to activate connected displays after waking from sleep. This issue does not affect all Mac mini owners, but there have been numerous complaints and there's no known permanent fix at this time.
M1 Mac mini Reviews
Reviewers found that M1 Mac mini offers the best performance out of the M1 Macs, though it's quite close. As The Verge points out, Apple doesn't have to account for the tight confines of a laptop enclosure, so the M1 chip "hit the very best speeds it's capable of and sustain them without throttling." During testing, the fan never activated.
PCMag said that the Mac mini was "whisper quiet" during extensive testing, even after multiple GPU game benchmarks. The body of the Mac Pro also stayed "remarkably cool," and there was no point to thermal testing because it was barely warm to the touch.
Though more efficient, the Mac mini uses the same power supply as the Intel model at 150W, which makes the power efficiency gains less noticeable on Apple's smallest desktop computer.
The Verge pointed out that the M1 Mac mini has two fewer Thunderbolt ports, which is a "downgrade for the mini's expandability." Still, other reviewers believe that most people will be able to work with two ports, especially as devices can be daisy chained. The one other negative that reviewers pointed out was the Mac mini's speaker, which was described as "tinny, hollow, and just plain bad."
For more opinions on the MacBook Pro and the other M1 Macs, make sure to check out our full M1 Apple Silicon review guide.
Design
With the 2020 M1 update, Apple did not change the design of the Mac mini, but it did re-introduce the silver color. All M1 Mac mini models are silver, while the Intel model comes in space gray, with color being the distinguishing feature between the two.

M1 Mac mini in silver
The Mac mini has always been Apple's smallest, most portable desktop machine and that hasn't changed. The Mac mini continues to feature a small, square-shaped enclosure that measures in at 7.7 inches on each side and 1.4 inches thick.

Apple's Mac mini weighs in at 2.9 pounds, so it's small enough to take from place to place if desired, plugging into available peripherals and displays. The Mac mini, unlike Apple's other Macs, does not ship with a display, keyboard, or mouse, so it is ideal for those who want to supply their own accessories.
One side of the Mac mini features a host of ports, while the other features an LED that lets you know when it's on. There's an Apple logo at the top of the device, and other than the Apple logo and port labels, there are no other markings on the visible portion of the machine.


M1 Mac mini in space gray
Though the exterior of the Mac mini is unchanged over the last several generations, Apple redesigned the interior in 2018 to add a new thermal architecture to accommodate higher-powered 8th-generation chips and all-flash storage. Compared to pre-2018 Mac mini models, it features a bigger internal fan with twice as much airflow, and expanded vents, all of which also accommodate the M1 chip.
Ports
Apple has outfitted the Mac mini with multiple ports, allowing it to be used with several peripherals at once. The M1 Mac mini has a total of two Thunderbolt 3/USB-C 4 ports at the back of the device, which are able to support USB-C accessories and displays, along with an HDMI 2.0 port, a Gigabit Ethernet port, a 3.5mm headphone jack, two USB-A ports, and a spot for the power cord to plug in.

The Intel Mac mini has four Thunderbolt 3 ports, two USB-A ports, a 3.5mm headphone jack, a spot for the power cord, and a Gigabit Ethernet port, which can be upgraded to 10Gb. The 10Gb Ethernet port upgrade is limited to the Intel version of the Mac mini and is not available for the M1 version.
Thunderbolt 3 offers data transfer speeds of up to 40Gb/s. The M1 Mac mini officially supports one external display up to 6K along with a second with HDMI up to 4K. The Intel Mac mini with supports two 4K displays (along with a third 4K display over HDMI) or one 5K.
While Apple says the Mac mini is limited to one 6K and one 4K display, with DisplayPort adapters, M1 Mac mini models can run up to six external displays. This only works with a mix of 4K and 1080p displays as the Thunderbolt ports do not have the bandwidth to run six 4K displays.
M1 Apple Silicon Chip
M1
The 2020 Mac mini is one of the first Macs to be updated with an Apple-designed Arm-based chip rather than an Intel chip like prior Mac mini models. These chips are called "Apple Silicon," and the chip used in the new Mac mini is the M1.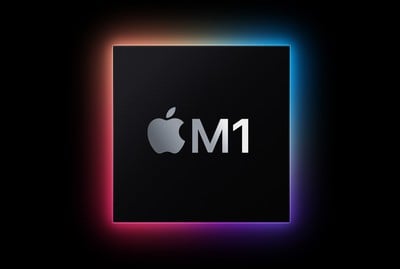 The M1 is Apple's first System on a Chip designed for the Mac, which means it has the processor, GPU, I/O, security features, and RAM all in one chip that's inside the Mac. Apple says that this allows for better performance and power efficiency for longer battery life.
Like Apple's latest A14 chips, the M1 is built on a 5-nanometer process, which makes it smaller and more efficient than Apple's prior chips. It has 16 billion transistors, which Apple says is the most that it has put into a single chip.
Unified Memory Architecture
One of the features of the M1 is a unified memory architecture, or UMA, which unifies high-bandwidth, low-latency memory into a single pool. This means that the technologies in the M1 chip can access the same data without copying it between multiple memory pools for dramatic performance improvement across the entire system.
The Mac mini supports up to 16GB of unified memory, with the base model shipping with 8GB.
Speed Improvements
The M1 in the Mac mini features an 8-core CPU and an integrated 8-core GPU. The CPU has four high-efficiency cores and four high-performance cores. When doing simple tasks like browsing the web or reading email the Mac mini will engage the high-efficiency cores, but for more system-intensive tasks like photo and video editing, the high-performance cores are used.
According to Apple, the M1 chip's CPU is up to 3x faster than the Intel chip in the prior Mac mini, and GPU speeds are up to 6x faster.
The M1 is designed to offer higher performance at every power level compared to competing laptop chips. It offers 2x faster CPU performance than the latest PC laptop chip while using 25 percent of the power.
ProRes transcoding is up to 3.4x faster with the M1 chip, building a project in Xcode is up to 3x faster, and Logic Pro supports 2.8x more Amp Designer plug-ins.
Benchmarks
In Geekbench benchmarks, the M1 chip in the Mac mini, which has a 3.2GHz frequency, earns single-core scores that exceed 1700, and multi-core scores around 7600, which makes it faster than the Intel version of the Mac mini that Apple still sells.
Further, the M1 chip in the Mac mini, MacBook Pro, and MacBook Air offers single-core performance that is better than any other available Mac.
Even when emulating x86 under Rosetta 2, the M1 Macs are still faster than all previously released Macs. With Geekbench running through Apple's Rosetta 2 translation layer, the Macs are achieving 78 to 79 percent of the performance of native Apple Silicon code.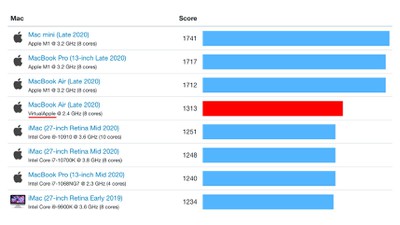 R23 Cinebench benchmarks of the M1 chip come in at 7508 for multi-core and 1498 for single-core. The benchmark is for the MacBook Pro, but the Mac mini has the same chip inside.

Comparatively, the high-end 2020 16-inch MacBook Pro with 2.3GHz Core i9 chip earned a multi-core score of 8818. The 2.6GHz low-end 16-inch MacBook Pro earned a single-core score of 1113 and a multi-core score of 6912 on the same test, and the high-end prior-generation MacBook Air earned a single-core score of 1119 and a multi-core score of 4329.
GPU
The 8-core GPU in the M1 chip is integrated (which means it is not a separate chip), and Apple calls it the world's fastest integrated graphics in a personal computer. It can execute 25,000 threads at a time and combines improved graphics performance with lower power consumption.
According to Apple, the GPU in the M1 can render a timeline up to 6x faster in Final Cut Pro and editing high-resolution photos with Affinity Photo is up to 4x faster.
In GFX Bench 5.0 benchmarks, the M1 beat out the GTX 1050 Ti and the Radeon RX 560 with 2.6 TFLOPs of throughput.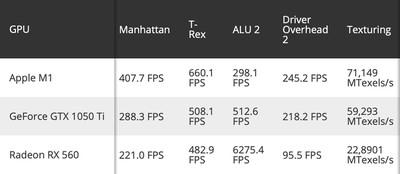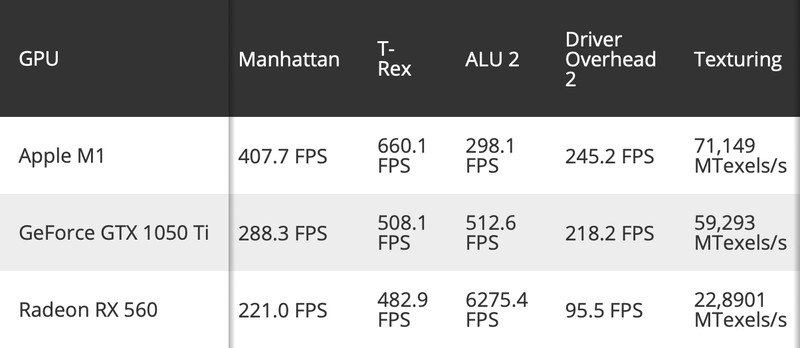 Neural Engine
There's a new, more advanced Neural Engine in the Mac mini that is up to 15x faster for machine learning tasks. The Neural Engine has a 16-core design that can execute 11 trillion operations per second, and along with machine learning accelerators, it makes ML-based tasks much faster.
Apps like Final Cut Pro, Pixelmator, and others that use machine learning for video, photo, and audio editing purposes benefit from the Neural Engine.
Running Apps
The M1 chip is built on an Arm architecture instead of an x86 architecture like Intel chips, but it will still run apps designed for Intel machines thanks to Rosetta 2, a translation process that runs in the background and is invisible to the user.
Apple is also encouraging developers to create Universal apps that use a single binary and run on both Apple Silicon Macs and Intel Macs. Further, Apple Silicon Macs are able to run apps that are designed for iPhone and iPad.
We have details on apps that have been updated with native or universal support, gaming on the M1 Macs, running homebrew apps, and more. Check out our M1 tidbits guide for details.
Intel Mac mini
Apple is continuing to sell the Intel Mac mini alongside the new Mac mini models. The Intel Mac mini is equipped with an 8th-generation 6-core 3GHz Intel Core i5 chip that can be upgraded to a Core i7 chip.
The Intel Mac mini is not as fast as the Apple Silicon Mac mini and it is probably not worth purchasing at this time over the M1 models. Apple will likely release higher-end Mac mini models with Apple Silicon chips in the future.
RAM
Base M1 models come with 8GB RAM, which can be customized up to 16GB. Higher-end Intel models support up to 64GB RAM. Tests suggest that there isn't a whole lot of difference between M1 models with 8GB RAM and 16GB RAM except when doing heavily system intensive tasks.
Other Features
SSD
The Mac mini supports up to 2TB of solid state storage, with read speeds of up to 3.4GB/s.
Connectivity
The M1 Mac mini supports 802.11ax WiFi, or WiFi 6, which provides better performance than the prior-generation 802.11ac Wi-Fi. It offers 1.2Gb/s of throughput for fast file transfers.
The Intel Mac mini supports 802.11ac Wi-Fi, while both models feature Bluetooth 5.0.
Base Models
There are three stock Mac mini configurations available from Apple. Two feature the M1 chip, while the most expensive has an Intel chip.
$699 - M1 chip, 8GB RAM, 256GB SSD.

$899 - M1 chip, 8GB RAM, 512GB SSD.

$1,099 - 3.0GHz 6-core 8th-generation Intel core i5 chip, 8GB RAM, Intel UHD Graphics 630, 512GB SSD.
Build-to-Order Options
Entry-level Mac mini upgrade options:
16GB RAM - +$200
512GB SSD - +$200
1TB SSD - +$400
2TB SSD - +$800
Middle-tier Mac mini upgrade options:
16GB RAM - +$200
1TB SSD - +$200
2TB SSD - +$600
Higher-end Mac mini upgrade options
3.2GHz 6-core 8th-generation Intel Core i7 chip - +$200
16GB RAM - +$200
32GB RAM - +$600
64GB RAM - +$1000
1TB SSD - +$200
2TB SSD - +$600
10 Gigabit Ethernet - +$100
M1 Mac How Tos
Since the M1 Macs are using a new type of chip designed by Apple, there are some tips and tricks for doing things like transferring files, entering recovery mode, and finding apps optimized for the new machines. We have several M1-specific how tos that are worth checking out.