Apple Reveals New 'iMac Pro' Built for Users With Demanding Workflows, Starting at $5K
Apple today announced an all-new iMac model, called the "iMac Pro," with an expected launch date this December and starting at $4,999. The company called the computer "the most powerful Mac ever" and it's been designed specifically for pro-level users with demanding workflows.
The 27-inch iMac Pro includes a Retina 5K display, up to 18-core Xeon processors, and up to 22 Teraflops of graphics computation achievable on the high-end configurations. The iMac Pro also marks the first time than a desktop Mac will come in Space Gray, including the iMac Pro's Magic Keyboard, Magic Trackpad 2, and Magic Mouse.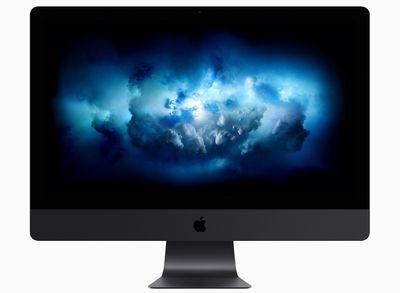 Apple said that with the powerful desktop, users will be able to take advantage of advanced graphics editing, virtual reality content creation, and real-time 3D model rendering.

"We're thrilled to give developers and customers a sneak peek at iMac Pro. This will be our fastest and most powerful Mac ever, which brings workstation-class computing to iMac for the first time," said John Ternus, Apple's vice president of Hardware Engineering. "We reengineered the whole system and designed an entirely new thermal architecture to pack extraordinary performance into the elegant, quiet iMac enclosure our customers love — iMac Pro is a huge step forward and there's never been anything like it."
The iMac Pro includes an all-flash architecture and new thermal design, allowing the desktop Mac to deliver up to 80 percent more cooling capacity than current iMacs, but in the same iMac design. The iMac Pro comes with the new Radeon Pro Vega GPU, the most advanced graphics ever in a Mac, and features up to 16GB of on-package high-bandwidth memory. With the new power, iMac Pro can deliver up to 11 Teraflops of single-precision compute power, powering the computer's real-time 3D rendering and VR abilities.
In terms of storage, iMac Pro supports up to 4TB of SSD and up to 128GB of ECC memory. Thanks to four Thunderbolt 3 ports, users can also connect up to two high-performance RAID arrays and two 5K displays at the same time, further beefing up their pro-level workstations. For the first time on a Mac, the new iMac Pro features 10Gb Ethernet for up to 10 times faster networking speeds.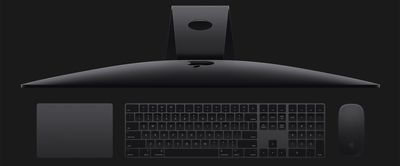 In addition to the iMac Pro announcement, Apple kept the pro-level reveals coming today by stating that the company is working on "a completely redesigned, next-generation" Mac Pro that is being built for users who required the highest-end, high-throughput system performance. A new high-end pro-level display will also be coming sometime soon.
The iMac Pro will be available in December, with a price starting at $4,999. Those interested can discover more details about the new computer on Apple's website.