Live Coverage of Apple's WWDC 2016 Keynote: iOS 10, macOS 10.12, and More [Keynote Over]
Apple's annual Worldwide Developers Conference (WWDC) kicks off today in San Francisco with the traditional keynote being held for the first time at the Bill Graham Civic Auditorium, the same location Apple used for its "Hey Siri" media event last September.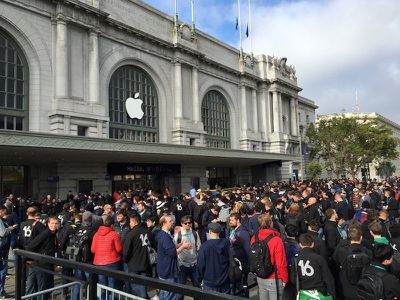 The keynote begins at 10:00 AM Pacific Time / 1:00 PM Eastern Time, and we're expecting to see
a number of announcements
focused primarily on software updates including iOS 10 and OS X 10.12, as well as new versions of watchOS and tvOS. We may also see some updates to Apple's services such as Apple Pay, iCloud, and perhaps iMessage, but major hardware announcements are not expected.
Apple is providing a live video stream on its website and via Apple TV.
In addition to Apple's video stream, we will be updating this article with live blog coverage and issuing Twitter updates through our @MacRumorsLive account as the keynote unfolds. Highlights from the event and separate news stories regarding today's announcements will go out through our @MacRumors account.
The full keynote transcript in reverse chronological order is available after the jump.

12:05 pm: Keep it locked on MacRumors for more in-depth coverage of today's announcements. The keynote can also be discussed in our forums.
12:02 pm: That's a wrap on the WWDC 2016 keynote. As expected, there were no hardware announcements.
12:01 pm: Cook recaps today's announcements.
12:00 pm: Tim Cook is back on stage.
11:59 am: Apple showed a touching video about developers.


11:55 am: Swift Playgrounds will be free.
11:55 am: Swift Playgrounds is available to developers in beta today. A public beta will be available in July. The app will be in the App Store once iOS 10 ships in the fall.
11:53 am: The app features a brand new coding keyboard.
11:51 am: There are programming objectives to complete that control a fun character named Byte. It is very kid-friendly.
11:49 am: The app has custom "learn to code" lessons from Apple that are highly visual and interactive.


11:48 am: A demo of Swift Playgrounds is up next.
11:48 am: The app will provide "a new way to learn to code with Swift on iPad."
11:47 am: Cook introduces a new app for iPad called Swift Playgrounds.
11:47 am: Tim Cook back on stage talking about Apple's programming language Swift.
11:47 am: iOS 10 supports all iOS 9 devices except the iPhone 4s.


11:45 am: iOS 10 is available to developers in beta today. A public beta launches in July. It is a free public release in the fall.
11:45 am: A video of iOS 10 was shown.
11:44 am: "One more thing…"
11:43 am: Craig Federighi is emphasizing privacy. All of the new iOS 10 features, such as deep learning for Photos, are done on device to preserve privacy.


11:43 am: Other new iOS 10 additions: Faster FaceTime connectivity, Air quality in Maps for China, Bedtime alarm, Mailbox column, Siri for South Africa and Ireland, male and female Siri voices for Russia, Spain, and Italy, CarPlay app reordering, mail filters, and much more.
11:41 am: Craig quickly going over other new iOS 10 features, such as Notes collaboration, conversation view in Mail, Live Photos editing, and Split View in Safari on iPad.
11:40 am: Demo: Craig orders lunch using an integrated third-party app and then shares the order directly in an iMessage group conversation.


11:38 am: Craig Federighi is giving a demo of these iMessage apps, using a third-party app to send stickers to friends.
11:38 am: iMessage apps are found within an "app drawer" that can be opened by swiping up from the bottom.


11:36 am: App Store for iMessage.
11:36 am: Messages is being opened up to developers with iMessage apps.
11:36 am: This demo makes it clear that Apple is taking on Snapchat.
11:34 am: Apple Music now supported directly in Messages. You can share a song and it can be automatically played within the conversation.


11:33 am: Messages supports Digital Touch photos and videos. You can quickly set filters and draw on your photos like Snapchat within the app.
11:31 am: Apple demoing emoji predictions. Tapping on a highlighted word such as "graduation" will replace the word with a graduate cap emoji. 🎓


11:29 am: Messages will also support hand-written messages.
11:28 am: Message bubbles can now be adjusted in size to be smaller or larger. There are other bubble effects such as invisible ink and animated backgrounds.


11:27 am: Messages will also have emoji predications as you type.



11:26 am: Messages app is getting rich links. In-line photos and videos appear above links.
11:25 am: VoIP apps are now integrated into the Lock screen, Contacts app, and elsewhere across iOS.


11:24 am: Phone app gets voicemail transcriptions.


11:23 am: Home app is coming to Apple Watch, iPad, and iPhone. Remote access on Apple TV.
11:22 am: HomeKit works with Interactive Notifications on the Lock screen.


11:22 am: HomeKit is now built into Control Center as well, allowing you to quickly control accessories by simply swiping up on your screen.
11:21 am: Home lets you view all of your HomeKit accessories, regardless of manufacturer, and you can control them within the app too by simply tapping buttons.


11:20 am: There are also new accessory types supported like cameras and door locks.
11:20 am: HomeKit now has an iOS app called Home.
11:19 am: Craig Federighi back on stage to discuss HomeKit.
11:19 am: Apple News is also getting breaking news notifications delivered straight to your Lock screen.
11:19 am: Apple News is getting subscriptions: read every article from magazines and newspapers right inside the app.
11:18 am: Apple News is getting an all-new design that mirrors the simplicity of the redesigned Apple Music app. A lot more white. Bold, colorful headlines.
11:18 am: Apple News now has over 2000 publications. Over 60 million monthly active users.


11:17 am: Up next is Apple News.
11:17 am: Swipe down on a song while it is playing to view its lyrics.
11:16 am: Apple Music also has lyrics and top charts.
11:15 am: The "For You" tab is broken into Discover, Recently Played, and a daily curated playlist. "Connect" is also bundled within this tab now.


11:13 am: The tabs along the bottom: Library, For You, Browse, Radio, Search. No more "Connect" section by default.
11:12 am: New section called "Downloaded Music."
11:11 am: The user interface is very bright and simplistic. Lots of white and black.


11:11 am: Apple Music has an all-new design.
11:10 am: Apple Music now has 15 million paid subscribers.
11:10 am: Apple Music up next.
11:10 am: You can book an Uber, for example, without leaving the Apple Maps app.
11:09 am: Apple Maps being opened up to developers.
11:09 am: All Maps changes coming to CarPlay. CarPlay will offer up alternate directions if there are traffic issues.
11:08 am: You can search for amenities along your route such as food and gas.


11:08 am: Apple Maps now includes traffic en route, a dynamic view that automatically zooms in and out. You can pan and zoom ahead to view what traffic conditions look like ahead.


11:08 am: For example: slide across the bottom to view nearby seafood restaurants in San Francisco.
11:07 am: iOS 10 has an all-new Apple Maps design. Easier to access controls. Proactive suggestions.
11:06 am: Eddy Cue back on stage.
11:06 am: Many of these features will also be available in Photos on macOS.
11:06 am: Apple calls the feature Memories.
11:05 am: Photos can now automatically create short movies based on memories such as a family vacation.


11:03 am: Craig Federighi is providing an on-stage demo of the new deep learning/image recognition functionality in the Photos app.
11:02 am: Photos are clustered together based on location, people, scenes, and topics. It will recognize all photos related to a trip, for example.
11:01 am: Photos is also gaining face recognition capabilities and the ability to recognize different objects to make it easier to find content.
11:01 am: Photos is gaining a new "Places" feature. You can see all of your photos organized by location.



11:00 am: QuickType keyboard now supports multilingual typing, so you can switch between languages like English, Spanish and Italian.
11:00 am: Siri can also provide your contact information, schedule calendar events, and more within apps based on the context of what you are doing.
10:59 am: Siri can make intelligent suggestions. If someone texts you "where are you?" for example, Siri can automatically offer to send your current location.


10:58 am: Siri now supports payment apps. VoIP calling apps. Will be especially useful with CarPlay because you can send messages through a variety of apps.
10:57 am: Commands don't even have to be fully said: "WeChat Nancy I'll be five minutes late."


10:57 am: Example of third-party Siri command: "Send a WeChat to Nancy telling her that I will be 5 minutes late."
10:56 am: Apple is opening up Siri to developers in iOS 10.
10:56 am: Siri on iOS up next. 2 billion requests from customers per week.
10:55 am: An on-stage demo shows that these Home screen widgets can even play live video. Supported on both iPhone and iPad.


10:55 am: When you 3D Touch on an app icon, there are now detailed widgets that provide at-a-glance information in addition to traditional iOS 9 commands.


10:54 am: Slide over from the right to access the Camera app from the Lock screen.
10:53 am: Notification Center has a brand new appearance. "Clear all notifications" toggle.
10:53 am: Both stock and third-party app widgets such as Uber.
10:53 am: Lock screen has widgets, such as a calendar, that work with 3D Touch.


10:52 am: iOS 10 has a redesigned Lock screen, rich notifications, quick interaction with apps, and expanded 3D Touch capabilities.



10:51 am: Apple introduces iOS 10.
10:50 am: macOS Sierra is available to developers today. A public beta launches in July. Public release coming in the fall.
10:50 am: That's a wrap on macOS Sierra. Continuity, iCloud, Apple Pay, user experience, and Siri were today's focuses.
10:49 am: Siri can be used for messaging, finding movies, and more. The interface is highly visual and interactive.


10:48 am: "Search the web for images of falconry." Siri pulls up the images, and they can automatically be dragged into an app like Keynote.
10:47 am: Siri works with full-screen apps too.
10:46 am: "Show me the files I worked on last week." Follow-up command: "Just the ones Ken sent me."


10:46 am: Siri also has an icon in the macOS menu bar next to the Notification Center toggle.
10:45 am: Siri has an interface in the top-right corner along with a Dock icon.
10:45 am: Siri coming to Mac.


10:45 am: Picture-in-picture coming to macOS. Works in full screen.


10:44 am: Tabs are coming to all multi-window apps, both built-in and third-party. "Tabs everywhere."
10:43 am: Apple Pay is expanding to Switzerland, France, and Hong Kong in the next few months.
10:43 am: Many merchants already signed up to support Apple Pay payments on the web.


10:43 am: "Pay with Apple Pay" button will be available on websites that securely authenticates your purchase using Touch ID from a paired iPhone or Apple Watch.


10:43 am: Apple Pay is coming to the web.
10:42 am: Apple Pay up next.
10:42 am: There are new tools for automatically getting rid of old files and caches to free up space on your Mac.
10:41 am: iCloud Drive is fully accessible on both macOS and iPhone.
10:41 am: iCloud Drive improvements: all files on your Mac will be available across multiple devices.


10:40 am: Universal Clipboard allows you to, for example, automatically copy text, photos, and more from an iPhone and paste on a Mac.


10:39 am: macOS Sierra also has a new feature called Universal Clipboard that enhances traditional copy and paste functionality.
10:39 am: Auto Unlock allows you to unlock your Mac with your Apple Watch.


10:38 am: macOS Sierra has a new feature called Auto Unlock.
10:37 am: macOS Sierra is focused on Continuity, iCloud, and the "fundamentals of the Mac experience."
10:37 am: Apple now has a consistent naming structure across its software platforms: iOS, macOS, tvOS, and watchOS.
10:37 am: macOS Sierra.
10:36 am: Craig Federighi on stage to discuss OS X. Apple changes OS X name to macOS. Lowercase M.
10:35 am: tvOS is available in developer preview today. Customers can download the update in the fall for free.


10:35 am: Devs are getting ReplayKit, PhotoKit, and HomeKit APIs, along with a lot more features for building new apps.
10:34 am: The user interface is dark grey systemwide.
10:34 am: tvOS is getting a dark mode.


10:33 am: New tvOS feature: "Single sign-on." Sign in once on your Apple TV and get access to all of your network apps.
10:33 am: New tvOS feature: "Live tune in." Eddy Cue demos the feature by saying "watch ESPN2." The live channel automatically starts playing.
10:32 am: Siri on tvOS can now search YouTube and movies by specific topics such as "80s comedies."
10:31 am: The app allows you to enter text on tvOS with the on-screen keyboard.


10:31 am: Apple has created a brand-new Remote app for tvOS that mimics the Siri Remote.
10:30 am: Sling TV coming to tvOS today. Fox Sports Go coming this summer.


10:29 am: Eddy Cue reiterates that "the future of TV is apps."
10:28 am: Eddy Cue up on stage next to discuss tvOS.


10:28 am: Developers will be able to download watchOS 3 in beta starting today.
10:28 am: watchOS 3 is available as a free upgrade this fall.
10:27 am: watchOS has many new APIs for developers. Apple Pay in apps. Fitness apps can run in the background. Real-time heart rate support. SpriteKit and SceneKit support. Crown & Touch events. Speaker audio. Inline video.



10:26 am: Breathe provides summaries of each breathing session, including heart rate.
10:25 am: Breathing sessions can be set to last between 1 and 5 minutes by turning the Digital Crown.
10:25 am: Breathe can be launched from the watch face, or smart reminders can be set.
10:24 am: Apple announces a new health-related app called Breathe. Designed to help you with breathing sessions to alleviate everyday stresses.
10:24 am: watchOS 3 has a new "time to roll" setting for wheelchair users, instead of "time to stand." Two new workouts for wheelchair users, and new activity rings related to those.


10:22 am: You can tap on someone else's activity rings to view detailed information, such as the number of calories burned or steps they have walked. The feature is geared towards a competitive nature.


10:21 am: watchOS 3 has Activity Sharing, which lets you view your selected family and friends Activity rings.
10:20 am: SOS can provide with your local emergency numbers based on the country you are in, such as 911 or 999.
10:19 am: SOS contains a medical card with your name, date of birth, age, medical conditions, and other medical information.
10:19 am: watchOS 3 will have SOS emergency services. Press and hold side button to call 911. Works over cellular or Wi-Fi.


10:18 am: Scribble works in both English and Chinese. Automatically detects your keyboard's language.


10:16 am: watchOS 3 has new Reminders and Find My Friends stock apps.
10:15 am: Apple providing an on-stage demo for a new feature called Dock, which lets you quickly switch between apps on watchOS 3. Apps are live in Dock, so they do not need to be fully launched.


10:14 am: Switching between watch faces on watchOS 3 will be easier. Simply swipe to switch.
10:13 am: Other new watch faces include Activity and Numerals.


10:13 am: watchOS 3 has new color-matching Minnie Mouse watch faces.
10:13 am: watchOS 3 also has a new Scribble feature for writing out responses.



10:12 am: There are buttons for battery life, Airplane Mode, notifications, and more.
10:11 am: watchOS 3 also has Control Center. Swipe up from the bottom.


10:10 am: watchOS 3: keep favorite apps in memory, background updates, refreshed information, and instant launch.


10:09 am: iOS, OS X, tvOS, and watchOS. Will be interesting to see if "macOS" name change is still in the cards.
10:08 am: Cook says Apple is on stage to talk about 4 different platforms today. Mac, iPhone/iPad, Apple Watch, and Apple TV.


10:06 am: Apple is about to pass $50 billion paid to developers.
10:06 am: Cook says the App Store now has 2 million apps downloaded 130 billion times.


10:04 am: WWDC 2016 details: 27th annual conference, 13 million registered developers with 2 million added in the past year alone, over 5,000 attendees today from over 74 countries, and millions of customers watching Apple's live stream.


10:02 am:
Please rise and join us in a minute of silence to honor the victims and people who loved them.
10:01 am: Cook offers Apple's "deepest sympathies" to those affected by the Orlando attacks yesterday.
10:01 am: Tim Cook is on stage to start the WWDC 2016 keynote.
9:39 am: Photo by Shara Tibken


9:00 am: Apple is now letting the media and attendees inside with 1 hour remaining until the keynote.
8:59 am: Photo via Joanna Stern


8:36 am: There are huge lines outside the Bill Graham Civic Auditorium, and increased security outside the venue including metal detectors.