Apple Reveals 'Vision Pro' Headset and visionOS
Apple today revealed the "Vision Pro" headset, its first mixed-reality headset device, and visionOS, an all new operating system for the device.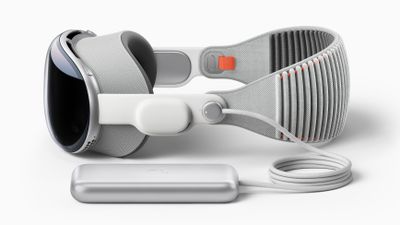 Apple describes the Vision Pro headset as "a revolutionary spatial computer that seamlessly blends digital content with the physical world." The device features an all-new operating system that features a three dimensional interface. Experiences in Vision Pro aren't constrained to the boundaries of a display, users can make apps any scale, and place apps wherever they wish. Users use a combination of their eyes, hands, and voice to control the device.
Apple's Vision Pro starts at $3,499 and it will be available early next year. It will be sold in Apple retail stores in the U.S. only at first.

Design
The entire front of the headset is made of polished glass that flows into a lightweight aluminum frame. The top of the headset features a button and a Digital Crown that lets a user control how present or immersed they are in an environment.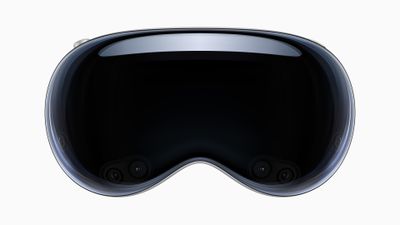 The headset has a modular system to achieve an optimal fit. Its battery is separate and links via a magnetic connection to the side of the headset.
A singular piece of three-dimensionally formed and laminated glass is polished to create an optical surface that acts as a lens for the wide array of cameras and sensors needed to blend the physical world with digital content. The glass flows into the custom aluminum alloy frame that gently curves around the user's face, while the modular system allows for a tailored fit to accommodate a wide range of people. The Light Seal is made of a soft textile, and comes in a range of shapes and sizes, flexing to conform to a user's face for a precise fit. Flexible straps ensure audio remains close to the user's ears, while a Head Band — available in multiple sizes — is three-dimensionally knitted as a single piece to provide cushioning, breathability, and stretch. The band is secured with a simple mechanism, making it easy to change to another size or style of band.
Those who wear glasses must use magnetic prescription ZEISS glass inserts with the Vision Pro headset.

Hardware
Vision Pro features an ultra-high-resolution display system with 23 million pixels across two micro-OLED displays – more than a 4K for TV for each eye.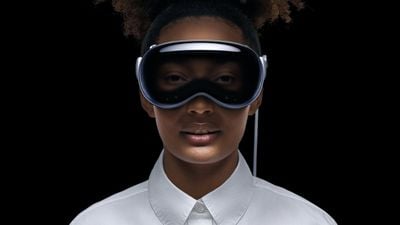 Vision Pro uses high-speed cameras and a ring of LEDs that project invisible light patterns onto the user's eyes to track gaze. The headset also contains the M2 chip paired with a new "R1" chip, dedicated toward real-time sensor processing.
These groundbreaking innovations are powered by Apple silicon in a unique dual-chip design. M2 delivers unparalleled standalone performance, while the brand-new R1 chip processes input from 12 cameras, five sensors, and six microphones to ensure that content feels like it is appearing right in front of the user's eyes, in real time. R1 streams new images to the displays within 12 milliseconds — 8x faster than the blink of an eye. Apple Vision Pro is designed for all-day use when plugged in, and up to two hours of use with its external, high-performance battery.
It also has a new Spatial Audio system with two individually amplified drivers inside each audio pod, which deliver Personalized Spatial Audio based on the user's own head and ear geometry. It can match the sound to an environment using audio ray-tracing. The headset is capable of running for up to two hours on a single charge.

Features
The headset is controlled by a user's eyes, hands, and voice. Users can browse through apps by simply looking at them, tapping their fingers to select, flicking their wrist to scroll, or using voice to dictate. It also supports Apple's Magic Keyboard and Magic Trackpad.


The headset features passthrough video of a wearer's eyes in a feature that Apple calls "EyeSight," displaying the user's eyes to surrounding people. It uses a lenticular OLED display to show the correct perspective to anyone viewing the wearer.
Vision Pro can transform a space into a personal movie theatre and watch immersive videos. With Environments, a user's world can grow beyond the dimensions of a physical room with dynamic landscapes that can help them focus. Vision Pro also allows users to connect to their Mac and expand its display in a virtual space, including alongside apps running on Vision Pro itself.
In FaceTime calls, everyone on the call is reflected in life-size tiles. Users wearing Vision Pro during a ‌FaceTime‌ call are shown as a Persona — a digital representation of themselves.
Optic ID uses a wearer's iris to authenticate users and unlock the Vision Pro headset. Vision Pro is also "Apple's first 3D camera," showing depth in video with Spatial Audio.

visionOS
‌visionOS‌ offers an infinite canvas for apps and a three-dimensional user interface. Apps react to lighting and cast shadows. Upon putting on the headset, a Home view floats in the world in front of you to feel "truly present" in your room.
‌visionOS‌ introduces an all-new platform for developers to create app experiences. iPhone and iPad apps can run in ‌visionOS‌ to provide a large number of apps upon the device's launch. It will feature a brand new App Store to discover apps built for ‌visionOS‌ as well as compatible ‌iPhone‌ and ‌iPad‌ apps.