Apple Announces watchOS 7 With Enhanced Face Customizations, Handwashing Detection, and More
Apple today previewed watchOS 7, announcing new features coming to the Apple Watch like enhanced customization tools, updated health and fitness features, handwashing detection, new workout types, and more.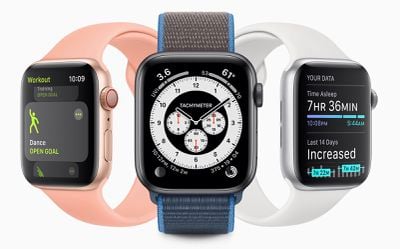 The first feature Apple talked about today was an update to Faces on Apple Watch. watchOS 7 lets users customize and personalize faces, and then share them via Messages or Mail. New faces can also be discovered through the App Store and links from websites and social media.
New faces include the Chonograph Pro with a tachymeter to calculate the speed based on time traveled over a fixed distance, the Photos face with color filters, and the bold X-Large face with a new option to add a rich complication.
Amid all these updates, developers can now offer more than one complication per app on a single watch face. Apple gave the example that the "Dawn Patrol" app can create a face that shows tide, wind speed, and water temperature for surfers.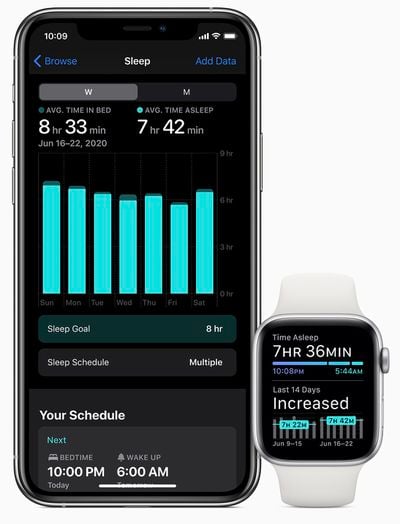 Another area focused on by Apple today was sleep tracking. Apple is focusing on this by allowing Apple Watch to detect micro-movements during sleep with the watch's accelerometer. This captures when the wearer is sleeping and how much sleep they get each night. In Sleep Mode, Apple Watch turns on Do Not Disturb and darkens the screen.
When it's time to wake up, Apple Watch offers a silent haptic alarm or gentle sounds. Apple will also warn users if the battery is too low within an hour of bedtime. This way, they can be sure to charge the Apple Watch before they go to sleep.
All of this data will be fed into the Health iOS app, showing your average time in bed, time asleep, schedule, sleep goals, and more stats over time. To support better sleep, Wind Down mode allows users to create customized routines before bed by connecting to the Home app to dim lights.


The next new feature is automatic handwashing detection, which encourages users to keep washing their hands for 20 seconds to prevent the spread of illness. Apple Watch uses motion sensors, microphone, and machine learning to automatically detect handwashing motions and sounds, starting a 20-second countdown with a custom animation.
For Workouts, users will now have access to four new workout types: Core Training, Dance, Functional Strength Training, and Cooldown. Apple has also redesigned the Activity app on iOS, which it's now calling Fitness, with a streamlined view of daily Activity, Workouts, Awards, Activity Trends, and more.


In terms of updates to the Noise app, watchOS 7 will now be able to warn users that loud music can have through their headphones. When they reach 100 percent of the safe weekly listening amount in a week, Apple will send a notification and turn down the volume.
Some more quick watchOS 7 updates include:
Cycling directions in Maps
Siri translation for many languages
SwiftUI graphic complications can be created by developers
New complications for native features like Camera Remote, Sleep, and Shortcuts
Mobility Metrics in Health app to track walking speed, step length, and more
watchOS 7 will be available this fall as a free software update for Apple Watch Series 3, Series 4, and Series 5.