Apple Deals
The best deals on Apple products and accessories.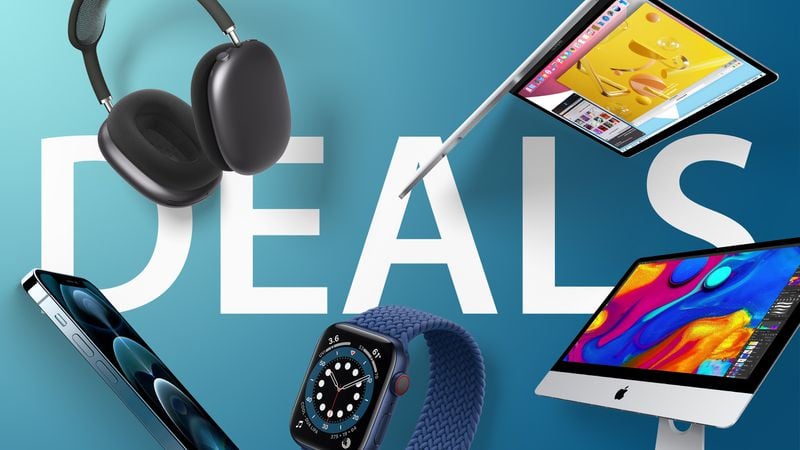 Deals Overview
Our Apple Deals roundup is designed to be a one-stop destination for finding a great deal on Apple products like Macs, iPads, and iPhones, or accessories related to Apple products. In the first section of the roundup, you'll find deals on accessories that range from iPhone cases and cables to docks, bags, software, and more.
Our weekly deals section is updated regularly, with new deals added as we discover them. We'll be adding and removing deals as they expire, so make sure to bookmark this page and check back often to find some of the best discounts available on Apple accessories. This section will also highlight significant Mac, iPhone, iPad, and Apple Watch deals, along with our weekly giveaways and app sales.
Below our deals section, you will find price comparison charts for all of Apple's Macs and iPads. This is a great tool to use when shopping for a new product because it will allow you to compare the prices from five of the biggest apple resellers: Best Buy, Amazon, MacMall, Adorama, and B&H Photo. It's a useful way to find the lowest price at a glance and keep an eye out for sales. Prices highlighted in green denote significant discounts. When you're looking for a new device, make sure to take a look at our price comparison chart so you make sure you're getting the best possible deal.
Come across an amazing deal you'd like to see added to the Buyer's Guide Deals Roundup? Send us an email so we can share the best discounts with all of our MacRumors readers.
Weekly Deals
Each week, we will highlight some of the best deals to be had on Apple-related accessories for Macs, iPhones, iPads, and Apple Watches that encompass cases, bags, docks, Apple Watch bands, hard drives, and more. Deals will be updated throughout the week, ensuring the discounts listed here are current.
This Week's Deals
We keep track of the best Apple-related deals and bargains in dedicated articles that you can find on our front page. Here, we've rounded up the highlights from the past week in Apple Deals.
Deals Guides
We offer a deep dive into deals for each of Apple's products in our dedicated Best Deals guides. With these, you can find the current best prices for the AirPods, iPad, iMac, MacBook, Apple TV, and HomePod.
MacBook Air

The MacBook Air is Apple's most affordable notebook, offering a solid compromise between cost, performance, and size. In June 2023, Apple updated the MacBook Air with a larger 15.3-inch Liquid Retina display that is powered by Apple's latest M2 processor under the hood.
The new notebook has a bigger 15.3-inch display (compared to the other M2 model that has a 13.6-inch display) with up to 500 nits of brightness, a fanless design, MagSafe charging, two Thunderbolt ports, and a headphone jack. With an M2 chip, the new MacBook Air is available with an 8-core GPU and a 10-core GPU. The notebook can be configured with up to 2TB of SSD storage, along with up to 24GB of unified memory.
In addition to the 13.6-inch M2 MacBook Air and 15.3-inch M2 MacBook Air, there's also the M1 MacBook Air, which has an M1 chip that includes an 8-core CPU, a 7- or 8-core GPU, and a 16-core Neural Engine. It comes with 8GB of unified memory standard (configurable up to 16GB), and can be configured with up to 2TB of SSD storage. To read more on the MacBook Air, check out our MacBook Air roundup.
MacBook Pro

The MacBook Pro is the most powerful notebook Apple sells, and Apple just updated it with the M3 chip family. In October 2023, Apple launched the 14-inch and 16-inch MacBook Pro models with the M3, M3 Pro, and M3 Max chips. Pricing on the 14-inch starts at $1,599 and the 16-inch starts at $2,499.
With these new updates, Apple has discontinued the 13-inch MacBook Pro with the Touch Bar, making the 14-inch M3 MacBook Pro the entry-level computer. With this discontinuation, Apple no longer sells any Touch Bar-enabled MacBook Pros.
For more information about the MacBook Pro, make sure to check out our MacBook Pro roundup.
iMac

Apple's iMac is an ultra-thin all-in-one desktop computer that was refreshed with the M3 chip in October 2023. The M3 iMac comes in a range of fun colors and features a 24-inch 4.5K Retina display and significant speed and efficiency improvements thanks to the M3 chip.
The new iMac supports up to 24GB of memory and is up to 2x faster than the M1 iMac. For more information about the iMac, make sure to check out our iMac roundup.
Mac mini


The Mac mini is Apple's most affordable and compact desktop computer, positioned as a "bring your own" machine that comes without a mouse, keyboard, or display. Apple in January 2023 introduced new Mac mini models based on an Apple M2 and M2 Pro chip, offering faster performance in the same design as the previous generation.
The Mac mini features a square design with a 1.4-inch thin 7.7-inch wide aluminum unibody enclosure. Pricing starts at $599 for M2 and at $1,299 for M2 Pro, and for more information about the Mac mini, make sure to check out our Mac mini roundup.
Mac Pro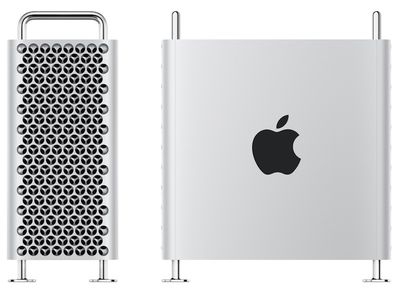 The Mac Pro is Apple's desktop machine for professionals. An all-new Mac Pro was announced in June 2023, marking the first update for the machine in four years.
The new Mac Pro has the all-new M2 Ultra chip, which features a 24-core CPU, up to a 76-core GPU, and support for up to 192GB of memory. In terms of design, it sports the overall same look as the previous Intel-based model, but it now comes with eight Thunderbolt 4 ports instead of four, two higher-bandwidth HDMI ports, seven PCIe expansion slots, dual 10 Gigabit Ethernet ports, and a headphone jack.
For more information about the Mac Pro, make sure to check out our Mac Pro roundup. The Mac Pro starts at $6,999 with prices rapidly escalating from there depending on upgrades, and there are a wide array of them, so make to check your retailers of choice to see pricing on custom configurations.
Mac Studio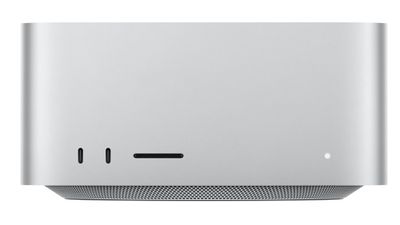 Apple in March 2022 announced the powerful new "Mac Studio" desktop computer, which is meant to be paired with the Studio Display external monitor. The Mac Studio is 3.7-inches tall and it looks similar to a larger Mac mini. In June 2023, Apple unveiled the second-generation Mac Studio with M2 Max and M2 Ultra chips.
The new Mac Studio has the same overall design as the original device, but it includes a higher-bandwidth HDMI port that supports up to an 8K display at 240Hz. It also includes four Thunderbolt 4 ports, a 10 Gigabit Ethernet port, HDMI port, and two USB-A ports on the back. The front sports two USB-C ports and SD card slot.
Paired with the 27-inch Studio Display, Apple's new setup is now replacing the 27-inch iMac as the company's high-end desktop computer solution. The Studio Display has a slim all-aluminum enclosure, 5K resolution, up to 600 nits of brightness, support for the P3 wide color gamut and over one billion colors, a built-in stand that allows the user to tilt the display up to 30 degrees, an A13 Bionic chip that powers advanced camera and audio features, and more.
The Mac Studio is priced starting at $1,999 for the model with M2 Max and at $3,999 for the model with M2 Ultra.
Apple Watch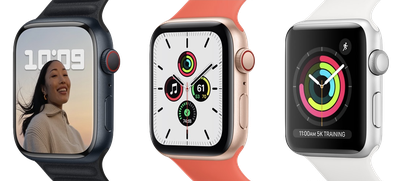 The Apple Watch is Apple's popular wristworn device, currently available in three different models. The Apple Watch Series 9 is the current flagship device, featuring 41mm and 45mm casing size options with larger displays that curve around the edges, significantly improved performance thanks to the S9 Apple silicon chip, a "Double Tap" hand gesture for interacting with the device without touch, and Apple's full set of health sensors including heart rate, ECG, and blood oxygen.
Apple also sells the second-generation Apple Watch SE, a lower-cost option with slightly smaller displays without always-on capabilities and which lacks ECG and blood oxygen sensors. The new model also features an S8 chip, Crash Detection, and new color options.
Lastly, the new Apple Watch Ultra 2 is the high-end Apple Watch model. This model is a feature-rich smartwatch for athletes and explorers, coming with all of the features of the original Ultra, plus a faster new S9 SiP chip, a new double tap gesture, Apple's brightest display ever, expanded altitude range, quicker on-device Siri, Precision Finding for iPhone, and new capabilities for water adventures.
Apple TV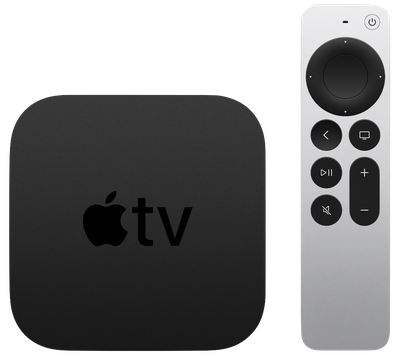 The Apple TV is Apple's set-top box, designed to bring the Apple ecosystem to the television. The fifth-generation Apple TV, the Apple TV 4K, was originally released in October of 2017 and was updated in October 2022 with an A15 Bionic chip, HDR10+ support, and the new Siri Remote.
The 2022 Apple TV 4K family has new storage tiers as well. The base model comes with 64GB of storage now with Wi-Fi for $129. There's also a model with an ethernet port, support for Thread networking, and double the storage. To read more about the Apple TV, make sure to check out our Apple TV roundup.
Apple also sells an earlier fourth-generation Apple TV HD for $149 with all of the same features but no support for 4K or HDR. It was repackaged with the redesigned Siri Remote in April 2021.
iPad Pro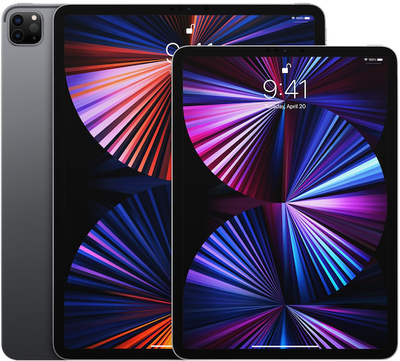 Apple's iPad Pro lineup features two tablets, one with a 12.9-inch screen size and one with an 11-inch screen size, both of which were updated in October 2022.
Apple's iPad Pro models feature edge-to-edge Retina displays with ProMotion technology and no Home button, instead using Face ID, enabled through a TrueDepth camera system. Users with the second generation Apple Pencil can use the new hovering feature, which detects the stylus before it touches the display.
With the M2 chip, the new iPad Pro has up to 15% faster CPU performance and up to 35% faster GPU performance compared to the previous iPad Pro with the M1 chip. Otherwise, the new iPad Pro models have the same size and weight, display brightness and resolution, and battery life as the previous models. There remains a Thunderbolt port, four speakers, Face ID, and a rear Smart Connector on both models.
For more information about the iPad Pro, make sure to check out our iPad Pro roundup.
iPad Air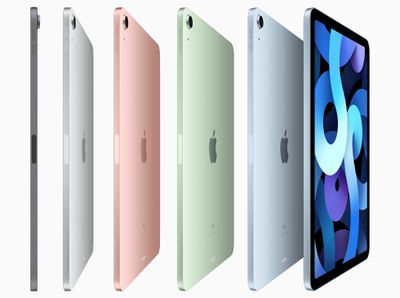 Apple introduced a completely redesigned iPad Air in March 2022, but we'll also be tracking deals on the 2020 model for the time being.
The new iPad Air is Apple's mid-tier tablet with a 10.9-inch Liquid Retina display and the M1 chip. It's less expensive than the iPad Pro but offers many of the same features, while it's substantially more expensive than the $329 entry-level iPad.
It features Apple's Ultra Wide front camera with Center Stage for a more natural video conferencing experience, a USB-C port with up to 2x faster transfer speeds, Touch ID built into the top button, and 5G on the cellular models. It works with the second-generation Apple Pencil and supports the Magic Keyboard. For more info on the iPad Air, make sure to check out our iPad Air roundup.
As with other products, the best deals will now be found on the previous generation product, so keep an eye on the 2020 iPad Air models if you want to save some money. Introduced in 2020, the fourth-generation iPad Air offers an A14 Bionic chip, Touch ID support, and a 10.9-inch Liquid Retina display.
iPad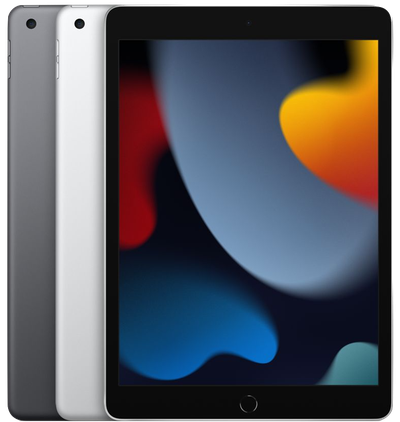 Apple in October 2022 updated the iPad with an A14 Bionic chip with up to 20 percent faster performance, and a new design that falls in line with the iPad Pro and iPad Air lineups.
It comes with flat sides and a larger, 10.9-inch Liquid Retina display like the iPad Air, and it features a Touch ID side button. Color options include Blue, Pink, Silver, and Yellow.
In terms of cameras it has an Ultra Wide 12MP front-facing camera and an updated rear-facing 12MP camera. It also supports 4K video recording and has a USB-C port. For more information on the iPad, make sure to check out our iPad roundup.
Standard pricing for the iPad starts at $449, but we've yet to see any discounts on it since it's brand-new. Until we see steep discounts on the newest tablet, we'll continue to track deals on the previous generation from 2020.
iPad Mini 6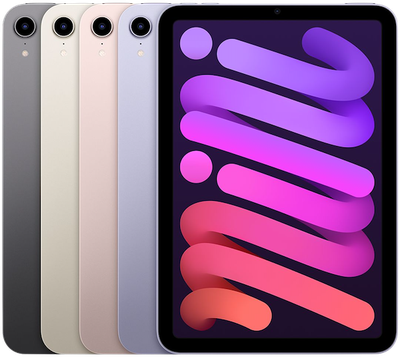 At 8.3 inches, the iPad mini 6 is Apple's smallest tablet. The new iPad mini sports the same full-screen design as the iPad Pro and iPad Air, with no Home button and Touch ID support in the Power Button. It features a new Ultra Wide front camera with a 12-megapixel sensor, and a back camera with a 12-megapixel sensor.
It includes the A15 Bionic chip, making it up to 40 percent faster in CPU performance compared to the previous generation, and supports the Apple Pencil. One of the biggest new features is the addition of a USB-C port, making the iPad mini compatible with USB-C accessories for the first time. To read more about the iPad mini 6, check out our iPad mini roundup.
Apple's pricing for the iPad mini starts at $499, and discounts will likely be rare until the new model has had a bit more time on the market.
AirPods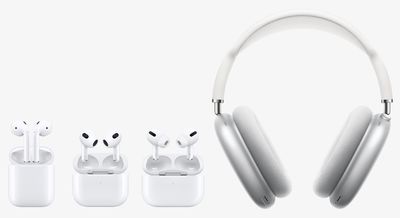 The AirPods are Apple's totally wire-free earbuds that are meant to compensate for the lack of a headphone jack on modern iPhones. Available for $179 with MagSafe Case and $169 with Lightning Case, the AirPods 3 feature a compact stem, redesigned contoured fit, Adaptive EQ, sweat resistance, spatial audio support, and more. AirPods work like magic, starting and stopping when placed into or removed from the ears, and switching between Apple devices with ease.
In addition to the AirPods 3, Apple will continue selling the AirPods 2 with Wired Charging Case for $129. However, the company has stopped selling the AirPods 2 with Wireless Charging Case, in favor of the AirPods 3.
In fall 2022, Apple introduced AirPods Pro 2 for $249, with upgraded H2 chip that provides up to twice as much active noise cancellation. The new AirPods Pro look similar to the original. A new Touch Control feature on the stem allows users to adjust the volume with a swipe up or down, while the silicone ear tips are now available in a new XS size alongside small, medium, and large. As of fall 2023, Apple now sells the AirPods Pro 2 with a USB-C case option.
Lastly, in late 2020 Apple debuted the AirPods Max for $549. As the most expensive pair of AirPods, the AirPods Max feature an over-ear design with active noise cancellation, spatial audio, and adaptive EQ. The AirPods Max come in five colors: Sky Blue, Green, Pink, Space Gray, and Silver.
AirPods, AirPods Pro, and AirPods Max can sometimes be hard to find, but several third-party retailers offer the Apple-designed earbuds. To read more on the AirPods family, make sure to check out our AirPods, AirPods Pro, and AirPods Max roundups.
HomePod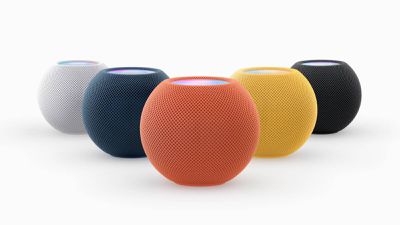 HomePod, released in February of 2018, was Apple's original smart speaker, designed to compete with popular offerings like the Google Home and Amazon Echo. Apple discontinued the original HomePod in early 2021, but in January 2023 it brought back the full-sized model at a $299 price tag.
Apple also sells the HomePod mini, which offers a scaled-down smart speaker experience priced at just $99. The HomePod mini is based on the S5 chip from the Apple Watch Series 5 and offers 360-degree sound in a roughly spherical shape that's just 3.3 inches tall. As of October 2021, the HomePod mini now comes in five colors: White, Space Gray, Blue, Orange, and Yellow. For more details, check out our HomePod mini roundup.
MagSafe and AirTag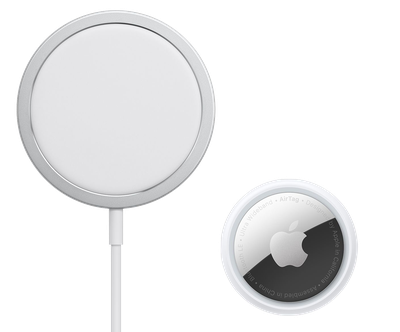 iPhone accessories are popular gifts, and Apple currently offers a trio of magnetic charging options for the iPhone 12 and 13 lineups under its MagSafe branding. The standard MagSafe Charger is a wireless charging pad with an integrated USB-C cable that uses magnets to optimally align the charger with the iPhone, while the MagSafe Duo is a combination MagSafe phone charger and an Apple Watch charger that folds up easy storage and travel. The MagSafe Battery Pack offers some extra charge for your iPhone while on the go.
AirTag is another iPhone-related accessory introduced in April 2021. AirTags, available in one-packs and four-packs, are small trackers that can be inserted into or attached to easily misplaced items like keys and bags and then tracked using the Find My app on an iOS device or Mac.
Apple Deals Timeline