Apple Refreshes 21.5-Inch and 27-Inch iMacs With Brighter Displays, Kaby Lake Processors, and Faster Storage
Apple has announced a few new iMac models at WWDC today, which the company said include the best Mac displays ever with 500 nits of brightness and support for 1 billion colors, resulting in displays that are 43% brighter than previous models.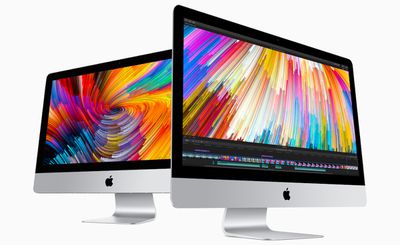 The new iMacs have up to three times more powerful graphics abilities in comparison to previous generations, faster processors, Thunderbolt 3, and faster storage options. Apple said that the updates, along with refreshes of the MacBook, represent a lineup of Mac devices that are "stronger than ever."

"With major updates to iMac, and a refresh of our MacBook and MacBook Pro lines, the Mac is stronger than ever," said John Ternus, Apple's vice president of Hardware Engineering. "Today iMac gets a huge graphics performance increase, faster CPU performance, Thunderbolt 3 and a brighter Retina display with support for 1 billion colors. We're also increasing CPU and SSD speed on MacBook, adding faster processors and making faster graphics standard on our 15-inch MacBook Pro and introducing a new $1,299 (US) 13-inch MacBook Pro."
With the refresh, a Retina 4K display is also coming to the 21.5-inch iMac. Both the 21.5-inch and 27-inch iMacs feature faster Kaby Lake processors up to 4.2 GHz, with Turbo Boost speeds up to 4.5 GHz. The computers support twice the memory as the previous generation, and Fusion Drive will now be standard on all 27-inch iMac configurations, as well as on the top-end 21.5-inch iMac.
SSD storage will become 50 percent faster on the refreshed iMacs, and graphics on the computers are more powerful thanks to new Radeon Pro 500-series cards with up to 8GB of vRAM. In terms of faster performance, the 21.5-inch model delivers up to three times faster speeds in comparison to the previous iMacs, while the 27-inch model is up to 50 percent faster.
The models start at $1,099 for the 21.5-inch iMac, $1,299 for the 4K 21.5-inch iMac, and $1,799 for the 5K 27-inch iMac. Users can find more information on tech specs and pricing for each tier of the 21.5-inch model and 27-inch model on Apple's website, and both are available to purchase today.