Apple's iOS 12 update will greatly "reduce interruptions" and help users manage their digital device use, which has been an increasingly focused topic of conversation in recent months. For its implementation, Apple at WWDC announced a new section of the Settings app called "Screen Time" that breaks down how much time you spend on your iPhone or iPad each day and week. Screen Time is found under Do Not Disturb in Settings.
Data includes how much time is spent in each app, app usage across categories like Games and Social Networking, and more. The app will also show the "Most Used" apps and the time spent in each, and you'll be able to set App Limits so that your iPhone can warn you when you've been using Instagram or YouTube too much.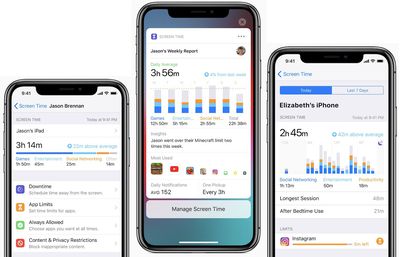 At night, there will be a Do Not Disturb during Bedtime mode aimed at helping you get a better night's sleep. The feature does this by dimming the iOS device's display and hiding all notifications until prompted in the morning, with the time and date the only thing appearing during that period.
Notifications can be edited right when they appear, so you can turn them off with a button or choose to "Deliver Quietly" so they bypass your lock screen and go directly to Notification Center. Over time, Siri will make suggestions for notifications settings based on previous actions and settings you choose.


Parents will also have detailed controls with a feature called "Downtime," which they can set as a block of time to limit their child's iOS device use. During Downtime, notifications aren't displayed and a badge appears on apps to indicate they are not allowed to be used, but parents can choose to allow access to important apps like the Phone.
Screen Time, new notifications, Do Not Disturb during Bedtime, and all of the new digital health features will arrive in iOS 12 this fall.