Apple Debuts New tvOS Features Including 'Single Sign-On', Enhanced Siri and More
Today at WWDC, Apple announced an updated version of tvOS that includes new functionality and features for Siri, single sign-on and more. Apple also announced that a few new apps will be arriving on tvOS, including Sling, Fox Sports Go, Molotov TV, and a handful of game-based apps like Minecraft Story Mode and Sketch Party.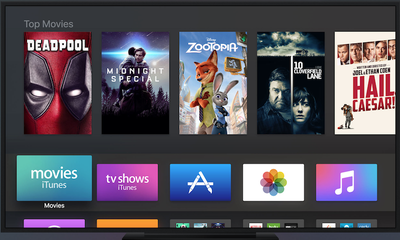 Siri has gained a handful of new abilities, including the ability to search for movies by topic. For instance, a user can now ask Siri to find the latest superhero movies or documentaries about cars. Siri can even partner themes with other pieces of context, like searching for high school comedies from the 80s. Siri will also be able to search through YouTube later this month.
Siri can also be directed to tune-in to live channels within apps now. For example, if a user asks Siri to "Watch CBS News" or "Watch ESPN," Siri will instantly open the live feed within the app, rather than transporting the user to the app's home screen. Finally, Siri can also manage a user's HomeKit devices via Apple TV.
Fourth-generation Apple TV users will no longer need to individually sign into each of their Pay-TV apps with the new tvOS update. tvOS now supports single sign-on, so when users sign into Apple's new feature, they'll never have to go through the process again. Once a user enters their credentials in one app, tvOS will automatically authenticate every other app that requires authentication. Additionally, when a user is entering their credentials for the first time they'll be presented with a page featuring all the authenticated apps their pay-TV provider offers support for, allowing users to easily discover what other content they can watch.
Single Sign-On is available for any network-TV app, though it must be enabled by the developer. The feature will also be available for iOS 10, which the Cupertino company also announced and detailed at today's WWDC keynote. Apple also debuted a new dark mode for Apple TV, making it easier for users with darker rooms.
The new Apple TV and tvOS are compatible with the revamped Remote app, which mirrors the abilities of the Apple TV's Siri Remote on an iPhone. The app, like previous Remote apps, allows users to control their content, but it also allows users to use Siri to control the Apple TV. Users can also use the app to play games on Apple TV and enter text via the iOS keyboard.
Apple also announced a couple new tvOS APIs for developers, including support for PhotoKit and HomeKit. One of those APIs is ReplayKit, which allows developers to record live broadcasts from their apps. Apple TV apps can also badge their icons on the home screen, notifying users to potential changes within the app. The Apple TV can also support up to four game controllers as well.
Many of the new features coming to iOS and macOS have also come to tvOS. The newly redesigned Apple Music, with a simplified and more colorful design, is also available on Apple TV. The revamped Apple Music is easier-to-navigate and read, with bigger fonts and more emphasis on album art. It also includes a new "For You" tabled that has better-curated content. Finally, the new Apple Music also gained support for lyrics. Photos for Apple TV now has gained the new Memories feature debuted with iOS 10, allowing users to easily rediscover moments from their past. Universal apps will also automatically download when downloaded to an iOS device, and when a keyboard appears on the Apple TV, it'll also appear on an iOS device signed in with the same iCloud account.