iPad
Apple's entry-level 10.2-inch iPad with Apple Pencil and Smart Keyboard support, priced starting at $329 for consumers and $299 for education.
By MacRumors Staff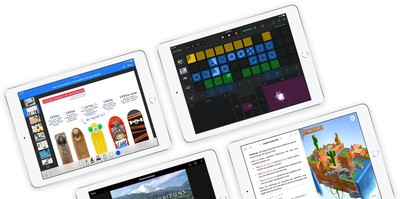 Apple's 2019 Seventh-Generation iPad
Apple's seventh-generation iPad, introduced in September 2019, is an iterative update to the sixth-generation low-cost iPad, but with a new 10.2-inch display size and support for new accessories.
The seventh-generation iPad continues to be positioned as an affordable, entry-level tablet for educational institutions and those on a budget, with prices that start at $329 or $299 for Apple's EDU customers.
Compared to the sixth-generation iPad, the major difference in the seventh-generation model is the larger 10.2-inch display, which offers more viewing area than the previous 9.7-inch display.
The 10.2-inch display has a resolution of 2160 x 1620 with 264 pixels per inch and it offers nearly 3.5 million pixels along with 500 nits brightness.
Aside from the larger display, the seventh-generation iPad looks the same as earlier models with an aluminum body that's thicker and smaller than the iPad Air and iPad Pro models and wider bezels.
Apple Pencil support continues to be included, and with the seventh-generation model, Apple has added a Smart Connector so it works with a new Smart Keyboard for the 10.2-inch iPad.
There's an A10 Fusion chip inside, which is the same chip that was in the sixth-generation iPad. The A10 chip was first used in the iPhone 7 and 7 Plus and is an older chip, but it is still plenty powerful.

Other iPad features include an 8-megapixel camera with 1080p video recording, Gigabit-class LTE (for cellular models), a 1.2-megapixel FaceTime camera, 10 hours of battery life, Touch ID, Apple Pay support, and 802.11ac WiFi.

Available in Silver, Space Gray, and Gold, the iPad starts at $329 for 32GB of storage and is available for purchase from the Apple online store and Apple retail stores. The Apple Pencil is available separately for $99, as is the Smart Keyboard, priced at $159.
Design
The 2019 iPad is identical to the 2018 iPad with the exception of the size. It's now larger to accommodate a bigger 10.2-inch display, which is surrounded by slim size bezels and thicker top/bottom bezels.

The iPad's bezels are thicker than the bezels of the iPad Air and the iPad Pro, Apple's two more expensive iPad options. It features an aluminum case available in silver, space gray, or gold.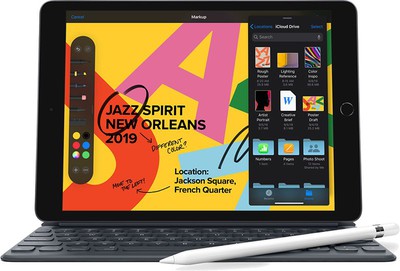 There's a front-facing FaceTime HD camera at the top of the tablet, along with a Touch ID fingerprint sensor at the bottom. At the back, there's a rear-facing camera, and at the bottom, there are speakers and a Lightning port for charging.

The 2019 iPad measures in at 9.8 inches long, 6.8 inches wide, and 7.5mm thick, weighing in at 1.07 pounds. It's just a bit wider and longer than the prior version, and the thickness has remained the same.
Unlike iPad Pro models, the iPad offers just two speakers instead of a four-speaker audio system. New this year is a Smart Connector at the side that allows it to work with accessories like the Smart Keyboard.
Display
Apple's 2018 iPad features a 10.2-inch Retina display with a resolution of 2160 by 1620 with 264 pixels per inch, with 500 nits brightness.
The display is similar to the display of the sixth-generation iPad, and it is equipped with a touch sensor that allows it to work with the Apple Pencil.

Though the display works with the Apple Pencil much like the iPad Pro, iPad Air, and iPad mini, it is lacking several features that are available in Apple's more expensive tablets.
It does not include the laminated design, antireflective coating, wide color support, ProMotion technology, or True Tone capabilities.
Apple Pencil
As with the sixth-generation iPad, the seventh-generation iPad is compatible with the original Apple Pencil. Apple's entire iPad lineup, from the low-cost iPad to the iPad Pro, supports the Apple Penci.
The Apple Pencil is a stylus that's designed to offer unparalleled precision and integration with the iPad while also offering a natural feel that's similar to the sensation of using a pen or pencil on paper.


There are pressure and positioning sensors built into the Apple Pencil to allow it to detect a range of forces for pressure-sensitive drawing and writing. Two tilt sensors in the tip of the Apple Pencil determine the orientation and angle of the hand holding it, enabling shading techniques.

The Apple Pencil offers a 12-hour battery life and it charges through the built-in Lightning connector at the bottom of the device. A 15-second charge delivers a half hour of power, so it's always going to have juice when needed. No changes have been made to the original Apple Pencil, and it is still priced at $99.
For more on the Apple Pencil, make sure to check out our full Apple Pencil guide.
A10 Fusion Processor
The seventh-generation iPad continues to use an A10 Fusion processor, which is the same processor that was first introduced in the iPhone 7 and the iPhone 7 Plus. It's older technology at this point, but is still fast enough for every-day tasks.
The A10 Fusion is a 64-bit four-core CPU with two high-performance cores and two high-efficiency cores that run at 1/5th of the speed of the high-performance cores to preserve battery when doing non system-intensive tasks.
There's also a six-core graphics chip that's both more powerful and more energy efficient than previous models.
RAM
Apple does not divulge the amount of RAM in its products, but the seventh-generation iPad includes 3GB RAM, up from 2GB in the sixth-generation iPad.
Battery Life
The seventh-generation iPad offers 10 hours of battery life, which Apple says is "all-day" battery. That's the same battery life that Apple has aimed for in its last several iPad iterations, and the size of the battery in the iPad hasn't changed.
Cellular models last for up to nine hours when using an LTE connection. Charging the iPad is done through the Lightning port at the bottom of the device.
Cameras
The iPad has an 8-megapixel rear camera with an f/2.4 aperture, the same camera that was available in the fifth-generation iPad.
It supports Live Photos, auto HDR, 43-megapixel panoramas, Burst mode, and Timer mode, but it is not as advanced as the iPad Pro camera. There is also no rear flash.

The iPad's camera is able to capture 1080p HD video at 30 frames per second and 720p Slo-mo video at 120 frames per second. Compared to the iPad Pro, it lacks 4K video recording, improved video stabilization, and continuous autofocus.
As for the front-facing FaceTime camera, it is 1.2 megapixels and supports 720p HD video recording.
Trackpad and Mouse Support
iPadOS 13.4 brings trackpad and mouse support to all iPad Pro models, the iPad Air 2 and later, the fifth-generation iPad and later, and the iPad mini 4 and later.
According to Apple, trackpad support has been "completely reimagined for the iPad" and its touch-first interface, though it should still be familiar to Mac users. The cursor displays as a circle that highlights various user interface elements, text fields, and apps on the Home screen or dock, making it clear what can be clicked on.

Gestures on the trackpad are designed to let users switch between apps, access the app switcher, and activate the Dock, Control Center, and apps in Slide Over. Multi-touch gestures on the trackpad allow for quick and easy navigation through iPadOS.
Apple designed trackpad support to integrate into both first and third-party apps. Scrolling through web pages in Safari and photo libraries in Photos is supported, for example, as is precisely editing text in notes and other apps, viewing and organizing email in Mail, and more.

Most third-party apps work with a mouse or trackpad with no changes at all, and developers can take advantage of new APIs for deeper trackpad support.
Compatible Mice and Trackpads
Trackpad and mouse support allows any of the above listed iPads running iPadOS 13.4 to connect to a Magic Mouse, Magic Mouse 2, Magic Trackpad, Magic Trackpad 2, or third-party mouse using Bluetooth or USB.
When connected to a Magic Trackpad 2, iPads support gestures that include scrolling, swiping between app spaces, accessing the Home screen, accessing the App Switcher, zooming in and out, tapping to click, right clicking, and swiping between pages.
When connected to a Magic Mouse 2, iPads support scrolling, right clicking, and swiping between pages.
Apple has designed a Magic Keyboard accessory, which is a Smart Keyboard for iPad with a trackpad, but this is limited to the 2018 and 2020 iPad Pro models.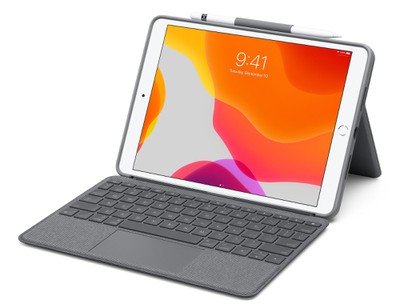 Logitech, a company that makes accessories for Apple devices, has developed keyboard cases with a built-in trackpads for the 10.2-inch iPad and the 10.5-inch iPad Air, which lets these models to access the trackpad features built into iPadOS 13.4.
Other Features
Touch ID
The seventh-generation iPad features a Touch ID fingerprint sensor on the front of the device, which is used to unlock the device, access apps, and make purchases with Apple Pay.
NFC
An NFC controller with a Secure Element is built into the iPad, so it can be used to make Apple Pay payments on the web and within apps using the included Touch ID Home button.
Wi-Fi and Bluetooth
The iPad supports 802.11ac Wi-Fi with speeds up to 866 Mb/s and Bluetooth 4.2.
LTE
The WiFi + Cellular version of the iPad offers Gigabit-class LTE and it includes the Apple SIM for connecting to cellular data networks in more than 100 countries.
Sensors
The iPad includes a three-axis gyro, an accelerometer, an ambient light sensor, and a barometer.
How to Buy
The 10.2-inch iPad, available in Silver, Space Gray, and Gold, can be purchased from the online Apple Store and Apple retail stores. The 32GB storage option is priced at $329, with 128GB of storage available for $429.
A Wi-Fi + Cellular option is also available, with 32GB of storage priced at $459 and 128GB of storage priced at $559.
The Apple Pencil that works with the 10.2-inch iPad is available for purchase from the online store or Apple retail stores for $99. The Smart Keyboard can be purchased for $149.
What's Next for the iPad
Apple analyst Ming-Chi Kuo believes Apple is working on a new 10.8-inch iPad that's set to be released in the second half of 2020. It's unclear if Apple plans to introduce a larger iPad or if the increase in size will be implemented through a bezel reduction, and other rumors have suggested that this updated iPad could actually be an iPad Air, so we're waiting to see what Apple has in store for the low-cost iPad in the future.
Kuo also believes that a future low-cost iPad could feature a mini-LED display. Mini-LED technology will allow for thinner and lighter product designs while also offering good wide color gamut performance, high contrast and HDR, and local dimming, which dims the backlight behind black areas of the screen while keeping bright parts lit. It's not clear when the mini-LED refresh will be coming.
According to a leaker that has provided accurate information about Apple's plans in the past, Apple's next-generation low-cost iPad will feature an A12 chip inside, an upgrade from the A10 Fusion chip in the seventh-generation model.