iPad
Apple's entry-level 10.2-inch iPad with Apple Pencil and Smart Keyboard support, priced starting at $329 for consumers and $299 for education.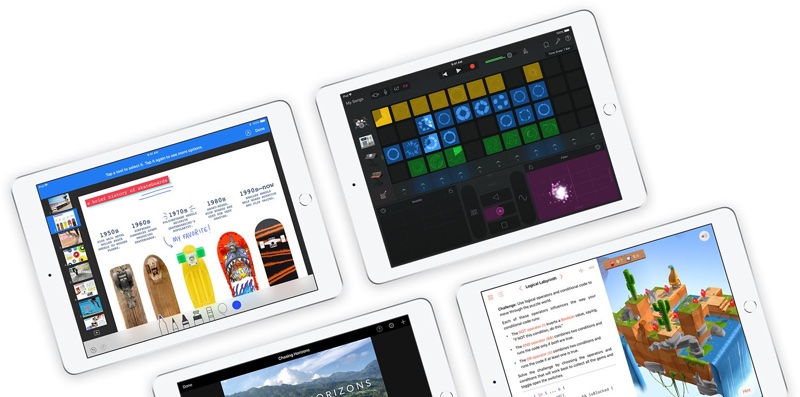 At A Glance
The "iPad" is Apple's low-priced mainstream iPad, last updated in September 2019 with a larger 10.2-inch display and Smart Keyboard support
Current Features
A10 Fusion processor
10.2-inch display
$329 price tag ($299 for schools)
32 and 128GB capacities
Apple Pencil support
Smart Connector for Smart Keyboard support
8-megapixel rear camera
Touch ID
Apple's 2019 Seventh-Generation iPad
Apple's seventh-generation iPad, introduced in September 2019, is an iterative update to the sixth-generation low-cost iPad, but with a new display size and support for new accessories.
The iPad is positioned as an affordable entry-level tablet for educational institutions and those on a budget, with prices that start at $329 or $299 for EDU customers.

Compared to the sixth-generation iPad, the major difference in the seventh-generation model is the larger 10.2-inch display, which offers more viewing area than the previous 9.7-inch display.
The 10.2-inch display has a resolution of 2160 x 1620 with 264 pixels per inch and it offers nearly 3.5 million pixels along with 500 nits brightness.

Aside from the larger display, the seventh-generation iPad looks the same as earlier models with an aluminum body that's thicker and smaller than the iPad Air and iPad Pro models and wider bezels.

Apple Pencil support continues to be included, and with the seventh-generation model, Apple has added a Smart Connector so it works with a new Smart Keyboard for the 10.2-inch iPad.

There's an A10 Fusion chip inside, which is the same chip that was in the sixth-generation iPad. The A10 chip was first used in the iPhone 7 and 7 Plus and is an older chip, but it is still plenty powerful.

Other iPad features include an 8-megapixel camera with 1080p video recording, Gigabit-class LTE (for cellular models), a 1.2-megapixel FaceTime camera, 10 hours of battery life, Touch ID, Apple Pay support, and 802.11ac WiFi.

Available in Silver, Space Gray, and Gold, the iPad starts at $329 for 32GB of storage and is available for purchase from the Apple online store and Apple retail stores. The Apple Pencil is available separately for $99, as is the Smart Keyboard, priced at $159.
Best Prices