iPad (2017)
Apple's new entry-level 9.7-inch iPad, priced at $329.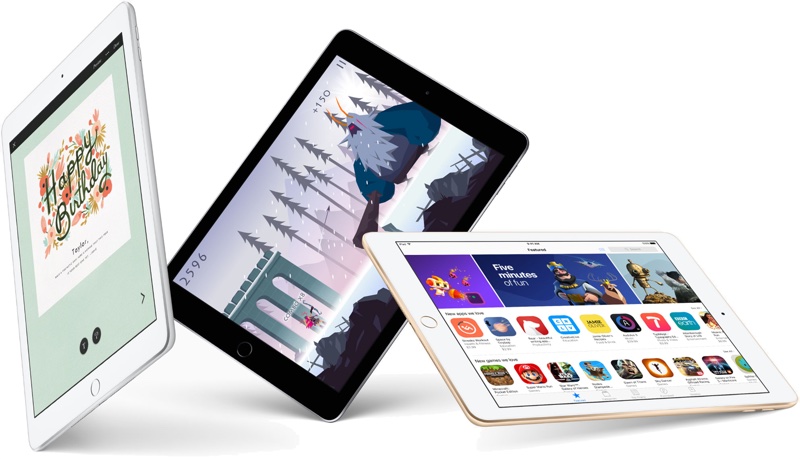 At A Glance
The "iPad" is Apple's low-priced 9.7-inch iPad, introduced in March of 2017. It's thicker, heavier, and has fewer features than iPad Pro models, but it is also Apple's most affordable tablet. It comes with an A9 processor and internal specs similar to the iPad Air 2.
Features
A9 processor
$329 price tag
32 and 128GB capacities
8-megapixel rear camera
Touch ID
Brighter display
The New "iPad"
The mononymous "iPad," introduced in March of 2017, is Apple's new low-cost 9.7-inch tablet, designed to replace the iPad Air 2 as an affordable alternative to the new 10.5-inch iPad Pro and its larger sibling, the 12.9-inch iPad Pro.
Positioned as Apple's fifth-generation iPad, as it is referred to in documentation, the new tablet is priced aggressively at $329 for Wi-Fi only connectivity and 32GB of storage space. It's far more affordable than the $649 64GB Wi-Fi only iPad Pro and it's even priced lower than the smaller iPad mini 4.
Compared to its logical predecessor, the iPad Air 2, the iPad includes a brighter 9.7-inch display, a faster A9 processor, but it's also thicker at 7.5mm. Aside from those differences, it uses much of the same hardware that was first introduced in the original iPad Air, and internally, it looks a lot like an original iPad Air.
Aside from an improved processor and brighter display, the iPad includes an 8-megapixel rear camera, a 1.2-megapixel FaceTime camera, 10 hours of battery life, Touch ID, Apple Pay support, and 802.11 ac Wi-Fi.

Compared to the more expensive 10.5-inch iPad Pro, it lacks Apple Pencil support, the Smart Connector that works with the Smart Keyboard, quad speakers, a laminated display with wide color and True Tone, and the improved front and rear cameras.
In a nutshell, the iPad is a solid improvement over the iPad Air 2 and the iPad mini 4, but it doesn't measure up to the iPad Pro. For those looking for a tablet at an affordable price or those who don't need accessory support and the additional features available in the iPad Pro, the new iPad is a steal at $329.
Design
The iPad most closely resembles the now-discontinued 9.7-inch iPad Pro, with similar dimensions and weight. It features a 9.7-inch display surrounded by slim side bezels and thicker top/bottom bezels, with an aluminum case. With the introduction of the 10.5-inch iPad Pro, which replaces the 9.7-inch iPad Pro, the 2017 iPad is the only 9.7-inch model Apple offers.
Available in Silver, Gold, and Space Gray, the iPad measures in at 9.4 inches by 6.6 inches, and it is 7.5mm thick, a good deal more sizable than the 6.1mm 9.7-inch iPad Pro and the previous iPad Air 2, which also measured in at 6.1mm.

It weighs in at just over a pound (1.03lbs - Wi-Fi model) and is slightly heavier than the iPad Pro, which weighs just under a pound (0.96 lbs - Wi-Fi model).
Unlike iPad Pro models, the iPad continues to offer just two speakers instead of the four speaker audio system available on the Pro model. There is no Smart Connector on the back, so it is not compatible with the Smart Keyboard or other similar accessories.
Display
The 9.7-inch display of the iPad features a Retina resolution of 2048 by 1536 with 264 pixels per inch.
While the display includes a fingerprint-resistant oleophobic coating, it does not feature the laminated design, antireflective coating, wide color support, or True Tone capabilities built into the more expensive model. Apple says the new iPad's display is, however, brighter than the display of the iPad Air 2, making it easier to view in bright lighting conditions.
The display is not compatible with the Apple Pencil accessory that works with both the 12.9 and 10.5-inch iPad Pro models.
A9 Processor
A triple-core A9 processor, the chip first introduced in the iPhone 6s and 6s Plus, is included in the iPad.
It isn't as fast as the A9X built into the iPad Pro models, especially when it comes to graphics performance, but it is 1.6x faster than the A8 at CPU tasks and 1.8x faster at graphics tasks. It outperforms the A8X chip that was included in the iPad Air 2 and includes an embedded M9 motion coprocessor.
RAM
Apple does not divulge the amount of RAM in its devices, but based on teardowns, the 2017 iPad includes 2GB RAM.
Battery
The iPad, like all of Apple's iPad lineup, advertises all day battery life. It lasts for up to 10 hours when surfing the web on Wi-Fi, watching video, or listening to music.
When surfing the web using a cellular connection, it lasts for up to nine hours.
Camera
The iPad features an 8-megapixel rear camera with an f/2.4 aperture, the same camera that was available in the iPad Air 2. It does not support Live Photos nor does it have the improved autofocusing features introduced in the iPad Pro models.
It does support panoramas up to 43 megapixels, burst mode, timer mode, and auto HDR.

The iPad's camera is able to capture 1080p HD video at 30 frames per second and 720p Slo-mo video at 120 frames per second. Compared to the iPad Pro, it lacks 4K video recording, improved video stabilization, and continuous autofocus.
As for the front-facing FaceTime camera, it is 1.2-megapixels and supports 720p HD video recording.
Other Features
Touch ID
Touch ID fingerprint recognition is built into the iPad's Home button, allowing a finger to be used to unlock the device, access apps, and more.

NFC
An NFC controller is included, so the iPad can be used to make Apple Pay payments on the web and within apps using the included Touch ID Home button.
Wi-Fi
The iPad supports 802.11ac Wi-Fi with MIMO, which is twice as fast as 802.11n. Apple advertises speeds of up to 866MB/s with the new Broadcom Wi-Fi chip included in the device.
Bluetooth
The iPad includes support for Bluetooth 4.2.
LTE
A previous-generation LTE modem is included in the iPad rather than the LTE Advanced feature in the iPad Pro, which supports speeds up to 150Mb/s. 21 LTE bands are supported, and while it offers an Apple SIM, it does not include an embedded Apple SIM for dual-SIM features.
Sensors
The iPad includes a three-axis gyro, an accelerometer, an ambient light sensor, and a barometer.
How to Buy
The iPad went on sale on Friday, March 24 from Apple's online store, and it became available in retail stores on March 30. A 32GB Wi-Fi only model is available for $329, and the 128GB model is priced at $429. Cellular models are available for an additional $130.
What's Next for the iPad
Rumors suggest Apple may release an updated low-cost 9.7-inch iPad next year that's even more affordable than the fifth-generation iPad.
It could be priced at $259, $70 less than the starting price of the current 9.7-inch iPad.
Best Prices