Apple has shared a new "Shot on iPhone" video
on its YouTube channel
that presents a portrait of Eddie Siaumau, a 17-year-old athlete from
American Samoa
who has just accepted a full-ride scholarship to a NCAA Division I university.
The small island of American Samoa, nicknamed "Football Island," is a U.S. territory in the South Pacific Ocean that reportedly produces athletes who are around
56 times more likely to play in the NFL
than Americans from anywhere else, a stat that Apple cites in the description of the video.
Apple says the video is shot on an iPhone XS with the aid of a DJI Osmo Mobile 2 smartphone gimbal, the
FiLMiC Pro app
, and a few other accessories. The video is directed by Steven Counts and produced by Heather Zara.
Four months after Apple
stopped selling the iPhone SE
, the beloved device has made a
sudden return to Apple's online store
.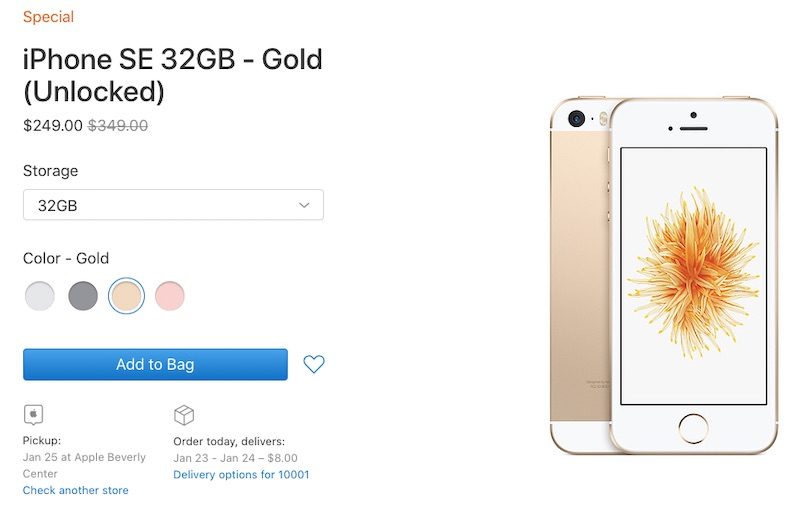 Apple is offering the iPhone SE with
32GB of storage for $249
and with
128GB of storage for $299
on its clearance store in the United States. These are brand new, unopened, and unlocked models with unchanged tech specs, including a 4-inch Retina display, A9 chip, Touch ID, and 12-megapixel rear camera.
Prior to being pulled, the iPhone SE was available with 32GB and 128GB of storage for $349 and $449 respectively, so Apple is offering $100 to $150 off. The device was originally released in March 2016 and was popular among fans of smaller smartphones and those who preferred the iPhone 5-like design.
It's unclear why Apple is selling the iPhone SE again, but it would appear to be clearing out stock. The iPhone SE remains on sale at select authorized resellers, as reflected on Apple's
compare iPhone models page
when the iPhone SE is selected.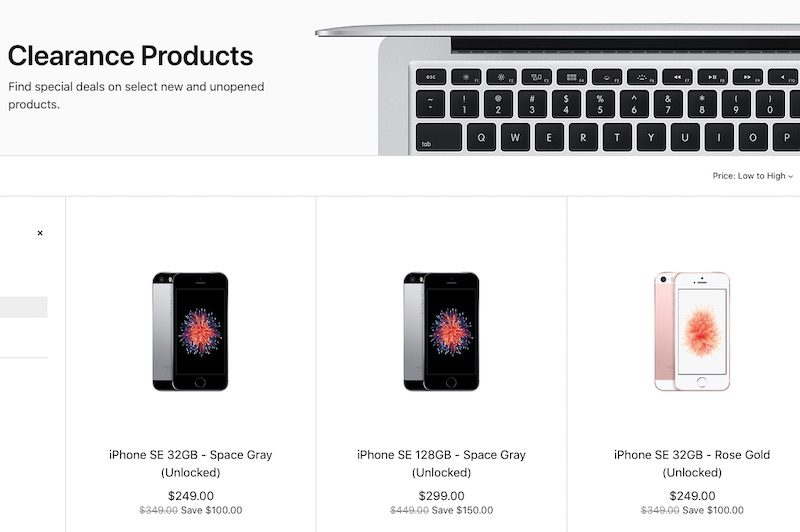 Of course, with Apple recently
lowering its revenue guidance
for the quarter just ended due to fewer iPhone upgrades than it anticipated, speculation will certainly mount that Apple is doing everything it can to boost iPhone sales.
While many customers have hoped for a so-called iPhone SE 2, with some rumors
suggesting one was in the works
, oft-accurate Apple analyst Ming-Chi Kuo
cast doubt on the possibility
of a new iPhone SE last year. And in July of last year, one research firm said Apple
abandoned its plans
for a new iPhone SE.
Apple is
offering the iPhone SE in Silver, Space Gray, Gold, and Rose Gold
, with delivery or in-store pickup available by next week.
As of now, this appears to be U.S. only.
Update:
iPhone SE stock is sold out as of Sunday morning.
Apple today uploaded a new series of iPad Pro videos to its YouTube channel, showing off the different features and capabilities of the new devices.
There are five videos, focusing on taking notes, going paperless by scanning documents, hosting a podcast, designing a space with the Measure app, and creating a presentation in Keynote. Each video is about a minute long and is done in a tutorial style to walk users through each task.
In the videos, various iPad Pro features and functions are shown off, like multitasking, the Apple Pencil 2, the camera, Files drag and drop, AirPlay, augmented reality, the USB-C port for attaching accessories, and more. A few specific apps are mentioned, such as Keynote, GarageBand, and Notability.
This is Apple's first set of iPad Pro tutorial-style videos, though the tablet was previously featured in a video focusing on
five reasons
why the iPad Pro can "be your next computer."
Apple's 11 and 12.9-inch iPad Pro models were first introduced in late October and shipped out in November. The iPads feature edge-to-edge displays with Face ID and no Home button, powerful A12X processors with performance on par with many Mac notebooks, USB-C to connect to 4K monitors and USB-C accessories, and thinner bodies.
The 11-inch iPad Pro starts at $799 for 64GB of storage, while the 12.9-inch iPad Pro starts at $999, also for 64GB of storage.
So you've been using an iPhone for years now and think you have it all figured out? Don't be so sure. We've gathered up 7 tricks obscure enough that even the most seasoned iPhone user is likely to learn something new, so make sure to check out our latest YouTube video and read below for a little spoiler of all of the tips that are included.
Subscribe to the MacRumors YouTube channel for more videos.
Reopen Last Closed Safari Tab - In Safari, if you press on the "+" button at the bottom of the display, you can reopen tabs that you've recently closed.


Set a Music Timer - Like to listen to music when falling asleep but want it to turn off after a set time? In the Clock app, choose "Timer," scroll to the end, and select "Stop Playing" as an option. That'll stop your music when the timer runs out.


Move Multiple Apps - When you're moving apps on your Home screen, if you long press on one, drag it away a bit and then tap others while continuing to hold the first, you can group them all up and move them together.


3D Touch for Folder Notifications - Have a bunch of apps in folders? If one of your folders has a little red badge, you can 3D press on the folder to see which app has a pending notification at a glance.


Simple Settings Access - In an app like Messages or Photos and want to get to the Settings quick? Just say "Settings" to Siri and it will open right up.


Siri Song History - In the iTunes Store app, you can find a list of all the songs you've ever asked Siri to identify. Just tap on the three line icon at the top of the display and then choose "Siri."


Passcode Lock Apps - Apple doesn't let you passcode individual apps, but there's a Screen Time workaround. In the Screen Time section of the Settings app, choose "App Limits," and set a 1 minute timer on "All Apps & Categories." Go to "Always Allowed," add apps you DON'T want to lock, and then the rest will require a Screen Time passcode to access.
Did you learn something new? Now it's your turn. Let us know your most obscure, hidden iPhone trick that
MacRumors
readers should know, and we might feature it in a future video.
Apple in January
launched Smart Battery Cases
designed for the
iPhone XS, XS Max
, and
iPhone XR
. The Smart Battery Cases are designed to add additional battery life to Apple's newest iPhones.
Priced at $129, the Smart Battery Cases come in either black or white and are made from the same material as Apple's silicone cases. From our
hands on article
:
How does it work?
The Smart Battery Cases are similar in design to a silicone case but with an extra bump on the back that houses the battery pack. While attached to the iPhone, the Smart Battery Case functions like an external battery pack, providing additional power to the iPhone.

A Lightning connector built into the case connects to the Lightning port in the iPhone, but Lightning access remains available due to an additional Lightning port in the case itself.

When you have the Smart Battery Case on your iPhone, your iPhone will use all of the charge in the case before expending its own battery.
What's the capacity?
Each of the Smart Battery Cases features two 1,369mAh battery cells inside. Because there are two battery cells wired together, the cases run at a higher voltage that offers 10.1Wh of energy, making them higher capacity than previous battery cases introduced for iPhone 6s and 7.
➜ Click here to read more...
Apple and Qualcomm are embroiled in a bitter legal battle over licensing and royalty fees that's lasted for two years now and has led to the breakdown of the relationship between the two companies, but there may have been other factors in the breakup.
Leaked emails between Apple COO Jeff Williams and Qualcomm CEO Steve Mollenkopf seen by
Bloomberg
suggest the two companies may have cut ties over software access.

Williams wanted to continue to work with Qualcomm despite the legal battle, but Qualcomm accused Apple of leaking Qualcomm computer code needed to customize mobile chips. Williams offered to "firewall" the Apple engineers using the Qualcomm software and said nothing of value could be obtained from the code anyway.
"In my wildest imagination of some evil intention of Apple, I have trouble coming up with a real scenario where anything of significant value could be leaked based on this code," Williams wrote in September 2017.
Mollenkopf told Williams that he was concerned about protecting Qualcomm's proprietary information, and while he offered to provide software access to Apple, he asked Apple to commit to using Qualcomm chips in at least 50 percent of iPhones over the next two years.
Qualcomm in September 2018 accused Apple of
stealing confidential information
and trade secrets and passing it on to rival chipmaker Intel. From Qualcomm's lawsuit against Apple:
Although discovery is ongoing, it is clear that Apple's conduct went far beyond simply breaching the contract originally sued on. Indeed, it is now apparent Apple engaged in a years-long campaign of false promises, stealth and subterfuge designed to steal Qualcomm's confidential information and trade secrets for the purpose of improving the performance of lower-quality modem chipsets, with the ultimate goal of eliminating Qualcomm's Apple-based business.
As
Bloomberg
points out, it appears the software dispute was a key reason the two companies cut ties, as both were willing to continue to work together despite the legal battle. The fight has heated up since then, though, with Qualcomm winning import bans on iPhone 7 and iPhone 8 models in China and Germany.
Qualcomm is in court this week facing an antitrust lawsuit levied against it by the FTC, with the FTC accusing the company of using anticompetitive tactics and exorbitant licensing fees to remain the dominant baseband chip supplier.
Executives from many companies have testified against Qualcomm, including Jeff Williams. Earlier this week, Williams said that Qualcomm had
refused to sell
Apple chips for the 2018 iPhone models.
Apple has been ordered to stop using a part of a recent press release that claimed the iPhone 7 and iPhone 8 would still be available in Germany through carriers and resellers, reports
Bloomberg
.
Apple released the statement following a
preliminary injunction
in December that prevented the company from selling older iPhones in Germany. Apple at the time said that while it would stop selling the devices at its own retail stores, they would remain available via other means.

Qualcomm yesterday got another preliminary injunction to stop Apple from using that statement because it was "misleading." The court's ruling, said Qualcomm, also required Apple to stop offering the iPhone 7 and iPhone 8 via resellers, too, and the court agreed.
"The press release is misleading because it contains statements that are at least potentially deceptive about the availability of the goods," the judges wrote. "The statement conveys the impression of unlimited availability."
Apple has not been selling iPhone 7 and iPhone 8 models in its retail stores or online in Germany
since January
and prior to the order about the press release, was also ordered to pull iPhones from partner stores. Some German resellers have continued to sell the devices, however.
Apple's newest iPhones, the XR, XS, and XS Max are not affected by the sales and import ban and continue to be available in the country.
Qualcomm also won a preliminary injunction against the iPhone 7 and iPhone 8 in China, but Apple was able to skirt the ruling
via a software update
that
removed
patented content.
With support for the now-discontinued Windows 10 Mobile devices set to end on December 10, 2019, Microsoft is recommending that its current Windows 10 Mobile customers move to an Android or iOS device instead.
Microsoft made the recommendation in a Windows 10 Mobile
support document
(via
Thurrott
) explaining its plans to stop offering security updates and patches for Windows 10 Mobile.

With the Windows 10 Mobile OS end of support, we recommend that customers move to a supported Android or iOS device. Microsoft's mission statement to empower every person and every organization on the planet to achieve more, compels us to support our Mobile apps on those platforms and devices.
Microsoft ended support for Windows Phone in
July 2017
and stopped active development on Windows 10 Mobile
in October
of that year, leading to the death of the platform. Microsoft struggled to get app developers to write apps for the device, and it was also never able to establish a strong user base.
With the abandonment of Windows 10 Mobile, Microsoft has been focusing on other platforms and has a wide array of apps available for both iOS and Android devices.
All customers who have a Windows 10 Mobile device will be able to keep using it after December 10, 2019, but no further updates will be available.
AAPL shares are currently trading above the $157 mark on the intraday market, recouping virtually
all losses incurred
since Apple CEO Tim Cook
slashed Apple's revenue guidance by up to $9 billion
for the first quarter of its 2019 fiscal year.

AAPL closed at $157.92 on January 2, immediately prior to Cook revealing the shortfall in an after-hours
letter to shareholders
, and is now trading just cents below that level. The stock has gradually recovered over the past two weeks since establishing a new 52-week low of $142 on January 3.
Apple share price now returned to level before Tim Cook's letter to investors.

— Horace Dediu (@asymco) January 18, 2019
Apple originally guided for revenue of between $89 billion and $93 billion in the three-month period ending in December, but revised its estimate to $84 billion due to "fewer iPhone upgrades" than it anticipated, primarily due to "significantly greater" economic weakness than it projected in the Greater China region.
The letter sparked concerns among some investors and analysts that Apple has reached "peak iPhone," especially given Apple's revelation that it will
no longer disclose unit sales
in its quarterly earnings reports going forward.
While the iPhone accounts for around two-thirds of Apple's revenue, the company has repeatedly touted the continued growth of its services, including the App Store, Apple Music, iCloud, iTunes, and so forth, which combined for a nearly 19 percent increase in revenue on a year-over-year basis in the quarter.
Apple is widely expected to
launch a streaming TV service this year
that will likely boost the revenue of that category even further.
In his letter to shareholders, Cook said Apple is undertaking and accelerating multiple initiatives to improve its results, including making it simple to trade in a phone at its stores. Back in November, Apple launched a promotion
offering up to $100 in extra trade-in credit
towards a new iPhone XR or iPhone XS.
AAPL will report its earnings for the first quarter of fiscal 2019
on January 29
, followed by a conference call to discuss the results at 2 p.m. Pacific Time.
Apple supplier Foxconn has let go around 50,000 contract workers at its iPhone factory in Zhengzhou, China, with the first cuts happening in October 2018. As one source with knowledge of Foxconn's plans told
Nikkei
, the scale of the cuts is not what stands out, but the fact that it's significantly earlier than previous years.
"It's quite different this year to ask assembly line workers to leave before the year-end," the source stated. Foxconn typically renews workers' contracts every month from August until January, at which point the workforce is scaled back for slow iPhone production season. This year, those cuts came as much as three months early.

The same is true for other Apple suppliers according to today's report, with Pegatron canceling monthly labor contracts last November. One source said that Pegatron's cuts "happened sooner than in the past because of poor demand," referring to the iPhone.
Even smaller companies in Apple's supply chain reportedly cut down on their workforce, with one unnamed component supplier based in Shenzhen asking 4,000 workers to take an extended vacation from October to March. On March 1, the company will decide whether or not to lay the workers off.
For Foxconn, the company is preparing for restructuring throughout the company, merging business units that make iPads and MacBooks with the division making Dell and Acer computers. This means "steep cuts" to management, human resources, administrations, accounting, and utility support jobs, totaling 100,000 jobs removed by the end of 2018 and costs cut by $2.96 billion in 2019.
Apple in late December told its suppliers to
cut production on new iPhones
by 10 percent over the next three months, coming on the back of reports about weak iPhone sales during the holiday quarter. In early January, Apple CEO Tim Cook called reports claiming the iPhone XR was a flop "
bologna
," stating the device has been the most popular iPhone "every single day" since it launched.
Amid all of this, many Apple suppliers
cut their 2019 sales forecasts
, including Taiwan Semiconductor Manufacturing Company and Nidec. Specifically for the China market, these suppliers noted an "extraordinary" drop in demand for high-end smartphones.
One of the biggest ad data brokers has come out in support of Apple CEO Tim Cook's
call for federal privacy legislation
to regulate the collection and use of personal data in the United States.

In a statement Thursday evening provided to
Business Insider
, data broker
Acxiom
confirmed its support for federal privacy legislation. "Acxiom, like Mr. Cook, also supports a national privacy law for the US, such as GDPR provides for the European Union," it read.
A data broker acts as a middleman, transferring user data between different companies and parties. In his
TIME
op-ed yesterday, Cook called such an entity "a company that exists purely to collect your information, package it and sell it to yet another buyer."
In a message consistent with Apple's policy that privacy is a "fundamental human right," Cook railed against this market for user information, which he said operates in a "shadow economy" that's largely unchecked, "out of sight of consumers, regulators and lawmakers."
Responding to Cook's clarion call, Acxiom said that it had been "actively participating in discussions with US lawmakers" for years but denied that it partook in a "shadow economy" that operates unchecked.
We agree that we must root out the nefarious players in the ecosystem, and Acxiom's data privacy impact assessment (DPIA) process ensures we don't do business with questionable companies. We look forward to working with people across the industry, including Apple, to ensure transparency, access and control is available to all people.
In his
TIME
op-ed, Cook argued for the creation of a "data-broker clearinghouse" that all brokers would be required to register, which would enable consumers users to track transactions that include their data and delete it forever if desired.
"As this debate kicks off, there will be plenty of proposals and competing interests for policymakers to consider," said Cook. "We cannot lose sight of the most important constituency: individuals trying to win back their right to privacy."
Note: Due to the political nature of the discussion regarding this topic, the discussion thread is located in our
Politics, Religion, Social Issues
forum. All forum members and site visitors are welcome to read and follow the thread, but posting is limited to forum members with at least 100 posts.
Apple on Tuesday
released
new Smart Battery Cases for the iPhone XS, XS Max, and XR, offering a convenient but expensive way for iPhone users to get additional battery life.
The
Smart Battery Cases
will be in stores starting tomorrow, but we got our hands on the iPhone XS Max and XR versions early to check out the features and to see if they're worth the $129 price tag.
Subscribe to the MacRumors YouTube channel for more videos.
Apple is offering the Smart Battery Cases in black or white, and while there are separate versions for the iPhone XS, XS Max, and XR, each case costs $129 and appears to have the same capacity.
The cases look similar to the prior Smart Battery Cases Apple offered for the iPhone 7, consisting of a silicone shell with a bump at the back that contains the battery. The cases are easy to grip, but bulky, and the iPhone XS Max version adds a decent bit of weight.
There's a 10.1 Whr battery inside of the cases, which is higher capacity than previous Smart Battery Cases. You can expect to get about 50 to 75 percent additional battery from each case, depending on what you're doing.
Specifically, on the iPhone XS Max with the Smart Battery Case, you'll get up to 37 hours of talk time, up to 20 hours of internet use, and up to 25 hours of video playback.
The iPhone XS with XS Smart Battery Case offers up to 33 hours of talk time, up to 21 hours of internet use, and up to 25 hours of video playback, while the iPhone XR with iPhone XR Smart Battery Case offers up to 39 hours of talk time, up to 22 hours of internet use, and up to 27 hours of video playback.
The cases support Qi wireless charging, so you can charge them using a Qi-based charger (though it won't fit on some upright models) or a Lightning cable. You can even fast charge if you have a USB-C to Lightning cable and a compatible USB-C power adapter, such as the 30W MacBook charger. You don't have to use Apple's solutions -- any 18W+ USB-C PD power adapter will work.
You need to attach the Lightning connector in the case to the Lightning port in the iPhone, but because the case has its own Lightning port, you can use it as a passthrough for Lightning accessories like headphones.
With the Smart Battery Case attached, you can check how much battery life is left in the case using a widget in the Today section of the Notification Center or via the Lock screen. Your iPhone will always use the battery provided by the case before expending its own battery, but when charging, your iPhone will charge first.
All in all, the Smart Battery Case is one of the simplest ways to get extra battery life for the iPhone because it doesn't require an extra external accessory or a cable and there are multiple ways to charge it, but that convenience definitely comes at a cost.
Do you think Apple's Smart Battery Cases are worth shelling out $129? Let us know in the comments.