Apple today released iOS 11.2.6, the eleventh official update to the iOS 11 operating system. iOS 11.2.6 comes approximately one month after the launch of iOS 11.2.5, an update that introduced support for the HomePod, Control Center updates, Siri news, and a slew of bug fixes.
The iOS 11.2.6 update can be downloaded for free on all eligible devices over-the-air in the Settings app. To access the update, go to Settings --> General --> Software Update.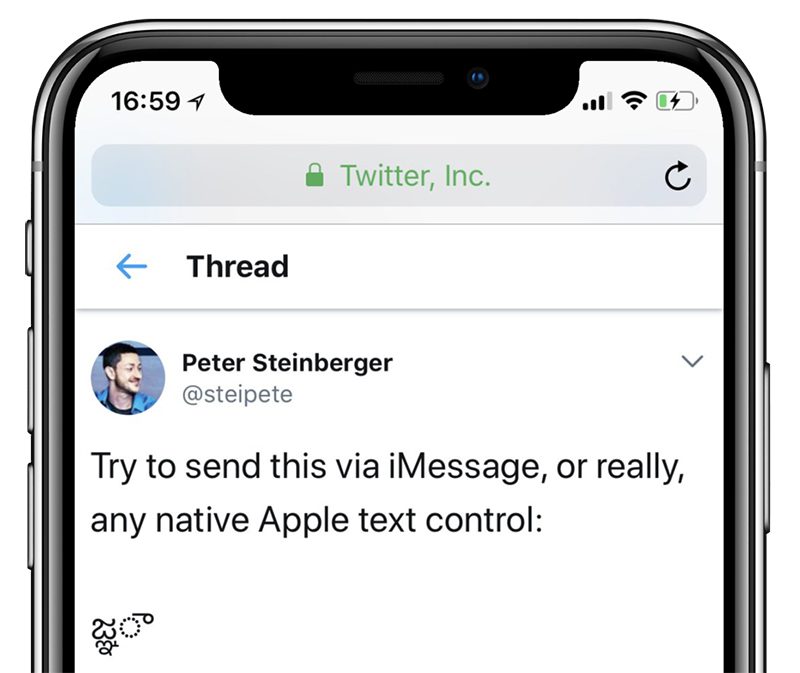 Apple released iOS 11.2.6 to
address a bug
that causes apps like Messages to crash on the iPhone and iPad due to an inability to render a specific character in the Indian language Telugu. When sent, received, or input into Messages, Safari, WhatsApp, Facebook Messenger, and more, the Telugu character can cause the app to freeze up and become unresponsive.
In Messages, for example, receiving the character can freeze up the entire Messages app on all of a person's Mac and iOS devices. The Messages app then refuses to function properly until the offending character is removed by deleting the conversation with the person who sent it. Apple's release notes are below:
iOS 11.2.6 includes bug fixes for your iPhone or iPad. This update:

Fixes an issue where using certain character sequences could cause apps to crash

Fixes an issue where some third-party apps could fail to connect to external accessories
Apple fixed the bug in iOS 11.3 and macOS 10.13.4, but those updates are still in beta testing and won't be released until the spring. Apple last week promised a minor update to fix the bug in the meantime.
Last week, Apple
confirmed
that the HomePod can potentially leave white rings on the surface of wooden furniture with oil or wax finishes. In an effort to help users prevent seeing these rings appear on their own furniture, Apple shared a support document on "Where to place HomePod," detailing how the interaction between the HomePod's vibration-dampening silicone base and a wooden surface has the chance to result in a white ring.
Business Insider
recently spoke with a few industrial design experts who believe that the problem "shouldn't be too hard to fix" for Apple." Gregor Berkowitz, a product development consultant for numerous consumer electronics brands, expects Apple to "re-tool" its HomePod manufacturing process to address the issue with the silicone base, which could take between two to six weeks. Although the fix could take several weeks, the experts said it's "likely not very costly" for Apple.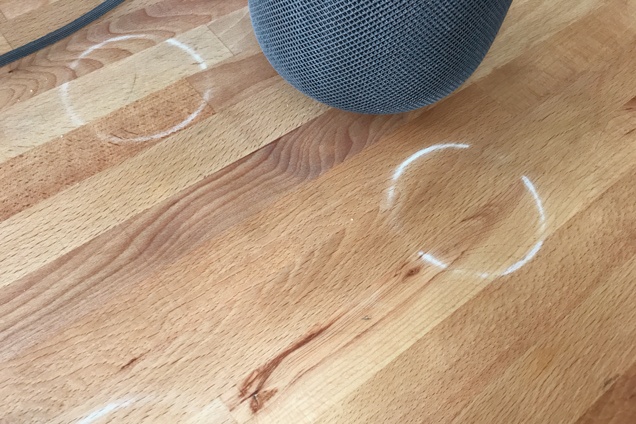 Image via Wirecutter
Senior industrial designer at Y Studios, Cesar Viramontes, referred to the white rings issue as something customers will "probably forget about" in the next few months.
Apple may need to "re-tool" the manufacturing process since silicone is manufactured using a different process than the other kinds of elastomer," said Berkowitz. If that's necessary, the process could take anywhere from two weeks to six weeks, he noted.

"It's an issue, but I think it's probably going to be one that'll be corrected in the next round of manufacturing," said Y Studios' Viramontes. "I think it will be a minor issue, and people will probably forget about it in the next couple of months when it goes away."
While the experts see a quick fix for the issue coming from Apple, all were surprised it happened in the first place. Product design expert Ignazio Moresco explained that more is expected from Apple's well-known attention to detail, and the company "should have caught the issue if they followed a rigorous QA process." The white marks aren't an Apple-specific problem, but have
appeared with other speakers
-- like Sonos One -- that have similar silicone bases.
Berkowitz believes the white rings could be a result of Apple's "inexperience" with making stationary speakers, in contrast to the company's familiarity with making mobile products like the iPhone and MacBook.
"This is sitting on a bookshelf. Is it going to work? Or are there going to be problems? A traditional consumer product company or a speaker company or a traditional Hi-Fi company is going to worry about that and think about those problems and have experience with it," Berkowitz said. "This shouldn't be new for Apple but it is."

"They didn't test the product enough and in the right variety of circumstances, especially considering that a wood surface is a very likely support for the product," said Ignazio Moresco, a product design expert who has worked at frog design, Microsoft and Ericsson.
For those who have discovered rings on their furniture, Apple said that these marks "will often go away after several days" once HomePod is removed from the wooden surface. Users can hasten this process by wiping the surface gently with a damp or dry cloth. Still, the company explained that if anyone is concerned about these marks, it recommends "placing your HomePod on a different surface."
Accessory makers are already creating products to act as a fix for the situation, including
new leather coasters for HomePod from Pad & Quill
. The $19.95 coasters are advertised as letting users place their HomePod on the wooden surfaces that have the potential to be marked by HomePod, without having to worry about the appearance of such marks.
Apple's APFS file system included in macOS High Sierra suffers from a disk image vulnerability that in certain circumstances can lead to data loss, according to the creator of Carbon Copy Cloner.
In a
blog post
last Thursday, software developer Mike Bombich explained that he had uncovered the data writing flaw in the Apple File System, or APFS, through his regular work with "sparse" disk images.

For those who aren't familiar with the term, a sparse disk image is basically a file that macOS mounts on the desktop and treats as if it was a physically attached drive with a classic disk volume structure. The flexibility of sparse disk images means they are commonly used in the course of performing backup and disk cloning operations, hence Bombich's extensive experience with them.
Earlier this week I noticed that an APFS-formatted sparsebundle disk image volume showed ample free space, despite that the underlying disk was completely full. Curious, I copied a video file to the disk image volume to see what would happen. The whole file copied without error! I opened the file, verified that the video played back start to finish, checksummed the file – as far as I could tell, the file was intact and whole on the disk image. When I unmounted and remounted the disk image, however, the video was corrupted. If you've ever lost data, you know the kick-in-the-gut feeling that would have ensued. Thankfully, I was just running some tests and the file that disappeared was just test data.
Two related problems are identified by Bombich, above. The first is that the free space on the APFS-formatted sparse disk image doesn't update as it should when the free space on the underlying physical host disk is reduced. The second problem is the lack of error reports when write requests fail to dynamically grow the disk image, resulting in data being "written" into a void. Bombich tracks both bugs back to macOS's background "diskimages-helper" application service, which he has since reported to Apple.
Bombich's video demonstrating the APFS bug
Every installation of High Sierra on Macs with all-flash storage converts the existing file system to APFS, which is optimized for modern storage systems like solid-state drives. However, as Bombich notes, ordinary APFS volumes like SSD startup disks are not affected by the problem described above, so the vast majority of users won't be affected by it – the flaw is most applicable when making backups to network volumes. Bombich says Carbon Copy Cloner will not support AFPS-formatted sparse disk images until Apple resolves the issue.
The APFS flaw follows the discovery of another bug in Apple's operating systems that received
extensive coverage last week
. That bug is induced by sending a specific character in the Indian language Telugu, which causes certain apps on iPhones, iPads, and Macs to freeze up and become unresponsive. The Telugu character bug has already been fixed in Apple's upcoming iOS 11.3 and macOS 10.13.4 software updates.
Apple this afternoon shared a new HomePod tutorial video on its Apple Support YouTube channel, which is designed to help new HomePod users get the most out of their new speakers.
The three minute video covers various Siri commands for accessing music, podcasts, news, and personal requests, using the iPhone as a HomePod remote, using the HomePod as a speakerphone, controlling HomeKit devices, and more.
As a warning, this video does include "Hey Siri" commands that have the potential to activate your own HomePod when you watch it, so you might want to watch with headphones.
In the description of the video, Apple links to multiple HomePod support documents, which are useful for HomePod owners who are still learning the ins and outs of the HomePod. These documents cover topics like using the Home app, using VoiceOver, listening to Podcasts, AirPlaying audio, and more.
This is the
fourth HomePod tutorial video
Apple has shared to introduce users to the new device. Last week, when the HomePod was released, Apple shared three other short videos on using Siri to Play Music, using the HomePod's touch controls, and adjusting the HomePod's settings.
All of the videos have been uploaded to Apple's
YouTube support channel
, which was
introduced back in November
. This YouTube channel is where Apple shares tutorial videos that are designed to provide users with tips on using their iPhones, iPads, Macs, and other Apple devices.
At
MacRumors
, we've also shared several how tos and guides for accessing and using all of the HomePod's different features, which can be found in the
how to section of our HomePod roundup
.
Apple has yet to announce dates for the 2018 edition of its annual
Worldwide Developers Conference
, but there's evidence to suggest the event may take place between Monday, June 4 and Friday, June 8 at the McEnery Convention Center in San Jose, California, the same venue where WWDC 2017 was hosted.

First, we've heard from a reliable source who says WWDC will in fact return to the McEnery Convention Center for the second consecutive year, after having been hosted at the Moscone Center in San Francisco between 2003 and 2016.
Next, we've discovered that the McEnery Convention Center is already booked with other events during the second, third, and fourth weeks of this June, leaving the first full week of the month as the only available window for WWDC 2018, barring the rare possibility that Apple shares the space with other events simultaneously.

-
June 4-8
: WWDC 2018 (
?
)
-
June 11-14
:
O'Reilly Velocity Conference
-
June 17-21
:
DataWorks Summit and Hadoop Summit
-
June 26-28
:
Sensors Expo & Conference
WWDC has been a June affair since the 2000s, and it generally falls within the first half of the month, so June 4-9 is a very real possibility. We haven't confirmed the dates with Apple, however, so it might be a good idea to wait for the company to officially announce WWDC 2018 details before booking accommodations.
Apple revealed the dates for WWDC 2017 with a press release
exactly one year ago today
, which was a lot earlier than usual, likely because of the change in venue. Last year excluded, the announcement has
generally been in April
.
WWDC is where Apple unveils the latest versions of its software platforms, which should include iOS 12, macOS 10.14, and new versions of tvOS and watchOS this year. The opening keynote has sometimes included other big hardware and services announcements, such as iCloud in 2011, the first MacBook Pro with a Retina display in 2012, the current Mac Pro in 2013, and new iPad Pros in 2017.
WWDC 2017 hosted around 5,000 developers and 1,000 engineers. Given the San Jose Convention Center's closer proximity to Apple's headquarters in nearby Cupertino, more Apple engineers are able to attend since they don't need to take an entire day or week off of work to commute to San Francisco.
Tickets will likely cost around $1,599 and be distributed randomly through a lottery. Those interested in attending should make sure they are enrolled in the
Apple Developer Program
prior to Apple's official WWDC 2018 announcement to ensure eligibility, as this has been a requirement in years past.
Apple simply doesn't have enough room for everyone to attend WWDC, but it will likely provide a live stream of the opening keynote and share videos of developer sessions on its
WWDC website
, and through the
WWDC app
for iPhone, iPad, and Apple TV. MacRumors will also provide coverage of the event.
In addition to WWDC, a variety of other developer events should take place throughout the same week in San Jose, such as AltConf and Layers.
Apple has renewed "Carpool Karaoke: The Series" for a second season, CBS CEO Les Moonves announced this afternoon (via
The Hollywood Reporter
). Positioned as Apple's second original TV show after "Planet of the Apps," "Carpool Karaoke: The Series" season 1
debuted last August
.
"Carpool Karaoke: The Series" is based on the Carpool Karaoke segment made popular by "The Late Late Show With James Corden." Apple's TV show pairs up different celebrities, musicians, athletes, putting them together in a car to sing popular songs.
In season 1, featured celebrity pairings included Will Smith and James Corden; Miley, Noah, Billy Ray and the entire Cyrus family; Shakira and Trevor Noah; Game of Thrones stars Sophie Turner and Maisie Williams; Queen Latifah and Jada Pinkett Smith; John Legend, Alicia Keys and Taraji P. Henson; LeBron James and James Corden; and more.
"Carpool Karaoke: The Series" was developed by Apple as a way to promote its Apple Music service and to offer exclusive entertainment to Apple Music subscribers. The show aired each Tuesday on Apple Music, and past episodes can be viewed by Apple Music subscribers.
It is not yet clear when the second season of "Carpool Karaoke: The Series" might debut, but it could see an August launch much like the first season.
Apple has confirmed that a fix for
a recently discovered bug
that causes apps like Messages to crash on iPhone, iPad, and Mac has been included in iOS 11.3, macOS 10.13.4, watchOS 4.3, and tvOS 11.3, updates that are currently being beta tested ahead of a release this spring.
Furthermore, Apple told
iMore
's
Rene Ritchie
that the bug will also be addressed in an upcoming iOS update that will be released in the near future, ahead of iOS 11.3, so customers won't need to wait several weeks for a fix. Minor updates for other operating systems will likely come at the same time.

The bug, induced by sending a specific character in the Indian language Telugu, causes certain apps on iPhones, iPads, and Macs to freeze up and become unresponsive. Messages, Safari, WhatsApp, Facebook Messenger, and other apps that accept text input are all affected.
When the character is sent in an iMessage, for example, it can freeze up the entire Messages app on all of a person's Mac and iOS devices. The Messages app will then refuse to function properly until the offending character is removed by deleting the conversation with the person who sent it.
In some situations, if the character is viewed through an iOS notification, it can cause the entire device to crash, resulting in a re-spring or worse.
Apple users who have received a message with the character will, as mentioned above, need to delete the Messages conversation with the person who sent the character. Alternatively, installing the
iOS 11.3 or macOS 10.13.4 betas
will fix the problem.
The HomePod's silicone base can
leave white rings
on some wood surfaces that have an oil or wax finish, a problem that Apple yesterday said was "not unusual." As it turns out, Apple wasn't incorrect -- the Sonos One, a competing smart speaker, also leaves white rings on furniture.
Tom's Guide
reviewer Mike Prospero read about the HomePod causing rings on furniture yesterday and went to check his wood cabinet, where he did indeed discover a ring caused by the HomePod. But next to it, he found smaller square shaped marks, which had been caused by the Sonos One located near the HomePod.

Image via Tom's Guide
When I got home, I saw a large white ring, a telltale indication that the HomePod's silicone base had messed up the finish. But, as I was inspecting the damage, I noticed a series of smaller white marks near where the HomePod was sitting.

A closer inspection revealed that the Sonos One speaker, which also has small silicone feet, had made these marks on my cabinet. Looking around the top of the cabinet, I noticed a bunch of little white marks, all left from the Sonos Ones as I moved them around. So, they will damage your wood furniture, too. We're awaiting comment from Sonos.
Like the HomePod, the Sonos One has a silicone base with four small feet. It doesn't make a ring as prominent as the ring caused by the HomePod, but it does appear to cause the same marks.
White rings became a topic of discussion yesterday morning after independent reviews from
Pocket-lint
and
Wirecutter
pointed out the marks the HomePod left on oiled or waxed furniture. After the issue received significant media attention, Apple published a "Cleaning and taking care of HomePod" support document that warned about the potential for marks on some wooden surfaces.
Apple said it is not unusual silicone bases to leave mild marks, and that they should go away with time or with some light polishing.
Tom's Guide
reviewer Mike Prospero says that the marks do indeed appear to fade with time. From Apple's support document:
HomePod is designed for indoor use only. When using HomePod, make sure to place it on a solid surface. Place the power cord so that it won't be walked on or pinched.

It is not unusual for any speaker with a vibration-dampening silicone base to leave mild marks when placed on some wooden surfaces. The marks can be caused by oils diffusing between the silicone base and the table surface, and will often go away after several days when the speaker is removed from the wooden surface. If not, wiping the surface gently with a soft damp or dry cloth may remove the marks. If marks persist, clean the surface with the furniture manufacturer's recommended cleaning process. If you're concerned about this, we recommend placing your HomePod on a different surface.
It is not clear why Apple did not inform customers about the possibility of white marks on wood, as this is presumably an issue the company had to know about following the HomePod's extended beta test with Apple employees and the years of development that went into the product.
A simple HomePod care support document published ahead of the HomePod's launch, rather than
after
customers were left to discover the issue on their own would have likely mitigated much of the negative press and frustration from customers.
For those who are concerned about the HomePod damaging their expensive wood furniture, Apple recommends putting the HomePod on a different surface to avoid problems all together.
Apple captured a
record 51 percent share of revenue
in the worldwide smartphone industry last quarter, which encompassed the launch of the iPhone X, according to research firm Strategy Analytics.

iPhone revenue totaled $61.5 billion in the fourth quarter of 2017, as Apple disclosed in its
earnings report
earlier this month. Strategy Analytics estimates Apple's smartphone revenue was three times higher than its nearest rival Samsung and seven times more than Chinese competitor Huawei.
Apple accounted for more smartphone revenue than the rest of the entire industry combined in the quarter, driven by "solid demand" for the iPhone X, said Strategy Analytics executive director Neil Mawston.

iPhone's average selling price was $796 last quarter, up from $695 in year-ago quarter, which Strategy Analytics estimates to be almost three times higher than the overall industry average. Apple sold 77.3 million iPhones in the quarter, but it didn't disclose how many of those sales were iPhone X models.
Priced at $999 and up, the iPhone X has undoubtedly helped Apple increase its revenue share in the smartphone industry. What's more important is profits, however, and the iPhone often accounts for over 100 percent of net income in the smartphone industry when factoring in the losses posted by some rivals.
A recently discovered bug that causes app and system crashing on iPhone, iPad, and Mac due to a specific letter in the Indian language Telugu has been fixed in Apple's upcoming iOS 11.3 and macOS 10.13.4 software updates.

MacRumors has not been able to reproduce any crashes, freezes, or resprings on any devices running the latest iOS 11.3 and macOS 10.13.4 betas when the particular letter is present anywhere across the systems, as the upcoming software versions can now display the affected character properly.
On earlier software versions, including the latest publicly released versions iOS 11.2.5 and macOS 10.13.3, it appears that Apple devices are unable to render the Indian character for some reason, causing apps or the entire system to abruptly crash depending on where it is trying to be displayed.
If the character is sent in an iMessage, for example, the recipient's Messages app will crash when the conversation is opened. Likewise, if the character is pasted into the Safari or Chrome address bar on Mac, the browsers crash. This behavior extends to virtually any system text field on iOS and macOS, resulting in many third-party apps like WhatsApp and Facebook Messenger being affected as well.
Even worse, some users have found that if the character is displayed in an iOS notification, it can cause an entire iPhone or iPad to respring, and in worst-case scenarios,
restoring in DFU mode
is the only possible solution.
If you've already received the letter and can no longer open Messages, try having a friend message you, which may allow you to regain access to the app and delete the conversation with the bad character. If not, consider enrolling in Apple's free
public beta program
and upgrade to iOS 11.3 or macOS 10.13.4 beta.
MacRumors was alerted about this bug by developer
Peter Steinberger
on Monday, and it was submitted to Open Radar by developer
Igor Bulyga
on the same day. We elected not to report on the bug at the time to avoid contributing to its spread, since it can be used maliciously and a fix will be widely available soon.
The bug has received widespread attention today, so we wanted to acknowledge that Apple is aware of the issue and has implemented a fix. iOS 11.3 and macOS 10.13.4 should be publicly released by the end of March, but it's very possible we'll see minor updates pushed out with fixes in the near term.
These kinds of bugs have surfaced several times in the past, with text strings, videos, and more crashing the Messages app and causing other glitches. Just last month, a
link to a GitHub page
surfaced that froze the Messages app when received.
It costs Apple an estimated $216 in raw components to build the HomePod, which sells for $349, according to research conducted by TechInsights and shared by
Bloomberg
.
Internal components like the microphones, tweeter, woofer, and power management chips cost Apple an estimated $58, while smaller components like the lighting system used for Siri and other animations cost $60. The A8 chip, which powers the speaker's spatial awareness, Siri features, sound adjustments, and other smart features, costs an estimated $25.

TechInsights believes the external housing and other exterior components add up to $25, while manufacturing, testing, and packaging cost an additional $17.50.
At $216 for parts and a $349 selling point, the HomePod brings in less money for each device sold than other Apple products like the iPhone. The $999 iPhone X, for example, uses components
estimated to cost $357.50
, and the entry-level iPhone 8 costs Apple
an estimated $247.51
to make but sells for $699.
HomePod also has a smaller profit margin than competing speaker products from other companies. TechInsights says that while the HomePod has a profit margin of 38 percent based on component costs, the Google Home and Amazon Echo have margins of 66 and 56 percent, respectively. Both of those speakers use less expensive components and were not created with sound quality as the primary focus.
"Apple is compressing their margins a bit, wanting to go big or go home," said Al Cowsky, TechInsight's costing manager. "In doing so, I suspect they reduced the selling price from a normal Apple margin in order to sell more units on volume."
Component costs reports from companies like TechInsights do not take into account expenses like research and development, software creation, and other related costs, and can't be counted as an accurate look at Apple's profit margin for any given product.
Back in 2015
, Apple CEO Tim Cook said cost estimates are often "much different from reality." "I've never seen one that is anywhere close to being accurate," he said.
Days after the HomePod was released, there are still some new HomePod owners who are unable to use their new speakers due to HomeKit and Wi-Fi-related setup errors.
Because it's controlled entirely through Apple's Home app, HomePod connects to HomeKit and relies on a functional HomeKit setup to function properly. Based on reports on
Reddit
, the
Apple Support Communities
, and the
MacRumors forums
, there are a handful of different errors people are running into.

The most common issue seems to be error -6722 or a blank white screen when setting up HomePod, caused by a bugged HomeKit setup. According a
HomePod troubleshooting document
Apple published this week, there are several possible fixes for the issue.

Image via AppAdvice
First and foremost, devices need to be running the latest version of iOS (iOS 11.2.5 or iOS 11.3 if you're on a beta) and both the Music and Home apps need to be installed on your device. HomePod also requires both two-factor authentication and iCloud Keychain to be turned on.
If these settings are enabled and you're still seeing the error message and a screen in the Home app that says "Loading Accessories and Scenes," Apple says to
let the Home app load for 30 minutes or longer
until an option to erase and reset app comes up. It's not immediately clear that you need to run the app for so long to get to that erase option, so make sure to leave it open and running for the full period of time to get to the reset menu.

We had our own issues here at
MacRumors
, and one of our HomePod setups wasn't fully functional. We weren't running into the error message above, but none of the HomePod's settings were available. We were able to fix this issue by opening up the Home app, tapping the location arrow at the top left of the device, and choosing the "Remove Home" option to nix our current HomeKit setup.
After doing that and creating a new Home with a HomeKit device before attempting to re-add the HomePod, we were able to successfully set up the HomePod with HomeKit, so that's something other HomePod users with issues might want to try.
Other people have had success
resetting the HomePod
and trying again, logging out of iCloud, and resetting Wi-Fi, but redoing the HomeKit setup entirely seems to be the most reliable fix. There are. however, instances where even these fixes
have not worked
for a bugged HomeKit setup, and in that situation, you're going to need to get in touch with Apple Support for more advanced troubleshooting.
If you're running into a different setup issue, such as a failed Wi-Fi connection, it's worth noting that HomePod requires a WPA/WPA 2 Wi-Fi network. Some
MacRumors
readers were having problems with HomePod
not properly recognizing their WPA network
, and a reliable fix appears to be unplugging the HomePod and tweaking Wi-Fi settings to disable both auto join and audio login. HomePod does not work with Enterprise Wi-Fi setups or public or subscription networks with sign-in requirements.
Having ongoing HomePod issues with your own HomeKit setup? Let us know in the comments.