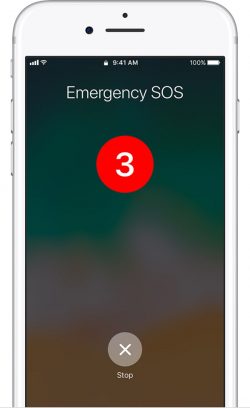 Repair technicians who work at Apple's repair facility in Elk Grove, California make frequent accidental 911 calls when testing Apple devices, Elk Grove police dispatcher Jamie Hudson told a
local Sacramento news site
.
The influx of calls started back in October of 2017, which coincides with the introduction of the Emergency SOS feature that was added to the iPhone with the launch of iOS 11.
"We've been seeing these calls for the last four months from Apple," said police dispatcher Jamie Hudson.

Dispatchers say the calls started back in October of 2017, and typically there's no one on the other line.
To
activate Emergency SOS
, iPhone 8 and iPhone X simply owners need to press and hold on the Side button while also holding the two volume buttons at the same time, or rapidly press on the side button five times. Older iPhone users simply need to press the Sleep/Wake button five times in rapid succession to call emergency services.
An Emergency SOS feature is also available on the Apple Watch and is activated by pressing on the side button of the device. It's not clear which devices are making the accidental calls, but placing a 911 call can be done with simple button presses on either device.
Elk Grove Police have received an average of 20 accidental 911 calls per day from Apple, adding up to about 1,600 calls since October. Police dispatcher Hudson says the calls take "valuable seconds" away from real 911 calls that could be life and death situations.
"The times when it's greatly impacting us is when we have other emergencies happening and we may have a dispatcher on another 911 call that may have to put that call on hold to triage the incoming call," he said.
It's not just the Elk Grove Police department that's affected -- the Sacramento County Sheriff's Department Communication Center has also received 47 accidental 911 calls since January 1, and sometimes, dispatchers can hear technicians working in the background. There is a loud tone and a countdown that plays when Emergency SOS is activated with the auto call feature, but it may be that repair technicians are not able to hear it.
In a statement, an Apple spokesperson said the company is aware of the 911 calls coming from the repair facility and is working with law enforcement officials to put a stop to it.
"We're aware of 911 calls originating from our Elk Grove repair and refurbishment facility. We take this seriously and we are working closely with local law enforcement to investigate the cause and ensure this doesn't continue."
Emergency SOS is a feature that's enabled on every iPhone and Apple Watch by default, and it can't be disabled, so Apple may need to come up with a unique solution for its repair facilities.
While Emergency SOS can't be turned off, there are settings that can be turned on to cut down on accidental calls. On Apple Watch, "Hold to Auto Call" can be disabled by opening up the Watch app, choosing the "General" section in "My Watch" and then selecting "Emergency SOS."
On iPhone, auto call can be disabled by opening up the Settings app, navigating to "Emergency SOS" and toggling off "Auto Call."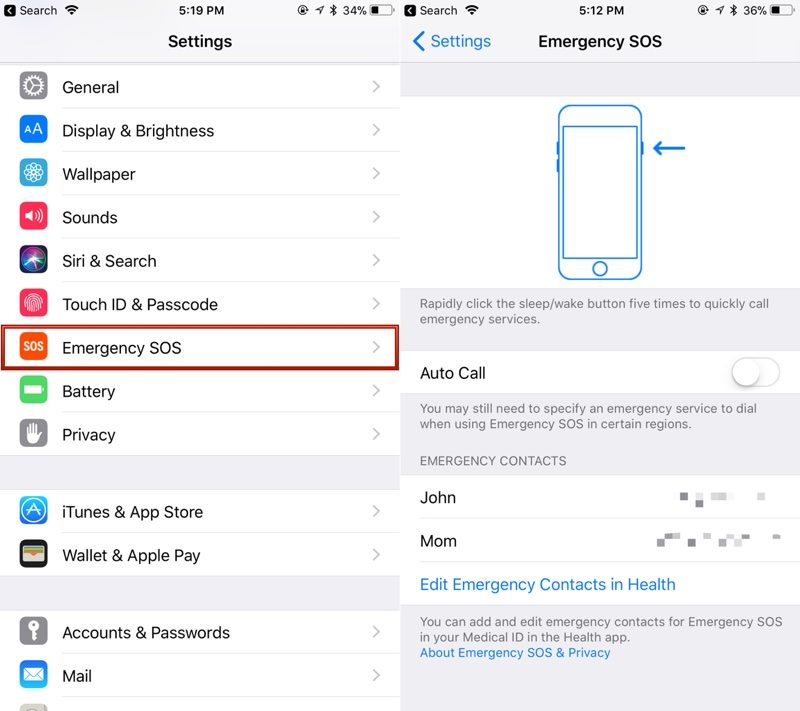 With Auto Call disabled on iPhone or Apple Watch, the same button presses will still activate emergency services, but you will need to use physical interaction in the form of a finger sliding across the screen to call 911 (or other emergency services numbers depending on your country).
Emergency SOS was
recently credited
with saving a woman and her 9-month old baby after she was hit by a drunk driver. The woman lost her phone in the collision, but was able to use the SOS feature on her Apple Watch to make an emergency call.
In addition to contacting 911, Emergency SOS serves another important purpose on the iPhone -- it
quietly and discreetly
disables both Touch ID and Face ID, allowing iPhone users who are being threatened to lock down their phones and
require passcode entry
instead of biometrics.
An auction site is set to sell off
three pieces of Steve Jobs memorabilia
, including a rare employment questionnaire filled out by the former Apple CEO.
Jobs filled out the application in 1973, just after dropping out of Reed College, where he attended school for approximately six months and then audited classes for another year and a half.
On the document, Jobs lists "english lit" as his major, and Reed College as his address. He lists "Computer" and "Calculator" as skills, along with "Design" and "Tech," and says that he has special abilities that include "Electronics" and digital "Tech or Design Engineer."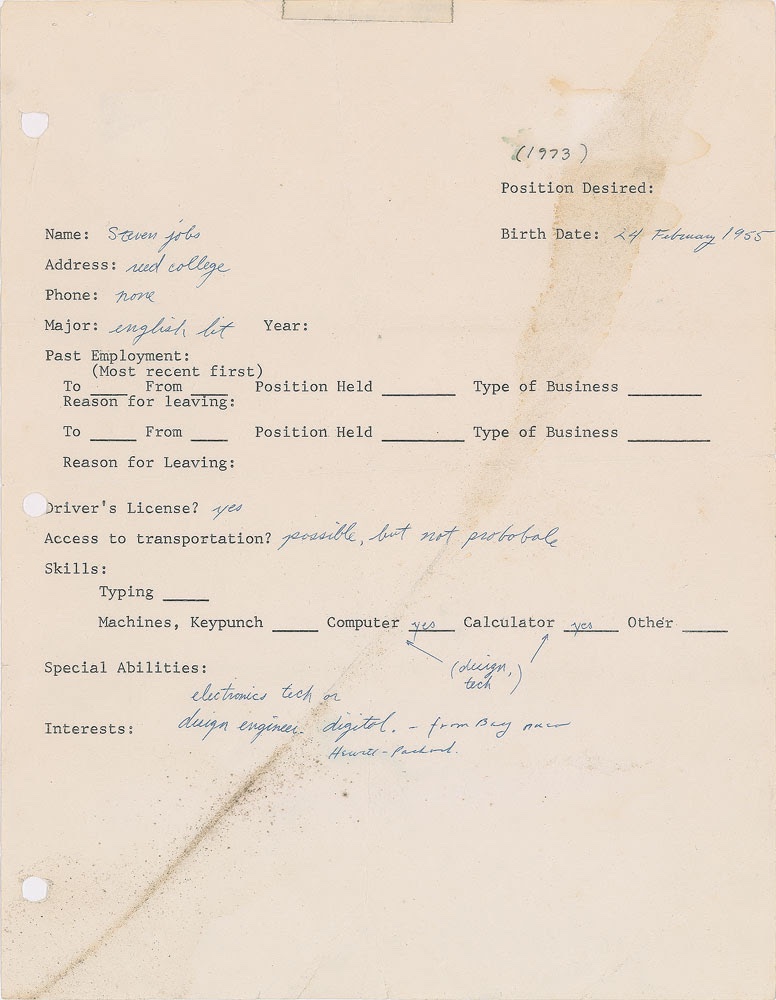 Auction site RR Auction expects the questionnaire to fetch upwards of $50,000 at auction.
Along with the questionnaire, the site also plans to auction off two documents that feature a rare Steve Jobs signature. The first is a Mac OS X technical manual that Jobs signed back in 2001, and there's a short story that goes along with the signature, obtained in a parking lot following an Apple training session in Cupertino.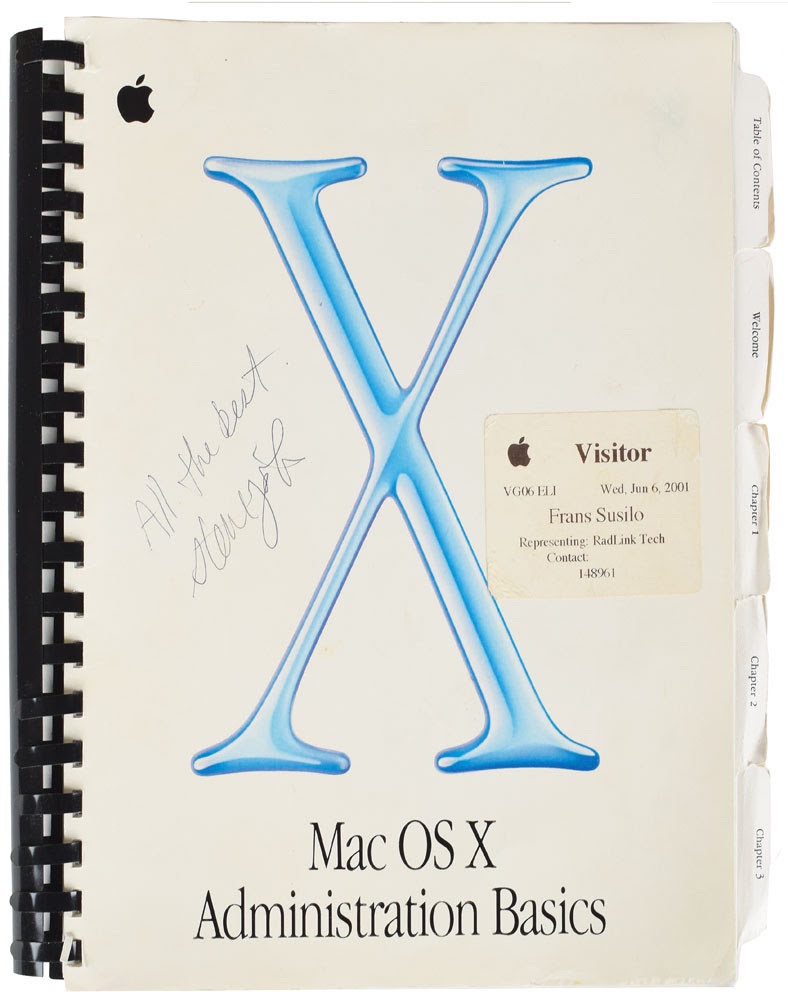 "It was afternoon, the end of my training day and I just got into my car when I saw Mr. Steve Jobs walking into his car. I rolled down my window and called up his name. He asked me whether he knew me. I told him I certainly knew who he was and immediately asked him if he would be kind enough to sign my Mac OS X Administration technical manual. He refused and said 'I feel weird doing that.' I refused to back down. After a bit of cajoling on my part, he finally told me to hand over the manual and pen. He said 'give me those' and he autographed my manual," in a letter of provenance from the consignor.
The signed manual is expected to go for approximately $25,000 when it's placed up for auction, and it's being compared to a signed magazine cover that sold for $50,000 back in October of 2017.
The third document is a newspaper clipping from 2008, which features an image of Steve Jobs speaking at the Worldwide Developers Conference where the iPhone 3G was introduced. Jobs signed the newspaper at the Fraiche Yogurt shop in Palo Alto, California where he was eating frozen yogurt with Tony Fadell, who also signed the document.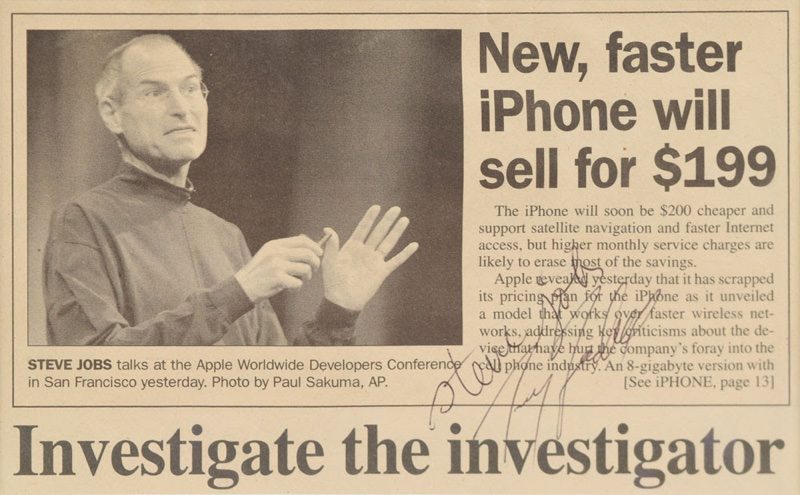 Steve politely declined several times, stating that everything at Apple was a group effort, so he didn't like to sign and take credit for everything. My mom is pretty persuasive and was eventually able to convince Steve to sign; but under Steve's condition that the person sitting with him would have to sign it as well. That friend turned out to be Tony Fadell, known as the Father of the iPod, who was working at Apple during that time and instrumental in the design and development of the first iPod which later morphed into the iPhone.
The signature on the newspaper is expected to fetch somewhere around $15,000 when it is auctioned off.
The three Steve Jobs auctions will kick off on March 8 and will end on March 15 at
RR Auction
.
A record 99.9 percent of smartphones sold worldwide last year were based on either Android or iOS, as all competing platforms have effectively been squeezed out, according to
data shared today
by research firm Gartner.

Android remains more widely adopted than iOS by a significant margin, with a roughly 86-14 percent split between the respective operating systems last year. Android's dominance is unsurprising given the software is installed on dozens of different smartphone models offered at a range of price points, whereas the iPhone primarily caters to the high-end market.
Android and iOS have been the leading mobile operating systems for many years now, but the duopoly became so dominant last year that Gartner doesn't even break out BlackBerry and Windows Phone individually anymore. Together, the platforms accounted for less than 0.1 percent market share in 2017.

For perspective, Gartner estimates that of the just over 1.5 billion smartphones sold worldwide last year, handsets running BlackBerry OS, Windows Mobile, and all other platforms made up only 1.5 million of the total.
The writing has long been on the wall for BlackBerry and Windows Phone, which have been
ceding market share to Apple and Google
for the better part of the last decade. But with Android and iOS finally reaching 99.9 percent market share, it looks like the platforms will be officially dead soon enough.
In the meantime, BlackBerry recently announced it will
continue to support
its BlackBerry 10 operating system for at least two more years, but it encourages customers to upgrade to its Android-based smartphones manufactured by TCL. BlackBerry World and other legacy services will shut down by the end of 2019.
Back in October, Microsoft likewise announced that it will
continue to support Windows 10 Mobile
with security updates and bug fixes, but it will no longer develop new features or release any new Windows Phones.
The fall of BlackBerry in particular is remarkable given it was the pioneer of the smartphone industry. Its devices actually continued to grow in popularity for around two years after the iPhone launched in June 2007, at the expense of then-leading Nokia, with a peak market share of around 20 percent in 2009.
It only took a few years until the surging popularity of iPhones and Samsung Galaxy smartphones led iOS and Android to leapfrog BlackBerry and Nokia, and based on today's data, the duopoly is now firmly entrenched.
Apple is reportedly working on several upgrades to its wireless AirPods with a new version of the popular headphones set for release as soon as this year, according to
Bloomberg
.

Like with its mobile devices -- the iPhone, iPad, and Apple Watch -- Apple intends to frequently update the AirPods with new hardware features. The Cupertino, California-based technology giant is working on a new version for release as soon as this year with an upgraded wireless chip, the people said. A subsequent model for as early as next year is planned to be water resistant, they added, asking not to be identified discussing private product plans.
The new 2018 AirPods are said to come with an upgraded wireless chip that will let users summon Siri using the "Hey, Siri" voice command without having to physically tap the headphones, similar to the way iPhone and HomePod users invoke the virtual assistant. Currently, summoning Siri through AirPods requires users to double-tap the sides of the earbuds, although responsiveness to touch can occasionally be flaky. The upcoming version of the headphones are known internally as B288, according to today's report.
The idea behind the third iteration of AirPods, said to be coming in 2019, is for the headphones to "survive splashes of water and rain", although they likely won't be designed to be submerged in water, according to
Bloomberg
's sources. That plan comes despite reports that current-generation AirPods survive being
submerged in one foot of water for five minutes
, and even come out the other side of a washing and drying cycle functioning as normal. That said, Apple doesn't advertise AirPods as water resistant, and a patent was in fact filed last April for a
waterproof AirPods case
that can double as an iPhone or Apple Watch charger.
Designed by the same department that produced Apple's HomePod speaker, AirPods were first introduced in 2016 alongside the iPhone 7 sans headphone jack, as a wireless solution for users wanting to listen to audio through a headset. Since launch, AirPods have been considered one of Apple's top-performing products, apparently reflected in Apple's
severely constrained supplies
throughout 2017. Production capacity of AirPods was
bumped up
in the second half of last year, but Apple has consistently struggled to reach supply/demand balance. Despite tight supply, AirPods were the overall top selling electronic products during last November's Cyber Monday, according to online shopping data provided by
Adobe
.
KGI Securities analyst Ming-Chi Kuo has predicted that Apple shipped
13 to 14 million AirPods last year
, and he expects AirPods to remain one of Apple's most popular accessories through 2018, with shipments likely to double to an estimated 26-28 million units on a year-over-year basis. Separately, analyst Gene Munster has
predicted
Apple will eventually earn more from AirPods than Apple Watch.
Back in December, Kuo also
predicted
Apple would release an upgraded version of AirPods in the second half of 2018. Kuo said one internal change on the second-generation AirPods will include a "smaller quartz component," but he didn't provide any further details about new outward-facing features or improvements to expect.
During Apple's iPhone X event in September, Apple revealed that a rumored new version of its AirPods headphones were not in fact the "AirPods 2," but simply a new
inductive wireless charging case
that users will be able to purchase as a replacement for their current charging cases. The only design change made to the new charging case is the placement of the LED battery indicator light, which has migrated from the inside of the case to the outside on the front. No release date has been given for the wireless charging case, but there's a fair chance it could appear during a March event alongside Apple's
AirPower
wireless charging pad and
new iPads
. It's still unclear if Apple will offer a version that also includes the AirPods themselves at the typical $159 price tag.
Apple this evening uploaded a new "Portrait Lighting" video to its YouTube channel, which is designed to give a behind the scenes look at how the Portrait Lighting effects on the iPhone X were created.
Take a look behind the iPhone X and discover the process we went through to create Portrait Lighting. Combining timeless lighting principles with advanced machine learning, we created an iPhone that takes studio-quality portraits without the studio.
In the video, Apple explains that it worked with global image makers and some of the world's best photographers to combine timeless lighting principles with machine learning techniques.
The result was the Portrait Lighting feature available in Portrait Mode on the iPhone X and the iPhone 8 Plus. On iPhone X, Portrait Lighting is available for both the front and rear facing cameras thanks to the TrueDepth camera system, while on iPhone 8 Plus, it's available for shots captured with the rear camera.
Apple's Portrait Lighting feature is designed to use sophisticated algorithms to calculate how your facial features interact with light, creating unique lighting effects.
There are several Portrait mode lighting presets, including Natural Light, Studio Light (lights up your face), Contour Light (adds dramatic shadows), Stage Light (spotlights your face against a dark background), and Stage Light Mono (Stage Light, but in black and white).
Apple has also highlighted Portrait Lighting in several
past video ads
showing off iPhone X features.
Apple today released the third public beta of an upcoming iOS 11.3 update for its public beta testing group, one day after seeding the third beta to developers and two weeks after releasing the
second public beta
.
Beta testers who are members of Apple's beta testing program will receive the new iOS 11.3 beta update over-the-air after installing the proper certificate on an iOS device.
Those who want to join the beta testing program can sign up on Apple's
beta testing website
, which gives users access to iOS, macOS, and tvOS betas. iOS betas are not always stable and should not be installed on a primary device.
Subscribe to the MacRumors YouTube channel for more videos.
The third betas of iOS 11.3 and tvOS 11.3
remove AirPlay 2 features
that were
present in earlier betas
. Prior to today's update, AirPlay 2 functionality allowed the Apple TV to be added to the Home app on an iOS device, and it enabled multi-room audio playback across multiple Apple TVs. These features are no longer available and it is not clear if they will be re-enabled in a later beta ahead of the launch of iOS 11.3.
iOS 11.3 is a significant update that introduces multiple new features like Messages on iCloud for storing your iMessages in iCloud, and ARKit 1.5, a new, upgraded version of ARKit that can more accurately map irregularly shaped surfaces, detect images, and recognize and place virtual objects on vertical surfaces like walls.
Four new Animoji (lion, skull, dragon, and bear) are available for the iPhone X, the Health app has a new Health Records feature where you can store your medical records, and as of
iOS 11.3 beta 2
, the update includes a new "Battery Health" option that's designed to provide iOS users with more information about their batteries.
Battery Health offers details on maximum battery capacity and peak performance capability, and for devices with degraded batteries, it provides information on if and when a device is being throttled with performance management features. It also provides a way for customers who do have a device with a degraded battery to turn off performance management all together.

By default, iOS 11.3 disables performance management on the iPhone, and the feature is only re-enabled once a device experiences an unexpected shutdown.
Other new features in iOS 11.3 include an Apple News "For You" section that displays the top videos of the day, info on version and download size for app updates in the Purchased tab of the App Store, Advanced Mobile Location (AML) for sharing more accurate location data when placing an emergency call in a supported country, and a new Privacy icon that will show up whenever Apple asks you for info. iBooks has also had the "i" removed from its name, so it's just "Books" now, and in the App Store, you can sort app reviews by rating and date for the first time.
Business Chat, which will let you interface with businesses like Wells Fargo, Delta, Hilton and Lowe's right in the Messages app is coming when iOS 11.3 is released, and improvements to Apple Music will bring better support for music videos.
Apple says iOS 11.3 will be released to the public in the spring.
Fast Company
today published an
interview with Tim Cook
after naming Apple the
world's most innovative company
yesterday.

Image Credit: Fast Company/Ioulex Photography
Apple's CEO primarily reflected on the iPhone maker's culture and approach that has led to products such as the iPhone X, Apple Watch, AirPods, and HomePod, and as to be expected, he talked up the company he runs.
Cook said Apple's focus is always on "products and people," for example, rather than the company's earnings results or stock price.
Fast Company: What makes a good year for Apple? Is it the new hit products? The stock price?

Tim Cook: Stock price is a result, not an achievement by itself. For me, it's about products and people. Did we make the best product, and did we enrich people's lives? If you're doing both of those things–and obviously those things are incredibly connected because one leads to the other—then you have a good year.
Apple is "not in it for the money" with Apple Music, for instance, according to Cook, who says the streaming music service is more about ensuring that artists are funded in order to have a "great creative community."
Fast Company: Music has always been part of the Apple brand. Apple Music has had a lot of user growth, but streaming is not a major money­maker. Do you think about streaming as a potential stand-alone profit area, or is it important for other reasons?

Tim Cook: […] Music is a service that we think our users want us to provide. It's a service that we worry about the humanity being drained out of. We worry about it becoming a bits-and-bytes kind of world, instead of the art and craft.

You're right, we're not in it for the money. I think it's important for artists. If we're going to continue to have a great creative community, [artists] have to be funded.
He added that Apple is an "outlier" in the sense that Wall Street has "little to no effect" on the company—which is the world's most valuable.
Fast Company: Do the investment markets make innovation harder? Or does Wall Street motivate change?

Tim Cook: The truth is, it has little to no effect on us. But we are an outlier. More generally, if you look at America, the 90-day clock [measuring results by each fiscal quarter] is a negative. Why would you ever measure a business on 90 days when its investments are long term?
Cook said what drives Apple is creating products that "change the world for the better" with innovative new features.
Tim Cook: Take iPhone X, the portrait-lighting feature. This is something that you had to be a professional photographer with a certain setup to do in the past. Now, iPhone X is not a cheap product, but a lighting rig–these things were tens of thousands, hundreds of thousands of dollars.
He added that one of Apple's unique qualities is patience in perfecting its products, rather than rushing to be first to the market.
Fast Company: Sometimes Apple takes the lead, introducing unique features–Face ID, for instance. Other times you're okay to follow, as long as you deliver what you feel is better, like HomePod, which is not the first home speaker. How do you decide when it's okay to follow?

Tim Cook: I wouldn't say "follow." I wouldn't use that word because that implies we waited for somebody to see what they were doing. That's actually not what's happening. What's happening if you look under the sheets, which we probably don't let people do, is that we start projects years before they come out. You could take every one of our products–iPod, iPhone, iPad, Apple Watch–they weren't the first, but they were the first modern one, right?

In each case, if you look at when we started, I would guess that we started much before other people did, but we took our time to get it right. Because we don't believe in using our customers as a laboratory. What we have that I think is unique is patience. We have patience to wait until something is great before we ship it.
Cook's comments are similar to ones he has shared in the past, and the interview portrays Apple in the best possible way, but the
full article
is still a worthwhile read for those who want more perspective about the company's beliefs.
Apple has registered new tablets with the Eurasian Economic Commission this week, suggesting that an iPad refresh is likely on the horizon. The filings, uncovered by French website
Consomac
, are legally required for any devices with encryption sold in Armenia, Belarus, Kazakhstan, Kyrgyzstan, and Russia.

Two of the tablets have model numbers A1893 and A1954, which don't correspond with any current iPad mini, iPad, or iPad Pro. There are also a handful of "sample" tablet and smartphone products listed that have model numbers starting with AA and CC, which is uncharacteristic, so it's unclear what those listings may pertain to.
Recent rumors and logical guesswork suggest Apple could be planning an annual refresh of its lower-cost 9.7-inch iPad, introduced last March for $329 in the United States, while the iPad mini has also gone a few years without an update.

Eurasian Economic Commission listings via Consomac
A few months ago, supply chain informant
DigiTimes
claimed Apple is planning to release an
even cheaper 9.7-inch iPad for around $259
this year. The website also said Apple's first new products of 2018 would be
released in March
, so next month is shaping up to see the arrival of at least one new budget iPad.
It's unclear what changes the new 9.7-inch iPad would have, but given its price point, it will likely retain a classic design with top and bottom bezels and a home button with Touch ID, rather than Face ID. Any refresh is likely to be a relatively minor one, with a focus on performance improvements.
The current 9.7-inch iPad is powered by an Apple A9 chip, and features an 8-megapixel rear camera, 1.2-megapixel front camera, two speakers, Lightning connector, 3.5mm headphone jack, Touch ID, 802.11ac Wi-Fi, and Bluetooth 4.2. Unlike the iPad Pro, it lacks Apple Pencil and Smart Keyboard support.
Given the 9.7-inch iPad is a niche product, a refresh could be announced
via press release
like last year. But with rumors swirling about a
new iPhone SE
, originally unveiled at a March 2016 event, perhaps Apple will have enough announcements on its docket to host a special event at Steve Jobs Theater.
Apple's rumored
iPad Pro with Face ID
is more likely to be unveiled at WWDC 2018 in June, but the discontinued 9.7-inch iPad Pro debuted in March 2016, so there's some precedence for an earlier introduction.
In the past, similar filings with the Eurasian Economic Commission have been submitted for the
10.5-inch iPad Pro and 12.9-inch iPad Pro
,
iPhone 7 and iPhone 7 Plus
,
Apple Watch Series 2
,
AirPods
, and
MacBook Pro with Touch Bar
models, all within one to two weeks before each product was released.
All in all, the listings suggest Apple will introduce new products of some kind in March for the fourth consecutive year.
Fast Company
today published its annual rankings of the 50 most innovative companies in the world, and this year, Apple is the number one company on the list for "delivering the future today."
Apple was picked for its impressive list of accomplishments in 2017, which included the iPhone X, the Apple Watch Series 3, ARKit, and its unique focus on hardware and software integration that sets it apart from its competitors. Apple designs its own chips that are optimized for its operating systems, resulting in performance that blows the competition away.

But creativity is more than skin deep--and Apple's approach to the hardware and software engineering that creates its experiences has never been more ambitious. Other makers of phones and tablets buy the same off-the-shelf chips as their competitors. Apple, by contrast, designs its own chips--so an iPhone packs a processor designed specifically optimized for Apple's operating system, apps, display, camera, and touch sensor. The company has gotten so good at chip design that the A10 Fusion inside the iPhone 7 trounces rival processors in independent speed benchmarks.
Apple also topped the list for its focus on privacy-based artificial intelligence advancements, its growing entertainment business, and its work to improve medical care with CareKit and ResearchKit. Its accomplishments boosted it up three spots from last year, when it was ranked
the number four most valuable company
in the 2017 list.
To create these rankings,
Fast Company
says that more than three dozen editors, reporters, and contributors surveyed thousands of companies to identify the most notable innovations of the year and trace their impact on businesses, industries, and the larger culture.
Other companies that made the top 10 list include Netflix, Square, Tencent, Amazon, Patagonia, CVS Health,
The Washington Post
, Spotify, and the NBA.
In addition to a master list,
Fast Company
publishes a breakdown of most innovative companies by sector. Apple also topped the list in the "Consumer Electronics" category, beating out companies like Amazon, Nintendo, and Sony.
Early AirPlay 2 functionality, which was present in initial iOS 11.3 and tvOS 11.3 betas, has been removed
from the third beta
that was provided to developers this morning.
With the first betas of iOS 11.3 and tvOS 11.3, when you installed these updates on an iOS device and two or more fourth or fifth-generation Apple TVs, AirPlay 2 could be used to
stream music to multiple devices
at the same time.

As an example, with two Apple TVs running tvOS 11.3 set up in different rooms of the house, you could use an iPhone to play the same song on both through AirPlay 2's multi-room audio feature.
Installing tvOS 11.3 also added the Apple TV to your HomeKit setup, with the Apple TV present in the Home app.

As noted by
iDownloadBlog
, all of these features are now missing in iOS 11.3 and tvOS 11.3 beta 3. There are no options to play audio to multiple sources and the Apple TV has been removed from the Home app.
The AirPlay 2 feature was buggy and not fully functional, which may be why it's been removed. It is not clear at this time if Apple plans to re-introduce the AirPlay 2 functionality in later iOS 11.3 and tvOS 11.3 betas.
AirPlay 2 was first announced as part of iOS 11 in June, but it did not show up in the launch version of the new operating system. When officially released, AirPlay 2 will allow HomePod, Apple TV, and supported third-party speakers to work together.
Once AirPlay 2-compatible products are widely available, you will be able to use AirPlay 2 to control all of the different speakers and devices throughout your home, for a full multi-room audio experience.
This kind of multi-room audio support was a main feature advertised for the HomePod, but Apple opted to ship the speaker without it.
Apple's new HomePod is late to the smart speaker market, which is already crowded with speakers from companies like Amazon, Google, and Sonos. The latter two companies, Google and Sonos, have released speakers with high-quality sound and robust voice assistants, giving the HomePod some serious competition.
We decided to pit Apple's $349 HomePod against both the
$399 Google Home Max
, which comes with Google Assistant, and the
$199 Alexa-powered Sonos One
to see how the HomePod measures up.
Subscribe to the MacRumors YouTube channel for more videos.
To compare the three speakers, we focused on design, sound quality, and the overall performance of Siri, Alexa, and Google Assistant.
When it comes to design -- and this is certainly subjective -- we preferred the look of the HomePod with its fabric-wrapped body and small but solid form factor. The Sonos One looks a little more dated with its squarer body and standard speaker mesh, while the Google Home Max has a much larger footprint that's going to take up more space.

Apple's HomePod
All three offer touch-based controls at the top of the device, but the Google Home Max has one design edge - a USB-C port and a 3.5mm audio jack for connecting external music sources. The Sonos One has a single Ethernet port, while the HomePod has no ports.
Though we liked the HomePod's design, Siri, as you might expect, did not perform as well as Alexa on Sonos One or Google Assistant on Google Home Max.

Google Home Max
On questions like "Is Pluto a planet?" or "What's the fastest car?" both Alexa and Google Assistant were able to provide satisfactory answers, while Siri said those weren't questions that could be answered on HomePod.
Siri was not able to sing happy birthday, create a calendar event, or even provide the release date of the HomePod itself, directing users to Apple.com for more information, while the other smart assistants were able to do these things.
Apple execs have said in the past that Siri was
not engineered to be Trivial Pursuit
, but it would be nice if Siri had a more competitive feature set.
Though only briefly touched on in the video, Siri does, in fact, do well with HomeKit commands and controlling music playback on the HomePod through an accompanying Apple Music subscription.

Sonos One
Sound quality is a controversial topic because there's a heavy amount of personal preference involved when judging these three speakers. We thought the HomePod sounded the best, with the Google Home Max at a close second, followed by the Sonos One.
The Google Home Max gets the loudest, but sound becomes somewhat distorted at the highest volumes, while the Sonos One offers robust sound that's not quite as good at a lower price point. HomePod does have one major benefit: a fantastic microphone that picks up Siri commands even when you're across the room.
All three of these speakers offer great sound, and if you're attempting to pick one based on reviews, make sure to read several. We thought the HomePod sounded best, but other sources, like
Consumer Reports
and
Yahoo
's David Pogue found that the Google Home Max and the Sonos One sounded better than the HomePod.

So which speaker is better? The answer to that question depends on the other products you own. If you're an Apple Music subscriber with a HomeKit setup, the HomePod is going to work great. It only works natively with Apple Music, iTunes Match, and iTunes purchases, so if you have a Spotify subscription, for example, support isn't as robust.
For that reason, if you're not locked into Apple's ecosystem already, or if you have Apple devices but subscribe to Spotify, HomePod probably isn't the best choice for you.
Apple today seeded the third beta of an upcoming iOS 11.3 update to developers for testing purposes, two weeks after
seeding the second beta
and one month after
releasing iOS 11.2.5
, an update that focused primarily on bug fixes and security improvements. The update also comes just a day after the
release of iOS 11.2.6
, which fixed a bug that caused iPhones and iPads to crash when a character from the Indian language Telugu was rendered improperly.
Registered developers can download the new iOS 11.3 beta from Apple's Developer Center or over-the-air once the proper configuration profile has been installed from the Developer Center.
Subscribe to the MacRumors YouTube channel for more videos.
iOS 11.3 is a major update that introduces a long list of new features, like Messages on iCloud for storing your iMessages in the cloud, and ARKit 1.5, a new, upgraded version of ARKit that can more accurately map irregularly shaped surfaces and recognize and place objects on vertical surfaces like walls.
There are four new Animoji on the iPhone X (dragon, bear, skull, and lion), and in the Health app, there's a new Health Records feature that aggregates all of your medical records in one easy-to-access place. Health Records are limited to participating institutions, though.

AirPlay 2 features have been introduced in iOS 11.3 and tvOS 11.3, allowing audio to be played to multiple Apple TVs, and for HomeKit, iOS 11.3 introduces official support for HomeKit software authentication options.
As of
iOS 11.3 beta 2
, the update includes a new "Battery Health" feature that's designed to provide iOS users with more information about their batteries.
Subscribe to the MacRumors YouTube channel for more videos.
Battery Health offers details on maximum battery capacity and peak performance capability, and for devices with degraded batteries, it provides information on if and when a device is being throttled with performance management features. It also provides a way for customers who do have a device with a degraded battery to turn off performance management all together.

By default, iOS 11.3 disables performance management on the iPhone, and the feature is only re-enabled once a device experiences an unexpected shutdown.
Other features in iOS 11.3 include a new "For You" section in Apple News that displays the top videos of the day, support for Advanced Mobile Location (AML) for more accurate location when placing an emergency call in a supported country, more information about app size in the Updates tap in the App Store, and a new Privacy screen and icon that will show up whenever Apple asks you for info.
iBooks has also had the "i" removed from its name, so it's just "Books" now, and the App Store now lets you sort reviews by most helpful, most favorable, most critical, and most recent, a handy change for better finding the app info you're looking for.

Business Chat, which will let you interface with businesses like Wells Fargo, Delta, Hilton and Lowe's right in the Messages app is coming when iOS 11.3 is released, and improvements to Apple Music will bring better support for music videos. Users will be able to stream music videos without ads and create and view music video playlists.
iOS 11.3 will be released to the public in the spring. Spring kicks off on March 20, so iOS 11.3 will be in testing for at least another month.
What's new in iOS 11.3 beta 3:
The newest beta of iOS 11.3 adds support for the iPod touch, and it
removes AirPlay 2 features
that were present in previous betas. There's also a new option in the Settings app under Privacy --> Analytics to share Health Record analytics with Apple.