Apple today released new Smart Battery Cases designed for its 2018 iPhone lineup, including the iPhone XS, XS Max, and XR.
Available in black or white, each Smart Battery Case is priced at $129 and is designed to add extra battery life to the iPhone. The cases are similar in design to the past battery case option Apple offered for the iPhone 7, with a bump at the back to house a battery pack.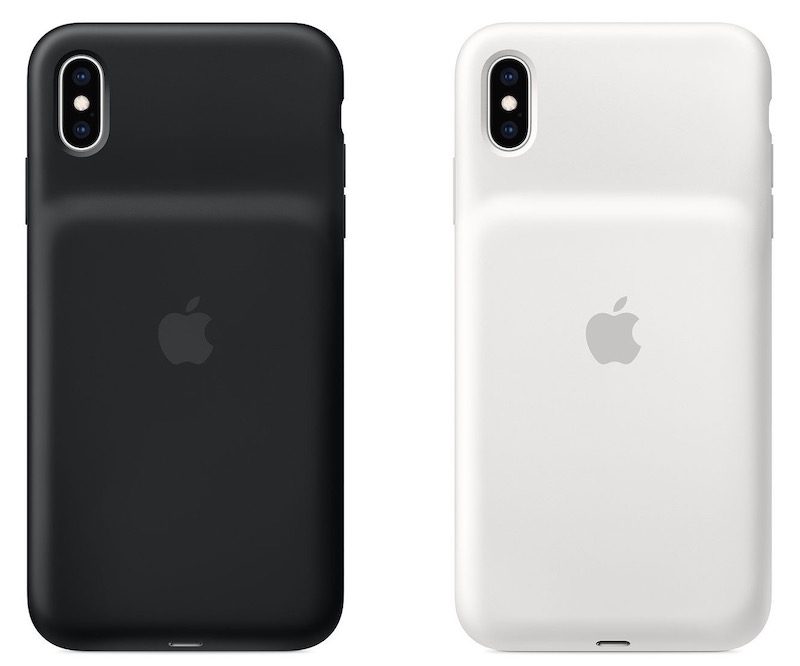 Each case provides a varying amount of battery life depending on device. The
iPhone XS Battery Case
, when paired with the iPhone XS, offers up to 33 hours of talk time, up to 21 hours of internet use, and up to 25 hours of video playback.
The iPhone XS Max with the
XS Max Smart Battery Case
offers up to 37 hours of talk time, up to 20 hours of internet use, and up to 25 hours of video playback.
The iPhone XR with the
XR Battery Case
offers up to 39 hours of talk time, up to 22 hours of internet use, and up to 27 hours of video playback.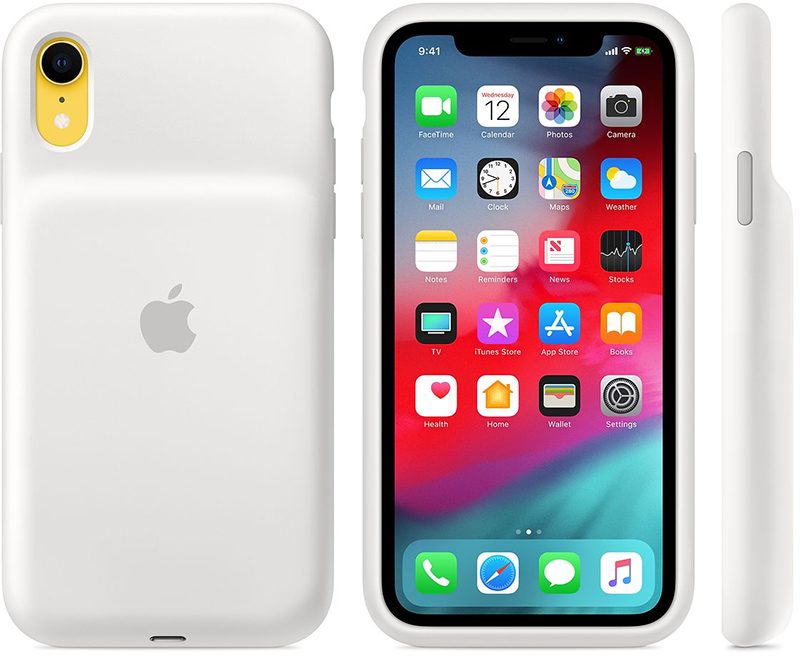 Apple has not offered a Smart Battery Case option for the iPhone since the introduction of the iPhone 7, presumably due to the wireless charging feature in the iPhone 8, iPhone X, iPhone XS, iPhone XS Max, and iPhone XR. There has also never been a battery case for larger iPhones, with prior cases limited to the iPhone 6/6s and iPhone 7.
Rumors
in December
, however, suggested that a version compatible with Qi-wireless charging was in the works, and Apple's product listings confirm that the new Smart Battery Cases are indeed compatible with Qi-certified wireless chargers.
As with the previous versions of the Smart Battery Case, the new options provide an intelligent battery status on the iPhone's Lock screen and in Notification Center so you're aware of the remaining charge of the device.
The cases charge wirelessly as mentioned above or via Lightning and Apple says faster charging is available using USB-PD compatible chargers. Lightning accessories, like the EarPods with Lightning Connector, are also compatible.
Apple late last year teamed up with indie entertainment studio A24 to produce a series of films for its upcoming streaming service, and now the first film under that partnership is in the works.
According to
Variety
, Apple and A24's first movie will be directed by Sofia Coppola, known for directing movies like "The Virgin Suicides," "Lost in Translation," "Marie Antoinette," and "The Bling Ring."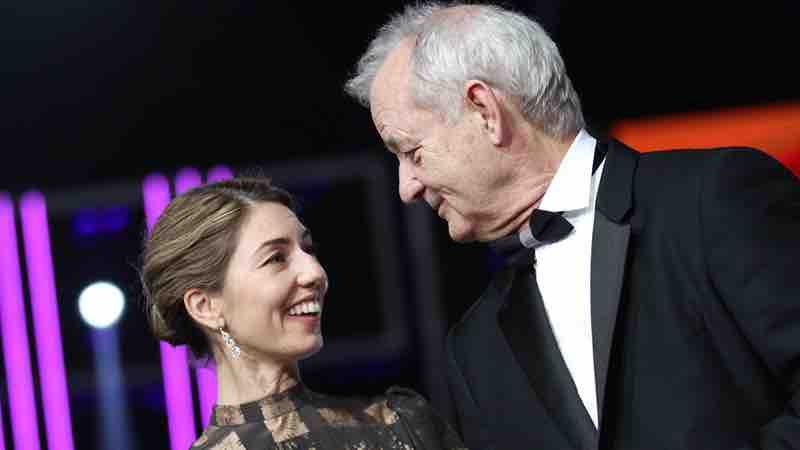 Image credit: Guillaume Collet/Sipa/REX/Shutterstock, via Variety
The movie, "On the Rocks," will star Bill Murray, who often works with Coppola, and Rashida Jones, known for her roles in "The Office" and "Parks and Recreation."
"On the Rocks" will follow a young mother who reconnects with her larger-than-life playboy father on an adventure through New York. Production on the movie is set to start next month.
Apple has more than a dozen television shows in the works, with many in the casting stages, but the filming schedule for "On the Rocks" suggests it will be Apple's first movie to be completed.
Rumors have suggested Apple is working on a streaming service that will provide access to Apple-produced TV shows and movies, with some content available for free. Apple is said to be aiming to launch the new service in 2019.
Multiple rumors have suggested at least one of the 2019 iPhone models will feature a triple-lens camera design, but smartphone leaker Steve Hemmerstoffer (aka OnLeaks) believes Apple is still finalizing just what the triple-lens design will look like.
Earlier this month, Hemmerstoffer shared one possible prototype design featuring a square-shaped camera layout, and today, he's teamed up with Indian site
CompareRaja
to show us another design that Apple is allegedly working on.

The new renders feature an iPhone with a slimmed down notch for the front-facing camera and TrueDepth system, along with a triple-lens rear camera positioned in the center of the device.
The camera features three lenses in a horizontal arrangement, with a flash located around the middle of the three lenses. A microphone is located below, while the volume buttons are on the left side of the device and the power button is on the right, in line with current devices.

According to Hemmerstoffer and
CompareRaja
, this set of renderings, along with the previous set that featured a larger square-shaped camera layout are both "100% legit prototypes."
The three iPhones planned for 2019 are "still in the EVT stage," aka the Engineering Validation Test, with Apple allegedly having yet to decide on a design. The site suggests either both leaked prototypes will be used and marketed as different models, or one of the leaked prototypes will be axed.

Current rumors sourced from
The Wall Street Journal
suggest
only one iPhone
will feature a triple-lens camera setup - the next-generation iPhone XS Max. The next-generation iPhone XS and the next-generation iPhone XR will continue to use dual-lens cameras, with Apple reserving the triple-lens setup for its highest-end device.
It's not clear if these renderings are accurate depictions of the iPhone design Apple might use in 2019, nor do we know if Apple is still attempting to decide on a final look, but Hemmerstoffer has a track record of sourcing accurate information from Apple's supply chain.
At this point in time, no other source has commented on the triple-lens camera layout Apple might use, so we'll need to wait for further leaks to get a clearer picture of how Apple plans to implement a three-lens design.
Privacy-focused search engine DuckDuckGo today
announced
that it is using Apple's MapKit JS framework to power the map and address-related searches that its users conduct on both mobile and desktop.
MapKit JS allows DuckDuckGo to provide users with improved address searches, new visual features, enhanced satellite imagery, and continually updated maps without sacrificing privacy.

DuckDuckGo says that Apple Maps will be available embedded within private search results for relevant queries and from the Maps tab on any of the search result pages.
To bring up a map option, users can search for an address, a geographical place, a local business, a type of business, or places nearby.
DuckDuckGo does not collect or share any personal information from DuckDuckGo users, a policy that extends to the Apple Maps integration. Identifiable info like IP address is not provided to Apple, and for searches where approximate location is gathered by the browser, it is discarded immediately after it's used.
Intel has been searching for a new CEO since Brian Krzanich resigned nearly seven months ago, and
Axios
now reports that the chipmaker's list of candidates includes
Johny Srouji
, Senior Vice President of Hardware Technologies at Apple.

Srouji joined Apple in 2008 to lead development of the A4 chip, the first Apple-designed system-on-a-chip in the iPhone 4, and now oversees custom silicon and hardware technologies including batteries, application processors, storage controllers, sensors silicon, and other chipsets across Apple's entire product line.
It's unclear if Srouji is interested in leading Intel, where he worked between 1990 and 2005 in both his native Israel and the United States, according to his LinkedIn profile. Srouji also worked at IBM between 2005 and 2008.
Apple's custom A-series chips lead the mobile industry in terms of performance, so losing Srouji would certainly be a major blow for the iPhone maker, although the company obviously has a larger team of engineers working on the silicon. Back in 2017, Srouji said his team was already working on chips for 2020.
Apple is rumored to use an Intel wireless chip in its
first 5G-capable iPhone in 2020
.
Nike today
introduced
new iPhone-controlled self-adjusting basketball shoes based on its latest FitAdapt technology.

The new Nike Adapt BB shoes feature an advanced power-lacing system with a custom motor that senses the tension needed by the foot and adjusts accordingly to ensure a snug fit. Using buttons on the shoe or the Nike Adapt app for smartphones, basketball players can adjust the fit on the fly during a game.
For example, during a timeout, a player can loosen the shoe before tightening it up as they re-enter the game. In a forthcoming feature, Nike says players will also be able to prescribe a different tightness setting for warm-ups.
The shoes are
equipped with a 505 mAh battery
that can last between 10 and 20 days and charge wirelessly on Nike's shoe-sized Qi-compatible mat in three hours.

Nike says its new Adapt BB shoes are an evolution of its HyperAdapt 1.0 shoes from 2016, the athletic wear company's first multipurpose performance shoe to feature power lacing. The Adapt BB shoes will also be Nike's first continually updated performance product, as they will receive opt-in firmware updates.
The shoes are
priced at $350 in the United States
and will begin shipping on February 16, according to Nike's online store.
Apple replaced a total of 11 million iPhone batteries under the $29 battery replacement program that was introduced at the end of 2017 and ran through 2018 before ending on December 31, 2018.
The tidbit was shared by Tim Cook at a recent
all-hands meeting
with Apple employees and relayed by
Daring Fireball
's John Gruber, who heard the information from an unnamed source.

Apple replaced approximately 9 to 10 million more batteries than it would have during a normal year, said Cook. Apple normally replaces 1 to 2 million batteries each year.
Cook cited the battery replacement program as
one of the reasons
why Apple's Q1 2019 guidance
was cut
earlier this month after poorer than expected iPhone sales. Apple now expects revenue of $84 billion, down from a November estimate of $89 to $93 billion.
It's not entirely clear why Apple didn't know how the battery replacement program would impact sales earlier in the year given that it ran throughout 2018, but Gruber speculates that while Apple knew battery replacements were higher than normal, the true effect of the replacement program did not become known until the new iPhone XS and XR models were released and fewer people upgraded.
Apple initiated the $29 battery replacement program after outcry over an iOS 10 update introduced a power management feature that slowed the performance of some older iPhones with degrading batteries. The power management features were designed to prevent unexpected shutdowns and prolong the iPhone's life, but some customers saw it as proof of planned obsolescence.
Apple apologized for the misinformation and introduced the discounted battery replacement program to appease customers. In a device with a degraded battery that is experiencing slowdown issues because of performance management software, replacing the battery restores full functionality, which undoubtedly led some customers to stick with an older iPhone rather than upgrade.
In
February 2018
, Cook said that Apple had not considered how the battery replacement program would impact iPhone upgrade rates, but it's clear it ultimately had an impact on Apple's bottom line.
"We did it because we thought it was the right thing to do for our customers," said Cook at the time. "I don't know what effect it will have for our investors. It was not in our thought process of deciding to do what we've done."
Apple could have a 7th-generation iPod touch in the works, according to new information shared today by Japanese site
Mac Otakara
.
Several suppliers at CES 2019 reportedly told
Mac Otakara
that a 7th-generation iPod touch "might" be in development as a replacement for the 6th-generation version.

The site did not provide details on when an updated iPod touch might launch, nor what features it might include.
Apple last updated the hardware in the iPod touch in July 2015, introducing an A8 chip, an 8-megapixel rear camera, and six color options.
The iPod touch lineup was last tweaked in July 2017 when Apple streamlined the available capacity options (32 and 128GB) and introduced new pricing tiers. Right now, the iPod touch costs $199 for the 32GB version and $299 for the 128GB version, with the higher-capacity model's pricing not too far off from the $329 9.7-inch iPad.
With the iPod shuffle and iPod nano having been discontinued in 2017, Apple's plans for the iPod touch and the iPod family in general have been unclear.
The iPod has seemed to be on its last legs as Apple customers shift to other devices like the iPhone and the iPad, but it's not out of the question that the iPod touch could be updated with more modern hardware like an improved rear camera and a faster A-series chip.
Mac Otakara
's report also suggests that the next-generation iPhone coming in 2019 could potentially include a USB-C port. According to "those who are working on it," though, it has not reached a design reference step and whether or not the new iPhones will use USB-C over Lightning is not yet fully established.
This is not the first time we've heard that USB-C could be a feature included in the 2019 iPhone lineup. Atherton Research analyst Jean Baptiste Su recently said that
he believes
Apple will transition away from Lightning, introducing a USB-C port for the iPhone like it did on the 2018 iPad Pro models.
DigiTimes
has
also suggested
in a vaguely worded report that 2019 iPhones could feature USB-C ports instead of Lightning ports, though it was difficult to tell if it was referring to the ports or a USB-C to Lightning cable for the iPhones.
A swap to USB-C from Lightning has been rumored for years, but the fact that Apple made the transition in the iPad Pro lends more credence to new rumors suggesting the same transition for the 2019 iPhones.
Law enforcement officials can't force smartphone users to unlock their devices using fingerprints or other biometric features such as facial recognition, according to a Northern California
court ruling
from last week.
The ruling, which was shared this morning by
Forbes
, was the result of an Oakland investigation into possible extortion. Police officers asked the court for permission to seize multiple devices and then compel the suspects to unlock the devices using biometric authentication.

The court said that there was indeed probable cause to grant a search warrant, but that it was denied because the request to force the suspects to unlock their devices using biometric authentication "funs afoul of the Fourth and Fifth Amendments." From the ruling:
The Government, however, also seeks the authority to compel any individual present at the time of the search to press a finger (including a thumb) or utilize other biometric features, such as facial or iris recognition, for the purposes of unlocking the digital devices found in order to permit a search of the contents as authorized by the search warrant.

For the reasons set forth below, the Court finds that the Government's request funs afoul of the Fourth and Fifth Amendments and the search warrant application must be DENIED.
In further analysis, the court equated biometric authentication to a passcode rather than something like submitting to a DNA swab. It has been previously established that under the Fifth Amendment, a suspect cannot be compelled to provide the passcode of a device.
Biometric features like Touch ID and Face ID, said the court, serve the same purpose as a passcode, securing the owner's content, "pragmatically rendering them functionally equivalent."
The ruling also made an interesting point about the urgency with which law enforcement officials attempt to get a suspect to unlock a device biometrically, because after a device is passcode locked (iPhones will passcode lock after a short period without a biometric unlock), the government can't compel a person to enter the passcode. This urgency essentially confirms that a passcode and a biometric lock are one and the same.
This urgency appears to be rooted in the Government's inability to compel the production of the passcode under the current jurisprudence. It follows, however, that if a person cannot be compelled to provide a passcode because it is a testimonial communication, a person cannot be compelled to provide one's finger, thumb, iris, face, or other biometric feature to unlock that same device.
Biometric authentication measures have been a hotly debated topic, and previous rulings have suggested that Touch ID and Face ID are not equivalent to a passcode, though most rulings have pertained to Touch ID as Face ID is newer.
This has allowed law enforcement to force suspects to
unlock their iPhones
and other devices
using biometric authentication
. In October, for example, the FBI was able to force a man accused of child abuse to unlock his iPhone using Face ID.
The California court's most recent ruling could potentially have an impact on future court cases of this type, perhaps putting an end to the practice of forced biometric smartphone unlocking and the belief that a passcode is not equivalent to a biometric lock.
For now, though, Apple has implemented a method to quickly and temporarily
disable Touch ID and Face ID
by pressing on the side button of recent iPhones five times in quick succession.
Note: Due to the political nature of the discussion regarding this topic, the discussion thread is located in our
Politics, Religion, Social Issues
forum. All forum members and site visitors are welcome to read and follow the thread, but posting is limited to forum members with at least 100 posts.
As the FTC's antitrust trial against Qualcomm continues, Apple's chief operating officer, Jeff Williams, has taken the stand to share details on the terms of Apple's contracts with Qualcomm.
There's no live feed of the trial, but reporters including
CNET
's
Shara Tibken
and
Florian Mueller
of
FOSS Patents
are attending and sharing details on what Williams has to say.

Most interestingly, Williams says that Apple had wanted to use both Qualcomm and Intel chips in the iPhone XS, XS Max, and XR despite the ongoing legal battle between Apple and Qualcomm, but Qualcomm ultimately would not sell it the modems because of the fight.
"The strategy was to dual source in 2018 as well," said Williams. " "We were working toward doing that with Qualcomm, but in the end they would not support us or sell us chips."
Williams went on to explain that after Qualcomm CEO Steve Mollenkopf refused to sell Apple the chips, Apple had to contact Intel CEO Brian Krzanich to supply LTE chips for all of the 2018 iPhones. "We would have loved to continue to have access to Qualcomm's tech," said Williams.
Williams also detailed many of Apple's past interactions with Qualcomm. In 2011, when Apple negotiated a contract to use Qualcomm as a supplier for modems instead of Infineon because of Apple's need for CDMA-compatible chips, Qualcomm demanded a percentage of the iPhone's cost.
The two companies ultimately negotiated a rebate that brought the total royalty fee down to $7.50 per iPhone, though Apple had wanted to pay $1.50 per phone, equivalent to 5 percent of the value of the baseband chip, which was $30. Under the terms of that deal, though, Apple had to agree to a "marketing incentives agreement" to speak out against the WiMax standard that was popular at that time.
With the "marketing incentives agreement," rebates Apple received from Qualcomm would need to be reimbursed should Apple ship a device with a baseband chip from a Qualcomm competitor.
When it came time to renegotiate contracts in 2013, Qualcomm wanted to increase the $7.50 fee by an additional $8–$10, which would have cost Apple upwards of a billion dollars in annual licensing costs. To lower that fee, Qualcomm wanted exclusivity, which Apple accepted because it needed Qualcomm's chips.
Apple accepted the deal, which also prevented the company from challenging the fairness of Qualcomm's royalty rates or inducing others to challenge Qualcomm's licensing terms, which is the position Apple has been stuck in for several years.
Apple was finally able to diversify with the launch of the iPhone 7, the first iPhone to use chips from both Qualcomm and Intel, and it challenged Qualcomm's licensing terms in January 2017 with the launch of the initial Apple v. Qualcomm lawsuit.
Apple and many other Qualcomm partners are involved in Qualcomm's legal battle with the FTC, with the FTC suggesting that Qualcomm has been using anticompetitive tactics to remain the main supplier for baseband processors for smartphones.
The FTC v. Qualcomm trial will be continuing through most of January, so we are likely to hear additional details about Qualcomm and Apple's business practices.
Apple continues to aggressively market the iPhone XR, with one of its latest tactics being
customized emails to owners of older iPhone models
with a trade-in value of the older device and a tech specs comparison with the iPhone XR.

An email sent to an iPhone 6 Plus user, for example, advertises Apple's
limited-time $200 trade-in offer
for that device towards the purchase of an iPhone XR in the United States. The email also states that the iPhone XR is up to three times faster than the iPhone 6 Plus and compares other features.
Apple appears to have started sending out these emails late last year, but we saw several mentions of the campaign on Reddit and Twitter today, suggesting that Apple may have sent out a second wave of emails to additional customers.

Apple issued a rare
revenue downgrade of up to $9 billion
for the first quarter of its 2019 fiscal year, a move that it attributed entirely to fewer iPhone upgrades than it anticipated, primarily in the Greater China region. Apple believes simplifying its process of trading in a phone is one way it can improve its results.
When it launched, Apple's HomePod smart speaker
did not count
toward an Apple Music subscription's device streaming limit. This meant that single-user Apple Music subscribers could stream one song on an iOS device and another on HomePod simultaneously, without one stream ending the other. Recently, this ability has disappeared for many Apple Music users, who are now unable to stream music on both HomePod and an iOS device at the same time.

While single memberships transition to this method of HomePod streaming, Apple Music family memberships will be able to continue to stream multiple songs on both iOS devices and HomePod without any of the streams getting interrupted. Moreover, when HomePod interrupts music streaming on an iPhone, a new pop-up box on iOS displays an option for single membership subscribers to upgrade to an Apple Music family plan. The box explains that up to 5 other people can stream their music at once using the family plan.
According to a tipster, posts on Reddit, and a few accounts on the
MacRumors
forums dating back to last summer, the timeline for this change is murky. As far back as
August 2018
,
MacRumors
user cczhu mentioned not being able to play music on both HomePod and Apple TV simultaneously. Similar experiences were shared later in the year, with HomePod counting towards an account's device streaming limit when playing Apple Music on other Apple products, and now it appears that this tweak has hit many more users.
Over the weekend, a few users on
r/HomePod
posted similar stories. According to Reddit user
veteran_t
, on Saturday they noticed music playing on their iPhone paused a playlist on their HomePod. Deciding to speak with Apple Support, a senior specialist told the user that any claims about HomePod not counting toward an Apple Music subscription's device streaming limit are third party quotes. The specialist continued by saying Apple never advertised this feature and that veteran_t's HomePod is now working in the originally intended way.
(Thanks, Jason!)