Over the course of this week, we've been taking a look at Samsung's new flagship smartphones, the Galaxy S9 and the Galaxy S9+, as these two devices are the iPhone X's biggest competition.
In our latest video, available on
the MacRumors YouTube channel
, we compared the Samsung Galaxy S9+'s dual-lens camera with variable aperture to the vertical dual-lens camera in the iPhone X.
Subscribe to the MacRumors YouTube channel for more videos.
Samsung decided to focus heavily on image quality in its latest devices, and the S9+ has a 12-megapixel f/1.5 to f/2.4 variable aperture lens as its main camera, which is paired with a 12-megapixel f/2.4 telephoto lens, similar to what's available in the iPhone X.
A variable aperture is unique to Samsung's new devices, and it offers some benefits that are going to improve image quality. With a variable aperture, it's easier to find a balance between light and image quality.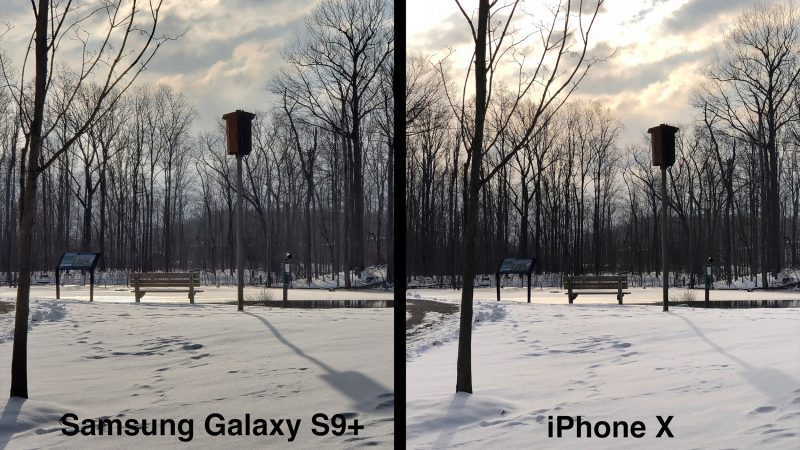 Click to enlarge
At the wider f/1.5 aperture, the Galaxy S9+ camera can let in more light in low light situations, but a wider aperture tends to compromise image sharpness at the edges of the photo. In conditions where the lighting is better, the narrower f/2.4 aperture will provide a crisper higher-quality image. The Galaxy S9+ can automatically select the proper aperture for the best image.
The iPhone X has two lenses like the Galaxy S9+, but no adjustable aperture, and that gives the S9+ a bit of an edge. As you'll see in the images below, though, both the iPhone X and the Galaxy S9+ have fantastic cameras that are capable of taking some amazing images.
In these photos, we used an automatic mode to capture the images, and no editing was done. This image of a sunset demonstrates some key differences between the two cameras. The S9+ offers a crisper image with more definition, but the colors in the iPhone X image are warmer and more true to life.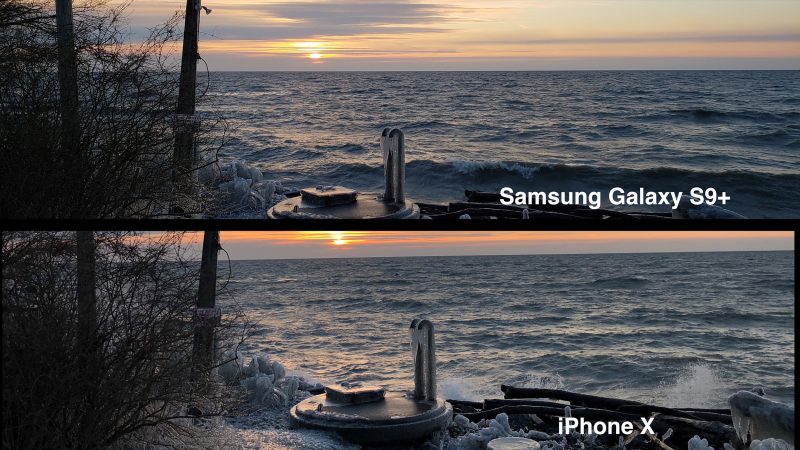 Click to enlarge
The Galaxy S9+ has a "Live Focus" mode that's similar to Portrait Mode on the iPhone X, and the photo below compares Live Focus with Portrait Mode. Both of these modes have some issues, but making adjustments to blur is easier on the Galaxy S9+, which gives it the win over the iPhone X. In general, the Galaxy S9 also has more built-in image editing tools with its Pro Mode for taking manual photos.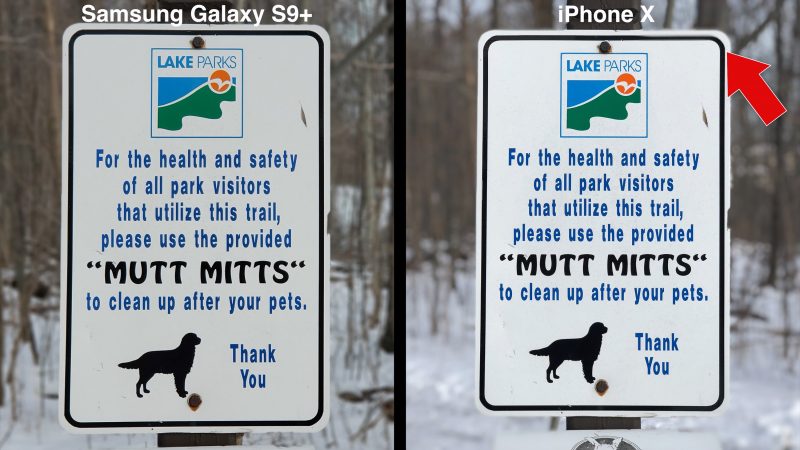 Click to enlarge
In addition to images, we also took a look at video modes. Samsung's Galaxy S9 can record in slow motion at 960 FPS, a unique feature because the iPhone X's slo-mo maxes out at 240 FPS. Both devices can also record in 4K video with optical image stabilization, but the Galaxy S9+'s video was less jittery. The iPhone X did win out when it came to suppressing outdoor wind sound, though.
Both of these cameras, as mentioned before, are great and can capture images that are on par with DSLRs in some situations, but there are definitely some features that make the Galaxy S9+ ever so slightly better than iPhone X when it comes to image and video quality.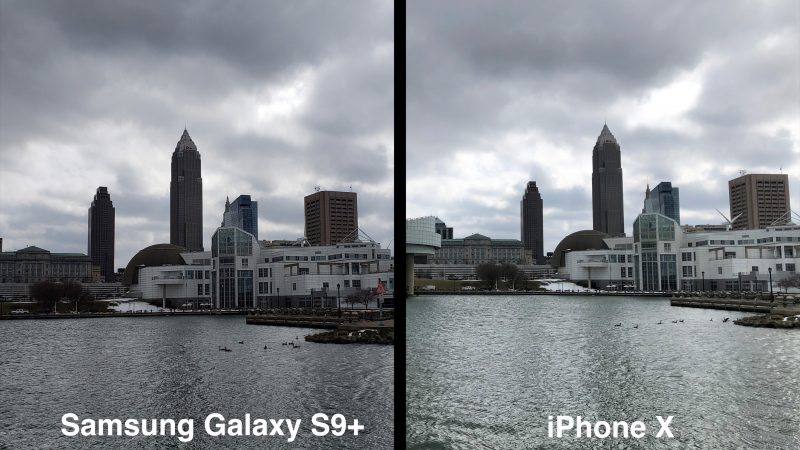 Click to enlarge
Of course, Apple is going to be introducing the successor to the iPhone X in about six months, and with the camera improvements that come with every new upgrade, it's likely iPhones coming in 2018 will outshine the Galaxy S9+.
Which images do you prefer? iPhone X or Galaxy S9+? Let us know in the comments.
Make sure to check out our other videos, which have
compared the Galaxy S9 to the iPhone X
and
pitted Animoji against Samsung's new AR Emoji
.
In addition to our standalone articles covering the latest Apple news and rumors at MacRumors, this
Quick Takes
column provides a bite-sized recap of other headlines about Apple and its competitors on weekdays.
Friday, March 16
Highlights
1.
Apple Pencil 2 wishlist:
iMore
's Serenity Caldwell offers some good suggestions for a next-generation Apple Pencil, including integration of Apple's W1 or W2 chips for improved pairing, haptic feedback, wireless charging, and multiple nib options both for improved friction and design.

Commentary: Apple today invited the media to an
education-focused event on March 27
at Lane Tech College Prep High School in Chicago. The artwork for the invite suggests the Apple Pencil could be one focus of the event, with the possibility of both a new version and support added for the 9.7-inch iPad.
2.
An Apple R&D bonanza:
Above Avalon's Neil Cybart notes that Apple is on track to spend $14 billion on research and development in its 2018 fiscal year, nearly double the amount it spent on R&D just four years ago. $14 billion would also be more than the amount Apple spent on R&D from 1998 to 2011 combined.
My theory on the dramatic rise in Apple R&D expenditures is that management is becoming more ambitious. Apple's future is found in new industries. Just as Apple moved from desktops/laptops to personal music players, smartphones, and watches, the company will need to enter new industries to remain relevant. This is not a company that is holding onto the iPhone as tight as possible for fear of change. Apple management is investigating new ideas and processes in order to support future moves into new industries.
Commentary: Apple's dramatic increase in R&D spending likely signals the company's interest in a number of new areas. Cybart believes that two new items on Apple's roadmap that are driving the recent surge in expenditures include augmented reality glasses and a Netflix-like streaming video service.
3.
French cosmetics company L'Oréal acquires ModiFace
, a Toronto-based startup that developed augmented reality innovations allowing customers to try on cosmetics using its mobile apps or in-store smart mirrors.
Commentary:
ModiFace
has
iPhone and iPad apps
for simulating new photo-realistic hair colors, eye colors, cosmetics, teeth whitening, and more. Ahead of the public release of iOS 11, the company also
shared an ARKit demo
showcasing a lipstick previewer and virtual beauty gallery in a cosmetics store.
Other Links
For more Apple news and rumors coverage, visit our
Front Page
,
Mac Blog
, and
iOS Blog
. Also
visit our forums
to join in the discussion.
Apple this afternoon uploaded a new iPhone X video to its YouTube channel, which is designed to show off Face ID, the facial recognition feature of the iPhone X.
In the humorous video, which appears to take place at a high school, using Face ID on the iPhone X causes everything in the surrounding area to unlock, including lockers, cabinets, doors, and more, with items flying everywhere.
Apple has shared several video ads focused on the iPhone X, including short tutorials and demonstrations of features like
Face ID
,
Animoji
,
Portrait Mode
, and
Portrait Lighting
.
This minute-long video will likely be aired on television in the coming days and weeks.
A rare employment questionnaire filled out by former Apple CEO Steve Jobs was
auctioned off
last week, earning an impressive $174,757.
Jobs filled out the questionnaire in 1973, just after dropping out of Reed College, where he attended school for approximately six months and then audited classes for another year and a half.

The document provided a rare look into Jobs' life at the time, with Jobs listing "english lit" as his major and Reed College as his address. "Computer" and "Calculator" were listed as skills, along with "Design" and "Tech," and Jobs said that he had special abilities that include "Electronics" and digital "Tech or Design Engineer."
Soon after filling out the employment questionnaire, Jobs took a position as a technician at Atari after showing the company a version of Pong designed by Steve Wozniak. Just two years later, Jobs, Wozniak, and Ronald Wayne founded Apple Computer in Jobs' now iconic garage.
Ahead of the auction, the auction site believed the questionnaire would fetch over $50,000, but it ended up tripling that estimate.

A separate auction for an Mac OS X technical manual signed by Jobs in 2001 also brought in $41,806, while a signed newspaper clipping that Jobs signed sold for $26,950.
Apple today seeded the sixth beta of an upcoming iOS 11.3 update to developers for testing purposes, four days after
seeding the fifth beta
and almost a month after the
release of iOS 11.2.6
, an update that addressed a bug causing iPhones and iPads to crash when a character from the Indian language Telugu was rendered improperly.
Registered developers can download the new iOS 11.3 beta from Apple's Developer Center or over-the-air once the proper configuration profile has been installed from the Developer Center.
Subscribe to the MacRumors YouTube channel for more videos.
iOS 11.3 is a major update that introduces a long list of new features, like Messages in iCloud for saving space and syncing messages across devices, and ARKit 1.5, a new version of ARKit able to more accurately map irregularly shaped surfaces, recognize images, and place objects on vertical surfaces like walls.
There are four new Animoji on the iPhone X (dragon, bear, skull, and lion), and in the Health app, there's a new Health Records feature that aggregates all of your medical records in one easy-to-access place.

As of
iOS 11.3 beta 2
, the update includes a new "Battery Health" feature that's designed to provide iOS users with more information about their batteries.
Battery Health offers details on maximum battery capacity and peak performance capability, and for devices with degraded batteries, it provides information on if and when a device is being throttled with performance management features. It also provides a way for customers who do have a device with a degraded battery to turn off performance management all together.

By default, iOS 11.3 disables performance management on the iPhone, and the feature is only re-enabled once a device experiences an unexpected shutdown.
Early betas of iOS 11.3 and tvOS 11.3
included support
for AirPlay 2 features, allowing audio to be played to multiple Apple TVs, but
these features were removed
in iOS 11.3 and tvOS 11.3 beta 3.
Other features in iOS 11.3 include a "For You" section in Apple News that displays the top videos of the day, support for Advanced Mobile Location (AML) for more accurate location when placing an emergency call in a supported country, more information about app size in the Updates tap in the App Store, software authentication for HomeKit, and a new Privacy screen and icon that will show up whenever Apple asks you for info.
The privacy screen is reflected in several new splash screens that pop up when you first open apps. The App Store also now lets you sort reviews by most helpful, most favorable, most critical, and most recent, a handy change for better finding the app info you're looking for.

Business Chat, which will let you interface with businesses like Wells Fargo, Delta, Hilton and Lowe's right in the Messages app is coming when iOS 11.3 is released, and improvements to Apple Music will bring better support for music videos.
iOS 11.3 will be released to the public in the spring. Spring kicks off on March 20, so the public release of the update could be coming soon.
Update:
iOS 11.3 beta 6 is also now available for public beta testers.
Grove Press this week announced that Lisa Brennan-Jobs, the eldest daughter of late Apple co-founder Steve Jobs and artist Chrisann Brennan, is working on a memoir about her childhood spent between two imperfect but extraordinary parents. The news was first reported
by the Associated Press
.

Lisa Brennan-Jobs and Steve Jobs via BHW
In the book, titled
Small Fry
, Brennan-Jobs recounts how Jobs was "rarely present" in the early years of her life, as he denied paternity. As she grew older, however, Jobs began to show an interest in her and apologized for his behavior.
The memoir's description notes that Jobs ushered his daughter into a "new world of mansions, vacations, and private schools." Brennan-Jobs was "thrilled" to receive attention from her father, but he could be "cold, critical and unpredictable" at times, echoing stories about his management style at Apple:
When she was young, Lisa's father was a mythical figure who was rarely present in her life. As she grew older, her father took an interest in her, ushering her into a new world of mansions, vacations, and private schools. His attention was thrilling, but he could also be cold, critical and unpredictable. When her relationship with her mother grew strained in high school, Lisa decided to move in with her father, hoping he'd become the parent she'd always wanted him to be.
Brennan-Jobs, 39, graduated from Harvard University in 2000 and is now a professional writer. Jobs named the Apple Lisa, released one year before the original Macintosh, after her. She has three half-siblings, including Reed Jobs, Erin Jobs, and Eve Jobs, from Jobs's later marriage to Laurene Powell.
Small Fry is scheduled for release in September, according to the Associated Press and a
listing on the HarperCollins Canada
website.
Apple today invited the media to an event on Tuesday, March 27 at Lane Tech College Prep High School in Chicago. The keynote will commence at 10:00 a.m. Central Time and will be focused on "creative new ideas for teachers and students," suggesting Apple has some education-related announcements planned.

Apple's invite for March 27 event via Bloomberg's Mark Gurman
There is quite a bit of rumored hardware and software in Apple's pipeline that could fit within an educational theme, including lower-priced versions of the iPad and MacBook Air that could be targeted at classrooms. Here's a recap of everything that could be announced at the March 27 event based on recent rumors:
9.7-inch iPad for $259: Taiwanese websites DigiTimes and the Economic Daily News reported that Apple is considering releasing a cheaper 9.7-inch iPad for $259—perhaps this will be education pricing. The current 9.7-inch iPad was released in March 2017 for $329.
MacBook Air for $799 to $899: KGI Securities analyst Ming-Chi Kuo said Apple will launch a more affordable MacBook Air in the second quarter of 2018. The estimated $799-$899 price range comes from WitsView researcher Yubin Qiu. The current MacBook Air starts at $999.
AirPower charging mat: A trio of reports claim Apple will launch AirPower in March. The mat can inductively charge multiple Apple devices at once, including the iPhone 8, iPhone 8 Plus, iPhone X, and Apple Watch Series 3. It will also be able to charge AirPods placed in an optional charging case.
Wild card — a second-generation iPhone SE: Rumors have been swirling about an iPhone SE refresh, with speculated features ranging from a larger 4.2-inch display to an iPhone X-like design, but Kuo recently cast doubt on the device launching in the first half of 2018.
A new Apple Pencil: The artwork for Apple's invite appears to be inspired by the Apple Pencil, so perhaps we'll see an updated version of the drawing tool or support for the 9.7-inch iPad.
iOS 11.3 availability with ClassKit
Apple recently announced that its Everyone Can Code program
will see a citywide expansion in Chicago's public schools and city colleges
this spring. The curriculum will bring coding opportunities to Chicago's nearly 500,000 students. It's likely we'll learn more details about this initiative at the March 27 event.
Apple hosted a similar
education-focused event in New York City
back in January 2012, where it announced iBooks 2 with interactive textbooks, iBooks Author, and a new version of iTunes U for iPad.
Last week, news of a previously-unknown iPhone unlocking device called GrayKey
surfaced
, and today,
MalwareBytes
shared photos and additional information about the product, which is designed for law enforcement officials.
Created by a company named
Grayshift
, GrayKey is a small, portable gray box equipped with dual Lightning cables.

Two iPhones can be connected to the GrayKey at once, and need to be connected for about two minutes to install proprietary software that's designed to guess the passcode for an iPhone. Once the software is installed, it will work to crack the passcode, a process that can take as little as a few hours for a short passcode or several days for a longer six-digit passcode.
Once the GrayKey software has cracked the passcode, it'll be displayed right on the screen of the iPhone. The iPhone can then be plugged back into the GrayKey to download all of the data on the iPhone, including the unencrypted contents of the Keychain, which can then be accessed using a computer.

Based on screenshots, the GrayKey can crack modern iPhones running modern versions of iOS. It works with the iPhone X and iOS 11.2.5, the version of iOS that was likely available when the screenshots were captured. It probably also works with iOS 11.2.6, unless Apple has managed to block it in the latest operating system update.

Grayshift presumably designed the GrayKey for law enforcement professionals, and it's relatively expensive. A $15,000 option requires internet connectivity and is geofenced to a specific location once set up, while a $30,000 option requires no internet connection and can be used anywhere.
MalwareBytes worries that the portable version of the GrayKey could easily fall into the wrong hands. It uses two-factor authentication, but given that people "often write passwords on stickies and put them on their monitors," it's possible the token could be kept in the same location as the device.
What happens if the GrayKey becomes commonplace in law enforcement? The cheaper model isn't much of a danger if stolen--unless it's stolen prior to setup--but at 4″x 4″x 2″, the unlimited model could be pocketed fairly easily, along with its token, if stored nearby. Once off-site, it would continue to work. Such a device could fetch a high price on the black market, giving thieves the ability to unlock and resell stolen phones, as well as access to the high-value data on those phones.
How the GrayKey works is not known, but it's believed to be using some sort of jailbreaking process that could damage iPhones in some way. It's also not known how the GrayKey device itself is protecting data that's stored on it, and whether or not the data could be remotely accessed by hackers.
It's also unknown who Grayshift is selling the devices to. It's possible that sales are limited to law enforcement officials in the United States, but it's also possible that it's being offered abroad. Other devices of this type have slipped out of the hands of law enforcement and have become widely available, so the same could happen with the GrayKey.
Apple is continually working to fix the kinds of exploits used by devices like the GrayKey, so it's possible whatever mechanism the box uses will be fixed in a future update. The average iPhone owner likely doesn't need to worry about the GrayKey, but as MalwareBytes points out, it is troublesome knowing such a device could fall into the hands of malicious entities.
Note: Due to the political nature of the discussion regarding this topic, the discussion thread is located in our
Politics, Religion, Social Issues
forum. All forum members and site visitors are welcome to read and follow the thread, but posting is limited to forum members with at least 100 posts.
In addition to our standalone articles covering the latest Apple news and rumors at MacRumors, this
Quick Takes
column provides a bite-sized recap of other headlines about Apple and its competitors on weekdays.
Thursday, March 15
1.
Fitbit's financial chief knocks the Apple Watch
: "I have yet to meet anyone who owns an Apple Watch who's passionate about the product," said Fitbit's chief financial officer Bill Zerella. "If you don't have an Apple phone, you're not buying an Apple Watch… 80% of the world is Android, not Apple."

Apple Watch Series 3 and Fitbit's new Versa smartwatch
Commentary: Not only is the Apple Watch the
world's most popular smartwatch
, but it's the best-selling wearable, ahead of Fitbit. Apple Watch also has a customer satisfaction rate well above 90 percent.
2.
iHeartMedia has filed for Chapter 11 bankruptcy protection
: The company operates Apple Music rival
iHeartRadio
, which provides free streaming of thousands of live radio stations in the United States, Canada, Australia, and New Zealand. The move will allow the company to restructure more than $20 billion in debt.
Commentary: iHeartMedia's day-to-day operations of its businesses are not expected to be dramatically affected, according to reports, so iHeartRadio should remain available for at least the foreseeable future.
3.
What the HomePod should become
:
MacStories
' Ryan Christoffel argues that the HomePod isn't a bad product today, but could evolve into a great one by becoming a true hub for all Apple-centric needs.
If Siri knew all things about your Apple devices and services, and could interact with them all, then HomePod would be the perfect vehicle to tap into that power. You could ask Siri on the HomePod to:

- Check your iPhone's battery charge.
- Play an audiobook.
- Add a show to your Up Next queue.
- Download a specific app to your iPhone.
- Pause or resume Apple TV playback.
- List upcoming birthdays for your contacts.
- Provide a delivery status on your Apple Store order.
- Put all your devices in Do Not Disturb mode.
- Play a specific movie or show on the Apple TV.
- Or on the bedroom TV, or the iPad, or iPhone.
- Locate your iPhone or iPad.
- Each device could play a ding if it's nearby, and if not, HomePod could offer to load a map on your nearest device.
- Make a phone call.
- Switch your AirPods to the Apple TV.
- Set an Apple Store support appointment.
- Open an app on a certain device.
- Put a screensaver on the TV.

None of these things can currently be done by HomePod, but I think they would all be reasonable to expect from an upgraded Siri. None of these would infringe on the company's user privacy stance, because the data at play in these requests is already available to Apple.
Commentary: While the HomePod has received
rave reviews about how it sounds
, the consensus is that the speaker isn't as smart as the Amazon Echo or Google Home. Being able to complete these tasks would be a huge step forward.
4.
Siri co-founder Dag Kittlaus responds to claim that Siri was a "disaster" when it first launched on iPhone 4s
: "This statement, wholly false, was made by the architect and head of the biggest launch disaster in Apple history, Apple Maps. In reality Siri worked great at launch but, like any new platform under unexpectedly massive load, required scaling adjustments and 24 hour workdays."
This statement, wholly false, was made by the architect and head of the biggest launch disaster in Apple history, Apple Maps. In reality Siri worked great at launch but, like any new platform under unexpectedly massive load, required scaling adjustments and 24 hour workdays.

— Dag Kittlaus (@Dagk) March 14, 2018
Commentary: "After launch, Siri was a disaster," said former Apple executive Richard Williamson, who was
reportedly fired in 2012
following the botched launch of Apple Maps. "It was slow, when it worked at all. The software was riddled with serious bugs. Those problems lie entirely with the original Siri team, certainly not me."
For more Apple news and rumors coverage, visit our
Front Page
,
Mac Blog
, and
iOS Blog
. Also
visit our forums
to join in the discussion.
Intel CEO Brian Krzanich
today announced
that its next-generation Xeon Scalable (Cascade Lake) processors and its 8th-generation Intel Core processors will feature redesigned components to protect against the Spectre and Meltdown vulnerabilities that affect all modern processors.
Spectre variant 1 of the vulnerabilities will continue to be addressed in software, while Intel is implementing hardware-based design changes to offer future protection against Spectre variant 2 and Meltdown variant 3.

We have redesigned parts of the processor to introduce new levels of protection through partitioning that will protect against both Variants 2 and 3. Think of this partitioning as additional "protective walls" between applications and user privilege levels to create an obstacle for bad actors.
Intel's new Xeon Scalable processors and its 8th-generation Intel Core processors are expected to start shipping out to manufacturers in the second half of 2018.
Ahead of the hardware changes, Intel says that software-based microcode updates have now been issued for 100 percent of Intel products launched in the past five years, and all customers should make sure to continue to keep their systems up-to-date with software updates.
Krzanich also reaffirmed
Intel's commitment
to customer-first urgency, transparent and timely communications, and ongoing security reassurance.
Apple
began addressing
the Meltdown and Spectre vulnerabilities back in early January with the release of iOS 11.2, macOS 10.13.2, and tvOS 11.2, which introduced mitigations for Meltdown. Subsequent
iOS 11.2.2
and
macOS High Sierra 10.13.2 Supplemental
updates introduced mitigations for Spectre, as did
patches
for both macOS Sierra and OS X El Capitan in older machines.
Apple's software mitigations for the vulnerabilities have not resulted in any significant measurable decline in performance.
Apple has issued a statement defending against allegations made by France's finance minister Bruno Le Maire, who earlier this week accused the iPhone maker of
treating French startups and developers unfairly
.

In the statement, loosely translated from French to English, Apple said it has "strong relationships" with French developers, and added that they have collectively earned one billion euros in revenue from the App Store.
Le Figaro
via
MacGeneration
:
We are proud to have strong relationships with tens of thousands of developers across France, who have earned 1 billion euros on the App Store. Many of these talented developers founded their companies with one or two people and then saw their teams grow to offer their applications to users in 155 countries. This was only possible thanks to Apple's investment in iOS, development tools, and the App Store.

Apple has always defended the confidentiality and security of users and does not have access to user transactions with third-party applications. We are fully prepared to share our history in the French courts and to clarify this misunderstanding. In the meantime, we will continue to help French developers realize their dreams and support French students in their learning of the code through our coding program.
Le Maire said France will be taking Apple and Google to court in Paris for "abusive trade practices." In a radio interview, he mentioned that Apple and Google "take all their data" and "can unilaterally rewrite their contracts."
"I learned that when developers develop their applications, and sell to Google and Apple, their prices are imposed, Google and Apple take all their data, Google and Apple can unilaterally rewrite their contracts," Le Maire said in an interview with RTL radio. "All that is unacceptable and it's not the economy that we want. They can't treat our startups and developers the way they do."

"I will therefore be taking Google and Apple to the Paris commercial court for abusive trade practices," Le Maire said.
It's not very clear what Le Maire is referring to exactly. It's possible the bit about prices being "imposed" refers to the 30 percent cut that Apple and Google collect from sales of apps and in-app purchases, but his comments were vague.
Israeli startup Mantis Vision is reportedly working with camera module firm Namuga to develop 3D sensing camera solutions for Samsung's tentatively named Galaxy S10, according to
Korean news outlet The Bell
.

The technology would pave the way for Samsung to implement a 3D facial recognition system on the Galaxy S10, similar to Face ID on the iPhone X. The new
Galaxy S9 and Galaxy S9 Plus
, which officially launch tomorrow, still rely on a less secure 2D facial recognition system paired with an iris scanner.
Last year, videos surfaced that showed the same 2D solution on the Galaxy S8 could be
unlocked by waving a photo of the registered user's face
in front of the camera. Samsung even confirmed that its facial recognition solution cannot be used to authenticate access to Samsung Pay or its Secure Folder feature.
By comparison, Face ID uses a structured-light technique that projects a pattern of 30,000 laser dots onto a user's face and measures the distortion to generate an accurate 3D image for authentication. Face ID has been
duped with sophisticated masks
, but not with a simple photo of a person.
KGI Securities analyst Ming-Chi Kuo recently opined that it would take Android smartphone makers
up to two and a half years to catch up with Face ID
. Apple released the iPhone X last November, while the Galaxy S10 will likely be released around March or April of 2019, a roughly one-and-a-half year span.
It's a given that Samsung will catch up with Face ID at some point, but it remains to be seen if its 3D facial recognition system can match the iPhone X's user experience. Around this time next year, we should find out.