Apple is holding its first event of 2018 on Tuesday, March 27 at the Lane Tech College Prep High School in Chicago. According to invites sent out to members of the media last week, the event will focus on "creative new ideas for teachers and students."
This is Apple's first education-centric event
since 2012
, hence the unusual location. With most events, we tend to have concrete rumors on what to expect, but things are a little more up in the air with the educational event.
Subscribe to the MacRumors YouTube channel for more videos.
Still, rumors have hinted at several products that could see a refresh at the event, and while some of them may primarily be of interest to schools and educators, there are some products on the horizon all of us have been eagerly anticipating. Announcement possibilities are listed below:
New Lower-Cost iPad
In 2017, Apple released a fifth-generation 9.7-inch iPad that was designed to be a low-cost but powerful alternative to the iPad Pro. The tablet is priced at $329, and in 2018, rumors have suggested Apple could release an iPad with an even lower price point, which would be enticing to schools.
The iPad could be
priced as low as $259
, $70 less than the starting price of the current 9.7-inch iPad.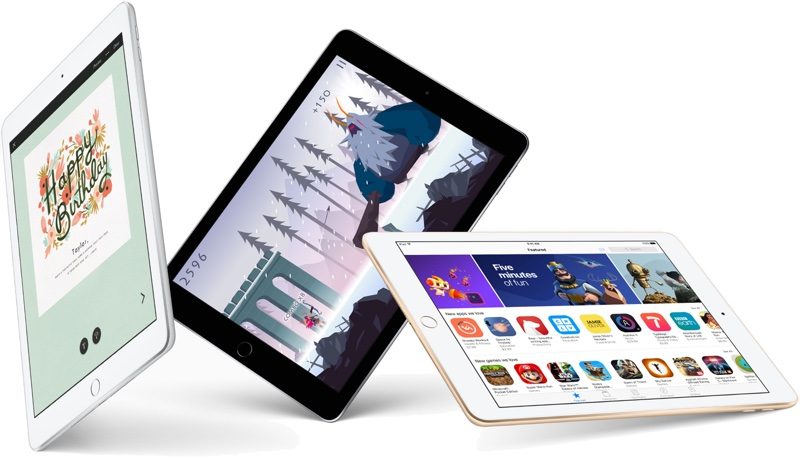 Whether this iPad is an entirely new device or just a lower price for the existing 9.7-inch iPad remains to be seen.
Read more about the low-cost iPad in our iPad roundup
.
New Low-Cost MacBook or MacBook Air
Along with a lower-cost iPad, Apple may perhaps be planning to introduce some kind of notebook that has a lower price tag, but again, the exact form that this will take is unclear.
KGI Securities analyst Ming-Chi Kuo, who often has insight into Apple's plans, believes Apple
is working on
a "more affordable MacBook Air," which would perhaps be ideal for an educational market to compete with Google Chromebooks.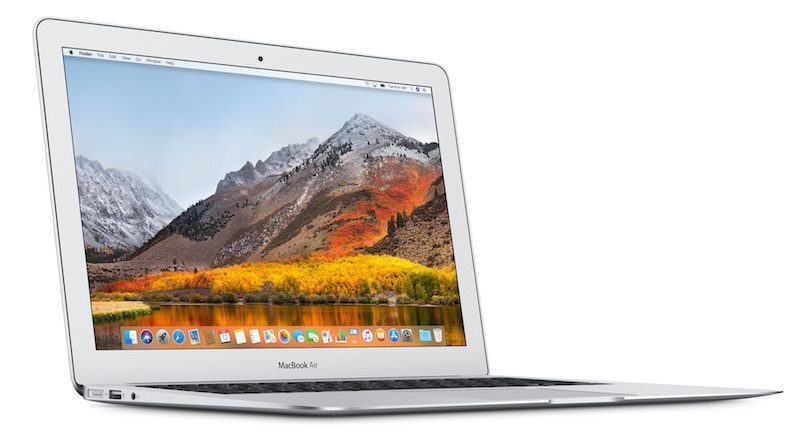 Kuo didn't mention whether or not this cheaper MacBook Air would be a price drop on the current MacBook Air or a new machine, nor did he mention potential specs. The MacBook Air is highly outdated, so if changes are indeed planned, updated processors and other internals could be on the horizon.
Other rumors suggest the lower-cost MacBook Air could be priced
at $799 to $899
, and that price tag would likely be even lower for schools able to make bulk purchases.
The rumors
have been confused
by a report from
DigiTimes
suggesting Apple is working on an "entry-level 13.3-inch MacBook."
DigiTimes
calls the notebook a MacBook, but lists the size of the MacBook Air, and goes on to say that it will feature a Retina display.
Updating the MacBook Air with a Retina display would make it difficult to keep costs low, and it would be a curious choice given the existence of the slimmer 12-inch MacBook line, which does come equipped with Retina displays. For that reason, it's not entirely clear if
DigiTimes
is talking about an update to the MacBook Air line or the MacBook line.
DigiTimes
' report says the new notebook would be priced at around $999, which is more expensive than other low-cost MacBook Air rumors.
Just this morning,
Bloomberg
also said
Apple is working on a new MacBook that would cost under $1,000 and would replace the existing MacBook Air, but even that report didn't specify whether this machine would be in the current MacBook Air family or part of the 12-inch MacBook line. What
Bloomberg
did say, though, is that this machine is not ready, and therefore we may or may not hear about it at the event. It's possible Apple will make an announcement with a launch date to follow, but we also might not see any Mac-related news until WWDC in June.
Read more about the MacBook Air in our MacBook Air roundup
.
AirPower and AirPods Wireless Charging Case
The AirPower isn't an accessory that's likely to be marketed to educational institutions, but rumors have been suggesting
a March launch
for the device, so it's possible Apple will also use its March event to debut some products of interest to the general public.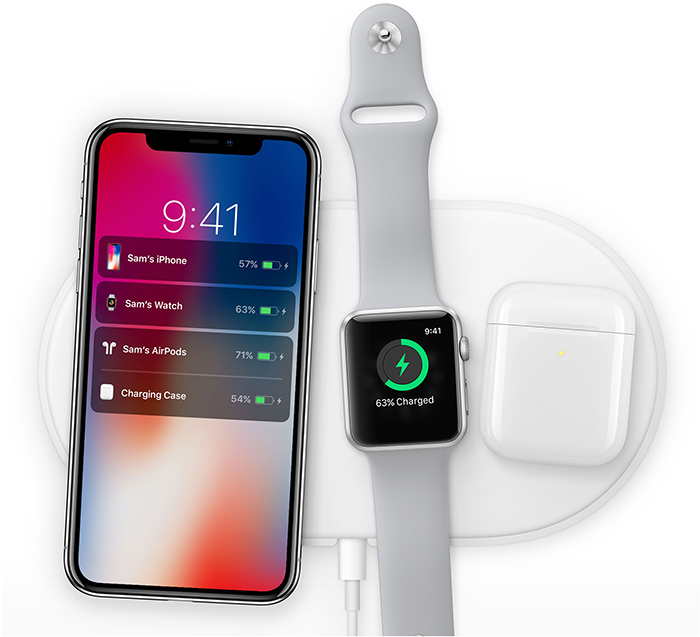 First
announced in September
alongside the iPhone X, iPhone 8, and iPhone 8 Plus, the AirPower is an inductive charging mat that's designed to charge Qi-based iPhones, the Apple Watch Series 3, and the AirPods all at the same time using one accessory.
Alongside the AirPower, Apple will also introduce a new AirPods Charging Case that includes new wireless charging capabilities. This revamped charging case will be necessary for AirPods to charge through the AirPower mat.
Existing AirPods owners will be able to purchase the new Charging Case as a standalone accessory, while new AirPods purchases will likely include it.
We don't know what the AirPower will be priced at, but rumors have suggested it
could cost
somewhere around $199.
See all of our AirPower coverage here
.
Revamped Apple Pencil?
There's no real indication that Apple is working on a new Apple Pencil to debut at its education-focused event, but the design of the event invitation sent out to members of the media does appear to have been drawn with an Apple Pencil, and it could be a hint.
It's possible Apple is planning to introduce a lower-cost Apple Pencil that could be used in tandem with the new low-cost iPad, which would indeed be appealing to schools.

Just this morning, KGI Securities analyst Ming-Chi Kuo said Apple Pencil support
is likely
for the new low-cost iPad, but it's not yet clear if that means Apple plans to add support for the existing Apple Pencil or introduce a new, more affordable model.
If some kind of Apple Pencil announcement doesn't happen at this event, we can perhaps expect to see a new model when Apple debuts new iPad Pros, something we believe will happen either in June at the Worldwide Developers Conference or September alongside new iPhones.
On the chance that Apple is working on an Apple Pencil for its low-cost tablet, it's possible a lower-cost Smart Keyboard could also be included. Adding a keyboard and an input device like the Apple Pencil to the low-cost iPad would add a lot of utility for students.
Read more about the Apple Pencil in our iPad Pro roundup
.
iPhone X in New Colors?
If Apple is indeed going to use its March event to focus on products unrelated to education, we could see the iPhone X and perhaps the iPhone 8 and 8 Plus in new colors.
There have been rumors of a "Blush Gold" iPhone X floating around, and just this week,
new images
of the rumored device surfaced. Apple offered the iPhone X only in Silver and Space Gray at launch, and a new color could perhaps lure new upgraders mid-season.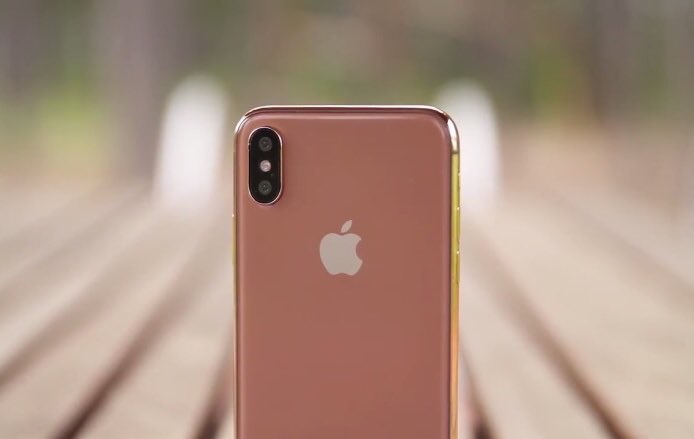 An alleged "Blush Gold" iPhone X via Benjamin Geskin
In March of last year, Apple introduced
a (PRODUCT)RED iPhone 7 and 7 Plus
, and it's possible the company could be planning to do the same thing this year, with a (PRODUCT)RED iPhone 8, 8 Plus, and perhaps X.
Read more about the iPhone X in our iPhone X roundup
.
iPhone SE 2?
We've been hearing rumors of a new "iPhone SE 2" for some time now, and while it's possible we could see a new iPhone SE at the March event, we don't think it's likely.
While some
supply chain sources
and
sketchier rumor sources
have suggested a new iPhone SE 2 is in the works with upgraded internals and other specs, KGI Securities analyst Ming-Chi Kuo does not believe Apple has enough spare development resources to dedicate to an iPhone SE in 2018 given the company's work on the
three iPhones planned for September
.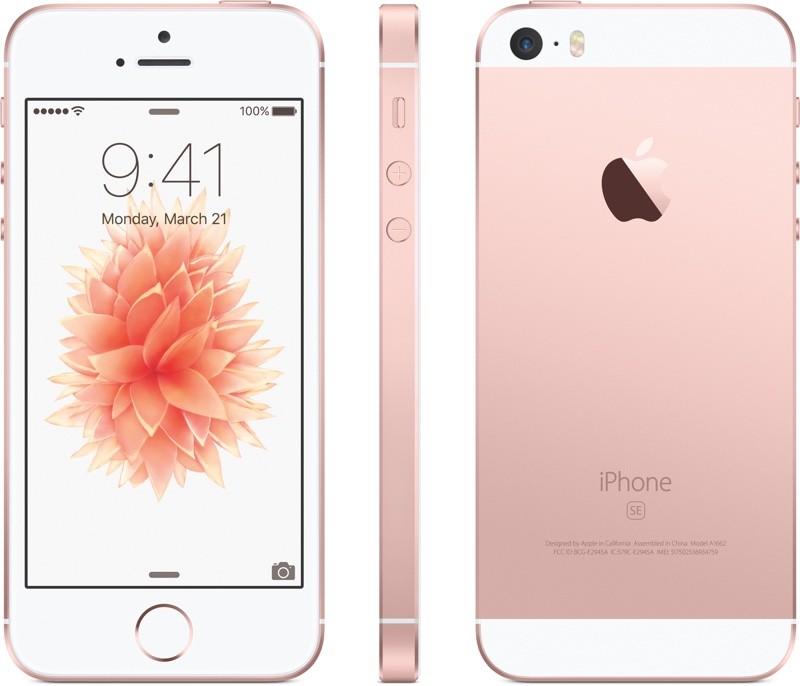 A recent rumor from
Taiwan
's Economic Daily News
has also suggested
Apple does not have new iPhones planned for the first half of 2018, which would mean no March iPhone SE 2.
If there
is
a new iPhone SE 2 on the horizon, major design changes and the adoption of features from flagship phones are unlikely given the iPhone SE's position as a low-cost device.
For more information on a potential iPhone SE 2, check out our iPhone SE roundup
.
New iPhone Cases and Apple Watch Bands
Apple already announced a new collection of spring Apple Watch bands in new colors, which could go on sale following the educational event. When announced on March 21, Apple said they would be coming later in the month.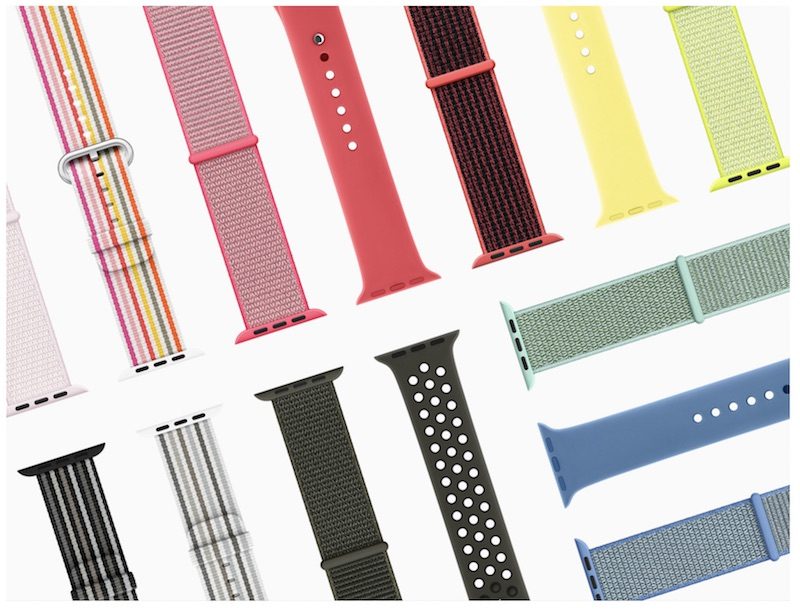 Though not announced at the same time, Apple could also launch new iPhone and iPad cases in refreshed colors at the same time.
For more detail on the Apple Watch and Apple Watch bands, check out our Apple Watch roundup
.
iOS 11.3 Release With ClassKit Framework
Apple promised to release iOS 11.3 in the spring, and well, it's spring. iOS 11.3 is also near the end of its beta testing period, and thus far we've seen six betas. We haven't had the GM version of iOS 11.3 yet, so it's possible we'll get that instead of an official release on Tuesday. A launch will come shortly after, though.
Though it's received little coverage, iOS 11.3 includes a new Classroom 2.2 app, which is designed to turn the iPad into a powerful teaching assistant to help teachers guide students through lessons.
It also includes a ClassKit framework aimed at helping developers create educational apps that teachers can use with the Classroom app to deliver assignments to students and track their progress.
Classroom 2.2 and ClassKit haven't been announced or covered heavily by Apple, so expect this to be a focal point of the event.
iOS 11.3, of course, brings a whole slew of other updates and features, like iCloud Messages, ARKit 1.5, new Animoji, and a Battery Health feature that will allow customers to better monitor their batteries and battery health as it relates to device performance.
For full details on iOS 11.3, make sure to check out our iOS 11 roundup.
Other Educational Announcements
As this is an educational event, expect other educational announcements. Apple is likely to give us an update on its Everyone Can Code curriculum for students. Apple has coding lessons for high schools and elementary schools, along with a dedicated App Development With Swift curriculum for community colleges, which is a full-year coding course.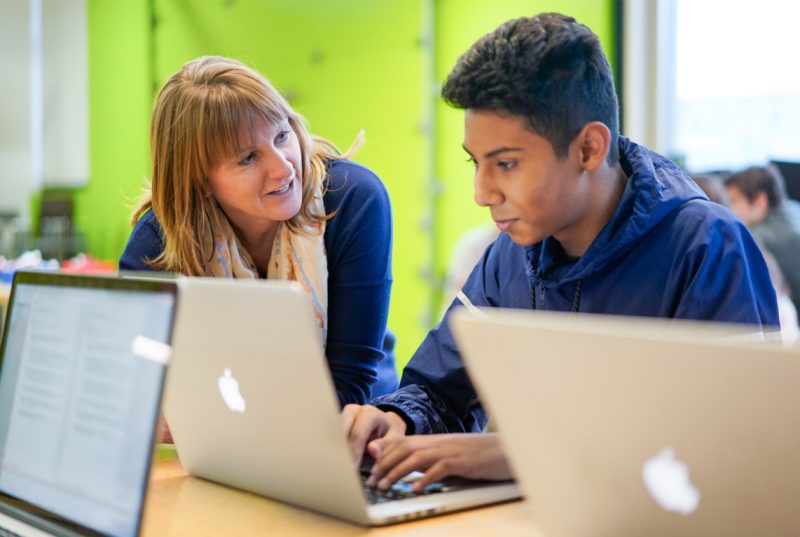 The high school where Apple plans to hold its event, Lane Tech College Prep, was featured in a December announcement of the expansion of the Everyone Can Code program to 500,000 students in Chicago. Students at Lane Tech have been learning to build apps with Apple's Swift programming language.
Other Details
There's no guarantee that all of these products will be introduced at Apple's educational event, but it's likely we'll see at least some of them.
Apple does not plan to live stream its educational event, but after it takes place, a video will be uploaded to Apple's event site and event app on the Apple TV.
MacRumors
will have full coverage of the event, however, along with detailed information on each announcement. Make sure to stay tuned to the website for coverage and follow our Twitter account,
MacRumorsLive
.
While Apple often offers a live stream for its special events, the company has confirmed there will be no live stream for the March 27 education-focused event set to take place at Lane Tech High School in Chicago.
Apple today updated the Events app on the Apple TV to add an image of the invitation for the upcoming event and to note that a video will be uploaded later in the day following the conclusion of the event.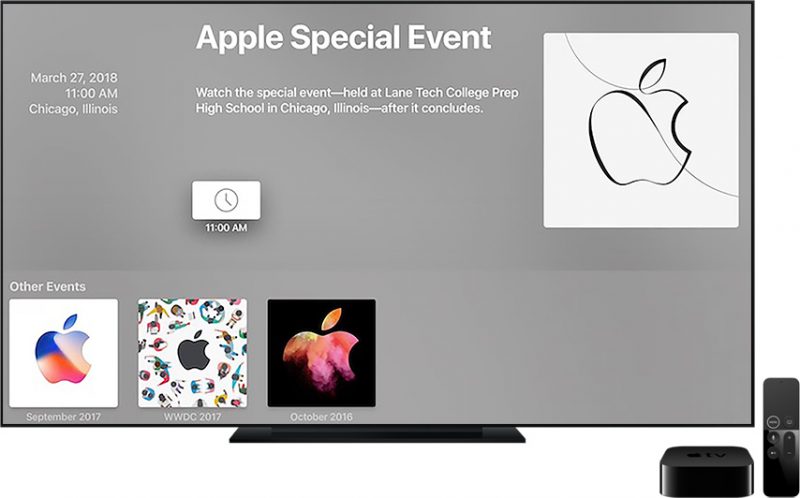 Apple has not held an education-focused event since 2012, so we weren't sure what to expect. That event was not streamed either. Given that this is primarily an event for teachers and students rather than regular customers, it isn't a surprise that we'll have no live stream.
MacRumors
will offer live coverage of the educational event both here on MacRumors.com and on our
MacRumorsLive Twitter
account, so make sure to visit us on Tuesday if you want to hear about what Apple has in store for schools.
The ticket lottery for
Apple's 2018 Worldwide Developers Conference
ended yesterday morning at 10:00 a.m. Pacific Time, and following the end of registration, Apple has started sending out confirmation emails to winners.
Developers who were lucky enough to win a ticket can expect to see their credit cards charged for the $1,599 over the course of the next few days.

Apple has been using a lottery system to provide developers with WWDC tickets for the last several years due to high demand. There are approximately 5,000 spots open for developers, but Apple gets many more applications than that.
Developers will be able to attend iOS, watchOS, tvOS, and macOS app development sessions and more than 1,000 Apple engineers and executives will be available.
This year's event
will start on Monday, June 4 and last through Friday, June 8. On Monday, Apple will host a keynote event to introduce new iOS, tvOS, watchOS, macOS, and HomePod software, and we could be surprised with a few new hardware products as well.
Rumors thus far have suggested we might see updated iPad Pro models with slimmer bezels and a TrueDepth camera system for Face ID functionality, and a less expensive MacBook Air.
Following the keynote event, Apple will make new software updates available to developers and the rest of the week will be spent in technical sessions and hands-on labs.
Developers not selected to purchase a WWDC ticket will be able to watch the keynote session and follow along with technical sessions through the
Apple Developer Website
and
the WWDC app
for iPad, iPhone, and Apple TV.
Apple CEO Tim Cook will sit down for an interview with
Recode
's Kara Swisher and
MSNBC
's Christopher Hayes on Friday, April 6 at 5:00 p.m. Eastern Time,
MSNBC
announced today.
The interview will be titled "Revolution: Apple Changing the World," with no other details about Cook's appearance at this time.

JUST ANNOUNCED: @MSNBC & @voxmediainc's @Recode present "REVOLUTION: APPLE CHANGING THE WORLD" ft. @Apple CEO Tim Cook onstage with @karaswisher & @chrislhayes, airing Friday, April 6th at 8:00pm ET on @MSNBC. pic.twitter.com/GjgT5evSRu

— MSNBCPR (@MSNBCPR) March 23, 2018
With no additional information available, it's not clear what Cook's discussion will include, but topics like privacy and data collection are likely to come up given the recent scandal with Facebook and
Cambridge Analytica
and concerns over the
CLOUD Act
.
Cook may also spend time discussing the new educational initiatives Apple plans to introduce at its March 27 event, and we could get additional commentary on the consequences of Apple's power management features in older iPhones.
Cook is often tight-lipped about new products, but he could potentially provide some veiled hints on what Apple's working on both this year and in the future.
We'll have coverage of Cook's interview with
Recode
and
MSNBC
here on
MacRumors
on April 6.
Apple today submitted a new proposal [
PDF
] to the Unicode Consortium, suggesting the committee introduce a series of accessibility emojis in future Unicode releases.
As outlined by
Emojipedia
, Apple has suggested emojis that include a guide dog, a hearing aid, a prosthetic arm and leg, sign language, a person in a wheelchair, and a person with a cane. Apple's full list of proposed emojis can be seen in its
proposal document
.

Image via Emojipedia
In its proposal, Apple says it is aiming to better represent individuals with disabilities to provide a more inclusive experience for all. Apple also says this is not an exhaustive list of "all possible depictions of disabilities," but is rather designed to be "an initial starting point."
At Apple, we believe that technology should be accessible to everyone and should provide an experience that serves individual needs. Adding emoji emblematic to users' life experiences helps foster a diverse culture that is inclusive of disability. Emoji are a universal language and a powerful tool for communication, as well as a form of self-expression, and can be used not only to represent one's own personal experience, but also to show support for a loved one.

This new set of emoji that we are proposing aims to provide a wider array of options to represent basic categories for people with disabilities. This is not meant to be a comprehensive list of all possible depictions of disabilities, but to provide an initial starting point for greater representation for diversity within the emoji universe.
To create the emoji suggestions, Apple teamed up with the American Council of the Blind, the Cerebral Palsy Foundation, and the National Association of the Deaf. Its initial proposal focused on people in four categories: Blind and Low Vision, Deaf and Hard of Hearing, Physical Motor, and Hidden Disabilities.
Apple says its proposal is a "significant step forward in representing more diverse individuals," and that the company hopes it will "spark a global dialogue around better representation for people with disabilities."
Apple is well-known for its dedicated work on making its products accessible to all users, with a suite of Accessibility features built into all of its iPhones, iPads, Macs, and more. Apple maintains a
dedicated Accessibility section on its website
where it shares details on available Accessibility features and stories of people who have improved their lives with Apple products.
The Unicode Consortium has
already finalized
the Emoji 11.0 characters that will be adopted by smartphone companies later this year, but Apple's proposed characters could be added to Emoji 12.0, set to be released in 2019.
Apple's new low-cost 9.7-inch iPad may include support for the Apple Pencil, according to a new note to investors shared this morning by KGI Securities analyst Ming-Chi Kuo.
Kuo says that he expects Apple Pencil shipments will rise to 9 to 10 million units in 2018 "given that the new low-cost iPad may support Apple Pencil." Kuo says Apple may add Apple Pencil support in order to differentiate the low-cost iPad from competing low-cost Android tablets.

Strong demand for low-price 9.7-inch iPad in 2017. iPad shipments hit 43.8mn units in 2017, well above the 35mn units forecast by the market at the beginning of the year. The primary driver was the low-price 9.7-inch model, whose selling points are competitive pricing and a significantly larger panel than those of six- to seven-inch smartphones (iPad mini was a flop because it was replaced by large-screen smartphones). In a bid to strengthen its selling points and to differentiate it more from low-price Android tablets, the new low-price 9.7-inch iPad (starting mass production in 2Q18) will likely support Apple Pencil.
There have been no previous rumors suggesting the low-cost iPad will include Apple Pencil support, but there was speculation that it could based on the design of the event invite that Apple sent out to members of the media.

The invitation includes an Apple logo that's clearly been drawn using the Apple Pencil, which led people to think that the low-cost education-focused iPad might support Apple Pencil. It's not clear if Apple will offer schools the existing Apple Pencil or introduce a new, more affordable version if the company is indeed planning to debut a lower-cost iPad that works with the accessory.
Adding Apple Pencil support to the low-cost iPad would allow Apple's tablet to better compete with the Chromebooks that are popular in schools, providing the ability for students to draw and write directly on the iPad's screen with a fast, reliable tool.
Though Kuo does not mention the possibility, if Apple is planning to add Apple Pencil support to the low-cost iPad, some kind of keyboard could also be included. With Apple Pencil support and an included keyboard accessory, iPads would be a far more appealing option for schools.
Rumors have suggested Apple is working on a more affordable iPad targeted at the educational market. The new device could perhaps be priced as low as $259, down from the current $329 price tag for the 5th-generation iPad.
Kuo believes 9.7-inch iPad shipments will account for more than 70 percent of all iPad shipments in 2018, which will have a positive impact on Apple Pencil shipments. He expects Apple will begin shipping new iPad Pro models with TrueDepth camera systems during the "around" the third quarter of 2018, which suggests a September debut.
In addition to the low-cost iPad, Kuo's note also mentions Apple Pencil support for future iPhones. He believes the likelihood of such a feature "may increase with future iPhone screen size being enlarged," but he does not believe the 2018 iPhone models will support Apple Pencil.
Apple plans to launch a foldable iPhone two years from now, according to Wamsi Mohan, an analyst at Bank of America Merrill Lynch.

A fan-made foldable iPhone concept
Mohan shared his prediction in a research note obtained by
CNBC
after spending a week in Asia meeting with companies in Apple's supply chain. He expects the foldable iPhone will launch in 2020 and said it could potentially "double up as a tablet," suggesting the device could expand to have an iPad-like form factor.
This isn't the first time we've heard this rumor. Back in December 2016, a Korean report said
LG Display was developing and mass-producing foldable displays for smartphones
. And, as of October 2017, it appears that LG Display has
reached an agreement to supply Apple with its foldable displays
for future iPhones.
LG has shown off various futuristic-looking curved and foldable display prototypes over the past three years, including one with a book-like design and another that can be rolled up like a newspaper. Both designs take advantage of the flexible property of OLED displays, compared to rigid LCD screens.
For that reason, the iPhone X is a good start on the path towards a foldable iPhone, should one ever materialize.
While not visible, the iPhone X actually has a flexible OLED display that curves behind itself on the inside of the device. The curved portion houses the display controller chip, and this clever engineering feat allows the iPhone X to have a slimmer bottom bezel, which is normally where the chip is located.

iPhone X's flexible OLED display
A foldable iPhone would require further innovation. If the device can be rolled up like a newspaper, then components like the logic board and battery would need to be flexible enough to bend rather than buckle. But if it only folds in half, then components could still be rigid and connected with flex cables.
Apple applied for a
foldable display patent
last year and is likely researching ways to create a foldable iPhone, but that doesn't guarantee we'll ever see a consumer-facing product. 2020 might be an overly ambitious timeframe, too, but technology can change a lot in two years, so we'll have to wait and see.
Apple plans to introduce a cheaper iPad next week that should appeal to the education market, and new software for the classroom, according to
Bloomberg News
' Mark Gurman. The new products should be announced at
Apple's education-themed event
on Tuesday at Lane Tech College Prep High School in Chicago.

Apple is also said to be working on a new, lower-priced notebook, likely to replace the MacBook Air with a sub-$1,000 price in the United States:
A new, cheaper MacBook laptop is in the works and likely destined to replace the MacBook Air at a price less than $1,000, but it probably won't be ready in time for next week, the people said. The MacBook Air, introduced about a decade ago, hasn't seen a major change since 2010, the same year the iPad came out. Although the laptop is popular with college students, it has languished as Apple focuses on more expensive Macs.
At first glance, it would appear that Gurman is referring to a lower-priced 12-inch MacBook, as many people believe that Apple will eventually phase out the MacBook Air. However, the "MacBook laptop" wording is perhaps intentionally vague, in case it does end up being a cheaper MacBook Air.
12-inch MacBook models currently start at $1,299, and were last updated with Kaby Lake processors and faster graphics
in June 2017
. MacBook Air starts at $999 and hasn't received a meaningful update
since March 2015
.

Earlier this month, KGI Securities analyst Ming-Chi Kuo said Apple
plans to launch a more affordable MacBook Air
in the second quarter of 2018, which essentially runs between next week and the end of June. WitsView researcher Yubin Qiu estimated the notebook could
start at $799 to $899
in the United States.
Gurman said the new MacBook "probably won't be ready in time for next week," suggesting it won't be unveiled at the Chicago event. Of course, Apple could still mention the notebook at the event, even if orders begin later.
Gurman nor Kuo have elaborated on what we can expect from the new MacBook or MacBook Air, whichever it ends up being, but it's reasonable to assume that we'll see a bump to the processors and graphics. If it's a new MacBook Air, a Retina display is also a possibility, but that may go against the sub-$1,000 price.
Apple hasn't specified if the Chicago event will be live streamed. MacRumors will provide coverage on Tuesday at 10:00 a.m. Central Time.
In addition to our standalone articles covering the latest Apple news and rumors at MacRumors, this
Quick Takes
column provides a bite-sized recap of other headlines about Apple and its competitors on weekdays.
Thursday, March 22
Highlights

Image Credit: MacStories
1.
Erasing Complexity: The Comfort of Apple's Ecosystem:
MacStories
editor-in-chief Federico Viticci explains how, after years of testing competing products and ecosystems, he has decided to fully embrace Apple's ecosystem given the simplicity and integration of apps, services, and hardware.
It took me years to understand that the value I get from Apple's ecosystem far outweighs its shortcomings. While not infallible, Apple still creates products that abstract complexity, are nice, and work well together. In hindsight, compulsively chasing the "best tech" was unhealthy and only distracting me from the real goal: finding technology that works well for me and helps me live a better, happier life.
2.
Retro Review: 2009 Mac Pro in 2018:
iMore
's Anthony Casella examines whether the 2009 Mac Pro, upgraded with dual Radeon RX 580 GPUs, is still a capable machine in 2018 compared to a 2014 iMac and entry-level iMac Pro, based on transcoding HD video, rendering video in Final Cut Pro, and gaming.

Image Credit: iMore
Casella notes that his article isn't intended to be a scientific comparison, but rather more of a fun project to see if a nine-year-old workstation can still keep up in 2018, if someone were to have upgraded its components over the years instead of buying a whole new system. His answer is very much "yes."
And yes I say that it can hang with the latest and greatest systems. In some areas, like with openCL computation, we made it insanely fast. Much faster than an iMac and an iMac Pro. It some areas it plays in the ball park like when transcoding videos. Others seem to show it's age like when exporting Final Cut Pro videos but it does not show it's age when using a FCP workflow like editing, transforming and scrubbing.
3.
Samsung Galaxy Note 9 to adopt in-display fingerprint scanning: sources:
"Samsung Display has prepared three or four solutions for Samsung Electronics to embed the fingerprint sensor inside of the main display, and both are seriously considering one of the solutions," a source told
The Korea Herald
.
Samsung wouldn't be the first smartphone maker to achieve the feat, as Chinese company
Vivo released the X20 Plus UD
with an in-display fingerprint scanner in January. The smartphone is the result of a
collaboration between Vivo and Synaptics
, which could also be working with Samsung for the Note 9.
Apple was widely rumored to
embed Touch ID into the iPhone X's display
, but as it turned out, the company chose to ditch the fingerprint scanner entirely in favor of Face ID. And with a trio of new iPhone models with Face ID expected to launch later this year, it doesn't look like Touch ID has a long future.
Other Links
The Loop Bash at WWDC 2018: The party will be held at The Ritz, a nightclub around the corner from the San Jose Convention Center, on June 4, 2018, from 8:00 p.m. to 12:00 a.m. Pacific Time. The Loop will make an announcement on how to RSVP for the party as WWDC draws closer.
Meet Haben Girma, a blind-deaf rights lawyer changing tech and design: Mashable's Kerry Flynn interviews disability rights lawyer Haben Girma, who is deaf and visually impaired, about the need for more commitment to accessibility in tech by businesses and entrepreneurs. There are a few quotes from Apple's accessibility director Sarah Herrlinger.
Clipboard API Improvements: Apple has added a new entry to its WebKit blog that provides a technical overview of recent improvements made to the Clipboard copy-and-paste API that enables web apps to more seamlessly integrate with native apps on macOS and iOS.
For more Apple news and rumors coverage, visit our
Front Page
,
Mac Blog
, and
iOS Blog
. Also
visit our forums
to join in the discussion.
Apple today shared a new
iPhone X video
on its YouTube channel, which is designed to highlight Apple Pay payments approved with Face ID.
Called "Fly Market," the video is set to the song "Back Pocket" by Vulfpeck. It features a man dancing through an open air market making purchases with just a look. Every item he looks at flies onto his body like magic.
Apple Pay on iPhone X is unique because purchases are approved with Face ID rather than Touch ID. Making a purchase is as simple as looking at the iPhone to unlock it using facial recognition, and then clicking twice on the Side button.
"Fly Market" is the second video Apple has released in recent weeks showing off Face ID on the iPhone X. The first video, "
Unlock
," was done in the same vein, with Face ID on the iPhone X causing everything in the surrounding area to unlock.
Apple's services revenue is growing at a rapid pace and is on track to be the company's primary revenue driver in the future, according to a note Morgan Stanley analyst Katy Huberty shared with investors this morning (via
Business Insider
).
Huberty believes that over the course of the next five years, services revenue growth will contribute more than 50 percent of Apple's total revenue growth. The iPhone, meanwhile, will make up just 22 percent of revenue growth during the same time period, despite the fact that it's contributed 86 percent of Apple's revenue growth over the past five years.

Although "over the last five years, the vast majority (86%) of Apple's 8% annual revenue growth was driven by iPhone sales, it is through monetization of Apple's Services business that we see the company still generating mid single digit revenue growth," she said.

Huberty estimated that roughly 60% of revenue growth is now attributable to services. That, coupled with wearables, like the Apple Smart Watch, "will drive almost all of Apple's growth over the next five years," she added.
For the last several years, Apple's services category has been setting continual quarterly revenue records thanks to its rapid growth. In the
first fiscal quarter of 2018
, for example, services brought in $8.5 billion, up 18 percent year over year.
The services category includes iTunes, the App Store, Apple Music, iCloud, Apple Pay, and AppleCare.
According to Huberty, services revenue is at roughly $30 per device, up from $25 two years ago, but that might not be an accurate reflection of actual spending. Most Apple users do not currently pay for services, which could mean that revenue per active user is well above and "possibly double" the $30 metric.

Just 18 percent of Apple's total device installed base subscribe to paid Apple services, which means there's a lot of potential for growth in recurring revenue sources. Apple Music, iCloud, and Apple Pay are all services that Huberty believes have yet to be fully monetized.
Apple Music, as an example, has seen considerable growth since its launch and now boasts over 36 million subscribers. Just 2.9 percent of Apple customers subscribe, however. Apple Pay usage is also low, despite the fact that it's available in more than 50 percent of retail locations in the United States.
According to Huberty, Morgan Stanley is confident in Apple's growth through services monetization, with the firm setting a price target of $203 on Apple shares, which are currently trading at ~$170.
As Tim Cook often says, Apple's services category has already reached the size of a Fortune 100 company, and Apple has set a goal to double its 2016 services revenue by 2020, a target the company is well on its way to hitting.
Apple has confirmed it will fix a privacy issue in which Siri can read aloud hidden lock screen notifications from many apps on iPhones.

In a statement provided to MacRumors, Apple said "we are aware of the issue and it will be addressed in an upcoming software update." It's quite possible the fix will be included in iOS 11.3, which remains in beta testing, but Apple may elect to address the problem with a minor update such as iOS 11.2.7.
As reported by Brazilian website
MacMagazine
earlier this week, users can simply ask Siri to "read my notifications" and the assistant will read aloud the contents of notifications, including ones that are hidden, from a wide selection of apps.
Siri's behavior becomes a privacy issue because it can read aloud messages and emails from third-party apps such as Facebook Messenger, WhatsApp, and Gmail, even if an iPhone is locked and notifications are hidden. This violates the trust of users who expect that their notifications cannot be read by others.
MacRumors has reproduced this issue on an iPhone X running both iOS 11.2.6 and the latest iOS 11.3 beta, but we can confirm that it does not affect iMessage. However, the issue did partially affect Apple's stock Mail app, as Siri was able to read the subject line of an email we sent as part of our testing.
Lock screen notifications are hidden by default on iPhone X, meaning the contents of notifications are concealed until a user authenticates with Face ID. The setting isn't turned on by default on other iPhones, but it can be enabled in Settings > Notifications > Show Previews, which presents three options:
Always: Lock screen notifications are fully visible
When Unlocked: Lock screen notifications remain hidden until a user authenticates with Face ID, Touch ID, or a passcode
Never: Lock screen notifications are always hidden
There are two workarounds that users can implement until the fix is released to prevent Siri from reading aloud notifications from the lock screen:
Turn off lock screen notifications for sensitive apps: Settings > Notifications, select an app, and toggle off Show on Lock Screen
Fully disable Siri whenever the iPhone is locked: Settings > Siri & Search > Allow Siri When Locked
MacRumors will update this article as soon as the software update with a fix is released.