Apple today
launched a keyboard repair program
for MacBook and MacBook Pro models equipped with butterfly keys to address complaints over letters or characters that repeat unexpectedly, letters or characters that do not appear, and keys that feel "sticky" or do not respond in a consistent manner.
According to Apple, a "small percentage" of MacBook and MacBook Pro keyboards from 2015 to 2017 can experience these symptoms.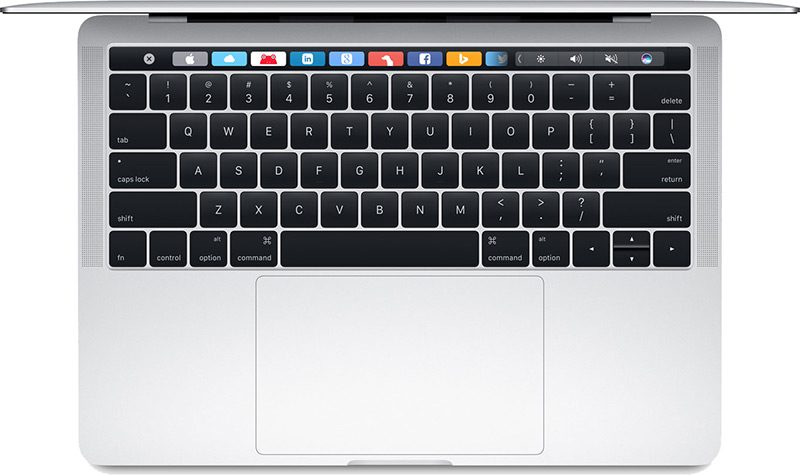 Apple says that customers can bring an affected MacBook or MacBook Pro into an Apple retail store or to an Apple Authorized Service Provider to receive repairs free of charge, with the type of service to be determined after the keyboard has been examined.
Repairs may include the replacement of one or more keys or the entire keyboard. Eligible MacBook and MacBook Pro models are listed below:
MacBook (Retina, 12-­inch, Early 2015)
MacBook (Retina, 12­-inch, Early 2016)
MacBook (Retina, 12-­inch, 2017)
MacBook Pro (13­-inch, 2016, Two Thunderbolt 3 Ports)
MacBook Pro (13-­inch, 2017, Two Thunderbolt 3 Ports)
MacBook Pro (13-­inch, 2016, Four Thunderbolt 3 Ports)
MacBook Pro (13-­inch, 2017, Four Thunderbolt 3 Ports)
MacBook Pro (15-­inch, 2016)
MacBook Pro (15-­inch, 2017)
No other MacBook or MacBook Pro models are included in the program, but it does cover eligible MacBook and MacBook Pro models for four years after the first retail sale of the unit.
To
initiate the repair process
, customers should find an Apple Authorized Service Provider, make an appointment at an Apple retail store, or mail the device into an Apple Repair Center after contacting Apple support. Apple says that if the affected MacBook or MacBook Pro has damage that impairs service, the issue will need to be repaired first.
Repair documents for Apple Authorized Service Providers seen by
MacRumors
suggest Apple will repair MacBook and MacBook Pro regardless of keyboard damage due to attempted keycap repair by the customer or physical top case damage unrelated to the keyboard. Liquid damage and physical keyboard damage unrelated to a keycap repair will require additional work to be paid for by the customer before a keyboard repair can be initiated.
Customers who experienced keyboard problems but were forced to pay out-of-warranty repair fees for their damaged MacBook or MacBook Pro models can contact Apple to inquire about a refund. In some cases, repairs for keyboard issues were priced at upwards of $500.
Apple's decision to offer a repair program follows
increasing customer dissatisfaction
with the failure rate of the first and second-generation butterfly keyboards in the 2015 and later MacBook models and the 2016 and later MacBook Pro models.

Customer complaints have suggested that these models experience issues more often than prior keyboards due to the flatter butterfly keys that adopt dome switches for a more responsive feel. The design of these keyboards can cause keys to fail when dust or other small particles get into the keys, leading to the "sticky" and non-responsive keys Apple describes above.
Apple is facing two potential
class action lawsuits
over the defective keyboards in recent MacBook and MacBook Pro models from customers who were forced to pay high prices for out-of-warranty repairs. Thousands of customers also
signed a Change.org petition
calling on Apple to fix the keyboard issues that are being addressed with the new repair program.
Warner Bros' new Westworld game for mobile devices is a "blatant rip-off" of Bethesda game Fallout Shelter, according to a lawsuit Bethesda filed in a Maryland U.S. District Court this week.
At issue are the similarities between the two games. In Fallout Shelter, which was first released in 2015, you run an underground bunker in the Fallout universe, directing your bunker inhabitants to build and run new facilities, go out on expeditions, and more, with the ultimate goal of building up the bunker.
Westworld, based on the popular HBO show and released this week, uses a similar concept, with an underground Delos facility that players are required to build out to create AI hosts and satisfy guests in the park. The ultimate goal is to build up your underground Westworld facilities along with the above-ground park.
In the lawsuit, which was shared by
Polygon
, Bethesda accuses Warner Bros and game developer Behaviour Interactive of breach of contract, copyright infringement, unfair competition, and misappropriation of trade secrets. Behaviour Interactive worked on both Fallout Shelter and Westworld.
The Westworld game, says Bethesda, uses the same game design, art style, animations, and features as Fallout Shelter, in addition to stealing copyrighted computer code created for Fallout Shelter. As evidence for this, Bethesda claims Westworld has a unique bug that was also found in early builds of Fallout Shelter.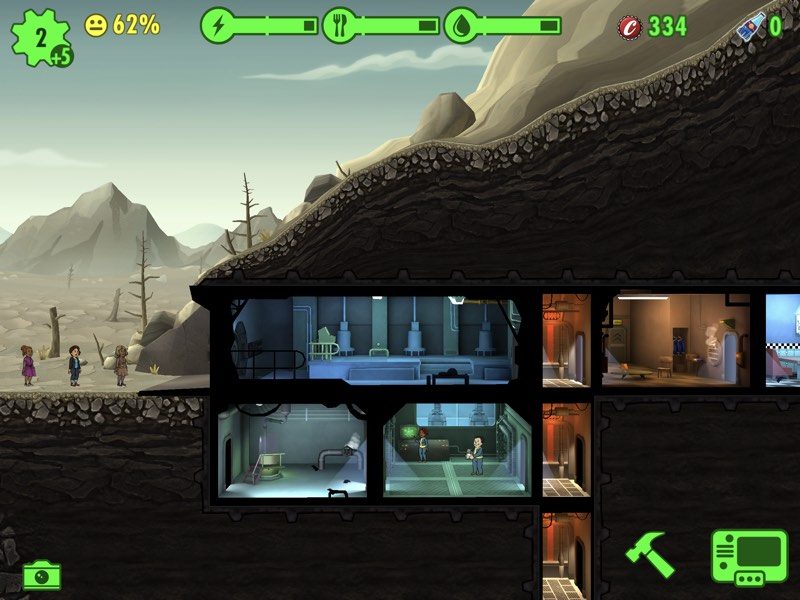 Fallout Shelter
According to Bethesda, Behaviour Interactive utilized its restricted access to Bethesda's intellectual property, including copyrighted code, to reduce costs and development time to bring Westworld to market faster.
The Westworld game is a blatant rip-off of FALLOUT SHELTER. Working with the same copyrighted computer code used by FALLOUT SHELTER, Westworld has the same or highly similar game design, art style, animations, features and other gameplay elements as FALLOUT SHELTER, all of which are owned by Bethesda.

Behaviour's breach of its contract with Bethesda is evidenced by the gameplay of Westworld, which uses the same copyrighted computer code created for Bethesda's FALLOUT SHELTER game. Behaviour's use of the computer code owned by Bethesda to develop Westworld even included the very same 'bugs' or defects present in the FALLOUT SHELTER code.
It's impossible not to see the similarities between Fallout Shelter and Westworld, and as is pointed out in the lawsuit, several reviews and stories on the Westworld game that have come out over the last few months have noted those similarities.
VentureBeat
, for example, said in March that the "side-view user interface looks a lot like Fallout Shelter," while
ShackNews
said "Westworld mobile is definitely taking a page out of the Fallout book," during the same timeframe.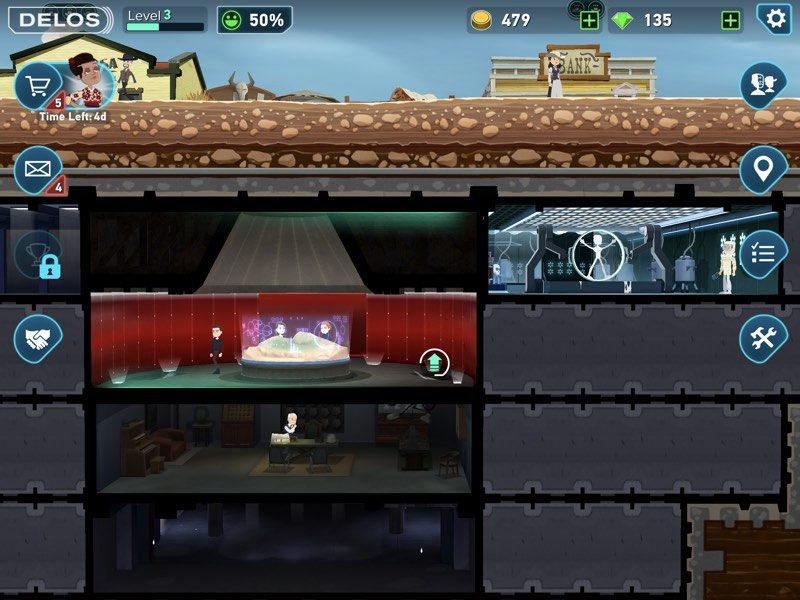 Westworld
In light of the alleged intellectual property theft, Bethesda has asked the court for a jury trial, statutory damages, and actual damages, along with restitution and lawyers fees and costs. The company is also asking for every version of the Westworld mobile game to be removed from distribution.
The United States Supreme Court today ruled that the government "is required" to obtain a warrant if it wants to gain access to data found on a civilian's smartphone, but only when it's related to the user's location data (via
The New York Times
).

Image via Wikimedia Commons
The decision is expected to have major implications for digital privacy moving forward as it pertains to legal cases, and could cause ripples in unlawful search and seizure cases that involve personal information held by companies like emails, texts, internet searches, bank records, and more.
In a major statement on privacy in the digital age, the Supreme Court ruled on Friday that the government generally needs a warrant to collect troves of location data about the customers of cellphone companies.

But Chief Justice John G. Roberts Jr., writing for the majority, said the decision was limited. "We hold only that a warrant is required in the rare case where the suspect has a legitimate privacy interest in records held by a third party," the chief justice wrote. The court's four more liberal justices joined his opinion.
Today's vote in the case Carpenter v. United States came down to a 5-4 ruling, and originally emerged from armed robberies of Radio Shacks and other stores in Detroit dating back to 2010.
In the case, prosecutors relied on "months of records" obtained from smartphone makers to help prove their case, ultimately showing communication between Timothy Ivory Carpenter outside of a robbery location -- with his smartphone nearby -- and his accomplices inside of the location. The companies reportedly turned over 127 days' worth of Carpenter's records, with information as specific as whether or not he slept at home on any given night or if he went to church on Sunday mornings.
This led to the question by the Supreme Court justices as to whether the prosecutors violated the Fourth Amendment in discovering so much data on Carpenter's movements. Now, police will have to receive a warrant issued by the court in order to obtain any smartphone data as it relates to the owner's location data.
As the case continued, Apple and other technology companies
filed a brief in August 2017
arguing against "rigid analog-era" Fourth Amendment rules. The brief deliberately stayed neutral on the topic of choosing sides, but urged the Supreme Court to continue bringing the Fourth Amendment law into the modern era. The companies stated that customers should not be "forced to relinquish Fourth Amendment protections" against intrusion by the government, simply because they choose to use modern technology.
Note: Due to the political nature of the discussion regarding this topic, the discussion thread is located in our
Politics, Religion, Social Issues
forum. All forum members and site visitors are welcome to read and follow the thread, but posting is limited to forum members with at least 100 posts.
Apple supplier Taiwan Semiconductor Manufacturing Company has begun commercial production of chips manufactured using its advanced 7-nanometer process (via
DigiTimes
). One of the major customers for chips built with the technology will be Apple and the A12 processor, which is expected to be found in all three
upcoming 2018 iPhones
.
The announcement comes from
newly appointed TSMC CEO
C.C. Wei, who spoke during the company's technology symposium in Taiwan yesterday in hopes of dismissing recent speculation that TSMC's 7nm production was facing a "slower-than-expected" yield rate. Wei didn't provide specific orders and customers for the 7nm chip output, but indicated the ramp up will boost TSMC's overall production capacity from 10.5 million wafers in 2017 to 12 million in 2018.

Renderings of the 2018 iPhones
The chips built using the 7nm process technology are destined for AI, GPU, cryptocurrency, and 5G applications -- totaling 50 chip designs by the end of 2018. For iPhones, the new 7nm process will pave the way for the type of performance improvements customers expect in new iPhones every year.
Orders for Apple's custom A12 processor for use in the upcoming iPhones will play a major driver of TSMC's 7nm chip production growth in 2018, according to market sources. The foundry has secured 7nm chip orders from about 20 customers including AMD, Bitmain, Nvidia and Qualcomm. The majority of the orders will be carried out in the first half of 2019, the sources said.
At the technology symposium, Wei also said that TSMC is scheduled to move a new 5nm node technology to mass production towards the end of 2019 or early 2020, with plans to
invest $25 billion into the technology
.
In January,
DigiTimes
reported
that Apple selected TSMC to remain the exclusive supplier of the upcoming A12 processor for its 2018 iPhones, following
rumors from last summer
that Samsung could be returning to iPhone chip production this year. TSMC is the exclusive supplier of the A11 Bionic processor found in the iPhone 8, 8 Plus, and X, as well as the sole supplier of the A10 Fusion processor in the iPhone 7 and 7 Plus.
According to a
DigiTimes report last year
, TSMC's integrated fan-out wafer-level packaging technology -- which the supplier uses in its 7nm FinFET chip fabrication -- is largely superior to any progress made by Samsung in the same field, which eventually led to Apple's decision to stick with one supplier for all of its processors again this year.
Apple's decision to keep TSMC as the sole A-series chip manufacturer in 2018 will mark the third year in a row that the supplier created iPhone chips alone, following the
A10
in 2016 and the
A11 Bionic
in 2017. The last time Apple dual sourced chips was in 2015, when both Samsung and TSMC supplied the A9 chip in the iPhone 6s and iPhone 6s Plus, which frustrated some users when TSMC's technology was
discovered
to boast slightly better battery life.
Apple today filed petitions with the United States Patent and Trademark Office challenging the validity of four Qualcomm patents amid an increasingly vicious legal battle, reports
Bloomberg
. Apple is aiming to get the USPTO to cancel the four Qualcomm patents, arguing that they do not cover new ideas.
The patents in question cover camera autofocusing, a device that functions as a phone and a digital assistant, touch-sensitive displays, and circuit memory.

Challenging patent validity is one of Apple's typical strategies in its legal battles. According to
Bloomberg
, Apple has filed a total of 398 such petitions with the United States Patent and Trademark Office.
For the Qualcomm filing, a trio of judges will consider the petition along with responses from Qualcomm, and will issue a preliminary decision on whether Apple's argument has merit. If Apple has a chance of getting the patents declared invalid, the USPTO will conduct a formal review before issuing a final judgement on the matter.
Apple and Qualcomm have been embroiled in a legal battle since the beginning of 2017, with the dispute centered on how much Apple should have to pay Qualcomm in royalties. Apple claims Qualcomm has been
charging unfair royalties
for "technologies [it] has nothing to do with," while
Qualcomm claims
its technology "is at the heart of every iPhone." Apple has used Qualcomm LTE chips in its devices for years, but has
been moving away
from Qualcomm's technology due to the legal fight.
Both Apple and Qualcomm have
filed multiple lawsuits against
one another, with Qualcomm also seeking import and export bans on some iPhones in the
United States
and
China
.
Apple iTunes chief Eddy Cue
and
Apple CEO Tim Cook
will testify on June 27 as part of Qualcomm's initial lawsuit against Apple, which accuses the Cupertino company of lying to regulators to cause trouble for Qualcomm in multiple countries.
Last week, the United States International Trade Commission began investigating whether Apple infringed on three Qualcomm patents related to power management, radio voltage, and graphics processing. A
pre-trial report
from the ITC's lawyers suggested Apple infringed on the power management patent, but not the other two patents. A ruling on the ITC case, which has the potential to lead to an iPhone import ban, is expected in September.
Just weeks after Apple abandoned its plans to build a $1 billion data center in Ireland, and amid a
major Irish tax dispute with the European Commission
, Apple CEO Tim Cook ensures his company remains committed to the country.

In a recent interview with
The Irish Times
, Cook said Apple appreciated the support it received from the community who wanted the data center to be there, and reaffirmed Apple's commitment to Ireland as a whole.
"We loved the community there. Fortunately we had great support from the community who wanted us there. That's probably the biggest disappointment from our point of view; we felt we could have been in the community and made a lot of friends like we had in Cork and grown the relationship over time," Cook said. "But we understand and respect the process."
Of course, not all local residents wanted the data center there, as concerns were raised about its
potential effects on local animals
, flooding on a neighboring golf course, and its
close proximity to a shut-down nuclear power plant
.
Last October, Apple finally won approval for construction by the Irish High Court, after an appeal by two individuals against the decision was dismissed. However, the appellants decided to take their case to the country's Supreme Court, resulting in
Apple abandoning its plans
just before the hearing was to occur.
"Despite our best efforts, delays in the approval process have forced us to make other plans and we will not be able to move forward with the data centre," Apple said in a statement ahead of the Supreme Court heading on Thursday.

"While disappointing, this setback will not dampen our enthusiasm for future projects in Ireland as our business continues to grow," the company said, citing plans to expand its European headquarters in County Cork where it employs over 6,000 people.
Cook added that Apple "didn't come to Ireland for tax," nearly two years after the European Commission ruled that the company
received illegal aid from the country
, ordering it to repay 13 billion euros to the country. Apple and Ireland are both appealing the ruling, as escrow payments begin for now.
"We came to Ireland in 1980 because we saw a community we thought we could grow, and could do a number of things to support the continent. We've stayed on course on that over almost four decades. It hasn't been a straight line – life isn't a straight line, things go up and down – but it's always been in a trajectory that is increasing. I don't anticipate that changing."
Cook
visited Ireland this week
, where he met with the country's head of government Leo Varadkar in Dublin, before heading to Cork, where Apple's European headquarters are located. Apple recently expanded the campus with a new building that provides space for an additional 1,400 employees.

Apple's recently updated
European Job Creation
page reveals that it now supports 1.7 million jobs across Europe, including around 1.5 million jobs attributable to the App Store ecosystem, some 17,000 of which are based in Ireland.
Apple's website notes that it "has been based in Cork for over 35 years and now directly employs 6,000 people throughout Ireland supporting all aspects of the business." The company also says its Irish team has "doubled in size over the last five years and includes over 80 different nationalities."
All in all, this amounts to a good PR campaign for Apple, echoing much of what it said in its
Message to the Apple Community in Europe
a few years ago.
As a side note in his report about technical challenges facing the AirPower, expected to be
released by September
, well-connected reporter Mark Gurman also noted that Apple considered removing wired charging from the iPhone X.

From his
Bloomberg News
story:
During the development of the iPhone X, Apple weighed removing the wired charging system entirely. That wasn't feasible at the time because wireless charging was still slower than traditional methods. Including a wireless charger with new iPhones would also significantly raise the price of the phones.
Just to be absolutely clear, Gurman confirmed to me that this would have included removing the Lightning connector from the device. In fact, his report notes that Apple designers eventually hope to "remove most of the external ports and buttons on the iPhone," although this is likely multiple years away.
A few years ago, it was reported that Apple's design chief Jony Ive's end goal is for the iPhone to resemble a "single sheet of glass," while Apple has repeatedly expressed its ambitions to "create a wireless future," so the eventual removal of the Lightning connector should perhaps come as no surprise.
Apple is already well on its way towards that wireless future, with products and technologies ranging from AirPods and AirPower to its W1 and W2 wireless chips. Apple also made the controversial decision to
remove the headphone jack from iPhone 7 models
a few years ago, pushing users towards wireless earphones.
Still, removing the Lightning connector would certainly be another controversial decision, given it is not only used for wired charging, but also for audio and data transfer, such as syncing an iPhone with iTunes on a Mac or PC.
Removing the Lightning connector would also prevent an iPhone from directly connecting to a wide range of peripherals, including many adapters, docks, battery cases, power banks, keyboards, game controllers, audio cables, wired headphones, and other accessories authorized under Apple's
MFi Program
.
In many cases, however, wireless alternatives would be available. It's possible to
sync an iPhone with iTunes over Wi-Fi
, for example, while wired headphone users can go wireless,
Bluetooth-enabled game controllers
are available, and
upright-positioned wireless chargers
can double as a docking station.
There is even wireless CarPlay, although it is currently only available in a
few vehicle models
and
aftermarket systems
.
Of course, there would be some friction with this transition, just like when Apple
switched from its 30-pin dock connector to Lightning
in 2012, and removed the headphone jack on the iPhone 7. In both of those cases, however, the controversy eventually died down as many users came to accept the new reality.
It's also worth noting that Apple considers a lot of different ideas internally that might never materialize in a public-facing product.
At this point, it appears like the Lightning connector on iPhones should live on for at least a few years. Rumors suggest Apple will bundle a
faster 18W charger with a USB-C port
with iPhones released in 2018, which would connect to the devices with a Lightning to USB-C cable included in the box.
In the latest piece of news surrounding Apple's original television content plans, the company has given a series order to an adaptation of the French series "Calls," which aired in France beginning in 2017 (via
Variety
).
Created by Timothée Hochet, "Calls" is described as a short-form series that tells stories via snippets of audio taken from real-life situations, as well as through the use of minimal visuals. The show's
IMDb
and official
Facebook
pages suggest that many of the episodes lean towards the horror/mystery genre as well.

Image via @callscanalplus on Facebook
It's believed that the company will keep this format alive in the transition, but the content of the episodes remains unclear. Reports have suggested that Apple intends for most of its shows to eschew mature content in favor of a stable of shows that the entire family can watch -- a decision that
led to Bryan Fuller leaving as showrunner
on Apple's other series with horror elements, "Amazing Stories."
For "Calls," Apple has also acquired the rights to the first season of the French original, suggesting that the company also plans to offer the season as a streaming option on its upcoming service. The amount of episodes and cast members have not yet been revealed for the American version of "Calls."
It's been a busy month for news surrounding Apple's TV content plans, as in the past few days alone reports broke about the company
officially ordering
Kumail Nanjiani and Emily V. Gordon's "Little America" to series, giving a straight-to-series order for a
drama about child journalist Hilde Lysiak
, partnering with
Sesame Workshop
on multiple kid TV shows, and even revealing a
multi-year production partnership
with Oprah Winfrey. Despite the ramp up of show announcements, Apple has yet to explain how users will watch its new TV shows, which are expected to appear sometime
before March 2019
.
Apple aims to release its multi-device AirPower charging mat "before or in September," after facing a handful of technical challenges with its hardware and software, according to well-connected reporter Mark Gurman.

An excerpt from his
Bloomberg News
story:
Apple didn't say when in 2018 it would release AirPower, but engineers hoped to launch the charger by June. The aim now is to put it on sale before or in September, according to one of the people. In recent months, some Apple engineers have ramped up testing of the device by using it as their charger at the office, another person said.
Apple first
previewed the AirPower
alongside the iPhone X in September 2017. At the time, the company's marketing chief Phil Schiller said it would be available in 2018, as
reflected on Apple's website
. Pricing has not been disclosed.
Gurman says Apple engineers initially hoped for a June launch, presumably at WWDC 2018, but noted the AirPower has been delayed due to technical challenges, including the potential for overheating, complex multi-device charging circuitry, and software bugs with the accessory's on-board firmware.
AirPower is said to include a custom Apple chip running "a stripped down version of iOS" for power management and pairing with devices:
The AirPower charger is also more advanced than the current competition because it includes a custom Apple chip running a stripped down version of the iOS mobile operating system to conduct on-device power management and pairing with devices. Apple engineers have also been working to squash bugs related to the on-board firmware, according to the people familiar.
AirPower is an oval-shaped mat that can inductively charge multiple Apple devices at once, including the iPhone 8, iPhone 8 Plus, iPhone X, and Apple Watch Series 3 models. It will also be able to charge AirPods when they are placed in a new, optional charging case set to launch alongside AirPower.
AirPower's ability to charge multiple devices is derived from propriety technology developed by Apple. Apple said it will work to have its technology become part of the universal Qi standard, supported by the latest iPhones, so that other third-party manufacturers can release multi-device charging mats.
AirPower is another step towards Apple's goal of a wireless future. Gurman says Apple designers eventually hope to "remove most of the external ports and buttons on the iPhone," noting Apple even considered removing wired charging from the iPhone X, but decided wireless charging was not yet fast enough.
Of course, the AirPower is not truly wireless, as power is supplied to the mat with a charger connected via Lightning cable.
The Car Connectivity Consortium (CCC), an organization that includes Apple, today announced the publication of a new
Digital Key Release 1.0 specification
, which is a standardized solution designed to let drivers download a digital vehicle key onto their smartphones.
Described as an organization focused on enabling seamless mobile device-to-vehicle connectivity, the CCC's new Digital Key Release specification is available to all member companies.

In addition to Apple, this includes charter member companies Audi, BMW, General Motors, HYUNDAI, LG Electronics, Panasonic, Samsung, and Volkswagen, plus core members like ALPS ELECTRIC, Continental Automotive GmbH, DENSO, Gemalto, NXP, and Qualcomm Incorporated.
The new Digital Key specification, which uses NFC, was developed to create a "robust ecosystem" around interoperable digital key use cases. It
will let
drivers lock, unlock, start the engine, and share access to their cars using smart devices like the iPhone with reliable user authentication methods.
It is a secure system that lets vehicle manufacturers transfer a digital key implementation to a smart device using a Trusted Service Manager infrastructure that leverages NFC distance bounding and a direct link to the secure element of the device. This kind of technology has a wide range of uses, such as car sharing and car rentals, along with key-free operation.
Given the interest in the initial release, the CCC has begun work on a Digital Key 2.0 specification that will offer a standardized authentication protocol between a vehicle and a smart device, ensuring interoperability between different smart devices and vehicles. The Digital Key 2.0 specification has a target completion date of Q1 2019.
Several car manufacturers, such as Audi, already offer Digital Key services to their customers, while others, like Volkswagen, plan to implement the feature in the near future.
Apple is partnering up with Sesame Workshop to create a range of programming for children, reports
Variety
. The partnership was established by Zack Van Amburg and Jamie Erlicht, who have been heading up Apple's video efforts.
Sesame Workshop
is a non-profit organization that develops educational children's programs such as "Sesame Street," a popular, well-known, long-running program for kids.

According to the terms of the deal, Sesame Workshop will develop live-action and animated series, along with an Apple-exclusive puppet series. Content created for Apple will be original and will not include "Sesame Street," which airs on PBS and HBO.

Apple has already signed deals
for more than a dozen original television programs
, but thus far, the series it is producing have not included content for children.
Apple is, however, rumored to be pursuing a deal with Cartoon Saloon, which has previously produced animated films aimed at both children and adults, including "The Secret of Kells," "The Song of the Sea," and "The Breadwinner."
Toshiyasu Abe, a resident of Vancouver, Washington, has filed a lawsuit against Apple in Oregon district court this week, accusing the company of infringing upon his patent with Key Flicks and 3D Touch on select iPhone and iPad models.

The patent in question is
No. 6,520,699
, granted by the United States Patent and Trademark Office in February 2003.
Mr. Abe has been an entrepreneur and inventor for nearly his entire life. In the early 2000s, Mr. Abe dedicated substantial time and resources into developing, promoting, and protecting the then-novel user interface device claimed in United States Patent No. 6,520,699, titled "KEYBOARD."
Like most patents, the description and claims for this one are very long and exhaustive, but from a high level, it at one point refers to a "user interface device" comprising "a plurality of buttons displayed on a touch sensitive screen," with "each button being associated with a plurality of characters or functions."
Here's how the patent is described in the complaint, obtained by MacRumors:
The '699 patent covers at least a touchscreen device having a plurality of buttons displayed on the screen, each button being associated with a plurality of characters or functions. When a user touches or taps on a button, the device will respond by displaying a plurality of characters or functions associated with that button. The device can also detect an applied force and direction of motion, which enables a user to simply flick or swipe their finger toward the desired character or function to thereby select that character or function.
There are several other embodiments of the invention, including physical thumb control pads on a mobile phone, notebook, or steering wheel in a vehicle, each with a multitude of pressure-sensitive, geometrically-shaped keys.

Various embodiments of the patent
The touchscreen embodiment does sound similar to how accented characters are managed on the iPhone keyboard. When a user taps on the E key, for example, a menu appears with diacritics such as È, É, Ê, and Ë. The user then slides their finger over the desired character and releases to input it in a text field.
Abe believes Apple's infringement extends to the
Flick Keyboard
, introduced in iOS 11 for select iPad models. When enabled, the feature allows an iPad user to simply tap and swipe down on a key to input a number or symbol. If a user taps and swipes down on the D key, for example, a $ symbol is inputted.
The complaint alleges that 3D Touch also infringes upon his patent, given its pressure-sensitive, multifunction attributes.
Apple is also said to be further inducing infringement by aiding and abetting the development of third-party iPhone keyboards and apps that implement flick-style keys and 3D Touch, available through the App Store. Abe, who is Japanese, said flick input has particularly gained popularity in Japan.

Japanese keyboard for iPhone
The accused products include at least the following iPad and iPhone models sold in the United States: iPhone 6s, iPhone 6s Plus, iPhone 7, iPhone 7 Plus, iPhone 8, iPhone 8 Plus, iPhone X, iPad Air, iPad Air 2, iPad mini 2, iPad mini 3, iPad mini 4, 9.7-inch iPad, 9.7-inch iPad Pro, and the 10.5-inch iPad Pro.
The complaint alleges that Apple has known of Abe's patent since at least as early as 2009, when he first gave written notice of its infringement. The plaintiff allegedly exchanged a number of emails with Apple, and engaged in at least one phone call with the company's in-house counsel, but no agreement was reached.
Then, in 2017, the complaint alleges that Abe discovered an increase in Apple's infringing activities relating to the release of iOS 11, prompting him to send Apple another patent infringement notification letter last December. Apple and Abe communicated again, through counsel, but nothing transpired from the talks.
Abe is seeking damages adequate to compensate him for Apple's alleged infringement of his patent, in an amount to be proven at trial, but no less than a reasonable royalty. The court still has to agree to hear the case.