macOS Mojave Now Available
Apple's
iPhone XS
and iPhone XS Max launched last Friday, and shortly after, some customers who purchased one of the new devices started noticing an issue with LTE and Wi-Fi speeds and connectivity.
According to
multiple threads
on the
MacRumors
forums, iPhone XS and iPhone XS Max users are experiencing connectivity problems with Wi-Fi and LTE on the two new iPhones when compared to other, older Apple devices.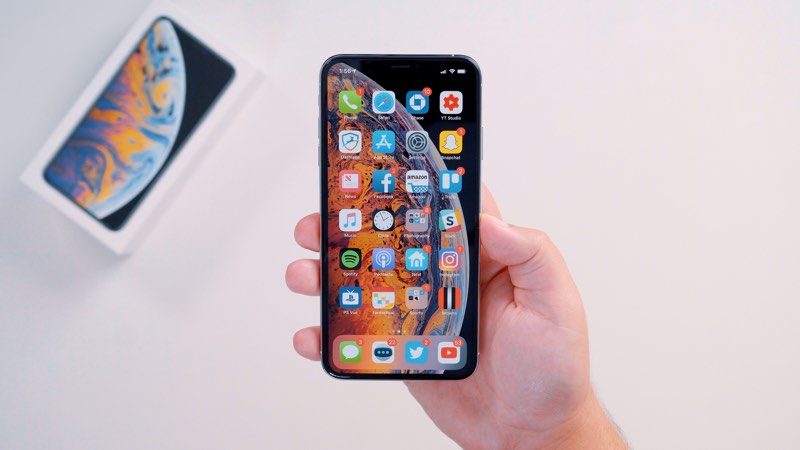 Multiple users have said that there are noticeable differences in cellular reception between the iPhone XS models and the
iPhone 8
and iPhone X, with a 15-page thread suggesting this is a widespread problem that quite a few people are noticing. As described by
MacRumors
reader
onepoint
:
I'm in South Carolina on VZW. My iPhone X consistently holds 3 or 4 bars of LTE in my home with solid speeds.

I activated XS Max yesterday and upon first activating/connecting LTE (reboot, airplane mode, etc.) I get nearly identical performance. Within a minute or two, the signal degrades and data stops working. Disabling LTE results in a full 3G signal with 3G data - no issues, rock solid. Re-enabling LTE works for a minute or two. Lather rinse repeat.
Users are noticing fewer bars and poorer signal on iPhone XS and XS Max compared to devices like the iPhone 8 and iPhone X, especially in areas where signal is weak. Many of the complaints come from Verizon users, suggesting the issue could potentially be carrier specific. Multiple AT&T users, for example, have said the signal is the same or better, while Verizon users are seeing signal issues.
Some iPhone XS owners
have theorized
that the issue is related to Qualcomm vs. Intel modems. The new iPhone XS and XS Max
are using Intel modems
, while older devices used a mix of Qualcomm and Intel modems. AT&T iPhone 8 and iPhone X models used Intel modems previously, while Verizon iPhones had Qualcomm modems. As explained by
MacRumors
reader
radiologyman
:
That seems to be the thinking in the other forum thread linked below. People who went from Qualcomm to Intel may see worsening in fringe areas while those who went from Intel to Intel may see an improvement. Both groups can see faster LTE signal due to carrier aggregation and 4 MIMO implemented in XS and XS Max.
Some AT&T and T-Mobile users are, however, complaining of connectivity problems too, while others have noticed better signal, leading to a confusing mix of user reports.
It's not clear if modem differences are causing the perceived connectivity issues that iPhone XS and XS Max owners are noticing or if there is a genuine bug with the new devices, but in the days following a new iPhone release, there are often carrier updates that can solve connectivity problems.
Given the confusing mix of information coming from users on the forums, the LTE connectivity problems may be related to software and could be fixed through the aforementioned carrier update or a software update from Apple, but we'll have to wait for more information to figure out exactly what's going on.
In addition to the LTE problems, there appears to be a
separate issue with Wi-Fi
. On the
MacRumors
forums, users began noticing slower Wi-Fi speeds on iPhone XS models compared to other Apple devices, which readers quickly deduced was a 2.4GHz vs. 5GHz Wi-Fi issue.
It appears that the iPhone XS and XS Max are preferring 2.4GHz networks over 5GHz networks when connecting to routers that use the same SSID for both the 2.4 and 5GHz bands. From
MacRumors
reader
playtillyadrop
:
I'm having the same problems. On my x it will hold the 5ghz connection compared to the XS max which likes to hold on to the 2.4ghz connection. I'm using google WIFI. All my nodes are connected wired. I know it's not my wifi and it's related to the xs max. It seems as if it prefers the stronger signal over throughput. My x performs better. I can check through the google wifi app and it takes forever for the xs max to pick the 5ghz connection.
The majority of people experiencing slower speeds found that their iPhone XS models were indeed connected to the 2.4GHz network rather than the 5GHz network. In our own testing, we found that when comparing an iPhone XS Max and an iPhone X, the iPhone XS Max connected to the 2.4GHz network while the iPhone X connected to the 5GHz network.
With routers that do not have separate SSIDs for the two bands, it can be difficult to tell which you're connected to, leading to perceived slower connection speeds.
This is clearly a bug that needs to be addressed by Apple through an update to make the iPhone XS models prefer the faster 5GHz network to the 2.4GHz network, but in the meantime, providing separate SSIDs for the 2.4 and 5GHz bands can allow you to make sure your iPhone is connected to the 5GHz band at all times.
Some users have also had luck with resetting their network settings and/or forgetting their Wi-Fi network and reconnecting, but the iPhone XS models appear to default back to 2.4GHz often if not made to connect to the 5GHz network.
This connection issue appears to be at the root of most of the slow Wi-Fi complaints, but there have been a few other complaints of poor connection speeds when connected to a 5GHz network, so it's possible there's also something else going on.
We've contacted Apple to ask about both the Wi-Fi and LTE issues that customers are experiencing with the iPhone XS models and will let
MacRumors
readers know if we hear back.
With the release of
macOS Mojave
today, third-party Mac app developers are releasing updates to take advantage of features like Dark Mode and other new Mojave additions.
Dark Mode options in third-party apps will let them blend right in to Mojave's new Dark Mode, which is a systemwide dark theme that can be used in lieu of the traditional light mode theme. We've rounded up a list of prominent apps that are embracing macOS Mojave's new features.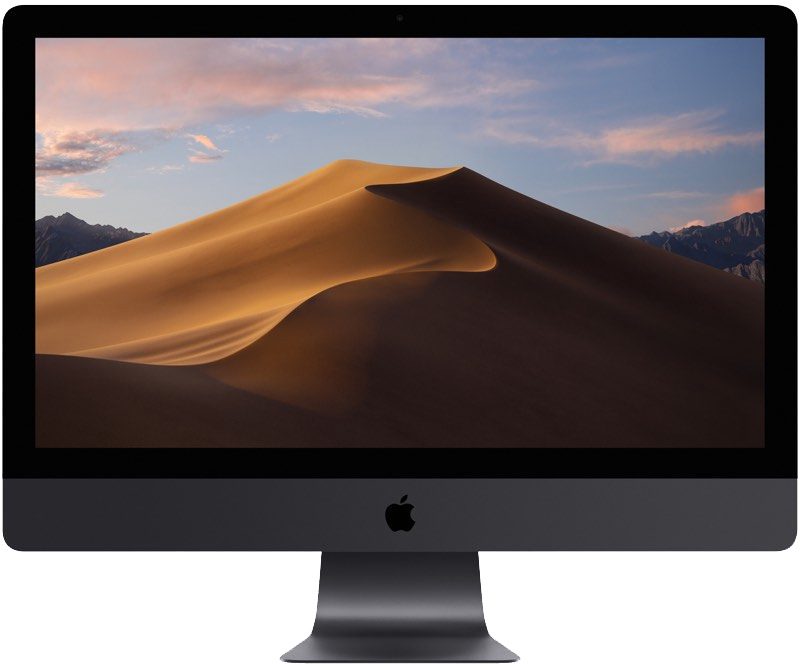 1Password
- Popular password management app 1Password is introducing support for Dark Mode with a new darker theme that blends right into the macOS Mojave operating system.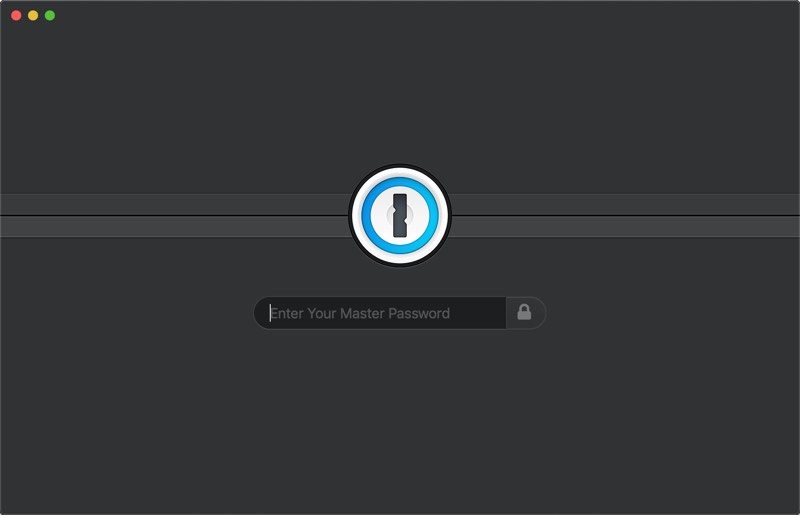 1Password's new update also includes a Safari App Extension to make it easier to input 1Password info into Safari webpages, it features a hardened runtime to make it so other processes on your computer can't access it, and it's been notarized with the new notary service in macOS Mojave that Apple introduced to make apps more secure.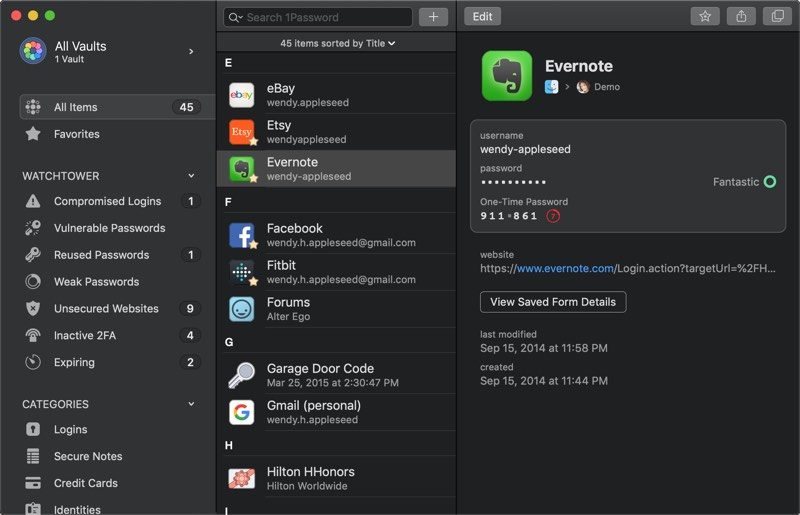 Banktivity
- Personal finance management app Banktivity, priced at $70 for new customers and $34.99 for those upgrading, is getting an update that adds support for macOS Mojave's Dark Mode. Version 7 of the app also includes expanded search features, summary view customization options, lot selection, improved envelope budgeting, calendar support, and more.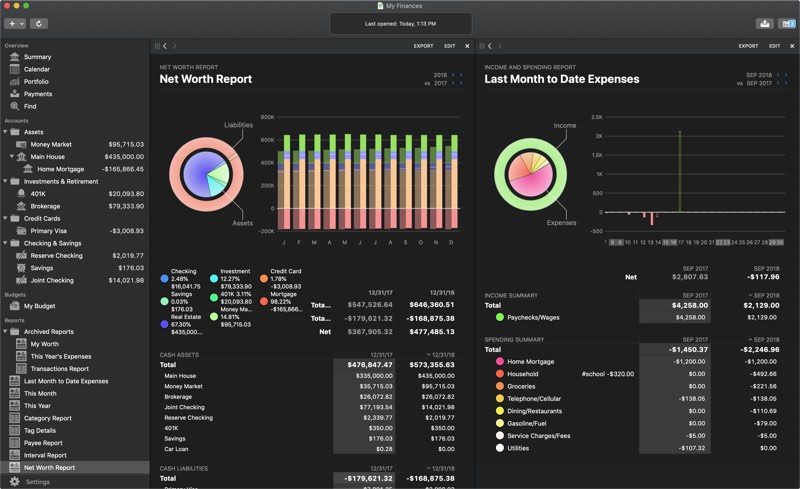 Things 3
- Popular todo app Things 3 for Mac is gaining Dark Mode support for macOS Mojave, and it will automatically change between light and dark based on a user's system setting in the Mojave operating system, but there are custom controls as well. The new dark theme is also available for Things customers running older versions of macOS.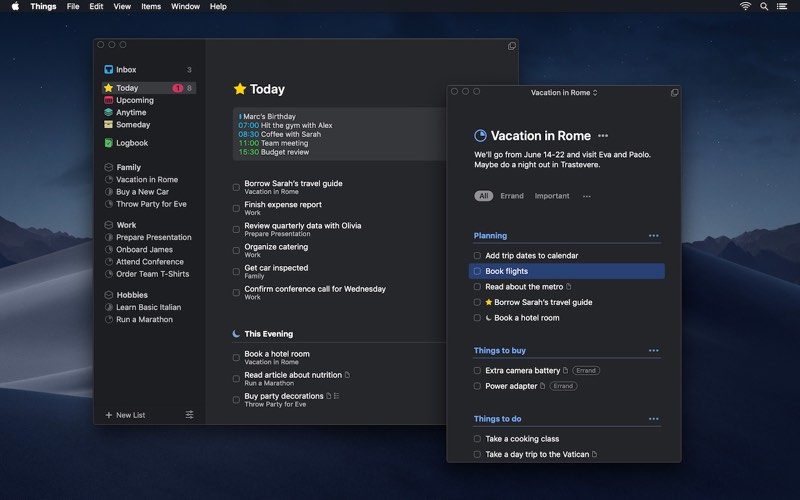 OmniFocus 3
- Task management app OmniFocus, priced at $39.99 or $79.99 for the Pro version, is getting a major update today, which introduces version 3. The updated app has a redesigned, modernized interface that will feel familiar but fresh to OmniFocus 2 users. It includes tags for better organization, a forecast view to see tasks and calendar events in order, and enhanced repeating tasks. OmniFocus implemented a dark mode a few years back and it works great with macOS Mojave.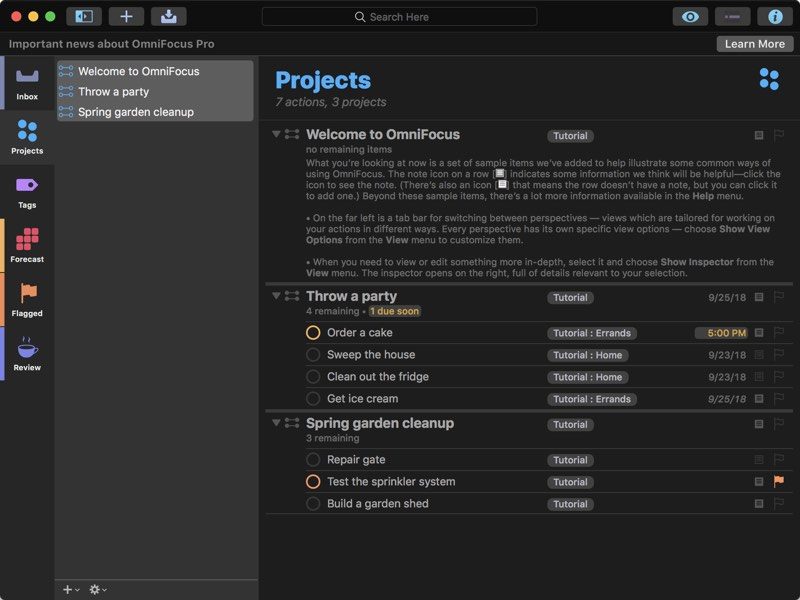 Agenda
- Note taking app Agenda has added a new dark theme for macOS Mojave, and it's been designed to activate when you have your Mac set to Mojave's Dark Mode. The updated Agenda app has been designed to use the look and feel of the Mojave Dark Mode interface while retaining the clean, modern style of the Agenda app. The new darker theme is also available in Agenda for older versions of macOS.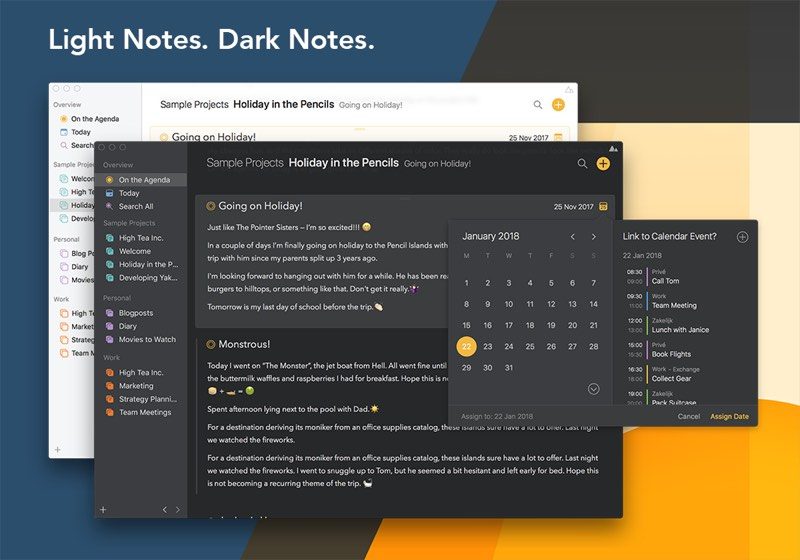 Transmit
- Panic's Transmit 5 app for file transfers has been updated with a new dark theme that matches the Dark Mode in macOS Mojave.
🏴 Yes! Transmit 5.2 now supports DARK MODE for macOS Mojave. And, I'll be honest, it looks pretty danged nice. It's a free update now available for direct customers — just auto-update and enjoy! https://t.co/ladeSM399l pic.twitter.com/D7Dx6mys1c

— Panic Inc (@panic) September 24, 2018
Fantastical for Mac
- Popular calendar app Fantastical for Mac has been updated with support for macOS Mojave's Dark Mode. There's no new look to the app, but the built-in dark theme is activated whenever Dark Mode is turned on in Mojave.
Do you have favorite Mac apps that were updated with support for Dark Mode? Let us know in the comments.
Researcher Patrick Wardle, who has uncovered many security flaws in Apple's macOS operating system, today shared some details on a new vulnerability that he's found in the newly released
macOS Mojave
update.
As outlined by
BleepingComputer
, Wardle discovered that he was able to access Contacts data from the address book using an unprivileged app, as demonstrated in the video below.
According to Wardle, the vulnerability is a result of the way that Apple implemented new macOS privacy protections in the Mojave update.
"I found a trivial, albeit 100% reliable flaw in their implementation," he told us, adding that it allows a malicious or untrusted app to bypass the new security mechanism and access the sensitive details without authorization.
The bypass does not work with all of the new privacy protection features in macOS Mojave, and hardware-based components, such as the webcam, are not affected. Full details on the vulnerability are not available yet, as Wardle plans to share technical details in November.
In the macOS Mojave update, Apple
made a change
that requires explicit user consent for apps to access location data, camera, contacts, calendars, reminders, messages history, Safari data, mail databases, and other sensitive data, which should prevent the vulnerability that Wardle demonstrates.

Apple will undoubtedly address the security flaw discovered by Wardle in an upcoming update to macOS Mojave.
Apple today released the
newest version
of its operating system for Macs, macOS Mojave, to the public. macOS Mojave is a free download that's available today for anyone who has a compatible Mac, and it comes after
11 rounds of betas
.
macOS Mojave can be downloaded from the
Mac App Store
, with a direct link to the download
available here
.
Subscribe to the MacRumors YouTube channel for more videos.
macOS Mojave is a significant update to macOS, introducing a new systemwide Dark Mode, with Mojave users able to choose between a light theme or the new dark theme, which changes the color of the dock, menu bar, apps, and other elements.
Dark Mode is accompanied by Dynamic Desktops, aka wallpapers that subtly change throughout the day to mimic the progress of the sun across the sky outside.
In the afternoon, for example, the lighting of the Mojave Desert wallpaper is at its peak brightness and the image of the desert is depicted as it would be if you visited it in the daytime with well-lit sand dunes and a bright blue sky.

At night, the sky in the wallpaper shifts to darker blue to reflect that it's now evening. The shift between daytime and nighttime happens gradually over the course of the day, so you'll see subtle changes each time you look at your Mac's display. It's a neat new feature that can be enabled in the Desktop & Screensaver section of preferences.
macOS Mojave also includes Stacks, a new desktop organization system that keeps desktop files neat and organized to cut down on clutter. The Finder window has been enhanced with a new Gallery View for previewing larger versions of photos and documents, a Sidebar for easier navigation, a revamped Quick Look option for quick document editing, and Quick Actions, so you can do more in the Finder window than ever before.

Screenshots that you take on the Mac can now be edited using built-in Markup tools and a new management options that also allow for easy screen recording. Continuity camera, a useful new feature, allows you to import photos and document scans directly from an iPhone or
iPad
to the Mac.

The
Apple News
, Stocks, Home, and Voice Memos apps have been ported from iOS to macOS as part of a multiyear project Apple is working on to make it easier to bring iOS apps to Macs, and Apple has introduced several new privacy protections to keep your data safer than ever.

Apple is also making it harder for websites to track you with a range of new Safari tools, and it's also easier to make and store secure, hard-to-guess passwords for each and every website.
Apple has added an entirely revamped Mac
App Store
to macOS Mojave that makes it easier to discover apps with a featured section and specific categories for games, creative apps, productivity apps, apps for developers, and more.

macOS Mojave was initially supposed to include a Group FaceTime feature that includes support for chatting with up to 32 people at one time, but it was removed in the macOS Mojave beta and will be introduced in a future Mojave update.

macOS Mojave drops support for many older Macs compared to
macOS High Sierra
and it is compatible primarily with machines manufactured in 2012 or later. A full list of Macs that can run Mojave is below:
For more details on all of the features included in macOS Mojave, make sure to
check out our macOS Mojave roundup
.
iPhone XS
Max has the best smartphone display ever, according to
display testing and calibration firm DisplayMate Technologies
.

iPhone XS Max has a number of notable improvements over the original iPhone X, including higher peak brightness and better color accuracy, and matches or sets smartphone display records in a number of areas, according to Dr. Raymond M. Soneira, President of DisplayMate Technologies.
For example, DisplayMate says the iPhone XS Max has a peak full-screen brightness of up to 660 nits for the sRGB and DCI-P3 color gamuts, which improves screen visibility in high ambient lighting conditions. By comparison, the iPhone X achieved a peak full-screen brightness of 634 nits in its
year-ago tests
.
DisplayMate measured the iPhone XS Max's screen reflectance to be 4.7 percent, close to the lowest that it has ever measured for a smartphone. As a result of this high brightness and low reflectance, the iPhone XS Max has one of the best contrast ratings in high ambient light on any smartphone it has ever tested.
DisplayMate provides an extensive overview of the iPhone XS Max display, concluding that it is a "very impressive top tier smartphone display."
Based on our extensive Lab Tests and Measurements the iPhone XS Max receives our DisplayMate Best Smartphone Display Award, earning DisplayMate's highest ever A+ grade by providing considerably better display performance than other competing smartphones.
Of note, the iPhone XS and iPhone XS Max use the same display technologies.
DisplayMate's
iPhone XS Max OLED Display Technology Shoot-Out
article is a worthwhile read for anyone looking for comprehensive analysis and testing of the iPhone XS Max display. DisplayMate has been a
provider of display calibration software
for consumers and technicians since 1991.
Apple today
announced
it has completed its acquisition of music recognition service Shazam, after
reaching a preliminary agreement in December
. Apple says the Shazam app will soon become ad-free for all users.

Oliver Schusser, Vice President of
Apple Music
:
Apple and Shazam have a long history together. Shazam was one of the first apps available when we launched the App Store and has become a favorite app for music fans everywhere. With a shared love of music and innovation, we are thrilled to bring our teams together to provide users even more great ways to discover, experience and enjoy music.
Shazam is a popular service that can identify the names and lyrics of songs, music videos, TV shows, and more, simply by listening to and deciphering whatever is playing. Shazam has apps across iPhone,
iPad
,
Apple Watch
, iMessage, and Mac, and has been built into
Siri
since iOS 8.
Apple announced its plans to acquire Shazam in a statement provided to MacRumors and other media outlets back in December:
We are thrilled that Shazam and its talented team will be joining Apple. Since the launch of the App Store, Shazam has consistently ranked as one of the most popular apps for iOS. Today, it's used by hundreds of millions of people around the world, across multiple platforms. Apple Music and Shazam are a natural fit, sharing a passion for music discovery and delivering great music experiences to our users. We have exciting plans in store, and we look forward to combining with Shazam upon approval of today's agreement.
Shazam issued the following statement at that time:
We are excited to announce that Shazam has entered into an agreement to become part of Apple. Shazam is one of the highest rated apps in the world and loved by hundreds of millions of users and we can't imagine a better home for Shazam to enable us to continue innovating and delivering magic for our users.
Apple completed its acquisition of Shazam just a few weeks after
European regulators approved of the merger
. Terms of the deal have not been disclosed, but a report from
TechCrunch
's Ingrid Lunden valued it around $400 million.
Shazam's app was
optimized for iOS 12
on Friday.
In a research note obtained by MacRumors today, Apple analyst
Ming-Chi Kuo
has provided launch-weekend takeaways for the
iPhone XS
, iPhone XS Max, and
Apple Watch
Series 4, all of which went on sale Friday.

Kuo says that iPhone XS Max demand is "better than expected," with the 6.5-inch model outselling the iPhone XS by three to four times. He says the 256GB storage option is most popular, with the 512GB configuration subject to a "serious shortage" due to Samsung being the only reliable supplier.
We have determined that the demand for XS Max is better than expected (3–4 times that of XS). The gold and space-grey colors are significantly more popular than the silver. 256GB is the most popular, and 512GB is subject to a serious shortage because only Samsung can currently ship NAND Flash well. We are positive that XS Max shipments will grow steadily in 4Q18 thanks to demand from Asia market and the gift season.
The well-known analyst believes Apple Watch Series 4 demand is "much better than expected," with supplies likely to remain tight until Compal begins mass production starting from November, as a secondary supplier alongside Quanta.
Apple Watch Series 4 demand is much better than expected. The capacity of the assembler Quanta is full already; therefore, the supply cannot improve significantly until second supplier Compal's mass production for Apple Watch Series 4 starting from November. We have increased the Apple Watch shipment forecast in 2018 from 18mn to 18.5–19.5mn units.
Kuo believes the
iPhone XR
will be a hot seller, with more customers upgrading to that model than the
iPhone 8
series spurred last year. He is also confident that the device's display-related production bottleneck will "markedly improve" beginning in mid to late October. iPhone XR pre-orders begin October 19.
Kuo
expressed similar opinions
following the first weekend of iPhone XS, iPhone XS Max, and Apple Watch Series 4 pre-orders last week.
A new report out this morning by
Bloomberg
's Mark Gurman and Ian King takes a look into Apple's pricing strategy for the storage capacities on the
iPhone XS
and iPhone XS Max. Specifically,
Bloomberg
says that the biggest upsell for the iPhone XS and XS Max is the new 512GB storage option, which will help Apple make $241 more per iPhone than the 64GB option.

512GB is the highest storage capacity that Apple has yet to release on an iPhone, and the company charges customers a lot more for NAND storage chips than it pays suppliers. IHS Markit analyst Wayne Lam explains that storage costs Apple about 25 cents per gigabyte, and the company charges customers about 78 cents per gigabyte. Because of this, Lam says that storage "is absolutely the most profitable iPhone feature."
In research compiled by
Bloomberg
, the 64GB iPhone XS cost Apple $23.68 for the NAND storage specifically, the 256GB cost $66.24, and the 512GB cost $132.48. In terms of revenue, the 512GB storage option is estimated to make Apple $241 more per iPhone than the 64GB tier, an increase from $107 between the highest and lowest storage tiers in last year's iPhone X.
According to data from InSpectrum Tech, the market price of NAND flash memory is half of what it was a year ago, but Apple's storage tiers for the iPhone have not reflected these savings.
"Storage is one of their levers to create more revenue and is absolutely the most profitable iPhone feature," says Wayne Lam, an analyst at researcher IHS Markit Ltd. Adding more isn't much work for Apple, because it just means swapping a chip, he adds, "whereas when you increase the screen size, you have to completely re-engineer the phone."

The 78¢-per-gig charge hasn't budged since last year. Of course, Apple uses contracts to lock in the price of such components as Nand flash, so it may not be benefiting yet from recent price declines. So far, though, storage costs customers more on an iPhone than on, say, a Samsung Note 9. Samsung Electronics Co. charges 65¢ a gig to move from the 128GB Note 9 phone to the 512GB model.
With more storage, users can save more photos, videos, documents, music, movies, podcasts, books, and more on their iPhones, without having to worry about deleting old items for more space. Of course, Apple also offers
iCloud storage
at $0.99/month for 50GB, $2.99/month for 200GB, and $9.99/month for 2TB. This means that if a 512GB iPhone XS or XS Max user wants to back up most of the content on their device, they will need to opt for the $9.99/month option.
In terms of the prices for these new iPhones, which begin at $750 for the not-yet-released
iPhone XR
and increase to $1,449 for the 512GB iPhone XS Max, Apple CEO
Tim Cook
has said that the company is aiming to "
serve everyone
." In an interview with
Nikkei
, he explained that "if you provide a lot of innovation and a lot of value, there is a segment of people who are willing to pay for it," referring to the steeper prices of this year's iPhone XS and XS Max.
iFixit has completed a
teardown of the Apple Watch Series 4
, providing a look inside a larger 44mm model with LTE.

Image Credit: iFixit
The repair experts believe that while the original
Apple Watch
was awkwardly layered together and used too much glue, the Series 4 lineup feels "much more thoughtfully laid out," likening it to the iPhone 5.
Apple pundit John Gruber has compared this to the leap in design brought by the iPhone 4, and we might even go a bit further and call it an iPhone 5: a device that knows its priorities, and wants to look as elegant inside as out.
At first glance, the internal design of Series 4 models looks more or less the same as previous models, with the battery and Taptic Engine taking up most of the space. Dig deeper, however, and the changes become evident.

Image Credit: iFixit
Teardown highlights:
291.8 mAh battery, which is 4% more capacity than the 279 mAh battery in 42mm-sized Apple Watch Series 3 models.
A thinner and longer Taptic Engine, but iFixit says it still takes up a lot of space that could have gone to a larger battery.
The barometric sensor may have been relocated to the speaker grille for access to the outside atmosphere. The sensor had its own dedicated hole beside the microphone on Apple Watch Series 3 models.
The new Apple S4 chip is secured only with screws, whereas the processor is also "fiercely glued" in previous Apple Watch models.
The golden ring is likely a streamlined antenna system, as iFixit says it has not seen the usual fiddly brackets or golden gaskets.
The entire rear casing pops off more easily.
The display is not only larger, but also thinner.
iFixit says the Apple Watch Series 4 is nearing iPhone levels of repairability, with the highly-glued display being the primary remaining obstacle. Beyond that, they say the battery is straightforward to replace.

Image Credit: iFixit
All in all, the Series 4 received a "solid" 6/10 on iFixit's repairability scale, with 10 being the best possible score. That's the same repairability score
iFixit gave the iPhone XS and XS Max in its teardown of those devices
.
Apple is unlikely to produce original content that contains gratuitous sex, violence, profanity, or risqué storylines, according to a report published over the weekend by the
Wall Street Journal
.
The article cites several sources familiar with Apple's original programming plans who say Apple wants to avoid putting its name to anything that could risk tainting its wider brand image.

It also relates CEO
Tim Cook
's alleged reaction to watching Apple's first scripted drama, "
Vital Signs
," a semi-autobiographical tale of hip hop artist Dr Dre.
According to the paper's sources, Cook previewed the show and was "troubled" by scenes depicting drawn guns, sex and drug use, and reportedly told
Apple Music
executive Jimmy Iovine that Apple couldn't show it.
Across Hollywood and inside Apple, the show has become emblematic of the challenges faced by the technology giant as it pushes into entertainment. Apple earmarked $1 billion for Hollywood programming last year. But in the tone CEO Mr. Cook has set for it, whatever Apple produces mustn't taint a pristine brand image that has helped the company collect 80% of the profits in the global smartphone market.

Apple's entertainment team must walk a line few in Hollywood would consider. Since Mr. Cook spiked "Vital Signs," Apple has made clear, say producers and agents, that it wants high-quality shows with stars and broad appeal, but it doesn't want gratuitous sex, profanity or violence.
Apple's approach is in direct contrast to that of other streaming platforms, which have found great success in producing edgy content like HBO's "Game of Thrones" and Netflix's "House of Cards." However, Apple apparently feels it has more to lose if viewers are offended by its entertainment offering.
"As a consumer-product company, Apple is especially exposed if content strikes a sour note," said Preston Beckman, a former NBC and Fox programming executive who spoke to
WSJ
. "For Netflix, the only risk is that people don't subscribe. With Apple, you can say, 'I'm going to punish them by not buying their phone or computer.'"
Apple has
hired
former Sony Pictures TV executives Jamie Erlicht and Zack Van Amburg to head up the company's broader push into original video programming. Erlicht and Van Amburg have helped produce shows like "Better Call Saul," "The Crown," "Sneaky Pete," and more.
According to the report, Van Amburg and Erlicht have successfully pushed some edgier shows, including a series made by M. Night Shyamalan about a couple who lose a young child. However, Apple executives reportedly pushed for changes in the show because they didn't want content to venture into religious subjects or politics.
Similar concerns over keeping content "safe" have reportedly contributed to delays in Apple's original content streaming, which has been postponed twice and is now expected to launch in
March 2019
. However, one leading producer with projects at Apple expects the date to be pushed back yet further, according to the latest report.
Apple is known to have invested in at least 12 television shows so far. They include a new animated TV series called "
Central Park
" and an
untitled morning show drama
starring Jennifer Aniston and Reese Witherspoon. According to
WSJ
, however, the latter is delayed because of scheduling issues with Witherspoon.
Apple's original TV shows are expected to be distributed through a new video streaming service, which could
also be bundled
with an Apple Music subscription and a digital magazine and news subscription.
Following new iPhone releases, the devices are always subjected to a range of durability tests, and the
iPhone XS
and XS Max are no exception. Over the weekend, warranty company
SquareTrade
conducted several tests on the two new smartphones, checking Apple's claims of IP68 water resistance and more durable glass.
According to Apple, the iPhone XS and XS Max are using "the most durable glass ever in a smartphone" and have improved IP68 water resistance, meaning they can withstand water up to two meters deep for approximately 30 minutes.
In SquareTrade's tests, the two iPhones stood up well to liquids, but the more durable glass didn't prevent them from shattering when dropped.
It only took a single back down drop test from a six foot range onto a hard surface for the iPhone XS to shatter entirely, resulting in broken, loose glass across the back of the device. Like the iPhone X, the iPhone XS and XS Max feature glass on the front and back to enable wireless charging.
The result was the same for the iPhone XS Max, with back glass of the smartphone shattering after being dropped from a six-foot height. The stainless steel frames Apple uses for the iPhone XS and XS Max protected the two devices during a side drop test, but the face down drop test also resulted in breakage.
When dropped face down, the iPhone XS suffered a shattered and malfunctioning display, while the iPhone XS Max was impacted with hairline cracks and loose glass but still had a usable display.
After a 60 second tumble test, both the iPhone XS and the iPhone XS Max were covered in hairline cracks, scratches, and featured loose glass after the damage, and in a pressure-based bend test, the iPhone XS cracked at 250 pounds and the screen failed entirely.
SquareTrade also tested the water resistance of the iPhone XS and the iPhone XS Max in a novel way, using a 5-foot 30 minute dunk test in a tank filled with 138 cans of beer. Beer was the liquid of choice for the test because Apple mentioned beer resistance during the keynote when the two devices were announced.
Both the iPhone XS and XS Max survived the extended beer bath and were entirely operational afterwards, confirming Apple's water resistance claims.
SquareTrade assigned each iPhone a "Breakability Score" taking into account performance on each of the tests, as broken down in the image below. iPhone XS earned a Breakability Score of 86, classified as "high risk," while iPhone XS Max earned a Breakability Score of 70, classified as "medium risk."

All in all, SquareTrade believes the iPhone XS and XS Max are stronger than the iPhone X, but are still prone to breaking easily given that both devices shattered on the first drop during the drop test.
"We were super impressed with the iPhone XS Max, which is much stronger than its discontinued predecessor, the iPhone X. However, as with the iPhone X, our tests show the all-glass design of the iPhone XS and XS Max make them highly susceptible to cracking, particularly from drops, the most common cause of damage, said Jason Siciliano, vice president global creative director at SquareTrade.

"Repair costs for the new iPhones are expected to be around $399 to replace a front screen and $599 to replace a shattered back. Considering $599 was the cost of the most expensive version of the very first iPhone, repair costs are now something to consider when buying a new iPhone. They're beautiful phones. Just hang on tight."
As with the iPhone X,
non-warranty repairs
for Apple's all-glass devices are expensive. Without
AppleCare
+, getting the screen replaced on the iPhone XS costs $279, while a
screen repair
for the iPhone XS Max costs $329.
Damage to the back of the device falls under the "Other repairs" category, which costs $549 for the iPhone XS and $599 for the iPhone XS Max, making AppleCare+ or a sturdy case a good idea.
Apple Watch
Series 4 has a new feature called Fall Detection, which uses the new next-generation gyroscope and accelerometer to detect a fall and provide options to contact emergency services if necessary.
As it turns out, Fall Detection is disabled for most users and will need to be manually enabled. In an Apple support document found by
a Reddit user
, Apple explains that Fall Detection only turns on automatically if you've set your age on Apple Watch or in the Health app and you're over 65 years old.

If you are not over age 65 and want to use Fall Detection, it will need to be enabled in the Emergency SOS section of the Apple Watch app.
Apple's support document also explains other aspects of the Fall Detection feature. When the Apple Watch Series 4 detects a "significant, hard fall" with Fall Detection enabled, it taps you on the wrist, sounds an alarm, and displays an alert.
From the options that display on the screen, you can select either "I fell but I'm OK," "I did not fall," or "Emergency SOS" to contact emergency services.
If the Apple Watch detects that you're moving, it will wait for a response, but if you're immobile for about a minute, it will begin a 15-second countdown before automatically calling emergency services and alerting emergency contacts that are set up in Medical ID in the Health app on iPhone.
Fall Detection in the Series 4 was tested over the weekend by multiple YouTube channels to see how the feature works and how hard of a fall is necessary to cause an alert.
Test falls onto softer surfaces like foam or carpet didn't seem to trigger the Fall Detection feature, but harder falls onto less forgiving surfaces did appear to work better. YouTube testers were not able to get the feature to trigger with each and every fall, suggesting there's some margin of error, which users should be aware of.
Apple says it gathered data from thousands of people over a period of time to create the Fall Detection algorithms, which are able to test both forward facing falls with wrists out and backward facing slips with wrists up.
Apple does warn in its support document that the Apple Watch Series 4 won't detect all falls, and also says that false positives are possible. "The more physically active you are, the more likely you are to trigger fall detection due to high impact activity that can appear to be a fall," reads the document.
Given the possibility of false positives for active adults, most people will likely want to leave this feature disabled, but it's a good idea to know how to turn it on if you may need it.