Apple has acquired San Francisco-based music analytics startup
Asaii
, according to unnamed sources cited by
Axios
. The deal, which has not been confirmed by Apple, was reportedly worth less than $100 million.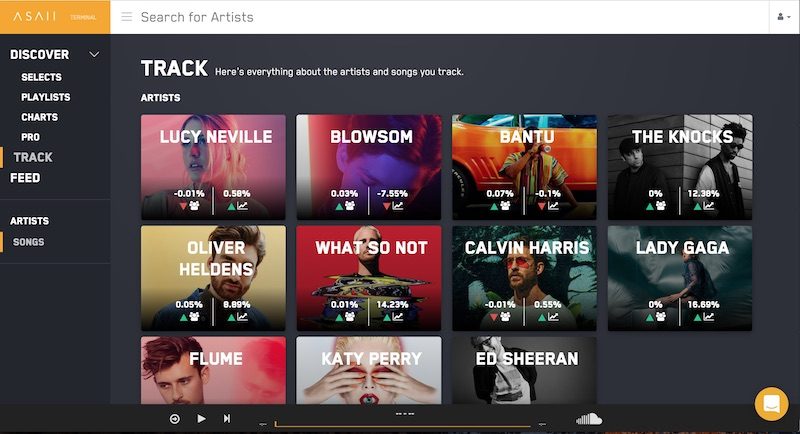 Asaii built tools that allowed music labels to discover, track, and manage artists using machine learning. The platform pulled data from social networks such as Facebook, Twitter, and Instagram, and streaming music services such as
Apple Music
, Spotify, YouTube, and SoundCloud, to find hidden talent.
Asaii offered two products specifically: a music management dashboard for A&R representatives to quickly scout and manage talent, and an API for music services to integrate a recommendation engine into their platforms.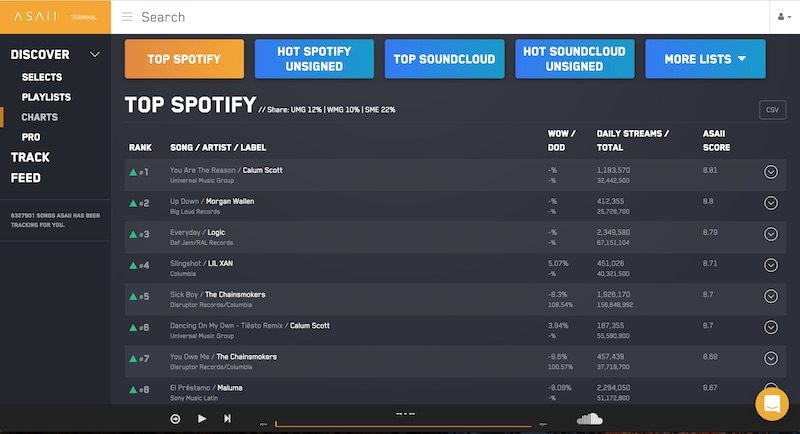 "Our machine learning powered algorithms finds artists 10 weeks before they chart," the startup's website states. "Our algorithms are able to find the next Justin Bieber, before anyone else," another page
claimed
.
The acquisition will enable Apple to bolster its content recommendations to users, and help it compete with Spotify's efforts to work directly with smaller artists and music labels, according to the report. Apple Music and iTunes are likely to benefit from Asaii's machine learning algorithms.
Asaii was founded in August 2016 by
Sony Theakanath
,
Austin Chen
, and
Chris Zhang
, who have collectively worked at Apple, Facebook, Uber, Salesforce, and Yelp previously. All three individuals now work on the Apple Music team at Apple, as of October 2018, according to their LinkedIn profiles.
In an email to customers
shared by Music Ally
last month, Asaii said it would be shutting down operations on October 14, 2018.
Last month, Apple announced that it completed its
acquisition of Shazam
, a popular music recognition service that can identify the names and lyrics of songs and music videos. Shazam could be more tightly integrated into Apple products and services as a result, ranging from Apple Music to
Siri
.
Police in the United States are being advised not to look at iPhone screens secured with Face ID, because doing so could disable facial authentication and leave investigators needing a potentially harder-to-obtain passcode to gain access.
Face ID on iPhone X and
iPhone XS
attempts to authenticate a face up to five times before the feature is disabled and the user's passcode is required to unlock the smartphone.
Elcomsoft presentation slide talking about Face ID (image via Motherboard)
Given the way the security system works,
Motherboard
reports that forensics company Elcomsoft is advising law enforcement, "don't look at the sceen, or else... the same thing will occur as happened [at] Apple's event."
The note appears on a slide belonging to an
Elcomsoft
presentation on iOS forensics, and refers to Apple's 2017 presentation of Face ID, in which Apple VP Craig Federighi
tried and failed to unlock an iPhone X with his own face
, before the device asked for a passcode instead.
Apple
later explained
that the iPhone locked after several people backstage interacted with it ahead of Federighi, causing it to require a passcode to unlock.
The advice follows a recent report of the first known case of law enforcement
forcing a suspect to unlock an iPhone using Face ID
. The action subsequently helped police uncover evidence that was later used to charge the suspect with receiving and possessing child pornography.
In the United States, forcing someone to give up a password is interpreted as self-incrimination, which is protected by the Fifth Amendment, but courts
have ruled
that there's a difference between a biometric recognition system like
Touch ID
and a passcode that you type into your phone.
In some cases, police have gained access to digital data by forcing people to unlock mobile devices using their fingers. Indeed, before Face ID was in use, law enforcement was advised how it could avoid locking Touch ID fingerprint-based authentication on Apple's iPhones.
Motherboard
. "That's why we always recommend (on our trainings) to use the power button instead, e.g to see whether the phone is locked. But with Face ID, it is easier to use 'accidentally' by simply looking at the phone."
Note: Due to the political nature of the discussion regarding this topic, the discussion thread is located in our
Politics, Religion, Social Issues
forum. All forum members and site visitors are welcome to read and follow the thread, but posting is limited to forum members with at least 100 posts.
Apple's upcoming
iPad
Pro could be one of its thinnest devices yet, measuring in at just 5.9mm thick, based on details shared by a leaker on Twitter who previously provided accurate details on the
iPhone XS
and XR ahead of launch.
According to Twitter user CoinCoin, the upcoming iPad Pro will measure in at just 5.9mm, and due to its thinness, there will be no room for Apple to include a headphone jack.
Of course no headphone jack on the upcoming new iPad. 5.9mm thickness is pretty good though.

— CoinCoin (@coiiiiiiiin) October 12, 2018
The 5.9mm estimate
matches up
with alleged iPad Pro dimensions shared yesterday on
Slashleaks
, which suggested the new iPad Pro would measure 5.86mm thick.

It is also in line with current iPad Pro measurements. The existing 10.5-inch iPad Pro is 6.1mm thick, so it would make sense for a new model to be somewhat thinner.
It's likely the 5.9mm estimate applies to the smaller of the two 2018 iPad Pro models that Apple is expected to introduce, which could be somewhere around 10.5 to 11 inches in size. Apple's current 12.9-inch iPad Pro is thicker than the 10.5-inch version, measuring in at 6.9mm thick.
The iPad Pro dimensions shared on Slashleaks yesterday suggest the smaller iPad Pro will be 7 inches wide (178.52mm) and 9.7 inches tall (247.64mm), while the larger model will be 8.5 inches wide (215mm) and 11 inches tall (280.66mm).

We've seen similar dimension estimates in
earlier rumors
from Japanese site
Mac Otakara
, suggesting the smaller iPad Pro will measure in at 247.5mm tall, 178.7mm wide, and 6mm thick, while the larger model will measure 280mm tall, 215mm wide, and 6.4mm thick.

Comparatively, the current 10.5-inch iPad Pro measures in at 6.8 inches wide (174.1mm) by 9.8 inches tall (250.6mm), while the 12.9-inch model measures in at 8.68 inches wide (220.6mm) by 12 inches tall (305.7mm).
Bezels on the new tablets could measure in right around 6mm at the top, bottom, and sides, with the 7.2mm measurement on the Slashleaks document perhaps referring to bezel thickness with side button included.
Multiple prior rumors have indeed suggested that the next-generation iPad Pro models will feature slimmer bezels all the way around, with the top bezel housing a TrueDepth camera system for Face ID. The bottom bezel is slimmer than in existing models because Apple plans to remove the Home button.
Coming back to the prediction of no headphone jack, this isn't the first time we've heard that rumor. Back in July,
Mac Otakara
also said
that the upcoming iPad Pro models will not include a headphone jack. iPhone models have not offered a headphone jack since the
iPhone 7
, with Apple instead encouraging customers to use Bluetooth headphones like the
AirPods
or Lightning-based solutions.
The info shared on Slashleaks is likely from a case maker and because it's supported with data obtained from other sources, it's quite possibly accurate. Aside from the dimensions of the new iPad Pro models, the info also confirms the presence of a new
Smart Connector
at the back of the two tablets.

Other 2018 iPad Pro rumors suggest the device will feature a USB-C port instead of a Lightning port, a faster A12X chip, and support for a second-generation
Apple Pencil
.
It's not clear when the new iPad Pro models will be announced, but their debut is likely coming soon. We're expecting Apple to hold an event at some point in October, with the end of October looking like the most probable option.
Apple is expanding its street mapping efforts beyond vans outfitted with LIDAR equipment and now has employees collecting street level data on foot.
MacRumors
reader Dante Cesa
spotted a man
wearing an
Apple Maps
backpack featuring a LIDAR rig, GPS, and multiple cameras, some of the same equipment that's previously been spotted on Apple's mapping vans.

Apple has been collecting street-level data with its Apple Maps vans since 2015, but this is the first time we've seen someone collecting mapping data on foot.
Apple in
iOS 12
introduced a revamped Maps app that's been rebuilt from the ground up using its own data, which the company has promised will bring better accuracy and more detail.

The new Maps app offers up improvements to traffic, real-time road conditions, road systems, new construction, and changes in pedestrian walkways along with more detail and accuracy when it comes to displaying foliage like grass and trees, parking lots, building shapes, and more.
Data gathered on foot will likely be used to improve pedestrian directions in major cities like San Francisco.
Apple appears to be bolstering its mapping efforts following the launch of iOS 12. Along with the Apple Maps backpack man, Apple has also deployed new Subaru Impreza mapping vehicles that were spotted with new LIDAR equipment
earlier this week
in Los Angeles.
The Australian government is
considering a bill
that would require tech companies like Apple to provide "critical assistance" to government agencies who are investigating crimes.
According to the Australian government, encryption is problematic because encrypted communications "are increasingly being used by terrorist groups and organized criminals to avoid detection and disruption."

As noted by
TechCrunch
, Apple today penned a
seven-page letter
to the Australian parliament criticizing the proposed legislation.
In the letter, Apple calls the bill "dangerously ambiguous" and explains the importance of encryption in "protecting national security and citizens' lives" from criminal attackers who are finding more serious and sophisticated ways to infiltrate iOS devices.
In the face of these threats, this is no time to weaken encryption. There is profound risk of making criminals' jobs easier, not harder. Increasingly stronger -- not weaker -- encryption is the best way to protect against these threats.
Apple says that it "challenges the idea" that weaker encryption is necessary to aid law enforcement investigations as it has processed more than 26,000 requests for data to help solve crimes in Australia over the course of the last five years.
According to Apple, the language in the bill is broad and vague, with "ill-defined restrictions." As an example, Apple says the language in the bill would permit the government to order companies who make smart home speakers to "install persistent eavesdropping capabilities" or require device makers to create a tool to unlock devices.
Apple says additional work needs to be done on the bill to include a "firm mandate" that "prohibits the weakening of encryption or security protections," with the company going on to outline a wide range of specific concerns that it hopes the Australian parliament will address. The list of flaws Apple has found with the bill can be found
in the full letter
.
Apple has been fighting against anti-encryption legislation and attempts to weaken device encryption for years, and its most public battle was against the U.S. government in 2016 after Apple
was ordered
to help the FBI unlock the iPhone owned by Syed Farook, one of the shooters in the December 2015 attacks
in San Bernardino
.
Apple opposed the order and claimed that it would set a "dangerous precedent" with serious implications for the future of smartphone encryption. Apple ultimately held its ground and the U.S. government backed off after finding an alternate way to access the device, but Apple has continually had to deal with further law enforcement efforts to combat encryption.
Note: Due to the political nature of the discussion regarding this topic, the discussion thread is located in our
Politics, Religion, Social Issues
forum. All forum members and site visitors are welcome to read and follow the thread, but posting is limited to forum members with at least 100 posts.
Two weeks ago, Facebook announced that it discovered a security breach allowing hackers to steal Facebook data from millions of accounts, and today, Facebook
shared further data
on just what was accessed.
To get the Facebook data, hackers took advantage of a security flaw in the social network's "View As" code, a feature designed to let people see what their profile looks like to someone else. The Facebook access tokens that hackers were able to obtain are basically digital keys that allow people to stay logged in to Facebook.

According to Facebook, hackers used a set of accounts that they controlled that were connected to Facebook friends. An automated technique was used to move from account to account, allowing them to collect access tokens in September 2018.
Hackers were able to obtain timeline posts, friend lists, groups, and the names of recent Messenger conversations from an initial 400,000 people. People in this group who were Page admins of a Page that had received a message from someone on Facebook had the content of their messages stolen.
After stealing data from the 400,000 people attacked first, Facebook used their friends list to steal access tokens for approximately 30 million people.
For 15 million people, attackers were able to access name and contact details that include phone number and email address.
For 14 million people, hackers were able to access the same information as well as other data that includes username, gender, location, relationship status, religion, hometown, current city, birthdate, device types used to access Facebook, education, work, the last 10 places where they checked in, websites, people, Pages they follow, and 15 most recent searches.
An additional 1 million people had their access tokens stolen but no information was obtained.
According to Facebook, people can find out whether or not they were affected through the
Facebook Help Center
. Over the "coming days," Facebook plans to send customized messages to the 30 million people who were affected to explain what information hackers might have obtained.
The FBI is investigating the attack and Facebook has been asked "not to discuss who may be behind [the] attack."
Apple is widely expected to introduce new
iPad
Pro models with Face ID at a media event later this month, and we can now confirm that Apple has been testing those models internally over the past few months.

iPad Pro with edge-to-edge display render via iDropNews
Mobile app analytics platform
Appsee
has informed MacRumors that model identifiers iPad8,1; iPad 8,2; iPad8,3; iPad 8,4; iPad 8,5; and iPad 8,8 began to appear in its device logs starting August 1. Earlier this week,
9to5Mac
's Guilherme Rambo claimed those identifiers
represent unreleased 2018 iPad Pro models
.
"The model codes for the Wi-Fi models of the 2018 iPad Pro will be iPad8,1, iPad8,2, iPad8,5 and iPad8,6," said Rambo. "Meanwhile, the cellular-capable models will be iPad8,3, iPad8,4 and iPad8,7 and iPad8,8."
For what it's worth, Appsee has yet to see any iPad8,6 or iPad8,7 sessions appear in its analytics, but those models very likely exist.
What's more interesting is that the new iPad Pro models appear to have the same display resolutions as the latest 10.5-inch and 12.9-inch models. Appsee's logs indicate that the iPad8,1 through iPad8,4 models have a resolution of 1,112×834 points, while the iPad8,5 and iPad8,8 measure in at 1,366×1,024 points.
Point resolution is not pixel resolution, but we can easily find out the latter.
iPad Pro displays use Apple's high-resolution @2x modifier, meaning there are four pixels for every point. As such, simple math reveals that the new iPad Pro models in the logs have resolutions of 2,224×1,668 and 2,732×2,048 pixels, identical to that of the
current 10.5-inch and 12.9-inch models
respectively.
The data suggests that iPad Pro models with Face ID will have the same-size 10.5-inch and 12.9-inch displays, and retain 4:3 aspect ratios. However, the overall dimensions of the tablets are likely to shrink, as the iPad Pro is expected to receive an iPhone X-esque redesign with an edge-to-edge display.
As far as accuracy is concerned, Appsee has a proven track record at this. The analytics firm
discovered the model identifier iPad6,8 with a resolution of 2,732×2,048 pixels
in its logs back in August 2015, and Apple introduced the original iPad Pro with that exact resolution the following October.
Appsee describes itself as a powerful qualitative in-app analytics platform that enables app professionals to measure, understand, and optimize the end-users' experience in their mobile apps, driving increased engagement, conversions, and in-app monetization. More information can be
found on their website
.
However, there are a few rumors that conflict with this data. First, often-accurate Apple analyst
Ming-Chi Kuo
said the
next iPad Pro models will have 11-inch and 12.9-inch displays
. If the 10.5-inch model is in fact evolving into an 11-inch version, then the resolution would be different as a result.
Second, dimensions from
Japanese blog Mac Otakara
and a
photo on Slashleaks
suggest the new 10.5-inch iPad Pro will be approximately 4mm wider. That does not necessarily mean the display will be larger, though, and it's worth noting that all of the other alleged dimensions are smaller on both models.
One way or the other, we should find out in a few weeks. Apple has yet to invite the media to its rumored October event, and with its CEO
Tim Cook in Belgium on October 24
, there is an increasing probability that the event might not take place until Tuesday, October 30, give or take a day.
Stockholm's newly elected city council has promised that plans will not proceed for a flagship Apple Store bordering Kungsträdgården, a public park in the city center, according to Swedish newspaper
Dagens Nyheter
.

A render of Apple Kungsträdgården by Foster + Partners
While the previous city council had approved the plans, the proposed store received some pushback from local residents, as the Kungsträdgården is a popular gathering space with concerts, events, and other activities. The new city council assured those residents that the store will not be built at a press conference today.
Earlier this year, Stockholm residents were invited to share their opinions about the proposed store during a consultation period, according to
The Local
. Swedish blog
Teknikveckan's Peter Esse
told MacRumors the city received nearly 1,800 comments about the plans, many containing negative feedback.
According to
The Local
, critics said the store would block the entrance to the north side of the park and change the environment from an open-air space for public use to a commercialized one. A TGI Fridays restaurant is already located on the spot, but the Apple Store was expected to be larger.
Apple had planned to host its own events and performances in the park, as part of its goal of having its stores double as "town squares."
Apple retail
chief Angela Ahrendts confirmed the company's plans to open a store in Stockholm in February 2016, in a statement provided to Swedish newspaper
Expressen
. That report said Apple hoped to open the store within two years, but construction never began due to a series of roadblocks and delays.

A model of Apple Kungsträdgården
Renders of the store released by Apple and architecture firm Foster + Partners indicated that it would be situated on the north side of the park, taking over the location of a TGI Fridays restaurant. The store's design would resemble the
Apple Park
Visitor Center and Apple Michigan Avenue in Chicago.
It's unclear if Apple will accept the decision or try to push forward with its plans, as it has with its proposed store at Federation Square in Melbourne, Australia. Apple did not immediately respond to our request for comment.
Apple's
iPhone XR
will go up for pre-order one week from today, and once the lower-cost smartphone is available customers will have the option of purchasing a see-through case sold by Apple. Spotted by Twitter user
@ivanincanada
and shared by
9to5Mac
, iPhone XR press releases in countries
like Canada
mention "a clear case" priced at $55 CAD, or about $40 USD.
The iPhone XR will come in white, black, blue, coral, yellow, and (PRODUCT)RED, all made with glass bodies and matching anodized aluminum frames. Because of the colorful additions to Apple's iPhone lineup, a clear case makes sense, offering users the chance to show off which color option they've chosen while still protecting their iPhone XR.

Images via 9to5Mac
Similar to Apple's other first-party cases, the clear case has the usual cutouts for the rear-facing camera, and protrusions for the volume rockers, silence toggle, and lock button. No images shared today show off the front of the case, but it appears that there is a gap in the bottom of the case -- like the company's silicone and leather case options -- allowing for access to the Lightning port and more comfortable swipe-up gestures, which are crucial for navigating iOS on the iPhone X, XS, and XR.
Apple announced the iPhone XR alongside the
iPhone XS
and iPhone XS Max at an event in September. The latter two smartphones have already launched, and Apple has debuted a
new line of silicone and leather cases
for the devices, in as many as nine new colorways for each type of case. The iPhone XS and XS Max also have the folio case option, which protects the display of the device using a leather flap.

Those waiting to pre-order the iPhone XR can expect more case styles besides the clear case to debut on Apple.com, likely including these silicone and leather options. Apple is positioning the iPhone XR as the entry-level device in the 2018 iPhone lineup, pricing the device at $749 for the cheapest storage capacity. This means that the iPhone XR comes with
a few trade-offs
to get the price down (compared to the $999 iPhone XS and $1,099 iPhone XS Max), including an LCD display, aluminum frame, single lens camera, and "Haptic Touch" instead of
3D Touch
.
Apple's flagship Covent Garden store in London is set to reopen on Friday, October 26 following a three month renovation period, Apple announced today in its Apple Store app.
Covent Garden is set to reopen on the same day that the colorful new
iPhone XR
debuts, and to celebrate the store's relaunch, Apple has designed a cheery reopening graphic.

The Covent Garden store closed on
June 27
to be overhauled with the new store design
first introduced
at the Union Square location in San Francisco back in 2016.
Since Apple revamped its San Francisco Apple Store layout with the Genius Grove for getting help, The Avenue for shopping, a Forum for viewing presentations, and an area for Today at Apple classes, the company has been expanding the design to new and existing retail stores across the world.
Covent Garden is the latest store to be updated, and its unveiling follows the recent re-opening of Apple's Palo Alto flagship store in California, which has been updated with a living wall of greenery, a large television screen at the back, redesigned accessory walls, new tables, and indoor trees, all signature features of the new store design.
When it opened back in 2010, Covent Garden was Apple's largest retail location in the world, and it has always been one of the best-known Apple stores due to its unique interior with tall arched windows, stone columns and archways, and vaulted ceiling, design features Apple will retain.

Apple's Covent Garden store in 2015
Apple retail
locations that debut on device launch days often open early, so while the Apple Store app doesn't yet list a specific time when the doors will open at Covent Garden, customers should be able to get in right around 8:00 a.m. local time for iPhone XR purchases. Apple will provide additional information as the launch date approaches.
Russia-based cybersecurity company
Kaspersky Lab
today said that while "hardware supply chain attacks are a reality," evidence suggests
Bloomberg Businessweek
's report about
Chinese intelligence tampering with server motherboards manufactured by Apple's former supplier Supermicro
is "untrue."

Apple data center
Kaspersky Lab said the report "should be taken with a grain of salt" in its 14-page analysis of the alleged attack, obtained by MacRumors:
The stories published by Bloomberg in October 2018 had a significant impact. For Supermicro, it meant a 40% stock valuation loss. For businesses owning Supermicro hardware, this can be translated into a lot of frustration, wasted time, and resources. Considering the strong denials from Apple and Amazon, the history of inaccurate articles published by Bloomberg, including but not limited to the usage of Heartbleed by U.S. intelligence prior to the public disclosure, as well as other facts from these stories, we believe they should be taken with a grain of salt.
Kaspersky Lab added that the language in both Apple and Amazon statements denying the
Bloomberg Businessweek
report are "pretty strong" and "leaves little to no chance of retractions or denials at a later time." The firm added that the statements are regulated by the SEC in the United States.
The key part of
Apple's statement
was as follows:
On this we can be very clear: Apple has never found malicious chips, "hardware manipulations" or vulnerabilities purposely planted in any server. Apple never had any contact with the FBI or any other agency about such an incident. We are not aware of any investigation by the FBI, nor are our contacts in law enforcement.
In a press release, Apple later said it is
not under any kind of gag order or other confidentiality obligations
.
Referring to
Apple's mid-2016 detection of malware-infected firmware
in specific Supermicro servers that were used internally only, Kaspersky Lab said it believes it is "quite possible that the Bloomberg journalists misunderstood the incident and included it in the hardware supply chain attack story."
The analysis said hardware-based attacks like the one alleged in the
Bloomberg Businessweek
report are sophisticated, difficult to implement, and expensive. "For instance, even if a server board is compromised during manufacturing, it is complicated to ensure that it finds its way to a certain target."
The accuracy of
Bloomberg Businessweek
's report has been questioned by not only Kaspersky Lab, but the
Department of Homeland Security
, the
U.K.'s National Cyber Security Centre
, and
NSA senior advisor Rob Joyce
.
Moreover, Apple's recently retired general counsel Bruce Sewell said he called the FBI's then-general counsel James Baker last year after being told by
Bloomberg
of an open investigation into Supermicro, and was told that
nobody at the federal law enforcement agency knew what the story was about
.
Apple's aggressive campaign to deny the report extends to
unnamed senior executives within the company
. Supermicro and Amazon, also named in the report, have likewise issued
strongly-worded denials
of the report.
Bloomberg Businessweek
continues to stand by its reporting, and has since followed up with
a second story
that claims a major U.S. telecommunications company discovered manipulated hardware from Supermicro in its network and removed it in August, citing a security expert working for the telecom company.
The original report, citing 17 unnamed sources, claimed that Chinese spies planted tiny chips the size of a pencil tip on server motherboards manufactured by Supermicro at its Chinese factories. The servers were then sold to companies such as Apple and Amazon for use in their respective data centers.
An unnamed government official cited in the report said China's goal was "long-term access to high-value corporate secrets and sensitive government networks," but no customer data is known to have been stolen.
The report claimed that Apple discovered the suspicious chips on the motherboards around May 2015, after detecting odd network activity and firmware problems. Two senior Apple insiders were cited as saying the company reported the incident to the FBI, but kept details about what it had detected tightly held.
Apple dropped Supermicro as a supplier in 2016, after the incident with the malware-infected firmware updates.
We've covered
Bloomberg Businessweek
's report in extensive detail over the past week, with all of our coverage available in our
"The Big Hack" archive
. At this point, it remains a stalemate between Apple and
Bloomberg
.
Kaspersky Lab itself has faced controversy, with several reports over the last year claiming its software was
compromised by Russian intelligence
. Nevertheless,
Motherboard
said the firm "continues to have a good reputation in the industry," particularly as it relates to its ability to discover malware.
Note: Due to the political nature of the discussion regarding this topic, the discussion thread is located in our
Politics, Religion, Social Issues
forum. All forum members and site visitors are welcome to read and follow the thread, but posting is limited to forum members with at least 100 posts.
Apple's
iOS 12
operating system, released on September 17, is now installed on 53 percent of active devices introduced in the last four years.
Apple shared the installation statistics on its
App Store support page for developers
, which was updated today.
iOS installation rates are being broken down in a new way. The 53 percent statistic applies only to devices released in the last four years. Amid all devices, 50 percent are running iOS 12.

Of devices released in the last four years, 40 percent are running iOS 11 and 7 percent are running an earlier version of iOS. Among all devices, 39 percent continue to run iOS 11 while 11 percent use an earlier version of the operating system.
Apple's data is in line with iOS 12 adoption rates that we've been monitoring
from analytics site Mixpanel
. A week ago, Mixpanel suggested right around 46 percent of devices were running iOS 12.
iOS 12 adoption has outpaced iOS 11 adoption rates at the same time last year. In early October of 2017, iOS 11 was only installed on
approximately 38.5 percent
of devices. It took
until early November
for iOS 11 adoption to hit 50 percent, based on Apple's official numbers.
iOS 12 adoption rates are in line with iOS 10 adoption rates in 2016. On October 11, 2016, iOS 10
was installed
on 54 percent of active devices.
It is not a surprise that customers are choosing to install iOS 12 at a more rapid pace given the speed improvements introduced with the update. On older devices, performance enhancements can make iPhones and
iPad
s feel much faster.
On the iPhone 6 Plus, for example, apps launch up to 40 percent faster, while the keyboard can appear up to 50 percent faster. Opening the camera on the Lock screen to take a photo can be done 70 percent faster.
Subscribe to the MacRumors YouTube channel for more videos.
Apple has made animations smoother and more responsive across the operating system, so accessing Control Center, scrolling in apps, or swiping up when multitasking feels more fluid.
iOS 12 also includes optimizations for when the operating system is under load. Apps launch up to twice as fast under a heavy load, as does the Share Sheet.
iOS 12 adoption is likely to see a decent bump with the launch of iOS 12.1, an update that is being beta tested. iOS 12.1 introduces eSIM functionality on the
iPhone XS
and XS Max, brings Group FaceTime, a feature that was removed before iOS 12 launched, and includes new emoji.