Apple in October gave us a major surprise with the launch of an entirely revamped, updated version of the
MacBook Air
, its most popular and affordable notebook option.
We went hands-on with the MacBook Air last week, and this week, we picked up an older MacBook Air to compare the new model to see just what's different and whether it's still worth buying the old version, which sells for $200 less than the current model.
Subscribe to the MacRumors YouTube channel for more videos.
The previous-generation MacBook Air is a 2015 design, but in 2017, Apple introduced 1.8GHz Broadwell-generation chips that were a slight upgrade from the 1.6GHz chips the machine had previously used. No other changes were made, so technically, Apple's old MacBook Air is outdated by several years.
Design wise, the new MacBook Air features a smaller, slimmer body that weighs a bit less, and the slimmer design is noticeable. It continues to feature the same tapered design as the previous models, and we didn't think the weight difference of a quarter of a pound stood out.
Along with a slimmed down body, the new MacBook Air comes in three color options: Space Gray, Gold, and the traditional Silver. Space Gray and Gold are colors that are new to the MacBook Air lineup.
The biggest change to the 2018 MacBook Air models is the display, which is now Retina and a huge improvement over the low resolution display in the previous MacBook Air. The MacBook Air used to be the sole Apple device sans Retina display, but now Apple uses higher-resolution displays across its entire product lineup.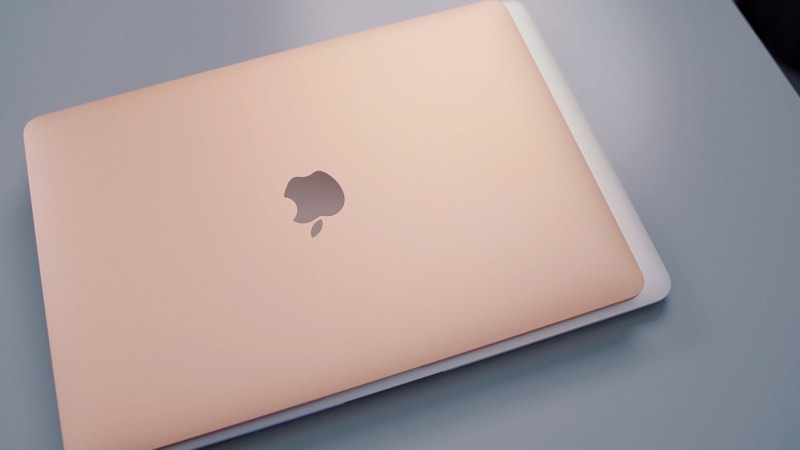 We thought the MacBook Air's new display offered a significant improvement over the previous MacBook Air's display, but it doesn't quite measure up to the display of the
MacBook Pro
because it's just not that bright. Brightness can be an issue outdoors in sunlight, so that's something to be aware of.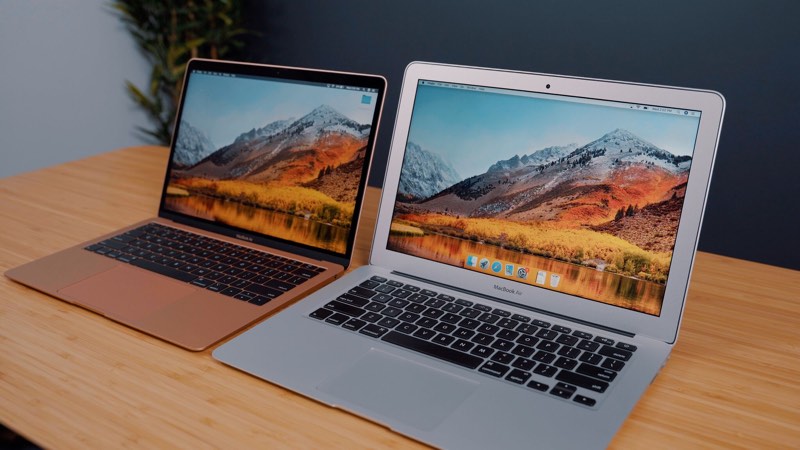 Design wise, the front of the MacBook Air has been overhauled. Those thick silver bezels from the previous version have been replaced with sleek, slim MacBook Pro-style black bezels that look much, much nicer.
Several other MacBook Pro features have been brought to the new MacBook Air and are upgrades over the previous model. There's a larger Force Touch trackpad, a third-generation butterfly keyboard, better speakers, a
Touch ID
button for authentication purposes, and a T2 chip for improved security.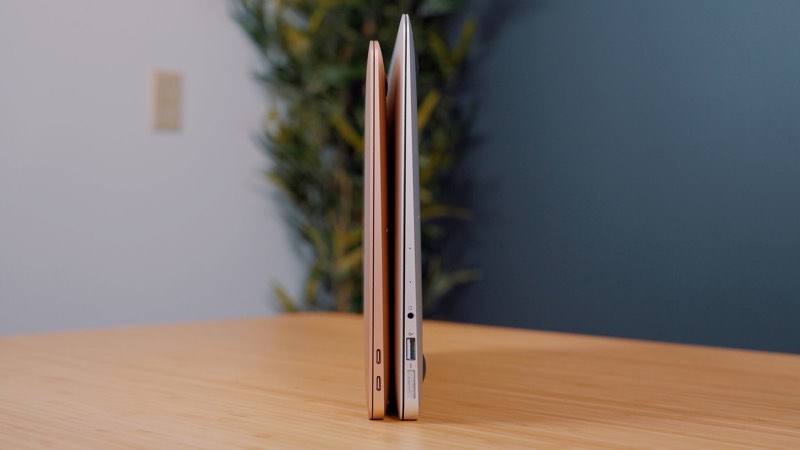 Inside, the new MacBook Air is sporting a 7W 8th-generation 1.6GHz Intel Core i5 processor, and unsurprisingly, it's much speedier than the three-year-old processors used in the prior MacBook Air. Apple used to use 15W chips in the MacBook Air models, but this new, lower power 7W chip is both fast and efficient, allowing for longer battery life than ever.
The last super notable change is to the port setup. The new MacBook Air has two Thunderbolt 3 ports and a 3.5mm headphone jack, with Apple eliminating the USB-A ports and the SD card slot from the older model. The addition of Thunderbolt 3 brings the MacBook Air in line with the rest of the Mac lineup and allows it to connect to 4K and 5K displays, faster Thunderbolt 3 storage, eGPUs, and more.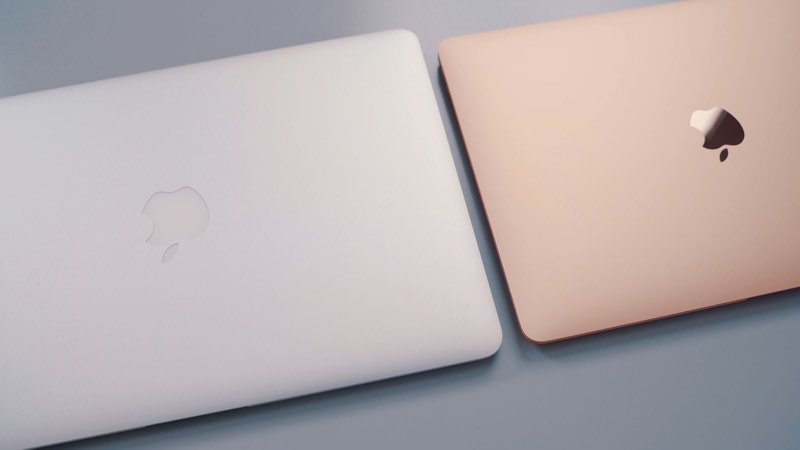 All of these changes have raised the base price of the MacBook Air. Prior to the October update, the MacBook Air sold for $999, but now the base model sells for $1,199, a $200 premium. Given the scope of the revamp, the $200 upgrade fee is well worth paying for anyone thinking of purchasing a MacBook Air.
Apple is still selling the older model at the same $999 price point, but it's just not worth purchasing because the components are so outdated at this point.
What do you think of Apple's new MacBook Air? Let us know in the comments.
Apple today updated its website to introduce its
annual holiday gift guide
, recommending Apple products for people to purchase for friends and family this holiday season.
This year's gift guide is streamlined and simple, focusing primarily on Apple's newest selection of devices organized into different color collections.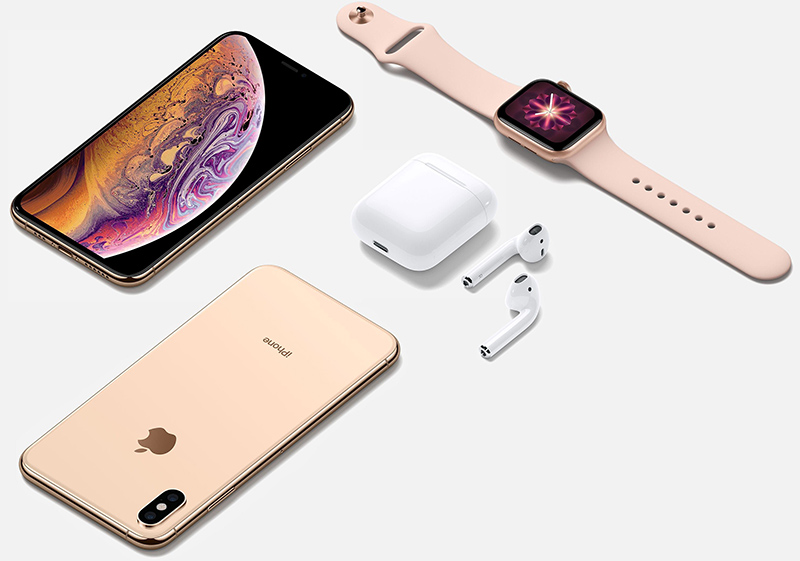 The $999
iPhone XS
, the $159
AirPods
, and the
Apple Watch
Series 4, starting at $499, are the top three recommendations in the gift guide and these are the devices that are also likely to top many holiday wishlists.
Apple's AirPods in particular have been an incredibly popular gift choice since they launched and their popularity has shown no signs of waning.
iPhone XS cases, stainless steel Apple Watch Series 4 models, and Apple Watch Sport Loops in shades of pink, gray, and brown are also top picks, but scrolling down on the page, there's an
iPhone XR
-focused section.
In this portion of the guide, Apple recommends the $749 iPhone XR, which comes in a variety of colors, along with the $349
HomePod
, iTunes gift cards, and Apple Watch bands and iPhone XS cases in shades of gray, blue, and cream.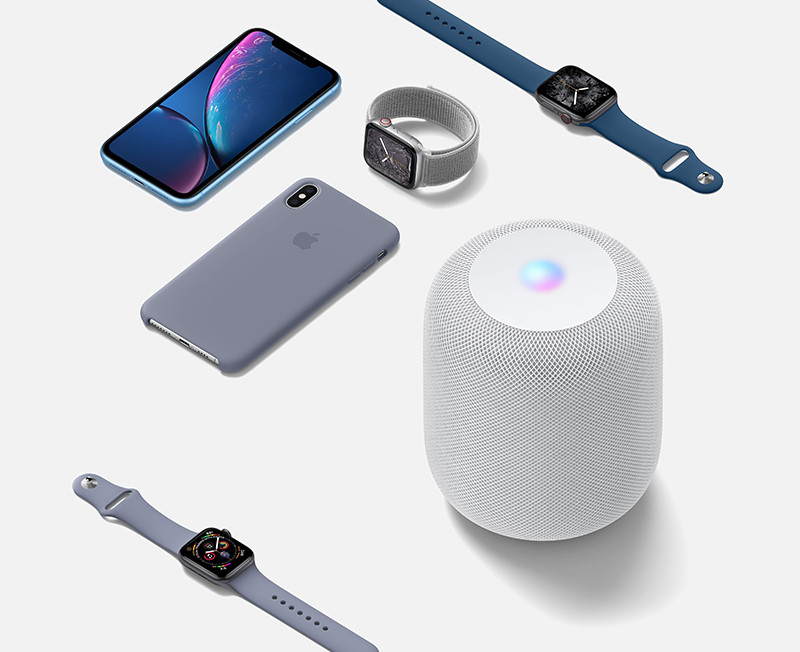 Apple can't recommend iPhone XR cases in this iPhone XR section because it hasn't come out with first-party iPhone XR case options.
A third section recommends devices like the new
iPad Pro
, which starts at $799, the
Apple Pencil
2, and the
Smart Keyboard
Folio for the
iPad
, while other recommendations further in the guide cover the
Apple TV
4K, the Magic Mouse 2, the 13-inch
MacBook Air
, and more.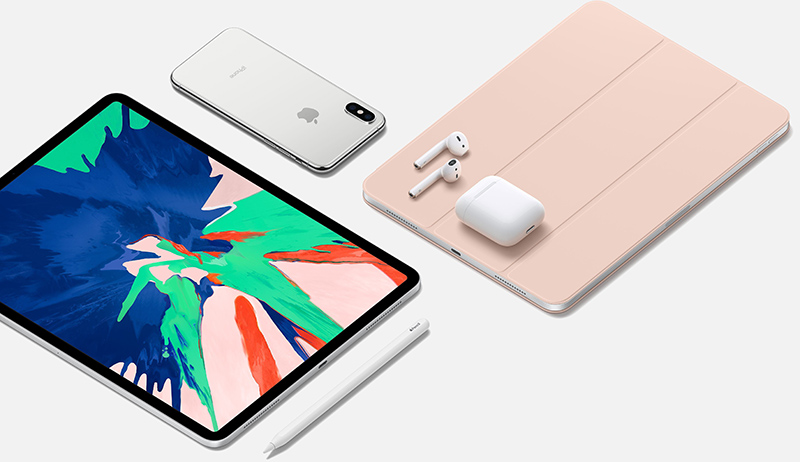 Apple usually recommends some third-party products in its gift guide, but has not done so this year, choosing instead to focus on its own devices.
In addition to sharing its gift guide, Apple today also kicked off its
holiday return period
, offering a holiday extension on its typical two week return period. Most Apple products purchased between November 14, 2018 and December 25, 2018 can be returned to Apple through January 8, 2019.
Extended holiday returns are available in the United States, Canada, Australia, the UK, and other select regions. As is typical, Apple is offering two-day shipping on all purchases, and later in December, will likely offer one-day shipping options for last minute shoppers.
Apple today
released a new version
of its
Apple Watch
Magnetic Charging Dock, which carries a model number of MU9F2AM/A and was added to the online Apple Store today.
The
previous version
of the Apple Watch Magnetic Charging Dock, which had a model number of MLDW2AM/A, has been removed from the online store.

There are no design tweaks to the dock, which suggests that the new model includes unspecified internal updates. It is not known why Apple has introduced a revamped version, but the changes are likely to be minor.
The new Apple Watch Magnetic Charging Dock has also received FCC approval according to a filing that was shared today. The FCC filing provides no additional information on the dock or what might have been tweaked.
Apple's updated Apple Watch Magnetic Charging Dock can be
purchased from the Apple website
for $79. The device is available for delivery starting on Friday, November 16, and should be in retail stores soon.
Following its October 30 media event, Apple quietly announced in its
MacBook Air
press release that
new AMD Radeon Pro Vega graphics
would be coming to the 15-inch
MacBook Pro
as of November 14, and the new options have
just gone live
in Apple's online store.

The high-end 15-inch MacBook Pro can now be custom configured with with Radeon Pro Vega 16 graphics for an additional $250 or Radeon Pro Vega 20 graphics for an additional $350.
Configuring a MacBook Pro with the new Vega graphics pushes delivery estimates to November 20 at the earliest, which is a fairly standard timeframe for custom orders.
Apple in late October unveiled a refreshed version of the
Mac mini
, marking the first update to the company's smallest desktop machine in four years.
We managed to get our hands on one of the new Mac mini models, and in our latest video, we unbox it and share our first impressions on the revamped machine.
Subscribe to the MacRumors YouTube channel for more videos.
The Mac mini's design hasn't changed, and it's still a 7.7-inch square box that's 1.4 inches thick, but it is available in a new Space Gray color rather than the traditional silver.
It's otherwise the same, but with the exception of a new selection of ports. The Mac mini is outfitted with four Thunderbolt 3/USB-C ports, two USB-A ports, an HDMI 2.0 port, an Ethernet port, and a 3.5mm headphone jack.

While the design is largely the same, the internals of the Mac mini have been entirely overhauled. There are new, more powerful components, which necessitated a bigger internal fan with twice as much airflow, expanded vents, and a revamped power supply that offers 70 percent more maximum sustained power.
The base Mac mini ships with a 3.6GHz quad-core 8th-generation Intel Core i3 processor, and this is actually the first time that all Mac minis have had at least quad-core processors. A higher-end 3.2GHz 6-core Core i7 processor is also available as an upgrade option.

In our testing of the entry-level Mac mini, it earned a single-core score of 4452 and a multi-core score of 12391. That puts the base model on par with lower-end 13 and 15-inch
MacBook Pro
models from 2017 and 2018.
All 2018 Mac mini models ship with an included T2 chip, which makes sure all of the data on the SSD is encrypted using dedicated AES hardware, and offers a secure boot to ensure your software isn't tampered with and only OS software trusted by Apple loads at startup.
The Mac mini uses Intel integrated UHD Graphics 630, but with the Thunderbolt 3 ports, it's able to connect to an eGPU for workflows that require more graphics power. Thunderbolt 3 also lets the Mac mini connect to two 4K displays at 60Hz or one 5K display at 60Hz.

8GB of RAM comes standard in the Mac mini, but it can handle up to 64GB, with Apple offering an option to customize the machine with additional RAM when placing an order.
Likewise, the base machine also ships with a 128GB SSD, but it can be upgraded to 2TB of storage in total.
None of these new features in the Mac mini come cheap, and the base level model now starts at $799, up from the $499 starting price of the 2014 model.
Apple sells the Mac mini in two configurations: $799 for 3.6GHz quad-core 8th-generation Intel Core i3 chip, 8GB RAM, Intel UHD Graphics 630, and a 128GB SSD, and $1,099 for a 3.0GHz 6-core 8th-generation Intel core i5 chip, 8GB RAM, Intel UHD Graphics 630, and a 256GB SSD.

Unfortunately, as with many Apple products, the Mac mini is not really user upgradeable. You can upgrade the RAM, but you need to take the entire machine apart, which is tricky. The CPU and SSD, meanwhile, are soldered in place and can't be upgraded after purchase.
What do you think of Apple's new 2018 Mac mini? Was it worth the four-year wait? Let us know in the comments.
Apple today
added the HomePod
to its online store for refurbished products in the United States, offering the smart speaker at a discount for the first time.
The
HomePod
, normally priced at $349, is available in both white and space gray for $299, a
$50 discount
off of the regular price.

There is no HomePod listing on the
main Apple refurbished site
as of yet, but it should be added in the near future. For now, the HomePod can be purchased from the
individual HomePod refurbished listing
. Apple is still rolling out refurbished models, so the page doesn't work on occasion, but will show up with refreshing.
A refurbished HomePod bought today will be delivered between November 30 and December 14, depending on shipping method selected at the time of purchase.
Introduced in February, the HomePod is Apple's
Siri
-enabled smart speaker that pairs well with
Apple Music
. It serves as a Home hub, features
AirPlay
2 support, can make phone calls, and offers up most of the capabilities of Siri on an iPhone.
Apple's refurbished stock is often limited in quantity and can sell out, which is something to be aware of. Checking the refurbished site often or using a
tracking site
is the best way to figure out when a particular item that you might want is in stock.
Purchasing a refurbished HomePod from Apple is a good way to get a like-new device at a lower price point. All of Apple's refurbished products are tested, certified, cleaned, and guaranteed with a one-year warranty that can be
extended with AppleCare+
.
Spotify for the
Apple Watch
is rolling out to all users over the coming week.
Announced by the company today
, the release follows a beta version of the app that appeared in
early November
, and comes well over a year since Spotify
hired
"Snowy" developer Andrew Chang onto its team to help build the app.

Spotify says the app provides users with useful playback controls and the ability to connect to their music speakers and other devices through Spotify Connect. Like
Apple Music
on Apple Watch, Spotify subscribers will now be able to hit play, pause, skip, and rewind songs by interacting with their Apple Watch.
We're constantly on the go—whether bouncing between the gym, work, school, errands, or just chilling—and our smartwatches are the tool to help keep us up to speed. Today, Spotify is introducing a new app for the Apple Watch, giving you the ability to seamlessly access and control your favorite music and podcasts without missing a beat.
Additionally, users will be able to access their recently played songs and favorite the currently playing song by tapping the heart icon on the Apple Watch screen. Down the line, Spotify plans to make music and podcasts available to listen offline on Apple Watch, among other updates it hasn't yet announced.
To get the Spotify app for Apple Watch, the company says that users will need to make sure they have the latest version of the Spotify iOS app (8.4.79), and they should begin seeing the Apple Watch version of the app over the next week.
Apple appears to have locked a select group of users out of their Apple ID accounts over the past 20 hours or so, with no clear indication yet as to why the incident has occurred. According to reports on
Reddit
and
Twitter
, users are being kicked out of their Apple IDs for security reasons, and forced to reset their password to gain access to their account.

Users report this happening without warning on iPhone,
Apple TV
, and other Apple devices, while they were using
Apple Music
, watching TV, etc. The original poster on Reddit confirmed that they have two factor authentication enabled and a unique
iCloud
password for their Apple ID not used anywhere else, and many users report similar settings.
On Twitter,
@AppleSupport
is guiding users to the
Support Communities web page
that explains what to do if your Apple ID is locked and disabled. In nearly all instances across social media, users are reporting that they must reset their Apple ID password to be able to get back into their accounts.
With no official word from Apple and no clear reason behind these forced password resets, it's unclear why some users were affected and what caused Apple to initiate the wave of resets in the first place. We've reached out to Apple for a comment, and will update this article if we hear back.
Noted analyst
Ming-Chi Kuo
has issued a new research note today, cutting his shipment estimates for the
iPhone XR
due to several factors. He believes that some of the decline will be offset by higher demand for
iPhone XS
and older "legacy" models, but he is still reducing his overall iPhone shipment forecasts by 15–20 percent for the first quarter of 2019.

We have reduced our iPhone XR shipment estimation from 100mn units to 70mn during the new product lifecycle (4Q18–3Q19) for the following reasons: 1) Negative impacts on consumer confidence from the trade war, especially in the Chinese market, 2) expectations from more users for more affordable XR or the dual-camera and narrower bezel design to be provided at the current price level, and 3) competition from Huawei's Mate 20 series. We have reduced our XR shipment estimations for 4Q18, 1Q19, and 2Q19 by 30–35%, 25–30%, and 25–30% to 30–35, 20–25, and 10–15mn units, respectively.
Kuo believes that iPhone shipments for the current quarter will be in the same 75–80 million range he previously predicted, while he has lowered his first-quarter estimate to 47–52 million from a previous range of 55–60 million.
Kuo's prediction is somewhat curious given that he
raised his early iPhone XR estimate
a little less than a month ago and
cited stronger demand
than seen for the
iPhone 8
last year with the potential for more stable demand over time.
Apple's stock price is down over 4 percent today, outpacing broader market declines and falling to its lowest point since the end of July.
Following teardowns of the new
MacBook Air
and
Mac mini
, the repair experts at iFixit have today
published
their teardown of the 11-inch
iPad Pro
.

Images via iFixit
To start, iFixit removed the display from the tablet and the first thing they noticed were the audio components of the new iPad Pro, made up of four woofers and four tweeters.

The speakers and logic board cover impeded access to the iPad Pro's A12X Bionic chip, but eventually iFixit accessed the full logic board. On it, they found the A12X Bionic SoC, 64GB Toshiba flash storage, two Micron RAM
totaling 4GB
, the NFC controller, Apple's Wi-Fi/Bluetooth module, two Broadcom touch screen controllers, and a Texas Instruments power controller.
With its sights set on the iPad Pro's battery, iFixit discovered that the 2018 tablet's battery is slightly more repairable than the previous generation. This is because Apple is again using stretch-release battery tabs again with the 11-inch iPad Pro, with six U-shaped strips in total. iFixit explained that each of these strips include two tabs, so fixers have a second chance at repairability should one of them break.

After this smooth opening with the adhesive strips, iFixit still faced a large amount of adhesive running down the left side of the battery. Eventually, the repair experts got the battery free and found a 7,812 mAh battery running at 3.77 V for 29.45 Wh, which is a slight downgrade in comparison to the 30.8 Wh pack of the 10.5-inch iPad Pro.
Looking at the Face ID components, iFixit pointed out that this is the same basic hardware previously seen in Apple devices since the iPhone X, just in "a slightly modified form factor." iFixit then removed the speakers,
Apple Pencil
charging board, and USB-C port, which is fully modular, unlike previous iPads. Unlike the Lightning ports on the older
iPad
models -- which were soldered to the logic board -- the USB-C port on the 11-inch iPad Pro can be replaced independently of the main logic board.

Lastly, iFixit used its ultrasonic blade to teardown the new Apple Pencil and discover its battery, wireless charging coil, alignment magnets, and Broadcom touch controller. The experts also noticed what looked like a capacitive grid, thought to be used to register the user's tap inputs on the new Apple Pencil. According to iFixit, this particular grid also helps the Apple Pencil know where on the Pencil you tap, not just when, so the experts wondered if more complex gestures could be coming.
Overall, the 11-inch iPad Pro has received a 3/10 repairability score, with 10 being the easiest to repair. The major bonuses for the new iPad Pro's repairability were the modular USB-C port and lack of a physical home button, which "eliminated a common failure point" and could further simplify repairs. Still, iFixit noted that adhesive was nearly everywhere inside of the iPad Pro, and will make all repairs more difficult.
Apple today announced
a new display replacement program
for the iPhone X, which will see the company replacing iPhone X displays that exhibit touch issues.
According to Apple, some iPhone X displays can experience problems with responsiveness due to a display module component that can fail. Affected devices have a display or part of a display that does not respond to touch or responds intermittently, or a display that reacts without being touched at all.

Apple says that customers experiencing this issue can get a replacement display module from an
Apple retail
store or Apple Authorized Service Provider at no cost.
There is no serial number check nor specific time period that outlines when affected devices were sold, so presumably this display component failure can impact any iPhone X device. Complaints about
ghost touches
and displays that fail to
respond to touch
have been circulating on the
MacRumors
forums for several months now, dating back to when the iPhone X was first released.
iPhone X users with a display that has these symptoms should visit an Apple retail store location, find an Apple Authorized Service Provider, or contact Apple Support to arrange mail-in service to get a replacement.
Apple recommends customers back up their iPhones to iTunes or
iCloud
before pursuing repair, and the company warns that other damage, such as a cracked screen, may need to be addressed before the display repair can be completed.
This Apple program does not extend the standard warranty coverage of the iPhone X, and repairs may be restricted or limited to the original country of purchase. The program covers affected iPhone X devices for three years after the first retail sale of the unit.
Apple says that if customers affected by this issue already paid for a repair, they can contact Apple Support for a refund.
Apple today
announced the launch
of a new SSD service program for the 13-inch
MacBook Pro
sans Touch Bar after determining that the 128 and 256GB SSDs in a limited number of these machines have an issue that can result in data loss and failure of the drive.
Apple says that 13-inch MacBook Pro models with affected drives were sold between June 2017 and June 2018, and Apple will provide service for these drives free of charge.

MacBook Pro owners can
submit their serial number
on the page announcing the program to see if their machines are eligible for servicing. Apple recommends that affected machines be serviced as soon as possible to avoid loss of data.
13-inch MacBook Pro models with Touch Bar and older 13-inch MacBook Pro models are not affected.
Customers will need to visit an
Apple retail
location, an Apple Authorized Service Provider, or contact Apple Support for a mail-in repair. Apple says that all machines needing service should be backed up first, with the company outlining the repair steps:
Prior to service, it's important to do a full back up of your data because your drive will be erased as part of the service process.

- A technician will run a utility to update your drive firmware which will take approximately one hour or less.
- Your 13-inch MacBook Pro will be returned to you with macOS re-installed.
- After service, you will need to restore your data from a backup.
Apple also recommends having another device, such as an iPhone, available to view the Apple support article with details about
restoring data from a backup
since the Mac in question will not be able to access the internet until it is updated.
Apple says that files corrupted due to this issue will not be able to be restored, and any damage to the MacBook Pro that impairs the ability to service the drive will need to be addressed first, possibly at customer expense.
The program covers affected MacBook Pro models for three years after the first retail sale of the unit, but it doesn't extend the standard warranty coverage of the 13-inch MacBook Pro. Customers who already paid for a repair for a drive failure can contact Apple Support for a refund.