iOS 10.3 and macOS 10.12.4 Released
Apple's manufacturing partners will begin limited production of the rumored 10.5-inch
iPad
Pro this month, according to IHS Markit analyst Rhoda Alexander, who spoke with
Forbes
over the weekend.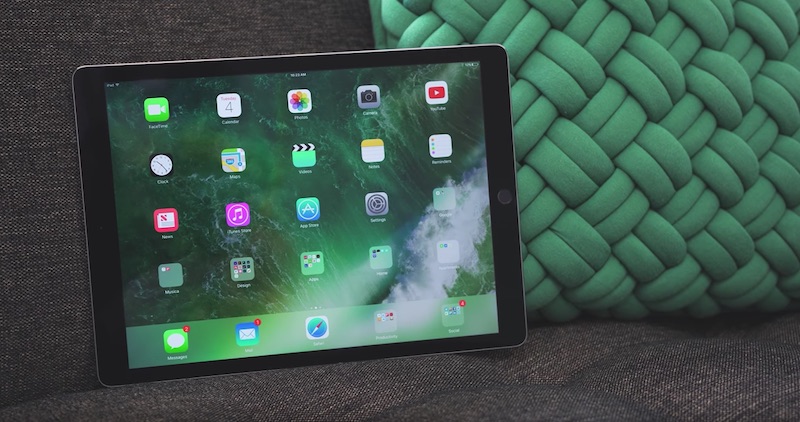 At this point, however, it remains unclear whether the 10.5-inch iPad Pro will be announced later this spring, at
WWDC 2017
in June, or in the fall or later, and rumors are lacking consensus.
Japanese blog
Mac Otakara
previously said Apple would unveil its new iPad Pro lineup at a March event, but that rumor failed to materialize. Instead, Apple last week announced a
low-cost 9.7-inch iPad
,
128GB iPhone SE
,
new Apple Watch bands
, and a
(PRODUCT)RED iPhone 7 and
iPhone 7
Plus through its Newsroom.
The latest rumor from
DigiTimes
claims Apple is planning to
unveil the 10.5-inch iPad Pro at an early April event
to "mark the inauguration" of its new
Apple Park
campus, which
opens to employees next month
. While this timeline could be correct, it's unlikely Apple would have shared such specific plans with the supply chain.
Alexander believes an April launch "still looks somewhat tentative," but she said "the necessary elements are starting to come together," so it's possible Apple could do a limited spring launch in the United States and select other countries, followed by a wider rollout as production ramps up.
A person with sources within Apple's supply chain told
MacRumors
that they still expect the 10.5-inch iPad Pro to launch in the spring. The person requested full confidentiality due to the nature of their position.
It looks like Apple is doing the releases in a staggered fashion. I still expect a 10-inch-range iPad sometime in the spring. The supply chain is pretty clear that it is coming, maybe as soon as April.
A handful of Apple analysts that we spoke to reiterated that a fall launch is more likely, however, and if volume production has yet to begin, then a launch later this year rather than sooner is certainly a possibility.
Apple pundit John Gruber
made a good point
last week about why it would make sense for Apple to wait until at least October to announce the 10.5-inch iPad Pro: to avoid spoiling the design of the much-rumored iPhone with an edge-to-edge OLED display, which is expected to be announced in September.
I think the most likely explanation is that Apple is working on a new edge-to-edge design iPad with a 10.5-inch display, but that it's a 2018 thing, not a 2017 thing. Or, at the very earliest, a late 2017 thing — something they could unveil in October. […]

Among all the other aforementioned things that don't make sense regarding the rumor that a 10.5-inch iPad is imminent is the idea that the new design language would debut on an iPad, not an iPhone.
But just how much of a spoiler the 10.5-inch iPad Pro might be remains to be seen, as rumors are conflicting about whether the tablet will have an edge-to-edge display or simply a
narrow bezel design
. It is also uncertain if Apple will
remove the Home button
on the 10.5-inch iPad Pro in line with the "
iPhone 8
."
Back in August, KGI Securities analyst
Ming-Chi Kuo
said Apple would
launch a 10.5-inch iPad Pro
and new 12.9-inch iPad Pro in "2017," and he generally shares accurate information, so there is a good chance the tablets are coming at some point this year. He also predicted the low-cost 9.7-inch iPad.
Just a few weeks ago, mobile marketing firm Fiksu
spotted four new iPad identifiers
in its device data. As it turns out, these model identifiers are
not for the new 9.7-inch iPad
, suggesting that they could be for Wi-Fi and Wi-Fi + Cellular versions of the 10.5-inch iPad Pro and a new 12.9-inch iPad Pro.
Fiksu suggested the new iPad models could launch within a month, which would suggest a release by the end of April.
Back in mid-March, mobile marketing company Fiksu spotted
four new
iPad
identifiers in its device data, hinting at the imminent release of new hardware.
We did indeed see a
new low-cost 9.7-inch iPad
introduced via press release on Tuesday, March 21, but as it turns out, the identifiers for the new 9.7-inch iPad don't match up with the iPads Fiksu saw, suggesting there could still be additional iPad models set to be released in the not-so-distant future.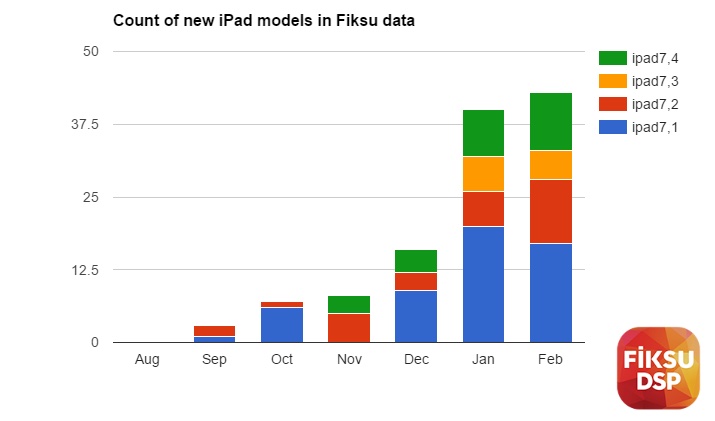 The new iPad's identifier is "iPad6,11" and "iPad6,12," with one number each for for Wi-Fi and Wi-Fi + Cellular models. Fiksu, meanwhile, saw the following identifiers in its device logs:
- iPad7,1
- iPad7,2
- iPad7,3
- iPad7,4
These numbers could perhaps refer to new
iPad Pro
models in two sizes, 12.9-inch and either 9.7-inches or perhaps the new rumored 10.5-inch model. The identifiers Fiksu saw are similar to the existing identifiers for the current 9.7 and 12.9-inch iPad Pro models.
- 12.9-inch iPad Pro (Wi-Fi) - iPad 6,7
- 12.9 inch iPad Pro (Cellular) - iPad 6,8
- 9.7-inch iPad Pro (Wi-Fi) - iPad 6,3
- 9.7-inch iPad Pro (Cellular) - iPad 6,4
In the original report, Fiksu said the number of new iPad models in its data was steadily ramping up, and that in its experience, those increasing numbers indicate an "imminent" release. Fiksu suggested the new iPad models could launch within a month, which would put a release somewhere around mid-April.
There has been a lot of confusion around iPad Pro launch timelines. Rumors originally suggested a new 10.5-inch iPad Pro model, and perhaps a new 12.9-inch model would launch in the spring alongside the low-cost 9.7-inch model, but we only got the latter.
It is now unclear when we will see new iPad Pro models. The release of a low-cost 9.7-inch iPad (and a new iPhone color and new Apple Watch bands) via press release seems to suggest we aren't going to see a spring event and thus no spring launch of new iPads, but it's not an impossibility.
If a spring debut doesn't happen, we could potentially see a launch at Apple's
Worldwide Developers Conference
in June or Apple could hold off on a launch until the fall, introducing iPads alongside new iPhones in September. At this point, Apple's iPad plans are murky at best, and we'll need to wait for more information to narrow down a release timeline.
Developers hoping to attend Apple's 2017 Worldwide Developers Conference in San Jose, California can now apply for a chance to purchase a ticket, with
Apple's lottery
having kicked off at 10:00 a.m. Pacific Time. Tickets are priced at $1,599.
Tickets will be doled out using a random selection process, implemented because in past years, tickets sold out within a matter of minutes. Approximately 5,000 attendees are expected at the conference, which will also be attended by Apple executives and more than 1,000 Apple engineers.

The 2017 Worldwide Developers Conference will start on Monday, June 5, and will last through Friday, June 9. Apple announced the conference in
mid-February this year
, as it is the first that will be held outside of San Francisco in many years. In 2017,
WWDC
will take place at the McEnery Convention Center in San Jose, California, which should be a welcome change for many developers as it is less expensive to secure accommodations.
Apple says that it is working with the city of San Jose and local businesses to plan "very special experiences" around San Jose during the week of the conference, so this year's event promises to be unique.
Along with the ticket lottery, Apple is now accepting
WWDC scholarship applications
for students and STEM organization members who don't have the funds to attend the conference. Scholarship applicants, who must be at least 13 years old, have a chance to earn both tickets and accommodations for the 2017 event.
Apple is asking prospective scholarship attendees to share a visually interactive scene created in Swift Playgrounds that can be experienced in three minutes. Swift Playgrounds for
iPad
or Xcode on macOS must be used, and Apple will judge applications on technical accomplishment, creativity of ideas, and the content of written responses.
Apple's ticket lottery will end on Friday, March 31 at 10:00 a.m. Pacific Time, while Apple will take scholarship applications until Sunday, April 2 at 5:00 p.m. Pacific Time. Lottery winners are likely to be notified on April 3 by 5:00 p.m. Pacific Time as that is when Apple will begin charging credit cards.
Developers and students who are not selected to purchase a ticket will be able to watch both the keynote event and sessions with engineers through the
Apple Developer website
and through the WWDC app for iPhone, iPad, and
Apple TV
.
Apple today released
macOS Sierra
10.12.4, the fourth major update to the macOS Sierra operating system that
launched on September 20
. macOS Sierra 10.12.4 has been in testing
since January 24
, with Apple having seeded eight betas ahead of its public release.
macOS Sierra 10.12.4 is a free update for all customers who are running macOS Sierra. The update can be downloaded using the Software Update function in the
Mac App Store
.

macOS Sierra 10.12.4 brings iOS's
Night Shift
mode to the Mac for the first time. Night Shift, first introduced on iOS devices in iOS 9.3, is designed to gradually shift the display of a device from blue to a subtle yellow, cutting down on exposure to blue light. Blue light is believed to interrupt the circadian rhythm, disrupting sleep patterns.
Night Shift is activated through the
Displays
section of System Preferences, where a setting to have it come on at sunset and turn off at sunrise is available. It can also be set to turn on and off at custom times. Night Shift can also be toggled on manually using the Notification Center or
Siri
.
The 10.12.4 update focuses primarily on Night Shift, but the update also includes dictation support for Shanghainese, cricket score integration for Siri, improved PDFKit APIs, and new
iCloud
Analytics options.
Update:
Apple has also released a new 2017-001 security update for
OS X Yosemite
and
OS X El Capitan
.
Apple today released
iOS 10
.3 to the public, marking the launch of the third major update to the iOS 10 operating system since it launched on September 13, 2016. iOS 10.3 has been in testing since January 24 and Apple seeded seven betas to developers and public beta testers before releasing the software.
iOS 10.3 is available as a free over-the-air update for all iOS 10 users, and it can also be downloaded via iTunes. Xcode 8.3 with support for Swift 3.1, iOS 10.3,
macOS Sierra
10.12.4,
tvOS 10
.2, and
watchOS 3.2
is
also available today
.
As a major 10.x update, iOS 10.3 includes both significant additions and more minor design tweaks and changes. The biggest new consuming-facing feature is "Find My AirPods," which has been added to the Find My iPhone function to help AirPods owners locate a lost earphone should one be misplaced.
Find My AirPods can play a sound to help users find an AirPod misplaced nearby, and it also saves the last known location of when an AirPod was connected to an iOS device via Bluetooth, but it can't locate the AirPods when the iPhone isn't nearby nor can it locate the Charging Case.
iOS 10.3 introduces a new Apple File System (APFS), which is installed when an iOS device is updated. APFS is optimized for flash/SSD storage and includes improved support for encryption. Other features include snapshots for freezing the state of a file system (better for backups), space sharing, and better space efficiency, all of which should result in a more stable platform. Customers updating to iOS 10.3 should first make a backup given that the update installs a new file system.
Some
App Store
changes are coming in iOS 10.3, allowing developers to respond to customer reviews for the first time. iOS users are also able to label reviews in the App Store as "Helpful" or "Not Helpful" for surfacing more relevant review content, and Apple plans to limit the number of times developers can ask for a review. The update even adds a master switch that lets customers turn off app review request prompts all together.
Other new features in iOS 10.3 include a revamped open/close animation for apps, an Apple ID profile in Settings, a better breakdown of
iCloud
storage usage, warnings about outdated apps that may not work with future versions of iOS and could slow down devices, HomeKit support for programmable light switches, improvements to
Siri
Kit (bill paying, bill status, and scheduling future rides),
CarPlay
interface improvements, and iCloud analytics options.
➜ Click here to read rest of article...

Apple is "stepping up" its augmented reality eyewear efforts, with an eventual goal of releasing a consumer-facing product, according to the
Financial Times
.
Apple first began to build a team to examine the feasibility of a head-worn device more than a year ago. Now, it is devoting more resources to its augmented-reality efforts, with the aim of taking it from a science project towards a consumer product, according to people familiar with the company's plans.
Don't expect to be wearing a pair of Apple-branded augmented reality glasses in the near future, however, as the report said any potential launch remains at least a year away, or "perhaps much longer."
Bloomberg
was first to report that Apple is
exploring digital glasses
that would connect wirelessly to iPhones and "show images and other information in the wearer's field of vision." The report said the digital glasses, which may use augmented reality, would not launch until 2018 at the earliest if at all.
One person who expects a sooner launch is tech evangelist Robert Scoble, who insists that Apple is
working on a pair of "mixed reality" glasses
that will debut alongside the 2017 iPhone lineup, according to his sources. He also said Apple and German company Carl Zeiss are
working together
on augmented reality optics.
Scoble's information has yet to be corroborated by other sources, so 2018 or later remains a more likely timeline at this point.
While a standalone product appears to remain far off, most analysts agree that Apple will start
incorporating AR-related features into its existing products
in the near future. A
future iPhone camera
, for example, could be able to detect faces and apply Snapchat-like filters using augmented reality.
Apple CEO
Tim Cook
has shown significant interest in augmented reality over the past few years, calling the technology everything from "
profound
" to a "
big idea like the smartphone
" in recent interviews. He also believes that
augmented reality is essentially more important than virtual reality
.
Last year, Cook said that Apple continues to
"invest a lot" in augmented reality
, and the company has
filed several patents
related to the technology over the past decade, confirming its interest in the field. However, Apple routinely tests new products and technologies that are never publicly released.
Apple's augmented reality efforts have been preceded by the
Microsoft HoloLens
, a cordless, self-contained Windows 10 holographic headset that mixes virtual reality with augmented reality. Microsoft began shipping the
HoloLens Development Edition
in March 2016 for $3,000 in the United States and Canada.
Apple Music
executives Jimmy Iovine, Zane Lowe, Robert Kondrk, and Larry Jackson spoke to
The Verge
over the weekend about their work with the musician Drake and the success of Beats 1 radio station, which launched in tandem with the Apple Music app in 2015.
Republic Records told
The Verge
that Drake's new album
More Life
was streamed 300 million times worldwide in its first week on Apple Music. It has already eclipsed his previous album,
Views
, which was an Apple Music exclusive and streamed around 250 million times in its first week.
More Life
also streamed 89.9 million times
during its first 24 hours
, breaking single-day album streaming records for all music services.

The numbers for Drake's
More Life
are impressive in another way – the album is also available on Spotify, which has 100 million subscribers compared to Apple Music's 20 million. The Apple Music team puts the success of the release down to Drake's close collaboration with Beats 1 and his
OVO Sound Radio
show. The show has debuted several Drake records, including
More Life
on the most recent episode, which set the record for the most listened-to show.
"What we saw on Drake's radio show were TV numbers," Iovine told The Verge. "We learned so much from just building what Drake needed. He had the idea, we kind of just built and supported around him, and we've learned a lot from that, and the entire industry has learned a lot from that."
Jackson called Beats 1 "the biggest radio station in the world" and boasted that there wasn't another station in existence that has as many concurrent listeners, (although Apple declined to offer specific listener numbers).
"If you rewind back to July of 2015, and those records that rolled out like 'Back to Back,' — 'Hotline Bling' debuted on OVO Sound Radio first, 'Charged Up' debuted there first — all these records debuted in a space that was really still new and nascent, and [Drake] made it his own. You can glance over it, but we created this idea that was really great for him, and he took advantage of it," Jackson said. "Drake and Oliver and [Drake's other co-manager] Future [The Prince] were the first to do this with us."
Zane Lowe, head of Beats 1, said that what Drake had taught him in terms of the parameters of broadcasting was remarkable. "He knows what he's doing, and he knows his audience," said Lowe. "And he knows it's going to work when it's ready. The best thing that anyone — including myself — can do is get out of the way."
Kondrk described the relationship between Apple Music and Beats 1 like an amusement park — once users are inside the Apple Music app to listen to Beats 1, he said it was "only natural you'll stay in it to stream the songs afterwards".
"The music is debuting through OVO Sound Radio first, no one really ever leaves the amusement park, and that's why the numbers make sense," Kondrk says. "It's a new paradigm that we've really created here for someone like him to come in and be a genius and take full advantage of everything we have to offer."
Speaking more generally, Iovine reiterated his belief that Apple Music can't become just a "utility" and that the company had to stay nimble, while working with artists like Drake was key to avoiding that distinction. "Two years ago, people would've thought we were crazy with what we were doing with Drake. And we are starting things with other people that in two years will look as interesting as this."
You can read the full article over on
The Verge
.
Apple's new (PRODUCT)RED
iPhone 7
and 7 Plus,
released yesterday
, feature a bright red aluminum casing that many are a fan of. Unfortunately, it comes equipped with a white front plate, much like the Gold, Silver, and Rose Gold iPhones, something that's been a point of criticism for people who think it would have looked better with a black front plate.
YouTuber
Danny Winget
recently tore apart a red iPhone 7 Plus and replaced its logic board and front plate with parts taken from a Jet Black iPhone 7 Plus, giving us a glimpse at what an actual (PRODUCT)RED iPhone 7 Plus with a black front would have looked like.
Winget had to replace not only the front plate but also the logic board because if he swapped just the front portion of the device, the
Touch ID
fingerprint sensor would have been rendered unusable.

Apple ties the Touch ID fingerprint sensor to an iPhone's logic board and disables it for security reasons if any of the parts are swapped out. Therefore, most of the internal structure of the (PRODUCT)RED iPhone had to be replaced with parts from the Jet Black iPhone.
Purchasing an entire Jet Black iPhone 7 or 7 Plus for the purpose of creating a hybrid red/black iPhone 7 is probably out of the question for most people, but it's an interesting proof of concept.

This method essentially ruins the Jet Black iPhone 7 involved, making it a rather pricy project, and it destroys the waterproofing seal on the red iPhone.

It's also worth noting that this is a highly complicated process that essentially requires tearing apart two iPhones, melding them together, and hoping nothing goes wrong, something that the average person won't want to attempt.

For a closer look at the Special Edition (PRODUCT)RED iPhone, make sure to
check out our hands-on video
.
Apple's new (PRODUCT)RED
iPhone 7
and 7 Plus
went on sale
online and in retail stores around the world today, and after a short wait in line, we managed to get our hands on one of the new devices.
Made from a matte red aluminum, the red iPhone 7 is super pigmented and bright in real life, but aside from its snazzy new casing, it's identical to existing devices. Check out the video below for our detailed look at Apple's first red iPhone.
Subscribe to the MacRumors YouTube channel for more videos.
The new red iPhone 7 and iPhone 7 Plus can be
purchased from the online Apple Store
and in retail locations, where supplies seem to be plentiful. There were lines at many stores around the country, however, so it could potentially sell out.
Prices for the red iPhone 7 start at $749, with the device available in 128 and 256GB capacities. Pricing for the red iPhone 7 Plus starts at $869.
The new iPhone 7 and 7 Plus are available in the United States and dozens of other countries today, and by the end of March, the device will be available in more than 40 countries and regions.
T-Mobile today
announced the launch
of two new anti-scam features designed to cut down on scam phone calls, Scam ID and Scam Block.
Scam ID
, as the name suggests, alerts customers when an incoming call is coming from a phone number known to be associated with a scam. Scam Block goes one step further, automatically blocking any calls identified as scams by Scam ID.

"Every year, three out of four people in the US get at least one scam call--and fraudsters cheat consumers out of more than half a billion dollars per year! It's insane - so we had to do something to protect our customers!" said Neville Ray, Chief Technology Officer for T-Mobile. "So the T-Mobile team designed a brilliant set of patent-pending technologies -- then built them directly into our network, so there's nothing customers have to do. No hoops to jump through, no app to download. Like most T-Mobile technologies, it just works."
Scam ID is powered by a global database that contains "tens of thousands" of known scammer numbers. T-Mobile updates the database in near real-time by analyzing every call that comes into its network with "behavioral heuristics" and "intelligent scam pattern detection." Every call is analyzed to identify and block scammers.
Both Scam ID and Scam Block are available on all devices on T-Mobile's network and will be included at no cost. The features are rolling out to customers starting today, and will be available to T-Mobile ONE customers first.
New T-Mobile ONE customers will automatically get Scam ID beginning on April 5, while other T-Mobile postpaid customers can enable the feature on that date by dialing #ONI# (#664#). To turn on Scam Block, customers can dial dial #ONB# (#662#).
T-Mobile warns that enabling Scam Block could potentially cause customers not to receive legitimate calls, so caution should be used before turning it on. Once enabled, it can be turned off by dialing #OFB# (#632#).
Apple has just begun accepting orders for the
new 9.7-inch iPad
and
(PRODUCT)RED iPhone 7 and 7 Plus
on its online store in the United States and dozens of other countries and regions around the world. (PRODUCT)RED iPhones are also available for in-store pickup at select
Apple Stores
starting today.

The new 9.7-inch iPad is equipped with a
faster Apple A9 chip and brighter Retina display
compared to the iPad Air 2, which has been discontinued. It is also somewhat
thicker and heavier than the iPad Air 2
since it lacks a fully laminated display with anti-reflective coating in order to keep costs down.
The tablet's tech specs are otherwise identical to the iPad Air 2, including a display resolution of 2,048‑by‑1,536 at 264 PPI, 8-megapixel rear iSight camera, 1.2-megapixel front FaceTime camera, two speakers, Lightning connector, 3.5mm headphone jack,
Touch ID
with
Apple Pay
, and Bluetooth 4.2.
The new 9.7-inch iPad starts at $329 for a 32GB model with Wi-Fi, making it the cheapest new tablet that Apple has ever sold. Apple also offers a 128GB model with Wi-Fi for $429, while cellular-capable 32GB and 128GB models are available for $459 and $559 respectively in Silver, Gold, and Space Gray.
The new 9.7-inch iPad is
now available to order
on Apple's website in dozens of countries around the world. The first online orders are estimated for delivery between March 31 and April 5 in the United States.
Apple said the new 9.7-inch iPad will be available to purchase at select Apple Stores, authorized resellers, and carrier stores starting next week in more than 20 countries, such as the United States, Australia, Canada, China, France, Germany, Italy, Japan, Netherlands, Spain, Sweden, Switzerland, and the UK.

Apple's special edition (PRODUCT)RED
iPhone 7
and iPhone 7 Plus models are also
now available to order
on Apple's website in 128GB and 256GB storage capacities for $749/$849 and $869/$969 respectively. Initial orders are slated for delivery on Tuesday, March 28 in the United States.
(PRODUCT)RED iPhones have a vibrant red finish complemented by a silver Apple logo and white front bezels. Apple said the models are in recognition of more than 10 years of partnership between Apple and
(RED)
, which gives customers a way to contribute to the Global Fund in support of HIV/AIDS programs in Africa.
If you want a red iPhone today, try your local Apple Store. It's in stock right now around the world. pic.twitter.com/hJt8o5sXF7

— Joe Rossignol (@rsgnl) March 24, 2017
The special edition iPhone joins the current
(PRODUCT)RED lineup
, which is available to purchase year-round, including the full iPod line of products, Beats Solo3 Wireless On-Ear Headphones, Beats Pill+ Portable Speaker, the iPhone 7 Smart Battery Case, and a range of accessories for iPhone, iPad, and Apple Watch.
(PRODUCT)RED iPhones are available starting today at many Apple Stores, authorized resellers, and carrier stores in the United States and dozens of other countries. Apple said the new models will begin shipping to customers by the end of March in the United States and more than 40 countries and regions.
Apple took down its online store early this morning as the company prepares to launch its
special edition
(PRODUCT)RED
iPhone 7
and iPhone 7 Plus in more than 40 countries and regions around the world.

Internet users attempting to access the store section of the U.S. site are being met with the familiar "We've got something special in store for you" placeholder, accompanied by a relaunch time of 8:01 a.m. Pacific Time, which is when Apple previously said it would officially be launching the new red colorway iPhone.
Today Apple is also launching a new lower priced
9.7-inch
iPad
to replace the iPad Air 2, as well as new storage tier options for the
iPhone SE
and the
iPad mini 4
.
The PRODUCT(RED) iPhone 7 will be available in 128GB and 256GB storage capacities for the same $749/$849 and $869/$969 prices as the equivalent iPhone 7 and iPhone 7 Plus models in standard colors. The anodized aluminum's vibrant red finish has a white Apple logo and white front bezels.
Apple's new tablet, which it is simply calling "iPad", is Apple's new entry-level model at the 9.7-inch size, starting at $329 for 32GB and $429 for 128GB. The device will be available in more than 20 countries and regions.
The new 32GB and 128GB storage capacities for the
iPhone SE
will cost $399 and $499 respectively, replacing the original 16GB ($399) and 64GB ($449) storage capacities. All other specs for the smaller profile handset remain the same.
The new 128GB model
iPad mini 4
with Wi-Fi will start at $399, which was previously the price for the 32GB model with Wi-Fi, which has been discontinued. A cellular model with 128GB of storage will also be available for $529.
During Tuesday's announcement of the new products, Apple also launched new
Apple Watch bands
and iPhone cases in
new colors
.
Despite the unusually early shuttering of the store, it's very unlikely that it relates to anything other than updates to the online ordering process to reflect the new products, but we'll keep readers updated as soon as we learn more.
(Thanks, Andrea!)