Intel is planning to supply Apple with 70 percent of the modem chips that will be used in the 2018 iPhone lineup, according an unnamed source that spoke to
Fast Company
. Qualcomm will allegedly provide the rest.
KGI Securities analyst
Ming-Chi Kuo
previously suggested Intel might be Apple's sole supplier for LTE modems in 2018 given Apple's ongoing and
increasingly tense
legal battle with Qualcomm, while
The Wall Street Journal
said Apple might use Mediatek and Intel chips to avoid working with Qualcomm, but
Fast Company
says that's not the case.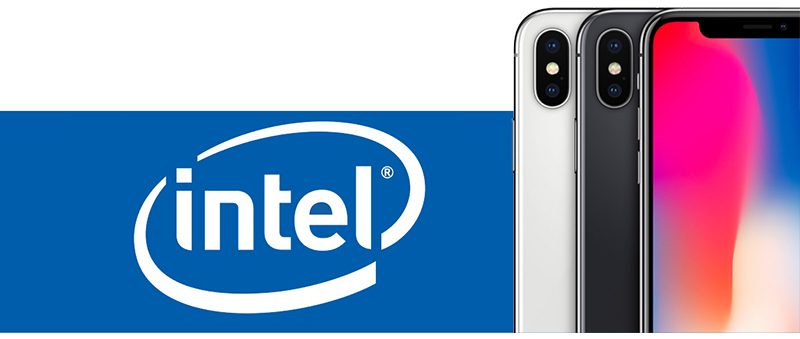 Intel will supply the lion's share of the chips, but because 2018 is the first year that Intel is fabricating its own chips using its 14-nanometer process,
Fast Company
's source says Apple plans to continue to use Qualcomm chips in 2018.
Given that technological transition, Apple is apparently waiting to see how well Intel fulfills this year's order. If Intel underdelivers, Qualcomm will make up the balance on top of the 30% it's already planning to provide. There's also a chance that if Intel can produce enough chips on time and on budget it could get more than the planned 70%, our source says.
Intel is reportedly not hitting its expected modem chip yield rates at the current time, with just over half of chips produced coming out in an acceptable quality. Intel engineers are, however, confident that yield rates can be pushed up before production ramps up in the summer months.
While Intel may not be Apple's sole supplier for modem chips in 2018, if its chip production speeds up and kinks are worked out, Apple will transition solely to Intel for its 2019 iPhone lineup, effectively cutting ties with Qualcomm.
Apple first adopted Intel chips in the iPhone 7, released in 2016, moving away from Qualcomm as its sole supplier. Since early 2017, Apple and Qualcomm have been embroiled in a
bitter legal battle
, which has led to Apple's efforts to
cease using Qualcomm chips
all together.
The iOS 11 operating system is installed on 76 percent of devices as of April 22, according to statistics Apple shared today on its
App Store support page
for developers.
That's up 11 percentage points
since January 18
, when iOS 11 was installed on 65 percent of devices, and 24 percentage points since November 6, when iOS 11 was installed on
52 percent of devices
.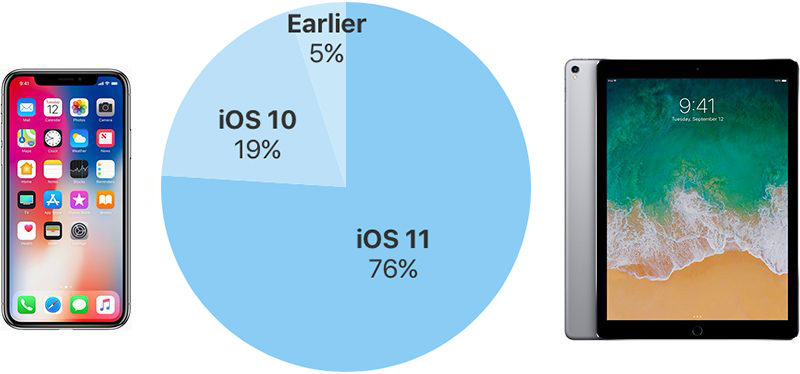 19 percent of devices continue to use iOS 10, while 5 percent of devices use earlier versions of iOS, such as iOS 9. Many of these devices are likely older and unable to be updated to the newest version of iOS.
iOS 11 adoption rates have been growing steadily, but adoption has been markedly slower than iOS 10. In February of 2017, for example, iOS 10 was installed on nearly 80 percent of active devices.
iOS 11 has been plagued by high-profile bugs and issues like the
HomeKit bug
, the
Spectre and Meltdown
vulnerabilities, and most notably, the iPhone slowdown controversy that saw Apple throttling the performance of older iPhones. Though not directly related to iOS 11, it's likely people shied away from updating after reading about the issue.
The 11 percent uptick in iOS 11 adoption from January to April can be attributed to the launch of
iOS 11.2
in December and iOS 11.3 in March, both of which were major updates introducing key new features.
iOS 11.2 brought Apple Pay Cash and faster 7.5W wireless charging for Apple's newest devices, while iOS 11.3 included a new battery health tool, ARKit 1.5, a Health Records feature, and many other smaller changes.
iOS 11.4
, which is in the works, is another update that could spur adoption, as it will introduce Messages on iCloud and AirPlay 2 if the features currently in testing make it into the release.
Customers may be wary of iOS 11, leading to somewhat slower adoption rates, but Apple's iOS 11 install base is beyond impressive compared to
Google's adoption numbers
for its latest operating system update.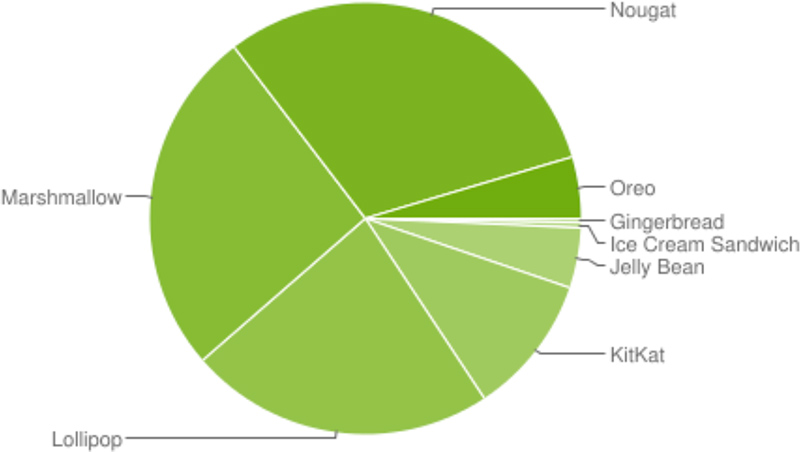 As of April 16, just 0.5 percent of Android devices are running the newest version of Android Oreo, and only 4.6 percent of devices total have Oreo installed. The majority of Android users continue to run Android Lollipop, Marshmallow, and Nougat, operating systems that came out in 2014, 2015, and 2016, respectively.
Apple CEO Tim Cook is attending the first state dinner of the Trump administration, which is honoring French president Emmanuel Macron, according to
CNN
. Cook is accompanied by Apple vice president of environment, policy and social initiatives Lisa Jackson.
Guests at the dinner, which is taking place in the White House State Dining Room, will dine on a goat cheese gateau with tomato jam and buttermilk biscuit crumbles, a rack of spring lamb with Carolina Gold rice jambalaya and a burnt cipollini onion soubise, and a nectarine tart with crème fraîche ice cream.

Image via Paul Bedard
Other state dinner attendees, aside from President Donald Trump and Melania Trump along with President Macron and his wife, include Vice President Mike Pence, Supreme Court Chief Justice John Roberts, former Secretary of State Henry Kissinger, Rupert Murdoch, Olympic curler John Shuster, hockey player Meghan Duggan, Defense Secretary Jim Mattis, Commerce Secretary Wilbur Ross, and CIA Director Mike Pompeo. Approximately 150 guests are attending.
Cook has met with Trump several times in the past, attending a December 2016
tech summit
and a meeting of the American Technology Council put together by Trump. Most recently, Cook was in Washington D.C.
to meet with
Senators Mark Warner (D-Virginia) and Richard Burr (R-North Carolina).
Update:
Cook will have a private meeting with Trump in the Oval Office at 1:45 p.m. Eastern Time on Wednesday, according to a copy of his schedule obtained by
Bloomberg
and other media outlets.
Update 2:
Trump has now confirmed the meeting and says the discussion will be focused on trade agreements between the United States and other countries.
Looking forward to my meeting with Tim Cook of Apple. We will be talking about many things, including how the U.S. has been treated unfairly for many years, by many countries, on trade.

— Donald J. Trump (@realDonaldTrump) April 25, 2018
Note: Due to the political nature of the discussion regarding this topic, the discussion thread is located in our
Politics, Religion, Social Issues
forum. All forum members and site visitors are welcome to read and follow the thread, but posting is limited to forum members with at least 100 posts.
Grayshift, the company that makes the
GrayKey iPhone unlocking boxes
that have been sold to multiple law enforcement agencies across the United States, recently suffered a data breach that allowed hackers to access a small portion of the GrayKey code, reports
VICE
's
Motherboard
.

GrayKey box, via MalwareBytes
Last week, unknown hackers leaked portions of the GrayKey code and demanded two bitcoin from Grayshift with the threat of additional data being leaked. According to
Motherboard
, the code in question "does not appear to be particularly sensitive," but Grayshift did confirm that a "brief" data leak had occurred.
Indeed, Grayshift told Motherboard in a statement "Due [to] a network misconfiguration at a customer site, a GrayKey unit's UI was exposed to the internet for a brief period of time earlier this month."

"During this time, someone accessed the HTML/Javascript that makes up our UI. No sensitive IP or data was exposed, as the GrayKey was being validation tested at the time. We have since implemented changes to help our customers prevent unauthorized access," the statement added.
Grayshift says that no sensitive IP or data was exposed, and
Motherboard
confirms that the leaked code appears to be related to the user interface that displays messages on the GrayKey, but it's clear that Grayshift security is not airtight, raising questions about what kind of data might be accessible to hackers.
The GrayKey is a small, portable gray box equipped with dual Lightning cables. An iPhone is plugged into one of the cables to install proprietary software that's able to guess the passcode to an iPhone in as little as a few hours to a few days, based on the strength of the passcode.
GrayKey, which is priced starting at $15,000, can crack the latest iPhones running modern versions of iOS, including iOS 11. While the box is designed to provide law enforcement officials with easy access to locked iPhones for criminal investigations, there have been fears that the GrayKey technology could fall into the wrong hands.
The box has been sold to multiple law enforcement agencies across the country, and the data breach that Grayshift suffered, however inconsequential, is not at all reassuring for those who are worried about the security of the GrayKey boxes. The underlying functionality that allows the GrayKey to crack iPhones could be discovered and replicated, and the GrayKey boxes themselves are said to download data from cracked iPhones, which could also be at risk in a data breach.
According to
Motherboard
, Grayshift has not paid the extortionists their two bitcoin fee, as the Bitcoin addresses provided have received no funds. An additional Bitcoin address promising to provide interested parties with GrayKey information has also not received funds.
Grayshift says that "changes" have been made to help customers prevent unauthorized access to GrayKey boxes in the future, but
Motherboard
discovered another exposed GrayKey device broadcasting similar code.
Using the computer search engine Shodan, Motherboard found a seemingly exposed GrayKey device, broadcasting similar chunks of code to the open internet.

"To brute force a complex alphanumeric passcode, upload a custom password dictionary. If a dictionary is not uploaded, GrayKey will not attempt to brute force custom alphanumeric passcodes," one section of the apparent device's code reads.
The technology used for the GrayKey will likely be outdated at some point through updates to the iOS operating system, but as far as we know now, it's still functional for even the latest versions of iOS and the newest iOS devices, including the iPhone X.
Those worried about GrayKey and similar technologies can implement stronger and
more secure passcodes and passwords
that are more difficult to guess through brute forcing to prevent these kinds of tools from working. A 6-digit numeric passcode, Apple's default, can be guessed in as little as 11 hours, but an 8-digit numeric code can take over a month, while a 10-digit numeric code can take years.
Security experts recommend alphanumeric passcodes that are at least seven characters long with numbers, upper and lowercase letters, and symbols included. The longer the password, the more secure it is from GrayKey-style guessing methods. For more information on Grayshift's data breach, check out
Motherboard's full report
.
Note: Due to the political nature of the discussion regarding this topic, the discussion thread is located in our
Politics, Religion, Social Issues
forum. All forum members and site visitors are welcome to read and follow the thread, but posting is limited to forum members with at least 100 posts.
Verizon, the largest carrier in the United States by subscriber count, saw a monthly subscriber increase of 260,000 during the first quarter of 2018, reports
Bloomberg
, largely due to an increased number of smart watch activations.
The company actually lost phone and tablet subscribers last quarter, but the dip in subscribers did not hurt its bottom line because of smart watches, wearables, and other connected devices like vehicles.

Image via Bloomberg
Verizon says it added a total of 359,000 subscribers who are using smart watches and other devices during the quarter, making up for the loss of 24,000 phone customers and 75,000 tablet customers.
There was no breakdown in the number of activations by specific device, but Verizon's jump in smart watch subscribers comes following the September release of the Apple Watch Series 3, the first Apple Watch with LTE connectivity.
The Apple Watch Series 3 allows customers to use the Apple Watch sans iPhone for the first time, as it has its own cellular connection. Verizon and other carriers charge customers $10 per month to add a smart watch to an existing smartphone plan.
Verizon shared the numbers during its first quarter 2018 earnings results,
released this morning
. Verizon stock has since surged as much as 3.6 percent.
Apple today released iOS 11.3.1, the thirteenth official update to the iOS 11 operating system. iOS 11.3.1 comes nearly one month after the
launch of iOS 11.3
, an update that introduced a Battery Health feature for keeping tabs on your iPhone's battery status, Business Chat for Messages, new Animoji for iPhone X, and more.
The iOS 11.3.1 update can be downloaded for free on all eligible devices over-the-air in the Settings app. To access the update, go to Settings --> General --> Software Update.

iOS 11.3.1 introduces performance improvements and bug fixes for issues that have been discovered since the launch of iOS 11.3. The update includes
a fix for a bug
that caused third-party repairs done on iPhone 8 models using aftermarket parts to disable the touch functionality of the screen. From Apple's release notes:
iOS 11.3.1 improves the security of your iPhone or iPad and addresses an issue where touch input was unresponsive on some iPhone 8 devices because they were serviced with non-genuine replacement displays.

Note: Non-genuine replacement displays may have compromised visual quality and may fail to work correctly. Apple-certified screen repairs are performed by trusted experts who use genuine Apple parts. See support.apple.com for more information.
The iPhone 8 and iPhone 8 Plus repair issue was discovered following the release of iOS 11.3. After updating, some iPhone users that had sought display repairs from non-Apple service providers saw the touch screen functionality of their devices disabled, resulting in serious headaches for repair shops.
At issue was a small microchip in the display, which disabled touch functionality after the update. At the time, it was not clear if the non-functional displays were a bug or a deliberate move by Apple, but it appears it was a bug. While Apple is fixing the display problem via the iOS 11.3.1 update, the company's release notes encourage customers to seek out authorized providers and genuine parts.
Apple today released a new security update for macOS High Sierra 10.13.4, which comes nearly one month after the first version of
macOS High Sierra 10.13.4
was released to the public.

The new macOS High Sierra security update can be downloaded directly from the Mac App Store or through the Software Update function in the Mac App Store on all compatible Macs that are already running macOS High Sierra.
According to Apple's release notes, Security Update 2018-001 is recommended for all users and is meant to improve the security of macOS. The update addresses two security vulnerabilities related to Crash Reporter and LinkPresentation, both of which could be used maliciously to gain access to a Mac. A Safari 11.1 update is also included, with fixes for WebKit vulnerabilities.
Additional information on what's included in the security update can be found in the
accompanying support document
.
Apple will start paying 13 billion euros in back taxes to the Irish government from May, according to the
Financial Times
, nearly two years after the European Commission ruled that the company
received illegal aid
from the country that saw its tax bill significantly reduced over the past few decades.

As expected, the report states that Apple and the Irish government have reached an agreement to set up an escrow account to hold the money while both sides appeal the August 2016 ruling in Europe's highest court. Once the amount has been received in full, additional interest payments will be calculated.
Ireland's finance minister Paschal Donohoe today said the appeal process is likely to begin in the fall, according to
Reuters
.
Ireland is required to hold the funds in escrow until the legal process is completed, according to the report. Apple previously said the amount will be reported as
restricted cash on its balance sheet
once it begins making payments.
For background, the European Commission said the Irish government gave Apple unfair advantage between 1991 and 2007 by allowing the company to move income from the European market through two "non-resident" head office subsidiaries based in Ireland, but Apple says there are "fundamental errors" in the findings.
Apple CEO Tim Cook previously called the decision "
total political crap
" and said Apple pays all of the taxes it owes based on the laws of each country in which it operates. Likewise, the Irish government said it did not give favorable tax treatment to Apple and added that it "does not do deals with taxpayers."
Apple expects its appeal with the European Union's highest courts to take several years, but it is confident the European Commission's decision will be overturned, in which case the 13 billion euros would be returned to the company.
Note: Due to the political nature of the discussion regarding this topic, the discussion thread is located in our
Politics, Religion, Social Issues
forum. All forum members and site visitors are welcome to read and follow the thread, but posting is limited to forum members with at least 100 posts.
Apple and Samsung today submitted their witness lists for an upcoming retrial in the long running patent infringement battle between the two companies, reports
CNET
.
Neither Apple CEO Tim Cook nor design chief Jony Ive will be taking the stand, but several other notable figures will be providing testimony during the retrial. Apple will call Richard Howarth, a senior director on the Apple Design Team, along with Greg Joswiak, vice president of product marketing.

Howarth will discuss the design process at Apple, the design patents that were infringed upon, and other design topics, says
CNET
, while Joswiak will talk about Apple's marketing approach for its devices and the competitive nature of the smartphone market.
Apple also plans to call Susan Kare, who designed many of the early icons for Apple's Macintosh computers, to talk about icon and user interface graphics design. Other witnesses include Ravin Balakrishnan, a professor of computer science; Alan Ball, an industrial design expert; Julie Davis, a consultant with expertise in damages analysis; and Karan Singh, another computer science professor.
Samsung will call Justin Dension, its senior vice president of mobile product strategy and marketing, along with Drew Blackard, senior director of product marketing and Jinsoon Kim, a vice president at Samsung's Corporate Design Center.
Apple and Samsung's latest damages retrial will kick off on Monday, May 14, with the aim of determining how much Samsung has to pay Apple for infringing on three Apple design patents.
The two companies have been fighting in court since 2011, when Apple sued Samsung for copying the iPhone's design. Apple was initially awarded
$1 billion
in 2012, but after several appeals and retrials, the award was
reduced to $548 million
.
Samsung
paid Apple the $548 million
in 2015, with $399 million of that total awarded to Apple for the design patent infringements. Samsung at the time argued that it was asked to pay a "disproportionate" sum for the design violation, and
appealed to the Supreme Court
to reduce that portion of the award.
Apple had been awarded damages based on the full value of the infringing device, while Samsung argued that it should pay damages based only on the infringing portion.

The original devices involved in the 2011 patent infringement case
Samsung's
appeal was successful
, and the Supreme Court ordered the U.S. Court of Appeals to
redetermine the amount Samsung owes Apple
for the design patent infringement. The U.S. Court of Appeals sent the case back to the district court, which brings us to the May trial.
During the retrial, Samsung will argue that the damages awarded to Apple should be less than the original award because the infringed Apple patents represent only a small part of the design of the entire Samsung smartphone in question. Apple, meanwhile, will argue that it deserves damages based on the full value of the device.
Apple today shared two new videos in its "Life's easier on iPhone" series, which are aimed at encouraging Android users to switch over to an iPhone.
The first ad, "App Store," depicts exploding app icons that are meant to demonstrate the superior safety of the iOS App Store, which is curated by human editors to protect against malicious apps.
Apple's second ad highlights Portrait Mode and Portrait Lighting on the iPhone 8 Plus and the iPhone X, both features that are designed to offer studio quality effects with the iPhone.
The two ads are both 15 seconds in length and will likely be used both on TV and on social media sites like Instagram. Last week, these ads were uploaded to Apple's YouTube channels in other countries, such as Mexico.
Apple earlier this year started sharing several short videos designed to lure Android users to the iPhone. All of Apple's videos in this series link back to the
"Switch" website
, designed for customers who use an Android device or other smartphone and are thinking of switching to an iPhone.
Apple's Switch website answers simple questions like "Will it be easy to switch to iPhone?" and "Will iPhone be easy to use?" It also offers up details on key features that make the iPhone stand out compared to other smartphones, like Face ID, Portrait Mode, iMessages, the App Store, and more.
Apple has aimed to encourage Android users to switch to the iPhone for years with its "Move to iOS" app that makes it quick and easy for Android users to swap to an iPhone and transfer data like contacts, message history, photos, videos, web bookmarks, mail accounts, and more.
A survey conducted by research firm Creative Strategies last month has found that the
iPhone X has a 97 percent customer satisfaction rate
, primarily among early adopters of the smartphone in the United States, as
noted by John Gruber
.

The total includes 85 percent of respondents who said they are "very satisfied" with the iPhone X, which Creative Strategies analyst Ben Bajarin said "is amongst the highest" he has ever seen "in all the customer satisfaction studies we have conducted across a range of technology products."
12 percent of respondents said they are "satisfied" with the iPhone X, while three percent were unsatisfied to various degrees.
Of course, the higher the "very satisfied" responses, the better a product probably is. For perspective, research firm Wristly conducted a survey in 2015 that found the
original Apple Watch also had a 97 percent overall customer satisfaction rate
, but a lower 66 percent of respondents were "very satisfied."
Apple CEO Tim Cook said the iPhone X has a 99 percent customer satisfaction rate on the company's first quarter earnings call, citing a study by 451 Research, but Creative Strategies said its own survey had a significantly higher number of respondents that led to a more balanced number with room for slight variance.
Creative Strategies surveyed 1,746 respondents to be exact. The research firm informed MacRumors that respondents were profiled as early adopters based on a series of upfront questions about purchasing habits.
On a feature-by-feature basis, the iPhone X saw very high satisfaction rates in all but one area, including Face ID and battery life at above 90 percent. The sole exception was Siri, which scored only a 20 percent satisfaction rate among early adopters, leaving four out of every five respondents unimpressed.

As noted by Creative Strategies, early adopters tend to be more critical than mainstream consumers of technology, but Apple is widely considered to have lost the lead it once had with Siri in the artificial intelligence space.
The Information
recently reported that
Siri has become a "major problem" within Apple
. The report opined that Siri remains "limited compared to the competition," including Amazon Alexa and Google Assistant, and added that the assistant is the main reason the HomePod has "underperformed" so far.
Apple responded to that report with a statement noting Siri is "the world's most popular voice assistant" and touted "significant advances" to the assistant's performance, scalability, and reliability.
"We have made significant advances in Siri performance, scalability and reliability and have applied the latest machine learning techniques to create a more natural voice and more proactive features," Apple wrote in its statement. "We continue to invest deeply in machine learning and artificial intelligence to continually improve the quality of answers Siri provides and the breadth of questions Siri can respond to."
Bajarin has been a respected technology analyst at Creative Strategies since 2000. For more details from the survey, read
Top Takeaways From Studying iPhone X Owners
and his paywalled follow-up report
iPhone X Study Follow Up
on Tech.pinions.
The European Commission today
announced
it has opened an in-depth investigation into Apple's proposed acquisition of
Shazam
.

The regulators are concerned that the merger could reduce choice for users of streaming music services in Europe. In particular, they believe that Apple could gain access to sensitive data that could allow Apple to directly target its competitors' customers and encourage them to switch to Apple Music.
While the European Commission did not name any specific services, Apple Music's biggest rival in Europe is Spotify, headquartered in Stockholm, Sweden. Other competitors include Deezer, Tidal, and Google Play Music.
European Commission competition chief Margrethe Vestager:
The way people listen to music has changed significantly in recent years, with more and more Europeans using music streaming services. Our investigation aims to ensure that music fans will continue to enjoy attractive music streaming offers and won't face less choice as a result of this proposed merger.
In addition, the European Commission said it will investigate whether Apple Music's competitors would be harmed if Apple were to discontinue referrals from the Shazam app to them following the acquisition. Shazam's app currently integrates with multiple services, including Spotify and Deezer.
The regulators have set a September 4, 2018 deadline to reach a decision, delaying an Apple-Shazam merger for at least 90 days.
Apple announced its
plans to acquire Shazam in December
, describing the two companies as a "natural fit" with "exciting plans" ahead. In February, the European Commission received requests from Austria, France, Iceland, Italy, Norway, Spain, and Sweden to
assess the deal under European merger law
.
Shazam is a popular service that can identify the name and lyrics of songs, music videos, TV shows, and more. It has apps across
iPhone, iPad, Apple Watch, iMessage
, and Mac, while the service has been built into Siri since iOS 8.