Today marks the 35th anniversary of Apple's late co-founder Steve Jobs unveiling the original Macintosh.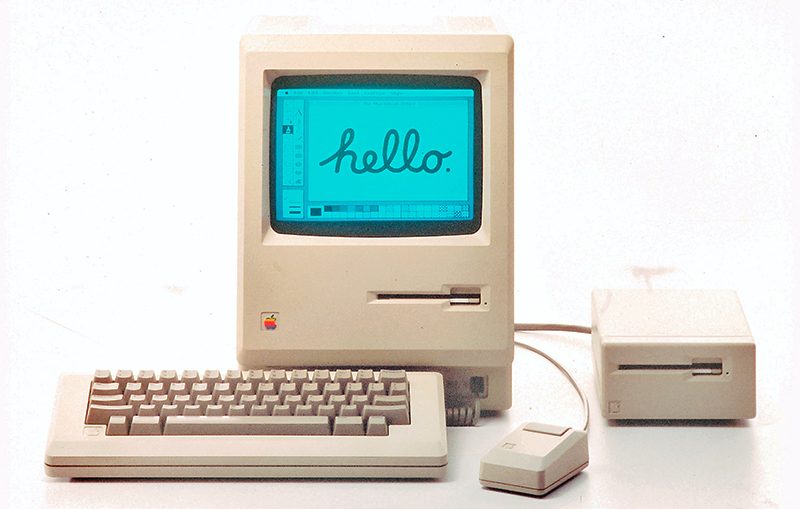 Jobs pulled the Macintosh out of a bag during Apple's annual shareholders meeting on January 24, 1984 at the Flint Center in Cupertino, California, grinning from ear to ear as the crowd erupted in applause.
Macintosh's very first words:
Hello, I'm Macintosh. It sure is great to get out of that bag.

Unaccustomed as I am to public speaking, I'd like to share with you a maxim I thought of the first time I met an IBM mainframe: NEVER TRUST A COMPUTER YOU CAN'T LIFT!

Obviously, I can talk, but right now I'd like to sit back and listen. So, it is with considerable pride that I introduce a man who's been like a father to me… STEVE JOBS.
Two days earlier, Apple teased the Macintosh's introduction with its iconic "1984" ad during Super Bowl XVIII on CBS:
And here's a lesser-known video of Jobs introducing the Macintosh to the Boston Computer Society on January 30, 1984:
Apple this week removed more than 200 employees from its autonomous car team, known internally as "Project Titan," reports
CNBC
.
An Apple spokesperson confirmed the layoffs to
CNBC
, but said that Apple continues to believe there is a "huge opportunity" with autonomous systems. According to the statement provided, some of the former Project Titan employees have been moved to other parts of the company.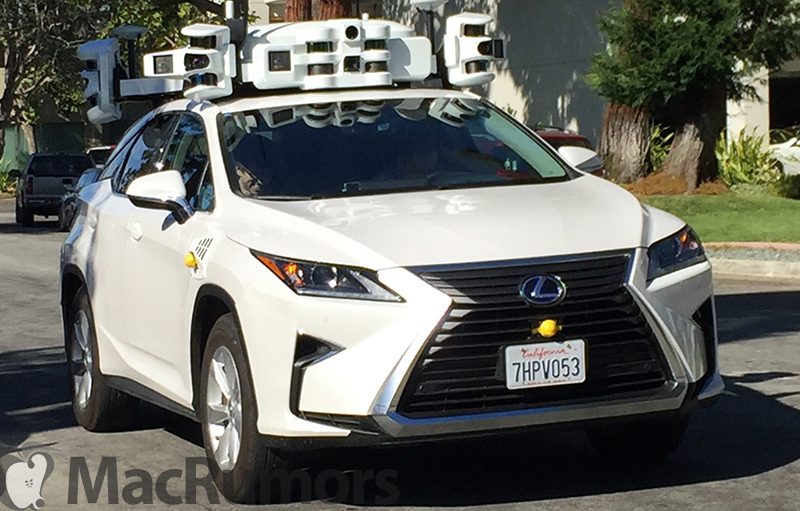 "We have an incredibly talented team working on autonomous systems and associated technologies at Apple. As the team focuses their work on several key areas for 2019, some groups are being moved to projects in other parts of the company, where they will support machine learning and other initiatives, across all of Apple," the spokesperson said.

"We continue to believe there is a huge opportunity with autonomous systems, that Apple has unique capabilities to contribute, and that this is the most ambitious machine learning project ever," they added.
In August, Apple
hired
former Tesla lead engineer Doug Field to lead Project Titan alongside Bob Mansfield, and the employee dismissals this week were reportedly not a surprise, but rather expected restructuring under the new leadership.
Apple began work on Project Titan in 2014, and at the time, rumors suggested the company was working to develop an electric vehicle at a secret location near its Cupertino headquarters.
Leadership issues, internal strife, and other problems impacted the development of the car, and in 2016, new information suggested Apple had shelved its plans for a car to instead focus on an autonomous driving system.
The hiring of Field, who was once Apple's VP of Mac hardware before he went to Tesla, has, however, been seen as a sign that Apple is again developing a full autonomous vehicle.
Reliable Apple analyst
Ming-Chi Kuo
, who often accurately predicts the company's product plans, also believes that an
Apple Car
is in development with a targeted launch date between 2023 and 2025. With the new restructuring of the project, though, Apple's ultimate autonomous driving plans are unclear, and this could be a sign that a full Apple Car is once again off the table.
Apple has been testing autonomous driving software out on the roads of Cupertino since early 2017, and it has developed a self-driving shuttle service to transport Apple employees between various office locations in Silicon Valley.
In June 2017, Apple CEO
Tim Cook
confirmed Apple's work on autonomous driving software, an unusual step as Apple does not often share details on products that are still under development.
"We're focusing on autonomous systems," said Cook. "It's a core technology that we view as very important. We sort of see it as the mother of all AI projects."
Apple recently hired a Samsung battery executive as its new global head of battery developments, reports
Bloomberg
. Soonho Ahn, who previously worked for Samsung SDI, joined Apple in December.
Samsung SDI is a Samsung affiliate company that develops the lithium-on batteries used in smartphones. According to his LinkedIn profile, Ahn was Samsung's senior vice president of "next-generation batteries and materials innovation."

Before joining Apple, Ahn spent three years at Samsung leading lithium ion battery cell and pack developments. Prior to that, he worked at Next Generation Batteries R&D and LG Chem, plus he served as a professor in the energy & chemical engineering department of Ulsan National Institute of Science and Technology in South Korea.
While Samsung is Samsung SDI's largest customer, Apple has used Samsung batteries in the past. Apple is continually working to lower its reliance on third-party companies by making device components in house, and
Bloomberg
believes Ahn's hiring perhaps suggests Apple is aiming to do the same thing with batteries.
Apple in 2018 was also in talks to purchase
supplies of cobalt
directly from miners, which would allow it to produce its own batteries.
Prior rumors have indicated Apple is working on developing its
own MicroLED displays
,
LTE chips
, and processors for its Mac lineup. Apple already makes its own A-series chips for iPhones, S-series chips for Apple Watches, and W-series chips for use in
AirPods
and Beats headphones.
Samsung made headlines for its batteries in 2016 after the Galaxy Note7
had to be recalled
following multiple battery explosions that led to injuries and an airline ban. Samsung
ultimately determined
that there were multiple flaws that impacted the Note7 batteries, including a design flaw that could lead to short circuiting, missing insulation tape, and a welding defect.
It's not clear if Ahn was involved in the Samsung battery situation, but Samsung SDI was one of the Note7 battery suppliers. Since the Note7 incident, Samsung has introduced more comprehensive battery safety checks, and later Samsung devices have not had battery problems.
Apple is once again offering the iPhone SE
on its clearance site
, making the now-discontinued device available for $249 to $299.
You
can purchase
the 32GB iPhone SE in Gold, Space Gray, Silver, or Rose Gold for $249, and the 128GB iPhone SE is also available for $299 in all colors.

The iPhone SE models Apple has available are discounted by $100 for 32GB of storage and $150 for 128GB of storage. The iPhones for sale are unlocked and brand new in box.
Apple originally
discontinued the iPhone SE
in September 2018 when the
iPhone XS
, XS Max, and XR were announced. Apple's iPhone lineup now starts with the
iPhone 7
and 7 Plus as its entry level devices.
The iPhone SE, first announced in March 2016, was the last 4-inch smartphone that Apple offered, with the 4.7-inch iPhone 7 and
iPhone 8
models now the smallest that Apple officially sells in retail stores.
Apple added
discounted iPhone SE models
to its clearance store on January 19, but available stock quickly sold out. Apple refreshed the store this afternoon to add additional supply, though what's in stock now could also potentially sell out quickly.
We don't know for sure why Apple is selling the iPhone SE again, but it's likely that Apple is clearing out remaining iPhone SE stock.
In 2018, there were rumors suggesting Apple was
working on an iPhone SE 2
, but in hindsight, some of the rumors were conflated with
iPhone XR
rumors and no second-generation 4-inch device materialized.
Apple analyst
Ming-Chi Kuo
, who often provides accurate insight into Apple's plans, said in early 2018 that an iPhone SE 2 was unlikely, and other analysts have also suggested Apple
no longer has plans
to produce a new 4-inch model.
Dell recently unveiled the first
49-inch ultrawide 5K monitor
with a 32:9 aspect ratio, the result of which is a wide, immersive display with an impressive resolution.
In our latest YouTube video, we were able to go hands-on with Dell's U4919DW display, putting it through its paces to see if it's worth the $1250 asking price.
Subscribe to the MacRumors YouTube channel for more videos.
The U4919DW might look impractical at first glance, but it's essentially designed for people who like to use two 27-inch monitors side by side. It's a dual QHD display with a total resolution of 5120 x 1440 pixels and a curve that makes it a bit easier to see everything at once.
There are, of course, other ultrawide monitors with this same aspect ratio on the market, but Dell is the first company to introduce a higher resolution.
Design wise, the U4919DW looks similar to other Dell monitors, just on a larger scale. It's made from plastic, but with a clean, minimal look. Expect it to take up a ton of room on a desk, and on shallower tables, it's going to be tough to see everything at once without turning your head because the curvature is so slight.

The display is equipped with multiple ports, including two HDMI ports, one DisplayPort 1.4 port, five USB-A ports, and 2 USB-A upstream ports. There's also a USB-C cable that allows the display to be used with Macs that support USB-C.
If you're using it with a device like a
MacBook Pro
, the display can provide up to 90W of power for charging purposes, cutting down on the number of cables you need on your desk. There's just the one USB-C port, though, so you're out of luck if you have multiple USB-C accessories.
There's a built-in KVM feature that lets you connect a keyboard and a mouse, a handy feature for switching between multiple computers connected to the display. You can connect a PC and a Mac or two Macs at the same time.

Having 49 inches of display on your desk means you can see everything all at once, which is amazing for multitasking purposes. It's excellent for everything from writing to video editing. You're not going to want to use it for serious gaming, though, because it maxes out at 60Hz and doesn't support G-Sync or Freesync.
Dell's monitor is designed to be used in landscape mode, of course, but we couldn't end this video without testing macOS's ability to take advantage of a display in portrait mode. Portrait mode isn't intended for a monitor this massive, but it's fun seeing websites like
MacRumors
on a display that's 48 inches tall.

All in all, if you regularly use two standard sized monitors side by side, Dell's 49-inch U4919DW display is a useful but pricey replacement. Portrait mode probably isn't the best use for it, but with the proper mounting, it's possible. Originally priced at $1,700, the display is
now available
from Dell for $1,250.
Apple today uploaded several new videos to its YouTube channel, each one designed to show off the
Apple Pay
Cash feature available on iOS devices.
Each 15 second video demonstrates the process of requesting and spending money using Apple Pay Cash in the Messages app, and then using the Apple Pay Cash card in Wallet to make purchases.
This isn't the first time that Apple has highlighted Apple Pay Cash, which was first introduced in iOS 11.2. The feature lets iPhone and
iPad
users send peer-to-peer Apple Pay payments to one another using the Messages app.
Money received via Apple Pay Cash can be used for Apple Pay payments or deposited in a bank account, similar to other mobile peer-to-peer payment services like Venmo.
Apple Pay Cash is limited to the United States at this time, but the feature has been popping up for users in countries like Canada and Australia, suggesting Apple is working on expanding it.
Target yesterday
announced
that all of its stores
will begin accepting Apple Pay in the coming weeks
, but it still won't be possible to add its store-branded
REDcard
debit or credit cards to the Apple Wallet app. REDcard is Target's loyalty program, offering an automatic five percent off most purchases everyday.

"REDcards cannot be added to
Apple Pay
as part of this rollout," a Target spokesperson confirmed with MacRumors today.
This means paying with a REDcard will still require inserting the physical card into the payment terminal or adding it to
Target's mobile app
and
having the cashier scan a barcode at the checkout
. The latter method requires opening the Target app and tapping on the Wallet tab to access the barcode.

Both options are less convenient than Apple Pay, which requires a quick double-click of the side button and authentication with Face ID on the iPhone X and newer, or briefly resting your finger on
Touch ID
on older iPhones.
Target already suggested that REDcards would not support Apple Pay
on Twitter
, but its "at this time" phrasing wasn't entirely clear.
Of course, Target could decide to allow REDcards to be added to the Apple Wallet app in the future. The retailer had
avoided accepting Apple Pay entirely for several years
until reversing course with this week's announcement, so it might be only a matter of time before it changes its mind again.
Apple spent $6.6 million on lobbying the U.S. government in 2018, after spending a record $7.1 million in 2017, according to disclosure forms (
Q1
,
Q2
,
Q3
,
Q4
) filed with the Office of the Clerk of the U.S. House of Representatives.

Apple's lobbying expenses have increased significantly since the Trump administration assumed office two years ago, with the iPhone maker spending more than ever before to influence the current government on issues such as privacy, education, climate change, trade, immigration, tax reform, and patent reform.
The largest amount Apple ever spent on lobbying Obama's administration in a single year was
$4.6 million in 2016
, his last year in office.
Apple also lobbied the government on the development of autonomous vehicle technologies, regulation of mobile medical applications, and distribution of video programming, hinting at some of the company's upcoming products and services, such as its widely expected
streaming TV service
later this year.
Apple CEO
Tim Cook
has maintained a civil relationship with Trump, but he has disagreed with some of the President's policies and actions as it relates to
immigration
,
trade agreements with China
, and beyond.
Note: Due to the political nature of the discussion regarding this topic, the discussion thread is located in our
Politics, Religion, Social Issues
forum. All forum members and site visitors are welcome to read and follow the thread, but posting is limited to forum members with at least 100 posts.
DigiTimes
reports today that Apple will release next-generation
AirPods
that include "health monitoring features" in the first half of 2019.

In terms of wireless headsets, Apple is set to release AirPods 2 sometime in the first half of 2019, and the new wireless earbuds with discrete designs to carry health monitoring functions are expected to receive enthusiastic market responses.
The mention appears in an article focusing on how wearables are expected to drive market growth of rigid-flex printed circuit boards (PCBs) in 2019, but the report cites no sources for the AirPods rumor, and only mentions that Tiawan-based PCB makers Zhen Ding Tech and Flexium Interconnect supply components for
Apple Watch
and AirPods "at the moment."
DigiTimes' sources often provide reliable information, but the site has a mixed track record when it comes to interpreting that information and accurately deciphering Apple's plans. The news site receives a flood of data from the Asian supply chain, some of which it claims pertains to prototypes or test products that never make it to market or change significantly before launch, skewing its accuracy.
With that in mind, and without corroborating sources,
DigiTimes
could be referring to a prediction from well-connected Apple analyst
Ming-Chi Kuo
that new AirPods with a wireless charging case would debut late in the fourth quarter of 2018 or early in the first quarter of 2019. Kuo later clarified that report to say that he expects new wireless AirPods in early 2019.
Listings for New AirPods were added to the Bluetooth Special Interest Group's regulatory database in November, suggesting a refreshed version of the accessory could well be coming soon. No new features are listed, but upcoming AirPods in the database do support the Bluetooth 5.0 specification, compared to Bluetooth 4.0 in the prior-generation AirPods.
Apple is also said working on third-generation AirPods that are set to be released in 2020 with a new design and perhaps improved water resistance that will allow the AirPods to hold up to "splashes of water and rain."
The AirPods aren't likely to be entirely water resistant, however, and won't be able to be submerged in liquid. These third-generation AirPods are also rumored to include noise cancellation features and increase the distance that AirPods can be listened to away from an iPhone or
iPad
.
Amidst increasing hype about foldable displays, Xiaomi has revealed that it is also working on its own flexible phone.
The Chinese mobile maker broke the news with a teaser video posted on
Weibo
that shows Xiaomi president and co-founder Lin Bin using what at first looks like a normal tablet device, until he folds back both sides of the display so that it resembles a distinctly phone-like form factor.
The physical power button is side-mounted on the device when in landscape orientation, which places it in a top-center location when in phone mode. In a neat touch, the size and orientation of the user interface also automatically adjusts in order to conform to the new dimensions of the display.
In a message accompanying the post, Bin wrote that the device is the result of the company overcoming technical challenges relating to folding displays, foldable hinges, flexible covers, and UI adaptation.
Bin admitted that what he hopes will become "the world's first dual-folding phone" is still just a prototype at this stage, but said that the company will consider mass producing it if the response from consumers is positive. Bin floated two possible names for the phone – the Mi Dual Flex and the Mi MIX Flex – although he said Xiaomi is open to suggestions from the public.
Last year, Samsung showed off its new
Infinity Flex display technology
in a device that features a 7.3-inch flexible display that can be folded in half. The company said it had developed an advanced composite polymer that's "flexible and tough" to replace the glass that's usually used as a display cover in smartphones.
Samsung is expected to formally announce its first commercially available foldable phone during its Galaxy S10 event on February 20 in San Francisco, California.
Rumors that Apple is developing an iPhone with a foldable display stretch back to December 2016, when it was reported that LG's display division would begin
mass-producing foldable displays
for smartphones as early as 2018. Apple was said to have chosen to work with LG Display and not Samsung out of fears that Samsung could get ahold of the sensitive tech.
LG is said to have created a
dedicated task force
to start developing a foldable OLED display for a future iPhone, while its siser company LG Innotek has a team developing a rigid flexible printed circuit board or (RFPCB) to go along with it.
LG has shown off several foldable display prototypes over recent years, including one that folds over like a book and a second that rolls up much like a newspaper.
Apple CEO
Tim Cook
is at the World Economic Forum in Davos, Switzerland this week, meeting with world leaders, mingling with other CEOs of major companies, attending dinners, and doing interviews.

According to reports on Twitter, Cook
met with
Armenian Prime Minister Nikol Pashinyan and
attended a dinner
with Brazilian president Jair Bolsonaro, Microsoft CEO Satya Nadella, New Zealand Prime Minister Jacinda Ardern, and more.

Vuelve Brasil 🇧🇷🚀

Bolsonaro cenando en Davos con
Tim Cook, CEO de Apple
Satya Nadella, director ejecutivo de Microsoft
Klaus Schwab Presidente del Foro Económico Mundial
Famlia real de Bélgica
Presidente de Suiza
Primera ministro de Nueva Zelanda pic.twitter.com/zfBrtiJU1v

— Vení Gil💎 (@rulosk_el) January 22, 2019
Cook also sat down for an education-focused interview with German site
Bild
, and while the original interview appears to be unavailable,
Apple Must
shared some details on what was discussed.
Cook's interview came on the day that Apple
announced the translation
of its Everyone Can Create curriculum to German, French, Spanish, and Italian on Apple Books, expanding its availability to additional countries.
According to Cook, Apple believes that "creativity is something everybody is born with," and "education is a great equalizer."
"People are not born with the same resources but many are born with incredible opportunities to learn and to move up and do incredible things in live." [..]

"I was born in a very rural lower middle class environment. I loved it and it's great for me but the thing that enabled me to do other things and to be at Apple today is education."
Cook says Apple's education-focused content like Everyone Can Code and Everyone Can Create is "for the people." "If it has an indirect effect on our business, that's fine," he said. "But frankly, this is from the heart."
Apple, Cook said, has created 1.5 million jobs across Europe with its iOS app economy, with the number of available app-related jobs growing each year. Cook believes that Apple's apps offer an "outstanding" educational opportunity, offering tools that can help kids learn faster when paired with great teachers.
Additional details about Cook's trip to Switzerland may come out over the course of the rest of the week, but thus far, it's not clear what else the CEO has done while in the country. The World Economic Forum lasts through Friday, January 25.
Note: Due to the political nature of the discussion regarding this topic, the discussion thread is located in our
Politics, Religion, Social Issues
forum. All forum members and site visitors are welcome to read and follow the thread, but posting is limited to forum members with at least 100 posts.
The U.S. Patent and Trademark Office earlier this month approved for publication a
trademark application from Apple
for the term "
iPod touch
" that would extend protection to cover
"Hand-held units for playing electronic games; Handheld game consoles"
under International Class 28 (games, toys, and sporting goods).
Apple has held a trademark for the iPod touch name
since 2008
under International Class 9 (audiovisual and information technology equipment) with the following description:
Portable and handheld digital electronic devices for recording, organizing, transmitting, manipulating, and reviewing text, data, audio and video files; computer software for use in organizing, transmitting, manipulating, and reviewing text, data, audio and video files on portable and handheld digital electronic devices.

As part of its justification for the new trademark application under gaming consoles, Apple submitted a screenshot of its
iPod touch overview page
scrolled to the "Gaming" section, with red arrows calling out the product name and the "Buy" button.
The iPod touch has of course been a handheld gaming console since its launch over a decade ago, so it's unclear why Apple has waited until now to extend its trademark coverage to include the area. It could be a purely defensive move to protect against competitors or other challenges, but given
rumors last week
of Apple working on a seventh-generation iPod touch some three and half years after the last update, there's naturally some speculation that there could be more to this.
We haven't heard any specific rumors about what to expect in a seventh-generation iPod touch, but we expect Apple to keep spec upgrades fairly minimal in order to maintain a low price point to appeal to customers who can't or don't want to step up to an iPhone.
Apple's new application will be published for opposition on February 19, and unless viable third-party opposition to Apple's claim appears, the company will be granted the trademark later this year.