Apple Music can now be streamed on Amazon Echo speakers via Alexa in the United States, a few days
ahead of schedule
.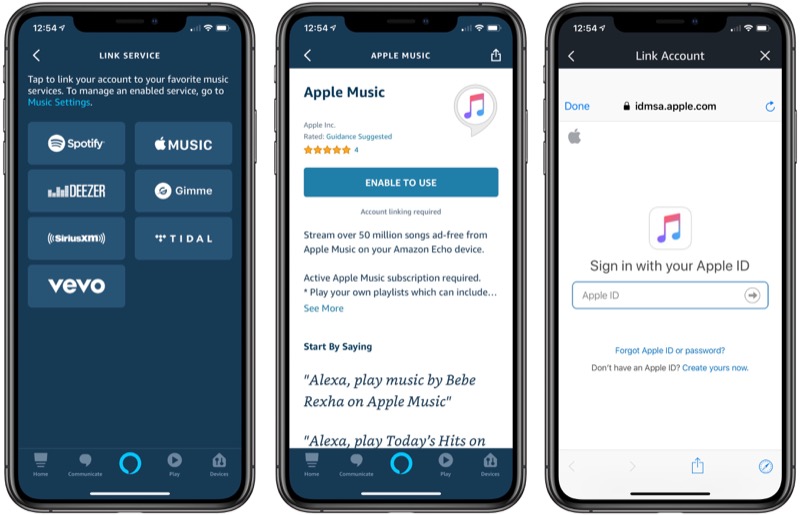 As spotted by
9to5Mac
, it is now possible to link Apple Music with your Amazon account in the
Alexa app for iPhone
and use Alexa voice commands to control playback of songs, playlists, and Beats 1 on Apple Music on Amazon Echo speakers.
To access this feature, simply use a voice command such as "Alexa, play music by Ed Sheeran on Apple Music" or "Alexa, play today's hits on Apple Music." Apple Music can also be set as the default music service in the Alexa app, so that "Apple Music" does not need to be specified each time.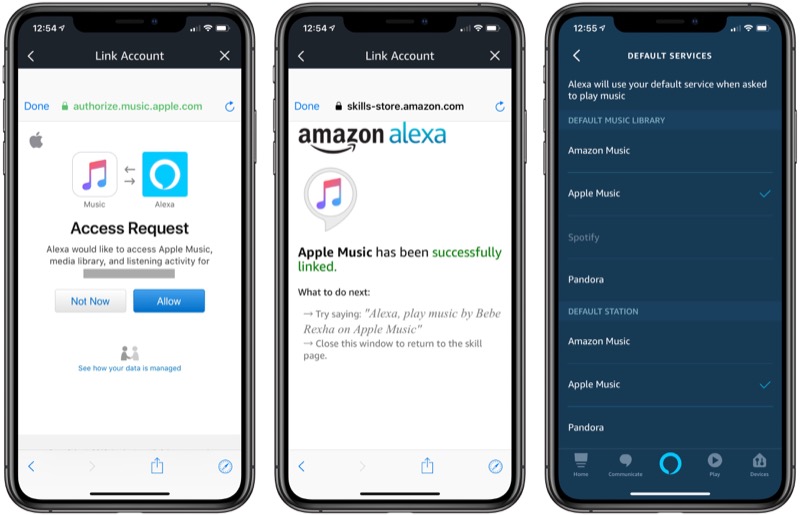 Other streaming music services supported on Echo speakers include Spotify, Deezer, Vevo, SiriusXM, Tidal, and Pandora.
Apple and Amazon
announced this new partnership in late November
, with Amazon saying it is "committed to offering great music providers to our customers," and referring to Apple Music as "one of the most popular music services."
Apple Music playback on Amazon Echo speakers is currently limited to the United States.
In one of the bigger deals for Apple's upcoming streaming TV service,
Variety
reports today that the Cupertino company has made a deal with DHX Media to produce all-new "Peanuts" content that will be exclusive to Apple.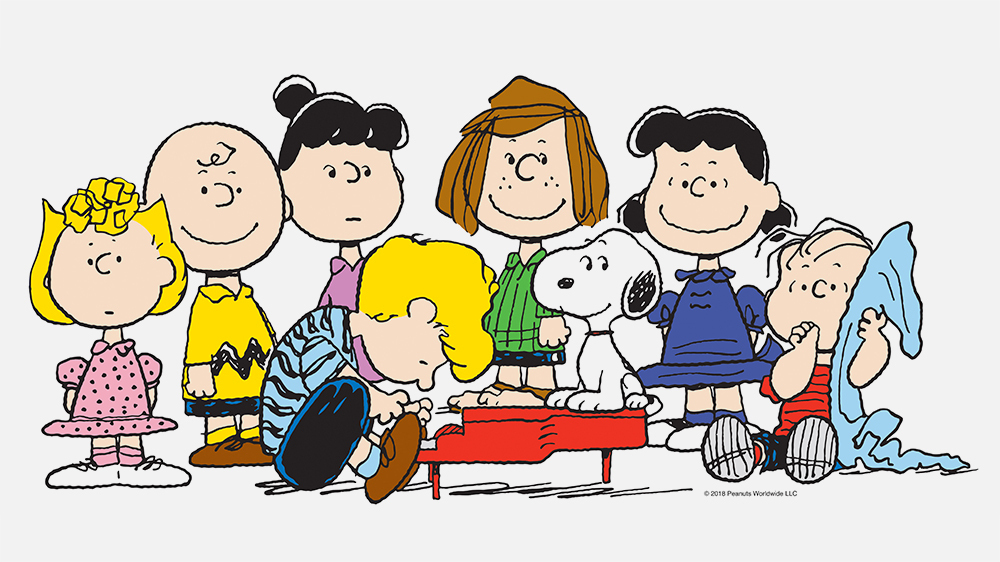 Image via Variety/Peanuts Worldwide LLC
Under the deal, DHX and its subsidiary Peanuts Worldwide will develop and produce the original series, specials, and shorts, while Apple will release it on its streaming service. One such project will be a Peanuts short featuring astronaut Snoopy that will be themed around STEM education, which Apple has long supported.
It's unclear what else will be coming to Apple's service from the Peanuts characters, and the report makes no mention of Apple gaining the rights to existing Peanuts content. The franchise dates back to 1950, when Charles M. Schulz created the Peanuts comic strip, which has now grown into a larger media franchise of TV specials, feature films, short films, merchandise, and more.
News of content acquired by Apple for its streaming service has been increasing lately, and in the past few weeks we've heard about
new cast members for shows from M. Night Shyamalan
,
a new series starring Jennifer Garner
, and
Apple's interest in a violent drama show starring Richard Gere
. Previous rumors suggested Apple's TV service would launch around March 2019, but now
Variety
reports that the debut will be sometime in the second half of 2019.
SplashData published its
annual list of the worst passwords of the year
this week, sourced from more than five million passwords leaked on the internet this year. Like previous years, 2018 saw numerous high-profile data leaks, but many people have continued to use easily guessable passwords for their online accounts.

The new password autofill feature in iOS 12
For the fifth consecutive year, "123456" and "password" are the
top two most popular passwords online
. New entries on the list include "111111", "sunshine", "princess", "666666", "654321", and "donald" at number 23. SplashData CEO Morgan Slain discussed the list: "Hackers have great success using celebrity names, terms from pop culture and sports, and simple keyboard patterns to break into accounts online because they know so many people are using those easy-to-remember combinations."
The top 10 most popular passwords of 2018:
1) 123456
2) password
3) 123456789
4) 12345678
5) 12345
6) 111111
7) 1234567
8) sunshine
9) qwerty
10) iloveyou
Higher up the list, popular passwords include people's names like "daniel", "hannah", and "thomas"; pop culture references like "solo", "tigger", and "lakers"; random items like "cookie" and "banana"; birth years like "1990" and "1991"; and simple phrases like "whatever" and "test". As Slain explained, using super-simple phrases like these for any account online is a bad idea because it's so easy to guess what they are.
"Our hope by publishing this list each year is to convince people to take steps to protect themselves online," says Slain. "It's a real head-scratcher that with all the risks known, and with so many highly publicized hacks such as Marriott and the National Republican Congressional Committee, that people continue putting themselves at such risk year-after-year."
In total, SplashData estimated that almost 10 percent of people have used at least one of the top 25 worst passwords on this year's list, and nearly 3 percent of people have used the worst password at one time, "123456". Most of the five million passwords that were leaked and evaluated for the report came from users in North America and Western Europe.
To help users stay safe, SplashData said that their passwords should be no shorter than twelve characters and have mixed types of characters in each one. Every log-in should have a different password, and investing in a password management app to store everything, generate random new passwords, and automatically log into websites is always a good idea.
Apple itself introduced a new
password autofill feature
in iOS 12 this year, making it easy to connect to third-party password apps and fill out your passwords throughout iOS. If you haven't tried it out yet, check out our
guide on using the feature
to find out how it works.
iPhone XR demand has been lower than expected, according to Apple analyst Ming-Chi Kuo, who has slashed his overall iPhone shipment forecast by 20 percent for the first quarter of 2019. He now expects Apple to move 38-42 million iPhones in the quarter, down from his original estimate of 47-52 million.

Kuo, in a research note with TF International Securities, obtained by MacRumors:
We have reduced our 1Q19 iPhone shipment estimation by 20% to 38–42mn units (vs. our previous forecast of 47–52mn): We cut the 1Q19 iPhone shipment estimation again for the following reasons. (1) Lower-than-expected XR demand. We have reduced our 1Q19 XR shipment estimation to 15–20mn units vs. our previous forecast of 20–25mn units. (2) The increase in orders of legacy iPhone models cannot offset the decline of XR and XS series shipments because of the low season impact.
Apple reported sales of
52.2 million iPhones in the first quarter of 2018
, which corresponds with the second quarter of Apple's fiscal year, so as few as 38 million units in the first quarter of 2019 would be a significant year-over-year decline.
For the iPhone XR in particular, Kuo has revised his shipment estimate to 15-20 million for the first quarter, down from 20-25 million.
Kuo estimates annual iPhone shipments will fall between 205 million and 210 million in 2018, and based on that, forecasts that annual iPhone shipments in 2019 will decline up to 10 percent to a range of 188 million to 194 million. This would fall below Wall Street's consensus estimate of around 212 million units in 2019.
While this news paints a pessimistic outlook for the iPhone, declining unit sales will likely be at least partially offset by the rising average selling price of iPhones. Apple's latest iPhone lineup is its most expensive yet, with the $349 iPhone SE discontinued and the
iPhone XS Max topping out at $1,449 with 512GB of storage
.
Kuo:
We believe that the iPhone ASP could at least keep growing YoY until 3Q19, and it will offset the YoY shipment decline. However, most suppliers will face growth challenges due to iPhone shipment decline. We believe that specific suppliers can grow, thanks to the component price increase or the ability to obtain new orders, but the visibility of the beneficiary list will not be clear until 1Q19 because some spec and order allocations of 2H19 new iPhone models are not confirmed yet.
Apple will
no longer be disclosing unit sales
in its quarterly earnings reports going forward, so investors will have to look towards iPhone revenue to determine how well the handset is selling. If unit sales are particularly bad, then a rising average selling price might not be enough to hide the weakness.
Apple has been aggressively marketing its latest iPhones. On its website, for example, the iPhone XR and iPhone XS take up the entire homepage with advertised starting prices of $449 and $699 respectively. However, each have an asterisk that leads to fine print that says pricing is based on an iPhone 7 Plus trade-in.

Apple's earnings results for the first quarter of 2019 will likely be released in May, so we're still some time away from real numbers.
In a court filing related to the ongoing dispute with Qualcomm that has resulted in a
partial ban on iPhone sales in China
, Apple this week warned that upholding the ban would cause "truly irreparable harm" to Apple, other companies, and consumers if Apple is forced to withdraw its devices from the market,
according to Bloomberg
.

The ban would cost Apple millions of dollars a day and affect both the Chinese government and consumers, the company added, noting it has created 5 million jobs in China across the supply chain and third-party software developers.

The Chinese government "may suffer hundreds of thousands of tax losses" from the iPhone ban because of lost taxes from sales of the devices, the company also said, citing estimates of 50 million units sold in the country in 2017. [...]

"Apple and many other companies, consumers, and government will suffer truly irreparable harm," the company said in the filing.
As a result, Apple says the ban would force Apple to settle with Qualcomm, a move that would lead the entire mobile phone industry to "relapse into the previous unreasonable charging mode and pay high licensing fees."
Apple and Qualcomm have been locked in a patent battle over chip-related license fees, but the current issue instead stems from separate patents that cover allowing users to "adjust and reformat the size and appearance of photos" and "managing applications using a touch screen when viewing and navigating apps."
Qualcomm earlier this week won an import ban on iPhone 6s through iPhone X models, although Apple has argued the ban does not apply to devices running iOS 12, so it has continued sales for the time being. In an effort to expand its victory, Qualcomm is now
seeking to include Apple's latest iPhone XS and iPhone XR devices
in the ban.
Update 8:30 PM
: Apple says it will push a software update to iPhone users in China early next week that the company says should address the patent-related issues,
according to Reuters
.
"Based on the iPhone models we offer today in China, we believe we are in compliance," Apple said.

"Early next week we will deliver a software update for iPhone users in China addressing the minor functionality of the two patents at issue in the case."
Note: Due to the political nature of the discussion regarding this topic, the discussion thread is located in our
Politics, Religion, Social Issues
forum. All forum members and site visitors are welcome to read and follow the thread, but posting is limited to forum members with at least 100 posts.
Apple today
announced
that its Apple Music Connect social platform for artists is in the process of shutting down, suffering the
same fate as Ping
, the company's previous social network for music removed from iTunes in October 2012.

In a letter shared with artists via
9to5Mac
, Apple said artists will no longer be able to post to Connect as of today, with the feature now removed from artist pages and the "For You" tab in Apple Music. Apple says all previously uploaded Connect content will remain searchable in Apple Music until May 24, 2019:
We've made a few changes to Apple Music that we'd like to tell you about.

We're always looking for ways to enhance our focus on artists and help them better connect to fans. So we've given Artist Pages an all-new design and added new, personalized Artist Radio.

Today we're streamlining music discovery by removing Connect posts from Artist Pages and For You. This means you'll no longer be able to post to Connect as of December 13, 2018, but all previously uploaded content will still be searchable until May 24, 2019. You can still create Artist Playlists with the latest version of Apple Music.

We're also excited about the latest beta of Apple Music for Artists, which gives you everything you need to understand your music's impact across Apple Music, as well as valuable audience insights. You can even upload your own photo to use on your Artist Page. Sign up for free today.

Thank you for helping us make Apple Music a vibrant community for artists and fans.
Connect had its own tab in Apple Music when the app first launched in 2015, but its presence was later reduced to a section in the "For You" tab.
Apple has reportedly given a straight-to-series order for a show starring Jennifer Garner and executive produced by J.J. Abrams.

Image Credit: Jordan Strauss/Shutterstock via Variety
"My Glory Was I Had Such Friends," based on the 2017 memoir of the same name by Amy Silverstein, will follow a group of women who supported Silverstein as she waited for a second life-saving heart transplant, according to
Variety
.
The series reunites Garner and Abrams, who worked together on the ABC show "Alias" between 2001 and 2006. Garner starred in the drama series, which was created by Abrams and produced by his company Bad Robot Productions and what was then called Touchstone Television, now known as ABC Studios under Disney.
Bad Robot Productions will also produce this series in association with Warner Bros. Television, as part of a deal between the companies.
Garner most recently starred in the HBO series "Camping," and she also starred in the 2017 film "The Tribes of Palos Verdes," according to the report. She is also known for her work in films like "Dallas Buyers Club," "13 Going on 30," and "Juno."
Abrams and Bad Robot have previously produced shows like "Lost," "Fringe," "Person of Interest," and the ongoing HBO series "Westworld." Abrams is also known for films like "Super 8," "Star Wars: The Force Awakens," and the "Star Trek," "Mission: Impossible," and "Cloverfield" franchises, the report adds.
"My Glory Was I Had Such Friends" will be one of
well over a dozen original TV series and movies
expected to be distributed through Apple's rumored streaming video service, which will reportedly launch in
more than 100 countries in 2019
. Abrams is also
set to produce the series "Little Voices"
for Apple.
While it is a common belief that iPhones have become thinner and thinner over the years, when Apple could be keeping them the same size and including larger and longer-lasting batteries, the opposite is true in reality.

As mentioned on Reddit, iPhones have
gradually become thicker since 2014
, capped off by the iPhone XR, the thickest model since the iPhone 4s in 2011:
iPhone 6 and iPhone 6 Plus: 6.9mm and 7.1mm
iPhone 6s and iPhone 6s Plus: 7.1mm and 7.3mm
iPhone 7 and iPhone 7 Plus: 7.1mm and 7.3mm
iPhone 8 and iPhone 8 Plus: 7.3mm and 7.5mm
iPhone X: 7.7mm
iPhone XS and iPhone XS Max: 7.7mm
iPhone XR: 8.3mm
The trend may come to an end next year, however, as Korean website
ETNews
[
Translated
] reports that 2019 iPhones could be thinner and lighter due to Apple adopting Samsung-designed OLED display tech called Y-OCTA, which integrates the typically-separate touch-screen layer into the display panel itself.
There's a good chance the reduction in thickness could be negligible, however, as the display panel is already a very thin component. The bigger advantage for Apple may be reduced costs, as the report claims that the Y-OCTA displays are less expensive to manufacture, lowering the iPhone's bill of materials.
Last week, tech analyst Anne Lee of Japanese research firm Nomura said 2019 iPhones will "
likely have the same form factors
" as the iPhone XS, iPhone XS Max, and iPhone XR, including body size and displays. Apple analyst Ming-Chi Kuo expects iPhone screen sizes to
remain 5.8-inches, 6.1-inches, and 6.5-inches
in 2019.
Beyond that, rumors suggest at least one 2019 iPhone will have a
triple-lens rear-facing camera
, while all three new models are expected to feature
enhanced Face ID
. And in June, the notorious
DigiTimes
made the bold prediction that
2019 iPhones will feature USB-C
like the 2018 iPad Pro.
Apple still doesn't offer a full online web player for Apple Music, but this week software engineer
Naveed Golafshani
shared a
new project on Reddit
, allowing Apple Music subscribers to get access to their full library and other Apple Music features on the web. The web player can be found at
playapplemusic.com
, and to see your Apple Music library you can click "log in" in the bottom left corner of the screen.

The player then provides an Apple authentication pop-up, where you'll have to log into your Apple ID and let the web player access Apple Music, media library, and listening activity for your account. Afterwards, you'll be able to see normal Apple Music tabs like Search, Browse, For You, and Library. In Library, you can access your Recently Added items, Artists, Albums, Songs, and Playlists.

To play a song, simply click on it and the player will update at the bottom with an image of the album, playback controls, and track scrubber. At the bottom right corner are settings for the bitrate, up next, and volume. If you hover over a song, you can also click on the ellipsis icon to select it to play next or play later in your up next queue. On macOS and Safari, keyboard controls for play/pause will also directly control the web player.

There are a few limitations to the web player, like not being able to specifically customize the order of up next, the Browse tab is pared down, and Radio options don't exist, but otherwise the site is a solid and well-built realization of Apple Music. Additionally, the web player will load with an optimized layout for mobile web.
Apple was believed to be potentially
working on an Apple Music web player
over the summer, but as of yet nothing has come to fruition from the company.
Qualcomm plans to file for an injunction on the iPhone XS, iPhone XS Max, and iPhone XR in China, which would theoretically prevent the sale of those devices in the country, a lawyer for the company told the
Financial Times
today.

Earlier this week, a Chinese court granted an
injunction on older iPhone 6s through iPhone X models in China
after it ruled that those devices violated two Qualcomm patents, and the chipmaker now plans to assert those same patents against the latest iPhones amid an escalating legal battle with Apple.
The first Qualcomm patent reportedly enables users to "adjust and reformat the size and appearance of photos," while the second is said to relate to "managing applications using a touch screen when viewing and navigating apps."
In a statement issued following the ruling earlier this week, Apple said all iPhone models remain available for customers in China:
Qualcomm's effort to ban our products is another desperate move by a company whose illegal practices are under investigation by regulators around the world. All iPhone models remain available for our customers in China. Qualcomm is asserting three patents they had never raised before, including one which has already been invalidated. We will pursue all our legal options through the courts.
Apple has continued to sell the affected iPhone models in China because it believes the patent infringement ruling does not apply to iOS 12, leading Qualcomm to call on the Fuzhou Intermediate People's Court to
enforce the injunction
.
Reports suggest that Qualcomm's latest efforts are an attempt to pressure Apple into
settling a long-standing dispute
between the two companies, primarily over chip-related licensing fees. Reports also suggest that the iPhone injunction
could be politically motivated
due to the ongoing US-China trade war.
Note: Due to the political nature of the discussion regarding this topic, the discussion thread is located in our
Politics, Religion, Social Issues
forum. All forum members and site visitors are welcome to read and follow the thread, but posting is limited to forum members with at least 100 posts.
Apple on Thursday
announced
it will invest $1 billion to build a new campus in Austin, Texas.
Located less than a mile from its existing facilities, the 133-acre campus will initially accommodate 5,000 additional employees, with the capacity to grow to 15,000, which would make Apple the largest private employer in Austin.

One of Apple's existing facilities in North Austin
"Apple is proud to bring new investment, jobs and opportunity to cities across the United States and to significantly deepen our quarter-century partnership with the city and people of Austin," said Tim Cook, Apple's CEO. "Talent, creativity and tomorrow's breakthrough ideas aren't limited by region or zip code, and, with this new expansion, we're redoubling our commitment to cultivating the high-tech sector and workforce nationwide."
In its press release, Apple said jobs created at the campus would include a wide range of functions, including engineering, R&D, operations, finance, sales, and customer support. At 6,200 people, Austin already represents the largest population of Apple employees outside Cupertino.

"Apple is among the world's most innovative companies and an avid creator of jobs in Texas and across the country," said Texas Governor Greg Abbott. "Their decision to expand operations in our state is a testament to the high-quality workforce and unmatched economic environment that Texas offers. I thank Apple for this tremendous investment in Texas, and I look forward to building upon our strong partnership to create an even brighter future for the Lone Star State."
In addition to the new campus, Apple announced plans for a general expansion of operations over the next three years in cities across the United States, including Pittsburgh, New York, and Boulder. Apple also said it will establish new sites in Seattle, San Diego, and Culver City.
The announcement caps a year of continued job creation for Apple. The company added 6,000 jobs to its American workforce in 2018 and now employs 90,000 people in all 50 states. In January, Apple said it was on track to create 20,000 jobs in the U.S. by 2023.
Apple said it also plans to invest $10 billion in U.S. data centers over the next five years, including $4.5 billion this year and next.
Costco today began
selling the latest MacBook, MacBook Air, MacBook Pro, and iMac models
on its website in the United States. Some of the configurations are bundled with AppleCare+ for Mac coverage.

Costco's member-only prices are between $50 and $200 lower than Apple's prices for select Macs. The base model 2018 MacBook Air with a 1.6GHz processor, 8GB of RAM, and 128GB of storage starts at $999 at Costco, for example, compared to $1,199 on Apple.com. There is a limit of two per customer.

MacBook Air
The wholesale retailer is accepting pre-orders now, with shipments expected to begin the week of December 17. In-store pickup appears to be an option, but it's unclear if Costco warehouses will be selling Macs to walk-in customers.
An annual Costco membership starts at $60 in the United States.