Following in the footsteps of the latest iPhone and iPad Pro models, the new MacBook Pro features True Tone technology.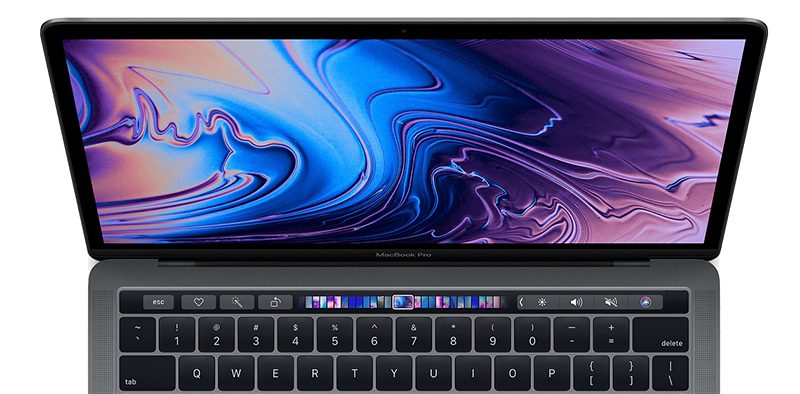 True Tone automatically adjusts the white balance of the MacBook Pro display to match the color temperature of the light around you, which, as Apple says, provides a more natural viewing experience. The feature is similar to Night Shift, but more dynamic, continuously adapting to the surrounding environment.
If you are standing in a dimly lit room with incandescent light bulbs, for example, the display would appear warmer and yellower. If you are standing outside on a cloudy day, the display would appear cooler and bluer.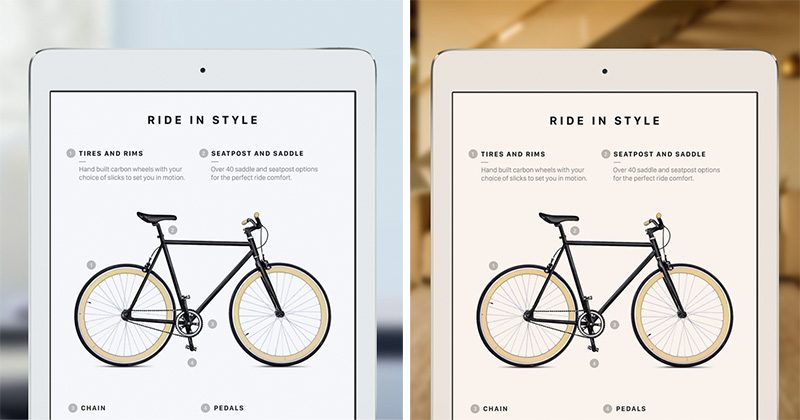 True Tone on iPad Pro
We've received many questions about how True Tone is enabled on the new MacBook Pro, and we've sought out some answers from Apple.
Apple says the new MacBook Pro has a multi-channel ambient light sensor, next to the FaceTime HD camera, that can assess brightness as well as color temperature, adding that the display should be open to enable that functionality. Apple added that True Tone does not use the FaceTime HD camera for its operation.
Apple says the ambient light sensor in previous-generation MacBook Pro models can only assess brightness, suggesting that True Tone is likely not a feature that will be enabled on older machines through a future software update.
The information also suggests that True Tone will only
work on the LG UltraFine 4K, LG UltraFine 5K, and Thunderbolt Display
when the display on a connected MacBook Pro is open, rather than in
closed-display aka clamshell mode
. Apple did not directly confirm this, though, so we'll be testing to see.
True Tone can help reduce eye strain, so it's a feature worth considering if you purchase the new MacBook Pro. It can be enabled or disabled in System Preferences under Displays, alongside options for Night Shift and auto-brightness.
True Tone can
also be enabled
on the iPhone 8, iPhone 8 Plus, iPhone X, 9.7-inch and 10.5-inch iPad Pro, and the 2017 model 12.9-inch iPad Pro.
Eric Slivka contributed to this report.
A few months ago, in an internal document obtained by MacRumors, Apple indicated the Mid 2012 model 15-inch MacBook Pro with Retina display would be
classified as vintage or obsolete as of June 30, 2018
, marking the notebook's end of hardware service eligibility at Apple Stores and Apple Authorized Service Providers.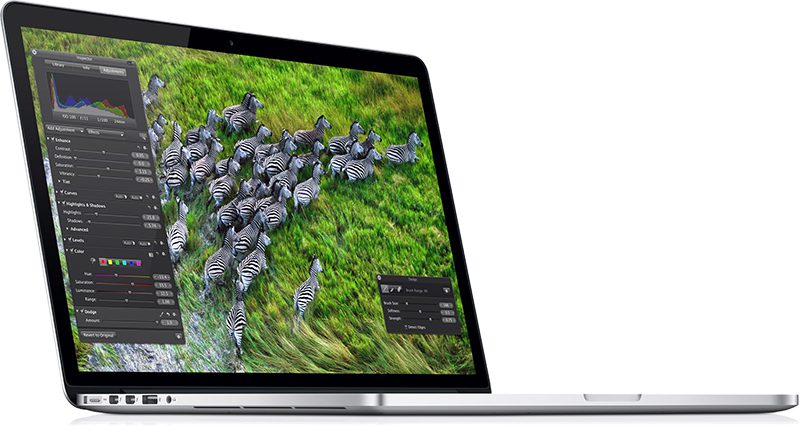 In a notice distributed to Apple Stores and Apple Authorized Service Providers this week, however, Apple says it "incorrectly classified" the notebook as vintage or obsolete on June 30, and revised the date to December 31, 2018.
The full-length internal document, obtained from multiple sources:
In a Service News article published in May 2018, the MacBook Pro (Retina, 15-inch, Mid 2012) was incorrectly classified as vintage in the state of California (U.S.) and country of Turkey and obsolete worldwide (except for California and Turkey) on June 30, 2018.

Please note that the MacBook Pro (Retina, 15-inch, Mid 2012) will not become vintage in California (U.S.) and Turkey and obsolete in all other countries until the end of December 2018.

Apple apologizes for any inconvenience this may have caused.
Apple has yet to remove the notebook from its public-facing
vintage and obsolete products list
, as shown below.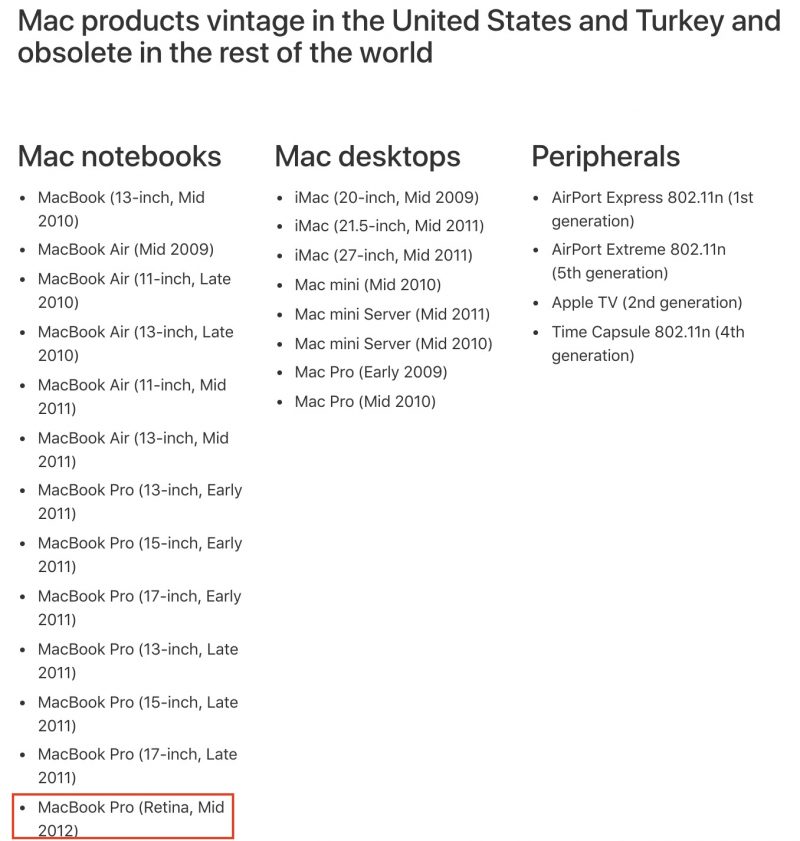 Apple considers a product to be vintage or obsolete, depending on the region, when at least five years have passed since the product was last manufactured. When this happens, Apple and Apple Authorized Service Providers stop offering hardware service, like repairs, except in California and Turkey by law.
All in all, if you're still using this particular MacBook Pro, it turns out you still have a little under six months of hardware support remaining from the Genius Bar and certified repair shops. So, if you've been looking to get that battery replaced, or otherwise, it would be best to do so sooner rather than later.
Beyond that date, you're on your own. Fortunately, the repair experts at iFixit offer many
do-it-yourself guides
and replacement parts.
Samsung's back to a familiar advertising tactic in its latest Galaxy S9 video - making fun of Apple. The new "Ingenius: Speed" ad shared this afternoon by Samsung pokes fun at the Genius Bar while touting Samsung's faster download speeds.
In the video, a customer at the "Ingenius" bar that resembles an Apple Store asks about the iPhone X's download speeds compared to the Galaxy S9's speeds, leaving the Apple retail employee unable to respond.
Customer:
So the iPhone X doesn't have the fastest download speeds.
Genius:
It is faster than the iPhone 8.
Customer:
But the download speeds aren't faster than the Galaxy S9. I thought it was the "smartphone of the future."
Genius:
Um...
Samsung's new video, and its Galaxy S9 website, are touting its LTE performance scores on Ookla's Speedtest Intelligence Data from February to April 2018. Ookla, for those unfamiliar, uses real-world user-submitted speed test results and aggregates LTE speeds from a variety of devices.
In
Ookla's spring speed tests
, the Galaxy S9, which is equipped with Qualcomm's X20 LTE chip, was 37 percent faster than the iPhone X and 43 percent faster than the iPhone 8, on average.
The iPhone X is equipped with either Qualcomm's Snapdragon X16 or Intel's XMM7480 LTE chip, depending on model, which does indeed have lower theoretical maximum download speeds than the X20. While the Galaxy S9 and S9+ are faster than the current iPhones when it comes to download speeds, rumors suggest Apple is making improvements with its 2018 iPhone lineup.
Apple is planning to introduce
improved antenna technology
for faster connection speeds, along with
dual-SIM dual standby
functionality. Apple's new iPhones
may use
Intel's XMM 7560 and Qualcomm's X20 chips, both of which are faster than the LTE chips in the current iPhone X.
Apple's new 15-inch MacBook Pro can be upgraded to include a 6-core 2.9GHz Intel Core i9 processor that has
demonstrated impressive performance
, but one YouTuber is warning customers away from purchasing it with claims that the MacBook Pro chassis can't provide sufficient cooling for it to run at full speed.
Dave Lee this afternoon shared a new video on the Core i9 MacBook Pro he purchased, and according to his testing, the new machine is unable to maintain even its base clock speed after just a short time doing processor intensive work like video editing.
"This CPU is an unlocked, overclockable chip but all of that CPU potential is wasted inside this chassis -- or more so the thermal solution that's inside here," says Lee.
He goes on to share some Premiere Pro render times that suggest the new 2018 MacBook Pro with Core i9 chip underperforms compared to a 2017 model with a Core i7 chip. It took 39 minutes for the 2018 MacBook Pro to render a video that the older model was able to render in 35 minutes. Premiere Pro is not well-optimized for macOS, but the difference between the two MacBook Pro models is notable.
Lee ran the same test again with the 2018 MacBook Pro in the freezer, and in cooler temperatures, the i9 chip was able to offer outstanding performance, cutting that render time down to 27 minutes and beating out the 2017 MacBook Pro.
As Lee points out, thermal throttling is in no way unusual and it's seen in all manner of laptops and mobile devices from a range of manufacturers, but he says that "this degree" of thermal throttling is "unacceptable."
This kind of thermal throttling really affects the end user. It doesn't matter what you're using it for, like if you're a Final Cut user, or an Adobe Premiere user, or if you're using it for software development or calculations like fluid dynamics -- it doesn't matter what you're doing with your device. If you have any kind of extended computational work that uses the CPU -- that's probably why you're looking at these devices in the first place -- it's going to throttle. And that's unacceptable to me.
It's not clear if there's something wrong with the MacBook Pro with Core i9 chip that Lee received, because this kind of throttling is likely something Apple would have tested for and not something that other users have reported at this point.
Because this is just one data point, it's not enough information to reach a conclusion about the i9 chip available for the 15-inch MacBook Pro, but additional testing will certainly follow to shed more light on Lee's video.
Apple today seeded the third beta of an upcoming macOS Mojave update to its public beta testing group, a week and a half after
seeding the second macOS Mojave public beta
. Today's third public beta is the same as the fourth developer beta released yesterday, and makes macOS Mojave available for 2018 MacBook Pro models.
Beta testers who have signed up for Apple's beta testing program can download the macOS Mojave beta through the Software Update mechanism in the Mac App Store. Subsequent betas are installed in a different way, using the Software Update icon in System Preferences.
Those who want to be a part of Apple's beta testing program can sign up to participate through the
beta testing website
, which gives users access to iOS, macOS, and tvOS betas.
Potential beta testers should make a full Time Machine backup
before installing macOS Mojave
, and it should not be installed on a primary machine because betas are unstable and often have bugs.
macOS Mojave's main new feature is a systemwide Dark Mode, which gives Mac users a new way to view the operating system. A revamped Mac App Store makes it easier than ever to discover great apps, while Dynamic Desktops give you wallpapers that subtly change throughout the day.
An improved Finder window with Gallery View, Sidebar, Quick Look, and Quick Actions makes it easier to manipulate, edit, and organize your files, while Desktop Stacks organizes all of the files on your desktop.

The Apple News, Stocks, Home, and Voice Memos apps have made their way to the Mac in Mojave, and for the first time, you can use Siri on Mac to control HomeKit products. Group FaceTime, an iOS 12 feature, is also available in Mojave and lets you chat with up to 32 people at one time.
Apple is keeping your data safer than ever with new security and privacy improvements, and Safari in macOS Mojave makes it much harder to track you through share/like buttons and via your system configuration.
macOS Mojave is compatible with 2015 and newer MacBooks, 2012 and newer MacBook Air, MacBook Pro, Mac mini, and iMac models, the 2017 iMac Pro, and Mac Pro models from late 2013 and mid-2010 and mid-2012 models with Metal-capable GPUs.
Mojave will be available in a beta capacity for the next several months so Apple can work out bugs ahead of a fall release.
Apple's 12-inch MacBook lineup is expected to receive a refresh in 2018, and the new machines may use Intel's upcoming 8th-generation 14nm++ Y-Series Amber Lake chips.
Details on the new chips leaked recently from
Dell's Chilean site
and Romanian site
NextLab501
, as highlighted by
MacRumors
forum reader
EugW
.

Chips appropriate for the 12-inch MacBook include the 1.1GHz Core m3-8100Y, the 1.3GHz Core i5-8200Y, and the 1.5GHz Core i7-8500Y.
Core m3-8100Y
- 1.1 GHz - Base clock
- 2.7 GHz - 2-core Turbo
- 3.4 GHz - 1-core Turbo
Core i5-8200Y
- 1.3 GHz - Base clock
- 3.2 GHz - 2-core Turbo
- 3.9 GHz - 1-core Turbo
Core i7-8500Y
- 1.5 GHz - Base clock
- 3.6 GHz - 2-core Turbo
- 4.2 GHz - 1-core Turbo
Maximum clock speeds for the new Amber Lake chips suggest significant improvement in processor speeds over the 7th-generation Kaby Lake processors. For comparison's sake, Turbo Boost topped out at 3.0GHz on the 1.2GHz entry-level processor, 3.2GHz on the mid-level 1.3GHz processor, and 3.6GHz on the 1.4GHz high-end chip option in the previous-generation machines.
All of the chips use Intel's UHD 620 integrated graphics and are expected to be released in the third quarter of 2018, with the timing perfect for a fall refresh of the 12-inch MacBook.
Dell's upcoming and as-of-yet-unannounced
XPS 13 2-in-1 machine
confirms the existence of the Core i5-8200Y and Core i7-8500Y processors, both of which are listed as processor options for the new device.
Intel first announced its upcoming Amber Lake chips at Computex, but thus far has not provided official info on the upcoming processors.
Rumors have not indicated when updates to the 12-inch MacBook will be available, but Apple could introduce refreshed machines alongside new iPhones in September, hold an event in October, or release them on a random date as it did with the recent MacBook Pro.
The recent launch of the MacBook Pro also hints at one new feature we could potentially be seeing in new 12-inch MacBook models aside from processor upgrades -- a
third-generation butterfly keyboard
.
2015 and later 12-inch MacBook models have suffered from the same issues with keyboard failures, so it would make sense for Apple to include an updated keyboard in those machines as well, if, as speculated, the "quieter" third-generation MacBook Pro butterfly keyboard's
new silicone coverings
do indeed prevent dust from infiltrating the keys.
Apple today seeded the fourth beta of an upcoming iOS 12 update to developers for testing purposes, two weeks after
seeding the third beta
and more than a month after introducing the new software at the Worldwide Developers Conference.
Registered developers can download the new iOS 12 beta from Apple's Developer Center or over-the-air after installing the proper certificate.
iOS 12 introduces major updates to the iOS operating system, with Apple revamping the system from top to bottom to make iPhones and iPads, especially older models, faster and more responsive.
On the iPhone X, there are new Animoji characters along with "Memoji," which are customizable, personalized Animoji that can be used both in Messages and in FaceTime. Messages and FaceTime have also gained fun new camera effects, and Group FaceTime support allows for calls with up to 32 people.
Siri is smarter in iOS 12 with a new Shortcuts feature that lets you create custom automations using first and third-party apps that can be activated with Siri, with Shortcuts able to be created with the
beta version of the Shortcuts app
that was introduced earlier in July.
Apple also built a comprehensive set of time management and monitoring tools into iOS 12 with Screen Time, allowing you to keep track of just how much time you're spending on your iPhone and iPad. App limits can help you cut back on iOS device usage, and robust parental controls are included for families.

Updated Do Not Disturb options make turning off notifications and distractions easier than ever, and a new Do Not Disturb at Bedtime feature cuts down on nighttime interruptions.

Group Notifications make incoming notifications easier to view and manage, while a new Instant Tuning feature lets you tweak your notification settings right on the Lock screeen on a notification-by-notification basis.

Apple News has a new Browse feature, the Stocks app has been redesigned, iBooks has been overhauled with a new look and a new name - Apple Books - and Voice Memos has been revamped with iCloud support and an iPad app.
ARKit 2.0 introduces new capabilities like shared experiences that let two people see the same AR environment on separate devices, and persistence, which allows AR experiences to be saved across multiple sessions. There's also a new Measure app for measuring objects using AR capabilities.
iOS 12 includes a revamped and rebuilt Maps app that uses a new Apple-designed Maps engine that will display foliage, pools, buildings, pedestrian pathways, and other map elements more accurately. The new Maps also includes significant improvements to traffic, real-time road conditions, construction, and more, plus it will enable Apple to push out changes and fixes more quickly.

The revamped Maps app is available in the San Francisco Bay Area during the beta testing period, and when iOS 12 launches in the fall, it will expand to all of Northern California. From there, Apple will continue rolling it out to additional U.S. locations across late 2018 and 2019.
Tons of other small tweaks and features have been added to iOS 12, so make sure to
check out our dedicated roundup
for additional detail on what's new in iOS 12.
Early betas of new operating system updates always introduce tweaked features and new functionality, and we'll be outlining what's new in the fourth beta below. We also rounded up all of the changes that were introduced in the previous betas,
beta 2
and
beta 3
.
iOS 12 is available for developers and public beta testers, with a public launch planned for the fall alongside new iPhones.
Update:
According to Apple's release notes for beta 4, there are several new issues with features like Screen Time, the App Store, and Siri Shortcuts. Apps in the App Store might fail to download properly the first time, and the cellular signal status bar on the iPhone X could be inaccurate while on the Lock Screen or Home Screen.
Screen Time usage data and settings may not sync between devices, with Apple recommending a restart to fix the issue.
Siri Shortcuts may not work while using CarPlay, could result in an error message on HomePod, may not be restored from iCloud backup, may not work if a device is locked, and SiriKit queries could be delayed or result in an error message.
Samsung today
announced
it has completed functional testing and validation of the industry's first 10-nanometer class 8-gigabit LPDDR5 DRAM.

Samsung says the prototype chip boasts a data rate of up to 6.4 Gbps, which is 1.5 times as fast as the LPDDR4X DRAM used in the iPhone X and other flagship smartphones. The chip also features an all-new sleep mode and other features that reduce power consumption by up to 30 percent.
AnandTech
has a good overview of the chip's technical details, but from a higher level, this development could result in future iPhones having even faster, yet even more efficient, memory. That would translate to maximized performance and extended battery life, which is good news all around.
Samsung said it plans to begin mass production of its next-generation DRAM lineups, including this LPDDR5 DRAM chip, but didn't specify when. LPDDR5 is said to be so cutting edge that the JEDEC standards group has not yet finalized the specifications for it, so it could take some time.
Apple currently sources DRAM from multiple suppliers, including Samsung, SK Hynix, and Micron, varying by iPhone model.
Well-known leaker Ben Geskin today
tweeted a photo
of what he claims are front glass panels for Apple's widely rumored trio of new iPhones, all of which are expected to be announced in September as usual.
2018 Apple iPhone, iPhone X, iPhone X Plus front panels pic.twitter.com/fGlzRH5Q6x

— Ben Geskin (@VenyaGeskin1) July 17, 2018
The lineup is expected to include a second-generation iPhone X, a so-called iPhone X Plus, and what will essentially be a budget iPhone X, with 5.8-inch, 6.5-inch, and 6.1-inch screen sizes respectively.
Geskin tweeted a second photo of the front glass panels with wallpapers, providing a realistic visualization of the 2018 iPhones.
Great 2018 iPhone Lineup 👌 pic.twitter.com/eWp8QkksZX

— Ben Geskin (@VenyaGeskin1) July 17, 2018
As he
depicted in mockups last month
, Geskin says the 6.1-inch model with an LCD panel will have slightly thicker bezels compared to the iPhone X and iPhone X Plus, which are expected to have OLED displays.
A similar photo was
uploaded to Slashleaks
by user Dimitri12, providing a closer look at the thicker bezels on the 6.1-inch model.

All three devices are expected to feature edge-to-edge displays with a notch for the TrueDepth sensors that enable Face ID.
The new lineup of iPhones should be unveiled in just a few months, likely alongside
larger-display Apple Watch Series 4 models
,
new AirPods
, Apple's multi-device charging mat
AirPower
, and other announcements.
In celebration of World Emoji Day, which takes place tomorrow, Apple today updated its
Apple Leadership site
to introduce Memoji avatars for all of the key executives listed on the page.
Tim Cook, Angela Ahrendts, Jony Ive, Eddy Cue, Craig Federighi, Luca Maestri, Phil Schiller, and the rest of the leadership team are now represented by Memojis.

Memojis are an iPhone X feature coming in iOS 12. Similar to Animoji, Memoji are humanoid avatars that can be customized and personalized to look just like you with an array of options.

You can choose skin color, hair color, hair style, eye color, eyebrows, nose, features like freckles and facial hair, accessories, and headwear when creating a Memoji.
Subscribe to the MacRumors YouTube channel for more videos.
Right now, Memoji, like Animoji, are limited to iPhone X, but future devices that include the Face ID camera system will also work with Animoji and Memoji, such as rumored iPad Pro models expected this fall.
To celebrate World Emoji Day, Apple also
highlighted the emojis
we can expect to see in Unicode 11, which Apple plans to adopt later this year in either iOS 12 or an update to iOS 12.
Upcoming emoji characters include cold face, party face, pleading face, peacock, kangaroo, parrot, and more, along with options for red hair, gray hair, and no hair.
iFixit on Friday started a teardown on the new 2018 MacBook Pro, discovering
a new silicone membrane
underneath the keyboard keys, which the site believes is an ingress-proofing measure to prevent the keys from seizing up when exposed to small particulates.

That was by far the most interesting bit of information about the new MacBook Pro models, but iFixit has now
finished a teardown
of the 13-inch MacBook Pro and has a few other tidbits to share.
Both the new 13 and 15-inch MacBook Pro models are using higher capacity batteries, with iFixit discovering a larger 58wh, 232.7 gram 6-cell battery in the 13-inch model, up from the 5 cell 196.7 gram battery in the 2017 model. Though the battery is heavier, the MacBook Pro has not changed in weight, nor has battery life changed.
It's not entirely clear where Apple made up for the extra weight, but iFixit says Apple "shaved some mass" from the top case of the device.

The speakers in the new machine are longer and narrower, bumping right up against the logic board, and an internal connector used for diagnostics has been removed.
Apple added a new T2 chip in the 2018 MacBook Pro, which is the same chip first used in the iMac Pro. It houses the Secure Enclave and allows for on-the-fly encryption in addition to consolidating several controllers including the system management controller, image signal processor, audio controller, and SSD controller.

It also enables "Hey Siri" functionality, a feature that wasn't even added to the iMac Pro. While the T2 chip is a new addition, the design of the heat sink system has not changed.
Apple shipped the 13-inch MacBook Pro with a new A1947 power adapter, which iFixit says offers more shielding and impact-resistant foam rubber inside, but with a plastic USB-C port rather than a metal one.

As with prior MacBook Pro models, the RAM, processor, and SSD are soldered down, and the keyboard, battery, and speakers are all one unit, which means none of these components are user replaceable and repairs are difficult. For that reason, iFixit gave the 2018 MacBook Pro a repairability score of 1 out of 10, the same score earned by the 2017 model.
For further details on all of the components in the new 13-inch MacBook Pro, make sure to
check out iFixit's full teardown
. For additional info on Apple's new 2018 MacBook Pro models, visit our MacBook Pro roundup.
Apple today seeded the fourth beta of an upcoming macOS Mojave update to developers for testing purposes, two weeks after
releasing the third beta
and more than a month after introducing the software at the Worldwide Developers Conference.
macOS Mojave introduces a new method of installing software updates, so after you've installed the appropriate profile from the Apple Developer Center, additional betas can be downloaded clicking on the Apple in the menu bar, choosing "About This Mac" and clicking "Software Update." Alternatively, open System Preferences and choose the "Software Update" icon.
Today's beta is available for the 2018 MacBook Pro, so those who have purchased one of Apple's machines can now try it with macOS Mojave.
The macOS Mojave update brings a long-awaited systemwide Dark Mode, with Mojave users able to choose between a light theme or the new dark theme, which changes the color of the dock, menu bar, apps, and other elements. Dark Mode is accompanied by Dynamic Desktops, aka wallpapers that subtly change throughout the day.
Stacks, a new desktop organization system, keeps all of your desktop files neat and organized, while Finder has been enhanced with a Gallery View, a Sidebar, a revamped Quick Look option and Quick Actions, so you can do more in the Finder window than ever before.
Screenshots can now be edited using Markup tools and a new management options that also allow for easy screen recording, while Continuity camera, a new feature, allows you to import photos and document scans directly from an iPhone or iPad to the Mac.

The Apple News, Stocks, Home, and Voice Memos apps have been ported from iOS to macOS as part of a multiyear project Apple is working on to make it easier to bring iOS apps to Macs, and Apple has introduced several new privacy protections to keep your data safer than ever.
Apple is also making it harder for websites to track you with a range of new Safari tools, and it's also easier to make and store secure, hard-to-guess passwords for each and every website.
Apple has added an entirely revamped Mac App Store to macOS Mojave that makes it easier to discover apps with a featured section and specific categories for games, creative apps, productivity apps, apps for developers, and more.

macOS Mojave is available to developers and public beta testers to work out bugs and other issues ahead of an upcoming fall public release.
Update:
macOS Mojave fixes the bug that prevented Dynamic Desktop from working while in Dark Mode, and it introduces a new Solar Gradient dynamic wallpaper option.