Apple today released iOS 11.3.1, the thirteenth official update to the iOS 11 operating system. iOS 11.3.1 comes nearly one month after the
launch of iOS 11.3
, an update that introduced a Battery Health feature for keeping tabs on your iPhone's battery status, Business Chat for Messages, new Animoji for iPhone X, and more.
The iOS 11.3.1 update can be downloaded for free on all eligible devices over-the-air in the Settings app. To access the update, go to Settings --> General --> Software Update.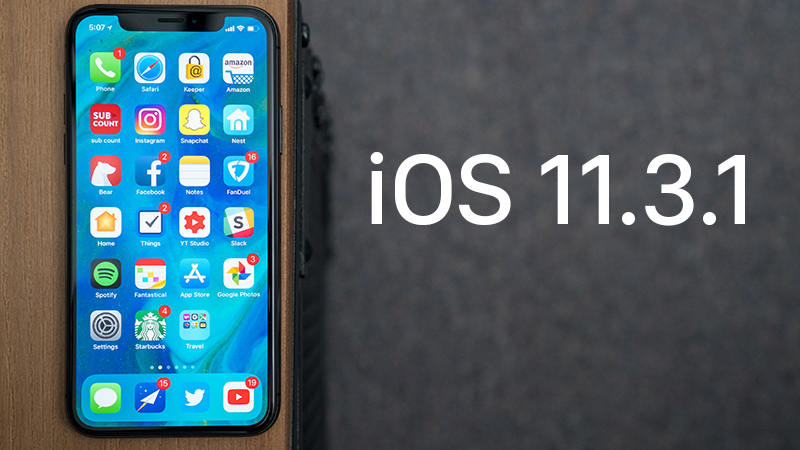 iOS 11.3.1 introduces performance improvements and bug fixes for issues that have been discovered since the launch of iOS 11.3. The update includes
a fix for a bug
that caused third-party repairs done on iPhone 8 models using aftermarket parts to disable the touch functionality of the screen. From Apple's release notes:
iOS 11.3.1 improves the security of your iPhone or iPad and addresses an issue where touch input was unresponsive on some iPhone 8 devices because they were serviced with non-genuine replacement displays.

Note: Non-genuine replacement displays may have compromised visual quality and may fail to work correctly. Apple-certified screen repairs are performed by trusted experts who use genuine Apple parts. See support.apple.com for more information.
The iPhone 8 and iPhone 8 Plus repair issue was discovered following the release of iOS 11.3. After updating, some iPhone users that had sought display repairs from non-Apple service providers saw the touch screen functionality of their devices disabled, resulting in serious headaches for repair shops.
At issue was a small microchip in the display, which disabled touch functionality after the update. At the time, it was not clear if the non-functional displays were a bug or a deliberate move by Apple, but it appears it was a bug. While Apple is fixing the display problem via the iOS 11.3.1 update, the company's release notes encourage customers to seek out authorized providers and genuine parts.
Apple today released a new security update for macOS High Sierra 10.13.4, which comes nearly one month after the first version of
macOS High Sierra 10.13.4
was released to the public.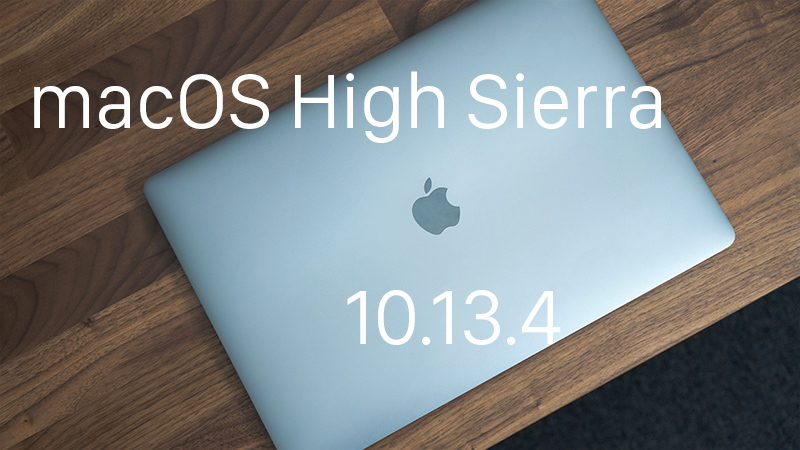 The new macOS High Sierra security update can be downloaded directly from the Mac App Store or through the Software Update function in the Mac App Store on all compatible Macs that are already running macOS High Sierra.
According to Apple's release notes, Security Update 2018-001 is recommended for all users and is meant to improve the security of macOS. The update addresses two security vulnerabilities related to Crash Reporter and LinkPresentation, both of which could be used maliciously to gain access to a Mac. A Safari 11.1 update is also included, with fixes for WebKit vulnerabilities.
Additional information on what's included in the security update can be found in the
accompanying support document
.
Apple will start paying 13 billion euros in back taxes to the Irish government from May, according to the
Financial Times
, nearly two years after the European Commission ruled that the company
received illegal aid
from the country that saw its tax bill significantly reduced over the past few decades.

As expected, the report states that Apple and the Irish government have reached an agreement to set up an escrow account to hold the money while both sides appeal the August 2016 ruling in Europe's highest court. Once the amount has been received in full, additional interest payments will be calculated.
Ireland's finance minister Paschal Donohoe today said the appeal process is likely to begin in the fall, according to
Reuters
.
Ireland is required to hold the funds in escrow until the legal process is completed, according to the report. Apple previously said the amount will be reported as
restricted cash on its balance sheet
once it begins making payments.
For background, the European Commission said the Irish government gave Apple unfair advantage between 1991 and 2007 by allowing the company to move income from the European market through two "non-resident" head office subsidiaries based in Ireland, but Apple says there are "fundamental errors" in the findings.
Apple CEO Tim Cook previously called the decision "
total political crap
" and said Apple pays all of the taxes it owes based on the laws of each country in which it operates. Likewise, the Irish government said it did not give favorable tax treatment to Apple and added that it "does not do deals with taxpayers."
Apple expects its appeal with the European Union's highest courts to take several years, but it is confident the European Commission's decision will be overturned, in which case the 13 billion euros would be returned to the company.
Note: Due to the political nature of the discussion regarding this topic, the discussion thread is located in our
Politics, Religion, Social Issues
forum. All forum members and site visitors are welcome to read and follow the thread, but posting is limited to forum members with at least 100 posts.
Apple and Samsung today submitted their witness lists for an upcoming retrial in the long running patent infringement battle between the two companies, reports
CNET
.
Neither Apple CEO Tim Cook nor design chief Jony Ive will be taking the stand, but several other notable figures will be providing testimony during the retrial. Apple will call Richard Howarth, a senior director on the Apple Design Team, along with Greg Joswiak, vice president of product marketing.

Howarth will discuss the design process at Apple, the design patents that were infringed upon, and other design topics, says
CNET
, while Joswiak will talk about Apple's marketing approach for its devices and the competitive nature of the smartphone market.
Apple also plans to call Susan Kare, who designed many of the early icons for Apple's Macintosh computers, to talk about icon and user interface graphics design. Other witnesses include Ravin Balakrishnan, a professor of computer science; Alan Ball, an industrial design expert; Julie Davis, a consultant with expertise in damages analysis; and Karan Singh, another computer science professor.
Samsung will call Justin Dension, its senior vice president of mobile product strategy and marketing, along with Drew Blackard, senior director of product marketing and Jinsoon Kim, a vice president at Samsung's Corporate Design Center.
Apple and Samsung's latest damages retrial will kick off on Monday, May 14, with the aim of determining how much Samsung has to pay Apple for infringing on three Apple design patents.
The two companies have been fighting in court since 2011, when Apple sued Samsung for copying the iPhone's design. Apple was initially awarded
$1 billion
in 2012, but after several appeals and retrials, the award was
reduced to $548 million
.
Samsung
paid Apple the $548 million
in 2015, with $399 million of that total awarded to Apple for the design patent infringements. Samsung at the time argued that it was asked to pay a "disproportionate" sum for the design violation, and
appealed to the Supreme Court
to reduce that portion of the award.
Apple had been awarded damages based on the full value of the infringing device, while Samsung argued that it should pay damages based only on the infringing portion.

The original devices involved in the 2011 patent infringement case
Samsung's
appeal was successful
, and the Supreme Court ordered the U.S. Court of Appeals to
redetermine the amount Samsung owes Apple
for the design patent infringement. The U.S. Court of Appeals sent the case back to the district court, which brings us to the May trial.
During the retrial, Samsung will argue that the damages awarded to Apple should be less than the original award because the infringed Apple patents represent only a small part of the design of the entire Samsung smartphone in question. Apple, meanwhile, will argue that it deserves damages based on the full value of the device.
Apple today shared two new videos in its "Life's easier on iPhone" series, which are aimed at encouraging Android users to switch over to an iPhone.
The first ad, "App Store," depicts exploding app icons that are meant to demonstrate the superior safety of the iOS App Store, which is curated by human editors to protect against malicious apps.
Apple's second ad highlights Portrait Mode and Portrait Lighting on the iPhone 8 Plus and the iPhone X, both features that are designed to offer studio quality effects with the iPhone.
The two ads are both 15 seconds in length and will likely be used both on TV and on social media sites like Instagram. Last week, these ads were uploaded to Apple's YouTube channels in other countries, such as Mexico.
Apple earlier this year started sharing several short videos designed to lure Android users to the iPhone. All of Apple's videos in this series link back to the
"Switch" website
, designed for customers who use an Android device or other smartphone and are thinking of switching to an iPhone.
Apple's Switch website answers simple questions like "Will it be easy to switch to iPhone?" and "Will iPhone be easy to use?" It also offers up details on key features that make the iPhone stand out compared to other smartphones, like Face ID, Portrait Mode, iMessages, the App Store, and more.
Apple has aimed to encourage Android users to switch to the iPhone for years with its "Move to iOS" app that makes it quick and easy for Android users to swap to an iPhone and transfer data like contacts, message history, photos, videos, web bookmarks, mail accounts, and more.
A survey conducted by research firm Creative Strategies last month has found that the
iPhone X has a 97 percent customer satisfaction rate
, primarily among early adopters of the smartphone in the United States, as
noted by John Gruber
.

The total includes 85 percent of respondents who said they are "very satisfied" with the iPhone X, which Creative Strategies analyst Ben Bajarin said "is amongst the highest" he has ever seen "in all the customer satisfaction studies we have conducted across a range of technology products."
12 percent of respondents said they are "satisfied" with the iPhone X, while three percent were unsatisfied to various degrees.
Of course, the higher the "very satisfied" responses, the better a product probably is. For perspective, research firm Wristly conducted a survey in 2015 that found the
original Apple Watch also had a 97 percent overall customer satisfaction rate
, but a lower 66 percent of respondents were "very satisfied."
Apple CEO Tim Cook said the iPhone X has a 99 percent customer satisfaction rate on the company's first quarter earnings call, citing a study by 451 Research, but Creative Strategies said its own survey had a significantly higher number of respondents that led to a more balanced number with room for slight variance.
Creative Strategies surveyed 1,746 respondents to be exact. The research firm informed MacRumors that respondents were profiled as early adopters based on a series of upfront questions about purchasing habits.
On a feature-by-feature basis, the iPhone X saw very high satisfaction rates in all but one area, including Face ID and battery life at above 90 percent. The sole exception was Siri, which scored only a 20 percent satisfaction rate among early adopters, leaving four out of every five respondents unimpressed.

As noted by Creative Strategies, early adopters tend to be more critical than mainstream consumers of technology, but Apple is widely considered to have lost the lead it once had with Siri in the artificial intelligence space.
The Information
recently reported that
Siri has become a "major problem" within Apple
. The report opined that Siri remains "limited compared to the competition," including Amazon Alexa and Google Assistant, and added that the assistant is the main reason the HomePod has "underperformed" so far.
Apple responded to that report with a statement noting Siri is "the world's most popular voice assistant" and touted "significant advances" to the assistant's performance, scalability, and reliability.
"We have made significant advances in Siri performance, scalability and reliability and have applied the latest machine learning techniques to create a more natural voice and more proactive features," Apple wrote in its statement. "We continue to invest deeply in machine learning and artificial intelligence to continually improve the quality of answers Siri provides and the breadth of questions Siri can respond to."
Bajarin has been a respected technology analyst at Creative Strategies since 2000. For more details from the survey, read
Top Takeaways From Studying iPhone X Owners
and his paywalled follow-up report
iPhone X Study Follow Up
on Tech.pinions.
The European Commission today
announced
it has opened an in-depth investigation into Apple's proposed acquisition of
Shazam
.

The regulators are concerned that the merger could reduce choice for users of streaming music services in Europe. In particular, they believe that Apple could gain access to sensitive data that could allow Apple to directly target its competitors' customers and encourage them to switch to Apple Music.
While the European Commission did not name any specific services, Apple Music's biggest rival in Europe is Spotify, headquartered in Stockholm, Sweden. Other competitors include Deezer, Tidal, and Google Play Music.
European Commission competition chief Margrethe Vestager:
The way people listen to music has changed significantly in recent years, with more and more Europeans using music streaming services. Our investigation aims to ensure that music fans will continue to enjoy attractive music streaming offers and won't face less choice as a result of this proposed merger.
In addition, the European Commission said it will investigate whether Apple Music's competitors would be harmed if Apple were to discontinue referrals from the Shazam app to them following the acquisition. Shazam's app currently integrates with multiple services, including Spotify and Deezer.
The regulators have set a September 4, 2018 deadline to reach a decision, delaying an Apple-Shazam merger for at least 90 days.
Apple announced its
plans to acquire Shazam in December
, describing the two companies as a "natural fit" with "exciting plans" ahead. In February, the European Commission received requests from Austria, France, Iceland, Italy, Norway, Spain, and Sweden to
assess the deal under European merger law
.
Shazam is a popular service that can identify the name and lyrics of songs, music videos, TV shows, and more. It has apps across
iPhone, iPad, Apple Watch, iMessage
, and Mac, while the service has been built into Siri since iOS 8.
Today is
National Sovereignty and Children's Day
in Turkey, an annual public holiday that takes place on April 23 in the country.
As it has in years past
, Apple is celebrating the holiday by sharing art that children have created using its products.
Apple CEO Tim Cook highlighted a self-portrait created by 13-year-old Özgün Asya, who made the image on an iPad with Apple Pencil.

It's Children's Day in Turkey! 🇹🇷 Thanks to 13-year-old Özgün Asya from Istanbul for this colorful self-portrait, created on iPad using Apple Pencil. pic.twitter.com/N5EzH11F1x

— Tim Cook (@tim_cook) April 23, 2018
Over the past week, Apple's
Turkish YouTube channel
has been sharing a few videos also highlighting Children's Day, in a series called "My Portrait." The first video posted focused on Asya's self-portrait, and in it she explains that she drew herself with her favorite flower, the cherry blossom.
Following the first video, Apple published six more short, 15-second clips where kids from Turkey explained the art that they created using iPad.
Ali G.
explained that he drew seven-and-a-half versions of himself due to his own age,
Ece S.
described her nature-focused portrait, and
Defne A.
showed off an image of her and her dog.
In the most recent video, shared over the weekend, Apple combined all of the self portrait videos into one 30-second ad.
The power of the iPad, the ease of use of Apple Pencil, and the unlimited creativity of children came together, and these extraordinary self-portraits came out.
Apple's Children's Day videos showcase the latest 9.7-inch iPad, which was
announced
at an education-focused event in late March. The sixth-generation device includes Apple Pencil support with sensors that measure pressure and tilt so that users can take notes or illustrate in supported apps. The tablet has a
reduced education price
and
multiple accessories
that are particularly aimed at kids in school.
Apple is set to close its last remaining pop-up shop dedicated to Apple Watch next month. Signs displayed at the Tokyo shop, located in Shinjuku's high-end Isetan department store, were
shared
on Twitter announcing the closure.

やっぱり伊勢丹のApple Watch Storeは閉店か… pic.twitter.com/moYjXCfYRp

— Shotaro Akiba (@ShotaroAkiba) April 21, 2018
The message reads, "This is a notice that Apple Watch at Isetan Shinjuku will close as of Sunday, May 13. Thank you very much for your continuous patronage."
The closure of the pop-up shop follows last month's
opening of Apple's Shinjuku store
, which is situated directly opposite Isetan and offers the full range of Apple products and services, including Apple Watch.
Japan's pop-up shop is notable for being the first of its kind to open, coinciding with the launch of the original Apple Watch in 2015. Apple has only operated three pop-up shops worldwide selling Apple watches and bands. The other two operated out of Galeries Lafayette in Paris and 
Selfridges
in London. Both closed in 2017.

The closures appear to be part of Apple's recent strategy of promoting Apple Watch as a health and fitness accessory first and a haute couture fashion detail second. The pop-up shops specialized in selling Apple Watch Edition models, gold versions of which sold for at least $10,000 and up to $17,000 when they hit the market.
The pop-up shops were essentially outlets for Apple's remaining inventory of 18-karat Gold and Rose Gold Apple Watch Edition models, which were
discontinued
in 2016 and replaced with the ceramic Edition models the company continues to offer online and in-store to this day.
Today is Earth Day, and around the globe people are celebrating the annual event through demonstrations and gatherings aimed at showing support for the planet and protecting the environment. Apple began celebrations this past week in its retail stores,
sending green shirts
for its employees to wear and
lighting up the Apple logo
with a green leaf to mark the April 22 global event.

We're celebrating Earth Day here at Apple. Thanks @ziggymarley for an inspired performance! 🎶 🌏 pic.twitter.com/cuNvbzdbiA

— Tim Cook (@tim_cook) April 21, 2018
On Friday, April 20, Apple held
one of its annual Beer Bash concerts
with a performance by Ziggy Marley.
In a tweet
, the musician explained that his performance at Apple's campus was his "first set fully powered by solar energy." Marley continued by thanking Apple: "Thank you for the example you set for companies around the world."
Also in attendance
during the performance was Lisa Jackson, Apple's vice president of environment, policy, and social issues. In a
tweet this morning
Jackson reminded Apple Watch users about
today's Earth Day Challenge
, which requires you to do any workout for 30 minutes or more before the day ends, and record your activity within the Workout watchOS app or any other app that adds workouts to the Health iOS app.
It's @ziggymarley performing at my office on 4/20. Not bad for a Friday afternoon at work. pic.twitter.com/08pdH2c4e5

— Etan Horowitz (@etanowitz) April 21, 2018
The company is also celebrating Earth Day across its services, with a few themed playlists, iTunes movies, and iBooks getting top-billing today on each respective platform. On Apple Music, you can find the "Mixtape for Mother Earth," which Apple Music editors describe as a soundtrack for Earth Day with songs "inspired by our planet's natural wonders." Artists and songs include Radiohead's "Bloom," The Beatles's "Sun King," Tegan and Sara's "Our Trees," and more, totaling 30 tracks.
While "Mixtape for Mother Earth" is the main playlist currently being promoted on the Browse tab, if you search for "Earth Day" you can also find playlists like "What are Earth's favorite songs?" and other curated collections from previous Earth Day events.
Over on the iTunes Movies store, Apple has a collection of $0.99 rentals for films that all include messages about the environment. The list of just over 40 films has a mix of scripted movies and documentaries, including "FernGully: The Last Rainforest," "Beasts of the Southern Wild," "Fly Away Home," "Blackfish," "March of the Penguins," "An Inconvenient Truth," "A Plastic Ocean," and more. There's also a collection of Disneynature documentaries priced at $9.99, including topics like Oceans, Bears, African Cats, and Monkey Kingdom.

iBooks readers can also get in on the Earth Day celebrations thanks to a "Protect the Planet" section of the Featured tab within Apple's digital books app. The books in the new collection "include meditations on Mother Nature's delightful quirks, rallying cries for biodiversity, and blueprints for how to play a part in passing on a healthier planet." The collection is split up into three sub categories called "Explore the Natural World," "Get Informed & Inspired," and "Do Your Part." Books include "Unstoppable" by Bill Nye and Corey S. Powell, "Voices in the Ocean" by Susan Casey, and "A Hole in the Wind" by David Goodrich.
Earlier this month, Apple announced that its global facilities, including retail stores, offices, data centers, and more, are
powered with 100 percent clean energy
. Apple went into further detail about how it has lessened its overall environmental impact with the
2018 Environmental Responsibility Report
, sharing stats about its reduced greenhouse gas emissions, lowered energy footprint, and more. The company also
updated
its trade-in and recycling initiatives into a new "GiveBack" program, and introduced a new iPhone disassembly robot named Daisy.
Apple today announced
a new worldwide battery replacement program
for some 13-inch MacBook Pro models that do not have a Touch Bar. Affected machines were manufactured between October 2016 and October 2017.
Apple says that a limited number of these units feature a component that can fail and cause the built-in battery to expand. It is not a safety issue, according to the company, and Apple will replace all eligible batteries.

Customers who want to see if their machines are eligible for a fresh battery should use the serial number checker on the
MacBook Pro Battery Replacement page
. You can find your serial number by clicking on the Apple logo in the menu bar and selecting "About This Mac." The serial number is located at the bottom of the information window.
Affected customers who are eligible for a new battery will need to visit an Apple Authorized Service Provider, make an appointment at an Apple retail store, or mail their device into an Apple Repair Center after initiating a repair with Apple Support.
Apple suggests customers who are getting a battery replacement back up their machines ahead of time. Apple also says that if the MacBook Pro in question has damage that will impair the replacement of the battery, it must be addressed prior to the battery replacement process.
Any customer who has already paid for a replacement battery
can contact Apple Support
about a refund.
The battery replacement program covers affected MacBook Pro models for five years after the first retail sale of the unit.
The United States Department of Justice today launched an antitrust investigation to determine whether U.S. carriers, including Verizon and AT&T, have coordinated to prevent consumers from easily switching wireless carriers, reports
The New York Times
.
AT&T, Verizon, and GSMA, an industry group that sets mobile standards, were asked in February for documents related to their efforts to hinder the implementation of eSIMs. An embedded SIM, or eSIM, is a standardized chip that's designed to replace a physical SIM card.

A physical SIM card slot in an iPhone, via iFixit
With eSIM technology, there is no need to swap out SIM cards when switching carriers, making it easier to make a switch from one carrier to another. eSIMs are designed to be compatible with all major carriers, regardless of network type.
eSIMs are a major change from physical SIM cards, which require customers who wish to switch carriers to obtain a new SIM card when changing providers. eSIMs make it simpler for customers to swap carriers while traveling, and, of interest to device makers, they free up space currently taken up by a SIM card.
AT&T and Verizon are accused of colluding with the GSMA to create standards that would allow devices with eSIM technology to be locked to their networks. Representatives from the two carriers attended a meeting for a private task force called GSMA North America earlier this year and advocated for the ability to keep eSIM devices tied to a single carrier.
Verizon reportedly claimed that phones needed to be locked to its network in order to prevent theft and fraud.
At the heart of the investigation is whether the nation's biggest wireless carriers, working with the G.S.M.A., secretly tried to influence mobile technology to unfairly maintain their dominance, in a way that hurt competition and consumers and hindered innovation in the wider mobile industry.

AT&T and Verizon together control about 70 percent of all wireless subscriptions in the United States. A technology that made it easy to switch carriers could lead to more churn and fewer subscribers for them.
The Department of Justice launched began the probe several months ago following formal complaints from at least one device maker and one wireless carrier. The investigation may include other carriers beyond Verizon and AT&T.
AT&T, Verizon, and other U.S. carriers have long resisted features that would make it easier for customers to switch carriers at will without being tied to a specific network. Verizon, for example, refused to allow Apple to offer Verizon service through
the Apple SIM
built into newer iPads. The Apple SIM, a multi-carrier SIM card, is designed to make it easier for customers to choose a carrier after an iPad purchase and switch to a new carrier when traveling.
Apple, Google, Microsoft, and other wireless carriers in the United States are proponents of the eSIM. Apple, for example, is said to want to use eSIM technology
in its 2018 iPhones
, but may instead opt for dual-SIM technology because "some carriers are resistant to the idea."
Apple has already implemented eSIM technology in the Apple Watch Series 3 models equipped with LTE connectivity. The eSIM is also a feature of the Google Pixel 2 smartphone and the Microsoft Surface.
Update:
According to
CNBC
, all four major U.S. carriers
received requests
from the U.S. Justice Department.
Update 2:
Apple is one of the companies that submitted a complaint to the Department of Justice, according to
Bloomberg
.