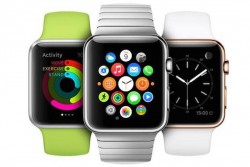 The tentatively named "Apple Watch Series 3" will feature a new glass-film touchscreen in place of the current touch-on-lens solution, with shipments to begin in the second half of this year, according to Taiwan-based
DigiTimes
.
While it remains unclear if the switch to a film-based solution will have any obvious consumer-facing benefits, this is more interestingly the first rumor to surface about the supply chain ramping up for the next Apple Watch.
The timeline matches a Chinese report last month that claimed the third-generation Apple Watch will be
unveiled in the third quarter of 2017
with battery life and performance improvements. The report said Series 3 models, to be manufactured by Quanta, will lack any significant hardware changes.
Few other details are known about the next Apple Watch models, which could feasibly launch alongside the "
iPhone 8
" in September.
KGI Securities analyst
Ming-Chi Kuo
and other sources have claimed the Apple Watch could
gain an LTE chip
for cellular capabilities as early as 2017, while a supply chain report last year said Apple may
switch from OLED to micro-LED displays
for the Apple Watch in the second half of 2017 at the earliest.
Micro-LED displays have benefits such as thinness, lightness, improved color gamut, increased brightness, and higher resolutions. The panels do not require backlighting like traditional LCD displays, but they can be difficult and expensive to mass produce. Micro LEDs range in size from 1-micron to 100-micron.
Apple has filed patents for a number of ideas that could eventually be included in an Apple Watch, such as a
heart rate identification system
,
modular bands
,
haptic feedback band
, and a
band with a built-in charger
. More significant health and fitness features could be added pending further FDA approvals.
Ahead of Apple Watch Series 3 models, Apple is expected to introduce new bands at its rumored
iPad Pro-focused event
next month.
The widely rumored 5.8-inch iPhone with an edge-to-edge OLED display will match the
iPhone 7
Plus with 3GB of RAM and come in two storage options, 64GB and 256GB, according to Chinese research firm
TrendForce
.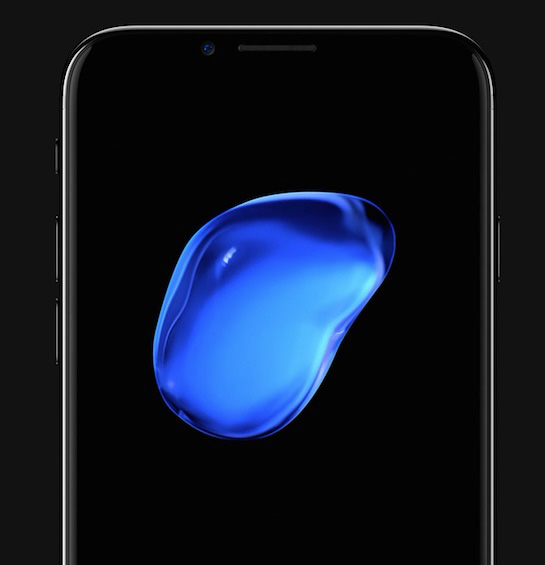 The report, which outlines several already-rumored features, added that the so-called "
iPhone 8
" will not have a fully curved display due to production and drop test issues with 3D glass. Instead, the high-end device will adopt the same slightly curved 2.5D cover glass used since the iPhone 6 and iPhone 6 Plus in 2014.
TrendForce said Apple will
remove the Home button
on the iPhone, as widely rumored, and integrate the related functions into the display. If that fact is accurate, it suggests rumored
3D facial recognition capabilities
could
supplement
rather than
fully replace Touch ID
, which could be
embedded into the display
.
TrendForce itself expects the "iPhone 8" to incorporate 3D sensing technology that can be used for facial recognition and augmented reality features.
The research note said the 5.8-inch iPhone will be accompanied by updated 4.7-inch and 5.5-inch models with LCD displays. The 5.5-inch model will allegedly have the same 3GB of RAM as the iPhone 7 Plus, while the 4.7-inch model is said to have 2GB of RAM. Both models are expected to include up to 256GB of storage.
Rumors are generally shaping up to suggest the 5.8-inch iPhone with an OLED display will be a significant upgrade, but the model could
cost upwards of $1,000
in the United States. Meanwhile, the new 4.7-inch and 5.5-inch models are expected to be iterative but less expensive upgrades to the iPhone 7 and iPhone 7 Plus.
Last year, TrendForce accurately predicted the iPhone 7 and iPhone 7 Plus would be available in
32GB, 128GB, and 256GB
storage capacities.
The rumored "
iPhone 8
" with an edge-to-edge OLED display will gain a "revolutionary" front-facing camera system that consists of three modules that enable fully-featured 3D sensing capabilities, according to new predictions shared by KGI Securities analyst
Ming-Chi Kuo
. The upgraded camera system will be fueled by PrimeSense algorithms, which
Apple acquired in 2013
.

The three modules include an existing front camera module of current iPhones, an infrared transmitting module, and an infrared receiving module. Using these advancements, the camera will be able to find the location and depth of objects placed in front of it, with potential applications including facial and iris recognition.
The camera will function by merging the depth information captured by the IR transmitting and receiving modules with the traditional 2D images captured by the front camera. This not only could be used for the iPhone 8's long-rumored
iris recognition feature
, but even in some gaming applications -- and future AR/VR experiences -- where users could place their own 3D-scanned face in the game using a quick selfie.
Today's news of an overhaul to the front-facing camera of the iPhone 8 follows speculation surrounding the potential of Apple dropping
Touch ID
and instead focusing on either 3D
facial recognition
or iris scanning as the device's main security feature. JPMorgan analyst Rod Hall has stated that facial recognition could be a more secure alternative, and help increase
Apple Pay
adoption with retailers and financial institutions.
According to Kuo, this three-module front-facing camera system "will bring an innovative user experience" to the OLED iPhone 8, but for now it'll be reserved as exclusive to that model. "Future iPhones may come with a similar system for the rear camera," the analyst noted.

Apple has claimed that the European Commission made "fundamental errors" when it
ruled last year
that the company owed Ireland 13 billion euros ($13.7 billion) in unpaid taxes plus interest.
Apple appealed the commission's decision in December, but on Monday the company published a piece in the
Official Journal of the European Union
detailing 14 pleas in law to support its action, according to
The Irish Times
.
The European Commission argues that Irish revenue commissioners gave Apple unfair advantage between 1991 and 2007 by allowing the company to move income from the European market through two "non-resident" head office subsidiaries based in Ireland.
Apple and the Irish government, which has
also appealed the commission's decision
, argue that the bulk of those profits are due in the U.S.
"The Commission made fundamental errors by failing to recognize that the applicants' profit-driving activities, in particular the development and commercialization of the intellectual property (Apple IP), were controlled and managed in the United States," Apple said, according to the Official Journal. "The profits from those activities are attributable to the United States, not Ireland."
Apple maintained that the commission had "failed to recognize that the Irish branches carried out only routine functions and were not involved in the development and commercialization of Apple IP, which drove profits".
Cupertino also said that the commission failed to conduct a diligent and impartial investigation, and "exceeded its competence" as it relates to the Treaty on the Functioning of the European Union, by "attempting to redesign Ireland's corporate tax system".
Apple CEO
Tim Cook
has called the EC's ruling "
total political crap
" and described the lower end 0.005% tax rate Apple is accused of paying as a "false number". The Apple CEO believes that the decision
will be reversed
.
Appeals by Apple and the Irish government have been made to the European Union's General Court, where proceedings may take up to two years to complete, after which the case is likely to go all the way to the European Court of Justice.
Note: Due to the political nature of the discussion regarding this topic, the discussion thread is located in our
Politics, Religion, Social Issues
forum. All forum members and site visitors are welcome to read and follow the thread, but posting is limited to forum members with at least 100 posts.
As part of its ongoing "Shot on iPhone" advertising campaign highlighting the iPhone's camera, Apple today uploaded four videos that belong to its
new "One Night" series
.
Each of the 15 second ads features a compilation of photos and videos captured on a single night in New York, Johannesburg, Shanghai, and Tokyo and set to music.
Designed to showcase the low-light capabilities of the
iPhone 7
and the iPhone 7 Plus, all of the photos and videos in the One Night campaign were taken on November 5, 2016 in different places around the world.
Last week, Apple uploaded a
one minute compilation video
featuring much of the same footage, but today's videos show more of the individual photos and videos taken in each different location.
Though only four locations are shown in the videos uploaded today, the One Night ad campaign features images and videos taken by 16 photographers across 15 cities on six continents. Apple is also using the photographs as part of a "One Night" print and billboard campaign that's being showcased in 25 countries around the world.
Update:
Apple has also uploaded two new videos that are part of a separate ad campaign showcasing Portrait Mode in the iPhone 7 Plus. Each video offers a short tutorial on the benefits of Portrait Mode, showing how it's able to blur the background to put the focus on the person in the photograph.
Apple today seeded the third beta of an upcoming
macOS Sierra
10.12.4 update to developers, two weeks after seeding the
second macOS Sierra 10.12.4 beta
and just under a month after releasing
macOS Sierra 10.12.3
.
The third macOS Sierra 10.12.4 beta is available for download through the Apple Developer Center or the software update mechanism in the
Mac App Store
for those who have previously installed a beta.

macOS Sierra 10.12.4 brings iOS's
Night Shift
mode to the Mac for the first time. First introduced on iOS devices with iOS 9.3, Night Shift is designed to gradually shift the display of a device from blue to yellow, cutting down on exposure to blue light. Blue light is said to disrupt the circadian rhythm and is believed to interrupt sleeping patterns.
Night Shift can be activated through the
Displays
section of System Preferences, where a setting to have it come on at sunset and turn off at sunrise is available. Night Shift can also be toggled on manually through the Notification Center or via
Siri
.
Subscribe to the MacRumors YouTube channel for more videos.
The 10.12.4 update focuses mainly on Night Shift, but also includes dictation support for Shanghainese, cricket scores for Siri, improved PDFKit APIs, and
iCloud
Analytics options.
Apple today seeded the third beta of an upcoming
iOS 10
.3 update to developers, two weeks after seeding the
second beta of iOS 10.3
and more than a two months after the
release of iOS 10.2
, the last major update to the iOS 10 operating system.
Registered developers can download the third iOS 10.3 beta from the Apple Developer Center or over-the-air with the proper configuration profile installed.

iOS 10.3 is a major update, introducing several new features and changes to the iOS 10 operating system. The biggest new consumer-facing feature is "Find My AirPods," which is designed to help AirPods owners locate a lost earphone.
Find My AirPods
records the last known location of when an AirPod was connected to an iOS device via Bluetooth and can play a sound on a lost AirPod.
Apple's latest update also introduces a new Apple File System (APFS), installed when an iOS device is updated to iOS 10.3. APFS is optimized for flash/SSD storage and includes features like strong encryption.
Apple plans to introduce some
App Store
changes in iOS 10.3, allowing developers to respond to customer reviews for the first time. iOS users are also able to label reviews in the App Store as "Helpful" or "Not Helpful," which should help surface the most relevant review content.
Subscribe to the MacRumors YouTube channel for more videos.
Apple also plans to limit the number of times developers can ask for a review, allow customers to leave app reviews without exiting an app, and provide a "master switch" that will let users turn off all app review request prompts (said to be included in beta 2).
Also new in iOS 10.3 is a redesigned app open/close animation, an Apple ID profile in Settings, a better breakdown of
iCloud
storage usage, improvements to
Siri
Kit, and more. For a full rundown of the changes introduced in the first beta, make sure to
check out our dedicated "What's New" post
.
What's new in iOS 10.3 beta 3:
App Compatibility
- In the Settings app, there's a new "App Compatibility" section that lists apps that may not work with a future version of iOS. Tapping on one of the apps opens it up in the App Store so you can see when it was last updated. As has been discovered in previous betas, opening one of these apps on your iOS device pops up a warning with a similar non-compatible statement. App Compatibility can be accessed by opening the Settings app and choosing General --> About. From there, scroll down to "Applications" and tap it.

Apple will host a March event to introduce a new
iPad Pro
lineup and other products, according to Japanese website
Mac Otakara
.

In terms of the iPad Pro lineup, the report claims Apple will announce new 7.9-inch, 9.7-inch, 10.5-inch, and 12.9-inch models. The 10.5-inch model may not ship until May, while the other sizes are said to ship in March.
If the report is accurate, it would suggest Apple plans to refresh the
iPad mini 4
with a new 7.9-inch iPad Pro model, update its existing 9.7-inch iPad Pro and 12.9-inch iPad Pro models, and introduce an all-new 10.5-inch iPad Pro, which is widely rumored to feature an edge-to-edge display without a Home button.
Mac Otakara
previously said the 10.9-inch iPad Pro—it now says 10.5-inch—will have the
same overall footprint as the current 9.7-inch iPad Pro
thanks to its edge-to-edge design. The earlier report said the top bezel will remain in order to provide space for the front-facing FaceTime camera, but it will likely be slimmer.
The blog also previously said the 12.9-inch iPad Pro will feature a 12-megapixel rear camera and True Tone display like the current 9.7-inch model, using advanced four-channel ambient light sensors to automatically adapt the color and intensity of the display to match the light in the surrounding environment.
Meanwhile, it said the 7.9-inch iPad Pro will feature a
Smart Connector
, True Tone display, four speakers, and a 12-megapixel rear-facing iSight camera with True Tone flash, as Apple works to standardize features across its tablet lineup. All new iPad Pro models will reportedly gain quad microphones as well.
Three months ago, Barclays analysts predicted Apple will release a
trio of new iPad Pro models in March
, including 9.7-inch, 12.9-inch, and edge-to-edge 10.9-inch models, but not a 7.9-inch iPad Pro. Instead, their research note said Apple will continue to produce and sell the iPad mini 4, released in September 2015.
KGI Securities analyst
Ming-Chi Kuo
has
likewise said
Apple is planning a new 9.7-inch, 10.5-inch, and 12.9-inch iPad Pro lineup for 2017. He did not mention a 7.9-inch model. He said the 10.5-inch and 12.9-inch models are likely to feature a faster Apple A10X processor, while the "low-cost" 9.7-inch model will sport an A9X chip.
DigiTimes
expects a 10.5-inch iPad Pro
as well, making that four separate sources reporting similar. The
math checks out too
: the width of a 10.5-inch iPad Pro would match the height of the iPad mini screen, while it would have the same resolution as the 12.9-inch model and the same pixel density as the iPad mini.
Today's report also claims Apple may add a 128GB storage option for the
iPhone SE
, alongside the smartphone's existing 16GB and 64GB capacities, and add a new red color—
(PRODUCT)RED?
—option for the
iPhone 7
and iPhone 7 Plus. The blog previously said the
red color would be for the iPhone 7s and iPhone 7s Plus
.
The report also calls for new Apple Watch bands at the event in line with last year's Spring refresh. Apple
introduced the iPhone SE
,
9.7-inch iPad Pro
, and
new Apple Watch bands
at its
March 2016 event
last year.
Mac Otakara
has a
good but not perfect track record
in terms of Apple rumors.
A number of Mac apps failed to launch for users over the weekend because of a change to the way Apple certifies apps that have not been bought directly from the
Mac App Store
.
Several users of apps including Soulver and PDFPen who had downloaded the apps from the developers' websites all reported immediate crashes on launch. Developers of the apps quickly apologized and said that the issue was down to the apps' code signing certificates reaching their expiration date.
Apple issues developer signing certificates to assure users that an app they have downloaded outside of the Mac
App Store
is legitimate, comes from a known source, and hasn't been modified since it was last signed. In the past, the expiration of a code signing certificate had no effect on already shipped software, but that changed last year, when Apple began requiring apps to carry something called a provisioning profile.

A provisioning profile tells macOS that the app has been checked by Apple against an online database and is allowed to perform certain system actions or "entitlements". However, the profile is also signed using the developer's code signing certificate, and when the certificate expires, the provisioning profile becomes invalid.
Victims of expired provisioning profiles over the weekend included users of 1Password for Mac who had bought the app from the developer's website. AgileBits explained on Sunday that affected users would need to manually update to the latest version (
6.5.5
), noting that those who downloaded 1Password from the Mac App Store were unaffected. The developers' surprise was explained in a
blog post
:
We knew our developer certificate was going to expire on Saturday, but thought nothing of it because we believed those were only necessary when publishing a new version. Apparently that's not the case. In reality it had the unexpected side effect of causing macOS to refuse to launch 1Password properly.
Currently, the common factor among affected apps appears to be those that were issued
iCloud
entitlements as part of their provisioning profile. Smile, developers of
PDFpen
and
PDFpenPro
, told
TidBITS
that users would need to manually download the latest updates to the apps to fix the problem.
Acqualia, developers of number-crunching app Soulver, also apologized for the problem and asked affected users to
download an update to fix the issue
.
As the above suggests, the immediate solution for developers with potentially affected apps is to renew their code signing certificates before they expire. AgileBits said the incident had given them "a new understanding of the importance of expiring provisioning profiles and certificates" and would be renewing its current certificate, due to expire in 2022, "far before then".
Apple has bought Israeli startup RealFace, a cybersecurity and machine learning firm specializing in facial recognition technology.
The
Times of Israel
reported on Sunday that the Tel Aviv-based company, founded in 2014, was snapped up by Apple for an estimated $2 million, while Hebrew-language
Calcalist
said the deal was worth "several million dollars".

RealFace's website is currently offline, but according to promotional material, the startup had developed a unique facial recognition technology that integrates artificial intelligence and "brings back human perception to digital processes". RealFace's software is said to use proprietary IP in the field of "frictionless face recognition" that allows for rapid learning from facial features.
The Israeli startup also developed a now-defunct app called
Pickeez
, which selected and collated a user's best photos across various platforms using the RealFace recognition software.
Demo of RealFace's face recognition software
According to
iPhone 8
rumors, Apple may ditch
Touch ID
along with the physical home button, in favor of a facial recognition-capable
front-facing 3D laser scanner
, although with the RealFace acquisition coming at such a late time, it's unlikely that the any of the startup's technology will feature.
RealFace is the fourth Israel-based firm Apple is known to have acquired. In 2011 it bought flash memory maker
Anobit
for a reported $400 million, then in November 2013 it acquired 3D sensor company
PrimeSense
for an estimated $345 million. Most recently in 2015, Apple bought
LinX
for around $20 million.
Apple has fallen to fifth place in China's booming smartphone market, where combined sales reached 131.6 million units in the fourth quarter of 2016, accounting for nearly a third of worldwide shipments. The Q4 figure confirmed the highest ever annual amount of smartphones sold in China, according to market research firm
Canalys
, with shipments for the year reaching 476.5 million units, rising 11.4 percent from 2015 levels.
Huawei shipments of 76.2 million units took the top spot in China's smartphone market in 2016, followed by Oppo with 73.2 million units and Vivo with 63.2 million. Apple meanwhile shipped 43.8 million units, down 18.2 percent year on year, influencing the company's 7 percent decline in global shipments compared to 2015. Apple also lost fourth place to Xiaomi, despite the Chinese maker also experiencing declines in the country.

Xiaomi became number four in the China smartphone market, while Apple fell to fifth place. Xiaomi shipped a total of 51.4 million units of smartphones with a 21 percent year-on-year decline, while its market share decreased from 15.2 percent in 2015 to 10.7 percent in 2016, the lowest since 2013. Apple shipped 43.8 million units of iPhones throughout the year, a year-on-year decrease of 18.2 percent.
Huawei's success in China continued apace on the strength of its flagship products, said Canalys research analyst Jessie Ding. "While Apple, Samsung and Xiaomi are all in the process of adjusting their strategies in China, Huawei took the opportunity to consolidate its position in the tier-1 and -2 cities." The lull also allowed Huawei to attack Oppo and Vivo's backyard "in tier-three and tier-four cities," Ding noted.
Last year Apple experienced its first ever
year-over-year decline
in the Chinese smartphone market, with the company's phones continuing to be outpaced by cheaper alternatives and the
iPhone 7
failing to kick up a frenzy among consumers compared to previous launches, according to analysts.
Apple faced a similar story at the beginning of the current year. Despite recording record results, Apple's
Q1 2017 earnings call
revealed revenue was down 8 percent in China, but CEO
Tim Cook
claimed half of that decline was down to currency devaluation. Cook said that while China was "not without challenges", he remained "encouraged by improvements" going into the second quarter.
Analysts have previously suggested that Apple's decline in China has been compounded by loyal users taking a year off upgrading in 2016 in anticipation of 2017's "
iPhone 8
". If so, Apple's success there depends on whether the upcoming phone can live up to the hype.
"China and Hong Kong are still the hardest-hit areas in Apple's global top ten market," according to Ding. "The outlook remains bleak for Apple to get its China performance back to its heyday of 2015. As with consumers in other developed markets, China's consumers are awaiting the 10th anniversary of the iPhone with very high expectations."
A future version of the iPhone could use a customized wireless charging system created in partnership with Broadcom, according to JPMorgan analyst Harlan Sur (via
CNBC
).
While Apple and Broadcom have reportedly been working together on a wireless charging solution for approximately two years, Sur is not sure whether the feature will be included in the 2017 iPhone due to "caution around the battery-related recall" of the Samsung Galaxy Note 7.
Despite Harlan's caution, the upcoming 2017 "iPhone 8" is widely rumored to include some kind of wireless charging solution, but details on how it is being implemented and whether or not Apple is working with a partner like Broadcom remain unknown at this time.

iPhone 8 concept image via Thadeu Brandão
Past rumors have suggested wireless charging partnerships and supplier deals with
Lite-On Semiconductor
,
MediaTek
,
Foxconn
,
Pegatron
, and
Luxshare
, making it difficult to suss out Apple's wireless charging plans.
Harlan's research note also echoes previous rumors pointing towards a glass body for future iPhones, which many analysts believe is being implemented to facilitate wireless charging.
"We believe the glass back cover is conducive to wireless charging as it reduces signal interference versus a metal casing," Sur wrote. "It is possible for Apple to add proprietary features such as fast charging or extended charging to differentiate itself from the pack and enhance the value of its own hardware ecosystem."
Early wireless charging rumors suggested Apple would use a
long-range wireless charging solution
, but more recent speculation suggests the company may instead opt for an Apple Watch-style
inductive charging solution
. A glass body, as is rumored,
would be necessary
for an inductive charging option, and Apple also recently joined the
Wireless Power Consortium
, a group committed to the open development of the Qi wireless charging standard used in devices like the Samsung Galaxy.
Along with wireless charging, Apple's 2017 iPhone is rumored to include a radical redesign, featuring the aforementioned glass body and an edge-to-edge ~5-inch OLED display that eliminates the device's Home button. Rumors suggest this device will be positioned as a high-end "premium" model that could cost upwards of $1,000, and most sources believe it will be sold alongside two more affordable 4.7 and 5.5-inch devices that resemble the
iPhone 7
and the iPhone 7 Plus.
Rumors disagree on exactly what material the two regular-sized devices will be made from, and whether or not they will include wireless charging as well.
For full details on what to expect from the flagship OLED iPhone 8 and its two companion devices, make sure to
check out our dedicated iPhone 8 roundup
, which is updated regularly with new rumors.