Microsoft today updated its suite of Office for Mac apps, including Word, Excel, PowerPoint, and Outlook, with support for Dark Mode on macOS Mojave and several other new features. The updates are available to both Office 365 subscribers and to users who purchased Office 2019 for Mac as a one-time purchase.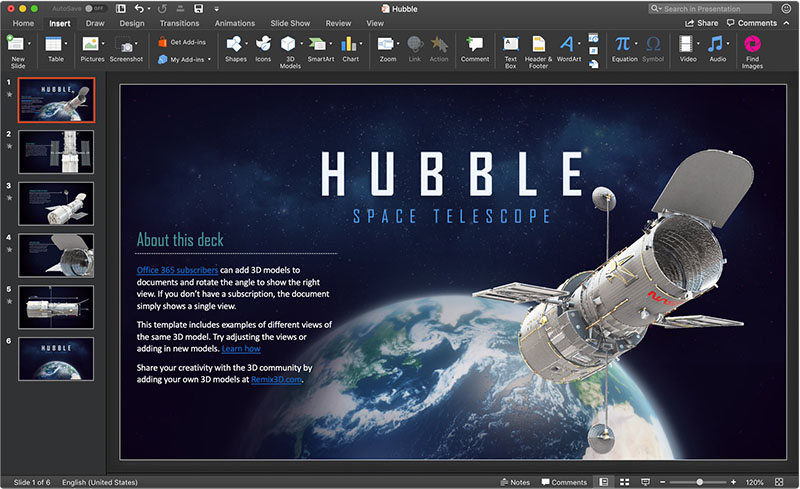 The update also makes it easier to insert a photo from an iPhone or iPad into a PowerPoint slide using Apple's new
Continuity Camera feature
. This allows users to
control-click in a PowerPoint window
where you want the photo to appear, quickly take a photo on a nearby iPhone or iPad, and import it into a slide.
And with v16.20 some customers will see our Ribbon Visual Refresh with new icons and styling in Office 365 for Mac, as we begin rolling out and getting your feedback! On macOS Mojave, the new icons adapt to Light and Dark Mode as well! #Office365 pic.twitter.com/2iLdWNx7qD

— Derek Snook (@derek_snook) December 11, 2018
Office for Mac apps can be updated via the Microsoft AutoUpdate mechanism by navigating to Help > Check for Updates in each app. For a full list of new features, read the
Office for Mac version 16.20 release notes
.
(Thanks, Daniel!)
It is now possible to use the
My Verizon app
to activate eSIM service on an iPhone XS, iPhone XS Max, or iPhone XR in the United States.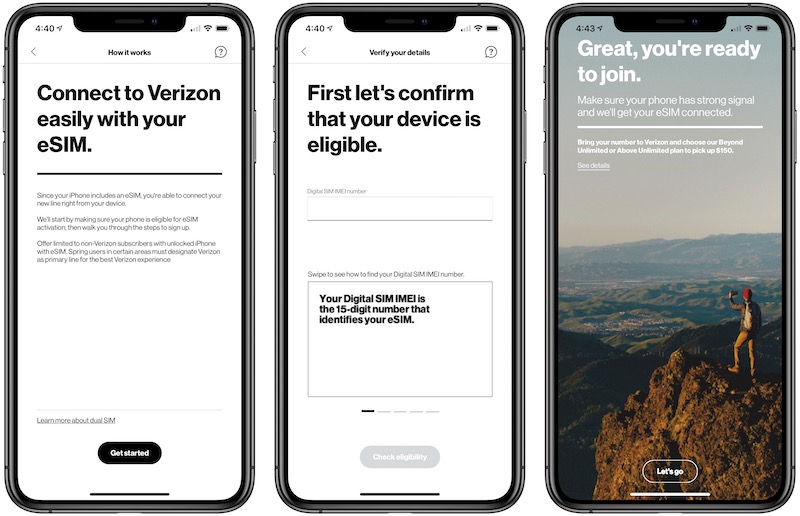 The app was updated today to allow Verizon customers to purchase a cellular plan for the eSIM line of an iPhone without needing to visit a Verizon store. The in-app process should be more straightforward and convenient.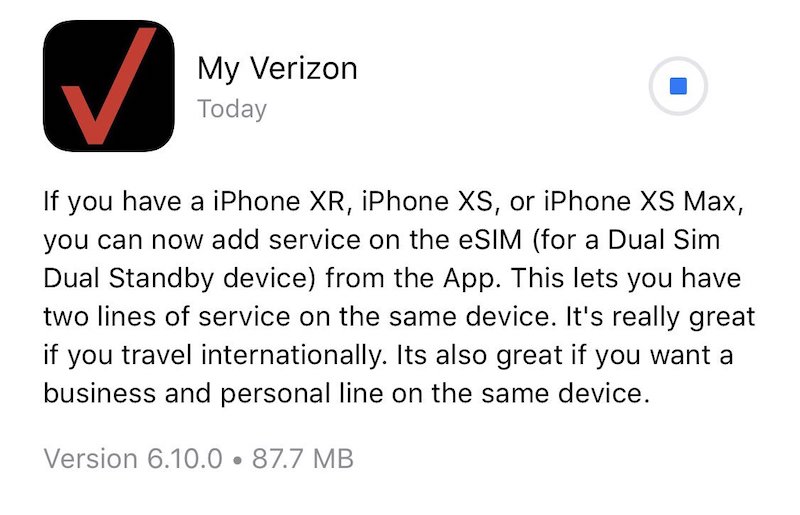 "My Verizon" changelog via Gabriel Lewis
Verizon
and
AT&T rolled out eSIM support last week
, while T-Mobile is expected to
offer an in-app solution
for setting up eSIM
later this month
.
Other carriers offering eSIM service include Bell, Fido, Rogers, Virgin Mobile, and Lucky Mobile in Canada, Deutsche Telekom and Vodafone in Germany, T-Mobile in Austria and Czech Republic, Hrvatski Telekom in Croatia, 3 in Denmark and Sweden, Telia in Finland and Estonia, EE in the United Kingdom, and
many others
.
iPhone XS, iPhone XS Max, and iPhone XR models have both a physical SIM and an eSIM that allows for dual SIM, dual standby. This means you can have two lines of service on one iPhone, which is useful for purchasing data-only plans while traveling or having personal and business lines on a single iPhone.
Update:
This process appears to be limited to customers of other carriers who are looking to add Verizon service via the eSIM.
Apple today seeded the first beta of iOS 12.1.2 to public beta testers, one day after
seeding the same beta to developers
and six days after the
release of the iOS 12.1.1
update with expanded eSIM support and many other new features.

iPhone and iPad users enrolled in the free
Apple Beta Software Program
will receive the iOS 12.1.2 beta over-the-air in Settings > General > Software Update after installing the necessary
configuration profile
from Apple's beta site.
iOS 12.1.2 looks to be a minor update focused on "bug fixes and improvements," according to Apple's release notes.
Apple also seeded the first betas of macOS Mojave 10.14.3 and tvOS 12.1.2 to public beta testers today. The macOS beta can be installed using Apple's
macOS Public Beta Access Utility
, while the tvOS beta can be installed by navigating to Settings > System > Software Updates > Get Public Beta Updates.
Apple says macOS Mojave 10.14.3 contains "bug fixes and improvements," while the tvOS 12.1.2 is likely a very minor update.
Apple Pay made its long-awaited debut in Germany this evening, allowing iPhone and Apple Watch users in the country to finally take advantage of the contactless mobile payments service if their card issuer supports it.

At launch, Apple Pay partners in Germany include American Express, Deutsche Bank, Hanseatic Bank, HypoVereinsbank, Edenred, Comdirect, Fidor Bank, and mobile banks and payment services o2, N26, boon, bunq, and VIMpay. It may take until the end of the day before the rollout is fully completed.
MacRumors readers and Twitter users are starting to share screenshots of their Apple Pay cards in the Wallet app on iPhone.
Apple Pay ist nun auch in Deutschland endlich verfügbar!#ApplePay #ApplePayGermany #ApplePayDeutschland #Amex pic.twitter.com/PtmaQPN4pu

— Eric Voos (@ericvoos) December 11, 2018
Apple Pay first launched in the United States in October 2014 and has since expanded to many other countries, including the United Kingdom, Canada, Australia, Belgium, China, Singapore, Switzerland, France, Japan, Spain, Italy, Sweden, Finland, Denmark, Russia, New Zealand, Brazil, Poland, Ireland, and Ukraine.
Update:
Apple has now
listed German banks that will offer Apple Pay in 2019
, such as ING, Consorsbank, and Deutsche Kreditbank.
Samsung today introduced its latest smartphone, the
Galaxy A8s
. It is Samsung's first smartphone with an Infinity-O display, which has a nearly edge-to-edge, uninterrupted design beyond a small hole for the front-facing camera.

It is also Samsung's first smartphone without a headphone jack, much to the amusement of iPhone users, as Samsung has mocked Apple for over two years over its decision to remove the headphone jack from the iPhone 7 in 2016, a trend that has continued through to the iPhone XS, iPhone XS Max, and iPhone XR.

While on stage unveiling the new Galaxy Note7 in 2016, for example, Samsung executive Justin Denison made sure to
point out that the device came with a headphone jack
. "Want to know what else it comes with?" he asked. "An audio jack. I'm just saying," he answered, smirking as the audience laughed.
And earlier this year, Samsung mocked the iPhone X's lack of a headphone jack
in one of its "Ingenius" ads
promoting the Galaxy S9.
In the ad, a customer at an Apple Store asks if he can use his wired headphones with the iPhone X, and the employee informs him that he will need a dongle. The customer then inquires about charging at the same time, and the employee says he'll need another dongle. "So, a double dongle," the customer says.
To use wired headphones with the Galaxy A8s, a mid-range device for the Chinese market, users must use a USB-C to 3.5mm jack adapter.
While rumors suggest Samsung's upcoming Galaxy S10 will continue to feature a headphone jack, it could be the company's last flagship handset to have one. In October, Korean website
ETNews
said Samsung is considering removing the headphone jack from the Galaxy Note10 in 2019 and Galaxy S11 in 2020.
Samsung isn't the first tech giant to mock Apple's decision to remove the headphone jack, only to follow suit. Google poked fun at the iPhone 7's lack of headphone jack while unveiling its original Pixel smartphone in 2016, and then the
Pixel 2 launched without one
just a year later.
Well, well, well. How the turntables
…
Epic Games today
announced
that its
Infinity Blade
role-playing game trilogy has been removed from the App Store.

In a blog post, the video game studio said "it has become increasingly difficult for our team to support the
Infinity Blade
series at a level that meets our standards," adding that the trilogy "will always hold a special place" in its history.
Along with the three
Infinity Blade
games, all in-app purchase options have been removed, according to Epic Games. iPhone users who already purchased the games will remain able to play them, and re-download them from the App Store using the same Apple ID that was originally used, for the foreseeable future.
The news was first reported by Eli Hodapp at MacRumors sister site
TouchArcade
, who described the trilogy as "an absolute App Store staple" that "even the harshest critics of mobile gaming could admit were, at minimum, pretty good."
Infinity Blade
is a gesture-based fighting game that
debuted on the App Store in December 2010
following an on-stage preview at an Apple event three months prior. At the time,
TouchArcade
reviewed the game's console-like graphics
as "the best we've seen so far on the App Store," raising the bar for mobile games.
Infinity Blade II
followed in November 2011, while
Infinity Blade III
was released in September 2013. Both sequels also received stage time at Apple events, and remained critically acclaimed in 2018, despite the latest title being five years old.
"Premium games eventually losing the support of their developers then slowly falling into obscurity before being removed from the App Store isn't really a new phenomenon," said Hodapp, "but for it to happen to Infinity Blade seems like an incredibly terrible signal for the overall health of the App Store."
Epic Games now has a multi-billion-dollar valuation thanks to the success of its smash-hit battle royale game
Fortnite
, so the company certainly has the cash flow needed to keep the Infinity Blade trilogy alive, but they are evidently moving on.
Over the next month, Epic Games said it will continue to support
Infinity Blade III
with updated Clash Mobs and other surprises. It has also made its
Infinity Blade
sticker pack available for free in the App Store for iMessage. And it looks like the
Infinity Blade sword will live on as a weapon in Fortnite
.
It took nearly two months following the on-sale date for the iPhone XR, but Apple's highly anticipated clear case for the colorful device is
now available
. We're not entirely sure what the delay was in launching it, and it's currently the only first-party case available for the iPhone XR, so we went hands-on with the new case to see how it stacks up.
Subscribe to the MacRumors YouTube channel for more videos.
Apple's clear case is intended to show off the colorful rear shell of the iPhone XR, and it does a great job at that, with a crystal clear view of the phone itself all around. The case is a bit firmer than we expected based on our previous experiences with third-party clear cases, so Apple's case holds its shape well while also providing solid protection.

The iPhone XR Clear Case has a design that's very similar to Apple's other iPhone cases like the leather and silicone options for other models, with a raised lip around the front to protect your phone when placed or dropped face down and an open bottom that makes it easy to use gestures such as the Home screen swipe that starts at the very bottom of the screen.

It's not the most protective case on the market, but Apple has never been about providing maximal protection, so you'll have to look for other options if you're expecting to need anything more than protection from the occasional small drops.

The case unsurprisingly fits perfectly around the iPhone XR with ample clearance for the rear camera, although we wish the side button covers provided for a little more movement upon pressing to give the buttons a bit more tactile feel and that the ring/silent switch opening was a bit bigger to make it easier to access.

One common issue with third-party cases is that they tend to yellow over time after long-term light exposure. We obviously haven't had Apple's case long enough to know if that will be an issue, but we'd be surprised if Apple didn't take this phenomenon into account when selecting materials for the case.
The iPhone XR Clear Case is
priced at $39
, which is in line with Apple's other first-party cases but substantially more expensive than many third-party clear cases, so you'll need to decide for yourself whether the price premium is worth it.
Apple today seeded the first beta of an upcoming iOS 12.1.2 update to developers, five days after
releasing iOS 12.1.1
, an update that introduced a revamped FaceTime layout, re-added Live Photos for FaceTime, and brought Haptic Touch for notifications on iPhone XR.
Apple's release notes state that iOS 12.1.2 "contains bug fixes and improvements," so this appears to be a minor update.

Registered developers can download the new iOS 12.1.2 beta from Apple's Developer Center or over-the-air once the proper configuration profile has been installed from the Developer Center.
We'll update this post if we discover any notable changes.
Apple Pay will make its long-awaited debut in Germany this week, according to German blog
Macerkopf
.

The report, citing unnamed sources within German banking circles, says the launch will likely occur on Tuesday with mobile bank N26 and Comdirect expected to be among the initial participating issuers in the country.
Apple CEO Tim Cook confirmed that
Apple Pay would launch in Germany by the end of this year
back in July. Apple Pay is also
listed as "coming soon"
on Apple's website in Germany, so a launch is to be expected imminently.
Apple Pay first launched in the United States in October 2014 and has since expanded to many other countries, including the United Kingdom, Canada, Australia, China, Singapore, Switzerland, France, Japan, Spain, Italy, Sweden, Finland, Denmark, Russia, New Zealand, Brazil, Poland, Ireland, and Ukraine.
Apple Pay
expanded to Belgium and Kazakhstan
in late November.
Today is Green Monday, an online shopping event that is similar to Cyber Monday, allowing customers another chance to buy gifts for the holidays at Black Friday prices and get their items shipped before Christmas.

Note: MacRumors is an affiliate partner with some of these vendors. When you click a link and make a purchase, we may receive a small payment, which helps us keep the site running.
Most major retailers are running Green Monday deals today, and we've rounded up some of the best and most notable deals in this article. These include HomePod for $250 at Target, an iPad mini 4 for $250 at Best Buy, all-new Anker discount codes on Amazon, and more.
Target
Target today has brought back one of the best Black Friday discounts, offering shoppers the chance to get Apple's
HomePod for just $249.99
, down from $349.99. This is the same price that Best Buy had on Thanksgiving and Black Friday, and another great opportunity to buy Apple's smart speaker at its all-time-low price.

Target also has the
9.7-inch iPad from early 2018 (32GB, Wi-Fi only)
for $249.99, down from $329.99. Amazon matches this price in
Gold
and
Space Gray
color options, and as of today these are the lowest-ever prices for this version of the iPad and the best available online.
Amazon
Otherwise on Amazon, there are the usual collection of Gold Box deals with some notable inclusions for Green Monday. You can
save on a variety of networking products
, with the
Netgear Orbi Wall Plug Mesh Wi-Fi System
for $199.99, down from $299.99.

Another Gold Box offers savings on
wireless charging mats from Samsung and iOttie
. The main deal here is for
iOttie's 7.5W iON Wireless Qi-Certified Charging Pad
for $29.95, down from $39.95 in multiple colors.
As usual, one of the best Amazon sales centers upon Anker's accessories, this time including Lightning cables, battery packs, surge protectors, wall chargers, and wireless chargers. We've listed every item part of Anker's Gold Box for Green Monday below:

10.5-inch iPad Pro in multiple sizes and colors
at a discount today. You can get the 256GB + Wi-Fi version of the 2017 tablet for $669.99, down from $799.99. 512GB + Wi-Fi is available as well in Silver and Space Gray for $849.99, down from $999.00. Both prices are currently the best available online for the 10.5-inch iPad Pro.
Best Buy
At Best Buy, you can get the
iPad mini 4 (128GB, Wi-Fi) for $249.99
, down from $399.99 in Gold, Silver, and Space Gray. This is currently the best price available online for Apple's three-year old iPad mini 4, and it's matching the same sale price seen for the tablet during Black Friday at Best Buy and Target.

Best Buy also has the
HomePod on sale for $279.99
, down from $349.99. This isn't quite as good as Target's current $249.99 sale price on the smart speaker, which we mentioned above.
Apple
Even Apple has joined in on Green Monday deal offers today, with a few discounts on Beats by Dre headphones. Although Apple's sales on Beats are typically beaten out by numerous other companies, today marks one of the few times that Apple is actually offering the lowest-possible prices for these headphones available online today, and sometimes matching popular retailers like B&H Photo and Amazon.

B&H Photo
B&H Photo
is celebrating Green Monday with discounts on the 2017 models of the 12.9-inch iPad Pro. These savings reach to as much as $330 off original prices of both Wi-Fi Only and Wi-Fi + Cellular models, representing the lowest-ever prices for every iPad Pro listed below. One of the best markdowns in this sale is for the 512GB Wi-Fi only model, which has hit its lowest-ever price today of $799.99, down from a previous discount of $899.00, and from an original price of $1,149.00.

Wi-Fi Only
Wi-Fi + Cellular

Deals Roundup
.
CNBC
and
Reuters
today report that the Fuzhou Intermediate People's Court has granted Qualcomm an import ban on the iPhone 6s through iPhone X in China after the court found those devices violated two Qualcomm patents. This could result in those iPhone models being unavailable to purchase in China.

However, in a statement issued to those publications, Apple said all iPhone models remain available for customers in China:
Qualcomm's effort to ban our products is another desperate move by a company whose illegal practices are under investigation by regulators around the world. All iPhone models remain available for our customers in China. Qualcomm is asserting three patents they had never raised before, including one which has already been invalidated. We will pursue all our legal options through the courts.
The first Qualcomm patent reportedly enables users to "adjust and reformat the size and appearance of photos," while the second is said to relate to "managing applications using a touch screen when viewing and navigating apps."
Qualcomm issued the following statement:
We deeply value our relationships with customers, rarely resorting to the courts for assistance, but we also have an abiding belief in the need to protect intellectual property rights. Apple continues to benefit from our intellectual property while refusing to compensate us. These Court orders are further confirmation of the strength of Qualcomm's vast patent portfolio.
The ruling does not apply to the new iPhone XS, iPhone XS Max, or iPhone XR, nor does it apply to iPhones running iOS 12, which is possibly why Apple says all iPhone models remain available to customers in China. Apple naturally disagrees with the ban and said it is pursuing all of its legal options through the courts.
Of note, this ruling does not appear to be related to the larger legal battle between Apple and Qualcomm over wireless modem technology in iPhones.
Apple continues to mention its unreleased wireless charging mat AirPower in
recent job listings
in the United States and New Zealand.

The openings range from
student co-op positions
to hardware engineers on Apple's Wireless Power Technology team in its hometown of Cupertino, California as well as Auckland, New Zealand, where wireless charging company PowerbyProxi remains based following its
acquisition by Apple
in October 2017.

The job description for the openings, posted between late October and early December, each refer to the AirPower a single time:
The mission of the Wireless Power Technology team - Build the world's best Wireless Charging user-experience by inventing state-of-the-art technologies. The Wireless Power Technology team develops bleeding-edge Wireless Charging designs that are central to Apple's products - the iPhone, Apple Watch, AirPods, AirPower and more.
Apple first previewed the AirPower at its September 2017 event. At the time, the company's marketing chief Phil Schiller said the accessory was coming in 2018, as did a few
Apple press releases
.
Apple Newsroom:
Apple gave a sneak peek of AirPower, an Apple-designed wireless charging accessory coming in 2018, which offers a generous active charging area that will allow iPhone 8, iPhone 8 Plus or iPhone X customers to simultaneously charge up to three devices, including Apple Watch Series 3 and a new optional wireless charging case for AirPods.
At this point, it's not entirely clear if Apple still plans to release the AirPower, which has
reportedly faced technical challenges
. Apple has not commented on the AirPower for many months, and there are just three weeks remaining for the company to deliver on its promise of releasing the accessory in 2018.
Following its September 2018 event, though, Apple
removed all but a few references to the AirPower
from its website.
Apple's recent job listings could be an indication that the company is still developing the AirPower, or they could be a simple oversight. There are also AirPower references
in the iPhone XS, iPhone XS Max, and iPhone XR user guides
.
In late October, in a
research note obtained by MacRumors
, Apple analyst Ming-Chi Kuo wrote that "Apple may launch new AirPods and AirPower in late 4Q18 or early 1Q19," without providing further details. If accurate, then the AirPower is alive and well and could be released within the next few months.
The delayed or canceled release of the AirPower is believed to be the reason why Apple has yet to release its optional wireless charging case for AirPods, which is
listed as "currently unavailable"
on Apple's website. Like the AirPower, Kuo expects the wireless case
to be released by early 2019
.