iOS 12 Now Available
Apple today seeded the first beta of an upcoming iOS 12.1 update to its public beta testing group, two days after
releasing the beta
to developers and three days after the launch of iOS 12, a new major version of the iOS software.
Beta testers who have signed up for
Apple's beta testing program
will receive the iOS 12 beta update over-the-air after installing the proper certificate on an iOS device.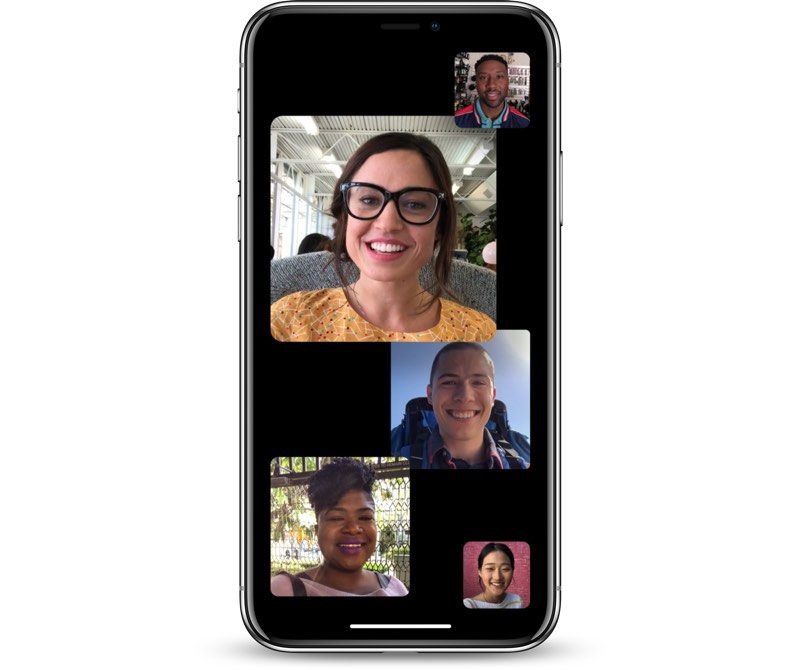 Those who want to join the beta testing program can sign up on
Apple's beta testing website
, which gives users access to iOS, macOS, and tvOS betas.
The iOS 12.1 update reintroduces Group FaceTime, a major iOS 12 feature that was pulled during the beta testing period because it needed more work. Apple promised to deliver the feature in an upcoming update, which looks like it will be iOS 12.1.
Subscribe to the MacRumors YouTube channel for more videos.
Group FaceTime is designed to let you audio or video chat with up to 32 people at one time on an iPhone, iPad, or Mac. Calls can also be answered in an audio-only capacity using an Apple Watch or the HomePod.
There are other features that Apple has said are coming in future betas, including eSIM support and the ECG functionality and app, but those do not appear to be present in iOS 12.1, nor do new emojis that have been promised for the fall.
iPhone XS, iPhone XS Max, and Apple Watch Series 4 orders are
now shipping to customers
around the world, with the first deliveries set to arrive at doorsteps tomorrow, Friday, September 21.

There were concerns earlier today after some customers noticed their iPhone XS or iPhone XS Max order had been updated with a "Shipment on Hold" status, indicating that "there is an issue with your delivery." MacRumors has been informed this was in error. Apple has since corrected order statuses.
These customers who saw a "Shipment on Hold" status are now seeing a "shipped" status indicating "your item is on the way," with initial shipments scheduled to arrive starting this Friday as expected.

As of writing, it's around 3:00 a.m. in New Zealand, where lucky customers will be among the first to receive their orders in just hours from now. iPhone XS, iPhone XS Max, and Apple Watch Series 4 will also be available to purchase at Apple Stores and select resellers around the world beginning Friday.
Those planning to line up for the chance to buy one of the new devices at an Apple Store tomorrow should arrive early, as queues can get quite long, and supplies are limited. Most locations are set to open two hours early, at 8:00 a.m. local time, so be sure to check
Apple's store list
for details.
As a reminder, customers can click "Track shipment" to track their specific order via Apple.com, or by entering a tracking number
on the UPS website
in countries where that courier is handling deliveries.
A few days after
unboxing videos for the iPhone XS and iPhone XS Max
were shared online, some of the same YouTubers have now provided a glimpse into the unboxing experience of the Apple Watch Series 4. Unlike this year's new iPhones, the Apple Watch Series 4's packaging is noticeably different from previous generations.

Image via iJustine
To start off, iJustine unboxed the Apple Watch Series 4 40mm Gold Stainless Steel Case with a Milanese Loop, as well as the Hibiscus Sport Loop and Lavender Sport Band. Apple changed up the packaging for the Series 4, and instead of a square box for stainless steel cases, this year the higher-end Apple Watch models also come in a rectangular box.
The outer packaging opens up to reveal Apple Watch artwork, and inside there are two separate boxes: one holding the Apple Watch, charging cord, power brick, and paperwork, and the second holding the Apple Watch band.
The Apple Watch case itself is also protected by a small fabric sleeve. Previous stainless steel Apple Watches were protected in a large, square plastic case that also held the Apple Watch band.

Image via Emkwan Reviews
YouTuber Emkwan Reviews unboxed the same Apple Watch as iJustine, but in 44mm instead of 40mm.
Spanish YouTuber Victor Abarca unboxed the Apple Watch Series 4 with the 40mm Space Gray Aluminum Case, showing off packaging that mimics the stainless steel Series 4's packaging. Aluminum owners will see the same pull tabs on the back of the packaging that opens up to two separate boxes inside, one holding the Apple Watch and another holding their band of choice.
Additionally, it appears that if you get the Space Gray Apple Watch, the small fabric sleeve protecting the case will also be Space Gray.
Apple's decision to package each version of the Apple Watch the same in 2018 is a big difference from previous Apple Watch generations. For the Apple Watch Series 3 and prior versions, the aluminum Apple Watch models came in slimmer, rectangular boxes, while the premium stainless steel models were encased in larger, square boxes that included the plastic case.
The Apple Watch Series 4 will launch tomorrow, September 21, so the first pre-order customers can expect to receive their Series 4 devices throughout the day on Friday. After reviews for the Apple Watch Series 4
praised
the smartwatch's display and health benefits, Apple
highlighted
some review snippets on its website.
Apple says it is working with Health Canada to bring the
Apple Watch Series 4's all-new ECG functionality
to the Canadian market, according to
MobileSyrup
's Patrick O'Rourke. No timeframe was specified.

This likely means that Apple has submitted an application with Health Canada for clearance to sell the Apple Watch Series 4 with the ECG functionality enabled. Health Canada has similar requirements as the FDA in the United States for medical devices to be sold in the country.
In the meantime, Apple says the ECG functionality will be limited to the United States, where it has received clearance from the FDA. However, the ECG app for watchOS 5 won't be available until later this year.
Apple Watch Series 4 models include a new electrical sensor on the rear that's designed to take an electrocardiogram using Apple's ECG app, the built-in sensor, and the electrode built into the Digital Crown. This allows the Watch to display a single-channel ECG, similar to a Lead I ECG, according to the FDA.
To take an ECG reading from the Apple Watch, users will need to place a finger on the Digital Crown while wearing the watch. The reading is completed in 30 seconds, allowing users to determine whether their hearts are beating in a regular pattern or if there are signs of atrial fibrillation.
As a potentially life-saving feature, Apple surely wants the ECG functionality to be available in as many countries as possible, so it's likely the company is working with public health agencies in other countries too.
Via: iPhone in Canada
Dutch repair site FixjeiPhone today shared a
teardown of the iPhone XS
, providing us with our first look inside the 5.8-inch model.
A side-by-side comparison shot with the iPhone X reveals that the internal layout of the iPhone XS has not changed significantly, with the most obvious difference being a new single-cell L-shaped battery with a
capacity of 2,658 mAh
.

The battery was also L-shaped in the iPhone X, but it was a two-cell configuration, instead of a single lithium-ion battery pack.
While the iPhone XS's battery has around 2.2 percent less capacity than the 2,716 mAh battery in the iPhone X, Apple says the iPhone XS gets up to 30 minutes longer battery life than the iPhone X per charge cycle, presumably due to efficiency gains from the A12 Bionic chip and other components.
FixjeiPhone shared a photo of the iPhone XS almost completely disassembled, but it has not labeled any components or manufacturers.

Their video teardown, which can be watched with English subtitles on YouTube, indicates that the display is a bit harder to remove due to stronger seals that help the iPhone XS achieve its improved IP68-rated water resistance.
Repair site iFixit should have more detailed iPhone XS and iPhone XS Max teardowns soon after the devices launch in stores tomorrow.
Reviews for the new Apple Watch Series 4 models
went live this morning
ahead of Friday's launch, and in a new press release, Apple has
highlighted reviews
from several members of the media who were able to spend some hands on time with the new Apple Watches.
Apple shared key review passages from a variety websites focused on tech, health, fitness, fashion, and lifestyle, including
The New York Times
,
Women's Health
,
USA Today
,
Hodinkee
,
Men's Journal
,
TechCrunch
,
Vogue
,
Refinery29
,
The Independent
,
Wareable
,
MobileSyrup
,
Best Health
,
The Straits Times
, and
Vogue Australia
.

Women's Health
, for example, said features in the Series 4 make it a powerful device for overall well being that could save your life one day.
"The new Apple Watch health and fitness features make it a powerful device for your overall well-being. That's because game-changing bells and whistles have elevated the Apple Watch Series 4 from an investment-worthy health accessory to a sleek and beautiful device that actually might save your life."
The New York Times
said the new model, which can take an ECG reading, is "one of the most significant developments in wearable gadgets in years," while
The Independent
said the speed improvements and new health features are noticeable "at every level."
"The design is just gorgeous and the bright, vivid display with its narrow, curved bezels, looks sensational. The uptick in performance power is noticeable at every level and the increased health qualities and fitness monitoring are hugely welcome. If you've held back from getting an Apple Watch because you thought it wasn't quite there yet, well, it is now."
Apple, of course, only focused on pulling out positive commentary on the Apple Watch Series 4 models, but reviews for the device were largely positive. Some reviewers didn't think it offered enough to entice Series 3 owners to upgrade, but said that it's more than worthwhile for anyone upgrading from an earlier Apple Watch model.
Anyone who has been considering holding out on purchasing an Apple Watch due to a lack of features or slow performance should also consider checking out the Apple Watch Series 4, according to reviewers, because it is faster, more efficient, and more feature rich than previous models.
Apple's full list of review selections can be seen
in the article
shared via Apple Newsroom, and more reviews can be
found in our review roundup
, shared this morning.
The Apple Watch Series 4 will be available starting this Friday, September 21. Customers who pre-ordered a device last week will begin receiving their orders on that day, and those who were not able to secure a pre-order may be able to purchase an Apple Watch from a retail store on launch day.
At this point in time, new Apple Watch Series 4 orders will not begin shipping out until October.
Apple's newest operating system, iOS 12, is installed on just over 10 percent of devices 48 hours after it launched according to
data collected
by analytics company Mixpanel. The data suggests customers are adopting iOS 12 at a slower rate than iOS 11 and iOS 10.
Last year
, iOS 11 was installed on 10 percent of devices just 24 hours after launching, and in 2016, iOS 10 was installed on 14.45 percent of devices within 24 hours.

Customers may be reluctant to adopt a new operating system after all of the bugs and issues that were seen with iOS 11 software updates, but Apple made an effort to focus on the underlying code of iOS 12 and thus far, the update has been stable.
As should be no surprise,
MacRumors
readers are early iOS 12 adopters. Over 80 percent of readers queried so far have installed iOS 12 just two days after it launched.
Follow us on Twitter
and vote to let us know if you've upgraded to iOS 12.
Did you install iOS 12 yet?

— MacRumors.com (@MacRumors) September 19, 2018
iOS 12 is an update that brings significant speed and performance improvements to older devices, so most customers installing the software should see notable speed improvements over iOS 11 after updating.
On the iPhone 6 Plus, for example, apps launch up to 40 percent faster, while the keyboard can appear up to 50 percent faster. Opening the camera on the Lock screen to take a photo can be done 70 percent faster.
Apple has made animations smoother and more responsive across the operating system, so accessing Control Center, scrolling in apps, or swiping up when multitasking feels more fluid.
iOS 12 also includes optimizations for when the operating system is under load. Apps launch up to twice as fast under a heavy load, as does the Share Sheet.
With iOS 12 installed on 10 percent of devices, iOS 11 adoption has dipped to 82 percent and will continue to fall as more people adopt iOS 12. Installation could jump this weekend as some people wait until they have a free block of time to complete a major software update.
iOS 12 is a free download that's available for the iPhone 5s and later, iPad mini 2 and later, and the 6th-generation iPod touch. In addition to noticeable and useful speed and performance improvements, the update introduces Screen Time for monitoring device usage, Memoji and new Animoji, ARKit 2.0, and a new Shortcuts app for creating customized automations. For more on what's new in iOS 12, make sure to
check out our roundup
.
After installing the 12.1 beta, the iOS Simulator in Xcode appears to offer support for virtualized 4K external displays,
according to
developer Steven Troughton-Smith.
That's not a feature that's possible with existing iOS devices using a Lightning to HDMI adapter, which suggests it could be a new option targeted at upcoming iPad Pro models that are rumored to be getting USB-C ports instead of Lightning ports.

New in iOS 12.1: the iOS Simulator supports virtualized 4K external displays. This is not possible on any existing iOS device via the Lightning HDMI adapter — lends credence to iPad perhaps getting a USB-C port for 4K video-out? pic.twitter.com/WfNBerHIrb

— Steve Troughton-Smith (@stroughtonsmith) September 19, 2018
According to well-respected Apple analyst Ming-Chi Kuo, who is well-connected to the Apple supply chain, Apple is planning to replace the Lightning port on the upcoming iPad Pro models with a new
USB-C interface
.
Apple has been transitioning to USB-C in its Mac lineup since 2016, but despite a rumor here and there, has not adopted USB-C ports for any devices in its mobile lineup. An iPad Pro with USB-C would bridge the gap between the Mac and the iPad, making Apple's pro-level tablet even more viable as a computer replacement.
Kuo believes the USB-C iPad Pro models will ship with an 18W power adapter with a USB-C port, which would enable faster charging.
We may not have to wait long for Apple to unveil new iPad Pro models. There are new iPad Pros and Macs in the works for fall, and in years when Apple has a lot of fall devices to unveil, it's held two events, one in September and one in October.
For that reason, we could soon hear news of an October event where new iPad Pro models and new Macs will be introduced.
Along with a USB-C port, new iPad Pro models are expected to have edge-to-edge LCD displays with a TrueDepth camera system for Face ID and no Home button.
Additional details on the upcoming iPad Pro models can be
found in our iPad Pro roundup
.
While the HomePod did not rank among the top five smart speakers in worldwide shipments last quarter, it is dominating the premium end of the market, according to research firm Strategy Analytics.

Strategy Analytics claims the
HomePod accounts for 70 percent of the small but growing $200-plus smart speaker market
, topping competing products such as the Google Home Max and a variety of Sonos speakers.
Among smart speakers of any price, the HomePod accounted for just six percent of the market, as Strategy Analytics
estimated last month
. If accurate, the data shouldn't come as much of a surprise, as the top five best-selling smart speakers are all regularly priced between $49 and $129 in the United States.
By comparison, the HomePod is priced at $349 in the United States, although rumors have suggested Apple has
considered releasing a lower-priced version
, possibly in the form of a
Siri-enabled Beats speaker
.
The world's most-shipped smart speakers last quarter were the Google Home Mini, Amazon Echo Dot, Amazon Echo, Chinese company Alibaba's Tmall Genie, and the Google Home, according to Strategy Analytics. As always, it's important to remember that shipments don't necessarily reflect sales to customers.

David Watkins, Director of Strategy Analytics' Smart Speaker Service:
Unsurprisingly, Amazon and Google models dominated the best-selling list of smart speakers in Q2 2018. The Google Home Mini and Amazon Echo Dot accounted for a combined 38% of global shipments although they contributed just 17% towards the value of the market due to their low price.

Apple on the other hand has focused its smart speaker efforts at the premium end of the market, promoting the HomePod's audio prowess ahead of the device's voice control capabilities.
As noted by Watkins, Apple has marketed the HomePod's premium audio quality more than its Siri capabilities, as justification for its $349 price. Reviews do agree it sounds a lot better than offerings from Google and Amazon.
All in all, the smart speaker market is shaping up to be a lot like other product categories Apple operates in. Apple dominates the premium end of the smartphone market with the iPhone, for example, whereas Samsung and many other Android smartphone makers offer a variety of devices at a wide range of price points.
While the iPhone X and iPhone XS have identical overall dimensions, a new report suggests that iPhone X cases may have a slightly imperfect fit on the iPhone XS due to very slight changes to the camera bump dimensions.

iPhone X in Apple's new iPhone XS Leather Case
No, the camera bump is not any thicker, as
Daring Fireball
's John Gruber confirmed
in his iPhones XS review
on Wednesday. However, eagle-eyed Japanese blog
Mac Otakara
has discovered that the camera bump is ever so slightly longer and wider on the iPhone XS than the one on the iPhone X.
Head over to the
translated report
for specific numbers, but the gist is that the iPhone XS camera bump is up to a millimeter or two longer and wider than the one on the iPhone X, potentially affecting case compatibility.
We expect that most iPhone X cases will more or less fit the iPhone XS without issue, but
Mac Otakara
provided a photo of an iPhone X in Apple's new
iPhone XS Leather Case
, and you can see that it isn't quite a perfect fit. The camera bump should be flush with the opening in the case, and it's off just a bit.
In other words, the camera cutout on the iPhone XS Leather Case is a bit larger, to accomodate for the new iPhone XS camera bump dimensions. In reverse, the camera cutout on an iPhone X case may be a bit too small for the iPhone XS.
All in all, treat this as a warning that some iPhone X cases, especially ones with a very tight fit around the camera bump, might have an imperfect fit on the iPhone XS. It's not really a big deal, but something to keep in mind.
The battery capacities and RAM inside the new iPhone XS, iPhone XS Max, and iPhone XR have surfaced in regulatory filings Apple is required to submit to China's Ministry of Industry and Information Technology.

China's Ministry of Industry and Information Technology, often shortened to TENAA, is sort of like the FCC of China. Apple has filed many products with the regulatory body over the years, as required, and there is a track record of them being factually accurate, so there's no reason to doubt these latest ones.
Chinese website MyDrivers was
first to share the filings
, but only provided screenshots. MacRumors uncovered direct links to the filings below.
The filings reveal that the
iPhone XS has a 2,658 mAh battery
, around 2.2 percent less capacity than the 2,716 mAh battery in the iPhone X that it replaces, despite both being 5.8-inch devices. Nevertheless, with continued performance and power optimizations, Apple's tech specs indicate that the iPhone XS gets up to 30 minutes longer battery life than the iPhone X per charge cycle.
As the largest iPhone ever, the iPhone XS Max naturally has the largest battery capacity of any iPhone ever
at 3,174 mAh
, according to the filings. That's roughly 16.8 percent larger than the battery in the iPhone X, and 19.4 percent larger than the battery in the iPhone XS. Apple's tech specs indicate that the iPhone XS Max lasts up to 1.5 hours longer than the iPhone X per charge cycle.

iPhone XS Max regulatory filing in China
Last, the iPhone XR is
listed with a battery capacity of 2,942 mAh
, roughly 8.3 percent larger than in the iPhone X, 10.6 percent larger than in the iPhone XS, and 7.3 percent smaller than in the iPhone XS Max.
Despite having a smaller battery than the iPhone XS Max, the iPhone XR has the longest battery life of any iPhone ever, according to Apple's tech specs. A big reason may be that the iPhone XR has a smaller 6.1-inch display with a lower resolution compared to the iPhone XS Max. Less pixels, less power consumption.
The filings also appear to confirm that the iPhone XS and iPhone XS Max each have 4GB of RAM, while the iPhone XR has 3GB. That's exactly in line with information shared by
Apple analyst Ming-Chi Kuo
and
Taiwanese research firm TrendForce
earlier this year, so the filings are very likely accurate. By comparison, the iPhone X and iPhone 8 Plus have 3GB of RAM, and the iPhone 8 has 2GB.
iPhone XS and iPhone XS Max launch this Friday, so it won't take long before iFixit teardowns and Geekbench benchmarks confirm these battery capacities and RAM for good measure. iPhone XR launches October 26.
The first reviews of the Apple Watch Series 4 have been published online today, just a couple of days before the new smartwatch is available in stores.
The Apple Watch Series 4 features a new design with a slimmer body, a 30 percent larger display, and electric sensors for taking ECG readings. Despite the larger displays, the Series 4 has a thinner, smaller case.

All Apple Watch Series 4 models feature a black ceramic and sapphire crystal backing, and the Digital Crown includes haptic feedback for what Apple says is a more mechanical, responsive feel. Inside, the Apple Watch features a faster, more efficient S4 chip that offers twice the speed.
With all that in mind, several reviewers have been trying out Apple's new smartwatch for five days, and most of them agree that while the Series 4 model is a great smartwatch, it "isn't the kind of refresh that justifies upgrading from the last generation," as
TechCrunch
's Brian Heater puts it.
Likewise,
iMore
's Rene Ritchie thinks Series 3 owners looking to vindicate the purchase will "have to really want the new capabilities, never mind the new design," although he thinks that upgrading from a Series 0 or Series 1 is a "no brainer" and Series 2 owners will also find the new model "compelling".
In terms of design and wearability, Heater found that the Series 4's larger, wider case was "not really noticeable unless you happen to have two side-by-side," although for those who have used an earlier model with any regularity, "the increase in surface area is pretty readily apparent."
The Verge
's Dieter Bohn found that the difference between a 42mm Series 3 and the Series 4's 44mm size is "only subtly bigger" and "feels about the same." However,
Wired
's Scott Rosenfield found more of a difference when actually interacting with the device:
The watch still looks like a watch. But in practice, the larger screen feels as significant as going from the iPhone 5 to the iPhone 6. The rounded edges and thinner bezel give you substantially more screen space, which make it easier to read and tap.

That changed how I used the watch: I crammed in more complications on each watch face, and I found myself scrolling through texts, looking at heart rate and workout data, and even playing with the News and Photos apps in a way that I hadn't since the watch first launched.

TechCrunch
's Heater took particular liking to the watch's new haptic Digital Crown, which "feels like turning a mechanical dial... And when there's nothing on screen to move by spinning it, the feedback simply shuts off."
iMore
's Ritchie concurred, noting that "the new clicking absolutely feels more precise and more fun to use."
The new watch faces were also a hit with Ritchie, who called the new Infographic (analog) and Infographic Modular faces "informational escalations that manage to be denser without sacrificing legibility."
You can fill them with communications apps and contacts, if you're running around playing secret agent. You can fill them with world clocks and trackers if you're traveling. You can fill them with fitness features if you're off to a workout. Or you can mix and match to best suit your average activities.
Elsewhere,
Wired
's Rosenfield came away impressed by the accuracy of the watch's new optical heart-rate sensor as well as the automatic workout detection, while noting that "runners will love the new rolling mile measurement, cadence, and target pace notifications."
The improvement in the Series 4's speaker was also particularly noticeable.
The Verge
's Bohn called it "way louder," while
iMore
's Ritchie said "everything from Siri to calls now boom... I can make out conversation from a good dozen feet away."
Speed-wise,
Wired
's Rosenfield felt the Series 4 was generally faster than previous models, although not as big a jump as with past iterations:
In everyday life, the Series 4 does feel snappier, but it doesn't feel to me to be as significant as the jump from the Series 2 to Series 3. The exception: I found the initial watch pairing process to be much faster with the Series 4 than with prior models.
Despite the speed improvements, the reviewers agreed that general battery life is largely unchanged from the Series 3 –
TechCrunch
's Heater felt that most users would be able to get through a day's use without worrying about finding a charger.
Reviewers were unable to test the ECG feature, which won't be available until later this year. Likewise, when it came to Fall Detection, Apple advised against trying to trick the Apple Watch Series 4 into thinking they have accidentally fallen, although
Wired
's Rosenfield couldn't resist: "I tried to trigger a false warning by tripping onto a yoga mat, jumping on the bed, and flailing around while attempting to powerlift. No dice."
Summing up,
The Verge
's Bohn concludes: "The Apple Watch has earned its place as the best-selling watch" and is "at least an order of magnitude better than other smartwatches and fitness trackers."
Other publications have shared Apple Watch Series 4 reviews that are worth a read. We've rounded up some links below and will add more when we find them.