In addition to our standalone articles covering the latest Apple news and rumors at MacRumors, this
Quick Takes
column provides a bite-sized recap of other headlines about Apple and its competitors on weekdays.
Thursday, March 22
Highlights

Image Credit: MacStories
1.
Erasing Complexity: The Comfort of Apple's Ecosystem:
MacStories
editor-in-chief Federico Viticci explains how, after years of testing competing products and ecosystems, he has decided to fully embrace Apple's ecosystem given the simplicity and integration of apps, services, and hardware.
It took me years to understand that the value I get from Apple's ecosystem far outweighs its shortcomings. While not infallible, Apple still creates products that abstract complexity, are nice, and work well together. In hindsight, compulsively chasing the "best tech" was unhealthy and only distracting me from the real goal: finding technology that works well for me and helps me live a better, happier life.
2.
Retro Review: 2009 Mac Pro in 2018:
iMore
's Anthony Casella examines whether the 2009 Mac Pro, upgraded with dual Radeon RX 580 GPUs, is still a capable machine in 2018 compared to a 2014 iMac and entry-level iMac Pro, based on transcoding HD video, rendering video in Final Cut Pro, and gaming.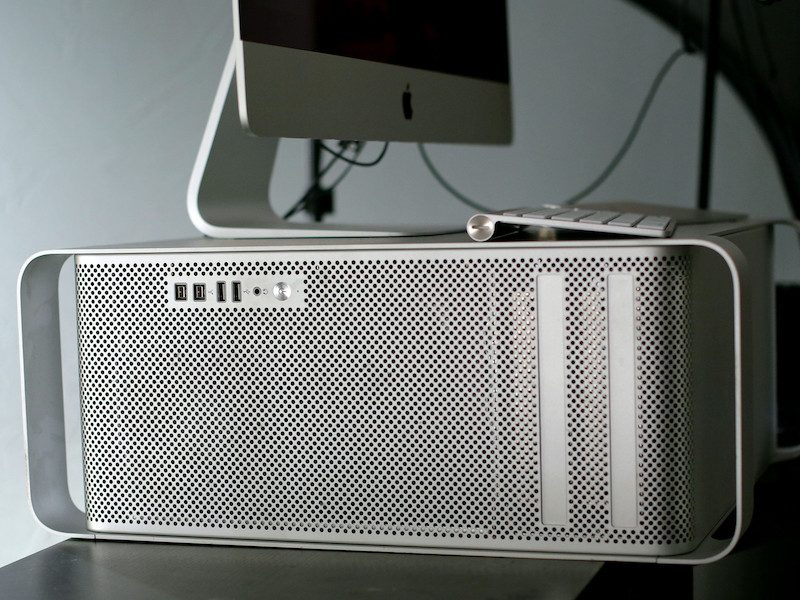 Image Credit: iMore
Casella notes that his article isn't intended to be a scientific comparison, but rather more of a fun project to see if a nine-year-old workstation can still keep up in 2018, if someone were to have upgraded its components over the years instead of buying a whole new system. His answer is very much "yes."
And yes I say that it can hang with the latest and greatest systems. In some areas, like with openCL computation, we made it insanely fast. Much faster than an iMac and an iMac Pro. It some areas it plays in the ball park like when transcoding videos. Others seem to show it's age like when exporting Final Cut Pro videos but it does not show it's age when using a FCP workflow like editing, transforming and scrubbing.
3.
Samsung Galaxy Note 9 to adopt in-display fingerprint scanning: sources:
"Samsung Display has prepared three or four solutions for Samsung Electronics to embed the fingerprint sensor inside of the main display, and both are seriously considering one of the solutions," a source told
The Korea Herald
.
Samsung wouldn't be the first smartphone maker to achieve the feat, as Chinese company
Vivo released the X20 Plus UD
with an in-display fingerprint scanner in January. The smartphone is the result of a
collaboration between Vivo and Synaptics
, which could also be working with Samsung for the Note 9.
Apple was widely rumored to
embed Touch ID into the iPhone X's display
, but as it turned out, the company chose to ditch the fingerprint scanner entirely in favor of Face ID. And with a trio of new iPhone models with Face ID expected to launch later this year, it doesn't look like Touch ID has a long future.
Other Links
The Loop Bash at WWDC 2018: The party will be held at The Ritz, a nightclub around the corner from the San Jose Convention Center, on June 4, 2018, from 8:00 p.m. to 12:00 a.m. Pacific Time. The Loop will make an announcement on how to RSVP for the party as WWDC draws closer.
Meet Haben Girma, a blind-deaf rights lawyer changing tech and design: Mashable's Kerry Flynn interviews disability rights lawyer Haben Girma, who is deaf and visually impaired, about the need for more commitment to accessibility in tech by businesses and entrepreneurs. There are a few quotes from Apple's accessibility director Sarah Herrlinger.
Clipboard API Improvements: Apple has added a new entry to its WebKit blog that provides a technical overview of recent improvements made to the Clipboard copy-and-paste API that enables web apps to more seamlessly integrate with native apps on macOS and iOS.
For more Apple news and rumors coverage, visit our
Front Page
,
Mac Blog
, and
iOS Blog
. Also
visit our forums
to join in the discussion.
Apple today shared a new
iPhone X video
on its YouTube channel, which is designed to highlight Apple Pay payments approved with Face ID.
Called "Fly Market," the video is set to the song "Back Pocket" by Vulfpeck. It features a man dancing through an open air market making purchases with just a look. Every item he looks at flies onto his body like magic.
Apple Pay on iPhone X is unique because purchases are approved with Face ID rather than Touch ID. Making a purchase is as simple as looking at the iPhone to unlock it using facial recognition, and then clicking twice on the Side button.
"Fly Market" is the second video Apple has released in recent weeks showing off Face ID on the iPhone X. The first video, "
Unlock
," was done in the same vein, with Face ID on the iPhone X causing everything in the surrounding area to unlock.
Apple's services revenue is growing at a rapid pace and is on track to be the company's primary revenue driver in the future, according to a note Morgan Stanley analyst Katy Huberty shared with investors this morning (via
Business Insider
).
Huberty believes that over the course of the next five years, services revenue growth will contribute more than 50 percent of Apple's total revenue growth. The iPhone, meanwhile, will make up just 22 percent of revenue growth during the same time period, despite the fact that it's contributed 86 percent of Apple's revenue growth over the past five years.

Although "over the last five years, the vast majority (86%) of Apple's 8% annual revenue growth was driven by iPhone sales, it is through monetization of Apple's Services business that we see the company still generating mid single digit revenue growth," she said.

Huberty estimated that roughly 60% of revenue growth is now attributable to services. That, coupled with wearables, like the Apple Smart Watch, "will drive almost all of Apple's growth over the next five years," she added.
For the last several years, Apple's services category has been setting continual quarterly revenue records thanks to its rapid growth. In the
first fiscal quarter of 2018
, for example, services brought in $8.5 billion, up 18 percent year over year.
The services category includes iTunes, the App Store, Apple Music, iCloud, Apple Pay, and AppleCare.
According to Huberty, services revenue is at roughly $30 per device, up from $25 two years ago, but that might not be an accurate reflection of actual spending. Most Apple users do not currently pay for services, which could mean that revenue per active user is well above and "possibly double" the $30 metric.

Just 18 percent of Apple's total device installed base subscribe to paid Apple services, which means there's a lot of potential for growth in recurring revenue sources. Apple Music, iCloud, and Apple Pay are all services that Huberty believes have yet to be fully monetized.
Apple Music, as an example, has seen considerable growth since its launch and now boasts over 36 million subscribers. Just 2.9 percent of Apple customers subscribe, however. Apple Pay usage is also low, despite the fact that it's available in more than 50 percent of retail locations in the United States.
According to Huberty, Morgan Stanley is confident in Apple's growth through services monetization, with the firm setting a price target of $203 on Apple shares, which are currently trading at ~$170.
As Tim Cook often says, Apple's services category has already reached the size of a Fortune 100 company, and Apple has set a goal to double its 2016 services revenue by 2020, a target the company is well on its way to hitting.
Apple has confirmed it will fix a privacy issue in which Siri can read aloud hidden lock screen notifications from many apps on iPhones.

In a statement provided to MacRumors, Apple said "we are aware of the issue and it will be addressed in an upcoming software update." It's quite possible the fix will be included in iOS 11.3, which remains in beta testing, but Apple may elect to address the problem with a minor update such as iOS 11.2.7.
As reported by Brazilian website
MacMagazine
earlier this week, users can simply ask Siri to "read my notifications" and the assistant will read aloud the contents of notifications, including ones that are hidden, from a wide selection of apps.
Siri's behavior becomes a privacy issue because it can read aloud messages and emails from third-party apps such as Facebook Messenger, WhatsApp, and Gmail, even if an iPhone is locked and notifications are hidden. This violates the trust of users who expect that their notifications cannot be read by others.
MacRumors has reproduced this issue on an iPhone X running both iOS 11.2.6 and the latest iOS 11.3 beta, but we can confirm that it does not affect iMessage. However, the issue did partially affect Apple's stock Mail app, as Siri was able to read the subject line of an email we sent as part of our testing.
Lock screen notifications are hidden by default on iPhone X, meaning the contents of notifications are concealed until a user authenticates with Face ID. The setting isn't turned on by default on other iPhones, but it can be enabled in Settings > Notifications > Show Previews, which presents three options:
Always: Lock screen notifications are fully visible
When Unlocked: Lock screen notifications remain hidden until a user authenticates with Face ID, Touch ID, or a passcode
Never: Lock screen notifications are always hidden
There are two workarounds that users can implement until the fix is released to prevent Siri from reading aloud notifications from the lock screen:
Turn off lock screen notifications for sensitive apps: Settings > Notifications, select an app, and toggle off Show on Lock Screen
Fully disable Siri whenever the iPhone is locked: Settings > Siri & Search > Allow Siri When Locked
MacRumors will update this article as soon as the software update with a fix is released.
Apple is expected to begin trial production of a trio of new iPhone models in the second quarter of 2018 at the earliest, as it looks to avoid a repeat of the issues caused by the initial low yield rates on production of 3D sensor modules for the iPhone X last year, according to Taiwanese website
DigiTimes
.

iPhone X2, iPhone X2 Plus, and iPhone SE 2 mockup by Curved.de
The report, citing supply chain sources, claims Apple's fast-tracking of the trial production will help push ahead the delivery schedules for the 2018 iPhones, meaning it should have more plentiful supply available for pre-orders.
The sources cited add that sales of the iPhone 8, iPhone 8 Plus, and iPhone X have been "lower than expected," but they believe the earlier production will help Apple to "rekindle" its smartphone momentum. Apple's supply chain partners are said to be "generally more optimistic" about order prospects this year.
Leading up to the iPhone X launch, multiple reports claimed Apple was having
issues with ramping up production
of the device. KGI Securities analyst Ming-Chi Kuo pegged the TrueDepth camera system as the
primary reason for the supply bottleneck
, due to its complex 3D facial recognition technologies.
Kuo added that the yield issues
began to stabilize by late October
, but when pre-orders began on October 27, shipping estimates for the iPhone X quickly fell back to 5-6 weeks around the world. The estimates gradually improved over the following weeks, and the device was fully in stock by mid December.
Looking ahead, Apple is widely rumored to launch a so-called
iPhone X2, iPhone X2 Plus, and a cheaper 6.1-inch model with Face ID
, but with design tradeoffs like an LCD screen and no wireless charging. And if today's report proves accurate, getting your hands on one of the new models should be easier this fall.
In a piece covering growing consumer interest in mobile gaming,
TechCrunch
's Matthew Panzarino spoke to Apple's vice president of product marketing, Greg Joswiak, and several prominent game developers to get opinions on the state gaming on iOS.
According to Joswiak, with developers now able to bring full multiplayer console-style experiences to iOS devices, like the recently released Fortnite and PUBG mobile games, mobile gaming is at a tipping point. Platforms like iOS are able to offer unique combinations of hardware and software that see regular updates and improvements, which has led to impressive new gaming technology over the course of the last few years.
"Every year we are able to amp up the tech that we bring to developers," he says, comparing it to the 4-5 year cycle in console gaming hardware. "Before the industry knew it, we were blowing people away [with the tech]. The full gameplay of these titles has woken a lot of people up."
Joswiak says Apple is able to bring a "very homogenous customer base to developers" with 90 percent of devices running the current version of iOS, which allows developers to introduce new features and target the capabilities of new devices more quickly than on other platforms like Android, giving Apple's App Store a competitive edge.
Ryan Cash, one of the developers behind the newly released Alto's Odyssey game, told
TechCrunch
that there's a "real and continually growing sense that mobile is a platform to launch compelling, artful experiences."
"This has always been the sentiment among the really amazing community of developers we've been lucky enough to meet. What's most exciting to me, now, though, is hearing this acknowledged by representatives of major console platforms. Having conversations with people about their favorite games from the past year, and seeing that many of them are titles tailor-made for mobile platforms, is really gratifying.
According to Joswiak, gaming has always been one of the App Store's most popular categories, and the iOS 11 redesign of the App Store that splits gaming into its own category has grown interest in mobile gaming even more. "Traffic to the App Store is up significantly, and with higher traffic, of course, comes higher sales."
One aspect of the new App Store design that developers are appreciative of is the new "Today" tab that provides customers with a look at some of the work that goes into creating a mobile game.

Dan Gray, one of the developers behind Monument Valley 2, said that it lets people know that indie games really are a "labour of love for a small group of people" and not created by a corporation of 200 people. "Hopefully this leads to players seeing the value in paying up front for games in the future once they can see the craft that goes into something," he said.
SpellTower creator Zach Gage told
TechCrunch
that games have "never had the cultural reach that they do now" because of the App Store and "these magical devices that are in everyones pockets." He went on to say that people are beginning to recognize that "iOS devices are everywhere" and are "the primary computers of many people," which is leading to more iOS development.
The full interview with comments from Joswiak and several other game developers is over at
TechCrunch
and is well worth reading for those interested mobile gaming.
The heart rate monitors built into the Apple Watch and other wearable devices can detect abnormal heart rhythms with 97 percent accuracy, according to a new study conducted by the team behind the
Cardiogram app
for Apple Watch in conjunction with researchers at the University of California, San Francisco.
More than 139 million heart rate and step count measurements were collected from 9,750 users of the Cardiogram app who also enrolled in the UC San Francisco Health eHeart Study, with the data used to train DeepHeart, Cardiogram's deep neural network.

Once trained, DeepHeart was able to read heart rate data collected by wearables, distinguishing between normal heart rhythm and atrial fibrillation with a 97 percent accuracy rate, both when testing UCSF patients with known heart issues and Cardiogram participants.
At a 97 percent accuracy rate, Cardiogram's study suggests the Apple Watch alone does a better job of detecting abnormal heart rhythms than
FDA-approved accessory KardiaBand
. From Cardiogram co-founder Johnson Hsieh:
97% accuracy refers to the c-statistic, or area under the sensitivity-specificity curve. Surprisingly, both the sensitivity and specificity of DeepHeart were even higher than an FDA-cleared Apple Watch ECG attachment -- 98% (vs 93%) sensitivity and 90% (vs 84%) specificity.
Published in
JAMA Cardiology
this morning, the study confirms the results from a similar preliminary study
done in May of 2017
. According to Cardiogram, today's study marks the first peer-reviewed study in a medical journal that demonstrates popular wearables from companies like Apple, Garmin, Polar, LG, and others can detect a major health condition.
Atrial fibrillation, or an abnormal heart rhythm, is a condition that can be indicative of major health problems and it can lead to heart failure and stroke. Atrial fibrillation often goes undiagnosed, which is where the Apple Watch and other wearables can help. The Apple Watch won't replace a traditional EKG, but it can alert people to a problem much earlier than it might otherwise be detected. From the study's conclusion:
This proof-of-concept study found that smartwatch photoplethysmography coupled with a deep neural network can passively detect AF but with some loss of sensitivity and specificity against a criterion-standard ECG. Further studies will help identify the optimal role for smartwatch-guided rhythm assessment.
In addition to studies on the Apple Watch's ability to detect atrial fibrillation, Cardiogram and UCSF have also been working to determine if the Apple Watch heart rate monitor can also detect conditions like
hypertension
,
sleep apnea
, and
early signs of diabetes
. Preliminary studies have suggested all of these conditions could be spotted in data collected by Apple Watch and other common wearable devices.
Apple has been
working with researchers
at Stanford on its own study to determine whether the heart rate sensor in the Apple Watch can be used to detect abnormal heart rhythms and common heart conditions. While in the study, if an abnormal heart rhythm is detected, participants will be contacted by researchers and asked to wear an ePath monitor to test heart health.
Apple Watch owners can sign up to participate in the Apple Heart Study by downloading and installing the
Apple Heart Study app
. Those who want to join
Cardiogram's studies
can install the Cardiogram app and sign up to join the
mRhythm study
.
Over the years, Apple has included its products in well-known television shows and movies as a way to spread awareness and promote recent launches of its iPhones, iPads, and more.
Variety
today reported that the company is appearing to increase the presence of these promotional campaigns, with some TV shows including direct connections to the Cupertino company in the closing credits.
Fox's cop drama
9-1-1
includes multiple instances of Apple's iPhone as the main smartphone for its characters, and each episode ends with a "promotional consideration sponsored by Apple" message. According to the report, Apple has recently moved from simple "surprising cameos" to taking directly credited roles in popular TV shows as it does in
9-1-1
.

Image from 9-1-1 via YouTube
Ad agency the Omnicom Group -- which buys ad time for Apple -- denied having anything to do with purchasing the
9-1-1
appearances. Although Apple and Fox declined to officially comment, marketing professor P.K. Kannan noted that amid the growing prices of Apple products, placing iPhones and MacBooks in the hands of celebrities could garner more attention than a regular TV ad. It usually takes a little while before Apple's latest phones appear regularly in TV shows, and
9-1-1
appears to still be using pre-iPhone X devices.
"They need to sell their increasingly more expensive smartphones to keep their revenues flowing in," notes P.K. Kannan, a marketing professor at the University of Maryland's Robert H. Smith School of Business. "Producers and marketers of hardware have a tough problem when they release new models – convincing the customers of their older models to upgrade to the new versions."

Getting a new iPhone "in the hands of a cool celebrity in a movie or music video or TV program is more likely to garner attention and interest rather than a straight and persuasive TV advertisement," says Kannan. "If done right, product placements can lead to more viral campaigns than other forms of ads. Apple is probably counting on this."
As
Variety
pointed out, Apple's promotional placements are also "substantially cheaper" than normal commercials.
The in-show placements aren't necessarily free – supplying product costs something – but they are substantially cheaper than traditional TV commercials. And that frees Apple up to spend heavily in more obvious ways. Among 2016 and 2017 TV programs, Apple spent the most on NBC's "Sunday Night Football," according to Kantar Media, a tracker of ad spending. Last season, the average cost of a 30-second ad in that show was $728,434, according to Variety's annual survey of primetime ad prices.
A few days before the original iPad launched in April 2010, an
episode of ABC's Modern Family
revolved around lead character Phil Dunphy's quest to find one of the new tablets on launch day. Five years later, the sitcom set an
entire episode
on the screen of Claire Dunphy's MacBook and was shot using an iPhone 6 and iPad Air 2. Neither instance included the promotional disclosure message that has appeared on
9-1-1
, and Apple "didn't pay a cent" for its devices' integral parts in each story.
Although one HBO spokesperson explained that "products in shows are creative decisions, not product placements,"
Variety
said that for many professionals in advertising and production circles, these decisions are still "aimed at selling tech." In an interesting aside, a person close to the production of Showtime's
Homeland
pointed out that the show tries to keep its main characters supplied with smartphones from Apple, Google, Blackberry, and Samsung, while preventing these same phones from appearing "in the hands of evil figures."
Apple is also planning to launch its
own slate of original TV programs
, where users can likely expect to see characters using many of the company's own products. Although the debut of the service is still uncertain, we're now up to about 12 shows confirmed to eventually launch on the streaming platform. These include shows from M. Night Shyamalan, Damien Chazelle, Steven Spielberg, and more.
Apple today debuted a new
Spring Collection of Apple Watch bands
, available to order from Apple.com and at select Apple Stores and Apple Authorized Resellers across the United States and other countries later this month.

Woven Nylon bands now include an updated stripe pattern, and there's new colors of the Sport Band, Sport Loop, and Classic Buckle.
Sport Band in Denim Blue, Lemonade, and Red Raspberry
Woven Nylon in Black Stripe, Blue Stripe, Gray Stripe, and Pink Stripe
Sport Loop in Flash Light, Hot Pink, Marine Green, and Tahoe Blue
Classic Buckle in Spring Yellow, Electric Blue, and Soft Pink
Apple Watch Series 3 (GPS + Cellular) will include new 38mm and 42mm Space Gray Aluminum Case with Black Sport Loop models.

Apple said the Nike Sport Loop will now be sold separately in a variety of colors matching with the latest Nike running shoes. There's also new colors for the Nike Sport Band, which Apple already sells separately:
Nike Sport Loop in Black/Pure Platinum, Bright Crimson/Black, Cargo Khaki, Midnight Fog, and Pearl Pink
Nike Sport Band in Barely Rose/Pearl Pink, Black/White, and Cargo Khaki/Black
Apple Watch Nike+ (GPS + Cellular) will include new 38mm and 42mm Space Gray Aluminum Case with Midnight Fog Nike Sport Loop models.

For Apple Watch Hermès, the Single Tour Rallye and Double Tour bands now display contrasting paint details:
38mm Double Tour in Indigo with rouge H polished edge and rouge H contrasted loop
38mm Double Tour in Blanc with rouge H polished edge and rouge H contrasted loop
42mm Single Tour Rallye in Indigo with rouge H polished edge and rouge H contrasted loop
42mm Single Tour Rallye in Blanc with rouge H polished edge and rouge H contrasted loop
Apple's press release outlines complete
pricing and availability information
for the new Spring Collection bands and models.
Following
rumors
of his plans to leave Apple earlier this year,
The Wall Street Journal
today reported that Jimmy Iovine will transition into a "consulting role" with Apple Music this August. Iovine won't completely leave Apple and his involvement with Apple Music behind, but will step back from daily involvement, people familiar with his plans stated.
At the time of the original rumor, Iovine
denied
he would leave the company: "I am committed to doing whatever Eddy [Cue], Tim [Cook] and Apple need me to do, to help wherever and however I can, to take this all the way. I am in the band." As of now, it's unclear what exactly he will be doing in his consulting role with the streaming music service, but upon his transition he will no longer be the public face of Apple Music.

Iovine reportedly plans to spend more time with his family while at the same time supporting Apple Music and Apple senior vice president Eddy Cue "as needed." According to people close to Iovine, the transition from Beats' "edgy culture" to Apple's focus on "appealing to the masses" proved to be a challenge.
While Iovine was the public face of Apple Music and held meetings with employees and artists in Los Angeles, in recent years "most of Apple Music's operations" had been designated to Robert Kondrk and Jeff Robbin, overseeing business and engineering sides respectively. Cue is said to now be deciding on whether to continue divvying up responsibilities between Kondrk and Robbin, promoting one to a more public role, or hiring someone outside of Apple to become the new Iovine.
Iovine has been with the Apple Music team since 2014, when Apple
acquired
Beats Electronics and the Beats Music streaming service, both of which were co-founded by Iovine and Dr. Dre. Before that acquisition, Iovine has had a long history with Apple, first
pitching
a subscription music service to Steve Jobs in 2003.
Iovine's transitioning this August will be timed with the vesting of stock he acquired when first joining Apple. In January, he said that the bulk of his stock "vested a long time ago," and while a tiny portion remains unvested, it's "not what [he] thinks about." Still, the people familiar with his plans have now confirmed that the timing of his transition is in some part "linked" to the Apple shares he received in the Beats acquisition.
According to the
WSJ
, Iovine's stepping back from leadership makes him "one of the last" of the Beats team that Apple gained following the acquisition in 2014.
Mr. Iovine is one of the last of a team of prominent music executives Apple gained when it bought Beats Electronics LLC in 2014 for $3 billion. Former Chief Executive Ian Rogers, Beats co-founder Dr. Dre and Nine Inch Nails frontman Trent Reznor, another top Beats executive, have all left or distanced themselves from the company since the Apple deal, people familiar with the business said. Beats President Luke Wood, who oversees the headphone business, remains.
In his time at Apple, Iovine grew Apple Music to amass 36 million subscribers
as of March 2018
, while also pushing for the service to include more than just music and helping to launch shows like
Carpool Karaoke
. Before the launch of that show, as well as Planet of the Apps, Iovine said he hoped Apple Music would be "
an entire pop cultural experience
."
Apple is ranked sixth on LinkedIn's annual
list of the top 50 companies
where professionals most want to work in the United States.

Apple moved up one spot after ranking seventh in 2017. The top five spots belong to Amazon, Alphabet, Facebook, Salesforce, and Tesla, while NBCUniversal, The Walt Disney Company, Oracle, and Netflix round off the top ten.
LinkedIn says the list is
based on billions of data points
generated by over 546 million users on the site, with four areas of focus: interest in the company, engagement with the company's employees, job demand, and employee retention.
Job demand: At what rate are people viewing and applying to job postings, including paid listings, unpaid ones and those linked from other sites?
Engagement with the company: How many professionals are viewing a company's career page? How many new followers has the company attracted?
Interest in its employees: How many non-employees are viewing and asking to connect with a company's employees?
Retention: Are employees sticking around for at least a year?
It's worth noting that many different lists are published each year, and the results can often vary significantly. In December, for example, Apple ranked 84th on
Glassdoor's annual list of the best companies to work at
in the United States.
2018 LinkedIn Top Companies:
Amazon

Alphabet

Facebook

Salesforce

Tesla

Apple

NBCUniversal

The Walt Disney Company

Oracle

Netflix


➜ Click here to read rest of article...



Apple has managed to reduce the manufacturing cost of its iPhone X successor to a level much lower than the current flagship model, according to
DigiTimes
' research analyst Luke Lin.
Lin cited information from Apple's upstream supply chain as indicating that the new device's MBOM [manufacturing bill of materials] will be more than 10% lower than that for iPhone X. He added that the MBOM of the iPhone X was more than US$400 in 2017.
Apple is rumored to be introducing
three iPhones in 2018
: The first is said to be a second-generation version of the iPhone X, with the same 5.8-inch OLED display, while the second can be thought of as an "
iPhone X Plus
" with a larger 6.5-inch OLED display.
Apple is also reportedly planning to introduce a new, more affordable 6.1-inch iPhone with an LCD display. However, recent engineering samples from the 5.8-inch device are said to show components with lower-level specifications or lower capacities than those of the 6.1-inch LCD iPhone, with LPDDR memory being one of the major differences.
According to Lin, the cost reduction could see Apple position the new 5.8-inch device as the cheapest model of all three next-generation iPhone models. The analyst also believes a project to develop a 5.8-inch LCD iPhone has been suspended since the end of the Lunar New Year holidays in mid-February and may be eventually terminated.
Lin reckons weak demand for iPhone X meant Apple needed a lot less OLED panels from Samsung than it said it would, which gave the Korean firm more bargaining power with regards to panel quotes for the next generation of iPhones. However, Apple has supposedly reached an agreement with Samsung and secured "satisfactory terms" that will prevent display panel cost increases.
DigiTimes'
sources often provide reliable information, but the site has a mixed track record when it comes to interpreting that information and accurately deciphering Apple's plans, so it would be wise not to base any future purchasing decisions on today's report.