Nike's latest Apple Watch, the Apple Watch NikeLab, is
now available for purchase
from the Nike website, Nike Lab stores, and the Apple Watch pop-up shop at the Isetan department store in Tokyo.
First
announced last week
, the Apple Watch NikeLab pairs a Space Gray
Apple Watch Series 2
aluminum case with a black and cream perforated Nike band.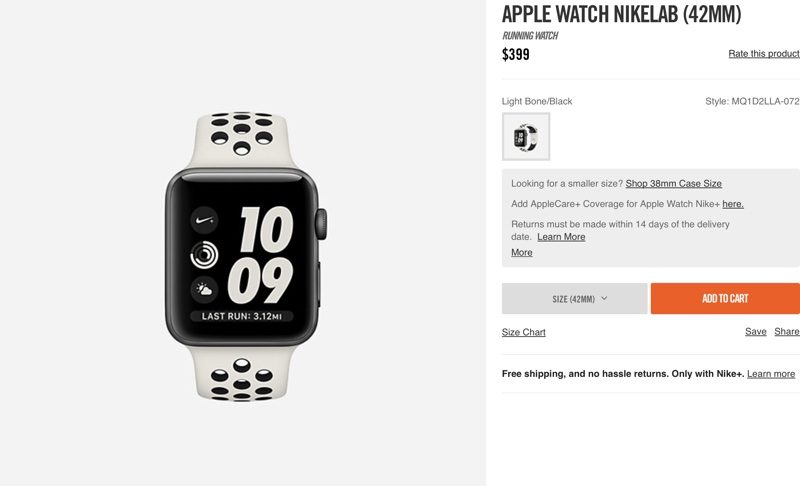 According to Nike, the Apple Watch NikeLab is limited edition and designed to be the "ultimate style companion" for runners. Like the existing Apple Watch Nike+, the Apple Watch NikeLab features a Nike watch face and integration with the Nike+ Run Club app.
Apple Watch NikeLab has the same pricing as an aluminum Apple Watch Sport at $369 for the 38mm model and $399 for the 42mm model. The new watch is available exclusively from Nike and the Isetan department store, marking the first Apple Watch that is not available in Apple retail stores and from the Apple website.
Apple and Nike first teamed up in September of 2016 for the Nike+ Apple Watch that launched alongside Apple's own set of Series 2 Apple Watch devices. Apple offers two Apple Watch Nike+ models in Silver and Space Gray aluminum along with standalone Apple Watch Nike+ bands.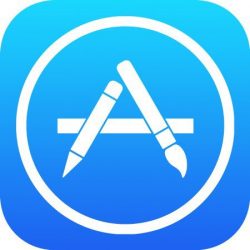 Apple today sent out an email to developers announcing
App Store
pricing increases in Denmark, Mexico, and all territories that use the Euro currency. The new pricing changes will go into affect before the end of next week, with Apple citing changes in foreign exchange rates as the reason behind the price hike.
Due to foreign exchange rate changes, prices for apps and in-app purchases (excluding auto-renewable subscriptions) will increase in Denmark, Mexico, and all territories that use the Euro currency in the next 7 days. Auto-renewable subscription prices will not be affected. You can change the price of your subscription at any time in iTunes Connect with the option to preserve prices for existing subscribers.
French site
iPhoneAddict
has shared a chart listing the new pricing tiers in Austria, Bulgaria, Estonia, France, and Slovakia. In those countries, app pricing will now start at 1.09 euros, up from 0.99 euros. Similar pricing increases will be seen in the other affected countries.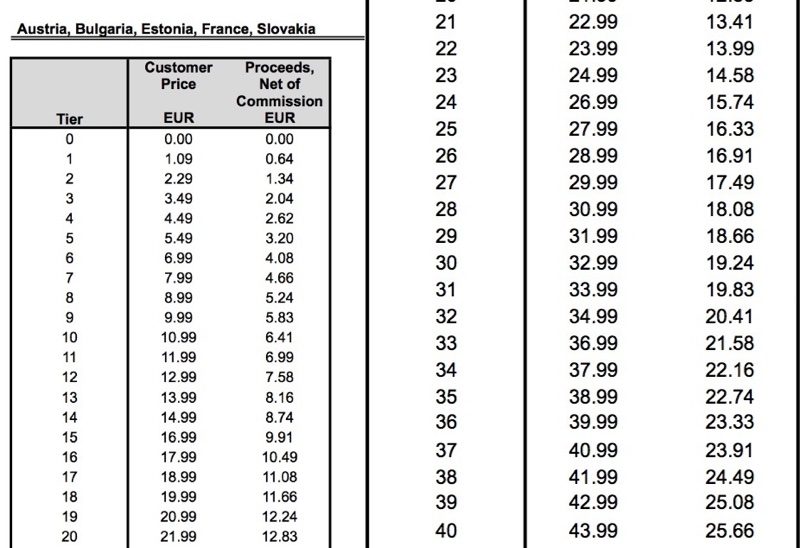 Along with the App Store price change, Apple has announced that a value added tax (VAT) rate of five percent will go into effect for customers in Taiwan starting on May 1, 2017. Apps and in-app purchases will be affected.
On May 1, 2017, a value added tax (VAT) rate of 5% will go into effect for customers in Taiwan buying apps and in-app purchases. We will administer the collection of taxes from customers and the remittance of taxes to the appropriate tax authority in Taiwan. Your proceeds will be reduced accordingly, and will be calculated based on the tax exclusive price.
Apple's App Store price hike in Denmark, Mexico, and countries that use the Euro comes just a few days after Apple announced a significant decrease in its
affiliate program commission rate
. Sites linking to the App Store used to receive a 7 percent cut when someone purchased an app, but that number will drop to 2.5 percent next week, impacting many websites that rely on App Store commissions.
Apple today seeded the fifth beta of an upcoming
iOS 10
.3.2 update to developers, just a few days after seeding the
fourth iOS 10.3.2 beta
and a little over a month after introducing
iOS 10.3
, which included features like a new Find My
AirPods
feature and Apple File System. Apple also released
a minor iOS 10.3.1 update
in early April, which focused on security improvements.
Registered developers can download the fifth iOS 10.3.2 beta from the Apple Developer Center or over-the-air with the proper configuration profile installed.

Apple doesn't provide detailed release notes for its beta updates, so we don't yet know what features, improvements, or bug fixes might be coming in iOS 10.3.2, aside from some fixes for
Siri
Kit car commands that were outlined in the release notes for the first beta.
As a minor 10.x.x update, we can expect iOS 10.3.2 to offer bug fixes and performance improvements rather than outward-facing features. No notable changes were found in the first four betas, but if anything new is found in the fifth iOS 10.3.2 beta, we'll update this post.
Huawei, the world's third-largest smartphone maker,
continued to gain on Apple
in the first three months of the year, with an impressive 21.7 percent growth, according to market research firm IDC.

Huawei shipped an estimated 34.2 million smartphones worldwide in the first quarter, capturing 9.8 percent market share, based on data from IDC's Worldwide Quarterly Mobile Phone Tracker. That's up from an estimated 28.1 million smartphones it shipped in the year-ago quarter.
By comparison, Apple shipped an estimated 51.6 million iPhones in the quarter for 14.9 percent market share. Apple essentially saw no smartphone growth in the quarter as the market remains highly saturated, and due to seasonality factors as consumers anticipate a widely rumored
trio of new iPhone models
.

Huawei has previously outlined its ambitions to dethrone Samsung as the
world's largest smartphone maker within the next four years
, a tall task that would require leapfrogging Apple in the process.
"We want to grow into top two market share, and, in the future, top one by 2021," Huawei's consumer head Richard Yu said in February.
Huawei's biggest problem is that it still lacks considerable brand awareness in the western world. In the United States, it does not even crack the list of the top ten most popular smartphone brands, largely because it lacks agreements with the country's biggest carriers Verizon, AT&T, T-Mobile, and Sprint.
American customers have to resort to retailers such as Best Buy or Walmart, or Huawei's direct sales website, to purchase one of their unlocked devices, reducing the brand's visibility in the country.
Huawei has yet to reveal any larger plans for the United States, but in Canada, the company will begin selling its flagship P10 and P10 Plus smartphones through nationwide carriers Rogers and Bell starting in
early June
. Huawei has also been pushing its brand in Canada
during the 2017 Stanley Cup Playoffs
.
If Huawei can find success in Canada, then perhaps it will consider tackling the much larger U.S. market next.
Apple is once again rumored to launch its own Venmo-like service, allowing iPhone users to pay friends and family members also on Apple's ecosystem. Sources speaking with
Recode
mentioned that Apple intends to announce the service -- which could have a name like "Apple Cash" -- later this year, potentially at its fall iPhone event.
Sources conflict on whether or not an announcement and release date have yet to be set, however, with another person familiar with Apple's plans suggesting that the company's Venmo-like service is still very early in development. Today's news of a potential ramp up of an in-house, peer-to-peer payments service from Apple comes over a year after the company was first rumored to be
discussing such a service
with a collection of U.S. banks.

Apple's on-again, off-again flirtation with building its own money-transfer service appears to be back on.

The company has recently held discussions with payments industry partners about introducing its own Venmo competitor, according to multiple sources familiar with the talks. The service would allow iPhone owners to send money digitally to other iPhone owners, these people said.
The unnamed Apple payments service would include a major partnership with Visa, according to the sources, allowing users to obtain digital pre-paid cards that would run on Visa's debit network but be tied directly into Apple's peer-to-peer service, and could also be added into Apple Pay. In this way, users could get paid through so-called "Apple Cash" from a friend, and use the Visa card and Apple Pay to spend the money at a retail location or online, "without having to wait for it to clear to their bank account."
The peer-to-peer platform is being looked at as a way to boost Apple Pay adoption and usage, which Apple itself has
admitted
to be slow over its first two years, but which the company believes to be on the path to replace cash and cards. Apple is expected to not charge users of the new payments service, so the company's only profits from the platform would come from those who opt-in to use the Apple/Visa debit card, which some banks are concerned about.
The potential of Apple getting its own debit card, however, is not sitting well with some bank executives, sources told Recode. Some plan to raise their concerns with Visa next week during an annual summit that the credit card company is hosting for its bank partners.

"Banks spent heavily in insuring their cards were top of wallet when they all built and rolled out Apple Pay," said Cherian Abraham, a digital payments executive at Experian. "So it's justifiable to be concerned that Apple will have its own card and could potentially be top of wallet. If you are top of wallet, you are top of mind."
There remain many questions in regards to Apple and Visa's potential partnership, including whether or not concerns from banks would scare Visa away, or if Apple would launch an enticing enough rewards program to convince people to ditch their current credit or debit card for the new one. To gain the most traction, sources believe that Apple could be targeting teens and young adults with the new service, because the pre-paid card would make it easy to spend the money sent to them from friends and parents through "Apple Cash."
At
CES 2017
earlier this year, Chinese company Focalcrest debuted the
Mixtile Hub
, a supposedly MFi-certified smart home bridge that promised to bring HomeKit connectivity to various connected home products that would not otherwise be able to interface with Apple's smart home platform.

Specifically, Focalcrest said the Mixtile Hub would be able to interface with
Z-Wave
and
ZigBee
devices and sensors, as well as connect to various smart home devices through Bluetooth and Wi-Fi.
As it turns out, however, the Mixtile Hub won't support HomeKit after all. At some point between CES and now, Focalcrest removed any mention of HomeKit from its
press release
—see the
original
for comparison—and the company now plans to launch the Mixtile Hub with Amazon Alexa support only.
In a recent email to
MacRumors
forum member Macwick, shared with us, Focalcrest vaguely said it believes Apple "doesn't permit bridge products to compatible with different brand devices," which isn't entirely true.
In the past few months, we kept to contact Apple for approval the HomeKit related designs. But this stage really takes a bit long and till now we still don't get a positive reply from Apple.

From our communication with Apple, we feel that they don't permit bridge products to compatible with different brand devices upon some uncertain reasons, as you know, our Mixtile Hub is a bridge product too.
The Philips Hue bridge does support both HomeKit and ZigBee, but that's just for one product, whereas the Mixtile Hub would have essentially made any Z-Wave or ZigBee product compatible with HomeKit. It wouldn't be surprising if Apple refused to certify the Mixtile Hub due to security concerns.
While it's unsurprising that Apple isn't backing the Mixtile Hub, it's disappointing that Focalcrest so prominently advertised HomeKit support prior to receiving certification for the product. Focalcrest admitted that it's uncertain if its "redefined" Mixtile Hub will still be attractive to homeowners.
Jimmy Iovine, one of the heads of
Apple Music
, has given
multiple interviews
and visions for the future of Apple's streaming music service over the past few months, mainly detailing how Apple Music will morph into "
an entire pop cultural experience
" with the advent of original video content. In an
interview with Bloomberg
posted online today, Iovine continued that pitch by stating, "I'm trying to help Apple Music be an overall movement in popular culture," detailing plans that include original shows and videos with partners like director J.J. Abrams and rapper R. Kelly.
The expansion of Apple Music beyond streaming new songs and music videos by artists began slowly for Apple, with the company releasing a
tour documentary
in partnership with Taylor Swift in 2015, as well as a
23-minute short film with Drake in 2016
. Those modest beginnings have helped Apple learn what works and what doesn't, with Iovine stating, "We're gonna grow slowly no matter what, I don't know how to do it fast."

Iovine further mentioned that Apple's vast resources provide the Apple Music team with enough room for betting on risky projects, so the service can "make one show, three shows" to see what viewers favor.
"A music service needs to be more than a bunch of songs and a few playlists," says Iovine, 64. "I'm trying to help Apple Music be an overall movement in popular culture, everything from unsigned bands to video. We have a lot of plans."

Apple Music's foray into video programming could be a temporary dalliance, but if Iovine succeeds, the world's wealthiest company could increase its investment, routinely competing for top projects. "We have the freedom, because it's Apple, to make one show, three shows, see what works, see what doesn't work until it feels good," Iovine says.
Those slow-to-build plans apparently include a largely redesigned, "new edition" of the Apple Music app coming to
iOS 11
this fall that will "better showcase video." Because of this update, Iovine said that Apple won't make the same mistakes that rival Spotify has made in producing original video content, but subsequently not promoting it enough to get people to watch. "We're going to market it like it's a TV show," Iovine mentioned. "You're going to know this is out."
Currently, those shows include
Carpool Karaoke: The Series
and
Planet of the Apps
, although the former show was recently
delayed indefinitely
and the latter has only a vague spring launch date. In the immediate future, Iovine said that Apple Music's video ambitions are still very music-related, including
Dr. Dre's Vital Signs
, and Iovine even wants to produce a sequel to R. Kelly's rap opera
Trapped in the Closet
.
"For a music streaming service," Iovine says, "we're building a very decent slate."
According to Carpool Karaoke producer Ben Winston, who helped sign the agreement to partner with Apple along with star James Corden, the mere fact that Apple is involved with producing these new shows is all it takes to get people excited to work with them. "If I call LeBron James and I name five networks or cable channels or even different online platforms, I'm not convinced he agrees to sit in a car," Winston says. "If you say you're doing a new show for Apple, people get excited."
But the company's plans are far bigger than just original content that has a music slant, with Iovine having met with well-known Hollywood creatives to discuss "possible ideas," including director J.J. Abrams and producer Brian Grazer, although talks with Grazer regarding Imagine Entertainment are said to have "
fizzled out
" for unknown reasons. Of course, any specific details regarding what a J.J. Abrams-produced series on Apple Music might be were not given.
Previous reports of
Apple's dealings in Hollywood
have been largely critical of the Cupertino company's inability to forge ahead with a consistent, unified vision in the original content space. For Iovine, the almost-two-year-old service still has a ways to go. "Apple Music is nowhere near complete in my head," he said. Achieving his vision for the future of Apple Music has gotten Iovine in hot water with some of his colleagues, as well.
Some ideas get Iovine into trouble. He's taken meetings with artists and made arrangements to release music without telling anyone in advance, frustrating colleagues. He's persuaded artists to release music exclusively with Apple, frustrating record labels. But no one doubts his knack for bringing people together.
Everyone from Apple CEO
Tim Cook
to Apple Music executive Bozoma Saint John have reinforced Apple's future with original content coming to its music streaming service. Earlier this year during an earnings call, Cook said that Apple is starting off slow -- echoing Iovine's comment -- and has a "
toe in the water
" testing original content, while Saint John
said
of Apple Music as a whole: "We're developing something very special and we just want people to pay attention."
Another alleged
iPhone 8
schematic is making the rounds today, shared on Twitter by several "leakers" who often share alleged leaked device images sourced from Weibo and unnamed tipsters.
KK Leaks
,
OnLeaks
, and
Benjamin Geskin
have all tweeted the image, which comes from an unknown source.
It is not clear if the schematic is legitimate, and we're at the point in the rumor cycle where it's difficult to separate what's real from what's fake, so it's best to view all current leaks with some skepticism.

This is a tipped leak what means I can't confirm if legit or not but there you have it... #iPhone8 pic.twitter.com/6OgASNUDNb

— OnLeaks (@OnLeaks) April 26, 2017
The schematic appears to depict the interior of the OLED iPhone 8, and it matches many previously-leaked design schematics and rumors. The device pictured features a vertical dual-lens rear camera with an LED flash in the middle, and it includes a large circular area, perhaps for some kind of wireless charging functionality. No rear
Touch ID
button is included in the schematic.
Over the course of the last few weeks, we've seen several alleged design schematics and renderings that are said to represent the iPhone 8, but because Apple is said to be testing multiple prototypes, we appear to be seeing two distinct devices, and it's not clear which one represents Apple's final 2017 iPhone.
One device
, which seems to be similar to the device in the schematic above, features an edge-to-edge display with a small 4mm bezel, what appears to be a glass body (perhaps with a
stainless steel frame
), and a Touch ID Home button that appears to be embedded in the display, while
the other
features an edge-to-edge display with slightly wider top and bottom bezels, an
aluminum body
, and a Touch ID Home button located on the rear of the device.
Both are
said to be representative
of different designs Apple has pursued, and Apple is reportedly experimenting with a rear Touch ID button
due to difficulties
implementing it under the display. It's not yet known if a Touch ID button under the display will pan out.
While we're seeing different designs at the current time, there are several rumors that are consistent. The OLED iPhone is said to be similar in size to the 4.7-inch iPhone but with a display closer in size to that of the 5.5-inch iPhone, and almost all current rumors point towards a vertical dual-lens camera for improved images and perhaps some kind of augmented reality or 3D functionality.
Not much has been said about wireless charging recently, but Apple is supposedly implementing some kind of
inductive charging solution
, and we can count on an
improved A11 processor
in the device.
Apple plans to sell the OLED iPhone alongside two standard iPhones with LCD displays, which are said to be similar in size to the existing
iPhone 7
and iPhone 7 Plus. With many of the rumors focusing on the flagship OLED iPhone, not much is known about the other two iPhones and their specific design also remains unclear.
Recent rumors are suggesting the OLED iPhone
may be severely constrained
when it launches in September, so it could be difficult to get for several months. That's a common rumor that we hear every year ahead of the debut of a new iPhone, but the rumors,
coming from trusted sources
, are especially emphatic and dire this year, suggesting there's some truth there.
Apple product designer and
Siri
co-founder Tom Gruber gave a TED Talk today, where he covered his vision of the future of computers and artificial intelligence. Both
Axios
and
Business Insider
shared details on his talk.

According to Gruber, computers should be used to lessen human failings, like memory, and augment human capabilities. He believes computers should log every aspect of our lives, allowing us to remember every person we've met and every aspect about them, like favorite sports, family members, and name pronunciation.
"I believe AI will make personal memory enhancement a reality. I think it's inevitable," he said onstage, adding that he doesn't know when or how it will happen. [...]

Gruber imagines that this kind of technology will not only be useful for satisfying data geeks who want to optimize their health and happiness, but it could also assist those who suffer from diseases like dementia and schizophrenia. "It's the difference between a life of isolation and one of dignity and connection," he said.
Privacy, is of course, a key part of artificial intelligence and future computing capabilities. "We get to choose what is and is not recalled," said Gruber. "It's absolutely essential that this be kept very secure."
Apple has already taken the first steps towards linking artificial intelligence and memory, with its Photos app. Photos on Mac and iOS devices includes a "Memories" feature that intelligently organizes photos into dynamic events that can be relived through the app. It also incorporates facial recognition and deep levels of privacy - facial recognition features are not cross-device and do not sync over
iCloud
.
Gruber also highlighted other useful applications for artificial intelligence, like cancer detection and more advanced personal assistants like Siri.
Apple today
announced
that it will be expanding its "Today at Apple" educational sessions to all of its 495 retail stores around the world in May.

"Today at Apple" will offer programs with more than 60 different hands-on sessions in creative skills. The free sessions, which have been offered at Apple's flagship
Union Square store
in San Francisco since last year, will cover topics such as photography, videography, music, coding, art, and design.
"At the heart of every Apple Store is the desire to educate and inspire the communities we serve," said Angela Ahrendts, Apple's senior vice president, Retail. "'Today at Apple' is one of the ways we're evolving our experience to better serve local customers and entrepreneurs. We're creating a modern-day town square, where everyone is welcome in a space where the best of Apple comes together to connect with one another, discover a new passion, or take their skill to the next level. We think it will be a fun and enlightening experience for everyone who joins."
Many sessions will be taught by highly-trained
Creative Pros
, which Apple describes as the "liberal arts equivalent" to its technical Geniuses. In select cities, Apple says world-class artists, photographers, and musicians will also teach sessions from "basics and how-to lessons" to "professional-level programs."
"Today at Apple" will cater to all skill levels and ages, with special programs such as Teacher Tuesday and Kids Hour targeted towards families and educators respectively. Other sessions will focus on professional software such as Final Cut Pro X and Logic Pro X, or coding with the Swift Playgrounds app for
iPad
.
Teachers can come together for Teacher Tuesday to learn new ways to incorporate technology into their classrooms, or aspiring coders of all ages can learn how to code in Swift, Apple's programming language for iOS and Mac apps. Families can join weekend Kids Hour sessions ranging from music making to coding with robots.
Apple said each of its stores will receive large displays created specifically for "Today at Apple" sessions. Each store will also have updated seating and sound. Apple has already renovated dozens of its existing retail stores with these next-generation features since 2015, with dozens more locations to follow this year.
Apple has been redesigning its stores under the leadership of retail chief Angela Ahrendts, the former CEO of luxury fashion brand Burberry. Ahrendts wants to position
Apple Stores
as not only shopping destinations, but also as gathering places for the community. "Meet me at Apple," she envisions someone as saying.
Video is available in the United States only
Ahrendts, in a new interview with
CBS This Morning
:
"A lot of the big online guys have said they're opening stores. Amazon's investing in stores. Google's investing in stores. ... Starbucks figured it out, you know? Being a gathering place for – right? 'Meet me at Starbucks,"' Ahrendts said. "And you know, I've told the teams, 'I'll know we've done a really, really great job if the next generation, if Gen Z says, "Meet me at Apple. Did you see what's going on at Apple today?"'"
Apple's latest next-generation store will open at
Dubai Mall
on April 27, the company recently announced.
A Chinese tech blog bucked the iPhone rumor trend today by claiming it had received insider information from the Apple supply chain that Apple will release two iPhone models this year rather than the expected three.
Micgadget.com
posted the rumor in the early hours of Tuesday, citing "some [of] our friends from Foxconn" who apparently "confirmed" that Hon Hai had received an order for two models, corresponding to two versions of Apple's radically redesigned OLED iPhone, the so-called "
iPhone 8
".

"iPhone 8" rendering from KK Sneak Leaks
Rumors say that Apple will release two iPhone 7S and one iPhone 8 (or iPhone Edition) models. Today we can tell you, that it's not true. This fall we can see only two models with new technology. Very interesting that rumors leaked new iPhone 8 and big iPhone 8 Plus will have similar dual cameras.
It's highly unusual for a supply chain rumor to go against the prevailing assumption this late into the iPhone cycle, and
Micgadget.com
has a mixed history of releasing information on Apple's plans. The site has also been pushing the idea that Apple will release an additional "iPhone 8 Plus"
since at least February
with little evidence to back up the claim, so we're covering this rumor merely to highlight our current doubts regarding its veracity.
For some time now, analyst expectations and supply chain hints have indicated that Apple will break away from its annual tradition of launching two models of iPhone and will instead reveal a radically overhauled smartphone in addition to its usual "S" refresh model updates.
The rumor trail began all the way back in March of 2016, when noted analyst
Ming-Chi Kuo
laid out his expectations
that Apple would launch 4.7-inch and 5.5-inch LCD iPhones alongside a standout "premium" OLED model, because of supply constraints on AMOLED technology.
Multiple reports
have since corroborated this scenario, with Apple said to be aiming for a more complete transition to Samsung-made OLED displays in 2018 when supplies become more available.
Indeed, it's possible
Micgadget.com
is misinterpreting information from its purported Foxconn source for precisely this reason. Multiple reports suggest Apple will debut its redesigned OLED iPhone in September, but it could still face severe supply shortages until perhaps
as late as October or November
. Therefore, while orders for Apple's two LCD-based iPhones may have been cemented in good time for the usual August-September ramp-up in production, orders for an "iPhone 8" at the supply chain level may have still not been pegged down.
Apart from an edge-to-edge OLED display in a typical-sized 4.7-inch casing, the "iPhone 8" is expected to include
wireless charging
,
no physical Home button
, and perhaps
3D facial recognition
and/or
iris scanning
. In addition, rumors suggest that
Touch ID could be embedded
in or under a
True Tone display
, or could possibly be relocated to the rear of the device if Apple
can't perfect the under-screen technology in time
.
Apple has delayed the release of "Carpool Karaoke: The Series," its first original television series, reports
Reuters
. The series, which will premiere on
Apple Music
, was supposed to launch in April, but its debut has been delayed.
Apple, a company known for its precisely coordinated product launches, declined to explain the delays, but said in a statement that "Carpool Karaoke: The Series will premiere on Apple Music later this year."
Apple was originally planning to hold a premiere party for "Carpool Karaoke" in March, but the party was postponed. The party was then supposed to take place on Monday, but it was again pushed back due to the show's delayed launch.
"Carpool Karaoke: The Series" is based on the popular Carpool Karaoke segment from "The Late Late Show with James Corden." Apple
purchased rights
to the show back in mid-2016 and showed off the
first trailer
for the series in February of 2017.
The show, composed of 16 half-hour episodes, will feature celebrity pairs "riding along in a car together as they sing tunes from their personal playlists." According to Apple, the show's stars will also "surprise fans" who are not expecting to see "big stars belting out tunes one lane over."
"Carpool Karaoke: The Series" will star James Corden, Will Smith, Billy Eichner, Metallica, Alicia Keys, John Legend, Ariana Grande, Seth MacFarlane, Chelsea Handler, Blake Shelton, Michael Strahan, John Cena, Shaquille O'Neal, Maisie Williams, Sophie Turner, and more, with a different host
for each episode
.
Apple is aiming to drive more subscribers to Apple Music with "Carpool Karaoke," and the show, when it launches, will be available only to Apple Music subscribers.