Apple Talks Mac Pro and iMac Roadmap
Apple has developed a training program to instruct employees on how to handle cars being used to test its autonomous driving software platform, according to documents obtained by
Business Insider
.
The company's "Development Platform Specific Training" document references an "Apple Automated System" and a "Development platform," alluding to the self-driving software platform Apple is rumored to be building after plans for a full autonomous electric vehicle
fell through
.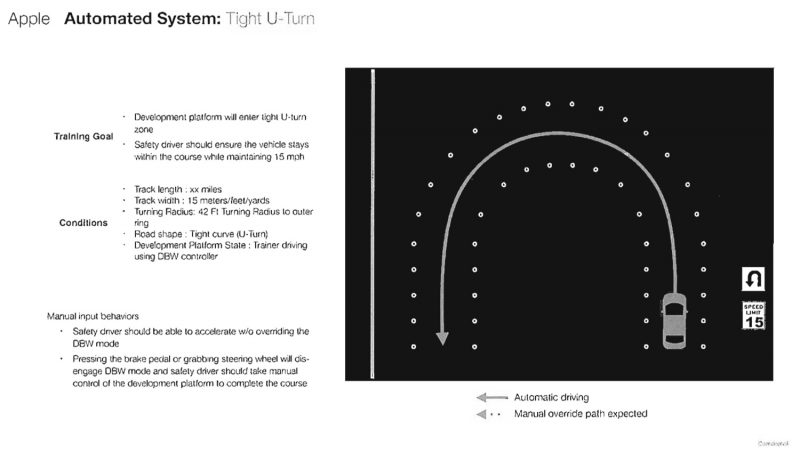 Click to enlarge
Apple recently
obtained a permit
from the California DMV that will allow it to test self-driving vehicles on public roads, and as part of that process, the company appears to be training employees to use whatever system it's testing. According to the DMV, Apple plans to use three 2015 Lexus RX450h SUVs, which will be driven by six drivers with expertise in areas like machine learning.
Based on the documents, drivers are required to pass seven tests as part of their training before being allowed to work with Apple's software platform. Each driver must complete two practice runs and three trials to pass tests, which cover topics like taking control of the vehicle at tight U-turns, sudden acceleration, sudden braking, and more.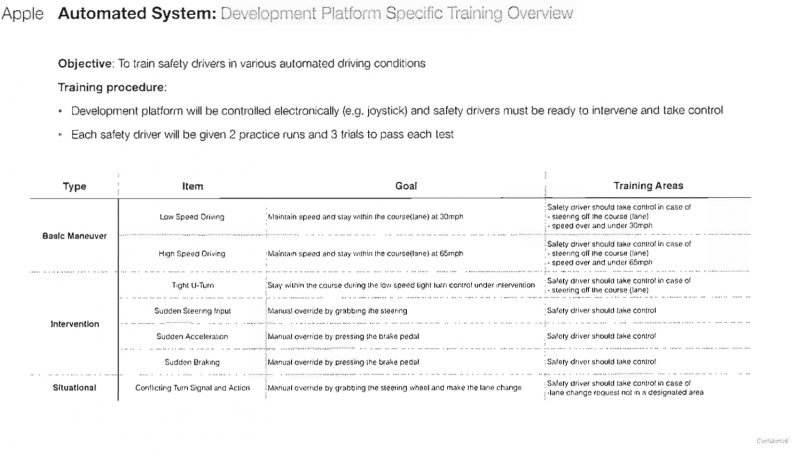 Click to enlarge
According to the training packet, Apple's self-driving car uses a Logitech wheel and pedals to actuate drive by wire, and it supports one person at a time.

Pressing the brake pedal or grabbing the steering wheel in Apple's test vehicles will disengage the electronic driving mode, but drivers can accelerate without overriding the "drive by wire" mode.
Apple's work in the car industry has been something of an open secret for the past three years. The company was originally planning to create its own autonomous vehicle, but pivoted to an autonomous driving software platform following internal strife and leadership issues.
Apple is now said to be creating a driving system under the leadership of Bob Mansfield, with the car team having been given until the end of this year to
prove the feasibility
of a self-driving car platform. Such a system could potentially allow Apple to partner with car manufacturers as a sort of expansion of
CarPlay
.
With Apple ready to test the software on public roads, it appears development is fairly far along. Should the company take vehicles out on California streets, its work will need to be publicly shared with the DMV based on California law.
Apple has recently hired John Fenwick and Michael Trela, two Google satellite executives, reports
Bloomberg
. Fenwick led Google's spacecraft operations, while Trela was head of satellite engineering.
Both Trela and Fenwick are reporting to Greg Duffy, the former co-founder of camera company Dropcam. What the two are doing at Apple is unclear, but
Bloomberg
speculates they're either working on satellites for image collection or satellites for communications.
Rumors have suggested Apple is
using a fleet of drones
to collect data to improve
Apple Maps
, with the company having filed for an FAA permit to be able to fly drones for commercial purposes. Apple also acquired
Aether Industries
in 2015, a previously unknown purchase.
Aether Industries develops high-bandwidth radio transceivers and high-altitude balloons. On its website, Aether Industries shows off a range of high-resolution aerial imagery and claims to provide a "full imaging and mapping solution for full color aerial images."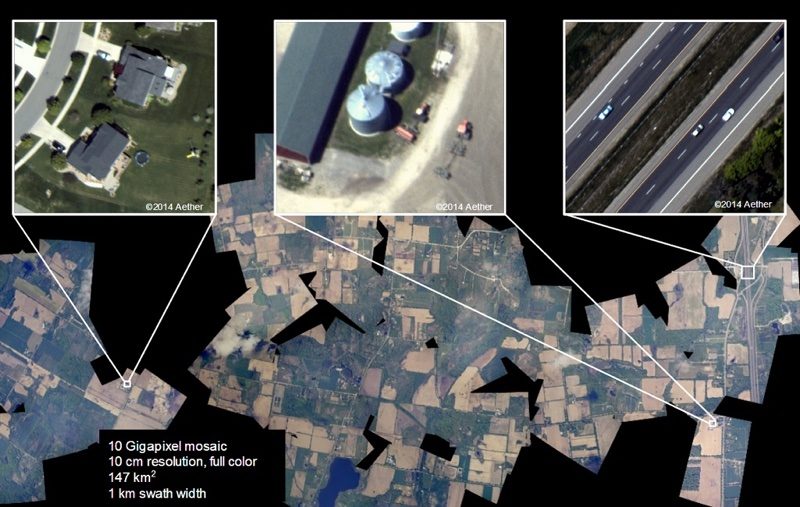 There's also evidence Apple is interested in deploying satellites for communication purposes. Boeing has been working on sending more than 1,000 satellites into low-earth orbit for the purpose of providing broadband access, and the company has reportedly been in talks with Apple.
The aerospace company has talked with Apple about the technology company being an investor-partner in the project, a person familiar with the situation said. It's unclear if those talks will result in a deal.

At the annual Satellite 2017 conference in Washington D.C. last month, industry insiders said Boeing's project was being funded by Apple, Tim Farrar, a satellite and telecom consultant at TMF Associates Inc., wrote in a recent blog. A Boeing spokesman declined to comment.
Former Boeing executive James Bell also
joined Apple's board of directors
back in October of 2015, another potential link between Apple and Boeing.
It continues to be unclear if Apple will get involved with Boeing's broadband endeavor, but it's easy to see why Apple might be interested with Boeing aiming for faster speeds than existing cellular systems.
Apple and Google declined to comment on the hiring, while Fenwick, Trela, and Duffy did not respond to
Bloomberg
's request for comments.
Multiple design renders
of Apple's much-rumored 5.8-inch OLED iPhone have surfaced over the course of the last two weeks, giving us our first look at what the device might look like.
Apple is testing multiple prototypes so we have seen several designs, but
two of them
have focused on a device with an aluminum frame, a vertical dual-lens camera, and a mysterious hole on the back below the Apple logo.
Now a third render has popped up featuring the same general design, but this time, it's a render of a full rear casing, which provides a clearer look at what the "
iPhone 8
" might look like at launch, should this be the design Apple chooses to use.

Created by
Instagram user bro.king
, the renderings are directly based on the previously leaked design schematics.
The rendered shell is made from silver aluminum, with a squared design that's highly reminiscent of the iPhone 5 family rather than the smoother curves of more recent iPhone models. Size details are not included, but the design schematics it's likely based on suggested the device measures in at 149.5mm tall by 72.5mm wide, which is slightly larger than the 4.7-inch
iPhone 7
at 138.3mm by 67.1mm.

In line with multiple rumors, it features a vertical dual-lens camera which Apple is said to be implementing to introduce better picture quality and perhaps augmented reality functionality, and most notably, there's a circular cutout on the back.
Rumors have suggested that this is for a
Touch ID
fingerprint sensor, and this is perhaps the prototype Apple will use if it can't
reliably integrate Touch ID
under the display of the iPhone 8, but there's also the possibility that the cutout is for an inductive wireless charging module.

Apple is rumored to be implementing wireless charging in the iPhone 8, and the
latest information
on the matter has suggested Apple will use an inductive charging solution rather than long-range wireless charging technology, which is not yet reliable enough.
As mentioned above, Apple is allegedly testing up to 10 OLED iPhone prototypes, so this isn't necessarily the finished product that we're going to see in September. We have also
seen a design prototype
featuring a device with a glass body, a 4mm bezel and an edge-to-edge display, along with no visible Touch ID sensor.
We're getting closer to the point when Apple will need to start finalizing a design, so we may soon see part leaks that give us a better idea of the direction the company decided to go in.
Apple has added the 13-inch
MacBook
Pro with Touch Bar, originally released in October 2016, to its
refurbished store
for the first time.

The base model with a 2.9GHz dual-core Intel Core i5 processor, 256GB flash storage, 8GB of RAM, and Intel Iris Graphics 550 is
available for $1,529
in the United States, reflecting savings of $270 off Apple's regular price of $1,799. Available colors include both Silver and Space Gray.
The base model is also available with an
upgraded 16GB of RAM for $1,699
, or $300 off Apple's regular price of $1,999.
The higher-end model with a 2.9GHz dual-core Intel Core i5 processor, 256GB flash storage, 8GB of RAM, and Intel Iris Graphics 550 is
available for $1,699
in the United States, reflecting savings of $300 off Apple's regular price of $1,999. Available colors include both Silver and Space Gray.
The higher-end model is also available with an
upgraded 16GB of RAM for $1,869
, or $330 off Apple's regular price of $2,199.
Other built-to-order configurations are available for between $1,949 and $2,459 in the United States, including models with up to a 3.3GHz dual-core Intel Core i7 processor, 1TB flash storage, and 16GB of RAM.
Apple has also made refurbished 13-inch MacBook Pro with Touch Bar models
available in Canada
for between $290 and $350 off.
The 15-inch MacBook Pro with Touch Bar and 13-inch model with standard function keys were
added to Apple's refurbished store
in March.
Apple says refurbished MacBook Pro models are thoroughly inspected, tested, cleaned, and repackaged, including the manuals and cables included in the box. The notebooks are each given a new serial number and undergo a final quality assurance inspection prior to being added to Apple's refurbished store.
A refurbished MacBook Pro comes with Apple's standard 1-year warranty effective on the date the notebook is delivered. The warranty can be extended to three years from the original purchase date with the
AppleCare
Protection Plan, which costs
$279 for the 13-inch MacBook Pro
in the United States.
Related
:
Guide to Buying Refurbished Apple Products
Samsung's new flagship Galaxy S8 and S8+ smartphones went on sale today in the U.S., Canada, Puerto Rico, and Korea, as the company looks to rebound from last year's
Note7 debacle
. Samsung will be encouraged by the record
one million pre-orders
it has already taken in Korea alone, while analysts are predicting global sales to reach
at least 45 million units
.
The 5.8-inch and 6.2-inch devices cost $725 and $825, respectively, which gets users an OLED screen that takes up 80 percent of the front of the handsets. Online reviews appeared
earlier this week
praising the phones' Infinity Display, but several marked them down for the relocation of the fingerprint scanner to the rear of the devices, right alongside the camera lens.

The camera itself has received less coverage, as it's actually the same 12MP dual pixel module as the one that appeared in last year's Galaxy S7. However, Samsung has tweaked the software powering the f/1.7 lens in an attempt to improve image processing. To compare the results with those of the
iPhone 7
Plus,
Tom's Guide
posted a selection of side-by-side comparison shots taken with the two rival phones.
Overall, the Galaxy S8 came out on top, but only by a slight margin. Despite lackluster macro performance with the S8, both phones' bright light results were said to be generally equal, but Samsung's new device bested the iPhone 7 Plus in well-lit nighttime and low-light shots, offering "generally richer" colors, sharper subjects, and "significantly more detail" in indoor and outdoor tests.

Despite the higher megapixel count of the S8's front-facing camera (8MP versus 7MP on the iPhone 7), Apple's phone was deemed to take sharper selfie shots with richer colors, while the two phones were tied in 4K 30fps video tests, although the S8's audio was said to be slightly cleaner.
Apple is thought to be testing a new dual-lens camera system similar to the iPhone 7 Plus for this year's upcoming OLED iPhone, which will have a Samsung-made display. Rumors suggest the front-facing camera of the
iPhone 8
will use a "
revolutionary
" 3D-sensing system capable of identifying the depth and location of subjects, which could be used for facial and iris recognition or in future augmented reality features.
Intel plans to move up the launch of its 14-nanometer Coffee Lake processors, introducing them in August of 2017 instead of January 2018. According to
DigiTimes
, the launch is being moved up because of "increasing competition from AMD's Ryzen 7 and Ryzen 5 processors."
The site says Intel will release several K-series Core i3, i5, and i7 processors starting in August, along with its Z370 chipsets. Additional CPUs will come at the end of 2017 or early in 2018.
Intel also plans to unveil its Basin Falls platform, with Skylake-X and Kaby Lake-X processors at Computex 2017, which takes place from May 30 to June 3, which is two months earlier than originally scheduled.

Intel's Skylake-X series features 140W processors with 6, 8, and 10-core architectures, while Kaby Lake X-series features a 112W quad-core processor. Intel also plans to release a 12-core Skylake-X processor in August. Intel's Basin Falls platform could potentially be used in future
Mac Pro
machines and the rumored
high-end server-grade
iMac
.
Coffee Lake chips appropriate for Apple machines were originally set to launch somewhere around the second quarter of 2018, so if rumors of Intel's updated timeline are true, the launch could be moved forward to either late 2017 or early in 2018.
Coffee Lake chips are manufactured on Intel's 14-nanometer process and will be the fourth processor family to use the architecture after Broadwell, Skylake, and Kaby Lake.
Apple is rumored to have new machines in the works for 2017, including new iMacs, which are likely to use Kaby Lake chips.
Didi Chuxing president Jean Liu has been named one of TIME's
2017 most influential people
, and Apple CEO
Tim Cook
wrote an excerpt about her for the magazine.
In it, Cook calls Liu a "disrupter" for building a transportation platform that offers "convenience and flexibility" to millions of commuters. He lauds Didi Chuxing's work on algorithms that improve traffic, saying the technology could eliminate traffic jams in the future.

She and her team are succeeding with innovative, big-data algorithms that aim both to improve the efficiency of Didi's service and to ease the congestion on roadways. By analyzing commuter patterns the way oceanographers track the tides, Didi may help traffic jams go the way of the flip phone.

In over 400 cities across China, Jean has also built a company that is dedicated to serving the community around it. Guiding Didi to this higher purpose, and giving back to the places where it does business, she shares my belief that companies can and should measure themselves by more than just the bottom line.
Apple CEO Tim Cook
met Jean Liu in 2016
after Apple
invested $1 billion
in the ride-sharing company. Following its investment, Apple was given a
Didi Chuxing board seat
, held by Adrian Perica, Apple's head of mergers and acquisitions.
Apple's Didi Chuxing investment provides Apple with access to data and expertise on both electric and autonomous car technology, a useful resource as Apple works to develop a
self-driving car software platform
.
Nike today
announced
that it has teamed up with Apple to create a new version of the Apple Watch Nike+, which pairs a Space Gray
Apple Watch Series 2
aluminum case with a black and cream Nike band.
Called the Apple Watch NikeLab, the new device is limited edition and designed to be "the ultimate style companion" for those who love to run.

The limited edition, neutral-toned Apple Watch NikeLab maintains the beloved features of its predecessor: deep integration with the Nike+ Run Club app, exclusive Siri commands, GPS, a two-times-brighter display and water resistance to 50 meters*, all made possible by a powerful dual-core processor and watchOS 3. ​
Apple Watch NikeLab will be available starting on April 27 from
Nike.com
, at NikeLab locations, and at the Apple Tokyo pop-up store at the Isetan department store. It will not be sold in
Apple Stores
or from the Apple website, a first for an Apple Watch.
The Apple Watch NikeLab will likely be priced at $369 for the 38mm model and $399 for the 42mm model, the same price as the rest of the Apple Watch Nike+ lineup.

Apple and Nike first teamed up in September of 2016 for the Nike+ Apple Watch that launched alongside Apple's own set of Series 2 Apple Watch devices. Apple offers two Apple Watch Nike+ models in Silver and Space Gray aluminum along with standalone Apple Watch Nike+ bands.
On its
Apple Music
Twitter account, Apple today announced a
new "Up Next" feature
for Apple Music, which is designed to promote "Music's Next Generation," highlighting a new artists each month.
For April, Apple is partnering with singer and rapper 6LACK for a range of projects to promote his
latest album
, FREE 6LACK.

The new "Up Next"
Apple Music section
in iTunes features a documentary that delves into 6LACK's upbringing, the Free 6LACK album, a live performance, an interview with Zane Lowe, and several Apple Music playlists.
Both Beats 1 DJ Zane Lowe and 6LACK will also be on the Late Late Show with James Corden on April 20, presumably to talk about the new project and 6LACK's work.
.@zanelowe and @6LACK will be on @latelateshow with @JKCorden tonight! Watch on @CBS at 12:37AM ET/PT. https://t.co/TrhFPh1sKI #UpNext pic.twitter.com/FZLE6MBM91

— Beats 1 (@Beats1) April 20, 2017
Apple has done similar wide-ranging promotions for major album releases for well-known artists in the past, but its new Up Next feature gives the company a way to highlight and promote lesser-known artists in a major way.
Apple has uploaded four videos to its
YouTube channel
ahead of Earth Day on April 22, with each providing a crash course on environmental topics.
In the
solar farm video
, Apple's environmental chief Lisa Jackson gives a crash course on how the company's 40-megawatt solar farms in China produce enough electricity for all of its offices and retail stores in the country, while leftover energy that reaches the ground grows the grass underneath to feed yaks.
In the
zero waste video
, Apple explains how none of its 14 final assembly facilities in China send any waste to landfills. The humorous video shows how the zero waste achievement supposedly started when Apple employee John Reynolds in iPhone Product Operations visited a factory in Guanlan, China.
In the
third video
, Apple's head of environmental technologies Rob Guzzo and toxicology expert Art Fong explain how the company makes about 30 gallons worth of human sweat every year in order to ensure the Apple Watch and other products are to safe to use in contact with your skin while working out.
In the
fourth video
, Apple's vice president of real estate Dan Whisenhunt explains how the company's new
Apple Park
campus has one of the world's largest naturally ventilated buildings. The building uses outside air and water to cool itself naturally, reducing its cooling load by 35 percent a year.
Mashable
spoke with Apple about the ads ahead of their release, noting that the animations in each video are hand drawn by illustrator James Blagden. Apple CEO
Tim Cook
also makes a subtle appearance in each video in a "Where's Waldo" way. Watch the videos and see if you can spot him.
Apple's other Earth Day initiatives include a
commitment to stop mining
the earth for rare minerals and metals,
retail employees wearing green shirts
, and green-tipped Apple logos at its retail stores. Apple also released its
2017 Environmental Responsibility Report
detailing its 2016 carbon footprint.
Apple currently has more iPhone users in the United States than at any point in history, according to market research firm comScore.

There are now over an estimated
85.8 million iPhone owners
aged 13 and older in the United States, based on a three-month average ending December 2016, according to comScore MobiLens Plus. Apple's latest
iPhone 7
and iPhone 7 Plus models accounted for approximately 15 percent of that total.
iPhone 6 and
iPhone 6s
models, including their respective Plus-sized versions, remain Apple's most popular smartphones in the U.S. with an estimated 48.4 percent share of the overall installed base. Meanwhile, an estimated 17.8 percent of the users are still using an iPhone 5, iPhone 5s, or iPhone 5c.

iPhone is the most popular smartphone in both the
United States
and the
world
, according to market research firms Kantar Worldpanel and IHS Markit respectively. iOS adoption trails Android in the United States, however, given a wider variety of Android smartphones available to purchase.
iOS adoption among smartphone users aged 13 and older is an estimated 43 percent in the United States, based on a three-month average ending December 2016, according to comScore. The research firm places Android at 54 percent during the same time period, with BlackBerry and Windows 10 Mobile barely registering.

comScore's data differs from Consumer Intelligence Research Partners, which estimated that the iPhone's installed base reached
132 million units
in the United States as of December 2016. However, CIRP's data is extrapolated from a survey of 500 Apple customers with no 13-and-over age parameter.
iPhone owners are largely satisfied with Apple's
CarPlay
, according to a
new report
from market research firm Strategy Analytics.

The report is available to Strategy Analytics clients only, but author Chris Schreiner shared some of his findings with
MacRumors
.
31 percent of users said they were "very satisfied" with CarPlay, while 54 percent said they were "satisfied," for an overall customer satisfaction rate of 85 percent. However, the report only looked at 70 owners of 2016-2017 vehicles with CarPlay installed in the United States, which is a rather small sample size.
43 percent of those users are "very likely" to recommend CarPlay to others, while 37 percent are "likely" to recommend it, said Strategy Analytics. Those with CarPlay were likely to use it for "all or most" of their in-car infotainment needs, often in favor of their vehicle's standard system, according to the report.
70 percent of participants with both CarPlay and a built-in navigation system in their car said they choose CarPlay with
Apple Maps
most or all of the time over their vehicle's standard system. 59 percent of the people said they use CarPlay for audio needs most or all of the time over their vehicle's radio.
"Given Apple's continued updates to CarPlay enhancing the experience further, and car-makers' inability to do the same along with their long development times, CarPlay is poised to handle the vast majority of consumers' in-vehicle needs," said Schreiner, Director of Syndicated Research at Strategy Analytics.
While customer satisfaction with CarPlay might be strong, Apple's in-car software platform is far from perfect.
Last month, a
side-by-side test
of CarPlay and Android Auto showed
Siri
was often unable to properly interpret what the driver was saying, which in one case led Apple Maps to incorrectly navigate him to an address in Tennessee rather than Toronto. Android Auto, meanwhile, interpreted voice commands correctly.
Video courtesy of YouTube channel The Straight Pipes via Daring Fireball
CarPlay continues to improve in other areas. In
iOS 10
.3, for example, Apple provided drivers with a
quicker and safer way to switch between apps
without having to take their eyes off the road for long periods of time. Wireless CarPlay is also now available in
select BMW models
, or with
Alpine's aftermarket system
.
Apple is also rumored to be working on
"enhanced" Siri capabilities
for the iPhone, and those improvements would likely extend to CarPlay.
CarPlay is now available in
over 200 vehicle models
in the United States, enabling drivers to make and receive calls, access text messages, play music, get directions, check traffic conditions, and more with Siri voice commands and on-screen controls. The platform requires an iPhone 5 or newer.
Aftermarket systems are available from brands such as Alpine, Kenwood, and Pioneer for do-it-yourself CarPlay installations.