While it is a common belief that iPhones have become thinner and thinner over the years, when Apple could be keeping them the same size and including larger and longer-lasting batteries, the opposite is true in reality.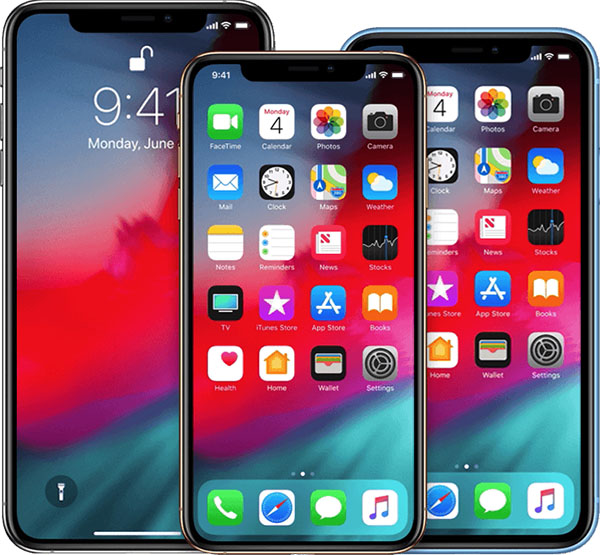 As mentioned on Reddit, iPhones have
gradually become thicker since 2014
, capped off by the iPhone XR, the thickest model since the iPhone 4s in 2011:
iPhone 6 and iPhone 6 Plus: 6.9mm and 7.1mm
iPhone 6s and iPhone 6s Plus: 7.1mm and 7.3mm
iPhone 7 and iPhone 7 Plus: 7.1mm and 7.3mm
iPhone 8 and iPhone 8 Plus: 7.3mm and 7.5mm
iPhone X: 7.7mm
iPhone XS and iPhone XS Max: 7.7mm
iPhone XR: 8.3mm
The trend may come to an end next year, however, as Korean website
ETNews
[
Translated
] reports that 2019 iPhones could be thinner and lighter due to Apple adopting Samsung-designed OLED display tech called Y-OCTA, which integrates the typically-separate touch-screen layer into the display panel itself.
There's a good chance the reduction in thickness could be negligible, however, as the display panel is already a very thin component. The bigger advantage for Apple may be reduced costs, as the report claims that the Y-OCTA displays are less expensive to manufacture, lowering the iPhone's bill of materials.
Last week, tech analyst Anne Lee of Japanese research firm Nomura said 2019 iPhones will "
likely have the same form factors
" as the iPhone XS, iPhone XS Max, and iPhone XR, including body size and displays. Apple analyst Ming-Chi Kuo expects iPhone screen sizes to
remain 5.8-inches, 6.1-inches, and 6.5-inches
in 2019.
Beyond that, rumors suggest at least one 2019 iPhone will have a
triple-lens rear-facing camera
, while all three new models are expected to feature
enhanced Face ID
. And in June, the notorious
DigiTimes
made the bold prediction that
2019 iPhones will feature USB-C
like the 2018 iPad Pro.
Apple still doesn't offer a full online web player for Apple Music, but this week software engineer
Naveed Golafshani
shared a
new project on Reddit
, allowing Apple Music subscribers to get access to their full library and other Apple Music features on the web. The web player can be found at
playapplemusic.com
, and to see your Apple Music library you can click "log in" in the bottom left corner of the screen.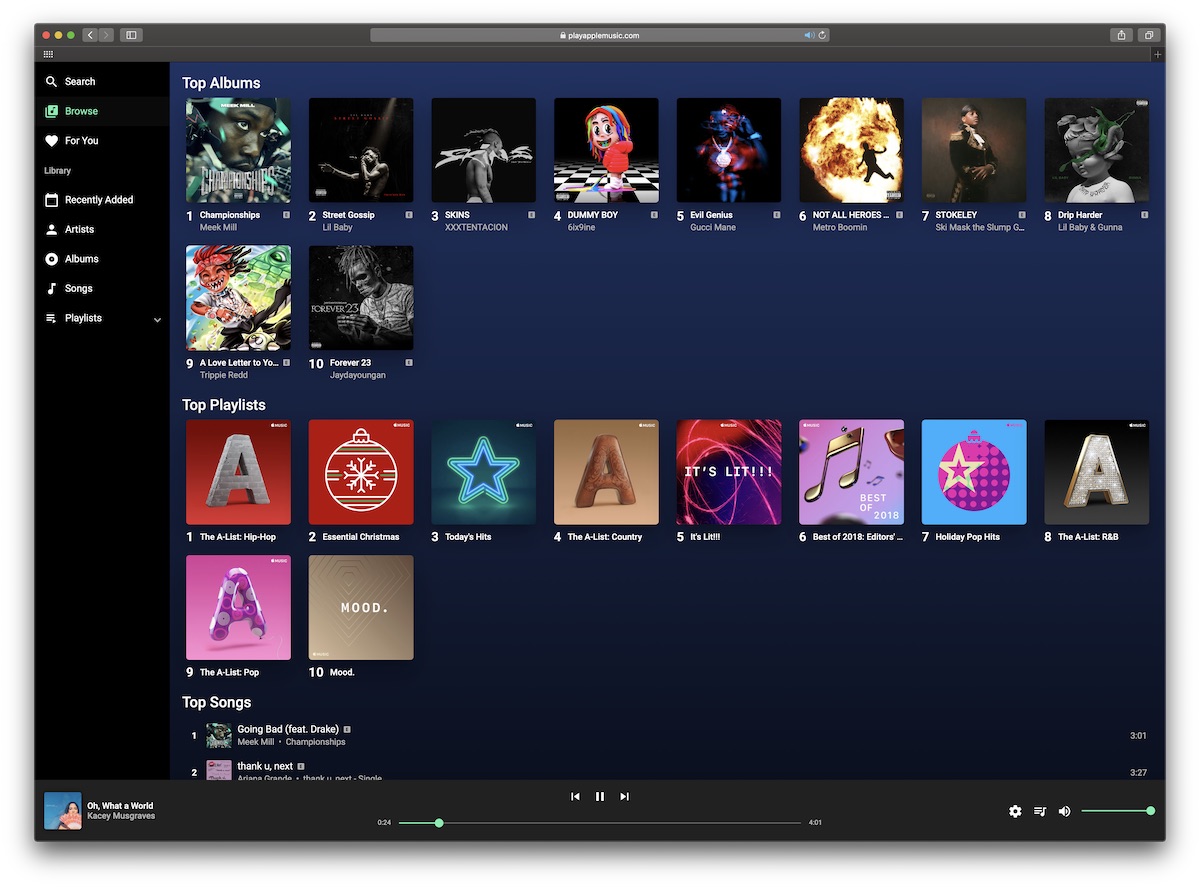 The player then provides an Apple authentication pop-up, where you'll have to log into your Apple ID and let the web player access Apple Music, media library, and listening activity for your account. Afterwards, you'll be able to see normal Apple Music tabs like Search, Browse, For You, and Library. In Library, you can access your Recently Added items, Artists, Albums, Songs, and Playlists.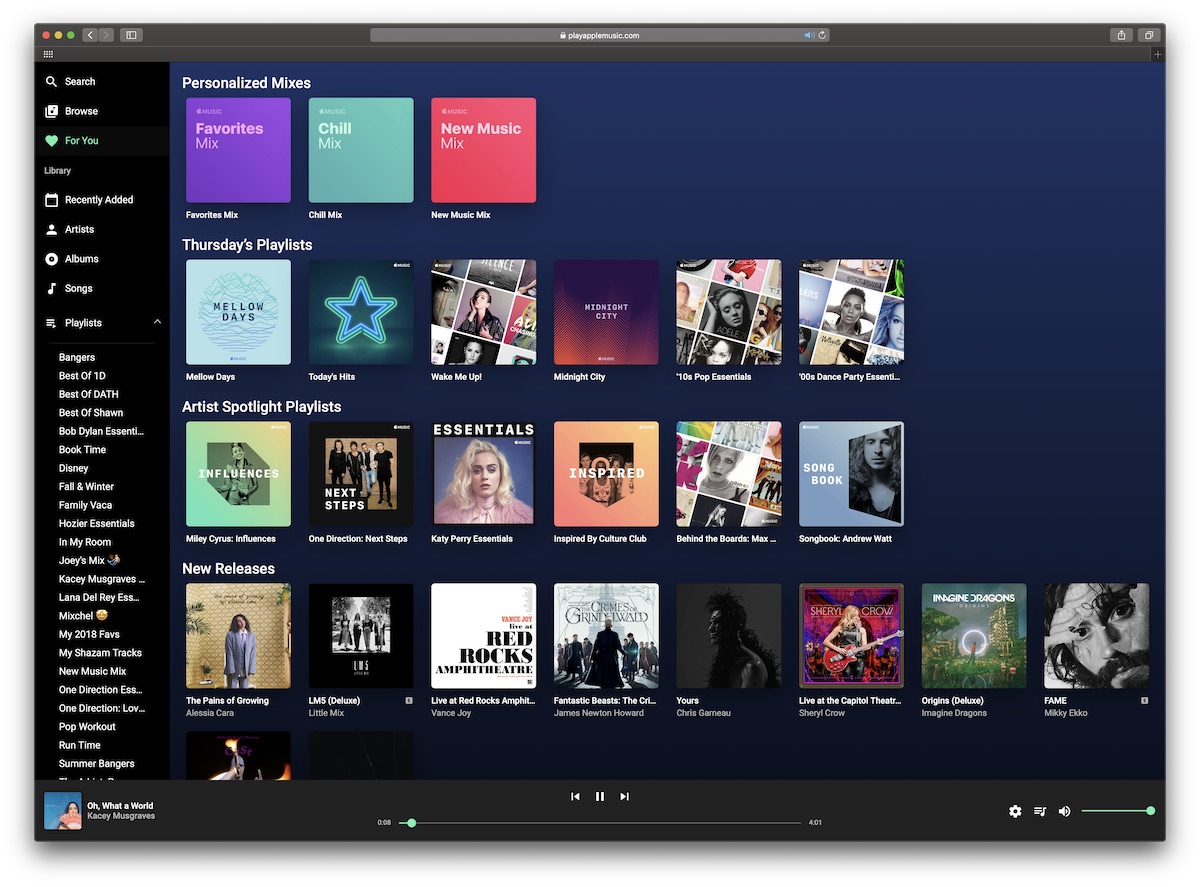 To play a song, simply click on it and the player will update at the bottom with an image of the album, playback controls, and track scrubber. At the bottom right corner are settings for the bitrate, up next, and volume. If you hover over a song, you can also click on the ellipsis icon to select it to play next or play later in your up next queue. On macOS and Safari, keyboard controls for play/pause will also directly control the web player.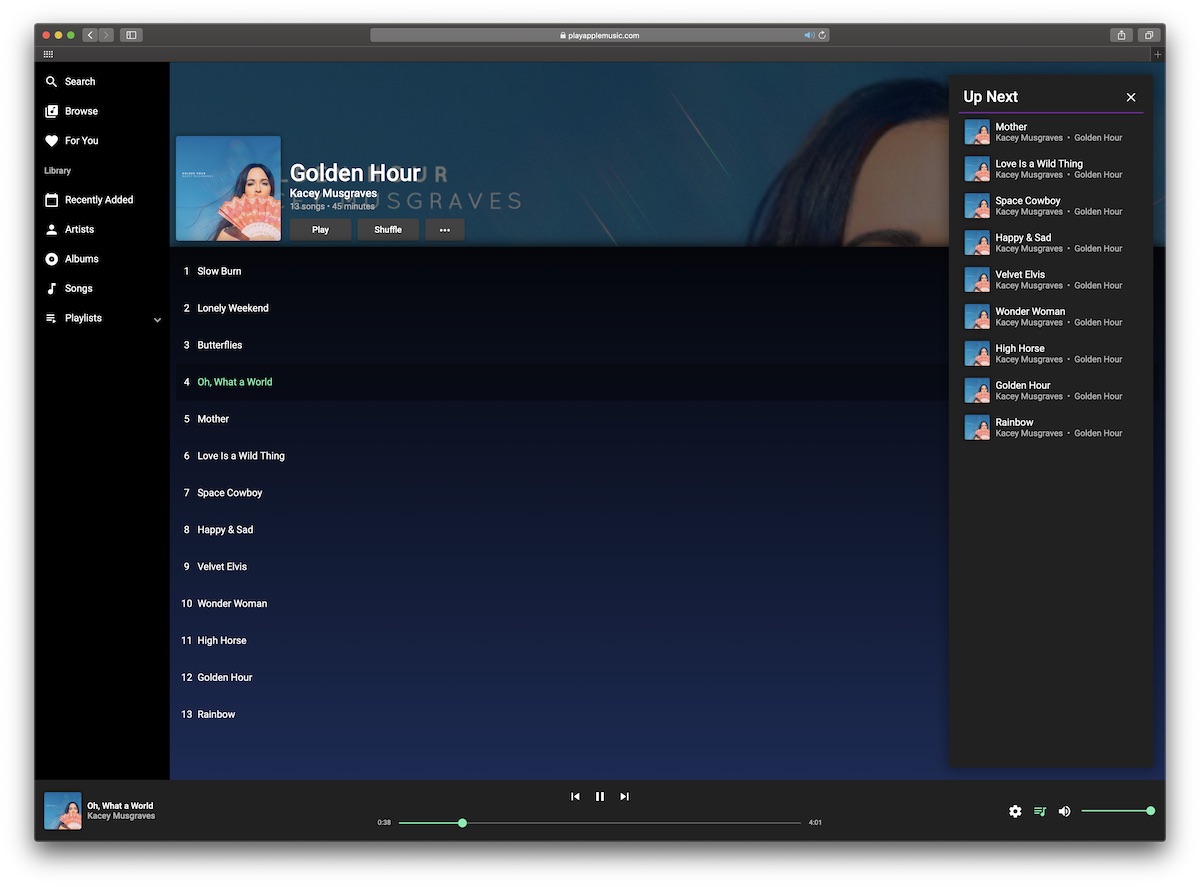 There are a few limitations to the web player, like not being able to specifically customize the order of up next, the Browse tab is pared down, and Radio options don't exist, but otherwise the site is a solid and well-built realization of Apple Music. Additionally, the web player will load with an optimized layout for mobile web.
Apple was believed to be potentially
working on an Apple Music web player
over the summer, but as of yet nothing has come to fruition from the company.
Qualcomm plans to file for an injunction on the iPhone XS, iPhone XS Max, and iPhone XR in China, which would theoretically prevent the sale of those devices in the country, a lawyer for the company told the
Financial Times
today.

Earlier this week, a Chinese court granted an
injunction on older iPhone 6s through iPhone X models in China
after it ruled that those devices violated two Qualcomm patents, and the chipmaker now plans to assert those same patents against the latest iPhones amid an escalating legal battle with Apple.
The first Qualcomm patent reportedly enables users to "adjust and reformat the size and appearance of photos," while the second is said to relate to "managing applications using a touch screen when viewing and navigating apps."
In a statement issued following the ruling earlier this week, Apple said all iPhone models remain available for customers in China:
Qualcomm's effort to ban our products is another desperate move by a company whose illegal practices are under investigation by regulators around the world. All iPhone models remain available for our customers in China. Qualcomm is asserting three patents they had never raised before, including one which has already been invalidated. We will pursue all our legal options through the courts.
Apple has continued to sell the affected iPhone models in China because it believes the patent infringement ruling does not apply to iOS 12, leading Qualcomm to call on the Fuzhou Intermediate People's Court to
enforce the injunction
.
Reports suggest that Qualcomm's latest efforts are an attempt to pressure Apple into
settling a long-standing dispute
between the two companies, primarily over chip-related licensing fees. Reports also suggest that the iPhone injunction
could be politically motivated
due to the ongoing US-China trade war.
Note: Due to the political nature of the discussion regarding this topic, the discussion thread is located in our
Politics, Religion, Social Issues
forum. All forum members and site visitors are welcome to read and follow the thread, but posting is limited to forum members with at least 100 posts.
Apple on Thursday
announced
it will invest $1 billion to build a new campus in Austin, Texas.
Located less than a mile from its existing facilities, the 133-acre campus will initially accommodate 5,000 additional employees, with the capacity to grow to 15,000, which would make Apple the largest private employer in Austin.

One of Apple's existing facilities in North Austin
"Apple is proud to bring new investment, jobs and opportunity to cities across the United States and to significantly deepen our quarter-century partnership with the city and people of Austin," said Tim Cook, Apple's CEO. "Talent, creativity and tomorrow's breakthrough ideas aren't limited by region or zip code, and, with this new expansion, we're redoubling our commitment to cultivating the high-tech sector and workforce nationwide."
In its press release, Apple said jobs created at the campus would include a wide range of functions, including engineering, R&D, operations, finance, sales, and customer support. At 6,200 people, Austin already represents the largest population of Apple employees outside Cupertino.

"Apple is among the world's most innovative companies and an avid creator of jobs in Texas and across the country," said Texas Governor Greg Abbott. "Their decision to expand operations in our state is a testament to the high-quality workforce and unmatched economic environment that Texas offers. I thank Apple for this tremendous investment in Texas, and I look forward to building upon our strong partnership to create an even brighter future for the Lone Star State."
In addition to the new campus, Apple announced plans for a general expansion of operations over the next three years in cities across the United States, including Pittsburgh, New York, and Boulder. Apple also said it will establish new sites in Seattle, San Diego, and Culver City.
The announcement caps a year of continued job creation for Apple. The company added 6,000 jobs to its American workforce in 2018 and now employs 90,000 people in all 50 states. In January, Apple said it was on track to create 20,000 jobs in the U.S. by 2023.
Apple said it also plans to invest $10 billion in U.S. data centers over the next five years, including $4.5 billion this year and next.
Costco today began
selling the latest MacBook, MacBook Air, MacBook Pro, and iMac models
on its website in the United States. Some of the configurations are bundled with AppleCare+ for Mac coverage.

Costco's member-only prices are between $50 and $200 lower than Apple's prices for select Macs. The base model 2018 MacBook Air with a 1.6GHz processor, 8GB of RAM, and 128GB of storage starts at $999 at Costco, for example, compared to $1,199 on Apple.com. There is a limit of two per customer.

MacBook Air
The wholesale retailer is accepting pre-orders now, with shipments expected to begin the week of December 17. In-store pickup appears to be an option, but it's unclear if Costco warehouses will be selling Macs to walk-in customers.
An annual Costco membership starts at $60 in the United States.
Intel today
introduced Sunny Cove
, its next-generation processor microarchitecture designed to increase performance and power efficiency.

Sunny Cove microarchitecture, built on a 10nm process, will be the basis for Intel's next-generation Core and Xeon processors later next year according to the company, making them appropriate for potential 2019 models of the MacBook, MacBook Air, MacBook Pro, iMac, iMac Pro, Mac Pro, and Mac mini.
Intel also unveiled new Gen11 integrated graphics with up to double the performance of its Gen9 graphics paired with Skylake-based processors. Gen11 graphics will support 4K video streams and 8K content creation in constrained power situations and feature Intel's Adaptive Sync technology for smoother gaming.
Intel did not provide a comparison of Gen11 and Gen10 graphics, paired with Cannon Lake-based processors.
For those who are ever-confused by Intel's roadmap, it is believed that Sunny Cove processors paired with Gen11 graphics
will be called Ice Lake
, which succeeds Coffee Lake, Whiskey Lake, Amber Lake, and Cannon Lake.
Intel reaffirmed its plan to introduce a discrete graphics processor by 2020, providing Apple with another option beyond its current provider AMD and former provider Nvidia for future MacBook Pro, iMac, iMac Pro, and Mac Pro models.
Intel has essentially been iterating on its Skylake microarchitecture since 2015, so it is refreshing that the chipmaker is finally moving on to something new. But with rumors of
Macs switching to custom ARM-based processors
as early as 2020, it might not be long after Sunny Cove that Apple moves on too.
LumaForge today
announced
that its Jellyfish shared storage solutions are now available for purchase from Apple's online business store, with ultra-high capacities up to 200TB at ultra-high prices of up to $50,000 in the United States.

Jellyfish servers enable video production teams working on Macs to collaborate throughout the content creation process. Designed by professional filmmakers, editors, and colorists, LumaForge says the Jellyfish is compatible with major pro video and audio apps like Final Cut Pro X, Premiere Pro, and DaVinci Resolve.
There are three shared storage solutions:
Jellyfish Mobile - 32TB for $11,995.95 or 80TB for $19,995.95: Portable enclosure designed for small teams or teams without a server room infrastructure. Four 10-Gigabit Ethernet ports. Four 1-Gigabit Ethernet ports. 2,300 MBps available bandwidth. Enough to power 4K-8K workflows.
Jellyfish Tower - 120TB for $39,995.95: Designed for teams that have larger capacity needs. It's the size of a large PC tower. Eight 10-Gigabit Ethernet ports. Eight 1-Gigabit Ethernet ports. 4,400 MBps available bandwidth.
Jellyfish Rack - 200TB for $49,995.95: Identical in functionality to the Tower, but designed to easily fit into existing server racks.
Macs can be connected directly to a Jellyfish server using standard 1- or 10-Gigabit Ethernet cables. Once connected, the Jellyfish Desktop App for macOS automatically completes the setup process. All three have RAID protection.
LumaForge said that more than 200 companies, including Activision, Adobe, BBC, CBS Interactive, Disney, Google, NASA, Pandora, Reuters, Sony, and WeWork, rely on Jellyfish servers for video storage and collaboration.
In related news, LumaForge announced that Steve Bayes has made a significant financial investment in LumaForge and
will join its newly formed Board of Advisors
. Bayes was the senior product manager of Final Cut Pro at Apple for more than 12 years before retiring from the company in July 2018.
Apple is actively building its own cellular modem chip for future iPhones, according to a paywalled report by
The Information
today.

The report, citing a person briefed on the plans, claims that Apple has engineers working on the project close to its headquarters in Northern California. For several months, Apple has also been
actively hiring engineers in San Diego
, where the company has an office with a growing Wireless Architecture team.
Due to the complexity of wireless modems, it could take Apple as long as three years to ship iPhones with them, according to analysts cited in the report. Apple is already rumored to debut its
first 5G-enabled iPhone in 2020
, with an Intel modem, so the first iPhone with an Apple-designed modem could launch in 2021.
The move would align with Apple's increasing shift towards in-house chip designs, including its best-in-class A-series processors in iPhones, S-series processors in Apple Watches, W-series wireless chips in AirPods and select Beats headphones, and T-series coprocessors in some of the latest Macs.
The shift wouldn't be all that surprising, as Apple is currently in a high-profile legal battle with its former modem supplier Qualcomm over chip-related licensing fees. Intel has since become the exclusive supplier of modems in the latest iPhones.
Qualcomm is based in San Diego, turning the city into a hotbed for wireless engineers, explaining Apple's presence there. One of the executives leading Apple's cellular modem effort is Bernd Adler, who joined the company in 2015 after serving as an executive on Intel's modem team, according to the report.
Algoriddim's djay apps
for iOS and Mac have long been among Apple's favorite apps to show off at keynote events and in annual "best of" lists, with slick designs, demo-friendly interfaces, and utility that supports both fun and creativity with music and video.
Given djay's visibility as a popular premium app, it's a significant development that with
today's introduction of djay 3 for iOS
, Algoriddim is shifting djay from a set of relatively premium-priced standalone apps to a
freemium subscription model
.
With the release of the new djay, Algoriddim is consolidating a handful of previous iOS apps down to a single universal app available as a free download that includes features such as the Classic Mode turntable view, Automix Mode that uses Algoriddim's proprietary Automix AI engine to automatically identify optimal transition points and seamlessly transition between tracks with the touch of a button, iTunes and Spotify integration to pull from millions of available song titles, and hardware integration with select official controllers.

While today's update brings some of djay's most popular features to users free of charge for the first time, those who want more can look to the djay Pro subscription, which unlocks unlimited access to libraries of samples and loops, the Looper feature Apple demoed at the iPad Pro event in October, support for dozens of MIDI controllers, and much more.

With over 1 GB of audio and video loops and audio samples from a variety of genres available through the djay Pro subscription, the new Looper and sample pad functions allow DJs to build and sequence their own loops while mixing. The grid-based Looper supports up to 48 loops, automatically synchronized to the beat. And with new video loops, Algoriddim has brought its vjay app into djay, allowing users to mix synchronized video clips in real-time to add a visual aspect to their mixes.

The new djay is also one of the first apps to really take advantage of the USB-C port on the new iPad Pro models, allowing for multiple peripherals such as an external display and a MIDI controller to be connected simultaneously.
djay Pro is available with a seven-day free trial, after which it's priced at $4.99 per month or $39.99 per year. Existing djay users who previously purchased any version of djay are eligible for a discounted $9.99 djay Pro subscription for the first year. Algoriddim is far from the first company to shift a popular app from paid to subscription pricing, but it's certainly among the most prominent for those who have paid close attention to Apple's events, awards, and App Store features over the years.

The freemium model opens up djay to many more potential users who previously might have balked at an upfront purchase price, and Algoriddim clearly hopes that some of those free-tier users will want access to more features and sign up for the Pro subscription plan. And shifting to a subscription model also gives Algoriddim greater flexibility such as the ability to offer free trials.
The new version of djay is rolling out now [
App Store
] as a free download.
Earlier this year, Apple
acquired digital magazine subscription service Texture
and confirmed that it will be integrated into Apple News. And in April, it was reported that Apple plans to
offer a Texture-based subscription news service
with unlimited access to select newspapers and magazines for a monthly price.

Texture
Now,
Bloomberg News
reports that the Apple News subscription service could be introduced as early as spring 2019. As we
heard back in September
, Apple is said to have held talks with major newspapers such as
The New York Times
,
The Wall Street Journal
, and
The Washington Post
about joining the service.
Texture
offers unlimited access to around 200 digital magazines for $9.99 per month in the United States, including
People, Vogue, Rolling Stone, National Geographic, GQ, Sports Illustrated, Wired, Maxim, Men's Health, GQ, Bloomberg Businessweek, ESPN The Magazine,
and
Entertainment Weekly
.
Apple's subscription news service is expected to be a "premium product," but the report claims that some publishing industry executives fear the service could steal some of their subscribers, especially if it is affordably priced. Apple's services chief Eddy Cue has reportedly met with some publishers to alleviate these concerns.
On the other hand, Apple News could be a lifeline for the industry. A subscription service would instantly reach hundreds of millions of iPhones and iPads, providing publications with exposure that would be very hard to achieve on their own.
2019 is shaping up to be the year of Apple subscription services. Apple is widely rumored to
introduce a Netflix-like streaming video service
next year, with
over a dozen TV shows and movies
already lined up with stars such as Oprah Winfrey, Jennifer Aniston, Reese Witherspoon, and Steve Carell — although this one
might be free
.
Apple has held a special event in March in three of the past four years, so perhaps we'll hear more about these services in around three months from now.
Apple this morning began offering promo codes to Apple Music subscribers that allow them to buy a HomePod at a discounted price for a limited time, in a holiday-themed promotion.
As of writing, customers in the UK have received codes for £50 off a new HomePod, bringing the price down to £269, with the offer available until December 16.

The discount is being offered via an email from Apple that includes a button-style link to 'Get Your Promo Code', which sends customers to the official Apple website with the promotional offer applied.
HomePod brings out the best in Apple Music. To celebrate the holidays, we're giving only Apple Music subscribers £50 off HomePod now through December 16. Claim your special promo code now.
The £50 discount narrowly beats the price of HomePod from
John Lewis
and
Currys PC World
, both of which are currently selling Apple's smart speaker for £279.
As yet, it's not clear whether Apple intends to extend similar discounts to other regions, but we'll update this article as soon as we hear anything.
(Thanks, Luke and Mark!)
Microsoft today updated its suite of Office for Mac apps, including Word, Excel, PowerPoint, and Outlook, with support for Dark Mode on macOS Mojave and several other new features. The updates are available to both Office 365 subscribers and to users who purchased Office 2019 for Mac as a one-time purchase.

The update also makes it easier to insert a photo from an iPhone or iPad into a PowerPoint slide using Apple's new
Continuity Camera feature
. This allows users to
control-click in a PowerPoint window
where you want the photo to appear, quickly take a photo on a nearby iPhone or iPad, and import it into a slide.
And with v16.20 some customers will see our Ribbon Visual Refresh with new icons and styling in Office 365 for Mac, as we begin rolling out and getting your feedback! On macOS Mojave, the new icons adapt to Light and Dark Mode as well! #Office365 pic.twitter.com/2iLdWNx7qD

— Derek Snook (@derek_snook) December 11, 2018
Office for Mac apps can be updated via the Microsoft AutoUpdate mechanism by navigating to Help > Check for Updates in each app. For a full list of new features, read the
Office for Mac version 16.20 release notes
.
(Thanks, Daniel!)