A long-standing bug in macOS's Quick Look feature has the potential to expose sensitive user files like photo thumbnails and the text of documents, even on encrypted drives, according to security researchers.
Details on the Quick Look flaw were
shared earlier this month
by security researcher Wojciech Regula and
over the weekend
on security researcher Patrick Wardle's blog (via
The Hacker News
).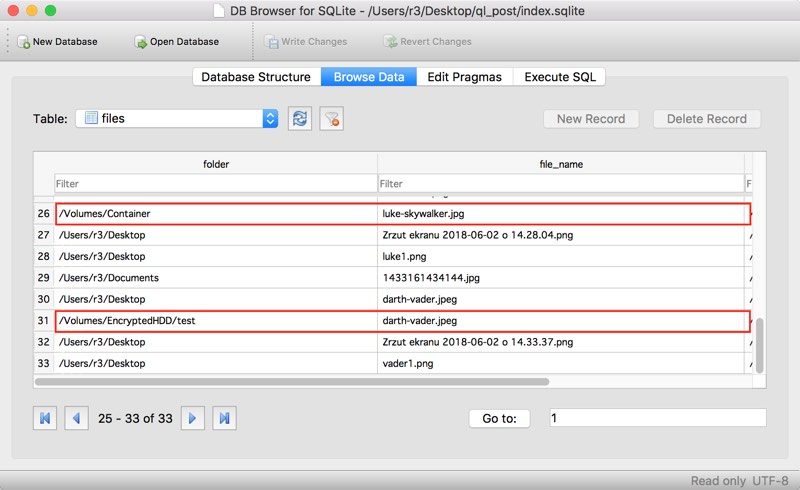 Image via Wojciech Regula
Quick Look in macOS is a convenient Finder feature that's designed to present a zoomed-in view when you press the space bar on a photo or document that's selected.
To provide this preview functionality, Quick Look creates an unencrypted thumbnail database where thumbnails of files are kept, with the database storing file previews from a Mac's storage and any attached USB drives whenever a folder is opened. These thumbnails, which provide previews of content on an encrypted drive, can be accessed by someone with the technical know how and there's no automatic cache clearing that deletes them. As Regula explains:
It means that all photos that you have previewed using space (or Quicklook cached them independently) are stored in that directory as a miniature and its path. They stay there even if you delete these files or if you have previewed them in encrypted HDD or TrueCrypt/VeraCrypt container.
This is an issue that's existed for at least eight years and concerns have been
raised about it
in the past, but Apple has made no changes in macOS to address it. "The fact that behavior is still present in the latest version of macOS, and (though potentially having serious privacy implications), is not widely known by Mac users, warrants additional discussion," writes Wardle.
As Wardle points out, this information is valuable in law enforcement investigations, but most users are not going to be happy to learn that their Mac records file paths and thumbnails of documents from every storage device that's been attached to it.
For a forensics investigation or surveillance implant, this information could prove invaluable. Imagine having a historic record of the USB devices, files on the devices, and even thumbnails of the files...all stored persistently in an unencrypted database, long after the USB devices have been removed (and perhaps destroyed). For users, the question is: "Do you really want your Mac recording the file paths and 'previews' thumbnails of the files on any/all USB sticks that you've ever inserted into your Mac?" Me thinks not...
It's worth noting that if the main drive on the Mac is encrypted, the Quick Look cache that's created is too. Wardle says that data "may be safe" on a machine that's powered off, but on a Mac that's running, even if encrypted containers are unmounted, the caching feature can reveal their contents.
"In other words, the increased security encrypted containers were thought to provide, may be completely undermined by QuickLook," writes Wardle.
Wardle recommends that users concerned about unencrypted data storage clear the Quick Look cache manually whenever a container is unmounted, with instructions for this
available on Wardle's website
. It's also worth checking out Wardle's site for full details on the Quick Look bug.
Apple today seeded the third beta of an upcoming iOS 11.4.1 update to developers, one week after
seeding the second beta
and three weeks after
releasing iOS 11.4
, an update that introduced AirPlay 2 and Messages in iCloud.
Registered developers can download the new iOS 11.4.1 beta from Apple's Developer Center or over-the-air once the proper configuration profile has been installed from the Developer Center.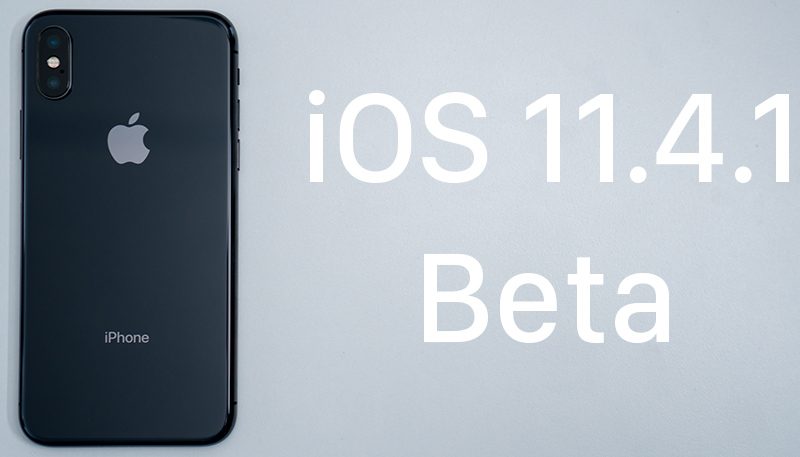 No new features were discovered in the first two iOS 11.4.1 betas, suggesting it focuses on bug fixes and performance improvements to address issues discovered since the release of iOS 11.4.
We'll update this post should we discover any new features in the third iOS 11.4.1 beta, but we're not expecting major changes now that Apple has shifted its focus to iOS 12, which is also available to developers for beta testing purposes.
Update:
The third beta of iOS 11.4.1 is also available for public beta testers.
As it does every year, Apple today opened
registration
for its annual three-day "Apple Camp" event. At Apple Camp, kids between the ages of 8 and 12 can partake in hands-on projects at Apple retail locations by choosing one of three tracks and spending 90 minutes per day for three days "immersed in their chosen subject."

The three programs include "Coding with Sphero Robots", "Beat Making and Songwriting with GarageBand", and "Telling Stories with Clips." Apple broke down what each program is about on the registration page for Apple Camp:
Coding with Sphero Robots - In this three-day session for kids ages 8-12, we'll introduce the fundamentals of coding using Sphero robots. Each day Campers will learn a new coding concept and practice problem-solving skills. They'll partner up for fun activities to program their Sphero to change colors, create sounds, complete challenges, and more. Then they'll apply their coding skills to design their own games.

Beat Making and Songwriting with GarageBand - In this three-day session, kids ages 8-12 will discover the magic of beat making and songwriting. They'll start by exploring basic elements of song structure and how beats create the foundation of a song. Campers will get hands-on as they create music using Touch Instruments, add vocals, and fine-tune their creations with GarageBand on iPad. On day 3, they'll share their songs with the group.

Telling Stories with Clips - Future filmmakers ages 8-12 will explore the creative process of telling stories using video, photos, and music. Campers will brainstorm and storyboard their ideas. They'll get hands-on in groups to capture short videos, edit and enhance their shots with fun graphics and filters, and add opening and closing titles in the Clips app on iPad. On the final day, they'll present their video stories.
The days of the week and time for each program varies by region, with some classes taking place on a Monday-Wednesday-Friday schedule and others organized on a Tuesday-Thursday-Friday schedule. Classes typically begin at around 9:30 a.m. ET and stop around 5:30 p.m. ET.
The free Apple Camp sessions will kick off on July 9 and run through July 27, and parents interested can register their kids now on
Apple.com
in the United States, Canada, France, Italy, and more. In the United Kingdom and Germany, registration will open next Monday, June 25. Like previous years, parents or a legal guardian must accompany any child participating in the 90-minute sessions every day, and those kids who do participate will get a free Apple Camp t-shirt.
In 2011, a class action lawsuit filed against Apple accused the company of operating an illegal monopoly by not allowing iPhone users to download mobile apps outside of its own App Store, reducing consumer choice.

The antitrust case was eventually
dismissed in 2013
by a U.S. district court in Northern California, due to errors in the complaint, leading to the U.S. Court of Appeals for the Ninth Circuit
allowing it to proceed in 2017
.
That decision led to Apple's petition for a writ of certiorari, which was
granted today
, meaning that the U.S. Supreme Court will now review the appeals court's decision to reinstate the case last year, according to
Reuters
.
Last month, the U.S. Department of Justice
filed an amicus brief in support of Apple
, urging the Supreme Court to reverse the Ninth Circuit's decision, arguing that it misapplied precedent from
Illinois Brick Co. v. Illinois
.
From the start, Apple has argued that it doesn't set prices for paid apps, and that charging a 30 percent commission on the distribution of paid apps and in-app purchases does not violate antitrust laws in the United States.
Apple will now hope the Supreme Court agrees that the case should be dismissed again. No date has been disclosed for the hearing.
Apple today
announced
that, starting later this year with iOS 12, iPhones will automatically share precise location data with first responders during 911 calls in the United States, helping to reduce emergency response times.

The new functionality will be powered by
RapidSOS
's IP-based
data pipeline
, which will quickly and securely provide 911 call centers with Hybridized Emergency Location data, which is determined based on proximity to cell towers and Wi-Fi access points, and on-device data sources like assisted GPS.
Apple said the location data will only be used for emergency purposes, and only accessible to responding dispatch centers during 911 calls.
"Communities rely on 911 centers in an emergency, and we believe they should have the best available technology at their disposal," said Apple CEO Tim Cook, in a prepared statement. "When every moment counts, these tools will help first responders reach our customers when they most need assistance."
The current 911 system, developed by AT&T in the 1960s, was intended for landline phones, which have
fixed addresses
. Apple notes that approximately 80 percent of 911 calls today come from mobile devices, however, and most dispatching systems can only obtain their estimated location based on cell towers.
RapidSOS's system, which will be integrated with existing software at 911 centers, should help solve this problem. The modern technology is part of a broader initiative known as
Next Generation 911
.
"911 telecommunicators do extraordinary work managing millions of emergencies with little more than a voice connection," said RapidSOS CEO Michael Martin. "We are excited to work with Apple to provide first responders a new path for accurate, device-based caller location using transformative Next Generation 911 technology."
As many as 10,000 lives could be saved each year if 911 emergency dispatchers were able to get to callers just one minute faster, according to the FCC. Whether someone is experiencing cardiac arrest, or a house is on a fire, it is obviously critical for first responders to arrive as quickly as possible.
"This new functionality is an example of how companies and first responders can use technology to dramatically improve public safety," said former FCC Chairman Tom Wheeler. "Lives will be saved thanks to this effort by Apple and RapidSOS."
The feature is somewhat similar to
Advanced Mobile Location
, implemented in iOS 11.3 in a handful of European countries.
Advanced Mobile Location recognizes when an emergency call is made and, if not already activated, activates an iPhone's GPS or Wi-Fi to collect the caller's precise location information. The device then sends an automatic SMS to the emergency services with the caller's location, before turning the GPS off again.
Advanced Mobile Location must be supported by carriers. As of earlier this year, the service was fully operational in many European countries, including the United Kingdom, Estonia, Lithuania, Austria, and Iceland, as well as New Zealand.
Apple says the RapidSOS functionality will be limited to the iPhone for now, ruling out the Apple Watch and other devices at launch.
Apple's announcement coincides with the annual
NENA Conference & Expo
in Nashville this week, focused on the future of the 911 system.
"It can be hard in an emergency to know exactly where you are, and if you're not on a landline, our first responders can't always help. This upgrade will save lives by giving our 911 dispatchers, police, firefighters and paramedics the thing they need the most: time," said Nashville Mayor David Briley.
Nearly five months after the HomePod launched in the United States, United Kingdom, and Australia, Apple today expanded availability of the Siri-enabled speaker to customers in Canada, France, and Germany.

HomePod is available in white and space gray for
$449 in Canada
and
€349 in Germany
and
France
via Apple's online store and the Apple Store app for iPhone and iPad. It's also available at Apple's retail stores in each country, and at select authorized resellers, including Best Buy in Canada.
Apple recently
pushed a software update to the HomePod
that enables Siri to speak in French, German, and Canadian English. Apple's website notes that support for Canadian French is coming later this year.
The software update, paired with iOS 11.4, also introduced support for stereo sound and multi-room audio via AirPlay 2. It also enables users to check calendar appointments on the HomePod by asking Siri.
HomePods could
already be used abroad
in countries outside of the United States, United Kingdom, and Australia, but Siri's language options were limited to American, Australian, and British dialects of English, and certain features like Siri's ability to read the news or play music charts were lacking.
While the HomePod has received
rave reviews about its sound quality
, critics believe the speaker has exposed
Siri's shortcomings
.
Siri Shortcuts
should help in that regard, enabling users to connect certain third-party apps to Siri to greatly streamline voice controls with app-specific actions.
In terms of what's next for HomePod, a few rumors have suggested that Apple could release a
lower priced version of the speaker
later this year or next, although it could end up being a
Siri-enabled Beats speaker
.
Rogue Amoeba developer Quentin Carnicelli, who works on Mac software like Airfoil, Audio Hijack, Loopback, and Fission, this week
penned a critique
of Apple's Mac lineup and the company's recent lack of Mac updates, and that missive has been gaining some attention from Mac fans.
Using
MacRumors
' own
Buyer's Guide
, Carnicelli points out that it's been more than a year since any Mac, with the exception of the iMac Pro, has been updated.
It's been 375 days, for example, since the iMac, MacBook, MacBook Pro, and MacBook Air machines were last updated, and it's been 437 days since the Mac Pro saw the price drop Apple implemented as it works
on a Mac Pro replacement
.

The Mac Pro has not seen a hardware update since December of 2013, more than 1600 days ago. Apple has promised its professional users that a high-end high-throughput modular Mac Pro system is in the works, but we thus far have no details on when it might see a release.
The Mac mini, Apple's most affordable desktop Mac, has gone 1338 days without an update, with the last refresh introduced in October of 2014. While Apple has made promises about a refreshed Mac Pro, no similar statement has been provided about a future Mac mini, aside from a comment from Apple CEO Tim Cook stating that the Mac mini continues to be important to Apple.

According to Carnicelli, the state of the Mac lineup is "deeply worrisome" to him as a person who works for a Mac-based software company. Customers are, he says, forced to choose between "purchasing new computers that are actually years old" or "holding out in the faint hope that hardware updates are still to come."
It's very difficult to recommend much from the current crop of Macs to customers, and that's deeply worrisome to us, as a Mac-based software company. For our own internal needs, we've wound up purchasing used hardware for testing, rather than opting to compromise heavily on a new machine. That isn't good for Apple, nor is it what we want.
As Carnicelli points out, Apple could reassure its Mac users with updates and speed bumps to its Mac lineup on a "much more frequent basis," calling the current lack of updates "baffling and frightening to anyone who depends on the platform for their livelihood."
Apple in 2017 refreshed much of its Mac lineup (iMac, MacBook Pro, MacBook Air, and MacBook) at its Worldwide Developers Conference, but this year, Apple opted to focus instead on software, with no new Mac hardware announced. With no new hardware in June, based on past release history, we could be looking at an 18-month upgrade cycle this time around, as pointed out by
iMore
's
Rene Ritchie
, with new Macs making an appearance in September or October.
Some of the blame for Apple's lack of updates can perhaps be placed on its reliance on Intel, and in the past, some Mac refreshes have been pushed back due to delays with Intel chips. This is likely one of the reasons why Apple is planning to
transition from Intel chips
to its own custom made Mac chips as early as 2020.
MacBook, MacBook Pro, iMac, and MacBook Air upgrades are not in the dire state that Mac Pro and Mac mini upgrades are in, but
increased attention
on issues with the MacBook and MacBook Pro keyboards has left Apple customers eager to see those machine updated, especially as Apple has not acknowledged these keyboard issues despite their prevalence in the media.
"Apple needs to publicly show their commitment to the full Macintosh hardware line and they need to do it now," writes Carnicelli.
Carnicelli's comments on the state of the Mac lineup came just before Apple released
a new Mac advertising campaign
. Called "Behind the Mac," the campaign
highlights creators
who use their Macs to "make something wonderful."
The first ad spots in the series focus on photographer and disability advocate Bruce Hall, who uses his Mac for editing photographs, musician Grimes, who uses the Mac "from start to finish" to write all of her music, edit music videos, and more, and app developer Peter Kariuki who used his Mac to code the SafeMotos app, which is designed to connect passengers with safe motorcycle drivers in Rwanda.
These ads, while inspiring, may be seen as too little too late by those who
have grown frustrated with Apple's Mac lineup
and have come to see the lack of updates as an indicator of a lack of commitment to the Mac.
Apple has hired Jaime Waydo, an autonomous vehicle expert who previously worked as a senior engineer at Google's Waymo, reports
The Information
. An Apple spokesperson confirmed the hiring, but declined to provide details on what she would be working on.
Waydo, who served as head of systems engineering at Waymo, was "instrumental," according to former colleagues that spoke to
The Information
. She was in charge of verifying the safety of Waymo's prototypes and provided input on when it was safe enough to launch on-the-road tests in Phoenix in 2016.

Prior to working at Waymo, Waydo was a senior engineer at NASA's Jet Propulsion Laboratory for more than a decade, where she helped develop a rover vehicle that has driven on Mars.
The Information
speculates that Apple's hiring of Waydo could indicate that it is making progress towards launching a prototype vehicle, but the report also says that the car project continues to suffer from a "lack of communication among teams."
Apple originally had
ambitious self-driving vehicle plans
that included a full autonomous vehicle, but those plans were scaled back and Apple
shifted focus
to autonomous driving software. Apple has been
testing Lexus vehicles
equipped with its autonomous driving software
since April 2017
.
In May, Apple signed a deal with Volkswagen to use Volkswagen vans for its
on-campus shuttle program
called "PAIL," which is designed to transport employees around its various campuses and office buildings in the San Francisco Bay Area. The Volkswagens will be autonomous, powered by Apple's self-driving software.
Apple's self-driving shuttle program has been described as behind schedule and "consuming nearly all of the car team's attention," with the company having no clear idea of what it will do with the autonomous driving project beyond the shuttle efforts.
Apple has formed a multi-year production partnership with Oprah Winfrey to create shows for a new video subscription service that is in the works, reports
The Wall Street Journal
.
Apple and Winfrey did not share details on the kind of content that she plans to create, but
in a statement
, Apple said it would team up with Winfrey to "create original programs."

Apple today announced a unique, multi-year content partnership with Oprah Winfrey, the esteemed producer, actress, talk show host, philanthropist and CEO of OWN.

Together, Winfrey and Apple will create original programs that embrace her incomparable ability to connect with audiences around the world.

Winfrey's projects will be released as part of a lineup of original content from Apple.
Apple has signed deals for dozens of original television shows, ranging from ranging from science fiction series "
Amazing Stories
" to podcast-based drama series "
Are You Sleeping
" to cartoon series "Central Park." A full list of Apple's TV shows can be found in
our Apple TV roundup
.
The first of Apple's television shows may debut
as early as 2019
and while Apple has not clarified how the shows will be distributed, today's report from
The Wall Street Journal
suggests Apple is working on a streaming video service to deliver its content.
Apple is widely rumored to introduce
three new iPhone models
in September, including a second-generation iPhone X, a larger version dubbed the iPhone X Plus, and a lower-priced but lesser-featured version.

Given the iPhone X Plus is expected to have an OLED display, like the iPhone X, it would be reasonable to assume that the majority of iPhones that Apple plans to manufacture in 2018 will be of the OLED variety. According to
The Wall Street Journal
, however, that might not be how things play out.
The report cites sources involved with Apple's supply chain who claim that Apple now expects LCD models to make up the majority of iPhone sales in its upcoming lineup, expected to be released this fall.
Apple initially wanted roughly equal production of iPhone models with LCDs and OLED displays, but now plans to make more of the LCD model, referring to the rumored lower-priced, lesser-featured 6.1-inch iPhone, as it supposedly anticipates strong customer demand for the more affordable X-like model.
It's not entirely clear if "LCD models" will include iPhone 7, iPhone 8, and iPhone SE models, which will likely remain for sale alongside the 2018 iPhones, and would certainly help tip the scale towards LCD.
The Wall Street Journal
says Apple's plans are a "sign of consumers' sensitivity to the price of smartphones," citing analysts who believe demand was weaker than their initial forecasts for the iPhone X "due mainly to its price tag." The flagship device is priced from $999 in the United States.
The report adds that Apple will likely retain at least one lower-priced, LCD-based iPhone in its 2019 lineup too, rather than shift entirely to OLED, to ensure customers have an affordable option to choose from.
A report out of Korea last month said Apple will
switch to OLED for all of its 2019 iPhones
, a claim that some analysts had already
cast doubts on
.
Apple analyst Ming-Chi Kuo, now with research firm TF International Securities, expects the next iPhone X to start at $800-$900, the so-called iPhone X Plus to start at $900-$1,000, and the 6.1-inch iPhone to start at $600-$700 in the United States, with
orders for all three beginning in September
.
Kuo has previously said the 6.1-inch iPhone will have a nearly edge to edge display, with a notch for Face ID, but with tradeoffs, including an LCD instead of OLED display, an aluminum frame rather than stainless steel,
no 3D Touch
, and a single-lens rather than dual-lens rear camera system.
If accurate, many customers may indeed opt for what is essentially a budget iPhone X, with a $300 to $400 cheaper price tag. That doesn't mean the current iPhone X was too expensive, though, as in February, Apple said it was the
"top selling iPhone" every week since it launched
in early November.
If you are attempting to navigate with Apple Maps right now, you may be unable to do so, as the service appears to be experiencing downtime.

"Directions Not Available," the app says, when attempting to search for or navigate to destinations. "Route information is not available at this moment."
The issue appears to be widespread, with many users reporting that Apple Maps is down across the United States, Canada, and other countries. The outage affects all platforms with Apple Maps, including the iPhone, iPad, Mac, Apple Watch, and CarPlay.
iPhone, iPad, and Mac users can simply use an alternative such as Google Maps or Waze in the meantime, but CarPlay doesn't currently support third-party mapping apps, something that is
changing with iOS 12
.
Apple has yet to update its
system status page
to reflect any issues. We'll update this article if that changes or when the issues are resolved.
Update 8:18 AM
: Apple has now acknowledged and is "investigating" ongoing issues with Maps Search and Routing & Navigation, according to its system status page. Apple says "all users are affected."
Update 10:13 AM
: Directions appear to now be working in Maps, although Apple has yet to update its status page to confirm the issues have been resolved.
Update 10:28 AM
: Apple has updated its status page to note the issues have been resolved as of 10:05 AM Pacific Time.
Ahead of the HomePod launching in Canada, France, and Germany in three days from now, the speaker has gained the ability to read the news in those countries.

Siri can now provide news briefs from a handful of sources in Canada, for example, including CBC, Global TV, CTV, and CNN. To start, say "Hey Siri" and then say something like "read me the news" or "what's the news today?"
MacRumors reader Pedro Marques, who lives in Toronto, Canada, shared a demonstration of the feature with us today:
Meanwhile, in Germany, the same functionality works with sources such as public broadcasting radio station Deutschlandfunk, according to MacRumors reader Marco.
Apple previously announced that HomePod sales will begin in Canada, Germany, and France on Monday, June 18. The speaker will be available to order in white and space gray through
Apple's online store
,
retail stores
, and the
Apple Store app
on iPhone and iPad, and at select authorized resellers, including Best Buy.
The speaker will be priced at $449 in Canada, and €349 in Germany and France, according to Apple's online store.
HomePod first launched in the United States, United Kingdom, and Australia in February. Canadians, of course, could simply drive south of the border, purchase a HomePod in the United States, and bring it back to Canada, where it worked fine, beyond a few features like news that are now being added.
Late last month, Apple pushed a software update to the HomePod that enables Siri to speak in
French, German, and Canadian English
. Apple notes that
Canadian French will be added later this year
in a subsequent software update.
In related news, Apple's TV app
recently gained live news
in Canada. CBC News is available for free, or $4.99 per month without ads, while CTV News Go is offered through authentication with a cable provider like Bell or Rogers. Other options include CNN, BNN Bloomberg, and online news network Cheddar.