macOS Mojave Now Available
The
iPhone XS
Max with 256GB of storage costs an estimated $443 to make, according to estimates
shared by TechInsights
in a teardown of the new device. At $443, the iPhone XS Max components are nearly $50 more expensive than the estimated $395.44 component cost of the 64GB iPhone X.
TechInsight's component cost breakdown suggests the iPhone XS Max display is the most expensive component in the device at $80.50, while the A12 chip and modems are the second most expensive, at $72.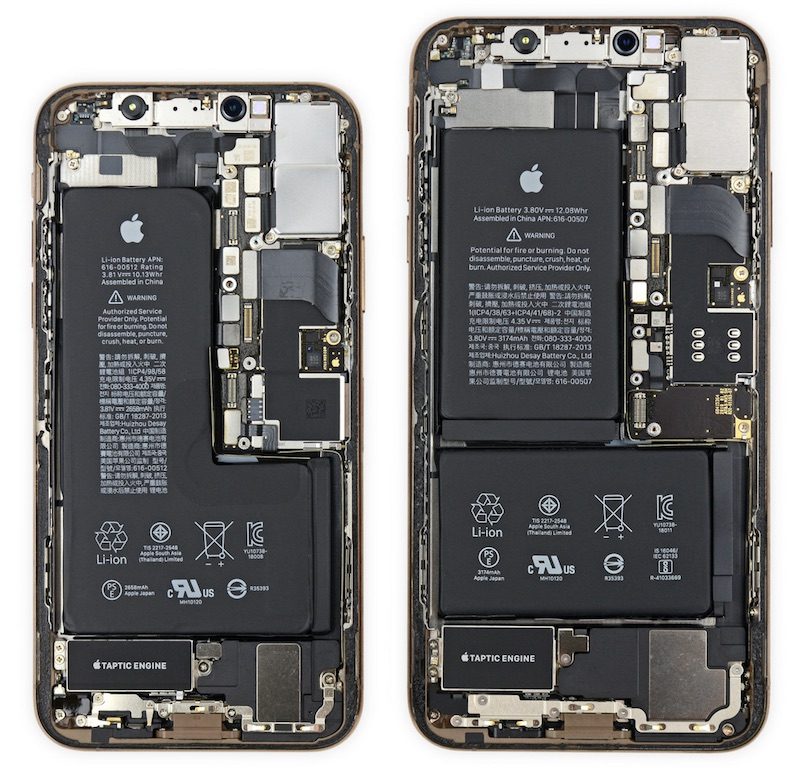 iPhone XS and iPhone XS Max internals, via iFixit
Storage, priced at $64 is the third most expensive component, while other expensive parts include the cameras at $44 and the housing and mechanical components at $55.
The iPhone XS Max housing, display, battery, and memory are all more expensive than similar components in the iPhone X, largely due to the size increase in the new 6.5-inch device. The housing, for example, is larger and heavier, while the display is also larger.
According to TechInsights, Apple cut down on display cost in the iPhone XS Max by removing some
3D Touch
components that were previously included in the iPhone X, but that does not appear to have affected 3D Touch functionality in the new iPhone XS Max.
In a statement provided to
Reuters
, Al Cowsky, who oversees the cost analysis at TechInsights, said Apple took out components worth up to $10, cutting the cost of the iPhone XS Max display to $80.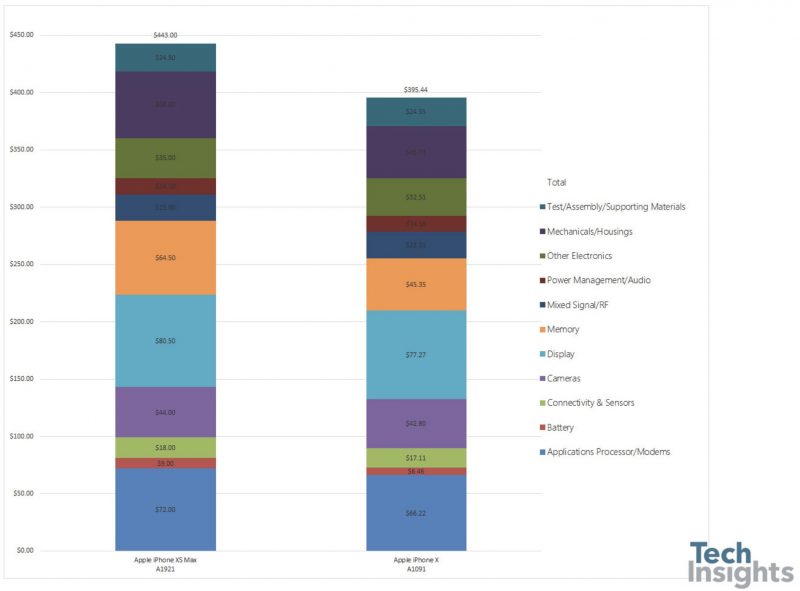 TechInsights' component cost estimates, click to enlarge
Apple is charging $100 more for the iPhone XS Max than it did for the iPhone X, with the device priced starting at $1,099, while the iPhone X, like the new iPhone XS, started at $999.
Component cost estimates from companies like TechInsights only took at the pricing of raw components and do not take into account other iPhone manufacturing expenses like research and development, software creation, advertising, and distribution.
TechInsights itself warns that its cost estimates are compiled using the information available at the time of the initial teardown, with "some assumptions" made where concrete data is not yet available. The company plans to continue to refine its estimate over time.
Last year, when the iPhone X was first released, TechInsights estimated the component cost at $357.50, a number that has now gone up to an estimated $395.44, so there can be quite a bit of variance in these early guesses.
While interesting, device cost estimates are not an accurate measurement of Apple's overall profit margin for the iPhone XS Max, nor do they offer a clear picture of the overall cost of creating a new smartphone.
Back in 2015,
Apple CEO Tim Cook said
that cost breakdowns for devices are not reflective of actual costs. "I've never seen one that is anywhere close to being accurate," he said.
Apple today seeded the first beta of an upcoming
macOS Mojave
10.14.1 update to developers, just one day after
releasing the macOS Mojave update
.
macOS Mojave introduces a new method of installing software updates, so after the initial beta has been installed using the appropriate profile from the Developer Center, additional betas can be downloaded through opening up System Preferences and choosing the "Software Update" option.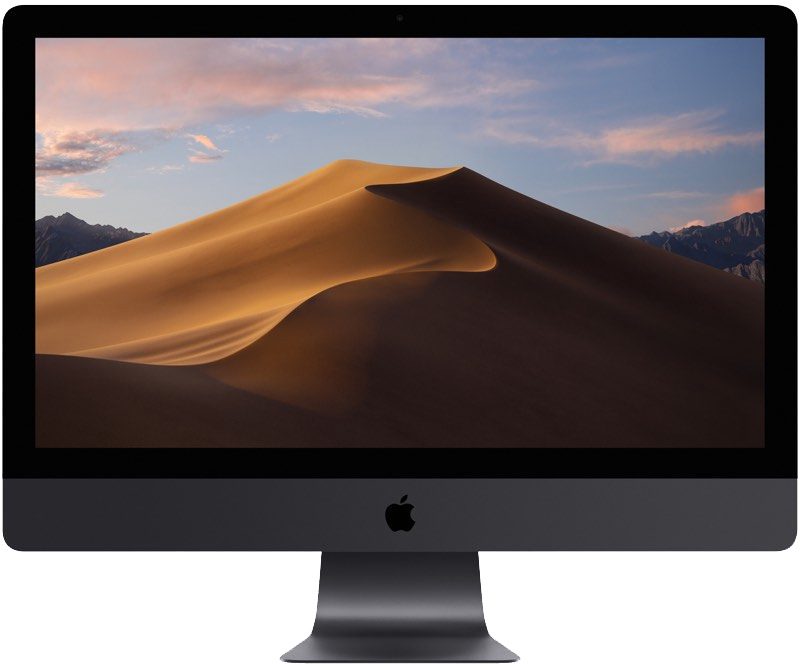 It's not yet clear what improvements the first update to macOS Mojave will bring, but it likely includes performance improvements and bug fixes for issues that weren't addressed in the first release of macOS Mojave. It also likely re-introduces support for Group FaceTime, a feature that was removed during the beta testing period. Group FaceTime, which lets you chat with up to 32 people at once, is also present in the
iOS 12
.1 beta.
macOS Mojave is a major update that brings features like a systemwide Dark Mode, stacks for organizing messy desktops, new Finder capabilities, new tools for taking screenshots, a Continuity Camera option for easily transferring photo scans and documents from iPhone to Mac, and more.
Should we find new notable features in the first beta of macOS 10.14.1, we'll update this post.
Earlier this week, iFixit completed a
teardown of an Apple Watch Series 4
that said the 44mm model has roughly four percent more battery capacity, but that was compared to a 38mm-sized
Apple Watch
Series 3 model.

An eagle-eyed MacRumors reader has since pointed us towards Apple's
Product Information Sheet
, which contains battery capacities measured in watt-hours for several products, including Apple Watch Series 4 models. Apple appears to disclose this information for legal and safety reasons.
Based on Apple's document, Apple Watch Series 4 models actually have less battery capacity than the equivalent Series 3 models:
Apple Watch Series 3 (42mm): 1.34 watt-hours
Apple Watch Series 4 (44mm): 1.12 watt-hours
Apple Watch Series 3 (38mm): 1.07 watt-hours
Apple Watch Series 4 (40mm): 0.86 watt-hours
More specifically, the new 44mm Series 4 models have approximately 16.5 percent less battery capacity than the previous large-size 42mm Series 3 models. Likewise, 40mm Series 4 models have approximately 19.7 percent less battery capacity than the previous small-size 38mm Series 3 models.
Despite having smaller batteries, Apple says Series 4 models get the same all-day battery life of up to 18 hours that Series 3 models are rated for. We reached out to Apple in hopes of an explanation, but we have yet to receive a response.
What we do know is that Apple Watch Series 4 models use a new display technology named
LTPO
that improves power efficiency. The new Apple S4 system-in-a-package also has more efficient cores, so they presumably consume less power as well. Other components could be more efficient too.
In general, however, battery life is simply hard to predict. Different customers have different use cases. One user could be an athlete who is constantly working out with the Apple Watch, while another could be a more casual wearer who taps on a few notifications once in a while and not much else.
All in all, we wanted to clear up some confusion surrounding the Apple Watch Series 4 batteries. They pack less juice, not more, but seemingly without compromising battery life. Over time, we'll see if that's truly the case.
Apple is sending longtime employee and Vice President of Software Technology Bud Tribble to a Senate Commerce Committee hearing on Wednesday to offer support for federal privacy regulations, reports
Axios
.
According to Tribble's prepared statement obtained by
Axios
, he plans to "convey Apple's support for comprehensive federal privacy legislation that reflects Apple's long-held view that privacy is a fundamental human right."

"We want your device to know everything about you; we don't feel that we should," he'll say. "These concepts have guided our design process for years because privacy is a core value at Apple, not an obligation or an aftermarket add-on."
Tribble will echo sentiments that Apple executives have shared time and time again, explaining Apple's belief that customers have a right to keep their personal information private, a stance that differs from companies like Facebook and Google.
Back in June, Apple CEO
Tim Cook
said in an interview
that privacy "from an American point of view" is one of the "key civil liberties" defining what it means to be American. Cook has also said multiple times that Apple's customers are not its product.
"We could make a ton of money if we monetized our customers," Cook
said in March
. "If our customers were our product. We've elected not to do that. We're not going to traffic in your personal life."
Tribble will be testifying before the US Senate Committee on Commerce, Science, and Transportation alongside representatives from other tech and media companies that include Amazon, Twitter, Google, AT&T, and Charter Communications.
Ahead of the meeting, the National Telecommunications and Information Administration, part of the U.S. Department of Commerce,
released a proposal
for consumer data privacy protection and is seeking public comment. The NTIA is asking for feedback on certain desired outcomes for organizational practices:
Organizations should be transparent about how they collect, use, share, and store users' personal information.
Users should be able to exercise control over the personal information they provide to organizations.
The collection, use, storage and sharing of personal data should be reasonably minimized in a manner proportional to the scope of privacy risks.
Organizations should employ security safeguards to protect the data that they collect, store, use, or share.
Users should be able to reasonably access and correct personal data they have provided.
Organizations should take steps to manage the risk of disclosure or harmful uses of personal data.
Organizations should be accountable for the use of personal data that has been collected, maintained or used by its systems.
These are the same kind of topics that will be
explored
during the privacy-focused Senate hearing, which is designed to "examine the privacy policies of top technology and communication firms" as well as review the "current state of consumer data privacy."
Note: Due to the political nature of the discussion regarding this topic, the discussion thread is located in our
Politics, Religion, Social Issues
forum. All forum members and site visitors are welcome to read and follow the thread, but posting is limited to forum members with at least 100 posts.
VMware has
released Fusion 11
, the latest version of its virtualization software, with full support for
macOS Mojave
and the latest Mac hardware, including the 18-core
iMac
Pro and the 2018
MacBook
Pro with a six-core Intel Core i9.

VMware Fusion, like rival software
Parallels Desktop
, can run hundreds of operating systems, ranging from the latest Windows 10 versions to Linux distributions like Ubuntu, directly on the desktop of a Mac.
VMware says Fusion 11 delivers many new features and platform enhancements, including an updated user interface. A new Application Menu allows users to quickly switch between virtual machines, or create a new one; change view modes, settings, and snapshots; or launch Windows apps with a single click.

Fusion 11 and Fusion 11 Pro both default to Apple's Metal graphics rendering engine on supported hosts, with added DirectX 10.1 compatibility. The new version also allows for customizable Touch Bar controls on the latest MacBook Pro models.

There are also many under-the-hood performance improvements, particularly with Virtual NVMe devices. Users can change their virtual disk type to NVMe to increase performance on Macs equipped with SSD storage. Meanwhile, security fixes and architectural changes have been made to mitigate threats like Spectre and Meltdown.
VMware details other new features, including a new Finder integration at the top of the VM Window, on its website.
Fusion 11 and Fusion 11 Pro are
available today
for $79.99 and $159.99 respectively via VMware's website.
Upgrade licenses
for Fusion 11 and Fusion 11 Pro are available for $49.99 and $119.99 respectively for existing users of Fusion 10, Fusion 8, or Fusion 8.5. Prices and availability vary by region.
Qualcomm has accused Apple of stealing confidential information and trade secrets, and passing them on to rival chipmaker Intel, according to a court document filed Monday and reported by several media outlets.

For background, Qualcomm agreed that Apple could have access to its source code and tools for LTE modems, but with limitations. Qualcomm believes that Apple proceeded to share the information with Intel to help improve its LTE modems, allowing Apple to stop using Qualcomm's modems in the latest iPhones.
Axios
's Ina Fried shared an excerpt from Qualcomm's complaint:
Although discovery is ongoing, it is clear that Apple's conduct went far beyond simply breaching the contract originally sued on. Indeed, it is now apparent Apple engaged in a years-long campaign of false promises, stealth and subterfuge designed to steal Qualcomm's confidential information and trade secrets for the purpose of improving the performance of lower-quality modem chipsets, with the ultimate goal of eliminating Qualcomm's Apple-based business.
Qualcomm already sued Apple in November 2017 based on suspicions the iPhone maker was using the chipmaker's trade secrets in wrongful ways. Now, Qualcomm is more confident and direct about its accusation.
Don Rosenberg, General Counsel of Qualcomm, in a statement provided to MacRumors:
Once again Apple has flouted its contractual commitments and misappropriated Qualcomm's property rights in an effort to improve its performance and increase its profits.

The code, tools and design details of Qualcomm's modem technology which are the subjects of this litigation represent the genius and labors of our dedicated engineers. We have only the rule of law to protect them.
The lawsuit is scheduled to be heard in April 2019, but Qualcomm's proposed amendment could delay the trial, which is one of over a dozen lawsuits waged between the two companies. Apple initially sued Qualcomm in June 2017 for
$1 billion in unpaid royalties
, and
later for patent infringement
.
iFixit's
teardown of the iPhone XS and
iPhone XS
Max uncovered an Intel modem in both devices, a few months after Qualcomm said Apple was
unlikely to use its own modems in the latest iPhones
. Qualcomm was Apple's exclusive provider of modems until Intel was added as a second supplier for the
iPhone 7
lineup.
Update:
MacRumors has obtained a copy of Qualcomm's motion, embedded below.
Qualcomm Filing Accusing Ap... by on Scribd
Apple's Macs and
iPad
s continue to have the highest customer satisfaction score among PC and tablet makers, according to the
American Customer Satisfaction Index
's new 2018 Household Appliance and Electronics Report.
Apple earned an ACSI score of 83 in 2018, the same score that it had last year, remaining in the lead over Amazon, Samsung, ASUS, HP, Lenovo, and more.

According to the ACSI, Apple's machines earned best-in-class ratings across "nearly every aspect of the customer experience" from device design to features and available apps.
Apple earned the highest score despite the fact that much of its Mac and iPad lineup has yet to be refreshed in 2018. We are awaiting refreshed
iPad Pro
models with major upgrades like an edge-to-edge design with slimmer bezels and Face ID, along with updates to the
MacBook
,
Mac mini
, and other machines.
Based on ASCI's numbers, Amazon is closing in on Apple with an ASCI score of 82, with customers satisfied with design, ease of operation, and sound/graphics quality on the company's line of tablets.
Samsung tied with Amazon, also earning a score of 82. Samsung also scores well across the customer experience, but can't match Apple on features that include operating system, preloaded apps, and data storage.
According to the American Customer Satisfaction Index, overall customer satisfaction with personal computers (a category that includes laptops, desktop machines, and tablets) continues to earn a score of 77 on the ACSI scale.
Smartphones outpaced personal computers in customer satisfaction back in 2014, and customers continue to be more satisfied with their handheld devices, using them for more tasks that had previously been limited to computers.
Among PC owners, desktop machines earned the highest overall satisfaction score, followed by tablets and then laptops. Just 17 percent of respondents to the ACSI survey purchased a desktop computer in the last year, but customer satisfaction grew 4 percent. Satisfaction with tablets also grew 4 percent, while laptop satisfaction declined.

To create its scoring system and compile device scores, the ACSI uses data from interviews with approximately 250,000 customers each year, analyzing customer satisfaction with more than 380 companies across 46 industries.
Tom's Guide
has published the results of a battery comparison test pitting Apple's new
iPhone XS
and iPhone XS Max against a variety of smartphones, with some surprising results.
Both of Apple's latest flagship models failed to reach the heights of last year's first-generation iPhone X using the same battery endurance test, which involved surfing the web continuously over a 4G data connection.
Displays
were set to 150 nits of brightness, with both auto-brightness and TrueTone disabled.

The iPhone XS Max lasted 10 hours and 38 minutes, while the iPhone XS managed 9 hours and 41 minutes. Those figures compare unfavorably to the results of the original iPhone X, which lasted 10 hours and 49 minutes in the same test last year.
As far as rival phones go, the iPhone XS and XS Max outperformed the HTC U12+ (9 hours, 13 minutes) and the LG G7 ThinQ (8 hours, 35 minutes), however both Apple models were beaten by flagship devices in the Android category. Google's Pixel 2, for example, lasted 12 hours and 9 minutes, while Samsung's Galaxy Note 9 lasted 11 hours and 26 minutes. However, the overall winner was Huawei's P20 Pro, clocking in 14 hours and 13 minutes.

Apple advertises that the iPhone XS can last up to 12 hours during internet use (the same figure given for last year's iPhone X) while the iPhone XS Max can last up to 13 hours on a single charge. However, battery performance can be affected by various factors, including OS version, hardware optimization, and even cellular reception, which is why Apple only offers approximate numbers.
Earlier this week,
iFixit teardowns
confirmed the existence of a new single-cell L-shaped battery in the iPhone XS, while the iPhone XS Max remains two cells.
Chinese regulatory filings
also earlier revealed the iPhone XS and iPhone XS Max have battery capacities of 2,658 mAh at 3.81V and 3,174 mAh at 3.80V respectively.
Last year's iPhone X has a battery capacity of 2,716mAh at 3.81 V, yet Apple claims iPhone XS customers can expect a 30-minute increase in operating time over that device, while XS Max users can expect an hour and a half. If you're an iPhone XS or XS Max owner, let us know what kind of battery life you're seeing by using the comments below.
Apple's
iPhone XS
and iPhone XS Max launched last Friday, and shortly after, some customers who purchased one of the new devices started noticing an issue with LTE and Wi-Fi speeds and connectivity.
According to
multiple threads
on the
MacRumors
forums, iPhone XS and iPhone XS Max users are experiencing connectivity problems with Wi-Fi and LTE on the two new iPhones when compared to other, older Apple devices.

Multiple users have said that there are noticeable differences in cellular reception between the iPhone XS models and the
iPhone 8
and iPhone X, with a 15-page thread suggesting this is a widespread problem that quite a few people are noticing. As described by
MacRumors
reader
onepoint
:
I'm in South Carolina on VZW. My iPhone X consistently holds 3 or 4 bars of LTE in my home with solid speeds.

I activated XS Max yesterday and upon first activating/connecting LTE (reboot, airplane mode, etc.) I get nearly identical performance. Within a minute or two, the signal degrades and data stops working. Disabling LTE results in a full 3G signal with 3G data - no issues, rock solid. Re-enabling LTE works for a minute or two. Lather rinse repeat.
Users are noticing fewer bars and poorer signal on iPhone XS and XS Max compared to devices like the iPhone 8 and iPhone X, especially in areas where signal is weak. Many of the complaints come from Verizon users, suggesting the issue could potentially be carrier specific. Multiple AT&T users, for example, have said the signal is the same or better, while Verizon users are seeing signal issues.
Some iPhone XS owners
have theorized
that the issue is related to Qualcomm vs. Intel modems. The new iPhone XS and XS Max
are using Intel modems
, while older devices used a mix of Qualcomm and Intel modems. AT&T iPhone 8 and iPhone X models used Intel modems previously, while Verizon iPhones had Qualcomm modems. As explained by
MacRumors
reader
radiologyman
:
That seems to be the thinking in the other forum thread linked below. People who went from Qualcomm to Intel may see worsening in fringe areas while those who went from Intel to Intel may see an improvement. Both groups can see faster LTE signal due to carrier aggregation and 4 MIMO implemented in XS and XS Max.
Some AT&T and T-Mobile users are, however, complaining of connectivity problems too, while others have noticed better signal, leading to a confusing mix of user reports.
It's not clear if modem differences are causing the perceived connectivity issues that iPhone XS and XS Max owners are noticing or if there is a genuine bug with the new devices, but in the days following a new iPhone release, there are often carrier updates that can solve connectivity problems.
Given the confusing mix of information coming from users on the forums, the LTE connectivity problems may be related to software and could be fixed through the aforementioned carrier update or a software update from Apple, but we'll have to wait for more information to figure out exactly what's going on.
In addition to the LTE problems, there appears to be a
separate issue with Wi-Fi
. On the
MacRumors
forums, users began noticing slower Wi-Fi speeds on iPhone XS models compared to other Apple devices, which readers quickly deduced was a 2.4GHz vs. 5GHz Wi-Fi issue.
It appears that the iPhone XS and XS Max are preferring 2.4GHz networks over 5GHz networks when connecting to routers that use the same SSID for both the 2.4 and 5GHz bands. From
MacRumors
reader
playtillyadrop
:
I'm having the same problems. On my x it will hold the 5ghz connection compared to the XS max which likes to hold on to the 2.4ghz connection. I'm using google WIFI. All my nodes are connected wired. I know it's not my wifi and it's related to the xs max. It seems as if it prefers the stronger signal over throughput. My x performs better. I can check through the google wifi app and it takes forever for the xs max to pick the 5ghz connection.
The majority of people experiencing slower speeds found that their iPhone XS models were indeed connected to the 2.4GHz network rather than the 5GHz network. In our own testing, we found that when comparing an iPhone XS Max and an iPhone X, the iPhone XS Max connected to the 2.4GHz network while the iPhone X connected to the 5GHz network.
With routers that do not have separate SSIDs for the two bands, it can be difficult to tell which you're connected to, leading to perceived slower connection speeds.
This is clearly a bug that needs to be addressed by Apple through an update to make the iPhone XS models prefer the faster 5GHz network to the 2.4GHz network, but in the meantime, providing separate SSIDs for the 2.4 and 5GHz bands can allow you to make sure your iPhone is connected to the 5GHz band at all times.
Some users have also had luck with resetting their network settings and/or forgetting their Wi-Fi network and reconnecting, but the iPhone XS models appear to default back to 2.4GHz often if not made to connect to the 5GHz network.
This connection issue appears to be at the root of most of the slow Wi-Fi complaints, but there have been a few other complaints of poor connection speeds when connected to a 5GHz network, so it's possible there's also something else going on.
We've contacted Apple to ask about both the Wi-Fi and LTE issues that customers are experiencing with the iPhone XS models and will let
MacRumors
readers know if we hear back.
With the release of
macOS Mojave
today, third-party Mac app developers are releasing updates to take advantage of features like Dark Mode and other new Mojave additions.
Dark Mode options in third-party apps will let them blend right in to Mojave's new Dark Mode, which is a systemwide dark theme that can be used in lieu of the traditional light mode theme. We've rounded up a list of prominent apps that are embracing macOS Mojave's new features.

1Password
- Popular password management app 1Password is introducing support for Dark Mode with a new darker theme that blends right into the macOS Mojave operating system.

1Password's new update also includes a Safari App Extension to make it easier to input 1Password info into Safari webpages, it features a hardened runtime to make it so other processes on your computer can't access it, and it's been notarized with the new notary service in macOS Mojave that Apple introduced to make apps more secure.

Banktivity
- Personal finance management app Banktivity, priced at $70 for new customers and $34.99 for those upgrading, is getting an update that adds support for macOS Mojave's Dark Mode. Version 7 of the app also includes expanded search features, summary view customization options, lot selection, improved envelope budgeting, calendar support, and more.

Things 3
- Popular todo app Things 3 for Mac is gaining Dark Mode support for macOS Mojave, and it will automatically change between light and dark based on a user's system setting in the Mojave operating system, but there are custom controls as well. The new dark theme is also available for Things customers running older versions of macOS.

OmniFocus 3
- Task management app OmniFocus, priced at $39.99 or $79.99 for the Pro version, is getting a major update today, which introduces version 3. The updated app has a redesigned, modernized interface that will feel familiar but fresh to OmniFocus 2 users. It includes tags for better organization, a forecast view to see tasks and calendar events in order, and enhanced repeating tasks. OmniFocus implemented a dark mode a few years back and it works great with macOS Mojave.

Agenda
- Note taking app Agenda has added a new dark theme for macOS Mojave, and it's been designed to activate when you have your Mac set to Mojave's Dark Mode. The updated Agenda app has been designed to use the look and feel of the Mojave Dark Mode interface while retaining the clean, modern style of the Agenda app. The new darker theme is also available in Agenda for older versions of macOS.

Transmit
- Panic's Transmit 5 app for file transfers has been updated with a new dark theme that matches the Dark Mode in macOS Mojave.
🏴 Yes! Transmit 5.2 now supports DARK MODE for macOS Mojave. And, I'll be honest, it looks pretty danged nice. It's a free update now available for direct customers — just auto-update and enjoy! https://t.co/ladeSM399l pic.twitter.com/D7Dx6mys1c

— Panic Inc (@panic) September 24, 2018
Fantastical for Mac
- Popular calendar app Fantastical for Mac has been updated with support for macOS Mojave's Dark Mode. There's no new look to the app, but the built-in dark theme is activated whenever Dark Mode is turned on in Mojave.
Do you have favorite Mac apps that were updated with support for Dark Mode? Let us know in the comments.
Researcher Patrick Wardle, who has uncovered many security flaws in Apple's macOS operating system, today shared some details on a new vulnerability that he's found in the newly released
macOS Mojave
update.
As outlined by
BleepingComputer
, Wardle discovered that he was able to access Contacts data from the address book using an unprivileged app, as demonstrated in the video below.
According to Wardle, the vulnerability is a result of the way that Apple implemented new macOS privacy protections in the Mojave update.
"I found a trivial, albeit 100% reliable flaw in their implementation," he told us, adding that it allows a malicious or untrusted app to bypass the new security mechanism and access the sensitive details without authorization.
The bypass does not work with all of the new privacy protection features in macOS Mojave, and hardware-based components, such as the webcam, are not affected. Full details on the vulnerability are not available yet, as Wardle plans to share technical details in November.
In the macOS Mojave update, Apple
made a change
that requires explicit user consent for apps to access location data, camera, contacts, calendars, reminders, messages history, Safari data, mail databases, and other sensitive data, which should prevent the vulnerability that Wardle demonstrates.

Apple will undoubtedly address the security flaw discovered by Wardle in an upcoming update to macOS Mojave.
Apple today released the
newest version
of its operating system for Macs, macOS Mojave, to the public. macOS Mojave is a free download that's available today for anyone who has a compatible Mac, and it comes after
11 rounds of betas
.
macOS Mojave can be downloaded from the
Mac App Store
, with a direct link to the download
available here
.
Subscribe to the MacRumors YouTube channel for more videos.
macOS Mojave is a significant update to macOS, introducing a new systemwide Dark Mode, with Mojave users able to choose between a light theme or the new dark theme, which changes the color of the dock, menu bar, apps, and other elements.
Dark Mode is accompanied by Dynamic Desktops, aka wallpapers that subtly change throughout the day to mimic the progress of the sun across the sky outside.
In the afternoon, for example, the lighting of the Mojave Desert wallpaper is at its peak brightness and the image of the desert is depicted as it would be if you visited it in the daytime with well-lit sand dunes and a bright blue sky.

At night, the sky in the wallpaper shifts to darker blue to reflect that it's now evening. The shift between daytime and nighttime happens gradually over the course of the day, so you'll see subtle changes each time you look at your Mac's display. It's a neat new feature that can be enabled in the Desktop & Screensaver section of preferences.
macOS Mojave also includes Stacks, a new desktop organization system that keeps desktop files neat and organized to cut down on clutter. The Finder window has been enhanced with a new Gallery View for previewing larger versions of photos and documents, a Sidebar for easier navigation, a revamped Quick Look option for quick document editing, and Quick Actions, so you can do more in the Finder window than ever before.

Screenshots that you take on the Mac can now be edited using built-in Markup tools and a new management options that also allow for easy screen recording. Continuity camera, a useful new feature, allows you to import photos and document scans directly from an iPhone or
iPad
to the Mac.

The
Apple News
, Stocks, Home, and Voice Memos apps have been ported from iOS to macOS as part of a multiyear project Apple is working on to make it easier to bring iOS apps to Macs, and Apple has introduced several new privacy protections to keep your data safer than ever.

Apple is also making it harder for websites to track you with a range of new Safari tools, and it's also easier to make and store secure, hard-to-guess passwords for each and every website.
Apple has added an entirely revamped Mac
App Store
to macOS Mojave that makes it easier to discover apps with a featured section and specific categories for games, creative apps, productivity apps, apps for developers, and more.

macOS Mojave was initially supposed to include a Group FaceTime feature that includes support for chatting with up to 32 people at one time, but it was removed in the macOS Mojave beta and will be introduced in a future Mojave update.

macOS Mojave drops support for many older Macs compared to
macOS High Sierra
and it is compatible primarily with machines manufactured in 2012 or later. A full list of Macs that can run Mojave is below:
For more details on all of the features included in macOS Mojave, make sure to
check out our macOS Mojave roundup
.