Apple today seeded the eighth beta of an upcoming iOS 12 update to developers for testing purposes, just a few days after
seeding the seventh beta
and more than two months after introducing the new software at the Worldwide Developers Conference.
Registered developers can download the new iOS 12 beta from Apple's Developer Center or over-the-air after installing the proper certificate.
Subscribe to the MacRumors YouTube channel for more videos.
iOS 12 beta 8 comes just two days after the
release of iOS 12 beta 7
, which Apple was ultimately
forced to pull
a few hours after it was released due to performance issues.
Many people who downloaded the seventh beta reported problems when launching apps, with serious delays between when an app icon was tapped and when the app opened.
Most users said that the delay disappeared after five or 10 minutes of using the iPhone, but it was a serious enough bug that Apple pulled the update until a fix was available, and some users also saw continual delays, crashes, and freezes.
Apple removed the over-the-air update first and then later also pulled the download from the Apple Developer Center. No public beta was released due to the performance issues, but now that an updated beta has launched, a public beta should be available soon.
iOS 12 beta 7
removed the Group FaceTime feature
that has been present in iOS 12 since the update was first introduced in June. Apple has decided to delay Group FaceTime for now and reintroduce it in an iOS 12 update set to be released later this fall.
Group FaceTime, one of iOS 12's major new features, is designed to allow users to chat with up to 32 people at once.
Though Group FaceTime will no longer be available when iOS 12 launches, the update will bring Screen Time for monitoring time spent on iOS devices, new Animoji and Memoji, a new Effects camera in Messages and FaceTime, Siri Shortcuts, grouped notifications, and more.
Update:
Apple has released a new version of iOS for its public beta testers. iOS 12 Public Beta 6 is identical to the eighth developer beta.
Apple will release a new MacBook Air at the end of the third quarter, according to
Taiwanese research firm TrendForce
. That lines up with either September or October, depending on how the wording is interpreted.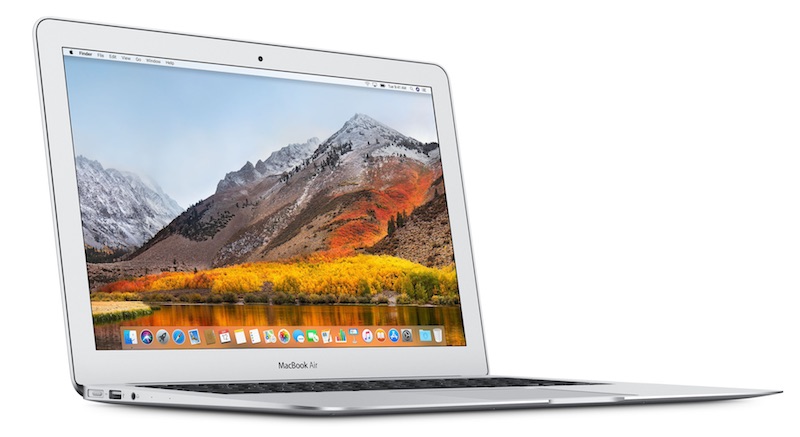 TrendForce also refers to a new MacBook Pro in future tense, but it is surely referring to the models released in July, when the third quarter began:
The second quarter was the transition period when Apple was preparing for the releases of the upcoming new MacBook devices for the year. TrendForce therefore expects MacBook shipments to again post a large QoQ increase in 3Q18, as Apple will be releasing a new MacBook Pro at the start of the quarter and a new MacBook Air at the end of the quarter.
The report does not provide additional details, but both
Apple analyst Ming-Chi Kuo
and
Bloomberg News reporter Mark Gurman
expect Apple to release a new entry-level notebook later this year, and they are two of the more reliable sources as it relates to Apple's upcoming product plans.
TrendForce specifically says it will be a new MacBook Air, but Kuo and Gurman have not identified what branding the notebook will have.
Earlier this year,
DigiTimes
claimed that Apple will release the
first MacBook Air with a Retina display
in the second half of 2018, and noted that it will be a
13-inch model
in a separate report. This week, it said Quanta will assemble
new "inexpensive notebooks" from Apple
in the fourth quarter.
Whether it turns out to be a MacBook, MacBook Air, or something else, Gurman expects at least one of the entry-level notebooks, if there are more than one, to have a starting price of $999 or less in the United States.
The current MacBook Air hasn't seen any substantial updates
in over three years
. Since that time, Apple has discontinued the 11-inch model, while the processor on the base 13-inch model received a minor bump in clock speed, but it's still a Broadwell chip from the 2014–2015 timeframe.
Apple could announce availability of a new MacBook Air via press release at any point this fall, or save it for a September or October event. At this point, we lean towards an October release, as the September event should be busy, with a trio of new iPhones, Apple Watch Series 4 models, new AirPods, and more.
With refreshes to other Macs expected later this year, including the
iMac and Mac mini
, and a widely expected iPad Pro with Face ID, Apple may have enough in its pipeline for an October event, which it last held in 2016.
On August 15, 1998, Apple officially released the first iMac, the candy-colored gumdrop-shaped iMac G3, launching a desktop machine that has continued to be updated and revised over the years.
Designed by Apple design chief Jony Ive, the iMac G3 was unique among computers at the time for its unusual shape, the use of translucent plastics that allowed the internals to be visible, and the bright colors that Apple adopted.

"This is iMac. The whole thing is translucent. You can see into it. It's so cool," said Jobs when introducing the iMac G3.
Apple's first iMac, which sold for $1,299 at launch, came equipped with a 233 - 700MHz PowerPC 750 G3 processor, 4GB of storage, a 15-inch CRT, a CD-ROM drive, and an ATI graphics card, components that don't sound impressive today but made for a powerful, well-rounded machine, that, in combination with the design, made the iMac a best seller.
At launch, and in the years following its release, Apple released the iMac G3 in a slew of shades that include the famous Bondi Blue, Blueberry, Grape, Graphite, Indigo, Lime, Sage, Strawberry, Ruby, Snow, Tangerine, and two patterned colors, Blue Dalmatian and Flower Power.
If you live near Michigan, all 13 colors of the original iMac G3 are on display at the Henry Ford Museum in
a popup collection
called "Looking Through Things," which has been introduced in celebration of the iMac's anniversary.

The iMac G3 was introduced just a year after Steve Jobs returned to lead Apple, and it came at a time when the company was still struggling and trying to find its footing. By 1999, Apple saw its first quarter profits more than triple, with the jump
attributed to
sales of the new iMac.
Apple in May
celebrated the anniversary
of the debut of the iMac G3, which, while launched in August, was first introduced by Jobs in May 1998.
20 years ago today, Steve introduced the world to iMac. It set Apple on a new course and forever changed the way people look at computers. pic.twitter.com/GbKno7YBHl

— Tim Cook (@tim_cook) May 6, 2018
Since the iMac G3's 1998 debut, Apple has introduced several revisions to the desktop machine, launching design revisions in 2002, 2004, 2007, 2009, 2012, and 2015.

Today, the iMac is available in 21.5 and 27-inch size options, with 4K and 5K Retina displays, respectively. Kaby Lake chips, AMD graphics, and super fast SSDs are included.

We also have an iMac Pro, a workstation class machine aimed at Apple's professional users with a unique Space Gray body, Xeon processors with up to 18 cores, Radeon Pro Vega graphics, and up to 4TB of SSD storage.

We're still expecting refreshed iMac models in 2018. There's no word on when the next design change is coming, but in 2018, Apple is expected to add 8th-generation Coffee Lake chips and other internal improvements that make a great desktop machine even better.
Apple will earn its two trillion dollar market cap through its services business, an augmented reality headset, and an Apple Car, according to reputable Apple analyst Ming-Chi Kuo, who now works for TF International Securities and today sent out a new note for investors outlining products that he expects to see in Apple's future.
According to Kuo, Apple will launch an Apple Car sometime between 2023 and 2025, with the car set to be positioned as "the next star product." Kuo foresees the Apple Car revolutionizing the automobile market much as the iPhone did back in 2007.

Kuo believes there are "huge replacement demands" in the auto sector because it's in the process of being redefined with new technologies. Apple's technology advances, such its work in augmented reality, would redefine cars and "differentiate the Apple Car from peers' products."
Apple, says Kuo, can do "better integration of hardware, software and services" than current competitors in the consumer electronics sector and potential competitors in the auto sector. Apple's services category will also grow significantly through its entrance into the "huge car finance market" after Apple launches the Apple Car.
We expect that Apple Car, which will likely be launched in 2023–2025, will be the next star product. The reasons for this are as follows: (1) Potentially huge replacement demands are emerging in the auto sector because it is being redefined by new technologies. The case is the same as the smartphone sector 10 years ago; (2) Apple's leading technology advantages (e.g. AR) would redefine cars and differentiate Apple Car from peers' products; (3) Apple's service will grow significantly by entering the huge car finance market via Apple Car, and (4) Apple can do a better integration of hardware, software, and service than current competitors in the consumer electronics sector and potential competitors in the auto sector.
Kuo's suggestion that Apple is planning to launch a full Apple Car is interesting, because rumors have suggested that while that was Apple's initial plan, focus has since shifted to autonomous driving software for cars rather than an Apple-branded and designed vehicle.
Work on Project Titan, Apple's autonomous vehicle program, has been ongoing since 2014, but it was said to be plagued with leadership issues, internal strife, and other problems, with Apple opting to
shelve the idea
of a car for the foreseeable future.
Hundreds of employees were laid off and leadership was transferred to Bob Mansfield, who transitioned the team's work to an autonomous driving system that could allow Apple to partner with existing car manufacturers. Apple has been testing and developing
its autonomous driving software
out on the streets of Cupertino in Lexus SUVs outfitted with autonomous driving equipment since early 2017.
Some recent hirings, including that of
Doug Fields
, who spent five years as Tesla's lead engineer, have, however, led to speculation that Apple may be reconsidering the idea of building its own vehicle. If Kuo is correct, Apple's current autonomous software research could be built into an actual Apple-branded car at some point.
Prior to when the project was shelved, Apple was said to be developing a self-driving electric vehicle. Apple early on met with manufacturers like Magna Steyr and BMW, and
explored a range of technologies
, including silent motorized doors, car interiors sans steering wheel or gas pedals, augmented reality displays, an improved LIDAR sensor that protrudes less from the top of a car, and spherical wheels, but it's not clear if any of these concepts will be revisited if the car project has indeed shifted back to a full car.
Kuo did not share additional information on the Apple Car project beyond a prospective launch date, but he did also comment on the future of AR, another market where he expects Apple to see significant revenue growth in the future.
Kuo believes that Apple is planning to introduce AR glasses in 2020, expanding on its existing augmented reality market. AR, says Kuo, is the "next-generation revolutionary UI," with Apple planning to redefine the UIs of its existing products by offering an AR experience created by the augmented reality glasses that are rumored to be in the works.
Multiple past rumors have suggested Apple is experimenting with a variety of AR and VR headsets, and augmented reality smart glasses seem to be one of the most persistent rumors. The smart glasses are said to include a dedicated display, a built-in processor, and a new "rOS" or reality operating system based on iOS.
Before every new iPhone release, we're often inundated with rumors, part leaks, mockups, and dummy models, giving us a clear picture of what to expect when the new devices come out.
This year is no exception, and we've managed to get our hands on dummy models that are said to resemble the rumored 6.1-inch and 6.5-inch iPhones that are coming in 2018, both of which offer up a look at the sizes and designs we can expect from the 2018 iPhone lineup.
Subscribe to the MacRumors YouTube channel for more videos.
Apple's 2018 iPhone lineup, like the 2017 lineup, will include three phones, but the lineup's composition is unlike anything we've seen before. Apple is planning to introduce a 5.8-inch OLED iPhone that's a follow up to the iPhone X, a 6.5-inch OLED iPhone that can be thought of as an "iPhone X Plus," and a 6.1-inch LCD iPhone that's going to have a much lower price tag than the two OLED iPhones.
We don't have a dummy model of the 5.8-inch OLED iPhone to go along with dummy models of the upcoming 6.1 and 6.5-inch iPhones, because it's going to look identical to the existing iPhone X, so we've used a real iPhone X to compare to the two dummy models.

iPhone X (left), 6.1-inch iPhone dummy (center), 6.5-inch iPhone dummy (right)
All three of the 2018 iPhones feature an edge-to-edge display that adopts Face ID and a TrueDepth camera system, marking the official end of Touch ID for new iPhones. To house the TrueDepth camera, there will be a notch on all three iPhones, just as there was on the iPhone X.
The middle-tier 6.1-inch iPhone uses an LCD display instead of an OLED display to keep costs down, which means that the bezels of that device are slightly thicker than the bezels of the 5.8-inch and 6.5-inch iPhones. The 6.1-inch iPhone dummy also features a single-lens camera, in line with rumors that Apple will stick with a single camera for cost purposes.

6.1-inch iPhone dummy model
A dual-camera setup is expected for both the second-generation 5.8-inch iPhone X model and the 6.5-inch "iPhone X Plus" model, and we can perhaps expect some camera improvements, as Apple typically introduces new camera features with each iPhone upgrade.
Rumors have also suggested the 6.1-inch LCD iPhone will have an aluminum frame rather than the more durable stainless steel frame expected in the two more expensive devices, but other than the frame, the camera, the slightly thicker bezels, and the screen sizes, these devices are expected to be nearly identical.

6.1-inch and 6.5-inch iPhone dummy models
All will include Apple's next-generation A12 processor, according to rumors, along with faster Intel-made LTE chips. RAM could be a differentiating factor, though, with the 6.1-inch LCD iPhone offering 3GB RAM and the OLED iPhones offering 4GB RAM.
We have absolutely no idea what Apple is planning to name its next-generation iPhones given the current iPhone 8, iPhone 8 Plus, and iPhone X naming scheme. Most of the possibilities sound a little off, such as "iPhone Xs" or "iPhone X Plus" or "iPhone 9" or "iPhone XI." The naming of the 2018 iPhone lineup is perhaps the biggest mystery, given the myriad rumors and part leaks we've seen so far.

iPhone X with 6.5-inch iPhone dummy model
Pricing for the 2018 iPhones could start somewhere right around $600 to $700 for the entry-level 6.1-inch LCD model, based on rumors, while the 5.8-inch OLED iPhone could cost between $800 and $900, and the 6.5-inch OLED iPhone could cost between $1,000 and $1,100.
For a complete rundown on all of the rumors we've heard about the 2018 iPhone lineup, make sure to
check out our 2018 iPhone roundup
.
What do you think of the iPhones Apple is planning to introduce this year? Which one will you buy? Let us know in the comments.
There's a thriving market for unofficial, aftermarket iPhone parts, and in China, there are entire massive factories that are dedicated to producing these components for repair shops unable to get ahold of parts that have been produced by Apple.
The entire Apple device repair ecosystem is fascinating, complex, and oftentimes confusing to consumers given the disconnect between Apple, Apple Authorized Service Providers, third-party factories, and independent repair shops, so we thought we'd delve into the complicated world of Apple repairs.
The Aftermarket Factories
Our exploration of the repair ecosystem was inspired by a video sent to us by a trusted source that
MacRumors
has worked with in the past, who captured footage inside one of the many facilities in China that are dedicated to creating aftermarket iPhone parts.
This is a small scale operation where workers appear to be creating an aftermarket touch screen digitizer for the iPhone, a thin plastic component that attaches to the LCD through a flex cable and allows physical touch on the screen to be transformed into digital input, allowing the iPhone's processor to translate your touch into system commands.
In addition to producing touch screen digitizers for the iPhone, given the clean room setup, the facility pictured in the video likely also attaches them to LCDs sourced from other factories to produce a full iPhone display assembly that can then be sold to iPhone repair shops around the world.
While this is a small facility, our source tells us that the factory, which employs approximately 10 people, is able to produce up to 10,000 display components per month, with setup and equipment for a factory this size costing approximately $90,000, a minor investment for a major return.

iPhone X display assembly with touch screen digitizer visible, via iFixit
Larger factories, such as those that produce aftermarket LCDs for iPhones and other smartphones, are huge operations that can output millions of components per month. Companies like
Tianma
, Longteng LCD, Shenchao, and JingDongFang are well-known in the repair world for producing the aftermarket LCDs used by many repair shops. If you search for display components on auction sites like Alibaba, these are the names that pop up over and over again.
These are not small, no name factories producing LCDs - these are major operations creating components by the millions, which should give you an idea of the kind of demand there is for aftermarket components across the globe. It costs hundreds of millions of dollars to purchase the kind of equipment needed to produce aftermarket LCDs.
"It's a crazy industry that involves millions of dollars, probably into billions a year. It's just absolutely nuts," said our source.
The Demand for Aftermarket Parts
Companies that produce aftermarket LCD components are doing so because there's significant demand for these parts in repair shops around the world. Shops that are not Apple Authorized Service Providers are not able to source parts from Apple because Apple limits OEM parts to the repair shops that it partners with.
With no way to purchase components from Apple, sourcing parts from third-party suppliers is the only option for independent repair shops that want to be able to offer iPhone repairs to their customers.
There are more than 15,000 independent repair shops in the United States, all of which are sourcing components from suppliers that receive them mainly from these factories in China. In the South Bay Area alone, where Apple's Cupertino headquarters is located, there are hundreds of non-AASP locations that can fix a broken iPhone. And that's just the United States. There are thousands more independent repair shops around the world.

An independent iPhone repair shop near Cupertino, California
Aftermarket Parts Quality
When thinking of third-party components, you might assume that the parts produced in facilities like the one in the video are far inferior in quality to actual Apple components, which is also the viewpoint of the source that sent us the video.
[The Chinese factories] are basically dishing junk out into the world. Apple's own screen may fail only if you've dropped it. Won't even fail up to 5, 10 years. But the fake screens usually fail between two to three years. Usually.
That's not always entirely true, though, according to many of the repair shops that we spoke with.
➜ Click here to read rest of article...
At its iPhone X event last September, Apple previewed a
new wireless charging case for AirPods
, for use with its upcoming AirPower charging mat. The new case looks similar to the current version, which charges via Lightning cable, but it has a built-in induction coil that also enables wireless charging.

Conveniently, it appears that the AirPower won't be the only way to wirelessly charge AirPods placed in the new case.
Chinese publication
Chongdiantou
, citing unnamed sources within Apple's supply chain, claims that the wireless AirPods case supports the Wireless Power Consortium's universal Qi standard, implying that it will be compatible with any Qi-certified charging mat from companies beyond Apple.
This would differ from the Apple Watch, which uses a modified version of the Qi standard that only works with Apple's official magnetic charging cable and dock, and MFi-certified third-party docks with magnetic chargers. (Apple Watch Series 3 models
technically work with select non-MFi chargers
too.)
Chongdiantou
has made headlines recently after leaking photos of what is claimed to be an
engineering prototype of Apple's new 18-watt USB-C power adapter
for 2018 iPhones. The website, citing unnamed industry insiders, also claimed that the
AirPower should be released this September for around $149
in the United States. Overall, the publication lacks an established track record.
According to
Bloomberg
, Apple aims to
release the AirPower by the end of September
, so there's a good chance its pricing and availability will be detailed at Apple's usual iPhone event next month, which hasn't been announced yet. The wireless AirPods charging case should be released simultaneously with the AirPower.
Apple's marketing chief Phil Schiller said the wireless charging case will be optional, so customers with the original AirPods will be able to purchase it separately. Pricing has not been disclosed. Apple is also expected to announce
second-generation AirPods with "Hey Siri" support
at its September event, but it's unclear if the wireless charging case will be standard, or also be optional for those.
AirPower can charge multiple devices at once, including the iPhone 8, iPhone 8 Plus, iPhone X, Apple Watch Series 3 models, and AirPods placed in the new wireless charging case. Apple said it would work to have its proprietary technology become part of the universal Qi standard supported by many companies.
HomePod shipments totaled an estimated 700,000 units in the second quarter of 2018, giving Apple a roughly six percent share of the worldwide smart speaker market, according to
research firm Strategy Analytics
.

Strategy Analytics previously estimated HomePod shipments totaled
600,000 units in the first quarter of 2018
, suggesting that worldwide shipments have reached 1.3 million units since the speaker became available to order in the United States, Australia, and the United Kingdom in late January.
That figure is much lower than one shared by research firm Consumer Intelligence Research Partners, which recently estimated Apple has sold
three million HomePods in the United States
alone since the speaker launched.
The significant variance in the datasets stems from the fact that Apple doesn't disclose HomePod sales, instead grouping the speaker under its "Other Products" category in its earnings reports, alongside the Apple Watch, Apple TV, AirPods, Beats, iPod touch, and other Apple and third-party accessories.
Apple reported revenue of $3.74 billion from its "Other Products" category last quarter, up 37 percent from $2.73 billion in the year-ago quarter.
Shipments aren't sales, either, so it's impossible to know exactly how many HomePods ended up in the hands of customers.
If we had to guess, we'd say the Strategy Analytics numbers are probably more within the ballpark, as the HomePod is a niche product. The speaker is also available in just six countries, after
launching in Canada, France, and Germany
in June, with no indication when availability may expand to other regions.
Versus the Competition
HomePod was the world's fourth most popular smart speaker in the second quarter, behind the Amazon Echo, Google Home, and Chinese company Alibaba's Tmall Genie, according to Strategy Analytics.
Amazon remained the leader in the category last quarter, with the Echo commanding an estimated 41 percent market share, while the Google Home finished runner-up with an estimated 27 percent market share, according to Strategy Analytics. Alibaba took third place with an estimated seven percent market share.

While the HomePod has made somewhat of a dent, Apple still has significant ground to make up, which is to be expected given its smart speaker launched around two to three years after its biggest competitors.
It may be tough for Apple to gain further market share unless it releases a more competitively priced model, as the HomePod at $349 is considerably more expensive than the Amazon Echo, priced from $50, and the Google Home, $129.
To that end, rumors suggest Apple may have a
lower-priced HomePod
or a
Siri-enabled Beats speaker
in its pipeline.
Apple may introduce its upcoming 6.1-inch LCD iPhone with a starting price of around $699 to $749, according to industry analysis by
TrendForce
. The pricing strategy is said to be partly a response to lower than expected iPhone sales last year, and partly a result of competition from Chinese brands that have expanded their market shares with devices that offer high performance at affordable prices.
Three new iPhone models are expected to form Apple's 2018 lineup: two OLED models measuring in at 5.8 and 6.5 inches, and a 6.1-inch lower-cost LCD model. All three models will feature Face ID in lieu of a Home button, but TrendForce predicts the "budget" LCD device will be Apple's main device in terms of production share.

Image via TrendForce
The specs upgrades would make new iPhones more favorable in the competition with Android phones. On the other hand, the cost of this model has been approaching that of iPhone 8 Plus due to the upgrades. However, the 6.1-inch LCD model would be positioned by Apple's main product this year, with a production share of around 50% in the new iPhone series. Apple is bound to adjust the prices of this model to meet the market expectation and to further expand its market share. Considering the cost reduction of components, TrendForce estimates the starting price of this LCD version at around $699-749.
As for the new OLED models, TrendForce expects the 5.8-inch device will have a lower starting price of $899 to $949, while the current-generation iPhone X, which starts at $999, will enter its "end of life" process due to the similarity in the specs of the two models. Meanwhile, the upcoming 6.5-inch device will target the "premium business segment" with a starting price of $999.
TrendForce believes Apple could introduce a 512GB storage option for the OLED models. In addition, Apple Pencil support may feature with the new iPhones, although it's unclear whether this also relates to just the OLED models. Respected analyst
Ming-Chi Kuo
has previously suggested that Apple Pencil support for a future iPhone is a possibility, although he doesn't believe iPhones will support Apple Pencil until 2019 at the earliest.
Apple is said to have been bargaining with its supply chain partners to reduce the cost of components, especially those which have been used in earlier generations of iPhone. That view tallies with earlier reports claiming Apple wants Samsung to
reduce the price of its OLED display panels
so it can cut the cost of current and future iPhone X models.
Price cuts to the display and other components would help Apple lower its bill of materials for the new models, with the savings potentially passed on to customers. For example, in line with TrendForce's prediction,
RBC Capital Markets analyst Amit Daryanani
believes the second-generation iPhone X will start at $899, down from $999.
TrendForce expects the production volume of the three new iPhones to be around 83-88 million units, potentially taking a larger share of the company's annual sales volume compared with the three models it released last year. Sales volume of iPhones in 2018 meanwhile is expected to remain flat or grow marginally by 2 to 3 percent, owing to the saturated smartphone market and the longer replacement cycle of phones globally.
TrendForce believes the two OLED models have been assembled by manufacturers since late July, while the assembly of the LCD models is scheduled for mid-September. Apple is expected to launch the trio of new iPhones in September.
If you haven't updated to the
new iOS 12 beta 7
on your iOS device as of yet, you may notice that the over-the-air update option is no longer available, and that's because Apple has pulled the download.
Apple appears to have removed the beta 7 update because of performance issues.

On the
MacRumors
forums, there are multiple reports of problems when tapping on an icon, which can result in a very noticeable pause before the app launches. As
MacRumors reader
OldSchoolMacGuy explains:
I'm seeing apps take 10 seconds or more to launch on my X. Restarted and still seeing the same issue.
Some users have said that the pausing issue disappeared for them after five or 10 minutes of using the iPhone, while others appear to be having continual problems.
Prior to when Apple pulled the update, several
MacRumors
readers had warned other users against installing the update on their iPhones. There have also been reports of other issues, such as apps freezing, Notification Center freezing, Lock screen freezing, and in-app functions refusing to load.
Apple was planning to release a public beta of iOS 12 today, but that may be delayed until these issues have been addressed in an updated release.
iOS 12 beta 7 is a significant update because it
removes the Group FaceTime feature
that has been present in iOS 12 since launch. Apple now says Group FaceTime will launch in an update coming later this fall.
Update:
Apple has also removed the update from the Apple Developer Center.
Some Google apps on iOS and Android devices continue to store location history even with the setting disabled, according to a new
AP
report citing data collected by computer science researchers at Princeton.
Location History, a feature available in Google apps like Google Maps, is an option that allows the app to display the locations that you've visited in a timeline. Princeton researcher Gunnar Acar turned off the Location History option in his Google account, but his devices continued to record the locations he had visited.

Data collected from a Princeton researcher on an Android phone with Location History disabled
It appears that even with Location History paused, some Google apps are ignoring the setting and continue to store time-stamped location data, due to confusing data collection policies that allow other app features to also store location information.
For example, Google stores a snapshot of where you are when you merely open its Maps app. Automatic daily weather updates on Android phones pinpoint roughly where you are. And some searches that have nothing to do with location, like "chocolate chip cookies," or "kids science kits," pinpoint your precise latitude and longitude -- accurate to the square foot -- and save it to your Google account.
While Princeton's research focused on Android devices, independent
AP
testing confirmed that iPhones are exhibiting the same behavior when used with Google apps.
In response to a query about the Location History tracking, Google said that it is clear about its location policies. As it turns out though, the way Google collects location data is confusing and misleading.
"There are a number of different ways that Google may use location to improve people's experience, including: Location History, Web and App Activity, and through device-level Location Services," a Google spokesperson said in a statement to the AP. "We provide clear descriptions of these tools, and robust controls so people can turn them on or off, and delete their histories at any time."
According to Google, users need to turn off "Web and App Activity," a setting enabled by default, to prevent all location data on iOS and Android devices from being saved to a Google account. Leaving "Web and App Activity" enabled while turning off "Location History" prevents Google from adding movements to the built-in timeline, but it does not stop Google from collecting other location information.
This location data collected by Google can be found under
myactivity.google.com
, but as the
AP
points out, this information is scattered under different headers often unrelated to location.
To be clear, Google is not illicitly collecting location data, but it is obfuscating its location data policies and collecting data through features that do not mention location information. Many people may not know these Google features are enabled at all, as it's a default setting.
Google's only mention that it may continue storing some location data is in a popup that appears when Location History is disabled through the
Google account settings
. This popup states that "some location data may be saved as part of your activity on other Google services, like Search and Maps."
On iPhone, when Location History is disabled via settings in Google apps, it says "None of your Google apps will be able to store location data in Location History." As the
AP
points out, this statement is true but misleading, because while location data isn't stored in Location History, it's still stored under "My Activity."
Location information stored in "My Activity" is used for ad targeting purposes.
Both "Web and App Activity" and "Location History" need to be disabled to prevent Google from collecting any location data, which can be done through the
user settings of a Google account
. On iOS devices, not using Google apps and disabling location services for Google apps is also an effective method for preventing Google from collecting location data.
Apple today removed Group FaceTime from the latest
iOS 12
and
macOS Mojave betas
, which were released this morning, and has instead decided to release the feature at a later date.
One of the key features of iOS 12 and macOS Mojave, Group FaceTime is designed to allow up to 32 people to chat together at one time via FaceTime audio or FaceTime video.
The feature has been available in iOS 12 and macOS Mojave since the first betas became available in June, and it's not clear why Apple has decided to push the feature back to a later date. Group FaceTime worked well in our testing, but we also did not push the limits with a large group of people.
In release notes for both macOS Mojave and iOS 12, Apple says the feature has been removed from the initial releases of macOS Mojave and iOS 12 and "will ship in a future software update later this fall."
With the release of iOS 11, Apple also ended up delaying several features that were initially announced as part of the update until later in the year, including Apple Pay Cash, AirPlay 2, and Messages in iCloud, three significant iOS 11 features that did not come out until months after iOS 11 launched.
Apple Pay Cash later launched in December as part of the iOS 11.2 update, while Messages in iCloud and AirPlay 2 were delayed until the launch of iOS 11.4 in May. Apple has said the Group FaceTime feature will come later in the fall, which means it should come in one of the first or second iOS 12 updates.