In iOS 12, Apple has introduced new notification features, providing an expanded set of tools for monitoring and managing notifications in quicker and more intuitive ways.
There have been no changes to the way that Notifications work on the whole, but many of these features make it easier to clear notifications, determine which notifications you want, and make adjustments on the fly.
Subscribe to the MacRumors YouTube channel for more videos.
Grouped Notifications
iPhone and iPad owners have been asking for the return of grouped notifications for years, and in iOS 12, Apple delivered.
Multiple notifications from the same app will be grouped together on the Lock screen of the iPhone, cutting down on clutter. You can tap a set of notifications from a particular app to expand them to see all of the notifications in the list.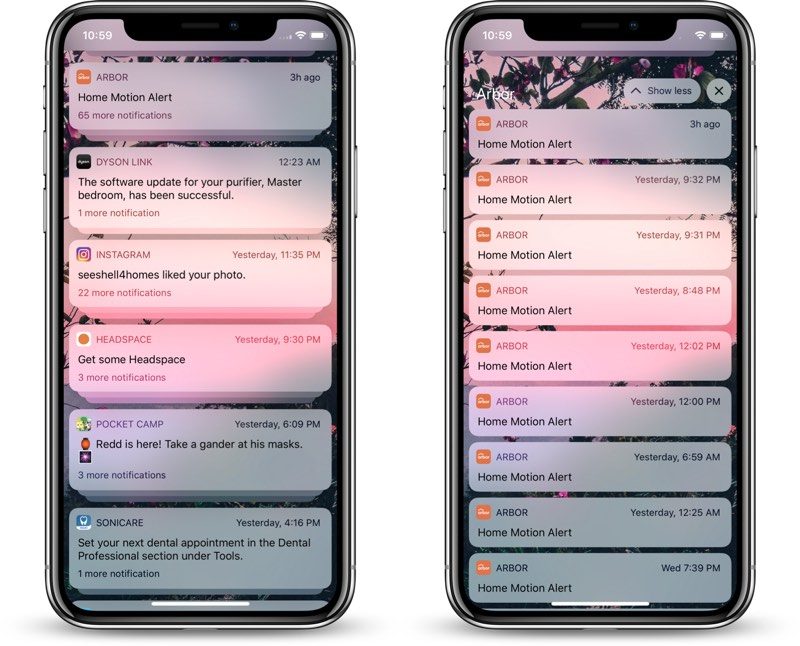 You can tap on the "X" next to a notification group to clear all of those notifications at one time, or do the same thing with a swipe to the left.
In the Settings app, you can change the behavior of grouped notifications. Go to Settings > Notifications and tap on any app to see the "Notification Grouping" preferences. Tap that to choose "Automatic," "By App," or "Off" if you'd rather see all of the incoming notifications for a particular app like Messages.
Automatic sorts by app for the most part, but with this setting enabled, you might get two notification groups if you have email threads going with two different people in the Mail app, or multiple conversations in Messages, for example. Or different incoming Messages conversations.
By App will make sure all notifications from an app are in one stack, without the sorting that Automatic mode uses.
Instant Tuning
Instant Tuning is a feature that lets you manage a pesky notification right on the Lock screen, giving you the tools to turn notifications for that app off entirely or send notifications right to the Notification Center.
On any notification that's on the Lock screen or in the Notification Center when you swipe down, swipe left on a notification to see settings that include "Manage," "View," and "Clear All."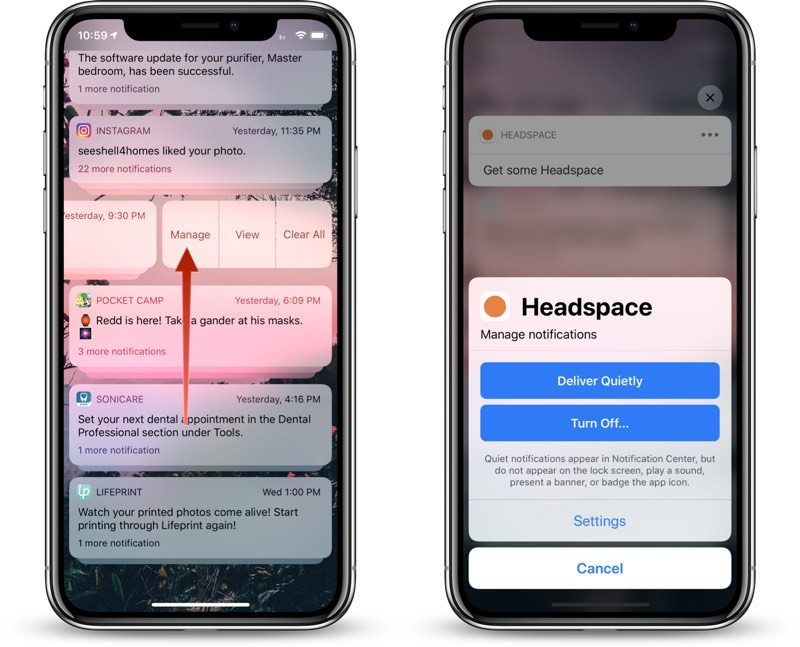 Select "Manage" from this list to see Instant Tuning options. Notifications set to "Deliver Quietly" will be visible in Notification Center, but you won't see them on the Lock screen, there will be no banner, and there won't be a badge.
To reverse this, tap on a notification from the muted app again, follow the same instructions, and choose "Deliver Prominently." Notification settings can also be changed in the Settings app, also accessible from the Instant Tuning popup. Turn Off, as the name suggests, turns off notifications for that app entirely.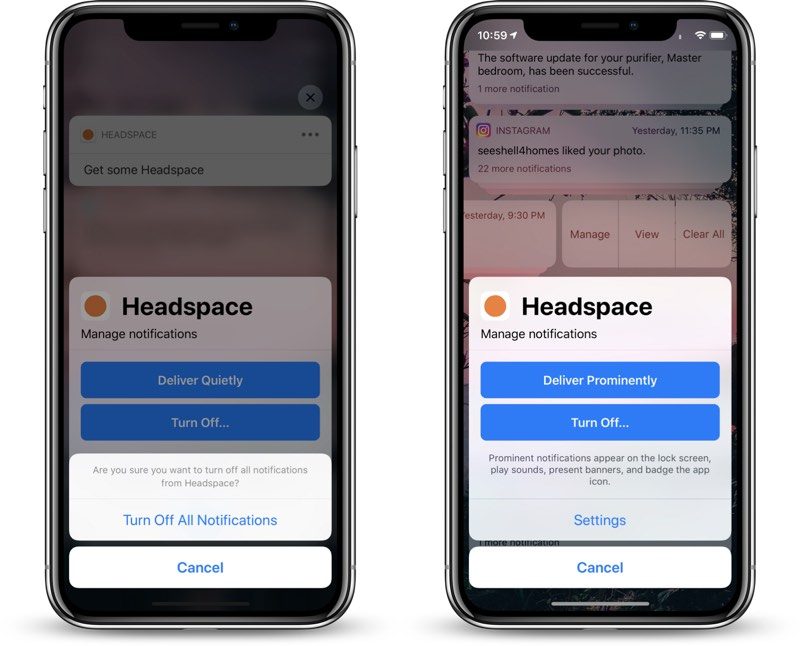 You can also get to your Instant Tuning settings by 3D Touching or long pressing on any notification and selecting the three ellipses. For more details on using Instant Tuning, make sure to
check out our detailed how to
.
Note:
In iOS 12, Apple will send you alerts asking you if you would like to continue receiving notifications from a particular app if you've been getting a lot of notifications and haven't been interacting with them. When this happens, the alert will feature a "Manage" section so you can access your Instant Tuning settings for that particular app.
Critical Alerts
Critical Alerts are a new type of opt-in notification in iOS 12 that can ignore your Do Not Disturb settings to send important must-see notifications.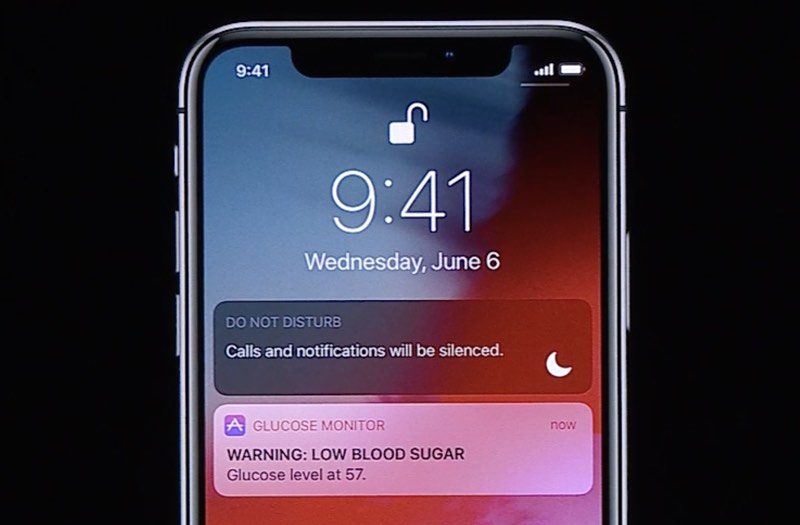 These alerts are limited in scope and are available for medical and health related information, home security, and public safety. For example, a person who is diabetic might want to set critical alerts for a glucose monitor when blood sugar is low, so the notification will be delivered even if Do Not Disturb is turned on.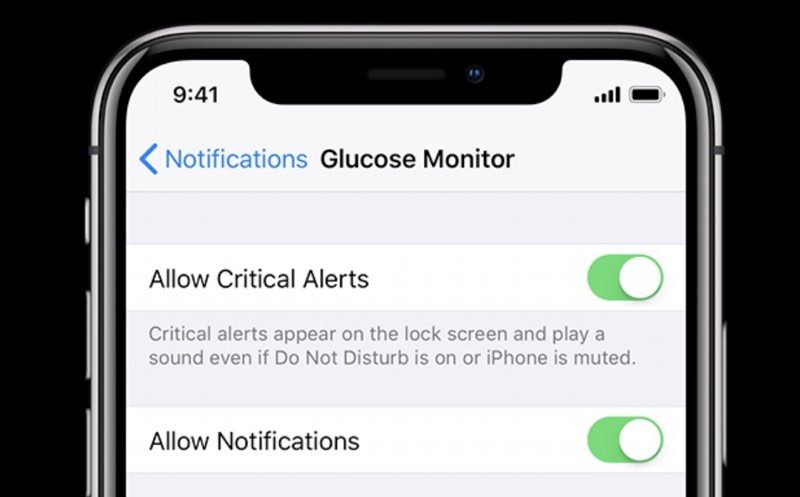 Critical alerts bypass Do Not Disturb and the ringer switch, and will always play a sound. They are meant to be disruptive and for that reason, are going to be highly limited to apps that need these kinds of immediate alerts.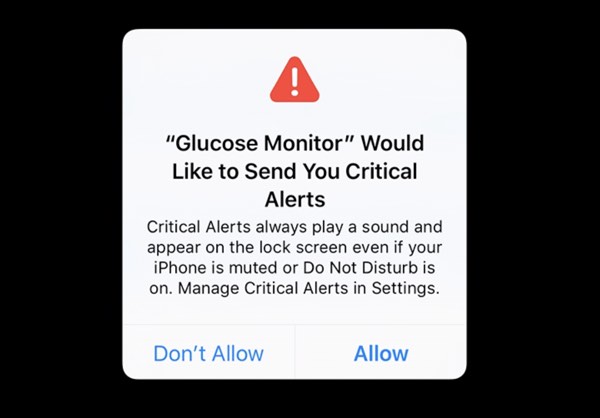 Developers with apps appropriate for critical alerts will need to apply for an entitlement that needs to be approved by Apple. Users will be able to turn off critical alerts on a per app basis separately from other notifications.
Notification Count in Screen Time
Screen Time, Apple's new feature designed to provide you with the tools to monitor when and how you're using your iOS devices, keeps track of all of the notifications that apps are sending you, letting you know which apps are the noisiest.
This information can help you decide if you want to keep notifications turned on for a particular app, or if you might want to mute an app to cut down on interruptions.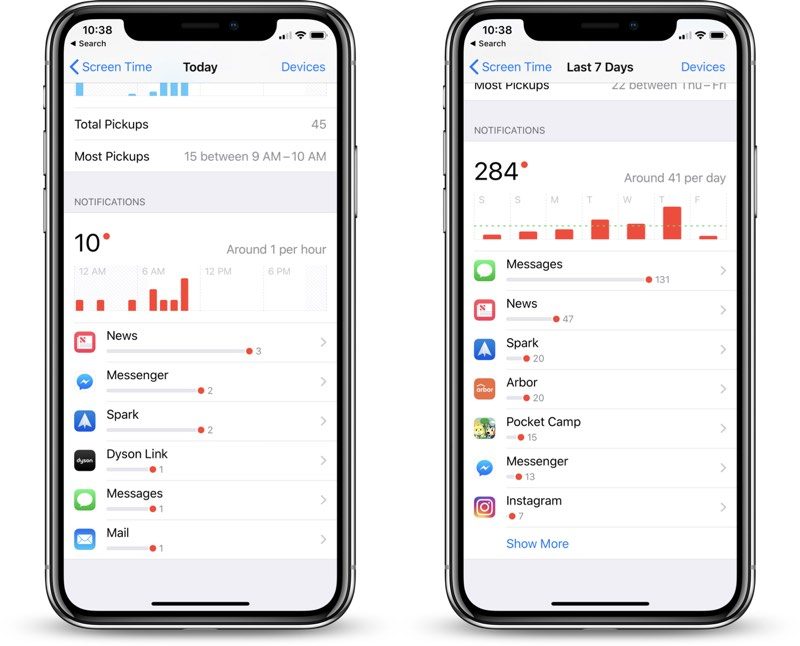 You can get to this section of Screen Time by opening the Settings app, choosing Screen Time, selecting "All Devices," and then scrolling down to the bottom. You can see your notifications from the last 24 hours or the last 7 days.
For more on using Screen Time, make sure to check out our
Screen Time how to
and our how to
on App Limits and Downtime
.
Richer Notifications
In iOS 12, app developers can build notifications that are able to accept user input, so you can interact with notifications in new ways, doing more on the Lock screen without having to open up your iPhone.
With Instagram, as an example, if the app sends you a notification that a friend posted, you might be able to view the photo and then add a like all from the notification.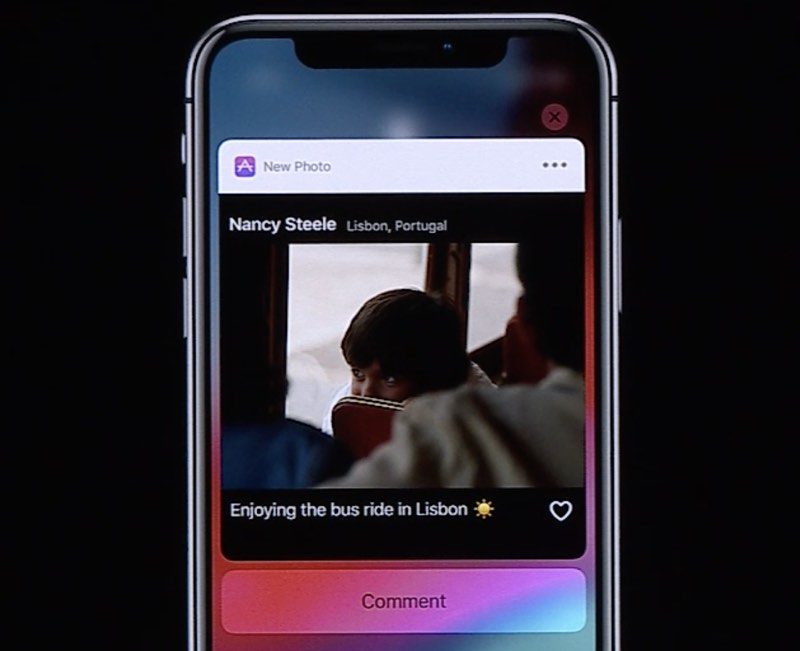 In this example, you can tap the heart to like the photo, something that wasn't possible in iOS 11.
Rich notifications were available in earlier versions of iOS, but Apple has removed the limits that previously restricted interactive touches.
What do you think of the changes to notifications in iOS 12? Are there other notification features you're hoping for in the future? Let us know in the comments.
Apple Business Chat
, which is customer service through iMessage, is expanding to a total of 10 new partners and technology platforms.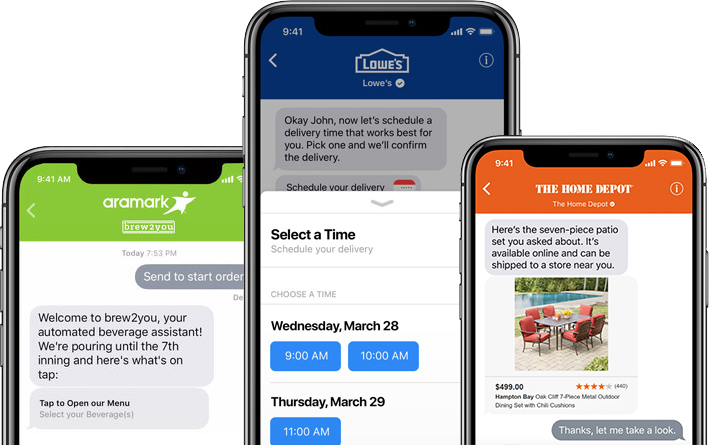 Apple on Friday announced that satellite TV provider DISH, concessions operator Aramark, hotel chain Four Seasons, food and gift producer Harry & David, and credit card company American Express are adopting the service.
Here's the rundown from Apple:
Aramark is launching a 10-game pilot of "Brew2You" at Citizens Bank Park, home of the Philadelphia Phillies. By scanning a QR code on their seat back, fans in three sections can use Business Chat to order beer or water and have it delivered to their seat.
DISH Network is deploying Business Chat to customers nationwide, to allow them to contact a live agent to ask questions, make account changes, and schedule an appointment. They can also use their credit card on file to order a pay-per-view movie or sporting event.
Four Seasons will enable guests to search for any Four Seasons property and instantly engage Four Seasons Chat, a multi-lingual chat service, helping guests to engage with Four Seasons teams anywhere, at any time, for any need.
Harry & David customers can chat with a gift concierge about a product or service, or ask any other questions they might have.
American Express is kicking off a pilot program for card members to get account information such as their balance, payment due dates, points balance, as well as ask for a card replacement, dispute a charge, get information about their card benefits, and more.
Apple also announced five new technology platforms supporting Business Chat, including
Cisco
, eGain, Kipsu, Lithium, and Quiq, that businesses can integrate with to handle routing of inbound communications and so forth.
Apple Business Chat also powered the official concierge service for Cannes Lions in June, with LivePerson.
Apple Business Chat
launched in iOS 11.3
in March, enabling iPhone and iPad users to ask for information, schedule appointments, make purchases, and complete other customer service tasks directly in the Messages app.
Other companies using Business Chat include Apple itself, Discover, Hilton, The Home Depot, Lowe's, Marriott, Newegg, T-Mobile, Ameritrade, Wells Fargo, and 1-800-Flowers. Apple says it has seen "strong interest" in the service.
Business Chats must be initiated on an iPhone or iPad, but they can be continued on any other iPhone, iPad, Mac, or Apple Watch signed into the same Apple ID. You can start a conversation by searching for a business in Maps, Safari, Siri, or Search and tapping on the Messages bubble where available.
Samsung has expanded upon its "Ingenius" ad campaign with three new videos titled Dongle, Fast Charger, and Camera.
In each of the videos, Samsung depicts an Apple Store employee having a conversation with a customer, attempting to justify the iPhone compared to the Galaxy S9, as it relates to the camera, dongles, and more.
In the first ad, a customer asks if he can use his wired headphones with the iPhone X, and the Genius informs him that he will need a dongle. The customer then inquires about charging at the same time, and the Genius says he'll need another dongle. The customer then says, "so, a double dongle."
For what it's worth, rumors suggest Apple will include a
faster 18W charger
in the box with its upcoming 2018 iPhones.
In the second ad, which has the same format, a customer asks if the iPhone X comes with a fast charger, like the Galaxy S9 does. The employee says no, informing her that she can purchase a Lightning to USB-C cable, along with a USB-C power adapter, for fast charging. The customer has a puzzled reaction.
The third ad emphasizes that the
Galaxy S9+'s camera has a higher DxOMark score than the iPhone X
—99 versus 97 respectively—although DxOMark has
attracted some criticism
, and camera quality can be subjective.
Samsung shared the
first ad in this series
earlier this week, highlighting the Galaxy S9's faster LTE download speeds versus the iPhone X, based on
Ookla's Speedtest Intelligence Data
from February to April 2018.
The ads don't even try to hide the fact that it's supposed to be an Apple Store, and are a clear jab at "Geniuses." Samsung has
repeatedly
tried
to mock Apple and the iPhone, though, so this is par for course for them.
Earlier this week, the repair experts at iFixit
opened up the 2018 MacBook Pro
, uncovering Intel's new JHL7540 Thunderbolt 3 controller, introduced earlier this year as part of its "Titan Ridge" family.

While the
specifications for the JHL7540
lists compatibility with
DisplayPort 1.4
on Intel's product database, it's not as clear-cut as it sounds, as support also relies on graphics, which vary by MacBook Pro model.
MacRumors reached out to Apple for clarification. Here's what we learned:
The new 15-inch MacBook Pro with Touch Bar models support DisplayPort at High-Bit Rate 3 (HBR3), a signal standard of both DisplayPort 1.3 and DisplayPort 1.4. Apple says the dedicated Radeon Pro graphics can drive up to two 5K displays at 60Hz, each over a single stream.
The new 13-inch MacBook Pro with Touch Bar models support DisplayPort at High-Bit Rate 2 (HBR2), a signal standard of DisplayPort 1.2. This is a limitation of the Iris Plus Graphics 655 in these models, as Intel's integrated GPUs do not support DisplayPort 1.4.
What that means:
The new 15-inch MacBook Pro theoretically supports DisplayPort 1.4, which Apple confirmed, but at least for now, it still can't drive an 8K display. It could be possible with VESA's lossless Display Stream Compression standard, perhaps, but it's unclear if this can be enabled down the road.
For now, then, the new 13-inch and 15-inch models have the same compatibility with external displays as the previous-generation MacBook Pro: up to two 5K displays or up to four 4K displays on the 15-inch model, and up to one 5K display or up to two 4K displays on the 13-inch model.
For comparison, 2016 and 2017 MacBook Pro models are equipped with Intel's
JHL6540 Thunderbolt 3 controller
, which supports DisplayPort 1.2.
In related news, Apple has also confirmed that
all four Thunderbolt 3 ports on the new 13-inch MacBook Pro with Touch Bar are now full speed
, compared to only the two left-facing ports on the equivalent 2016 and 2017 models.
Following the release of the new 2018 MacBook Pro models, iFixit last week
tore apart the 13-inch version
and discovered the presence of a new silicone membrane underneath the keyboard's butterfly keys that Apple internal documents
have since confirmed
has been added to prevent dust and other small particulates from causing key failures.
To give us a better look at the new third-generation butterfly keyboard included in the new 2018 machines and how it works, iFixit has
done a much deeper dive
, exposing the keyboard to debris to test it out.

iFixit exposed the keyboard to a powdered paint additive that glows, allowing the site to track where and how dust accumulates. On the 2018 MacBook Pro keyboard, the dust settled at the edges of the membrane, leaving the butterfly mechanism of the keys protected. The same test was performed on the 2017 MacBook Pro keyboard, demonstrating less protection.
Lo and behold, the dust is safely sequestered at the edges of the membrane, leaving the mechanism fairly sheltered. The holes in the membrane allow the keycap clips to pass through, but are covered by the cap itself, blocking dust ingress. The previous-gen butterfly keys are far less protected, and are almost immediately flooded with our glowing granules.
With a combination of a lot of dust and aggressive typing, the dust did penetrate the membrane-covered key clips, hitting the top of the switch, suggesting that there's still a small potential for failure. iFixit was indeed able to cause the keyboard to fail by adding "a few poorly placed particles" of sand.
While the silicone membrane does not appear to be impenetrable, and there's no way to tell how the barrier will hold up over time as iFixit points out, it's still more protection than offered in earlier versions of the butterfly keyboard.
Following the dust test, iFixit did a more extensive teardown of the new keyboard, tearing it apart layer by layer. After a grueling experience pulling it apart, which explains why Apple has to replace the entire top case when installing a new keyboard, iFixit found that the silicone barrier is a single die-cut and molded sheet.

The keycaps on the keyboard have also been slightly redesigned, measuring in at 1.25mm thickness compared to 1.5mm thickness in the 2017 MacBook Pro, which iFixit suggests is to give the keys room to travel with the addition of the membrane.
The spacebar has been redesigned, with a keycap that easily separates from the butterfly mechanism, a departure from earlier models where the spacebar was more difficult to remove. All of the keys, spacebar included, were easier to remove and harder to ruin, in iFixit's testing.
Apple has not publicly confirmed that the new third-generation butterfly keyboard was introduced to enhance reliability and to cut down on the the key failures that were seen in 2016 and 2017 machines, though the company has informed Apple Authorized Service Providers that this is the case.
Instead, in its 2018 MacBook Pro marketing materials, Apple claims the new silicone barrier was added to introduce a quieter typing experience, an issue that few people seem to have had with the original keyboards.
Apple today submitted revised blueprints for its planned Federation Square retail store location in Melbourne, Australia, according to
the Federation Square website
.
Apple
first announced
the new flagship store in December, set to be built at Federation Square, a shopping center, public square, and mixed-used space in the heart of Melbourne.

The new Federation Square design
The construction of the new store calls for the demolition of the well-known Yarra building, which has
infuriated Melbourne residents
and led to major protests suggesting the public space should not be given over to a corporation.
Melbourne's City Council in February backed a motion to lobby for a new store design due to both the backlash and the dissatisfaction with Apple's planned store design, which has been described as a "Pizza Hut pagoda."

Another angle of the new store design
The new design plan, created following a series of design workshops that included Federation Square Management, the Victorian Government, the Melbourne City Council, and Apple, features a building with a simpler, more streamlined look that better fits in with the Federation Square aesthetic.

The original Federation Square design proposed by Apple
The pagoda-style roof has been abandoned in favor of a flatter design that will house solar panels. The design offers 500 square meters of new public space, more outdoor shading, a better connection to the Yarra river, and plans for cultural events.
Apple's revamped design is part of a "broader reimagining" of Federation Square, which includes the new Digital Facade on the Transport Building and the new Melbourne Metro Train Station entrance.
According to Federation Square CEO Jonathan Tribe, the new store design is "consistent with Federations Square's Civic and Cultural Charter, which recognises Melbourne's pre-eminence as a centre for creativity and innovation." The Federation Square leadership expects the Apple Store to boost visitor numbers, bringing an additional two million people to Federation Square each year.
Current plans continue to call for the destruction of the Yarra building, so it's not clear if Melbourne residents will be satisfied with Apple's planned changes. At the very least, the new design is less intrusive, which could win acceptance from protestors.
In an internal document distributed to Apple Authorized Service Providers, obtained by MacRumors from multiple reliable sources, Apple has confirmed that the third-generation keyboard on 2018 MacBook Pro models is equipped with a "membrane" to "prevent debris from entering the butterfly mechanism."

Image Credit: iFixit
The relevant excerpt from Canadian and European versions of Apple's internal 2018 MacBook Pro Service Readiness Guide:
Keyboard and Keycaps
The keyboard has a membrane under the keycaps to prevent debris from entering the butterfly mechanism. The procedure for the space bar replacement has also changed from the previous model. Repair documentation and service videos will be available when keycap parts begin shipping.
While the U.S. version of this Service Readiness Guide does not mention the membrane, it contains a link to a separate internal document titled "Butterfly Mechanism Keycap Replacement MacBook Pro (2018)" that does:
Caution: The keyboard has a membrane under the keycaps to prevent debris from entering the butterfly mechanism. Be careful not to tear the membrane. A torn membrane will result in a top case replacement.
In its teardown of the new 13-inch MacBook Pro with Touch Bar last week, the repair experts at iFixit were first to discover the
thin, silicone barrier underneath the keycaps
, and theorized that it was to prevent dust indeed. Apple filed a patent for a
contaminant-resistant MacBook keyboard
back in 2016.
Publicly, Apple has only confirmed that 2018 MacBook Pro models feature an "
improved third-generation keyboard for quieter typing
," but many suspected that the silicon membrane was actually to prevent "contaminant ingress," fancy speak for the crumbs from your sandwich that you ate at your desk for lunch.
Following years of anecdotal complaints from customers, and a few class action lawsuits, Apple
initiated
a
worldwide service program
last month, offering free repairs of 2015-and-later MacBook and 2016 and 2017 MacBook Pro keyboards, which are equipped with low-profile butterfly switch mechanisms.
We've already reported about the service program in more detail, but the gist is that those particular MacBook and MacBook Pro models can experience issues with sticky, unresponsive, or inconsistently functioning keys when small particles like dust or crumbs get stuck underneath the shallower keycaps.
Apple confirmed to MacRumors that
third-generation keyboards will not be offered as replacements
under its service program for 2016 and 2017 MacBook Pro second-generation keyboard repairs, likely due to a
tweaked top case design
.
We've reached out to Apple for comment.
Apple has confirmed that the new 13-inch MacBook Pro with Touch Bar is equipped with four full-speed Thunderbolt 3 ports.

2018 models ship with Intel's eighth-generation
Core i5
or
Core i7 processors
, which both support up to 16 PCI Express lanes, providing enough bandwidth for maximum data transfer speeds up to 40Gb/s on all four Thunderbolt 3 ports.
2016 and 2017 models of the 13-inch MacBook Pro with Touch Bar could be configured with sixth- and seventh-generation Intel
Core i5
and
Core i7 processors
, which supported up to 12 PCI Express lanes, limiting full speeds to the two left-side Thunderbolt 3 ports, with
reduced bandwidth on the right-side ports
.
Now, users have the freedom to plug higher-performance peripherals into any Thunderbolt 3 port they desire without compromise.
All three generations of the 15-inch MacBook Pro with Touch Bar have always had four full-speed Thunderbolt 3 ports, while the 13-inch MacBook Pro with function keys has only two Thunderbolt 3 ports, both full speed.
Tom Gruber, who served as head of Siri's Advanced Development group and was one of Siri's original cofounders, has left Apple, reports
The Information
. His departure from the company was confirmed by an Apple spokesperson, who told
The Information
that he was retiring to pursue "personal interests in photography and ocean conservation."
Gruber created Siri alongside Dag Kittlaus and Adam Cheyer, releasing the original Siri as an app on the iOS App Store in 2010. Apple acquired Siri two months later, and Cheyer, Kittlaus, and Gruber all joined the company at that time.

Kittlaus left Apple in 2011 and Cheyer left in 2012, and the duo teamed up again
to create Viv
, a new artificial intelligence project that was
acquired by Samsung
in 2016. Samsung used Viv
to create Bixby
, its current AI assistant platform.
Gruber stayed on at Apple for several years after the other two Siri co-founders departed, but with his retirement, none of the original Siri creators are left at Apple.
Apple's Siri team is going through a leadership change at the moment with
the May hiring
of John Giannandrea, former head of Google's search and artificial intelligence unit.
Apple just last week
updated its leadership page
to add Giannandrea, who is now serving as Apple's chief of machine learning and AI strategy. Giannandrea is leading Apple's AI and machine learning teams, and Apple has combined its Core ML and Siri teams under him.
Prior to Giannandrea's hiring, Siri development was overseen by software engineering chief Craig Federighi, who took over from Eddy Cue in 2017. Apple has been
facing increasing criticism
over Siri's capabilities compared to other AI-based personal assistants in recent years, with many suggesting Siri has serious shortcomings compared to options from Microsoft, Google, and Amazon.
Apple in iOS 12 introduced major improvements to Siri through a new Siri Shortcuts feature that's coming in iOS 12, which is designed to let users create multi-step tasks using both first and third-party apps that can be activated through Siri.
Along with Gruber, Apple's head of search, Vipul Ved Prakash, has also left the company, according to
The Information
. Prakash joined Apple when his company, Topsy, was acquired in 2013. His search team was also within the Siri group.
Alongside the new 13 and 15-inch MacBook Pro models introduced last week, Apple also debuted a new eGPU enclosure designed in partnership with Blackmagic.
We picked up one of the
new Blackmagic eGPUs
to check out its design and the performance that it offers when paired with one of Apple's Macs.
Subscribe to the MacRumors YouTube channel for more videos.
The Blackmagic eGPU is equipped with a Radeon Pro 580 GPU, which was first introduced by AMD in June 2017. It features 8GB VRAM, and it is the same graphics card used in the high-end 2017 iMac.
You can connect the Blackmagic eGPU to any Mac that includes support for Thunderbolt 3, which includes the 2016 and later MacBook Pro models and iMac models produced in 2017.
Design wise, the Blackmagic eGPU features a futuristic looking aluminum enclosure that fits well on a desktop. A thermal grille allows for efficient heat dissipation, letting the included fan run lower, so it's as quiet as 18db.
It includes two Thunderbolt 3 ports, 4 USB 3.1 ports for connecting accessories, an HDMI port, and 85W of power delivery, so it can also power a MacBook Pro when connected. It is the first eGPU that offers support for the LG UltraFine 5K display.
Unfortunately, the Blackmagic eGPU is not upgradeable, so you're not going to be able to swap out the included graphics card for an upgraded version in the future, which is one of the major downsides to the accessory.
Compared to the graphics cards available in the 2016 and later MacBook Pro models, the Blackmagic eGPU offers much faster performance for tasks like gaming, VR experiences, and graphics-intensive creative work like video editing, 3D graphics work, and more.
In Apple's testing, the Blackmagic eGPU was twice as fast at many tasks as the GPU in the 15-inch 2018 MacBook Pro, and 6 to 7 times faster than the built-in GPU in the 13-inch 2018 MacBook Pro. In our own testing with a 15-inch MacBook Pro from 2016, the Blackmagic eGPU offered impressive speeds in OpenCL and Metal tests.
The Blackmagic eGPU is
available exclusively from Apple
for $699. There appears to be a bit of a backlog, and orders placed today won't deliver until August 9 at the earliest.
What do you think of the Blackmagic eGPU? Do you plan on buying one? Let us know in the comments.
Corning this morning
unveiled
its next-generation Gorilla Glass product,
Gorilla Glass 6
, which it says offers "unprecedented protection against multiple drops" and better protection against drops from higher heights.
According to Corning, Gorilla Glass 6 is its most durable cover glass to date, made of a new material that's been engineered to stand up to more than one drop. The average person drops their smartphone seven times a year, making multi-drop durability a key feature Corning wanted to improve.

Devices using Gorilla Glass 6 were able to withstand 15 drops from one meter onto rough surfaces, which is up to two times better than Gorilla Glass 5, which Corning has been offering to its partners
since 2016
. Competitive glass compositions like soda lime and aluminosilicate, did not survive the first drop, says Corning.
"Gorilla Glass 6 is an entirely new glass composition that can be chemically strengthened to give it significantly higher levels of compression than is possible with Gorilla Glass 5. This enables Gorilla Glass 6 to be more resistant to damage," said Dr. Jaymin Amin, vice president of technology and product development, Corning Gorilla Glass and Corning Specialty Materials. "Moreover, with breaks during drops being a probabilistic event, the added compression helps increase, on average, the likelihood of survival through multiple drop events."
The higher durability of Corning's new Gorilla Glass product was engineered with all-glass smartphone designs in mind, like the iPhone X, iPhone 8, and iPhone 8 Plus, offering optical clarity, touch sensitivity, scratch resistance, efficient wireless charging, and enhanced durability.
Gorilla Glass 6 is likely to make its way into future iPhones, and could even perhaps be included in the 2018 iPhone lineup, depending on when Corning provided details on the new product to Apple.
Corning has been a longtime Apple supplier, with Gorilla Glass used in devices across Apple's product lineup. In May of 2017, Corning even became the first benefactor of Apple's Advanced Manufacturing Fund, receiving $200 million for research and development and new glass processing equipment.
Corning says its Gorilla Glass 6 is being evaluated "by multiple customers" and the first smartphones and devices using Gorilla Glass 6 are expected to reach the market in the next several months.
Apple today seeded the third public beta of iOS 12 to public beta testers, giving non-developers a chance to test the software ahead of its upcoming fall release. The third iOS 12 public beta, which comes two weeks after
the second public beta
, corresponds to the fourth developer beta
released yesterday
.
Beta testers who have signed up for
Apple's beta testing program
will receive the iOS 12 beta update over-the-air after installing the proper certificate on an iOS device.

Those who want to join the beta testing program can sign up on
Apple's beta testing website
, which gives users access to iOS, macOS, and tvOS betas. Before
installing a beta
, make sure to create a full encrypted iTunes backup or an iCloud backup and be sure to install iOS 12 on a secondary device because beta software is not always stable and can include bugs.
The new iOS 12 beta in particular introduces new issues with Screen Time, the App Store, and Siri Shortcuts, according to Apple's release notes for the developer beta. Apps in the App Store might fail to download properly the first time, Screen Time data might not sync between devices, and Siri Shortcuts might not work properly on CarPlay and HomePod, as well as if a device is locked. The cellular status bar on the iPhone X can also be inaccurate.
iOS 12 brings Group FaceTime, local multiplayer shared AR experiences, new Animoji, and a Memoji feature that's designed to let you create a personalized Animoji that looks just like you.
Subscribe to the MacRumors YouTube channel for more videos.
Animoji, stickers, text, and more can be used in FaceTime and the Messages app, and there's a new Screen Time feature to help customers understand and manage the amount of time they're spending on their iOS devices. There are options to limit app time and Screen Time also includes comprehensive parental control tools.
New Do Not Disturb features make it easier to manage notifications, as do interactive notification options and notification grouping.
Siri has been improved in iOS 12 with Siri Shortcuts for creating time-saving automations, and Siri is also smarter and able to provide info on motorsports, food, and celebrities. Later in the year, Apple will launch a Shortcuts app so you can create your own shortcuts.

Under-the-hood improvements to iOS 12 will make everyday tasks on the iPhone and iPad faster and more responsive, with the camera launching up to 70 percent faster and the keyboard showing up to 50 percent faster.
iOS 12 also includes a rebuilt Maps app with a new Apple-designed Maps engine that's available in the San Francisco Bay Area at the current time. While limited to the San Francisco area at this time, the features will roll out to Northern California in the fall before expanding to additional locations across the United States in late 2018 and 2019.

The revamped Maps app displays foliage, pools, buildings, pedestrian pathways, and other map elements more accurately, and it brings improvements to traffic, real-time road conditions, construction, and more.
iOS 12 will be available to developers and public beta testers as a beta for the next two months to allow Apple to work out bugs and other issues ahead of a fall launch alongside new iPhones.
Update:
In the third public beta (and fourth developer beta) the new Apple Maps app is now available for all of Northern California.