To celebrate the 90th anniversary of Mickey Mouse, Apple has introduced special edition Mickey-themed
Beats Solo 3 Wireless Headphones
.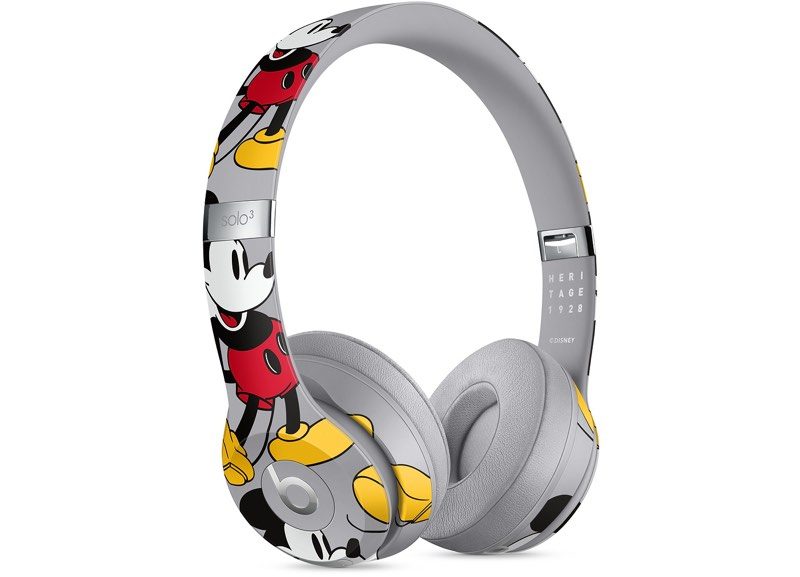 Priced at $329.95, the headphones are a gray color with a classic Mickey design. The headphones come with a matching gray felt carrying case, a collectible pin, and a decal sticker.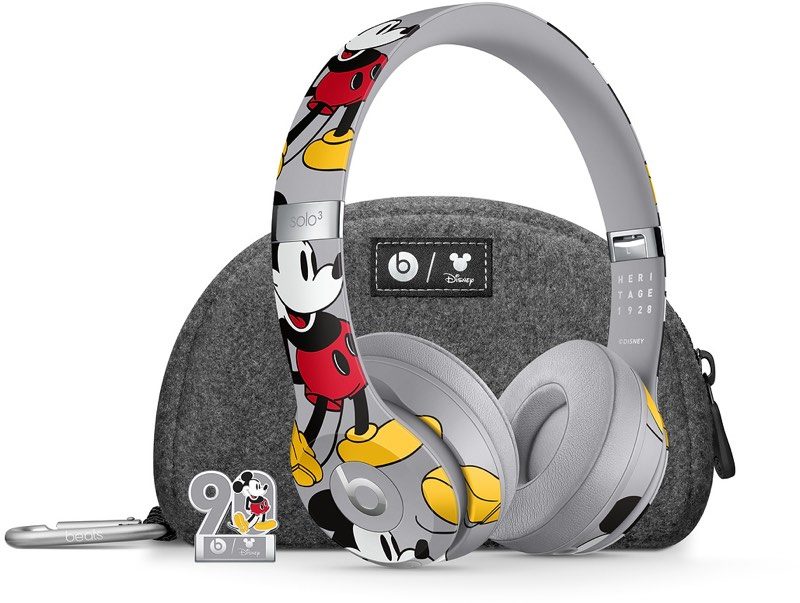 Celebrate "The True Original" with Mickey's 90th Anniversary Edition Beats Solo3 Wireless headphones. Keep the magic going with award-winning sound and up to 40 hours of battery life. The cool-gray headphone features Mickey Mouse in the iconic pose seen on classic t-shirts that we all know and love. It also comes with a custom felt case inspired by the materials from Mickey Mouse ear hats, along with a collectible pin and decal sticker to honor the collaboration.
Mickey Mouse made his first appearance on November 18, 1928 to replace Oswald the Lucky Rabbit, one of Disney's original characters. He made his debut in the short Plane Crazy, which was shown in short film Steamboat Willie, and from there, Mickey was in more than 130 films, both short and feature length.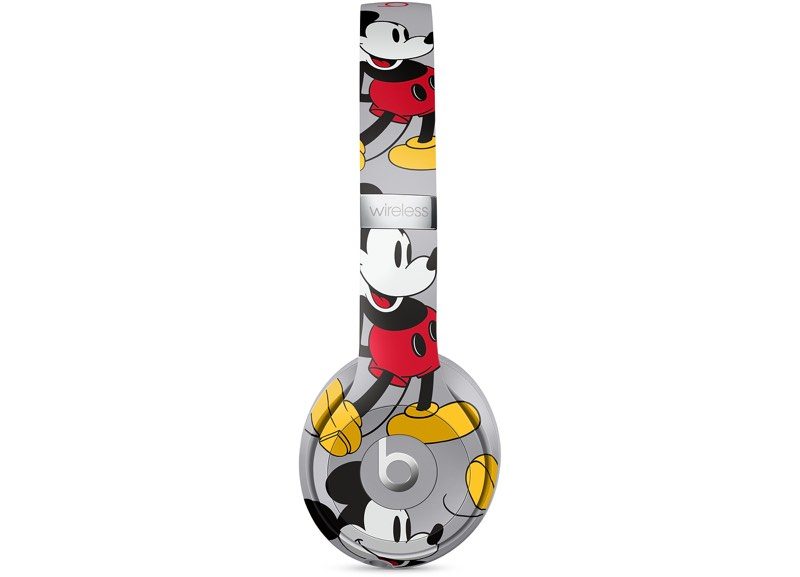 Mickey Mouse is now one of the most iconic and well-known Disney characters, which is likely why Apple has designed Mickey-themed headphones. The Beats brand has done similar character collaborations in the past and once created Hello Kitty themed Solo Wireless Headphones and UrBeats.
The new Mickey Mouse headphones are listed as "Coming Soon" on Apple's own website, but can be
pre-ordered from Amazon
. The official launch date on Amazon is listed as November 11, 2018.
Apple this morning added a new "Skyline" collection of
Beats Studio 3 Wireless Headphones
to its online Apple Store, with a selection of new color options.

The Skyline Studio 3 Wireless Headphones come in Crystal Blue, Desert Sand, Midnight Black, and Shadow Grey. All of the colors feature gold accents with a gold beats logo and gold band.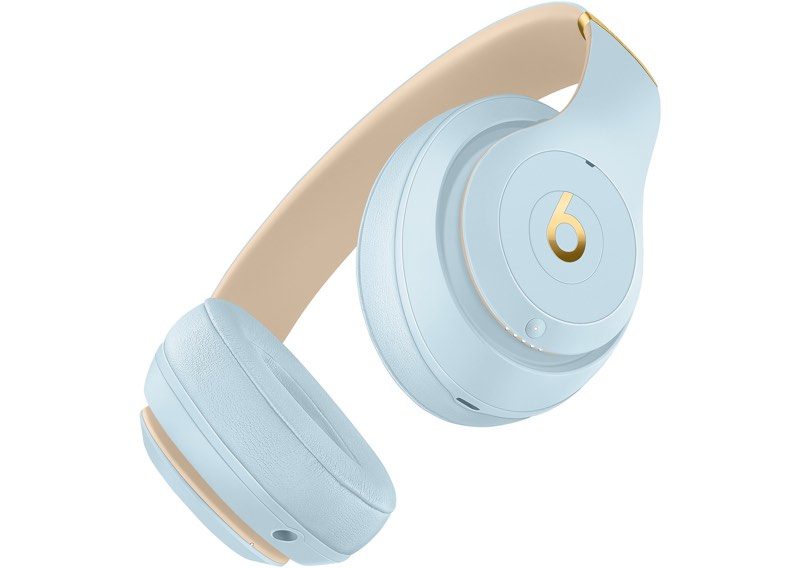 Studio 3 Wireless Headphones feature Apple's Pure Adaptive Noise Canceling technology, designed to block external noise when listening. They are also equipped with an Apple W1 chip that's designed to make it easy to switch between devices when listening, and thanks to the efficiency of the chip, the Studio 3 Headphones last for 22 hours on one charge for all-day listening.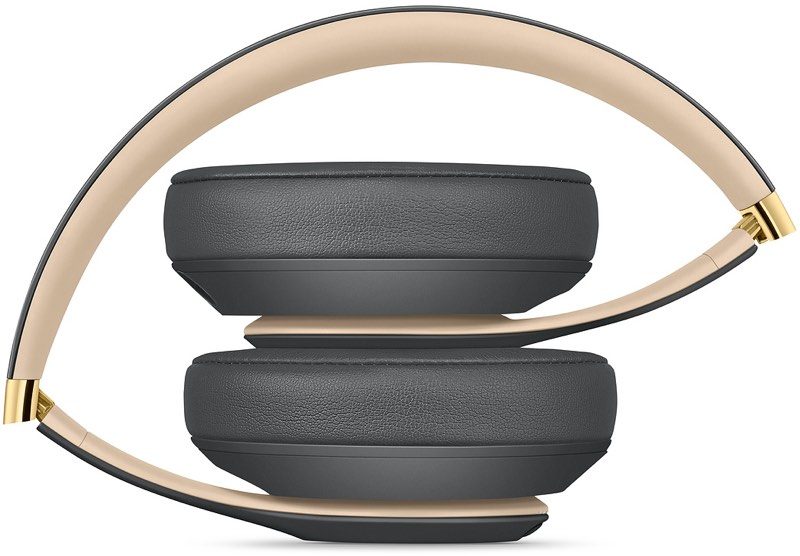 Like Apple's other Studio 3 Wireless Headphones,
the new Skyline collection
is priced at $349.95. Skyline Beats are not yet available in
Apple retail
stores and must be ordered online, but should be arriving in retail locations soon.
Apple has formally apologized to users in China over the hacking of some Chinese accounts in a series of phishing scams that hit the country last week. The successful phishing attacks used stolen Apple IDs to gain access to customer funds, leading to "a small number of...users' accounts" being accessed through these scams (via
The Wall Street Journal
).

In a statement shared in China today, Apple said: "We are deeply apologetic about the inconvenience caused to our customers by these phishing scams."
When news of the incident
emerged last week
, Chinese mobile payment companies Alipay and WeChat reported that hackers were able to take an unknown amount of money from accounts using stolen Apple IDs. Some users were said to have lost up to 2,000 yuan ($288) following the breach.
According to Apple's new statement, these victims had not enabled two-factor authentication, making it easier for the hackers to gain access to their accounts. Apple didn't confirm how many users were affected in China, how much money was stolen in total, or how the hackers gained access to the Apple IDs in question. The company encouraged all users to enable two-factor authentication on their accounts to ensure further security protections are in place.
China remains important to Apple's overseas expansion plans, but the company has faced numerous speed bumps in this regard over the years. In 2018, Apple moved Chinese
iCloud
data
to state-owned China Telecom
, which brought up user privacy concerns; faced an issue with an overabundance of
illegal gambling apps
on the Chinese iOS
App Store
; and is now attempting to clamp down on
iMessage spam
in the country.
Note: Due to the political nature of the discussion regarding this topic, the discussion thread is located in our
Politics, Religion, Social Issues
forum. All forum members and site visitors are welcome to read and follow the thread, but posting is limited to forum members with at least 100 posts.
Microsoft co-founder Paul Allen
passed away today
at age 65 following complications from non-Hodgkin's lymphoma. Allen earlier this month
announced
that he was again undergoing treatment for the cancer, which he was first treated for in 2009.
A childhood friend of Bill Gates, Allen co-founded Microsoft with Gates in 1975. He worked at Microsoft until 1983 when he faced his first fight with cancer after being diagnosed with Hodgkin's lymphoma.

After his time at Microsoft, Allen used his wealth to invest in real estate, aerospace, sports teams, and filmmaking. Allen was the owner of the Portland Trailblazers and the Seattle Seahawks, as well as part owner of the Seattle Sounders FC. He operated Vulcan Real Estate, funded multiple sports venues, and owned Vulcan Productions, a television and film production company.
Following his death, Microsoft CEO Satya Nadella said that Allen's contributions to Microsoft and the tech industry were "indispensable."
Paul Allen's contributions to our company, our industry, and to our community are indispensable. As co-founder of Microsoft, in his own quiet and persistent way, he created magical products, experiences and institutions, and in doing so, he changed the world. I have learned so much from him - his inquisitiveness, curiosity and push for high standards is something that will continue to inspire me and all of us at Microsoft. Our hearts are with Paul's family and loved ones. Rest in peace.
Bill Gates
said
that Allen wasn't content with starting one company, and instead channeled his intellect and compassion "into a second act."
"I am heartbroken by the passing of one of my oldest and dearest friends, Paul Allen. From our early days together at Lakeside School, through our partnership in the creation of Microsoft, to some of our joint philanthropic projects over the years, Paul was a true partner and dear friend. Personal computing would not have existed without him.

But Paul wasn't content with starting one company. He channeled his intellect and compassion into a second act focused on improving people's lives and strengthening communities in Seattle and around the world. He was fond of saying, "If it has the potential to do good, then we should do it." That's the kind of person he was.

Paul loved life and those around him, and we all cherished him in return. He deserved much more time, but his contributions to the world of technology and philanthropy will live on for generations to come. I will miss him tremendously."
Apple CEO
Tim Cook
, Google CEO Sundar Pichai, Amazon CEO Jeff Bezos, and others also shared memories and kind words for Allen.
Our industry has lost a pioneer and our world has lost a force for good. We send our deepest condolences to Paul's friends, the Allen family and everyone at Microsoft.

— Tim Cook (@tim_cook) October 15, 2018
We lost a great technology pioneer today - thank you Paul Allen for your immense contributions to the world through your work and your philanthropy. Thoughts are with his family and the entire Microsoft community.

— Sundar Pichai (@sundarpichai) October 15, 2018
Very sad to hear of Paul Allen's passing. His passion for invention and pushing forward inspired so many. He was relentless to the end. My heart goes out to Paul's family and friends.

— Jeff Bezos (@JeffBezos) October 15, 2018
On behalf of Allen's family, his sister Jody Allen also shared a statement:
"My brother was a remarkable individual on every level. While most knew Paul Allen as a technologist and philanthropist, for us he was a much loved brother and uncle, and an exceptional friend.

Paul's family and friends were blessed to experience his wit, warmth, his generosity and deep concern. For all the demands on his schedule, there was always time for family and friends. At this time of loss and grief for us - and so many others - we are profoundly grateful for the care and concern he demonstrated every day."
Over his lifetime, Paul Allen gave away more than $2 billion through the Paul G. Allen Family Foundation and other charitable efforts, funding scientific research focused on the brain, multiple wildlife conservation projects, ebola research, the arts, and education.
Google's newest flagship smartphones, the Pixel 3 and Pixel 3 XL, are officially launching later this week. With their high-quality cameras, fast processors, and other improvements, the new devices are direct competitors to Apple's newly released
iPhone XS
models.
We were able to get our hands on the new Pixel 3 and Pixel 3XL ahead of their debut, and in our latest YouTube video, we compared the Google Pixel 3 XL camera to Apple's iPhone XS Max camera to see which one reigns supreme.
Subscribe to the MacRumors YouTube channel for more videos.
Both the Pixel 3 and the Pixel 3 XL are equipped with a single-lens 12-megapixel rear camera system, while the iPhone XS Max uses a dual-lens camera system that features a 12-megapixel wide-angle lens and a 12-megapixel telephoto lens.

The two camera system allows the iPhone XS Max to do things like capture Portrait Mode images with an adjustable depth of field and a blurred background, but the Pixel 3 XL has much of the same functionality enabled through software.

Like the iPhone XS Max, the Pixel 3 XL features a Portrait Mode. With its newest devices, Apple introduced some improvements to Portrait Mode with the A12 Bionic chip, and that gave it the edge over the Pixel 3 XL in our image tests. The Pixel 3 XL won out when it came to edge detection in most cases, with less blurring in areas we didn't want blurred, but iPhone XS Max Portrait Mode images were sharper.

Google advertises a new "Super Res" zoom in the Pixel 3 XL, but the single-lens camera system can't compete with Apple's telephoto lens.
With the iPhone XS Max, Apple introduced a new Smart HDR feature that takes multiple images at different exposures and combines them for one ideal shot. Google's Pixel 3 XL has a similar HDR+ mode that does the same thing to eke out more detail in photos with a lot of variation in lighting.

In our testing, we preferred the Smart HDR on the iPhone because it was able to preserve more detail without blowing out bright areas like the sky, but the Pixel 3 XL was not far behind.
Google's Pixel 3 XL uses a Night Sight feature that's designed to create brighter, clearer photos than the iPhone XS Max can produce. Night Sight isn't available at launch, but will be coming to the Pixel phones later and could give the devices a serious edge over the XS Max.

In our low light photo tests, both performed well, but the Pixel 3 XL demonstrated more noise and grain than low-light photos taken with the iPhone XS Max. In Portrait Mode, though, the Pixel 3 XL outperformed the iPhone XS Max.

While the Pixel 3 XL has a single-lens rear camera, Google has implemented a two-camera system at the front of the device with two 8-megapixel cameras for taking selfies. The iPhone XS Max, meanwhile, has a single-lens 7-megapixel front-facing camera and TrueDepth camera system that allows it to capture the same Portrait Mode photos as the rear camera system.
Because Google is using two cameras, there are front-facing features not available on the iPhone XS Max, such as a wider-angle lens that captures 184 percent more of a scene to enable group selfies.

When it comes to front-facing camera systems, the Pixel 3 XL definitely beats the iPhone XS Max. Front-facing Portrait Mode photos look great on both devices, but the group selfie mode is something Apple can't compete with.
The camera systems in the iPhone XS Max and Google Pixel 3 XL both have their strengths and weaknesses, but when it comes down to it, both are so good that determining which one is better is a matter of preference.

Photos from the iPhone XS Max, for example, tend to be a bit more even in color than the overly cool or warm-toned photos coming from the Pixel 3 XL, which some people prefer and others don't. iPhone XS Max images also come out a bit darker due to the Smart HDR feature that preserves detail, which is another visual difference that may influence opinion towards one camera or the other.
Bottom line, though, both the iPhone XS Max and the Pixel 3 XL produce impressive images that are better than both the previous-generation iPhone X and the Pixel 2 smartphones, and both are closer than ever to overtaking more traditional handheld cameras.
You can see all of the full resolution photos that we took with the Pixel 3 XL and the iPhone XS Max
in this Imgur album that we created
. Do you prefer Pixel 3 XL photos or iPhone XS Max photos? Let us know in the comments.
Apple marketing chief
Phil Schiller
today made a surprise appearance at Adobe's MAX conference, which saw Adobe previewing a
full version of Photoshop
on the
iPad
, set to be released in 2019.
Adobe's
upcoming version of Photoshop
is "not watered down" and is version of Photoshop with all of the assets and tools needed to create the same projects you can make on the desktop on the iPad. According to Adobe, Photoshop for iPad would not have been possible without the company's close work by Apple and the power of the
iPad Pro
.

According to Phil Schiller, Adobe is excited about the upcoming version of Photoshop for iPad and can't wait for everyone to get it. Adobe, says Apple, has understood its vision for the iPad since the beginning. Apple "cares deeply" about the evolution of the iPad into a tool essential for creative workflows.
At Apple, we care deeply about the evolution of the iPad into increasingly a tool that is essential to a creative workflow. That's why over the last few years we've been creating the iPad Pro line and we've been building unique technologies like our A-Series chips, special versions of that with the CPU and GPU performance for professionals.

We've been building in displays unique for professionals like our 12.9-inch Retina display with ProMotion technology and really fun tools like Apple Pencil, which is perhaps one of our most advanced technologies, but it's so fun and accessible to use. And Adobe has recognized that from the beginning.

Adobe has understood the potential of the iPad Pro and our teams have been working together on some really amazing technology.
Schiller went on to say that Adobe's announcements today are "the beginnings of the world" seeing the kind of work that Apple and Adobe are able to do together. The new version of Photoshop for iPad will appeal to current Photoshop users, but also to a new generation of creators "looking for an entirely mobile workflow" that's more accessible, more intuitive, and simpler to use.
Along with Photoshop for iPad, Adobe today also unveiled Project Aero for creating AR experiences, and Schiller reiterated that AR is "hugely important" to Apple. "We have a vision where we think that will impact all of our lives," he said.
When questioned about the role of the creative professional at Apple today, Schiller said that creativity has been a part of the foundation of Apple from the beginning, both internally and externally.
As I think back on it, I know Steve showed us all the idea that people with passion can change the world. Those words mean a lot to us. We think long and hard about what Apple's role should be supporting Adobe and all of our other users out there.

It is that old line that Steve said: 'We exist at the intersection of technology and lieral arts' and that focus on creativity and the arts to unleash that passion, unleash that vision is just as important to us today as it was from the very, very beginning. None of that has changed.

What has changed is the technology. When we talked about that we never envisioned a world where we would be running Photoshop on an iPad Pro wherever you are. I mean, that's just mindblowing.
Following Phil's discussion of Photoshop in iPad, the Photoshop team gifted him with a jacket that references a new feature in the Photoshop updates announced today -- Content Aware Fill powered by Adobe Sensei. The jacket gifted to Schiller plays on that with the phrase "Content Aware Phil."

Adobe plans to release Photoshop for iPad in 2019, but has not yet provided a more specific launch date.
Apple design chief Jony Ive sat down with Vogue's Anna Wintour this morning for an interview at WIRED's 25th anniversary event, where he talked about secrecy at Apple, his future with the company, and more.
WIRED didn't stream the event, but
CNET
's
Shara Tibken
and
Washington Post
's
Geoffrey Fowler
were on hand and shared details on what Ive had to say on Twitter.

Image via Shara Tibken
On the topic of iPhone addiction, Ive said that it's good to be connected, but the "real issue" is what's done with that connection. According to Ive, when it comes to innovating, it's impossible to predict all of the consequences. "In my experience, there have been surprising consequences," he said. "Some fabulous and some less so."
Apple introduces new features like Screen Time because the company doesn't believe that its responsibility for a product ends when the product is shipped. Apple, says Ive, wants to design its technology to be more human to "restore some humanity" in the way people connect with one another.
When questioned about why Apple is so secretive and keeps its projects under wraps as much as possible, Ive said that not being secretive would be "bizarre." Not many creators would want to talk about what they're doing "when they're halfway through it," he said.
I've been doing this for long enough where I actually feel a responsibility to not confuse or add more noise about what's being worked on because I know that it sometimes does not work out.
According to Ive, he's at Apple for the long haul. He continues to see a lot to do with Apple, and is happy with the team that he works with. The "energy and vitality" at Apple is "extraordinary" and "very exciting" Ive said.
Ive: "If you lose that childlike excitement, I think then it's probably time to do something else.

Wintour: "Are you at that point?"

Ive: "Oh goodness, no."
Ive is still learning at Apple with each new project, and when asked about the last thing he learned, he said that it was a detail on how you can connect glass to a structural frame. "We're still surprised and learning so much," he said.
It's not yet clear if WIRED plans to share the full interview Anna Wintour conducted with Jony Ive, but should a video or additional details be published, we'll update this post.
Update:
WIRED has shared
additional comments from Ive
during the interview.
Apple analyst
Ming-Chi Kuo
, who often accurately predicts Apple's future device plans, believes the company will continue to offer three iPhones in 2019 with the same general lineup seen in 2018.
In a note to investors about Apple supplier Luxshare's predicted market share released
this morning
, Kuo included a chart that suggests Apple will continue to offer 5.8 and 6.5-inch OLED iPhones in 2019, along with one 6.1-inch LCD model.

That's the same lineup used this year, which consists of the 5.8 and 6.5-inch OLED
iPhone XS
and XS Max and the 6.1-inch
iPhone XR
.
Rumors about the 2019 iPhones have been circulating for a few months now, but this is the first time that we've heard specific details on the number of devices we can expect to see in 2019 and their screen sizes.
Given that 2018 is sort of an "S" upgrade year with no major changes to the iPhone X design introduced in 2017, there was a possibility that Apple could condense its iPhone lineup or introduce new screen sizes, but it looks like we may be sticking with the current lineup for at least another year.

Other 2019 iPhone rumors have suggested the upcoming iPhones will adopt faster, more efficient A13 chips from TSMC, triple lens rear camera systems, revamped front-facing TrueDepth camera systems, and perhaps support for the
Apple Pencil
.
Details about all of the rumors we've heard about the new devices so far can be
found in our 2019 iPhones roundup
.
Demand for the
iPhone XR
will be higher than demand for the
iPhone 8
last year, Apple analyst
Ming-Chi Kuo
reiterated in a note to investors this morning.
Kuo is predicting better than expected replacement demand for iPhone XR along with improved supply starting in October, leading him to revise his predicted shipment estimates.

Apple is now expected to ship 36 to 38 million iPhone XR units in the fourth quarter of 2018, up 10 percent from an original estimate of 33 to 35 million units.
As he
said last week
in a note about the XR driving upgrades in China, Kuo is expecting the iPhone XR to outsell the iPhone 8 because of its larger display, longer battery life, dual-SIM support, and new form factor design.
With the revised XR shipment expectations, Kuo believes Apple will ship a total of 75 to 80 million iPhone units during 4Q2018.
iPhone XR shipments are also expected to be up in the first quarter of 2019, a historically slow quarter for Apple. Quarter over quarter decline is expected to be at 25 to 30 percent instead of 45 to 50 percent for iPhone 8.
We expect XR shipments to beat low seasonality in 1Q19. We forecast that XR shipments in 1Q19 will decline 25-30% QoQ to 27-30mn units, and we attribute the lower XR shipment QoQ decline, compared with general consumer electronics and smartphones' 30-40% QoQ decline, to better replacement demand and production delay. Also, XR's shipment QoQ decline in 1Q19 will be better than the iPhone 8 series' 45-50% in 1Q18.
Total iPhone shipments in the first quarter of 2019 are expected to grow by 10 percent year-over-year to 55 to 60 million units thanks to the strength of the iPhone XR. Shipment allocations of XS, XR, and legacy models will be at 35 percent, 50 percent, and 15 percent respectively.
Apple's iPhone XR will be available for pre-order at 12:01 a.m. Pacific Time on Friday, October 19, with an official launch to follow on Friday, October 26. Apple's colorful new iPhone will be priced starting at $749 for the entry-level model.
Apple today seeded the fourth beta of an upcoming
iOS 12
.1 update to developers, one week after
seeding the third beta
and a month after
releasing iOS 12
, a major new version of the iOS software.
Registered developers can download the new iOS 12.1 beta from Apple's Developer Center or over-the-air once the proper configuration profile has been installed from the Developer Center.

iOS 12.1 includes several new features that Apple promised would come to the
iPhone XS
and XS Max. The beta
introduces support
for the eSIM, which is a digital SIM that lets you activate a cellular plan from a carrier without the need to use a physical SIM card.
Carriers will need to implement support for eSIM, which is likely to happen after iOS 12.1 launches. In the U.S., AT&T, Verizon, and T-Mobile will support eSIM.

The iOS 12.1 update brings a new real-time Depth Control feature, which lets you adjust the depth of field of your Portrait Mode photos before you capture them. Right now, in iOS 12, Depth Control is only available for post-capture editing.
If you tap on the "F" icon at the top of the screen while capturing a photo you use Depth Control to adjust the amount of background blur in an image.

In addition to these iPhone XS and XS Max features, iOS 12.1 reintroduces the Group FaceTime feature that was removed from iOS 12 during the beta testing period. Group FaceTime was present in many early betas but was ultimately removed because Apple needed more time to test it.
Group FaceTime is designed to let iPhone and Mac users conduct video and audio chats with up to 32 participants at one time, with new camera effects features included.
The update also adds
more than 70 new emoji
to iPhones and
iPad
s, with options that include red hair, gray hair, curly hair, cold face, party face, face with hearts, mango, kangaroo, peacock, lobster, cupcake, and tons more.
As for bug fixes, iOS 12.1 addresses
a charging problem
that could cause iPhone and iPad models running iOS 12 to fail to charge when connected to a Lightning cable while the screen is off and it fixes a bug that caused iPhone XS and XS Max models to prefer 2.4GHz WiFi networks to 5GHz networks, resulting in perceived slower WiFi speeds. Both of these bugs have also been addressed
in the iOS 12.0.1 update
, released last week.
If any additional new features are found in the fourth iOS 12.1 beta, we'll update this post with details.
Update:
Apple has also seeded a new public beta of iOS 12.1 to its public beta testing group.
Update 2:
As noted by Emojipedia, Apple tweaked the design of the bagel emoji in iOS 12.1 beta 4 to add cream cheese and more texture to the bread.

Zimmer Biomet, a company that develops joint replacement products, today announced that it is
working with Apple
to improve patient experience with
Apple Watch
and iPhone following knee and hip replacements.
A new Zimmer Biomet mymobility app uses the Apple Watch to "facilitate a new level of connection" between patients and their doctors as they recover from major joint replacement surgery. Through the app, patients will be provided with "support and guidance" while preparing for and recovering from surgery, with surgeons able to use the data to "optimize care."

In addition to collecting activity data and allowing surgeons to see recovery progress, the app can be used to send education and therapy reminders directly to patients.
Zimmer Biomet is
launching a clinical study
to determine the Apple Watch app's impact on patient outcomes and overall costs for joint replacement patients. Knee and hip replacements are common surgeries with more than a million occurring each year in the United States.
As part of the study, which will enroll up to 10,000 people, Zimmer Biomet says that patients will use the mymobility app on the Apple Watch as they progress through the hip or knee replacement journey. Patient reported feedback will be combined with health and activity data from the Apple Watch to see how the mymobility app impacts care.
Apple's chief operating officer Jeff Williams said that with the Apple Watch and Zimmer's app, patients will be able to participate in their own care in ways not previously possible.
"We believe one of the best ways to empower consumers is by giving them the ability to use their health and activity information to improve their own care," said Jeff Williams, Chief Operating Officer, Apple. "We are proud to enable knee and hip replacement patients to use their own data and share it with their doctors seamlessly, so that they can participate in their care and recovery in a way not previously possible through traditional in-person visits. This solution will connect consumers with their doctors continuously, before and after surgery."
Several facilities are participating in the new mymobility Apple Watch clinical study including academic centers, hospitals, and ambulatory surgery centers.
Last week,
Minecraft: Apple TV Edition
was
removed from the tvOS App Store
and developer Mojang announced that anyone who was still playing the game on Apple TV would no longer see any updates or further support. In a statement, the company said that it needed to reallocate resources "to the platforms that our players use the most."
In a new article shared over the weekend,
Ars Technica
spoke with a few game developers in the wake of Minecraft's removal from the tvOS
App Store
, attempting to gain a consensus on what they think Apple needs to do to make the Apple TV a true gaming device. Strange Flavour CEO Aaron Fothergill said that Apple could do this by doing a better job of supporting Game Center across platforms, and creating its own gaming controller to bundle in with an Apple TV, "so there's an Apple TV being sold specifically for games."

Developer Patrick Hogan also indicated support for Apple to build its own full-featured gaming controller and include it in "every" Apple TV box, while other developers
Ars Technica
spoke with believed an optional gaming Apple TV bundle would suffice. Continuing, Hogan said Apple's marketing for Apple TV should emphasize gaming more, and the company should "spend a lot of money on funding platform exclusives, ports, and presence at every major gaming expo and conference to break the chicken-egg problem of getting customers to make it viable to devs."
Most of the developers I spoke with seemed to believe the same thing I did when I reviewed the Apple TV: there's a lot of potential here for this to be the Apple gaming console that people have speculated about for years. But, they add, Apple just isn't trying hard enough to let consumers know what the TV can do or to make it easy for them to use the TV explicitly for gaming purposes.
Although the fourth and fifth-generation Apple TV devices have the hardware for powerful gaming support, Apple's actions so far have not indicated it intends to lean into presenting the Apple TV as a video game console. Even Game Center, which previously had a dedicated iOS app and social features, was downgraded to an optional integration for third-party gaming apps in iOS 10.
Apple also hindered gaming development on tvOS at the start by
forcing
developers to build in support for its touch-based
Siri
Remote in every gaming app, despite the fact that the Apple TV supports third-party Bluetooth controllers. Apple
dropped this requirement
within the fourth-generation Apple TV's first year on the market, but many developers mentioned that this left a poor first impression for the Apple TV as a true gaming device.
Still, most of the developers that
Ars Technica
spoke to remain positive about Apple TV's future as a gaming device. Team Alto lead Ryan Cash commented on the removal of Minecraft, bemused that Mojang and Microsoft completely axed the game as the Apple TV platform "continues to grow."
"If I were in charge of the game though, I think I'd really try to stay there. While the platform certainly isn't the biggest, it continues to grow, and it's a great way for certain types of audiences to experience gaming, often for their first time."
As of now, Apple's focus on the Apple TV is likely its upcoming string of exclusive television shows, which are
rumored to be free
to customers who own an Apple TV, iPhone, or
iPad
. Looking to the future, the successor to the Apple TV 4K isn't expected until 2019 or later, as Apple typically goes a few years in between generations of Apple TV, unlike its other products which get more consistent annual updates. Because of this, there have not been any solid rumors yet as to what features or improvements will be coming to the next Apple TV.