Drone videographer Matthew Roberts has posted a
new video on his YouTube channel
this morning, covering the ongoing progress of construction at Apple's soon-to-open campus,
Apple Park
. A few weeks ago, Roberts posted what was
expected
to be the final update before Apple Park's grand opening, but the campus still hasn't opened its doors to employees with just a few days left in April.
Ever since Apple
officially announced the name
for Apple Park back in February, construction on the site has ramped up rapidly over the ensuing weeks. Today, solar panel installation on the roof of the central "Spaceship" building appears nearly complete, while the courtyard of the building is still seeing major construction related to the large pond and surrounding greenery.
Landscaping everywhere on the campus has been expanding over the past few weeks, so much so that Apple has
caused tree shortages
for other companies in the area. In Roberts' newest video, it's evident that there is still much time left for Apple's landscaping to be finished, which will eventually end with 9,000 native and drought-resistant trees spread across the site.
The continuation of landscaping, as well as construction on some of Apple Park's auxiliary buildings, will continue into the summer, well after Apple moves the first employees into the main building. While some of the side buildings are complete -- like the parking garage -- a few still have a ways to go, including the new campus auditorium, which has been named the "Steve Jobs Theater" in
honor of the late CEO
.
Once employees begin moving in, it's estimated to take Apple around six months to move in all the workers coming to Apple Park, which will number about 13,000. Earlier in April, another well-known drone videographer, Duncan Sinfield, shared off a video of what Apple Park looks like when it's
lit up at night
.
AT&T today sent out emails to customers who continue to have a grandfathered unlimited data plan for the
iPad
, informing them that its unlimited status is essentially being eliminated on May 24, 2017.
Going forward, customers with an unlimited tablet data plan may see their data usage throttled when using more than 22GB of data during a single bill period. According to AT&T, data may be slowed down during times of network congestion.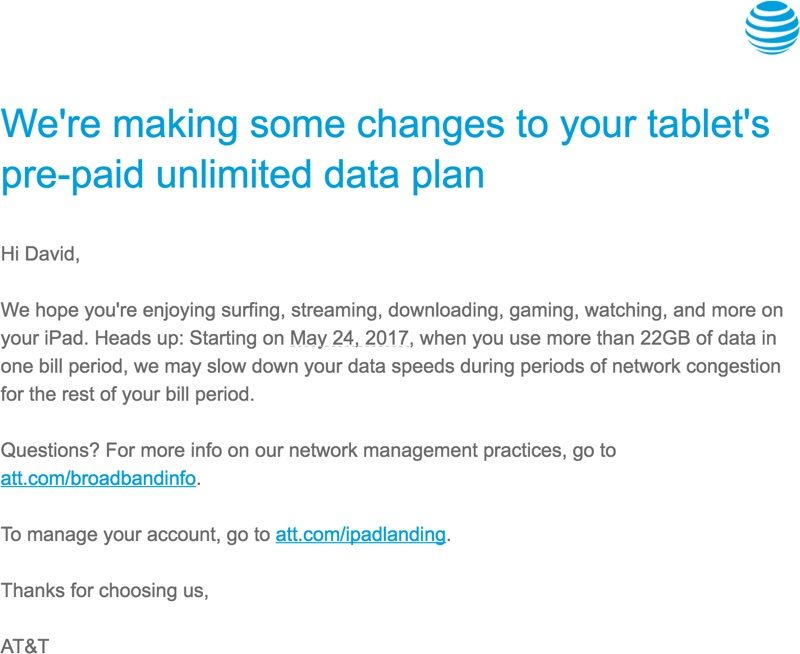 While that's in line with AT&T's policy for
its newly announced unlimited data plans
, it's a big change for iPad owners who are not used to having a data cap in place. Prior to the change, iPad owners with the grandfathered unlimited plan have not been subject to restrictions.
AT&T briefly offered unlimited iPad data plans after the original iPad was released in 2010, but
phased them out
just months later. Since then, customers who managed to purchase one of the plans have been able to hold onto them, making the unlimited plan highly coveted.
The plans required no contract and cost $29.99 per month, with customers able to transfer them to new iPads and even sell them to other iPad owners. With the change coming on May 24, the original unlimited iPad data plans will be much less attractive.
(Thanks, David!)
Apple today informed retail store employees and Apple Authorized Service Providers that it is extending the service coverage for first-generation Apple Watch models experiencing battery problems to three years.
In an entry in Apple's repair database (via
9to5Mac
), the company explains that coverage is extended for original Apple Watch models that are seeing swollen or expanded batteries. A public announcement about the service extension has not been made, and it's not clear if Apple will offer reimbursements for customers who have already paid for battery replacements or have done battery replacements themselves.

Image via MacRumors forum user Rosepod5
Customers who have an original Apple Watch afflicted with a swollen or expanded battery will now be able to have the device repaired for up to three years after its purchase date, even when
AppleCare
was not purchased for the watch. From the repair database:
Apple has extended Service coverage for eligible Apple Watch (1st gen) models with an expanded/swollen battery to three years after the original date of purchase. Eligible devices will be covrered for two years beyond the original 1-year Limited Warranty.
Complaints about swollen batteries on the original Apple Watch have been circulating for a few months on
reddit
, the
Apple Support Communities
, and
the MacRumors forum
.
Reports are rare, but it does appear to be an issue affecting a small number of original Apple Watch users. The battery problem causes the Apple Watch screen to pop away from the casing, rendering it unusable.
The first-generation Apple Watch, first introduced in April of 2015, recently reached its second birthday on April 24.
Apple has asked the California DMV to alter the rules that require it to publish detailed public reports about the success of Apple's self-driving car tests, according to papers shared by the DMV. If the DMV complies with Apple's request, less information would be included in the reports. [
PDF
]
In a letter, Apple says it is "investing heavily in the study of machine learning and automation, and goes on to say the company is "excited" about the potential of automated systems in many areas, including transportation.

One of the SUVs Apple is using to test its autonomous driving software, courtesy of Bloomberg
The company then proposes that the DMV "amend or clarify" its positions in the areas of disengagement reporting, definitions, and testing without safety drivers. Apple is concerned that inconsistency in how permit holders reports disengagements can lead to media coverage that causes public confusion and misunderstanding. Apple wants disengagement reports to cover times when a driver takes control of a vehicle to prevent a crash or traffic violation, and little else.
Apple suggests the following changes to the disengagement reporting requirements to achieve an objective set of data to accurately and clearly inform the public about the safety of the automated vehicles being tested

A disengagement should be defined as an unexpected event or failure that requires the safety driver to take control of the vehicle in order to prevent a crash or traffic violation.

A disengagement should not be reported for the following:
- Operational constraints where either the safety driver has been trained to disengage the system, or when the system detects the constraint and disengages automatically. For example, a system that requires the safety driver to navigate through a construction zone.
- System errors or failures. For example, a software bug or sensor dropout that does not affect the safe operation of the system.
- Discretionary decisions made by the safety driver. For example, when the safety driver perceives a vehicle is approaching too quickly and opts to disengage the system.
- Any tests that are planned to result in a disengagement.
- The end of a test or experiment.

Additionally, the proposed requirement in §227.50(b)(3)(B)(vi) to describe the type of incident that would have happened without the disengagement should be removed. It requires speculation about future events that have not occurred.
Apple two weeks ago was
granted a permit
for testing autonomous vehicles on public roads, and has already begun to do so. The company has
three Lexus SUVs
equipped with sensors and cameras, presumably running the
autonomous driving software
the company has been working on for the last several months. Those SUVs have been spotted on Cupertino roads this week.
By participating in the DMV's Autonomous Vehicle Testing Program, Apple will need to publicly share many details about its testing process, which will make it difficult to keep development on the software under wraps.
Apple is widely rumored to be working on a
Siri
-based
smart home device with a speaker
, and Australian leaker
Sonny Dickson
has shared new details about its possible design and features on Twitter and with
MacRumors
.

Apple's smart speaker could take design cues from the Google Home
Dickson said that Apple is currently "finalizing designs" for the
Amazon Echo
and
Google Home
competitor, which he expects to be marketed as a Siri and
AirPlay
device. "It is believed to carry some form of Beats technology," he added, while noting that the device will run a variant of iOS software.
It is believed to carry some form of Beats technology, and is expected to run an variant iOS

— Sonny Dickson (@SonnyDickson) April 27, 2017
Dickson later told
MacRumors
that the device, allegedly codenamed B238 internally, will feature a
Mac Pro
-like concave top with built-in controls. His source, which he told us is "someone inside Apple," described the device as "fat" like the Google Home with speaker mesh covering the majority of the device.
Dickson was told Apple's smart speaker could be unveiled at
WWDC 2017
in early June, but as always, the company's plans could change.
In September 2016,
Bloomberg
reported that Apple's smart home device had
entered prototype testing
, including both a larger and a smaller model in line with Amazon's current Echo lineup. However, at the time, the report cautioned that Apple's early efforts do not guarantee that a finalized product will be released.
The report said Apple's smart home device would be able to control appliances, locks, lights, and curtains through Siri voice commands. It added that some of the prototypes in testing include facial recognition sensors, backed by an earlier
CNET
report claiming the device could have a
built-in camera for facial recognition
.
Dickson is best known for leaking various iPhone and
iPad
parts from overseas sources, such as these
iPhone 5c rear casings
in 2013, but his latest information supposedly comes from a source directly within Apple, an area where his track record is less established. His sources have
proven incorrect
at times.
About two weeks ago, Qualcomm
reported
that Apple suppliers were underpaying royalties in the second fiscal quarter of 2017, as a way for Apple to regain the
unpaid royalties owed to the company by Qualcomm
. At the time, Qualcomm wasn't sure whether or not Apple would continue to pay royalties at all, and today the manufacturer -- which provides LTE modems for iPhones -- has said that Apple will not pay its iPhone suppliers for royalties related to sales in Q1 2017.
Furthermore, Qualcomm stated that Apple has "indicated it will continue this behavior until its dispute with Qualcomm is resolved." The royalty cut-off hurts Qualcomm because the manufacturer's licensing deals are directly with iPhone suppliers.

The total loss of royalty revenue is estimated by Qualcomm to be about $500 million, which is expected to hit the company hard in terms of share prices and investors watching the dispute between the two companies. In its report adjusting the financial guidance for the third quarter of 2017, Qualcomm's previous estimate of $5.3 billion - $6.1 billion in revenue has been marked down to $4.8 billion - $5.6 billion, amid the ongoing suing and
counter-suing
actions taking place between Qualcomm and Apple.
In a statement, Qualcomm general counsel Don Rosenberg said that the company will continue to "vigorously" defend its business model as the legal dispute continues.
Qualcomm Incorporated today announced that it has been informed by Apple Inc. that Apple is withholding payments to its contract manufacturers for the royalties those contract manufacturers owe under their licenses with Qualcomm for sales during the quarter ended March 31, 2017. Apple has indicated it will continue this behavior until its dispute with Qualcomm is resolved.

"Apple is improperly interfering with Qualcomm's long-standing agreements with Qualcomm's licensees," said Don Rosenberg, executive vice president and general counsel of Qualcomm. "These license agreements remain valid and enforceable. While Apple has acknowledged that payment is owed for the use of Qualcomm's valuable intellectual property, it nevertheless continues to interfere with our contracts. Apple has now unilaterally declared the contract terms unacceptable; the same terms that have applied to iPhones and cellular-enabled iPads for a decade. Apple's continued interference with Qualcomm's agreements to which Apple is not a party is wrongful and the latest step in Apple's global attack on Qualcomm. We will continue vigorously to defend our business model, and pursue our right to protect and receive fair value for our technological contributions to the industry."
The legal dispute between the two companies follows a
complaint filed by the Federal Trade Commission
, stating that Qualcomm used anticompetitive tactics to remain on top of the LTE modem supply chain for smartphones. Another contributing factor to the bad blood between the companies centers around Apple's decision to start using modem chips from Intel in some of the
iPhone 7
devices launched last year, instead of tapping Qualcomm exclusively like it usually does.
Apple claimed that Qualcomm was charging unfair royalties "for technologies they have nothing to do with," since the manufacturer provides only one part of the whole of the iPhone. "Despite being just one of over a dozen companies who contributed to basic cellular standards, Qualcomm insists on charging Apple at least five times more in payments than all the other cellular patent licensors we have agreements with combined," the Cupertino company stated in its
lawsuit
.
Update:
In a statement to
Axios
, Apple confirmed that it will not make further royalty payments to Qualcomm until a court steps in to figure out how much is owed.
"We've been trying to reach a licensing agreement with Qualcomm for more than five years but they have refused to negotiate fair terms," Apple told Axios in a statement. "Without an agreed-upon rate to determine how much is owed, we have suspended payments until the correct amount can be determined by the court. As we've said before, Qualcomm's demands are unreasonable and they have been charging higher rates based on our innovation, not their own."
Mobile phone leaker KK Sneak Leaks
posted an image on Twitter
this morning purporting to show one of the first third-party protective cases for Apple's upcoming redesigned OLED iPhone, which isn't expected to launch until at least September.
The transparent case has a few features that are consistent with
recent schematics
purporting to depict the front-running design of the so-called "
iPhone 8
". Most prominent is the cutout on the upper left of the case which indicates vertically aligned dual cameras, as opposed to the horizontal alignment on the
iPhone 7
Plus.

Purported third-party case for "iPhone 8" via KK Sneak Leaks
Conspicuous in its absence however is any sort of opening for a fingerprint sensor located on the rear, suggesting
Touch ID
will remain a front-facing feature. Apple is rumored to be trying to build Touch ID into the iPhone's display, but the company has reportedly been
struggling
with perfecting the technology, suggesting it could resort to putting the sensor on the rear of the device.
The pill-shaped volume buttons shown in the picture on the right side appear to be in their normal places, but the power button on the left looks longer than on previous iPhones, which is something we've also seen on
recent dummy models
. Elsewhere, the bottom of the case indicates standard speaker grille locations either side of what will presumably be an all-in-one Lightning connector.
Early case leaks have historically been fairly accurate indicators of new iPhone designs, with some exceptions, but this is a uniquely challenging year for third-party case manufacturers looking to nail down the final design.
Apple is still thought to be testing
multiple prototypes
for its upcoming "10th anniversary edition" iPhone, and rather than be privy to the final design, case makers may simply resort to following the most likely one based on the same leaks covered by rumor sites, so bear those caveats in mind.
Apple's 4.7-inch OLED iPhone is likely to be sold alongside two standard "S" cycle iPhones with LCD displays, which are said to be similar in size to the existing iPhone 7 and 7 Plus. Rumors suggest the leading candidate for the final chassis is a
stainless steel frame sandwiched between front and rear symmetrical glass
. Apple is also supposedly working on an inductive wireless charging solution for its "premium" handset model.
Rumors also suggest Apple's "iPhone 8" supplies may be
highly constrained
when the new range of phones launches, making it harder to obtain in the first few months of release, although this is not an unusual claim in the months preceding a new iPhone launch.
Apple is teaming up with popular music video app
Musical.ly
to promote
Apple Music
, reports
Recode
. Apple will soon provide song snippets and clips to the service, which is designed to let users create and share their own music videos.
Apple Music content will be replacing content from UK-based provider 7digital as soon as tomorrow.

Through the partnership with Apple, and with Apple's access to licensing deals, Musical.ly will be able to expand the number of countries where it is available from 30 to 120.
Musical.ly, which calls itself an entertainment social network, has been around since August of 2014, but has recently seen a surge in popularity among teenagers. In exchange for the right to use Apple Music content, Musical.ly will promote the Apple Music service to its users and will let Apple Music subscribers listen to full songs within the Musical.ly app.
Apple recently
obtained a permit
allowing the company to test its self-driving software on public roads in several Lexus SUVs, and now
Bloomberg
has shared details on the equipment Apple is using after one of the vehicles was spotted leaving an Apple facility.
Earlier this week, a white Lexus RX450h SUV was seen leaving an Apple building and was captured in a series of photos by an unnamed source who shared the images with
Bloomberg
. The vehicle is equipped with multiple sensors, cameras, and radar.

The sensors included Velodyne Lidar Inc.'s top-of-the-range 64-channel lidar, at least two radar and a series of cameras. The sensors appear to be products bought off the shelf from suppliers, rather than custom-made, according to an industry expert who saw the photos.
The vehicle is distinct from the vehicles used for
Apple's mapping project
, which uses a series of Dodge Caravans to capture data across the United States for the purpose of improving the
Apple Maps
app.
Apple was
first granted
a DMV permit to test autonomous vehicles on public roads on Friday, April 14. At the time, a DMV spokesperson said the company had registered three 2015 Lexus RX450h SUVs to be driven by six Apple employees with expertise in autonomous vehicles.

Apple's permit application and the appearance of the SUV confirm its work on a car-related project. Rumors originally suggested Apple was developing its own autonomous electric vehicle, but Apple is said to have
since transitioned
to building an autonomous driving system rather than a complete car.
In California, where Apple is testing its vehicles, companies that participate in the DMV's Autonomous Vehicle Testing Program must file
Disengagement Reports
that outline how many miles were covered with self-driving vehicles and whether any accidents occurred, so Apple won't be able to keep much of the testing on public roads a secret.
Apple's car team, led by Bob Mansfield, reportedly has until the end of the year to prove the feasibility of an Apple-designed autonomous driving system.
Nike's latest Apple Watch, the Apple Watch NikeLab, is
now available for purchase
from the Nike website, Nike Lab stores, and the Apple Watch pop-up shop at the Isetan department store in Tokyo.
First
announced last week
, the Apple Watch NikeLab pairs a Space Gray
Apple Watch Series 2
aluminum case with a black and cream perforated Nike band.

According to Nike, the Apple Watch NikeLab is limited edition and designed to be the "ultimate style companion" for runners. Like the existing Apple Watch Nike+, the Apple Watch NikeLab features a Nike watch face and integration with the Nike+ Run Club app.
Apple Watch NikeLab has the same pricing as an aluminum Apple Watch Sport at $369 for the 38mm model and $399 for the 42mm model. The new watch is available exclusively from Nike and the Isetan department store, marking the first Apple Watch that is not available in Apple retail stores and from the Apple website.
Apple and Nike first teamed up in September of 2016 for the Nike+ Apple Watch that launched alongside Apple's own set of Series 2 Apple Watch devices. Apple offers two Apple Watch Nike+ models in Silver and Space Gray aluminum along with standalone Apple Watch Nike+ bands.

Apple today sent out an email to developers announcing
App Store
pricing increases in Denmark, Mexico, and all territories that use the Euro currency. The new pricing changes will go into effect before the end of next week, with Apple citing changes in foreign exchange rates as the reason behind the price hike.
Due to foreign exchange rate changes, prices for apps and in-app purchases (excluding auto-renewable subscriptions) will increase in Denmark, Mexico, and all territories that use the Euro currency in the next 7 days. Auto-renewable subscription prices will not be affected. You can change the price of your subscription at any time in iTunes Connect with the option to preserve prices for existing subscribers.
French site
iPhoneAddict
has shared a chart listing the new pricing tiers in Austria, Bulgaria, Estonia, France, and Slovakia. In those countries, app pricing will now start at 1.09 euros, up from 0.99 euros. Similar pricing increases will be seen in the other affected countries.

Along with the App Store price change, Apple has announced that a value added tax (VAT) rate of five percent will go into effect for customers in Taiwan starting on May 1, 2017. Apps and in-app purchases will be affected.
On May 1, 2017, a value added tax (VAT) rate of 5% will go into effect for customers in Taiwan buying apps and in-app purchases. We will administer the collection of taxes from customers and the remittance of taxes to the appropriate tax authority in Taiwan. Your proceeds will be reduced accordingly, and will be calculated based on the tax exclusive price.
Apple's App Store price hike in Denmark, Mexico, and countries that use the Euro comes just a few days after Apple announced a significant decrease in its
affiliate program commission rate
. Sites linking to the App Store used to receive a 7 percent cut when someone purchased an app, but that number will drop to 2.5 percent next week, impacting many websites that rely on App Store commissions.
Apple today seeded the fifth beta of an upcoming
iOS 10
.3.2 update to developers, just a few days after seeding the
fourth iOS 10.3.2 beta
and a little over a month after introducing
iOS 10.3
, which included features like a new Find My
AirPods
feature and Apple File System. Apple also released
a minor iOS 10.3.1 update
in early April, which focused on security improvements.
Registered developers can download the fifth iOS 10.3.2 beta from the Apple Developer Center or over-the-air with the proper configuration profile installed.

Apple doesn't provide detailed release notes for its beta updates, so we don't yet know what features, improvements, or bug fixes might be coming in iOS 10.3.2, aside from some fixes for
Siri
Kit car commands that were outlined in the release notes for the first beta.
As a minor 10.x.x update, we can expect iOS 10.3.2 to offer bug fixes and performance improvements rather than outward-facing features. No notable changes were found in the first four betas, but if anything new is found in the fifth iOS 10.3.2 beta, we'll update this post.
Update:
iOS 10.3.2 beta 5 has also been released for public beta testers.