Apple in 2018 is planning to hold a four day "shopping" event that will presumably see Apple products available at a discount or with some kind of gift with purchase.
On Apple's website, there is a
blank shopping event page
that will presumably be populated with deals when Black Friday rolls around, and Apple today sent out teaser emails to customers letting them know about the upcoming sale.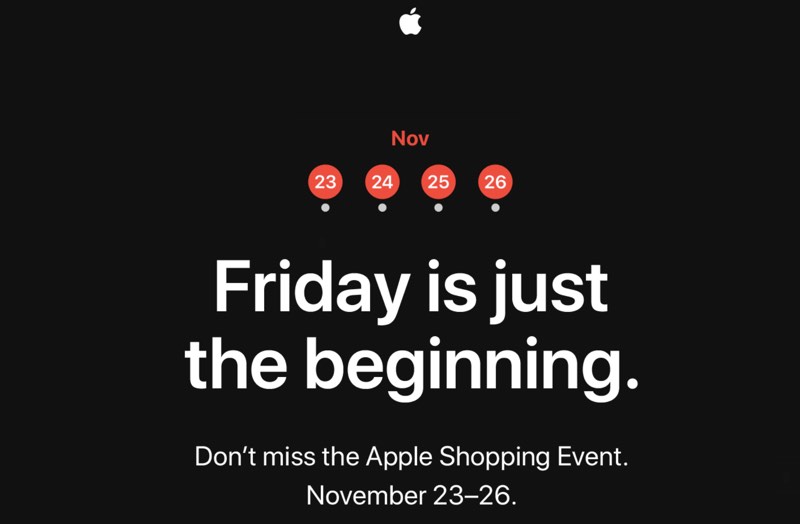 Apple's shopping event will kick off on Friday, November 23 and it will last until Monday, November 26, aka Cyber Monday, another popular day for deals.
Last year, Apple held a similar shopping event that saw the company offering
Apple Store gift cards
worth up to $150 with the purchase of select devices including Macs, iPhones, iPads, and Apple Watches.
Apple's deals have historically not been quite as good as discounts available from third-party retailers, so if you're shopping for something specific on Black Friday, it's best to take a look at all of the available deals at each retailer before making a decision.
We'll have in-depth Black Friday coverage later this week, and to plan ahead, make sure to
check out our Black Friday roundup
where we're aggregating all of our Black Friday deals.
Apple today shared a new short video focused on the recently released 11 and 12.9-inch
iPad Pro
models, listing five reasons why the tablets can be your next computer.
Apple's list of reasons why the iPad Pro can replace a computer are as follows:


It's more powerful than most computers.


It's versatile. It's a scanner, camera, editing suite, notepad, cinema, music studio, book, and a computer.


It goes anywhere thanks to LTE.


It's as easy as this (with a focus on gestures).


It's even better with Apple Pencil.
This is Apple's first ad for the new iPad Pro models, but it has long advertised the iPad Pro as an alternative to a computer. Apple uses the tagline "like a computer unlike any computer," in this ad, which is something new the company has been trying out.
Apple's 11 and 12.9-inch iPad Pro models were first introduced in late October and shipped out in November. The new iPads feature edge-to-edge displays with Face ID and no Home button, powerful A12X processors with performance on par with many Mac notebooks, USB-C to connect to 4K monitors and USB-C accessories, and thinner bodies.
The 11-inch iPad Pro starts at $799 for 64GB of storage, while the 12.9-inch iPad Pro starts at $999, also for 64GB of storage.
Last month, a person
wearing an Apple Maps backpack with LiDAR equipment
was spotted at the intersection of Stockton and Sutter streets in San Francisco, suggesting Apple now has employees collecting street-level data on foot.

Apple Maps employee with a LiDAR-equipped backpack via Dante Cesa
Apple has since
confirmed
that its Maps team will be collecting pedestrian data in California over the next month, starting with the counties of Alameda, Los Angeles, San Francisco, San Mateo, Santa Cruz, and Santa Clara, the last of which includes the likes of San Jose and Apple's hometown of Cupertino.
The pedestrian-based street-level data will likely be used to improve walking directions in Apple Maps, as part of Apple's plans to
rebuild the app "from the ground up"
with its own first-party data, starting in California.
"We wanted to take this to the next level," said Apple Maps chief
Eddy Cue
, in an interview with
TechCrunch
in June. "We have been working on trying to create what we hope is going to be the best map app in the world, taking it to the next step. That is building all of our own map data from the ground up."

As part of the revamp, Apple Maps will begin to feature pedestrian pathways that are commonly walked but previously unmapped. Apple Maps will also more accurately display foliage like grass and trees, buildings, parking lots, sports fields, and more, with many of these improvements
already available in California in iOS 12
.
Apple said the improvements will extend across the United States over the next year, but there is no timeline for a broader rollout. The ball is rolling internationally, as Apple Maps vehicles have surveyed parts of Croatia, France, Ireland, Italy, Japan, Portugal, Slovenia, Spain, Sweden, and the United Kingdom.
In recent weeks, Apple slashed production orders for its latest
iPhone XS
, iPhone XS Max, and
iPhone XR
models due to "lower-than-expected demand," among other reasons, according to unnamed sources cited by
The Wall Street Journal
.

The report claims the production cuts have hit the iPhone XR hardest, with Apple said to have slashed its production plan for the device by "up to a third of the approximately 70 million units" it had asked some suppliers to produce between September and February, amounting to a reduction of up to 23.3 million units or so.
And in the past week, the report claims Apple told several suppliers that it cut its production plan again for the iPhone XR, as it battles a mature smartphone market and increasing competition from Chinese vendors like Huawei.
The production cuts are said to have "reignited frustration" among iPhone suppliers and "raised worries about Apple's ability to forecast demand."
We've heard this narrative before. Last year, a flurry of reports variously referred to the iPhone X as a "failure," "disappointment," and "flop." Another report said the iPhone X "
did not live up to the hype
." Yet, the iPhone X went on to become not only the
top-selling iPhone at Apple
, but
in the entire world
.
Apple also reported record-breaking iPhone revenue of $61.5 billion in the iPhone X launch quarter, so the device was anything but a flop.
Apple CEO
Tim Cook
has
dismissed these kind of reports
in the past. During an earnings call in January 2013, he noted that the company's supply chain is very complex and that conclusions shouldn't be drawn from singular data points:
Even if a particular data point were factual, it would be impossible to interpret that data point as to what it meant to our business. The supply chain is very complex and we have multiple sources for things. Yields can vary, supplier performance can vary. There is an inordinate long list of things that can make any single data point not a great proxy for what is going on.
Apple's financial chief Luca Maestri has also cautioned about trying to determine iPhone demand based on potentially misleading supply chain reports.
It is possible, however, that Apple is increasingly struggling to forecast iPhone demand. Today's report claims that Apple was "excessively optimistic" about its initial production forecast for the iPhone X, which it proceeded to slash "by some 20 million units" for the first three months of 2018.
Unfortunately, iPhone sales will be less transparent going forward, as Apple announced that it
will no longer disclose iPhone unit sales
in its earnings reports starting with the first quarter of its 2019 fiscal year.
Justifying the move, Maestri said unit sales are "not particularly relevant for our company at this point," as they are "not necessarily representative of the underlying strength of our business." He added that Apple may provide qualitative commentary related to unit sales if the info is valuable to investors.
Apple will still disclose iPhone revenue on a quarterly basis, however, and any significant year-over-year decline in that amount would help indicate if iPhone XS, iPhone XS Max, and iPhone XR demand is truly lower than expected.
AAPL is down nearly 15 percent since Apple's earnings report on November 1.
Apple CEO
Tim Cook
appeared on HBO on Sunday in a pre-recorded interview with
Axios
, in which he discussed several issues including Apple's relationship with Google and the need for privacy regulations in the technology sector.
During the interview, which was conducted at
Apple Park
, Cook emphasized user privacy as a "core value" of Apple's that reaches way back to before smartphones had become a feature of people's daily lives.
It's not that it fits in with what we do, it's that this is a core value of ours. If you look back over time, we were talking about privacy well before iPhone, so we've always believed that privacy was at the core of our civil liberties. This is not a matter of privacy versus profits or privacy versus technical innovation. That's a false choice. What we've done is, your device has incredible intelligence about you, but I don't have to have all of that as a company.
Given Apple's policy on user data privacy, Cook was then asked by
Axios
reporters why he was comfortable taking billions of dollars from Google to make it Apple's default search engine. Cook responded to the question by highlighting the additional security and privacy measures that its Safari browser provides.
I think [Google's] search engine is the best. Look at what we've done with the controls we've built in. We have private web browsing, we have intelligent tracker prevention. What we've tried to do is come up with ways to help our users through their course of the day. It's not a perfect thing – I'd be the first person to say that – but it goes a long way to helping.
Google paid Apple nearly
$3 billion
in 2017 to remain as the default search engine on iPhones and iPads, according to U.S. research and brokerage firm Bernstein. Apple's iOS devices are said to contribute about 50 percent to Google's mobile search revenue.
Elsewhere in the interview, Cook covered the issue of government regulation of user privacy, saying he was "not a big fan of regulation" but a "big believer" in the free market. "But we have to admit when the free market's not working, and it hasn't worked here," Cook admitted. "I think it's inevitable that there will be some level of regulation."
Cook has called for "
well-crafted
" government regulation in the past, most recently following the Facebook and Cambridge Analytica scandal, in which the latter amassed data on 50 million Facebook users without their consent.
Cook was also asked by
Axios
whether he was concerned about the male-dominated culture in the tech industry. The Apple CEO said he thought Silicon Valley had been open and accepting to many different people from different walks of life, but that when it came to gender, the Valley had "missed it" and so had the technology industry in general.
"We spend a lot of time on this and we're constantly asking ourselves how we can improve more and listening to what our folks tell us, and I believe others are doing that too," Cook said. "I'm actually encouraged at this point that there will be a marked improvement over time."
Cook also revealed in interview that his daily routine involves rising just before 4:00 a.m. each morning, reading through user comments for an hour, and then heading to the gym for an hour, which helps him "keep stress at bay."
The full HBO interview has yet to be made available online, but we'll post a link in this article if and when it does.
Note: Due to the political nature of the discussion regarding this topic, the discussion thread is located in our
Politics, Religion, Social Issues
forum. All forum members and site visitors are welcome to read and follow the thread, but posting is limited to forum members with at least 100 posts.
Alongside the new 11 and 12.9-inch
iPad Pro
models, Apple introduced a second-generation
Apple Pencil
, which is designed to work exclusively with its latest tablets.
In our latest YouTube video, we took a look at the new Apple Pencil 2 and compared it to the original Apple Pencil to highlight all of the improvements that Apple made with the second iteration of its
iPad
stylus.
Subscribe to the MacRumors YouTube channel for more videos.
Design wise, the Apple Pencil 2 is sleeker and smaller than the original Apple Pencil because of the elimination of the Lightning connector at the top of the device.
The original Apple Pencil's Lightning connector was always a questionable design choice. It was meant to plug into the bottom of the iPad Pro, but it stuck straight out and was inconvenient at best and dangerous at worst, as an ill-timed drop could cause damage when charging.
Apple's new Apple Pencil does away with the Lightning connector all together because the device is now able to charge via a magnetic connection to the new iPad Pro models. The Apple Pencil 2 snaps right onto the new iPad Pro, which allows for pairing, charging, and storage when it's not in use.
With no Lightning connector, the new Apple Pencil is lighter and easier to hold for longer periods of time, and it has a cleaner look with no metal cap at the top.
While the first Apple Pencil was round and prone to rolling off of flat surfaces, the new Apple Pencil has a flat side for connecting to the iPad, and that flat bit also prevents it from rolling as much.
In addition to these design and function changes, the Apple Pencil 2 introduces support for gestures. With a double tap, the Apple Pencil 2 can switch between tools in apps that support the feature, which is super useful because it allows for quick changes between a pencil and an eraser.
Apple is, unfortunately, charging $30 more for its newest Apple Pencil. The second-generation device costs $130, whereas the original was priced at $100. For users who have a new iPad Pro model, the Apple Pencil 2 is the only available choice as the original Apple Pencil does not work with the new tablets.
Likewise, the second-generation Apple Pencil is compatible only with the new iPad Pro models, so you can't get one and take advantage of the new features without also having a 2018 iPad Pro.
What do you think of Apple's new second-generation Apple Pencil? Is it worth the premium over the original? Let us know in the comments.
Apple's new 11 and 12.9-inch models are its thinnest yet, measuring in at just 5.9mm, and both forum complaints and a new bend test video suggest the two devices have the potential to bend without a huge amount of force.
On the
MacRumors
forum, there
have been a few complaints
of bending from
MacRumors
readers. Forum member Bwrin1, for example, posted a photo of a bent 12.9-inch
iPad Pro
suggesting it had bent from just a weekend trip in a backpack.

The iPad Pro in question does indeed appear to have a curve to it, refusing to lay flat on a table. At the same time, YouTuber JerryRigEverything has posted a bend test video of the new iPad Pro, which indicates it has the potential to bend with a limited amount of force.
In the video, the iPad Pro snaps in half after what appears to be a moderate amount of pressure is applied to the device.
Despite the video and the forum complaint, this does not appear to be a widespread issue. There are a couple of other complaints from
MacRumors
readers who were seeing slight curves in their devices and received replacements or sent the tablet back, but there aren't complaints that match the complaints we saw back in 2014 with the
original iPhone 6 Plus bendgate
.
It's not clear if the new iPad Pro models are more or less bendable than previous devices, and bend tests are not reflective of real world usage conditions. All devices of this size will bend when enough force is applied, so it is no surprise to see the bend in the YouTube video.
If the new iPad Pro models are bending from regular use, that could be a more significant issue, and we'll need to keep an eye out for additional reports of bending to determine whether there's a serious problem with Apple's newest tablet.
We're now one week away from Black Friday holiday shopping, which will take place on Friday, November 23. Of course Black Friday isn't just one day any more, and sales have already kicked off today at numerous online and physical retailers. To help plan and organize your shopping, we've created this overview of the best deals you can expect to find while you're out and about next Friday, as well as the ones you can get online with a bit less hassle.
As you read, remember that most of these deals are not yet live, and you can find the specific opening times for each store in our full
Black Friday Roundup
.
Apple
Although Apple itself doesn't offer great Black Friday discounts, Apple devices and accessories will see many discounts this Black Friday.

Note: MacRumors is an affiliate partner with some of these vendors. When you click a link and make a purchase, we may receive a small payment, which helps us keep the site running.
iPhone
If you're on the hunt for an iPhone, Walmart will offer a
$400 Walmart gift card when you buy the iPhone 8, 8 Plus, or X
; and a
$300 Walmart gift card when you buy the iPhone XS, XS Max, or XR
. All iPhones must be purchased on qualifying AT&T Next, Sprint, or Verizon device payment plans, and this offer is valid in Walmart's retail stores only.
At
T-Mobile
, you'll be able to get the
iPhone XR
at no cost if you add the smartphone onto an existing line and trade in an eligible device towards the XR.
Those shopping for older model iPhones should keep an eye on Best Buy's iPhone 6s deal, which will discount the 2015 smartphone to $199.99 on both
Simple Mobile
and
Total Wireless
. At Walmart, you'll be able to buy the
iPhone SE
for just $79.00 on Walmart Family Mobile plans. Meijer will match this offer for the 32GB iPhone SE on Simple Mobile.
iPad
Target
and
Best Buy
will discount the
128GB iPad mini 4 to $249.99
this Black Friday, savings of $150 from its regular price of $399.99.

Another popular iPad discount is for the
sixth-generation 9.7-inch iPad (32GB)
from earlier this year (with
Apple Pencil
support), which will be available
for $249.99
, down from $329.99 at
Target
,
Walmart
,
Costco
, and
Jet
. If you want the same iPad with a little bit more storage, check out
Best Buy
's Black Friday discount on the 128GB 9.7-inch iPad, available for $329.99, down from $429.99.
For the brand new iPads, MacMall has already kicked off a sale today, offering the
11-inch iPad Pro (64GB, Wi-Fi + Cellular)
for $899.00, down from $949.00; and the
12.9-inch iPad Pro (64GB, Wi-Fi)
for $949.00, down from $999.00. Otherwise, we haven't seen any indication of other discounts on the latest iPad Pros on Black Friday.
Apple Watch
Target
and
Macy's
have the best deal for Apple Watch Series 3 this year, with the GPS models starting at $199.99 for the 38mm Aluminum version, down from $279.99. 42mm models will run for $229.99.
If you prefer GPS + Cellular, both retailers will also offer savings on the upgraded Series 3 models, starting at $299.99 for the 38mm models and $329.99 for the 42mm models.

Best Buy has an inferior deal of only $50 off Apple Watch Series 3 instead of $80, but it will have
25 percent off select Apple Watch bands
, which should provide a great combo deal if you buy a new Apple Watch elsewhere.
Also of note for
Meijer
shoppers, if you buy one Apple Watch Series 3 for $279.00 (full price for the 38mm Aluminum) or more, you'll get one Meijer coupon worth $100 to put towards your next purchase (expiring December 24, 2018). While not a straight discount, frequent Meijer shoppers may find a preference for the in-store credit.
Mac
Best Buy has a few notable
MacBook
sales, starting with the
2017 MacBook Pro
(8GB RAM, 128GB HD) at $1,149.99, down from $1,299.99. One of the best deals in this sale is for the
MacBook Pro
(16GB RAM, 256GB HD) at $2,149.99, down from $2,399.99.

The
MacBook Air (2017, 8GB RAM, 128GB HD)
will be on sale for $799.99, down from $999.99. Lastly, the
21.5-inch iMac (2017, 8GB RAM, 1TB HD)
will be marked down to $899.99 from $1,099.99.
MacMall has the new
13-inch MacBook Air (1.6 GHz, 8GB RAM, 128GB SSD)
for $1,149.00, down from $1,199.00, and the
Mac mini (3.6GHz, 8GB RAM, 128GB SSD)
for $764.00, down from $799.00. These sales are already live.
HomePod

The best deal on Apple's smart speaker this Black Friday -- not to mention of all time --
will be at Best Buy
. You'll be able to pick up
Apple's HomePod for $249.99
, down from $349.99.
AirPods
In one of the only Black Friday discounts known so far on Apple's AirPods,
Newegg
will have the wireless headphones for $139.99, down from $159.99, with the promo code BFAD155.
App Store and iTunes Gift Cards
➜ Click here to read rest of article...
Nike today launched a new series of Sport Bands and Sport Loops for the
Apple Watch
on its website
, introducing three unique colors: Celestial Teal, Olive Flak, and Smokey Mauve.
The bands are priced at $49 and are available in 40 and 44mm to fit all Apple Watch Series 4 and earlier models. Though sold by Nike and designed for the Nike-branded Apple Watch models, these bands will work with all Apple Watches.

Nike is requiring customers who wish to purchase one of the new bands to sign up to be NikePlus members, but signing up for the site is free.

Nike's new Apple Watch bands are limited to the Nike website and are not available for purchase from the Apple online store.
These three new band color options join
the new Sport Loop
that Apple introduced earlier this week in a (PRODUCT)RED colorway.
Apple back in April ended development on its
AirPort
line of products, which includes the $99
AirPort Express
, the $199
AirPort Extreme
, and the $299
AirPort Time Capsule
.
At the time the accessories were discontinued, Apple said that it would continue selling existing stock until available supply was exhausted. It appears that point has been reached for both the AirPort Extreme and the 2TB AirPort Time Capsule, which have been removed from the Apple online store.

There are no longer any AirPort products available for purchase from the online store or
Apple retail
locations, with the exception of some refurbished AirPort devices that may continue to be available on the refurbished site.
Apple had not updated its AirPort products since 2012 (Express) and 2013 (Extreme and Time Capsule), and rumors in 2016, which ultimately turned out to be correct, suggested Apple had
stopped development
on the product with AirPort engineers reassigned to other devices.
In lieu of its own line of AirPort products, Apple is now offering third-party routers like the
Linksys Velop mesh Wi-Fi system
.
Apple's AirPort base stations provided some unique benefits that are not available through third-party options like built-in Time Machine backup support in the Time Capsule and
AirPlay
functionality for the AirPort Express.
Though the AirPort devices have been discontinued, Apple plans to provide service and parts for the current generation models for the next five years.
Apple today
highlighted
"Shot on iPhone" photos captured with its latest smartphone, the
iPhone XR
. Apple shared portraits, landscapes, and more that iPhone XR users posted on social networks like Instagram and Twitter.
Apple's iPhone XR is equipped with the same 12-megapixel wide-angle lens that's in the
iPhone XS
and iPhone XS Max, and it has all of the same features like Smart HDR and Depth Control for adjusting the amount of blur in a Portrait mode photo.

Image via photographer Austin Mann
The iPhone XR is unique among iPhones because its rear-facing Portrait mode option doesn't require a two-lens camera setup.
Instead of relying on a telephoto and a wide-angle lens to separate the subject of a photo from the background, the iPhone XR uses software to create a similar effect. As a result, Portrait mode photos captured on the XR only work with people and aren't available for other subject matter like pets and food.
As a bonus, though, because rear Portrait mode on the iPhone XR uses the wide-angle lens with wider f/1.8 aperture instead of the f/2.4 telephoto lens used by the iPhone XS and XS Max, its Portrait photos can come out better in low lighting conditions.
The iPhone XR, like the XS and XS Max, uses a TrueDepth camera system for the front-facing camera with a 7-megapixel setup. TrueDepth on iPhone XR is identical to TrueDepth on Apple's pricier iPhones, allowing for a full front-facing Portrait mode with Portrait Lighting options.
iPhone XR: First Photoshoothttps://t.co/vP2Wihoroq#iphonexr pic.twitter.com/xqusSPZvVY

— Tyler Stalman (@stalman) October 26, 2018
Apple
previously shared
a series of images that were shot on iPhone XS and XS Max following the launch of those two devices. The company's full selection of iPhone XR photos can be seen in its Apple newsroom article.
Apple has hired indie entertainment studio
A24
to produce a "slate of films" for the Cupertino company, reports
Variety
.
Apple said it has signed a multiyear agreement with A24 that will involve multiple films, but further details are unavailable. It is not known if movies made by A24 will be released in theaters or limited to a future digital platform.

A24 is
responsible for movies
like "Moonlight," "Room," "The Witch," "Ex Machina," "The Spectacular Now," "It Comes at Night," "Lady Bird," "The Disaster Artist," "Hereditary," and more.
A24 has existing deals with DirecTV and Amazon, and those deals will remain in effect even though the entertainment company has now entered into a partnership with Apple. A24 will continue to produce and release movies outside of its partnership with Apple.
Apple's deal with A24 is a sign that the Cupertino company also plans to delve into films as well as television shows. Apple has more than a dozen
original high-profile TV shows
in the works, but has thus far signed few movie deals.
Apple's original television shows and movies are expected to be included in an upcoming rumored streaming service, which could debut
in early 2019
.
Apple may be
planning to bundle
its service with
Apple Music
and an
Apple News
subscription service for magazines, and at least some of the content could be made
available for free
through the TV app.