iPhone XS and Apple Watch Launch
It's officially iPhone launch day, which means
iPhone XS
and iPhone XS Max models are in
Apple retail
stores and have been delivered to customers all around the world. The first pre-orders began arriving this morning in the United States and millions of customers now have the new devices.
We got our hands on one of the new iPhone XS Max models this morning to check out that huge new screen, the new 6.5-inch size, the camera improvements, and the faster internals.
Subscribe to the MacRumors YouTube channel for more videos.
The iPhone XS Max's display measures in at 6.5-inches, and it features the biggest screen that Apple's ever introduced. Size wise, the iPhone XS Max is a good bit larger than the iPhone X and XS, but it's smaller in size than the
iPhone 8
Plus despite the bigger display. It's bigger than the iPhone X, and smaller than the latest Galaxy phone.
Though large, the iPhone XS Max feels surprisingly light in the hand, perhaps due to its thin 7.7mm body and clever weight distribution by Apple. The bigger display looks incredible, as should be no surprise, and it's amazing for watching videos, looking at photos, or playing video games.
Face ID is slightly faster in the iPhone XS Max thanks to the improved A12 Bionic chip and neural engine, and the camera, though using the same 12-megapixel dual-lens system as the iPhone X, has some internal improvements that produce noticeably better photos.
We'll be doing a much deeper dive into the camera and comparing it with the iPhone X camera so stay tuned for that, but suffice it to say the iPhone XS Max camera is a solid upgrade over the camera in the iPhone X.
The A12 processor is 15 percent faster than the A11, which isn't super noticeable, but it does result in much better battery life. iPhone XS Max lasts an hour and a half longer than the iPhone X.
Many Apple retail stores had iPhone XS and XS Max stock available for walk-in purchases this morning, and stock should be replenished regularly. Orders
placed today on the website
won't ship out until October, though, so the store is your best bet if you didn't pre-order.
Pricing on the iPhone XS starts at $999 and pricing on the iPhone XS Max starts at $1,099.
We're hearing from a number of readers over the past hour or so that Apple's retail stores are having problems completing in-store reservation pickups for the new iPhone and
Apple Watch
models. Multiple customers have been told there is a "global" issue affecting Apple's systems and we're hearing there are some long lines building up as customers wait for the issues to be resolved.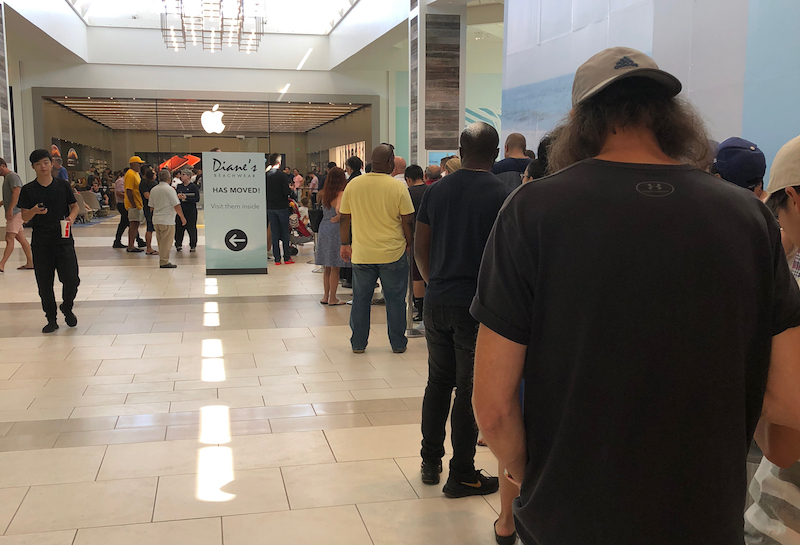 Pickup line at Manhattan Village store in Manhattan Beach, California
Some customers have reportedly been told to cancel their existing reservations and make walk-in purchases from available stock, while others are simply being told to wait things out while staff members discuss how to handle the situation.
We'll update this post if we hear more about the situation, but if you have an upcoming pickup window, you might want to be prepared for some delays.
Update
: Apple's systems appear to be coming back online and reservation pickups are now being processed. There is, however, still a backlog of customers to work through.
Apple today began shipping the
iPhone XS
, iPhone XS Max, and
Apple Watch
Series 4 out to customers today, and customers have been eagerly awaiting their shipments today to get their hands on Apple's newest devices.
We picked up one of the new wrist-worn devices to see the design changes for ourselves and to provide a glimpse at the new device to
MacRumors
readers who are either awaiting their orders or who are still on the fence about making a purchase.
Subscribe to the MacRumors YouTube channel for more videos.
Apple Watch Series 4 has a little bit bigger footprint but is slightly thinner than Apple Watch Series 3, and the larger display (35% larger on the 40mm watch and 32% larger on the 44mm watch) is the first thing you'll notice about the updated models.
Yes, the Apple Watch no longer comes in 38 and 42mm sizes - it's 40 and 44mm now. In the video, the watch we're demonstrating is the larger 44mm model, but for those of you getting a 40mm model, it's worth noting that the 40mm screen is bigger than the screen of the original 42mm Apple Watch.
The new display of the Apple Watch Series 4 is a hugely welcome change because it offers up much more area for apps and complications on watch faces. Series 4 comes with a unique Infograph watch face and the new Vapor, Fire/Water, and Liquid Metal watch faces were built for the device and fill up the entire screen.
Inside, the Apple Watch Series 4 has a new S4 chip that's twice as fast as the S3 chip in the Series 3, and the back of the device has been improved with a black ceramic and sapphire crystal backing. All Apple Watches now have this feature, which improves cellular connectivity by allowing radio waves to penetrate the front and back.
Stainless steel Series 4 models are using sapphire glass, which is resistant to scratching from everyday wear, while all aluminum models continue to offer Ion-X glass, which isn't quite as scratch resistant.
New this year is a gold shade, which matches well with the new gold color available for the iPhone XS and the iPhone XS Max. Apple has also introduced an ECG feature, but it can't be tested because it's not rolling out until later this year.
Apple Watch Series 4 models sold out quickly after pre-orders began on September 14, and orders placed today
won't ship out until October
.
Did you get a new Apple Watch Series 4? Let us know what you think in the comments.
As it did
for the iPhone X last year
, Apple today shared a
Guided Tour of the iPhone XS,
iPhone XS
Max, and iPhone XR on its YouTube channel, walking through some of the biggest features on the trio of devices.
The five-minute video provides an overview of various swiping gestures for navigating
iOS 12
, Face ID authentication, Portrait Mode with Depth Control, Dual SIM functionality, Memoji, group FaceTime, and more. As always, the Guided Tour is primarily targeted towards new users, but it has helpful tips for all.
The video is especially useful for those who have not used an iPhone X, and are upgrading directly to the iPhone XS, iPhone XS Max, or
iPhone XR
, as the lack of a home button can take a bit of getting used to.
Apple has used Guided Tours to help users adjust to new devices for years, including the original iPhone in 2007, the original
iPad
in 2010, and the original
Apple Watch
in 2015. Apple also has and will be uploading how-to videos about the iPhone XS, iPhone XS Max, and iPhone XR to its
Apple Support channel
on YouTube.
Apple has shared a new
Apple Watch
Series 4 ad on its YouTube channel, promoting its fitness-related features.
The 30-second video, titled "Better You," shows a person and several of his doppelgängers running and swimming with the Apple Watch Series 4. The ad ends with the tagline "there's a better you in you."
"Introducing Apple Watch Series 4," the video description says. "Fundamentally redesigned and re-engineered to help you stay even more active, healthy and connected. It's all new. For a better you."
The ad has also been added to the
Apple Watch — Films and Ads page
on Apple.com.
Update:
Apple has also shared
How to Measure Your Heart Rate
,
How to Start an Activity Competition
, and
How to Make a Call
on Apple Watch Series 4.
More ads and how-tos are likely to follow.
Apple has emailed some customers who had an
iPhone XS
or iPhone XS Max scheduled for in-store pickup at an Apple Store today. The email says their orders "will not be ready for pickup" during their specified check-in time due to "last minute logistical issues," according to several MacRumors readers.

As a fluid situation, it's unclear how many customers are affected, how long orders may be delayed, or what the logistical issues are. We reached out to Apple for clarification, but didn't receive any new information to share.
It's certainly possible Apple may have enough in-store stock remaining later in the day to fulfill some or all of the delayed pickup orders.
@MacRumors 8am Pickup delayed. 😭 Why @Apple ? pic.twitter.com/EB82B1QsXA

— Mateo Lanz (@matgod) September 21, 2018
There is some evidence to support last-minute logistical issues. Yesterday, some customers saw their order status
updated to "Shipment to Hold"
on Apple.com, while UPS indicated that some orders originally scheduled for Friday, September 21 delivery would be
postponed until Monday, September 24
.
For the most part, however, it seems iPhone deliveries are on schedule. MacRumors was informed that "Shipment to Hold" statuses were erroneous, while many UPS order delivery estimates have returned to Friday, September 21.
Still, it's possible that some percentage of iPhone XS and iPhone XS Max shipments from China have not arrived to
Apple Stores
in time for today's launch, but our guess is as good as anyone's at this point. Apple apologizes in its email and says it is "working quickly to resolve the issue."
Apple says it will alert customers via email as soon as their orders are ready for pickup:
Important update to your Apple pickup order

Thank you for your recent order with the Apple Store. We know you're excited to pick up your new product.

Unfortunately, due to some last minute logistical issues, your order will not be ready for pickup during your check-in time.

As soon as your order is ready for pickup, we'll let you know via email.

We apologize for the delay in getting your new product into your hands. We're working quickly to resolve the issue.

Apple
Apple Stores and authorized resellers may still have the iPhone XS, iPhone XS Max, and
Apple Watch
Series 4 available to purchase in limited quantities for walk-in customers today, as an alternative solution. Online pre-orders can be returned to any Apple Store within 14 days of delivery.
As customers around the world begin getting their hands on the brand new
iPhone XS
, XS Max, and
Apple Watch
Series 4, Apple and CEO
Tim Cook
today shared images from the September 21 launch.
Cook started the morning by tweeting four images of customers in Apple's retail stores interacting with the Apple Watch Series 4 and iPhone XS, saying that he's thrilled for users to finally be able to try out the devices on their own.

Thrilled to get these new Apple products into the hands (and onto the wrists) of so many customers around the world. Can't wait to hear what you think! pic.twitter.com/GHpaDFgqeO

— Tim Cook (@tim_cook) September 21, 2018
Apple Stores
globally open at 8:00 a.m. local time to allow customers to pick up their reserved devices and make walk-in purchases, and Apple posted pictures of customers at Apple Stores in Singapore, Japan, and Sydney.

Apple Orchard Road, Singapore
The images shared by Apple depict a
line of hundreds of people
waiting outside Apple Orchard Road in Singapore, and a few show customers inside once the store opened, with their new iPhone XS and Apple Watch Series 4 devices in hand.

Apple Orchard Road, Singapore
Apple Kyoto in Japan was busy as well, with many customers seen trying on the Apple Watch Series 4 in numerous styles.

Apple Kyoto, Japan
In Sydney, Australia, Apple shared a glimpse into the pre-launch preparations performed by employees in the store ahead of customers' arrival.

Apple Sydney
As usual,
customers in New Zealand and Australia
were the first to receive their iPhone XS, XS Max, and Apple Watch pre-orders due to the time zone differences. As the day moves on, United States users waiting outside Apple Stores will be able to begin purchasing the new devices at 8:00 a.m. local time, and deliveries will occur throughout the day.
The repair experts at iFixit have shared
teardowns of the iPhone XS and
iPhone XS
Max, providing a look inside the latest models.

iPhone XS on left and iPhone XS Max on right via iFixit
While the iPhone XS and iPhone XS Max have improved IP68-rated water resistance, iFixit says it could not find any obvious evidence of increased waterproofing, with the SIM tray gasket and other seals looking more or less the same. Dutch repair website FixjeiPhone had found the iPhone XS was
a bit harder to open
.
After removing the displays, iFixit uncovered a few differences with the iPhone XS Max compared to the iPhone XS, including a resized Taptic Engine and an extended logic board, with one of the display connectors moved to the bottom. It appears the iPhone XS Max also has a slightly louder earpiece for phone calls.
The teardown corroborates that the iPhone XS has a new single-cell L-shaped battery, while the iPhone XS Max battery remains two cells. As uncovered in
Chinese regulatory filings
, the iPhone XS and iPhone XS Max have battery capacities of 2,658 mAh at 3.81V and 3,174 mAh at 3.80V respectively.

iPhone XS Max on left and iPhone XS on right via iFixit
Since the L-shaped batteries have six sides, rather than four like a rectangle, iFixit says Apple has "notched" the internal corners of the batteries in the iPhone XS to prevent undue stress from thermal expansion.
"This dramatic shift opens up a lot of design possibilities, but the large notch is responsible for the decrease in capacity relative to the X," its teardown email says. "Only time will tell how this new cell performs with age."
Moving on to the logic board, there is a new Apple-branded power management chip in the iPhone XS Max. Reports had suggested Apple would
start using its own power management chip
in at least a portion of its 2018 iPhones, as it gradually
reduces its dependance on Dialog Semiconductor
.

Apple-designed power management chip labeled in green via iFixit
The teardown does not indicate whether the gigabit-class LTE modems in the latest iPhones are supplied by Intel and/or Qualcomm.
iFixit confirms the wide-angle sensor size has been increased by 32 percent in the iPhone XS and iPhone XS Max. Pixel size has also been bumped, providing better low-light performance and contributing to the new "Smart HDR" feature.
iFixit gives the iPhone XS and iPhone XS Max an overall repairability score of 6/10, with 10 being a perfect score. The repair experts say display and battery repairs remain a priority in the iPhone's design, but the all-glass design means the entire chassis must be replaced if the back glass cracks.
Update:
A previous version of this article said both the iPhone XS and iPhone XS Max have "notched" battery designs, but iFixit says this is only true for the iPhone XS. The article has been corrected.
With
Apple Watch
Series 4 models wending their way to Apple customers in the United States and many other countries today, some people have already picked up their orders and are sharing their first impressions of the new smartwatch online.
Apple Watch Series 4 owners on Reddit and the MacRumors forums appear to be particularly impressed by the larger screen and redesigned chassis.

Image by Reddit user KaiiXiang
Reddit user
bluebear74
said that "coming from a S0 to S4 is amazing," and expressed surprise at the amount of information the bigger screen is able to display: "There's so many complications I don't know what to do with them all!"
Having previously used a Series 1 model, Reddit user
KaiiXiang
in Singapore said they were "really blown away" by the new watch's screen and responsiveness, although they noted that
Siri
"still sucks" since it's "either slow or fails to pick up what I say most of the time."

Image by MacRumors forum member implacablewombat
MacRumors forum member
Jasonstevens
said his new Series 4 "looks/feels amazing," although he found the haptic feedback on the Digital Crown less impressive: "It feels like it's just tapping my wrist not my finger."
Reddit user
DisHowWeDo
, who has small wrists (170mm) and had never owned an Apple Watch before, said they were "REALLY worried the 44mm would look huge on me," but ultimately found it to be "flipping perfect" and "definitely the right size."

Hermès Series 4 image by MacRumors forum member boardiesboi
Likewise, MacRumors forum member
Suxamethonium
was a little worried about the 44mm size when looking at it in the Apple Store app, but he now felt it was "pretty much perfect" for an average man's wrist. He also commented that the new watch faces "make much better use of all that real estate."
Perhaps surprisingly, several customers appear to have been caught off guard by the color of the Gold stainless steel Series 4 model, with one Reddit user calling it "quite pink... Like a rose gold." Another said they expected it to be a lot more gold and felt a bit disappointed, although they were "sticking with it," while MacRumors forum member
defn
felt the color "goes surprisingly well with a lot of watch bands."

Image by MacRumors forum member defn
Have you just become a new Apple Watch Series 4 owner? Feel free to share your first impressions and your photos in the comments below. We'll be sharing a hands-on video later today, so stay tuned to MacRumors.com.
We've seen dozens of
iPhone XS
and XS Max reviews from media sites that Apple invited to test the new smartphones ahead of their release, but now that the new iPhones have officially launched in the United States and other countries around the world, iPhone XS and XS Max first impressions from regular Apple customers are now available.
New iPhone XS and XS Max users on reddit, Twitter, and the
MacRumors
forums have been sharing their opinions on the two new devices, and for those awaiting their own new iPhone or considering a purchase, the impressions from average consumers provide interesting insight.
MacRumors
reader
shooter03
said that the larger display of the iPhone XS Max is "amazing" and exactly what he's after. "I'm like WOW!!" he wrote.

Image via shooter03
I had the 7+ then the X and I really missed the + size so that's why I went for the Xs+. Screen size is pretty mind blowing. As for hand size it fits me nicely ( I have sorta big hands ) feels a little lighter than the X which is weird. But all in all it's so nice.
shooter03 shared some iPhone XS Max photos he took of his dogs using Portrait Mode and the new Depth Control feature that lets you adjust the depth of field after taking a photo, which came out great.

Image via shooter03
Reddit user
jtx660
who upgraded from an
iPhone 7
said the display of the new iPhone is incomparable to the display of the iPhone 7, with vibrant, bright colors.

Image via reddit user jtx660
jtx660 also put together a video of his iPhone and
shared a photo gallery
to show it off.
First thing I noticed was definitely that huge OLED 6.5" panel. Its vibrant, extremely bright and immerse a f. After using it for 2 hours and switching back to the 7 Plus, the 7 Plus's 16:9 rectangle display felt slightly dated. The OLED panel is what really stood out the most.

Ok the camera. Holy crap, the auto focus is ridiculously quick. Putting my hand in front of the camera and taking it away, it focuses INSTANTLY (nearly). I'm amazed at how they were able to make it faster than the already fast 7 Plus' camera. I am yet to test the video 4K at 60fps and all those other features.
MacRumors reader sjperformance said he didn't notice a huge weight difference between the iPhone X and the iPhone XS Max, and that it didn't seem much bigger either. He also shared a photo of the iPhone XS Max next to the iPhone X.



Image via MacRumors reader sjperformance
I believe I'll be keeping the Max. Never liked how big the plus felt. Especially with those bezels and what not. To me X was perfect but after awhile I desired a bigger screen. With Max the weight difference doesn't bother me because X is heavy too.

The Max fits perfect inside my pockets. Didn't really feel a difference inside slim jeans I was wearing today. It does seem more faster smoother over my X running iOS12. I already use my X with 2 hands to text, emails, forums, etc. One handed only when viewing social media, reading something, an email. Barely use my X one handed. I'm used to 2 hands on my X therefore the Max feels normal to me. Having a huge screen with no bezels. No home button truly makes an immense difference. Y'all will enjoy it.
Have an iPhone XS or iPhone XS Max? Feel free to share your first impressions and your photos in the comments below. We'll be sharing a hands-on video later today when the iPhone XS and iPhone XS Max launch in the United States, so stay tuned to MacRumors.com.
A user guide included with the
iPhone XS
and iPhone XS Max references the AirPower, suggesting that Apple has not yet shelved the much-anticipated charging mat.
Developer Gavin Stevens
shared an image
of the guide this afternoon, which clearly has a passage mentioning the AirPower.

"Place iPhone with screen facing up on AirPower or a Qi-certified wireless charger. You can also use the Lightning connector to charge iPhone and connect accessories."
It's not clear why Apple left the reference to the AirPower in the iPhone XS and XS Max manuals, but it perhaps suggests that the company planned to ship the charging accessory alongside the new iPhones.
AirPower was not mentioned at the September iPhone event, despite expectations that it would be, and it's been more than a year since the device was first announced.
AirPower is meant to charge the iPhone,
Apple Watch
, and
AirPods
all at the same time. A
recent report
suggested Apple has run into a number of issues that need to be solved before the AirPower can be offered for sale, including heat management, inter-device communication, and mechanical and interference problems.
The AirPower reportedly produces too much heat at the current time, causing performance setbacks and charging issues. There are also communication issues between AirPower and devices placed on the mat, and the multi-device charging mechanism has resulted in interference that reduces efficiency.
It's not clear how or when Apple will solve these problems, and almost all mentions of the AirPower have been
scrubbed from the company's website
. That the AirPower is mentioned in the packaging materials for the 2018 iPhones suggests Apple is still attempting to solve these issues, so we could see an AirPower launch at some point in the future.
When the AirPower was announced, Apple said it would launch in 2018, but the company has not provided a more specific shipping date and it's not clear if the 2018 shipping goal is still realistic.
It appears UPS may be having
iPhone XS
and XS Max shipping issues in the United States as
several MacRumors readers
are reporting that their UPS tracking information was recently updated with a Monday delivery date instead of a Friday delivery date.
Affected customers seem to have tracking information that indicates their iPhone orders are located in or have just departed Anchorage, Alaska. Those who have had their shipping dates change seem to have ordered 256GB and 512GB iPhone XS or iPhone XS Max models.

These customers were expecting to get their iPhone deliveries on Friday, September 21, aka launch day before receiving the updated September 24 delivery date from UPS.
It's possible that the delay listed on the UPS tracking site is in error and that the iPhones will still be delivered on Friday, but some customers may be waiting until Monday to receive their new devices. One Twitter user told us that he spoke to a UPS representative who said that it's a computer error and the iPhones are still on track for Friday delivery.
I'm so over it Apple needs to completely drop @UPSHelp pic.twitter.com/qRdwGDW4sc

— tyler (@fleetjuice) September 21, 2018
The first customers in Australia, New Zealand, and across Asia who ordered one of the new devices have already started receiving shipments. Deliveries are set to start in a few hours in Europe before expanding to the United States.
Update:
Many customers have now been told by UPS that the 9/24 delivery date listed is in error and that iPhones are still on track to be delivered by 9/21, so there is a chance that delayed iPhones will indeed be delivered to customers on launch day.
Update 2:
Some users who saw their iPhone delivery dates change to 9/24 have had the dates re-updated to 9/21 once again.