Apple today began sending out notifications to customers letting them know that support for Back to My Mac is ending in macOS Mojave.
Back to My Mac was not present in the first developer beta of macOS Mojave and it has not been available in any subsequent beta, but many customers may have missed the news of its imminent sunsetting, which has now been confirmed by Apple.

Back to My Mac
is a feature that is designed to allow Mac owners to connect to one Mac from another Mac for file transfers and screen sharing purposes. It lets users set up a network of Mac computers with two or more Macs, but it can be complicated to set up and use, which may be why Apple has decided to discontinue it in favor of simpler measures.
Apple is directing customers
to a support document
that outlines the changes coming to Back to My Mac, instructing them on how to transition to iCloud Drive, screen sharing, and Apple Remote Desktop.
Back to My Mac will not be available on macOS Mojave. You can get ready now by learning about alternatives for file access, screen sharing, and remote desktop access.
Apple's support document suggests customers can access all of their files across devices with iCloud Drive, operate other Macs with screen sharing, and manage Macs remotely with Apple Remote Desktop, software available from the Mac App Store for $80.
Many Back to My Mac users are likely to be unhappy with Apple's suggestion to transition to Apple Remote Desktop for remote management given its high price and the fact that it sees few updates, but there are other options like TeamViewer and LogMeIn.
Apple has purchased the rights to develop a project based on popular
New York Times Magazine
story
"Losing Earth: The Decade We Almost Stopped Climate Change," reports
The New York Times
.
"Losing Earth," written by Nathaniel Rich, is also set to be the subject of an upcoming book. The magazine article covers the 10-year period from 1979 to 1989, a decade when "humanity settled the science of climate change and came surprisingly close to finding a solution" but ultimately failed to act due to various political forces.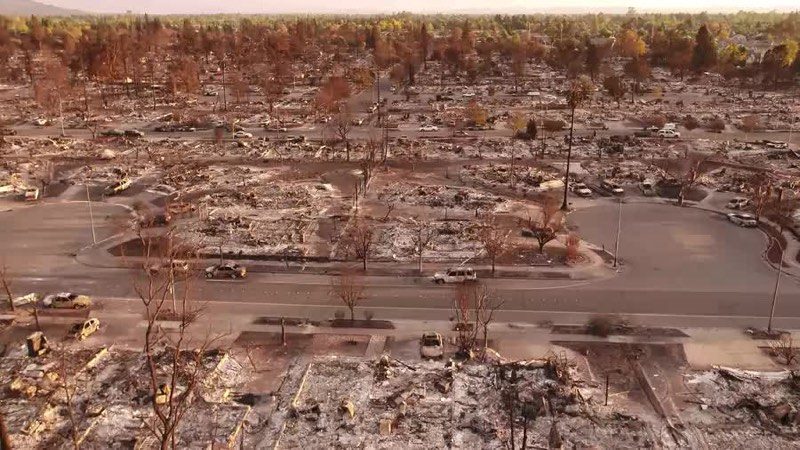 An image in "Losing Earth" taken after California wildfires last year
The "Losing Earth" article recounted how, from 1979 to 1989, a small group of American scientists, activists and politicians tried to save the world from the ravages of climate change before it was too late. The article was produced with the support of the Pulitzer Center and was based on more than 18 months of reporting and over 100 interviews.

"'Losing Earth' is an extremely important piece of journalism and we are thrilled it will get a wider audience," Jordan Cohen, a spokesman for The Times, said.
The New York Times
said that at least a half-dozen bidders were aiming to acquire rights to the nonfiction project, which Apple plans to turn into a TV show.
The TV show will be produced by Anonymous Content, a company known for films that include "Spotlight," "The Revenant," "Collateral Beauty," and TV shows like "True Detective," "Mr. Robot," and "13 Reasons Why."
Rich will serve as an executive producer on the series alongside Steve Golin, founder of Anonymous Content.
"Losing Earth" is one of
more than a dozen television shows
Apple is working on, most of which are fiction-based. Apple plans to introduce the first of its television shows next year, perhaps
as early as March
, and several of them are in the casting stages. From
The New York Times
:
Apple has said it will start streaming its television offerings next year, when it will begin competing against Netflix, Amazon and Hulu in earnest.
The 30,000 word "Losing Earth" article
can be read online
on
The New York Times
website.
Note: Due to the political nature of the discussion regarding this topic, the discussion thread is located in our
Politics, Religion, Social Issues
forum. All forum members and site visitors are welcome to read and follow the thread, but posting is limited to forum members with at least 100 posts.
We're
just under one month
from Apple's annual September iPhone event, which should also see the debut of the Apple Watch Series 4. Alongside each new edition of the Apple Watch, Apple typically updates its array of band accessories with new colors and styles. Echoing shortages from previous years, it appears that numerous Apple Watch bands have either been removed or are currently unavailable to purchase on
Apple.com
ahead of next month's event, as spotted by
Reddit user ScaniaCB80
.
Apple has long been upfront about its plan to offer seasonal availability of many new Apple Watch bands, with various styles and colors available only for a few weeks before disappearing from its official website. Still, massive removals and shortages like this week's have been a consistent indicator for new band refreshes, as the same events in
June 2016
,
February 2017
, and
May 2018
have preceded fresh band colors and styles in
September 2016
,
March 2017
, and
June 2018
, respectively.

As of this morning, 14 bands across the Sport Loop and Sport Band families have been removed from Apple.com in the United States:
Sport Loop
- Marine Green
- Hot Pink
- Flashlight
- Tahoe Blue
- Midnight Fog (Nike)
- Cargo Khaki (Nike)

Sport Band
- Marine Green
- Sky Blue
- Denim Blue
- Red Raspberry
- Lemonade
- Cargo Khaki/Black (Nike)
- Barely Rose/Pearl Pink (Nike)
- Black/White (Nike)
It appears that no other band types have seen removals, but many are sold out:
Sport Loop
- Dark Olive
- Spicy Orange
- Pearl Pink (Nike)
- Bright Crimson/Black (Nike, 38mm)

Sport Band
- Peach
- Dark Teal
- Spicy Orange
- Pure Platinum/White (Nike)

Classic Buckle
- Spring Yellow (42mm)
- Electric Blue
- Soft Pink (42mm)


Woven Nylon
- Pride (42mm)
- Pink Stripe
- Blue Stripe (38mm)
- Gray Stripe (42mm)
- Black Stripe (38mm)
- Spicy Orange Check
- Berry Check (38mm)
- Dark Olive Check
- Midnight Blue Check
A large portion of the sold-separately Hermès bands are also unavailable to purchase at this time. As in previous years, the wording for each unavailable model isn't Apple's usual "Currently Unavailable" that typically appears when an item is temporarily out of stock for an undetermined period of time, but a more definitive "Sold Out."
The Sport Loop now has one of the lowest available stock on Apple.com, with just four colors up for purchase in both 38mm and 42mm sizes. There are still eight colors of the Sport Band available to buy with the usual 2-day shipping estimate, although the Midnight Blue 38mm model is currently seeing a delivery estimate as far back as September 14 - 21 for free shipping.
In contrast, it appears that all of the Apple Watch Series 3 collections are still available to purchase on Apple.com in the U.S., in both GPS or GPS + Cellular, with the exception of many Hermès collections. This is a bit less common, as the collections (which bundle an Apple Watch case with a pre-determined band) have routinely seen shortages alongside the individual band shortages over the past few years.
Bands still available to purchase include every version of the Milanese Loop and Link Bracelets, which now date back to the launch of the original Apple Watch in 2015. Apple's more recent band refreshes have shied away from the expensive fashion side of the Apple Watch (which was a selling point of the original), now focusing on fitness and low-cost bands that can survive workouts and other external conditions.
As usual, stock shortages on Apple.com are far from a definitive confirmation of incoming hardware, but the timing does line up if Apple refreshes the bands next month alongside the Apple Watch Series 4. The new Apple Watch is expected to have a slightly new design with a 15 percent larger display, likely due to minimized bezels.
Just yesterday, six new Apple Watch model numbers were
filed with the Eurasian Economic Commission
, further confirming an incoming launch of the Apple Watch Series 4. Although specific hardware details will have to wait for Apple's keynote, as of now it's expected for Apple to continue supporting legacy Apple Watch bands on the Apple Watch Series 4.
Netflix is already one of the highest grossing apps on the App Store, as many iPhone and iPad users pay for their subscriptions via iTunes/Apple ID billing, but the streaming video platform wants an even bigger piece of the pie.

TechCrunch
today reported that, until September 30, new or lapsed subscribers in some 33 countries will be unable to pay using iTunes.
The countries: Argentina, Australia, Austria, Belgium, Brazil, Canada, Colombia, Croatia, Czech Republic, Denmark, Ecuador, Finland, France, Germany, Hungary, India, Italy, Indonesia, Japan, Korea, Malaysia, Mexico, Norway, Peru, Philippines, Poland, Slovakia, South Africa, Spain, Sweden, Taiwan, Thailand, and the UK.
A customer service representative for Netflix confirmed the test with
TechCrunch
:
During this time, customers in these countries may experience any of the following when launching the Netflix app on an iOS (mobile or tablet) device:

1. Ability to sign up in app with only iTunes Mode Of Payment.
2. Ability to log into Netflix but not sign up (sign up only via mobile browser).

We are constantly innovating and testing new signup approaches on different platforms to better understand what our members like. Based on what we learn, we work to improve the Netflix experience for members everywhere.
This means that some iPhone and iPad users who open the Netflix app will only be able to sign into an existing, active account, with no option to create a new account. By the sound of it, Netflix is hoping that these users will close the app, and sign up through its mobile website or elsewhere with a credit card.
Apple collects a 30 percent commission—15 percent after the first year—from users who subscribe via its in-app purchase mechanism, so it's pretty clear that Netflix is trying to avoid padding the pockets of one of its biggest competitors, which just so happens to be
working on a Netflix-like service itself
.
Of note, Apple's
App Store Review Guidelines
state that developers are not permitted to "directly or indirectly target iOS users to use a purchasing method other than in-app purchase," but it appears that Netflix has worked around this rule by simply not offering new users the option to sign up in-app whatsoever.
We've reached out to Apple for comment.
Parallels today announced
version 14
of its desktop virtualization software for Mac, offering macOS Mojave support out of the box and significantly improved application launch speeds over the previous version.
This update puts a heavy focus on enhanced storage optimization, with Parallels Desktop being around 20-30 percent smaller than earlier releases. The company says virtual machines can also save as much as 20GB of additional disk space depending on how they're configured.

Elsewhere, the developers have optimized the compression of memory states saved with the Snapshots tool, which takes on average 15 percent less storage space, while a new disk space wizard provides users with suggestions on how to economize storage, with advice on managing multiple virtual machines and VM snapshots.
In addition, Parallels 14 introduces several Windows features for use in macOS. For example, Microsoft Ink is now available for editing Office documents, and stylus support has been added to CorelDRAW, Fresh Paint, PowerPoint, Adobe Illustrator and Photoshop.
Parallels Desktop also now includes Touch Bar features on compatible MacBook Pros for OneNote, AutoCAD, SketchUp, Microsoft Visio, and other apps, while a Touch Bar wizard offers users the ability to customize Windows app shortcuts from Apple's OLED function strip.
Lastly, Parallels Toolbox has received some additional Mac features including new options to screenshot entire web pages, resize images and perform memory consolidation functions.
Parallels Desktop 14 for Mac is available from August 23. Existing Parallels 12 and 13 users can upgrade to the new version for $50. New users can sign up for an $80 a year subscription or make a one-time purchase of Parallels 14 for $100. Parallels Desktop 14 Pro Edition and Business Edition both cost $100 per year. Note that a Windows license is not included in the software and must be bought separately.
Apple is working on several new products for its Mac lineup, including a new low-cost MacBook Air and a Pro-focused Mac mini, reports
Bloomberg
's Mark Gurman.
The upcoming low-cost MacBook Air will be similar in design to the current MacBook Air, but with slimmer bezels around the display. It will continue to be sized around 13 inches, and it will feature a Retina display.

We've heard multiple rumors about the upcoming low-cost notebook, but it has been unclear whether it is part of the MacBook family or if it will be branded as a MacBook Air. Today's report makes it clear that the new machine is going to be positioned as a MacBook Air upgrade, aimed at students and schools with a lower price tag than MacBooks in the MacBook family.
Apple is continuing to make new MacBook models as well, and it's not yet clear how the company will differentiate the new MacBook Air from the MacBook. Right now, the MacBook's higher price tag, slimmer body, and Retina display set it apart from the MacBook Air.
Apple is also said to be working on an upgrade to the Mac mini, which has not seen an update since October 2014. Little detail is available about the upcoming machine, but it is said to be focused on pro users with new storage and processor options that are likely to make it more expensive than previous Mac mini products.

2017 rumors suggested Apple was working on
a Mac mini
that "won't be so mini anymore," which would be in line with a machine that has more powerful, less compact components.
Bloomberg
suggests Apple could potentially be planning to introduce the new Macs in October, following a September event that will see the launch of new iPhones and new Apple Watch models.
New iPad Pro models with Face ID are also in the works, but it is not clear if these will debut in September or October.
Apple Pay is now accepted at all Costco warehouses in the United States, at in-store checkouts, according to the wholesale retailer.

Costco has been equipping its warehouses with contactless payment terminals over the past several months, and as of this week, it has activated contactless payments at all of its 750 locations across the country. Costco is also outfitting its gas stations with contactless readers, but only a few have gone live.
Costco had previously been trialing Apple Pay at a warehouse in Issaquah, Washington, near its corporate headquarters, and a handful of other locations, but only now has acceptance rolled out to all of its stores.
The tap-to-pay functionality of
Costco Anywhere credit cards
is also working now. Costco launched this Visa-branded card a few years ago, in partnership with Citi, enabling Costco members to earn 2% cash back on purchases from Costco and Costco.com. It also doubles as a Costco membership card for entry.
As one of the biggest retailers in the United States, Apple Pay acceptance at Costco was long awaited. Apple Pay will also be launching at
pharmacy chain CVS and convenience store chain 7-Eleven
in the U.S. later this year.
Update:
Costco says it completed its contactless payments rollout in the United States on August 10, excluding its gas stations.
"We've added additional mobile payment options to make your next visit more convenient," said Costco, in a statement issued to MacRumors. "Costco members can now use Apple Pay, Google Wallet and Samsung Pay at U.S. Costco locations."
Apple today seeded the ninth beta of an upcoming iOS 12 update to developers for testing purposes, five days after
seeding the eighth beta
and more than two months after introducing the new software at the Worldwide Developers Conference.
Registered developers can download the new iOS 12 beta from Apple's Developer Center or over-the-air after installing the proper certificate.
Subscribe to the MacRumors YouTube channel for more videos.
iOS 12 introduces several major new features, with Apple revamping the operating system from top to bottom to make iPhones and iPads, especially the older models, faster and more responsive.
On the iPhone X, there are new Animoji characters along with "Memoji," which are
customizable, personalized, humanoid Animoji
that can be used both in Messages and in FaceTime, and there are new camera effects in both of those apps.
Apple originally planned to introduce
Group FaceTime support
in iOS 12, but the feature was removed in iOS 12 beta 7 and will not be reintroduced until later this fall in a future update to iOS 12.
Siri is smarter in iOS 12 with a new Shortcuts feature that lets you create multi-step customized automations using first and third-party apps that can be activated with Siri voice commands. Shortcuts can be created through the Shortcuts app,
available as a beta
from Apple's Developer Center.
Apple built comprehensive time management and monitoring tools into iOS 12
with Screen Time
, allowing you to keep track of how much time you're spending in apps on your iPhone and iPad.
App limits
can help you cut back on iOS device usage, and robust parental controls are included for families.

Updated Do Not Disturb options
make activating Do Not Disturb more intuitive and simple, and a new
Do Not Disturb at Bedtime feature
cuts down on nighttime distractions and sleep interruptions.

Grouped Notifications make incoming notifications
easier to view and manage
, while a new Instant Tuning feature lets you tweak your notification settings right on the Lock screen on a notification-by-notification basis.
Apple News has a new Browse feature, the Stocks app has been redesigned and brought to the iPad, iBooks has been overhauled with a new look and a new name -- Apple Books -- and Voice Memos has been revamped with iCloud support and an iPad app.
ARKit 2.0 introduces new capabilities like shared experiences that let two people see the same AR environment on separate devices, and persistence, which allows AR experiences to be saved across multiple sessions. There's also
a new Apple-built Measure app
for measuring objects using AR capabilities.
iOS 12 includes a revamped and rebuilt Maps app that uses a new Apple-designed Maps engine that will display foliage, pools, buildings, pedestrian pathways, and other map elements more accurately. The new Maps also includes significant improvements to traffic, real-time road conditions, construction, and more, plus it will enable Apple to push out changes and fixes more quickly.

The updated Maps app is available in the Northern California area during beta testing. After iOS 12 launches, Apple will continue rolling out the new maps to additional U.S. locations across late 2018 and 2019.
Tons of other small tweaks and features have been added to iOS 12, so make sure to
check out our dedicated roundup
for additional detail on what's new in iOS 12.
New betas of upcoming operating system updates always introduce tweaked features and new functionality, and we'll be outlining what's new in the seventh beta below. We also rounded up all of the changes that were introduced in the previous betas:
beta 2
and
beta 3
,
beta 4
,
beta 5
,
beta 6
, and
beta 7
.
We're on beta 9 rather than beta 8 because Apple last week was forced to
release an extra iOS beta
to address
issues in the seventh beta
that were causing
slow app launch times
.
iOS 12 is available for developers and public beta testers, with a public launch planned for September alongside new iPhones.
What's new in iOS 12 beta 9:
According to Apple's release notes, traffic data might not be displayed properly in iOS 12 beta 9. Apple suggests affected customers Tap the 'i' button to reveal Maps Settings and toggle the Traffic switch on.
Start and stop times for Downtime might unexpectedly change if they were configured prior to installing the ninth beta, so Downtime start and stop times will need to be reset after updating.
Update:
Apple has also made a new beta of iOS 12 available to its public beta testers.
Apple today seeded the eighth beta of an upcoming macOS Mojave update to developers for testing purposes, one week after
releasing the seventh beta
and more than two months after introducing the software at the Worldwide Developers Conference.
macOS Mojave introduces a new method of installing software updates, so after you've installed the initial beta using the appropriate profile from the Developer Center, additional betas can be downloaded through opening up System Preferences and choosing the "Software Update" icon.
Subscribe to the MacRumors YouTube channel for more videos.
Apple's macOS Mojave update introduces a systemwide Dark Mode, with Mojave users able to choose between a light theme or the new dark theme, which changes the color of the dock, menu bar, apps, and other elements. Dark Mode is accompanied by Dynamic Desktops, aka wallpapers that subtly change throughout the day. Additional wallpapers were introduced in the fourth and fifth betas.
Stacks, a new desktop organization system, keeps all of your desktop files neat and organized, while Finder has been enhanced with a Gallery View, a Sidebar, a revamped Quick Look option and Quick Actions, so you can do more in the Finder window than ever before.
Screenshots can now be edited using Markup tools and a new management options that also allow for easy screen recording, while Continuity camera, a new feature, allows you to import photos and document scans directly from an iPhone or iPad to the Mac.

The Apple News, Stocks, Home, and Voice Memos apps have been ported from iOS to macOS as part of a multiyear project Apple is working on to make it easier to bring iOS apps to Macs, and Apple has introduced several new privacy protections to keep your data safer than ever.
Apple is also making it harder for websites to track you with a range of new Safari tools, and it's also easier to make and store secure, hard-to-guess passwords for each and every website.
Apple has added an entirely revamped Mac App Store to macOS Mojave that makes it easier to discover apps with a featured section and specific categories for games, creative apps, productivity apps, apps for developers, and more.

macOS Mojave was initially supposed to include a Group FaceTime feature that includes support for chatting with up to 32 people at one time, but it was removed in macOS Mojave beta 7 and the feature won't be available until later in the year.
macOS Mojave is available to developers and public beta testers to work out bugs and other issues ahead of an upcoming fall public release.
Update:
Apple has also made a new beta of macOS Mojave available to its public beta testers.
Yesterday afternoon, first responders were called to an
Apple Store in Amsterdam
, reportedly due to a
leaking iPad battery on the premise
. Apple has since confirmed that it is investigating the incident, but ensures that the store has been declared safe, and that there were no injuries of any kind reported.

Image Credit: AS Media
MacRumors received the following statement from an Apple spokesperson:
We're currently investigating the incident that took place at Apple Amsterdam on Sunday. Our staff were able to evacuate customers quickly and safely and the store re-opened shortly afterwards.
Apple says no customers were impacted, nor did any employees end up requiring any medical attention. The local fire department and medical professionals were alerted as a precautionary measure only. Apple says the fire department declared the store and damaged device, safe, shortly afterwards.
At 2:20 p.m. local time on Sunday, the Amsterdam fire department had tweeted that crews were on the scene. The tweet confirmed there was "no smoke" at the store, but three people with possible respiratory issues.
A spokesperson for the fire department cited a "leaking battery pack" as the probable cause of the incident, which reportedly caused panic among customers more than anything. It was an unfortunate situation, for sure, but headlines claiming an iPad battery exploded or burst into smoke and flames are inaccurate.
Our understanding, based on an anonymous but corroborated tip, is that a damaged iPad was sitting on a shelf in a back room, in a queue of devices to be repaired by Genius Bar technicians. At some point, employees noticed that the iPad's battery was leaking, and took the same precautionary measures as any thermal event.
The fire department reportedly aired out the store by around 3:00 p.m. local time, after which time it re-opened for business as usual.
Pre-orders for Apple's 2018 iPhone lineup will take place on Friday, September 14, according to information
Macerkopf
sourced from German carriers.
German mobile service providers are said to be planning for pre-orders that will take place on September 14, which would suggest an announcement earlier in the week, perhaps on September 11 or 12.

Apple often announces new iPhones during the second week of September, so we have been counting on an event right around September 12. A September 14 pre-order date is in line with past pre-order and event dates, which are listed below:
2010 - Monday, June 7
2011 - Tuesday, October 4
2012 - Wednesday, September 12
2013 - Tuesday, September 10
2014 - Tuesday, September 9
2015 - Wednesday, September 9
2016 - Wednesday, September 7
2017 - Tuesday, September 12
Apple typically unveils new iPhones on Tuesdays rather than Wednesdays, but because Tuesday falls on September 11, there has been some speculation that Apple will avoid holding an event on that day.
Back in 2012, when September 11 also fell on a Tuesday, Apple opted to hold its event on Wednesday, September 12 instead, and it's believed Apple will do the same thing this year.
Following the September 14 pre-order date, iPhones will begin delivering to customers the following Friday, September 21, which will probably be the official launch date for the device.
Apple is expected to send out media invites for its event at the end of August, which is when the date will be confirmed. This year's event is likely to be held at the Steve Jobs Theater on the new Apple Park campus.
This year, Apple is rumored to be unveiling three new iPhones, all of which will sport edge-to-edge displays, no Home button, and support for Face ID. There will be a second-generation 5.8-inch OLED iPhone, a larger 6.5-inch OLED iPhone, and a more affordable 6.1-inch LCD iPhone.
A translated
China Times
report today claims that the wireless charging coil on at least one of Apple's widely rumored trio of 2018 iPhones will be made from copper wire instead of FPC, short for ferrite polymer composite, allowing for both faster and more efficient wireless charging from a technical standpoint.

iPhone X's wireless charging coil visible under X-ray via iFixit/Creative Electron
Essentially, the report claims that Apple will be switching from thinner FPC coils with higher resistance to thicker copper wire coils with lower resistance for the wireless charging receiver built into iPhones.
Since high power and high efficiency are the trend of wireless charging, it is expected that at least one of the three iPhones in 2018 will abandon the FPC to adopt a copper coil solution to achieve the above goal, and because the copper wire coil resistance is small. It can also offset the thermal effects generated by the increase in power.
The reduced resistance would allow Apple to increase the power threshold that iPhones can safely handle via wireless charging, without overheating, which could result in faster and more efficient charging via Qi-certified mats, although this would still depend on the wattage that a particular mat outputs.
For context, FPC is a mixture of iron, at least one other metal, and plastic, whereas copper is a more pure material. Both have electromagnetic induction properties, making them suitable for wireless charging coils.
The latest iPhones support wireless charging at up to 7.5W, which actually isn't much faster than wired charging with a 5W power adapter, due to the efficiency limitations of the FPC coil. The switch to copper would yield improvements, assuming that Apple found a way to fit the thicker coil in its next iPhones.
Apple is expected to unveil its 2018 iPhones at Steve Jobs Theater in September, but the company has yet to announce a date for the event.