In the United States and several other countries, the
iPhone XR
is no longer available for launch day delivery from Apple's online store.
All colors and capacities from all carriers are listing a delivery date of one to two weeks, with new orders made today set to arrive from November 5 to November 12.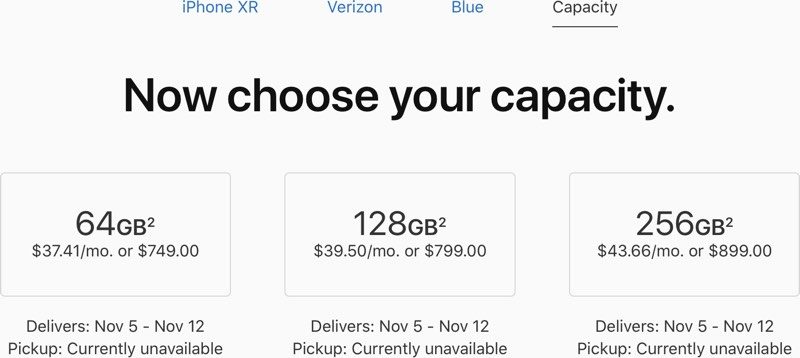 In store pickup for the iPhone XR is also no longer available for orders placed today via Apple's website or the Apple Store app, with Apple likely saving remaining supply for walk in purchases on launch day.
After pre-orders launched last Friday, the iPhone XR remained largely in stock in the United States, though some T-Mobile yellow iPhone XR options sold out.
There's no longer an option to order online for launch day delivery, but Apple should have plenty of supply for people who want to make a purchase after the iPhone XR launches on Friday, October 26.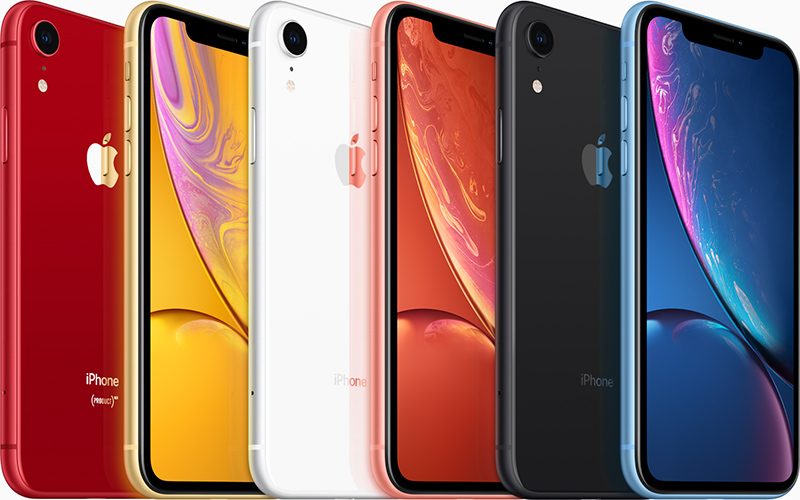 Apple's carrier partners and major retailers like Best Buy are also offering the iPhone XR and some still have stock available for launch day delivery for online orders.
Priced starting at $749, the iPhone XR is Apple's lowest-priced flagship iPhone. It features Face ID, an edge-to-edge LCD display, a single-lens camera, a glass body for wireless charging, and a super fast A12 Bionic processor.
Last week, Apple CEO
Tim Cook
called on Bloomberg to retract
a highly controversial story suggesting Chinese spies planted microchips in the Supermicro server motherboards used in Apple's data facilities, saying there was no truth to
Bloomberg
's claims.
Today, Supermicro Charles Liang joined Cook in calling for a retraction. In a statement shared by
CNBC
, Liang said that Supermicro has not found malicious hardware components in its products, nor has
Bloomberg
produced an affected Supermicro motherboard.
Bloomberg
, he says, should "act responsibly" and retract its "unsupported allegations."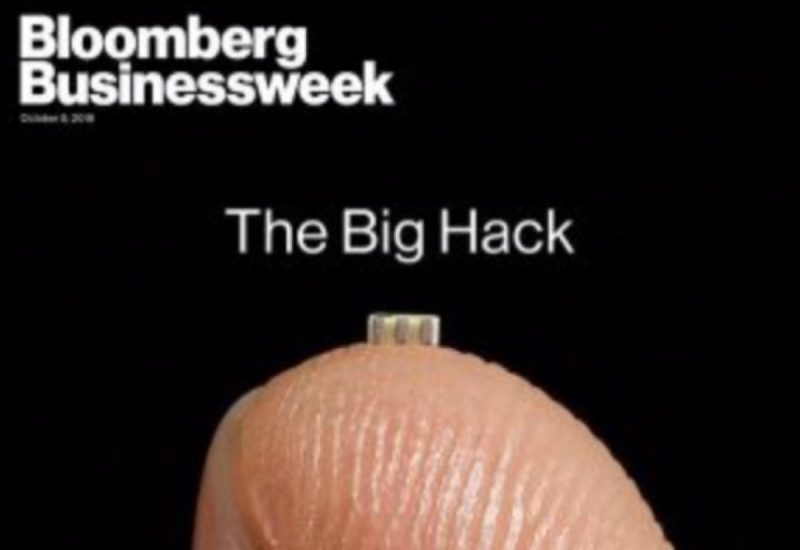 Liang's full statement:
Supermicro is committed to making world-class servers and storage products. Bloomberg's recent story has created unwarranted confusion and concern for our customers, and has caused our customers, and us, harm.

Bloomberg should act responsibly and retract its unsupported allegations that malicious hardware components were implanted on our motherboards during the manufacturing process.

The allegations imply there are a large number of affected motherboards. Bloomberg has not produced a single affected motherboard, we have seen no malicious hardware components in our products, no government agency has contacted us about malicious hardware components, and no customer has reported finding any malicious hardware components, either.
Supermicro, like Apple and other companies involved, has denied all of
Bloomberg
's claims since the story was first released. Supermicro previously said it was not aware of any investigation nor any companies that had found illicit hardware in their Supermicro products.
Amazon Web Services CEO Andy Jassy also spoke out against
Bloomberg
today, saying that the story is "wrong about Amazon, too." Like Cook, Jassy says
Bloomberg
at no point offered proof or listened to what Amazon had to say about the situation.
@tim_cook is right. Bloomberg story is wrong about Amazon, too. They offered no proof, story kept changing, and showed no interest in our answers unless we could validate their theories. Reporters got played or took liberties. Bloomberg should retract. https://t.co/RZzuUt9fBM

— Andy Jassy (@ajassy) October 22, 2018
Cook last week said that Apple "turned the company upside down" and dug "very deep" but could find absolutely no evidence that such an attack took place. "Each time we came back to the same conclusion: This did not happen," said Cook. "There's no truth to this."
Since
Bloomberg
released its report, Apple has refuted the site's claims in multiple clearly worded statements denying it happened.
Bloomberg
continues to stand by its original reporting, which, citing 17 sources, said Apple, Amazon, and other tech companies had purchased and installed Supermicro servers that had been tampered with by the Chinese government.
Along with Apple, Amazon, and Supermicro, multiple other sources have cast doubt on the information shared in
Bloomberg
's story. The UK's Cyber Security Agency, the Department of Homeland Security, former FBI general counsel James Baker, and NSA Senior Advisor Rob Joyce, for example, have all questioned the veracity of Bloomberg's claims and have denied knowledge of such an investigation.
Note: Due to the political nature of the discussion regarding this topic, the discussion thread is located in our
Politics, Religion, Social Issues
forum. All forum members and site visitors are welcome to read and follow the thread, but posting is limited to forum members with at least 100 posts.
The
Information Technology Industry Council
(ITI), a technology lobbying group that represents companies like Apple, Google, Microsoft, Amazon, and Facebook, and more, today
released a framework
for regulations to protect user privacy.
The ITI's guidelines [
PDF
] are designed to provide information and guidance for policymakers both in the United States and abroad as they tackle the issue of data privacy online.

The purpose of this framework is to inform the development of legislation or the promulgation of rules that enhance personal data protection, further the trust relationship between companies and their customers, and enable innovation while also avoiding regulatory fragmentation that undermines all three goals.
Inspired by Europe's General Data Protection Regulation and privacy protections put in place in other countries, the document suggests individuals should have full rights to control the use of their personal data, and is built on the following principles:
Enhance Transparency. The framework ensures individuals are informed when their personal data is collected or used so they have a better understanding of what they are or are not consenting to.

Increase Consumer Control. The framework gives individuals the right to expressly and affirmatively consent to the use of their sensitive personal data, and further allows individuals to access, correct, port, delete, and object to the use of their personal data where it is appropriate to the context of the use of such personal data.

Establish Company Accountability and Expands Responsibility. The framework lays out clear mechanisms for regulators to hold companies responsible for their data practices, including recommending subjecting companies in violation of a national privacy law to a meaningful penalty on the first offense. It also requires companies to identify, monitor and document uses of known personal data, and ensure all uses are legitimate as defined by that law.

Promotes Security. The framework mandates companies put into place comprehensive security programs that support and protect their operations, activities and the sensitive information they control.
The text of the document was drafted after "dozens" of meetings with outside groups and policymakers, as well as
experts from
some of the ITI's member companies, ITI president Dean Garfield told
Axios
. He says that the framework goes "deeper" than other privacy proposals that have been developed.
The ITI is hoping the framework will serve as a model for governments worldwide and a "workable alternative" to a "patchwork of laws" that could ultimately lead to uncertainty over the protections that individual consumers are entitled to.
The ITI's full document with a complete list of suggested guidelines for government reference can be
viewed on its website
.
Note: Due to the political nature of the discussion regarding this topic, the discussion thread is located in our
Politics, Religion, Social Issues
forum. All forum members and site visitors are welcome to read and follow the thread, but posting is limited to forum members with at least 100 posts.
Apple has identified an "issue" with the
GasBuddy app
that may result in some
iPhone 8
, iPhone 8 Plus, iPhone X,
iPhone XS
, and iPhone XS Max devices becoming "unresponsive," according to an internal announcement shared with
Apple Stores
today. The memo was obtained by MacRumors from a reliable source.

Apple says affected iPhones will have a black screen with an endlessly spinning wheel—aka a respring loop. In its memo, Apple says it is working with GasBuddy to "resolve" the issue, which started "sometime after October 18, 2018."
If a customer reports the issue at an Apple Store, Apple has instructed its Genius Bar employees to force restart the iPhone, and then ask the customer to uninstall the GasBuddy app. If the device is still unresponsive, Genius Bar employees are instructed to continue with the standard service process.
It's unclear why the GasBuddy app is crashing some iPhones. A spokesperson for GasBuddy said its team "has been and continues to investigate," and delayed further comment until the company has more insight about the matter. A spokesperson for Apple did not immediately respond to request for comment.
GasBuddy is a popular app for locating gas stations with the lowest-priced gas in the U.S., Canada, and Australia. The app, which boasts 70 million users, relies on users submitting gas prices when they fill up to help alert others. GasBuddy also provides alerts when gas prices are set to increase.
According to GasBuddy's release notes, the app was updated on October 17 with support for
iOS 12
. The update also "fixed some crashes." On October 19, the app was again updated with bug fixes, including one that caused some location-based information to not appear, and another related to gas station details.
Update:
A spokesperson for GasBuddy has issued the following statement to MacRumors, indicating that it is "rapidly preparing an update" that it believes "solves the underlying issue." In the meantime, GasBuddy will be temporarily removing its app from the
App Store
to limit exposure.
On Friday (October 19), Apple approved the latest version of the GasBuddy app. This was subsequent to our app going through Apple's typical, thorough review process that, as you know, Apple requires before releasing any app into its store.

Over the weekend, we heard from a single user that encountered an issue that resembles the one you described.

We had not heard anything from Apple about GasBuddy causing unresponsive phones, or that a new app build would be required, until maybe 10 minutes before we received your inquiry.

We absolutely regret any association with a poor user experience. We are committed to doing our part to address this quickly and completely.

Thus, we are rapidly preparing an update we believe solves the underlying issue and are making our app temporarily unavailable for download to limit the number of potentially affected users.
GasBuddy has also tweeted about an incoming fix:
We are aware that some people are encountering issues with our iOS app. We're rapidly preparing an update we believe solves the issue and are making our app temporarily unavailable for download to limit the number of potentially affected users.

— GasBuddy (@GasBuddy) October 22, 2018
Update - 6:30 p.m. Pacific Time:
GasBuddy has returned to the App Store with an update that "resolves an issue that was causing some devices to crash."
They have an update out pic.twitter.com/gDDiGlzDrX

— Mike Quinn (@mikequinn_) October 23, 2018
MacRumors will update this article if and when we receive any new information from Apple or GasBuddy.
Later this week, Apple CEO
Tim Cook
is set to speak at
the European Data Protection Conference
in Brussels during the "Debating Ethics: Dignity and Respect in Data Driven Life" session.
Ahead of the event on Wednesday, Cook is in Europe visiting app developers and filmmakers who work with the iPhone. Cook has been sharing his European adventures on Twitter.

Cook visiting the developers behind Asana Rebel, a yoga app
Cook started off the week in Berlin, where he met with developer Peter Kolski and took a look at mauAR, an upcoming augmented reality app that will display the Berlin Wall as it was prior to its demolition in the 1990s.
Schön, wieder einmal in Berlin zu sein! Thank you @peterkolski and the mauAR team for bringing the Berlin Wall's history to life through augmented reality -- a new way to learn from the past. We are looking forward to seeing your app on the App Store! pic.twitter.com/NhwGUUgG2O

— Tim Cook (@tim_cook) October 21, 2018
Cook went on to visit the
Asana Rebel team
, who have created an augmented reality yoga app available on the iOS App Store .
Here's to the rebels! Thanks for the visit, @AsanaRebel, and for sharing your enthusiasm for yoga and wellbeing. 🧘‍♂️ We're thrilled when entrepreneurs like you use the App Store to turn their passion into a thriving global business. pic.twitter.com/G4FOR3HtNK

— Tim Cook (@tim_cook) October 21, 2018
After that, he stopped off in Paris where he met with French filmmaker Claude Lelouch, who shot his upcoming movie on the iPhone.
Bonjour Paris! 🇫🇷 Honored to meet legendary director Claude Lelouch and hear about his upcoming film, which will be #shotoniphone. In 50 years of filmmaking, he says he's "never been happier" than when shooting with iPhone! pic.twitter.com/t5q8J8jOW6

— Tim Cook (@tim_cook) October 22, 2018
Cook then stopped by the offices of Foodvisor in Paris. Foodvisor
is an app
that is designed to analyze the nutrients in food through a photograph.
Now here's a good reason to snap that photo of your lunch! Had a blast at @foodvisor_app's office in Paris, seeing how their artificial intelligence makes food tracking easy. 🍣 pic.twitter.com/i1NoM1OLM3

— Tim Cook (@tim_cook) October 22, 2018
After visiting Foodvisor, Cook stopped by
L'Atelier des Artistes en Exil
in Paris, which showcases the artwork of artist refugees around the world.
A profoundly moving visit to @aartistesenexil in Paris. Through their works of creativity and courage, these artists are shining a light on the hardships that so many face as refugees. "On ne voit bien qu'avec le cœur. L'essentiel est invisible pour les yeux." pic.twitter.com/rKGz2rlFAX

— Tim Cook (@tim_cook) October 22, 2018
Cook has one more day in Europe ahead of the Brussels conference, and he is planning to meet with French president Emmanuel Macron at the Élysée Palace tomorrow, where taxes and developer relationships may be topics of conversation.
Cook will be in Belgium on Wednesday, and following the conference, he may spend some more time in Europe before flying back to the United States to prepare for Apple's
October 30th event
in New York City.

Responding to claims earlier this morning that it had ended development on its 10nm "Cannon Lake" processors, Intel announced on Twitter that it is "making good progress" on its upcoming 10nm chips.
The announcement followed a claim from
SemiAccurate
suggesting Intel had killed off its 10nm process. Intel's 10nm chips were supposed to launch at some point in 2016, but have been delayed multiple times due to production difficulties.
According to Intel, yields on its 10nm process are improving "consistent with the timeline" shared during the last earnings report, which means sans additional delays, the chips will come out in 2019.
Media reports published today that Intel is ending work on the 10nm process are untrue. We are making good progress on 10nm. Yields are improving consistent with the timeline we shared during our last earnings report.

— Intel News (@intelnews) October 22, 2018
Apple uses Intel chips in its line of Mac desktops and notebooks, and Intel's delays have caused problems for the Cupertino-based company in recent years.
As a result, Apple is said to be
planning to transition away
from Intel chips to its own
custom-designed chips
as soon as 2020 or 2021, using
supplier TSMC
as a manufacturer.
With custom-designed Mac chips, Apple will no longer be forced to delay updates due to Intel's manufacturing issues, and custom chips will give the company more control over design, better profits, and a way to differentiate its products from competing PCs.
Apple has long used Apple-designed A-Series chips in its iOS devices, and the marriage between hardware and software often results in performance that is unmatched by competing products. Similar gains could come when Apple has more control over Mac chip design as well.
Apple won't be ready to transition to its own chips by 2019, and will likely adopt the 10nm Cannon Lake chips from Intel provided those chips make their launch date. Cannon Lake chips will bring performance improvements, reduced power consumption, and support for faster, more efficient LPDDR4 RAM.
Apple today seeded the fifth beta of an upcoming
iOS 12
.1 update to developers, one week after
seeding the fourth beta
and more than a month after
releasing iOS 12
, a major new version of the iOS software.
Registered developers can download the new iOS 12 .1 beta from Apple's Developer Center or over-the-air once the proper configuration profile has been installed from the Developer Center.

iOS 12 .1 includes several new features that Apple promised would come to the
iPhone XS
and XS Max. The beta
introduces support
for the eSIM, which is a digital SIM that lets you activate a cellular plan from a carrier without the need to use a physical SIM card.
Carriers will need to implement support for eSIM, which is likely to happen after iOS 12 .1 launches. In the U.S., AT&T, Verizon, and T-Mobile will support eSIM.

The iOS 12 .1 update brings a new real-time Depth Control feature, which lets you adjust the depth of field of your Portrait Mode photos before you capture them. Right now, in iOS 12 , Depth Control is only available for post-capture editing.
If you tap on the "F" icon at the top of the screen while capturing a photo you use Depth Control to adjust the amount of background blur in an image.

In addition to these iPhone XS and XS Max features, iOS 12 .1 reintroduces the Group FaceTime feature that was removed from iOS 12 during the beta testing period. Group FaceTime was present in many early betas but was ultimately removed because Apple needed more time to test it.
Group FaceTime is designed to let iPhone and Mac users conduct video and audio chats with up to 32 participants at one time, with new camera effects features included.
The update also adds
more than 70 new emoji
to iPhones and iPads, with options that include red hair, gray hair, curly hair, cold face, party face, face with hearts, mango, kangaroo, peacock, lobster, cupcake, and tons more.
As for bug fixes, iOS 12 .1 addresses
a charging problem
that could cause iPhone and
iPad
models running iOS 12 to fail to charge when connected to a Lightning cable while the screen is off and it fixes a bug that caused iPhone XS and XS Max models to prefer 2.4GHz WiFi networks to 5GHz networks, resulting in perceived slower WiFi speeds. Both of these bugs have also been addressed
in the iOS 12.0.1 update
.
Update:
Apple has released a new version of iOS 12 .1 to its public beta testing group.
Apple's
HomePod
is the ninth most popular smart speaker model in the United States, according to an
online survey of 1,011 smart speaker users
conducted by research firm Strategy Analytics in July and August.

The top eight positions are held by various Amazon Echo and Google Home models in the Strategy Analytics rankings. The standard Amazon Echo tops the list with an estimated 23 percent share of the U.S. installed base of smart speakers, while the HomePod is estimated to have just four percent market share.
Amazon Echo: 23%
Amazon Echo Dot: 21%
Google Home: 8%
Google Home Mini: 7%
Amazon Echo Plus: 5%
Amazon Echo Spot: 4%
Amazon Echo Show: 4%
Amazon Echo Dot Kids Edition: 4%
Apple HomePod : 4%
Google Home Max: 2%
Apple does not disclose HomePod sales in its quarterly earnings results. In August, Strategy Analytics estimated that HomePod shipments totaled
700,000 units in the second quarter of 2018
, giving Apple a roughly six percent share of the worldwide smart speaker market at the time.
While the HomePod may have only a single-digit share of the overall market, Strategy Analytics shared data last month indicating that
Apple accounts for 70 percent of the small but growing $200-plus smart speaker market
, topping competing products such as the Google Home Max and a variety of Sonos speakers.
That data shouldn't come as much of a surprise, as Amazon Echo and Google Home models are regularly priced as low as $49, whereas the HomePod retails for $349. Apple has marketed the HomePod as a premium speaker that also has
Siri
, as opposed to a personal assistant that also plays music.
It's also worth noting that the HomePod only launched this past February, two to three years after its biggest competitors. Today, the HomePod is available in the United States, United Kingdom, Australia, Canada, France, and Germany, with
sales set to begin in Mexico and Spain on Friday
.
Back in April, well-connected Apple analyst
Ming-Chi Kuo
said Apple was
"mulling" a "low-cost version" of the HomePod
, possibly in the form of a
Siri-enabled Beats speaker
. The status of those plans is unclear.
iPhone XR
pre-order demand in the first three days of the device's availability was "better than that" of the
iPhone 8
and iPhone 8 Plus during the same period last year, according to Apple analyst
Ming-Chi Kuo
.

In a research note obtained by MacRumors, Kuo said that although pre-order demand immediately after launch has been lower for the iPhone XR versus the flagship
iPhone XS
models, overall iPhone XR shipment momentum is "more stable" because it will drive more customers to upgrade than the iPhone 8 series over time.

Kuo added that iPhone XR shipping estimates on Apple.com (many models remain available for launch day delivery on Friday) do not indicate exact demand, as the type of customers interested in the device are more general users, with many ordering through carriers to take advantage of promotions.
An excerpt from Kuo's research note with TF International Securities:
We are not surprised that XR's initial delivery times are shorter than those of the iPhone XS series after pre-order open given that XS and XR have different target customers. The former's target customers are Apple fans, who snap up new models rapidly after the pre-order open. The latter's are general users who are used to operating iOS with characteristics including favoring the Apple brand, limited budget, or no urgent replacement demand.
Some other analysts had expressed concerns that the iPhone XR 's strong availability implied weak sales of the $749 handset.
Kuo already predicted that iPhone XR demand would be higher than that for the iPhone 8 series last year in a research note shared last week. He also
increased his iPhone XR shipment forecast
to 36 to 38 million units in the fourth quarter of 2018, up 10 percent from his original estimate of 33 to 35 million units.
American teenagers are still choosing Apple's iPhone over the competition, with 82 percent of surveyed U.S. teens saying that they own an iPhone, according to Piper Jaffray's latest survey (via
Business Insider
).
This number has grown steadily from 76 percent in
April 2017
to 78 percent in
October 2017
, and it now appears to have plateaued temporarily in 2018, as 82 percent of teens said they owned an iPhone
back in April
.

Looking to the future, 86 percent of teens surveyed said that they plan on buying an iPhone as their next smartphone. This is an increase from 84 percent in the spring.
In comparison, 10 percent of the teens said they planned on buying an Android smartphone next, down from 11 percent in the spring. The researchers at Piper Jaffray say that American teens' intent to buy an iPhone is now at the highest they have ever seen.

Other tidbits from the report include: 45 percent of teens saying that the brand of an item is the most important factor in a purchase decision, Amazon is the top preferred website, and Instagram is now the most used social platform as Facebook faces an ongoing decline. Netflix represented 38 percent of daily video consumption, ahead of YouTube (33 percent), cable TV (16 percent), and Hulu (5 percent).
For this survey, Piper Jaffray surveyed around 8,600 teenagers across 47 states with an average age of 16 and an average household income of $68,300. 44 percent of the teens were female, while 56 were male.
Engadget
's Chris Velazco recently sat down for an
interview with Apple's marketing chief Phil Schiller
to discuss all things
iPhone XR
. We've rounded up some of Schiller's comments about the device below.

What the "R" stands for in iPhone XR :
I love cars and things that go fast, and R and S are both letters used to denote sport cars that are really extra special.
How the iPhone X led to the
iPhone XS
, iPhone XS Max, and iPhone XR :
We had this technology we were working on for many years to be the future of the iPhone. It was a huge ask of the engineering team to get it to market last year, and they did. ... We knew that if we could bring that to market and it was successful very quickly after that, we needed to grow the line and make it available to more people.
Making sure the iPhone XR is still "the best phone":
If we're going to push the upper boundaries with XS and XS Max to make something the best, how do we make something that's more affordable for a larger audience? To make the overall iPhone audience even larger? What choices can we make and still make it a phone that people can hold and say, "I have the best too"?
Expanding on that:
We don't think about categories. We think the iPhone X technology and experience is something really wonderful, and we want to get it to as many people as possible, and we want to do it in a way that still makes it the best phone.
Addressing concerns about the iPhone XR 's lower-resolution display:
I think the only way to judge a display is to look at it. …

If you can't see the pixels, at some point the numbers don't mean anything. They're fairly arbitrary.
As far as the iPhone XR launching over a month after the iPhone XS and iPhone XS Max, Schiller simply said "this is when it's ready."
iPhone XR pre-orders began last Friday in over 50 countries. The first deliveries to customers and in-store availability will begin Friday, October 26. The colorful device starts at $749 in the United States.
Full Article:
With the iPhone XR, Apple broadens its 'best'
Apple has detailed
out-of-warranty repair fees for the iPhone XR
ahead of the smartphone's launch on Friday.

In the United States, Apple will charge $199 to repair a damaged
iPhone XR
screen and $399 to repair other damage to the device, unless it is a manufacturing defect covered by Apple's standard one-year limited warranty. Prices vary in the
United Kingdom
,
Canada
,
Australia
, and other countries.
How that stacks up to Apple's out-of-warranty repair fees for other iPhones:
iPhone XR : $199 for screen damage, $399 for other damage
iPhone XS: $279 for screen damage, $549 for other damage

iPhone XS Max: $329 for screen damage, $599 for other damage

iPhone X: $279 for screen damage, $549 for other damage

iPhone 8: $149 for screen damage, $349 for other damage

iPhone 8 Plus: $169 for screen damage, $399 for other damage

These prices do not apply to customers who purchase AppleCare+ for the iPhone XR, starting at $149 in full or $7.99 per month.

AppleCare+ is an optional warranty plan that extends an iPhone's warranty coverage to two years from the purchase date of the plan. AppleCare + adds up to two incidents of accidental damage coverage, each subject to a lower service fee of $29 for screen repairs and $99 for any other damage.

As with any form of insurance, AppleCare + provides peace of mind, but only yields savings in the event it is used.

If the screen cracks on an iPhone XR , for example, the repair fee with AppleCare + is up to $178, savings of at least $21. If the back glass shatters, the repair fee with AppleCare + is up to $248, savings of at least $151. Those prices are based on the full $149 cost of AppleCare + for iPhone XR plus deductibles.

If a customer pays for AppleCare + in monthly instalments, there is the potential for even more savings versus the out-of-warranty fees.

iPhone XR pre-orders began last Friday in over 50 countries. The first deliveries to customers and in-store availability will begin Friday, October 26. The colorful device starts at $749 in the United States.