Pre-orders for the
iPhone XR
will kick off on Friday, October 19 at 12:01 a.m. Pacific Time, allowing customers to purchase the third flagship iPhone in the 2018 iPhone lineup.
Apple is planning to make the new devices available in multiple countries around the world simultaneously, so we've created a list of when pre-orders will kick off all around the world.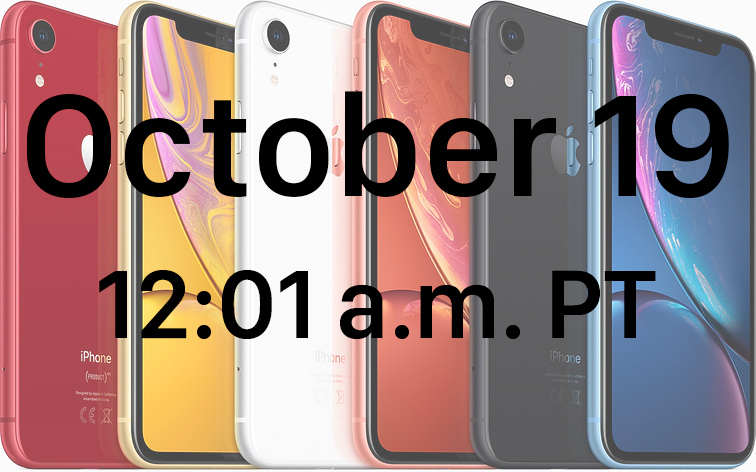 Australia West - 3:01 p.m. AWST
Australia East - 5:01 p.m. AEST
Austria - 9:01 a.m. CEST
Belgium - 9:01 a.m. CEST
Canada West - 12:01 a.m. PDT
Canada East - 3:01 a.m. EDT
China - 3:01 p.m. CST
Denmark - 9:01 a.m. CEST
Finland - 10:01 a.m. EEST
France - 9:01 a.m. CEST
Germany - 9:01 a.m. CES
Guernsey - 8:01 a.m. BST
Hong Kong - 3:01 p.m. HKT
Ireland - 8:01 a.m. IST
Isle of Man - 8:01 a.m. BST
Italy - 9:01 a.m. CEST
Japan - 4:01 p.m. JST
Jersey - 8:01 a.m. BST
Luxembourg - 9:01 a.m. CEST
Mexico - 2:01 a.m. CDT
Netherlands - 9:01 a.m. CEST
New Zealand - 8:01 p.m. NZDT
Norway - 9:01 a.m. CEST
Portugal - 8:01 a.m. WEST
Puerto Rico - 3:01 a.m. AST
Saudi Arabia - 10:01 a.m. AST
Singapore - 3:01 p.m. SGT
Spain - 9:01 a.m. CEST
Sweden - 9:01 a.m. CEST
Switzerland - 9:01 a.m. CEST
Taiwan - 3:01 p.m. CST
UAE - 11:01 a.m GST
United Kingdom - 8:01 a.m. BST
United States West - 12:01 a.m. PDT
United States Mountain - 1:01 a.m. MDT
United States Central - 2:01 a.m. CDT
United States East - 3:01 a.m. EDT
US Virgin Islands - 3:01 a.m. AST
We haven't listed every time zone for every country, such as in Canada, Russia, and the United States, nor have we listed every available pre-order country, so make sure to double check your specific time zone so you're certain you know the exact time that pre-orders will kick off. A time zone converting website is a useful tool for confirming accurate pre-order times.
It's not yet clear if supplies of the iPhone XR will be constrained, but there have been rumors of production issues that led to a launch delay, so it's best to pre-order the iPhone XR as soon as possible if you're aiming to get a new device on release day.
iPhone XR pre-orders will be available on October 19 in Albania, Andorra, Australia, Austria, Bahrain, Belgium, Bosnia, Bulgaria, Canada, China, Croatia, Cyprus, Czech Republic, Denmark, Estonia, Finland, France, Germany, Greece, Greenland, Guernsey, Herzegovina, Hong Kong, Hungary, Iceland, India, Ireland, Isle of Man, Italy, Japan, Jersey, Kosovo, Kuwait, Latvia, Liechtenstein, Lithuania, Luxembourg, Macedonia, Malta, Malaysia, Mexico, Monaco, Montenegro, Netherlands, New Zealand, Norway, Oman, Poland, Portugal, Puerto Rico, Qatar, Romania, Russia, Saudi Arabia, Singapore, Serbia, Slovakia, Slovenia, South Africa, Spain, Sweden, Switzerland, Taiwan, Thailand, the UAE, UK, US, and US Virgin Islands.
The first iPhone XR pre-orders will arrive to customers on Friday, October 26, the XR's official launch date.
Apple in
iOS 12
introduced a new
Siri
Shortcuts feature that's designed to let users create multi-step automations using first and third-party apps.
Since iOS 12's release, app developers have been adding Siri Shortcuts support to their apps, and today, Apple
highlighted several apps
that have launched useful Siri Shortcut options.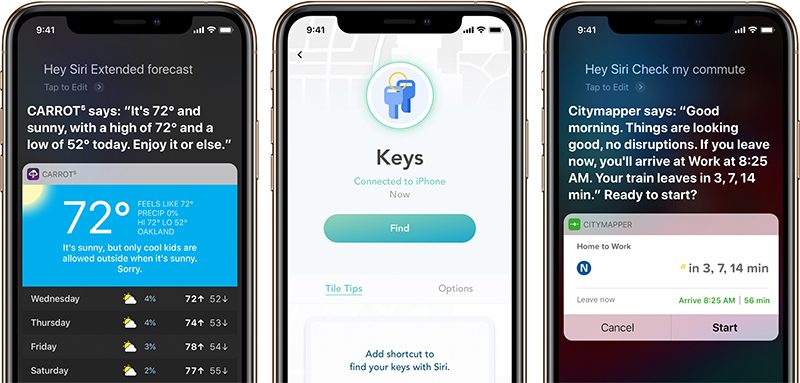 Tile, for example, has added a Shortcut designed to let you find an item attached to a Tile device, like your keys, by asking Siri. Apps like CARROT and Dark Sky offer up weather details with Siri commands like "rain report" or "UV index," while Citymapper lets you get commute information in seconds.
Evernote lets you get quick access to Shortcuts for sharing notes, creating audio notes, creating camera notes, and printing, while Day One has Shortcuts for creating journal entries and recording audio. Calendar app Fantastical lets you schedule events and preview what's coming next, and Trello, Things, and Omnifocus all have Shortcut options for streamlining projects.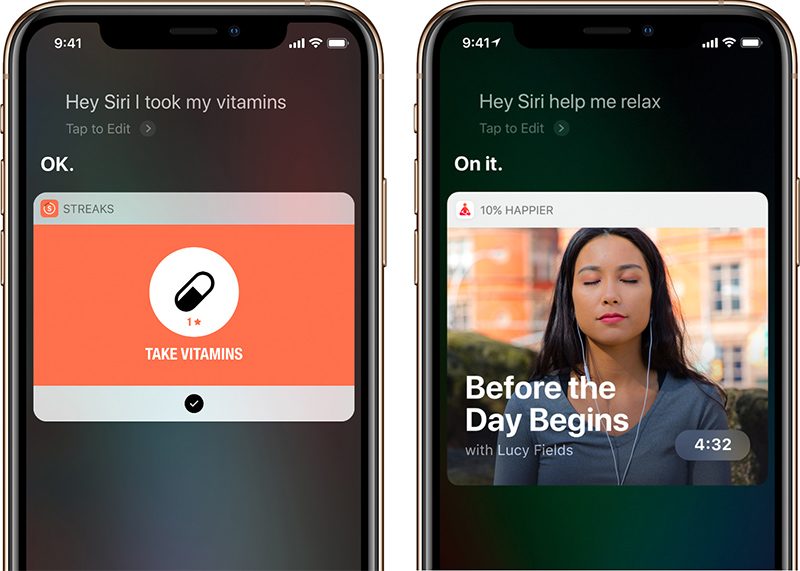 Apple also highlights Waterminder for tracking your water intake, Lose It! for keeping track of what you're eating, MyTherapy for monitoring daily medications, and meditation in Headspace, all features that can be accessed via simple Siri commands without the need to open up the respective apps.
The
iPhone XR
will be available for pre-order at 12:01 a.m. Pacific Time on October 19, and ahead of when pre-orders go live, the first iPhone XR reviews have been published on YouTube.
Apple appears to have provided several YouTubers and media sites with iPhone XR review units, with a list of some of the available review videos embedded below.
Apple's iPhone XR is the third iPhone in Apple's 2018 iPhone lineup. It's the least expensive of the three new devices, priced starting at $749 vs. $999 and $1,099 for the
iPhone XS
and XS Max.
Compared to the iPhone XS, the iPhone XR features an LCD display instead of an OLED display, Haptic Touch instead of
3D Touch
, and an aluminum frame instead of a stainless steel frame. It's got a lower water resistance rating at IP67, and it has slower LTE Advanced instead of Gigabit LTE.
Most notably, the iPhone XR uses a single-lens camera system instead of a dual-lens camera system, but the two devices feature many of the same capabilities such as Depth Control and Smart HDR, enabled through software.
Aside from these differences, the iPhone XR and iPhone XS have the same components including the super fast A12 chip, TrueDepth camera system for Face ID, and glass body for wireless charging capabilities.
The iPhone XR will officially launch on Friday, October 26, one week after pre-orders take place.
Apple today sent out invites for an upcoming October 30th event set to be held in Brooklyn. Apple did something special for its invites this time around, and each one features unique artwork with a different Apple logo.
Apple also designed
a new event page
for the event, and each time you reload the page, you can see a new Apple logo that Apple created.

It's not clear how many different Apple logos Apple designed for the event, but it appears to be at least several dozen. You can see a selection of approximately 10 of them by
refreshing the event page
, but not all of the artwork that showed up on the invites appears to be on the page.

Apple's event, which will focus on the
iPad
Pro and its Mac lineup, is set to take place on Tuesday, October 30 in New York City at the Howard Gilman Opera House in Brooklyn. It is Apple's first NYC event in several years.

Rather than starting at 10:00 a.m. Pacific Time, Apple's October event will kick off at 10:00 a.m. Eastern Time, or 7:00 a.m. Pacific Time because the event is taking place on the East Coast instead of the West Coast.
According to the event page, Apple will live stream its New York event. You will be able to watch through the Events app on the
Apple TV
or on Apple's website
through the Events page
.
Apple today sent out media invites for a second major 2018 event set to be held in New York City on Tuesday, October 30 at the Brooklyn Academy of Music, Howard Gilman Opera House.
Apple's October event, which will focus on products not introduced at the iPhone-centric event in September, will kick off at 10:00 a.m. Eastern Time.

Image via Neil Cybart
Apple sent out multiple different Apple logo designs on the invitations that it sent out to members of the media, all of which feature the tagline "There's more in the making."

Image via Todd Haselton
We're still awaiting multiple product refreshes before the end of 2018, including updates to several Mac models and the
iPad
Pro, which are likely to see a debut at the event.

Image via Lance Ulanoff
2018 iPad Pro models are expected to adopt an iPhone X-style design with no Home button, slimmer bezels, and a TrueDepth camera system that will enable Face ID for biometric authentication.

Image via Joanna Stern
While the iPad Pro is expected to continue to use an LCD rather than OLED due to the high price of OLED displays, rumors suggest it could adopt a USB-C port instead of a Lightning port and that the headphone jack could potentially be eliminated.

2018 iPad Pro mockup by Álvaro Pabesio
Along with new iPad Pro models, we're also expecting refreshes to the
MacBook
line. Refreshed 12-inch MacBooks are said to be in the works, and based on rumors, Apple has developed a low-cost notebook with a Retina display that could be positioned as an updated
MacBook Air
.
The
Mac mini
, which has not been updated for more than 1,400 days, is expected to be refreshed for the first time since 2014. We don't know a lot about what to expect for the Mac mini update, but upgraded internals and faster processors are a sure thing.
It's possible that at this iPad and Mac-focused event, we'll also hear more about the modular
Mac Pro
that Apple is working on for a 2019 debut.
Apple's 2018 iPhone keynote event will begin at 10:00 a.m. Eastern Time. Apple typically streams the event live on its website and on
Apple TV
, but for those who are unable to watch,
MacRumors
will be providing full event coverage both on MacRumors.com and through our
MacRumorsLive Twitter account
.
To celebrate
The Big Draw Festival
, a monthlong worldwide celebration of drawing held every October, eight
Apple Stores
are hosting
special Today at Apple sessions
related to the festival throughout the month.

A total of 108 sessions will be hosted by the end of the month at Apple Regent Street in London, Apple Piazza Liberty in Milan, Apple Dubai Mall in Dubai, Apple Michigan Avenue in Chicago, Apple SoHo and Apple Williamsburg in New York, Apple Orchard Road in Singapore, and Apple Union Square in San Francisco.
Apple CEO
Tim Cook
today tweeted about a session hosted by artist
Marcy Smith
, who helped customers learn how to draw and sketch with the
iPad
Pro and
Apple Pencil
at the Union Square store on Wednesday evening.
Artists like @MarcyMoji make #TodayatApple sessions so inspiring. We're hosting @The_Big_Draw celebrations around the world this month, including Marcy's masterclass on drawing with iPad last night at San Francisco's Apple Union Square. pic.twitter.com/A37rRKskMN

— Tim Cook (@tim_cook) October 18, 2018
The sessions, which include Live Art and Sketch Walks, are free to attend as space permits. There are still plenty of sessions remaining through the second half of October, and those interested can browse and sign up for sessions on the
Today at Apple page
. Most sessions are scheduled to run 90 minutes.
AirPods
are sold out and unavailable for purchase in many
Apple retail
stores across Europe and in Apple's online stores in those countries, as noticed by French site
Watch Generation
.
It's not clear when the AirPods went out of stock, but the earphones are listed as unavailable in countries that include the UK, Ireland, Germany, France, Czech Republic, Denmark, Spain, Italy, Luxembourg, the Netherlands, Norway, Portugal, Poland, Finland, Sweden, and others.

AirPods continue to be available for purchase in other countries in North America, South America, and Asia Pacific, with the shortage primarily limited to Europe.
There's no word on why AirPods are suddenly unavailable in so many European countries, but
Watch Generation
claims that a retail source said French
Apple Stores
sold out of a recent shipment and are awaiting the restock of a new version that could perhaps be next-generation AirPods.

Given that the AirPods are unavailable only in Europe, there could be another explanation related to tariffs or currency adjustments, so the shortage is not a clear sign of an imminent refresh.
Apple is rumored to be working on second-generation AirPods with an improved wireless chip that will enable "Hey
Siri
" functionality, alleviating the need to activate Siri through a double tap on the earphones.
These updated AirPods could also include a wireless charging case that will allow them to work with the AirPower charging mat that continues to be in development, but there is no word on when these rumored AirPods (or the AirPower charging mat) might launch.
Update:
AirPods are once again in stock on the Apple online store in many European countries, with retail locations set to have the earphones available for purchase on Friday, October 19.
Taiwan Semiconductor Manufacturing Company or TSMC is set to remain one of Apple's most important suppliers in the years to come, according to a note to investors shared today by reliable Apple analyst
Ming-Chi Kuo
, who now works for TF International Securities.
TSMC manufactures the A-Series chips that are used in Apple's iPhones. The company has been Apple's sole supplier for iPhone chips for a few years, and will continue to be Apple's only supplier in 2019 and 2020 for the A13 and A14 chips Apple is expected to use in those devices.

According to Kuo, Apple will become increasingly dependent on TSMC in the years to come due to TSMC's "superior design and production capabilities" compared to its competitors and the fact that TSMC, unlike Samsung and other Apple suppliers, does not compete with Apple in other markets.
In the future, Kuo believes TSMC will manufacture Apple-designed ARM-based processors for Mac models starting in 2020 or 2021. Rumors have suggested Apple is planning to
transition away from Intel chips
to its own custom-made chips starting as early as 2020, which Kuo reiterates in today's report.
There are multiple benefits to custom-designed Mac chips, including no delays because of Intel's manufacturing issues, better profits, more control over design, and differentiation from competitors' products.
We also expect that Mac models will adopt Apple's in-house-designed processor starting 2020 or 2021, which will create four advantages for Apple: (1) Apple could control everything about the Mac's design and production and be rid of negative impacts from Intel's processor shipment schedule changes. (2) Better profits thanks to lower processor cost. (3) Mac market share gain if Apple lowers the price. (4) It could differentiate Mac from peers' products.
Kuo also suggests Apple will recruit TSMC to manufacture chips for its upcoming
Apple Car
starting in 2023 to 2025.
We believe that Apple Car's Advanced Driver Assistance Systems (ADAS) will support either Level 4 (high automation) or Level 5 (full automation). Only TSMC's 3/5 nm process can meet Level 4 and Level 5 chip requirements.
In
an August report
, Kuo said that Apple will launch a full Apple Car in 2023 to 2025, reviving rumors about Apple's work on a complete vehicle. Prior to that report, it was believed Apple had shelved plans for a vehicle and was instead focusing solely on autonomous driving software that could perhaps be integrated into partner vehicles.
Apple today is extending its full-featured
Data and Privacy portal
to the United States, Canada, Australia, and New Zealand.

Apple customers in those four countries will now have the option to download a copy of any data associated with their Apple ID account that Apple maintains, such as calendars, reminders, photos, and documents stored in
iCloud
, purchase histories, Game Center activity, and
AppleCare
support history.
The portal has been
available to customers in the European Union, Iceland, Liechtenstein, Norway, and Switzerland
since May to comply with Europe's
General Data Protection Regulation
, or GDPR. Apple said the service would be made available worldwide in the coming months, starting with today's expansion.
In the meantime, Apple customers who live in a country or region that's not listed above can still
contact Apple
to request a copy of their data.
Apple promises to fulfill all portal-based data requests within seven days, and emails customers to let them know it is preparing their data. Read our
how-to
for step-by-step instructions on requesting a copy of your data.
Update:
The data-download option doesn't appear to be available immediately and may take some time to roll out to all users today.
Apple today
updated its privacy website
to reflect the latest measures it has implemented in
iOS 12
and
macOS Mojave
to protect customers.

For example, the new page reflects that
all apps submitted or updated on the App Store now require a privacy policy
, a requirement that went into effect October 3. Apple already required a privacy policy for apps that accessed personal information, but even basic apps that do not share data must have one now.
In iOS 12 and macOS Mojave, Apple's so-called Intelligent Tracking Prevention feature has been improved. Now, when third-party tracking sites attempt to create cookies or store data, they can do so only with your explicit consent.
In macOS Mojave, Apple has made it harder for trackers to create a unique device fingerprint. Meanwhile, automatic strong passwords in Safari on iOS and macOS, which are end-to-end encrypted in
iCloud
Keychain, make it easier to sign in to sites without using social media logins that can facilitate user tracking.
Apple has also added protections for private data, such as requiring user consent for access to the camera and microphone on macOS Mojave.
Apple has expanded its use of end-to-end encryption to include Group FaceTime and Screen Time on iOS 12, while its use of
Differential Privacy
now extends to the personalized Memoji features users select to help identify popular features, such as hairstyle, so Apple can expand its choices in the future.
The updated privacy website also indicates that location data
sent to nearby emergency services using RapidSOS
is deleted after 24 hours.
As always, Apple believes privacy is a "fundamental human right," and aims to "minimize its collection of personal data." Apple says "the customer is not its product," and that its business model "does not depend on collecting personally identifiable information" to help targeted profiles marketed to advertisers.
Apple's privacy page has been updated a week before
Apple CEO Tim Cook is set to speak at the 2018 International Conference of Data Protection and Privacy Commissioners
next Wednesday, October 24 in Brussels.
Apple has added 2018 models of the 13-inch
MacBook
Pro with Touch Bar
to its refurbished store
in the U.S. for the first time. Prices are discounted by roughly 15 percent compared to the equivalent brand new models.

A
refurbished base model
with a 2.3GHz quad-core Intel Core i5 processor, 256GB of flash storage, 8GB of RAM, and Intel Iris Plus Graphics 655 is available for $1,529 in the United States, reflecting savings of $270 off Apple's regular price of $1,799. Available finishes include Silver and Space Gray.
A
refurbished maxed-out model
with a 2.7GHz quad-core Intel Core i7 processor, 2TB of flash storage, 16GB of RAM, and Intel Iris Plus Graphics 655 is available for $3,139 in the United States, reflecting savings of $560 off Apple's regular price of $3,699. This configuration is currently limited to Space Gray.
A variety of other models, including built-to-order configurations, are currently available. Quantities are limited, however, so we recommend acting fast or using
Refurb Tracker
to monitor when inventory is replenished.
Apple says refurbished MacBook Pro models are thoroughly inspected, tested, cleaned, and repackaged, including the manuals and cables included in the box. In our view, a refurbished MacBook Pro is virtually indistinguishable from a brand new model, so this represents a good opportunity for savings.
Note that third-party resellers sometimes offer better deals than Apple's refurbished prices, so be sure to monitor our
deals roundup
.
A refurbished MacBook Pro comes with Apple's standard one-year warranty effective on the date the notebook is delivered. The warranty can be extended to three years from the original purchase date with
AppleCare
+ for Mac, which costs $269 for the the 13-inch MacBook Pro in the United States.
Apple has also added refurbished 2018 models of the 13-inch MacBook Pro to its
Canadian store
, also at a 15 percent discount.
2018 models of the 15-inch MacBook Pro are not available refurbished at this time.
The latest
Mac mini
, introduced
on October 16, 2014
, is four years old as of this week. For emphasis, it has been 1,462 days since the portable desktop computer was last updated, according to the
MacRumors Buyer's Guide
.

The current lineup,
still sold on Apple.com
, features five-generation-old Intel dual-core Haswell processors with clock speeds up to 3.0GHz. Other tech specs include up to 16GB of LPDDR3 RAM, up to 1TB of flash storage, and the choice of Intel HD Graphics 5000 or Intel Iris integrated graphics. Prices start at $499.
The good news is that the long wait for an update may be coming to an end, as two reliable sources in Apple analyst
Ming-Chi Kuo
and Apple scoopster Mark Gurman both expect a new Mac mini to be released later this year.
Kuo didn't have a lot of information to share on the Mac mini, but he said
a processor upgrade is expected
. Gurman revealed more ambitious plans, claiming that the Mac mini is set to receive a "
professional-focused upgrade
," with new storage and processor options likely to make it "more expensive" than previous models.
It's unclear if the Mac mini will be redesigned, but the new processor options will hopefully include quad-core options at the very least.
Apple is expected to unveil the new Mac mini at a media event later this month, alongside new
iPad
Pro models with Face ID,
updated iMac models
, and
an all-new
MacBook
or MacBook Air at the low end of its notebook lineup.
The big question: when will Apple hold its rumored October event? With invites yet to be issued to the media, and with
Apple CEO Tim Cook in Belgium next Wednesday
, the most likely date for an October event at this point is Tuesday, October 30, two days before its fourth quarter earnings results.
There's a very slim chance that invites go out today or tomorrow for an event next Wednesday or Thursday, with or without Cook appearing on stage, but Apple likely wants the spotlight to be on the
iPhone XR
until it launches Friday, October 26.
(Thanks, Jason!)