Apple Launches New MacBook Pro
Apple has shared three new Close Your Rings ads on its YouTube channel in Australia, highlighting the Activity app on Apple Watch.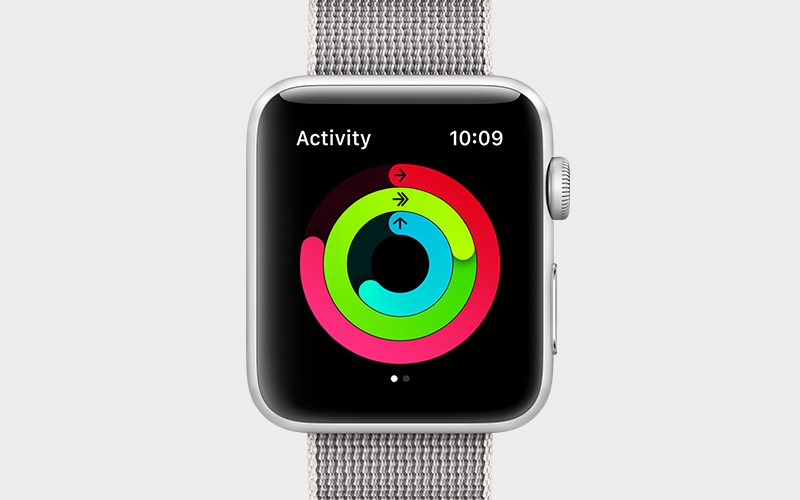 The fast-paced, 15-second videos each feature a different person — Eric, Atilla, and Yocelin — as they go about their busy days, closing their Move, Exercise, and Stand rings on the Apple Watch Series 3 in the process.
Eric bikes, walks his dog, purchases seafood, cooks, walks the stairs, and dances. Atilla runs, swims, plays table tennis, and shops. Yocelin plays basketball, dances, draws, tries on new clothes, and practises yoga.
Apple has been using the slogan "Close Your Rings" as part of a fitness-oriented marketing campaign for the past few years, including a
series of Apple Watch Series 2 ads
last year and a
dedicated page on its website
.
Apple Watch users can close the Move ring by hitting their personalized daily goal for active calories burned, close the Exercise ring by completing at least 30 minutes of daily activity, and close the Stand ring by getting up and moving around for at least one minute during 12 different hours in the day.
Apple Watch users can also complete Monthly Challenges and earn Achievements badges by repeatedly closing the rings in the Activity app, and compete with friends and family, making it a motivating feature for many wearers.
These ads likely represent one of the final marketing campaigns for the Apple Watch Series 3, with new
larger-display Series 4 models
expected in September. The videos have yet to be uploaded to Apple's main YouTube channel in the United States, or elsewhere, but they likely will be soon.
Last month, Apple
initiated
a
Keyboard Service Program for MacBook and MacBook Pro
, after determining that a "small percentage" of the keyboards in 2015-2017 MacBook and 2016-2017 MacBook Pro models may experience keys that feel "sticky," repeat, or do not respond in a consistent manner.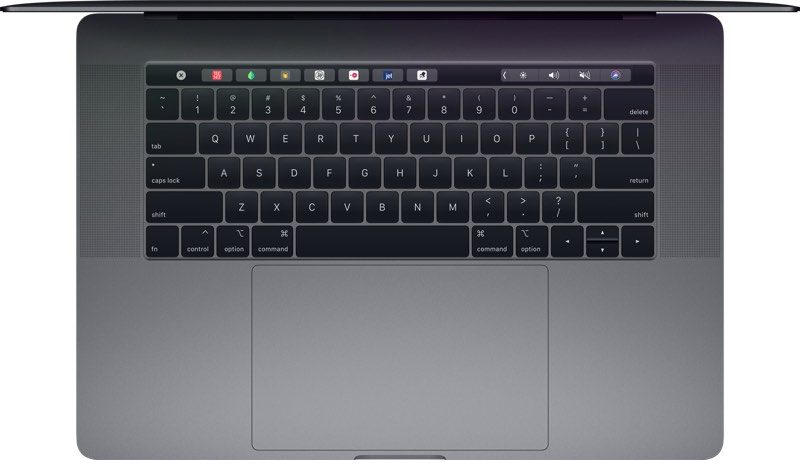 Apple did not identify a cause for the issues, which they call "behaviors," but they're believed to be caused by dust and other particulates becoming stuck in the butterfly switch mechanism underneath keycaps.
Apple has been servicing affected keyboards free of charge, with the process involving the replacement of one or more keys, or the whole keyboard. For the MacBook Pro, the replacements are second-generation keyboards --
often the 2017 variant
with slightly different markings on the Control and Option keys.
Then, last week, Apple surprised us with
new 2018 MacBook Pro models
that feature an "improved third-generation keyboard for quieter typing." These models are not eligible, at least not now, for Apple's service program.
Apple
hasn't directly acknowledged
whether the quieter, third-generation keyboards dually address the keyboard issues, but iFixit discovered the 2018 MacBook Pro has a
thin, silicone barrier underneath each key
, which they believe are intended to prevent the dust and crumbs from getting stuck.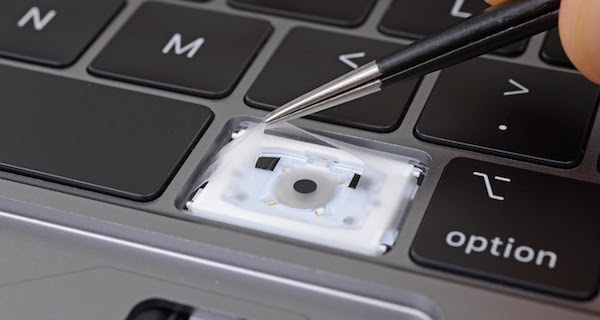 iFixit discovered a thin, silicone layer underneath keys on the 2018 MacBook Pro
For this reason, some customers have been hoping that Apple will start swapping out second-generation keyboards with third-generation keyboards, as part of its service program, but MacRumors has learned that isn't the plan.
When asked if Apple Stores and Apple Authorized Service Providers will be permitted to replace second-generation keyboards on 2016 and 2017 MacBook Pro models with the new third-generation keyboards, if necessary, Apple said, no, the third-generation keyboards are exclusive to the 2018 MacBook Pro.
Hopefully, in that case, it means that Apple has quietly tweaked the second-generation keyboard to be more reliable. It wouldn't really make sense for Apple to replace keyboards with ones that are just as prone to break again, especially if the third-generation keyboards offer a fix.
One possibility is that the third-generation keyboards aren't backwards compatible with 2016 and 2017 MacBook Pro models to begin with. The keyboard is actually one part of a larger component called the "top case," which also has a glued-in battery, and the internal design could be tweaked in 2018 models.
To initiate a repair, head to the
Contact Apple Support
portal, select Mac → Mac notebooks → Hardware Issues → Keyboard not working as expected → Bring in for Repair and book an appointment with an Apple Store or Apple Authorized Service Provider. Remember to
back up your Mac
before any servicing.
2018 MacBook Pro models feature the biggest yearly CPU performance gains since 2011, according to Geekbench founder John Poole.

Geekbench 4 scores
indicate the latest 15-inch models have a 12 to 15 percent increase in single-core performance, while multi-core performance is up 39 to 46 percent, compared to the equivalent 2017 models.
A new 15-inch MacBook Pro with the best-available 2.9GHz six-core Intel Core i9 processor, with Turbo Boost up to 4.8GHz, has a multi-core score of 22,439, for example, a 44.3 percent increase versus a 2017 model with a then-best 3.1GHz quad-core Core i7 and Turbo Boost up to 4.1GHz.

Likewise, for the latest 13-inch models, Geekbench scores show a 3 to 11 percent increase in single-core performance, and an impressive 81 to 86 percent increase in multi-core performance versus equivalent 2017 models.
A new 13-inch MacBook Pro with the best-available 2.7GHz quad-core Intel Core i7 processor, with Turbo Boost up to 4.5GHz, has a multi-core score of 17,557, for example, an 83.8 percent increase versus a 2017 model with a then-best 3.5GHz dual-core Core i7 and Turbo Boost up to 4.0GHz.

Poole attributes the increases in performance to additional cores, higher Turbo Boost frequencies, and the switch to DDR4 memory.
2018 MacBook Pro models feature eighth-generation Intel Core processors, with up to six cores on 15-inch models and up to four cores on 13-inch models, both firsts. The refresh marked the first increase in cores since 2011, when the first quad-core 15-inch MacBook Pro models were released.
Interestingly, as Poole notes, the new 13-inch MacBook Pro with Touch Bar models are now competitive with 15-inch models from 2017 in both single-core and multi-core performance, essentially making it a smaller replacement.
Poole also notes that these Geekbench scores are preliminary, and likely to rise over the coming weeks, as on brand new machines, macOS completes several setup tasks in the background that can temporarily degrade performance. He says these tasks vary and can take up to several days to be completed.
Apple advertises the new 15-inch MacBook Pro as up to 70 percent faster, and the new 13-inch model as up to two times faster, than the equivalent 2017 models, but Poole told MacRumors that other benchmarks may show different results than Geekbench. Performance in real-world usage will also vary.
Geekbench 4 is a popular cross-platform CPU and GPU benchmark from Primate Labs, with apps available for
Mac
and
iPhone and iPad
.
Apple retail stores in the United States have received supplies of the new 2018 MacBook Pro models, which means stock configurations are
available for in-store pickup
and walk-in purchase as of today.
Both 13 and 15-inch models are available in many Apple retail stores around the country, but not all stores appear to have full stock at this time.

When the MacBook Pro was announced on Thursday, Apple said the new machines would be in retail stores later this week. The first orders placed on Thursday have also started arriving to customers, with Apple
shipping some out
as early as Friday.
In addition to the United States, the new 13-inch MacBook Pro is also available for in-store pickup in the UK, Germany, and France, but retail locations don't yet appear to be stocking the 15-inch model. In-store pickup is not yet available in Canada, Australia, or countries in Asia.
Pricing on the new 13-inch MacBook Pro begins at $1,799 for the entry-level 13-inch model with a 2.3GHz 8th-generation quad-core Core i5 chip, Intel Iris Plus Graphics 655, 8GB RAM, and a 256GB SSD.
Pricing for the 15-inch MacBook Pro starts at $2,399 for a 2.3GHz 6-core 8th-generation Core i7 chip, a Radeon Pro 555X graphics card, 16GB RAM, and a 256GB SSD.
Beyond the two stock 13 and 15-inch models, there are several customization options available
for an additional price
, with the top of the line 13-inch model priced at $3,699 for a 2.7GHz Core i7 processor, 16GB RAM, and a 2TB SSD.
The ultimate 15-inch MacBook Pro is priced at $6,699 for a 2.9GHz Core i9 processor, a Radeon Pro 560X, 32GB RAM, and a 4TB SSD.
Custom configurations are not generally in stock at most Apple retail stores and will need to be
custom ordered from Apple's website
. Custom orders placed today will arrive in approximately 10 days.
Apple has outlined repair options and parts availability for the new 2018 MacBook Pro in an internal document distributed to Apple Stores and Apple Authorized Service Providers on Friday and obtained by MacRumors.

If a defective 2018 MacBook Pro is taken to an Apple Store, the Genius Bar will be able to mail it to an off-site Apple Repair Center, which will be able to repair minor components beginning in late July, and major components beginning in late September, according to the document, which doesn't specify the minor-major distinction.
Apple Stores and Apple Authorized Service Providers will only be able to perform limited on-site repairs until service inventory of replacement parts becomes available, as is often the case with a new Apple product:
Apple says the new 13-inch MacBook Pro with Touch Bar models have a "new" power adapter, with replacements available in late July. The adapter is still 61W, according to Apple's website, and its external design seems to remain the same, so any potential changes may be internal.
Keycap kits will be available in mid-August. Hopefully they will be needed less, as iFixit discovered the 2018 MacBook Pro has a thin, silicone barrier underneath each key, which they believe is to prevent dust and other particulates from causing keys to stick, repeat, or function inconsistently.
Other service parts will be available in late September.
MacRumors received this information from a reliable source, but repair options and service parts availability may vary based on store or repair shop, region, and so forth. These are only guidelines that are subject to change.
To initiate a repair, head to the
Contact Apple Support
portal, select Mac → Mac notebooks, select the category and type of issue, select Bring in for Repair, and book an appointment with an Apple Store or Apple Authorized Service Provider. There are also phone, chat, and email options for troubleshooting.
The keys of the new 2018 MacBook Pro, which uses a third-generation butterfly keyboard, appear to be cocooned in a "thin, silicone barrier" according to a teardown that's underway over at iFixit.
According to iFixit
, the quieter typing Apple has been advertising in the 2018 MacBook Pro models is a
side effect
of the new membrane, which the site believes is actually an "ingress-proofing measure" to prevent the butterfly keys from seizing up when exposed to dust and other small particulates.

To back up its claim, iFixit points towards a patent for
the technology
Apple may be using in the third-generation butterfly keyboard, which describes a "guard structure" that keeps direct contaminants away from the movement mechanism.
iFixit does warn, however, that while the silicone barrier is clearly in place, there's no way to definitively prove that it's a reliability fix rather than just a sound damping measure, citing statements from Apple to
The Verge
that have said the new keyboard design wasn't introduced to "solve [dust] issues." Apple also told
The Verge
and other sites that the issue in question has only impacted a small number of customers.
iFixit speculates that Apple is avoiding sharing the complete reasoning behind the keyboard redesign because of the
class action lawsuits
that it's currently facing over faulty 2016/2017 MacBook Pro keyboards.
Apple is in the middle of several class-action lawsuits for the failure of their keyboards, so of course they can't just come out and say, "Hey, we fixed it!" That says there was a problem to begin with. But you've heard that clever analysis from John Gruber already. I'm just here to posit: the advertised boost in quietude is a side-effect of this rubbery membrane. The quiet angle is, quite literally, a cover up.
Since Apple unveiled the 2018 MacBook Pro with its third-generation butterfly keyboard, there have been questions about whether specific changes were made to address keyboard failure issues present in 2016 and 2017 MacBook Pro models.
Apple has been vague when answering questions about the way the quieter keys were implemented and if those changes also impact durability and reliability, but iFixit's teardown offers hope for customers who have been waiting for Apple to fix the keyboard problems affecting older MacBook Pro models.
Some 2016 and 2017 MacBook Pro owners have experienced issues with sticky, unresponsive, or repeating keys, leading to significant public outcry that eventually pushed Apple to launch a free repair program for those machines. As a result of the attention given to the issue, some customers have been wary about purchasing a new MacBook Pro because of possible future problems.
Future failure rates and anecdotal reports may be the only way to determine the true purpose behind the silicone barrier added to the keys, as Apple's marketing materials insist the change has been introduced to allow for a quieter typing experience, addressing an issue that few people seemed to have had with the 2016/2017 keyboard.
Earlier today,
TechCrunch
shared a video
demonstrating the typing sound of the new 2018 MacBook Pro compared to an earlier MacBook Pro model, confirming that it is indeed quieter as Apple says. Multiple hands-on reports
have also said
there's a noticeable difference between the sound of the new MacBook Pro and older models.
iFixit plans to continue on with its teardown next week and may have more information to share, but given the interest in the third-generation butterfly keyboard, the site didn't want to wait to highlight potential good news.
Apple's new 2018 MacBook Pro models feature a third-generation butterfly keyboard, which Apple says has been improved for a "quieter typing experience."
The difference in sound between the quieter 2018 MacBook Pro keyboard and the older butterfly keyboard in an earlier version of the MacBook Pro has been demoed in video by
TechCrunch
, with the difference in sound clearly audible.
The sound coming from the 2018 MacBook Pro keyboard is noticeably muffled compared to the sound coming from the previous-generation MacBook Pro, which, as
TechCrunch
points out, sounds much more like a typewriter.
Multiple
hands-on experiences
with the 2018 MacBook Pro shared by various media sites yesterday have also confirmed that the new third-generation butterfly keyboard is a good deal quieter than previous keyboards.

When it comes to feel, though, reviews have said that the keyboard doesn't feel any different, as it's using the same butterfly switches with the same amount of key travel.
According to Apple, the focus with the third-generation keyboard was dampening key sounds, and the company has not confirmed if specific changes were made to address keyboard failure issues present in 2016 and 2017 MacBook Pro models.
Some 2016 and 2017 MacBook Pro owners have experienced issues with sticky, unresponsive, or repeating keys, leading Apple to
launch a repair program
for those machines. Apple is offering free repairs for affected MacBook Pro models, but it continues to be unclear if design changes have been implemented to prevent the issue, both in earlier machines and the new 2018 machines.
More information will be available on the 2018 MacBook Pro keyboard when it's unveiled through the teardowns that should be coming soon.
The 2018 MacBook Pros just went on sale yesterday, but Apple was quick about shipping them out and some customers already have the new machines in hand.
Laptop Mag
was able to get one of the new 13-inch 2018 MacBook Pro models and performed some benchmarks to give us an idea of how it measures up to competing PCs. According to
Laptop Mag
, it the new 13-inch MacBook Pro is the "fastest system in its class."

The site's tests were performed on the $2,499 13-inch MacBook Pro with Touch Bar equipped with a 2.7GHz quad-core 8th-generation Core i7 processor, 16GB RAM, Intel Iris Plus 655, and a 512GB SSD.
A file copy test of the SSD in the new MacBook Pro, which Apple says supports sequential read speeds of up to 3.2GB/s and sequential write speeds up to 2.2GB/s, led
Laptop Mag
to declare the SSD in the MacBook Pro "the fastest ever" in a laptop. Higher capacity SSDs may see even faster speeds on disk speeds tests. A BlackMagic Disk Speed test was also conducted, resulting in an average write speed of 2,682 MB/s.

I had to do a double take when I saw how quickly the new 13-inch MacBook Pro duplicated 4.9GB worth of data. It took 2 seconds, which comes out to a rate of 2,519 megabytes per second. That's insane.

So we also ran the BlackMagic Disk Speed test for macOS, and the system returned an average write speed of 2,682 MBps.

To be fair, Apple's relatively new APFS file system is designed to speed up file copies using a technology Apple calls Instant Cloning. But a win is a win.
On a Geekbench 4 CPU benchmark, the 13-inch MacBook Pro earned a score of 18,055 on the multi-core test, outperforming 13-inch machines from companies like Dell, HP, Asus, and Microsoft. That score
beats out
all 2017 MacBook Pro models and is faster than some iMac configurations. 15-inch MacBook Pro models with 6-core 8th-generation Intel chips will show even more impressive speeds.

The MacBook Pro took 16:57 minutes to transcode a 4K video clip to 1080p using Handbrake, faster than most competing machines and two and a half minutes faster than the 2017 13-inch MacBook Pro. It didn't win at an Excel VLOOKUP macro matching 65,000 names to corresponding addresses, but at 1 minute 16 seconds to complete the task, it was competitive with the Dell XPS 13 and Asus Zenbook, while beating out the Surface Book 2 and the Huawei MateBook X Pro.
One area where the MacBook Pro didn't quite measure up to other machines with similar specs was GPU performance. The 13-inch 2018 MacBook Pro uses Intel's Iris Plus Graphics 655 with 128MB of embedded DRAM and was unable to compete in a Dirt 3 graphics test, getting only 38.8 frames per second. All Windows-based machines tested offered much better performance.

Apple did team up with Blackmagic to offer a
Blackmagic eGPU
for gaming purposes and system intensive creative tasks, but the device
is priced at $700
. It does, however, offer super fast performance with a built-in Radeon Pro 580 GPU.
Additional benchmarks and details about the 2018 MacBook Pro models will surface over the course of the next few days as orders arrive and retail stores begin stocking the machines.
The new 2018 models can be purchased from the Apple online store, with prices on the 13-inch machine starting at $1,799 and prices on the 15-inch machine starting at $2,399.
When using certain external monitors with the new 2018 MacBook Pro models, the built-in True Tone feature that matches the color of the MacBook Pro's screen to the ambient lighting in a room will also extend to the connected display.
According to a
support document
published this morning by Apple, True Tone can adjust the Apple Thunderbolt Display using an Apple Thunderbolt 3 to Thunderbolt 2 adapter, the LG UltraFine 5K Display, and the LG UltraFine 4K display.

When using these displays, you can activate or deactivate True Tone by clicking on the Apple logo in the menu bar, opening up System Preferences, choosing the Displays section, selecting the Display tab and then selecting or unselecting the True Tone checkbox.

With other third-party monitors, True Tone will not be an available option.
True Tone, first introduced on the iPad Pro and then the iPhone X, uses the sensors in the MacBook Pro to measure the white balance in the room, adjusting the tone of the display for a more natural viewing experience.

True Tone can cut down on eyestrain and it allows for a more paper-like look for websites, documents, and more.
The True Tone feature is available in the new 13 and 15-inch 2018 MacBook Pro models, which Apple unveiled yesterday. You can purchase the new machines
from the Apple online store
, with stock configurations set to arrive in just a few days after purchase.
Over the past few months, Apple has been preparing itself for product launches later in the year by
registering
several new iPads, iPhones, and Macs with the Eurasian Economic Commission. The filings are legally required for any products that include encryption features and are to be sold in Armenia, Belarus, Kazakhstan, Kyrgyzstan, and Russia, making them good indicators of products coming down the line.
Earlier in July, Apple
registered five tablet models
, including A1876, A1934, A1979, A2013 and A2014, but today
Consomac discovered
recent authorization for two new tablets: A1895 and A1980. Most of these are expected to be models of Apple's 2018 refresh of the iPad Pro.

2018 iPad Pro concept by Álvaro Pabesio
Later this year we're expected to see a
major update to the iPad Pro
with design elements from the iPhone X, like slimmer bezels, faster processor, and a TrueDepth front-facing camera with Face ID support. This means that the 2018 iPad Pro models are also expected to drop support for the home button for the first time on Apple's line of tablets.
The 2018 iPad Pro refresh is predicted to come in two sizes, measuring 11 inches and 12.9 inches, according to
recent report
by Apple analyst Ming-Chi Kuo. With two size tiers and a Wi-Fi, Wi-Fi + Cellular, and potentially a special Cellular model for China, there would be just one model number left over from the seven EEC filings.
While this could be an additional model of the iPad Pro we don't yet know about, it could also relate to a model of iPad not in the Pro family, including the iPad mini 5.
A rumor from May 2017
suggested the mini lineup was being discontinued, but over a year later Apple has yet to officially make such a commitment to ending the line.

Consomac
's other findings relate to model numbers previously reported, including
11 model numbers for smartphones
and
five model numbers for laptops
, two of which we now know were the 13-inch and 15-inch MacBook Pro with Touch Bar refresh
launched yesterday
. For MacBook, this leaves three other models with a potential launch in 2018, perhaps indicating cheaper, entry-level MacBooks without the Touch Bar.
Today's filings also include 11 existing iPhone models listed as running iOS 12, including the iPhone SE and iPhone X, two devices Apple has been rumored to possibly be discontinuing with the release of the new lineup. It's unclear, however, if their inclusion is confirmation that Apple will continue selling them.
Of course, it's difficult to obtain any information based solely on model numbers, so at this point those looking forward to new iPads and iPhones this year can at least know that the devices are a few months away.
Adobe will launch a "full version" of Photoshop for iPad in 2019, according to
Bloomberg
's Mark Gurman and Nico Grant. The report claims Adobe will preview the app at its annual MAX creative conference in October.

Adobe's chief of Creative Cloud software Scott Belsky confirmed that the company is working on a new cross-platform version of Photoshop and other apps, but declined to specify the timing of their launches.
"My aspiration is to get these on the market as soon as possible," Belsky said in an interview. "There's a lot required to take a product as sophisticated and powerful as Photoshop and make that work on a modern device like the iPad. We need to bring our products into this cloud-first collaborative era."
Adobe already offers a range of companion apps for Photoshop on iPhone and iPad, including
Photoshop Fix
for basic retouching,
Photoshop Express
for basic photo editing and creating collages,
Photoshop Sketch
for drawing and painting, and
Photoshop Mix
for creating multilayered images.
The full version is expected to offer a wider range of tools, enabling users to start a project on the desktop and continue editing on the iPad, or vice versa. The app is said to have a mobile-friendly interface, as part of an architecture overhaul that will extend to other Adobe apps, such as Illustrator.
The app will presumably be named Photoshop CC for iPad, and will likely be a free download, but like the already-available Lightroom CC for iPad, a
$9.99 per month Creative Cloud subscription
will likely be required to access the full feature set and syncing with Photoshop on the desktop.
Photoshop CC would compete with other photo editing apps on iPad, including Affinity Photo, Pixelmator, and Snapseed by Google.
Apple today released a series of new 15-second ads highlighting Apple Pay Cash under the tagline "Just text them the money."
One ad shows how roommates can use Apple Pay Cash in Messages to send rent money, while another includes a "lost shirt" scenario that demonstrates the ability to request a specific dollar amount.
A third ad highlights two friends discussing and paying for tickets to a game even though it conflicts with another friend's wedding, while the fourth ad covers a mother sending money to her child after receiving a photo of an empty fridge.
Apple Pay Cash launched in the United States with iOS 11.2 in
early December
through a partnership with Green Dot Bank and has yet to expand to any other countries.