Apple today uploaded several new videos to its YouTube channel, each one designed to show off the
Apple Pay
Cash feature available on iOS devices.
Each 15 second video demonstrates the process of requesting and spending money using Apple Pay Cash in the Messages app, and then using the Apple Pay Cash card in Wallet to make purchases.
This isn't the first time that Apple has highlighted Apple Pay Cash, which was first introduced in iOS 11.2. The feature lets iPhone and
iPad
users send peer-to-peer Apple Pay payments to one another using the Messages app.
Money received via Apple Pay Cash can be used for Apple Pay payments or deposited in a bank account, similar to other mobile peer-to-peer payment services like Venmo.
Apple Pay Cash is limited to the United States at this time, but the feature has been popping up for users in countries like Canada and Australia, suggesting Apple is working on expanding it.
Target yesterday
announced
that all of its stores
will begin accepting Apple Pay in the coming weeks
, but it still won't be possible to add its store-branded
REDcard
debit or credit cards to the Apple Wallet app. REDcard is Target's loyalty program, offering an automatic five percent off most purchases everyday.

"REDcards cannot be added to
Apple Pay
as part of this rollout," a Target spokesperson confirmed with MacRumors today.
This means paying with a REDcard will still require inserting the physical card into the payment terminal or adding it to
Target's mobile app
and
having the cashier scan a barcode at the checkout
. The latter method requires opening the Target app and tapping on the Wallet tab to access the barcode.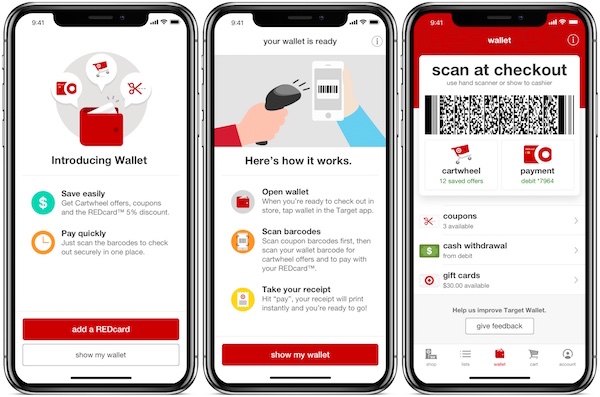 Both options are less convenient than Apple Pay, which requires a quick double-click of the side button and authentication with Face ID on the iPhone X and newer, or briefly resting your finger on
Touch ID
on older iPhones.
Target already suggested that REDcards would not support Apple Pay
on Twitter
, but its "at this time" phrasing wasn't entirely clear.
Of course, Target could decide to allow REDcards to be added to the Apple Wallet app in the future. The retailer had
avoided accepting Apple Pay entirely for several years
until reversing course with this week's announcement, so it might be only a matter of time before it changes its mind again.
Apple spent $6.6 million on lobbying the U.S. government in 2018, after spending a record $7.1 million in 2017, according to disclosure forms (
Q1
,
Q2
,
Q3
,
Q4
) filed with the Office of the Clerk of the U.S. House of Representatives.

Apple's lobbying expenses have increased significantly since the Trump administration assumed office two years ago, with the iPhone maker spending more than ever before to influence the current government on issues such as privacy, education, climate change, trade, immigration, tax reform, and patent reform.
The largest amount Apple ever spent on lobbying Obama's administration in a single year was
$4.6 million in 2016
, his last year in office.
Apple also lobbied the government on the development of autonomous vehicle technologies, regulation of mobile medical applications, and distribution of video programming, hinting at some of the company's upcoming products and services, such as its widely expected
streaming TV service
later this year.
Apple CEO
Tim Cook
has maintained a civil relationship with Trump, but he has disagreed with some of the President's policies and actions as it relates to
immigration
,
trade agreements with China
, and beyond.
Note: Due to the political nature of the discussion regarding this topic, the discussion thread is located in our
Politics, Religion, Social Issues
forum. All forum members and site visitors are welcome to read and follow the thread, but posting is limited to forum members with at least 100 posts.
DigiTimes
reports today that Apple will release next-generation
AirPods
that include "health monitoring features" in the first half of 2019.

In terms of wireless headsets, Apple is set to release AirPods 2 sometime in the first half of 2019, and the new wireless earbuds with discrete designs to carry health monitoring functions are expected to receive enthusiastic market responses.
The mention appears in an article focusing on how wearables are expected to drive market growth of rigid-flex printed circuit boards (PCBs) in 2019, but the report cites no sources for the AirPods rumor, and only mentions that Tiawan-based PCB makers Zhen Ding Tech and Flexium Interconnect supply components for
Apple Watch
and AirPods "at the moment."
DigiTimes' sources often provide reliable information, but the site has a mixed track record when it comes to interpreting that information and accurately deciphering Apple's plans. The news site receives a flood of data from the Asian supply chain, some of which it claims pertains to prototypes or test products that never make it to market or change significantly before launch, skewing its accuracy.
With that in mind, and without corroborating sources,
DigiTimes
could be referring to a prediction from well-connected Apple analyst
Ming-Chi Kuo
that new AirPods with a wireless charging case would debut late in the fourth quarter of 2018 or early in the first quarter of 2019. Kuo later clarified that report to say that he expects new wireless AirPods in early 2019.
Listings for New AirPods were added to the Bluetooth Special Interest Group's regulatory database in November, suggesting a refreshed version of the accessory could well be coming soon. No new features are listed, but upcoming AirPods in the database do support the Bluetooth 5.0 specification, compared to Bluetooth 4.0 in the prior-generation AirPods.
Apple is also said working on third-generation AirPods that are set to be released in 2020 with a new design and perhaps improved water resistance that will allow the AirPods to hold up to "splashes of water and rain."
The AirPods aren't likely to be entirely water resistant, however, and won't be able to be submerged in liquid. These third-generation AirPods are also rumored to include noise cancellation features and increase the distance that AirPods can be listened to away from an iPhone or
iPad
.
Amidst increasing hype about foldable displays, Xiaomi has revealed that it is also working on its own flexible phone.
The Chinese mobile maker broke the news with a teaser video posted on
Weibo
that shows Xiaomi president and co-founder Lin Bin using what at first looks like a normal tablet device, until he folds back both sides of the display so that it resembles a distinctly phone-like form factor.
The physical power button is side-mounted on the device when in landscape orientation, which places it in a top-center location when in phone mode. In a neat touch, the size and orientation of the user interface also automatically adjusts in order to conform to the new dimensions of the display.
In a message accompanying the post, Bin wrote that the device is the result of the company overcoming technical challenges relating to folding displays, foldable hinges, flexible covers, and UI adaptation.
Bin admitted that what he hopes will become "the world's first dual-folding phone" is still just a prototype at this stage, but said that the company will consider mass producing it if the response from consumers is positive. Bin floated two possible names for the phone – the Mi Dual Flex and the Mi MIX Flex – although he said Xiaomi is open to suggestions from the public.
Last year, Samsung showed off its new
Infinity Flex display technology
in a device that features a 7.3-inch flexible display that can be folded in half. The company said it had developed an advanced composite polymer that's "flexible and tough" to replace the glass that's usually used as a display cover in smartphones.
Samsung is expected to formally announce its first commercially available foldable phone during its Galaxy S10 event on February 20 in San Francisco, California.
Rumors that Apple is developing an iPhone with a foldable display stretch back to December 2016, when it was reported that LG's display division would begin
mass-producing foldable displays
for smartphones as early as 2018. Apple was said to have chosen to work with LG Display and not Samsung out of fears that Samsung could get ahold of the sensitive tech.
LG is said to have created a
dedicated task force
to start developing a foldable OLED display for a future iPhone, while its siser company LG Innotek has a team developing a rigid flexible printed circuit board or (RFPCB) to go along with it.
LG has shown off several foldable display prototypes over recent years, including one that folds over like a book and a second that rolls up much like a newspaper.
Apple CEO
Tim Cook
is at the World Economic Forum in Davos, Switzerland this week, meeting with world leaders, mingling with other CEOs of major companies, attending dinners, and doing interviews.

According to reports on Twitter, Cook
met with
Armenian Prime Minister Nikol Pashinyan and
attended a dinner
with Brazilian president Jair Bolsonaro, Microsoft CEO Satya Nadella, New Zealand Prime Minister Jacinda Ardern, and more.

Vuelve Brasil 🇧🇷🚀

Bolsonaro cenando en Davos con
Tim Cook, CEO de Apple
Satya Nadella, director ejecutivo de Microsoft
Klaus Schwab Presidente del Foro Económico Mundial
Famlia real de Bélgica
Presidente de Suiza
Primera ministro de Nueva Zelanda pic.twitter.com/zfBrtiJU1v

— Vení Gil💎 (@rulosk_el) January 22, 2019
Cook also sat down for an education-focused interview with German site
Bild
, and while the original interview appears to be unavailable,
Apple Must
shared some details on what was discussed.
Cook's interview came on the day that Apple
announced the translation
of its Everyone Can Create curriculum to German, French, Spanish, and Italian on Apple Books, expanding its availability to additional countries.
According to Cook, Apple believes that "creativity is something everybody is born with," and "education is a great equalizer."
"People are not born with the same resources but many are born with incredible opportunities to learn and to move up and do incredible things in live." [..]

"I was born in a very rural lower middle class environment. I loved it and it's great for me but the thing that enabled me to do other things and to be at Apple today is education."
Cook says Apple's education-focused content like Everyone Can Code and Everyone Can Create is "for the people." "If it has an indirect effect on our business, that's fine," he said. "But frankly, this is from the heart."
Apple, Cook said, has created 1.5 million jobs across Europe with its iOS app economy, with the number of available app-related jobs growing each year. Cook believes that Apple's apps offer an "outstanding" educational opportunity, offering tools that can help kids learn faster when paired with great teachers.
Additional details about Cook's trip to Switzerland may come out over the course of the rest of the week, but thus far, it's not clear what else the CEO has done while in the country. The World Economic Forum lasts through Friday, January 25.
Note: Due to the political nature of the discussion regarding this topic, the discussion thread is located in our
Politics, Religion, Social Issues
forum. All forum members and site visitors are welcome to read and follow the thread, but posting is limited to forum members with at least 100 posts.
The U.S. Patent and Trademark Office earlier this month approved for publication a
trademark application from Apple
for the term "
iPod touch
" that would extend protection to cover
"Hand-held units for playing electronic games; Handheld game consoles"
under International Class 28 (games, toys, and sporting goods).
Apple has held a trademark for the iPod touch name
since 2008
under International Class 9 (audiovisual and information technology equipment) with the following description:
Portable and handheld digital electronic devices for recording, organizing, transmitting, manipulating, and reviewing text, data, audio and video files; computer software for use in organizing, transmitting, manipulating, and reviewing text, data, audio and video files on portable and handheld digital electronic devices.

As part of its justification for the new trademark application under gaming consoles, Apple submitted a screenshot of its
iPod touch overview page
scrolled to the "Gaming" section, with red arrows calling out the product name and the "Buy" button.
The iPod touch has of course been a handheld gaming console since its launch over a decade ago, so it's unclear why Apple has waited until now to extend its trademark coverage to include the area. It could be a purely defensive move to protect against competitors or other challenges, but given
rumors last week
of Apple working on a seventh-generation iPod touch some three and half years after the last update, there's naturally some speculation that there could be more to this.
We haven't heard any specific rumors about what to expect in a seventh-generation iPod touch, but we expect Apple to keep spec upgrades fairly minimal in order to maintain a low price point to appeal to customers who can't or don't want to step up to an iPhone.
Apple's new application will be published for opposition on February 19, and unless viable third-party opposition to Apple's claim appears, the company will be granted the trademark later this year.
Honor, a smartphone brand owned by Huawei, today unveiled its newest device, the
Honor View 20
. The device launched at an event in Paris, and several tech publications were able to go hands-on with it.
A mid-range device, the Honor View 20 is the first Honor-branded smartphone that features a hole-punch notch in the display, maximizing view area with a single cutout just for the camera. This isn't the first device under the Huawei umbrella to have a hole-punch cutout - the
Nova 4
also has a similar design.
The Honor View 20 is a 6.4-inch LCD display with rounded corners, the aforementioned camera cutout (which houses a 25-megapixel camera), a small bezel at the bottom of the device, and a speaker grille at the top of the casing. There's a rear-facing fingerprint sensor, a 48-megapixel rear camera paired with a second camera sensor for detecting objects in 3D, a 4,000mAh battery, and a Kirin 980 system-on-a-chip.

TechCrunch
's Romain Dillet said the hole-punch cutout "definitely feels different" from an iPhone notch, but it looks weird located on the left side of the device. Still, it "looks great" when viewing photos and videos, and after just a few minutes, "you barely notice it."
"I hope more companies are going to follow this trend," writes Dillet.

CNET
's Jessica Dolcourt was also able to give the new smartphone a try, calling it "visually mesmerizing." The display, according to Dolcourt, "feels as close to an edge-to-edge screen as we're likely to get right now."
You might have opinions about the hole-punch camera, just as you might have strong feelings about the notch. But it never got in my way. It either fits into an unoccupied corner of whichever app you open, or falls into the navigation bar of that app. It all depends on how the app maker laid everything out in the first place.
The Honor View 20 launches in Europe and Asia and is priced starting at 569 euros or 499 pounds for 6GB RAM and 128GB storage. Huawei's devices are banned in the U.S. and so the new smartphone will be difficult to obtain in countries like the United States, UK, Australia, and New Zealand.

While hole-punch camera cutouts are a growing trend, with even Samsung set to use the technology, it's not clear if it's something Apple is aiming for. Most front-facing camera setups are not as complicated as the TrueDepth camera system, which, in addition to a standard camera, incorporates a dot projector and infrared camera for facial scans.

Rumors have suggested Apple will cut down on
the size of the notch
in 2019, and Apple's ultimate goal is said to be an uninterrupted edge-to-edge display with no compromises like a notch, but it's not known if and when the company will reach that goal.
A U.K.-based non-profit organization,
CDP
, recently asked major companies to provide reports on their environmental impact with details on the risks and opportunities that climate change might present.
Apple was one of the respondents, and as outlined by
Bloomberg
, the company believes future climate-related disasters could increase peoples' dependence on the iPhone.

According to Apple's report, of which only a portion of a statement was shared, the iPhone can work as a flashlight or a siren, provide first aid instructions, or serve as a radio. The device can be charged via hand cranks or car batteries, allowing it to work even when power is out.
"As people begin to experience severe weather events with greater frequency, we expect an increasing need for confidence and preparedness in the arena of personal safety and the well-being of loved ones,'' the company wrote. Its mobile devices "can serve as a flashlight or a siren; they can provide first aid instructions; they can act as a radio; and they can be charged for many days via car batteries or even hand cranks.''
Apple declined to comment on the information provided in the report, and we only have a small glimpse at the data that was included. Apple undoubtedly had additional thoughts to share on climate change, much like the other companies that participated.
Disney, for example, said it's worried about rising temperatures affecting park attendance, while Coke said potential water shortages could limit water availability for the bottling of Coke. Intel said that droughts in areas of its operation could increase operational costs, while AT&T said that frequent hurricanes and wildfires could lead to more spending on damage repair for its network.
Based on the reports submitted by each company, CDP (which used to be called the Carbon Disclosure Project)
provided letter grades
measuring metrics like "how aware they are about [climate change]," "how they're progressing towards targets," and "how they're managing it."
Thirty total companies in the United States received overall "A" grades when it came to environmental performance, including Apple. Apple was
scored on metrics
like the infrastructure in place to address climate change issues within the company, risks and opportunities related to climate change, financial planning for these risks and opportunities, emissions targets and progress made towards those targets, and more.
Apple works hard to
limit its carbon footprint
, and all of its facilities worldwide operate using 100 percent renewable energy. Apple is now focusing on recycling, with the aim of a closed-loop supply chain that puts an end to its need to mine the earth for rare minerals.
Note: Due to the political nature of the discussion regarding this topic, the discussion thread is located in our
Politics, Religion, Social Issues
forum. All forum members and site visitors are welcome to read and follow the thread, but posting is limited to forum members with at least 100 posts.
Apple is hosting a "Shot on iPhone"
photography challenge
, and is asking iPhone users to submit outstanding photographs that were captured on an iPhone.
Entries are being collected starting today, with users able to submit a photo on Instagram or Twitter using the "#ShotOniPhone" hash tag or submitting a high-resolution photo to shotoniphone@apple.com with the file format "firstname_lastname_iphonemodel."

A "Shot on iPhone" image captured by an iPhone user
Winning images will be featured on billboards in select cities,
Apple retail
stores, and online on Apple Newsroom and Apple's social media accounts. Apple will select a total of 10 winners.
Apple says photos can be captured straight from the camera, edited through Apple's editing tools in the Photos app, or edited with third-party photo editing software.
Apple will be accepting submissions through February 7, and participants must be over 18. Apple employees, including retail employees, along with their families, are not eligible to participate.
Apple has a panel of well-known photographers serving as judges for the contest, including former White House photographer Pete Souza, travel photographer Austin Mann, travel photographer Annet de Graaf, Brazilian photographer Luísa Dörr, and fashion photographer Chen Man.
Several Apple employees will also be judging entries, including Apple marketing chief
Phil Schiller
, senior director in Worldwide Product Marketing Kaiann Drance, photographer Brooks Kraft, software developer Sebastian Marineu-Mes, camera software team leader Jon McCormack, and director of photography Arem Duplessis.
Apple will today release iOS 12.1.3, the fifth update to the iOS 12 operating system since its
September launch
. iOS 12.1.3 is a minor update that follows iOS 12.1.2 (iPhone only),
released back in December
, and iOS 12.1.1, also
released in December
.
The iOS 12.1.3 update will be available on all eligible devices over-the-air in the Settings app. To access the update, go to Settings > General > Software Update. As with all iOS updates, iOS 12.1.3 will be free to download. iPhone owners will be upgrading to iOS 12.1.3 from iOS 12.1.2, while iPad owners will be updating from iOS 12.1.1.

iOS 12.1.3 is a minor update, and during the beta testing period, we found no major new features. According to Apple's release notes, iOS 12.1.3 includes fixes for multiple bugs affecting iPad Pro, HomePod, CarPlay, and more.
On HomePod, the update fixes bugs that could cause restarts or that could cause Siri to stop listening. On the iPad Pro, iOS 12.1.3 fixes an issue that could cause audio distortion when using external input devices, and for CarPlay, issues that could cause disconnects from the 2019 iPhones have been addressed. Apple's full release notes:
This update:

- Fixes an issue in Messages that could impact scrolling through photos in the Details view
- Addresses an issue where photos could have striped artifacts after being sent from the Share Sheet
- Fixes an issue that may cause audio distortion when using external audio input devices on iPad Pro (2018)
- Resolves an issue that could cause certain CarPlay systems to disconnect from iPhone XR, iPhone XS, and iPhone XS Max

This release also includes bug fixes for HomePod. This update:

- Fixes an issue that could cause HomePod to restart
- Addresses an issue that could cause Siri to stop listening
The prior update,
iOS 12.1.2
, included a fix for eSIM activation issues and tweaked some iPhone functionality in China to remove features that infringed on Qualcomm patents so Apple could bypass a sales ban on older iPhones.
DxOMark today published the results of its
"Selfie scores" test
, which gauged the performance of the front-facing cameras for 12 modern smartphones. Apple's
iPhone XS
Max sits at fourth place on the overall selfie rankings
with a score of 82
, beaten out by Google Pixel 3, Galaxy Note 9, and Xiaomi Mi MIX 3.

According to DxOMark, the iPhone XS Max produces "some of the best" still images and video quality when it's placed in brightly lit situations, but it lost points because of poor performance in dim lighting. The only other Apple smartphone on the list is the iPhone X, with a score of 71 in 10th place.
DxOMark also broke down its results by providing a specific "selfie photo score" and "selfie video score." The iPhone XS Max received a score of 81 and 82, respectively in each category, again staying in fourth place in both instances.
The company said that Portrait Mode selfies are a major strength of the iPhone XS Max, with very good depth estimation and accurate subject masking. Overall, DxOMark said the iPhone XS Max was "among the best results we've observed for front cameras" thanks to features like HDR and Portrait Mode's bokeh effect.

iPhone XS Max bokeh effect

Google Pixel 2 bokeh effect
Overall, DxOMark pointed out that one of the XS Max's big weak spots on its front-facing camera is noise, noting that
luminance noise
is visible on faces in many of the outdoor images taken during the testing process. The company noted that results remained "acceptable," but things only got worse in low lighting conditions, and even explained that these results are slightly poorer than those found on the iPhone X's front-facing camera.
Achieving a DxOMark front camera score of 82, the Apple iPhone XS Max puts in a solid performance for both still and moving images during our tests, and is a nice improvement over its predecessor, the iPhone X. For still photos, the device boasts some great strengths for selfie shooters, including excellent HDR, bokeh shots, and detail at close range, which are among the best results we've observed for front cameras.

There are some areas in which Apple can continue to improve for stills, however, with noise visible in all lighting conditions; and white balance and skin rendering issues, especially in indoor images and occasionally outdoors, too, where color casts and low-contrast faces can look unnatural.
The full ratings breakdown for the iPhone XS Max's front-facing selfie camera can be seen below:

The two phones topping the list -- Pixel 3 and Galaxy Note 9 -- tied for first with a score of 92. DxOMark said that the Pixel 3 edges out the Note 9 in terms of its focus system, but the Note 9 achieves better results for exposure and color in selfie photos. "Images captured with the Google device show slightly stronger contrast and a cooler white balance," DxOMark's Lars Rehm mentioned. "The Samsung is a little better at exposing for faces and applies a little less contrast to faces, making for a slightly more natural look."
You can check out the full iPhone XS Max front camera review by DxOMark
right here
.