Apple Unveils $349 HomePod Smart Speaker to be Available in December
Apple today announced its plans to "reinvent home music" with the unveiling of its newest product, HomePod, a wireless speaker powered by Apple's A8 chip with Siri integration that's just under 7 inches tall.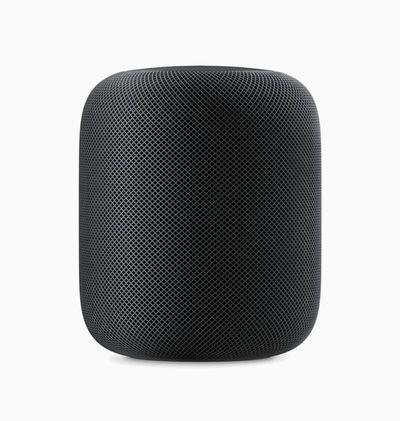 Apple reinvented portable music with iPod and now HomePod will reinvent how we enjoy music wirelessly throughout our homes," said Philip Schiller, Apple's senior vice president of Worldwide Marketing. "HomePod packs powerful speaker technology, Siri intelligence and wireless access to the entire Apple Music library into a beautiful speaker that is less than 7 inches tall, can rock most any room with distortion free music and be a helpful assistant around your home.
HomePod is a combination of high quality music playback speakers and smart speaker systems that are on the market today. The HomePod can intelligently detect the space it is in with "spatial awareness," which the company said provides better quality audio playback than its competitors.
HomePod has an upward-facing woofer and an array of seven beam-forming tweeters. It has a six-microphone array that can detect commands even when music is playing loudly. When there are two HomePods in a room, they will automatically detect each other and optimize music playback complementarily. Setting up a new HomePod works similarly to AirPods set up--simply holding an iPhone near a HomePod will pair it.
HomePod automatically works with an Apple Music subscription and can play back playlists, radio stations, and more content found within Apple Music. Siri commands will let users direct the HomePod to play music, add songs to playlists, and even answer music trivia questions.
Siri will also act as a home assistant and include support for News, Messages, Podcasts, Stocks, Weather, Reminders, alarms, timers, sports and traffic. HomePod will also be a HomeKit hub and let users control lights, blinds, locks, and other accessories by voice, even when users are away from home.
The HomePod will launch in December for $349 and will be available in white and space gray in the US, UK, and Australia to start.