Apple Pay
Available in the U.S., UK, China, Australia, Canada, Switzerland, France, Hong Kong, Russia, Singapore, Japan, New Zealand, Spain, and Ireland in participating retail stores and apps.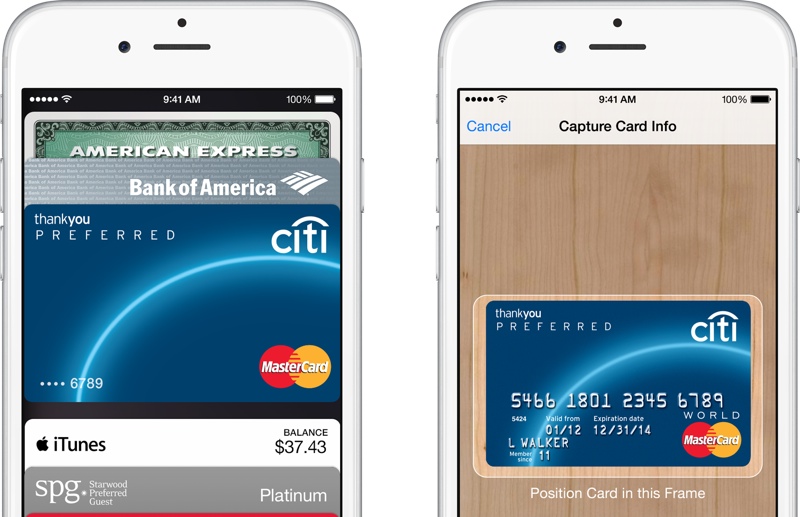 At a Glance
Apple Pay is Apple's mobile payment service, which lets iPhone 6, 6s, 6 Plus, 6s Plus, 7, 7 Plus, SE, and Apple Watch owners make payments using NFC with their devices.
Features
NFC Integration
Touch ID for Security
Available in the U.S., UK, China, Australia, Canada, Switzerland, France, Hong Kong, Russia, Singapore, Japan, New Zealand, Spain, and Ireland
Accepted at more than 2.5 million locations in the U.S.
Now available on the web w/ macOS Sierra and iOS 10
Supported by iPhone SE, 6, 6s, 6 Plus, 6s Plus, 7, 7 Plus, and Apple Watch
Apple Pay Overview
Apple Pay is Apple's mobile payments service. As with the Apple Watch, Apple has adopted the Apple symbol "" followed by "Pay" for the service's name, though the company also refers to it as "Apple Pay."
Available since October 20, 2014, Apple Pay is designed to allow iPhone 6, 6s, 6, 7, 6 Plus, 6s Plus, 7 Plus, and SE users in the United States, the United Kingdom, Australia, Canada, Singapore, Switzerland, Hong Kong, France, Russia, China, Japan, New Zealand, Spain, and Ireland to make payments for goods and services with their iPhones in retail stores using an NFC chip built into their iPhones.
With the Apple Watch, Apple Pay is also extended to the iPhone 5, iPhone 5c, and iPhone 5s. To use Apple Pay with one of these devices, a paired Apple Watch is required to make the payment. This is made possible through the NFC chip included in the Apple Watch.
Apple Pay also lets users make one-tap purchases within apps that have adopted the Apple Pay API, and it is available on the web with iOS 10 and macOS Sierra. Devices capable of using Apple Pay within iOS apps or on the web include the iPhone 6, iPhone 6s, iPhone 6 Plus, iPhone 6s Plus, iPhone 7, iPhone 7 Plus, iPhone SE, iPad Air 2, iPad mini 3, iPad mini 4, and iPad Pro models. All of these devices feature Touch ID and contain an NFC controller where the "Secure Element" of Apple Pay is located, keeping customer information private.
To keep transactions secure, Apple uses a method known as "tokenization," preventing actual credit card numbers from being sent over the air. Apple also secures payments using Touch ID on compatible iPhones and continual skin contact on the Apple Watch.
Apple is aiming to replace the wallet with Apple Pay, and the one-step payment process prevents people from needing to dig through a purse or wallet to find credit or debit cards. Because it is built on existing NFC technology, Apple Pay works anywhere NFC-based contactless payments are accepted.

In October of 2016, Apple CEO Tim Cook said Apple Pay is growing steadily. Apple Pay transactions are up over 500 percent, and in September of 2016, Apple saw more Apple Pay transactions than across all of fiscal 2015. In the United States, an impressive 35 percent of merchants accept Apple Pay as of December 2016. That's up from four percent in 2014.
Setting Up Apple Pay
After installing iOS 8.1 or later, Apple Pay can be set up in the Wallet app (called Passbook in earlier versions of iOS). Tapping the "+" icon in Wallet lets users to add a credit or debit card to Apple Pay, either selecting a card already on file with iTunes or scanning one in with the camera.

Credit and debit cards are verified in just a few seconds, but some cards require a phone call, app download, or an email to verify a card before it can be added to Apple Pay. Once a card is verified, it is immediately available for purchases both in stores and within apps. Up to eight cards can be registered with Apple Pay at one time.
Apple Pay can be managed in the Settings app, located in the "Wallet and Apple Pay" section. Each card added to Wallet is listed in that section, along with information like billing address, email, and phone number. Tapping on a card offers specific information like last digits of the card number, last digits of the Device Account Number that replaces the card number in transactions, and it also provides contact information for the bank that issued the card.

Some cards are also able to display transaction information, offering a list of recent transactions that have been made.
How It Works
In a retail store, when approaching a point-of-sale system compatible with Apple Pay, the screen of the iPhone will light up and open Wallet automatically, where a user can tap on a credit card to be used or pay with the default card.
A payment is made by holding a compatible iPhone or Apple Watch near a checkout system that includes NFC, most of which look like standard card checkout terminals within stores. A finger registered with Touch ID must be kept on the home button for a short amount of time (or the Apple Watch must be kept on the wrist), after which a payment is authenticated and the transaction is completed. A completed payment is denoted by a slight vibration, a check mark on the screen, and a beep.
In some stores, users may still be asked for a PIN code or to sign for a purchase due to older point-of-sale machines, but in other retail locations, checking out with Apple Pay is an easy one-step process.
At times, Apple Pay may not be much more convenient than swiping a card, but it's important to recognize that Apple Pay is still more secure than a traditional card-based transaction. With Apple Pay, a cashier does not see a credit card number, a name, an address, or any other personally identifying information. There is no need to take out a credit card or confirm the authenticity of a credit card with a driver's license or ID card, because all of that information is stored on the iPhone and protected by several built-in security systems, including Touch ID.
Making a payment online via Apple Pay is just as simple as an in store payment because it uses the same credit card and authenticates with Touch ID in participating apps that have adopted the Apple Pay API. Using Apple Pay in an app bypasses all of the steps that are usually required when making an online purchase, including entering shipping and payment information.
After an item is added to an online cart and a user initiates the checkout process, Apple Pay can be selected as the payment method. The shipping/billing address associated with the credit or debit card on file is automatically entered, as is a user's name, and the purchase is confirmed via Touch ID. During this process, information like shipping address can be altered, which is useful when ordering a gift. Online payments using Apple Pay for the web follow the same process.

Online and retail store payments are both limited to participating merchants. Apple Pay is only available within apps and on websites that have adopted the Apple Pay API and to make a payment in a retail location, the shop will need to support Apple Pay directly or allow NFC payments.
In More Detail
Compatible Devices
Apple Pay in stores is available for the iPhone 6, 6s, 6 Plus, 6s Plus, SE, 7, and 7 Plus,, all of which contain near-field communication (NFC) chips that have not been incorporated into previous-generation iPhones.
Apple Pay also works with Apple Watch, the company's wrist-worn wearable device. The Apple Watch allows owners of older iPhones, including the iPhone 5, 5c, and 5s, to use Apple Pay in retail stores. Though the Watch needs to be paired with a phone, Apple Pay can be used when the phone is not present.
Security
Apple puts a heavy emphasis on security when advertising Apple Pay, to assure iPhone owners that their payment information is safe, and, in fact, safer on an iPhone than inside of a wallet. According to former credit card executive Tom Noyes, the way Apple Pay has been designed to work makes it "the most secure payments scheme on the planet."
When a credit or debit card is scanned into Wallet for use with Apple Pay, it is assigned a unique Device Account Number, or "token," which is stored in the phone rather than an actual card number.
The iPhone itself has a special dedicated chip called a Secure Element that contains all of a user's payment information, and credit card numbers and data are never uploaded to iCloud or Apple's servers. When a transaction is made, the Device Account Number is sent via NFC, along with a dynamic security code unique to each transaction, both of which are used to verify a successful payment. The dynamic security code is a one-time use cryptogram that replaces the credit card's CCV and is used to ensure that a transaction is being conducted from the device containing the Device Account Number.
Dynamic security codes and Device Account Numbers (aka, tokens and cryptograms) are not unique to Apple and are built into the NFC specification that the company is adopting. In fact, much of the Apple Pay system is built on existing technology.
Along with Device Account Numbers and dynamic security codes, Apple also authenticates each transaction through Touch ID. Whenever a transaction is conducted with an iPhone, a user must place a finger on Touch ID for the payment to go through. With the Apple Watch, authentication is done through skin contact. When the watch is placed on the wrist, a user will be prompted to enter a passcode. After a passcode is entered, as long as the device continues to have contact with the skin (which is monitored through the heart rate sensors), it will be able to be used to make payments. If the watch is removed and skin contact is lost, it can no longer be used to make payments.
Both Touch ID and the skin contact authentication method in the Apple Watch prevent someone who has stolen an iPhone or Apple Watch from making an unauthorized payment.

Because Apple utilizes Device Account Numbers, a user's credit card number is never shared with merchants or transmitted with payments. Store clerks and employees do not see a user's credit card at any point, and they also do not have access to personal information like a name or address because an ID is not required for verification purposes.
Furthermore, if an iPhone is lost, the owner can utilize Find My iPhone to suspend all payments from the device, without needing to go through the hassle of canceling credit cards.

Banks are confident in Apple Pay's security, and have opted to assume liability for any fraudulent purchases made both in retail stores and online using the system.
Privacy
Apple has been careful to point out the company does not store or monitor the transactions that people make with Apple Pay. Apple says it does not know what people are purchasing, nor does it save transaction information.
"We are not in the business of collecting your data," said Eddy Cue during the keynote speech introducing Apple Pay. "Apple doesn't know what you bought, where you bought it, or how much you paid. The transaction is between you, the merchant, and the bank."
U.S. Partners
Compatible Credit Cards and Banks:
Apple has partnered with the major credit card companies in the United States: Visa, MasterCard, Discover, and American Express. Apple has also signed deals with major banks, including Bank of America, HSBC, Capital One, Chase, Citi, American Express, and Wells Fargo, and it's established deals with hundreds of smaller banks across the country.
A current list of partners can be found on Apple's participating banks support document. Apple is continually working to add additional partners and as of 2016, Apple Pay is accepted by more than 1,000 issuers in the United States.
Store Credit Cards:
In October of 2015, Kohl's became the first retail store to allow Apple Pay to be used with its in-store credit cards. Kohl's Charge Cards can now be added to Apple Pay and used to make purchases in Kohl's retail stores. In May of 2016, Kohl's became the first retailer to support both store payments and rewards with a single tap in Apple Pay, allowing users to automatically get rewards points when using their Kohl's cards without the need for a second Apple Pay transaction.
BJ's Wholesale Club Credit Cards began working with Apple Pay in December of 2015. JCPenney is also testing Apple Pay with its store-issued credit cards.
Retail Partners:
Because Apple Pay is based on already existing NFC technology, the service works in hundreds of thousands of locations that accept contactless payments in the countries where Apple Pay is accepted. Apple Pay launched with a handful of partners, but over the course of the last two years, many more stores have begun accepting the payments service.
Apple Pay is accepted in more than a million retail stores, restaurants, gas stations, grocery stores, and more across the United States.
Some of Apple's partners include Best Buy, B&H Photo, Bloomingdales, Chevron, Disney, Dunkin Donuts, GameStop, Jamba Juice, Kohl's, Lucky, McDonald's, Office Depot, Petco, Sprouts, Staples, KFC, Trader Joe's, Walgreens, and Whole Foods.
A full list of locations where Apple Pay is accepted in the United States can be found on Apple's Apple Pay website.
Other partners:
Apple has teamed up with several universities to offer Apple Pay in campus stores and restaurants. In August of 2015, the University of Oklahoma became one of the first schools to offer Apple Pay campus wide, and across 2015 and 2016, more campuses will adopt the payments service.
As of November 2016, Apple has started allowing non-profit organizations to accept Apple Pay, enabling easier donations from the web or from within apps. Non-profit charity donations can be made using Apple Pay in the United States and the UK.
Through a partnership with PayAnywhere, Apple is selling a mobile NFC card reader that attaches to iOS devices to support Apple Pay transactions in any retail location.
Square launched an Apple Pay-compatible NFC reader in November of 2015, giving small business owners another way to accept payments made with Apple Pay. The Apple Pay Square Reader is available for $49.
Through a partnership with Square, Square's "Cash Virtual Card" lets Square Cash users create a virtual visa or debit card to allow them to spend Square Cash wherever Apple Pay is accepted.
Bank of America customers can now use Apple Pay to make withdrawals from many Bank of America ATMs across the United States.
Wells Fargo plans to allow customers to make NFC withdrawals from ATMs using Apple Pay later this year. PIN authentication will be required, but users won't need a card. A specific launch date has not yet been announced.
Apps:
Apple worked with several launch partners to develop apps that accept Apple Pay, including Groupon, Panera Bread, Sephora, Target, Uber, Disney, Instacart, MLB.com, Tickets.com, Starbucks, and OpenTable. Some of those apps took a few months to develop Apple Pay support, but by early 2015, nearly all of Apple's launch partners had implemented Apple Pay.

Hundreds of additional developers have been building Apple Pay support into their apps since the service's 2014 debut, including Levi's Stadium, Airbnb, Fancy, Hotel Tonight, ExxonMobil for paying at the pump, Parking Panda for reserving parking spots, and more.
Apple Pay Loyalty Card Integration
In the fall of 2015, Apple Pay began working with various store loyalty programs, allowing customers with loyalty cards stored in the Wallet app to use them over NFC in participating stores. Loyalty cards from eligible stores added to Wallet will pop up at NFC terminals just like credit cards.
Walgreens was the first company to support the Apple Pay loyalty program. Walgreens customers can add their Walgreens rewards cards to Wallet where they can be used like any other credit or debit card during the checkout process to earn rewards points.
Checking out with a rewards card is a two-step process in most stores -- first it's necessary to activate the rewards card with a finger on Touch ID, followed by the actual payment. Kohl's is an exception, having introduced one-touch rewards and payment integration.
Apple Pay on the Web
With iOS 10 and macOS Sierra, Apple Pay expanded to websites. Participating websites have begun offering Apple Pay as a payment option when checking out, giving Apple Pay users an alternative to payments services like PayPal. Many websites and payment providers like Stripe, WePay, and SquareSpace are now supporting Apple Pay on the web.

On the Mac, purchases will be verified through a connection to an Apple Watch or an iPhone, with the purchase authorized via Touch ID, and on the iPhone and iPad, purchases are authorized through Touch ID as normal.
Apple's Cut
Apple collects a fee from banks each time consumers use the Apple Pay payment solution to make a purchase. According to rumors, Apple has struck individual deals with each bank it has partnered with, including Chase, Bank of America, Wells Fargo, and more.
Apple's cut is reportedly at approximately 0.15 percent of each purchase, which equates to 15 cents out of each $100 purchase.
Promotions
Square is partnering with Apple to provide small businesses with free processing fees with Apple Pay and compatible Square Readers. Small businesses across the United States are able to process more than $12,000 worth of Apple Pay payments for free based on the 2.75 percent contactless transaction fee charged by Square, totaling $350 worth of savings.
The promotion will be available for all of 2017.
International Expansion
UK
On July 13, 2015, Apple Pay expanded beyond the United States, launching in the United Kingdom. As in the U.S., Visa, MasterCard, and American Express all supported Apple Pay at launch. UK Banks supporting Apple Pay at launch included MBNA, Nationwide, NatWest, Royal Bank of Scotland, Santander, and Ulster Bank. First Direct, HSBC, Clydesdale Bank, Yorkshire Bank, Metro Bank, The Co-Operative Bank, and digital banking service B added support at a later date.
Apple has a list of all the UK banks that support Apple Pay on its UK Apple Pay site. Most of the major banks in the country support the payments service, including holdout Barclays, which began accepting Apple Pay in April after a long delay.
In the UK, More than 250,000 locations in support Apple Pay, ranging from fast food places like KFC and McDonald's to shops like Boots, Marks & Spencer, and Waitrose. A full list of retail shops and apps that accept Apple Pay can be found on Apple's website. Many UK-based apps are also accepting Apple Pay, like Zara, TopShop, Five Guys, Hotel Tonight, Miss Selfridge, and more.
British territories Guernsey, Isle of Man, and Jersey also support Apple Pay.
Australia
Apple Pay became available in November of 2015 through a partnership with American Express, allowing American Express cardholders to use Apple Pay at any retailer that accepts contactless payments. In April of 2016, Apple Pay expanded to ANZ, the first of Australia's four major banks to implement Apple Pay support.
Through a partnership with Cuscal, Apple Pay is also available at more than 31 small banks and credit unions, making it available to four million Australians who are customers of those financial institutions. ING Direct and Macquarie have also implemented Apple Pay support.
A list of retailers that officially support Apple Pay in Australia can be found on the Australian Apple Pay website.
Apple is in talks with other banks in Australia, but the company is having difficulty negotiating fees with banks. Banks are said to be unwilling to let Apple have a portion of the interchange fees they collect from merchants. The Reserve Bank of Australia, the country's central bank, has also pushed banks towards investing in the New Payments Platform, making them reluctant to also participate in Apple Pay.
Three of Australia's largest banks, Commonwealth Bank, National Australia Bank, and Westpac, have filed a joint application with antitrust regulators in the country in the hopes of negotiating with Apple to gain access to the NFC hardware in iPhones. The banks have been backed by a number of retailers and retail groups who believe competition will introduce a better experience for consumers and more transparency on credit processing fees.
The three banks are resisting signing an Apple Pay deal because they want their customers to use already-established bank-run digital wallets. Apple does not allow third-party services to access the NFC feature built into its most recent devices.
Apple has criticized the banks' attempt to negotiate a deal to gain access to NFC, telling the Australian Competition and Consumer Commission that allowing the banks to "form a cartel" to dictate business model terms would "set a troubling precedent and delay the introduction of new, potentially disruptive technologies. Apple has also said the move would harm consumers.
The ACCC has sided with Apple in an initial ruling, denying the banks' request to negotiate with Apple as a group. A final decision will come in March of 2017, and both sides are continuing to submit arguments to sway the ACCC's decision. The banks recently once again applied to negotiate with Apple over Apple Pay.
According to Apple Pay vice president Jennifer Bailey, Australians use Apple Pay more frequently than customers in any other countries, and she believes Apple Pay is valuable enough that customers "are happy to switch banks to use it."
Canada
Apple Pay launched in Canada in November of 2015 through an American Express partnership, allowing American Express cardholders in Canada to use Apple Pay at any retailer that accepts contactless payments.
After debuting through the American Express partnership in 2015, Apple Pay in Canada expanded to two major Canadian banks, RBC and CIBC, on May 10, 2016. Apple Pay further expanded to Canada Trust, Scotiabank, and BMO on June 1, and with all five major Canadian banks accepting Apple Pay, the payments service is available 90 percent of Canadian banking customers.
A list of participating retailers and banks in Canada is available on Apple's Canadian Apple Pay website.
China
Apple Pay launched in China on February 18, 2016, through a partnership with China UnionPay, China's state-run interbank network. China UnionPay card holders with an eligible debit or credit card can use their cards at any location that has a UnionPay-compatible point-of-sale system available. Apple has signed deals with 19 of the biggest lenders in China, making 80 percent of credit and debit cards in China eligible for use with Apple Pay.
Singapore
Apple Pay launched in Singapore in April of 2016 through a partnership with American Express. Apple Pay support later expanded to encompass Visa, American Express, and MasterCard credit and debit cards issued by POSB, DBS, OCBC, Standard Chartered, UOB, and HSBC. Apple Pay is now available to more than 80 percent of Visa and MasterCard cardholders in the country.
A list of retail locations where Apple Pay is accepted can be found on Apple's Singapore website.
Switzerland
Apple Pay expanded to Switzerland on July 7. Apple Pay is available for MasterCard and Visa credit and debit cards issued by Bonus Card, Cornèr Bank, and Swiss Bankers.
Apple Pay is accepted at many retailers in Switzerland, including ALDI SUISSE, Apple, Avec, Hublot, K Kiosk, Lidl, Louis Vuitton, Mobilezone, Press & Books, SPAR, TAG Heuer, and everywhere else contactless payments are accepted.
France
Apple Pay expanded to France on July 18, 2016. MasterCard and Visa credit and debit cards issued by Banque Populaire, Ticket Restaurant, Carrefour Banque, Caisse d'Epargne, and boon are available for use with Apple Pay in the country.
As listed on the Apple Pay France website, Apple Pay is available at a wide range of retailers like Bocage, Le Bon Marché, Cojean, Dior, Louis Vuitton, Fnac, Sephora, Flunch, Parkeon, Pret, and more.
Hong Kong
Apple Pay launched in Hong Kong on July 20, 2016, with support for Visa, MasterCard, and American Express debit and credit cards issued by Hang Seng Bank, Bank of China (Hong Kong), DBS Bank (Hong Kong), HSBC, Standard Chartered, and directly from American Express. BEA and Tap & Go began accepting Apple Pay shortly after in August of 2016.
Apple Pay retailers in Hong Kong include 7-Eleven, Apple, Colourmix, KFC, Lane Crawford, Mannings, McDonald's, Pacific Coffee, Pizza Hut, Sasa, Senryo, Starbucks, ThreeSixty, and everywhere else contactless payments are accepted.
Japan
Apple Pay became available in Japan on October 24, 2016, following the release of iOS 10.1. Apple Pay can be used at all locations that accept Suica, QuicPay, or iD, but it only works in retail locations with the iPhone 7 and the iPhone 7 Plus, Apple's latest iPhones.
Apple Pay in Japan works with credit and debit cards issued by American Express, JCB, Mastercard, Aeon Financial, Orico, Credit Saison, SoftBank, d Card, View Card, MUFG Card, APLUS, EPOS, JACCS, Cedyna, POCKETCARD, Life, and more.
From March 1 to April 30, Apple is offering a "New Life" Apple Pay promotion in Japan that lets customers receive cash and other benefits on Apple Pay purchases both online and in brick and mortar stores.
Russia
Apple pay expanded to Russia on October 4, with the payment service available to MasterCard-branded cards from Moscow-based Sberbank. Apple Pay availability expanded further on November 1, becoming available to customers of the following financial institutions: Tinkoff Bank, Bank Saint Petersburg, Raiffeisenbank, Yandex.Money, Alfa-Bank, MTS Bank, VTB 24, Rocketbank, and MDM Bank.
Participating retailers in the country include TAK, Magnit, Media Markt, Auchan, Azbuka Vkusa, bp, M.Video, TsUM and authorized Apple reseller re:Store. A full list is available on Apple's Russian Apple Pay website.
New Zealand
Apple Pay launched in New Zealand through a partnership with ANZ on October 12. Apple Pay works exclusively with credit and debit cards issued by ANZ.
Apple Pay is available at many locations in New Zealand, including McDonald's, Domino's, Glassons, K-Mart, Hallenstein Brothers, Stevens, Noel Leeming, Storm, and more, with a full list available on the Apple Pay New Zealand website.
Spain
Apple Pay launched in Spain on December 1, 2016. Apple Pay is available to American Express and Banco de Santander customers, and credit and debit cards issued by Carrefour and Ticket Restaurant are also accepted.
A full list of Apple Pay retail partners and compatible apps is located on Apple's Spanish website.
Ireland
Apple Pay expanded to Ireland in March of 2017. Apple Pay is available for Visa and MasterCard holders that bank with KBC, Ulster Bank, and Boon.
Participating retailers in Ireland include Aldi, Amber Oil, Applegreen, Boots, Burger King, Centra, Dunnes Stores, Harvey Norman, Lidl, Marks and Spencers, PostPoint, SuperValu, and more, with a full list of participating retailers available on the Irish Apple Pay website.
Italy
Apple's Italian website has been updated with an Apple Pay page, confirming that Apple Pay will soon be available in the country.
Belgium
Belgian bank CBC Banque and Assurance said that Apple Pay will be available in the country in May, suggesting Apple is working on bringing its Apple Pay payments service to Belgium.
Taiwan
Apple Pay is coming to Taiwan in the near future, according to the Apple Pay page on Apple's Taiwanese website.
Seven banks in the country will support Apple Pay at launch, including Cathay United Bank, CTBC Bank, E. Sun Commercial Bank, Standard Chartered Bank, Taipei Fubon Commercial Bank, Taishin International Bank, and Union Bank of Taiwan.
South Korea
Apple is in the early stages of discussions to bring Apple Pay to South Korea, but it may still be some time before the service launches in the country. Because NFC terminals are not common in South Korea, Apple will need to encourage more retailers to implement NFC support.
Other Countries
Apple Pay vice president Jennifer Bailey says Apple is "working rapidly" in Asia and Europe to expand Apple Pay to additional countries. When selecting new countries for Apple Pay deployment, Apple looks at the size of the Apple product market, credit and debit card penetration, and existing contactless payment coverage.
Evidence of German Apple Pay-related pages on Apple's website suggest Apple Pay could expand to Germany in the near future.
Competition
One of Apple Pay's major competitors was thought to the Merchant Customer Exchange or MCX, a consortium of merchants like Walmart, Best Buy, CVS, Rite Aid, Target, Lowe's, and more.

MCX backed an app called CurrentC, which relied on customers to scan QR codes to make payments, a system described convoluted with minimal benefit to consumers. After being stuck in development for several years, work on CurrentC was shelved after MCX conducted consumer trials. MCX will now focus on partnerships with banks instead of building its own app, with beta testing ending and no further development work on CurrentC planned.
CurrentC caused controversy following the launch of Apple Pay in 2014 after members like Rite Aid and CVS shut off their NFC terminals to avoid accepting Apple Pay due to MCX exclusivity agreements. Others, like Walmart and Best Buy, publicly stated they would not accept Apple Pay. After those exclusivity agreements expired, many MCX members, including Best Buy and Rite Aid, reversed course and began offering support for Apple Pay.
Walmart, the biggest retailer in the United States has refused to implement Apple Pay and has instead rolled out its own proprietary payment system, Walmart Pay. With Walmart Pay, customers can make purchases and payments in Walmart retail locations using a QR code in the Walmart app. Walmart Pay is available nationwide at all Walmart locations as of July 4.
Apple Pay holdout CVS has also introduced its own payment service called CVS Pay, a barcode-based payment system that integrates payment, prescription pickup, and the ExtraCare loyalty program into the CVS Pharmacy app.
Other Apple Pay competitors include Samsung Pay and Android Pay, two mobile payment solutions created by Samsung and Google, respectively. Samsung Pay in particular could be a major Apple Pay competitor, as Samsung is rumored to be planning to launch its mobile payments service Samsung Pay as a downloadable iOS app called Samsung Pay Mini. The app is said to allow iPhone users to enter their credit card information to make payments within online stores.
Upcoming Features
In the future, Apple Pay may expand to allow person to person payments much like Square Cash or Venmo. In late 2015, The Wall Street Journal reported Apple is in talks with banks over a potential mobile-to-mobile payments service. Such a service could launch at some point in 2016.