MacBook Air
Apple's lowest-cost notebook starting at $999, available with a 13-inch display.
Roundup last updated on October 18, 2018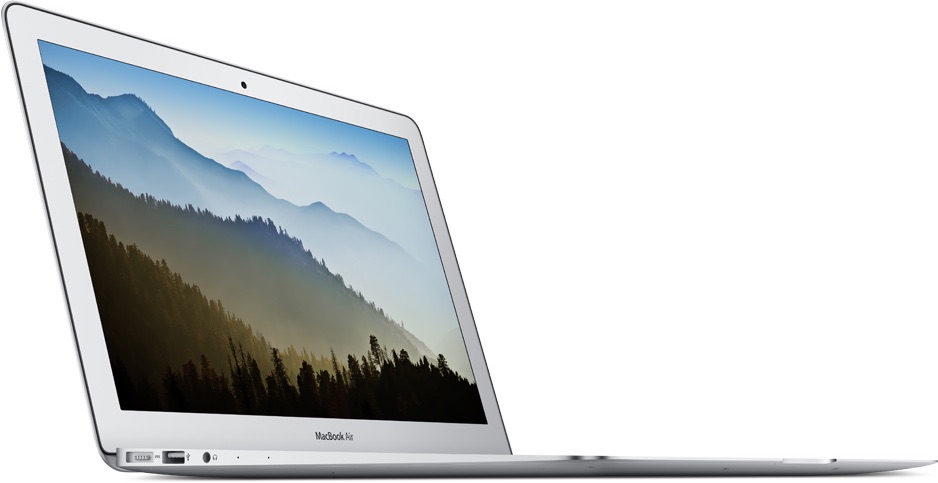 At a Glance
The MacBook Air is currently available only in a 13-inch size that has seen only minor updates since the last major revision in March 2015. The ultra-portable notebook computer offers Intel Broadwell processors and Thunderbolt 2 connectivity. On June 5, 2017, the base 13-inch model was updated with a faster 1.8 GHz processor.
Current Specs
13" screen size
Non-retina display
1.8 or 2.2 GHz Broadwell processor
Intel HD Graphics 6000
128, 256, or 512 GB SSD
8 GB RAM
Starts at $999
Models
13.3-inch with 1440 x 900 Display:
- $999: 1.8 GHz Core i5 & 128 GB storage
- $1,199: 1.8 GHz Core i5 & 256 GB storage
What's Next for the MacBook Air
Reliable Apple analyst Ming-Chi Kuo has said that he believes Apple is working on a "more affordable MacBook Air" set to be released at some point in 2018, a rumor that has been echoed by several other sources.
Apple is planning to hold an event focused on Macs and iPads on Tuesday, October 30 in New York City, which is when we'll likely see the debut of the new MacBook Air. The event will take place at 10:00 a.m. Eastern Time at the Howard Gilman Opera House in Brooklyn, and Apple is planning to live stream it.
There has been a lot of uncertainty over whether this new machine will be in the MacBook or the MacBook Air family, and mixed rumors have made Apple's plans unclear.
Kuo originally said the upcoming low-cost machine would be in the MacBook Air family, but he later changed his mind. He now believes the notebook could "replace the position" of the current 12-inch MacBook.
Kuo's wording is somewhat unclear, though, so it's not known if he believes Apple is replacing the entire MacBook line with new lower-priced machines or if he just expects this to be an entry-level MacBook offering to replace the current version of the MacBook.
DigiTimes has said that Apple is working on a new entry-level 13-inch MacBook in the second half of 2018, which would serve as a replacement for the MacBook Air. The machine would be priced somewhere around $1,200, which is right in line with the current cost of the 12-inch MacBook.
Bloomberg, meanwhile, says Apple is working on a new MacBook that costs under $1,000 and is in the MacBook Air family, and Taiwanese site Economic Daily News believes Apple is working on a more affordable version of the MacBook Air with a price point of $799 to $899.
Regardless of how much the new notebook costs and whether it will be a MacBook or a MacBook Air, there are some concrete details that have surfaced. The machine is expected to feature a design similar to the current 13-inch MacBook Air, but with slimmer bezels and a Retina display.
Given the rumors of a Retina display, it's not clear how a 13-inch MacBook device with a Retina screen fits in with the 12-inch MacBook. A Retina display and a larger body are the only features that distinguish the current MacBook Air from the 12-inch MacBook, so it sounds like these two lines are converging in some way.
Economic Daily News believes the rumored MacBook Air successor will use Intel's Kaby Lake Refresh processors, which came out in the second half of 2017. Apple is planning to use the 14nm Kaby Lake Refresh chips because of Intel's delays introducing new Cannon Lake chips built on a improved 10nm process.
Intel did, however, introduce new Whiskey Lake chips that would be appropriate for use in an upgraded MacBook Air in August, so the MacBook Air could also use the newer Whiskey Lake chips that offer better performance and improved battery life.
Quanta is said to be fulfilling orders for Apple's new "inexpensive notebook" starting in the fourth quarter of 2018, which suggests a launch in September or October.
According to Taiwanese research firm TrendForce, Apple is planning to introduce a new MacBook Air at the end of the third quarter. This likely pertains to the low-cost notebook that other rumors have referred to.
Apple in July registered new iPad models and Macs with the Eurasian Economic Commission, something that the company does ahead of a new product launch. This suggests refreshed iPad and Mac devices are in the works and could be coming soon.
The five Mac model numbers include A1931, A1932, A1988, A1989 and A1990, suggesting two distinct ranges. The latter three numbers may hint at new 13 and 15-inch MacBook Pro models, while the first two could pertain to a new MacBook or MacBook Air.
Current Version
The MacBook Air was once Apple's thinnest and lightest notebook, a title that it lost to the 12-inch MacBook in 2015 and the MacBook Pro in 2016. As it's no longer Apple's most portable machine, the only title the MacBook Air can claim now is "most affordable" with prices starting at $999.
Apple's MacBook Air is at the end of its lifespan, kept in the Mac lineup as a low-cost option until the MacBook and the MacBook Pro are able to come down in price. The 11-inch MacBook Air has been discontinued entirely, and while Apple is still keeping two 13-inch models available for purchase, we do not expect to see further substantial updates to the machines.
At its October 27, 2016 event that saw the debut of the new MacBook Pro, Apple positioned the 13-inch MacBook Pro with no Touch Bar as a viable MacBook Air alternative. The new machine is 12 percent thinner than the MacBook Air and takes up 13 percent less volume, while offering more powerful internals and the same 3 pound weight.
As of June 2017, the new MacBook Pro starts at $1,299, however, a full $300 more than the entry-level MacBook Air. Until prices on new machines come down, Apple will likely keep the MacBook Air around for customers who want to get into the Mac ecosystem on a smaller budget.

Apple last substantially updated the MacBook Air in 2015, aside from upping the base RAM in 2016 and offering a slight speed bump to the processor on the low-end model in 2017. It continues to feature Broadwell processors and the same design that's been used for several years.
In June of 2017, to keep the MacBook Air viable for a bit longer as a low-cost notebook option, Apple bumped the base MacBook Air processor from 1.6 GHz to 1.8. That's the only change that's been made to the MacBook Air in recent years.
MacBook Air Design
The MacBook Air, made from silver aluminum, features a tapered design that's wider at one side and thinner at the other side. It only comes in one size (13 inches) following the discontinuation of the 11-inch model. It measures in at 12.8 inches long, 8.94 inches wide, and 0.68 inches tall. It weighs 2.96 pounds.
Apple's MacBook Air is now the only notebook the company sells that does not have a Retina display. Instead it continues to feature a standard display with a resolution of 1440 by 900.

Battery life on the MacBook Air is the highest of any Apple notebook, lasting up to 12 hours when using the web and 12 hours when watching iTunes movies.
The MacBook Air features one Thunderbolt 2 port, two USB 3 ports, a MagSafe 2 power port, an SD card slot, and a 3.5mm headphone jack. Other MacBook Air specs include 802.11ac Wi-Fi, dual microphones, stereo speakers, and a full-size backlit keyboard.
Internal Specs
Broadwell Processor
Because it hasn't been significantly updated beyond 2015, the MacBook Air uses Broadwell processors, 8GB of 1600MHz LPDDR3 RAM, and Intel HD Graphics 6000. It features an SSD that's configurable up to 512GB in the higher-end model.
Both stock configurations of the current MacBook Air use a 1.8GHz dual-core Intel Core i5 processor, with Turbo Boost up to 2.9GHz. A 2.2GHz dual-core Intel Core i7 processor with Turbo Boost up to 3.2GHz is available on build-to-order models for an additional fee.
Flash Storage
The MacBook Air comes with up to 512GB of PCIe-based flash storage that is twice as fast as in the previous model, with an SSD test using Black Magic's Disk Speed Test revealing average read/write speeds of 629.9MB/s and 1285.4MB/s.
Available Models
There are two 13-inch MacBook Air models that are available for purchase:
$999 - 1.8GHz dual-core Intel Core i5 processor, Intel HD Graphics 6000, 8GB RAM, 128GB flash storage

$1,199 - 1.8GHz dual-core Intel Core i5 processor, Intel HD Graphics 6000, 8GB RAM, 256GB flash storage
Custom configurations include a faster 2.2GHz dual-core Intel Core i7 processor for an additional $150 and several storage upgrade options. The low-end 128GB model can be upgraded to 256GB for $200 or 512GB for $400, while the more expensive stock model with 256GB of storage offers a $200 option to increase storage to 512GB.
How to Buy
The MacBook Air can be purchased from the online Apple Store, from an Apple retail location, or from select Apple Authorized Resellers.
For Macs made in 2009 and later, Apple offers a trade-in program in partnership with buyback company Phobio, allowing you to get up to $2,500 when trading in an eligible Mac. Trade-in via Apple is convenient, but you can often get a better price selling a Mac yourself.