Apple Announces Significant SDK Improvements with New 'Swift' Programming Language, CloudKit and More
Apple devoted the last third of its keynote address at the Worldwide Developer Conference today to improvements for its Software Development Kit (SDK), launching a new programming language called Swift, and development kits for health, home automation, iCloud and inter-app operability.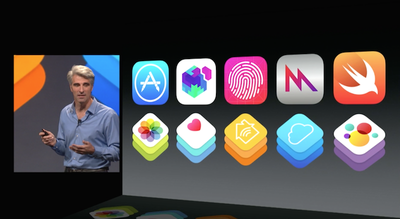 The announcement that got the biggest reaction from developers was Swift, a new programming language for Cocoa and Cocoa Touch that Apple calls modern, fast and powerful and designed for safety.
Swift is the result of the latest research on programming languages, combined with decades of experience building Apple platforms. Named parameters brought forward from Objective-C are expressed in a clean syntax that makes APIs in Swift even easier to read and maintain. Inferred types make code cleaner and less prone to mistakes, while modules eliminate headers and provide namespaces. Memory is managed automatically, and you don't even need to type semi-colons.
Swift also includes "Playgrounds", which allows developers to see the results of their code in a side panel in real time. The developer community appears extremely excited about Swift, with Realmac's Nik Fletcher saying he had "no words". Notable Apple pundit and developer John Gruber said that Swift is "huge, huge news" and the "future of all Apple development".
iCloud has also been partly opened up for developers with a powerful new framework for developers called CloudKit. It allows developers to avoid costly and time-consuming coding the server-side of applications, with Apple providing huge amounts of cloud storage and computing power for free, albeit with extremely high limits to encourage tight coding.
Leverage the full power of iCloud and build apps with the new CloudKit framework. Now you can easily and securely store and efficiently retrieve your app data like structured data in a database or assets right from iCloud. CloudKit also enables your users to anonymously sign in to your apps with their iCloud Apple IDs without sharing their personal information.
Additionally, Apple announced lots of new APIs for developers to take further advantage of iOS. Extensibility allows apps from the App Store, which are usually isolated in sandboxes, to communicate with each other. For instance, the Pinterest app could be updated to provide a sharing option in Safari, or Bing could be updated to provide translations within Safari. Another example includes the Photos app, which can use filters from third-party apps like VSCO.
Apps from the App Store can send widgets to the Today pane in the Notification Center. For instance, ESPN's SportsCenter could add a widget within the Today pane that allows users to easily check the latest sports scores without having to open the app. Widgets are also interactive, allowing users to, for example, bid for an item on eBay from within the Notification Center.
Other parts of iOS have been opened up to developers as well, including the ability for users to swap out the default iOS keyboard for third-party options like Swype. Touch ID has also been opened up to developers, allowing apps like Mint to use fingerprint scans instead of passwords.
Apple also announced its rumored home automation platform, called HomeKit. Previously, each home automation app used its own security protocols. Now, after working together with leaders in the home automation field, all apps can work together with a single protocol and secure pairings. This allows automated home devices, like Phillips' Hue lights, to work with Siri. Users can now tell Siri something like "Siri, get ready for bed" to turn off the lights, close the garage and whatever other functions are automated in a users' home.
Apple has also improved things for game developers, announcing Metal, which frees up resources for game developers to make better looking and more powerful games for iOS devices. For instance, EA would now be able to use its Frostbite engine for console games for games meant for iOS, like the upcoming Plants vs Zombies: Garden Warfare.
Xcode has been updated with live rendering, view debugging, performance testing, storyboards and more.
All of these SDK features are available for developers in the iOS 8 beta today, and will be available for consumers later this year in the fall. Much more information is available at Apple's Developer website.