Apple Announces iOS 10 With Overhauled Messages App, Rich Notifications, and More
At today's WWDC keynote, Apple unveiled iOS 10, the latest version of its mobile operating system that will launch in the fall. Apple's list of new features for iOS 10 is extensive, focusing on revamping established apps (like Messages, Photos, and Apple Music), introducing new aspects of the user interface, and doubling down on privacy.
One of the more notable updates in iOS 10 centers around Messages. Apple hopes the handful of new Message features in iOS 10 will bring more "personal and expressive" ways to communicate with friends and family, with a roster of new text message abilities including text balloon animations, invisible ink, enlarged emoji, and handwritten notes.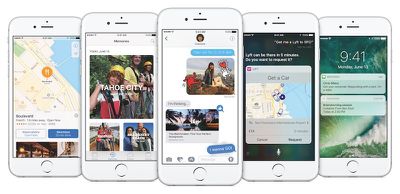 "iOS 10 is our biggest release ever, with delightful new ways to express yourself in Messages, a native app for Home automation, and beautifully redesigned apps for Music, Maps, and News that are more intuitive and more powerful, making everything you love about your iPhone and iPad even better," said Craig Federighi, Apple's senior vice president of Software Engineering. "iOS 10 adds Siri intelligence into QuickType and Photos, automates your home with the new Home app and opens up Siri, Maps, Phone and Messages to developers — while increasing security and privacy with powerful technologies like Differential Privacy."
On the lock and home screen side of things, Apple debuted a new "rich notifications" system that lets users get more information from various apps without unlocking their iPhone. The update will also introduce a "clear all" feature for Notification Center notifications, and a way to access the iPhone's camera and widgets by sliding left or right, respectively, from the lock screen.
All of this will be even easier to glance at thanks to an Apple Watch-like "Raise to Wake" ability that wakes up the iPhone whenever users raise their device to eye level. Those users on iPhone 6s and iPhone 6s Plus will also benefit from deeper integration of 3D Touch with the new rich notifications, which will let interacting with apps be "even easier." Notes will be getting a new collaborative project feature and Live Photos will be able to go through an editing process in iOS 10.
The second phase of iOS 10's new features focus on adding new abilities into Apple's already well-known apps. The first is a new "Memories" tab in the Photos app that will intelligently draw out specific photos -- thanks to facial recognition and geo filters -- to dynamically group together family vacations and special memories. The app will also now create slideshows with the photos and videos users take within each album, without the need for intensive editing software.
Maps is getting a redesign in iOS 10 as well, featuring larger buttons and typefaces, with Apple saying that the new look makes it "simpler and even more intuitive to use." The app has also been made more intelligent, scanning your calendar or assessing your routine and delivering directions proactively. Once a route is planned, the updated Maps app can search the route for gas stations, restaurants and more, even telling you how long a pit stop would affect your trip. Finally, Apple Maps is now open to third-party extensions, allowing you to make a restaurant reservation via OpenTable within Maps or calling a ride from service like Uber.
Next, Apple Music will get its long-rumored significant redesign in iOS 10, which is shared with an updated version of Apple News. Apple says the new design language allows the content of the apps to "become the hero," making it even simpler for users to find the music or news they want. The Library, For You, Browse and Radio tabs in Apple Music have all been revamped with the new design language, and Apple has added a Search tab to make it easier to search for new music. Apple Music has also gained support for lyrics.
Meanwhile, the redesigned News app features a revamped For You section that's broken down into sections that include trending news and specialized topics that users have indicated interest in. In addition, the news-centric app has gained support for subscriptions for select publications like The Wall Street Journal.
The Cupertino company also
debuted a new Home app
that allows users to easily manage and control all of their HomeKit devices in one place. The app allows users to either manage their accessories individually or by grouping them together in "scenes." Scenes allow users to affect all of the devices with a single command.
iOS 10 will also include a public API for Siri, allowing developers to plug into Apple's personal assistant. Users will now be able to use Siri to make VoIP calls, send messages through messaging apps like WhatsApp and hail cabs from services like Uber. Additionally, iOS 10 will include smaller updates like Split View within Safari for iPad and a new Bedtime Alarm mode in the Clock app that allows users to set a regular sleep schedule and reminders for bedtime.
Lastly, Apple has debuted a new privacy feature for iOS called Differential Privacy, which allows Apple to discover user habits to improve AI features without compromising privacy.

Starting with iOS 10, Apple is using technology called Differential Privacy to help discover the usage patterns of a large number of users without compromising individual privacy. In iOS 10, this technology will help improve QuickType and emoji suggestions, Spotlight® deep link suggestions and Lookup Hints in Notes.

The developer preview of iOS 10 is available today, and a public beta program will begin in July. Users interested in the public beta can sign up for information at beta.Apple.com. iOS 10 will be available in the fall for free for iPhone 5 and later and all iPad Pro and Air models. The fourth-generation iPad and the iPad mini 2 and later will also support iOS 10.