watchOS 4 Bringing New Watch Faces, Apple News, Updated Music App & Gym Equipment Support
Apple has announced new features for watchOS 4, including major updates coming to Workouts, Activity, Music, all-new watch faces, and "GymKit," which provides a seamless connection between Apple Watch and gym equipment.
New Activity upgrades will deliver intelligent coaching and tailored encouragement to each user, with Apple Watch notifying users every morning when they're close to earning an Achievement. Suggestions on how to improve to match the previous day's activity levels will also be surfaced.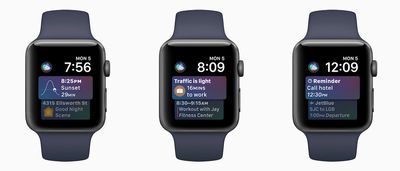 The new Siri watch face, which provides 'the most relevant information throughout the day'
As the day nears an end, Activity will also be able to tell users exactly how long they should walk to close their Activity Rings, and new unique Monthly Challenges will be designed directly for each user's goals.
"Apple Watch is the ultimate device for a healthy life and is now more intelligent than ever with watchOS 4," said Jeff Williams, Apple's chief operating officer. "We've created a truly individualized experience with the smartest Activity and Workout apps, the Siri watch face that shows you the information you need when you need it and we're seamlessly bringing users their favorite music right on the wrist."
Apple has updated the Workout app to include auto-sets for pool swim workouts, as well as new motion and heart rate algorithms for High Intensity Interval Training (HIIT) workouts. The company said that users doing back-to-back workouts, like anyone training for a triathlon, will be able to combine multiple workouts into one linked-together data set "to capture overall calorie and time measurements."
With GymKit, Apple said that customers will be able to use certain cardio equipment at Gyms to pair their Apple Watch directly to treadmills, ellipticals, indoor bikes, and stair steppers from brands like Life Fitness and Technogym. With a simple tap, the Apple Watch will speak with the equipment, and vice versa, including data on calories, distance, speed, floors climbed, incline, and pace.
A new Siri watch face will bring up information and will dynamically update based on time of day, daily routines, and showcase pertinent data from apps like Activity, Alarms, Breathe, Calendar, Maps, Reminders, Wallet, and Apple News, for which there is now an Apple Watch app. A redesigned Music app on Apple Watch will automatically sync to My New Music Mix, My Favorites Mix, and most listened to music, giving users a better music-listening experience with watchOS 4, particularly with AirPods.
Additionally, watchOS 4 will bring along new Toy Story watch faces and support for person-to-person payments in Apple Pay. For more information on watchOS 4 and its features, check out Apple's website.