Apple's watchOS 5 Adds Automatic Workout Detection, Walkie-Talkie, and More
At WWDC this morning, Apple previewed watchOS 5, the newest version of the Apple Watch operating system. The update adds a number of new fitness and communications features that Apple says will help Watch owners "stay healthy and connected."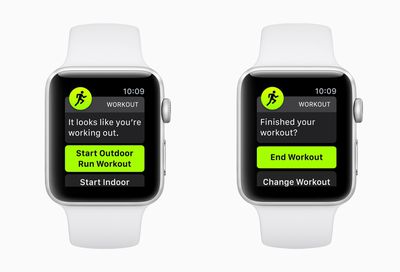 Auto-workout detection is a major quality of life improvement for those who use their Apple Watch devices for fitness. In watchOS 4 and prior versions, users needed to manually begin a workout in the Workout app — and failing to do so meant missing out on tracking and other data related to their workout. watchOS 5 will use heart rate and movement data to determine if the user might be working out, and pop up an alert to the user to start the workout and even give retroactive credit to the start of the workout. It will also prompt users to end workout sessions if the user forgets to turn the app off.
Also new is an "activity competition" mode, that will allow fitness-focused friends to challenge each other to seven-day competitions, with users getting points for closing activity rings over the course of a week. Smack talk and achievements are, naturally, tightly integrated.
Yoga and hiking have been added to the types of workouts supported, taking into account elevation change and heart rate to accurate measure calories burned and total exercise minutes.

Runners have received a number of new features that will help keep them on track. A cadence or steps-per-minute metric that works on both indoor and outdoor runs has been added, and outdoor runners gain a new pace alarm that alerts if they are ahead of or behind a target pace. Finally, a rolling mile pace shows the pace for the immediately preceding mile, on top of the current and average pace displays.

A new Walkie-Talkie app lets users send push-to-talk messages (like an old-school Nextel phone) to each other from watch-to-watch, and a new Podcasts app has been added as well. That will allow subscribed podcasts to automatically sync to the device for offline listening, and music and audiobooks from apps like Pandora and Audible will sync to the Apple Watch for offline playback as well.
The Siri watch face has been updated with better shortcuts and suggestions, including sports scores or commute time ahead of your drive home. And actions for supported third-party apps will show up as well.
Finally, the Apple Watch will support on-device Student ID cards, allowing students access to buildings, to pay for food and laundry on campus, and more. It's supported by a number of major universities at launch including Duke, the University of Alabama, and the University of Oklahoma this fall, with others — including Johns Hopkins and Temple University — offering support by the end of the year.
Apple also released a new rainbow-colored Pride watch band and watch face, which is available today.
watchOS 5 is expected to be released later this fall.