The radically redesigned iPhone coming in 2017 will not feature a Home button,
Bloomberg
today confirmed in a wider report focusing on
new mobile payment features
coming to Japan.
Apple is already at work on a major redesign of the iPhone for 2017 that focuses more heavily on the display by removing the Home button, according to a person familiar with the matter.
According to past rumors, the 2017 iPhone, which may be called the
iPhone 8
, will feature a
complete design overhaul
with an edge-to-edge
flexible OLED display
that does away with the top and bottom bezels where features like the
Touch ID
fingerprint sensor and front-facing camera are housed.

Instead, the functionality of the Home button, including Touch ID, may be built directly into the display. Apple design chief Jony Ive is said to have wanted to
build an iPhone
that looks like a single sheet of glass for several years, and 2017, the year that marks the 10th anniversary of the iPhone, is when it will happen.
The iPhone display may also feature edges that are curved on both sides, similar to the Samsung Galaxy S7 edge, and it is rumored to
have a glass body
, moving away from the aluminum that's been used for iPhones since the iPhone 5. Other features that may be built into the 2017 iPhone include wireless charging, an
enhanced Taptic engine
, and
new biometric capabilities
like iris scanning or facial recognition.
Apple is developing a version of the iPhone for Japan that includes one of Sony's FeliCa chips to enable contactless transit payments, reports
Bloomberg
.
FeliCa
is a tap-to-pay format developed by Sony and built into cards that are used to access Japan's railway and bus system. FeliCa is faster than
Apple Pay
, allowing transactions to occur in a fraction of a second, which makes it suitable for use in a fast-paced transit environment. It's also able to store e-money that can be used at vending machines and cafes across the country.
Apple plans to work with several transit card providers to create virtual versions of FeliCa transit cards that can be stored in the Wallet app on the iPhone and used in place of a physical card.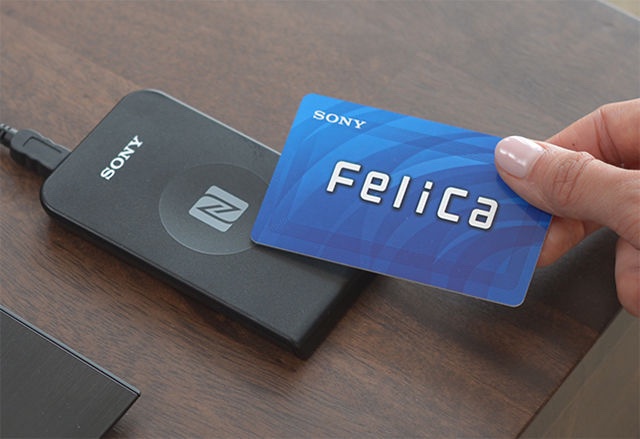 The FeliCa chip will let customers in Japan store their public bus and train passes on their iPhones. Users would then be able to tap their phones against the entrance scanners instead of using physical cards. While the FeliCa chip is the standard technology underlying the service, there are several different providers of transit payment cards based on the type of transit and areas within Japan.
The addition of a FeliCa chip to the iPhone will help Apple make inroads into the mobile payment market in Japan, which is dominated by the standard. 1.9 million payment terminals in the country have already adopted FeliCa and FeliCa terminals saw 4.6 trillion yen ($46 billion) in transactions in 2015.
The FeliCa payment feature could be available as soon as next month, built into the
iPhone 7
and iPhone 7 Plus that Apple plans to unveil in early September.
Bloomberg
warns, though, that Apple could potentially delay the feature's launch until next year should discussions with Japanese payment networks fall through.

Services like
Siri
, Cortana, and Alexa are being held back by a lack of advancements in digital microphone technology, reports
Bloomberg
, citing the opinions of several analysts.
While processors, camera sensors, and other vital iPhone components have evolved rapidly over the course of the last several years, the same can't be said for microphones. Digital microphones still have trouble focusing on filtering out background noise and clearly detecting faraway voices, impacting device listening capabilities.
With artificial intelligence growing in popularity, however,
Bloomberg
says manufacturers are scrambling to improve microphone tech.
"No doubt, there is an arms race," says Peter Cooney, an analyst at SAR Insight & Consulting. The big tech companies are thinking a lot more about mics than they have for the past few years. Since the 2012 launch of the iPhone 5, "microphone performance has not really improved that much," says Marwan Boustany, an analyst with research firm IHS Markit.
Apple and other companies who rely on microphones to deliver queries to smartphones and other devices are said to want technology improvements that will make them better able to distinguish voices from other sounds at longer distances.
In
a recent interview
, Apple SVP of software engineering Craig Federighi said that microphones have a big impact on Siri's ability to understand commands. "It's not just the silicon," he said. "It's how many microphones we put on the device, where we place the microphones. How we tune the hardware and those mics and the software stack that does the audio processing." He said Apple's expertise at combining hardware and software gives the company "an incredible advantage" over companies just working on AI with software.
In the same interview, Apple execs said Siri's capacity to interpret commands has
reportedly improved greatly
following the introduction of machine learning, but in practice, Siri still often fails to hear commands or misinterprets spoken words, mistakes that could perhaps be improved with better microphone technology in the future.
Siri has long been limited to iOS devices and the
Apple Watch
, but with the launch of
macOS Sierra
this fall, the personal assistant will expand to Macs. Siri also came to the
Apple TV
last fall with the launch of the fourth-generation set-top box.
A rare "Celebration" Apple-1 computer has fetched $815,000 in an auction hosted by charity auction site
CharityBuzz
, one of the highest prices an Apple-1 has sold for at auction. During the final minutes of the auction, bids reached $1.2 million, but it appears the last bid was pulled just seconds before the auction ended.

The "Celebration" Apple-1, so named by computer historian
Corey Cohen
, features a blank "green" PCB board that was never sold to the public and was not a part of a known production run.
The auction included an original Apple-1 ACI cassette board, pre-NTI, with Robinson Nugent sockets, a period correct power supply, an early Apple-1 BASIC cassette labeled and authenticated by original Apple employee Daniel Kottke, Apple-1 manuals, marketing materials, and Cassette Board schematics.
Unlike other Apple-1 computers that have fetched lower prices, the Celebration Apple-1 is not in working condition but could be restored to full functionality with minor tweaks. Cohen recommended against such restoration to preserve the board's uniqueness. "The Apple-1 board is a not just a piece of history, but a piece of art," he said.
Steve Jobs and Steve Wozniak originally created and sold 175 Apple-1 computers during the summer of 1976, marking the launch of Apple computer, a company that's grown to be one of the largest and most influential in the world. Of those 175 machines, only 60 or so are still in existence, making them quite valuable to collectors.
Several Apple-1 computers have surfaced at auction over the past few years, selling for prices between and
$365,000
and
$905,000
.
10 percent of the proceeds from the CharityBuzz auction will benefit the Leukemia and Lymphoma Society.
Apple today released an
iOS 9.3.5
update for the iOS 9 operating system, almost a month after
releasing iOS 9.3.4
and a few weeks before we expect to see the public release of
iOS 10
, currently in beta testing.
iOS 9.3.5 is available immediately to all devices running iOS 9 via an over-the-air update.

iOS 9.3.5 is likely to be the last update to the iOS 9 operating system, introducing final bug fixes, security improvements, and performance optimizations before iOS 9 is retired in favor of iOS 10. iOS 9.3.4, the update prior to iOS 9.3.5, included a critical security fix patching the Pangu iOS 9.3.3 jailbreak exploit. iOS 9.3.5
features major security fixes
for three zero-day exploits and should be downloaded by all iOS users right away.
According to
The New York Times
the three security vulnerabilities patched in the update were exploited by surveillance software created by NSO Group to jailbreak an iPhone and intercept communications.
In an overview of the exploits, security firm
Lookout
says NSO Group's spyware software, nicknamed "Pegasus," was highly sophisticated, installing itself through a link sent via a text message.
The exploit was initially discovered on August 11 after human rights defender Ahmed Mansoor received a suspicious link and sent it to Citizen Lab and Lookout. Had Mansoor clicked the link, it would have jailbroken his iPhone and installed "sophisticated malware" able to intercept phone calls, text messages, FaceTime calls, email, and more.
Pegasus is the most advanced attack Lookout has seen because it is customizable, can track a range of things, and uses strong encryption to avoid detection. Lookout believes "Pegasus" had been in the wild for quite some time before it was discovered, with some evidence dating back to iOS 7.
Citizen Lab and Lookout informed Apple of the vulnerabilities and the company worked quickly to implement a fix, patching the exploits in just 10 days.
WhatsApp
has
updated
its
terms of service and privacy policy
to reflect that it will begin sharing select data with Facebook, including the phone number a user verifies during the registration process and the last time a user accessed the service. Facebook, which
acquired WhatsApp in 2014
, will use the information to provide better friend suggestions and targeted ads and offers to users of its own service.

By coordinating more with Facebook, we'll be able to do things like track basic metrics about how often people use our services and better fight spam on WhatsApp. And by connecting your phone number with Facebook's systems, Facebook can offer better friend suggestions and show you more relevant ads if you have an account with them. For example, you might see an ad from a company you already work with, rather than one from someone you've never heard of.
WhatsApp ensures that nothing users share on the service, including messages, photos, and account information, will be publicly shared onto Facebook for others to see. The updated terms and privacy policy also state that the new data sharing measures will help WhatsApp more accurately count unique users, fight spam and abuse, and improve the overall experience of its messaging service.
Existing WhatsApp users can
choose not to share their account information with Facebook
. On the iPhone app, before you tap "Agree" to accept the updated terms, tap on "Read," scroll to the bottom, and toggle the control. Users that agree to the updated terms also have an additional 30 days to opt out by going to Settings > Account > Share My Account Info and toggling the appropriate control in the app.
WhatsApp remains committed to providing private communications. All messages sent through the service are not stored on its servers, and
end-to-end encryption
has been in place since April on the latest version of the app. The updated terms and privacy policy do not affect these security measures.
In a
new FAQ about its updated terms
and privacy policy, WhatsApp says it will still not allow third-party banner ads on the service.
WhatsApp
is free on the
App Store
[
Direct Link
] for iPhone.
Apple is working on its own social networking app, in the style of Facebook and Snapchat, according to a new report from
Bloomberg
. The company, "seeking to capitalize on the popularity of social networks," will focus on video in the new app, letting users record a video, edit it, apply a filter, add doodles, and then send it out to friends. Apple's goal is said to make the app quick and easy to use, with one-handed controls and an interactive process that includes shooting, editing, and uploading videos "in less than one minute."

Apple and CEO
Tim Cook
are said to be looking to its services business to continue to increase profit as its
hardware sales slow down
amid a
modest update year
for its flagship iPhone line. In order to "remain relevant" on the software side of things, the company wants to aim the new app at younger users who are spending 50 minutes a day on Facebook's family of apps (including Instagram and Messenger), and 30 minutes a day on Snapchat.
The growth of Apple's hardware business is slowing and Chief Executive Officer Tim Cook is looking to the company's services business, such as the App Store and iCloud storage, as a way to generate increased revenue. Apple has failed to successfully launch social-media services in the past, including an iTunes-focused social network called Ping in 2010. Now as Snapchat and Facebook's Instagram and Messenger apps grow atop Apple's iOS mobile operating system, Apple is seeking to create its own features to remain relevant, particularly for younger users.
One of the prototype designs for the unnamed app was said to record video in a square-shape, like Instagram, according to a group of people close to the project. The current plans for the app are to offer it as a download via the App Store, but the company could pivot and bundle its proposed social network directly into the existing camera app in iOS. To help bolster its features, Apple is using the same team that created Final Cut Pro and iMovie to develop the social network.
The app is being developed in the same Apple department that developed Final Cut Pro and iMovie software, according to the people. Apple hired Joe Weil, the former president of a New York-based video production company, to lead the vision for the project, the people said. Weil, who co-developed a video blogging app called KnowMe, joined Apple in December 2015, according to his LinkedIn profile.
Ultimately, Apple hopes it can launch the new app sometime next year, but if it doesn't meet the company's expectations -- or if executives see potential problems, along the lines of Ping and
Connect
-- it could be scrapped.
Besides the proposed video app, Apple has also been working on "multiple social-related features" for iOS over the past year, none of which have launched. One proposed update includes consolidating every communication between a user and a specific contact on one screen, so "two friends could be able to see all text messages, e-mails, and social network interactions between each other in a single window."
No word was given on the launch of the social features not related to the video app, but a team within Apple that rules on the privacy implications of its software will ultimately decide when, and if, any of these experiences make it to a public release. As such, Apple's 2017 launch window for the video app could also be pushed back indefinitely. Still, it's interesting to see the company move to create its own social networking experience, instead of solely designing the hardware on which many people visit apps that may soon be its rivals, like Facebook and Snapchat.
Closer to a wide launch is the company's brand-new and
revamped Messages application
coming in
iOS 10
, which elevates the platform above a simple texting service thanks to the addition of features like handwritten messages, full-screen effects, photo doodling, and much more.
Apple today
announced
the artist lineup for its
2016 Apple Music Festival
, the free annual concert series that takes place at the London Roundhouse theater from September to 18 to September 30.
Headliners at the festival's 10th anniversary this year will include Alicia Keys, Bastille, Britney Spears, Calvin Harris, Chance The Rapper, Elton John, Michael Bublé, OneRepublic, Robbie Williams and The 1975, Apple revealed.

"Over the past decade, the Festival has brought the biggest and best artists from all over the world to London and into the homes of millions of music fans," said Oliver Schusser, Apple's VP of International Content. "This year's Apple Music Festival builds on that incredible legacy and we couldn't be more excited to have another amazing lineup to celebrate our 10th birthday." 
Prior to 2015, the event previously called the iTunes Festival lasted for a full 30 days, but was scaled down to 10 days with the revamp. Apple also now offers the music festival performances live and on-demand in the Apple Music App on iOS devices, as well as on Mac, PC,
Apple TV
, and Android phones.
Like last year, Apple is also set to offer special Apple Music Festival playlists, artist news, and backstage interviews via its subscription streaming music service.
Code discovered within the
macOS Sierra
beta suggests the operating system will include support for second-generation USB 3.1 transfer speeds of up 10Gb/s, hinting at hardware upgrades that will be included in future Macs set to be released later this year.
Found in a localizable text string in macOS Sierra by
9to5Mac
, the code points to support for "Super Speed Plus," another name for the faster 10Gb/s USB 3.1 Gen 2 specification. Current Macs (and
OS X El Capitan
) only support current-generation USB 3.1, capable of reaching transfer speeds of up to 5Gb/s, so the obvious conclusion is that Apple is planning to add USB 3.1 Gen 2 support to its upcoming Mac machines.

Apple's new Macs almost always include support for the latest USB and Thunderbolt specifications to maximize performance, so it should come as no surprise that Apple is planning the same upgrades for Macs to be released in 2016. Rumors have also previously suggested Thunderbolt 3, which includes support for 10Gb/s USB 3.1 and DisplayPort 1.2, will be introduced in Apple's most highly anticipated machine due for a refresh, the
MacBook Pro
, so the code found today is in line with what we'd expect to see.
There is no word on when Apple plans to debut its new MacBook Pro, and if there are other Mac updates in the works, but it is rumored to be debuting before the end of the year, perhaps at an event set to be held in October or November. The machine is said to feature a thinner, redesigned body with an OLED touch panel and
Touch ID
support.
In the wake of the
much-anticipated launch
of Frank Ocean's new album "Blonde," Universal Music Group CEO Lucian Grainge has sent out an email to UMG executives, saying that the company is prohibiting the practice of exclusive music streaming moving forward (via
The Lefsetz Letter
). The email officially ends "all future exclusives with Universal artists," meaning popular artists like Kendrick Lamar, Taylor Swift, and The Weeknd could all be affected by the change since they each belong to labels owned by UMG.

The news was shared by Bob Lefsetz, a music industry analyst and critic, who
penned a letter
over the weekend in response to Blonde's exclusive home on
Apple Music
for the first two weeks of its release. Lefsetz said that the heavy reliance of streaming services on exclusive content, and how the practice is becoming increasingly normal among consumers, will ultimately hurt the industry in the long run. Halfway through, he particularly sets his sights on Apple:
Because there's a conspiracy between Apple Music and the industry to change the game, to get everybody to pay for a subscription by putting hit content behind a paywall.

Apple should be investigated by the government for antitrust. How do you compete with the world's richest company that's got endless cash on hand? You can't. It'd be like expecting hillbillies to get into Harvard if slots went to the highest bidder. The rich get richer and the rest of us…we're left out, just like in America at large, [...] the usual suspects doing it for themselves have rigged the game in their favor, and now the music industry is trying to do this too.
According to Lefsetz, Apple's practices not only lock off entire albums to non-subscribers, but grant greater showcase to its exclusive artists -- like the Frank Ocean-centered carousel currently in the app -- consequently hurting the chances for indie musicians to break out. He calls Ocean "complicit" in Apple's schemes, and shames "everybody else who takes money from Apple and screws fans."
With exclusives popping up every few weeks over Apple Music's short fourteen-month lifespan, Kanye West even
voiced frustration
with the model, hoping to end the fight between Apple Music and Tidal and "let the kids have the music." Among recent artists with an exclusive Apple Music deal are
Britney Spears
,
Frank Ocean
,
Katy Perry
, and
Drake
.
You can read Lefsetz's full letter
here
.
Steven Levy has published an
in-depth article
about Apple's artificial intelligence and machine learning efforts, after meeting with senior executives Craig Federighi,
Eddy Cue
,
Phil Schiller
, and two
Siri
scientists at the company's headquarters.

Apple provided Levy with a closer look at how machine learning is deeply integrated into Apple software and services, led by Siri, which the article reveals has been powered by a neural-net based system since 2014. Apple said the backend change greatly improved the personal assistant's accuracy.
"This was one of those things where the jump was so significant that you do the test again to make sure that somebody didn't drop a decimal place," says Eddy Cue, Apple's senior vice president of internet software and services.
Alex Acero, who leads the Siri speech team at Apple, said Siri's error rate has been lowered by more than a factor of two in many cases.
"The error rate has been cut by a factor of two in all the languages, more than a factor of two in many cases," says Acero. "That's mostly due to deep learning and the way we have optimized it — not just the algorithm itself but in the context of the whole end-to-end product."
Acero told Levy he was able to work directly with Apple's silicon design team and the engineers who write the firmware for iOS devices to maximize performance of the neural network, and Federighi added that Apple building both hardware and software gives it an "incredible advantage" in the space.
"It's not just the silicon," adds Federighi. "It's how many microphones we put on the device, where we place the microphones. How we tune the hardware and those mics and the software stack that does the audio processing. It's all of those pieces in concert. It's an incredible advantage versus those who have to build some software and then just see what happens."
Apple's machine learning efforts extend far beyond Siri, as evidenced by several examples shared by Levy:
You see it when the phone identifies a caller who isn't in your contact list (but did email you recently). Or when you swipe on your screen to get a shortlist of the apps that you are most likely to open next. Or when you get a reminder of an appointment that you never got around to putting into your calendar. Or when a map location pops up for the hotel you've reserved, before you type it in. Or when the phone points you to where you parked your car, even though you never asked it to. These are all techniques either made possible or greatly enhanced by Apple's adoption of deep learning and neural nets.
Another product born out of machine learning is the
Apple Pencil
, which can detect the difference between a swipe, a touch, and a pencil input:
In order for Apple to include its version of a high-tech stylus, it had to deal with the fact that when people wrote on the device, the bottom of their hand would invariably brush the touch screen, causing all sorts of digital havoc. Using a machine learning model for "palm rejection" enabled the screen sensor to detect the difference between a swipe, a touch, and a pencil input with a very high degree of accuracy. "If this doesn't work rock solid, this is not a good piece of paper for me to write on anymore — and Pencil is not a good product," says Federighi. If you love your Pencil, thank machine learning.
On the iPhone, machine learning is enabled by a localized dynamic cache or "knowledge base" that Apple says is around 200MB in size, depending on how much personal information is stored.
This includes information about app usage, interactions with other people, neural net processing, a speech modeler, and "natural language event modeling." It also has data used for the neural nets that power object recognition, face recognition, and scene classification.

"It's a compact, but quite thorough knowledge base, with hundreds of thousands of locations and entities. We localize it because we know where you are," says Federighi. This knowledge base is tapped by all of Apple's apps, including the Spotlight search app, Maps, and Safari. It helps on auto-correct. "And it's working continuously in the background," he says.
Apple, for example, uses its neural network to capture the words iPhone users type using the standard QuickType keyboard.
Other information Apple stores on devices includes probably the most personal data that Apple captures: the words people type using the standard iPhone QuickType keyboard. By using a neural network-trained system that watches while you type, Apple can detect key events and items like flight information, contacts, and appointments — but information itself stays on your phone.
Apple insists that much of the machine learning occurs entirely local to the device, without personal information being sent back to its servers.
"Some people perceive that we can't do these things with AI because we don't have the data," says Cue. "But we have found ways to get that data we need while still maintaining privacy. That's the bottom line."

"We keep some of the most sensitive things where the ML is occurring entirely local to the device," Federighi says. As an example, he cites app suggestions, the icons that appear when you swipe right.
The
full-length article on Backchannel
provides several more details about how machine learning and artificial intelligence work at Apple.
A handful of photos claimed to show packaging for a device called the "
iPhone 6
SE" have surfaced online today, presumably countering rumors that the next iPhone will be
called the iPhone 7
, but the photos have quite clearly been digitally altered.
The photos have circulated on a number of sites with varying amounts of redaction, but the highest quality, least edited versions we've found were shared by frequent Weibo leaker "KK", who notes he collected them from other users and doesn't believe Apple will use the "iPhone 6 SE" name.

On the rear of the box shown in the photos, multiple lines of text have been Photoshopped, including both mentions of the name "iPhone6 SE," placing the six on the tail end of "iPhone" with none of Apple's traditional spacing. There are also font and background color discrepancies in the areas of the crucial text, telltale signs of manipulation.
In addition to the iPhone 6 SE name, other text lines appearing to be Photoshopped include a 2016 copyright date at the very bottom and an A1758 model number halfway through the large block of text at the top.

The other angles of the package have slightly skewed typography for the iPhone 6 SE title, further confirming the name's blend of text and logos from the iPhone 6 and
iPhone SE
packaging, which would be easily obtained online and used to edit a photo of an older model box.
The front of the box is also curiously omitted from the images shared today. Although the front-facing part of the
iPhone 7
is expected to be largely similar to the iPhone 6 and 6s, subtle clues like glimpses of the rearranged antenna bands or a potentially flush Home Button could be harder to pull off in Photoshop. In addition, Apple will undoubtedly use a different wallpaper presentation for the new phone to differentiate the box from prior models.

As a whole, the iPhone 7 and iPhone 7 Plus are believed to be modest updates to last year's
iPhone 6s
and iPhone 6s Plus. Visual overhauls will be kept to a minimum and should include reduced antenna bands, a potential flush Home button, and a larger camera bump, while the most notable and controversial change may be the omission of a 3.5 mm headphone jack.

Leaks and rumors of varying quality will no doubt continue in the lead-up to Apple's rumored September 7 media event, which is now just two weeks away. Following the event, pre-orders are expected to begin on September 9 with a potential launch on September 16 or September 23.