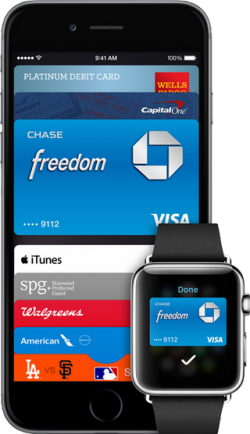 Apple plans to introduce a new rewards program for Apple Pay at WWDC next month, reports
The New York Times
. In a piece covering upcoming mobile payment upgrades from Apple and Google, the site suggests that Apple will announce details about enhancements to Apple Pay at its Worldwide Developers Conference in June.
Few details are known about the rewards program that Apple plans to implement, but it is said to offer "perks" to customers who make purchases using Apple Pay.
But analysts have noted that a missing piece from Apple Pay was a rewards program to keep users returning to participating merchants. People familiar with Apple Pay said that next month, Apple will announce such a program offering perks to consumers who make purchases with the service, though they declined to reveal details.
There have been rumors about a rewards program for Apple Pay since before Apple Pay launched in October of 2014. In September,
a report suggested
Apple was working on a pilot program that could see it partnering with multiple third-party retailers to form an Apple Pay loyalty program.
Further rumors suggested the system
could tie into iAd
, delivering targeted ads to consumers via iBeacons and Bluetooth LE with coupons for free or discounted products, but it is not clear if that's how Apple's finished rewards program will work.
Upcoming Apple Pay competitor CurrentC offers a built-in
rewards program
that's able to incorporate loyalty cards and discounts for individual merchants, and CurrentC executives tout this as one of the major differentiating features of its system. With its own rewards program, Apple Pay will be better situated to compete with the reward-based features of CurrentC.
It is not known if Apple has plans to introduce additional Apple Pay features at its Worldwide Developers Conference, but it's possible that it could share details on an expansion of the service to additional countries like Canada. Canada is expected to be one of the first countries beyond the United States
to gain Apple Pay support
.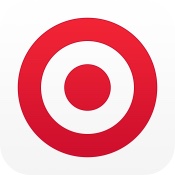 Target CEO Brian Cornell spoke at
Re/code
's Code Conference in Palos Verdes, California today,
where he confirmed
that the company plans to offer in-store support for Apple Pay in the future. According to Cornell, while he'd love to have Apple Pay available "right now," support will not be coming until Target upgrades its system to support integrated circuit credit cards to comply with new standards.
Integrated circuit cards (or chip-and-PIN cards) replace the magnetic stripe on a credit card or debit card with an embedded microchip. The microchip communicates with a supported point-of-sale system to authenticate transactions. Chip-and-PIN cards are already used in many countries around the world because they're believed to be more secure than traditional credit cards. In the United States, retailers are being encouraged to adopt point-of-sale systems that support chip cards by the end of 2015.
Target is especially eager to move to a more secure transaction system following a major data breach in late 2013 that saw hackers obtaining payment information for approximately 40 million of its customers. The move is a major transition for Target, and Cornell says he doesn't want to "distract the team" with work on other payment systems.
"Our focus is on getting chip-and-PIN in place in time for the holidays," Cornell said at the second annual Code Conference in Rancho Palos Verdes, Calif. "Down the line we want to accept all the types of payments that our guests want. But this decision was all about focus. ... It is a major undertaking to convert to chip-and-PIN, and I decided that we can't distract the team."
Cornell says he has met with Apple CEO Tim Cook, and once the chip-and-PIN transition is completed, Target will be "open-minded" about supporting additional payment systems like Apple Pay. Target already supports Apple Pay
in its iOS app
.
Apple is now offering same-day delivery of certain products in its
Apple Store
app, through a partnership with Postmates. In the San Francisco Bay Area, the
Apple Store
app is offering a same day delivery option on products that are available in local Apple Stores.
For example, ordering an Apple TV in the San Francisco Bay Area results in a four-hour same-day delivery window, as does an order for a Lightning cable. In some areas, like San Francisco, delivery turnaround times are as fast as an hour, but for some products, delivery times can take up to a day.

Customers who have Postmates delivery options available to them will see same-day delivery options listed whenever they search for a product that is available for purchase in a nearby Apple Store. After an order is placed, the
Apple Store
app offers live tracking options that let customers know where an item is and track it as it progresses from the Apple Store to the delivery location. The app also delivers notifications with estimated delivery times and tracking information.

Customers who do not live in an area where Postmates delivers will not see same-day delivery options for Apple products, instead receiving only standard shipment delivery times without an option for Courier Delivery.
Apple products have long been available for order through Postmates' own iOS app, but this is the first time that Apple's offered same-day delivery on orders in its own
Apple Store
app. Delivery price varies depending on location and the distance that needs to be traveled to transfer an item from the Apple Store to your doorstep. In our location in the South Bay, the delivery price was $19 regardless of what was ordered.
Postmates operates in several major U.S. cities, including San Francisco, New York, Los Angeles, Chicago, Washington DC, Seattle, Boston, Philadelphia, Miami, Atlanta, Denver, San Diego, Orange County, Portland, Phoenix, Austin, Houston, Dallas, San Antonio, Minneapolis, and Charlotte, but it appears that Postmates deliveries for Apple Store app orders may be limited in scope for the time being, available only in the San Francisco Bay Area.

Update:
We received our Postmates Apple Store order within 35 minutes, much faster than the four-hour delivery estimate. According to our delivery driver, Apple's partnership with Postmates is brand new, with Postmates deliveries from the Apple Store app kicking off today.
General Motors and its Chevrolet brand are announcing today expansive plans to bring support for both CarPlay and Android Auto to fourteen vehicle models for the 2016 model year, a move that will mark a significant step forward for the availability of enhanced in-car smartphone experiences. The first Chevy vehicles with CarPlay support will be the Tahoe, Suburban, and Volt, all of which are scheduled to enter production in July, with the remainder of the CarPlay lineup rolling out as the new models launch in subsequent months.

GM chief infotainment officer Phil Abram introducing CarPlay and Android Auto support for Chevrolet
MacRumors
attended a media event with Chevrolet marketing director Steve Majoros and GM chief infotainment officer Phil Abram yesterday where the company discussed its commitment to giving customers the flexibility to use both iPhones and Android phones responsibly while in the car and its desire to make a splash with a broad set of models that represented over half of Chevrolet's global sales in 2014.
For the 2016 model year, Chevrolet will offer Android Auto and Apple CarPlay compatibility in more models than any automotive brand. The 14 Chevrolet models include the all-new 2016 Cruze, which will debut on June 24. Cruze is Chevrolet's best-selling passenger car, with more than 3 million sold since launch.
Among the 14 models, CarPlay and Android Auto will be supported on all vehicles with 7-inch or 8-inch MyLink screens, which will include most trim lines. CarPlay support will be available as all of these new models hit the dealerships, while Android Auto support will initially be limited to those with 7-inch screens while 8-inch screen support is planned for later in the model year.
Supported 2016 Vehicles
-
7-inch Screens
: Spark, Cruze, Malibu, Camaro, Camaro Convertible, Silverado, Silverado HD
-
8-inch Screens
: Cruze, Malibu, Impala, Volt, Camaro, Camaro Convertible, Corvette, Corvette Convertible, Colorado, Silverado, Silverado HD, Tahoe, Suburban
Staff from Apple and Chevrolet were on hand at the event to answer questions about CarPlay integration, with Apple staff emphasizing the company's desire to make CarPlay available to as many users as possible by opening up the specification to all interested auto manufacturers. Apple also believes it is key for CarPlay to integrate with automakers' own in-dash systems rather than pushing for something like an dash-mounted iPad, giving the car companies flexibility to leverage CarPlay as they see it best fitting with their systems.
"For most of us, our smartphones are essential," said Mary Barra, CEO of General Motors. "Partnering with Apple and Google to offer CarPlay and Android Auto compatibility across the widest range of models in the industry is a great example of how Chevrolet continues to democratize technology that's important to our customers."
Apple's representatives also highlighted the company's early focus on support for third-party audio apps due to the clear demand for such functionality in the car. The company may open up APIs for other functionalities to let additional third-party apps gain CarPlay support in the future, but Apple is being conservative considering the duty it and the automakers have to minimizing driver distraction.
With the recent addition of the Apple Watch, Apple also highlighted the way the watch and CarPlay can work together through the linked iPhone to minimize driver distractions, such as with fewer notifications being passed to the Apple Watch and less mapping information available on the wrist when the user's iPhone is in CarPlay mode. With some information already being made available through the dashboard, there is less need for it to appear on the Apple Watch, and with everything being linked through

We asked Apple and GM about the potential for wireless CarPlay support, which was
spotted
in early betas of iOS 8.3 but not included in the final release. Chevrolet's initial CarPlay support will require the user's iPhone to be connected via a Lightning cable, but that will likely change in the years to come as future models gain Wi-Fi support for their in-dash systems.
Chevrolet was one of the first brands to offer
support for Siri Eyes Free mode
in select vehicles, and has been one of the more highly visible CarPlay partners as Apple and auto manufacturers have demoed the technology over the past year. Earlier this year, the 2016 Volt was
spotted carrying CarPlay support
on the floor at the North American International Auto Show in Detroit.
Announced over a year ago, CarPlay has taken a fair bit of time to come to market given vehicle development cycles and other factors, although a host of car manufacturers have committed to supporting the technology. Ferrari was the first to bring CarPlay-compatible systems to market late last year, followed quickly by aftermarket solutions from
Pioneer
and
Alpine
. Apple CEO Tim Cook noted at the company's
"Spring Forward" event
in early March that there will be over 40 car models offering CarPlay support by the end of this year.
Update
: This article has been updated to correct statements regarding wireless CarPlay.

Apple's Vice President of Operations Jeff Williams today
took the stage
at
Re/code
's
Code Conference
in Rancho Palos Verdes, California, to speak about Apple's recently released wearable device, the Apple Watch.
Williams is the person who oversees Apple's supply chain, much like Tim Cook used to before he became Apple's CEO, and he was described by Walt Mossberg as the "quiet figure" behind many of Apple's popular products like the iPhone and the Apple Watch. Williams says he oversees 3,000 engineers in addition to the supply chain, and offered a tidbit on Apple's recent 74 million iPhone sales in the holiday quarter -- if you stack them like pancakes, they'd reach higher than the International Space Station.
According to Williams, who declined to give specific sales figures on Apple's wearable, the Apple Watch is doing "fantastic." When asked by what metric, he went on to say that customers "love the Apple Watch" even more than he expected. The Apple Watch, he said, is "gathering momentum" even in a market where other products aren't doing as well, because many millennials don't wear watches.
When pressed for details on Apple Watch sales numbers, Williams said that Apple would "rather spend time making great products" than focusing on the numbers, but he did say
Apple had sold "a lot" of them
.
On the topic of
Apple Watch apps
, Williams says third-party apps will get better when developers are able to release native apps and when access to native sensors is permitted. He gave an example of what a native Apple Watch app might do, suggesting an app like
Strava
will be more full featured as it would have direct access to sensors.
The native Apple Watch app SDK will be previewed at WWDC, according to Williams, suggesting full featured Apple Watch apps that can access health sensors, the Digital crown, and more, will be available when iOS 9 is released to the public in the fall.
Williams also spoke on working conditions at its supplier's factories in China, reiterating Apple's efforts to improve the lives of factory workers, and he talked about ResearchKit, Apple's platform for enabling researchers to obtain health-related data from iOS users for studies and research.
Apple's already learned "some amazing things" with ResearchKit. Using Parkinson's disease research as an example, Williams says that Apple discovered a set of the control group participants in that study had Parkinson's but didn't know it. When it comes to Apple Watch, its medical contributions will be "huge," says Williams, but true medical features may take awhile because of the need for health studies and regulatory approval. "We're just beginning," he said, commenting on Apple's health efforts and ResearchKit, and in a later comment, he said that Apple has a "great interest" in helping people.
Williams also hinted at Apple's interest in the car. When asked about what industries Apple's looking at for its next amazing product, Williams referenced the car as "the ultimate mobile device," but then clarified he was speaking of CarPlay. He went on to say that Apple's "exploring a lot of interesting areas."
Additional details on Williams' interview can be found over at the
full Re/code live blog
, and when video clips of his interview become available, we'll update this post to include them.

Apple's Siri and search features may expand significantly in iOS 9, letting Apple better compete with Google's feature rich voice-based search component, Google Now. As detailed in a lengthy report from
9to5Mac
, Apple is said to be working on an iOS initiative called "Proactive," integrating features like Siri, Maps, Contacts, Calendar, Passbook, and third-party apps into an expanded Spotlight search.
Proactive will reportedly function as a search feature that's built deeply into iOS, replacing the existing Spotlight search menu (shown to the right). It may be accessed either from the top of the screen home screen as Spotlight is, or from the left of the home screen. Taking advantage of several Apple acquisitions like
Spotsetter
and
Cue
, Proactive is positioned as a lifestyle management tool.
Proactive is said to include a dedicated search bar much like Spotlight, so the design will be instantly familiar to iOS users, and it will continue to allow searches for email content, apps, music, and more. Below the search bar, a new user interface will display unique content from apps, Contacts, and Maps, providing easily accessible information to help iOS users navigate through their daily activities.
For example, if a user has a flight listed in her Calendar application and a boarding pass stored in Passbook, a bubble within the new Proactive screen will appear around flight time to provide quick access to the boarding pass. If a user has a calendar appointment coming up, a map view could appear with an estimated arrival time, directions, and a time to leave indicator based on traffic. Proactive will also be able to trigger push notifications to help the user avoid missing calendar events. Even with these new notifications, however, the existing Notification Center apparently isn't likely to see major changes.
Proactive is able to integrate with third-party apps as well, and it will learn which apps to display based on usage habits. Someone who checks their email right after waking up might have the email app displayed on the screen for quick access, while someone who makes a phone call at a regular time might see the Phone app pop up. Around dinner time, the feature may display restaurant suggestions and ratings for nearby eateries.
Maps will be an important part of Proactive, helping people navigate through their days with quick access to routes and information on the places they need to be. Maps is said to be gaining transit routing features in iOS 9, and it may also be updated with a revamped in-house Points of Interest system that includes an augmented reality view for local listings and a feature called "Browse Around Me."
With the augmented reality feature, which may or may not be ready for iOS 9, a user will potentially be able to hold up an iPhone, point it at a location on the street, and see information about the location. Pointed at a restaurant, Maps might display a menu. Pointed at a street, Maps would show the businesses located there with a virtual outline of each store. "Browse Around Me," meanwhile, is a simpler feature that may show all local points of interest on an overhead map.
Apple's upcoming Proactive feature will integrate with third-party apps, and in iOS 9, developers may be able to access a limited Siri API called "Breadcrumbs." This feature will let Proactive and Siri index apps, but full Siri access will not be permitted due to privacy concerns.
Today's report warns that the above mentioned features might not make it into iOS 9, or that the features listed above could be introduced as scaled-down enhancements that will improve over time.
Apple's much-rumored plans to launch a streaming TV service in the fall were confirmed today at Code Conference in Rancho Palos Verdes, California, where CBS CEO Les Moonves told
Re/code
's Kara Swisher that CBS will "probably" sign a deal with Apple for the network to be included as a launch partner. "We're very excited about it," he told Swisher during his live interview on Wednesday morning.

CBS CEO Les Moonves speaks with Kara Swisher at Code Conference (Re/code)
Moonves confirmed that he met with Apple senior executive Eddy Cue last week to discuss the plans, as part of an "ongoing conversation" about the upcoming streaming TV service, but said he does not know when the service will launch. The service has been rumored to be
unveiled at WWDC
next month, but Apple's efforts to
include local programming
could delay the announcement until later this year.
"Apple TV is trying to change the universe," Moonves said, by offering a smaller bundle of TV networks, delivered over the Web, than pay TV providers traditionally sell. Moonves said Apple's effort was similar to ones that have already launched from Dish Network's Sling and Sony's Vue.

"I think the age of the 200 channel universe is slowly dying," Moonves said. "The good news for us, is any one of those groups will need CBS," adding that his network will get a bigger proportion of whatever revenues those "skinny bundles" generate than it does in traditional packages.
Apple's web-based TV service for iPhone, iPad, Apple TV and other devices is expected to deliver a lightweight package of about 25 channels for between $30 to $40 per month, anchored by popular networks such as ABC, CBS, FOX, ESPN and FX. The service is expected to be available in the United States this September if Apple can secure content agreements in time.
Apple today updated its
its WWDC app
ahead of its 2015 Worldwide Developers Conference, adding support for the Apple Watch and confirming the keynote event for the conference will take place on Monday, June 8 from 10 a.m. Pacific Time to 12 p.m. Pacific Time. According to the app's release notes, with the new Apple Watch portion of the app, users can add sessions to Calendar, listen to audio, and give feedback on session videos right from their wrists.
This year's WWDC keynote should be rather exciting, as Apple is poised to launch two new services at the event. Rumors have suggested that we can expect to see the debut of both a new streaming music service based on Apple's existing Beats service and a new streaming television service.
The television service is brand new territory for Apple, and will see the company offering an assortment of channels that can be streamed over the Internet with no cable subscription. A new set-top box with support for Siri and a full App Store is also expected to make an appearance at WWDC, as is additional detail on Apple's HomeKit initiative.

We will, of course, see the next versions of both iOS and OS X. iOS 9 and OS X 11 are rumored to be updates that are focused on
bug fixes and performance improvements
, but some consumer-facing features will be included.
Transit Maps routing information
and
split-screen multitasking
may find their way into iOS, OS X may gain a new Control Center, and both operating systems are expected to adopt
the San Francisco font
introduced with the Apple Watch.
Update:
An earlier version of this post indicated that media invites for WWDC had been sent out to journalists and analysts, but
MacRumors
has learned that official invites have not yet gone out. Some media attendees have received advanced notification about a pending invite, but actual invites will be sent out in the coming days.
Google has
announced
that it will begin indexing content from iOS apps in search results in the near future, enabling iPhone users to open mobile app content straight from Google Search. The company says that indexed links from an initial group of apps will begin appearing on iOS in search results in both the Google app and Chrome for signed-in users in the coming weeks.

Google first introduced
app indexing
in search results for Android in October 2013, giving developers full control over what app content they would like indexed in search results. A user looking to make a reservation at a restaurant in New York, for example, can access an indexed version of OpenTable directly from search results, book a table and return to Google by tapping the top bar.
Google also outlines instructions for developers on how to get an iOS app indexed in search results, a process that, among other steps, involves adding deep linking support to the app and submitting an
iOS app indexing interest form
. Google notes that filling out the form does not automatically guarantee getting app deep links in iOS search results, and encourages those interested to attend the "Get your app in the Google index" talk at Google I/O this week.
Apple was named the most valuable global brand in market research firm Millward Brown's tenth annual
BrandZ brand value report
[
PDF
], seeing a 67% rise in brand value to $246.9 billion. The Cupertino-based company surpassed Google, which ranked first in the
2014 report
, to reclaim the top ranking in the study for the fourth time in the past five years. See BrandZ's annual reports in
2011
,
2012
and
2013
for reference.
"With a 67 percent rise in Brand Value to $247 billion, Apple returned to number one in the BrandZ™ Top 100 Most Valuable Global Brands ranking. Success of the iPhone 6 and the related excitement surrounding the Apple brand drove the increase. Apple also led in the rate of brand value growth over 10 years – 1,446 percent."

The top ten most valuable global brands in the report is made up almost entirely of technology and telecom companies, with Microsoft, IBM, Visa, AT&T, Verizon, Coca-Cola, McDonald's and Marlboro rounding off the top ten after Apple and Google. Other notable technology companies on the list include Facebook (12th), Amazon (14th), HP (39th), Oracle (44th), Samsung (45th) and Twitter (92nd).
Millward Brown explains that its
brand valuation methodology
is based on three million consumers and more than 100,000 different brands in over 50 markets, with brand appeal measured against actual sales performance. The overall brand value of BrandZ's index saw a 14% year-over-year increase and 126% growth over the past decade.
A new bug has been discovered in the Messages app, allowing a string of characters sent to a person via iMessage or SMS to crash an iPhone and cause the Messages app to crash after being opened. The bug, which requires a
specific string of symbols and Arabic characters
to be sent, was first noticed on reddit earlier this afternoon and has been spreading around the Internet since then.
Sending the string of characters to an iPhone results in an immediate respring, causing an iPhone to crash and quickly reboot. From there, if the Messages app was opened at a list view, the Messages app crashes automatically when you try to open it. If it was opened to the conversation where you received the message, the app will open, but attempting to go to another conversation causes Messages to crash.

MacRumors
tested the bug on iPhones running iOS 8.3, but it may also be affecting other versions of iOS.
If you receive one of these messages, there are a few possible fixes that have worked for us and for other people who have encountered the bug. If the Messages app was opened to the conversation with the person who sent the offending message, the Messages app can be reopened to this conversation. Sending a reply message fixes the problem.
If Messages was opened to the conversation list view, the app will crash when you attempt to open it. You can fix this by having someone send you a message or by sending a message to yourself. There are
several options
for sending a message to yourself, including sending yourself a message via Siri or through the Share sheet in any app.
To send yourself a message in Siri, tell Siri to "Send a message to myself." Siri will open up a dialogue where you can give her a quick message like "Fix" that'll be sent to your iPhone to clear away the malicious message.
Alternatively, you can open an app like Notes, craft a quick note, and use the Share option (the little document with an arrow) to message it to yourself. Sending yourself something though the share sheet of an app opens a new messages window where you can enter your own contact information.
According to
a Twitter user
who spoke to Apple support, Apple's engineers are aware of the problem and are working on a fix.
Update
: Apple has provided a
brief official statement
to
iMore
:
We are aware of an iMessage issue caused by a specific series of unicode characters and we will make a fix available in a software update.
In today's
fourth OS X 10.10.4 beta
, Apple made a significant behind-the-scenes change that could result in improved networking performance for some users -- the removal of the "discoveryd" process. As noted by
MacRumors forum members
and
9to5Mac
, in OS X 10.10.4 beta 4, the discoveryd process has been replaced by mDNSresponder.
Since OS X Yosemite debuted in October, there have
been ongoing complaints
about discoveryd consuming CPU resources, draining battery life, and
causing issues with Wi-Fi
. These problems have lingered for several months, even after multiple bug fixes and performance improvements included in OS X 10.10.1, 10.10.2, and 10.10.3.

Discoveryd was introduced with OS X Yosemite, replacing mDNSResponder for managing Mac networking tasks, but it's led to a host of problems like those listed above along with issues like slow wake from sleep, failures to resolve DNS names, duplicate machine names, and more, as detailed in a post earlier this year by
Ars Technica
. Several developers have also complained about discoveryd in Yosemite, including
Instapaper's Marco Arment
and
Iconfactory's Craig Hockenberry
.
It's no secret in the tech community that discoveryd is the root cause of so many problems. There are even crazy workarounds. With so many issues, you'd expect some information from Apple explaining ways to mitigate the problems.
The removal of the unstable discoveryd process in OS X 10.10.4 beta 4 may improve network stability problems for many users who have been experiencing continual issues. With the removal of discoveryd, Apple has reverted back to using the earlier mDNSresponder process that was used before discoveryd was implemented with OS X Yosemite.