macOS Sierra Now Available
Apple has been ordered to pay more than $302 million in damages for using VirnetX Holding Corp's patented internet security technology in its FaceTime platform without permission.
According to a
Reuters
report filed late on Friday, the verdict was handed down by a federal jury in Texas that has a reputation for awarding favorable verdicts to plaintiffs in cases involving patent infringement.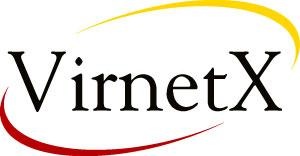 The U.S. district judge presiding over the case, Robert Schroeder, previously
threw out
VirnetX's $625.6 million win over Apple from a previous trial because he said jurors in that case may have been confused.
The case with Nevada-based patent licensor VirnetX originally
began in 2010
, with a jury eventually
awarding the company $368 million in 2012
, but that decision was
thrown out in 2014
after the court decided there were problems with how the trial judge had instructed jurors on calculating damages.
VirnetX continued to pursue Apple in relation to patents it believes the company infringed upon. The previous two suits were combined by the licensor's lawyers, and in February, a jury returned with an even bigger verdict, $625.6 million – one of the highest ever in a U.S. patent case.
However, Schroeder later voided the result, saying that the repeated references to the earlier case could have confused jurors and were unfair to Apple.
In the latest trial, reports
Reuters
, jurors were asked to determine damages on two VirnetX patents that Apple had already been found to infringe, and to determine both infringement and damages on another two patents. The final $302.4 million award was in line with what VirnetX had been demanding.
Neither Apple nor VirnetX have commented on the latest case, although Cupertino will surely exhaust all avenues for appeals before accepting the result. In the meantime, it is facing another court proceeding over whether it willfully infinged the patents, which could lead to higher damages.
Apple is also set to contend with the trial in a second lawsuit filed by VirnetX over newer versions of Apple security features, as well as its iMessage platform.
Over the past week, a sticker pack that mimics the design of the iconic bubbles in the Messages app has rocketed to the top of the Messages
App Store
charts, but its popularity will be short-lived as Apple is going to pull it from the App Store.
Phoneys
, currently the number two paid app in the Messages App Store in the United States, features chat bubble stickers that you can place over real messages, making it look like friends and family have said humorous things they didn't actually say. Examples include "You're my hero," "The sports team I pull for sucks," and "My political views are totally wrong."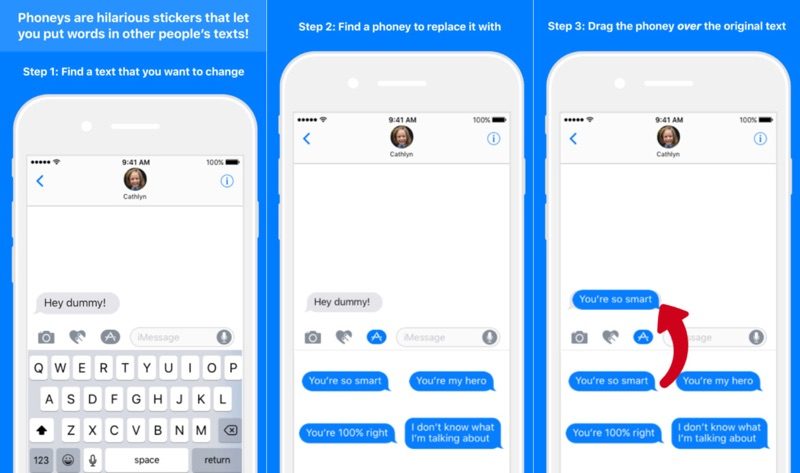 Given the popularity of Phoneys, it has, unsurprisingly, attracted Apple's attention, and the Cupertino company has taken issue with the app. In a phone call, an Apple employee
told Phoneys developer Adam Howell
that his sticker pack can't use the San Francisco font and it can't emulate the look of Messages chat bubbles. Furthermore, Apple said "prank" apps are not allowed in the App Store.
Apple's lawyers weren't happy that Phoneys got through the review process. The stickers couldn't be blue or green, they couldn't use San Francisco as the typeface, and the app could no longer be marketed as a "prank" app, because Apple doesn't approve prank apps (even though I myself had never used the word "prank" when marketing Phoneys, others did, and I certainly understood where he was coming from).
Apple is not pulling the app from the App Store immediately, but has given Howell a week to change the look of the app so that the text bubbles no longer resemble Messages chat bubbles. He's been asked to change them to "comic book cartoon bubbles," and if that doesn't happen, Phoneys will be removed by Apple.
Howell has not yet decided whether he'll leave the app as is for the people who already purchased it or if he'll update it with a new look as instructed by Apple so that he can continue providing updates and new content going forward.
Phoneys continues to be available
from the App Store
in its current incarnation for $0.99 [
Direct Link
], but potential buyers should know that it's either never going to see another update or it'll be updated to look significantly different.
Less than a month after the
last update
on the ongoing construction of Apple's new spaceship campus in Cupertino, California, a few new drone videos have been shared online showcasing the progress of the project. The biggest changes over the past few weeks center around the appearance of lights on the outside of the ring-shaped building, along with fewer construction cranes, suggesting the near-completion of the campus as work shifts from architectural to electrical and the surrounding landscape features.
In the center of the campus, the large water feature has begun receiving its foundation, but otherwise no additional progress has been made on the surrounding garden area. In the last update, the outline of the pond and large new boulders and greenery were some of the most noticeable changes.
The video shows off the progress of the underground auditorium, which Apple plans to use for future product and service reveals, as well as the beginnings of one of seven campus cafe locations appearing on the outside edge of the spaceship building. A brief glimpse of the underground tunnels connecting various parts of the campus can also be seen towards the end of the video.
In a second drone video of the construction ongoing at
Apple Campus 2
, solar panel installation on the roof of the main building is estimated to be at 40 percent complete. It also provides closer shots of the underground auditorium, and the collection of peripheral buildings lined up on Tantau Avenue near the campus.
Apple plans to include a few amenities for its employees located on the campus, including various exercise-focused zones like joggling and cycling trails, and courts for basketball and tennis. The project is expected to be completed by the end of 2016, with employees moving in towards the beginning of 2017.
Exploit acquisition platform
Zerodium
has increased its reward for a successful jailbreak of
iOS 10
to $1.5 million, far surpassing Apple's recent payout offer for discovering and reporting vulnerabilities in its software.
Late last year, Zerodium briefly offered and
paid out $1 million
to one hacking team for the successful creation of a browser-based jailbreak for iOS 9.1 and 9.2, but dropped the going rate for an exploit to $500,000.

Rather than report the vulnerabilities to Apple, Zerodium said that it would sell the exploit to its customers, which include major technology, finance, and defense corporations, as well as government agencies.
Instead of being limited to a specific timeframe, the new $1.5 million reward is a permanent offer that aims to compensate for Apple's recently hardened security regime, said Zerodium founder Chaouki Bekrar.
We've increased the price due to the increased security for both iOS 10 and Android 7, and we would like to attract more researchers all year long, not just during a specific bounty period as we did last time.
At the same time, Zerodium's decision to up its bug bounty can be seen as a response to the imminent launch of Apple's own program.
Last month at the annual Black Hat Conference, Apple
announced
the launch of an invite-only Security Bounty Program that would offer rewards of up to $200,000 to researchers depending on the vulnerability discovered. Apple said the program would be limited to a few dozen researchers and would go live in September.
Earlier this week, several news media outlets were seemingly duped into reporting on an
alleged 'secret' meeting
of prominent hackers at Apple's Campus in Cupertino, which was supposed to include a briefing on the company's bug bounty program. The meeting was apparently a hoax perpetrated by the hackers themselves.
@qwertyoruiopz Forbes punk'd

— franz (@neozeed) September 28, 2016
Note: Due to the political nature of the discussion regarding this topic, the discussion thread is located in our
Politics, Religion, Social Issues
forum. All forum members and site visitors are welcome to read and follow the thread, but posting is limited to forum members with at least 100 posts.
As
promised last week
, The CW network today released a new
Apple TV
app that allows all fourth-generation Apple TV owners to watch new episodes of shows on the network for free with no cable authentication or login required.
All of the shows on The CW, including
Supergirl
,
The Flash
,
Jane The Virgin
,
Arrow
,
Crazy Ex-Girlfriend
,
iZombie
,
Supernatural
,
DC's Legends of Tomorrow
,
The 100
Vampire Diaries
,
Reign
, and
The Originals
are available to watch, with ads. Users simply need to download the app and click play on a show to watch, with no other hoops to jump through.

The CW's iOS and Apple TV apps focus on only the newest episodes, with no archived content available from past seasons. Only five episodes from the most recent season are available to watch, but it's all free and should be welcome news to cord cutters who are hoping other television networks might adopt similar policies.
On iOS devices, an update to the CW app introduces support for both
AirPlay
and Chromecast, allowing content from the iOS app to be streamed to a television set as an alternative to using the Apple TV app or as a way to watch The CW's content on television sets without owning a fourth-generation Apple TV.
The CW
can be downloaded from the
App Store
for free. [
Direct Link
]
Apple today shared a new television ad on its
YouTube channel
, designed to introduce people to the new Screen Effects feature in
iOS 10
. In the minute-long spot, a sole red balloon drifts through mountains, over the sea, and through hilly terrain to reach the city, where it's joined by hundreds of additional balloons floating through the streets.
The shot pans to an iPhone user who receives a "Happy Birthday" message, where balloons fill up the screen to accompany the text. It ends with the tagline "Expressive messages on
iPhone 7
. Practically magic."
Introduced in iOS 10,
Screen Effects
are designed to make the messages experience more emotive, personal, and fun. Screen Effects temporarily alter the look of the Messages display with full screen animations that play alongside text messages. There are several animations, ranging from balloons and confetti to lasers and fireworks.
With certain keywords like "Congratulations!" or "Happy Birthday!" Screen Effects play automatically whenever the relevant text phrase is sent to an iPhone user who has iOS 10 installed.
A growing number of Verizon subscribers are complaining about a serious issue that causes them to regularly lose LTE connectivity on their
iPhone 7
and iPhone 7 Plus devices, suggesting a major bug that needs to be resolved by either Apple or Verizon.
There are dozens of complaints from Verizon customers who have purchased either an iPhone 7 or an iPhone 7 Plus on the
MacRumors forums
,
Reddit
, and the
Apple Support Communities
.

Phones from other carriers may also be experiencing the same problem, as there are also complaints from some AT&T subscribers. The problem appears to be limited to Apple's newest devices, with those who have earlier iPhones not reporting connectivity issues. As described by Reddit user Kangalex:
wow same exact issue. i have noticed that when my phone is out of wifi range, it will never automatically connect to LTE but rather get stuck at 3G until I put into airplane mode to reset the network connection. its really annoying and verizon swapped out the sim for me but mentioned that if this issue keeps happening they will replace the device for me. was starting to think that it was my phone that was defective but looks like a software issue =\
Affected customers are seeing their LTE connectivity cut out at regular intervals, leaving them stuck with 3G/1X speeds or no signal at all. This can cause calls to disconnect when VoLTE is in use in addition to interrupting data usage. Turning off VoLTE can avoid dropped calls, but it does not address the underlying problem.
There appears to be no clear fix for the issue, and customers have been complaining of being routed between Apple and Verizon with neither company offering a solution. Restarts, sim swapping, turning off HD voice, and putting the iPhone in Airplane Mode appear to resolve the issue temporarily, but it returns. Apple and Verizon have
swapped out devices
for some affected customers, but their new devices have the same problem.
Customers who are experiencing the issue say that the problem is exacerbated by switching between towers, as one might do when traveling in a moving car, and that it is not fixed in
iOS 10
.0.2 or in the iOS 10.1 beta.
One
customer
was told it was an Apple software issue, and according to several others, Verizon is
aware of the problem
and is
working with
Apple on a fix.
Update
: While Verizon users have generated the highest number of complaints about this issue, customers on other carriers around the world have also experienced it.

An FCC vote on a controversial proposal that would de-couple cable subscriptions from cable set-top boxes was today delayed as the Commission aims to work out "remaining technical and legal issues," the FCC said in a statement. [
PDF
]
"It's time for consumers to say goodbye to costly set-top boxes. It's time for more ways to watch and more lower-cost options. That's why we have been working to update our policies under Section 629 of the Communications Act in order to foster a competitive market for these devices. We have made tremendous progress - and we share the goal of creating a more innovative and inexpensive market for these consumer devices. We are still working to resolve the remaining technical and legal issues and we are committed to unlocking the set-top box for consumers across this country."
Introduced in January
by United States Federal Communications Commission chairman Tom Wheeler, the proposal initially called for content providers to allow cable and satellite subscribers to access and watch cable content on any set-top box of their choosing, including the
Apple TV
, rather than being forced to lease a set-top box provided by cable companies like Comcast and Time Warner Cable.
Cable companies want to have control over content and how and where it's displayed, so the FCC unsurprisingly met a lot of resistance over the proposal.
Major changes to the measure were announced in early September in response to pushback from cable companies, and the revised version requires cable providers to develop apps featuring access to all of their programming -- live and on-demand -- for all major platforms including iOS, Android, Windows, and Roku.
Providers are also required to provide open access to their content catalogs for universal search purposes, but the revised measure is much less ambitious and more restrictive than the original proposal, but more agreeable to content providers.
With the first version of the proposal, companies like Apple could have built a full television-viewing interface around content provided by cable companies rather than simply offering content through a cable-branded app.
According to the FCC, the proposal will now go on the Commissions "circulation list" and will "remain under consideration."
Over the past two weeks, an increasing number of
iPhone 7
and iPhone 7 Plus users have
experienced Bluetooth audio issues
in vehicles. The majority of users experiencing problems appear to be BMW owners, regardless of model, but other vehicle brands such as Hyundai and Kia appear to be involved in limited cases.

The issues range from audio cutting out to connectivity issues with infotainment systems. BMW users in particular report being able to stream music for about 5-10 seconds, at which point the ConnectedDrive system freezes. Fixing the system requires restarting the iPhone, but the issue reemerges once the connection is reestablished.
MacRumors reader YachtMac
posted
in our discussion forums:
My iPhone 7 Plus with iOS 10.0.2 will not stream audio for more than a few seconds in a BMW 4 series with the latest multimedia software. I have researched the issue and others with BMWs and other makes seem to be experiencing the same or similar streaming issues. Moreover, once the fault occurs the mobile telephone connection then becomes flakey as well. The only thing I can do is to disable the audio streaming option in order to have a phone that works in the car as a phone.
Apple Support Communities member Chandy911
echoed the same problem
:
I just upgraded to an iPhone 7 Plus running iOS 10.0.1 and I am having issues playing music through Bluetooth on BMW ConnectedDrive. I've upgraded the BMW software on my car to the latest version from BMW's website, but I still get disconnected on Bluetooth after about 5-10 seconds after playing music. I've tried to restore the phone and set it up as a new phone. I've deleted the connection both on the device and car, but the issue persists.
MacRumors reader
PorscheRain
:
iPhone 7 in 2015 BMW 235i disconnects from Bluetooth after steaming audio for 10 seconds. Once disconnected, iOS no longer sees the vehicle's Bluetooth source. The only recourse is to forget the device in Settings and repair with the vehicle. I've isolated iOS as not the key issue (iPhone SE works fine on the same iOS 10.0.1, so did my prior iPhone 6s). Apple had me swap out the device at the store; the same thing is occurring on the new iPhone 7.
BMW itself has acknowledged the issues and said it is working with Apple to ensure iPhone 7 compatibility in its vehicles:
We are aware of the concerns you speak of and we are currently working directly with Apple to ensure iPhone 7 compatibility in our vehicles. At this time, the Apple iPhone 7 is not an approved device for our vehicles until testing has completed. We do not currently have an estimated time frame regarding the completion of iPhone 7 testing. Please continue to look for an update from Apple for a new iOS and our update website to help resolve your concerns: www.bmw.com/update. We apologize for any inconvenience this has caused.
Apple has seemingly told some customers the fix will be included in an upcoming software update. The issue is still present on iOS 10.1 beta. BMW owners are recommended to
update to the latest version of ConnectedDrive
as a preparative measure. BMWs equipped with
CarPlay
do not appear to be affected.
These types of issues have been seen before. In 2014, some users experienced
trouble pairing their devices
to their vehicles via Bluetooth after upgrading to iOS 8 or purchasing a new iPhone 6 or 6 Plus. Apple fixed the issues in iOS 8.1. Similar issues
affecting some iPhone SE users
were
addressed in iOS 9.3.2
.
Emergency alerts delivered to iPhones and other smartphones to warn customers about poor weather conditions, missing children, local crime, and more, may soon feature support for web links, photos, phone numbers, and longer message content.
The United States Federal Communications Commission on Thursday
voted to expand
emergency alerts from 90 to 360 characters on 4G and LTE networks, and to include support for links so people can follow up to get more information about an unfolding situation. As it stands, emergency alerts are short in length and often offer no resources for people to get in contact with emergency personnel if necessary.

Image via NBC
Wireless providers like Verizon, AT&T, Sprint, and T-Mobile send these alerts and will be required to update their systems with support for the new features that have been mandated by the FCC.
"Vague directives in text about where to find more information about a suspect, just as we saw in New York, are not good enough," said Jessica Rosenworcel, an FCC commissioner. "As we move into the 5G future, we need to ensure that multimedia is available in all of our alert messages."
Carriers will also need to start supporting the transmission of Spanish language alerts and introduce a new type of safety alert designed to send "Emergency Governmental Information" like the locations of emergency shelters or an order to boil water before drinking.
The FCC's decision
follows criticism
of the emergency alert system after alerts were sent out in New York and New Jersey asking citizens to help track down a man suspected of setting off bombs in the area. The alert included a message advising people to "See media for pic," highlighting its shortcomings. It is not clear when the new rules will go into effect.

KGI Securities analyst
Ming-Chi Kuo
has outlined further predictions for next year's iPhone lineup, claiming the popularity of Jet Black models will encourage Apple to return to glass casing for 2017 models, as the material tends to have a higher gloss finish than metal.
While a glossy finish is possible for metal casing, we identify two prerequisites for the 2017 new iPhone to be competitive in terms of casing design, considering competitors will definitely launch smartphone models with glossy metal or glass casing prior to Apple's launch: (1) adoption of a glossy finish design; (2) enhanced productivity and higher yield will prevent a supply shortage, as has happened with jet black casing, which is manufactured at an unsatisfactory yield rate of 60-70% due to the metal material; and (3) better scratch resistance will improve user satisfaction. All things considered, we see glass casing as the only option.
Kuo believes Apple is more likely to stick with slightly curved 2.5D cover glass on the 2017 iPhone, as used on
iPhone 6s
, rather than adopt a fully curved 3D design, in light of mass production considerations and drop test performance. Kuo previously said Apple will launch a
5.8-inch iPhone with a curved OLED display and glass casing
next year, which a subsequent report said will be a
high-end model
. The other models would retain LCD displays with 4.7-inch and 5.5-inch screen sizes.
Kuo said the new glass casing will be reinforced by an aluminum metal frame, while stainless steel will be used for high-end models.
Metal frame can be stainless steel or aluminum, with former more likely for high-end models. As all-glass casing is not possible at present given technological bottlenecks, a metal frame surrounding the edge is necessary for reinforced structure design. As stainless steel has a better look than aluminum and costs more, we expect only high-end new iPhone models to come with a stainless steel frame next year.
The analyst believes Foxconn will be the sole supplier of high-end iPhone models next year as the exclusive manufacturer of the new stainless steel frame. Meanwhile, glass material supplier Corning and glass casing makers Lens Technology and Biel Crystal are said to be beneficiaries of the new glass design.
Apple released
iOS 10.1 beta
last week with a
new "Portrait" mode
on
iPhone 7
Plus. The depth-of-field feature uses the smartphone's dual cameras and advanced machine learning to make the subject in the foreground sharp while creating an out-of-focus blur in the background, known as the bokeh effect.
Since then, several
MacRumors
readers have shared beautiful shallow depth of field photos shot with iPhone 7 Plus. Many of the photos look like they were captured with a higher-end DSLR camera, which is impressive given how small the iPhone's cameras are. In many ways, the best camera truly is becoming the one you carry in your pocket.
MacRumors
reader Bryan, for example, shared some photos he shot at the ArtPrize international art competition in Grand Rapids, Michigan this week. Each photo beautifully demonstrates Apple's artificial bokeh effect, achieved by combining two images from the wide-angle and telephoto lenses to create a depth map.

The crowdsourced
iPhone 7 Plus Photography topic
in the
MacRumors
discussion forums has dozens of other great examples of both regular and shallow depth of field photos, including this swimming pool portrait shared by reader erwheezy. Make sure to click the link ahead to read the full article with more examples.
➜ Click here to read rest of article...