Apple Watch, Retina MacBook, New MacBook Air & 13" Pro
Apple today officially announced April 10 grand openings for its three dedicated Apple Watch shops located in
high-end department stores
in London, Paris, and Tokyo. As previously outlined, the store-within-a-store locations are at
Selfridges
in London,
Galeries Lafayette
in Paris, and
Isetan
in Tokyo.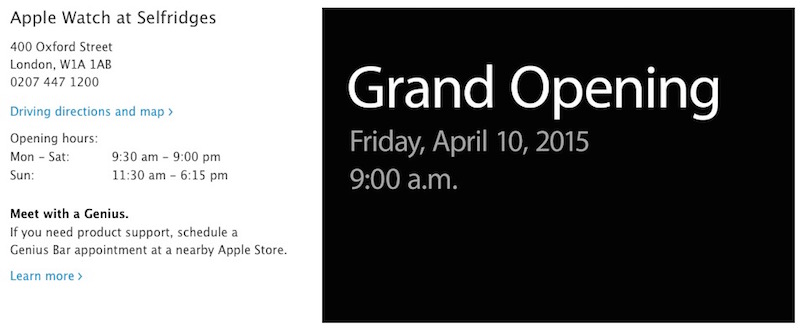 The new locations appear set to handle only Apple Watch viewing and sales, with customers being directed to other Apple retail stores for their support needs.
The
Selfridges Apple Watch shop
will be located near the entrance to the iconic Wonder Room, a massive shopping hall that houses a wide selection of luxury jewelry and watch brands alongside a concept store and mezzanine wine bar. Apple has reportedly been drawing employees from other retail stores in London to staff the new shop. The Galeries Lafayette shop will take over
four balcony sections
overlooking the main rotunda of the department store.
Apple will begin in-store previews and pre-orders for the Apple Watch on April 10, with launches in the first wave of countries coming two weeks later. The high-end gold Apple Watch Edition models will only be available at select Apple retail stores, and the dedicated Apple Watch shops at these luxury department stores will almost certainly also be featuring the gold watches, which are priced from $10,000 to $17,000.
Ahead of the Apple Watch's upcoming April 24 launch, apps that include Apple Watch support are beginning to be
released in the App Store
. As of today, several popular iOS apps have been updated with built-in Apple Watch apps, including
Evernote
,
Dark Sky
,
Things
, and
Target
.
Additional apps with Apple Watch support will be rolling out over the course of the day, giving us a first look at how many of the apps on the device will function. We'll be updating this post with a list of Apple Watch apps that are available as they come out in the App Store.
Apple has
already shared information
on many third-party apps that will be available for the Apple Watch, but the updates coming today will give us a lot more information on how some of our favorite apps will take advantage of the App Store.
According to
Evernote
's app description, for example, users will be able to dictate notes into the Apple Watch, which will be transcribed and synced to
Evernote
. Users will also be able to see recently created, updated, and viewed notes, and get reminders about items that are due.
Dark Sky
's weather information will be brought to the wrist, and according to the app release notes, it's been designed from scratch to fit on the smaller screen of the Apple Watch.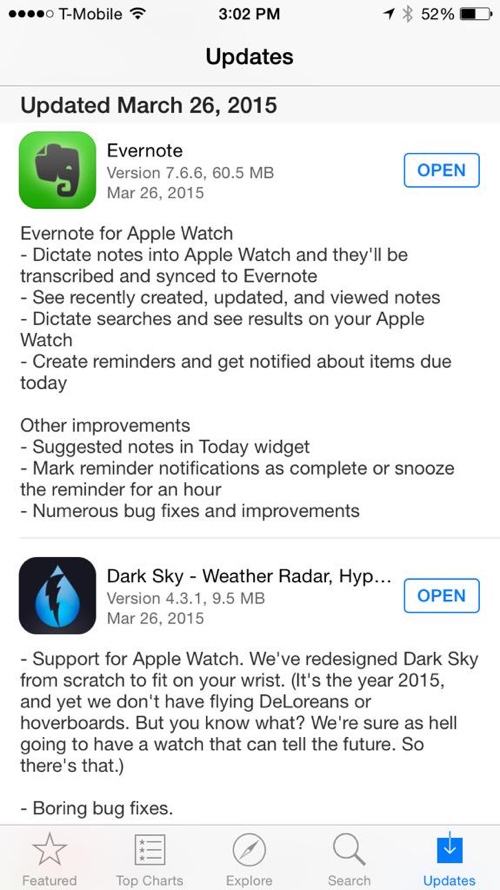 As we've mentioned before, Apple Watch apps are bundled into existing iPhone apps because the iPhone powers the app while a UI is extended to the Apple Watch. This helps to preserve battery and it controls the amount of access developers have to the watch. Apps that run fully on the Apple Watch are coming in the future, but are not available yet.
The Apple Watch will be available for pre-order and try-on sessions at Apple retail stores beginning on April 10. Third-party Apple Watch apps have likely started popping up today to allow Apple Store employees to install content on demo Apple Watches that will be shown off to customers.
Here's a comprehensive list of Apple Watch apps available with a brief description of what they'll do:
Click here to read rest of article...
Amazon on Thursday
announced
two new unlimited cloud storage plans for
Amazon Cloud Drive
, enabling users to store an endless amount of photos, videos, movies, music, and files. Amazon users can choose either the Unlimited Photos Plan for $11.99 per year or the Unlimited Everything Plan for $59.99 per year, with a free three-month trial available for each plan for customers that want to try the service.

The lower-tier Unlimited Photos Plan allows for an unlimited number of photos to be stored on Amazon Cloud Drive, alongside up to 5GB of additional storage for videos, documents and other files. The more expensive Unlimited Everything Plan allows for unlimited storage of photos, videos, files, documents, movies and music with no restrictions. Amazon Prime members are already provided with an Unlimited Photos Plan at no additional cost.
"Most people have a lifetime of birthdays, vacations, holidays, and everyday moments stored across numerous devices. And, they don't know how many gigabytes of storage they need to back all of them up," said Josh Petersen, Director of Amazon Cloud Drive. "With the two new plans we are introducing today, customers don't need to worry about storage space—they now have an affordable, secure solution to store unlimited amounts of photos, videos, movies, music, and files in one convenient place."
The addition of unlimited cloud storage makes Amazon Cloud Drive a more competitive alternative to other cloud storage services such as iCloud Drive, Google Drive, Microsoft OneDrive and Dropbox. Apple does not offer unlimited iCloud storage, providing customers with tiered storage options of 20GB, 200GB, 500GB or 1TB for between $0.99 and $19.99 per month. Google and Microsoft also have capped storage plans, while Dropbox offers unlimited storage to business customers only.
Following the release of
Becoming Steve Jobs
, an acclaimed biography of the late Apple co-founder,
Fortune
has named Tim Cook the "
world's greatest leader
," accompanied by an
in-depth profile
that reflects on the chief executive in the post-Jobs era. The interesting article provides a closer look at Cook's transition from a soft-spoken operations manager to a high-profile leader at Apple, and reveals how Cook has managed the pressure that comes with his new role.

Apple CEO Tim Cook (Image Credit: Joe Pugliese)
Cook brings a different leadership style to Apple, placing more trust in others instead of being as impulsive and manipulative as Jobs often was. The results have been favorable, as Apple has grown to become the world's most valuable company during the three-and-a-half years since Cook took over the helm. Nevertheless, he admits that he has needed to grow thicker skin to handle the intensity that comes with the territory.
"I have thick skin," he says, "but it got thicker. What I learned after Steve passed away, what I had known only at a theoretical level, an academic level maybe, was that he was an incredible heat shield for us, his executive team. None of us probably appreciated that enough because it's not something we were fixated on. We were fixated on our products and running the business. But he really took any kind of spears that were thrown. He took the praise as well. But to be honest, the intensity was more than I would ever have expected."
Despite his successes, Cook has faced a number of senior management challenges since taking over as chief executive, including the disappointment that was Apple Maps, fallout with sapphire partner GT Advanced Technologies and the short-lived hiring of John Browett as Apple's retail chief. Cook reflected on Browett, who never fit in with the company's culture and was ousted after just six months on the job.
"That was a reminder to me of the critical importance of cultural fit, and that it takes some time to learn that," he says. As CEO, "you're engaged in so many things that each particular thing gets a little less attention. You need to be able to operate on shorter cycles, less data points, less knowledge, less facts. When you're an engineer, you want to analyze things a lot. But if you believe that the most important data points are people, then you have to make conclusions in relatively short order. Because you want to push the people who are doing great. And you want to either develop the people who are not or, in a worst case, they need to be somewhere else."
Following the departure of Browett, Cook recognized the need to be patient in his search for a retail chief that could truly fit in with Apple's culture. Last May, the company found its candidate in former Burberry CEO Angela Ahrendts, who discretely met with Cook in Cupertino, outside of Apple's headquarters, to discuss the future of retail. Ahrendts did not expect to join Apple, but she ultimately reconsidered after she
felt moved by Cook
.
"The first time I sat down with him, I walked away thinking wow, that's a man of peace," she says. "I just absolutely loved his integrity, his values. Nothing anybody can write, say, or do is going to take him off of always doing the right thing. Not just for Apple, but for Apple's people, for communities, for countries. The world needs more leaders like Tim."
Cook became the first
Fortune 500
CEO to publicly come out as gay last year, which he hopes will make other people realize that they do not need to hide who they are. He further expressed that he made the decision of coming out "quite some time ago," adding that, while the United States has made some progress on the issue, he "didn't feel like business was exactly leading the way in the executive suite."
"To be honest, if I would not have come to the conclusion that it would likely help other people, I would have never done it," he says. "There's no joy in me putting my life in view." Referencing the often-cited line that "to whom much is given, much is required," Cook says, "I've certainly been given a lot."
The full-length profile has been published in the April 2015 issue of
Fortune
.
Apple is planning on releasing three new iPhone models in the second half of 2015, according to a
new report
from
DigiTimes
. The site claims that a 4-inch iPhone model will join the 4.7-inch iPhone 6s and 5.5-inch iPhone 6s Plus.

Apple will release three different iPhones in the second half of 2015, the iPhone 6S, iPhone 6S Plus and a 4-inch device currently being referred to as iPhone 6C, according to industry sources.
A new 4-inch iPhone was also
rumored
in December 2014, with a report claiming that the device would be aimed toward female users. However, even if a new 4-inch iPhone isn't introduced, Apple will presumably have the iPhone 5s to offer for free on a two-year contract once the current models slide down.
DigiTimes
notes the 4-inch iPhone 6c is likely to be manufactured by Wistron while both the 6s and 6s Plus will be manufactured by Foxconn. In January, a report from Chinese site
Feng.com
claimed
that Apple had not made any orders in its supply chain for a 4-inch iPhone.
Earlier this year, CEO Tim Cook
said
the new, larger iPhone models had brought the highest Android switcher rate over the past three years and that they brought in more newer customers than previous iPhone models. It's possible that Apple believes offering more sizing choices to customers could allow Apple to reach more customers, as Cook also mentioned different regions preferred different sizes.
Apple is expected to announce new iPhone models in September, with new additions to both the iPhone 6s and 6s Plus
rumored to include
2GB of RAM and Apple's new Force Touch technology, which has already made its way into Apple Watch, the new MacBook and new 13-inch MacBook Pros.
At today's F8 Facebook Developer Conference, Facebook debuted
its new Messenger Platform
, a major update to the Messenger service that allows users to send content like GIFs, photos, videos, and more from third-party apps within the Facebook Messenger app for iOS.
Beginning today, iOS app developers can
build Facebook Messenger support
into their apps, making them directly accessible within the Facebook Messenger app. Facebook has already worked with more than 40 developers, so apps with Messenger support are already available in the iOS App Store.

Apps can be accessed in the Facebook Messenger app for iOS when the "More" icon is tapped within a conversation. This opens up a list of available apps that can be installed, and when tapping install, you'll be taken to the app's install page in the iOS App Store.
The way third-party apps work with Messenger on iOS is a bit convoluted. Apps are installed independently, but those that support the Messenger Platform will send their content via Messenger. For example, if you install GIF app Giphy on your iPhone (which is one of the new apps that supports the Messenger Platform), tapping on it from within the Messenger app will open the separate iOS app to let you choose and send a GIF.
In the Giphy app, you will see a list of all your Messenger friends, and once you tap to send a GIF to one of them, you will be returned to the Messenger app and your original Messenger conversation. From there, you can continue on the conversation, send additional GIFs, or send other content from other third-party apps. Content can be viewed in the Facebook desktop app, but sending it can only be done from an iOS device.
There are a wealth of third-party apps available in Facebook Messenger for iOS right now. Apps include GIF apps like Giphy, emoji apps, sticker apps, video apps, collage apps, and more. All of the apps are being released today in the iOS App Store and have been specially developed for use with the Facebook Messenger app.
While most of the apps have been developed by third parties, Facebook has released its own apps for Messenger, including
Stickered
,
Selfied
, and
Shout
. Third-party apps include
ClipDis
,
Giphy
,
Bitmoji
,
ESPN
,
Camoji
,
Talking Tom
, and
Emu
.
Facebook has faced some criticism for the way it's handled its iOS apps, most notably removing messages access from the main Facebook app and
forcing users to download Facebook Messenger
, but today's update with expanded content for the iOS app may change public opinion and could draw in users who have been reluctant to download the Messenger app for iOS.
Facebook Messenger
for iOS can be downloaded from the App Store for free. [
Direct Link
]
Rumors about a revamped Apple-branded Beats streaming music service have been circulating
since September of last year
, but as the launch of the service draws nearer, information on pricing and content has been leaking out.
In a detailed report on the upcoming service published today,
The New York Times
confirms some previously known information and adds new details on the roles Trent Reznor and Jimmy Iovine are playing in the development of the music service. The report also divulges some information on Apple's interest in exclusive album releases and the company's work on an iTunes Radio revamp.
Apple's upcoming streaming music service is said to take on many of the characteristics of the existing Beats Music service, with a focus on curated playlists and a "vivid visual appeal" that also fits into Apple's minimal design aesthetic. It's unlikely to retain the "Beats Music" moniker, and it is being tested as a part of an upcoming update to iOS, previously said to be iOS 8.4.

As
previously rumored
, while Apple hoped to price its new service at $7.99, undercutting the prices of competing services like Spotify and Rdio, it saw significant resistance from record companies. As a result, the service will likely be priced similarly to those other services, at $9.99 per month, but it will have no free tier.
Nine Inch Nails frontman Trent Reznor, who was the Chief Creative Officer at Beats before it was acquired by Apple, is "playing a major role" in the redesign of the music streaming app. Jimmy Iovine, Beats co-founder, is also said to be playing an important role furthering Apple's music ambitions.
Mr. Iovine has set the tone of the transformation of Apple's music plans, according to music executives. Mr. Iovine, who reports to Eddy Cue, Apple's head of software and Internet services, has been leading aggressive talks to secure prominent album releases that will be exclusive to Apple, akin to what Beyoncé did when she released her self-titled album on iTunes in December 2013. One music executive involved in the negotiations described this part of the new iTunes as "Spotify with Jimmy juice."
Along with a revamped music service, Apple is said to be planning to debut an enhanced version of iTunes Radio, which will be more tailored to listeners in regional markets and more like a traditional radio station. Recent hire Zane Lowe, a former BBC radio DJ has
joined the iTunes Radio team
as part of this effort.
Rumors have suggested that Apple's revamped music service will debut at this year's Worldwide Developers Conference, alongside a new streaming television service and a new Apple TV set-top box.
Just a day after adding
TED, Tastemade, and Young Hollywood
channels to the Apple TV, Apple has added yet another new channel to its set-top box -- CNNGo.
CNNGo
is CNN's service that lets users watch live news coverage and see segments from the past 24 hours. It also includes recent CNN coverage and films on demand. The service has previously been available on CNN.com and via the
CNN iPad app
.

Much of the content within CNNGo requires authentication through a cable provider. Live television and full shows require authentication, but clips can be watched without a cable subscription.

Today's new CNNGo channel comes as Apple is preparing to reveal both a new set-top box and a new television service at the Worldwide Developers Conference in June. The rumored streaming television service will consist of approximately 25 channels for $30 to $40 per month, with Apple
partnering with networks
like ABC, CBS, Fox, Discovery, and more for content.
The
next-generation Apple TV
is said to have an A8 processor with a built-in App Store for downloading content and Siri support, plus more internal storage and a redesigned remote control.
As of April 10, Apple will begin scheduling appointments in its retail stores for customers who are interested in trying on the Apple Watch before deciding to pre-order or make a purchase. We've known that most try-on appointments will be scheduled in 15-minute intervals to allow Apple employees to get to as many customers as possible, but it seems that customers who are interested in purchasing the Gold Apple Watch Edition will get some extra time with the device.
According to the
International Business Times
, two Apple Stores in Manhattan have confirmed that customers looking to
spend upwards of $10,000
on an Apple Watch Edition will get 30 minute appointments with Apple employees instead of 15 minute appointments.

Given the high price of the Apple Watch Edition, it's no surprise that employees plan to dedicate more time to those who plan to spend a lot of money, as it's a bigger purchasing decision. In fact, the purchasing experience for a Gold Apple Watch may be quite a bit different from the experience purchasing a standard Apple Watch or an Apple Watch Sport, as Apple is said to have a dedicated group of employees that have undergone special training serving customers who are buying the Apple Watch Edition.
Apple employees, including those who will work with customers interested in the Gold Apple Watch, are being trained to offer fashion and styling advice to customers.
9to5Mac
shared some details on this training yesterday, suggesting employees will use each customer's fashion sense to make Apple Watch recommendations. Apple employees are being given example customers to train with, to help them develop the skills to make suggestions to customers.

Apple retail stores
will be transformed overnight
ahead of April 10, adding Apple Watch try-on stations that consist of glass-covered display tables that have the Apple Watch underneath. The Apple Watch Edition will only be available at select Apple Stores, and in limited quantities. Stores where the high-end watch will be sold are being outfitted with safes, where the devices will be kept at night to protect them from theft.
Apple wants the Apple Watch Edition buying experience to mirror other luxury shopping experiences, and in addition to selling the device in Apple retail locations through specially trained employees, Apple is also
assembling pop up shops
around the world in locations like the Wonder Room in Selfridges, a special section of the store that houses other high-end jewelry and watches. Other pop up shop locations include the Galeries Lafayette in Paris, and the Isetan Department Store in Tokyo.
Apple Watch pre-orders and try-on appointments begin on April 10, with the official launch coming later in the month, on April 24.

After an initial
teaser post
from John Gruber earlier this month and several
leaks
and
excerpts
, the new Steve Jobs biography
Becoming Steve Jobs
debuted yesterday, and we've had a chance to read through the book that offers a new look into the life of the Apple co-founder. While Walter Isaacson's best-selling 2011 biography of Jobs was undertaken with Jobs' authorization and participation, many close to him felt it didn't offer an accurate reflection of his personality.
In the wake of that book's debut, former
Fortune
and
Wall Street Journal
reporter Brent Schlender, who interviewed Jobs numerous times over the final 25 years of Jobs' life, teamed up with former
Fortune
colleague and current
Fast Company
executive editor Rick Tetzeli for an alternative take on Jobs' life. Notably, Schlender and Tetzeli were eventually able to obtain the cooperation of a number of key figures, including Tim Cook, Eddy Cue, Jony Ive, and Laurene Powell Jobs, to share their perspectives on Jobs.
The new book takes a mostly linear approach to telling the story of Jobs' life, beginning with Apple's early days. Much of that early content has been shared in previously published books and articles, but the story becomes more interesting once it reaches 1986, the year Schlender and Jobs first met for an interview when Jobs was in the early stages of building NeXT after having been ousted from Apple the year before.
Schlender's many interviews and discussions with Jobs over the years give him a fairly rare perspective, and Schlender uses that perspective to argue the Jobs of his later years was a very different and more mature person than the perception developed in his brash younger years.
I can't think of a businessman who grew and changed and matured more than Steve. Personal change is, of course, incremental. As all "grown-ups" come to understand, we wrestle with and learn how to manage our gifts and flaws over a lifetime. It's an endless growth process. And yet it's not as if we become wholly different people. Steve is a great object lesson in someone who masterfully improved his ability to make better use of his strengths and to effectively mitigate those aspects of his personality that got in the way of those strengths. His negative qualities didn't go away, nor were they replaced by new good traits. But he learned how to manage himself, his own personal miasma of talents and rough edges. Most of them, anyway.
Tim Cook is one of the most high-profile figures to be interviewed for the book, and beyond the already revealed tidbit about Cook having
offered Jobs a portion of his liver
, Cook addressed the ways in which he saw Jobs change even since 1998 when Cook joined Apple.
Click here to read rest of article...
The recently refreshed 2015 MacBook Air can drive 4K external displays at a refresh rate of 60Hz, as confirmed by
Ars Technica
. The report claims that Intel's new Broadwell processors with integrated Intel HD Graphics 6000 support 4K output at 60Hz using a DisplayPort 1.2 cable, whereas previous-generation notebooks with Haswell processors were limited to lower resolutions at 30Hz.

Apple's
tech specs page
for the new MacBook Air lists the notebook as capable of supporting one external display at up to 2,560×1,600 pixels, which clearly is not the case. Apple may be electing not to advertise 4K support for the new MacBook Air on purpose, however, as performance can still be somewhat laggy or jerky and the company has a shortlist of
supported displays and configurations
.
"Given that the Air is using one of Intel's integrated GPUs, general OS X user interface performance isn't too bad while driving the Air's internal display alongside the 4K display. Dropped frames are clearly visible when entering into Full Screen mode or using Mission Control, and of course you'll never want to try playing games or doing heavy 3D work at native resolution. But things are more than smooth enough for desktop use."
The new Thunderbolt 2 port included on the refreshed MacBook Air and MacBook Pro is compatible with the DisplayPort 1.2 spec, meaning that Single-Stream Transport is possible using one cable. Meanwhile, 4K over HDMI remains restricted to a 24Hz refresh rate due to the limitations of the current 1.4 spec. Multi-Stream Transport should also be possible using DisplayPort 1.2, although the number of displays will be limited and performance will likely be impacted.
Flexibits
today launched the much-anticipated
Fantastical 2
for Mac, a completely new app that overhauls the existing
Fantastical
for Mac app and introduces a long list of new features.
Flexibits CEO Michael Simmons spoke with
MacRumors
about the new
Fantastical 2
update for Mac, and he told us that while the original
Fantastical
app reinvented calendar apps, the new update reinvents
Fantastical
. The Flexibits team took everything they learned from
Fantastical 2
for iOS and brought it over to the Mac.
To begin with,
Fantastical 2
has been designed from the ground up to fit in with the Yosemite aesthetic, adopting a flat design, simple outlines, cleaner fonts, and brighter, bolder colors with two available color themes. It's also adopted many Yosemite-only features like a Notification Center widget, Handoff, and Action and Share Extensions.

The biggest change to
Fantastical 2
is the introduction of a full calendar window. The original
Fantastical
Mac app was housed in the Mac's menu bar in a mini window, forcing users to open the built-in Calendar app if they needed access to a desktop calendar, but
Fantastical 2
is a full-featured calendar app that combines that original menu bar calendar with a complete calendar window.
The new calendar window includes Day, Week, Month and Year views on the right, along with a left-hand menu bar that shows the current month and a list of upcoming tasks. Reminders and events are separated in the new version of
Fantastical
, and a toggle button at the bottom of the calendar window will switch the view from events to a list of reminders. Reminders can be added to
Fantastical
by prefacing entries with "todo," "task," or "reminder," and can be location-based with dates and time information attached.
Fantastical 2
continues to offer the same menu bar mini calendar window (now re-positionable), featuring the new design and the same toggle to switch between a list of upcoming events and a list of reminders. There's also a new Notification Center widget that displays a list of events for the day.
In addition to offering existing features like natural language parsing, deeply customizable alerts, automatic alarms, Reminder integration, and quick search tools,
Fantastical 2
for Mac adds a powerful feature called Calendar Sets. Most people use several calendars with
Fantastical
, and with the new Mac app, it's possible to group different calendars into separate sets and switch between them using an easily accessible toggle at the bottom of the calendar window.

With Calendar Sets, work calendars and home calendars can be grouped together, and it's even possible to add geofencing to have calendar sets swap automatically depending on your physical location.
Fantastical 2
for Mac also includes Japanese support for the first time, with full Japanese-language parsing, a feature that's also coming to iPhone and iPad in the next few months. It's also fully localized in English, French, German, Italian, and Spanish. The app's language parsing engine is more robust, better understanding repeating events and offering more options for adding alerts.

Fantastical 2 for Mac's natural language parsing engine has been updated to be even more friendly and flexible. The parsing engine now understands expressive repeating events such as third Thursday of every month, every weekend, last weekday of the month, and more. Plus, users can now add alerts by ending their natural language input with phrases such as "remind me tomorrow at 3PM", "alert 1 hour before", or "alarm 3PM."
Fantastical 2
for Mac is Yosemite-only because it incorporates several Yosemite features. When a user has an iPhone or an iPad with
Fantastical
for iOS installed, it's possible to switch off between the iOS and Mac versions of the app with Handoff. With the new extensions, it's possible to highlight text in Safari, for example, and send it automatically to
Fantastical
with a link, or to add events directly from within apps like
Evernote
.
Fantastical 2
, which is an all-new app, can be downloaded from the Mac App Store beginning today for $39.99. The app will be priced at $49.99 in the future, but it's currently being offered at a discount to celebrate its launch. [
Direct Link
]