Credit card issuer and major bank Chase has been one of the highest profile Apple Pay partners since the service was
announced
in September and launched one month ago. This weekend, the bank has launched a plan to entice more Chase Visa card holders into Apple Pay with a free early-access music download.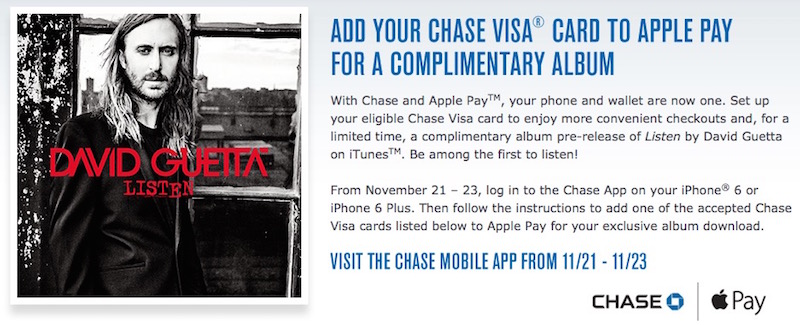 From November 21-23, users who add a
Chase Visa card into Apple Pay
will receive
exclusive early access
to fourteen songs off of David Guetta's new album "Listen." Apple Pay users can receive their iTunes Store redemption codes through the Chase app, which received an update today that is required for the Apple Pay promo to appear.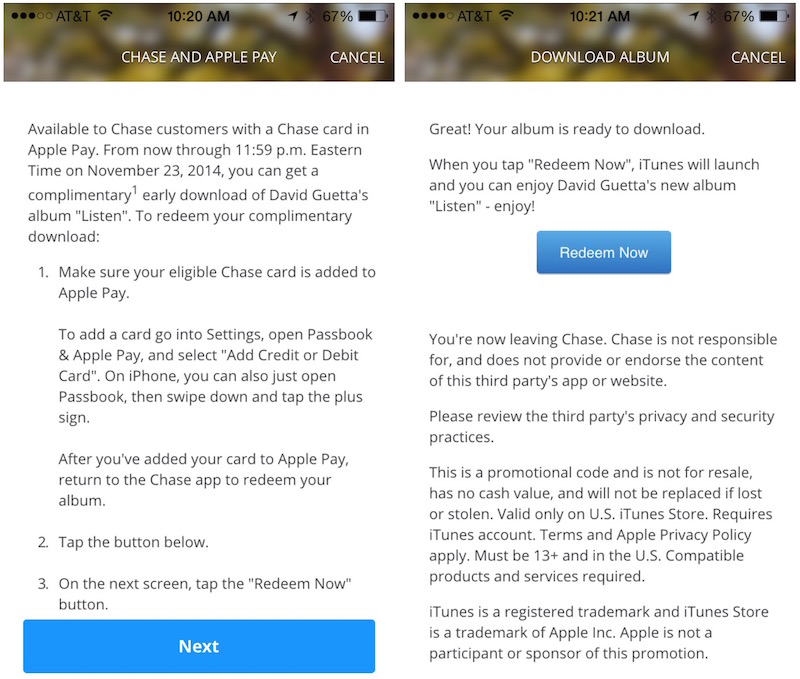 The new album from Guetta officially launches on Monday, and is currently available for pre-order through the iTunes Store for $11.99. The Chase offer includes 14 of the 18 songs from the deluxe version of the album, omitting the four tracks that are currently available for advance purchase through iTunes.
Chase is not the first major bank to try to entice customers to try out Apple Pay, with Wells Fargo offering
$10-$20 credits
just for making an Apple Pay purchase on a Wells Fargo card by the end of this month.
Apple Pay has seen a number of other enhancements in recent days, including the addition of in-app Apple Pay support in the
Disney Store app
, another of the service's key partners mentioned alongside Apple Pay's unveiling. Apple Pay had already been accepted in Disney's retail stores, with Apple's own Eddy Cue
showing off
the service in a Disney Store earlier this week.Version 3.2.1 of the company's app, landing just before the holiday season rush, brings support for Apple Pay for the iPhone 6 and 6 Plus. Despite Apple Pay being supported available for the iPad Air 2 and iPad Mini 3, the iPad version of the Disney Store app does not yet include it.
Another of Apple's early in-app partners,
Levi's Stadium
, rolled out Apple Pay support earlier this week as well for visitors to the San Francisco 49ers home stadium in Santa Clara.
On the in-store front, a number of new retailers also rolled out support for Apple Pay, including several
grocery store chains
and just today Sephora announced (
via TechCrunch
) an early rollout in its Manhattan and Bay Area stores ahead of a full rollout in the near future.
With the
recent release
of the WatchKit SDK for Apple Watch to app developers, and Apple's promise that Apple Pay and the Apple Watch will be
closely tied
, the retailer and app support of Apple Pay will no doubt continue to grow.
The
Chase Mobile
[
Direct Link
],
Levi's Stadium
[
Direct Link
], and
Disney Store
[
Direct Link
] apps can all be downloaded from the App Store for free.
Apple today updated iWork for iCloud with support for up to eight new languages and more than 50 new fonts. The changes were added to the cloud-based versions of Pages, Numbers and Keynote and were first reported by German blog
Macerkopf
.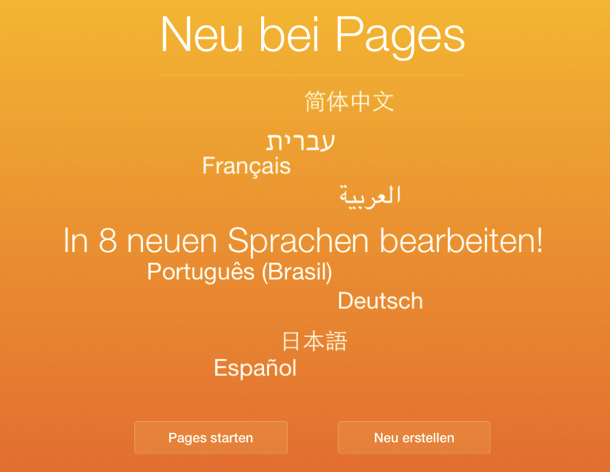 New iCloud languages include French, German, Spanish, Portuguese (Brazil), Chinese, Arabic (Pages only) and Hebrew (Pages only) with Pages receiving 8 new languages and Number and Keynotes now supporting six. Apple also expanded the number of available fonts, adding 50 new font types that improve the creative options available to users as well as add support for the new languages. Other changes include a revised main toolbar that now allows users to easily change the name of a document and other-app specific improvements like the ability to undo the deletion of section breaks while editing in Pages.
Apple
introduced
iWork for iCloud at WWDC 2013 and has been steadily improving the service with small, but regular
updates
. The company still maintains a desktop version of the productivity suite and recently
updated
its iWork apps with new features and a redesign for OS X Yosemite.
As the Thanksgiving holiday approaches,
Apple Store
shipping estimates for the iPhone 6 Plus have improved slightly, with the 16GB iPhone 6 Plus in all colors and from all carriers now carrying a shipping estimate of 7 to 10 days in the United States. Shipping estimates for the 64GB iPhone 6 Plus in all colors and from all carriers have also seen improvement, going from 3 to 4 weeks to 2 to 3 weeks.
While shipping estimates for the 16GB and 64GB iPhone 6 Plus have improved, shipping estimates for the harder-to-find 128GB iPhone 6 Plus remain at 3 to 4 weeks, suggesting the higher-capacity model is the most constrained.

Apple is also seeing improved supply of the iPhone 6, and the 16GB device now has a shipping estimate of 5 to 7 days, down from 7 to 10 days. Higher-capacity 64 and 128GB iPhone 6 models continue to ship in 7 to 10 days.
Many other countries in Europe and Asia are also seeing the same improved shipping estimates from the online Apple Store, as are Canada, Australia, and New Zealand.
In store supply of the iPhone 6 and the iPhone 6 Plus also appears to be improving somewhat, as many stores across the country list availability of both the iPhone 6 and iPhone 6 Plus in 16 and 64GB configurations. Apple Stores continue to receive new iPhone shipments on a regular basis, but stock can go quickly because many retail locations are still seeing lines more than two months after the phones first went on sale. Tracking tool
iStockNow
can be used to find where iPhone 6 and 6 Plus devices are available.

During Apple's fourth quarter earnings call on October 20, Apple CEO Tim Cook said that
demand for the iPhone 6 and 6 Plus
was "far outstripping" supply, and that the company was "not close" to having a balance between supply and demand at that time. Apple has, however, been working hard to improve iPhone 6 and 6 Plus supply, reportedly
delaying mass production
of the rumored iPad Pro in order to focus its resources on higher iPhone 6 Plus output.
Early analysis has suggested that consumers in the U.S. are
favoring the iPhone 6
over the 6 Plus by 3:1, but as supply of both models remains constrained, it is impossible to determine the true ratio of iPhone 6 demand vs. iPhone 6 Plus demand at this time.
Apple today seeded the first beta of OS X 10.10.2 Yosemite to developers, just three days after releasing
OS X 10.10.1
to the public.
The new beta, build 14C68k, is available through the Software Update mechanism in the Mac App Store and should be available in the Mac Dev Center soon. The beta also includes Safari 8.0.2 and an update to the Mail app (version 8.2).

Like OS X 10.10.1, as a minor update, OS X 10.10.2 is likely to bring bug fixes and performance improvements to the operating system. OS X 10.10.1 introduced several reliability enhancements, including improvements to Wi-Fi, but many users have still been reporting issues
with Wi-Fi stability
in Yosemite.
Update:
It appears that OS X 10.10.2 is causing the latest version of Google's Chrome browser to crash. Retina iMac owners are also seeing display issues with the beta.
Billboard is
planning a major overhaul
of its Billboard 200 chart in the coming weeks, which will take into account the growing popularity of streaming music. Billboard's new methodology will shift away from simply tracking album sales, adding both digital track sales and streaming music into its algorithm.
Published weekly, the Billboard 200 is a chart that ranks the 200 best selling music albums in the United States. At the current time, the Billboard 200 chart only takes into account retail (both physical and digital) album sales, but the addition of digital track sales and streaming music from services like Beats and Spotify will allow the chart to give a clearer picture of overall popularity by taking into account consumption activity rather than measuring based on straight sales.

Beginning on December 3, and measuring data during Thanksgiving week, the Billboard 200 will count 10 individual song sales or 1,500 song streams as a standard album sale. Billboard plans to incorporate data from every major streaming audio subscription service, including Spotify, Beats Music, Google Play, and Xbox Music. Ad-supported radio services like Pandora and iTunes Radio
will not be counted
, as Billboard is only planning to focus on on-demand services.
"Adding streaming information makes the chart a better representation of music consumption activity," says Silvio Pietroluongo, VP of charts and data development at Billboard. "While an extremely valuable measurement, album sales would mostly capture the initial impulse only, without indicating the depth of consumption thereafter. Someone could listen to the album just once, or listen to one track or a number of tracks 100 times. We are now able to incorporate those plays as part of an album consumption ranking throughout one's possession of an album, extending beyond the initial purchase or listen."
According to Billboard, incorporating individual song sales and streaming music could see some artists moving up the charts, including Ariana Grande and Maroon 5, both of which have higher streaming and digital song sales than album sales.
The methodology change was done under the guidance of music industry executives, to represent the growing popularity of streaming music services. According to Nielsen and Billboard's mid-2014 Music Industry Report [
PDF
] on-demand streaming music sales were up 42 percent year-over-year, with streams surpassing 70 billion songs.
On-demand streaming music services are now in over a hundred countries, and the most popular streaming service, Spotify, now has
more than 10 million subscribers
. Non-paid radio-style streaming services like Pandora have also exploded in popularity, with Pandora hitting
76.4 million active monthly users
back in August.
Apple's own streaming music service, Beats Music, had only 110,000 subscribers when it was purchased by Apple, but it may see an explosion in growth next year as Apple is said to be planning to rebrand the service with a lower price. It may also be incorporated into iTunes and
bundled onto iOS devices directly
.
Though Billboard has plans to update its Billboard 200 chart with new methodology that takes into account streaming music services, a pure album sales chart called Top Album Sales will also be published to maintain the existing Billboard 200 methodology. Genre album charts will also continue to be sale-based at the current time.
Like
Walmart
, Best Buy has decided to offer some pre-Black Friday sales, which start today and last through the weekend.
Best Buy is discounting all of its
original iPad Air stock
by $80 to $100
, dropping the price of the
entry-level 16GB Wi-Fi only iPad Air
to $319.99. Higher-capacity Wi-Fi only models are discounted by up to $85, while some cellular models are discounted by as much as $100. For example the
32GB Wi-Fi + Cellular iPad Air
from AT&T is available for $479.99.

Best Buy is also offering the
fifth-generation 64GB iPod touch
for $249.99
, which is $50 off the standard retail price. The deal is
available for all colors
Best Buy has in stock, including Space Gray, Blue, Pink, Silver, and Yellow.
As for Apple accessories, Best Buy is selling the older
Solo HD Drenched Beats by Dr. Dre headphones
for $99.99, a discount of $70. The discount is available for black, white, and red models.
When Black Friday rolls around, Best Buy will offer some of the best deals available on Apple's newest product, the iPad Air 2. The retailer is planning to discount all iPad Air 2 models by $100, which drops the price of the entry-level 16GB Wi-Fi only iPad Air 2 to $399. Best Buy will also be discounting all iPad mini 3 models, dropping the price of the entry-level 16GB Wi-Fi only model to $324.99.
For a full list of Best Buy's upcoming Black Friday deals and the deals that other retailers are planning to offer, make sure to check out our
comprehensive Black Friday Roundup
.
Following the
launch
of iOS 8 back in September, many iPhone 4s users
reported
widespread issues ranging from slow performance to choppy animations. With Monday's
release of iOS 8.1.1
promising "increased stability and performance improvements for iPad 2 and iPhone 4S",
Ars Technica
has now put those claims to the test.
iOS 8.1.1 improves performance in a few specific places, ones that may well be important to heavy users. However, it doesn't improve responsiveness or consistency, two of the problems you'll notice the most if you upgrade from iOS 7. Let's look at the short list of things you can expect to improve if you're using an older iDevice and the longer list of things that won't.
In its study,
Ars Technica
found launch times of system apps like Safari, Camera, and Messages essentially unchanged from iOS 8.0 for users with Apple's A5-based phones and tablets. The one exception was Safari, which saw a minor improvement compared to iOS 8.0, but all system apps still took considerably longer to launch on iOS 8.1.1 than on iOS 7.1.2. Interface lag such as for bringing up the keyboard or Control Center also remains an issue for these devices under iOS 8.1.1

The one bright spot
Ars
ran into was, surprisingly, in long-term speed and stability. Under certain circumstances, iOS 8.1.1 was found to in fact improve stability and performance despite the confines of 512MB of RAM on these devices. Tests involved loading up multiple memory-intensive tabs in Safari and then using multitasking to switch away from and then back to Safari to measure reloading times.
It's hard to say exactly what Apple has done to improve performance under these RAM-starved conditions, at least not without more input from Apple (the company has declined to comment for this story). We also can't list exactly when users can expect to see improvements, beyond the "play around in other apps and then jump back to Safari" test we've engineered here.

The best we can say is that something about the process of loading and ejecting processes to and from the A5's 512MB of RAM could cause slowness and instability in iOS 8.1, and whatever the problem was has been at least partially addressed in iOS 8.1.1.
Overall, improvements for A5-based devices under iOS 8.1.1 are minor, as has been shown in
other testing
, although some will appreciate the improved multitasking performance with Safari. As
Ars
notes, iOS 8.1.1 isn't exactly the vast improvement for the iPhone 4s that
iOS 7.1 was for the iPhone 4
, but it does offer nominal improvements to the overall experience without making other areas worse.
Apple's A5 devices are definitely showing their age, although they do remain on the market with the original iPad Mini and iPhone 4s being sold as low-end options and the fifth-generation iPod touch still being the current model of that device. The spread between these A5 devices and Apple's latest A8-based iPhone 6 and iPad Air 2 models is indeed significant, and it is clearly posing challenges for Apple and developers alike to continue adequately supporting these low-end devices.
Apple's iPhone 6 continues to outsell the iPhone 6 Plus around the world, but the larger-sized phone is proving to be a significant hit in some markets, reports AppLovin in its latest
November 2014 report
.
According to AppLovin's analytics data, the iPhone 6 outsold the 6 Plus in an 80/20 ratio overall in the first 45 days of availability. While Europe, North America and Australia roughly follow this global sales distribution or lean slightly more heavily toward the iPhone 6, the trend changes in Asia, where the iPhone 6 Plus typically accounts for 35 percent or more of iPhone sales.

South Korea, home to rivals Samsung and LG, is the only Asian country studied with an iPhone 6 Plus adoption rate below 35 percent. The country has a lower 71/29 split, perhaps related to competition from Samsung's Galaxy Series and LG's G3 phone in the large-screen market or simply due to customer preference for other reasons.
The split between iPhone 6 and 6 Plus may still be artificially constrained due to continuing shortages of the larger iPhone 6 Plus, but AppLovin's data offers an interesting glimpse of screen size preferences around the world. The ratio also varies significantly by data source, with a
recent survey
putting the U.S. ratio at 3:1 in favor of the iPhone 6 over the first four weeks of availability while AppLovin's data points to a 4:1 split.
As
discussed
by Apple's iPhone marketing chief Greg Joswiak at the Code Conference last month, the true ratio of demand won't be known until supply shortages are alleviated, but he did acknowledge that the ratio varies from country to country with Asian customers typically proving more likely to prefer larger screens, an observation supported by AppLovin's data.
Foxconn Technology Group has plans to spend NT$80 Billion, or $2.6 billion, over the course of the next two years on a new factory in Taiwan to produce displays exclusively for Apple, according to
Bloomberg
.
In a conversation with Sophia Chang, a public relations representative for Foxconn's display unit Innolux Corp., Chang stated that equipment installation will begin next month, although she would not confirm that Apple is the client for the facility. Following an urgent request for exclusive capacity, the mass production of panels is expected to begin by the end of 2015.
Chang also mentioned that the advanced sixth-generation display plant will be built at Innolux's Kaohsiung Science Park campus in Southern Taiwan. The forecast details that the funds for the plant will be spent over a two-year building period with the company planning to hire 2,300 employees to operate the facility.

Foxconn has been a longtime manufacturer of Apple's products, primarily handling final assembly of the devices. After
attempting to partner
with Sharp in 2012 to focus on advancing LCD technologies, Foxconn was
rumored
to be in talks to utilize the Japanese display manufacturer's technology in order to start producing iPhone and iPad displays.
The company
struggled
to meet high demand for the iPhone 6 and 6 Plus when the two phones launched earlier this fall, sparking a large-scale
hiring effort
by Foxconn to meet production demands. Demand has been so high that Apple has reportedly tapped secondary manufacturer
Pegatron
to boost production on the iPhone 6, and perhaps even the iPhone 6 Plus, to help meet demand.
The new Taiwan plant announcement comes as Foxconn has reportedly
been in discussions
for a $5.7 billion display factory in Zhengzhou, China. Foxconn has been angling to become a larger player in the display market, seeking to win orders for iPhone and iPad displays and avoiding the sourcing of those parts from vendors like Samsung, LG Display, Sharp, and Japan Display.
Corning today
unveiled
its new
Gorilla Glass 4
, its next-generation glass production that is even more resistant than previous versions to glass shattering drops. According to Corning, the company extensively studied shattered screens to understand how and why they break.

Corning scientists examined hundreds of broken devices and found that damage caused by sharp contact accounted for more than 70 percent of field failures. The scientists then developed new drop-test methods that simulate real-world break events, based on thousands of hours analyzing cover glass that had broken in the field or laboratory.
The culmination of this testing was Gorilla Glass 4, which reportedly is two times stronger than competing products and can survive 80 percent of face-down falls onto rough surfaces such as sandpaper. The company also claims the glass retains most of its initial strength following a shatter-free fall.
Corning is long-time supplier for Apple, providing the Cupertino company with Gorilla Glass for its iPhone and iPad lineup. Apple considered using the scratch-resistant sapphire for its iPhone display, but its partnership with GT Advanced
fell apart
when the supplier declared bankruptcy earlier this year.
Corning says product shipments of Gorilla Glass 4 to customers are already underway, making it a strong candidate for inclusion on next year's iOS devices should sapphire remain an infeasible option.
Despite Aaron Sorkin's Steve Jobs movie being in the casting process and moving towards full fledged production, Sony Pictures has
dropped the movie
and put it "in turnaround", which allows another large studio to purchase the movie and take over, reports
Deadline
. The report also notes that Universal Studios is the likely landing destination for the film.

In a shocking development, the Aaron Sorkin-scripted film about Apple genius Steve Jobs has been put in turnaround by Sony Pictures, and Universal Pictures is making a strong play for the movie. The film, an adaptation of the bestselling Walter Isaacson biography, has Slumdog Millionaire's Danny Boyle set to direct, with Michael Fassbender recently courted to play Jobs. The film is produced by Scott Rudin, Christian Colson, Mark Gordon and Guymon Casady.
It's unknown why Sony Pictures, who has been developing the movie for two years, would drop the film as it is about to wrap up casting and enter production, but
Deadline
reports that Universal Studios is keen on picking up the movie and may do so by tomorrow. It is rare for a well-known project to be dropped by a studio and made available for rival studios to purchase.
As reported by
Deadline
, the film is unlikely to lose any momentum if it's picked up by Universal Studios, which suggests the movie will likely move forward with the filmmakers' current plans.
Recently, Christian Bale also dropped out of the film because he reportedly felt he was not right for the part.
X-Men: First Class
actor Michael Fassbender has been rumored to be the frontrunner for the role with Sorkin saying that casting announcements are
imminent
.
Update:
According to
The Hollywood Reporter
, one reason Sony might've dropped the film was due to the shooting schedule. Director Danny Boyle wants to shoot in January 2015, when Michael Fassbender would be available, while Sony wanted to shoot later. A later date would be difficult for Fassbender as the actor has a commitment to shoot X-Men: Apocalypse in Spring 2015.
It's widely known by now that Apple and GT Advanced's sapphire partnership
fell apart
after the latter company was
unable to produce
enough high-quality sapphire to meet Apple's production needs, but
The Wall Street Journal
has taken a deeper look into GT Advanced's failures and its defective sapphire boules, which ultimately led the company to file for bankruptcy.
GT Advanced COO Daniel Squiller suggested in a court affidavit that Apple had essentially forced the company into a contract
with "oppressive and burdensome" terms
that made it impossible for GT Advanced to produce quality sapphire and meet deadlines, but the profile from
The Wall Street Journal
, largely sourced from Apple's court filings, paints a different picture, putting much of the fault on GT Advanced's mismanagement.

The partnership between the two companies may have been doomed from the start, as GT Advanced had little experience mass producing sapphire before it inked a deal with Apple. A first attempt at a 578 pound sapphire boule was reportedly "flawed and unusable," while another was "cracked so badly" the sapphire was unusable. More than half of the sapphire boules that took $20,000 and 30 days to produce ended up in a "boule graveyard."
According to employees that spoke to
The Wall Street Journal
, an effort to hire enough staff to operate the sapphire furnaces led to management problems as there were employees who had little to do.
GT quickly set out to hire 700 staffers. Hiring moved so quickly that at one point in late spring, more than 100 recent hires didn't know who they reported to, a former manager said. Two other former workers said there was no attendance policy, which led to an unusual number of sick days.

GT managers in the spring authorized unlimited overtime to fill furnaces materials to grow sapphire. But GT hadn't built enough furnaces yet, so many workers had nothing to do, two former employees said.

"We just kept sweeping the floors over and over," one of the former employees said. "I just saw money flying out the door."
As the months passed and GT Advanced failed to meet necessary production milestones in a timely manner, it became clear that Apple was not going to use sapphire in the iPhone 6. According to court documents, while Apple was going in an alternate route for iPhone 6 and 6 Plus displays, GT Advanced was burning through money,
spending $248 million
in a single quarter. As described by GT Advanced COO Daniel Squiller, the deal ended up causing GT to "divert an inordinate amount of its cash and corporate resources" into the Mesa, Arizona facility.
Apple ended up withholding a final $139 million loan payment from GT Advanced, furthering its financial woes, and though Apple
attempted to lend aid
in the form of a partial payment and delayed loan repayments, GT advanced opted to file for Chapter 11 Bankruptcy protection in order to get out of its contracts after it "could not economically produce a product that Apple would accept."
Apple and GT Advanced
reached an agreement
to officially end their partnership in October, nullifying the terms of the original deal. GT Advanced has already begun shutting down sapphire production at the
Mesa, Arizona plant
and will decommission and sell its sapphire furnaces in order to repay the loan from Apple.
More on what went wrong with GT Advanced's sapphire production and images of some of the broken and cracked sapphire boules can be seen in
The Wall Street Journal
's original story.