Apple today announced the appointment of Jony Ive to a newly created position of Chief Design Officer, allowing him to continue overseeing design aspects of numerous projects within the company while turning over the day-to-day management of the design teams to Richard Howarth and Alan Dye, who have both been elevated to vice president positions. Apple CEO Tim Cook announced the changes today in a company-wide email.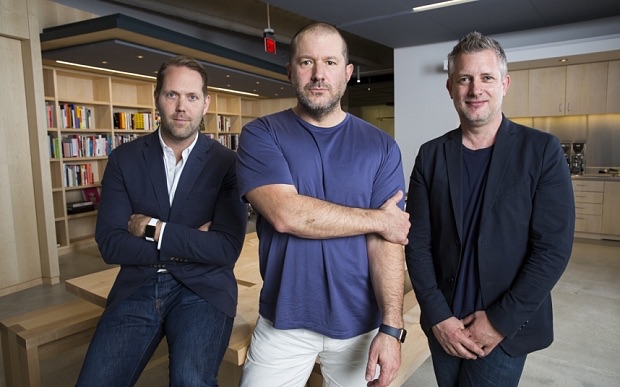 Alan Dye, Jony Ive, and Richard Howarth (Gabriela Hasbun for The Telegraph)
Team,

I have exciting news to share with you today. I am happy to announce that Jony Ive is being promoted to the newly created position of Chief Design Officer at Apple.

Jony is one of the most talented and accomplished designers of his generation, with an astonishing 5000 design and utility patents to his name. His new role is a reflection of the scope of work he has been doing at Apple for some time. Jony's design responsibilities have expanded from hardware and, more recently, software UI to the look and feel of Apple retail stores, our new campus in Cupertino, product packaging and many other parts of our company.

Design is one of the most important ways we communicate with our customers, and our reputation for world-class design differentiates Apple from every other company in the world. As Chief Design Officer, Jony will remain responsible for all of our design, focusing entirely on current design projects, new ideas and future initiatives. On July 1, he will hand off his day-to-day managerial responsibilities of ID and UI to Richard Howarth, our new vice president of Industrial Design, and Alan Dye, our new vice president of User Interface Design.

Richard, Alan and Jony have been working together as colleagues and friends for many years. Richard has been a member of the Design team for two decades, and in that time he has been a key contributor to the design of each generation of iPhone, Mac, and practically every other Apple product. Alan started at Apple nine years ago on the Marcom team, and helped Jony build the UI team which collaborated with ID, Software Engineering and countless other groups on groundbreaking projects like iOS 7, iOS 8 and Apple Watch.

Please join me in congratulating these three exceptionally talented designers on their new roles at Apple.

Tim
Alongside the announcement, Stephen Fry has published an
exclusive interview
with Cook and Ive at
The Telegraph
that addresses the legacy of Steve Jobs at Apple and Ive's continually expanding role with the company, among other topics. That expansion of Ive's duties, which has seen him add
user interface
design and increase emphasis on retail store and Campus 2 design leadership to his previous position as head of industrial design over the last several years, has led to today's restructuring that will free up some of Ive's time.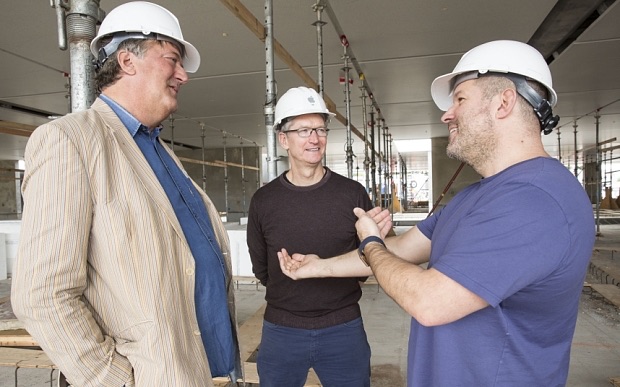 Stephen Fry, Tim Cook, and Jony Ive at Apple Campus 2 (Gabriela Hasbun for The Telegraph)
When I catch up with Ive alone, I ask him why he has seemingly relinquished the two departments that had been so successfully under his control. "Well, I'm still in charge of both," he says, "I am called Chief Design Officer. Having Alan and Richard in place frees me up from some of the administrative and management work which isn't … which isn't …"

"Which isn't what you were put on this planet to do?"

"Exactly. Those two are as good as it gets.
Apple's design team is a small, tight-knit group, many of whom have been working at Apple for many years. Last October, it was revealed Ive's close friend Marc Newson had been
officially hired part-time
for the design team at Apple, but Newson is not publicly taking on any expanded role in the latest shuffling of responsibilities.
The Unicode Consortium today
released a list of 38 emoji characters
that are candidates for inclusion in Unicode 9.0, which is set to be released in the middle of 2016. These represent emoji that could be available on iOS and Mac devices in the future.
Candidates include a range of different character emoji, from "face with cowboy hat to "drooling face" and "lying face." "Selfie," an emoji represented by a hand holding a camera, is also on the list, as is "shrug," and "handshake." As for food, emoji proposals include croissant, avocado, cucumber, bacon, potato, and carrot. There are also several proposed animal additions: fox face, eagle, duck, bat, shark, and owl.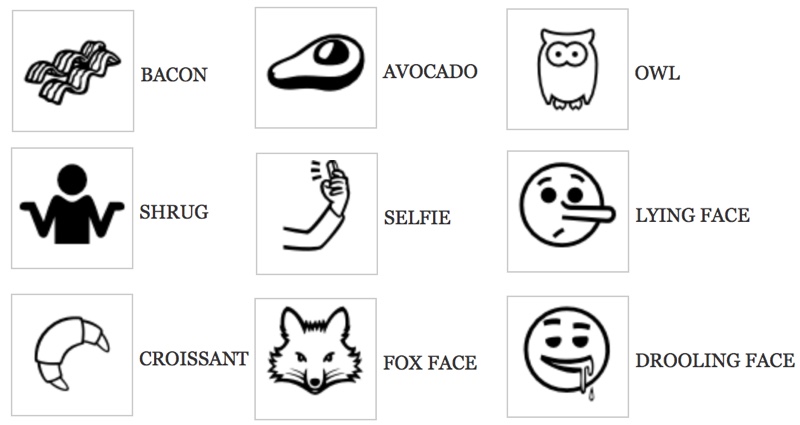 According to the Unicode Consortium, these emoji have been chosen for several reasons. Some are proposed based on expected high frequency of use or due to requests from online communities. Others on the list fill in gaps in existing emoji sets or are compatible with emoji characters in existing systems.
Emoji candidates are not finalized so it's possible that some of the characters on the list could be removed before Unicode 9 is released in 2016, and it's also possible that additional characters could be added to the list.
The emoji proposed for inclusion in Unicode 9 are separate from the emoji that will be included in Unicode 8. Unicode 8, which includes specifications for the emoji modifiers that Apple
introduced with iOS 8.3
and OS X 10.10.3, is set to be released in mid-2015 and is
currently in beta testing
.
Emoji additions proposed for Unicode 8 include zipper-mouth face, nerd face, thinking face, robot face, hugging face, hot dog, burrito, taco, cheese wedge, popcorn, and unicorn face, among others.
It is not known if and when Apple will adopt the Unicode 8 and Unicode 9 emoji as it still has not added
the Unicode 7 emoji
that were finalized in June of 2014.
Over the past several years, BlackBerry has gone from one of the top smartphone manufacturers to a company that's struggling to stay afloat in an increasingly competitive market. BlackBerry is
hemorrhaging subscribers
and losing revenue quarter after quarter as it attempts to turn the tide by focusing on marketing
secure devices
and software to its enterprise customers.
An upcoming book by Jacquie McNish and Sean Silcoff,
Losing the Signal
, explores the events that led to the rise and fall of BlackBerry, and an interesting excerpt was shared by
The Wall Street Journal
today, covering the iPhone's contributions towards BlackBerry's (then known as RIM) failure.
As we've
previously learned from Google execs
, the launch of the iPhone, which stood apart from all other smartphones on the market at the time, took everyone by surprise. Not only was the iPhone incredibly different from its competitors, it also had features that carriers had previously denied other manufacturers like a full web browser and later, an App Store that had no carrier ties.

Image via CIO
One of RIM co-CEO Mike Lazaridis' first comments was "These guys are really, really good," but despite that fact, RIM failed to see the iPhone as a threat due to its lack of security and the fact that it had no keyboard, features RIM execs thought would make it unappealing to RIM's core consumers.
If the iPhone gained traction, RIM's senior executives believed, it would be with consumers who cared more about YouTube and other Internet escapes than efficiency and security. RIM's core business customers valued BlackBerry's secure and efficient communication systems. Offering mobile access to broader Internet content, says Mr. Conlee, "was not a space where we parked our business."
RIM executives did not understand the iPhone and were "incredulous" that people were purchasing it, realizing too late that form had become as important as function in the eyes of consumers. In an effort to combat the threat of the iPhone, RIM teamed up with Verizon to create a competing touch-based phone -- the Storm.
Verizon pressured RIM into speeding up development on the phone, resulting in a product that was riddled with bugs and issues when it launched in 2008. Despite the flaws, the product was heavily marketed and RIM sold 1 million in two months, leading to a lot of unhappy customers who wanted to return or exchange their devices.
The Storm was a spectacular failure that impacted RIM's relationship with Verizon, ruined its reputation, and cost upwards of $100 million. After the failure, the company was demoralized and at a crossroads, unsure of where to take the company going forward and how to compete with the iPhone and other smartphones in a landscape that was radically different from what the company knew.
RIM was unable to fully recover from failure of the Storm and find its footing, eventually leading to the path that it's on today. "The Storm failure made it clear we were not the dominant smartphone company anymore, said RIM co-CEO Jim Balsille. "We're grappling with who we are because we can't be who we used to be anymore, which sucked...It's not clear what the hell to do."
The full excerpt from the book is worth a read and can be found over at
The Wall Street Journal
. The book itself is coming out on May 26 and
can be pre-ordered from Amazon
for $21.
Starting on Monday of this week, Apple began preparing to ship out the first batch of gold Apple Watch Editions to customers who pre-ordered in April.
MacRumors
readers have begun seeing credit card charges for the devices and
have received shipping notifications
and courier information from Apple. Some of the first Apple Watch Edition orders will begin arriving tomorrow.

Image via MacRumors reader Calvin
The Apple Watch Edition is available in yellow gold or rose gold and is priced between $10,000 and $17,000. Given its high price tag, the Apple Watch Edition delivery process is somewhat different than the delivery process of Apple's less expensive watches, with customers receiving emails asking them to set up a delivery time.

iFixit's Kyle Wiens
ordered a 38mm Apple Watch Edition with a Black Sport Band and shared his tracking information and courier emails with
MacRumors
. His order was initially placed on April 10 and shipped out on Thursday, May 21. His delivery date was originally set for Sunday, May 24, but was moved up to Saturday, May 23.

Wiens tells
MacRumors
that while he initially ordered the Apple Watch Edition to do one of iFixit's traditional teardowns, he had second thoughts and ultimately decided iFixit couldn't afford to do the teardown. Wiens will be returning the Apple Watch Edition to Apple, but if an iFixit enthusiast has an Apple Watch Edition they wouldn't mind loaning out, he can do a non-destructive metallurgical analysis on the device.
Thus far the
Apple Watch Edition
has only been available in small quantities in some of the luxury fashion boutiques that have featured the Apple Watch, and it's also been seen on the wrist of several celebrities and designers including Katy Perry, Beyonce, Jay Z,
Karl Lagerfeld
,
Pharell Williams
, and more. With shipments going out over the next few weeks, we may be seeing more Apple Watch Edition models in the wild.
Following the
release of Watch OS 1.0.1
on Tuesday, Apple Watch users have been noticing a problem concerning the frequency with which the Apple Watch sends heart rate data to the iPhone. Prior to the update, the Apple Watch sent heart rate information to the iPhone's
Health
app every 10 minutes, but now some users are seeing inconsistent update times.
As highlighted by
everythingiCafe
on Wednesday, Apple Watch owners on the
MacRumors forums
and
Apple's Support Communities
have been complaining that their Apple Watches are sending data sporadically, with gaps up to eight hours in some cases.

Before update on left, after update on right. Image via MacRumors forum member twisted-pixel.
Many of the users are still seeing occasional updates to the
Health
app, but at
unpredictable intervals
that are not as frequent as the previous 10 minute update intervals, and some are also seeing duplicate readings. This bug is not affecting all users, as some people are still reporting regular data transfers, but for the users experiencing issues, unreported heart rate data seems to be irretrievable.
I also noticed that my heart rate data in the health app for about a week period is gone and my heart rate data is now updating into the app intermittently. I spoke with Apple customer service this morning, but data could not be restored and their advice was to restart both the iPhone and the Watch, clean the sensor back, and keep an eye on it. That, unfortunately, has not fixed anything and I think there might be a bigger problem on our, er, hands (or wrists).
For those unaware, the heart rate information collected by the Apple Watch's sensors is aggregated in the
Health
app on the iPhone, giving users a picture of their overall heart health throughout the day. With consistent 10 minute readings, the iPhone is able to provide clear and consistent data that wearers can share with doctors and use to make health evaluations.
Data that is sent sporadically is less useful for these purposes, causing this bug to significantly impact the health tracking abilities of the Apple Watch for users who are affected.
Some individuals experiencing issues
have said
that restarting their devices temporarily solves the problem, but the sporadic measurement times return shortly after. On the Apple Support Communities,
one affected user
who spoke with Apple suggested that his Apple Watch stopped sending heart rate measurements when he was actively moving.
Apple is collecting information from users who call in with the issue, and some have been told that the company is
working on a fix
.

While OS X Yosemite introduced several new high-profile features, such as Handoff, iCloud Drive and Instant Hotspot, the focus of OS X 10.11 will be on improved stability and performance, new security features and system-wide interface tweaks, according to a lengthy report by
9to5Mac
.
OS X 10.11 is still expected to gain a handful of noteworthy features, including a systemwide change to Apple Watch font San Francisco and a new Control Center menu similar to iPhone and iPad. Control Center was originally found in early betas of OS X Yosemite, but was not included in the final release.
"Control Center moves many of the controls from the Mac's Menu Bar to a pane that slides out from the left side of the Mac's display, adding on-screen music controls and other iOS-influenced features," the report claims. "However, Control Center reportedly has been in flux during development, and could be pushed back again."


A possible first look at Control Center for Mac on OS X from 2014
Apple is also reportedly working on a major new kernel-level security system called "Rootless" for OS X and iOS that will help curb malware and protect sensitive data by prohibiting users from accessing certain protected files on Mac and iOS devices. "Rootless" appears to be a permanent feature of iOS, much to the chagrin of the jailbreaking community, but can likely be disabled on OS X.
Apple plans to enhance security one step further by converting many of its core IMAP-based applications on OS X and iOS, such as Notes, Reminders, and Calendar, to have an iCloud Drive backend. Apple expects there to be increased iCloud usage after the transition, so the company is reportedly upgrading its iCloud Drive and CloudKit servers to handle the additional load.
"With iOS 9 and OS X 10.11, Apple plans to transition this sync process to iCloud Drive, which offers better end-to-end encryption and faster syncing than traditional IMAP servers. As an example of how this will work, when a user launches Notes in either of the new Apple operating systems, a splash page offering to move content from the IMAP server over to iCloud Drive will appear, making the transition easy for users."
The company is also testing a new "Trusted Wi-Fi" feature that would enable Macs and iOS devices to connect to trusted wireless routers with no additional security measures, while non-trusted routers would have a heavily encrypted wireless connection. Apple could release the feature later this year or hold off until next year's OS X and iOS releases, according to the report.

iOS 9 will reportedly support A5-based devices such as the iPhone 4s and iPad mini
Apple is also said to be optimizing iOS 9 to better support older hardware, with the report claiming that even legacy A5-based devices including the iPhone 4s and original iPad mini will be compatible with the upcoming software update. The four-year-old iPad 2 and three-year-old fifth-generation iPod touch, released in March 2011 and October 2012 respectively, are also powered by Apple A5 chips.
"Apple is now building a core version of iOS 9 that runs efficiently on older A5 devices, then enabling each properly performing feature one-by-one. Thanks to this new approach, an entire generation (or two) of iPhones, iPads, and iPod touches will be iOS 9-compatible rather than reaching the end of the iOS line."
Last, Apple is said to be preparing a major upgrade to its Swift programming language with "Application Binary Interface (ABI)" stability. Swift applications updated for iOS 9 and OS X 10.11 will have preinstalled code binaries that require less space and use less cellular data. The report claims that Apple plans to convert its own apps to Swift in 2016 as part of iOS 10 and OS X 10.12.
An estimated 2.5 million Apple Watch orders have been processed in the United States in the first five weeks of availability, according to Slice Intelligence (via
Quartz
). Extrapolating from the e-receipts of about 14,000 online shoppers who use Slice's services, more than half of the orders placed so far came on April 10, the first day of pre-orders, with the Apple Watch averaging 30,000 orders per day since.

Daily Apple Watch order estimates in U.S. (first-day orders of nearly 1.5 million omitted)
As
Quartz
points out, the Apple Watch saw a notable rise in order interest on April 24, the day most initial Apple Watch pre-orders that weren't high in demand, like the
Leather Loop or Black Sport band
, began
arriving to customers
. Social media posts and word of mouth that day no doubt helped Apple receieve a few extra orders, and it reaches back up to around 40,000 on a few days in April and May, but otherwise Apple's new wearable has seen a steady decline in order numbers since its launch date, according to the e-commerce shopping firm.
Even with the steep decline following the start of pre-orders, Apple Watch sales are easily outpacing early sales of the iPod and iPhone, and slightly topping those of the iPad, although Apple's continually increasing user base since the debut of those devices gives the company momentum for each subsequent product family launch.
Slice Intelligence's Apple Watch update today comes a few weeks after providing a
break down of initial pre-orders
for the wearable, which pegged 62 percent of customers as having pre-ordered the Apple Watch Sport and an unexpected popularity of the Space Gray case and Black Sport band. As with that data, a few factors should be taken into account when looking at Slice Intelligence's order estimates, including its data being limited to the United States and the relatively small pool of customer receipts examined.
Today's report also falls in line with KGI Securities analyst Ming-Chi Kuo's
prediction
of the Apple Watch order demand beginning to slow down following a high launch period. Although Apple has yet to announced any sales numbers for the Apple Watch and doesn't plan to break the device out into its own reporting segment in financial results, the Apple Watch's entry into the company's
upcoming brick-and-mortar retail locations in June
could help boost the wearable's sales figures.
Apple's efforts to provide customers with live programming from local broadcasting stations in the United States could delay the company's plans to launch a
streaming TV service
in early fall, according to
Re/code
. The report, citing industry executives, also claims that Apple has not reached any content deals with TV programmers yet, making it unlikely that the web-based TV service is announced at WWDC next month.

"Apple's ambitions have complicated its negotiations with the broadcast TV networks, because most broadcasters don't own all their local stations, and have an affiliate, or franchise system. Clearing the rights to show local programs and commercials takes some time — ABC, for instance, spent two years getting the rights to show live programming via its Watch ABC app, and its live streams remain limited to viewers in eight cities."
The Wall Street Journal
reported
in March that Apple plans to unveil its streaming TV service at WWDC, anchored by popular networks such as ABC, CBS, Fox, ESPN and FX. The web-based TV service for iPhone, iPad, Apple TV and other devices is expected to deliver a lightweight package of about 25 channels for between $30 to $40 per month. The report claimed that the service will be available in September.
Apple's new 15-inch Retina MacBook Pro,
unveiled on Tuesday
, didn't include a processor upgrade due to Broadwell delays, but it did get a Force Touch trackpad and one other major improvement -- new PCIe-based flash storage that Apple says is 2.5 times faster than the flash storage in previous-generation machines, with throughput up to 2GB/s.
In benchmark testing conducted by French site
MacGeneration
[
Google Translate
], the entry-level 2.2GHz 15-inch Retina MacBook Pro with 16GB RAM and 256GB of storage lived up to Apple's claims, demonstrating impressive read/write speeds that topped out at 2GB/s and 1.25GB/s, respectively, in QuickBench 4.0.

Those read/write speeds far exceed the read/write speeds achieved by the entry-level 13-inch MacBook Air, which
also received faster flash storage
that doubles the speeds available in previous-generation 13-inch MacBook Air machines. The 13-inch Retina MacBook Pro's performance is similar to the 13-inch MacBook Air.
At speeds that reach 2GB/s throughput, the 15-inch Retina MacBook Pro has the fastest storage of any of Apple's notebooks. It took 14 seconds to transfer an 8.76GB file to the machine, compared to 32 seconds for the slower Retina MacBook. With small files, read/write speeds exceed a gigabyte per second.

Like the 2015 13-inch Retina MacBook Pro and 13-inch MacBook Air, the revamped 15-inch Retina MacBook Pro uses a solid state drive manufactured by Samsung. As noted by
MacGeneration
, it does not use the faster
NVM Express SSD protocol
that the 13-inch model was updated to, suggesting future machines could see even greater performance improvements with a swap to the next-generation protocol and with continued leaps in SSD technology.
Apple's 15-inch Retina MacBook Pro is available from the
online Apple Store
at prices that start at $1,999. The notebooks continue to use Haswell processors, but should see performance boosts due to the faster solid state drives.
We've had previous rumors suggesting Apple is working on split-screen multitasking capabilities for the iPad, and hints of the feature are
buried within iOS 8
, but thus far multitasking has not made its way into the hands of customers. In a post covering information on future iPad upgrades,
9to5Mac
confirms split-screen multitasking is still in the works and on schedule to be released as part of iOS 9.
Split-screen multitasking will display two apps side-by-side on the iPad's screen or two views of the same app, allowing users to see multiple documents in
Pages
at the same time, for example. As was first discovered in code buried within iOS 8, apps will be able to be
arranged in multiple views
, covering 1/2, 1/3, and 2/3 of the screen in the latest iteration.
Concept for split-screen multitasking (not based on specific rumors)
9to5Mac
warns that though the split-screen multitasking feature is slated for inclusion in iOS 9, it could be removed before the update's debut at the Worldwide Developers Conference if it is not ready in time as it was originally developed for the upcoming "iPad Pro."
9to5Mac
previously said
the multi-tasking feature would be included in iOS 8.
Apple is also said to be working on a highly anticipated feature that customers have requested for years -- multi-user login support. This will allow multiple users to have unique profiles on a single iPad, with individual access to apps and documents. Multi-user support will not be ready when iOS 9 launches in the fall, but it could be released later in 2015 alongside the iPad Pro or in 2016.
Both split-screen multitasking and multi-user login support are features that will be added to Apple's rumored larger-screened 12-inch iPad Pro, which may also include features like a USB-C port, a stylus, and a pressure-sensitive Force Touch display. The tablet, internally numbered "J98" and "J99" to represent Wi-Fi and Wi-Fi + Cellular models, will launch in late 2015, according to the latest rumors. Apple is said to be working to finish software and source hardware components for the device.
Sources have confirmed that Apple is testing jumbo-sized iPads internally codenamed "J98″ and "J99," which are apparently larger versions of the Wi-Fi-only and Wi-Fi + Cellular iPad Air 2, save for additional speaker holes.
Given the large size of the iPad Pro's display, some apps may be redesigned to accommodate the larger screen real estate available on the 12-inch tablet, with Apple rumored to be working on new designs for Siri and Notification Center. Features tailored to the iPad Pro could work in the same way as features tailored to the iPhone 6 Plus, which has a unique layout in landscape mode to account for a larger display size.
Apple is planning to remodel its flagship Regent Street retail store in United Kingdom per a
recent application
filed with the City of Westminster in England. The company has contracted award-winning architecture firm Foster and Partners to design the layout of the new store and commissioned Donald Insall Associates to conduct a historic building report that justifies the renovations in the iconic shopping area.

A view of the current Apple Store facade facing Regent Street (Foster and Partners)
The proposed renovation will consist of the partial removal of the existing mezzanine floor at the front of the store, the relocation of three columns to create a more spacious feel, the removal of the existing main glass stairs leading up to the mezzanine level and replacement with two new side staircases, and re-configuration of the back of house at the basement level with improved staff facilities.
"The proposal looks to enhance the ground floor sales area by removing the front part of the mezzanine and creating a double height entrance," reads Foster and Partners' project rationale. "This partial removal of the mezzanine also enhances the transparency from the street and floods the store with natural light. The interior front facade, with its full height arches, clad in natural Portland stone, can now be appreciated in its full extend. Moreover the visual connection between the two levels of retail is dramatically improved. This is key to the customer journey and the efficient use of the overall retail area."
Foster and Partners will also be removing the four Apple logos found on the store's facade in order to allow more natural light inside and preserve the historic look of the building. The store's overall square footage will be reduced by 4,400 square feet, or around 25% of the current size, and the interior will consist of terrazzo floor, GFRC cladding on the walls and oak timber for all fittings and fixtures.

Floor plan for remodeled Regent Street store interior (Foster and Partners)
Apple plans to open a temporary store at 235 Regent Street to continue to serve customers during the remodeling process. The temporary location will be located at the basement level of the same building as the permanent store for a maximum of three years, accessible by a carefully designed lobby at ground level with a minimal steel staircase and a fully accessible lift.
Apple's flagship Regent Street retail store opened in November 2004 and attracts over 4 million visitors per year. The iconic store was last expanded and
remodeled in mid-2006
to become the largest Apple Store location at the time. Apple has contracted Foster and Partners for several other projects in recent months, including the design of Campus 2 and remodeling of Apple's flagship San Francisco store.

Apple is planning to add a new Transit view to Maps in iOS 9 that features bus, subway, and train routing and directions, according to
9to5Mac
. The much-rumored Apple Maps feature would bring native transit routing back to the iPhone for the first time since Apple ditched Google as the default mapping provider on iOS. The report also claims that Apple has made advancements on its indoor mapping project.
"Sources said last year that the transit functionality for Maps includes larger icons for users to more quickly spot airports, subway stations, and train stations within the Maps app. In addition to the main functionality, there is also a trip planning feature for transit, and a new Transit view alongside the existing Standard, Hybrid, and Satellite/Flyover views."
Transit features in Apple Maps were originally expected to
launch alongside iOS 8
last year, but were delayed due to personnel issues and data inconsistencies within Apple. The company has reportedly "refined the data, added new cities, and developed a new push notifications system" since that time, however, and the feature is now ready to be unveiled at the upcoming Worldwide Developers Conference in June.
Apple has been actively expanding its in-house routing team over the past few years through multiple job openings. In late April, for example, the company put out a job listing for a "Maps Software Engineer" part of the Routing team, as reflected by at least one Apple employee's
LinkedIn profile
. "As a member of the Routing team, you will work on one of the most anticipated features of Apple Maps," the job description reads.

Apple has also been making progress on its indoor mapping project, which will enable iOS users to navigate major buildings, offices and landmarks. The company has been using autonomous robots with iBeacon sensors to collect indoor mapping data, starting at its offices in Cupertino, although the feature may not go live this year. The indoor mapping project is in conjunction with Apple's
van-based street mapping
data collection.