The next-generation iPhone, often referred to as the "iPhone 6s," will likely retain the same exterior design as the iPhone 6, based on purported images of the device's rear shell obtained by
9to5Mac
. The report claims the rear shell is identical to the iPhone 6 on the outside, including the same thickness and width, with only minor internal differences.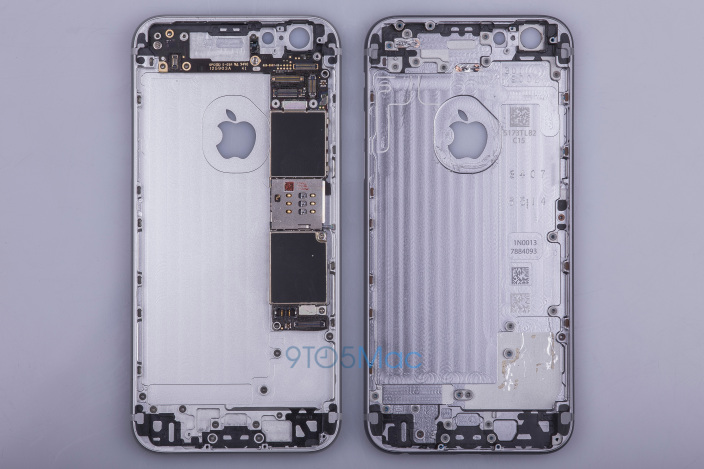 The leaked photos of the "iPhone 6s" reveal that the Lightning connector, speakers, microphones, headphone jack, volume rocker, mute button, sleep/wake button, SIM card slot, antenna lines and cutout for the rear-facing camera and LED flash are all identical to the iPhone 6, which is unsurprising given that "S" model iPhones have historically looked almost identical to the iPhone released one year prior.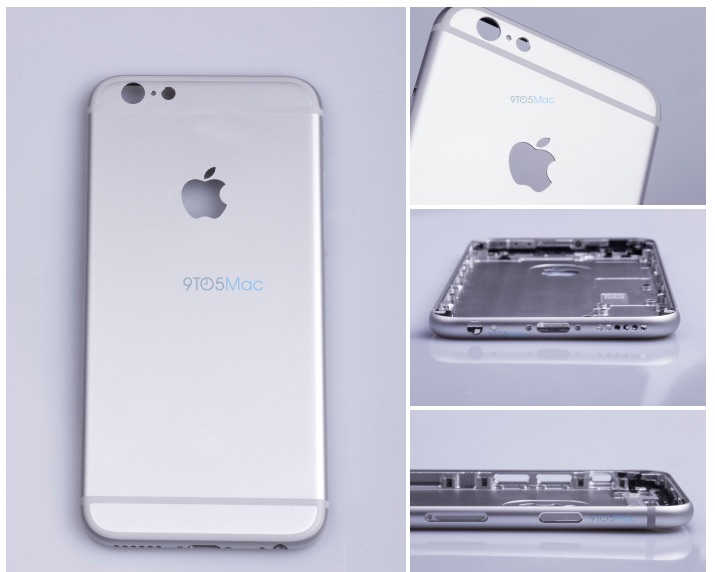 While the exterior design on the "iPhone 6s" looks unchanged, the rear shell has a notably different internal mounting structure that suggests a new logic board and other components are incoming. In particular, the next-generation iPhone is rumored to include an
A9 processor with 2GB of RAM
,
Force Touch
,
7000 Series aluminum
and
improved 12-megapixel camera
, among other changes.
Apple has
reached a partnership
with mobile connectivity company GigSky to expand
Apple SIM
cellular data plans to over 90 countries and territories around the world. iPad Air 2 and iPad mini 3 users that have Apple SIM installed can now purchase short-term data plans while traveling in a long list of countries throughout Europe, Asia-Pacific, Africa, South America and other regions worldwide.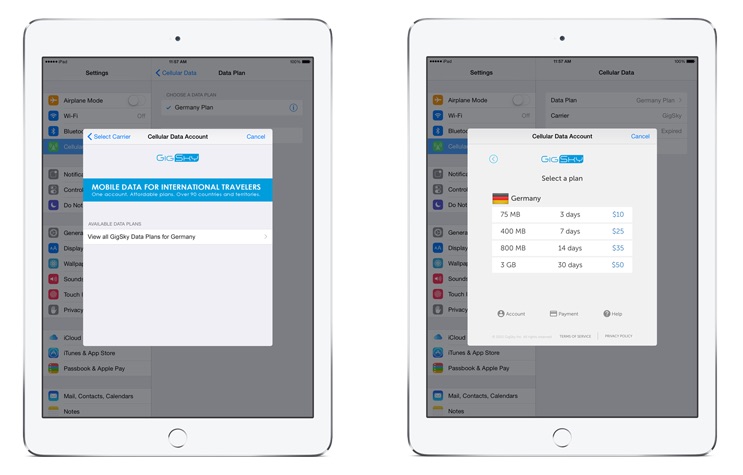 Apple SIM is now available for purchase at Apple Retail Stores in Australia, Canada, France, Germany, Italy, Netherlands, Spain, Sweden, Switzerland, Turkey, the United Kingdom and the United States. Apple SIM cellular data plans were previously limited to participating carriers in the United States and United Kingdom, including AT&T, Sprint and T-Mobile in the U.S. and EE in the U.K.
"With Apple SIM in iPad Air 2 and iPad mini 3 with Wi-Fi + Cellular models, you get the convenience of choosing a cellular data plan from select carrier partners right on your iPad. And when you travel abroad, Apple SIM gives you the added flexibility to stay connected in more than 90 countries and territories around the world. So when you reach your destination and want to check your email, find directions, or send a message back home, you can purchase a cellular data plan for the duration of your trip — whether it's a day, a week, or a month."
GigSky cellular data plans are available on a pay-as-you-go basis with no long-term commitments. Exact prices are listed on
GigSky's website
and vary based based on the country, data amount and length of plan. Given that iPads are unlocked, travelers can also insert a SIM card belonging to a local carrier if preferred.
Apple has posted a
full list of countries
with Apple SIM coverage on its website.
Following the launch of Apple Music
alongside iOS 8.4
, Apple's Beats 1 radio station led by Zane Lowe has begun broadcasting. Available in more than 100 countries, Beats 1 is a 24/7 radio station that will play music around the clock with live DJs and guests.
The inaugural song played on Beats 1 radio right when it kicked off at 9:00 a.m. was Spring King's "City," which was followed by Beck's "Dreams" and Jamie xx's "In Color." Spring King was picked by Lowe as a great upcoming band from Manchester. In a move that might be somewhat controversial, Apple has decided to censor explicit content on the Beats 1 radio station, something listeners experienced when a song from
Dr. Dre's Chronic album
was played.
Beats 1 features several shows by various on-air personalities, and a full lineup of what's going to be on can be found at
the Beats 1 website
, which forwards to Apple's new Tumblr page for Apple Music and Beats 1. The Tumblr page has a complete schedule that displays what's playing, and it adjusts to your time zone based on location.

Beats 1 will include exclusive interviews and news broadcasts, with the first interview taking place tomorrow with Eminem. According to Zane Lowe, today's focus is on the music, and several exclusive songs will be played over the course of the day.
Apple Music is available now and is free for all listeners for the first three months. Following the trial period, the service will cost $9.99 per month for individuals or $14.99 for families of up to 6.
Update:
Apple has
confirmed
that it is censoring explicit content on its Beats 1 radio station.
Apple today released iOS 8.4, the fourth major update to iOS 8. First seeded to developers in
April
, iOS 8.4 includes a newly revamped Music app and Apple's long-awaited on-demand streaming music service, Apple Music.
iOS 8.4 is available immediately as an over-the-air download, and the new Apple Music service is located within the Music app. Apple Music will be available immediately after iOS 8.4 is installed, while the Beats 1 radio service will kick off at 9:00 a.m. Pacific Time.

Introduced at the recent
Worldwide Developers Conference
, Apple Music is an on-demand streaming music service that's much like Apple's former Beats Music service. It allows users to listen to an unlimited amount of music for $9.99 per month or $14.99 for a family plan that supports up to 6 listeners.
Apple Music is accompanied by the Beats 1 radio station, which features 24-hour live human-curated music at no cost, and Apple Music Connect, a social networking platform that allows artists to interact with fans and share content like photos and videos. Apple Music includes millions of songs from iTunes and is launching simultaneously in more than 100 countries.

Along with Apple Music, today's iOS 8.4 update includes a complete overhaul of the built-in Music app. It incorporates Apple Music and it features a new design that shows pictures of artists in the Artists view and a new MiniPlayer with a revamped "Now Playing" look. There are personalized playlists, global search capabilities that make it easier to search within the Music app, and a streamlined design for the radio feature to bolster music discovery.

Other minor changes in iOS 8.4 include the relocation of audiobooks from the Music app to the iBooks app, consolidating all books, print, and audio into one convenient spot, and a new Audiobooks for CarPlay app, giving drivers a standalone app dedicated to playing their audiobooks.
As Apple Music gears up to launch in the next few hours this morning -- 9 AM Pacific
to be exact
, following iOS 8.4 at around 8 AM Pacific -- a few publications have posted some detailed first impressions of the the music streaming service. Getting to mess around with the app for the first time,
Mashable
,
Re/code
,
The Loop
and
Rolling Stone
came away with largely positive reactions to Apple's first foray into the music streaming game, although the large consensus hanging over it all was a tentative negativity regarding the app's overwhelming amount of content and the somewhat confusing UI that is used to navigate it all.
First off,
Mashable
noted the big positive of the Apple Music service: for those baked into the Apple ecosystem it offers one library, combining purchases from iTunes with the songs users will listen to in Apple Music for one uniform experience. The site was also one of the few to enjoy Apple Music's UI, calling it, "more polished and finished than the old music app." Its biggest takeaway, however, was the "For You" section.

It's hard for me to over-stress how much I like For You. From the very beginning, the recommendations in playlists and albums that the app showed me were dead-on accurate, reflecting my various musical interests.

The idea behind "For You" is to help make it easy to find good music to listen to. Tapping on an album or playlist will play it instantly. You can then either add it to your library, keep it playing in the background, add a track to another playlist or just cycle through. The DNA of this experience really is what we saw with Beats Music last year, but now it's more refined and feels more fully realized.
Re/code
mentioned three big positives for the new streaming service: the slick combination of old iTunes songs with new Apple Music songs, surprisingly accurate and enjoyable song curation, and the $15 per month family plan. The biggest issue however tied into one of the app's positives, with the wealth of content and exploration somewhat kneecapped by an overly "confusing" user interface experience, especially within the "New" tab, which "could be a streaming app all by itself."
I set out to gather some initial impressions of how it feels to use the product. And to answer the question: Would I pay $10 a month — $120 a year — to use it? My answer is a tentative yes, with some caveats. Apple has built a handsome, robust app and service that goes well beyond just offering a huge catalog of music by providing many ways to discover and group music for a very wide range of tastes and moods.

But it's also uncharacteristically complicated by Apple standards, with everything from a global terrestrial radio station to numerous suggested playlists for different purposes in different places. And the company offers very little guidance on how to navigate its many features. It will take time to learn it. And that's not something you're going to want to do if all you're looking for is to lean back and listen.
Similar to
Re/code
and
Mashable
,
Rolling Stone
was impressed by the "Netflix-style hyper customization" of the "For You" tab that will greet every user when entering Apple Music for the first time. Although Beats 1 Radio had not yet launched when the site had hands-on with the service, they got to preview a few artist-focused shows, including St. Vincent's "Mixtape Delivery Service," which saw the alternative musician reading notes from fans and spending the hour dedicating personalized songs to each one.
Rolling Stone
also detailed Apple Music's "Connect" platform a bit more than the others, noting that even though a few artists had Connect available to them in the pre-launch demo phase, the Twitter-like service "looked pretty quiet." The biggest issue, however, was the possibility of fan interaction amongst one another within Connect, and the fact that the only designated place for it to occur was within the comments of each individual post.
Moreover, the only place where fans can interact is the comments section of each post, cutting out a major part of what Apple hopes will be a new music ecosystem: fandom. While it's possible fans would share music individually – with Apple Music's many options to post to text, email, Twitter and Facebook – the absence of fans' voices on "Connect" makes it more like a supplement to a social network than an exciting music-discovery platform. But only time will tell if it catches on. This is one place where Spotify, with its ability to follow and make playlists your friends, has a leg up.

With its vast selection of music and smartly curated playlists and radio, Apple Music is robust enough to compete with, and possibly supplant, Spotify and Pandora as the go-to service for music fans. At the same time, users will need to play around with it a bit and dig to move past some of the less immediately intuitive facets (i.e., just how deep the "New" tab goes) for it to hook them.
The Loop
went into detail regarding the "My Music" section of Apple Music, noting that between the tab's two sections -- Library and Playlists -- all of a user's old iTunes music downloaded or in the cloud can be found there. Users will be able to add certain playlists to My Music so it can appear front-and-center in the tab without having to go through multiple pages, and entire playlists will be able to be made to listen to offline. Besides a finicky rating system for Beats 1,
The Loop
largely enjoyed Apple Music in the end.
I'm damned impressed. Apple Music is a quality service, with the right mix of human curation and algorithms to help users figure out exactly what they want to hear. I can only imagine that the service will only get better from here. The more I use it, like/dislike songs, the better it will know me.

I was interacting with Apple Music the entire time I was writing this and the radio station I started listening to improved quite a bit in those hours. I'm not skipping songs, instead I have a steady diet of Slash, Godsmack, Led Zeppelin, and Metallica. It's hard to beat that.
Everyone will be able to test out Apple Music for themselves soon enough, with the official launch of the updated music app in just a few hours at 9 AM Pacific. Those interested should remember to first download the new iOS 8.4 update an hour before in preparation for the streaming music service's debut.
Apple has opened registration for its annual
Apple Camp
three-day workshops where kids aged 8 to 12 can visit a retail store and learn how to make movies or create interactive books using software such as GarageBand, iBooks Author and iMovie on iPad and Mac. This year's two free workshops are called "Stories in Motion with iMovie" and "Interactive Storytelling with iBooks."

Apple's summer workshops will be hosted between 11 AM and 12:30 PM local time, on various dates from July 20 to August 7, in the
United States
,
Canada
,
China
,
France
,
Germany
,
Hong Kong
,
Italy
,
Japan
,
Netherlands
,
Spain
,
Sweden
,
Switzerland
,
Turkey
and the
United Kingdom
. Parents are recommended to sign up early since space is limited and available on a first-come, first-served basis.
"Stories in Motion with iMovie" teaches kids how to create their own movies, ranging from storyboarding ideas and shooting video to creating an original soundtrack in GarageBand on an iPad and editing in iMovie on a Mac. "Interactive Storytelling with iBooks" shows kids how to create their own interactive books by drawing illustrations on an iPad and adding sound effects and Multi-Touch features using iBooks Author.
Apple notes that children must be accompanied by a parent or legal guardian for the duration of each workshop.
Just a few days after updating the terms of its AppleCare+ Protection Plan for iPhone, iPad, iPod and Apple Watch to
cover batteries that retain less than 80%
of their original capacity within the extended warranty period, Apple has extended the same policy to the AppleCare Protection Plan for the MacBook, MacBook Air and MacBook Pro.

Apple previously only replaced defective batteries under the old terms of the
AppleCare Protection Plan for Mac
, but a
support page
updated today now outlines that the company will also replace a MacBook's battery at no charge if it retains less than 80% of its original capacity. If the notebook is not covered by AppleCare, replacing the battery requires paying an out-of-warranty service charge ranging between $129 and $199.
The new battery terms of the AppleCare Protection Plan for Mac:
"Your Apple One Year Limited Warranty or AppleCare Protection Plan includes replacement coverage for a defective battery. If you purchased an AppleCare Protection Plan for your Mac notebook with a non-removable battery, Apple will replace the notebook battery at no charge if it retains less than 80 percent of its original capacity. If you do not have coverage, you can have the battery replaced for a fee."
The old battery terms of the AppleCare Protection Plan for Mac:
"Your one-year warranty includes replacement coverage for a defective battery. You can extend your replacement coverage for a defective battery to three years from the date of your notebook purchase with the AppleCare Protection Plan. However, the AppleCare Protection Plan for notebook computers does not cover batteries that have stopped working or are exhibiting diminished capacity due to normal use except when it is the result of a manufacturing defect."
MacBook notebooks with non-removable batteries:
MacBook (13-inch, Late 2009) and later

All MacBook Airs

All MacBook Pros with Retina display

MacBook Pro (13-inch, Mid 2009) and later; MacBook Pro (15-inch, Mid 2009) and later

AppleCare for Mac extends the notebook's warranty coverage and telephone technical support to three years from the original date of purchase. Without an AppleCare Protection Plan, Mac customers are covered by a limited one-year warranty and 90 days of complimentary phone support. AppleCare for Mac costs between $249 and $349 depending on the MacBook Air or MacBook Pro model.

MacBook batteries are designed to retain up to 80% of their original capacity at 1000 complete charge cycles, similar to the iPad and Apple Watch.

Apple retail staff have been informed of the new policy which is effective immediately.


One of the ways Apple will draw customers to Apple Music is through exclusive content that's unavailable on other music services. Pharrell
will release
his new single "Freedom" exclusively on the platform, Taylor Swift has already promised to
make her 1989 album available
on Apple Music, and now Apple
has confirmed
that Dr. Dre's album
The Chronic
will also make its streaming music debut on the service.
Released in 1992,
The Chronic
has never before been made available on any streaming music service, including the hip hop star's own Beats Music service.

As outlined by
Rolling Stone
, the site that first reported the news, the album had been the subject of an ongoing legal battle between Dr. Dre and his former label Death Row Records, which may be the reason why it's been previously unavailable. Dre received full digital rights to
The Chronic
in 2011 and is free to release the album on Apple Music.
Exclusive content will likely be an ongoing feature in Apple Music, with Apple working to secure deals with a number of artists. Ahead of Apple Music's debut, the company was
rumored to be in talks
with dozens of high-profile musical acts like Florence and the Machine and Taylor Swift.
In addition to sharing exclusive songs and album releases on Apple Music, Apple is also hoping to engage artists and customers through its Apple Music Connect platform, a social network that lets artists share photos, videos, and other content with fans.
The company's worldwide 24/7 live radio station, Beats 1 radio, will also feature one-of-a-kind content like interviews and music curated by celebrities. Eminem, a close friend of Dr. Dre, will be
the first Beats 1 interviewee
following tomorrow's launch of Apple Music and Beats 1, and Dr. Dre will host his own radio show on the station.
Update 6:35 PM Pacific:
The New York Times
reports that AC/DC will also be streaming its collection through Apple Music, Spotify and Rdio.
Although there has been much comparison of the scratch-resistance and weight differences between the two Apple Watch display cover options -- sapphire crystal and Ion-X glass -- not much has been scientifically tested regarding each model's reflectiveness. A
new report
by
DisplayMate
out today, however, shows just how much lower reflectivity and higher contrast there is on the Apple Watch Sport's Ion-X glass compared to the higher-end Apple Watch models with sapphire.
As
DisplayMate
points out, the two models have identical OLED displays internally, but thanks to the different outer coverings, the different models react uniquely in bright light situations. In summary, the site found that the Apple Watch with sapphire crystal display reflects 74 percent more ambient light than the Ion-X glass of the Sport model. The two displays behave almost identically in dark environments given the low levels of ambient light available for reflection.

Photo comparing Ion-X glass (left) and sapphire crystal (right) taken at 2,000 lux, which equates to moderate outdoor lighting
For the Apple Watch Sport with Ion-X Glass we measured the Screen Reflectance to be 4.7 percent, while for the Apple Watch with Sapphire we measured 8.2 percent Screen Reflectance, which is 74 percent higher than with Glass. Both values are about 0.6 percent higher than just pure sapphire and glass alone, indicating that Apple has done an excellent job in optically bonding both the glass and sapphire to the OLED display without an air gap.

The 74 percent higher Reflectance of the Apple Watch with Sapphire means that its screen will reflect almost twice as much surrounding ambient light as the Apple Watch Sport with Glass. And it takes surprisingly little ambient light for that to make a significant visible difference…
Starting in the dark at 0 lux,
DisplayMate
increased light levels in successive stages of testing to discover the contrast ratios of each screen under increasingly stressful lighting situations. With both displays set to their maximum brightness, at 500 lux ("mid-range indoor ambient lighting") the display contrast ratios had fallen from 100 to 64 for Ion-X and 38 for sapphire, illustrating the distinct visibility advantage for the cheaper model. Jumping to 2,000 lux ("moderate outdoor lighting in the shade or an overcast sky"), the ratios drop to 17 and 10 for Ion-X glass and sapphire, respectively.

Chart comparing various aspects of reflectivity between the two displays
For a full-on sunlight measurement of 10,000 lux, the Ion-X glass display contrast ratio fell to 3 while the Sapphire Crystal came in at just 2. So, while the Sport's display proves to handle moderate outdoor sunlight much better than the sapphire display, both are significantly impacted by harsh, direct sunlight.
Higher reflectivity and lower light transmittance were highlighted as challenges for Apple amid Apple's failed partnership with GT Advanced Technologies for sapphire production and rumors the iPhone 6 would include a sapphire display cover.
Recent advancements
in sapphire production technology may, however, overcome those difficulties, with future generations of products able to use sapphire that has better viewing characteristics than glass while retaining sapphire's advantages of high scratch resistance.
While every new iPhone model released has gone on to outsell its predecessor, dating back to the iPhone 3G outselling the original iPhone, the overwhelming success of the iPhone 6 and iPhone 6 Plus has created some skepticism about whether Apple will be able to continue that trend in the future.
The 4.7-inch and 5.5-inch iPhone 6 and iPhone 6 Plus have been popular among consumers because of their larger screens, a long-awaited hardware feature that was previously limited to Android-based smartphones and other devices. The new iPhones are also slimmer and feature faster A8 processors and improved iSight cameras.

Nevertheless, a new survey from RBC Capital Markets suggests the so-called "iPhone 6s" could actually be more popular than the iPhone 6 and iPhone 6 Plus. The research firm expects positive year-over-year growth in the December quarter, claiming that carrier contracts are ultimately the deciding factor in a customer's upgrade cycle.
"While there has been concern regarding AAPL going ex-growth in Dec-Qtr, our survey work shows carrier contracts are the bigger driver for refresh cycles, implying 6s cycle should be positive given contract renewals and sustained expansion of 4G networking in China. We are raising our estimates ahead of Street expectations for June, FY15/FY16 but maintaining our OP rating and $150 target."
RBC Capital Markets surveyed 6,000 individuals about their smartphone purchasing decisions and found that loyalty remains strong among Apple customers, meaning that the company should be able to increase iOS adoption and revenue going forward. However, the investment bank warns that iPad demand has not picked up and could further disappoint expectations in the June quarter.

50% of surveyees who plan to purchase a new smartphone will do so within 12 months
Specifically, the research firm found that 83.4% of current iPhone customers intend on staying with Apple, while 64.2% of Samsung customers expressed their future commitment to the South Korean handset maker. It also found that about 50% of customers who plan on purchasing a new iPhone will do so in the next 12 months, with longer battery life the most requested improvement.
Apple's next-generation iPhones will likely retain similar physical designs as the iPhone 6 and iPhone 6 Plus, including 4.7-inch and 5.5-inch screen sizes. The smartphones are also rumored to feature an
A9 processor with 2GB of RAM
,
Force Touch
,
7000 Series aluminum
,
improved 12-megapixel camera
, a new
rose gold color
option, improved Touch ID recognition and more.

Eight years ago today, the smartphone market changed forever. On June 29, 2007, Apple
released the original iPhone
with a sleek form factor and revolutionary multi-touch screen and significantly disrupted an industry then dominated by companies such as Nokia, BlackBerry, Sony and Motorola.
The original iPhone was exclusive to AT&T in the United States before launching in the United Kingdom, France, Germany, Portugal, Ireland and Austria in November 2007. The 8GB model initially cost $599 on a two-year contract until Apple dropped the price to $399 in September 2007, far more expensive than today's starting price of $199.
The eighth anniversary of the original iPhone's release takes place just one day before the worldwide debut of Apple Music, another launch that could prove historic as Apple attempts to enter the crowded streaming music market alongside Spotify, Pandora, Google Play Music, YouTube and other players. Fittingly, many people will try Apple Music for the first time using an iPhone.
Apple has since sold hundreds of millions of iPhones around the world and launched ten models in eight years, ranging from the iPhone 3G and iPhone 3GS to the iPhone 6 and iPhone 6 Plus. In the second quarter, the iPhone accounted for nearly 70% of Apple's revenue alongside the iPad, Mac, iTunes and other products and services.
Popular Wi-Fi home audio system manufacturer Sonos has
supported direct streaming of Beats Music
since the music service's launch in early 2014, but the company has repeatedly stated it will not initially support Apple Music when that service launches this week. Apple Music senior director Ian Rogers
confirmed
late last week that Apple Music will be coming to Sonos "ASAP, but not at launch."

Earlier today, Sonos
confirmed to The Verge
that it is working with Apple to bring Apple Music to Sonos systems by the end of the year. Apple joined Sonos in
confirming the plans to BuzzFeed
.
"We're working together to make Apple Music available on Sonos before the end of the year," Apple spokesman Tom Neumayr told BuzzFeed News.
Apple Music launches this Tuesday, June 30 with the
release of iOS 8.4
and a new developer seed of iOS 9. Apple's free Beats 1 streaming radio station is scheduled to go live at 9:00 AM Pacific, with the necessary software updates apparently arriving roughly an hour before that.