Apple will discontinue the iPhone 5c next year, according to Taiwan's
Industrial and Commercial Times
. Production of the handset is said to be stopping in the middle of the year, as Apple suppliers Wistron and Foxconn will look to wind down production of the device. The news follows a
report
from KGI Securities analyst Ming-Chi Kuo earlier this week which noted that production of the iPhone 5c and the iPhone 4S would end later in 2015 after promotional plans.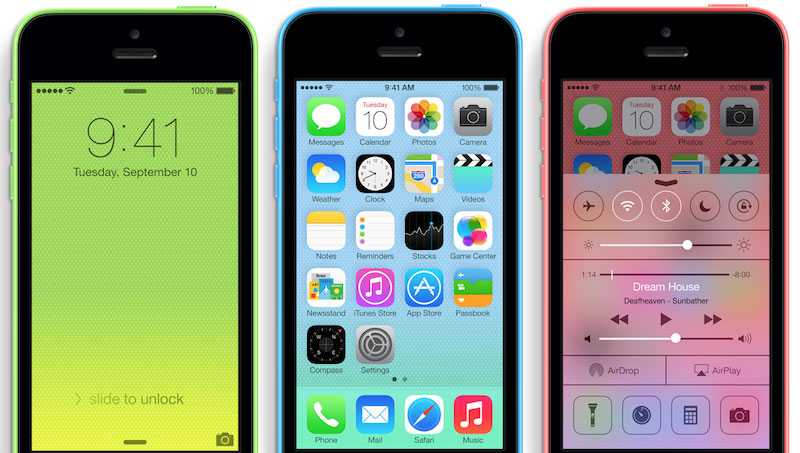 Originally released as a lower-cost option last year, the iPhone 5c is
currently available
in a single 8GB configuration alongside the iPhone 5s, iPhone 6, and iPhone 6 Plus. It is likely that Apple will stop production of the iPhone 5c to streamline its iPhone lineup, as every handset would then likely be equipped with a Touch ID fingerprint sensor.
Apple's iPhone 5c saw
lower-than-expected sales
after its debut in 2013 due to high demand for the then-flagship iPhone 5s. Apple did attempt a renewed push late last year to promote the iPhone 5c, debuting ads for the device on
popular blogging platform Tumblr
and on websites
like Yahoo.com
. Other reports also suggested that Apple
cut iPhone 5c production
significantly while ramping up iPhone 5s production to meet customer demand last year.
Apple
renewed
its maps and search partnership with Google in 2010, but with that contract reportedly set to end in 2015, both Yahoo and Microsoft are actively vying to be the next default search provider for Apple's Safari products,
reports The Information
.
Both Microsoft and Yahoo have existing relationships with Apple, with Yahoo providing stock data to iOS and Microsoft supplying Siri with Bing search results. Executives from both companies have reportedly already approached Eddy Cue, Apple's Senior Vice President of Internet Software and Services, about a potential agreement that could see one of them displace Google to become the default search engine for iOS devices and Macs. There is no indication Apple has made any decision which company, if any, will replace Google.

Yahoo
has approached Apple
in the past about expanding their relationship on mobile, although things moved in the opposite direction with iOS 8 as Apple cut out middle-man Yahoo for weather data and instead
began sourcing data
directly from The Weather Channel.
Yahoo has also reportedly been
working on a revamp
of its mobile search in hopes of landing an agreement with Apple to be the default search provider on iOS, but for now the companies are still in the discussion stages as Apple's deal with Google remains in effect for the time being.
Microsoft was
said
to be
in the running
for the 2010 deal with its Bing services, but Apple ultimately opted to extend its deal with Google that has seen Apple reportedly receiving in excess of
$1 billion
per year.
Apple's stock continues its strong recent performance, hitting another milestone today with a market capitalization of $700 billion and once again setting a new standard as the highest market cap in history before pulling back slightly. The mark comes less than two weeks after Apple's market cap
passed $660 billion
to set its first new high in two years.

The company's market capitalization has doubled since Tim Cook was named CEO in August 2011.
Apple's stock is up nearly 60 percent over the past year and up 24 percent since the company's October 16 media event, which was followed just days later by a strong earnings report. Looking forward, Apple is expected to show blockbuster iPhone sales for the holiday quarter, and Wall Street is anticipating continued strong performance into 2015 as Apple looks to add yet another product category to its mix with the Apple Watch.
While Apple has been routinely setting new stock price highs for months, the new standards for market capitalization have not come until more recently, as the company's
aggressive stock buyback program
has reduced the number of shares available on the market. With market capitalization calculated as the share price multiplied by the number of shares outstanding, the share price has had to reach higher levels to make up for the lower number of shares. Apple's current share price of just under $120 is equivalent to nearly $835 on a
pre-split basis
.
Just under a week after Sony Pictures
dropped
the Aaron Sorkin-penned Steve Jobs movie, Universal Studios has picked it up,
according to The Wrap
.
X-Men: First Class
star Michael Fassbender is also now attached to star as Jobs.

Universal Pictures has picked up the Steve Jobs biopic less than a week after it was dropped by Sony, an individual with knowledge of the deal told TheWrap.
Sony suddenly dropped the film last Wednesday after it had developed it for two years. One report
indicated
the studio dropped the movie because of the shooting schedule. Director Danny Boyle wanted to start shooting in January 2015, when Fassbender would be available to shoot. Sony, however, wanted to shoot a little later, which would have clashed with Fassbender's schedule as he was set to shoot
X-Men: Apocalypse.
Earlier this month, Christian Bale
dropped out
of the film despite Sorkin confirming his involvement. Fassbender stepped into the role shortly afterward and actors Jessica Chastain and Seth Rogen have
recently emerged
as potential cast members, with Rogen possibly playing Steve Wozniak.
The film is expected to follow Jobs during three stressful, high profile product launches, including NeXT, the debut of the Macintosh in 1984 and the iPod debut in 2001.
Apple today launched two new ads featuring the iPhone 6 and iPhone 6 Plus, which are once again voiced by Jimmy Fallon and Justin Timberlake and highlight features like the iPhone 6's gaming capabilities and its ability to relay phone calls to Macs and iPads.
In the first humorous ad, entitled "Gamers," the focus is on the A8 chip in the iPhone 6, with the ad showing off the recently released multiplayer online battle arena game
Vainglory
. "The A8 chip is so powerful it brings gaming to the next level. I mean if you're into that kind of thing," says Fallon, before bantering with Timberlake about the gameplay.
The second ad, called "Reservations," highlights Continuity and the ability for the iPhone to
relay calls to Macs and iPads
. "Did you know you can use an iPhone 6 to make a call from almost any Apple device?" asks Fallon before the two go on to make silly calls from a variety of devices, including a Mac and an iPad.
The new ads launched today are the fifth and sixth iPhone 6 ads that Apple has released starring Fallon and Timberlake. The first two ads, "Duo" and "Health" were shown off during the iPhone 6's September debut, and
two additional ads
, "Huge" and "Cameras," were released later in September.
Over the past several years, Apple has expressed an interest in both virtual reality and augmented reality, and has applied for a number of patents related to both technologies. The company has explored a
goggle-like video headset
that would possibly allow for 3-D viewing, much like the
Oculus Rift virtual reality headset
, it's looked into a
motion-sensing virtual 3D user interface
for iOS devices, and it's explored
3-D "hyper-reality" displays
.
While many companies are following in the footsteps of Oculus VR and have
already introduced
virtual reality hardware, there has been little to no hint that the technology mentioned in Apple's numerous patents will ever come to fruition.

Apple's interest in the virtual reality arena does not appear to have waned, however, and it may even be picking up. A new
job posting
on Apple's site for an "App Engineer" (via
9to5Mac
) suggests that the company is continuing to explore virtual and augmented reality, at least on the software side. The job listing seeks a software engineer to help the company "create next generation software experiences" designed to integrate with "Virtual Reality systems."
We are looking for a software engineer to develop UI and applications to create next generation software experiences. The individual must be able to participate in collaborative and iterative UI design through the implementation phases & complete performant user experience code for product delivery. This engineer will create high performance apps that integrate with Virtual Reality systems for prototyping and user testing.
It is not clear, of course, what Apple means by "Virtual Reality systems," which could refer to a full-on hardware experience, an augmented reality app experience, or something else entirely, but augmented reality and virtual reality have become increasingly important areas for development. Headsets like the Oculus Rift are beginning to catch on, and Google has been experimenting with augmented reality, both in its
Ingress
game for iOS and Android and with "Project Tango," an
ambitious experimental smartphone
that will provide 3-D mapping capabilities and immersive augmented reality games.
Apple is in possession of technology that's quite similar to what's used in Google's Project Tango, which
Apple acquired in 2013
with the purchase of 3-D mapping company PrimeSense. PrimeSense famously developed the original Kinect, and its technology could be used as
the backbone for virtual/augmented reality
interfaces and games.
Development on new features for iCloud is being held up by "deep organizational issues," according to a new report from
The Information
, which suggests organizational problems are complicating iCloud products and holding up releases. Much of
The Information
's report requires a subscription to access, but the article's introduction gives a hint at what's going wrong at Apple.
With iOS 8, Apple introduced some major overhauls to iCloud, including iCloud Drive, which allows users to see all of their files in a dedicated folder on the Mac, similar to Dropbox, and iCloud Photo Library, an ambitious project that lets users upload all of their photos to iCloud.

It seems these features may not be as fully fleshed out as Apple would like, especially when it comes to iCloud Photo Library. iCloud Photo Library wasn't
released to the public
until iOS 8.1, and it remains in a beta testing phase, with
speculation suggesting
that iCloud's negative public image due to
hacked celebrity accounts
and photo leaks may have led to its delay.
Apple is great at building hardware and software that runs on it. But it has long struggled to build services reliant on software that runs remotely rather than on devices. While company executives say they are making progress, interviews with nearly a dozen current and former Apple employees paint a different picture.

Deep organizational issues are holding up releases and complicating products.
According to
The Information
, Apple's "photo vision" has yet to be "fully realized," with internal problems like the lack of a centralized iCloud team leading to iCloud Photo Library's delayed beta release and the lack of the Photos for Mac app, which isn't expected to be completed until 2015.
Photos for Mac, which will integrate with iCloud Photo Library for a complete photo editing and management system, is said to be taking on elements of both iPhoto and Aperture, two apps that Apple has opted to discontinue in favor of the Photos for Mac app. Launching iCloud Photo Library without a companion Mac app leaves a major piece of the iCloud puzzle missing, as users are not able to edit iCloud Photo Library photos natively on their laptops and desktop computers.
While iCloud Photo Library will remain incomplete for some months yet, Apple has been adding features to the iCloud Photos web app as a stopgap measure. Just last week, the company added a
much-needed upload feature
to its iCloud.com website, allowing users to add photos to iCloud Photo Library outside of their iOS devices for the first time.
iCloud Photo Library is not the first Apple service that's been delayed by organizational issues within the company. iOS in the Car, which later became CarPlay,
saw development issues
ahead of its official launch as it did not fit neatly into an existing hardware or software category.
Internal issues
have also been said to be affecting the development of the Maps app and the introduction of new features, like transit directions, due to poor planning, project management issues, and an ongoing loss of developers.
As part of its
campaign
announced late yesterday to support the upcoming World AIDS Day, Apple has
also confirmed
its annual Black Friday sale on November 28, which is branded this year as the (RED) Special Shopping Day Promo.

The U.S. promotion is offering (RED) gift cards to customers who purchase a qualifying product on Black Friday. Unlike last year, Apple is including the iPhone in the (RED) promotion this year, offering a $50 gift card for iPhone 6, iPhone 6 Plus, iPhone 5s, and iPhone 5c purchases except for those made with no money down through the online store.
Gift card amounts for other products vary and include $100 on select Macs, $50 on qualifying iPads, and $25 each on qualifying Apple TV, iPods, and Beats hardware. Some of these amounts are lower than
last year's Black Friday sale
, which provided $150 gift cards for Mac hardware, $75 for the iPad Air and $50 on iPods. This year's sale includes the following hardware and gift card values:
-
iPhone ($50)
: iPhone 6 Plus, iPhone 6, iPhone 5s, iPhone 5c
-
iPad ($50)
: iPad Air 2, iPad Air, iPad mini 3, iPad mini 2, iPad mini
-
Mac ($100)
: iMac, MacBook Pro, MacBook Air, Retina iMac, Retina MacBook Pro
-
iPod ($25)
: iPod touch, iPod nano
-
Apple TV ($25)
-
Beats by Dr. Dre ($25)
: headphones and speakers
The (RED) Special Shopping Day Promo begins on November 28 and lasts for one day or while supplies last. This Black Friday sale is part of Apple's
recently announced
World AIDS Day campaign, and in addition to the gift cards for customers on Friday, Apple will also donate a portion of its retail and online sales from Black Friday, November 28 and Monday, December 1 to the Global Fund to fight AIDS.
Interest in Apple's iPhone and iOS platform remains high with continued strong hardware sales driven by the iPhone 6 and 6 Plus launch pushing App Store downloads to record-setting levels in October,
reports mobile marketing firm Fiksu
.

According to Fiksu's October App Store Competitive Index, app downloads reached a record-setting high of 7.8 million per day across the top 200 free iOS apps. This is a 42 percent jump from September and a 39 percent increase year-over-year, with the trend expected to continue into the holidays.
Fiksu also highlights a disparity between rising advertising costs and a drop in marketing costs per loyal user for app developers, pointing to how nurturing a loyal user base can ensure users immediately add their favorite existing apps to new devices.
Despite the marked rise in advertising costs particularly on iOS, the Cost Per Loyal User Index (CPLU) indicated a slight decline in October to $2.16 from September's $2.25. This decrease is a result of the tendency of app users to quickly re-download their most-used "vital" apps during upgrades. The first set of apps users download on their new iPhone 6s are likely to be those they can't live without, which makes them much more likely to become loyal users of those apps.
Apple's iPhone 6 and 6 Plus launched in September with a record-breaking
10 million units sold
during the first weekend of retail availability. Apple
sold
a total of 39.3 million iPhones in fiscal Q4 2014 and 169.2 million iPhones for the year. This growth is expected to continue in the holiday quarter with
predicted sales
of 71.5 million units.
Following this past weekend's promotion that saw Chase customers being offered
free early downloads
of David Guetta's upcoming album just for adding their cards to Apple Pay, the bank has launched a new national campaign touting Apple Pay. The new campaign begins today with a 30-second ad featuring Fun front man Jack Antonoff's side project Bleachers using Apple Pay at several locations around Los Angeles as they prepare for a rooftop concert.
While much of the attention surrounding Apple Pay has been focused on the major retailers supporting (or not supporting) the mobile payment service, Chase's ad shows the potential for small businesses to also benefit from Apple Pay. Small businesses signed on with the
Chase Paymentech
service for payment processing can use Chase's
Future Proof Terminal
to accept Apple Pay payments at the register or SDK tools to accept Apple Pay in apps.
Chase
tells Ad Age
that Apple retained creative control over some aspects of the ad, requiring that Apple Pay usage be depicted in realistic situations, but that the company was easy to work with.
"We spent half day with them in Cupertino and they're storytellers," she said. "So are we." As guidance, the technology company took Chase through its history of marketing efforts with various partners. [...]

"Our concepts went to Phil [Schiller], our storyboards went to Phil and someone from the brand team was on the shoot, so they were involved there too," said Ms. Canavari.
The 30-second version of Chase's new ad is planned to air in a number of prominent time slots on major networks, including primetime shows, sporting events, and holiday specials. A longer 90-second version of the ad is also debuting on YouTube today.
While Apple has not directly advertised Apple Pay in any television commercials, several Apple Pay partners including
MasterCard
and now Chase have run significant ad campaigns focused on the service.
Shipments of Apple's iPhone are expected to surge to 71.5 million units in Q4 2014 before the company decreases shipments to an estimated 49.4 million units in Q1 2015, according to a new report from KGI Securities analyst Ming-Chi Kuo. The analyst estimates that the iPhone 6 and 6 Plus will account for nearly 57 million of the fourth-quarter number and that the iPhone 5c and iPhone 4S will experience quarter-over-quarter growth in Q1 2015 before Apple ceases production of both phones later in the year.

Kuo notes that he expects shipments of the iPhone 6 to outnumber shipments of the iPhone 6 Plus by a 2:1 ratio:
We attribute the shortage of iPhone 6 Plus partly to less smooth production than iPhone 6. Moreover, while iPhone 6 Plus attracted greater attention when it was launched, we think more consumers will prefer iPhone 6 as they can operate the handset with one hand. Eventually, iPhone 6 shipments will outperform those of the iPhone 6 Plus model.
Sales of the iPhone 6 and iPhone 6 Plus
topped ten million
during the launch weekend for both devices, with the larger model seeing supply constraints. However, shipping times for the iPhone 6 Plus
improved
last week, with the 16GB model showing a shipping estimate of 7 to 10 days and the 64GB model showing an estimate of 2 to 3 weeks. A
survey
of U.S. customers done by Consumer Intelligence Research Partners (CIRP) earlier this month also noted that U.S. customers are favoring the iPhone 6 over the iPhone 6 Plus by a 3:1 ratio.
Update
: This article initially stated the 71.5 million estimate was for iPhone 6 and 6 Plus sales when it is actually for all iPhone models.
Apple today
announced
its
campaign
for World AIDS Day 2014 done in collaboration with
(Product) RED
, noting that it will offer a special Apps for (RED) section in the App Store that will contain 25 apps with exclusive new content that will benefit the Global Fund to fight AIDS. In addition to these special apps, Apple will also donate a portion of its retail and online sales on Friday, November 28 and Monday, December 1.
"Apple is a proud supporter of (RED) because we believe the gift of life is the most important gift anyone can give," said Tim Cook, Apple's CEO. "For eight years, our customers have been helping fight AIDS in Africa by funding life-saving treatments which are having a profoundly positive impact. This year we are launching our biggest fundraising push yet with the participation of Apple's retail and online stores, and some of the brightest minds in the App Store are lending their talents to the effort as well."

The Apps for (RED) campaign in the App Store will run from Monday, November 24 to Sunday, December 7, and will include special versions of apps like
Angry Birds
,
Clash of Clans
,
DJay 2
,
Clear
,
Paper
, and more. On Friday, November 28, Apple's customers in the United States will receive a special (RED) iTunes gift card with the purchase of select Apple products, as the company will donate a percentage of each gift card to the Global Fund to fight AIDS. On Monday, December 1, Apple will donate a portion of every sale at its retail and online stores to the Global Fund to fight AIDS.
Apple and (Product) RED have worked together for a number of years, as the organization
announced
in June that Apple had contributed $75 million. Throughout the history of their partnership, Apple has released a number of (RED) devices including iPod nanos and shuffles, iPad Smart Covers, iPhone Bumpers, and iPhone cases. With every (RED) product bought, Apple donates a portion of the purchase price to the charity.
Apps for (Product) RED is
live
in the App Store.