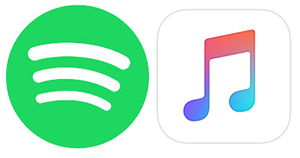 Several of Spotify's contracts are up for renewal and the high rates Apple pays record labels are affecting Spotify's negotiations, reports
MusicBusinessWorldwide
. As it considers a future IPO, Spotify is aiming to strike long-term deals with record labels at lower rates, while labels want Spotify to pay as much as Apple does.
Spotify reportedly pays record labels 55 percent of its revenue, while
Apple Music
pays 58 percent (Apple is also said to pay more to publishers than Spotify does). Spotify was initially given a "marketing discount," but now record labels want Spotify to pay what Apple pays. Meanwhile, Spotify, in an effort to become profitable, wants to pay less.
The major labels, unimpressed with some of Spotify's recent spending decisions, believe that now's the time to up this figure. So where do they want to take it?

Well, it's common knowledge that Apple Music is paying 58% of revenue to labels - after users' free trial periods have finished. The majors want Spotify to move its revenue share up towards that point.

Loss-making Spotify, though, is attempting to push this revenue share down, say MBW's sources. Yup: that means paying labels and artists a smaller slice of the proceeds.
Spotify is arguing that Apple's revenue share rate only applies after a three-month free trial and that it simply doesn't have the spending power of Apple, Google, or Amazon, three of its main competitors all with deep pockets, large user bases, and other sources of revenue.
Negotiations remain "optimistic" according to
MBW
's sources, and the "likely outcome" is a licensing deal similar to the one Spotify has had for the last few years, but a deal has yet to be struck. Spotify is said to be considering "windowing" or making some new releases temporarily exclusive to paying customers as a way to lure labels into accepting a lower rate.
Spotify's contracts with Universal Music Group, Warner Music Group, and Sony Music Group are all expired, and while Spotify continues to license content on a month to month basis, the absence of a long-term plan could potentially affect the company's IPO plans. It is, however, said to be "out of the question" that the three major music labels will pull their content from Spotify.
As the
iPhone 6
and 6 Plus approach their second birthday, a growing number of users are suffering from what appears to be a latent manufacturing issue that presents as a gray flickering bar at the top of the screen and a display that's unresponsive or less responsive to touch.
In a new blog post and video, repair site
iFixit
says a number of third-party repair outlets have seen iPhone 6 and 6 Plus models affected by the bug, which appears to be very common. STS Telecom owner Jason Villmer says he sees faulty iPhone 6 and 6 Plus models multiple times a week, while another repair tech in Louisiana sees up to 100 iPhone 6 and 6 Plus devices that don't respond well to touch.
"This issue is widespread enough that I feel like almost every iPhone 6/6+ has a touch of it (no pun intended) and are like ticking bombs just waiting to act up," says Jason Villmer, owner of STS Telecom--a board repair shop in Missouri. [...]
iFixit
is calling the problem "Touch Disease," and says Apple appears to be aware of the issue based on
dozens of complaints
on
Apple's support forum
, but isn't "doing anything about it." Multiple people who brought their iPhones to
Apple Stores
were told that Apple doesn't recognize it as an issue and nothing could be done as their iPhones were out of warranty.
Putting pressure on the display of an affected iPhone or twisting the device appears to reverse the issue for a short period, but the gray bar returns and touch functionality grows worse and worse until the touchscreen stops functioning entirely.
Replacing the display doesn't work as the problem is said to be caused by the touchscreen controller chips soldered to the logic board of the phone, and it's possible the damage is caused by the same structural design flaw that caused the major "Bendgate" controversy.
In both the iPhone 6 and 6 Plus, the Touch IC chips connect to the logic board via an array of itty-bitty solder balls--"like a plate resting on marbles," Jessa explains. Over time, as the phone flexes or twists slightly during normal use, those solder balls crack and start to lose contact with the board.

"At first, there may be no defect at all. Later you might notice that the screen is sometimes unresponsive, but it is quick to come back with a hard reset," Jessa explains. "As the crack deepens into a full separation of the chip-board bond, the periods of no touch function become more frequent."
According to
iFixit
, the only way to fix the problem is to replace the iPhone, replace the logic board, or replace the Touch ICs on the logic board, something Apple's in-house repair staff is not able to do.
iFixit
recommends users who are experiencing early symptoms of Touch Disease -- an intermittently non-functional touch screen or hints of a gray bar -- get their iPhones replaced outright if they're still under warranty.
For those without a warranty,
iFixit
suggests taking an affected iPhone 6 or 6 Plus to an electronics repair shop able to replace the chips. Apple doesn't approve of third-party repairs, but it may be the only solution until the problem is officially acknowledged by the company.
The
iPhone 6s
and iPhone 6s Plus are not affected by the same issue as Apple strengthened the body and changed the position of the Touch IC chips in those devices.
Kanex today made its
GoPower Watch
, one of the first
MFi
-certified portable batteries for
Apple Watch
, available for purchase for $99.95. The cordless, portable 1A/3.70V charging solution has a built-in 4,000 mAh lithium-ion battery that can charge an Apple Watch up to six times before it needs to be recharged itself.

GoPower Watch has a built-in magnetic charging puck, the same one that comes with the Apple Watch, and a USB port for simultaneously charging an iPhone with a Lightning cable. It has pass-through charging while connected to power via Micro-USB, meaning that Apple devices charge first, and then the battery pack recharges.
To charge an Apple Watch or iPhone, simply press the button on the front of the GoPower Watch. The LED indicator displays battery levels and charge status.
GoPower Watch is available in Space Gray for $99.95 on
Kanex's website
. The portable battery works with all 38mm and 42mm Apple Watch models.
Apple today released the seventh beta of macOS Sierra, the newest operating system designed for the Mac, to developers and public beta testers. macOS Sierra beta 7 comes one week after the
release of the sixth beta
and two months after the software was first unveiled at Apple's
2016 Worldwide Developers Conference
.
Developers and public beta testers can download today's update through the Software Update mechanism in the
Mac App Store
. Developers can also download the beta from the Apple Developer Center.

macOS Sierra is a major update that brings
Siri
to the Mac for the first time, allowing users to conduct voice searches to quickly find files, look up information, and more. New Continuity features offer an "Auto Unlock" option for unlocking a Mac with an
Apple Watch
and a "Universal Clipboard" for copying text on one Apple device and pasting it on another.
Deeper
iCloud
integration allows files stored on the desktop or the Documents folder of a Mac to be accessed on all of a user's devices, and Photos features deep learning algorithms for improved facial, object, and scene recognition. There's also a Memories feature for displaying photo collections, and Messages has rich links, bigger emoji, and "Tapback" response options.
Apple Pay
is coming to the web in macOS Sierra, with payments authenticated through an iPhone or Apple Watch, and new features like multiple tabs, Picture in Picture multitasking, optimized storage, and
revamped emoji
are also available.
Subscribe to the MacRumors YouTube channel for more videos.
macOS Sierra is currently available to developers and public beta testers, and it will see a wider public release this fall. For full details on all of the new features included in macOS Sierra,
make sure to check out our macOS Sierra roundup
.
Earlier this month, Samsung
introduced
the Galaxy Note 7, its newest smartphone with a 14-nanometer Qualcomm Snapdragon 820 quad-core 64-bit processor, 4GB RAM, a 12-megapixel camera, waterproofing, and wireless charging.
Spec wise, the Galaxy Note 7 seems to best the dual-core A9 processor and the 2GB RAM of the
iPhone 6s
, but based on a new speed test, it's clear raw hardware can't quite match superior hardware and software integration when it comes to real world usage.
In the performance comparison in which the two phones simultaneously launched the same apps, Samsung's Galaxy Note 7 was thoroughly defeated by the iPhone 6s, despite the Note 7's cutting edge hardware and the fact that it's a year newer than Apple's latest iPhone.
The iPhone was able to launch apps in succession at a much faster rate than the Galaxy Note 7, launching 14 apps (including rendering a video) in one minute and 21 seconds and eventually lapping the Galaxy Note 7, which took two minutes and four seconds to complete the same tasks. The iPhone was able to cycle through two laps of the app test in one minute and 51 seconds, while the Note 7 took two minutes and 49 seconds, almost a full minute longer.
This is just a single test that compares an unusual usage scenario, but it does suggest Apple's efforts to deeply integrate hardware and software give the iPhone some significant benefits compared to even the latest Android devices.
Apple will be announcing a new
iPhone 7
and iPhone 7 Plus in the near future with improved hardware that includes a faster, more efficient A10 processor and perhaps more RAM, at least in the larger device. The new phones are expected to debut in early September with a launch coming later in the month.
Apple today
announced
its 2016
Apple Music
Festival, a free annual concert series that will see big name artists performing at the London Roundhouse. This year's event will take place from September 18 to September 30.

Apple Music Festival 10 returns to London in September for 10 exhilarating nights of live music. Residents of the UK can win tickets to the gigs. Apple Music members around the world can watch the performances for free. Ticket applications will be opening soon. Follow @AppleMusic on Twitter and Snapchat for up-to-the minute information and join the #AMF10 conversation.
In 2015, Apple made some significant changes to the festival, which was called the iTunes Festival in the years before the launch of Apple Music. Prior to 2015, the event lasted for a full 30 days, but was scaled down to 10 days with the revamp. Apple also now offers the music festival performances live and on-demand in the Apple Music App.
Though this is the second annual Apple Music festival, Apple has been holding the festival for a total of 10 years, so 2016 marks the 10th anniversary music event.
For the
2016 Apple Music Festival
, Apple has not yet announced the acts that will be performing. Unveilings will be done gradually in the weeks leading up to the event, with most new information coming from Beats 1 Radio.
Apple is planning to release at least three new iPhones next year, including a high-end model with a 5.5-inch-or-larger OLED display that is curved on both sides like Samsung's Galaxy S7 edge, according to
Nikkei
. The other two models are said to be 4.7-inch and 5.5-inch models with flat LCD displays like the
iPhone 6s
and iPhone 6s Plus, corroborating previous reports.

The report reiterates that Samsung is expected to be Apple's
primary supplier of OLED displays
, but it may be unable to fully keep up with demand for both iPhones and its own Galaxy smartphones. Recognizing the opportunity, Apple manufacturer Foxconn has been
developing glass casings and OLED displays
over the past year, in hopes of securing orders from its biggest customer next year.
Apple's widely rumored
transition towards OLED in 2017
is requisite for curved displays, while the technology also provides improved contrast, faster response times, better viewing angles, better power efficiency for typical mixed image content, and other benefits compared to LCD technology. Samsung's Galaxy S7
makes a compelling case
for Apple's rumored switch to OLED technology.
Today's report corroborates KGI Securities analyst
Ming-Chi Kuo
, who earlier said Apple may launch an all-new iPhone with a
curved 5.8-inch AMOLED display and glass casing
in 2017. Kuo's research note outlined three new iPhone models, including LCD-based 4.7-inch and 5.5-inch models and a high-end OLED-based 5.8-inch model, as one possibility providing supply of AMOLED displays is sufficient.
When applied to the height of an existing 5.5-inch iPhone, a 5.8-inch display like the one Apple is rumored to be working on would
leave an extra 7.25mm of display on each side
that could be used to wrap around the edges of the device. This would extend the display across the front and sides of the iPhone, perhaps enabling side-based gestures and buttons like on Samsung's Galaxy S7 edge.

Apple was similarly rumored to be developing three iPhone models internally this year, but it reportedly scrapped plans to release a 5.5-inch model with a single-lens camera around six months ago. Apple's
tenth-anniversary iPhone
is shaping up to be a more significant upgrade, compared to the relatively incremental refresh expected from this year's tentatively named
iPhone 7
and iPhone 7 Plus.

Apple has acquired personal health and wellness startup
Gliimpse
, continuing its push into the health and fitness landscape that it began focusing on with the launch of the
Apple Watch
.
The company made the acquisition earlier in the year, according to
Fast Company
, but Apple has now confirmed the purchase with its usual response: "Apple buys smaller technology companies from time to time, and we generally do not discuss our purpose or plans."
Gliimpse is a personal health platform that collects various fitness-related pieces of data for its users "to collect, personalize, and share a picture of their health data" at different stages of their personal journey. The company was funded by entrepreneur Anil Sethi and was founded in 2013, following Sethi's inspiration to create an easy way to track health data as he watched his sister battle breast cancer.
Gliimpse™ began with a simple idea – everyone should be able to manage their health records, and share them securely with those they trust. Currently in stealth, Gliimpse is healthcare's platform for building patient-centric apps. By unlocking hospital silos, we aggregate fragmented data into Medicare mandated patient summaries. Gliimpse is your personal health history, in the palm of your hands.
As seen on the
company's website
, Gliimpse also lets users make daily journal entries to chronicle their emotional state of mind, track lab results, record levels of pain to inform a physician, and other privacy features that ensure each user's data stays secure. These features mark Gliimpse as a more healthcare-focused experience for users with serious ailments like diabetes and cancer, in contrast to more casual health upkeep apps, like Apple Health.
The new acquisition is a continuation of Apple's efforts to bolster its presence in the digital health field. Earlier in the month, the company
re-hired
Flipboard co-founder Evan Doll for a secretive position in its health initiative, and it's even been rumored that Apple is
working on a new piece of hardware
with a health-tracking focus -- which might also be another Apple Watch -- for release in 2017.
Apple's focus on health and wellness (which will also expand to mindfulness with its
Breathe Apple Watch app
this fall) was summarized by CEO
Tim Cook
when he
appeared
on "Mad Money" earlier in the year. Specifically, when host Jim Cramer asked whether it was "within the realm of our lifetime" that a device paired with Apple's HealthKit framework might be able to monitor diabetes, blood pressure, and detect cancer, Tim Cook said "Oh, I absolutely do."

Privacy advocates have claimed the breach of hacking tools and exploits apparently stolen from the National Security Agency has vindicated Apple's stance in its dispute with the FBI earlier this year.
Last week, reports emerged that a hacker group called the "Shadow Brokers" had allegedly stolen a cache of the NSA's top espionage tools and
offered to sell them to the highest bidder
.
The malware was linked to the "
Equation Group
", a secretive team of cyber spies widely believed to be associated with the NSA and its state partners. The hacking collective that stole the malware posted two sets of files online, including a free sample of the stolen data, which dates back to 2013, and a second encrypted file whose decryption key went up for sale in a bitcoin auction. Many saw the auction as a stunt.
But the attack code posted by the hackers appeared to be real, according to former NSA personnel who worked in the agency's hacking division, known as Tailored Access Operations (TAO).
"Without a doubt, they're the keys to the kingdom," said one former TAO employee, who spoke to
The Washington Post
on the condition of anonymity to discuss sensitive internal operations. "The stuff you're talking about would undermine the security of a lot of major government and corporate networks both here and abroad."
"It's a big deal," said Dave Aitel, an ex-NSA research scientist and CEO of penetration testing firm Immunity. "We'd be panicking." Whistle-blowing website Wikileaks
tweeted
that it also had the data and would release it "in due course".
News of the leak has been closely followed by technology companies, many of whom
pushed back
against the U.S. Senate Intelligence Committee's attempts to force them to provide "technical assistance" to government investigators seeking locked data.
The
failed attempt to enact legislation
came after Apple publicly clashed with the FBI over the government agency's insistence that it create a "back door" to its iPhone software.
Apple: If we're forced to build a tool to hack iPhones, someone will steal it.
FBI: Nonsense.
Russia: We just published NSA's hacking tools

— Christopher Soghoian (@csoghoian) August 17, 2016
The FBI claimed the software was needed to break into the iPhone owned by Syed Farook, one of the shooters in the
December attack
in San Bernardino, California. Apple
refused to comply
with the request, claiming that the code would lead to weaker smartphone encryption and inevitably get into the wrong hands.
Now, after a top-secret archive of some of the NSA's own exploits having been leaked online, privacy advocates are suggesting Apple's stance has been vindicated.
"The component of the government that is supposed to be absolutely best at keeping secrets didn't manage to keep this secret effectively," said Nate Cardozo, a senior staff attorney with the Electronic Frontier Foundation who spoke to
Business Insider
.
The NSA's stance on vulnerabilities seems to be based on the premise that secrets will never get out. That no one will ever discover the same bug, that no one will ever use the same bug, that there will never be a leak. We know for a fact, that at least in this case, that's not true.
Ex-NSA scientist Aitel believes the most likely scenario is that an insider walked out of a secure area with this data on a USB key, which could have been sold or stolen. "No one puts their exploits on a [command-and-control] server," Aitel said. "That's not a thing."
Another possibility suggested by NSA whistleblower Edward Snowden is that the malware toolkit was stolen from a "staging server" or segregated network outside the walls of the NSA, where it was used for conducting attacks. Snowden has also
pointed to Russia as the chief suspect
behind the leak.
News of the hack has also raised new questions about the legalities of government hacking, since many of the "zero day" exploits included in the leak
have never been disclosed
to the companies whose hardware is affected.
A policy framework called the Vulnerabilities Equities Process outlines how and when the state should disclose a vulnerability to an affected company if the larger security risk is greater than the reward it could yield. The FBI has
informed Apple of security flaws
in older versions of iOS and OS X in the past under the VEP framework.
However, Cardozo argues that the rules are "completely broken" because the VEP guidance is a non-binding policy created by the Obama administration, rather than an executive order or law. "We need rules, and right now there aren't any," Cardozo said. "Or at least none that work."
Note: Due to the political nature of the discussion regarding this topic, the discussion thread is located in our
Politics, Religion, Social Issues
forum. All forum members and site visitors are welcome to read and follow the thread, but posting is limited to forum members with at least 100 posts.
Apple held all-hands meetings with retail employees this weekend to introduce major new changes, including new and renamed positions, a new credo, and new store layouts, according to multiple retail sources.

Apple is implementing three new retail positions in the United States and United Kingdom, and likely elsewhere, including two pro-level positions and an all-new Technical Expert position to complement the Genius Bar/Grove:
•
Pro
: A new sales position above Expert. These employees are considered the most knowledgable about Apple products and services.
•
Creative Pro
: A new learning position above Creative. These employees are considered the most knowledgable about Apple products and services.
•
Technical Expert
: An all-new customer support position in between Technical Specialist and Genius. These employees will be able to provide mobile repairs, a task previously limited to Geniuses, and troubleshooting for software and products like the
Apple Watch
and
Apple TV
. The position will help reduce Genius Bar/Grove and service wait times.
In addition to the new positions, Apple is renaming several of its current retail positions:

• Red Zone Specialist → Specialist
• Family Room Specialist → Technical Specialist
• Business Specialist → Business Expert
• Back-of-House Specialist → Operations Specialist
• Inventory Specialist → Operations Pro

Meanwhile, the Back-of-House is now called Backstage, where the Inventory and Operations teams work, and the Red Zone, which encompasses the sales floor, is now called the Product Zone. Apple's existing retail locations will use the same tables from the old Red Zone for the new Product Zone.
Apple has also updated its credo, a motto that the company encourages its retail employees to follow. The new credo:
 Enriching lives.

We are here to enrich lives.
To help dreamers become doers,
to help passion expand human potential,
to do the best work of our lives.

AT OUR BEST

We give more than we take.
From the planet,
to the person beside us.
We become a place to belong
where everyone is welcome.
Everyone.

We draw strength from our differences.
From background and perspective
to collaboration and debate.
We are open.

We redefine expectations.
First for ourselves, then for the world.
Because we're a little crazy.
Because "good enough" isn't.
Because what we do says who we are.

We find courage.
To try and to fail,
to learn and to grow,
to figure out what's next,
to imagine the unimaginable,
to do it all over again tomorrow.

AT OUR CORE

We believe our soul is our people.
People who recognize themselves
in each other.
People who shine a spotlight
only to stand outside it.
People who work to leave this world better than they found it.
People who live to enrich lives.
Last, Apple said it now has over 30 retail locations based on its new design language, including the flagship
Apple Union Square
. The new layout includes a combination of
The Avenue, Genius Grove, The Forum, The Plaza, and The Boardroom
. Apple is
renovating dozens of locations
with the next-generation design, and all new locations since mid 2015 have been based on the new design language.
Juli Clover contributed to this report.
Apple has added banners to its U.S. website, iTunes Store, and
App Store
encouraging customers to donate to the American Red Cross to help support people who have been affected by the widespread flooding in southern Louisiana.
Donation tiers available include $5, $10, $25, $50, $100 and $200, with all proceeds from donations sent to the American Red Cross. All transactions are processed as iTunes or App Store purchases.

Flooding in Louisiana, which started last week after torrential rainfall, have damaged more than 40,000 houses and left many thousands of people without homes. More than 20 parishes have been affected, and in many of the areas, flood insurance was not common because they weren't known flood zones. The Red Cross has called the Louisiana flooding the worst natural disaster in the United States since Hurricane Sandy.
Apple often puts out a call for donations for disaster relief. In the past, Apple has collected Red Cross iTunes donations for the
2016 fires in Alberta
, the
2015 Nepal earthquake
, the
refugee and migration crisis
in the Mediterranean sea, the
2013 Philippines typhoon
, and more.
Apple today seeded the seventh beta of iOS 10 to developers and public beta testers for testing purposes, just four days after
releasing the sixth beta
and more than two months after first unveiling the new operating system at its
2016 Worldwide Developers Conference
. It is not clear what is included in beta 7, but given its unconventional release date, it may contain critical bug fixes.
iOS 10 beta 7 is available as an over-the-air download to those who installed the first six betas or the beta configuration profile and it's available for direct download via Apple's Developer Center (developers only).
iOS 10 is a major iOS update with a ton of new features and design tweaks, including a new Lock screen experience with
3D Touch
-enabled notifications, a more easily accessible camera, a redesigned Control Center, and a new widgets screen. According to Apple, iOS 10 is the company's biggest iOS update ever released.
Subscribe to the MacRumors YouTube channel for more videos.
The Messages app in iOS 10 has been overhauled with features that include background animations, bubble effects, Digital Touch, handwritten notes, Tapback replies, predictive emoji, and a dedicated
App Store
, and Photos has gained new facial and object recognition capabilities along with a Memories feature for rediscovering forgotten moments.
iOS 10 is currently available to developers and public beta testers, with a full public release planned for the fall. iOS 10 beta 7 is likely to be the final update before the golden master version is released. For full details on iOS 10, make sure to
check out our iOS 10 roundup
.