A purported schematic for the so-called "iPhone 6s" obtained by
Engadget Japan
(via
BGR
) reveals that the next-generation smartphone could have a thickness of 7.1mm, a slight increase or equal to the iPhone 6 and iPhone 6 Plus, which measure 6.9mm and 7.1mm respectively. The schematic also suggests that the "iPhone 6s" will still have a home button, while all other buttons and ports remain unchanged.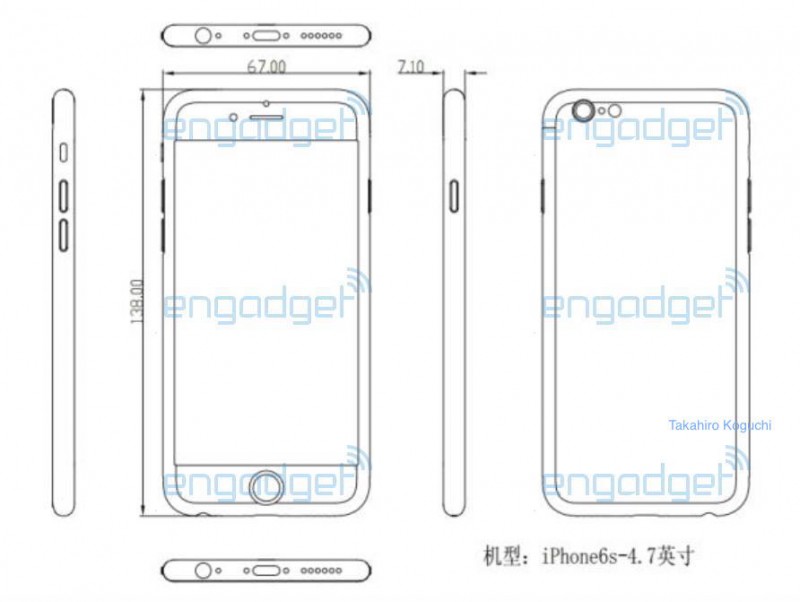 The slight 0.2mm increase in thickness could be the result of Apple adding pressure-sensing
Force Touch
technology to the next iPhone, enabling the smartphone's display to distinguish between a light tap and firmer press and complete different actions accordingly. The "iPhone 6s" is also rumored to adopt
7000 Series aluminum
, which could possibly contribute to marginally different dimensions.
The schematic is consistent with leaked photos of the
"iPhone 6s" rear shell
, which confirm that the handset will have only minor design changes. In particular, the Lightning connector, speakers, microphones, headphone jack, volume rocker, mute button, sleep/wake button, SIM card slot, antenna lines and cutout for the rear-facing camera and LED flash are all identical to the iPhone 6.
The lack of exterior design changes on the "iPhone 6s" is unsurprising given that "S" model iPhones have historically looked almost identical to the iPhone released one year prior. The iPhone 3GS, iPhone 4S and iPhone 5S, for example, each had virtually the same design as the iPhone 3G, iPhone 4 and iPhone 5 respectively. Instead, the focus of the "iPhone 6s" will likely be on internal improvements.
Leaked photos of the "iPhone 6s" logic board reveal that the smartphone will likely feature
Qualcomm's MDM9635M chip
, capable of theoretical LTE download speeds up to 300 Mbps, double the max speed of 150 Mbps in the iPhone 6 and iPhone 6 Plus. The next iPhone is also rumored to feature an
A9 processor with 2GB of RAM
, an
updated NFC chip for Apple Pay
and an improved
12-megapixel rear-facing camera
.
New images of the logic board from the next-generation "iPhone 6s" have been
obtained
by
9to5Mac
, a few days after the site
shared photos
from an unnamed source which showed that a new, updated Qualcomm LTE chip could be in store for the iPhone this year. Today's images suggest that, on top of the Qualcomm chip's faster LTE speeds and increased energy efficiency, the iPhone 6s will include fewer chips that are collectively more efficient, updated NFC hardware for Apple Pay, and likely the same 16GB entry-level capacity seen on current iPhones.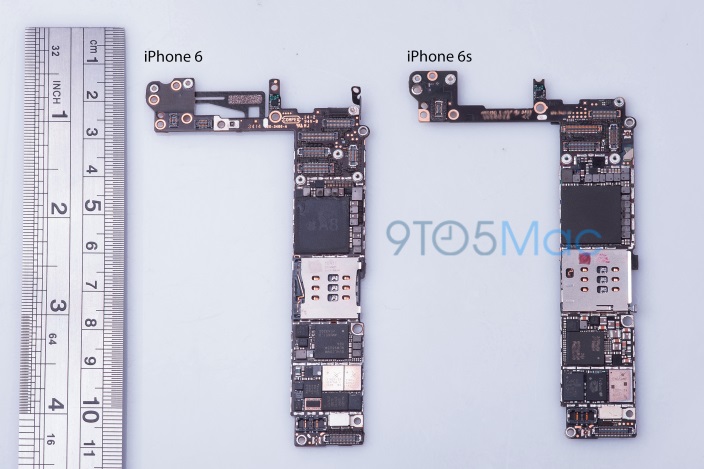 The Toshiba flash memory chip shown in the photos has a 16GB capacity based on the "G7" in the part number, and was built using a 19nm production process. This suggests that the new line of iPhones this year will once again offer a starting storage option of 16GB, likely supplemented with the same 64GB and 128GB options at higher price points seen currently.
While many have complained 16GB is not enough entry-level storage as HD video and space-hungry apps have proliferated,
recently
Apple SVP of Marketing Phil Schiller claimed the company's cloud-focused services, like the just-launched Apple Music, help alleviate some of the storage stresses on low-end storage configurations. Other changes with iOS 9 such as smaller iOS update sizes and app thinning to load only the app assets needed for a particular device, will also help trim down storage needs.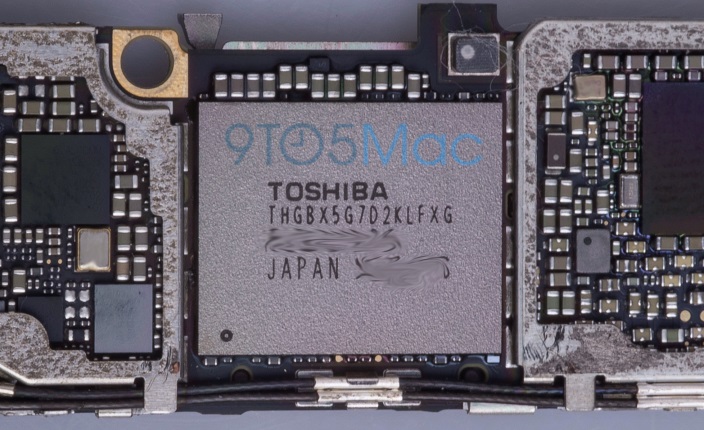 On the NFC side of the new iPhone, the new chip inside the iPhone 6s is again from NXP but with a new 66VP2 part number compared to the 65V10 part in the iPhone 6. Chip teardown experts at Chipworks were unclear, however, exactly what kind of improvements such a chip will bring to the new line of smartphones, although they posit it could be eliminating the need for a separate secure element processor altogether and folding the two into one chip.
Echoing earlier rumors, today's images suggest once again that the iPhone 6s will remain identical in look and shape to its predecessor, as seen in a case maker's design drawings and logical for the continuation of the "S" generation trend. Any changes in dimensions would be negligible, leaving the device compatible with nearly all existing iPhone 6 cases and accessories.
Apple Music's main draw is its focus on curation and its ability to learn about your music preferences to provide recommendations that suit your tastes. Apple's new Music app focuses heavily on content discovery, with an entire "For You" section dedicated to recommendations.
According to Apple, its music experts "handpick songs, artists, and albums based on what you listen to and like," and this content is what populates the "For You" section. Apple's explained that "For You" recommendations get better over time based on "whether you love a song or not," but the company hasn't explicitly spelled out how to best use likes and listens to better tailor Apple Music to your tastes.
To clear up confusion on how recommendations work,
The Loop's Jim Dalrymple
has spoken directly with Apple to get some insight on how the "Like" feature in Apple Music works to affect recommendations, and he's penned a useful guide on liking from the information he obtained, which is
well worth reading
.
Any song played from Beats 1 radio, a default radio station, a curated playlist, or from a search can be liked by expanding the miniplayer and tapping the heart icon. You can essentially heart anything that's playing via Apple Music.

As Dalrymple
explains
, tapping the heart button on a song you like influences the content that's then displayed in the "For You" section of Apple Music. As more content is liked, the feature gets a better idea of each individual user's tastes, and is able to offer up a more tailored selection of music. Music that's added to a library and music that's played in full also affects "For You."
Tapping the heart does affect "For You," the section of Apple Music that's custom built with playlists, albums and songs tailored to your individual tastes. For You also takes into account music you add to your library and full plays you listen to. Skips aren't really taken into account, because there are so many reasons you may skip a song--maybe you're just not in the mood for it right now.
Radio stations created from individual songs, done by tapping on the hamburger button when any song is playing and choosing "Start Station," work a bit differently. Instead of displaying a heart, these playlists display a star. Tapping the star allows you to choose "Play More Like This" or "Play Less Like This" to tune a radio station to your particular tastes at that time without affecting overall "For You" recommendations.

Pressing on any album or playlist recommendation in "For You" gives you an option to customize the section even more, by choosing "I Don't Like This Suggestion." It appears that this customization option is limited to iOS devices for the time being, as Apple Music on Mac doesn't offer this menu.

Apple Music's ability to offer up intensively tailored song recommendations over time may be one of the reasons why Apple insisted on giving users a three month trial to experience the service. Regularly liking songs and culling the "For You" section of recommendations that aren't suitable should vastly change the quality of suggestions over the course of the next few months.
A sketchy and unconfirmed
internal document
posted by an alleged Foxconn employee on Chinese microblogging website Weibo (via
PhoneArena
) corroborates rumors that the next-generation iPhone could feature a 12-megapixel rear-facing camera with 4K video recording and 240 FPS slow-motion capabilities.

Weibo user
KJuma
has since removed the pair of leaked documents he shared on the Twitter-like service, but not before the images began making their rounds on the web. The documents also corroborate multiple rumors claiming the so-called iPhone 6s ("N66") and iPhone 6s Plus ("N71") will have 2GB of RAM.
KGI Securities analyst Ming-Chi Kuo, who has a respectable track record at reporting on Apple's upcoming product plans, issued a note to investors in May with
eleven predictions for the next iPhone
, and a 12-megapixel rear-facing camera sensor and A9 processor with 2GB of RAM were among the new features he listed.
Apple senior executive Jonathan Ive has officially assumed the role of "Chief Design Officer" at Apple effective today, after being promoted from his previous role of "Senior Vice President of Design" nearly six weeks ago. Apple has updated Ive's
executive profile
on its leadership website to reflect the design chief's new position as Apple's third active C-level executive alongside CEO Tim Cook and CFO Luca Maestri.
Jonathan Ive is Apple's Chief Design Officer, reporting to CEO Tim Cook. Jony is responsible for all design at Apple, including the look and feel of Apple hardware, user interface, packaging, major architectural projects such as Apple Campus 2 and Apple's retail stores, as well as new ideas and future initiatives.


Apple announced in a
company-wide email
last month that Ive would be promoted to Chief Design Officer on July 1 and turn over his day-to-day management of the company's design teams to Richard Howarth and Alan Dye, who have both been elevated to vice president positions. Ive will remain responsible for all of Apple's design, with a focus on redesigning Apple Stores and other larger projects.
Jony is one of the most talented and accomplished designers of his generation, with an astonishing 5000 design and utility patents to his name. His new role is a reflection of the scope of work he has been doing at Apple for some time. Jony's design responsibilities have expanded from hardware and, more recently, software UI to the look and feel of Apple retail stores, our new campus in Cupertino, product packaging and many other parts of our company.
Apple has also added executive profile pages for design vice presidents
Howarth
and
Dye
.

Ive spoke with
The Telegraph
journalist Stephen Fry last month about his decision to relinquish some of his control, stating that he is still in charge of Apple's design departments without needing to focus on administrative and management work, responsibilities that will now fall under his lieutenants Howarth and Dye. The move had been widely expected for several years.
When I catch up with Ive alone, I ask him why he has seemingly relinquished the two departments that had been so successfully under his control. "Well, I'm still in charge of both," he says, "I am called Chief Design Officer. Having Alan and Richard in place frees me up from some of the administrative and management work which isn't … which isn't …"

"Which isn't what you were put on this planet to do?"

"Exactly. Those two are as good as it gets."
Ive has been a full-time Apple employee since 1992, and rumors about him scaling back at the company have gained momentum over the years. Ive in the past has expressed his desire to spend more time in his native England, where he grew up, and his promotion will enable him to travel more often and possibly work remotely at times. Ive and his family currently live in an upscale neighborhood in San Francisco.

Just a day after the release of iOS 8.4, which includes Apple's brand new music service Apple Music,
many users
on both the
MacRumors
forums
and Apple Support
communities
are finding that the update removes Home Sharing for music on iOS devices. This breaks the ability for users to share their iTunes Library over Wi-Fi from their mobile devices.
Apple yesterday updated a Home Sharing
support document
 to note that Home Sharing on iOS devices is only limited to video. Thus far, Home Sharing for music still appears to be available for both Mac and Apple TV. Additionally, while the Music page in iOS' Settings once listed a Home Sharing option prior to iOS 8.4, the option is no longer there in the new Apple Music settings page in iOS 8.4.
As
pointed out
by
AppleInsider
, the
release notes
for iOS 8.4 beta 4 mentioned that Home Sharing and Genius Mixes were "not currently available", offering the possibility that the feature could return in future versions of iOS.
While the possibility of Home Sharing for music returning on iOS devices is there, it's unclear whether Apple would return the option for non-subscribers of Apple Music. The music service includes the ability to sign up for a $14.99-a-month family plan, which allows access for up to 6 people.
Following Tuesday's
launch of Apple Music
, Nine Inch Nails frontman Trent Reznor spoke with music site
Pitchfork
about his thoughts on the service and his role in its development. Reznor joined Apple in 2014, following the company's
acquisition
of Beats Music, where Reznor served as Chief Creative Officer.
Ahead of the Apple Music launch,
rumors suggested
Reznor was
leading development of the service
alongside Jimmy Iovine, playing a major role in the redesign of the new Music app.

Image of Trent Reznor via Pitchfork
According to Reznor, his role in the creation of Apple Music shifted over time. While he initially worked on design alongside Apple's design team and iTunes engineers, he shifted to concentrating on marketing in recent months, helping to explain the service and Apple's goals to artists.
Reznor compared his experience working with Apple to his experience working at Beats Music before the acquisition, calling Apple a "respectful, collaborative environment" with ideas that fit into his own thoughts on music.
When I sat down with the people at Apple, I found a very respectful, collaborative environment that wanted to take some of the tentpoles that mattered to us at Beats Music, which really was trying to make an experience that didn't feel like data. Something that felt organic and respectful to music rather than just, "We're just delivering assets to your mobile device." They treated music in a way that put an emphasis on curation and taste.
In earlier interviews, Reznor suggested that
no streaming service
had hit "the right formula" before Apple Music, a sentiment that he again shared with
Pitchfork.
With endless music available at our fingertips, he believes the experience is the most important aspect of any streaming service. With Apple Music, the goal was to improve upon the impersonal, "less than optimal" experience being offered by competitors.
What we tried to do with Apple Music is make the experience around the catalog feel like people that love music have touched it in the various ways it gets presented to you: playlists that noticeably feel better, radio stations that were programmed by people, recommendations that feel less like a computer and more like someone made you a mixtape and you like their taste.
Apple Connect, Apple's social networking service, was also developed to improve the listening experience by introducing tools to let artists share music and video that "lives outside the paywall." Apple wanted to give artists a way to be involved in the way music is consumed. "We wanted to create a place where the people making the art could feel like they could have a center," Reznor said.
Released yesterday, Apple Music has a deep focus on curated content. The new Music app delivers recommendations based on personal tastes and playlists created by editors, while the accompanying Beats 1 radio features all music chosen by DJs like Zane Lowe.
Reznor's full interview
, which includes additional details on his role in the development of Apple Music, his thoughts on music, and Apple's aim with the new service, is available at
Pitchfork
and well worth a read.
Apple's fleet of vehicles collecting street-level mapping data in the United States will begin surveying 13 more U.S. states between July 15 and July 31, including Colorado, Idaho, Indiana, Kentucky, Maryland, Minnesota, Mississippi, New Mexico, Ohio, Oregon, Pennsylvania, South Dakota and Wyoming. Apple Maps vehicles have been spotted in 15 states to date and will have reached 28 states in total after this next wave.

Apple Maps vehicle driving in Monroe Township, New Jersey in May 2015
Apple confirmed last month that it is
driving vehicles around the world
to collect data to improve Apple Maps, and the mapping imagery is almost certainly being used to create a Google Maps "Street View" competitor. Apple Maps vehicles are also taking photos of businesses and storefronts in major metropolitan areas to replace current imagery provided by third-party sources such as Yelp.
The cities and counties in the 13 U.S. states where Apple Maps vehicles will survey…
Click here to read rest of article...
As we reported this morning, astute iPod owners with
iTunes 12.2
have discovered an image that
depicts the iPod touch, nano, and shuffle
in new colors, suggesting an update could be in the works. A bit more digging around in iTunes 12.2 has unearthed additional iPod images, giving us a look at each of the new color options we might see should Apple be planning to release new models.
The images depict six different color options for the iPod nano, shuffle, and touch, showing each model in silver, space gray, red, bright pink, deep blue, and light gold. The latter three colors, pink, blue, and gold, are new shades that are not currently available. The space gray model may be slightly darker than the existing color, but it's difficult to determine from images alone.

Aside from new color options, the devices appear to be largely the same, except perhaps for an external change for the iPod touch that does away with the attachment for the wrist loop. It is not clear if Apple plans to update the internals of the devices or if the company is simply going to introduce new color options, but the images make it clear that a potential update is not going to feature a major external redesign.
Apple's iPod lineup has not seen new color additions since 2013, due to a sharp decline in sales over the past several years. The
last update
saw Apple change the "slate" color to "space gray" in September of 2013, and no major color changes have been made since that date.
The Calendar app on the iPod touch in the images reads "Tuesday 14," leading some of our readers to speculate that Apple might plan to introduce new models on Tuesday, July 14, which is two weeks from now.
Following a
report yesterday
that the next-generation "iPhone 6s" will appear essentially identical to the current lineup of iPhones with a few minor internal differences, an unnamed source has shared new photos of logic board from the device with
9to5Mac
, revealing an updated Qualcomm LTE chip offering faster LTE speeds and greater energy efficiency.
Specifically, the next iPhone will carry a Qualcomm MDM9635M chip -- also referred to as the "9X35" Gobi modem platform -- and it aims to give the iPhone 6s a significant increase in performance over the current 9X25 used in the iPhone 6 and iPhone 6 Plus.

For everyday users, this gives the potential for significant increases in LTE network performance with download speeds of up to 300 Mbps, twice that of the current iPhone line. Real-world limitations of carrier support will, however, limit those speed improvements in many cases.
The new Qualcomm chip, which was announced in 2013 and came to market last year, is also more power efficient. This power efficiency combined with the possibility of a slimmer motherboard could give the iPhone 6s some improvement in battery life this year.
As
shared yesterday
, the iPhone 6s will appear nearly identical to the iPhone 6, which is typical for Apple's "S" generation iPhones. Apple will, however, be including a number of enhancements for the device, from the faster LTE modem to a
Force Touch
display and perhaps the "
biggest camera jump ever
."
Following an
initial teaser
earlier in May, Universal today released the first official full-length trailer for the upcoming Steve Jobs movie.
The two-and-a-half minute trailer provides the longest look at the Danny Boyle-directed biopic that anyone has seen yet, balancing focus between Steve Jobs' various behind-the-scenes product launches and his intense personal life regarding his relationship with daughter Lisa Brennan-Jobs.
The trailer also gives more in-depth looks at Jeff Daniels and Kate Winslet, especially, as John Sculley and Joanna Hoffman, with various through-the-years glimpses of Michael Fassbender as Steve Jobs. After various
casting calls
and
set photo leaks
earlier in the year, excitement around the
somewhat troubled film
has only been steadily building. Fans can expect to see the full movie in theaters October 9.
Following the release of iTunes 12.2 with Apple Music support yesterday, one MacRumors user has discovered graphics depicting iPods in colors not currently offered by Apple. The composite image of an iPod touch, nano, and shuffle is shown when setting up or restoring an iPod in iTunes.

The new colors include a darker blue for the iPod touch, a new gold or beige color for the iPod nano, and a brighter pink color for the iPod shuffle.
Apple has not updated its iPod color lineup in several years, most recently shifting the previous "slate" color to "space gray" back in 2013. Apple has typically updated its iPod lineup during the month of September, although it is unclear whether these new colors are actually in the works and what their release timeframe might be.
Update
: Several observers have pointed to the Calendar icon on the iPod touch screenshot showing a date of Tuesday the 14th, leading to speculation the new models could launch on Tuesday, July 14. Readers have also noticed the new image does not depict a wrist strap attachment post as seen in the lower left corner of the current models.
(Thanks, iPhone.Freak!)