Apple has refreshed its homepage to showcase a
gallery of photos
taken with iPhone 6 across the world, unsurprisingly coinciding with today's announcements of the
Samsung Galaxy S6
and HTC One M9 at Mobile World Congress in Barcelona. The gallery shows photos taken by iPhone 6 users in several countries, including the United States, Canada, Japan, Iceland, South Korea, China, Scotland, Indonesia, Thailand and New Zealand.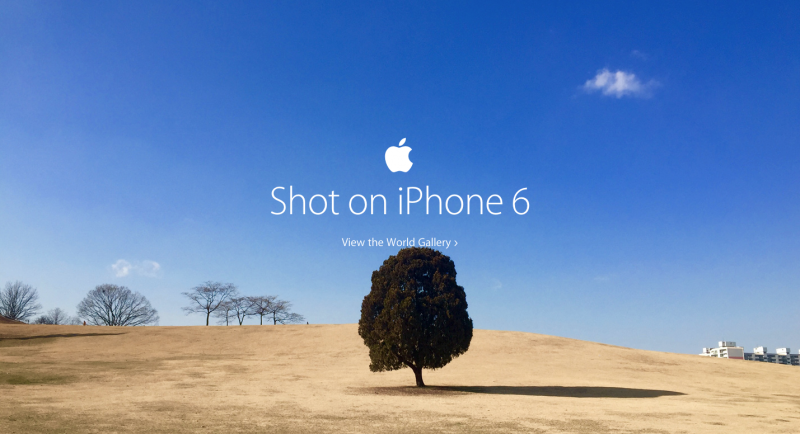 Some of the photos have been filtered, enhanced or shared with apps such as Instagram, Snapseed, VSCO Cam, Mextures, Filterstorm Neue, Camera+ and Adobe Photoshop Express. "People take incredible photos and videos on iPhone 6 every day," writes Apple. "And here are some of our favorites. Explore the gallery, learn a few tips, and see what's possible with the world's most popular camera."
Update 2:00 PM PT:
Rene Ritchie at
iMore
reports that this is just the beginning of an iPhone 6 photography campaign involving 77 photographers, 70 cities and 24 countries. Apple will be featuring photos taken with an iPhone 6 in print media, transit posters and billboards across the world.
"From Sydney to Beijing to San Francisco to New York City to London and more, Apple will feature the iPhone photographers and their work on posters at transit stops and stations and in newspaper ads and on billboards. Not the iPhone 6. Not its camera. Not product shots. But shots taken by the product — by the iPhone 6 camera."
Samsung at Mobile World Congress on Sunday announced its latest flagship smartphones, the Galaxy S6 and Galaxy S6 Edge, each compatible with a new mobile payments service called Samsung Pay. The smartphones are a significant refresh to the Galaxy lineup, featuring a slimmer and lighter metal and glass design, all-new front and rear cameras, improved hardware specifications under the hood and more.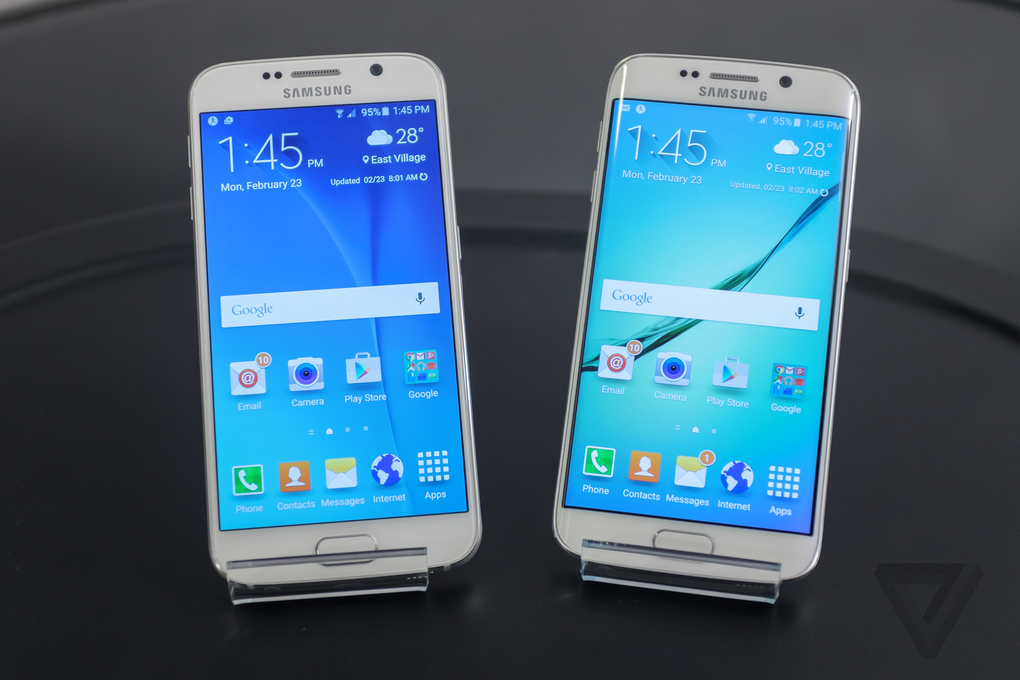 Samsung Galaxy S6 and Galaxy S6 Edge (via The Verge)
The Galaxy S6 Edge is notable in that it is the first smartphone to feature a curved display on both sides of the device, constructed from Gorilla Glass 4. Both smartphones have 16-megapixel rear-facing cameras and 5-megapixel front-facing cameras with f/1.9 lenses for improved low-light photos, Auto HDR, optical image stabilization, IR white balance and a "Quick Launch" feature for accessing the camera from any screen in less than one second.
Samsung's Galaxy S6 and Galaxy S6 Edge have improved hardware specifications in most areas, each featuring a 5.1-inch 2560×1440 Super AMOLED display at 577 ppi, Exynos 8-core processor, 3GB of RAM up, 32GB to 128GB of internal storage, Category 6 LTE, 802.11/a/c Wi-Fi, Bluetooth LE, NFC and 2,550 mAh and 2,600 mAh batteries respectively. The devices will run Android 5.0 Lollipop out of the box.
Notably absent from the Galaxy S6 and Galaxy S6 Edge is a MicroSD slot for expandable storage, waterproofing and a removable battery, three features that Samsung often promoted over the iPhone in the past. The smartphones do gain a feature that the iPhone does not have in wireless charging with support for WPC and PMA standards, allowing you to charge the device at Starbucks or using Qi-enabled chargers.
Samsung introduced a new fingerprint scanner on the Galaxy S6 and Galaxy S6 Edge, to be used for Samsung Pay, that functions like Touch ID on iPhone by no longer requiring swiping. Samsung Pay will be available this summer and rival Apple Pay with NFC and magnetic secure transmission (MST) technologies that make the service compatible with both NFC-enabled payment terminals and older magnetic swipe readers.
The Galaxy S6 and Galaxy S6 Edge will be available April 10 across several countries worldwide in White Pearl, Black Sapphire, and Gold Platinum color options. A special Blue Topaz edition will be exclusive to the Galaxy S6. The smartphones will be available on AT&T, Verizon, Sprint and T-Mobile in the U.S., and will also be on sale through Amazon, Best Buy, Costco, Target, Walmart and Sam's Club.

With Apple's
media event
just a week away and the company expected to offer final details there on the Apple Watch ahead of its April debut,
The New York Times has a new report out
sharing a few new tidbits on the device.
Among the interesting details is the existence of an unannounced "Power Reserve" mode for the watch that will display only the time and cut off all other functions as the battery begins to run critically low, preserving the most basic functionality of the watch. The report also notes that while the Apple Watch has been widely tested by Apple employees, the company did work to conceal many of those prototypes by disguising them to resemble Samsung smartwatches.
Sources have also provided more context to a
Wall Street Journal article
from last month that discussed how many of the originally planned health features for Apple Watch were dropped due to consistency issues. According to
The New York Times
' sources, the decision to drop many of those features came more than 18 months ago, refuting
off-target reports
in recent weeks claiming the cuts have come at the last minute.
Nearly two years ago, the company experimented with advanced health monitoring sensors that tracked blood pressure and stress, among other variables. Many of those experiments were abandoned more than 18 months ago after the sensors proved unreliable and cumbersome, these people said.

Apple long ago decided that for the first version of the product, it would include a heart rate sensor and a sensor for tracking movement, to market the device as a fitness-tracking companion to the iPhone.
Previous reports have indicated Apple is still working on those technologies, and they could appear in future versions of the Apple Watch.
Today's report reveals some additional insight into the development process, noting that the Apple Watch is coming a bit later than originally hoped due to technical challenges that were likely exacerbated by the loss of several engineers working on the project. Google's Nest Labs, headed by iPod pioneer Tony Fadell, was responsible for poaching several of the key Apple Watch employees.
Apple's media event will take place at 10:00 AM Pacific Time on Monday, March 9 at the Yerba Buena Center for the Arts in San Francisco. The company will offer a
live video stream
of the event, and
MacRumors
will provide full coverage of the event.
Apple is planning to open a dedicated pop-up shop for the Apple Watch at high-end department store Selfridges in London, according to sources. The shop will likely be located near the entrance of the iconic Wonder Room, a 19,000-square-foot shopping hall that houses a wide selection of luxury jewelry and watch brands alongside a concept store and mezzanine wine bar.

Wonder Room at Selfridges in London houses fine jewelry and watches
A section of Selfridges located near the Wonder Room was boarded up earlier this month to allow for construction of the expected Apple Watch pop-up shop, sources say. The store-within-a-store concept will display various Apple Watch models and provide customers with a personalized shopping experience, potentially including One to One service for those interested in learning more about the wrist-worn device.
Apple is recruiting retail employees from nearby Apple Stores in London to fill Specialist vacancies at an upcoming Central London location, which is likely to be this Selfridges boutique. The pop-up shop is expected to be readied in time for the Apple Watch launch in April and will likely join
Galeries Lafayette
as one of multiple standalone Apple Watch stores that Apple plans to open throughout Europe.
Selfridges has the second-largest retail space in the United Kingdom behind competing high-end department store Harrods. The store offers a myriad of designer jewelry and accessories, such as watches, bracelets, earrings, necklaces, pendants and rings. With the Apple Watch positioned at least partially as a fashion item, the department store offers an ideal setting for the wrist-worn device to be displayed.
A new image has surfaced that shows construction of an outdoor extension at the Yerba Buena Center for the Arts in San Francisco, as reported by
9to5Mac
. The tented space will likely serve as an Apple Watch demo area at the upcoming
"Spring Forward" media event
on March 9th, where Apple is widely expected to provide further details about the Apple Watch's features, pricing and release date.

According to the tipster that submitted the photos, there are security guards wearing "Apple Security" shirts monitoring the construction site, all but confirming that the external addition belongs to Apple. The company previously built a similar structure
outside of the Flint Center
as a demo area for the iPhone 6, iPhone 6 Plus and Apple Watch, so an exterior demo area would not be unprecedented.
Apple
sent out invites
for its "Spring Forward" media event earlier this week, and will also be providing a
live stream of the event
on its website for Mac, iPhone and iPad. The media event will take place at the Yerba Buena Center for the Arts in San Francisco on March 9th at 10:00 AM Pacific and should be focused on the Apple Watch ahead of the wrist-worn device's launch in April.

Apple may be planning to release iOS 8.2 to the public as early as next Monday, reports
BGR
. iOS 8.2 has been in testing since November and notably contains support for the Apple Watch. The March release date has been
rumored for several weeks
now, but earlier information pointed towards a launch a bit later in the month, possibly during the second week of March.
A Monday, March 2 release date for iOS 8.2 would mean the software would be released to consumers a full week ahead of Apple's scheduled March 9 "Spring Forward" media event, where the company is expected to divulge additional details on the Apple Watch.
BGR
is fairly accurate when it comes to iOS release date predictions. The site correctly determined several iOS 7
beta release dates
, but it has been wrong
on occasion
. Because March 2 is not in line with earlier predictions,
BGR
could be off by a week, but we will certainly be seeing a public release of iOS 8.2 sometime during the first two weeks of March, even if the March 2 date is inaccurate.
Thus far, there have been
five iOS 8.2 betas
, with the last beta coming on Monday, February 2, suggesting either another beta or a public release is coming in the near future.
The site also says that it has learned from its sources that there may be as many as four betas of iOS 8.3. We have had
two iOS 8.3 betas
, so there could be two more beta updates before the software is provided to the public. That would put iOS 8.3 on track to launch in April. iOS 8.3 brings several new features to the operating system, most notably introducing a redesigned emoji picker and adding both
new emoji and emoji skin tone modifiers
.
Apple CEO Tim Cook on Friday made an unannounced visit to the iconic Apple Store in Covent Garden, a popular shopping and tourist location in London, according to
The Telegraph
. The chief executive also sat down for an interview with the British publication to discuss the Apple Watch, providing a few more interesting details about the device ahead of Apple's highly-anticipated
"Spring Forward" media event
on March 9.

Cook claimed that the Apple Watch will have several features that go beyond timekeeping and health and fitness, such as the ability to replace large car key fobs that come with most current vehicles. "This will be just like the iPhone: people wanted it and bought for a particular reason, perhaps for browsing, but then found out that they loved it for all sorts of other reasons," he said.
The chief executive told Apple retail employees at the Covent Garden store that the Apple Watch will be unlike any other product the company has ever sold before. "We've never sold anything as a company that people could try on before", said Cook. He added that "tweaking the experience in the store" will likely be a requirement when the wrist-worn device launches in April.
During his visit to the Covent Garden store, one retail employee asked Cook what his biggest accomplishment was in the past year. "I'm proud we stayed true to our North Star", replied Cook. "We are pro-privacy, pro-environment and pro-human rights." He added that the Covent Garden location is one of his favorite Apple Stores and praised the retail staff for being such a contributing factor to Apple's success.
Cook has been traveling on an international tour this week, making stops in Belgium, Germany and Israel over the past several days. The chief executive kicked off the week in Belgium to meet with the European Commission, visited the newsroom of popular German publication BILD on Tuesday and traveled to Israel on Wednesday to sit down with President Reuven Rivlin, committing to continued growth in the country.

Apple faces further legal action from Ericsson this week after refusing to accept a licensing deal for its patented LTE technologies, according to
The Wall Street Journal
. The Swedish networking company on Friday said it is suing Apple for infringing 41 wireless-related patents that it believes are critical to the functionality of products such as the iPhone and iPad.
"By refusing Ericsson's fair and reasonable licensing offer for patented technology used in Apple smartphones and tablets, Apple harms the entire market and reduces the incentive to share innovation," the company said in a statement.
Ericsson has filed two complaints with the U.S. International Trade Commission in an effort to secure an exclusion order against Apple, which could block the iPhone, iPad and other products involved from being sold in the United States. The company has also filed seven complaints with the U.S. District Court for the Eastern District of Texas as part of the negotiations. Apple's previous licensing deal with Ericsson expired in mid-January.
Apple originally filed suit against Ericsson on January 12, arguing that it was demanding excessive royalties for patents not essential to LTE standards. Ericsson countersued in a Texas courtroom just hours later, seeking an estimated $250 million to $750 million in royalties per year for Apple to continue licensing its patented wireless technologies. Ericsson is the world's largest provider of mobile network equipment and holds over 35,000 patents related to 2G, 3G and 4G wireless technologies.
Apple was ordered to pay Smartflash LLC a
$533 million settlement
earlier this week in a separate patent lawsuit.
Ahead of the Apple Watch's launch, accessory makers are already hoping to create solutions that will allow the device to be used with a wide array of existing watch bands.
Click
, for example, is an upcoming watchband adapter that will slide into the band slots of the Apple Watch, allowing the Apple Watch casing to be used with any existing 24mm watchband.
According to Click's creators, the adapter is a spring bar that will attach to a watchband, which will then fit into the Apple Watch's grooves, much like one of Apple's own watch bands. It appears to use the pin that comes with an existing watchband rather than shipping with one of its own.

Click takes advantage of the sliding and locking mechanism on both sides of the watch to hold the adapter in place just like one of Apple's watchbands. Click allows customers to truly personalize the Apple Watch to match their style and at a fraction of the cost of Apple's Watchbands.
Click is currently in the prototype stage with only 3D printed versions of the adapter available to show off, but the team behind Click is planning to introduce it via a crowdfunding campaign on Kickstarter in the next two weeks.

It's possible, however, that Click will never make it out of the prototype phase and into the hands of consumers. Click is not the first Apple Watch watchband adapter as it claims to be, but the second. Earlier this year, a designer introduced a crowdfunding campaign for another strap adapter designed for the Apple Watch. The campaign was shut down shortly after it launched, presumably by Apple, in an effort to prevent people from circumventing the specific design aesthetic the company has in mind for the Apple Watch.
Apple's distaste for adapters that will allow the Apple Watch to be used with any watch band is not surprising given the amount of work that went into developing the six custom bands for the Apple Watch: the Link Bracelet, the Sport Band, the Leather Loop, the Modern Buckle, the Classic Buckle, and the Milanese Loop. Jony Ive has
called the Apple Watch
"one of the most difficult projects" he's ever worked on, and in multiple interviews, he's detailed the extensive amount of time that the company put into design of the Apple Watch.

It's possible Apple will relax its stance on third-party Apple Watch bands and adapters in the future, and it's even likely that the company will form partnerships or design guidelines for those wishing to create bands for the device, but at this early stage, Apple likely wants to keep a tight rein on the bands the watch is worn with given its position as the company's first fashion accessory.

The U.S. Federal Communications Commission on Thursday
voted
in favor by a 3-to-2 decision to enforce net neutrality rules that it claims will help protect freedom of expression and innovation on the Internet, reports
Ars Technica
. The FCC ruling classifies broadband service as a utility and prevents Internet providers from blocking or throttling traffic or offering prioritized service through so-called Internet "fast lanes" for payment.
"The Internet is the most powerful and pervasive platform on the planet. It is simply too important to be left without rules and without a referee on the field," said FCC chairman Tom Wheeler. "Think about it. The Internet has replaced the functions of the telephone and the post office. The Internet has redefined commerce, and as the outpouring from four million Americans has demonstrated, the Internet is the ultimate vehicle for free expression. The Internet is simply too important to allow broadband providers to be the ones making the rules."
The ruling will reclassify fixed and mobile broadband as a telecommunications service, and Internet providers will be regulated under Title II of the Communications Act. The decision was heavily contested by Internet service providers such as AT&T, Comcast and Verizon, which could sue the FCC in an attempt to reverse the new rules. FCC officials believe that Type II reclassification will give them more legal authority to prevent net neutrality rules from being overturned.
While the new requirements are intended to ensure that the Internet remains fast, fair and open, the FCC did not follow through with last-mile unbundling that would have required Internet service providers to sell wholesale access to their networks. That decision would have allowed new competitors to enter local markets and sell broadband service using the existing infrastructure of larger providers such as Comcast and Time Warner Cable.
"But the FCC decided not to impose unbundling," adds Ars Technica. "As such, the vote does little to boost Internet service competition in cities or towns. But it's an attempt to prevent incumbent ISPs from using their market dominance to harm online providers, including those who offer services that compete against the broadband providers' voice and video services."
The FCC's order on Thursday could be faced with legal challenges and action from Congress, according to the report, suggesting that debate surrounding net neutrality is far from over. The new rules will go into effect 60 days after being published in the U.S. Federal Register, although the Office of Management and Budget will continue to manage enhancements to the transparency rule.
Note: Due to the political nature of the discussion regarding this topic, the discussion thread is located in our
Politics, Religion, Social Issues
forum. All forum members and site visitors are welcome to read and follow the thread, but posting is limited to forum members with at least 100 posts.
Following a short
beta testing period
, Apple's iCloud.com website has been updated to make its iWork suite of apps
accessible to all users
, even those without an Apple device.

As of today, anyone can sign up for an Apple ID to access
Pages
,
Numbers
, and
Keynote
for free. The software suite lets users create and edit text documents, presentations, and spreadsheets from their browsers. Signing up for a free Apple ID account entitles users to 1GB of complimentary iCloud storage to be used with the apps for storing documents.

Previously, access to Apple's iWork suite of apps was limited to users who owned an iOS device or a Mac, but with Apple's new web-only iCloud access, the company can draw new users to its platform and compete with more universal software offerings like Microsoft's Office Suite.
iCloud.com's web-only apps can be accessed from recent versions of Safari, Firefox, Chrome, and Internet Explorer. Free accounts are limited to 1GB of storage and users will need an iOS device or Mac to acquire more storage or access iCloud's full set of features.
Apple has not provided details on when the Apple Watch might begin shipping to customers beyond the broad "April" launch date
shared by CEO Tim Cook
, but new information provided to
MacRumors
suggests the Apple Watch could see a release more towards the beginning of April rather than the end of the month.
According to a reliable source that spoke with
MacRumors
, Apple is planning to begin moving Apple Watches to centralized distribution points in the U.S. during the first few days of the month, with an Apple Watch release possibly coming during the first full week of April, between April 6 and April 10.

A launch date around this time would see the Apple Watch shipping approximately one month after the company's
planned March 9 media event
, where it is expected to unveil new details about the Apple Watch. There are many details about the device that the company has kept under wraps, including its prospective battery life and full pricing details on the middle tier Apple Watch and higher-end Apple Watch Edition.
Apple will likely share a specific Apple Watch release date during the March 9 event, and we're also likely to find out whether the company will be accepting pre-orders. With an early April launch timeline, Apple could begin accepting pre-orders during the last week of March.
Apple
will be live streaming
its March 9 media event, and
MacRumors
will also be providing live coverage of the information the company unveils about the Apple Watch.