WWDC 2016: iOS 10, macOS Sierra, and More
Apple today
announced
financial results for the third fiscal quarter (second calendar quarter) of 2016. For the quarter, Apple posted revenue of $42.4 billion and net quarterly profit of $7.8 billion, or $1.42 per diluted share, compared to revenue of $49.6 billion and net quarterly profit of $10.7 billion, or $1.85 per diluted share, in the
year-ago quarter
. As
expected
, the results represent the second consecutive year-over-year declines in quarterly revenue and iPhone sales.
Gross margin for the quarter was 38 percent compared to 39.7 percent in the year-ago quarter, with international sales accounting for 63 percent of revenue. Apple also declared a quarterly dividend payment of $0.57 per share, payable on August 11 to shareholders of record as of August 8. The company currently holds $231.5 billion in cash and marketable securities, partially offset by $68.9 billion in long-term debt.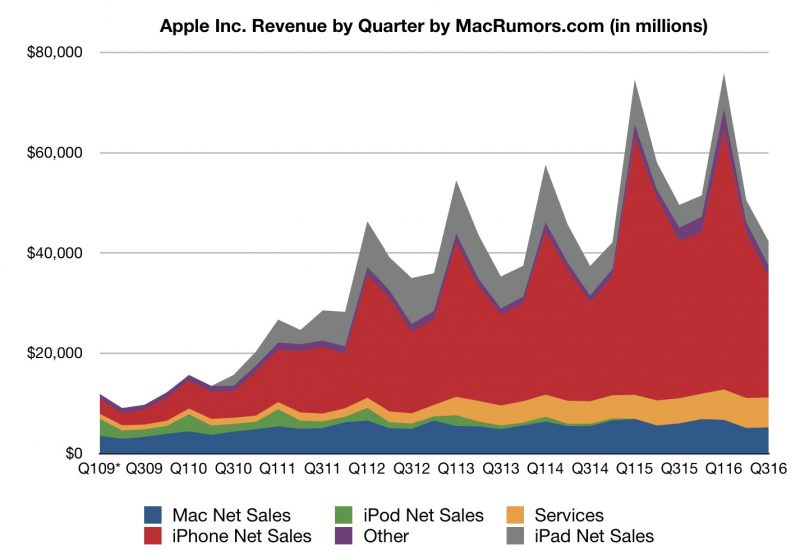 Apple sold 40.4 million iPhones during the quarter, down from 47.5 million a year earlier, while Mac sales were 4.25 million units, down from from 4.8 million units in the year-ago quarter. iPad sales were also down once again, falling to 9.95 million from 10.9 million.
"We are pleased to report third quarter results that reflect stronger customer demand and business performance than we anticipated at the start of the quarter," said Tim Cook, Apple's CEO. "We had a very successful launch of iPhone SE and we're thrilled by customers' and developers' response to software and services we previewed at WWDC in June."
Apple's guidance for the fourth quarter of fiscal 2016 includes expected revenue of $45.5–47.5 billion and gross margin between 37.5 and 38 percent.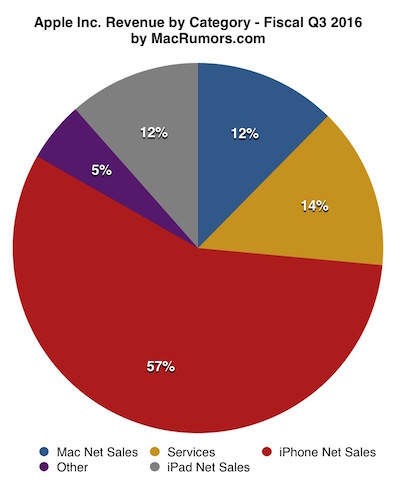 Apple will
provide live streaming
of its fiscal Q3 2016 financial results conference call at 2:00 PM Pacific, and
MacRumors
will update this story with coverage of the conference call highlights.
Conference call starts at 2:00 PM Pacific - No need to refresh

Loading live updates...
Apple's
iPhone 7
may not include a physical home button, instead adopting a touch-sensitive "
3D Touch
" home button, reports
Mac Otakara
[
Google Translate
]. Such a home button would be flush with the body of the iPhone and would not actually depress when a finger is placed on it.
Instead, when a user presses on the home button, haptic feedback will mimic a press, much like the Force Touch trackpad on Apple's most recent MacBooks. Through haptic feedback, iPhone users will feel the sensation of pressing on a button even though there's no actual button to press.

Mac Otakara
's report refers back to an April home button rumor from
Stormmedia
and confirms its veracity, citing unspecified supply chain sources and saying there's a "high possibility" the rumor is accurate. We've heard the same home button rumor from
DigiTimes
and analysts at
Cowen and Company
. While none of these sources have track records accurate enough to unquestioningly say the rumor is true, the fact that it's a rumor we've heard multiple times now suggests it could be accurate.
A flush home button, when
combined with rumors
of improved waterproofing and the removal of the headphone jack, makes some sense. Without a physical button, there would be no way for water to get into the internals of the phone around the button, and it would also potentially improve the reliability of the
Touch ID
system.
Based on leaked part images and dummies, the removal of the home button will not drastically change the look of the iPhone 7.
Should Apple remove the physical home button in favor of a Force Touch or 3D Touch home button in the iPhone 7, the company will be one step closer to eliminating the home button entirely, something that's
rumored for the 2017 iPhone
.
Apple has purchased an unscripted television series based on the highly popular "Carpool Karaoke" segment from "The Late Late Show With James Corden," reports
Variety
. The upcoming television show will be distributed via
Apple Music
and is said to be seen as a way to "drive online activity" for the streaming music service.
It is not clear how closely the "Carpool Karaoke" show Apple has purchased will mirror the segment popularized by Corden. On The Late Late Show, Corden drives around and sings hit songs with celebrities and public figures that have included Michelle Obama, Selena Gomez, The Red Hot Chili Peppers, Demi Lovato, Gwen Stefani, and more.
Apple has licensed 16 episodes of the show from CBS TV Studios, which will be executive produced by Corden and Ben Winston.
According to
Variety
, the Carpool Karaoke show sparked a bidding war between multiple cable and subscription video outlets due to its success on The Late Late Show. Apple's
Eddy Cue
called the upcoming show the "perfect fit" for the Apple Music service.
"We love music, and 'Carpool Karaoke' celebrates it in a fun and unique way that is a hit with audiences of all ages," said Eddy Cue, Apple's senior vice president of Internet software and services. "It's a perfect fit for Apple Music -- bringing subscribers exclusive access to their favorite artists and celebrities who come along for the ride."
Apple has been making its first steps into original television programming as a way to promote its growing services segment. In addition to Carpool Karaoke, Apple is also working on "
Vital Signs
," a dark semi-autobiographical drama starring Dr. Dre, which will also be used to promote Apple Music. "
Planet of the Apps
," another TV show in the works, will serve to promote the
App Store
with stories about apps and the developers who make them.
In
a recent interview
, Apple iTunes chief Eddy Cue said Apple is "not trying to create original TV shows" to become a Netflix or Amazon Video competitor, but will "help" producers on projects that are designed to promote its existing products.
Apple is planning to unveil the second-generation
Apple Watch
in September or October, according to a new report from
DigiTimes
citing supply chain sources in a wider piece on weakening demand for tablets and wearables.
Component makers and Apple suppliers are said to be seeing "rather conservative orders" for the new Apple Watch despite its upcoming release date, information that directly conflicts with
a June DigiTimes report
that pointed towards "higher-than-expected" orders. Given the confusion over the second-generation Apple Watch in the supply chain,
DigiTimes
' information does not offer a clear picture of the demand Apple expects to see for the device.

Rumors suggest the second-generation Apple Watch will see under-the-hood spec improvements and perhaps
some minor form factor tweaks
, but major changes to the device are not expected to be unveiled this year. Improved battery life, a faster processor, and
built-in cellular capabilities
are all features we could see in a new Apple Watch.
While we can't glean anything about supply from
DigiTimes
, the September or October timeframe is in line with past rumors. Previous information suggests Apple is perhaps planning to unveil a new Apple Watch alongside new iPhones, and new iPhone models are typically announced in September.
According to a
recent rumor
, the
iPhone 7
and iPhone 7 Plus will be released on Friday, September 16, and if that's the correct launch date for the iPhone 7, we can likely expect to see the Apple Watch released on the same day. With a September 16 launch date, an unveiling event could potentially take place during the week of September 5th.
Apple today will release its fiscal
third quarter earnings results
, reflecting a three-month period that ended in late June, and the consensus among analysts is that the company will report a
second consecutive decline
in iPhone sales and overall revenue. That same scenario played out last quarter
for the first time since 2003
.

In fact, some analysts have forecasted that iPhone sales may be as low as 38 million to 40 million units, a decline of up to 20 percent compared to the year-ago quarter. If the estimates prove to be accurate, it would mark Apple's
worst quarter of iPhone growth ever
in the smartphone's nine-year history.
Apple itself
provided guidance
of between $41 billion and $43 billion in revenue, which would be up to 18 percent lower than the $49.6 billion in revenue it posted in the year-ago quarter. Wall Street expects revenue to be around the
$42.1 billion mark
, with
earnings of $1.39 a share
-- one analyst has
EPS as low as $1.35
.

iPhone accounts for around two-thirds of Apple's revenue, and an even greater portion of its profits, so the device's recent slide is concerning for investors -- reflected in the price of Apple shares, down around 21 percent from a 52-week high of $123.91. The good news for Apple is that many analysts believe it will
"bottom out" in the June quarter
and return to iPhone and revenue growth by the 2017 fiscal year.
But, until then, the bleeding is expected to continue. iPad sales are forecasted to decline for a tenth consecutive quarter, while market research firm IDC's estimated
Apple Watch sales of 1.6 million
in the June quarter would be 55 percent lower than the year-ago launch quarter. Mac sales are also projected to decline by up to 10 percent as buyers await a 2016
MacBook Pro
and other new models.
As emphasized by Apple CEO
Tim Cook
, the recent decline in Apple's hardware sales has been offset by growth in the company's expanding services category, including the likes of
Apple Music
,
Apple Pay
,
AppleCare
, and licensing. That trend looks set to continue, as Above Avalon analyst Neil Cybart forecasts service revenue was $6.1 billion in the June quarter for 20 percent year-over-year growth.
Beyond the third quarter, attention has turned to tempered expectations surrounding the upcoming
iPhone 7
. The consensus among analysts is that a perceived lack of new features coming to the next-generation smartphone could result in a "mega upgrade cycle" for the so-called
iPhone 8
rumored for 2017. Next year's model is already rumored to feature a new design with an
OLED display and glass casing
.
Apple will publish its third quarter earnings report at 1:30 p.m. Pacific Time (4:30 p.m. Eastern Time), and we will share the results shortly thereafter.
MacRumors
will then provide live coverage of the ensuing conference call with Cook and Apple CFO Luca Maestri at 2:00 p.m. Pacific Time (5:00 p.m. Eastern Time).
The US
National Institute for Standards and Technology
has released a
new draft
of its Digital Authentication Guideline, which sets the rules that all authentication software eventually follows. In the document, NIST deprecates the implementation of SMS as a method with which users validate a second level of security on various accounts, "no longer" allowing its use in future guidelines as it is considered not secure enough (via
TechCrunch
).

Two-factor authentication via SMS (left) and an alternative trusted iOS device (right)
Setting up two-factor authentication through text messages is one of the most popular ways users add another layer of security onto an account, on top of a basic password, including those for Apple's own software, like Apple ID and
iCloud
. Other than SMS, Apple allows users to implement two-factor authentication through a simple push notification sent to another "
trusted device
," or a phone call.
If the out of band verification is to be made using a SMS message on a public mobile telephone network, the verifier SHALL verify that the pre-registered telephone number being used is actually associated with a mobile network and not with a VoIP (or other software-based) service. It then sends the SMS message to the pre-registered telephone number. Changing the pre-registered telephone number SHALL NOT be possible without two-factor authentication at the time of the change. OOB using SMS is deprecated, and will no longer be allowed in future releases of this guidance.
The new guidelines also make a point for companies to ensure that two-factor authentication notifications aren't going through a VoIP service, which could be easily compromised. NIST also includes "limited use" of biometrics as a way for users to gain access to their second layer of authentication, meaning Apple could pivot to
Touch ID
as an alternative if SMS support for the security feature officially comes to an end.

In
iOS 10
, Apple plans to make some changes to the way videos are handled, putting a stop to irritating autoplay videos and offering improvements to animated GIFs. The changes will come in the form of updated policies for "video" elements, as outlined today by Apple software engineer Jer Noble
on the Webkit blog
As iOS 8 and
iOS 9
users know, an animated GIF encoded using "video" tags requires users to tap on the GIF to play it as a video would play, creating a frustrating user experience. When viewing such a GIF, it's currently necessary to load the image, tap it to play, and wait for it to be displayed full screen. In iOS 10, the user experience is being simplified.
Going forward, Webkit will allow videos with no audio element or a muted audio element to honor autoplay attributes, so GIFs and videos in this format will no longer require a tap to play automatically. Videos that use the "video playsinline" element will also be able to play inline without the need to enter fullscreen mode.
At the same time, videos that do have an audio element will be automatically paused and will require a user gesture to play, cutting down on irritating advertisements and other spam-type videos. Autoplay video elements will play only when on screen and will pause whenever they are not visible, which will help to preserve battery life.
Starting in iOS 10, WebKit relaxes its inline and autoplay policies to make these presentations possible, but still keeps in mind sites' bandwidth and users' batteries. [...]

We believe that these new policies really make video a much more useful tool for designing modern, compelling websites without taxing users bandwidth or batteries.
GIFs that use the video element have smaller file sizes and thus use less bandwidth and less energy, making them an appealing alternative to the GIF format. Displaying GIFs this way is growing in popularity, and iOS users will no longer have a subpar viewing GIF experience on popular sites like Imgur. The full Webkit video policies and use case examples are available through the
Webkit blog post
.
The changes to Safari will be implemented as part of iOS 10, currently available to developers and public beta testers. iOS 10 will see a release this fall, likely alongside new iOS devices.
Apple is working on iPhones with iris scanning capabilities that could debut in 2018, reports
DigiTimes
in a wider piece about increasing interest in advanced biometric functionality in smartphones.
Iris scanning would
potentially be used in place of Touch ID
as a way to verify a user's identity, performing functions like making payments and unlocking an iOS device. Each person's iris, or the circular colored muscle of the eye, contains a complex and random pattern that is unique to each individual.

An iris recognition machine at the Schiphol Airport
Apple has been rumored to be
looking into iris scanning
in the past and it is a technology that is gaining interest in the smartphone arena. Samsung is said to be planning to debut its iris recognition technology as soon as next month with the introduction of the
Galaxy Note 7
.
Current
iris scanning implementations
have some notable benefits over
Touch ID
, including no need for direct contact to unlock a device and faster unlock speeds, but there are also drawbacks such as poor functionality in low lighting and issues with performance following alcohol consumption and eye surgery.
DigiTimes
is not always a reliable source of information, so the rumor should be viewed with some skepticism until confirmed, but KGI Securities analyst
Ming-Chi Kuo
also believes Apple is planning on
introducing new biometric features
in a future iPhone, which could include either facial or iris scanning. Kuo's rumor pertained to the 2017 iPhone, but it's always possible such an advanced feature won't be ready to debut until a later date.
There are no rumors about the 2018 iPhone as of yet, but it will follow the 2017 iPhone, which is rumored to feature radical design changes in the form of an edge-to-edge OLED display with no home button and a camera and Touch ID sensor that are integrated into the screen. Wireless charging, a faster A11 processor, and a fully glass body like the iPhone 4 are also possibilities for the device and will likely also be seen in the follow-up 2018 iPhone.

Apple has appointed former longtime executive
Bob Mansfield
, who last served as Senior Vice President of Technologies at the company, to oversee development of its widely rumored electric vehicle, according to
The Wall Street Journal
. All senior managers on the project now report to him.
Apple announced that Mansfield was
retiring in June 2012
, but a few months later said he would
remain with the company
as an advisor. He last
worked on Apple's "Special Projects" team
, reporting directly to CEO
Tim Cook
, and has made regular appearances on campus despite stepping down from day-to-day work four years ago.
Until recently, Mr. Mansfield—who, along with design chief Jony Ive, was one of the few executives to appear in Apple's carefully-crafted product announcement videos—had all but retreated from the company aside from the occasional visit, these people said. Earlier this month, employees at Apple noticed in the company directory that all the senior managers on the car project were now reporting to Mr. Mansfield, they said.
Apple has reportedly recruited
hundreds of engineers
from the likes of Tesla, Ford, GM, and elsewhere to work on the so-called
Apple Car
, codenamed "Project Titan" internally. The electric vehicle could be street-ready between
2019
and
2021
according to various reports, with R&D based in Sunnyvale, California. Many question marks remain about the extent of the vehicle's design, autonomous capabilities, and other features.
Mansfield joined Apple in 1999 and has been instrumental in the company's recent success, overseeing the development of past
MacBook Air
, iPhone, and iPad designs. Under the Special Projects team, he also played a role behind the
Apple Watch
. His decision to remain at Apple in 2012 was influenced by both a
generous compensation package
and
former iOS chief Scott Forstall's departure
.
Mansfield is highly-regarded and many at Apple believe that if anyone can help bring the car to market, it's him. https://t.co/PMNQqmhsPY

— Daisuke Wakabayashi (@daiwaka) July 25, 2016
Project Titan as a whole was previously under Dan Riccio, Senior Vice President of Hardware Engineering,
according to Rene Ritchie
. Steve Zadesky, who held a senior role at Apple related to the electric vehicle project since 2014,
left the company
earlier this year for personal reasons. Zadesky reported to Riccio until his departure, as the leader of one of multiple teams working on the electric vehicle.
Apple will report its fiscal
third quarter earnings results
tomorrow, and both the company and analysts project a year-over-year decline in iPhone sales and overall revenue for a
second consecutive quarter
.

Apple expects third quarter revenue of between $41 billion and $43 billion, which would be up to 18 percent lower than the $49.6 billion in revenue it posted in the year-ago quarter. The consensus among analysts is
around $42.1 billion
in revenue, which is essentially the midpoint of Apple's guidance.
Analysts estimate that Apple sold at least another 40 million iPhones during the June quarter, raising lifetime sales of the smartphone to some 987 million. Applying that sales rate to July -- just over 13 million iPhones per month -- it is likely that Apple will have
sold its billionth iPhone
between now and the end of this month.

The milestone comes at a time when iPhone sales are on the decline for the first time since the smartphone launched in 2007, an arguably inevitable lull following the smash-hit success of the larger-screened
iPhone 6
series. The decline has affected Apple shares, which are down around 21 percent from a 52-week high of $123.91.
Nevertheless, many Wall Street firms expect iPhone growth to resume in 2017. The good news could extend to Apple's stock, as
The Wall Street Journal
yesterday
reported
that its "shares have been punished more than enough" and are due for a rally. It said the decline in iPhone sales "appears priced in."
Still, Apple has been punished more than enough. The iPhone slump appears priced in. And while the next iPhone, expected later this year, likely won't be a significant upgrade, there is optimism that sales growth will soon bounce back. Analysts forecast iPhone unit sales will rise 5% for fiscal 2017, which ends next September.
After briefly
touching the $100 mark
last week for the first time since early June, Apple shares are currently trading around the $98 mark, a price that some analysts feel undervalues the company.
Apple analyst Brian White of Drexel Hamilton reiterated his "buy" rating for AAPL today, based on a projected price target of $185. UBS analyst Steven Milunovich also issued a "buy" rating today with a 12-month price target of $115.
Apple is expected to introduce a wide range of new products in the second half of 2016 that could further raise its stock price, including the
iPhone 7
,
Apple Watch 2
, and long-awaited 2016
MacBook Pro
.
Apple's third quarter earnings results will be released at 1:30 p.m. Pacific Time, followed by a conference call with CEO
Tim Cook
and CFO Luca Maestri at 2:00 p.m. Pacific Time.
MacRumors
will be providing live coverage of the news.
Update:
BGC analyst Collin Gillis has, to the contrary,
downgraded AAPL to a "sell"
with a lower price target of $85. Apple shares are down nearly 1 percent in intraday trading, now hovering closer to the $97 mark.
Amidst the recent flurry of videos and images of
iPhone 7
mockups coming out of China, one pair of pictures that emerged over the weekend claims to offer evidence of Apple's successor to the first iteration 12.9-inch
iPad Pro
.
Sent in to
AppleInsider
and said to originate from a Chinese supplier, the combined image below shows a device identified with model number MH1C2CD/F, which has yet to be assigned to an iPad by Apple so far.

While the identifier proves little, the nomenclature is in line with Apple's existing numbering convention for its iPad Pro range, and Apple is due to refresh its largest tablet this fall.
AppleInsider
notes that the device's screen shows a 12GB capacity, which is just enough for installing an OS and apps for internal testing and debugging, suggesting the device could be a pre-production model or prototype.
Based on previous updates to the company's tablet range, customers can expect a new 12.9-inch iPad Pro to feature a faster A10X processor and a better camera, with a good chance it will inherit the True Tone display seen in the 9.7-inch iPad Pro.
3D Touch
is also a possibility, although Apple would need to have overcome the
challenges involved
in porting the technology to a larger screen.
Apple is also expected to launch
thinner and lighter
MacBook Pro
models this fall, with some rumors suggesting a
dynamic OLED touch panel
could feature as part of a planned redesign.
Ford has
announced
that its SYNC 3 infotainment system, which includes
CarPlay
and Android Auto, is now available across its entire 2017 lineup of cars, SUVs, light trucks, and electric vehicles in the United States.

The expansion brings CarPlay to already-released 2017 models such as the Fusion, Mustang, and Explorer, while other models like the 2017 F-150, Focus, Edge, and Super Duty will arrive at U.S. dealerships later this year.
Ford confirmed in January that it would be
adding CarPlay and Android Auto
to all of its 2017 vehicles in North America equipped with BlackBerry's QNX-based SYNC 3 platform, starting with the
2017 Escape in May
.
Ford has also added Spotify, Pandora, Ford PASS, AccuWeather, and AAA member services to SYNC AppLink.

In December, Ford
retroactively added
Siri
Eyes Free support to 5 million 2011-2016 vehicles through a SYNC 3.8 software update. The automaker says more than 15 million SYNC-equipped vehicles are on the road worldwide today, although that figure likely includes older SYNC platforms incompatible with CarPlay and Android Auto.
Ford is also adding CarPlay and Android Auto to its 2016 vehicles equipped with SYNC 3 this year.
CarPlay brings Maps, Phone, Messages, Music, Podcasts, and a number of third-party apps, such as Spotify, to a vehicle's dashboard. Apple's in-car software platform can be controlled with Siri and your vehicle's built-in controls for convenient access to common iPhone features. It is compatible with iPhone 5 and later models.
CarPlay widely launched in the second half of 2015, and the rollout has extended to several large automakers this year, including
Chrysler, Dodge, and Jeep
;
BMW and Nissan
; and
Hyundai
and
Kia
. CarPlay is now available in
over 100 new 2016 and 2017 models
, while two notable holdouts include
Toyota
and Mazda.