Apple today updated its support site
with a brand new look
and new ways for users to interact with it. The new site is broken into several different blocks, with most of the attention going to three different ways users can get help.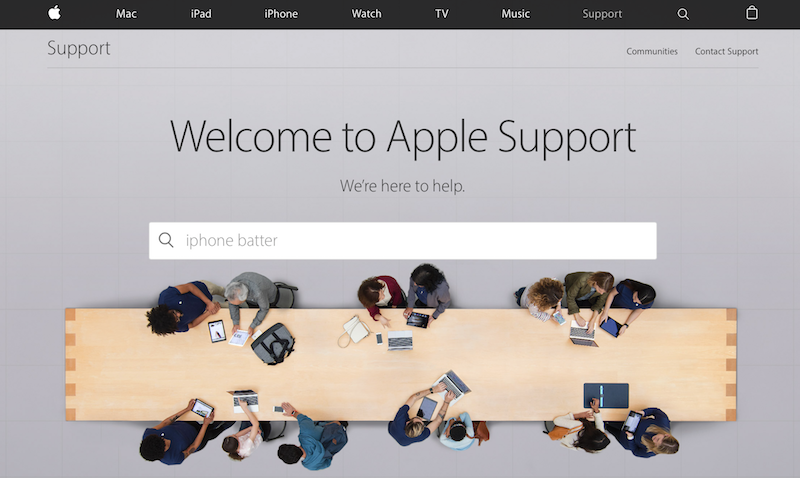 The first block is dedicated to a search bar that provides Quick Links, which allow users to get the answers they're looking for while they're searching rather than having to wait for a results page. The second block allows users to find support by choosing the device they need help with and the third block features "Popular Topics," like how to manage an Apple ID or photos.
The next set of blocks let users know they can seek help from other Apple users at the Apple Support Communities, check warranty and repair status and how to contact Apple Support. The final two blocks are dedicated to promoting Apple Workshops in retail stores and list out recall and replacement programs. The site's new design is also compatible with mobile browsers.
Our reimagined & redesigned site is live. See it for yourself today. https://t.co/6By6G4zBum pic.twitter.com/V9iSUm2Cqx

— Apple Support (@AppleSupport) April 29, 2016
In recent months, Apple has worked to make it easier for its customers to seek help from the company about its products. Last month, Apple launched the
Apple Support
Twitter account, which quickly
gained momentum
after its genesis and was responding to nearly 100 tweets per hour.
Well-known designer brand Coach is reportedly working on a line of high-quality
Apple Watch
bands, which could debut as soon as June. According to
Haute Écriture
's David Boglin de Bautista, a sales associate at a Coach boutique informed him of the upcoming release after seeing his Apple Watch and showed him pictures of the bands.
Coach is said to be debuting around eight watch bands, in colors that include white, red, black, and brown. Some bands are decorated with charms, while others have patterns like flowers stitched into them, with each band set to retail for approximately $150.

The bands are designed to match Coach handbags from its Spring/Summer 2016 Collection, and according to de Bautista, one band was stitched with flowers to match Coach's
Tea Rose Appliqué bag
.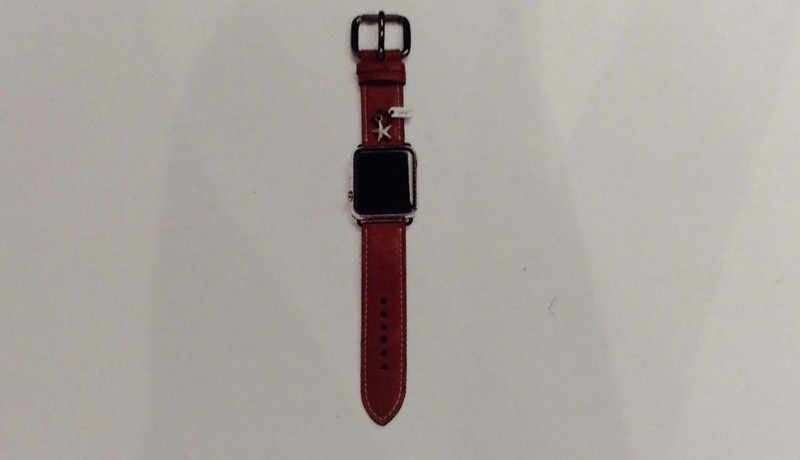 It is not clear if Coach is teaming up with Apple or releasing the bands independently. Apple has partnered with Hermès to launch a line of Apple Watch models with Hermès bands and a unique watch face, but Coach may be working independently.
A few other designers, including
Rebecca Minkoff
and
Colette
have released Apple Watch bands without Apple's assistance, Minkoff in partnership with Case-Mate and Colette in partnership with Casetify.
Apple executive
Phil Schiller
gave Apple users a grammar lesson on Twitter yesterday afternoon, explaining that it isn't necessary to pluralize Apple product names.
Schiller's instructions came after a discussion on pluralizing "
iPad Pro
" between Andreessen Horowitz partner Benedict Evans and iMore analyst Michael Gartenberg. Evans referred to more than one iPad Pro as "iPads Pro," while Gartenberg said "iPad Pros."

Schiller clarified that neither approach was correct. The proper way to refer to more than one iPad Pro is to call them "iPad Pro devices."
@Gartenberg @BenedictEvans @stevesi @macintux One need never pluralize Apple product names. Ex: Mr. Evans used two iPad Pro devices.

— Philip Schiller (@pschiller) April 28, 2016
He went on to further state that it would be correct to say "I have 3 Macintosh," or "I have 4 Macintosh computers" when referring to more than one Mac. "Words can be both singular and plural, such as deer and clothes," he explained. By that logic, more than one iPhone would need to be referred to as iPhone devices or iPhone models rather than "iPhones."
As
Business Insider
points out, Apple sometimes breaks its own naming rules. In press releases, the company has
made mention
of "iPhones" in the plural form.
Fiat Chrysler Automobiles (FCA) has
released
a free
software update
that enables owners of properly equipped 2013-2015 Chrysler, Dodge, Jeep, and Ram vehicles to add
Siri
Eyes Free capability to the Uconnect 8.4 system.

The new software update is available in nearly 2 million vehicles equipped with a Uconnect 8.4 touchscreen system:
- 2013-2015 Ram 1500, 2500, 3500
- 2013-2015 Dodge Viper
- 2014-2015 Dodge Durango
- 2015 Dodge Challenger and Charger
- 2014-2015 Jeep Cherokee and Grand Cherokee
- 2015 Jeep Renegade
- 2015 Chrysler 200 and 300
Siri Eyes Free is also supported on 2016 Chrysler, Dodge, Jeep, Ram, and Fiat vehicles with properly equipped Uconnect 8.4 or 6.5 systems. FCA previously announced that
Uconnect will support
CarPlay
in compatible 2016 vehicles later this year.
After entering a 17-digit Vehicle Identification Number (VIN) on the
Uconnect website
, owners of the eligible vehicles can download the update to a USB drive and then
install it on their Uconnect system
, a process that takes about 30-45 minutes.
Siri Eyes Free, compatible with iPhone 4s or later, is designed to help minimize driver distraction by using Siri voice recognition and spoken responses to allow drivers to interact with an iPhone without needing to look at the in-dash screen.
Drivers can activate Siri Eyes Free by pushing and holding the voice recognition button on the steering wheel to, for example, place phone calls, send text messages, play music, set reminders, set calendar entries, access turn-by-turn directions, and more, while keeping their eyes on the road ahead.
Ford also equipped nearly
five million 2011 and newer vehicles
with Siri Eyes Free with a SYNC software update in December 2015.

Billionaire Carl Icahn, who has been buying large amounts of Apple stock over the past three years, today told
CBNC
that he sold his stake in the company.
"We no longer have a position in Apple," Icahn told CNBC's "Power Lunch" on Thursday, noting Apple is a "great company" and CEO Tim Cook is "doing a great job."
Icahn, who sold his shares earlier this year, said that he did so based on worries over China's attitude towards Apple. Earlier this month, the Chinese State Administration of Press, Publication, Radio, Film and Television forced Apple to take down the iTunes Movies and
iBooks
stores, and Chinese officials believe that Apple is "too deeply established" in core industries in the country.
Apple sales also fell 26 percent in greater China in the second quarter of 2016.
"You worry a little bit -- and maybe more than a little -- about China's attitude," Icahn said, later adding that China's government could "come in and make it very difficult for Apple to sell there... you can do pretty much what you want there."

He added, though, that if China "was basically steadied," he would buy back into Apple.
Prior to exiting his position, Icahn held 0.8 percent of outstanding shares. He told
CNBC
that he made approximately $2 billion on Apple and that he continues to view the stock as "cheap."
Apple shares have been on the decline since Tuesday's earnings call, where the company announced its first ever drop in iPhone sales and its first year-over-year revenue drop in 13 years. Apple stock is down approximately 2 percent today.
With the launch of
iOS 9.3
, Apple introduced a
new Apple Music API
, which is today being promoted through Apple's Affiliate Program Newsletter. The
Apple Music
API gives developers the resources to expand Apple Music functionality in their apps, through the following features:
- Developers can see if a user is currently a member
- Developers can see which country the users account is based
- Developers can queue up the next song or songs based on a song ID for playback
- Developers can inspect playlists already in My Music or create a new playlists with a title and description (see
App Store
Review Guidelines for limitation)
The iOS 9.3 Apple Music API has already been built into several music-related apps,
such as Shazam
. The API is what enables Shazam and other music apps to do things like add songs to Apple Music playlists from directly within the Shazam app.

As noted by
MacStories
, Apple has also launched a new
Apple Music Best Practices
webpage for app developers and expanded
App Store Review Guidelines
for Apple Music. According to Apple's guidelines, apps using the Apple Music API are subject to the following restrictions:
- Apps using the Apple Music API that trigger playback without explicit user action will be rejected
- Apps using the Apple Music API must expose and respect standard media controls such as "play," pause," and "skip"
- Apps using the Apple Music API may not require payment or otherwise monetize access to the Apple Music service (e.g. in-app purchase, advertising, requesting user info)
Apple's developer page on Apple Music also includes technical documentation on using the new Apple Music APIs, a link to the
Apple Music Toolbox
for finding embeddable widgets, and guidelines on how to refer to Apple Music and portray the Apple Music service within apps.

Fiat Chrysler Automobiles is in the late stage of talks with Google parent company Alphabet Inc. about an industry partnership involving self-driving car technology, according to automotive blog
Autoextremist
and
The Wall Street Journal
.
Moreover, Fiat Chrysler CEO Sergio Marchionne has reportedly indicated that he is open to working with a tech giant, including Alphabet or Apple, in order to build more scale and help offset automotive-related production and development costs.
On the contrary, Volkswagen CEO Matthias Mueller said that its ongoing discussions with potential partners to start new digital mobility businesses do not involve Apple or Alphabet, as reported by
Reuters
.
The negotiations follow multiple reports that claim Apple is actively
researching and developing an electric vehicle
that could enter mass production
by 2019 at the earliest
. The so-called "
Apple Car
" team, known as "
Project Titan
" internally, is believed to include hundreds of employees that previously worked at
Ford, General Motors
,
Land Rover
,
Tesla Motors
,
Texas Instruments
, and elsewhere.
Apple also reportedly failed to reach manufacturing partnerships with
Daimler and BMW
.

The
latest data
from research firm Strategy Analytics reveals that
Apple Watch
sales totaled an estimated 2.2 million in the first quarter.
Apple Watch remains the most popular smartwatch, but its market share declined to 52.4-percent compared to 63-percent in the previous quarter.
Strategy Analytics cites increasing competition from Android Wear rivals such as LG and Motorola as one reason for the Apple Watch ceding market share:
"We estimate Apple Watch shipped 2.2 million units and captured 52 percent smartwatch marketshare worldwide in Q1 2016, dipping from 63 percent share in Q4 2015," said Neil Mawston, Executive Director at Strategy Analytics. "Samsung shipped 0.6 million smartwatches, capturing 14 percent marketshare worldwide for second position. Apple Watch and Samsung Gear models are expanding fast across dozens of countries, but competition from LG, Motorola and others is ramping up fast."
Nevertheless, Apple still maintains a comfortable lead in the smartwatch market, with its wrist-worn sales outpacing all other competitors combined. Samsung trailed in second place with only 600,000 shipments, for instance, while all other vendors shipped a combined 1.4 million units in the quarter.

Global smartwatch shipments grew 223-percent annually to reach 4.2 million units in the first quarter of 2016, up from 1.3 million in the year-ago quarter, according to Strategy Analytics. Growth was driven by demand for Apple, Android Wear, and Tizen models across North America, Western Europe, and Asia.
Apple does not disclose Watch sales in its quarterly earning results, instead grouping the device under its Other Products category alongside iPods,
Apple TV
s, Beats Electronics, and accessories. Strategy Analytics estimates, however, place total Apple Watch sales at nearly 16 million since its April 2015 launch.
Strategy Analytics estimated that Apple Watch sales totaled 4 million during its launch quarter, allowing it to capture an
impressive 75.5-percent market share
, followed by estimated sales of
4.5 million in the third quarter
. By the fourth quarter, encompassing the busy holiday shopping season, the firm said Apple Watch market share had dropped to 63-percent based on
5.1 million sales
.
On April 24, the Apple Watch celebrated its one-year anniversary in the U.S. and other first wave launch countries. Many consumers are now anxiously anticipating the
Apple Watch 2
, which is expected to debut in the
second
half
of 2016 and could feature a
FaceTime camera, expanded Wi-Fi abilities
, and
cellular connectivity
. New bands, finishes, and models are always a possibility as well.
Apple's new CareKit iOS framework goes live today, allowing app developers to create integrated software that helps patients and doctors to better track and manage medical conditions.
The open source platform was
announced last month
and aims to make it easer for developers to build health apps by offering a number of integrations, such as monitoring of medical symptoms, sending images of an injury, and keeping tabs on medication schedules. CareKit also offers two-way benefits, since it not only helps doctors monitor patients but also allows patients to observe their progress over time.

CareKit is made up of series of interactive modules. The Care Card can be configured to manage wellness tasks such as medication scheduling and exercise, while the Progress Card includes a Symptom and Measurement tracker for logging physical metrics like weight and heart-rate (with the potential for
Apple Watch
integration). The Connect module meanwhile lets users share their health data with medical professionals and family members, and can be viewed in tandem with Progress Card data in the Insight Dashboard module.
TechCrunch
reports that the launch is limited to support for four iPhone apps at present:
Glow Nurture
fertility tracker,
Glow Baby
maternity app, diabetes monitor
One Drop
, and depression medication tracker
Start
. CareKit is compatible with existing healthcare record systems such as Epic and should be available on GitHub later today.
Apple's other open source framework ResearchKit was
made available to developers
in April 2015, enabling them to create their own iPhone apps for medical research purposes. The framework has led to some significant gains in epilepsy and asthma research since its adoption among medical professionals and contributing patients.
Apple today updated its
Apple Pay website in Australia
to note that
Apple Pay
now supports
credit and debit cards from the
Australia and New Zealand Banking Group
(aka ANZ).
The ANZ website has also been updated with a
new Apple Pay webpage
and a report from
Reuters
confirms the partnership. ANZ card holders in Australia are able to add their cards to Apple Pay, which has been confirmed by a
MacRumors
reader.

According to the
ANZ website
, many Visa and American Express cards are supported, including the ANZ Rewards Platinum Card, the ANZ Access Advantage with Visa Debit, and the ANZ Business Advantage wth Visa Debit, but MasterCard, ANZ Access, and ANZ Corporate cards are not supported.
Prior to today, Apple Pay was only available in Australia through a partnership with American Express, limiting it to American Express cardholders. Apple Pay has been slow to roll out in the country as rumors have suggested Apple has had trouble
negotiating fees with banks
. Apple Pay also has to compete with the New Payments Platform being pushed by the Reserve Bank of Australia, the country's central banking authority.
ANZ is one of the four major banks in Australia alongside Commonwealth Bank (CBA), Westpac (WBC), and National Australia Bank (NAB). According to Apple Pay vice president Jennifer Bailey, Apple is still in talks with the remaining three banks about further expansion of Apple Pay in the country.
Apple Pay is available in the United States, the UK, China, Australia, Canada, and Singapore, with Apple Pay support being limited to American Express users in the latter two countries. Apple Pay will soon be expanding to Hong Kong and Spain under the American Express partnership, and in the near future, Apple will be introducing Apple Pay support for additional banks and credit cards in Singapore.
During yesterday's Q2 2016 earnings call, Apple CEO
Tim Cook
said Apple Pay is growing at a "tremendous rate" with transaction volume up 5X compared to a year ago. Apple Pay is gaining one million new users per week and is available at more than 10 million locations worldwide.
(Thanks, David!)
Schematics featuring the dual-camera 5.5-inch
iPhone 7
Plus or "Pro" that's set to launch in the fall of 2016 have been published in the June issue of Japanese magazine
MacFan
, reiterating many of the design details that have been previously rumored for the device.
Japanese site
Mac Otakara
has shared images taken from
MacFan
, which seemingly confirm rumors that the iPhone 7 and iPhone 7 Plus will use largely the same design as the
iPhone 6s
and 6s Plus.
The schematic focuses solely on the 5.5-inch model, which
MacFan
says will measure in at 158.22mm x 77.94mm x 7.3mm, identical to the dimensions of the
iPhone 6
s Plus.

While this agrees with a previous
Mac Otakara
rumor suggesting the iPhone 7 and 7 Plus
will not be significantly thinner
, it does disagree with other rumors (including one
from Ming-Chi Kuo
) that have pointed towards a thinner chassis that approaches the thinness of the 6.1mm
iPod touch
. While it is not yet clear which design rumor will prevail, the most recent rumors are converging around a thicker body.
Also depicted in the schematic is the dual camera setup that's rumored for the 5.5-inch iPhone 7 Plus, a
Smart Connector
, and the absence of a headphone jack. Apple is planning to remove the headphone jack in its 2016 devices, with headphones instead connecting via Lightning or Bluetooth. Though some rumors have suggested the iPhone 7 will include stereo speakers, the design drawing features a single speaker. No other significant details are included in the
MacFan
drawing.
In the past,
MacFan
has offered up accurate information about Apple's devices, sharing design details of the
iPhone 6/6 Plus
and
12.9-inch iPad Pro
ahead of launch. While largely accurate because its schematics often focus on previously available rumors,
MacFan
does not always provide a reliable picture of exact dimensions, predicting a 12.2-inch size for the
iPad Pro
and a 6.7mm thickness for the iPhone 6 Plus, so some of the detail on thickness could be inaccurate.
Apple is expected to debut the iPhone 7 and iPhone 7 Plus in the fall of 2016.
Apple today seeded the third beta of an upcoming OS X 10.11.5 El Capitan update to developers and public beta testers, one week after releasing the
second OS X 10.11.5 beta
and a month after releasing
OS X 10.11.4
, the fourth update to the
OS X El Capitan
operating system. OS X 10.11.5 has
been in testing
since April 6.
OS X 10.11.5 beta 3 has a build number of 15F28b and can be downloaded through the software update mechanism in the
Mac App Store
or through the Apple Developer Center (for developers).

OS X 10.11.5, like prior OS X El Capitan updates, appears to focus on security enhancements, performance improvements, and bug fixes to address issues that have popped up since the release of OS X 10.11.4. No obvious outward-facing changes were discovered in the first two OS X 10.11.5 betas, but we'll update this post if any new features are found in the third beta.