New iPad, Mac mini, and Retina iMac
With iOS 8 and OS X Yosemite, Apple introduced "Continuity," a set of features designed to allow for deeper integration between Macs and iOS devices. Unfortunately, some Continuity features are limited to Macs with Bluetooth 4.0, which leaves many older Macs unable to access the new features.
Additionally, even though the 2011 MacBook Air and 2011 Mac mini include Bluetooth 4.0, Apple has opted not to allow them to access Continuity features. Luckily, many resourceful members of the
MacRumors
forums have come up with solutions to allow them to enable Continuity on their older Macs, and
discussion on our forums
has led to the creation of a set of instructions and a Continuity Activation Tool that should get Continuity working on Macs unable to explicitly support the feature.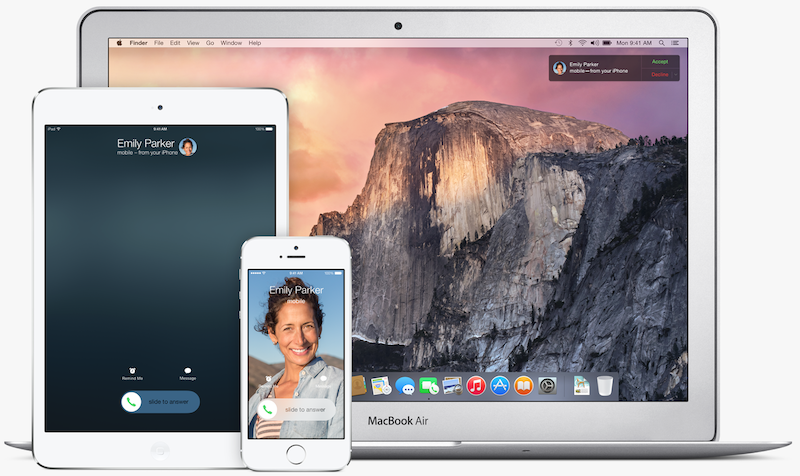 Created by Dokterdok (based on instructions
compiled by UncleSchnitty
) and
available on Github
, the Continuity Activation Tool is designed to activate Continuity by doing a compatibility check, creating backups of original System drivers, and disabling a Mac-model blacklist in the Bluetooth code that prevents Continuity from working on ineligible Macs. From there, it also whitelists Mac board-ids within the Wi-Fi code to get the feature working.
The tool can be downloaded as a zip file
from Github
and is installed by double clicking the app and following the instructions provided on the screen.
The Continuity Activation Tool will enable Continuity on the mid-2011 MacBook Air and the mid-2011 Mac mini with no additional hardware required, as both of those devices include Bluetooth 4.0. That means installing the tool should get Continuity up and running on those machines in just a few minutes.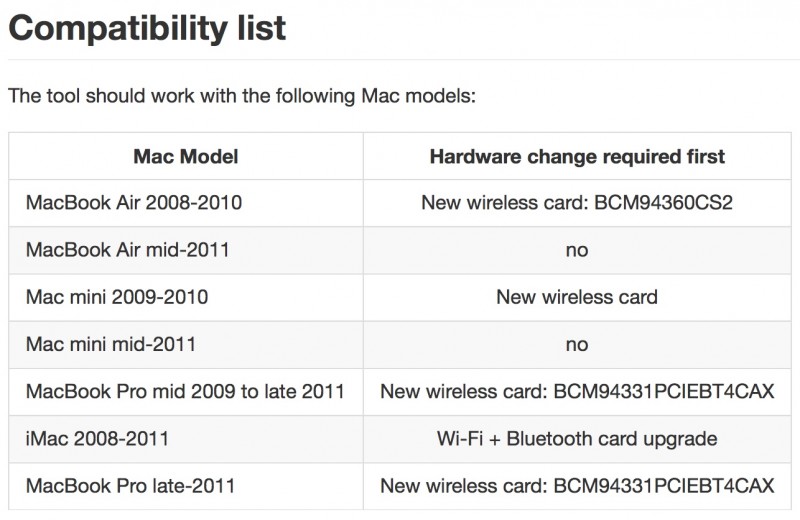 On older Macs that do not come equipped with Bluetooth 4.0, new wireless cards will need to be installed, which makes it more difficult for casual users to get access to Continuity. USB dongles that provide Bluetooth 4.0 will not work with the Continuity Activation Tool, and a list of wireless cards that will provide Bluetooth 4.0 for each older Mac can be found on the
MacRumors forums
.
Both
MacRumors
forum members
and
Redditors
have confirmed that this method is able to successfully enable Continuity on a variety of Macs, including the mid-2011 MacBook Air, the early 2011 MacBook Pro, and the mid-2011 Mac mini.
The Continuity Activation Tool appears to enable all Continuity features when used successfully, allowing older Macs to access Handoff, Instant Hotspot, SMS forwarding, and Mac phone calls without an issue. Some of these Continuity features may work already on older Macs as they use a variety of different connection methods ranging from Bluetooth to Wi-Fi, but the tool is confirmed to get Handoff and AirDrop, both of which require Bluetooth, to work.
Users should
exercise caution
when using the Continuity Activation Tool, as it moves around low level files and there's a possibility it
could cause problems
. A
backup is recommended
before attempting to install the tool.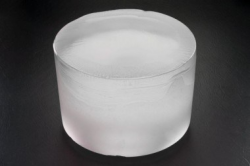 Earlier today, GT Advanced Technologies
officially announced
its settlement with Apple, which will see the two companies dissolving their partnership, ending their production agreement, and eliminating contractual ties that kept GT from selling its sapphire to other parties.
Under the agreement, GT Advanced will be selling off its remaining sapphire, along with 2,000 sapphire furnaces, with much of the proceeds going to Apple to repay the $439 million loan it provided to get the operation underway.
Apple has now commented on the settlement with GT Advanced, telling
Re/code
that GT's sapphire manufacturing process simply wasn't ready for production, and that a relationship in the future remains a possibility as the company's sapphire production techniques improve. GT will continue research work focused on creating sapphire boules over 165 kilograms.
Apple also says that it is going to look for other ways to use the Mesa, Arizona facility that it purchased for GT Advanced, which will be unused after GT fully shuts down operations at the end of December
"Apple put a lot of effort into an ambitious new sapphire manufacturing process with GTAT which is not ready for production. We're going to continue evaluating GTAT's progress on larger sapphire boule development, as well as consider other options for the facility. We remain committed to the city and we're going to work with Mesa and Maricopa County to help the GT Advanced employees who will be impacted by this find new jobs."
GT Advanced first
filed for bankruptcy
at the beginning of October, but the company was reportedly missing technical milestones as
early as February
, hinting at the trouble to come. While Apple was widely expected to use sapphire from GT Advanced for the iPhone 6 and 6 Plus displays, the company opted to stick with Corning's Gorilla Glass after it became apparent GT would not be able to produce sapphire of the quality that Apple required.
Approximately 650 employees at the Mesa, Arizona sapphire plant have already been laid off, and a limited number of employees will remain employed until the end of the year in order to help GT Advanced wind down production at the factory, finishing the sapphire boules that are currently growing and shutting down and cleaning furnaces for storage and sale.
A growing number of Apple Pay users are angry with retailer Rite Aid following the reported disabling of the mobile payment service within the past 24 hours. Apple Pay should technically be compatible with any point-of-sale systems supporting NFC technology, but customers who made successful Apple Pay payments earlier this week have found their payments were
being denied
yesterday and today.

Among the disgruntled users was Josh Hudnall, who
shared his experiences
and his conclusions that Rite Aid is deliberately crippling its payment systems to prevent Apple Pay transactions.
Today, Allison asked me to pick up a few things on my way home from the office, and I'm a major nerd, so naturally I was all too happy to oblige. I was equally disappointed, then, when my transaction was declined with a message on the terminal informing me that Apple Pay was not supported. The terminal mentioned Apple Pay by name. So the system is smart enough to know about Apple Pay and to decide not to take it.
Hudnall spoke to an associate who claims Rite Aid recently sent an email informing stores that the retailer is not accepting Apple Pay payments, and Hudnall speculates it is because Rite Aid is a supporter of the upcoming CurrentC payments system from
Merchant Customer Exchange
. Competitor Walgreens is also one of Apple's biggest launch partners for Apple Pay.
According to Twitter reports, the retailer also unexpectedly turned off support for Google Wallet at the same time. Rite Aid has not confirmed the shut down of these services, nor commented publicly on these reports.
@Futment @riteaid system IS compatible. @riteaid blocked it and Google Wallet today. Both worked yesterday. Bad business decision.

— Yoshi (@YoshiTheShiba) October 22, 2014
Apple Pay
launched
earlier this week in a debut that was relatively smooth for most customers. As
demoed
in a McDonald's transaction, payments are processed almost instantly at supported terminals with the press of the Touch ID sensor on the phone.
The most publicized hiccup occurred with Bank of America customers, who were
accidentally charged twice
for their purchases. Bank of America confirmed that the issue only affected a small number of users who will receive refunds.

Nike CEO Mark Parker sat down with Bloomberg's Stephanie Ruhle to discuss the company's brand and product strategy (via
The Guardian
). During the
13-minute-long "Market Makers" segment
, Parker confirmed that he is bullish on Apple and the wearables market, hinting at a continued partnership between the two companies at the 9:45 mark.
Though Nike recently
discontinued
further development on its FuelBand fitness wearables, the sports and fitness company is not ready to abandon the wearables market, instead waiting for the market to mature beyond it current geeky status.
"I think it's going to be a big part of the future, absolutely," said Parker. "I think the form it takes is critical. You can go from the very geeky kind of wearables today – we've all seen some of those – to what I think you'll see in the future, things that are more stealth, more integrated, more stylish and more functional, yes."
Echoing his
earlier comments
, Parker suggested Apple may be part of Nike's wearables strategy with the Nike CEO noting that the two companies that have a long history of working together can do things together they couldn't do alone.
"Technologically we can do things together that we couldn't do independently," Parker said. "So yeah, that's part of our plan, to expand the whole digital frontier in terms of wearables, and go from what we say is tens of millions of users – right now there's 25 million Nike+ users – to hundreds of millions."
Parker wouldn't divulge details on any upcoming Apple-Nike collaborations, but the companies traditionally have worked together to promote each other's health and fitness technologies. Apple
has sold
the FuelBand fitness bracelet in its retail stores, while the
Nike+ Move
app
was among the first
to support the M7 motion co-processor in the iPhone 5s.
The fitness partnership between Apple and Nike actually extends back to 2006 with the launch of Nike+iPod products such as the "Sport Kit" that allowed users to embed sensors in Nike shoes to wirelessly communicate exercise information to the iPod nano. Parker also has a long-term relationship with the Apple's leadership, having worked closely with both Steve Jobs and Tim Cook, with Cook having served on Nike's Board of Directors since 2005.

Earlier this week, it was revealed that Apple and its sapphire supplier GT Advanced Technologies had
reached an agreement
to effectively dissolve their partnership and allow GT to shut down operations at the Apple-owned sapphire production plant in Mesa, Arizona. Under the deal, GT will seek to sell off the over 2,000 sapphire furnaces currently installed at the facility, with the majority of the proceeds from those sales going to Apple to help repay $439 million in loans Apple made to help the operation get underway.
GT has now
officially announced
the deal and published the
full agreement
, redacting only the amounts Apple will be paid per furnace sold.
Under the terms of the settlement agreement, which is subject to approval by the Bankruptcy Court, GT will be released from all exclusivity obligations under its various agreements with Apple. GT will retain ownership of all production, ancillary and inventory assets located in Mesa and Apple is provided with a mechanism for recovering its $439 million pre-payment made to GT over a period of up to four years without interest, solely from a portion of the proceeds from ASF® [Advanced Sapphire Furnace] sales. The agreement provides for a mutual release of any and all claims by both parties. As a result of the agreed upon terms, GT retains control of its intellectual property and will be able to sell its sapphire growth and fabrication technology, including ASF and Hyperion™, without restrictions.
While the two companies are severing their production agreement, they will remain in contact as GT continues its research work focused on producing larger sapphire boules of over 165 kilograms. The two companies will meet at least quarterly to discuss GT's progress on that front, with potential collaboration still possible if both sides agree to move forward.
GT
filed for bankruptcy
earlier this month as it became clear the company was spending over a million dollars per day to run the operation even as it was apparently unable to produce sapphire of the quality required by Apple. GT's
troubles began
as early as February as it was late in meeting milestones to qualify for Apple loan payments. Apple's continued withholding of the
final $139 million payment
may ultimately have resulted in GT deciding to pull the plug on the operation, even as Apple reportedly continued to try to help overcome GT's technical problems.
GT is looking to wind down its sapphire production operation by the end of the year, wrapping up sapphire boule production currently underway and decommissioning the furnaces to prepare them for storage and resale. Roughly 650 employees at the Arizona plant have already been laid off, and the company will continue to lay off additional employees across its locations as it brings the production partnership with Apple to an end.
(Image: GT's Advanced Sapphire Furnace)
Screenwriter Aaron Sorkin has confirmed in
a Bloomberg interview
that actor Christian Bale will indeed star as Steve Jobs in Sorkin's upcoming biopic based on Walter Isaacson's 2011 biography of the Apple co-founder. Bale, who was
said last week
to be in talks for the role, met with Sorkin but did not have to audition for the part.
"We needed the best actor on the board in a certain age range and that's Chris Bale," Sorkin told Bloomberg Television's Emily Chang on a coming edition of "Studio 1.0." "He didn't have to audition. Well, there was a meeting."
Shooting for the film will begin in the coming months in what will be a challenging role for the established actor. Bale reportedly will appear in every frame of the movie with speaking parts that exceed three movies combined. The movie
will focus
on three 30-minute scenes that detail three different product launches.
The movie will be released by Sony, with Oscar-winning director Danny Boyle of
Slumdog Millionaire
fame associated with the project.
Now that the iPad Air 2 is being delivered to customers and showing up
in retail Apple Stores
, iFixit has acquired one of the new tablets and has begun one of its
traditional teardowns
to see just what's inside Apple's thinner, more powerful iPad Air 2.
According to iFixit, the "gapless" front panel is more rigid than previous iPad models, and feels sturdier when it's being pried up with the company's proprietary
iOpener
. As with all iPads, the glued down display is the only access point to the tablet.
As noted in reviews, the iPad Air 2 has a smaller battery than the original iPad Air, coming in at 27.62 Whr and 7,340 mAh. The first generation tablet had a 8,827 mAh/32.9 Whr battery life.

iFixit's teardown confirms the existence of both the more powerful A8X processor and 2GB of Elpida F8164A3MD RAM, with two separate 1GB RAM chips located on either side of the A8X processor. Based on Elpida's RAM numbering scheme, the "8" located in the second character slot indicates that each chip is 1GB. 2GB on a single chip would be denoted with an "A".
The tablet also has 16GB of flash memory from SK Hynix and the same NXP 65V10 NFC module that was used in the iPhone 6 and 6 Plus, but it does not appear to have an NFC antenna. Apple has said that the iPad Air 2 and iPad mini 3 will not be able to make in-store Apple Pay payments.

The iPad Air 2's Touch ID sensor cable appears to be very similar to the sensor cable found in the new iPhones, and the Touch ID sensor itself was made by NXP Semiconductors. The 8-megapixel camera is similar to the camera in the iPhone 6 and 6 Plus as well, but they are not identical. The iPad Air 2's ambient light sensor has been split into two sensors, with one now located on the headphone jack, possibly for improved accuracy.
Along with the repositioning of several internal microphone and camera components, the Wi-Fi model's antennas, previously located at the bottom of the tablet, have been moved to the top of the iPad. iFixit has also confirmed that Smart Covers designed for the previous-generation iPad Air will work with the iPad Air 2.
Apple's iPad Air 2 is currently
available for order online
, with new orders shipping in two to four days. Wi-Fi only models are also available in retail stores as of today, with Wi-Fi + Cellular models coming at a later date. Prices for the new iPad Air 2 start at $499.
Apple's new iPad Air 2 and iPad mini 3 have begun hitting retail stores, as we reported earlier, and the tablets are now available for in-store pickup for a limited number of retail locations that have received shipments. It appears that in-store availability is limited to Wi-Fi only tablets at this time.
Many stores on the east coast of the United States are showing wide availability of both tablets as stores receive shipments and unpack boxes. Availability on the west coast is still limited as it is earlier in the day and stores are not yet prepared to begin retail sales.

Apple store employees appear to be unaware that stores are receiving stock today, as several phone calls placed by
MacRumors
resulted in responses suggesting the tablets would not arrive in stores until later in the week or early next week.
The iPad Air 2 is still showing shipping estimates of two to four days when ordered online, and some rumors have suggested that supplies are limited, which explains the tablet's quiet in-store release. At announcement, Apple declined to state when the iPad Air 2 and the iPad mini 3 would be available in retail stores.
Apple's iPad mini 3, meanwhile, appears to be available in greater supply, displaying shipping estimates of 24 hours. iPad mini 3 pricing starts at $399 for the entry-level model, while iPad Air 2 pricing starts at $499.
While the iPad mini 3 received only Touch ID and a gold color option, the iPad Air 2 has seen significant updates including a thinner design, a new "gapless" display, an anti-reflective coating, 2GB of RAM, an A8X processor, and an upgraded 8-megapixel camera.
Chrome and Firefox users that install OS X Yosemite are receiving notifications suggesting they give Safari a try, according to multiple reports on
Twitter
(
via Tom Davenport
). After upgrading to Yosemite, Apple is sending popups that
read
"Try the new Safari. Fast, energy efficient, and with a beautiful new design."
The interactive notification comes with "Later" and "Try Now" options, and it seems that users may be receiving the messages when opening Chrome or Firefox for the first time after installing the operating system update.

Apple made several updates to Safari in OS X Yosemite, including adding a new "blazing-fast [Nitro] JavaScript engine" and energy saving technologies to make Safari both faster and more energy efficient. According to Apple, Safari is significantly faster than both Firefox and Chrome, a claim that was tested by
CNET
and received mixed results.

Safari did better on Apple's
JetStream
and
Speedometer
benchmarks that measure JavaScript performance, and it also outperformed Chrome and Firefox using
JSBench
, but
CNET
's testing saw it perform worse on Google's
Octane benchmark
and Mozilla's
Kraken benchmark
.
The new Safari 8 did demonstrate significant improvements over Safari 7, scoring 81 percent better on JetStream and 89 percent better on Speedometer, suggesting Apple has indeed made some major under-the-hood improvements to the browser.
Along with speed improvements, Safari gained some new security features, including DuckDuckGo support and isolated Private Browsing windows that allow users to have a non-private browsing window open at the same time as a private browsing window. The browser also continues to offer third-party cookie blocking, malware monitoring, and sandboxing for websites.
Safari received a complete visual overhaul in OS X Yosemite, introducing a new streamlined look that does away with the favorites bar by default and a revamped Tab View that displays all open tabs in a tiled arrangement, much like iOS.

Safari has also benefitted from Handoff, a Continuity feature that allows users to open a webpage on a Mac and seamlessly continue browsing on an iOS device (or vice versa), and the browser natively supports Netflix, providing two extra hours of battery life when watching movies or TV shows.
Built into OS X Yosemite, Safari 8 is automatically installed alongside the new operating system. Released on October 16, Yosemite is estimated to be installed on
approximately 20 percent
of Macs at this point in time.
With Apple Pay positioned as a brand new service that requires banks, credit card companies, and vendors to all work together, it seems that some glitches in the system are inevitable.
Some Bank of America customers have been running into a serious problem when using Apple Pay to make purchases, with two charges showing up on their credit card statements. A
CNN
report from this morning first suggested that multiple Bank of America customers had been double charged, which
Bloomberg
later
confirmed
. Hundreds of customers are said to be affected.

A Bank of America representative contacted by
CNN
said that the issue was on Apple Pay's end and after some confusion about who should be contacted for a refund, Bank of America was able to refund the money.
Bank of America transferred me to Apple Pay customer support. The only problem: Apple's representative reminded me that for security's sake -- as promised -- Apple keeps no records of names or amounts for any of the transactions.

That meant there's nothing Apple could do, the representative told me. So Apple told me to call Bank of America. It was every consumer's worst nightmare: customer service for two companies telling you to call the other.

Thank God for three-way calling. I got Apple and Bank of America on the same line and let them sort it out.

BofA was smart enough to refund me the money, because they said it was obvious to them that these were duplicate charges for the same exact amount.
Bank of America is planning to
issue refunds
to all Apple Pay customers who were double charged, and according to CNN, a fix for the problem is expected to be released at some point on Wednesday.
"We apologize for the inconvenience and are working to correct the issue. All customers have been made whole," said Tara Burke, a spokeswoman for Bank of America. "We are always here for our customers and resolve any issues they have."
Banking issues aren't the only problem Apple Pay users are facing. According to a quick test conducted by
Business Insider
at eleven different retailers, many employees have little knowledge about Apple Pay. At eight separate locations, store clerks did not know whether or not they accepted Apple Pay, and only employees at McDonald's, Whole Foods, and American Eagle Outfitters were aware of the service.
The site had considerably difficulty conducting a return at American Eagle Outfitters, as the store cashiers had not been taught how to do them, but a refund was received "after a period of trial-and-error."
There's also a minor Apple Pay glitch that's causing some credit cards to display the wrong card design within the Passbook app, affecting some Chase and Citibank card users, but a fix for that issue is said to be in the works, according to
9to5Mac
.
Many of the kinks with Apple Pay will be worked out over the coming weeks, as retail employees adapt to the new payments service and banks and credit cards work out remaining bugs and issues. According to Apple's Eddy Cue, Apple Pay will be a "game changer." "There's a lot to do here and we have a lot of work to do, but it should be huge," he
said in an interview
.
Rolled out on Monday through an update to iOS 8.1, Apple Pay is accepted at more than 200,000 retail locations, wherever NFC contactless payments are available. It is also available in an array of apps that have adopted the Apple Pay API, including Uber, Target, and Apple's own
Apple Store
app.
Update 1:22 PM
: Bank of America has
confirmed to Re/code
that the problem is the result of an issue between the bank and at least one payment processor and that Apple is not involved. A fix is expected today, and roughly 1,000 customers were affected by the double billing.
Update 1:50 PM:
An Apple spokesperson told
Bank Innovation
that Bank of America is working on a fix and that the issue is impacting only a small number of Apple Pay users.
"Apple Pay is off to an amazing start and customers are loving the easy, secure and private way to pay. We're aware of a Bank of America issue impacting a very small number of Apple Pay users. They're working on a fix that will be available shortly and reversing any duplicate transactions."
Earlier this week, Major League Baseball and MasterCard
announced
a partnership that has seen Apple Pay support roll out at concession stands at ballparks in San Francisco and Kansas City for the World Series. As part of its World Series promotional push, MasterCard also debuted a pair of television ads during last night's Game 1, featuring Apple Pay and the company's
"Priceless Surprises"
program that has seen cardholders surprised with various rewards.
One spot features former New York Yankees star Mariano Rivera and longtime Los Angeles Dodgers manager Tommy Lasorda, while the second features Kansas City Royals legend George Brett, with MasterCard promoting surprises such as meet-and-greets with the stars and tickets to World Series games.
On its Priceless Surprises website, MasterCard notes it has surprised over 70,000 cardholders with various rewards, and now Apple Pay gives users more ways to win.
Apple launched its Apple Pay mobile payments service on Monday with the debut of iOS 8.1, with the iPhone 6 and 6 Plus supporting the service in-store and in apps, while the new iPad Air 2 and iPad mini 3 support it for in-app purchases only.
MasterCard, Visa, and American Express have all signed onto the program, as have over 500 banks and a number of major retailers. Launching first in the United States, Apple Pay is now accepted at over 200,000 points of sale and the cards and banks responsible for the vast majority of U.S. credit card spending are compatible with the service.
Following the launch of pre-orders last Friday, Apple's new iPad Air 2 and Retina iPad mini 3 models are now making their way into customers' hands and onto retail store shelves. According to
The Inquirer
and
reports
from
MacRumors
readers, pre-orders are now being delivered, and the tablets are now available for purchase online and in store.

Customers in launch countries of the UK and Australia started receiving their tablets today and have already
posted
unboxing videos. Unlike the iPhone 6 which featured a plain white box, customers report the box for the iPad Air 2 is similar to the original iPad Air with a color representation of the iPad on the cover.
Apple's online store also is still
accepting orders
with delivery dates of 2 to 4 days for most iPad Air 2 models. In-store pickup for the Air 2 is not available yet for online shoppers, but we have heard from multiple sources that Wi-Fi models are arriving at at least some of Apple's own retail stores for sale beginning today. Based on online ordering, iPad mini 3 supplies are more abundant, with most Wi-Fi models currently available within 24 hours and cellular models shipping in 1-3 days.
Apple announced the iPad Air 2 last week, highlighting the device's new A8X processor, Touch ID sensor and improved camera. Early
benchmarks
suggest the iPad Air 2 is up to 55 percent faster than the iPhone 6 and 68 percent faster than last year's iPad Air. The
first round of reviews of the Air 2
point out benefits such as a thinner profile and vibrant display, while also noting a slight decrease in battery life compared to the previous generation.
While the Air 2 has received fairly strong reviews, the iPad mini 3 has been less well received with most reviews noting the device's similarity to the iPad mini 2. The iPad mini 3 ships with the same processor and camera options as its predecessor, with the only notable improvements being a Touch ID fingerprint sensor and a new gold option.
The
iPad Air 2
is available with a starting price of $499 for the 16GB Wi-Fi-only model, with equivalent cellular models available for $130 more. The
iPad mini 3
starts at $399 and is available in Wi-Fi-only and cellular configurations.