macOS Sierra Now Available
Apple Music
executives Jimmy Iovine and Bozoma Saint John spoke with
BuzzFeed News
in a
new feature
about the redesign of Apple's music streaming service, revealing the thinking behind some new features and responding to criticism over music exclusives.
Shortly after
launch
 of Frank Ocean's latest album "Blonde," Universal Music Group
banned
exclusive music streaming as Ocean's deal with Apple allowed him enough capital to publish his music independently. Iovine told
BuzzFeed News
that Apple has no plans to become a music label, but that he doesn't know how to run Apple Music any other way than helping make and distribute great music.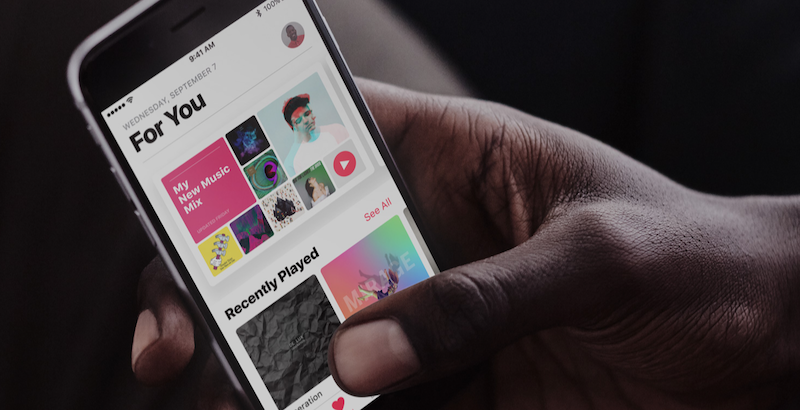 "We put a lot into this, we've had some real successes, and we always hold up our end of the relationship," Iovine said, insisting that he has no intention of encroaching on record labels' territory. "We're feeling our way around and seeing what works … Every time we do [an exclusive], we learn something new." He added that Apple Music would move forward with its pursuit of exclusives from other partners, such as Sony Music Entertainment and the Warner Music Group, noting, "It's Apple's show. As long as Apple's asking me to do what I'm doing, I'm gonna keep doing it."
Iovine went on to say he doesn't know whether music fragmentation, with different services offering different exclusives, would hurt or help the music industry, but he does believe that services that offer free listening tiers are harmful.
"The rights holders, whoever they are, have to do something, because there's a lot of free [music] out there, and it's a problem," he told
BuzzFeed News
. Iovine says there's enough free music in the world to make people question whether they should subscribe to a service.
Apple Music's new redesign, which favors bigger text and a more simplified layout, is aimed at users who may not have prior experience with streaming services, including older people and international audiences, according to
BuzzFeed News
. Some changes, like moving the "My Library" tab to the first and most leftward location on the bottom tab, are aimed at making things easier.
Bozoma Saint John said that one of the questions Apple asked itself during the redesign was how people are interacting with their music during a normal day. The Cupertino company tried to figure out what users were looking for within Apple Music and how the company could best serve that.
That includes a new series of algorithm-based playlists for Apple Music. Apple uses iTunes music data, favorites and play counts to determine what to play in the new My Favorites and My New Music Mixes. My Favorites more closely looks at your history, serving up your favorite and most played music, while My New Music serves up recently released songs you like mixed with new music you haven't heard before, flagged by Apple Music editors based on your taste profile. More personalized playlists are coming to the service, but only after extensive testing as Apple wants to vet all possible outcomes within a playlist before releasing it.
Finally, Iovine said the first version of Apple Music was too ambitious, and that the company "probably" put too much into it too soon. He said that Apple is figuring things out now, and that it's slowly moving things forward. Iovine also hinted that there's new stuff coming to Apple Music that he doesn't think anyone "will see coming."
Apple is currently attempting to bolster the video content on its streaming service, creating original programming like Dr. Dre's
Vital Signs
and reality competition series
Planet of the Apps
. Apple also purchased the rights to a
Carpool Karaoke
series and continues to create exclusive music content with artists. Earlier today, Drake
released
a 23-minute short film titled "Please Forgive Me," which is intended to be a companion piece to his latest album "Views."
The entire feature on Apple Music's redesign
can be read at BuzzFeed News
.
Canadian rapper Drake's hit album "Views" has become the first album on
Apple Music
to be streamed more than 1 billion times, according to an award Drake
shared on Instagram
this morning.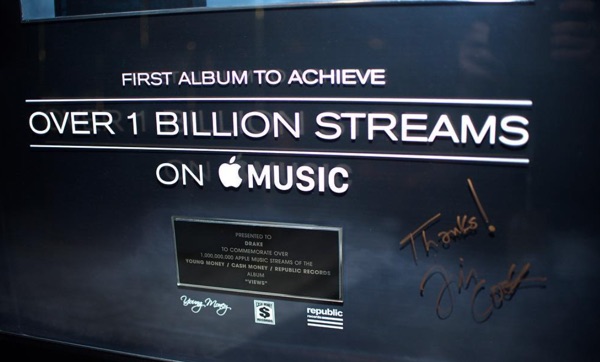 Drake received the news from Apple CEO
Tim Cook
, iTunes chief
Eddy Cue
, and Larry Jackson, who heads up original content, all of whom Drake posed with for a second photo that was also uploaded to his
Instagram account
.
Released on April 29, "Views" was
an Apple Music exclusive
for one week before it became available on other streaming music services like Spotify and it sold
more than 1 million copies
during its five-day exclusivity window. Apple and Drake have been working together since Apple Music launched in June of 2015, with Drake offering a Beats 1 radio show and Apple sponsoring his "Summer Sixteen" tour.
Just this morning, Drake debuted
a 23-minute short
called "Please Forgive Me," which is designed to be a visual companion to the "Views" album. The video, which is also an Apple Music exclusive, follows Drake and his girlfriend as they attempt to make off with a wealthy man's fortune. The songs "One Dance," "Controlla," "9," Views," and more are used in the short.
Sonos today
announced
an expanded partnership with Apple, which will see its popular PLAY:1 and PLAY:5 speakers available for purchase from Apple's online store and Apple retail locations around the world.
Sonos is a popular brand known for offering Wi-Fi connected speakers that are excellent for multi-room home speaker systems. The PLAY:1 ($199) and the PLAY:5 ($499) are expensive speakers, but the
simple setup, ease of use, and sound quality
can't be beat.

"Our expanded collaboration with Apple is a great example of our ongoing work with our full ecosystem of partners to make it easier than ever to listen to music out loud at home," said Patrick Spence, president of Sonos. "Apple Music on Sonos is a powerful experience, one we're proud to bring directly to Apple fans at Apple Stores worldwide."
Many Apple stores that sell Sonos systems will be offering hands-on in-store Sonos and Apple Music demos featuring the Sonos app on an
iPad Pro
.
As an incentive for new purchasers, those who buy a Sonos system from Apple between today and December 31 will get a free three-month Apple Music gift card.
The PLAY:1 and PLAY:5 will be available for purchase from
Apple's online store
later today, expanding to 468 retail stores around the world starting on October 5. Online availability in other countries is expected in the coming weeks.

Apple's new Jet Black color is a
popular choice
among early
iPhone 7
and iPhone 7 Plus adopters, but the new models face a global shortage as the new high-gloss finish has proven challenging for the company's manufacturers.
Jet Black models suffer from a low casing production yield rate of 60-70%, meaning that 30-40% of units do not pass Apple's quality standards and must be retooled, according to KGI Securities analyst
Ming-Chi Kuo
.
Apple says the high-gloss Jet Black finish is achieved through a precision nine-step anodization and polishing process.
When pre-orders began on September 9, shipping estimates for Jet Black models
quickly slipped to November
, but some iPhone 7 Plus models in the new color are now
shipping sooner than expected
. In-store availability of Jet Black models remains scarce, with only a few
Apple Stores
in France carrying the Jet Black iPhone 7 as of the time this article was published, according to
iStockNow
.
Kuo said limited availability of Jet Black models, along with stronger-than-expected iPhone 7 Plus demand driven by Samsung's recent
Galaxy Note 7 recall
, contributed to an initial iPhone 7 shortage.
Early shortage not entirely due to market demand. Shipment time for online orders is on par with last year's cycle, generally estimated within 2-3 weeks, with the exception of the jet black model, which suffers from a low casing production yield rate of 60-70%. However, with the number of countries in the first wave to debut the iPhone 7 rising to 28 this year, versus 12 for the iPhone 6S launch, we believe overall demand for iPhone 7 is lower than that of its predecessor. Regarding news of some mobile operators reporting pre-order growth for the iPhone 7 over last year's 6S, we believe this is mainly attributable to market share gains for these mobile operators thanks to new promotions, rather than representing greater consumer demand.
The analyst reiterated his prediction that iPhone 7 series shipments in 2016 will fall short of iPhone 6s series shipments in 2015.
Apple has hired "scores of healthcare experts" in recent years to develop improved electronic health record software, with an ultimate goal of transforming HealthKit into a tool that improves diagnoses, reports
Bloomberg
.

The system could chip away at two problems that plague the industry and have stumped other specialist firms in the field: interoperability -- allowing data to be transferred from hospital to hospital across different databases; and analysis -- making it quick and easy for physicians to extrapolate salient information from mountains of data.
If the efforts are successful, HealthKit could eventually interpret health and fitness data and provide advice to patients, doctors, and others accordingly.
The collection of health and fitness data will be aided by the Apple Watch, including two new apps that will help users track their sleep patterns and gauge their fitness levels by "measuring the time taken for the heart rate to fall from its peak to resting level," according to the report.
"If you drive for a while and your car gets too hot, it says pull over. If you need an oil change, it says check your oil. What's the equivalent for the body?" said Apple CEO
Tim Cook
at Startup Fest Europe in May. "Health is a huge issue around the world and we think it's ripe for simplicity and a new view."
iOS 10
uses a new password verification mechanism for iTunes backups that makes them easier to crack, according to testing performed by
Elcomsoft
, a company that specializes in software designed to access iPhone data.
Encrypted iTunes backups created on a Mac or PC are protected by a password that can potentially be brute forced by password cracking software. The backup method in iOS 10 "skips certain security checks," allowing Elcomsoft to try backup passwords "approximately 2500 times faster" compared to iOS 9 and earlier operating systems.

Obtaining the password for an iTunes backup provides access to all data on the phone, including that stored in Keychain, which holds all of a user's passwords and other sensitive information.
At this time, we have an early implementation featuring CPU-only recovery. The new security check is approximately 2,500 times weaker compared to the old one that was used in iOS 9 backups. At this time, we are getting these speeds:

iOS 9 (CPU): 2,400 passwords per second (Intel i5)
iOS 9 (GPU): 150,000 passwords per second (NVIDIA GTX 1080)
iOS 10 (CPU): 6,000,000 passwords per second (Intel i5)
In specific terms, security analyst Per Thorsheim of
Peerlyst
says Apple has switched from using a PBKDF2 hashing algorithm with 10,000 iterations to using a SHA256 algorithm with a single iteration, allowing for a significant speed increase when brute forcing a password.

Image via Peerlyst
In a statement given to
Forbes,
Apple confirmed it is aware of the issue and is working on a fix.
"We're aware of an issue that affects the encryption strength for backups of devices on iOS 10 when backing up to iTunes on the Mac or PC. We are addressing this issue in an upcoming security update. This does not affect iCloud backups," a spokesperson said. "We recommend users ensure their Mac or PC are protected with strong passwords and can only be accessed by authorized users. Additional security is also available with FileVault whole disk encryption."
As Apple points out, this security oversight is limited to backups created on a Mac or PC and does not affect the security of iCloud backups. Most users likely do not need to worry about this issue as it requires access to the Mac or PC that was used to make the backup.
Apple has updates for iOS 10 and
macOS Sierra
in the works, and it's possible a fix will be included in the new versions of the software.
iOS 10.1
and
macOS Sierra 10.12.1
were seeded to developers and public beta testers earlier this week.
Snapchat has announced its first hardware product, a one-size-fits-all pair of sunglasses called Spectacles that can record 10 seconds of video at a time,
reports
The Wall Street Journal
. The glasses will cost $130 and launch this fall in three colors: teal, black and coral. Video will sync wirelessly to a paired iPhone or other smartphone.

Snap CEO Evan Spiegel in Spectacles, Photo by The WSJ
The glasses record when you tap a button near the hinge, and each tap records 10 seconds of video footage from its 115-degree-angle lens. The lens was designed to be wider than smartphone cameras, more closely mirroring the natural view of human eyes. The video is recorded in a circular format, as Snapchat CEO Evan Spiegel argues that the square and rectangle form that photos and videos currently come in are a vestige of early photos being printed on paper.
Snapchat has been developing Spectacles for years, and Spiegel has been testing the device himself for a year. He tells
The WSJ
that one of the advantages of Spectacles is not having to hold a smartphone in front of your face because it's "like a wall." Re-watching first-person footage is like reliving a memory, Spiegel argues.
He remembers testing a prototype in early 2015 while hiking with his fiancée, supermodel Miranda Kerr. "It was our first vacation, and we went to Big Sur for a day or two. We were walking through the woods, stepping over logs, looking up at the beautiful trees. And when I got the footage back and watched it, I could see my own memory, through my own eyes—it was unbelievable. It's one thing to see images of an experience you had, but it's another thing to have an experience of the experience. It was the closest I'd ever come to feeling like I was there again."
Spiegel refers to Spectacles as a "toy," and that the best use of it would be to wear it at an outdoor concert or barbecue "for kicks." The company is taking a slow approach to launch with limited distribution, similar to Google Glass. Spiegel says Snapchat wants to "figure out if it fits into people's lives and seeing how they like it." When asked why they made the product and decided to enter the hardware market, Spiegel said "because it's fun."
Snapchat has also changed its company name to Snap, Inc as it has expanded its portfolio past its Snapchat app, similar to how Apple changed its name from Apple Computer.
Spiegel thinks of the newly-dubbed Snap, Inc as a camera company rather than a social media company,
The WSJ
notes. He studied the early histories of Kodak and Polaroid and how they pitched portable cameras to the public. Spectacles gives Snap control of a physical camera, bypassing the smartphone cameras, like that of the iPhone, at the heart of Snapchat thus far. Spiegel hints to
The WSJ
that there could be "far-reaching implications" if Snap controlled the hardware its users take pictures and video with.
Apple is planning on turning news stories and articles from popular news sites into audio podcasts called "Spoken Editions," reports
TechCrunch
. Spoken Editions will be short broadcasts that transform content from publishers into spoken word instead of written word, making it possible for customers to listen to their favorite news sites.
An early leak on iTunes suggests Apple has already teamed up with several publishers, including Wired, TIME, and Forbes, offering dedicated "Spoken Edition" sections on company iTunes pages.

Wired, for example, will launch Spoken Editions for "Business," "Science," and its homepage. TIME has will offer a Spoken Edition called "The Brief." Forbes, .Mic, Bustle, Playboy, OZY, and - yep - TechCrunch (which I discovered while browsing our iTunes page, of all things), will have Spoken Editions, it seems, as all popped up for a time on iTunes.

The links to all the publishers' Spoken Editions have since been pulled, after our discovery and outreach.
Some digging by
TechCrunch
suggests many of the publishers' Spoken Edition podcasts were created by SpokenLayer, a company that creates streaming audio and podcasts for media brands using text. SpokenLayer already works with a host of publishers like Forbes, Huffington Post, TIME, Reuters, and more, with audio recordings distributed on iTunes, SoundCloud, and other sources.
Spoken Editions will include audio ads, with revenue shared between the publisher and SpokenLayer, and the company makes an effort to make sure each brand sounds unique. "We make sure Wired sounds like Wired and any other publication sounds like those publications," SpokenLayer CEO Will Mayo told
TechCrunch
.
Spoken Editions are set to launch soon, rolling out in early October.

Apple recently
updated the confirmation email
it sends to customers who reserve an
iPhone 7
or iPhone 7 Plus to clarify that in-store reservations are now limited to
iPhone Upgrade Program
members in the United States.
Apple allows upgraders to reserve an iPhone through its
iPhone Upgrade Program reservation system
for pick up in store, but many customers were able to bypass the program and pay in full or with carrier financing instead upon arriving at their local Apple retail store.
Old wording:
Can I change to a different form of payment for the iPhone Upgrade Program?
Yes. You can also upgrade your iPhone to carrier financing or purchase it at full price. Ask a Specialist for more information.
New wording:
Can I change from the iPhone Upgrade Program to a different form of payment?
Yes. You must be currently enrolled in the iPhone Upgrade Program, so that you can upgrade your iPhone to carrier financing, or purchase at full price. Ask a Specialist for more information.
MacRumors reader DSTOFEL was
one of many customers
previously able to reserve an iPhone 7 or iPhone 7 Plus online and pay for it outright at an Apple Store without enrolling in the iPhone Upgrade Program:
I did this last Sunday and it went off without a hitch! I used the iPhone Upgrade Program reservation link to reserve my iPhone 7 at my local Apple Store. I was not a member of the iPhone Upgrade Program at the time and had no plan to join it. I showed up at the store, they had my phone and I just told them I wanted to purchase at full price. Not a problem!
But since the change in wording, it appears that Apple has
already turned away some non-upgraders
attempting to purchase an iPhone through the Upgrade Program reservation system without signing up for the program.
MacRumors reader vsp attempted to purchase an iPhone 7 for full price last night, for example, but an Apple retail employee allegedly would not let him:
I just tried this earlier today and wasn't able to purchase one I reserved with a different carrier. According to the clerk, they received notice yesterday that some of the iPhones were reserved for people enrolled in the Upgrade Program and they couldn't sell to me outright.
While many other MacRumors and Reddit users have faced the same situation since yesterday or so, some customers have still managed to reserve an iPhone and pay in full or with carrier financing. For that reason, your mileage may vary, and non-upgraders are recommended to call their local Apple retail store and request to speak with a manager before placing a reservation.
For its part, Apple's reservation page has always noted that a 24-month installment loan through Citizens Bank, which finances the iPhone Upgrade Program, is required -- this change just cements it. In other countries where the iPhone Upgrade Program does not exist, such as
Canada
, all customers are able to use
Reserve and Pick Up
regardless of their payment method of choice.
As a lifelong swimmer, I found the addition of 50-meter water resistance and swim workout tracking in the
Apple Watch Series 2
to be a welcome improvement that made the new watch a must-have upgrade for me. While the original Apple Watch was not rated for swimming, many users had
no issues
regularly using it in the water, although its lack of built-in swim tracking features limited its usefulness.

With Apple Watch Series 2, Apple has not only upgraded the water resistance with new gaskets and seals to make it
suitable for swimming
, but added new Pool Swim and Open Water Swim workouts to help track your progress. As part of the Apple Watch Series 2 introduction earlier this month, Apple highlighted how it worked with swimmers in the company's fitness labs to develop the software to accurately track swim workouts, from using the accelerometer in the watch to measure arm movements to tracking energy expenditures during workouts.
So how well does the new Apple Watch work when you take it for some swims in a pool? Let's take a look.
➜ Click here to read rest of article...

Yesterday, we reported that some
iPhone 7
and iPhone 7 Plus shipments have
experienced irregular movement or delays
during delivery between China or South Korea and their final destinations in the United States.
UPS has since confirmed to MacRumors that a small number of deliveries were impacted due to a mechanical problem and weather delay, while it is still investigating the reason for erroneous tracking notices.
UPS experienced a mechanical problem on one flight and a weather delay on another flight containing iPhones. The cargo was redirected, but not in time to avoid minor delays in residential deliveries of these packages. None of the phones were returned to their origin or routed on extraneous legs of the journey to their final destination.

We are still investigating the reason for the erroneous tracking notices. When the packages receive their next physical scan at a UPS facility, the ups.com tracking information will be updated to reflect the next planned delivery date. UPS is working to expedite these deliveries as rapidly as possible. The updated delivery date may be improved and another status update posted. To be informed of latest status, consumers can request text or email notification by selecting the "Notify me with Updates" feature when tracking their shipment on ups.com.
Apple began accepting
iPhone 7 and iPhone 7 Plus pre-orders
on September 9, and it took less than 20 minutes for supplies of popular models to
begin selling out
. iPhone 7 Plus and Jet Black models have been most constrained, but some customers originally quoted October to November delivery dates for Jet Black iPhone 7 Plus models have seen their orders
ship sooner than expected
.
Following their September 16 debut in more than 25 countries around the world, the
iPhone 7
and the iPhone 7 Plus are seeing their second wave launch today, debuting in a number of additional countries across Europe and the Middle East.
The iPhone 7 and the iPhone 7 Plus are now available for purchase in the following locations: Andorra, Bahrain, Bosnia and Herzegovina, Bulgaria, Croatia, Cyprus, Czech Republic, Estonia, Greece, Greenland, Guernsey, Hungary, Iceland, Isle of Man, Jersey, Kosovo, Kuwait, Latvia, Liechtenstein, Lithuania, Maldives, Malta, Monaco, Poland, Qatar, Romania, Russia, Saudi Arabia, Slovakia, and Slovenia.
With today's second wave launch, Apple's latest devices have rolled out to more than 55 countries, and will expand to India in the near future with an October 7 launch date planned.

In many countries, supplies of the iPhone 7 and especially the iPhone 7 Plus are likely to be severely constrained, as Apple has been struggling to meet demand. In the United States, Apple had no iPhone 7 Plus stock available for walk-in customers on launch day, with all supplies having gone to pre-order customers.
Wait times are up to three to five weeks for the most popular iPhone models, like the Jet Black iPhone 7 Plus, in many countries, with lower two to three week shipping estimates for other devices.
The iPhone 7 and the iPhone 7 Plus feature better water resistance, much improved cameras (with a dual-camera for the 7 Plus), faster processors, brighter, more vivid displays, a redesigned Home button powered by a new Taptic engine and no headphone jack.
The Apple Watch Series 1,
Apple Watch Series 2
, and Apple Watch Edition are launching in new countries today as well, including Anguilla, Antigua and Barbuda, Cayman Islands, Croatia, Czech Republic, El Salvador, Greece, Guam, Hungary, Jersey, Kuwait, Macau, Monaco, Poland, Qatar, Romania, Russia, Saudi Arabia, Slovakia and the US Virgin Islands.
Apple Watch Hermès Series 2 models are
also available as of today
in Australia, Belgium, Canada, China, France, Germany, Hong Kong, Italy, Japan, Macau, Russia, Singapore, Spain, Switzerland, Taiwan, UAE, the UK and the US.