Branding website Brandchannel recently
revealed
the winners of the Brandcameo 2015 Product Placement Awards, which names the movies and brands with the most proliferation within Hollywood films over the past year. For the first time since 2011, Apple nabbed the 2014 Award for Overall Product Placement, appearing in 9 of the 35 films that topped the U.S. box office last year.
Brandchannel mentions the most influential Apple moments in films last year, perhaps the most popular of which is an
extended scene
in Marvel's blockbuster
Captain America: The Winter Soldier
, in which two of its protagonists use a MacBook Pro inside an Apple Store to hack into secretive S.H.I.E.L.D. data.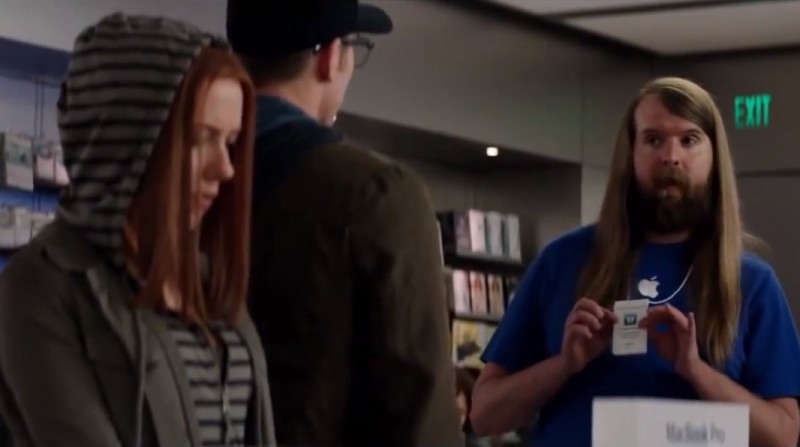 A quick tangential reference to an iPod Shuffle in
The Lego Movie
also helped Apple reign over previous winners like Budweiser (2013) and Mercedes-Benz (2012), and just barely beat out the likes of Coca-Cola and Sony for the award.
Apple bested both Coca-Cola and Sony by a single appearance, for which Apple can thank "The Lego Movie." The Apple logo doesn't appear in the film but Lord Business does talk about his iPod Shuffle. Recent winners Budweiser (2013) and Mercedes-Benz (2012) showed up in a distant five and six times respectively.

Other appearances include in "Ride Along," "The Other Woman," "Neighbors," "The Fault in Our Stars," "Think Like a Man Too," "Gone Girl" and "Ouija."
The website mentions that while Apple's return to product placement dominance in 2014, appearing in just over 25 percent of the top box office films, is a step up from the last few years, the company's brand appearances still remain well below its peak performance years. The brand saw the most proliferation in its "golden age" of 2009, appearing in nearly 50 percent of all number 1 movies that year. It dropped to 42.5 percent in 2011 and to just 15 percent in 2013.
The newly Apple-owned brand Beats, unfortunately, won the 2014 Award for Worst Product Placement. The company's popular Bluetooth speaker, the Beats Pill, popped up in a scene in the critically-panned
Transformers: Age of Extinction
, wherein Stanley Tucci creates a Pill using his mind and the fictional "Transformium" material that pushes much of the film's plot into motion.
Apple could be planning to introduce the much-rumored 12-inch Retina MacBook Air during its March 9 Apple Watch event, according to one site that claims to have sources within Apple.
The Michael Report
believes Apple will use the event to debut the ultrathin MacBook, which is rumored to have a Retina display and a redesigned chassis.
Many are expecting Apple talk more about the Apple Watch. However, sources familiar with the matter within Apple have exclusively told The Michael Report that Apple plans to unveil the long-awaited Retina MacBook Air at the same event. The Michael Report has independently verified this information to be highly credible.
While there have been no concrete rumors from major sites linking the Retina MacBook Air to Apple's March 9 event, previous rumors have indicated that Apple is planning for a spring release. Apple supplier Quanta is said to have
begun mass production
of the notebook in January, and KGI Securities analyst Ming-Chi Kuo
predicted a March launch
for the MacBook.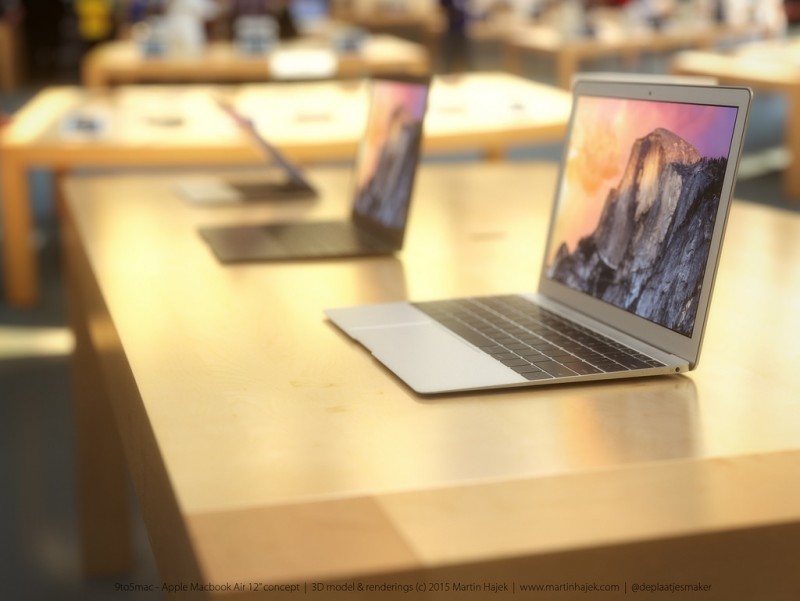 Rendering of the 12-inch Retina MacBook Air created by Martin Hajek
When taking these rumors into account, along with the fact that the MacBook Air is due for an update, the introduction of the Retina MacBook Air at Apple's March 9 event does seem like a possibility. It's also possible Apple will introduce new models of the existing 11 and 13-inch MacBook Air at the event -- the last update was in April and
there was a rumor
suggesting an update in February was imminent. Core M Broadwell chips believed to be appropriate for the 12-inch Retina MacBook have
been available since November
, and chips appropriate
for the standard MacBook Air
began shipping in January.
Along with a Retina display, the 12-inch MacBook Air is rumored to come without a fan assembly for silent operation, made possible by the aforementioned Core M chips, and it may also include a revamped trackpad that does not incorporate a mechanical button. It is said to feature smaller bezels in a Retina MacBook Pro-style black, a keyboard that stretches right to the edges of the machine, and speakers that are located above the keyboard.
The Michael Report
has a mixed track record when it comes to rumors. The site
accurately predicted
some design elements of the iPad Air 2, but its predictions may have been based on dummy models that were circulating around the Internet at the time. The site also
shared details on the iPhone 6 and 6 Plus
ahead of their launch, inaccurately calling the iPhone 6 Plus the "iPhone 6L" and suggesting the iPhones would come with quad-core processors and sapphire displays.
More details about what Apple plans to unveil at its Monday, March 9 event may come out through the week. Thus far, many sites have agreed that the focal point of the event will be the Apple Watch, with Apple unveiling new details about the device like its price and its official launch date.
Swedish car manufacturer Koenigsegg is known for its high-priced luxury sports cars, often called hypercars. At the Geneva Motor Show today, Koenigsegg
showed off its latest car
-- an ~1,800 horsepower hybrid vehicle with built-in support for Apple's CarPlay service.
Called the Regera, which translates to "to reign" in Swedish, the car can go from 0 to 250 miles per hour within 20 seconds, and it tops out at a speed of 255 miles per hour. It's equipped with a 5.0-litre twin-turbo V8 engine along with
three electric motors
. One motor replaces the standard transmission with the Koenigsegg Direct Drive system, and there's a motor dedicated to each rear wheel.

Inside, the Regera is equipped with an infotainment system that includes a 9-inch infrared
zForce Neonode touchscreen
, which is said to offer superior touch performance and multi-touch gestures. The infotainment system is compatible with Apple's CarPlay, letting Regera buyers connect their iPhones to their cars to access all of CarPlay's features.

The Koenigsegg Regera is priced at $1,890,000, and only 80 of the cars will be produced. The version being shown off at the Geneva Motor Show is the first in the series, and is said to be 95 percent complete.
A long list of automobile manufacturers have signed up to partner with Apple and introduce CarPlay in upcoming vehicles, but thus far, Ferrari is the only brand that has produced a car that's available with CarPlay -- the $300,000 Ferrari FF.
Audi
,
Volkswagen
, and
Hyundai
have all promised that CarPlay-compatible cars will be available in 2015, and there are a number of aftermarket CarPlay solutions from
Alpine
and
Pioneer
that are currently available for purchase.

Researchers have recently uncovered a major security flaw in software created by companies like Google and Apple, leaving many devices vulnerable to hacking attempts, reports
The Washington Post
. Called "FREAK" (Factoring Attack on RSA-EXPORT Keys), the vulnerability stems from a U.S. government policy that once prevented companies from exporting strong encryption, requiring them to instead create weak "export-grade" products to ship to customers outside of the United States.
These restrictions were lifted more than a decade ago, but the weaker encryption has continued to be used by software companies as a result of the old policy and it has even been built into software in the U.S. The existence of lingering "export-grade" encryption was unnoticed until this year, when researchers found they could force browsers to use lower-grade 512-bit encryption and then crack it.
Hackers could potentially employ the same tactic, cracking weak encryption and then stealing passwords and other information. Researchers also believe the vulnerability could be used to launch attacks on and infiltrate major websites. In testing, the export-grade encryption key was breached in seven hours using computers and more than a quarter of encrypted sites were found to be vulnerable.
"We thought of course people stopped using it," said Karthikeyan Bhargavan, a researcher at the French computer science lab INRIA whose team initially found the problem during testing of encryption systems.

Nadia Heninger, a University of Pennsylvania cryptographer, said, "This is basically a zombie from the '90s... I don't think anybody really realized anybody was still supporting these export suites."
As pointed out by
The Washington Post
, the FREAK vulnerability is an example of the problems that can arise when the government gets involved in device security. Government officials have
recently expressed concern
over the privacy features that Apple and Google have been building into their smartphones in response to outrage over secretive government surveillance programs
like PRISM
.
FBI Director James Comey has made remarks suggesting Apple and Google should scale back encryption, as government access to electronic devices is necessary in some cases. He has said that it may matter a "great, great deal" that the government be able to infiltrate the device of a kidnapper, criminal, or terrorist.
The researchers who discovered the flaw have notified government sites and major technology companies to fix the issue before it became widely publicized. FBI.gov and Whitehouse.gov have been fixed, and according to Apple spokeswoman Trudy Miller, Apple is preparing a security patch that will be "in place next week for both its computers and its mobile devices."
Apple has decided to hire the majority of its day-to-day security staff in Silicon valley as full-time employees, a company spokeswoman confirmed to the
San Jose Mercury News
. Many of the security guards that Apple has hired in the past as contractors will become part of the company's expanded in-house security team and receive the same benefits as other employees, including full health insurance, retirement contributions and a leave of absence for new parents.

Apple security guard in dispute with photographer at iPad event (via The Australian)
Apple will continue using contractors as security guards for special events, such as the upcoming
"Spring Forward" media event
at the Yerba Buena Center for the Arts on March 9th. Apple is believed to have begun
constructing an extension
on the Yerba Buena Center over the weekend, possibly as an Apple Watch demo area, and security guards wearing "Apple Security" shirts were spotted monitoring the premises.
"We will be hiring a large number of full-time people to handle our day-to-day security needs," the spokeswoman told the San Jose Mercury News. "We hope that virtually all of these positions will be filled by employees from our current security vendor and we're working closely with them on this process."
Apple has faced increasing pressure to provide individuals who cook, clean and monitor security for the company with the same benefits as other employees. Local union United Service Workers West staged a protest on Apple's headquarters in Cupertino, California in December over complaints that its security contractor Security Industry Specialists treated workers poorly and that many positions were part-time.
Other service workers in Silicon Valley are also fighting for better wages and benefits.
The Wall Street Journal
reported that a group of 158 bus drivers working for Compass Transportation, which provides shuttle service for Apple, eBay, Genentech, Yahoo and Zynga, voted on Friday to be represented by local union Teamsters Local 853 in negotiations with Compass over fair working conditions.
Note: Due to the political nature of the discussion regarding this topic, the discussion thread is located in our
Politics, Religion, Social Issues
forum. All forum members and site visitors are welcome to read and follow the thread, but posting is limited to forum members with at least 100 posts.

The latest numbers from research firm
Gartner
reveal that Apple surpassed Samsung in worldwide smartphone sales during the fourth quarter of 2014 to become the world's largest smartphone maker. Samsung lost the top spot to Apple for the first time since 2011.
Apple narrowly edged Samsung as the two rivals had quarterly sales of 74.8 million and 73 million smartphones respectively. Apple's 20.4% market share was also marginally higher than Samsung's 19.9% share during the three-month period ending December.
"With Apple dominating the premium phone market and the Chinese vendors increasingly offering quality hardware at lower prices, it is through a solid ecosystem of apps, content and services unique to Samsung devices that Samsung can secure more loyalty and longer-term differentiation at the high end of the market," said Roberta Cozza, research director at Gartner.
Strategy Analytics reported in January that Apple and Samsung were
tied as the top smartphone makers
during the fourth quarter, although its findings were based on overall shipments and not actual sales. Samsung smartphone sales figures always have a margin for error, however, as the South Korean tech giant does not officially disclose smartphone sales and leaves research firms to estimate.

Samsung remained the top worldwide smartphone vendor in 2014 overall, with an estimated 307.6 million smartphone sales to capture 24.7% market share. Apple was runner-up with 191.4 million iPhones sold during the year, representing 15.4% market share. Lenovo, which acquired the smartphone making division of Motorola, finished third with 81.4 million smartphone sales in 2014 for 6.5% market share.

Samsung recently announced its latest flagship smartphones, the
Galaxy S6 and Galaxy S6 Edge
, each compatible with a new mobile payments service called Samsung Pay. The smartphones will be released April 10 in several countries. In the United States, the handsets will be available on AT&T, Verizon, Sprint and T-Mobile and also on sale through Amazon, Best Buy, Costco, Target, Walmart and Sam's Club.

Google is reportedly preparing to release an Android Wear app on the App Store for iPhone and iPad, according to French technology website
01net
[
Google Translate
] (via
iPhon.fr
).
The report claims Android Wear with extended iOS support could be announced at Google's I/O developer conference in late May, although Google may push the agenda depending on sales of the Apple Watch.
Google may be interested in capitalizing on iPhone and iPad users that are not planning to purchase an Apple Watch when the wrist-worn device is released in April, the report adds. Last month, an unofficial video of an
iPhone paired with Android Wear
for notifications amassed over 300,000 views on YouTube.
Android Wear smartwatches such as the LG G Watch, Moto 360 and Samsung Gear Live are currently limited to pairing with smartphones running Android 4.3 or later, such as the Samsung Galaxy S5, HTC One M8 and LG G3. Pairing an Android smartphone and smartwatch requires the official
Android Wear app
on the Google Play Store.
While 01net is one of the largest technology publications in France, its exclusive report has not yet been corroborated by other sources and its veracity cannot be confirmed. But given that Google is generally more open about cross-platform compatibility, and has an existing portfolio of apps on the App Store, there is a possibility that Android Wear for iOS could one day be a reality.

U.S. District Judge Lucy Koh in a San Jose, California courtroom on Monday raised no objections about a
$415 million settlement
that would end an ongoing anti-poaching class-action lawsuit involving Apple, Google and other large tech companies. Koh rejected a previous
$324.5 million settlement
last August after one of the plaintiffs in the case objected because the deal was too low, according to
Reuters
.
Tech workers filed the antitrust class-action lawsuit in 2011 against Apple, Google, Adobe and Intel, alleging that the four companies reached anti-poaching agreements that resulted in less job mobility and lower salaries. Apple and Google were accused of signing one of the earliest wage-fixing deals in 2005, although the anti-poaching agreements
extended far beyond
those companies. According to court documents, up to one million tech employees may have been affected by the agreements.
Apple has launched a worldwide "Shot on iPhone 6" advertising campaign involving 77 photographers, 70 cities and 24 countries, with iPhone 6 photography to be featured in magazines, newspapers, billboards, transit posters and more. The large-scale marketing initiative has started rolling out in several countries across the world this week, including the United States, Canada, United Kingdom, Thailand, Malaysia, Tokyo and United Arab Emirates.

"Shot on iPhone 6" photo on billboard in Los Angeles (via Twitter)
A number of "Shot on iPhone 6" advertisements have begun surfacing on Twitter and Instagram over the past few days, with spots appearing on the
back cover of The New Yorker
magazine, horizontal posters in London's
Euston Square
subway station and in the Malaysian city of
Bangsar
, billboards in
Los Angeles
and
Toronto
, the side of a tall skyscraper in
Dubai
and more.

"Shot on iPhone 6" photo on back cover of The New Yorker (via Twitter)
The photography campaign began with Apple promoting a
world gallery of photos
taken with the iPhone 6 on its homepage over the weekend, including photo apps such as
Instagram
,
Snapseed
,
VSCO Cam
,
Filterstorm Neue
,
Camera+
and
Adobe Photoshop Express
used for editing and filtering. The majority of photos shown provide scenic views of the outdoors, ranging from mountains and deserts to lakes and waterfalls.

There's a new Steve Jobs book set to be published later this month, penned by Brent Schlender, a reporter who interviewed Jobs several times throughout his life and became close to him, and Rick Tetzeli, Executive Editor at Fast Company. Called
Becoming Steve Jobs
, the book aims to go beyond existing myths and stereotypes about Jobs, giving a look at a man who was only human, who "wrestled with his failings and learned to maximize his strength over time."
The book explores the story of how Steve Jobs made the transformation from an arrogant young man exiled from Apple to the visionary leader that skyrocketed Apple to fame. Schlender and Tetzeli interviewed many of Steve Jobs' friends, family, and inner circle, to get access to never-before-told stories. Tim Cook, Jony Ive, Eddy Cue, Ed Catmull, John Lasseter, and Robert Iger all contributed to the book. It also draws on the experiences Schlender had with Jobs in interviews across many years.
Schlender and Tetzeli make clear that Jobs's astounding success at Apple was far more complicated than simply picking the right products: he became more patient, he learned to trust his inner circle, and discovered the importance of growing the company incrementally rather than only shooting for dazzling game-changing products. .
Daring Fireball
's John Gruber received an advanced copy of
Becoming Steve Jobs
and called it "the book about Steve Jobs that the world deserves." According to Gruber, it's an accurate retelling of the life of Jobs, with a "significant amount of new reporting. Some stories, he writes, "are going to be sensational."
The book is smart, accurate, informative, insightful, and at times, utterly heartbreaking. Schlender and Tetzeli paint a vivid picture of Jobs the man, and also clearly understand the industry in which he worked. They also got an astonishing amount of cooperation from the people who knew Jobs best: colleagues past and present from Apple and Pixar -- particularly Tim Cook -- and his widow, Laurene Powell Jobs.
A hardcover copy of
Becoming Steve Jobs
can be
pre-ordered on Amazon.com
for $21.78. There's also an iBooks version available for $14.99. [
Direct Link
]
Apple today made a pre-release version of OS X Yosemite 10.10.3 available to those who are signed up for the company's OS X public beta program, giving them early access to the new update and the new Photos for OS X app.
The public beta carries a build number of 14D87p, a slightly later build number than the 14D87h from the second developer beta of the software,
released last week
.
All registered public beta test members should be able to download OS X Yosemite through the Mac App Store.
OS X 10.10.3 includes access to the new Photos app, which is designed to serve as a replacement for Aperture and iPhoto.
Early reviews have suggested
the new software improves upon iPhoto, but leaves out many power features Aperture users have become accustomed to.
Along with the Photos app, OS X 10.10.3 also includes a redesigned single-page emoji picker that's organized into categories, and it introduces
new diversified emoji and emoji skin tone modifiers
. There are also new flag emoji for many countries, and some updates to existing emoji to better reflect Apple products -- the watch emoji is now an Apple Watch, the cell phone resembles an iPhone 6, and the computer is an iMac.
Smaller additions in OS X 10.10.3 include support for Google 2-step verification when setting up accounts in System Preferences.

Following several weeks of rumors about Apple's car-related projects, a recent move by the company to expand trademark coverage of the
"Apple" name
and iconic
Apple logo
in Switzerland to include vehicles is gaining attention, as noticed by
ApfelBlog.ch
[
Google Translate
] (via
Cult of Mac
).
While the expansion, which also
occurred
in
Mexico
on the same date last month, is unsurprisingly sparking discussion about Apple's efforts in the automotive industry, it is not exactly a new development. Various other Apple trademark applications over the years have included protection under International Class 12, which covers vehicles and their accessories. A
European Union filing
from October 2003 describes a similar vehicle-related corporate trademark, and others such as a
United Kingdom filing
from last year have been filed since that time.
Each trademark filing goes through the same basic motions in mentioning various types of vehicles and vehicle-related devices to be covered.
Vehicles; Apparatus for locomotion by land, air or water; electronic hardware components for motor vehicles, rail cars and locomotives, ships and aircraft; Anti-theft devices; Theft alarms for vehicles; Bicycles; Golf carts; Wheelchairs; Air pumps; Motorcycles; Aftermarket parts (after-market parts) and accessories for the aforesaid goods.
One issue with interpreting trademark applications is the common strategy of trying to cover as broad a base as possible in order to maximize protection, and thus it is difficult to tell whether Apple's new vehicle-related applications are related to the rumored projects or something simpler such as CarPlay. Apple also currently holds "iPhone," "Mac," and "iPod" trademark protection under Class 12 in several countries.
The Swiss and Mexican filings come on the heels of a recent deluge in Apple car-related news that began when a
mysterious van
leased to the company was seen on Bay Area streets. Further news on the company
hiring employees
from Tesla, Ford and GM, and reports stating the so-called "Project Titan" is
aiming to launch
in 2020 have led some to believe the vans are related to Apple's vehicle project, but they appear more likely to be an
attempt
to beef up Apple's Maps offerings with imagery similar to Google's Street View.