Roughly a week after its initial release,
iOS 8
is now installed on 46% of devices connected to the App Store, according to the latest numbers posted on
Apple's App Store developer support page
(via
iClarified
). The numbers also indicate that 49% of users are using iOS 7 while 5% of users are on older versions of iOS.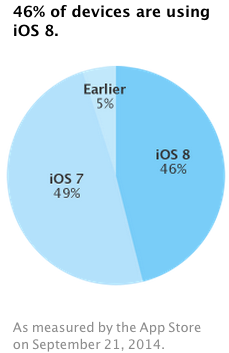 Earlier this month, Apple's analytics
indicated
that 92% of devices connected to the App Store were using iOS 7, while 7% were using iOS 6 and 1% were on earlier versions of the mobile operating system. In December 2013, iOS 7 usage was at
74 percent
, which jumped to
78 percent
later that month. In
late January
, iOS 7 usage was at 80% and then scaled to
85% in March
.
iOS 8 was released last Tuesday and brought several new features like Continuity, third-party keyboards, interactive notifications and more. However, a number of users have
experienced a variety of problems
with the operating system's initial release, including irregular battery drain, slow Wi-Fi, app crashes, and more.
Apple today debuted two brand new ads called "Huge" and "Cameras", focusing on the larger sizes of the iPhone 6 and iPhone 6 Plus and all of the new features of the highly praised new camera in both devices. Both ads
once again
feature Jimmy Fallon and Justin Timberlake having some banter.
The first ad, "Huge", has Fallon and Timberlake talking about how big the new phones are. While Fallon points out "huge" new features like the Health app while Timberlake repeatedly points out how the phones are literally "huge".
The second ad, "Cameras", has the duo talking about the camera features like time lapse, 240 frames per second slow-motion video and image stabilization for video while using their voices to vocally represent what each app does.
The ads are the third and fourth in a new series of ads starring Fallon and Timberlake. Earlier today, Apple
announced
that the company sold 10 million iPhone 6 models over the weekend.
Apple has plans to
introduce
the next-generation iPad Air in October, according to Taiwan's
Commercial Times
[
Google Translate
]. The site says the updated tablet will enter production in September, shipping next month.
Commercial Times
also suggests that the next-generation Retina iPad mini might not launch alongside the iPad Air, coming instead in early 2015, with the 12.9-inch iPad Pro to follow in the second quarter of 2015.

Physical mockup of the second-generation iPad Air
While the rumor suggesting the 12.9-inch iPad Pro will be coming in the second quarter of 2015 is in line with previous rumors, there has been no prior indication that second-generation iPad Air and the next-generation Retina iPad mini will see separate launch timelines.
Previous rumors have indicated that both the Retina iPad mini and the iPad Air 2 will be
introduced simultaneously at an event in October
. Recently, a rumor suggested the two tablets could be introduced at an
October 21 media event
, but that prediction was quickly shot down by
The Loop
's Jim Dalrymple. Dalrymple did not, however, rule out an event at another date in October, so an October unveil of the two tablets remains likely. According to recent report from
Bloomberg
, the iPad Air 2 is in production and the Retina iPad mini 2 is entering production soon.
Both the next-generation iPad Air and Retina iPad mini are expected to gain updated A8 processors,
camera improvements
, and the
Touch ID fingerprint sensor
first introduced with the iPhone 5s. Apple's iPad Air 2 may also gain an
anti-reflective screen coating
and it may also ship in gold, silver, and space gray, much like the iPhone.

Released last week, iOS 8 is Apple's latest operating system update, bringing several new features like Continuity, third-party keyboards, Notification Center Widgets, and more. As with any new iOS update, users have been reporting several bugs in the operating system, with some of the more prevalent complaints pointing towards slow Wi-Fi speeds and problems with battery life.
As outlined by
PCMag
, iOS 8 users on the Apple support forums have been complaining about Wi-Fi problems in a thread that now spans multiple pages, an issue that was confirmed by the site's own testing. It appears, based on complaints, that multiple devices may be affected by a Wi-Fi bug, including the iPhone 5s, the iPhone 6, the iPhone 6 Plus, the iPad Air, the Retina iPad mini, and more.
I also got an iPhone 6 on Friday, and noticed some sluggishness when connected to my home Wi-Fi network in New York. Twitter and Instagram photos took forever to appear, and opening a news story in Safari was hanging. I did a speed test using the Ookla app and got an abysmal 0.01 Mbps download and 1.05 Mbps upload. Minutes later, another test jumped up to 4.75 Mbps download and 0.24 upload, but a third test was again at 0.02 Mbps download and 0.76 upload.
Some users reportedly had luck fixing the problem by disabling Wi-Fi Networking under Privacy --> Location Services --> System Services.
Significant battery drain appears to be another complaint that's popping up frequently on the
Apple Support forums
, with users complaining of their batteries draining much faster than usual. According to one user, his battery drained from 100 percent to zero in four hours with minimal usage, a complaint echoed by several other users.
While those seem to be some of the more prominent problems on the Apple forums, iOS 8 users are running into plenty of other bugs and issues with the software. On our own
MacRumors
forums, there's an
eleven page thread
cataloguing complaints, which range from app crashes to the same battery issues Apple forum members are seeing, and a second thread where people are
posting a list of bugs
. There's also a thread on people experiencing
excessive battery drain
and a thread on people
seeing slow Wi-Fi speeds
.
Apple already has plans for an iOS 8 update that's coming in the near future, bringing support for Apple Pay and several features that are currently missing from the software, including SMS Relay. The update may also be used to fix some of the bugs that users are experiencing.

Apple is planning to discontinue Beats Music, the streaming music service that it acquired as part of an acquisition of Beats Electronics back in May. According to
TechCrunch
, multiple sources that include "several prominent employees at Apple and Beats" have confirmed that Apple is shutting down the music service.
Many engineers from Beats Music have already been moved off the product and onto other projects at Apple, including iTunes. It's not clear when exactly Jimmy Iovine and Dr Dre's music service will be shut down or what Apple will do with streaming, but every source with knowledge of the situation that we talked to agreed Apple plans to sunset the Beats Music brand.
Apple first acquired Beats Music in May, and at the time, announced plans to leave the music service untouched. There were no plans to integrate Beats Music into iTunes, with the company suggesting that it would remain as a standalone service.
TechCrunch
suggests that the fact that Beats Music did not come pre-loaded onto the iPhone 6 and 6 Plus serves as a "red flag" that the music service is on its way out. The site also pointed towards an Apple Watch demo that included an "unannounced music app with a blue play button that instantly started playing songs when tapped during a demo," but that icon appears to correspond to the
Remote app
and not a new music app.
Apple shutting down Beats Music is unusual news given the efforts that the company has gone to in order to promote it in recent weeks, adding it to the list of "
Apps Made by Apple
" and recommending the app to new iOS users. If Apple plans to do away with Beats Music, it is unclear what further moves it will make in the streaming music arena. Beats Music was seen as the company's answer to popular services like Spotify, aimed at bolstering flagging music sales.
According to one source who spoke to
TechCrunch
, Apple might be planning to roll streaming music into iTunes, creating a unified Apple music service after shutting down Beats Music.
Update:
According to an Apple representative that spoke to
Re/code
, the company is not planning to shut down Beats Music.
So why would Apple plan to shut down Beats Music, as a TechCrunch headline reports?

Answer: It's not.

Tom Neumayr, says the TechCrunch story is "not true", but wouldn't elaborate.
While the spokesperson declined to elaborate,
Re/code
suggests that while Apple does not plan to shut down Beats Music, it may "modify it over time," changing the brand name.
The Video Electronics Standards Association (VESA) today
announced
a DisplayPort Alternate Mode for the upcoming USB Type-C connector standard, which will let USB-Type C connectors and cables deliver DisplayPort signals.
As noted by
AnandTech
, DisplayPort technology built into USB Type-C has the potential to connect monitors, cables, docking stations, and more. With the ability to support displays and carry video data via USB, USB Type-C could potentially serve as the next Thunderbolt connector, powering 4K and higher resolution displays.

The DisplayPort Alt Mode repurposes some or all of the four existing SuperSpeed USB lanes to deliver full DisplayPort performance, and uses other signaling available in the USB Type-C connector for DisplayPort's AUX channel and HPD (Hot Plug Detection) function. This enables computers, tablets, smartphones, displays, and docking stations to implement the new USB Type-C connector at both ends while using the DisplayPort Standard over USB Type-C to transmit high-resolution A/V along with USB data and power.
Finalized in August, the USB Type-C connector specifications are much improved over previous USB generations. The slim connector is entirely reversible, making it easier to plug in, and due to its thin design, it's suitable for both mobile device and larger computers. It's also certified for USB 3.1 data rates of up to 10 Gbps and can deliver a maximum of 100W of power.
With an alternate DisplayPort mode and four lanes of signaling, one USB Type-C cable could be used to provide power to a device while also driving a connected display. According to VESA, Type-C ports and the first DisplayPort Alt Mode capable devices (using DisplayPort 1.2a) will be available beginning in 2015.
Earlier this morning, a
rumor suggested
Apple's upcoming 12-inch MacBook would take advantage of the new reversible USB Type-C connector, which is plausible as that device is rumored to begin shipping in mid-2015.
DisplayMate, which routinely performs thorough testing of display quality on a variety of electronics, has released its
iPhone 6 Display Technology Shoot-Out
, taking a look at the performance of Apple's latest handsets using new "Retina HD" technology. While DisplayMate's Ray Soneira has not shied away from
criticizing Apple's displays
on some recent devices, he found the iPhone 6 Plus to have the "best performing Smartphone LCD display that we have ever tested" while the iPhone 6 also scored well in testing.

While the "best ever" designation includes the caveat of applying to LED displays and DisplayMate continues to rate the OLED display from the Samsung Galaxy Note 4 as the best overall smartphone display, the gains seen in the iPhone 6 and particularly the iPhone 6 Plus are impressive.
Based on our extensive Lab tests and measurements, the iPhone 6 Plus is the Best performing Smartphone LCD display that we have ever tested. It delivers uniformly consistent all around Top Tier display performance. The iPhone 6 Plus is only the second Smartphone display (LCD or OLED) to ever get all Green (Very Good to Excellent) Ratings in all test and measurement categories (except for Brightness variation with Viewing Angle, which is the case for all LCDs) since we started the Display Technology Shoot-Out article series in 2006, an impressive achievement for a display. The iPhone 6 Plus has raised the bar for top LCD display performance up by a notch.
In particular, the iPhone 6 Plus display sets new records among LCD displays for peak brightness, low reflectance, and several measures of contrast and accuracy.
DisplayMate finds the iPhone 6 display to have many of the same strong areas of performance as in the iPhone 6 Plus, but the lower resolution and pixel density hold the smaller model back somewhat.
Most rescaled images look noticeably better on the iPhone 6 Plus with 2.1 Mega Pixels compared to just 1.0 Mega Pixels on the iPhone 6. In addition, even at the native display resolution, fine text and graphics look better on the iPhone 6 Plus if you look carefully and closely at the screen (because you may want to or need to).

The display on the iPhone 6 is none-the-less still a Very Good display, and most buyers will be happy with its performance, but it's somewhat disappointing that Apple went for satisfactory as opposed to the best.
DisplayMate's report includes a variety of charts and tables comparing the iPhone 6 and 6 Plus to the iPhone 5/5s that are worth a look, as well as some discussion of how LCDs such as those found in the latest iPhones compares with OLEDs favored by Samsung.

Following a
previous report
claiming Apple's much-rumored 12" ultra-slim notebook is planned to arrive in silver, gold, and space gray color options, Jack March has
issued a follow-up report
sharing additional details on the machine.
According to March's report, which
MacRumors
believes to be based on legitimate information, the new notebook has a much thinner design that appears to sacrifice many of the usual ports seen on Apple's current notebooks and may adopt the new reversible
USB Type C
connector that has seen its specifications recently finalized.
A source familiar with Apple's plans describes the 12 inch Macbook Air as having a noticeably thinner design, the source wouldn't give dimensions however noted that the thinner design may sacrifice the standard USB port and Apple will move to the reversible USB Type C with this product, It is assumed Apple will include an adapter in the box for backwards compatibility.
Interestingly, the report raises some questions about charging on the notebook, indicating that the usual MagSafe port has been removed in favor of a new, unspecified charging method.
In line with previous rumors, the machine is reportedly fanless, suggesting it will adopt an ultra low-power processor such as the
Broadwell-Y Core M processors
recently announced by Intel. The body of the new notebook is also said to be narrower than the current MacBook Air, with narrower display bezels and a keyboard stretching right to the edges of the machine. Finally, the speakers are said to be located above the keyboard with visible grilles, unlike the MacBook Air and 13-inch MacBook Pro that have their speakers located underneath the keyboard.
Apple's 12-inch notebook has been rumored for some time, with the launch perhaps being pushed back due to multiple delays for Intel's Broadwell chips. March's previous report indicated Apple appears to be currently looking toward a mid-2015 launch.
(Image: Chassis of current MacBook Air)
AnandTech
spent the weekend
benchmarking
the iPhone 6 and 6 Plus, comparing the duo to the iPhone 5s and competing Android handsets. The test results show that iPhone 6 and iPhone 6 Plus models are at the top of the charts in CPU benchmarks and battery life, while the iPhone 6 Plus lags in graphics performance due to the larger screen.

In in GPU benchmarks, we generally see a pretty solid lead over the competition for the iPhone 6/A8. It's seems quite clear that there is a significant impact to GPU performance in the iPhone 6 Plus due to the 2208x1242 resolution that all content is rendered at. It seems that this is necessary though, as the rendering system for iOS cannot easily adapt to arbitrary resolutions and display sizes.
AnandTech
also examined battery life, noting that "Apple has managed to do something quite incredible with battery life. " Even with a smaller 1810 mAh battery, the iPhone 6 manages to beat out the iPhone 5s and most other Android phones on the market. Not surprisingly with its 2910 mAH battery, the iPhone 6 Plus grabs second place behind the Huawei Ascend Mate 2.

Apple introduced the iPhone 6 and 6 Plus during its recent September press event and launched the phones on September 19. The two handsets include Apple's new A8 processor, M8 motion co-processor, 8-megapixel iSight camera, faster 802.11a/b/g/n/ac Wi‑Fi and NFC. Demand for the two phones was high with Apple
selling
10 million iPhone 6 and 6 Plus units in the first weekend of sales.
Apple today
announced
that opening weekend sales of the 4.7-inch iPhone 6 and the 5.5-inch iPhone 6 Plus topped ten million units, breaking the previous record of nine million units set by the iPhone 5s and iPhone 5c
last year
.

"Sales for iPhone 6 and iPhone 6 Plus exceeded our expectations for the launch weekend, and we couldn't be happier," said Tim Cook, Apple's CEO. "We would like to thank all of our customers for making this our best launch ever, shattering all previous sell-through records by a large margin.
As with previous years, the company also claims that demand for the iPhone 6 and iPhone 6 Plus has been very high, as more orders will be fulfilled over the coming weeks. Apple announced last Monday that it
processed
four million first-day pre-orders on September 12.
Currently, shipping estimates for new iPhone 6 orders remains at
7-10 business days
, while the iPhone 6 Plus is still showing a shipping delay of
3-4 weeks
. The iPhone 6 and iPhone 6 Plus will also be available in 20 more countries including Austria, Belgium, Finland, Ireland, Italy, Netherlands, New Zealand, Norway, Portugal, Russia, Spain, Sweden, Switzerland, Taiwan, Turkey, United Arab Emirates, and more on September 26.
Verizon began
rolling out
its Advanced Calling service earlier this week, enabling voice over LTE (VoLTE) capabilities for select devices that support the service, which includes the iPhone 6 and the iPhone 6 Plus.
Numerous iPhone 6 and 6 Plus users are reporting that the VoLTE service is
now functional
, allowing Verizon iPhone 6 and 6 Plus users to use simultaneous voice and data capabilities for the first time when connected to a 4G LTE network.
MacRumors
has confirmed that VoLTE is indeed working, enabling users to browse the web or access apps while on a voice call.

In addition to enabling simultaneous voice and data, Verizon's Advanced Calling features also allow for High-Definition voice calls, which are said to be more "natural-sounding" and Verizon-branded video calls.
Advanced Calling 1.0, a first-generation service suite enabled by Voice over LTE, or VoLTE, technology, is now available on America's largest and most reliable 4G LTE network with XLTE. With Advanced Calling 1.0, there is a clear difference. You will be able to enjoy natural-sounding High-Definition (HD) Voice and a Video Calling experience that's as simple as making a traditional voice call.
Users can enabled Advanced Calling features by visiting the
Verizon website
and adding the feature to their accounts. Users also
need to make sure
both Voice and Data are turned on in the iPhone's Settings app. Go to Settings --> Cellular --> Enable LTE --> Tap Voice & Data.

Verizon's Advanced Calling features are limited to the iPhone 6, the iPhone 6 Plus, the LG G2, and the Samsung Galaxy S5.
(Thanks, Will!)
Apple's 20-nanometer A8 processor in the new iPhone 6 and 6 Plus was fabricated by Taiwan Semiconductor Manufacturing Company (TSMC), according to
Chipworks
(via
iFixit
).
Chipworks
has been
analyzing the various parts
in the iPhone 6 and the iPhone 6 plus following its release today.
While the iPhone 5s used a 28-nanometer processor, the iPhone 6 and the 6 Plus have a 20-nanometer processor, as has been widely rumored. According to TSMC, its 20-nanometer process technology can result in speeds that are much higher than its 28-nanometer chips. The 20-nanometer process also results in a physically smaller chip that draws less power.

Ahead of the launch of the iPhone 6 and 6 Plus, there were multiple
back and forth rumors
that made it unclear whether Samsung or TSMC was manufacturing the chips destined for the new iPhones. Previous generation chips, such as the A7 in the iPhone 5s, were manufactured by Samsung, but Apple reportedly
entered into a partnership
with TSMC in an effort to reduce its reliance on rival Samsung. The shift is also part of a larger effort by Apple to
diversify its supply chain
, which cuts down on potential manufacturing issues.
Though TSMC created the 20-nanometer chips for the iPhone 6 and the 6 Plus, rumors have suggested that Apple hasn't ended its relationship with Samsung entirely. The company is rumored to be
producing the 14-nanometer chips
that will be used in future iOS devices next year, indicating that Apple has plans to continue having both TSMC and Samsung create chips for its devices.
According to Apple, the
A8 chip
in the iPhone 6 and 6 Plus offers a 25 percent faster CPU and 50 percent better graphics performance compared to the A7 in the iPhone 5s.