As
predicted in August
, Apple is planning to hold a media event on Wednesday, September 9 at the Bill Graham Civic Auditorium in San Francisco, California. Media invites were sent out today, with
Yahoo's Alyssa Bereznak
sharing the first look at the artwork and tagline for the invitations: "Hey Siri, give us a hint."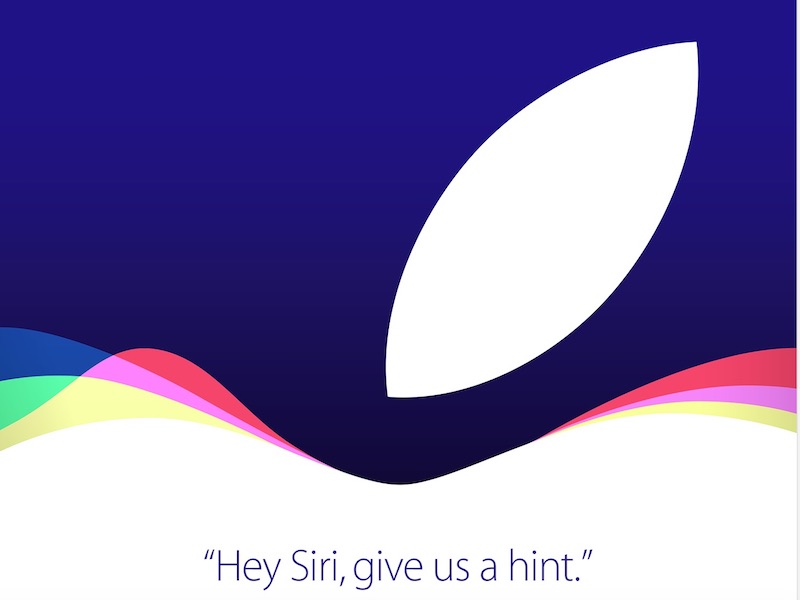 Image via The Loop
This year's iPhone-centric event is expected to see the debut of the next-generation iPhone 6s and iPhone 6s Plus, which, according to rumors, will include a reinforced body constructed from stronger 7000 Series aluminum, Force Touch, an A9 processor, 2GB RAM, and an improved camera.
Rumors have also suggested Apple will use the event to unveil the next-generation Apple TV, a major update from the existing set-top box. It will include a redesigned chassis with an A8 processor, more storage space, and a touch-based remote control, along with a new software system that includes Siri support and a full App Store.
We'll also get an update on the launch dates of iOS 9 and watchOS 2, and shortly after the event ends, we may see golden master software releases for the two software updates ahead of their final public launch.
In line with past events, the September 9 iPhone unveiling will begin at 10:00 a.m. Pacific Time. Apple has not yet confirmed whether the event will be live streamed on its website and through the Apple TV, but it is likely details on a live stream will be announced a few days ahead of the event.
Update
: Siri itself is also getting in on the festivities with some witty responses.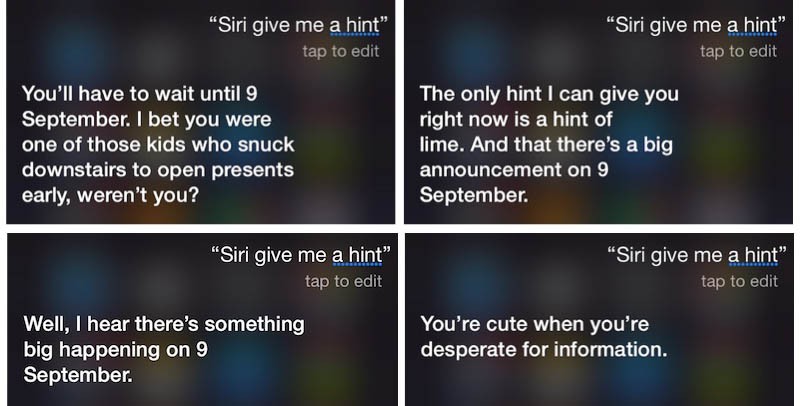 Update 2:
Apple will be
live streaming
the media event on the web for Mac, iPhone, iPad, Apple TV and PC users.
MacRumors
recently learned that Apple's
One to One
training program for Mac, iPhone and iPad may be
coming to an end soon
, and we can now confirm that Apple Stores are holding meetings with retail employees about phasing out the membership-based service, which has been available under its current name since May 2007. One to One members should be informed about the changes in the near future.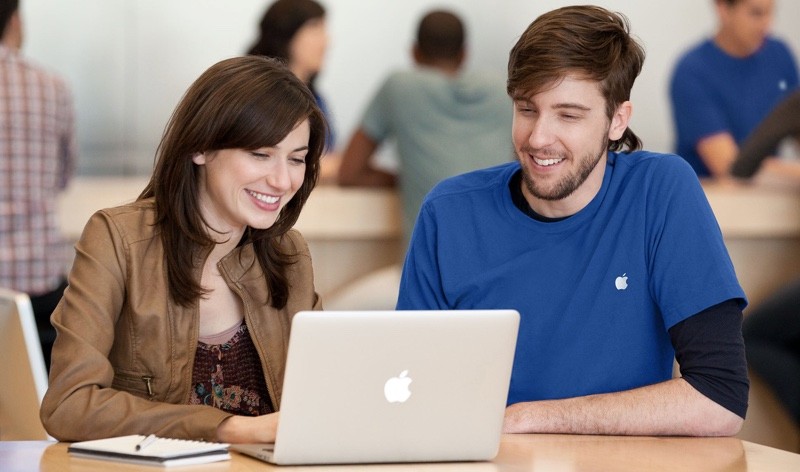 Apple is retiring One to One to focus on free public workshops such as Mac Basics, Personalize Your Mac, iPhone and iPad Basics, iCloud Basics and iPhone Photography. Group Training and Open Training will be discontinued immediately, while Personal Training will remain available for customers that recently purchased One to One until their membership expires, according to sources.
One to One costs $99 per year and provides customers that purchase a Mac with individualized tutoring sessions from Apple retail employees related to Getting Started With Your Mac, Getting Started With Your iPhone, Getting Started With Your iPad, iCloud, Mail Contacts & Calendars, iPhoto, GarageBand, iMovie, iTunes, Pages, Keynote, Numbers, Aperture, Final Cut Pro, Motion and Logic Pro.
A new feature of the upcoming "iPhone 6s" and "iPhone 6s Plus" will be a collection of improved animated wallpapers for the smartphones' lock screen, according to a few sources speaking with
9to5Mac
. The designs of the wallpapers will be similar to the "Motion" watch faces seen on the Apple Watch, with the suggested hint that each animation will dynamically change and animate every time the user wakes their phone to interact with it.

The new themes will range from fish in a koi pond to different color smoke clouds, the latter of which are suggested as becoming animated versions of the
static backgrounds
that got added in an iOS 9 beta update earlier in the month. The same sources do warn the feature could have been dropped at the last second, but a questionable leaked photo of a purported iPhone 6s Plus box -- which does in fact
showcase a koi pond-like fish image
-- could point to the feature's inclusion in the new line of iPhones.
Apple introduced dynamic wallpapers in iOS 7, but the options were limited, with one theme stretching over seven different color choices. Today's report suggests the company could be going into as
deep and obsessive detail
of capturing unique and interesting lock screen images as it did for the Apple Watch. Including a few in-depth
photos
and
videos
shared with us, news and rumors surrounding the next-generation of iPhone have begun pointing towards a
September 9 media reveal
for the devices, with a launch a week-and-a-half later on September 18.
Following our look at a
partially functioning "iPhone 6s"
built from parts earlier this week, we're now getting some more details on the iPhone 6s display assembly itself. While the part has been seen in a
few leaks
over the past several weeks, a source has now provided us with some new information and high-quality photos of the part.

Display assemblies from iPhone 6 (left) and iPhone 6s (right)
Numerous rumors have pointed toward the iPhone 6s including support for Force Touch, which will allow the device to sense how hard the user is pressing on the screen and present different interface options or functionality based on the amount of pressure. We've yet to see confirmation that such functionality is present in these display assemblies that have been circulating, but there are some tantalizing differences from the corresponding iPhone 6 part.

Top portion of iPhone 6s display assembly with unknown chip
The first is a small rectangular chip visible on the rear of the display. It has been seen in all leaked parts seen so far, and its function remains unconfirmed, but our source suspects it is indeed related to Force Touch. The chip is visible due to a cutout in the metal shielding behind the display.
Click here to read rest of article...
The latest data from market research firm
IDC
estimates Apple Watch sales totaled 3.6 million worldwide in the second quarter of 2015, making it the second most popular wearable device during the three-month period ending June 30. Apple was within striking distance of market leader Fitbit, which sold an estimated 4.4 million fitness trackers in the second quarter.

IDC estimates that Chinese electronics maker Xiaomi trailed in third place with 3.1 million wearables shipped in the quarter, representing 17.1% market share. Garmin and Samsung rounded off the top five with 700,000 (3.9%) and 600,000 (3.3%) wearables shipped respectively, while all other vendors accounted for a combined 5.7 million shipments and 31.5% market share.

Last month, Strategy Analytics estimated
4 million Apple Watch sales
in the second quarter, so IDC's estimate is within close range. Apple has not disclosed Apple Watch sales numbers since it launched in April, instead grouping the wrist-worn device with iPod, Apple TV and Beats Electronics accessories under an "Other Products" category in quarterly earnings reports.
Apple CEO Tim Cook vaguely mentioned that Apple Watch sales have "
exceeded expectations
" during an earnings call last month.
Related Roundups:
Apple Watch,
watchOS 2
Tags:
Samsung,
IDC,
Fitbit,
Xiaomi
Buyer's Guide:
Apple Watch (Neutral)
A new photo obtained by
cnBeta 
[
Google Translate
] (via
Mac Otakara
[
Google Translate
]) allegedly shows off what appears to be the packaging of the upcoming iPhone 6s Plus. The photo depicts a standard white iPhone box, similar to what Apple has used as packaging for previous phones.

The box is unfolded and has what appears to be a gold iPhone 6s Plus on the front, a gold Apple logo on the bottom and "iPhone 6s Plus" written on the side. The "S" is within a small square, as is standard on iPhone "S" packaging. The box also shows off what looks to be a brand new wallpaper featuring a black and gold fish or flower.
Additionally,
cnBeta
says that the iPhone 6s' battery capacity will be down to 1715 mAh from the iPhone 6's 1800 mAh, while the iPhone 6s Plus will be down to 2750 mAh from the iPhone 6 Plus' 2910 mAh.
Mac Otakara
says they've also heard the battery capacity for both models will be lower, lining up with
earlier rumors
that the battery capacity in the phones would be smaller. If true, it likely indicates Apple has increased the battery efficiency of both "S" phone models in order to make up for the smaller battery capacity.
However, it's unclear how authentic the photos of the iPhone 6s Plus packaging are. The material of the box appears to be a thinner material than current iPhone packaging and displays an unfamiliar wallpaper that has not appeared in any iOS 9 betas thus far.
Apple is expected to announce both the iPhone 6s and iPhone 6s Plus at a September 9 event. The Cupertino company is also
expected to finally unveil
its new Apple TV with a new touch-based remote and full App Store. New rumors
indicate
the event could be held at the Bill Graham Civic Auditorium in San Francisco.
Related Roundups:
iPhone 6,
iPhone 6s (2015)
Tag:
cnBeta.com
Buyer's Guide:
iPhone (Don't Buy)
Earlier this week, there was some speculation that Apple might be planning to hold its upcoming September 9 iPhone event
at the Bill Graham Civic Auditorium in San Francisco
, and now there are new details that further hint towards Apple's involvement with the site.
Beginning on Monday, SFPD officers and private security guards began patrolling the grounds at the auditorium, prompting San Francisco news site
Hoodline
to do some digging into what was going on. It turned out the auditorium was booked for a "trade show" set to run from September 4 until September 10, but because it was registered to a company called "Adams and Associates," nothing linked the booking back to Apple.

A police officer outside the auditorium, via Hoodline
Hoodline
now reports that a "trusted source" has confirmed the Bill Graham Civic Auditorium will indeed be used for Apple's September iPhone event.
Our source, who wished to remain anonymous due to the extreme privacy surrounding the event, has shown us documentation from event logistics indicating that Apple is renting the building through September 12th. This timing is consistent with what we were told by a security guard on Monday.
Hoodline
has also unearthed information on planned street closures that heavily lines up with the timeline when we expect Apple to hold its event. One street will be shut down from 6 p.m. on September 8th until 11:59 on September 10th, while another will be closed on Wednesday, September 9 between 4 a.m. and 11:59 p.m.
The mysteriousness surrounding the booking at the auditorium combined with the information obtained by
Hoodline
and the upcoming street closures all seems to point towards Apple, but there continues to be no concrete evidence Apple has rented the site for its iPhone event.
In an interview with
SFGate
, the project director for the Civic Center said he had no knowledge of what the building was being used for, while a spokeswoman for the Planning Department said the "trade show" information was all department was told.
"I'm even the landlord of the building, and they won't tell me," said Rob Reiter, project director for the Civic Center. "I've never seen anything like it before, but I'm just a guy in the basement," he said of his office in the bowels of City Hall.
As was shared on Monday, the San Francisco Planning Department is involved because four window panels are set to be removed to accommodate an "exterior wall mounted star graphic sign," which may be a placeholder for an Apple logo.

In past years, Apple's iPhone-centric September events have been held at a variety of locations around the Bay Area, so it would not be a surprise to see the company hold its event at the Bill Graham Civic Auditorium. With just two weeks to go until Apple's September 9 event, it won't be long before the company's plans are unveiled. Media invites for the event will most likely be going out soon, confirming the event location.
(Thanks, Tom!)
As of today, Apple has begun selling third-party Apple Watch accessories in its retail stores. The first third-party Apple Watch product Apple is offering on store shelves is
ElevationLab's NightStand for Apple Watch
.
Priced at $29.95, the NightStand is a simple, affordable Apple Watch stand that was one of the
first Apple Watch stands on the market
. The NightStand was originally offered only in blue, black, and red, but it appears the company partnered with Apple to offer stands that match each of the Apple Watch Sport bands. Apple is selling the NightStand in pink, blue, green, black, and white.

We visited an Apple Store in North Carolina, where the NightStands are on display next to the Apple Watch Sport bands, Apple Watch chargers, and matching Beats headphones.
The NightStand is one of the few Apple Watch stands available for purchase that supports watchOS 2's upcoming Nightstand Mode, which may be one of the reasons why Apple chose it for retail stores. With Nightstand Mode in watchOS 2, the Apple Watch is able to serve as an alarm clock while charging.

According to a source that spoke to
MacRumors
, the NightStand from ElevationLab is the only Apple Watch accessory Apple is offering for now, but additional accessories might start appearing in stores in September. ElevationLab's NightStand is currently only available in retail stores and is not yet being offered online.
Apple's decision to begin offering third-party Apple Watch accessories comes amid a major revamp of its retail stores. As of today, Apple retail stores no longer have iPad "smart signs" that display pricing information and product details next to each product for sale.

Instead, Apple's display products, such as iPhones, iPads, and Macs, now include a dedicated "Pricing" app that users can open up to get pricing information.

In recent months, Apple Stores have been undergoing some significant transformations. Along with the removal of the smart signs to reduce clutter and confusion, Apple has also slimmed down on the number of accessories for a more refined look. In the future, many accessories will also feature
Apple-designed packaging
.
Related Roundups:
Apple Watch,
watchOS 2
Tags:
Apple retail,
ElevationLab
Buyer's Guide:
Apple Watch (Neutral)
Apple CEO Tim Cook and Senior Vice President Eddy Cue received 560,000 and 350,000 restricted stock units respectively this week, worth a combined $93.8 million based on AAPL's closing price of $103.12 on Monday, according to a
pair
of
filings
with the U.S. Securities and Exchange Commission.

Tim Cook and Eddy Cue at an Apple Store in 2014 (Image: Bloomberg)
Cook was awarded with 280,000 performance-based restricted stock units in full based on Apple's performance relative to the other companies in the S&P 500 over a two-year period ending August 24. Apple needed to achieve a total shareholder return (TSR) of at least 41.36% to place in the top third of companies in the index, and Apple's TSR for the two-year period was 76.76%.
Cook and Cue did not sell any of their RSUs, although 290,836 and 171,853 shares were withheld by Apple respectively to satisfy the minimum statutory tax withholding requirements on vesting of RSUs. Cue transferred his remaining 178,147 shares that vested to a family trust, and he has now been awarded all 700,000 shares granted to him on September 2, 2011.
Cook has a remaining 4.76 million RSUs scheduled to vest as follows per the SEC filing:
700,000 RSUs on August 24, 2016; 700,000 RSUs on August 24, 2021; 1,680,000 vest in six equal annual installments commencing August 24, 2016; the remaining 1,680,000 are all subject to performance based vesting requirements and will potentially vest in six annual installments commencing August 24, 2016.
Cook must remain employed at Apple to receive his unvested RSUs on their applicable vesting dates.
We've already seen a number of part leaks from the upcoming "iPhone 6s", and a source has now provided
MacRumors
with several photos and videos showing how those parts can be combined to build a partially functioning iPhone. Specifically, the new photos and videos reveal an iPhone 6s logic board and display assembly paired with a number of iPhone 6 components such as the rear shell and battery to create a device that starts up enough to be able to display a screen showing a gear icon.

The video shows the device booted to the gear screen and then opened, showing the various iPhone 6s and 6 components laid out and connected inside the rear shell. Several components such as the rear camera are missing, but there are enough parts present to deliver data to the iPhone 6s display.
One heavily rumored feature for the iPhone 6s is support for Force Touch, allowing the device to sense how hard the user is pressing on the display and activate differential controls depending on how much pressure is being applied. While the partially booting phone does not prove Force Touch support is present, there are some definite differences from the iPhone 6 such as the shielding on the rear of the display being glued in place rather than screwed in.
Click here to read rest of article...
Early this year, Apple acquired
popular music plug-in and effect maker Camel Audio
, largely known for its Alchemy software, which bundled a range of plug-ins, synthesizers, effects, and sound libraries. Alchemy's powerful audio manipulation tools have now been built into Apple's own music software,
Logic Pro X
and
MainStage 3
, via
updates that are available today
.
Described by Apple as "the ultimate sample manipulation synthesizer," Alchemy introduces additive, spectral, formant, granular, sampler, and virtual analog sound generators, along with 3,000 presets for electronic music ranging from electronic dance to hip hop and rock.

There's a built-in preset browser built around keywords that's designed to let users find sounds quickly, and reshaping them can be done with the Transform Pad. Up to four synth modules can be combined to create multi-layered sounds, and there are 100 modulation sources that can be used to create dynamic instruments. The full release notes for
Logic Pro X
are below:
What's New
- Introducing Alchemy - the ultimate sample manipulation synthesizer

- Next generation synthesizer plug-in with multiple sound generators including; additive, spectral, formant, granular, sampler, and virtual analog
- Over 3,000 presets for all types of electronic music including electronic dance, hip hop, rock, and sound for picture
- Integrated keyword preset browser for finding the right sounds quickly
- Performance controls like the Transform Pad make it easy to explore and reshape sounds
- Combine up to four synth modules to create complex multi-layered sounds
- Virtual analog oscillators produce authentic recreations of iconic synth sounds
- Wide selection of modeled analog and special effect filters for producing sounds with vintage character and tonal complexity
- Create animated, dynamic instruments using over 100 modulation sources that include flexible LFOs, AHDSR and MSEG envelopes, and step sequencers
- Manipulate and combine samples in new ways using a collection of morphing and resynthesis tools
- Import EXS24 instruments or create your own using a robust set of sampler features
- Apply independent arpeggiators to each of the 4 sound sources to transform simple chords into elaborate performances
- Integrated effects rack with reverb, modulation, delay, compression, and a range of distortion effects

- New tabbed Transform Pad and X/Y Pad Smart Controls for Alchemy instruments
- Share directly to Apple Music Connect
- Adds support for Force Touch trackpad
-Create custom track icons with your own image files
- 1,000 new Apple Loops from a variety of popular instruments and genres including EDM, Hip Hop, Indie, Disco, Funk, and Blues
- Expanded MIDI clock options improve sync compatibility with external MIDI devices
- Multiple additional enhancement and stability improvements
Today's
Logic Pro X
update also includes support for the Force Touch trackpad in the new Mac models and it introduces tools allowing artists to share their music directly to Apple Music Connect.
Logic Remote
, the iPad companion app for
Logic Pro X
on the Mac, has also gained new smart controls for Alchemy instruments.
Logic Pro X
can be downloaded from the Mac App Store for $199.99. [
Direct Link
]
MainStage 3
can be downloaded from the Mac App Store for $29.99. [
Direct Link
]
Logic Remote
can be downloaded from the iOS App Store for free. [
Direct Link
]
Michael Stuhlbarg, who plays early Apple employee Andy Hertzfeld in Aaron Sorkin's upcoming Steve Jobs movie, spoke with
Collider
about his experience shooting the movie and shared some insight into the three-act structure of the film.
According to Stuhlbarg, the Steve Jobs movie was a "very unique project" with a rehearsal process that was split between each of the acts, with the actors spending two weeks rehearsing and then two weeks shooting the movie at each different location where the product unveilings took place. The film is centered around three product launches for the original Mac, the NeXT Computer, and the iMac.

This shooting method, says Stuhlbarg, was "unlike anything I've ever done to this point and probably unlike anything I'll ever do again. He said it brought the actors together "in an extraordinary way."
Also, it kind of gave us something in the telling of the story that you don't often get, which is a sense of momentum of what a story is telling you. He got the opportunity to get the barrage of nonsense that was being thrown at him throughout the entire story. It was just unlike anything I've ever done before.
Stuhlbarg also spoke about the experience of working on a highly desirable Aaron Sorkin screenplay and his take on Andy Hertzfeld's relationship with Steve Jobs, all of which can be read in the original interview on
Collider
or seen in the video below.
The Steve Jobs movie will premiere at the
53rd annual New York Film Festival
on October 3 before seeing a wider release on October 9. The film, which was written by Aaron Sorkin and directed by Danny Boyle, stars Michael Fassbender as Steve Jobs, Seth Rogen as Steve Wozniak, Kate Winslet as Joanna Hoffman, and Jeff Daniels as John Sculley.