New iPad, Mac mini, and Retina iMac
While Apple touted the power of the new A8X chip used in the iPad Air 2 at the company's media event last week, the company as usual opted not to disclose exact specifications on the part, leaving the details up to rumor and speculation until the device starts making its way into the hands of users and teardown experts.
But with Apple shipping out orders to customers for delivery as soon as tomorrow, it appears that at least one user has already gotten his or her hands on the iPad Air 2 and run a
Geekbench 3 benchmarking test
on it (
via Gizmobic
). If the result is genuine, and Primate Labs founder John Poole tells
MacRumors
that it appears to be, it reveals that the A8X contains an unusual triple-core CPU configuration running at 1.5 GHz and paired with
2 GB of RAM
.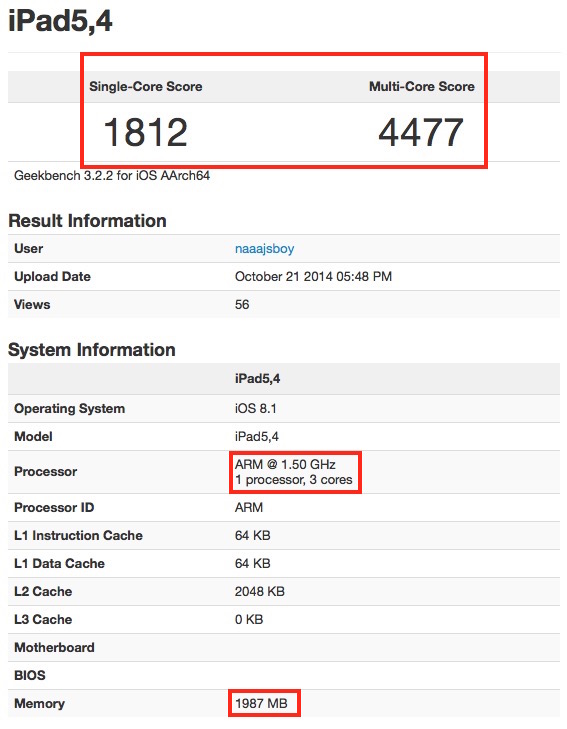 The extra core and 100 MHz faster clock speed compared to the A8 found in the iPhone 6 and 6 Plus means the iPad Air 2 scores roughly
13 percent higher
on single-core benchmarks and 55 percent higher on multi-core benchmarks than Apple's latest iPhones.
More details will undoubtedly be unveiled in the coming days as teardown experts take the iPad Air 2 apart and chip experts examine the internal layout of the chip.
Yesterday, Primate Labs highlighted some
Geekbench 3 benchmarking results
for the new 3.5 GHz 27-inch Retina 5K iMac, unsurprisingly showing the machine performing better than slower-clocked Core i5 chips in non-Retina models but below that of high-end Core i7 chips also available in the machines since their late 2013 introduction.
Primate Labs' John Poole noted that once benchmarks for the high-end Retina 5K iMac with Intel's 4.0 GHz Core i7-4790K chip started appearing, they could show the new iMac outperforming the low-end Mac Pro, and that is
indeed the case
as revealed today and highlighted in an
updated version
of Poole's blog post from yesterday.
The 4.0 GHz Retina 5K iMac clocks in with a score of 4438 on the single-core 64-bit benchmarking test, while multi-core testing achieves a score of 16407. Across the two tests, the new high-end Retina iMac scores 11-13 percent higher than the fastest non-Retina model due to the faster processor included on the Retina model.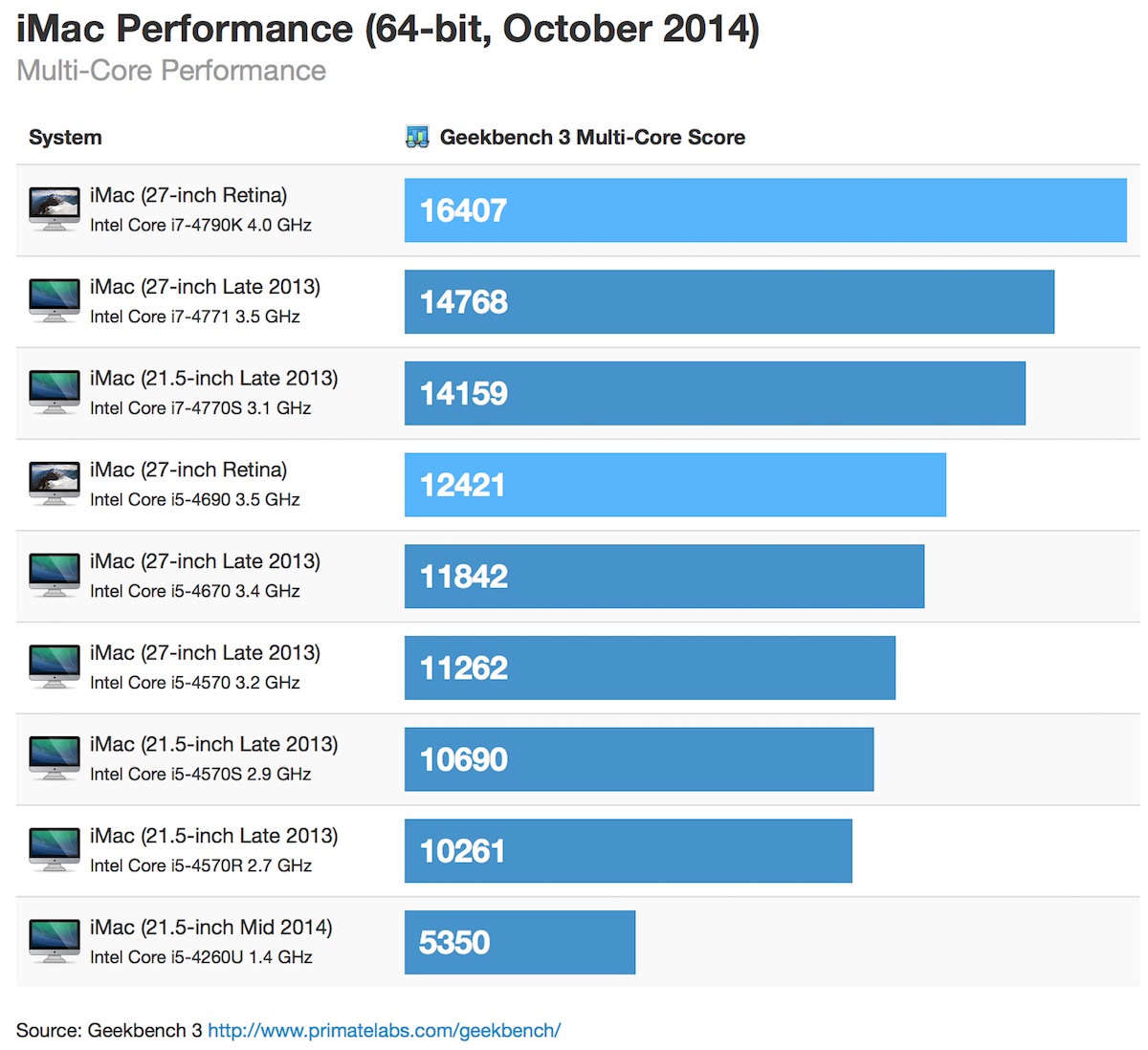 Compared to the low-end Mac Pro, which runs on a quad-core 3.7 GHz Xeon E5-1620 v2, the high-end Retina iMac clocks in over 13 percent higher on multi-core testing, although it is unsurprisingly outclassed by higher-level Mac Pro models carrying processors with more cores.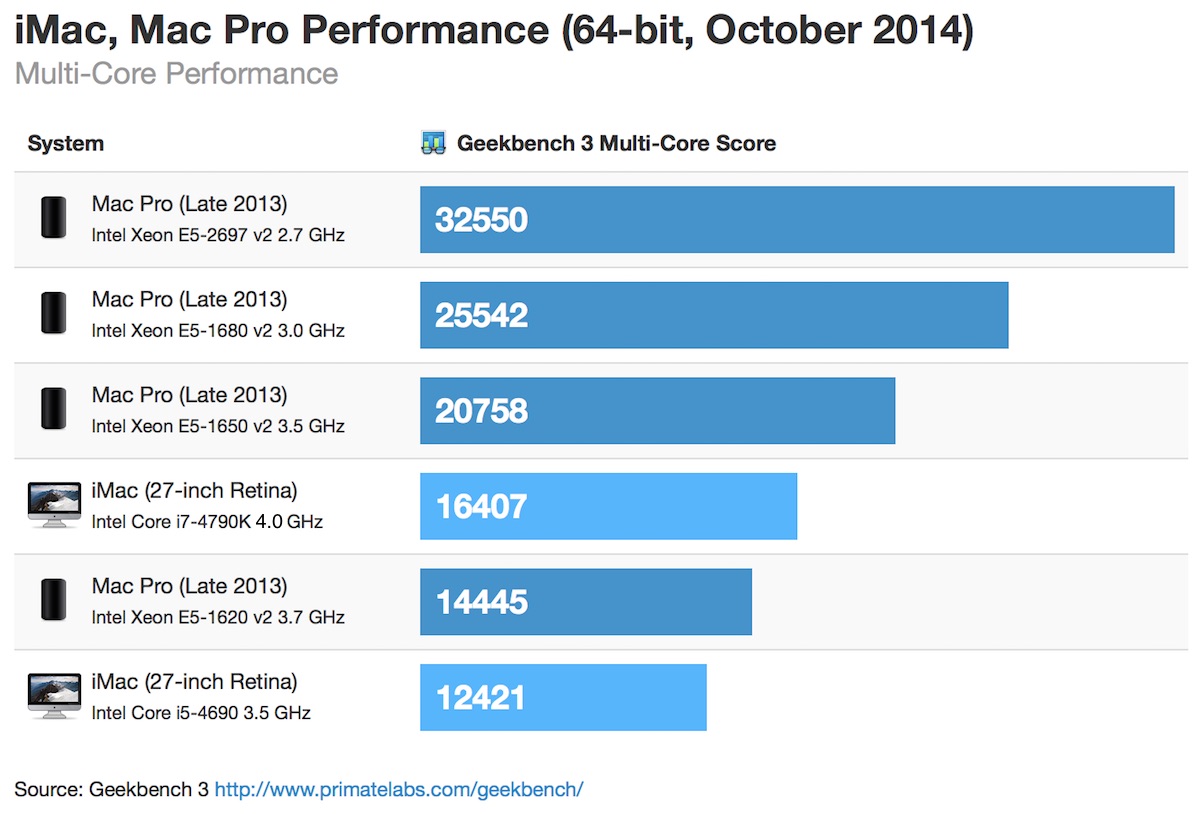 Both Retina iMac processor options outperform all Mac Pro models on single-core benchmarks, but this is unsurprising as the Xeon processors used in the Mac Pro sacrifice single-core clock speed for many more cores and other benefits that enhance performance for professional-level applications that can take advantage of the multiple cores.
Earlier this week, web censorship blog
Great Fire
suggested that hackers aligned with Chinese authorities were using
man-in-the-middle attacks
in order to harvest Apple ID information from Chinese users that visited Apple's iCloud.com website.
In a
newly released support document
(via
The Wall Street Journal
), Apple has confirmed that it is aware of the "intermittent organized network attacks" on iCloud users, but says that its own servers have not been compromised.
Apple is deeply committed to protecting our customers' privacy and security. We're aware of intermittent organized network attacks using insecure certificates to obtain user information, and we take this very seriously. These attacks don't compromise iCloud servers, and they don't impact iCloud sign in on iOS devices or Macs running OS X Yosemite using the Safari browser.
Apple's support document goes on to stress the importance of digital certificates, suggesting that users who see an invalid certificate warning in their browser while visiting iCloud.com should not proceed. The company also outlines how users can verify that their browser is connected to iCloud.com and not a third-party man-in-the-middle website.

Apple asks users to make sure that a green lock icon is visible in Safari and that the message "Safari is using an encrypted connection to www.icloud.com" is displayed when the lock icon is clicked. Apple also has verification instructions for both Chrome and Firefox.
Unfortunately, many of the victims falling prey to the fake iCloud sites are not using secure browsers that issue warnings when fake websites are visited. According to
Great Fire
, many Chinese users access the Internet through popular Chinese browser Qihoo, which does not let users know that a fake site is harvesting their information.
The attack works by redirecting Chinese users attempting to access iCloud.com to a fake website that resembles the iCloud website. Users that log into the fake site provide attackers with logins and passwords that can be used to access contacts, messages, photos, and documents stored within iCloud.
Though
Great Fire
has suggested that Chinese authorities may be involved in the attacks, a spokeswoman for China's Foreign Ministry (via
CNBC
) said that Beijing was "resolutely opposed" to hacking.
Chinese users should switch to a trusted browser like Firefox or Chrome to avoid falling prey to the fake iCloud.com website, or use a VPN to bypass the redirection and log in directly to iCloud.com. Two-factor authentication should also be turned on as it can prevent unauthorized users from logging into an iCloud account even when a username and password are obtained.
Note: Due to the political nature of the discussion regarding this topic, the discussion thread is located in our
Politics, Religion, Social Issues
forum. All forum members and site visitors are welcome to read and follow the thread, but posting is limited to forum members with at least 100 posts.

Apple may have its
rumored loyalty rewards program
ready for the holiday shopping season, claims
Bank Innovation
. The loyalty program originally was thought to be launching alongside "Apple Pay 2.0" in October 2015, but recent reports suggest Apple may be pushed it ahead by a year due to merchant demand.
The loyalty program looks like it will come this year, based on Digiday's timetable. This was unexpected — many had assumed the program would wait until the launch of Apple Pay 2.0, tentatively scheduled for October 2015. It looks like market demand pushed the timetable up to this holiday season, which my sources within the retail industry have said for sme time is "super unlikely."
A
previous report
from
Digiday
, described as being "pretty accurate" by
Bank Innovation
sources, claims Apple plans to monetize its mobile payment system by integrating iAds with Apple Pay. This iAds portion of the loyalty system allegedly will use iBeacons and Bluetooth LE to push targeted ads with a "tap-to-buy" button to customers while they are visiting a participating merchant.
One way they've [Apple] thought up is, say you're in a Duane Reade, hypothetically. You get a push notification from Pepsi that they've worked out a deal with Duane Reade that you can get a free case of Pepsi. Just pick it up and use Apple Pay at the counter.
Apple Pay officially launched yesterday and is compatible with major payment network, including American Express, MasterCard, and Visa. In-store NFC payments will require the iPhone 6 or iPhone 6 Plus, while those devices and the new iPad Air 2 and iPad mini 3 will be able to make online purchases with Apple Pay.
Apple Pay
launched
on Monday with iOS 8.1, allowing iPhone 6 and 6 Plus owners to make contactless payments via NFC with Touch ID for authentication.
Though the initial launch is occurring in the United States where Apple has focused its efforts on getting credit card companies, banks, and retailers on board, international iPhone owners can also take advantage of Apple Pay if they have a supported U.S.-based credit card, as documented in
Whirlpool forums
and pointed out by
Australian Beau Giles
. Users in the
United Arab Emirates
and elsewhere have also successfully used Apple Pay.

To use Apple Pay in countries outside the U.S., Giles notes that iPhone owners need to change the region for their phones from their home countries to the United States. This enables Apple Pay, which will accept participating credit cards issued by U.S. banks.
To show the Apple Pay settings, simply open the Settings app on your iPhone (or iPad mini 3 or iPad Air 2), tap on General, Tap on Language & Region, and tap on 'Region'. Change it to the United States.

Now you should be able to visit Passbook and see the option to set up Apple Pay.
Once an iPhone is configured with the appropriate U.S. credentials, international owners can use Apple Pay at point-of-sale terminals that support NFC payments. Australians, for example, can use Apple Pay at locations that accept MasterCard PayPass, Visa payWave, or American Express ExpressPay payments.
As Giles points out, the situation is not ideal for natives of countries outside of the U.S., as using a U.S. credit card for these purchases will incur currency conversion fees that can increase costs significantly. But for U.S. users traveling abroad or for international users who have U.S. credit cards and simply want to try out the service, Apple Pay does indeed function internationally.
Though
Apple Pay
is officially supported in the U.S. for the time being, the mobile payment solution is designed to work with existing payment terminals around the world. Once banks begin to work with Apple and offer support for Apple Pay, the expansion of the program into international countries should be relatively easy.
Update 7:49 AM
: TechSmartt has posted a video walkthrough of Apple Pay setup and usage at a vending machine in Canada.
iFixIt has
conducted its teardown
of the brand new Mac mini, finding that the new device is more difficult to open than previous models. They've also discovered that the RAM is soldered onto the machine, which was first discovered
late last week
.

The team found that gaining entry into the new desktop is more difficult than previous models. Instead of a twistable bottom cover, the new Mac mini requires a plastic opening tool to pop off the cover. Underneath that is a new solid door that blocks easy access to the RAM and fan. The door uses what iFixIt calls "the smallest Torx Security screw" they've ever seen, requiring their tool design team to prototype a new screwdriver to open the desktop.
Inside, the Mac mini now sports a new AirPort card that connects straight to a PCIe slot rather than via a cable. Unlike past Mac minis, the new version only contains one SATA port. Previously, Mac mini users could upgrade their desktops with an extra hard drive. However, iFixIt notes that there is an extra socket that could potentially be used for a SSD blade via a PCIe cable. Oddly, the new Mac mini's power supply is identical to both the 2012 and 2011 models.
Finally, iFixIt gave the new Mac mini a repairability score of 6 out of 10, which is a worse score than the 2012 Mac mini's 8 out of 10. Although disassembly is straight forward, the team noted that the presence of Torx security screws and soldered on RAM made it more difficult to repair than previous models.
Following the
release of OS X Yosemite
with new Spotlight Suggestions, some users noted that Apple's Spotlight privacy policy began
offering a warning
letting users know that search terms were being uploaded to Apple's servers, with some of the info being forwarded to Microsoft's Bing search engine.
The search terms were being shared with Apple in order to enable Spotlight's new capabilities, which include searching sources like the Mac App Store, Wikipedia, and the web.

When you use Spotlight, your search queries, the Spotlight Suggestions you select, and related usage data will be sent to Apple. Search results found on your Mac will not be sent. If you have Location Services on your Mac turned on, when you make a search query to Spotlight the location of your Mac at that time will be sent to Apple. Searches for common words and phrases will be forwarded from Apple to Microsoft's Bing search engine.
While Apple noted directly within Yosemite's Spotlight preferences that the search terms were collected only to improve Spotlight Searches and directed users to turn off Spotlight Suggestions and Bing Web searches in System Preferences if they didn't want their data uploaded, the issue still received
quite a bit of attention
over the course of the weekend, with one developer even
uploading a Python script
to prevent Apple from collecting data.
Apple has now
given a statement
on Spotlight Suggestions to
iMore
, stating that the company is "absolutely committed" to protecting user privacy and that Spotlight Suggestions minimizes the information that's sent to Apple.
"We are absolutely committed to protecting our users' privacy and have built privacy right into our products," Apple told iMore. "For Spotlight Suggestions we minimize the amount of information sent to Apple. Apple doesn't retain IP addresses from users' devices. Spotlight blurs the location on the device so it never sends an exact location to Apple. Spotlight doesn't use a persistent identifier, so a user's search history can't be created by Apple or anyone else. Apple devices only use a temporary anonymous session ID for a 15-minute period before the ID is discarded.

"We also worked closely with Microsoft to protect our users' privacy. Apple forwards only commonly searched terms and only city-level location information to Bing. Microsoft does not store search queries or receive users' IP addresses.

"You can also easily opt out of Spotlight Suggestions, Bing or Location Services for Spotlight."
As Apple says in the statement that it gave to
iMore
, users that are concerned about their data being uploaded to Apple's servers can easily disable the new features by going to System Preferences --> Spotlight and unchecking both the boxes for "Spotlight Suggestions" and "Bing Web Searches."
Along with offering users its privacy policy directly in the System Preferences app under "About Spotlight Suggestions & Privacy," Apple has also updated its
iOS 8 Privacy website
to make it clear that limited user data is collected and that the data the company does acquire is obscured by an anonymous identifier.
Introduced with iOS 8 and OS X Yosemite, Spotlight Suggestions allow Apple's Spotlight feature to give users search suggestions from sources like Wikipedia, the iTunes Store, and Maps. For example, it's now possible to search for an app in the Mac App Store using Spotlight, or look for a specific term on Wikipedia without needing to access Safari or another web browser.
iOS 8.1, released to the public
earlier today
, included Apple Pay support as its most notable feature, but it also brought several other updates to the mobile operating system, including iCloud Photo Library. With iOS 8.1, the iCloud Photo Library beta is now available to all iOS 8 users, as is a new iCloud Photos app that can be found within
iCloud.com
.
First introduced during WWDC,
iCloud Photo Library
stores all of the photos and videos that a user takes in iCloud, making them available on the iPhone, iPad, iPod touch, and Macs through iCloud.com. It will also work with the Photos app that Apple is creating for the Mac, which is expected in early 2015.

iCloud Photo Library. You're never without your camera. Now you'll never be without your photos. Every photo and video you take now lives in iCloud — giving you the freedom to access your library from any device, anytime you want. So you can view a photo from last week or last year no matter where you are.
iCloud Photo Library is designed to keep all of a user's photos synced on all of their devices at all times. When an image is edited on an iOS device in the Photos app with Apple's built-in editing tools, those changes are immediately uploaded to iCloud and visible on other devices right away.
iCloud Photo Library is also designed to free up valuable storage space on iOS devices. Full high-resolution photos and videos are stored in the cloud, while smaller versions of the images are displayed on devices, taking up far less storage space. iCloud Photo Library uses the
iCloud storage space
of each user, with 20GB of storage space available for $0.99 per month. Apple's iCloud storage plans go up to 1TB, which is priced at $19.99 per month.
iCloud Photo Library can be enabled on iOS devices in the Settings app by going to iCloud > Photos and toggling on "iCloud Photo Library." The Settings app also lets users choose whether to optimize iPhone storage or download and keep original full-sized photos on their devices.

Once iCloud Photo Library is enabled, images and videos stored on iOS devices will be automatically uploaded to the cloud. They can be viewed as usual within the Photos app for iOS, and on the web, they can be viewed through the new iCloud Photos app on iCloud.com.

In the iCloud Photos app, users can perform several actions that are also available in the iOS version of the Photos app. Images can be favorited, which sends them to a special "Favorites" album, they can be downloaded in full resolution, or deleted, which removes the photos from iCloud Photo Library on all devices. From the main "Moments" view, it's also possible to click on the "Select Photos" option to delete or download multiple images at once.

iCloud Photo Library does not appear to be working flawlessly at the current point in time, which is likely why it's still given "beta" status. In
MacRumors
own testing, deleting some photos from the iCloud Photos app did not delete the photos from the iPhone 6 Plus they were taken on. A later sync even returned the photos to iCloud.com.
While iCloud Photo Library was available to developers during the iOS 8 beta testing period, Apple opted to pull it from the iOS 8 golden master ahead of iOS 8's public release and demote it to beta status.
The reason behind iCloud Photo Library's removal from the release version of iOS 8 was unclear, but it is possible Apple delayed the release in light of the negative press iCloud received in early September due to the
celebrity photo leak
.
With Apple having taken significant steps to bolster the security of iCloud, adding
two-step verification
and
sending security emails
when changes are made to iCloud or a device is restored, the company appears ready to let the public have full access to the new photo storage feature.
Apple CEO Tim Cook commented on the balance between supply and demand for the iPhone 6 and iPhone 6 Plus during
today's earnings call
, stating that demand is far outstripping supply despite a satisfactory production ramp-up. Cook noted that available data makes it unclear as to when supply will catch up with demand, and that the company was "not close" to having a balance between supply and demand at the end of Q4 2014.

Supplies for the iPhone 6 and iPhone 6 Plus have remained tight since the launch of both devices last month, as new iPhone 6 orders still show a shipping estimate of
7-10 business days
while the iPhone 6 Plus is still showing a shipping delay of
3-4 weeks
. It is worth noting that the iPhone 6 has been mostly available at Apple's own stores and other retail locations, while the iPhone 6 Plus has a constrained supply in-store.
According to a
report
by
The Wall Street Journal
, Apple delayed plans to mass produce the larger 12.9-inch iPad in order to shift its resources towards the iPhone 6 Plus as it has remained unsatisfied with the production output from its suppliers for its larger iPhone. A report from earlier this month also stated that the company is
shifting
its production balance towards the iPhone 6 Plus which may gradually improve its supplies of the larger phone.
During today's fiscal
fourth quarter earnings call
, Apple CEO Tim Cook said that "obviously" the company is working on new products, but that he was going to keep things in the "cone of silence."
I'm not sure what to say. I'm not going to give any hints. We look at a lot of different things and we're fortunate to have a lot of creative people here that want to change the world and have a lot of great ideas.
Cook went on to say that Apple's "creative engine" had never been stronger and the company had never been more passionate, as evidenced with Apple's recent launches of Apple Pay and Apple Watch. Apple Pay, said Cook, is "classic Apple," with the company taking something old and outdated and focusing on making something "very elegant."

Cook also extolled the virtues of Continuity, which allows Macs and iOS 8 devices to integrate in new and innovative ways. "Use your imagination and think about where Continuity goes," said Cook. He went on to say that it would be "incredibly important" going forward for customers.
Cook said that Apple's investors should look at what Apple's done and what it has delivered, along with the skills of the company. Apple is the "only company on the planet" that has the ability to integrate hardware and software at a "world class level" according to Cook, but the company always has "more ideas than resources" to deal with. He also said as a personal investor, he "feels great" about products that are coming up in 2015.
While Cook declined to mention what products Apple might be working on, rumors have suggested the company has several new devices in the works that could significantly boost future sales, including a 12-inch Retina MacBook Air and a 12.9-inch iPad, dubbed the "iPad Pro" by the media.
During today's fourth quarter earnings call, Apple CEO Tim Cook announced that Apple purchased 20 companies over the course of 2014, including seven companies during the fiscal fourth quarter. Of the 20 companies purchased, some remain known, but many remain unknown.
Apple's biggest purchase of fiscal 2014 was Beats Electronics, which the company bought for $3 billion in May. With the acquisition, it gained Beats popular line of headphones, the Beats Music music service, and it took on Jimmy Iovine and Dr. Dre, aka Andre Young, as executives.

Other recent known acquisitions in fiscal 2014 include iPad-publishing platform
Prss
, book recommendation platform
BookLamp
, radio streaming app
Swell
, social recommendation service
Spotsetter
, and low-power display company
LuxVue
.
Last quarter, Apple announced that it had acquired 30 companies thus far in
fiscal 2014
, which brings the total number of acquisitions since last October up to approximately 37. While some of those acquisitions were known, many of Apple's acquisitions were kept quiet, going under the radar.
The technology from Apple's acquisitions will undoubtedly make its way into future products and updates, and details on its acquisitions may become apparent over time.
Earlier this year, Apple CEO Tim Cook said Apple was "on the prowl" for additional companies to acquire and that Apple is always looking at acquisition space to avoid letting "money burn a hole in our pocket."

Apple today
announced
financial results for the third calendar quarter and fourth fiscal quarter of 2014. For the quarter, Apple posted revenue of $42.1 billion and net quarterly profit of $8.5 billion, or $1.42 per diluted share, compared to revenue of $37.5 billion and net quarterly profit of $7.5 billion, or $1.01 per diluted share in the
year-ago quarter
.
Gross margin for the quarter was 38 percent compared to 37 percent in the year-ago quarter, with international sales accounting for 60 percent of revenue. Apple also declared an upcoming dividend payment of $0.47 per share, payable on November 13 to shareholders of record as of November 10. The company currently holds $155.2 billion in cash and marketable securities.

For the full fiscal year, Apple generated $182.8 billion in sales, a new record for the firm, with $38.5 billion in net income. In fiscal 2013, Apple made $35 billion on $170.9 billion in sales. In 2014, Apple sold 18.9 million Macs and just shy of 14.4 million iPods, its lowest total for that category since 2004.
It sold a record 169.2 million iPhones on the year, up 150 million from 2012, and the company has now sold more than 590 million smartphones in total. It sold 68 million iPads in 2014 and the company has now sold 237.2 million tablets.
"Our fiscal 2014 was one for the record books, including the biggest iPhone launch ever with iPhone 6 and iPhone 6 Plus," said Tim Cook, Apple's CEO. "With amazing innovations in our new iPhones, iPads and Macs, as well as iOS 8 and OS X Yosemite, we are heading into the holidays with Apple's strongest product lineup ever. We are also incredibly excited about Apple Watch and other great products and services in the pipeline for 2015."
Apple's guidance for the first quarter of fiscal 2015 includes expected revenue of $63.5-66.5 billion and gross margin between 37.5 and 38.5 percent.

Apple will
provide live streaming
of its fiscal Q4 2014 financial results conference call at 2:00 PM Pacific, and MacRumors will update this story with coverage of the conference call highlights.
Archive of Live Updates in Reverse Chronological Order
Click here to read rest of article...