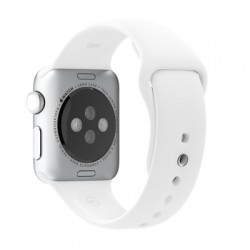 Many customers who pre-ordered the Apple Watch over the past two weeks and received an extended shipping estimate of 4-6 weeks or later should receive the wrist-worn device earlier than expected. Apple continues to update several pre-orders with improved delivery estimates, with some Apple Watch orders initially slated for June delivery now shipping as early as this week.
A growing number of users within the
MacRumors
discussion forums with Apple Watch pre-orders facing
June delivery
are beginning to receive more specific shipping dates between mid May and early June. Some customers, for example, have delivery estimates of May 14-May 20 or May 28-June 10, and the white 38mm Apple Watch Sport in particular is set to deliver on April 28 for multiple customers.
The timing of deliveries is highly dependant on the model that customers selected, as the Stainless Steel Apple Watch with Link Bracelet and Space Gray models continue to face long lead times, and Space Black models are virtually nonexistent. Apple is still processing many of the orders for those aforementioned models, with delivery estimates remaining at 4-6 weeks or later for many customers.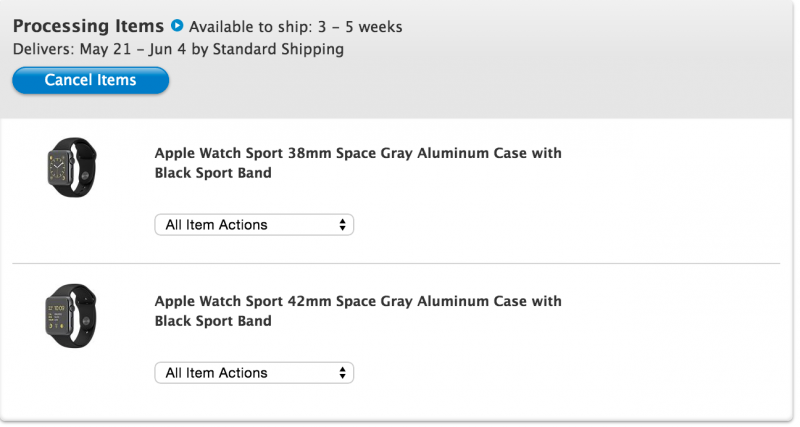 Apple Watch pre-order deliveries began on April 24 as scheduled, but limited data from
Slice Intelligence
estimates that only about one-fifth of customers who pre-ordered received their Apple Watches on launch day in the United States. The report, based on e-receipt data from only 10,744 U.S. Apple Watch buyers, extrapolates that only 376,000 of 1.7 million pre-orders were delivered over the weekend, with another 547,000 watches estimated for delivery between April 27 and June 11.
Apple confirmed last week that many Apple Watch pre-orders will arrive
sooner than expected
, shortly after an executive relations spokesperson said that elongated shipping estimates were
set purposefully
to avoid disappointment in the event orders were not fulfilled on time. Nevertheless, the company said that some customers still face long lead times, particularly those who did not place an order until several hours after pre-orders became available.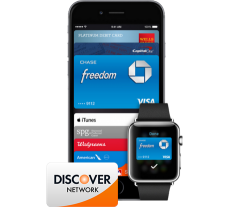 Discover
announced
on Monday that it will enable Apple Pay support for credit and debit cardholders at eligible financial institutions in the United States this fall. Discover will also support in-app purchases made using Apple Pay on compatible iPhones, iPads and Apple Watch.
Discover customers with an iPhone 6, iPhone 6 Plus, or iPhone 5 or newer paired with an Apple Watch will be able to add their credit and debit cards to the mobile payments service to make contactless payments at thousands of participating retailers and vendors throughout the United States. Discover cardholders will continue to receive current benefits, including Cashback Bonus and Freeze It security.
"As the mobile payments landscape matures, Discover remains committed to giving cardmembers secure options for using their cards and mobile devices," said Diane Offereins, Discover's president of payment services. "Discover's focus on simplicity and value for our cardmembers aligns well with the way Apple Pay makes purchases easy and convenient."
Apple Pay became available last October in the United States with support from several major credit card companies, including Visa, MasterCard and American Express, and it was reported last December that the mobile payments service supports cards that make up over
90% of purchase volume
in the United States. With the addition of Discover, that figure will rise even further.
With the launch of the
Apple Watch
on Friday, the first wave of consumers have received their Apple Watches. Our
forums
are abuzz with activity surrounding Apple's newest device. While there were initial
concerns
about the Apple Watch's battery life, reports seem to indicate that the Apple Watch, itself, has no problem lasting a full day.

However, there have been mixed reports about the impact the Apple Watch has on iPhone battery life. The Apple Watch needs to be paired to an iPhone for full functionality. The iPhone connects to the Apple Watch via Bluetooth and Wi-Fi to feed it data and notifications throughout the day.
Some users have found a
notable improvement
in iPhone battery life with the addition of an Apple Watch. This suggests the act of offloading notifications and quick interactions to your Apple Watch, could make your iPhone battery last much longer.
The best unexpected but /now/ obvious surprise to having the Apple Watch is plenty of battery life on the iPhone after a full day out!

— Dan James (@Daniel277) April 26, 2015
However, several other users have
noticed
a significant drain on their iPhone batteries in early usage with the Apple Watch.
Apple Watch battery life: 16-20 hrs. iPhone paired with Apple Watch: seemingly zero hours

— Jacqui Cheng (@ejacqui) April 26, 2015
Former Engadget editor Ryan Block had as similar experience and
pinpointed
the Apple Watch Companion app as the culprit. John Byrne
also puts some blame
on the Companion App, saying that force-quitting the app seemed to help at least a bit. A
discussion thread
in our forums provides similarly mixed results, with one user
blaming his battery drain
on checking email on the Apple Watch. Due to the inconsistency in reports, it seems that either a software bug or particular usage pattern could be a culprit.
Apple today rolled out a feature through the iTunes Store that allows users to
contribute to the American Red Cross
in support of relief efforts following the
Nepal earthquake
that has killed over 2,400 people.

The feature leverages the hundreds of millions of credit cards already on file to allow iTunes users to easily donate $5, $10, $25, $50, $100, or $200 to the relief efforts. Apple will be passing along 100 percent of the donations to the Red Cross.
Aid Nepal Donate in iTunes #iTunes #Nepal #NepalEarthquake pic.twitter.com/s9seJp8RZV

— Philip Schiller (@pschiller) April 26, 2015
This is not the first time Apple has used to iTunes Store to raise money for charity, with the company most recently
raising money for City of Hope
last October. Other previous relief effort fundraising campaigns have included the
2013 Philippine typhoon
, the
2011 Japanese earthquake and tsunami
, and the
2010 Haitian earthquake
.
A
CNet video
shows the new
Apple Watch
Sport undergoing a variety of torture tests in a kitchen setting to see how well it holds up to a variety of abuse.
Previously, video bloggers have subjected the
Sport's Ion-X screen
and the
Sapphire screen
to a variety of scratch tests.
The video shows the Apple Watch Sport holds up remarkably well in various scenarios. The watch is washed, submerged in water for 10 minutes, boiled, grated, spilled on, dropped and finally smashed with cast iron skillet. The Apple Watch Sport screen did shatter with the skillet impact, but seemed to remain perfectly functional until that point.
The Apple Watch was officially launched today with pre-order deliveries arriving for the first customers.
Today is Apple Watch launch day in the United States and eight other first wave launch countries, and many customers around the world are busy setting up their new smartwatch or anxiously waiting for their package to be delivered. Meanwhile, the teardown team at repair website iFixit flew to Melbourne, Australia to get their
hands on the Apple Watch
and take it apart to see what's inside.

Apple Watch Sport unboxed (Source: Instagram/Steve Belisle)
iFixit started by prying open the display and disconnecting the display and digitizer cables underneath, getting a first look at the Taptic Engine, inside of the Digital Crown and internal
205 mAh battery
. Digging further into the Apple Watch, the team got a closer look at various components for haptic feedback, an ambient light sensor and S1 integrated processor. Overall, the Apple Watch received a 5 out of 10 repairability score.
Back in Los Angeles, several thousands of miles away from the teardown,
KTLA
reporter Rich DeMuro was on site at Maxfield in West Hollywood to interview various people
waiting in line
to purchase the Apple Watch. It was confirmed earlier this week that the Apple Watch would go on sale in limited quantities at Maxfield and other
select fashion boutiques
such as Colette in Paris and Dover Street Market in Tokyo and London.
DeMuro also provided a basic overview of the Apple Watch's core features, including watch faces, heart rate monitoring, health and fitness tracking, phone calling and stock apps. In line with many
early reviews
, he said that the Apple Watch is not a device that everyone needs, but that the wrist-worn device has high-quality apps and provides a better overall experience than many Android Wear alternatives.
Apple Watch launched today in the United States, Australia, Canada, China, France, Germany, Hong Kong, Japan and United Kingdom following a two-week pre-order window that started April 10 at 12:01 AM Pacific. The watch will be sold exclusively online until at least June, with no walk-in purchases being taken at Apple retail stores in any of the first wave launch countries.
MacRumors
has obtained official Visual Mechanical Inspection information for the Apple Watch that reveals what type of damage is eligible for warranty service, out-of-warranty service or no service at all. These guidelines are adhered to by Apple authorized service providers and are based upon Apple's standard 1-year limited hardware warranty for the Apple Watch.
Apple Watch damage that is eligible for warranty service includes user-claimed debris under the display glass or pixel anomaly, a back cover removed with no damage, and any condensation in the heart rate sensor windows. In particular, the document states that a removed back cover is only covered when not accompanied by enclosure damage or evidence of prying.

Apple Watch damage that is eligible for out-of-warranty service includes a cracked, missing, removed or damaged Digital Crown cap, extreme abrasion, puncture holes, missing buttons resulting from a drop, any chips or multiple cracks in the display glass, a removed back cover with evidence of enclosure damage or prying, a bent or split band enclosure, a missing or removed band release button, or cracks in the back cover.

Apple Watch damage considered nonreturnable and ineligible for warranty service includes a disassembled unit or missing parts, catastrophic damage, counterfeit or third-party parts, and unauthorized modifications such as aftermarket displays and other non-Apple installed parts. Catastrophic damage may still be covered under an AppleCare+ Protection Plan on a case-by-case basis.

Apple disclosed earlier this month that it will charge
out-of-warranty service fees
of $229, $329 and $2,800 for the Sport, Watch and Edition models respectively for repairs not covered by Apple's limited one-year warranty or
AppleCare+ for Apple Watch
. Out-of-warranty battery service is also available for $79 plus an applicable $6.95 shipping charge if required for all Apple Watch models.
Thanks to the time difference, a few Australian Apple Watch customers began
receiving their orders
as early as yesterday afternoon here in the United States. Because of this, smartphone website
FoneFox
decided to put the Apple Watch through a variety of waterproof tests to measure just how much moisture the Watch could take before failing to function.

The first test is a basic splash test followed by a five minute simulated shower complete with shampoo and soap, at the end of which the Apple Watch comes out noticeably unscathed and completely responsive to
FoneFox
's inputs on both its touch interface and digital crown. It should be pointed out that all of
FoneFox
's tests were completed with a 38mm Apple Watch Sport. Although it's hard to tell how different models of the Watch will size up to similar testing, it's clear after today's tests that most models in the Sport range should see similar results as
FoneFox
's.
After finding "absolutely no issues whatsoever" with the Watch after the shower test,
FoneFox
decided to place the Apple Watch Sport completely submerged in a bucket for another five minutes. After the Watch produced similarly impressive results, the website took the device for a swim in a pool. Despite obvious responsive issues when placed underwater, after a 15 minute swim the wearable remained as functional for
FoneFox
as it was when taken out of the box.
Apple's estimation of the waterproof rating for Apple Watch has most likely been underplayed, as most technology is, due to certain legal and business reasons. The company gave the wrist-worn device a water resistance rating of IPX7, suggesting it to be splash and water resistant but not completely waterproof. Tim Cook even
claimed
he wore his own personal Apple Watch in the shower back in February, pointing at a better-than-expected waterproof rating for the device ahead of its launch.
Apple has introduced a new
5W USB power charger
with folding pins for use in a handful of countries in Europe and Asia. The new adapter is available now for £25 on the Apple Online Store in the United Kingdom, and is designed for use in Ireland, Hong Kong, Singapore and Malaysia as well. The charger is also included in the box with the Apple Watch in those countries.

British former professional rugby player Will Carling
shared photos
of the new folding charger on Twitter earlier this month after claiming to have received the adapter from Apple design chief Jony Ive, who grew up in England and is known to be a rugby fan, but it was unknown at the time if Apple would ever release the product.
The travel adapter, which can also be used to charge an iPhone, iPod touch and several other iPod models, is currently available to ship within 1-2 business days on the Apple Online Store in the United Kingdom. The original
non-folding 5W charger
remains available in the United Kingdom for £15 as of now.
Hours before the Apple Watch is set to officially launch, Apple has debuted three new ads called "Rise", "Up" and "Us". The three ads focus on the three aspects of the device CEO Tim Cook highlighted when the Apple Watch was first introduced: a device that helps you with time, a comprehensive health and fitness device and an intimate communication device.
The first ad, "Rise", shows people using the Apple Watch to help them spend their time. People are seen using the Apple Watch as an alarm clock, seeing incoming messages, using it on their commute, using it as a ticket at an airport, getting around with the Maps app and more.
The second ad, "Up", features users using the Apple Watch's health and fitness features. People can be seen setting up their fitness goals on the Watch in addition to using it while both exercising and doing various activities, both intensive and casual. It also features moments where users are alerted to stand while working or commuting.
The final ad, "Us", has people using the Watch's communication features, including the ability to draw pictures, send animated emojis, and send heart beats and taps to the wrists of other Apple Watch users. Interestingly, the ad also features people spending time with each other and paying attention to the world around them, illustrating how the Watch could free some users from their phones.
All three ads end similarly, declaring that "the Watch is here". Thus far, Apple's marketing campaign for the Apple Watch has focused on getting the device on the wrists of
athletes
,
models
and other
celebrities
for maximum exposure. Moving forward, it appears Apple will begin making a case for how the Apple Watch will be used by most people.
iFixit is currently
in the process
of tearing down a 38mm Apple Watch Sport after the device launched in Australia today. While it is still early in the teardown process, the team has found that disconnecting the display from the body can be a little difficult, similar to the
troublesome
Touch ID cable on the iPhone 5s.

Behind the display, two of the most significant features of the Apple Watch are easily viewable in the Taptic Engine and Digital Crown. Also inside is the tiny 3.8V 205 mAh battery, which iFixit notes is "lightly adhered" and easy to remove. Apple has said the 42mm Apple Watch will generally have slightly longer battery life than the 38mm model, so we expect the larger Apple Watch will have a higher-capacity battery filling up the extra space inside the casing.

iFixit's teardown is still in progress and this post will be updated as additional discoveries are made. Of particular interest is the S1 chip that serves as the brains of the Apple Watch, but it may take some time to examine that part as Apple notes it is sealed in resin, aiding the water resistance of the Apple Watch.
Update 9:12 PM:
The iFixit team notes that, on their way to the S1 chip, they've encountered the "tiniest tri-wing screws" they've ever seen, requiring them to modify their tools to proceed.
Update 9:41 PM:
Due to the limited space inside the Apple Watch, iFixit has found that Apple has creatively wrapped the microphone ribbon cable between the inner and outer layers of the case.
While the first Apple Watch reviews published 
over two weeks ago
, the devices are now making their way onto customers' wrists, allowing us to see broader first impressions of Apple's first new product since 2010's iPad.

Image via MacRumors forum user SallyG
Several posters in our forums have pointed out an unboxing experience fairly unique to new Apple products as it appears that the traditional Apple stickers are
not included
with the packaging. Additionally, several posters have reported
receiving emails
 notifying them that they can schedule an online Personal Setup where Apple will, through a video session, walk a user through setting up the Apple Watch and pairing it with their iPhone.
Another aspect of the Watch that users are noticing is how comfortable it is to wear. One user on Whirlpool
pointed out
that while he was originally going to use the sport band for exercise, he thinks its nice enough to wear regularly. One
MacRumors
reader told us that the Watch is indeed comfortable to wear with the build quality being "perfect", but that he found the sports band slightly awkward to put on at first.
I have a 42mm Apple Watch Sports in Space Grey. Watch is incredibly comfy. However the [black sports band] feels backwards to me, the holes and the pin make it slightly awkward to do up. I'm sure I'll get used to this. Setup was simple and intuitive, asked me if I wanted to transfer all my current apple watch apps across during the process.
Other bands that have seen favorable impressions include the
Milanese Loop
, which also has a post
dedicated to its unboxing
in the
MacRumors
forums. Other early impressions include users finding certain less advertised features of the Apple Watch, such as the
"Ping" feature
that allows users to ping their iPhone from their Watch, to be very useful.
Finally, while most users are reporting easy setup and pairing processes, some are
having difficulty pairing
their iPhone and Apple Watch, with the Watch not displaying the needed pairing code (
Update:
Restarting appears to
fix the problem
). Others are noting that syncing a 1 GB music playlist is taking
longer than desired
.
For ongoing coverage of photos and first impressions, readers are welcome to follow our Apple Watch impressions threads in our
Apple Watch forum
.