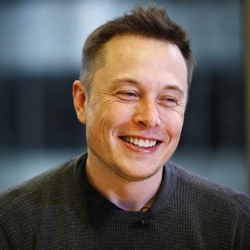 Elon Musk
raised eyebrows yesterday
when he called Apple the "Tesla Graveyard" in an interview with German newspaper
Handelsblatt
, but this afternoon he attempted to smooth things over with a
series of tweets
clarifying his stance on the company.
"Yo, I don't hate Apple," he said before stating "it's a great company with a lot of talented people." Musk says he loves Apple products and he's "glad they're doing an [electric vehicle]."
In the interview, Musk called Apple the Tesla Graveyard after being questioned about Apple hiring some of Tesla's "most important engineers." Musk laughed off the idea that important Tesla employees had left the company for Apple and said people Apple hired had already been fired from Tesla. "If you don't make it at Tesla, you go work at Apple," he said. "I'm not kidding."
Musk also made fun of products like the Apple Watch, the iPad Pro, and the Apple Pencil, comments that he explained in a bit more detail today. In a
second tweet
, Musk said he wasn't a fan of the Apple Watch's functionality, but expects it to be a much more compelling product in the future.
Regarding the watch, Jony & his team created a beautiful design, but the functionality isn't compelling yet. By version 3, it will be.

— Elon Musk (@elonmusk) October 9, 2015
Apple and Tesla have been at odds in recent months as Apple has
entered the car business
. The two companies have been poaching employees from one another for several months running, but Musk has maintained that Apple has hired away "
very few people
" from Tesla despite attempting to lure Tesla employees with salary increases and large signing bonuses.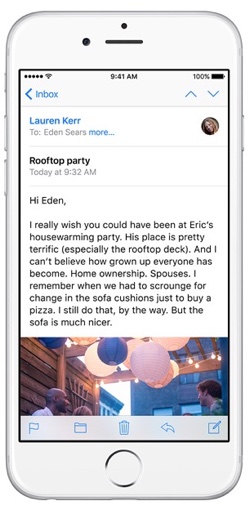 Since iOS 9 was released to the public on September 16, some users with POP email accounts have been having trouble opening emails with attachments. There's a 22 page thread on the
Apple discussion forums
covering the issue, which currently has more than 200 replies from users who are all experiencing the same problem.
Customers with a wide range of devices are
receiving
a "Message not yet downloaded from server" error whenever they attempt to open an email message with an attachment. The problem appears to be affecting Apple customers who have POP email accounts and is causing issues with both new and old emails.
I am having exactly the same issue. Many of my old mails on my iPad just saying not yet downloaded from the server. I am using a pop account on both my iPad and windows live mail. I have tried deleting my email accounts and adding back in. Even some emails that were received this morning are now showing as not being downloaded from the server.
Deleting email accounts and adding them back in does not fix the issue, but downloading an alternate email program from the App Store seems to have worked for many users as a temporary fix. Turning off Wi-Fi also allows some users to read their previously downloaded emails and access attachments, but images are not viewable.
One customer experiencing issues
received a response
from Apple's engineering team, suggesting the email issue occurs when an email account has been configured to remove a copy of emails on the server. This has left some wondering whether the behavior is an intended function or a bug, but while leaving messages on the server solves some of the problem, sent and trash emails remain unaccessible. The requirement to leave messages on the server also defeats the purpose of a POP email account.
This issue usually starts if one of the devices/computers that was setup with this email account has been configured to remove a copy of emails on the server. If this is the case, the customer will need to check the settings of all the devices and computers that are running this email account.

iOS leaves messages on the POP3 server by default. iOS never stores email permanently, whether POP3 or IMAP. If they are removed from the server by another device then this issue can occur.

A test that you may want to do to confirm this is to have the customer produce the error by opening one affected mail on the iOS device, and then locate that specific email on his webmail. If not found, then the device is behaving as expected. If found, please try to forward it to the same mailbox and see if the same issue occurs.
While these email problems have been plaguing users since iOS 9 was released, Apple did not fix the problem in
iOS 9.0.1
or
iOS 9.0.2
, the two minor bug fix updates that have been released to the public since September 16. It is not clear if iOS 9.1, the first major update to iOS, fixes the issue, and Apple has not given any statement on whether some kind of fix is planned or if there's been an intentional change to the way POP email accounts work on iOS in iOS 9.
The much-anticipated
Steve Jobs
film today launches in select theaters across the United States, following its debut at a few
film festivals
throughout September and October. To coincide with the film's release, on its
YouTube channel
Universal Pictures has published a handful of new TV spots, inside looks, and the first full clip from the movie. In the scene, Seth Rogen as Steve Wozniak confronts Michael Fassbender's Steve Jobs over the impending launch of the NeXT Computer.
Alongside the scene, Universal shared four new TV spots for the movie that have been promoting its release over the past few weeks, most of them centering around Rolling Stone's
four-star review
of the film. The company also shared "
a look inside
" the newly released film, including short interview clips with its cast and crew that focus on writer Aaron Sorkin and director Danny Boyle.
The
first impressions
of the film at festivals in Telluride and New York have been largely positive, centering on Fassbender's performance and the risky, yet rewarding liberties that Sorkin takes with certain aspects of Jobs' life. Currently, the film sits at a 91 percent fresh rating on
Rotten Tomatoes
, with 50 fresh reviews to 5 rotten.
Steve Jobs
launches today in select theaters in
New York
and
Los Angeles
and will see a slow rollout to more select theaters in places like
Toronto
and
Boston
on October 16. The actual, wide release is set for closer to the end of the month on October 23.
The iPhone 6s and 6s Plus are now available SIM-free in
Apple's online store
, allowing potential customers to buy an unlocked iPhone with no carrier attached. The new option was
first spotted
by
MacRumors
forum member Ternary. On its website, Apple explains the differences between a regular iPhone and a SIM-free one.

The SIM-free iPhone comes without a wireless contract commitment or carrier financing. It doesn't come with a nano-SIM card for iPhone 6s, iPhone 6s Plus, iPhone 6, iPhone 6 Plus, or iPhone 5s. And because it's unlocked, it isn't tied to one carrier, so you can get a nano-SIM from any supported carrier worldwide, such as AT&T, T-Mobile, Verizon, or Sprint in the United States.
Purchasing a SIM-free iPhone means that customers have to pay for the full price of the device upfront. It's ideal for customers who want to avoid multi-year commitments with carriers or for travelers who want to easily be able to switch to local carriers when traveling abroad. The SIM-free iPhone 6s is model A1633 while the iPhone 6s Plus is model A1634.

In a
new interview
with German newspaper
Handelsblatt
(
via
Business Insider
), Tesla CEO Elon Musk spoke about his thoughts on the much-rumored Apple Car. Additionally, Musk was asked what he thought about Apple hiring away some of Tesla's "most important engineers."
Important engineers? They have hired people we've fired. We always jokingly call Apple the "Tesla Graveyard." If you don't make it at Tesla, you go work at Apple. I'm not kidding.
Musk was then asked whether he takes Apple's car ambitions seriously, to which he joked "did you ever take a look at the Apple Watch?" He went on to say that it was good Apple was moving toward and investing in a car, saying that it's the "next logical thing" for the company to offer "significant innovation."
The Tesla CEO went on to poke fun at the newly announced Apple Pencil and iPad Pro, saying that innovation in the form of a new pencil or a bigger iPad are "not relevant enough." However, Musk cautions that cars are far more complex than smartphones and smartwatches. "You can't just go to a supplier like Foxconn and say: Build me a car," Musk told the German newspaper.
Apple and Tesla have
hired
 each other's employees over the course of the last year, with Musk saying that Apple has hired away "
very few people
" from the car company despite offering $250,000 signing bonuses and 60 percent salary increases to its employees. Tesla has hired nearly 150 Apple employees.
Apple's iPhone 6s and 6s Plus are now available for purchase in Taiwan, marking the start of the second wave iPhone launch. Beginning October 9, iPhone 6s and 6s Plus availability is expanding to more than 40 countries, the bulk of which are in Europe. In each country, Apple retail stores, Apple Authorized Resellers, and local carriers will begin offering the iPhone 6s and 6s Plus as retail locations begin opening in the morning.
A full list of countries where the iPhone 6s and 6s Plus will be available as October 9 rolls around is below:
Andorra, Austria, Belgium, Bosnia, Bulgaria, Croatia, Czech Republic, Denmark, Estonia, Finland, Greece, Greenland, Hungary, Iceland, Ireland, Isle of Man, Italy, Latvia, Liechtenstein, Lithuania, Luxembourg, Maldives, Mexico, Monaco, Netherlands, Norway, Poland, Portugal, Romania, Russia, Slovakia, Slovenia, Spain, Sweden, Switzerland, and Taiwan
Locations in Taiwan recently began selling the new iPhones, with some customers that having waited in line for more than 60 hours to get one of the first available phones in the country (via
TechBang
).

Customers line up for the iPhone 6s in Taiwan, via TechBang
In several of the countries where the iPhone 6s launch is still a few hours off, customers are already lining up. In Copenhagen and Sweden, customers are waiting outside Telia stores to get an iPhone. In Russia, customers have the option to get their iPhone 6s and 6s Plus devices
delivered via taxi
, and in Italy, customers are
waiting in line
at the Apple Store in Campi Bizenzio as a fundraiser for a pediatric hospital.
#iPhone6s launch queue in Copenhagen. Photo taken with my iPhone 6s today... 😐📱🇩🇰 pic.twitter.com/eRA7blYZDO

— *•Ꭶhैāmु•ᏔًُᎡًّ८hू•* (@Sham_WRcH) October 8, 2015
Following today's launch, iPhone 6s and 6s Plus availability will also be expanding to additional countries as part of additional waves set to take place in subsequent weeks.
-
October 10:
Bahrain, Jordan, Kuwait, Qatar, Saudi Arabia, and United Arab Emirates
-
October 15:
Israel
-
October 16:
India, Kazakhstan, Macedonia, Malaysia, Malta, Montenegro, South Africa, and Turkey
-
October 23:
Belarus, Guam, Moldova, Serbia, South Korea, and Ukraine
In a recent press release announcing opening weekend iPhone 6s and 6s Plus sales of more than 13 million, Apple said the company will bring the new iPhones to more than 130 countries by the end of the year.
Popular coffee chain Starbucks will begin accepting Apple Pay by the end of the year, says Apple Pay vice president Jennifer Bailey, who
spoke today at Re/code's Code Mobile Conference
in Half Moon Bay, California.
Starbucks plans to team up with Apple to launch an Apple Pay pilot program in select U.S. stores this year before rolling Apple Pay out to approximately
7,500
company-owned Starbucks locations in the United States in early 2016. The Apple Pay payments service will be connected to Starbucks' own loyalty program, but it is not clear if Starbucks customers who make purchases with Apple Pay will be able to earn Starbucks rewards.

At the current time, Starbucks uses its own barcode-based in-app mobile payments system for coffee and snack purchases made within its retail stores. The Starbucks iOS app does support Apple Pay, but only for reloading Starbucks cards. Given the popularity of Starbucks, Apple Pay availability at the chain could be a major boon for Apple.
In addition to Starbucks, Apple Pay will also be available in KFC fast food locations and Chili's sit-down restaurants starting next year. In Chili's, customers will be able to pay for their food directly at their tables using Apple Pay.
On stage, Bailey said Apple was "fully committed to NFC," calling it the "best technology out there" for mobile payments. She also said Apple wants to bring Apple Pay to as many countries as possible in the future, expanding beyond the United Kingdom and the United States.
Over the past several days,
a slew of battery tests
on the iPhone 6s and the iPhone 6s Plus have revealed some performance differences between models that have an A9 chip manufactured by TSMC and those with
an A9 chip created by Samsung
. While various
benchmarking
and
real world usage tests
have shown differences of 6 percent to 22 percent, in favor of TSMC chips, Apple says that its own testing has shown battery life variations of only two to three percent.

In a statement given to
TechCrunch
, Apple says that it has done internal testing and gathered customer data to determine the performance difference between the two chips in the iPhones.
With the Apple-designed A9 chip in your iPhone 6s or iPhone 6s Plus, you are getting the most advanced smartphone chip in the world. Every chip we ship meets Apple's highest standards for providing incredible performance and deliver great battery life, regardless of iPhone 6s capacity, color, or model.

Certain manufactured lab tests which run the processors with a continuous heavy workload until the battery depletes are not representative of real-world usage, since they spend an unrealistic amount of time at the highest CPU performance state. It's a misleading way to measure real-world battery life. Our testing and customer data show the actual battery life of the iPhone 6s and iPhone 6s Plus, even taking into account variable component differences, vary within just 2-3% of each other.
Apple says that early battery benchmark tests conducted by customers, such as those we
shared yesterday
, are not reflective of real world usage conditions. The two to three percent difference that Apple has seen in data gathered from customers is "well within its manufacturing tolerances" and is a level of variation that could be seen between two devices with the same chip.
Apple's statement on real world usage reflects what recent
YouTube tests have revealed
. Side-by-side battery tests comparing a TSMC iPhone and a Samsung iPhone did not show differences as dramatic as benchmark tests have shown, but those videos are also not quite indicative of real world usage results. On the
MacRumors
forums, opinions on battery life have been highly mixed. While some users with Samsung chips have reported poor battery life, others have not reported issues.
AT&T has flipped the switch
on Wi-Fi calling
, making it available to customers with eligible plans that are running iOS 9.
MacRumors
has received tips from customers who were able to activate Wi-Fi calling and we were able to activate the feature on our own iPhones. A number of
readers in our forums
are also having success activating Wi-Fi calling.
Wi-Fi calling
is a feature that lets calls be placed over a wireless connection when cellular connectivity is poor, functioning much like an AT&T M-Cell does now. It's similar to Apple's own FaceTime Audio feature, which also routes calls over a Wi-Fi connection.
AT&T customers can turn on Wi-Fi calling by going to the Phone section of the Settings app and toggling on the Wi-Fi calling feature. From there, there are a set of steps to walk through, including entering an emergency 911 address. Wi-Fi calling is available on the iPhone 6, 6s, 6 Plus, and 6s Plus running iOS 9.

Customers who want to use Wi-Fi calling need to have AT&T HD voice features enabled, along with an Internet connection. Wi-Fi calling can be used for voice calls within the United States, Puerto Rico, and United States Virgin Islands at no charge. Long distance global voice calls will be charged standard long distance rates.
Once the setup process is complete, customers are receiving notifications letting them know the Wi-Fi calling feature will be available after a short activation period.

AT&T promised to launch Wi-Fi calling alongside iOS 9, but last week
announced the feature was delayed
due to its inability to get an FCC waiver that would temporarily allow the carrier to forgo offering support options for deaf and hard-of-hearing customers. On Tuesday of this week, AT&T finally
received the waiver
that it needed to move forward with Wi-Fi calling.
The news that Apple
dual sourced its A9 chips
for the iPhone 6s and iPhone 6s Plus has been a point of discussion over the past few weeks, especially when new battery tests on the phones pointed towards the TSMC chips
outperforming
those made by Samsung. Following the news, several YouTubers have begun creating videos to compare the dual sourced chips in both battery-straining tests and basic real-world scenarios.
In the first video,
Austin Evans
compared identical models of the iPhone 6s -- one with the Samsung chip and one with the TSMC chip -- and calibrated their screens so they had the exact same brightness. After running the GeekBench 3 battery test until they both ran down to 50 percent battery life, Evans discovered that the TSMC iPhone 6s lasted fifty minutes longer than the Samsung version, "resulting in a nearly 1.5 times difference in battery life." Thermal imaging also showed the Samsung device running hotter than the TSMC version.
Evans also ran a lighter battery test, playing the same hour-long YouTube video on each device to see how a more day-to-day scenario would affect each chip. In the end, he saw only a one percentage point difference in battery drain, noting that while heavy-use cases could see the TSMC chips come out on top, highlighting the differences between benchmarks and real-world usage.
The next video is from
Jonathan Morrison
, who compared each chip by running a 30-minute timelapse with all the same settings and brightness running on each device. After the test, the Samsung iPhone 6s was down to 84 percent battery, while the TSMC version came in on top with 89 percent remaining. Morrison continued testing the battery strength of each chip with a ten-minute 4k video test, exporting the video file in iMovie, and finishing off by running GeekBench 3. At the end of the full set of tests, the iPhone with the Samsung chip was at 55 percent battery while the TSMC device was at 62 percent.
The takeaway from Morrison and Evans' videos today seems to be that while intense cases like synthetic Geekbench tests designed to push devices to their limits revealed as high as a 22% difference in battery life between devices using the two chips, real-world impacts may be much smaller depending on the mix of activities. In these specific usage patterns shown above, battery life differences between the two processors ranged from 6% to 11%.
Related Roundup:
iPhone 6s
Tags:
Samsung,
TSMC,
A9
Buyer's Guide:
iPhone (Buy Now)
The
third OS X El Capitan 10.11.1 beta
seeded to developers yesterday contains references to a Magic Keyboard, Magic Mouse 2 and Magic Trackpad 2, as spotted by French website
Consomac
. Apple could ship the next-generation keyboard and mouse accessories alongside the
new 4K 21.5-inch Retina iMac
expected to launch next week, although the exact release date remains uncertain.

Apple's current-generation Wireless Keyboard and Magic Mouse
A new Apple Wireless Keyboard and Magic Mouse 2, each featuring Bluetooth 4.2 and rechargeable lithium-ion batteries, first
appeared in FCC filings
in August. Apple also
registered several new web domains
related to the term "Magic Keyboard" in September, including applemagickeyboard.com, applemagickeyboard.net, and applemagickeyboards.com.

Magic Keyboard, Magic Mouse 2 and Magic Trackpad 2 references in OS X 10.11.1
Apple currently sells an Apple Wireless Keyboard, Magic Mouse and Magic Trackpad, each powered by two AA batteries, so these newly uncovered accessories are in all likelihood next-generation versions. The new Magic Keyboard, Magic Mouse 2 and Magic Trackpad 2 could have Force Touch, which is built into new MacBooks, while the
inclusion of Touch ID
is a more unlikely possibility.
Apple today
announced
that enhanced editions of all seven books in the Harry Potter series by J.K. Rowling are now available exclusively through the iBooks Store around the world for iPhone, iPad, iPod touch and Mac.

The enhanced Harry Potter books feature the full original text, interactive animations, detailed artwork and annotations from Rowling. There are also exclusive custom covers for each title, custom Harry Potter typefaces and new section headers and drop caps.

Harry Potter Enhanced Editions are available in English for $9.99 each in 32 countries, while pre-orders begin today for French, German and Spanish versions, which will be available on November 9 in 18 additional countries.
"I'm thrilled to see the Harry Potter books so beautifully realised on iBooks for the digital world; the artwork and animations in these enhanced editions bring the stories alive in a delightful new way," said J.K. Rowling.

"Harry Potter fans are going to love how their favorite stories come to life," said Tim Cook, Apple's CEO. "J.K. Rowling's legendary series is perfect for enjoying on your iPad or iPhone and we're thrilled to offer them exclusively on the iBooks Store."
Harry Potter digital books were previously only available for purchase through the Pottermore shop that J.K. Rowling developed in partnership with Sony.