Over the weekend well-known mobile phone leaker Evan Blass
predicted
that the
iPhone 7
and 7 Plus would release the week of September 12. A short time later, he predicted that it should launch on Friday, September 16. Today, Blass has followed up and reported that pre-orders would take place on Friday, September 9.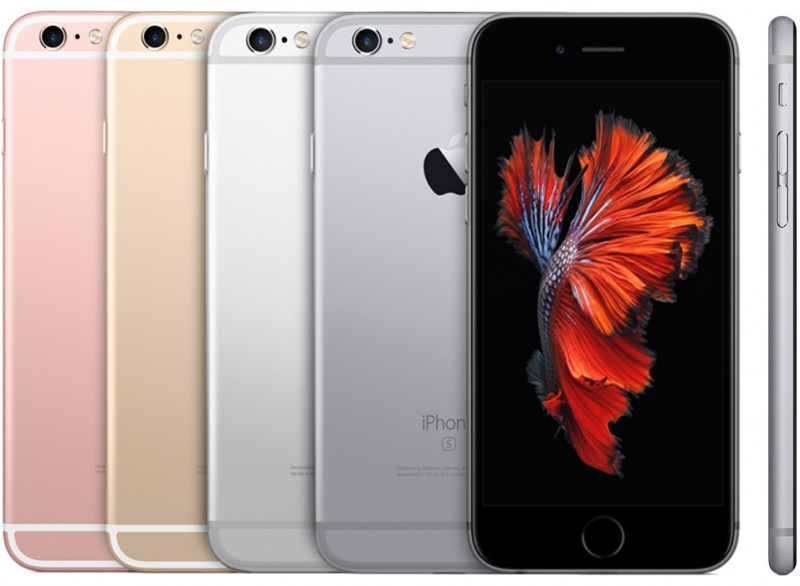 Apple typically announces the newest iPhone a couple days before pre-orders start. With September 5 being Labor Day, it's likely Tuesday, September 6 would be the day of Apple's iPhone 7 event. The dates roughly line up with Apple's usual pattern for iPhone releases. Last year, Apple announced the iPhone on September 9, started pre-orders on September 12 and released it on September 25.
Blass is well known for leaking details and images from Android smartphones well before official confirmations. A couple days before predicting the release week of the iPhone 7 and 7 Plus, he revealed that the codenames for Apple's new smartphones are "Sonora" and "Dos Palos."
Confirmed: Pre-orders start on the 9th. You can extrapolate the launch event date from there. https://t.co/gwoPzIM1dI

— Evan Blass (@evleaks) July 28, 2016
This year's iPhone models are
not expected
 to feature significant design changes aside from the loss of the headphone jack. Instead, Apple is said to be introducing major new features for the 10th anniversary
iPhone 8
. The 4.7-inch iPhone 7 is expected to get an improved camera and optimal image stabilization while the 5.5-inch iPhone 7 Plus may gain a
dual-lens camera system
and 3 GB of RAM.
Other rumored features for the iPhone 7 and 7 Plus include a faster
TSMC-made A10 processor
, repositioned
antenna bands
,
faster LTE and Wi-Fi
, a
slightly larger battery
, and a
minimum 32 GB
of base storage.
Apple today
announced
that it recently sold its one-billionth iPhone, marking a major milestone for the company. CEO
Tim Cook
shared the news with employees at a staff meeting this morning, as noted in a news story published by Apple.
In a statement, Cook called the iPhone one of the most successful, world-changing products in history, echoing similar sentiments from
yesterday's earnings call
where he said believes the iPhone is becoming a device that people can't live without.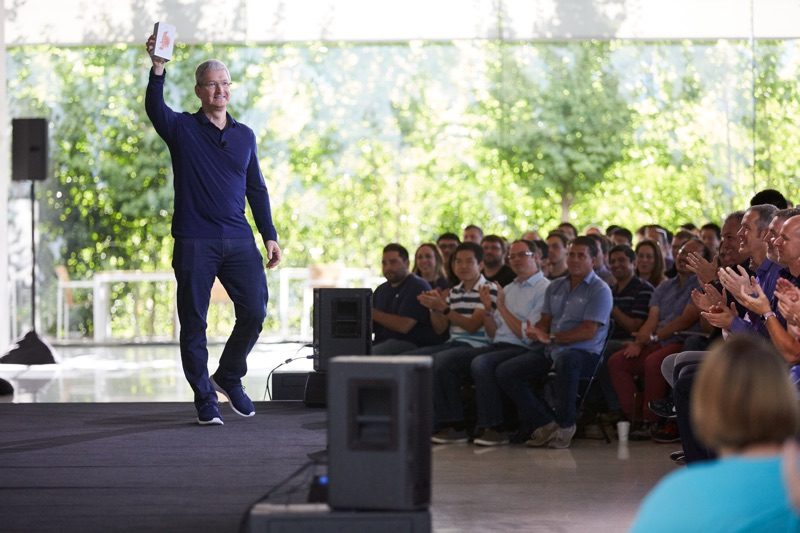 Tim Cook holds the billionth iPhone sold
"iPhone has become one of the most important, world-changing and successful products in history. It's become more than a constant companion. iPhone is truly an essential part of our daily life and enables much of what we do throughout the day," said Cook. "Last week we passed another major milestone when we sold the billionth iPhone. We never set out to make the most, but we've always set out to make the best products that make a difference. Thank you to everyone at Apple for helping change the world every day."
Apple first introduced the iPhone in 2007, and since then, the company has gone on to release nine generations, each with major improvements, revisions, and new features. While iPhone sales
have been down
for the last two quarters, the 1 billion milestone highlights what a successful product it is.
The iPhone has long been Apple's most important device, responsible for a majority of the revenue that the company brings in.
Next year, Apple will celebrate the 10th anniversary of the iPhone and the company has something big planned. Rumors suggest
the 2017 iPhone
will introduce some of the most significant design changes we've seen, with an all glass body and an edge-to-edge display with an integrated camera and
Touch ID
sensor. Other prospective features include wireless charging, biometric additions like iris or facial scanning, and a faster A11 chip.
Parking service company
Parkopedia
today
announced
that it will begin to provide its enhanced and detailed parking information services directly within
Apple Maps
. With the partnership between the two companies, that means iOS users will be able to visit Apple Maps to discover more than 40 million parking spots in 75 countries across North America, Europe, Asia and Latin America.
The integration of Parkopedia into Apple Maps actually
began in March
inside of the United States, but today marks the official worldwide launch of the new resource. With the parking company's "rich information," Apple Maps users will be able to search for parking garages and lots, while reading about their location, payment type, number of spaces, and more. Future updates will allow users to filter search results, in order to discover the cheapest lots first, for example.

While reading through some Parkopedia information for a parking lot in Apple Maps, users will be able to follow a link to reserve a spot, although that process takes them out of Maps to complete the payment process on the Parkopedia website or within the company's iOS app [
Direct Link
]. "More detailed information" will also be available outside of Apple Maps and in Parkopedia itself, including pricing, user reviews, special offers and real-time space availability.
"We're excited to deliver detailed information on more than 40 million parking spaces in 75 countries to Apple Maps customers. This is a very important milestone for Parkopedia. Our combined footprint in the consumer and automotive space is huge and this opens the doors to delivering a world of innovative solutions," stated Parkopedia's Head of Marketing, Christina Onesirosan Martinez.
Apple Maps has been receiving steady updates to help bolster its navigation and research abilities for users visiting new cities, or simply trying to find new venues in their hometown. Among these changes coming in
iOS 10
are new
parked car notifications
, which reminds users where they left their car -- especially when parking in large garages or lots -- with the help of a simple geo-locked icon within Apple Maps. Combined with Parkopedia's information catalog, this could help Apple get a leg up on its rivals in the GPS map app space.
Last month, Japanese blog
Mac Otakara
reported that Apple plans to announce
new MacBook Air models featuring USB-C ports
based on the
Thunderbolt 3
protocol by the end of June, and begin shipping the notebooks to retailers in August. It is now seven weeks later, however, and the rumor has yet to materialize.

But if a new report from Taiwanese website
DigiTimes
is to believed, Apple still has plans to release a new
MacBook Air
with USB-C ports after all. The report does not provide a launch timeframe for the updated notebooks, but the secondary rumor suggests
Mac Otakara
may have been off on timing only.
Currently, Apple has decided to adopt the USB Type-C interface for its MacBook Air, while Asustek Computer and Hewlett-Packard (HP) are upgrading one of their notebooks' regular USB port to the Type-C. Lenovo, Acer and Dell are still evaluating the option.
DigiTimes
previously reported that Apple will begin shipping new
"ultra-thin" 13-inch and 15-inch MacBooks
at the end of the second quarter, which ended in late June. The report said the new MacBooks would "share a design similar to the existing 12-inch MacBook" and be "thinner than [the] existing MacBook Air."
DigiTimes
also previously reported that Apple plans to release new ultra-thin MacBooks with
metal injection molded hinges
in the second half of 2016. The website is not always an accurate source of Apple's upcoming product plans, but it has well-connected supply chain sources that have proven reliable at times in the past.
Apple's entire Mac lineup, beyond the
2016 12-inch MacBook
, has stagnated. Apple has not released a new MacBook Air in
over 500 days
, beyond a
minor 8GB RAM bump
for 13-inch models in April. Some believe the MacBook Air's days are numbered, but perhaps the notebook will live on until Apple can sell the 12-inch MacBook from $999.
Alternatively, it is possible that
DigiTimes
is misinterpreting a
thinner MacBook Pro with USB-C ports
as a MacBook Air.
If a new MacBook Air is incoming, a late-year launch is most probable. KGI Securities analyst
Ming-Chi Kuo
said Apple will launch
three new MacBook models
by year's end: a thin and light 13-inch MacBook in the June-September quarter, and two thinner and lighter 13-inch and 15-inch
MacBook Pro
models in the September-December quarter.
Three of Australia's biggest banks have lodged a joint application with anti-trust regulators to negotiate with Apple over gaining access to the NFC-based mobile payment hardware in its smartphones (via
Reuters
).
Commonwealth Bank, National Australia Bank (NAB), and Westpac have so far resisted signing deals to use the company's
Apple Pay
mobile payment system, because they want their customers to be able to use digital wallets they have already financed and developed.

However, none of the banks want to be accused of violating anti-competition law by negotiating deals, which is where the application comes in.
If the Australian Competition and Consumer Commission (ACCC) lets the banks collectively negotiate with Apple under the terms of the application, it would enable them to undertake "a limited form of boycott" in which they would all agree not to negotiate with Apple individually while the talks take place.
Apple currently only allows its own mobile payment system to access the NFC-hardware in its iPhone devices, which banks argue is an anti-competitive restriction that hampers consumer choice.
"This is about providing Australians with real choice and better outcomes," said Lance Blockley, a senior advisor at Novantas who spoke to The Sydney Morning Herald on behalf of the banks.

"If successful, the application would have tremendous benefits for the entire Australian mobile payments landscape including for public transport fares, airlines, ticketing, store loyalty and rewards programs and many more applications yet to be developed."
Apple Pay
launched
in Australia in November, but has since been slow to roll out in the country. The delay was thought to be down to issues Apple was experiencing
negotiating fees
with the nation's largest banking institutes.
Three months ago it
added Apple Pay support
for credit and debit cards from the Australia and New Zealand Banking Group (aka ANZ), the only bank in Australia's "Big Four" that played no part in the latest application.
Apple CEO
Tim Cook
today told investors that Apple is continuing to invest in augmented reality, and that the company is "high on AR in the long run." Cook's comments came after he was questioned about Pokémon Go, the hit augmented reality game developed by Niantic Labs, Nintendo, and The Pokémon Company.
Cook, who continually referred to "Pokémon" as "Pokemans," said Pokémon Go is a "testament to what happens to innovative apps," giving the
App Store
credit for empowering developers to "press a button" and "offer a product around the world." He went on to say that augmented reality offers a great commercial opportunity and great opportunities for consumers.

AR can be really great. We have been and continue to invest a lot in this. We're high on AR in the long run and we think there are great things for customers and a great commercial opportunity. The number one thing is to make sure that our products work well with other developer's products like Pokémon, and that's why you see so many iPhones in the wild chasing Pokemans.
Cook went on to say that he believes augmented reality "can be huge." "We'll see whether it's the next platform," he said. "Regardless, it will be huge."
In the past, rumors have suggested Apple
has a secret research team
working on augmented reality and virtual reality, exploring the AR/VR field and investigating how the company could embrace augmented or virtual reality in the future.
Apple has also made a number of augmented reality acquisitions, purchasing companies like
Metaio
,
Faceshift
, and
Flyby Media
. How Apple might incorporate augmented reality into its products remains a mystery, but there are applications related to Maps and Photos that could be on the horizon.
Earlier this year, Cook
made similar comments
about virtual reality, calling it more than just a niche product. "It's really cool and it has some interesting applications," he said.
During today's
third quarter earnings call
, Apple CEO
Tim Cook
told investors that he's "very optimistic" about prospective iPhone sales this fall, despite rumors suggesting the device will introduce only minor changes.
In response to a question about speculation that iPhone upgrade rates will be low in 2016 based on circulating rumors that the
iPhone 7
will mark only a modest update to the
iPhone 6
s, Cook said he sees "so many signs that are positive" that point towards solid sales numbers.

A mockup of the iPhone 7
I don't want to talk about new phones that aren't announced. That aside, what we have seen -- in past tense or in current tense -- on the upgrade rate is that the iPhone upgrade rate for the iPhone 6s is similar to the iPhone 5s. [...]

The iPhone 6 was significantly higher than that and it likely accelerated upgrades that would have been in the current year ahead of those. So what the future holds, we'll see, but I'm very optimistic about the future because I see so many signs that are positive.
As for the signs in question, Cook pointed towards an install base that has gotten "incredibly large," a switcher rate that continues to grow, a smartphone penetration rate that's only at 42 percent, changes coming in
iOS 10
, and the growing importance of the smartphone itself as it becomes "even more instrumental and important to people's lives."
On that last point, Cook said he expects AI to play a major role in turning the iPhone into an essential device that people can't live without. "As the iPhone becomes more and more your assistant, you're not going to leave without it," he said. "I see all of those things as vectors that are incredibly positive," he continued.
According to Cook, Apple will excel at AI because of the company's focus on user experience, which will drive people to adopt Apple devices. Apple is continually working to improve its virtual assistant
Siri
, and Cook's comments hint at Apple's continued focus on the service.
As the smartphone itself becomes more essential to customers' day-to-day lives, we think people will put more and more focus on what they're buying. The thing Apple does best is providing a killer user experience that's integrated across the entire product line, and that becomes more important and really plays to our advantage.

I think the deployment of AI technology is something we will excel at because of our focus on user experience. So I like that.
Apple will unveil its next-generation iPhone 7 this fall, likely in September. While the device is expected to have a design similar to the design of the iPhone 6s, it will feature camera improvements, a better processor, improved water resistance, no headphone jack, and more.
Apple today
announced
financial results for the third fiscal quarter (second calendar quarter) of 2016. For the quarter, Apple posted revenue of $42.4 billion and net quarterly profit of $7.8 billion, or $1.42 per diluted share, compared to revenue of $49.6 billion and net quarterly profit of $10.7 billion, or $1.85 per diluted share, in the
year-ago quarter
. As
expected
, the results represent the second consecutive year-over-year declines in quarterly revenue and iPhone sales.
Gross margin for the quarter was 38 percent compared to 39.7 percent in the year-ago quarter, with international sales accounting for 63 percent of revenue. Apple also declared a quarterly dividend payment of $0.57 per share, payable on August 11 to shareholders of record as of August 8. The company currently holds $231.5 billion in cash and marketable securities, partially offset by $68.9 billion in long-term debt.

Apple sold 40.4 million iPhones during the quarter, down from 47.5 million a year earlier, while Mac sales were 4.25 million units, down from from 4.8 million units in the year-ago quarter. iPad sales were also down once again, falling to 9.95 million from 10.9 million.
"We are pleased to report third quarter results that reflect stronger customer demand and business performance than we anticipated at the start of the quarter," said Tim Cook, Apple's CEO. "We had a very successful launch of iPhone SE and we're thrilled by customers' and developers' response to software and services we previewed at WWDC in June."
Apple's guidance for the fourth quarter of fiscal 2016 includes expected revenue of $45.5–47.5 billion and gross margin between 37.5 and 38 percent.

Apple will
provide live streaming
of its fiscal Q3 2016 financial results conference call at 2:00 PM Pacific, and
MacRumors
will update this story with coverage of the conference call highlights.
Conference Call and Q&A Highlights are available in reverse chronological order after the jump.
➜ Click here to read rest of article...
Apple's
iPhone 7
may not include a physical home button, instead adopting a touch-sensitive "
3D Touch
" home button, reports
Mac Otakara
[
Google Translate
]. Such a home button would be flush with the body of the iPhone and would not actually depress when a finger is placed on it.
Instead, when a user presses on the home button, haptic feedback will mimic a press, much like the Force Touch trackpad on Apple's most recent MacBooks. Through haptic feedback, iPhone users will feel the sensation of pressing on a button even though there's no actual button to press.

Mac Otakara
's report refers back to an April home button rumor from
Stormmedia
and confirms its veracity, citing unspecified supply chain sources and saying there's a "high possibility" the rumor is accurate. We've heard the same home button rumor from
DigiTimes
and analysts at
Cowen and Company
. While none of these sources have track records accurate enough to unquestioningly say the rumor is true, the fact that it's a rumor we've heard multiple times now suggests it could be accurate.
A flush home button, when
combined with rumors
of improved waterproofing and the removal of the headphone jack, makes some sense. Without a physical button, there would be no way for water to get into the internals of the phone around the button, and it would also potentially improve the reliability of the
Touch ID
system.
Based on leaked part images and dummies, the removal of the home button will not drastically change the look of the iPhone 7.
Should Apple remove the physical home button in favor of a Force Touch or 3D Touch home button in the iPhone 7, the company will be one step closer to eliminating the home button entirely, something that's
rumored for the 2017 iPhone
.
Apple has purchased an unscripted television series based on the highly popular "Carpool Karaoke" segment from "The Late Late Show With James Corden," reports
Variety
. The upcoming television show will be distributed via
Apple Music
and is said to be seen as a way to "drive online activity" for the streaming music service.
It is not clear how closely the "Carpool Karaoke" show Apple has purchased will mirror the segment popularized by Corden. On The Late Late Show, Corden drives around and sings hit songs with celebrities and public figures that have included Michelle Obama, Selena Gomez, The Red Hot Chili Peppers, Demi Lovato, Gwen Stefani, and more.
Apple has licensed 16 episodes of the show from CBS TV Studios, which will be executive produced by Corden and Ben Winston.
According to
Variety
, the Carpool Karaoke show sparked a bidding war between multiple cable and subscription video outlets due to its success on The Late Late Show. Apple's
Eddy Cue
called the upcoming show the "perfect fit" for the Apple Music service.
"We love music, and 'Carpool Karaoke' celebrates it in a fun and unique way that is a hit with audiences of all ages," said Eddy Cue, Apple's senior vice president of Internet software and services. "It's a perfect fit for Apple Music -- bringing subscribers exclusive access to their favorite artists and celebrities who come along for the ride."
Apple has been making its first steps into original television programming as a way to promote its growing services segment. In addition to Carpool Karaoke, Apple is also working on "
Vital Signs
," a dark semi-autobiographical drama starring Dr. Dre, which will also be used to promote Apple Music. "
Planet of the Apps
," another TV show in the works, will serve to promote the
App Store
with stories about apps and the developers who make them.
In
a recent interview
, Apple iTunes chief Eddy Cue said Apple is "not trying to create original TV shows" to become a Netflix or Amazon Video competitor, but will "help" producers on projects that are designed to promote its existing products.
Apple is planning to unveil the second-generation
Apple Watch
in September or October, according to a new report from
DigiTimes
citing supply chain sources in a wider piece on weakening demand for tablets and wearables.
Component makers and Apple suppliers are said to be seeing "rather conservative orders" for the new Apple Watch despite its upcoming release date, information that directly conflicts with
a June DigiTimes report
that pointed towards "higher-than-expected" orders. Given the confusion over the second-generation Apple Watch in the supply chain,
DigiTimes
' information does not offer a clear picture of the demand Apple expects to see for the device.

Rumors suggest the second-generation Apple Watch will see under-the-hood spec improvements and perhaps
some minor form factor tweaks
, but major changes to the device are not expected to be unveiled this year. Improved battery life, a faster processor, and
built-in cellular capabilities
are all features we could see in a new Apple Watch.
While we can't glean anything about supply from
DigiTimes
, the September or October timeframe is in line with past rumors. Previous information suggests Apple is perhaps planning to unveil a new Apple Watch alongside new iPhones, and new iPhone models are typically announced in September.
According to a
recent rumor
, the
iPhone 7
and iPhone 7 Plus will be released on Friday, September 16, and if that's the correct launch date for the iPhone 7, we can likely expect to see the Apple Watch released on the same day. With a September 16 launch date, an unveiling event could potentially take place during the week of September 5th.
Apple today will release its fiscal
third quarter earnings results
, reflecting a three-month period that ended in late June, and the consensus among analysts is that the company will report a
second consecutive decline
in iPhone sales and overall revenue. That same scenario played out last quarter
for the first time since 2003
.

In fact, some analysts have forecasted that iPhone sales may be as low as 38 million to 40 million units, a decline of up to 20 percent compared to the year-ago quarter. If the estimates prove to be accurate, it would mark Apple's
worst quarter of iPhone growth ever
in the smartphone's nine-year history.
Apple itself
provided guidance
of between $41 billion and $43 billion in revenue, which would be up to 18 percent lower than the $49.6 billion in revenue it posted in the year-ago quarter. Wall Street expects revenue to be around the
$42.1 billion mark
, with
earnings of $1.39 a share
-- one analyst has
EPS as low as $1.35
.

iPhone accounts for around two-thirds of Apple's revenue, and an even greater portion of its profits, so the device's recent slide is concerning for investors -- reflected in the price of Apple shares, down around 21 percent from a 52-week high of $123.91. The good news for Apple is that many analysts believe it will
"bottom out" in the June quarter
and return to iPhone and revenue growth by the 2017 fiscal year.
But, until then, the bleeding is expected to continue. iPad sales are forecasted to decline for a tenth consecutive quarter, while market research firm IDC's estimated
Apple Watch sales of 1.6 million
in the June quarter would be 55 percent lower than the year-ago launch quarter. Mac sales are also projected to decline by up to 10 percent as buyers await a 2016
MacBook Pro
and other new models.
As emphasized by Apple CEO
Tim Cook
, the recent decline in Apple's hardware sales has been offset by growth in the company's expanding services category, including the likes of
Apple Music
,
Apple Pay
,
AppleCare
, and licensing. That trend looks set to continue, as Above Avalon analyst Neil Cybart forecasts service revenue was $6.1 billion in the June quarter for 20 percent year-over-year growth.
Beyond the third quarter, attention has turned to tempered expectations surrounding the upcoming
iPhone 7
. The consensus among analysts is that a perceived lack of new features coming to the next-generation smartphone could result in a "mega upgrade cycle" for the so-called
iPhone 8
rumored for 2017. Next year's model is already rumored to feature a new design with an
OLED display and glass casing
.
Apple will publish its third quarter earnings report at 1:30 p.m. Pacific Time (4:30 p.m. Eastern Time), and we will share the results shortly thereafter.
MacRumors
will then provide live coverage of the ensuing conference call with Cook and Apple CFO Luca Maestri at 2:00 p.m. Pacific Time (5:00 p.m. Eastern Time).