Apple CEO Tim Cook said he is deeply offended by allegations that Apple permits the mistreatment of workers in its supplier factories and mines, reports
The Telegraph
. The accusations were levied by the BBC news program
Panorama
, which sent undercover reporters to work in Chinese factories and Indonesian mines. The BBC aired the documentary titled "
Apple's Broken Promises
" last night on its BBC One channel.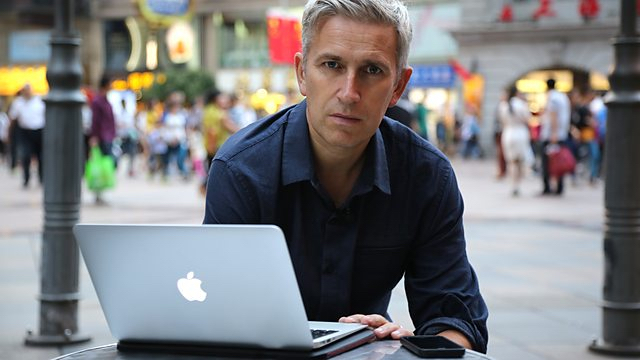 Apple senior vice president of operations Jeff Williams relayed Tim Cook's message in an
email sent to its UK staff
. Cook and Williams both stated they were "deeply offended by the suggestion that Apple would break a promise to the workers in our supply chain or mislead our customers in any way."
"Panorama's report implied that Apple isn't improving working conditions," he continued. "Let me tell you, nothing could be further from the truth."
Williams also implied in the email that Apple provided the BBC with pertinent facts regarding the company's commitment to its workers worldwide, but that information was not included in the documentary.
The BBC report claims that Chinese workers were forced to work long hours assembling Apple devices and denied requests for a day off, even after working 18 days in a row. The BBC also uncovered issues with off-hour work meetings, underage workers and other violations with dormitories and ID cards.
The BBC also investigated tin mines in Indonesia, where it found children mining the ore in dangerous conditions. The BBC claims this tin makes its way into Apple's supply chain without the company's knowledge.
Note: Due to the political nature of the discussion regarding this topic, the discussion thread is located in our
Politics, Religion, Social Issues
forum. All forum members and site visitors are welcome to read and follow the thread, but posting is limited to forum members with at least 100 posts.
As the Christmas holiday approaches,
Apple Store shipping estimates
for both the iPhone 6 and the iPhone 6 Plus from all carriers in all colors and in 16 and 64GB capacities have now improved to just 1 business day in the United States, bringing the company close to reaching a supply/demand balance on those devices.
The larger-capacity 128GB devices remain somewhat more constrained than the lower-capacity models, and ship in 3 to 5 business days.
Shipping estimates are similarly improved in many other countries, including Australia, New Zealand, Canada, the United Kingdom, Mexico, Thailand, Philippines, and more.
Throughout the month of December, shipping estimates have been slowly improving as Apple has catches up with demand, and in early December, estimates
had improved to 3 to 5 days
for 16/64GB models and 7 to 10 days for 128GB models. Last week, estimates for the 16and 64GB models improved further, reaching 1 to 3 day estimates before jumping up again this week to just 1 day.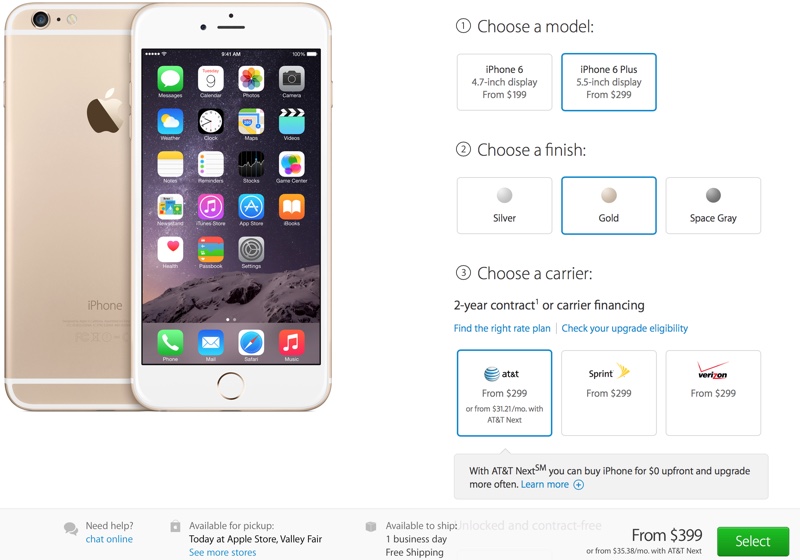 The iPhone 6 and 6 Plus have been severely constrained since their September debut, but Apple has worked hard to improve available supply, going so far as to reportedly delay mass production on the rumored iPad Pro to focus on producing more
iPhone 6 Plus units
.
In store supply of the iPhone 6 and 6 Plus has also seen major improvement over the course of the last few weeks, and in many stores around the country, it's now possible to walk in and purchase an iPhone 6 or 6 Plus. According to tracking tool
iStockNow
, iPhone 6 and 6 Plus units from all carriers and in all colors and capacities are widely available at most stores.
Back in October, Apple CEO Tim Cook said that demand for the iPhone 6 and 6 Plus was "far outstripping" supply, but based on the continually improving shipping times, Apple appears to be on track to meet its supply goals before the end of the year.
Earlier this week, BBC One announced plans to
air a documentary
called
Apple's Broken Promises
, detailing the factory conditions of the overseas workers who are creating components and assembling the company's iPhones.
Apple's Broken Promises
is set to air tonight, but ahead of the documentary's launch,
BBC News
has
published a story
outlining what they discovered when they visited Pegatron factories in China and mines in Indonesia.
During the visit, the
BBC
found that workers at Pegatron factories were forced to put in long hours assembling Apple devices, and that there were violations with ID cards, dormitories, work meetings, and juvenile workers.

Multiple reporters went undercover at the factory as part of the documentary, and one did not receive a day off after working 18 days in a row while another was exhausted by the long hours. There were also workers who were filmed falling asleep during 12-hour shifts.
One undercover reporter, working in a factory making parts for Apple computers, had to work 18 days in a row despite repeated requests for a day off.

Another reporter, whose longest shift was 16 hours, said: "Every time I got back to the dormitories, I wouldn't want to move.

"Even if I was hungry I wouldn't want to get up to eat. I just wanted to lie down and rest. I was unable to sleep at night because of the stress."
Undercover reporters were forced to do overtime, which is supposed to be voluntary, and the housing conditions were less than desirable, with one reporter subjected to a dormitory where 12 workers shared a single room. Another reporter had to attend after work meetings off the clock, receiving no compensation.
In response to the
BBC
's allegations, Apple released a statement suggesting that it's doing more than any other company to improve working conditions for factory employees. The company also said it monitors working hours at Pegatron, with employees at the factory averaging 55 hours per week.
"We are aware of no other company doing as much as Apple to ensure fair and safe working conditions.

"We work with suppliers to address shortfalls, and we see continuous and significant improvement, but we know our work is never done."
Apple also told the
BBC
that the overcrowding in the dormitory has been resolved, and that suppliers are required to retroactively pay workers if they have not received compensation for meetings.
The
BBC
's trip to Indonesia led the documentarians to allege that tin from illegal mines could be entering Apple's supply chain without its knowledge. Children were found digging tin ore in dangerous conditions, with the tin eventually being sold to a smelter that's on Apple's list of suppliers. Apple told the
BBC
that the situation in Indonesia is "complex" as thousands of miners sell tin through middle men.
Apple often finds itself in the spotlight over the conditions at the factories where its product components are produced, but over the last few years, the company has established a strict code of conduct for suppliers that prevents underage labor and provides safe, comfortable working and living conditions for workers.
Apple also maintains a Supplier Responsibility Team that performs regular audits to ensure compliance, but factory conditions continue to be an ongoing issue for Apple due to both the sheer number of suppliers the company works with and the fact that factories benefit from producing large quantities of product at a low cost.
The full documentary will be shown on BBC One on December 18 at 9:00 PM U.K. time, and it will be replayed later on
BBC iPlayer
.
Update:
The BBC has added a video clip from the documentary.
Note: Due to the political nature of the discussion regarding this topic, the discussion thread is located in our
Politics, Religion, Social Issues
forum. All forum members and site visitors are welcome to read and follow the thread, but posting is limited to forum members with at least 100 posts.
Apple today seeded the third beta of iOS 8.2 to developers, just over a week after seeding
the second beta
and one month after releasing
the first iOS 8.2 beta
.
The beta, Build 12D5452a, is available immediately to registered developers as an over-the-air update and it can also be downloaded from the iOS Developer Center. Today's update also includes Xcode 6.2 beta 3 with WatchKit.

According to the release notes, iOS 8 beta 3 fixes several bugs including an issue that caused opening Messages conversations to take a long time and a missing emoji button in iOS Simulator. It also includes two fixes for WKInterfaceController methods: openParentApplication:reply: now launches the containing app in the background when the iPhone (or iOS Simulator) is unlocked or locked and presentTextInputControllerWithSuggestions:completion: is now fully supported in iOS Simulator.
iOS 8.2 includes the WatchKit SDK, allowing developers to create apps, Glances, and notifications for Apple's upcoming wearable device ahead of its 2015 launch. The first iOS 8.2 beta, with WatchKit SDK and developer documentation, revealed several new details about the Apple Watch, including its heavy reliance on the iPhone and the different types of content developers can create for the device.
Update:
It appears the latest beta
reintroduces
blood glucose tracking in the Health app and adds new descriptions for various Health app features.
While there are several apps designed to turn the iPad or iPhone into a secondary display for a Mac, the most popular options use Wi-Fi, which can render them all but unusable at times due to unavoidable lag. A new app from developer and former Apple Engineer Rahul Dewan aims to solve these lag problems
with a tethered solution
that turns an iOS device into a more reliable secondary display.
Duet Display
, which is launching today, is the one of the first apps that transforms the iPad and the iPhone into an extra display for the Mac using a Lightning or 30-pin cable. By sending data over a cable instead of Wi-Fi, Duet Display is able to greatly improve on the lag is typically present when an iOS device is used as a secondary display.
Duet Display offers both a Retina mode and a non-Retina mode, along with options for 30 or 60 frames per second, and it's easy to install and setup, requiring just the Mac app, the iOS app, and a cable to connect the two devices.
The Duet Display app is inarguably an improvement over other options today, but it is not a perfect solution. As detailed in the video walkthrough of the app below,
MacRumors
experienced some issues when testing the app. On a 2012 Retina MacBook Pro, Duet Display's Retina mode caused a significant amount of cursor lag, rendering the app nearly unusable, and the CPU usage climbed to well over 200 percent.
Non-Retina mode (which is enabled in the app by default) offered a more lag free experience, but the trade off caused the secondary iPad Air 2 display to look fuzzy -- a disappointment given the inherent clarity of the screen on Apple's newest tablet. Non-Retina mode in Duet Display degrades the quality of all Retina displays to a noticeable degree.
According to the developer, performance is better on Macs released in 2013 or later, and users who only want to view one static window may not have any problems. Furthermore, many users may find the utility of a secondary iPad or iPhone display to be enough to outweigh the lack of a Retina experience.
Though the iPad Air 2 and other Retina devices don't look good in non-Retina mode, Duet Display is a great solution for older iPads that people might have little use for. An original iPad or iPad 2 does not have a Retina screen, and will work well with older Macs as secondary displays. iOS 5.1.1 is not yet compatible with Duet Display, but the developer is working on a fix.
Along with the Retina issue, potential buyers should be aware of some other small issues that we ran into. Even in non-Retina mode, on a 2012 Retina MacBook Pro, there was some slight cursor lag, and we also had problems with visual artifacts on some apps. When watching YouTube videos, for example, there were some occasional performance blips.
The developer assures us that he is working on improving Duet Display, and he plans to release iterative updates in the months to come to clear up lingering problems. As he suggests, it's better to have an app that works most of the time with just a few problems rather than one of the existing Wi-Fi solutions that can be almost non-functional.
The Duet website claims that all Macs using OS X 10.9 or later work with the app, as well as all iPads and iPhones, but
MacRumors
was unable to get the software to work with a 2010 MacBook Air running OS X 10.10.2. According to the developer, the issue was due to the 10.10.2 beta software, which does not work with the app.
Duet Display may not provide the perfect secondary display experience, but in our testing, we found that it was more reliable than current Wi-Fi options, and we believe it's a fantastic way to make good use of older iOS devices.
Duet Display for the Mac can be
downloaded from the Duet website
for free. The accompanying iOS app can
purchased from the App Store
for $9.99 for 24 hours, and then the price will go up to $14.99. [
Direct Link
]
Update 12PM PT:
Some of our forum members have not been able to get Duet Display to work on an iPad running iOS 5.1.1, and the developer
has asked people
who want to use it with an iPad running iOS 5.1.1 to wait for an upcoming update before purchasing.
Hyundai today
confirmed
that it will showcase its new CarPlay-enabled Display Audio system next month at CES 2015. Display Audio is a dash-installed color touchscreen display that supports the latest in-car handsfree technology.

Hyundai's Display Audio forgoes built-in navigation and CD player features, instead including support for
Apple's CarPlay
and Android Auto to allow drivers to make phone calls, listen to music, send messages, and get directions using the car's in-dash display. The system also integrates with the voice command button on the steering wheel, providing drivers with an easy way to launch Siri Eyes Free commands.
"Hyundai will offer more technology than ever before inside affordable Hyundai models, allowing owners not only to text message through voice commands and stream their favorite music apps, but also to make calls in a safer way, and navigate using phone-based, off-board navigation through the car's screen and controls," said Cason Grover, senior group manager, cross-carline planning, Hyundai Motor America. "As affordable car buyers are often younger, Hyundai aims to provide what they want most in their car – all the latest smartphone-enabled technologies at a lower price."
Hyundai plans to roll out the Display Audio system with CarPlay support in select 2016 Hyundai models, which debut later in 2015. The system then will become the default head unit across the company's automobile lineup.
Hyundai was among
five brands
of automobile manufacturers featured by Apple during its CarPlay announcement earlier this year. Following the CarPlay launch, Hyundai
confirmed
it would integrate CarPlay in its 2015 Sonata line, although the feature has yet to made available in those vehicles.
For this year's
World AIDS Day campaign
, Apple ran several (Product) RED promotions, providing a (RED) section in the App Store and donating a portion of all retail and online sales from Friday, November 28 and Monday, December 1.
According to an email Apple CEO Tim Cook sent out to Apple employees (via
Re/code
), the campaign was a huge success, earning more than $20 million for the (Product) RED charity, which uses its funds to fight AIDS in Africa.

"I'm thrilled to announce that our total donation for this quarter will be more than $20 million -- our biggest ever -- bringing the total amount Apple has raised for (PRODUCT) RED to over $100 million," Cook wrote. "The money we've raised is saving lives and bringing hope to people in need. It's a cause we can all be proud to support."
During the campaign, Apple partnered with 25 app developers to offer a variety of (RED) themed apps in the App Store, with purchase proceeds going towards the charity. Apple's annual Black Friday event was also (RED) themed, and customers who purchased an iPhone, iPad, Mac, or qualifying Apple accessory received
a (RED) iTunes gift card
.
According to Cook, Apple's $20 million quarterly donation to the charity is its biggest ever, but over the course of the company's long partnership with Product (RED), it has contributed more than $95 million. As of June, Apple had
contributed $75 million
to the charity, which is joined by this quarter's $20 million.
Throughout its partnership with (RED), Apple has released a number of (RED) devices including iPod nanos and shuffles, iPad Smart Covers, iPhone Bumpers, and iPhone cases. With every (RED) product bought, Apple continues to donate a portion of the purchase price to the Global Fund to fight AIDs.
Apple's newly introduced payment initiative Apple Pay is currently only available in the United States, but the company has said that it is "working hard" to bring the feature to additional countries.
A new job listing for an
Apple Pay Intern
(via
iClarified
) seemingly confirms Apple's efforts to expand its payments service, stating that Apple Pay is "set to expand across Europe, Middle East, India, and Africa."
According to the job posting, the Apple Pay intern will join a London-based Apple Pay team that will facilitate the rollout of Apple pay to various countries by working with "Issuers, payment networks and merchants across Europe."

Apple Pay is a new and exciting area in Apple that is set to expand across Europe, Middle East, India and Africa. Apple Pay will change the way consumers pay with breakthrough contactless payment technology and unique security features built right into their iPhone 6 or Apple Watch to pay in an easy, secure, and private way. The new London-based Apple Pay team will work to drive the roll-out of this technology across EMEIA by working with a variety of internal and external partners, including teams in the US where the product will first launch and the EMEIA organisation, as well as Issuers, payment networks and merchants across Europe.
While a timeline for a possible Apple Pay release in additional countries is unclear, Visa has previously said that it is
working with Apple
to roll out Apple Pay across Europe in 2015. Alibaba is also said to be in talks with Apple over a
potential partnership
to provide a payments solution for China.
Though limited to U.S. credit cards, Apple Pay
already works in other countries
at NFC-supported point-of-sale systems, so once banks sign on, an expansion of the program into international countries may be a relatively simple process for Apple.
Update
: Apple has removed the job listing from its site.

The
Steve Jobs deposition video
that played a key role in the iPod antitrust trial Apple faced in court last week will not see a public release, ruled by District Court Judge Yvonne Gonzalez Rogers.
In a filing released today (via
AppleInsider
), the judge denied a request issued by several major news outlets last week, including
CNN
,
Bloomberg
, and the
Associated Press
. The news agencies
had filed a motion
to have the deposition video, which was filmed just six months before Steve Jobs' death, released to the public.
Citing past precedent of a decision made by the Eighth Circuit court in a case involving a video deposition of former President Bill Clinton, the court decided the Jobs video was not a judicial record and should be treated as any live testimony.
Here, the Court agrees with the Eighth Circuit and concludes that the Jobs Deposition is not a judicial record. It was not admitted into evidence as an exhibit. Instead, the Jobs Deposition was merely presented in lieu of live testimony due to the witness's unavailability, and was and should be treated in the same manner as any other live testimony offered at trial. As is typical of all live testimony, it is properly made available to the public through its initial courtroom presentation and, subsequently, via the official court transcript, the latter of which is the judicial record of such testimony.
Part of the reason the court decided not to publicly release the video was due to Apple's strong objection to the motion. Had there been no objection, Judge Rogers' filing says the ruling "might be different."
In the
video in question
, Steve Jobs explained that Apple's airtight Digital Rights Management (DRM) policies were the result of "black and white" contracts with record labels. Preventing the iPod from playing music from competing services was merely "collateral damage," he said.
Jobs was said to be evasive in his testimony, answering questions with "I don't remember," "I don't know," or "I don't recall" more than 74 times. He also had a "snarky" attitude, according to
CNN
, asking "Do they still exist?" when questioned about RealNetworks.
Apple's iPod trial ended yesterday, with
a ruling in its favor
. After deliberating for just three hours, the jury decided that Apple had not harmed consumers with anticompetitive practices. Had Apple lost the case, it could have been on the hook for up to $1 billion in damages.
Earlier this month, Apple asked note-taking app
Drafts
to
remove its Notification Center widget
, which offered simple tools for opening up the
Drafts
app and creating a new note. At the time, the removal request seemed highly questionable, because a multitude of apps with Notification Center widgets, including other note-taking apps like
Evernote
, provide similar functions.
As it has done with several other overly zealous removal requests, Apple has reexamined the
Drafts
widget and has reversed course once more, allowing the
Drafts
app to retain its Notification Center widget.
In a new 4.0.6 update pointed out by
MacStories
,
Agile Tortoise
, the developer behind
Drafts
, has returned the widget to the app with permission from Apple.

New: Today widget. Now back with the addition of recent drafts summary. Thanks to the help of some fine folks inside Apple for sorting this out.
In addition to returning the original quick note creation function to the
Drafts
widget, today's update also brings expanded functionality in the form of a feature that allows users to open recently created drafts. Combined with the existing functionality, the
Drafts
app now allows users to view recent drafts, create new drafts, view the number of stored drafts, and create new drafts from the clipboard, all very useful widget features.
The removal of the
Drafts
widget and its subsequent return mark just one of the policy reversals Apple has implemented over the last few months. In October,
PCalc
was asked to
remove its calculator widget
before
Apple changed its mind
, and just last week, file-management app
Transmit
was allowed to
reinstate a key sharing feature
that Apple had
previously said
was not allowed.
Apple's frequent and erratic app policy shifts suggest the company is continuing to struggle with defining just how it wants various iOS 8 features to be used. The combination of a large app review team and somewhat ambiguous guidelines have led to many contradictory removal requests of previously approved features, causing confusion and disquiet among developers.
Drafts
can be downloaded from the App Store for $9.99. [
Direct Link
]
Over the weekend, Apple released
a touching new holiday ad
called "The Song," focusing on a woman who found an old record of her grandmother singing a love song to her grandfather, which she then enhanced with her own vocals and musical accompaniments using Apple's tools.
Apple has now released a second video, which offers details on how the spot was created. As explained by the musician who starred the ad, Dana Williams, and vocalist Rhiannon Giddens, a series of recordings were made with a voice-o-graph, a 1940's booth for recording short spurts of audio directly onto a record.
The voice-o-graph used in the spot was supplied by Third Man Records, which is Jack White's indie label. Giddens, voicing the grandmother, sang the "Love Is Here to Stay" audio, and it was then transferred into GarageBand for editing by Williams, who says that she uses the app for recording "basically all of her music." "Anyone who's not tech savvy like myself can just kind of find their way around it," she explains.
"The Song," which highlights both GarageBand and the iPad mini, follows in the footsteps of last year's sentimental holiday ad,
"Misunderstood,"
, which focused on the video recording capabilities of the iPhone.
A
new update
to the community-built "Continuity Activation Tool" for OS X Yosemite brings Bluetooth 4.0 USB dongle support, allowing users of some older model Macs to enable Handoff and other Bluetooth-related Continuity features on their machines without upgrading internal hardware. The tool does, however, come with some caveats users should be aware of before attempting to activate these features.
Apple's introduction of Continuity alongside OS X Yosemite promised a suite of features that interweave Mac and iOS devices without any hassle. Unfortunately for Macs old enough to not include Bluetooth 4.0 (and even a few older models that do include it), several of the features are officially unsupported on their machines and these users haven't been able to experience Continuity in its full form.

Addressing this issue,
enterprising members
of the
MacRumors
forums banded together to discuss the issue, leading to the
creation
of a "Continuity Activation Tool." Users with Apple devices unable to directly access the new feature could follow a set of instructions that would enable Bluetooth-linked Continuity features such as
Handoff
and
Instant Hotspot
to work on Macs previously unable to support the features.
While only the software patch was required for the mid-2011 MacBook Air and Mac mini, other older Macs that didn't have Bluetooth 4.0, required a more difficult and set-up process involving the installation of completely new wireless cards.
This week, however,
Continuity Activation Tool 2.0
has launched, bringing support for Bluetooth 4.0 USB dongles and thus allowing many of these older Macs without Bluetooth 4.0 to be more easily upgraded to support full Continuity. The update makes the process not only much easier, but far cheaper for the average user.

Creator
dokterdok
makes a few important notes regarding Bluetooth 4.0 dongles and the Continuity Activation Tool, mainly remarking on dongles best used for the tool and those to steer clear of completely.
A few important notes about using CAT with USB Bluetooth 4.0 dongles:

-Bluetooth 4.0 dongles based on the Cambridge Silicon Radio CSR8510 A10 chip (e.g. Inatek Nano) are not compatible with CAT.
-The recommendation is to look for dongles based on the Broadcom BCM20702 chip, which are similar to the ones used by Apple in their Continuity compatible Macs. A few examples: Asus BT400, IOGEAR GBU521, GMYLE, and many others.
-Instant Hotspot currently doesn't work reliably when using a dongle. This is a known issue, no workarounds have been identified yet.
-Atheros Wi-Fi AirPort cards will prevent Continuity from working even when adding a Bluetooth 4.0 dongle. The System Diagnostic feature of CAT tells which Wi-Fi brand is active. There are no workarounds and no patch is expected to change this, an AirPort card upgrade is required.
As previously reported, most
MacRumors
forum users have found the tool to
work successfully
on Macs released circa-2011, but not much has been tested yet on the new Bluetooth 4.0 dongle update.
MacRumors
has successfully enabled Handoff on a 2010 MacBook Air using the tool and an IOGEAR Bluetooth 4.0 dongle, although it did require several reboots and logouts/logins from iCloud on both the Mac and iOS devices before it began working.
Due to the fact the Continuity Activation Tool requires the disabling of certain security protections like kext signing, and that it needs to sift and move through low-level files in your computer, users should be aware of what they are downloading and
exercise caution
in doing so. If still interested, users can
download
the updated Continuity Activation Tool from Github and, after opening the downloaded app, follow the on-screen instructions to get the feature up and running on an older model Mac.
Future Apple software updates may also replace the patches applied by Continuity Activation Tool, thereby breaking Handoff after updating. Reapplying the patch using the tool after updates will, however, restore the functionality.