The
latest numbers
from Strategy Analytics reveal that Apple tied Samsung during Q4 2014 to become the world's largest smartphone maker based on global shipments. According to the report, both Apple and Samsung shipped 74.5 million smartphones during the three-month period of October through December.
Apple's number is an official figure from its financial results, while Samsung's number is an estimate since the company stopped reporting smartphone shipments a few years ago. The research firm adds that Apple and Samsung were last tied in smartphone market share in Q4 2011.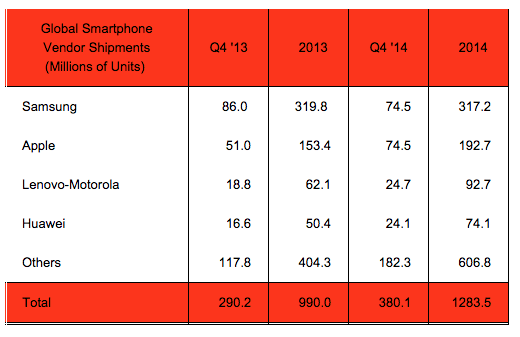 Apple experienced a
record-breaking first quarter
of the fiscal year because of strong demand for the iPhone 6 and iPhone 6 Plus. The larger screen sizes of the two new smartphones has been a major selling point for many consumers, attracting
more new customers and Android converts
than ever before. Meanwhile, Samsung
reported a 27% quarterly decline
in earnings earlier today amid tough competition from both Apple and up-and-coming Chinese rivals such as Xiaomi and Huawei.
Strategy Analytics claims that global smartphone shipments grew 31% annually to eclipse a record 380 million units in the fourth quarter. An estimated 1.3 billion smartphones were shipped worldwide in 2014, with strong growth in emerging markets such as China, India and Africa. Apple has experienced a lot of momentum in China, noting that its online sales in the region for 2014 were more than the previous five years combined.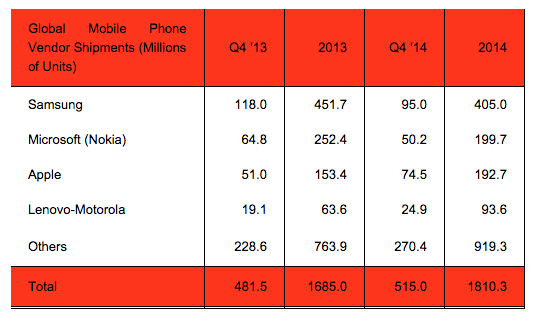 Apple also
surpassed
Microsoft to become the world's second largest mobile phone vendor on the strength of the United States and China. Apple's 74.5 million smartphone shipments placed ahead of Microsoft's 50.2 million units shipped, but were behind Samsung's market leading 95 million units shipped. Apple and Samsung have global mobile phone market shares of 14.5% and 18.4% respectively.
On the heels of an earnings call that saw Apple
announcing record earnings
, rival phone maker Samsung today announced its
own results
for the October to December period,
reporting
a 27 percent quarterly decline in earnings.
Samsung saw net profit of 5.3 trillion won ($4.9 billion), compared to 7.3 trillion won last year, marking its first annual earnings decline in three years and its fifth consecutive quarter of decline. Apple, meanwhile, announced record earnings of $18 billion, largely due to the success of the iPhone 6 and iPhone 6 Plus.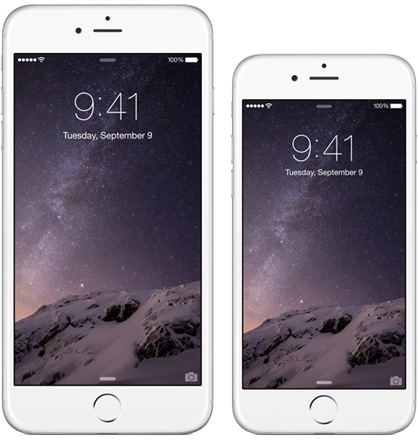 Overall, Samsung's 2014 profit was at 25 trillion won, down from 36.8 trillion won in 2013. Samsung did not announce mobile sales numbers, but Apple sold a record 74.5 million iPhones during the quarter.
Market research has suggested that Apple's share of the smartphone market
in Asia
rose dramatically after the launch of the 4.7-inch iPhone 6 and the 5.5-inch iPhone 6 Plus. According to a recent report, Apple
gained significant share
in Japan, China, and South Korea, countries where Samsung has previously dominated due to demand for big screen smartphones.
While Samsung's mobile sales were down 64 percent year over year, its semiconductor division earned 2.7 trillion won due to high demand for the chips that it sells to companies like Apple, boosting earnings from the previous quarter and helping it meet guidance and beat analyst estimates.
Chip maker Qualcomm also reported its own earnings today [
PDF
], and noted the
loss of a major customer
thought to be Samsung. Samsung's Galaxy S6 is unlikely to feature the Snapdragon 810 processor due to issues with overheating, and the South Korean company may opt to use its own chips instead.
Samsung expects continued growth in its mobile division in 2015 in emerging markets, and it also plans to introduce "new materials, innovative design, and differentiated features" in its devices to drive sales.

In recent months, the Federal Trade Commission has taken a significant interest in carrier throttling practices and today handed down a ruling that could have future ramifications for carriers who throttle their unlimited customers.
As reported by
Re/code
, the FTC has
ordered
prepaid wireless carrier TracFone to
pay $40 million
to consumers who paid for unlimited service and were then throttled after reaching certain data limits.
TracFone advertised "unlimited text, talk, and data" for $45 a month under the brands Straight Talk, Net10, Simple Mobile, and Telcel America, and until September 2013, did not clearly disclose its throttling policies that saw customers experiencing data speeds that were cut by up to 90 percent, thereby violating the FTC Act.
While this ruling only affects TracFone at the current time, there are several other carriers that have similar practices for their unlimited customers. AT&T and Verizon no longer offer unlimited data plans, but continue to provide unlimited data for many people who remain on grandfathered plans. AT&T has
engaged in throttling practices
for years, often cutting off customers who exceed 5GB of LTE data usage.
"The issue here is simple: when you promise consumers 'unlimited,' that means unlimited," said Jessica Rich, director of the FTC's Bureau of Consumer Protection. "This settlement means that Straight Talk, Net10, Simple Mobile, and Telcel America customers will be able to get money back from the company for services the company promised but didn't deliver."
Last year, Verizon planned to throttle its high-usage unlimited data LTE customers,
sparking interest
from FCC chairman Tom Wheeler, who said he was "deeply troubled" by the decision. Verizon ultimately
reversed course
and opted not to throttle its unlimited customers, but the FCC's attention was already roused, and the agency began questioning all carriers on their
unlimited throttling practices
.
The government's interest in carrier throttling practices led the FTC to
file a federal complaint
against AT&T in October of 2014, accusing the carrier of misleading its smartphone customers by charging them for unlimited data and then going on to reduce data speeds. Based on today's TracFone decision, AT&T may also be facing hefty fines in the future, and the FTC's ongoing involvement in carrier throttling of unlimited customers could finally put an end to the practice.
Sony
announced
on Wednesday that it will be shutting down its Music Unlimited on-demand streaming music service ahead of launching Spotify on PlayStation Music. Music Unlimited will shut down in all 19 countries it operated on March 29, 2015, with nearly all of the countries among the 41 regions that Spotify for PlayStation Music will be available upon launch, including the United States, Canada, Mexico and Brazil.

Music Unlimited launched in December 2010 on PlayStation Network in several countries worldwide, and the service was later extended to
iPhone
[
Direct Link
], Android, PlayStation Vita and other devices and platforms. In February 2011, it was reported that Sony
viewed Music Unlimited as a potential iTunes Store alternative
and that it was considering pulling music from Apple's platform if its own service became successful.
"If we do [get mass take up] then does Sony Music need to provide content to iTunes?" Mr Ephraim asked. "Currently we do. We have to provide it to iTunes as that's the format right now."

"Publishers are being held to ransom by Apple and they are looking for other delivery systems, and we are waiting to see what the next three to five years will hold."
The on-demand streaming music landscape has gone through significant change in the past three years, however, and Music Unlimited failed to remain competitive with industry leaders such as Spotify, Rdio, Pandora and Beats Music. Music Unlimited users with active subscriptions will continue to have free access to the service through the March 29 closing date.

Yahoo chief executive Marissa Mayer, during the company's
quarterly earnings call
on Tuesday, expressed interest in Yahoo becoming the default search engine in Safari. Mayer recognized the significance that getting Yahoo in front of Mac, iPhone and iPad could have for the search engine, referring to Apple's default web browser as "one of the premier search deals in the world if not the premier search deal in the world."
"The Safari platform is basically one of the premier search deals in the world if not the premier search deal in the world," Mayer told RBC Capital Markets analyst Mark Mahaney. "We're definitely in the search distribution business. I think that we've stated that really clearly in the past and I think with Mozilla and also in addition we brought Amazon eBay on board with smaller distribution partnerships in Q4."
Google
renewed its search partnership
with Apple in 2010, although the contract is reportedly set to expire in 2015 and, supported by the fact that Google Maps and YouTube are no longer stock iOS apps, Apple is speculated to be considering a number of options. Back in November, it was reported that both
Microsoft and Yahoo were courting Apple
to become the default search engine in Safari.
"We're in the search distribution business and anyone who is in that business needs to be interested in the Safari deal. The Safari users are among the most engaged and lucrative users in the world and it's something we would really like to be able to provide.

We've worked really closely with Mozilla to ultimately bring to their users an experience that they designed and that they feel really suits those users and we would welcome the opportunity with any other partner to do the same, particularly one with Apple's volume and user base."
The New York Times
, citing various reports from analysts, suggests that Google losing its Safari contract may not have much impact on the company's bottom line. The two important factors involved are how much Google is paying for its Safari search engine deal, and how many users would simply switch back to Google if Apple switched to Yahoo or another search provider as default.
Apple today has mysteriously added back a 2012 model Mac mini to the
Apple Online Store
for $699. The over two-year-old machine still has the same hardware specifications as it did in 2012, including a 2.3GHz quad-core Intel Core i7 processor, 4GB of RAM and Intel HD Graphics 4000. The listing also shows that the computer ships with OS X Mavericks installed.

It is unknown if the outdated Mac mini has mistakenly resurfaced on the Apple Online Store, or if Apple intentionally reintroduced the model on its website. One plausible reason that Apple may be making this older Mac mini available for purchase again is to provide customers with a quad-core option, as the existing 2014 models are each powered by dual-core Intel Core i5 processors.
The entry-level Mac is
listed as out of stock
in the United States, and
MacRumors
could not find the model listed for sale elsewhere after spot checks of the Apple Online Store in Canada, United Kingdom, Australia, Japan and several other countries. Apple still offers a
refurbished version of the same 2012 Mac mini
for $589 on its website, although that model is also currently out of stock.
Update 11:30 PM PT:
The 2012 quad-core Mac mini appears to have disappeared from the Apple Online Store for the time being. It is unclear if it will officially return or if its appearance was a bug.
During today's
earnings call
covering the first fiscal quarter of 2015, Apple CEO Tim Cook shared some new details on the prospective launch date of the Apple Watch. According to Cook, Apple Watch development is currently on schedule, and the company is planning to ship the device in April.

Development for Apple Watch is right on schedule, and we expect to begin shipping in April.
When the Apple Watch was announced, Apple gave a vague "early 2015" launch date for the device, making it unclear when it would actually ship. Several rumors recently pointed towards
a March launch date
for the device, but it appears it will actually begin shipping out to consumers a month later, in April.
Cook confirmed that the Apple Watch's April shipping date was within the expected range of early 2015, which Apple considers to be the first four months of the year. Cook also said there are some amazing apps in the works for the device, and he mentioned that he couldn't live without the Apple Watch.
My expectations are very high on it. I'm using it every day and love it and can't live without it.
Now that we know when the Apple Watch is expected to launch, the only unknowns about the device are battery life and its cost. Rumors have suggested that battery life will be somewhat disappointing, lasting
approximately 19 hours
during "mixed use."
Cost is also up in the air, aside from a known starting price of $349 for the lower-end device. Pricing on the middle tier version is unclear, as is pricing for the high-end gold Apple Watch, which rumors suggest could sell for thousands of dollars.
During today's
earnings call
covering the first fiscal quarter of 2015, Apple CEO Tim Cook was asked about the sales split between the 4.7-inch iPhone 6 and the 5.5-inch iPhone 6 Plus. He declined to provide specific numbers on the split, but he did confirm that the iPhone 6 was the most popular device.
"Obviously to sell 74.5 million devices, they were all popular," Cook said. "Both did incredibly well. We're really proud of them, along with the iPhone 5s and 5c."
According to Cook, there was some clear geographical preference for the iPhone 6 vs the iPhone 6 Plus. Some locations skewed higher to iPhone 6 Plus preference, while others preferred the iPhone 6. He didn't specify which regions preferred which devices, but
data has suggested
Asian countries favored the iPhone 6 Plus.

During the call, Cook also mentioned that the iPhone 6 and 6 Plus brought the highest Android switcher rate over the course of the last three years and that there's still a lot of opportunity to see growth as only a "small fraction" of existing iPhone users (in the low teens) have upgraded to a new device. The iPhone 6 and 6 Plus have brought the highest number of customers new to iPhone than in any prior iPhone launch. "We saw more new customers to iPhone than we've
ever
seen before," said Cook.
Cook said the company is getting "great feedback" about the quality of the products that they're shipping, and that in emerging markets, iPhone growth was "absolutely stunning." The company is very bullish on the iPhone going forward, expecting to see a lot of new adopters in Q2 2015 as well.
"We believe that it's the best smartphone in the world," said Cook.
Apple managed to reach supply/demand balance on the iPhone 6 and iPhone 6 Plus in January, when shipping dates finally hit 24 hours. Before that, iPhone supplies remained somewhat constrained throughout the holiday season.
Today's earnings report revealed record iPhone sales, at 74.5 million, or 46 percent growth year over year. The iPhone makes up an impressive 69 percent of Apple's revenue, which hit $74.6B during the quarter.
Apple today
announced
financial results for the first fiscal quarter of 2015, which corresponds to the fourth calendar quarter of 2014. For the quarter, Apple posted revenue of $74.6 billion and net quarterly profit of $18 billion, or $3.06 per diluted share, compared to revenue of $57.6 billion and net quarterly profit of $13.1 billion, or $1.98 per diluted share, in the
year-ago quarter
.
Gross margin for the quarter was 39.9 percent compared to 37.9 percent in the year-ago quarter, with international sales accounting for 65 percent of revenue. Apple also declared an upcoming dividend payment of $0.47 per share, payable on February 12 to shareholders of record as of February 9. The company currently holds $178 billion in cash and marketable securities.

Apple sold a record 74.5 million iPhones during the quarter, up from 51 million a year earlier, while Mac sales were also strong with 5.5 million units sold, up from 4.8 million units in the year-ago quarter. iPad sales were down, however, falling to 21.4 million from 26 million.
"We'd like to thank our customers for an incredible quarter, which saw demand for Apple products soar to an all-time high," said Tim Cook, Apple's CEO. "Our revenue grew 30 percent over last year to $74.6 billion, and the execution by our teams to achieve these results was simply phenomenal."
Apple's guidance for the second quarter of fiscal 2015 includes expected revenue of $52-55 billion and gross margin between 38.5 and 39.5 percent.

Apple will
provide live streaming
of its fiscal Q1 2015 financial results conference call at 2:00 PM Pacific, and
MacRumors
will update this story with coverage of the conference call highlights.
Conference Call and Q&A Highlights are available in reverse chronological order after the jump.
Click here to read rest of article...
Earlier this month, we
shared an iPhone case
called the Reach79, which debuted at CES. The
Reach79 case
claimed to boost the signal strength and performance of the iPhone, improving battery life, reducing dropped calls, and improving download speeds, statements that were quite controversial in our forums.
Readers were understandably skeptical of the Reach79's promise that it could deliver up to 2x stronger signal strength, so
MacRumors
decided to go hands-on with the Reach79 case to see if we could prove the company's claims.

We've been extensively testing the Reach79 case on an iPhone 6 Plus for more than a week in various areas around the San Francisco Bay Area, but after several days of use, it remains difficult to conclusively say that the case improves signal in a meaningful way due to mixed test results. For a quick summary of what we found, scroll down to the "Bottom Line" section, or read on for our full results.
Our Testing
We used the Reach79 case on an iPhone 6 Plus connected to the AT&T network on multiple days, at multiple times, and in multiple locations, both indoor and outdoor. The phone was
put into Field Test mode
so that signal strength could be viewed as a raw decibel number rather than as dots or "bars," in order to better determine if and when the case was improving signal. All testing was done in the hand or up against the head, which is how the case is designed to work.
We also tested with the Ookla
Mobile Speed Test
app to see if the case improved data speeds, but we were told that this is not a particularly reliable testing method due to the many factors that can affect data transfer.
If there's one word that sums up our testing, it's inconsistent. At times, when the Reach79 case was placed on the iPhone, signal definitely improved as evidenced by the raw numbers and speed tests, but just as often, putting the case on did nothing to improve signal, or even seemed to degrade it somewhat.
Click here to read rest of article...

Apple today released OS X Yosemite 10.10.2, marking the second update the operating system has received since its October release. Testing for OS X 10.10.2 began in
late November
, with Apple
seeding six betas
to developers before releasing the update to the public.
The OS X 10.10.2 update can be downloaded through the Software Update mechanism in the Mac App Store.
- Resolves an issue that may cause Wi-Fi to disconnect
- Resolves an issue that may cause web pages to load slowly
- Fixes an issue that caused Spotlight to load remote email content when the preference was disabled in Mail
- Improves audio and video sync when using Bluetooth headphones
- Adds the ability to browse iCloud Drive in Time Machine
- Improves VoiceOver speech performance
- Resolves an issue that causes VoiceOver to echo characters when entering text on a web page
- Addresses an issue that may cause the input method to switch languages unexpectedly
- Improves stability and security in Safari
According to the release notes, OS X 10.10.2 solves
lingering issues with Wi-Fi
, fixes issues with Safari web pages loading slowly, improves VoiceOver, improves audio and video syncing when using Bluetooth headphones, and adds the ability to browse through iCloud Drive in Time Machine.
The update also fixes several notable security flaws, including an issue that caused Spotlight to
load remote email content
even when the Mail preference was disabled, vulnerabilities detected by
Google's Project Zero
, and the "Thunderstrike"
hardware exploit
affecting Thunderbolt-equipped Macs.
-
OS X Yosemite 10.10.2 Update
(554.3 MB)
-
OS X Yosemite 10.10.2 Combo Update
(840.3 MB)
Update 10:47 AM
: OS X 10.10.2 includes Safari 8.0.3, but Apple has also released standalone Safari updates for OS X Mavericks (7.1.3) and OS X Mountain Lion (6.2.3). Security Update 2015-001 is also available for
Mavericks
and
Mountain Lion
.
Apple today released iOS 8.1.3 to the public, with a range of bug fixes including a fix for an issue that prevented some users from entering their Apple ID passwords for Messages and FaceTime, a bug that caused Spotlight to stop displaying app results, and a problem that prevented multitasking gestures from working on the iPad.
iOS 8.1.3 also reduces the amount of storage space required to perform an iOS update and adds new configuration options for education standardized testing.
iOS 8.1.3, much like
iOS 8.1.2
, was a minor release that was not seeded to developers before being released to the public. The software is available immediately as an over-the-air download.

The first hints of iOS 8.1.3 first appeared in early December after devices
running the updated operating system
began visiting the
MacRumors
website, and usage picked up last week after iOS 8.1.3 was
seeded to Apple retail employees
for testing purposes. Apple appears to be expanding its OS X employee testing program to iOS, and iOS 8.1.3 marks the first iOS beta that's been tested by retail workers.
iOS 8.1.3 is a minor update that includes largely under-the-hood bug fixes, but Apple is also working on iOS 8.2, which will bring more drastic changes to the operating system as it contains both
the WatchKit SDK
and features that will allow the iPhone to
integrate with the Apple Watch
. It is not clear when Apple plans to release iOS 8.2, but it could come alongside the launch of the Apple Watch, which is
currently rumored
to be in March.
Update 10:38 AM:
iOS 8.1.3 does
not fix
the
recently publicized "GMT bug,"
which causes calendar syncing issues and time zone confusion for some affected iOS users.
Apple has also released a 7.0.3 software update for the third-generation Apple TV.