Apple's
iCloud.com Photos app
was quietly updated over the weekend, adding a new zoom option to the toolbar that lets users zoom in on photos that have been uploaded to iCloud Photo Library.

As noted by German site
iFun.de
, Apple's web-based Photos app has also gained a new feature that allows users to send photos via email directly from the website, making sharing photos easier than ever before.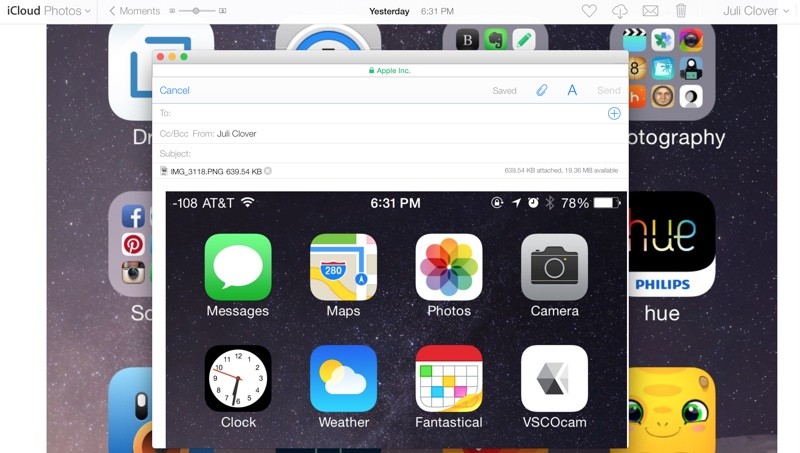 The addition of new zoom and email features follows
a major November update
to the iCloud.com Photos app, which began allowing users to upload photos to iCloud for the first time. Before the addition of the uploading tool, the standard iCloud.com site only allowed users to view, download, and delete iCloud Photo Library images.
With the uploading tool and new sharing features, iCloud is slowly becoming a viable and useful storage option for users who wish to upload and manage entire photo libraries. Still in beta, iCloud Photo Library was initially introduced alongside iOS 8.1, letting users sync and access all of their photos on all of their iOS devices and Macs via the web.
Apple is working on a Photos app for the Mac, which will work alongside both the Photos app on iOS and the iCloud.com Photos app on the web. Photos, which will replace both Apple's iPhoto app and Aperture, is supposed to be launching in the early months of 2015. There's been little word on its development since its initial June introduction, however.
Apple is readying a fix in OS X 10.10.2 for the so-called "Thunderstrike" hardware exploit targeting Macs equipped with Thunderbolt ports,
iMore
has learned. According to the report, Apple patched the vulnerability by making code changes in the upcoming software update that prevent a Mac's bootrom from being replaced or rolled back to a previous state in which it could be attacked.
To secure against Thunderstrike, Apple had to change the code to not only prevent the Mac's boot ROM from being replaced, but also to prevent it from being rolled back to a state where the attack would be possible again. According to people with access to the latest beta of OS X 10.10.2 who are familiar with Thunderstrike and how it works, that's exactly the deep, layered process that's been completed.
Thunderstrike is a serious vulnerability discovered earlier this year by security researcher Trammell Hudson, enabling an attacker to replace a Mac's bootrom with malicious code without a user knowing. Since the malicious code is stored in a low level inaccessible to the user, the problem would remain even if the bootrom was replaced.

The
proof-of-concept attack
is limited in scope, however, as an attacker would require physical access to the Mac or savvy social engineering skills in order to trick a user into attacking his or her Mac themselves. Apple has already addressed the issue in its latest hardware, including the iMac with Retina 5K Display and new Mac mini.
OS X 10.10.2 has been in pre-release testing for over two months and should be made available to the public in the coming days. The
most recent OS X 10.10.2 beta
was seeded to developers for testing last Wednesday. In addition to the Thunderstrike fix, the upcoming software update addresses security vulnerabilities
exposed by Google's Project Zero security team
last week.
According to
9to5Mac
, the latest OS X Yosemite release will also add iCloud Drive in Time Machine and resolve issues related to Wi-Fi, VoiceOver and security. In particular, a recently identified glitch causing
Spotlight on OS X to expose system information
to spammers through remote content loading will reportedly be patched. Safari will also gain improved performance and security.
No public instances of Thunderstrike attacks have yet to be reported.
Following an influx of rumors surrounding the
"iPad Pro"
and a possible
stylus accessory
launching around the same time, well-known 3D modeler and designer Martin Hajek has created a series of
concept renderings
for each device on his blog.

Hajek's models include several details rumored for the iPad Pro, which has been claimed to carry a
12.2
-
12.9
inch display and fall in line with the rounded design of the current iPad Air 2 and iPad Mini 3. The renderings are based on some
design drawings
that surfaced last November, with Hajek noting the design brings back the larger bezels seen in earlier-generation iPads. Consistent with the schematics and other rumors, he also places speakers on the top and bottom and edges of the device, allowing for stereo sound when used in landscape orientation.

Otherwise, the iPad Pro sticks by most of the current-generation standbys, including volume rockers on the right side of the device, a lock button on the top right, a Lightning charger on its bottom center, and a Touch ID capacitive home button sitting in its normal central position.
Beyond the iPad Pro itself, Hajek also imagines a possibility for Apple's
rumored
in-house stylus. Borrowing "the design language of the iPad Pro", he added in a capacitive +/- slider for additional operations, and also elements of the Apple Watch as well, including biometric sensors and a digital crown. While the stylus renderings are interesting, a lack of leaks or even specific details about the accessory means the images are not based on any actual information.

The new renderings show off the iPad Pro mostly in the Silver option, though it's likely to receive the other two usual color options of Space Gray and Gold. The
latest rumors
suggest the iPad Pro may launch sometime in the late spring or early summer of this year. The full suite of renderings featuring the iPad Pro and stylus can be found on
Hajek's blog
.
The dimple on the back of Motorola's Nexus 6 would have featured a Touch ID-like fingerprint sensor if Apple had not
acquired sensor firm AuthenTec
in 2012, according to former Motorola Mobility CEO Dennis Woodside.
In an interview with
The Telegraph
, Woodside states the company had plans to include the finger-sensing feature in the Nexus 6, which was launched late last year, but due to Apple's poaching of "the best supplier" for the technology and other suppliers not meeting quality expectations, Motorola decided to remove the feature before launch.

"The secret behind that is that it was supposed to be fingerprint recognition, and Apple bought the best supplier. So the second best supplier was the only one available to everyone else in the industry and they weren't there yet," says Woodside. Nonetheless, he adds, the addition of fingerprint recognition, "wouldn't have made that big a difference."
Woodside, now COO of Dropbox, expresses relief at freedom from these "uncontrollable market forces" in his new position. "We're not trying to serve ads or sell hardware," he told
The Telegraph
.
Apple's introduction of AuthenTec-based Touch ID on the iPhone 5s sparked much interest in fingerprint-sensing technology, and the company continues to work to improve upon the technology. The iPhone 6 and 6 Plus introduced a more sensitive version of the sensor and it is now being used to authenticate purchases made with the company's new Apple Pay mobile payments service.
Samsung will be the main supplier of Apple's upcoming A9 chip that will power the next-generation iPhone, reports South Korean newspaper
Maeil Business
(via
Reuters
). The newspaper notes that Samsung will supply around 75% of chips for the next iPhone, and that the processors will be produced at the company's factory in Austin, Texas.

Apple's A8 chip
Last month, a
report
from Korea's
ET News
said that Samsung had begun work on the processor in Texas.
Previous reports
noted that Samsung and Taiwan Semiconductor Manufacturing Company (TSMC) would be producing the A9 chip, although Samsung was chosen to be the primary supplier in a deal that was said to be worth billions.
BusinessKorea
reported last month that Apple would be
relying more heavily
on Samsung for iPhone 6 and Apple Watch components including RAM, NAND flash storage, and batteries.
Apple's A9 chip is expected to power the
iPhone 6s
and presumably the next-generation iPad Air and iPad mini. Apple is also expected to launch a larger-screened
iPad Pro
at some point this year, although that device has been rumored to
utilize
Apple's A8X processor.
Apple will begin shipping the
Apple Watch
in March and will also look to launch its new
12-inch MacBook Air
during this quarter, according to a new report by KGI Securities analyst Ming Chi Kuo. The analyst also predicted that iPhone shipments would beat expectations for Q1 2015 with over 61 million units shipped, while iPad shipments are expected to total to 10 million units.

Kuo notes that Apple may reveal more details about the Apple Watch before its official launch, revealing specifics on battery life and the start of pre-orders. Most components of the Apple Watch will see high shipments during the quarter, but other key components are expected to see low production yields which may cause a constrained supply. Kuo predicts that Apple will ship 2.8 million Apple Watch units in Q1 2015, and his estimate for a March launch falls in line with
previous reports
.

Rendering of 12-inch MacBook Air done by Martin Hajek
Kuo's estimate for a Q1 2015 launch of the new 12-inch MacBook Air falls in line with a
report
earlier this month which stated that Apple supplier Quanta Computer was ramping up production of the notebook for a release this quarter. The 12-inch MacBook Air is expected to feature a new ultra-thin, fan-less design with a high resolution Retina display and a
low-power Intel Core M processor
. The notebook is also said to be one of the first to take advantage of the new
reversible USB Type C connector
, which may also be used for charging.
It's been more than six months since Apple first introduced HomeKit at its June 2014 Worldwide Developers Conference, but HomeKit-compatible products have yet to hit store shelves and may not do so until this spring, almost a year after Apple first detailed its home automation system.
HomeKit's launch has gone slower than expected, and according to sources that spoke to
Re/code
, the two major reasons were a "slower-than-expected" launch of the HomeKit MFi program, which began in November, and the late launch of chip specifications, which weren't sent out to chip makers
until October
. Apple's high performance standards for hardware manufacturers and chip makers are also said to be a factor.

Elgato's upcoming line of HomeKit-compatible products
January's Consumer Electronics Show saw the debut of several HomeKit-compatible products, including the
iDevices smart plug
,
Elgato's range of connected home devices
, and the
Schlage Sense smart lock
, all of which may begin hitting store shelves in a few months. Apple gave a statement to
Re/code
on the upcoming HomeKit products, expressing the company's excitement.
"We are excited to have a growing number of partners committed to bringing HomeKit products to market, including several announced at CES," said Apple spokesperson Trudy Muller. "HomeKit offers a set of common protocols making it easier for customers to control HomeKit-enabled accessories using Siri or iOS apps. HomeKit is built on a secure foundation with end-to-end encryption which provides customers a secure connection between their iPhone or iPad and HomeKit accessory. "
HomeKit was announced more than six months ago, but many details about the home automation platform remain murky on the consumer end. It is not quite clear if and how it will interface with existing products or if consumers will be expected to purchase all new connected home items to take advantage of HomeKit. Details about the HomeKit MFi specification that leaked out
earlier this week
, however, suggest few existing products will be able to be used with HomeKit.
Google's security team, Project Zero, this week disclosed to the public several security vulnerabilities in OS X, some three months after the issue were shared with Apple (via
Ars Technica
). While Apple has not commented officially on the issues, it appears one has already been patched and
iMore reports
the remaining two are fixed in OS X 10.10.2, which is currently in developer testing.

Project Zero
works to discover security vulnerabilities of various operating systems and software, giving their owners 90 days notice to patch the issues before publishing their findings to the public. In their markup of Apple's OS X, problems involving memory corruption, kernel code execution, and a sandbox escape were all discovered by the team.
Ars Technica
notes:
At first glance, none of them appear to be highly critical, since all three appear to require the attacker to already have some access to a targeted machine. [...]

Still, the exploits could be combined with a separate attack to elevate lower-level privileges and gain control over vulnerable Macs. And since the disclosures contain proof-of-concept exploit code, they provide enough technical detail for experienced hackers to write malicious attacks that target the previously unknown vulnerabilities.
As the 90-day deadline hit during the week, the group
began
posting
its
findings
online. Google's notes suggest one of the vulnerabilities was fixed with the release of OS X Yosemite, while the other two remained unaddressed.
But as pointed out by
iMore
, Apple's incoming OS X 10.10.2 update does indeed include fixes for the remaining two vulnerabilities exposed by Project Zero.
[B]ased on the latest build of OS X 10.10.2, seeded [Wednesday] to developers, Apple has already fixed all of the vulnerabilities listed above. That means the fixes will be available to everyone running Yosemite as soon as 10.10.2 goes into general availability.
Google's Project Zero has been disclosing significant security vulnerabilities for a number of months now, previously
discovering
a few significant Windows issues and sharing them online. The project shines light on much-needed fixes to various operating systems, but sometimes undercuts the point of security, as in that Windows case that's left users' systems more vulnerable with the publicized knowledge before Microsoft could properly fix it. Still, the 90-day window before public disclosure is intended to give companies time to fix the issues while also giving them incentive to do so in a timely fashion.
Both analysts and metrics are suggesting Apple will report record-breaking iPhone sales for the just-ended December 2014 calendar quarter, and new data
released today
by Consumer Intelligence Research Partners reveals the Cupertino company may have set a high bar against its competitors, grabbing half of all phone activations in the United States.

While CIRP's survey included only 500 users and thus may include a significant margin of uncertainty, the data shows Apple's U.S. activation market share increasing from 28 percent in the July-September 2014 quarter to 50 percent in the October-December quarter. The significant jump was clearly fueled by strong consumer interest in the iPhone 6 and 6 Plus.
"The strength of the September 2014 launch of the iPhone 6 and 6 Plus fueled Apple's dominance in US mobile phone sales this quarter," said Josh Lowitz, Partner and CoFounder of CIRP. "Apple had virtually double the sales of Samsung, and five times that of LG. No other brand accounted for as much as 5% of US sales."
CIRP's survey also found that most of the quarter's iPhone purchases (86 percent) came from loyal Apple customers who upgraded from older iPhones. While Apple retained its customer base, Samsung and LG lost customers, with 25% of Samsung owners and 18% of LG owners who activated a new phone switching to an iPhone.
Sales of the iPhone 6 and 6 Plus may continue to be strong in early 2015, with a high numbers of consumers intending to buy an iPhone in the next three months. According to
451 Research's ChangeWave December survey
, more than half of early adopters plan to buy an iPhone when they purchase a new phone in the next 90 days. While the number is down significantly from the previous quarter, it remains high considering the new iPhones have been available for several months already.

"This is the highest level of Apple demand ever recorded in our smartphone survey three months after a major new release," said Andy Golub of 451 Research.
The ongoing demand for the iPhone 6 and 6 Plus reflects growing consumer interest in larger phones with 60 percent of future buyers looking to purchase a 5-inch or larger smartphone. This 2014 figure is a significant jump from the 40 percent ChangeWave recorded in the same quarter of 2013.
Apple released the iPhone 6 and 6 Plus in September 2014 with long lines for the phone and delayed ship times shortly after the phones went on sale, and Apple
announced
record-breaking sales of 10 million units in the first weekend of availability. Apple
will announce
the results for its first fiscal quarter of 2015 (fourth calendar quarter of 2014) on Tuesday, January 27. The quarterly earnings statement will be released around 1:30 PM Pacific/4:30 PM Eastern, with a conference call to discuss the report following at 2:00 PM Pacific/5:00 PM Eastern.
Apple CEO Tim Cook reportedly consented to security inspections of the company's products by Chinese government officials, reports
The Beijing News
[Via
ITworld
]. The inspections will look for backdoors that provide third-party access to sensitive and private data stored on Apple devices.

These spot inspections were part of an agreement forged between Apple CEO Tim Cook and Lu Wei, director of China's State Internet Information Office. The pair
met last year
to talk about the security of Apple's products, including the upcoming Apple Watch. Wei expressed concerned that Apple's devices may compromise the security of the Chinese government and the privacy of Apple device owners in China.
During their conversation, Cook reportedly told Lu that Apple's devices do not contain a backdoor to share data with government entities or other third-party services. Despite these assurances, Wu supposedly insisted on these security assessments so the Chinese government can examine Apple's products firsthand.
China increasingly is an important market for Apple with sales in the Asian nation projected to continue to rise in the coming years. Apple recently confirmed plans to open five new retail locations in China over the next five weeks. The company has been heavily promoting these grand openings, making retail head Angela Ahrendts
available for interview
by Chinese media sources and hiring renowned calligrapher Wang Dongling
to design a mural
for the upcoming West Lake store in Hangzhou.
Note: Due to the political nature of the discussion regarding this topic, the discussion thread is located in our
Politics, Religion, Social Issues
forum. All forum members and site visitors are welcome to read and follow the thread, but posting is limited to forum members with at least 100 posts.
Just days after a
report
claiming Apple supplier Quanta Computer has begun ramping up production of the upcoming 12-inch MacBook Air, Chinese site
iFanr
shares some photos
[
Google Translate
] of what it says is the display assembly for the machine (
via SlashGear
).

The photos depict the claimed display and metal shell from the upcoming 12-inch machine alongside both a 13-inch MacBook Pro and a 9.7-inch iPad, with its sizing appearing to measure up to previously reported dimensions. The display does, however, have two noticeable differences from current MacBook Air. First, instead of a backlit Apple logo on the back of the display assembly as is typically seen on Apple's notebooks, there is a polished metal logo more like those seen on iPads, with
iFanr
speculating the change could be tied to the device's thinness.

Additionally, the display lacks the grey bezels current MacBook Air models have, instead opting for an apparently all-glass edge-to-edge cover for the display as seen on Retina MacBook Pro models. Paired with black bezels underneath, it is difficult to see where the display ends and the bezels begin unless the screen is turned on.
Earlier renderings
of the 12-inch MacBook Air based on information from within Apple had shown
gray bezels
similar to those seen on the current MacBook Air.

Claimed 12-inch MacBook Air display assembly with 13" MacBook Pro
The 12-inch MacBook Air will reportedly have roughly the same footprint as the 11-inch MacBook Air, relying on smaller bezels to compensate for a larger display size. The comparison photos shown by
iFanr
demonstrate the significantly smaller footprint for the 12-inch machine compared to a 13-inch MacBook Pro

Claimed 12-inch MacBook Air display assembly with 9.7-inch iPad
The
next-generation MacBook Air
is expected to feature a high-resolution display (perhaps classified as Retina) and new
Broadwell Core M
processors that will enable a thin, fanless design. Other reports
have claimed
the 12-inch MacBook Air will do away with nearly all the ports typically found on Apple's line of MacBooks, offering only a headphone jack, a pair of microphones, and a
USB Type-C
port that may handle both charging and external connectivity.

Apple CEO Tim Cook's compensation for fiscal 2014 was $9.22 million, according to a newly released
SEC filing
. That breaks down to a salary of $1.7 million and non-equity incentive compensation of $6.7 million, double the $4.3M
compensation
he received in 2013.
Apple's newest executive hire, Angela Ahrendts, received $73 million in cash and stock. That includes a $400,000 salary, a $500,000 bonus, and $70 million in stock. Ahrendts, who joined Apple in May of 2014, was previously making $37 million at Burberry, and her offer package included an RSU award with a value of $37 million to compensate her for her unvested Burberry awards along with an RSU award of $33 million as a new Apple hire.
As for other Apple executives, Eddy Cue and Jeff Williams made over $24 million in stock awards, salary, and non-equity incentive plan compensation. Peter Oppenheimer earned $4.5 million, and Luca Maestri, Apple's new CFO, received $14 million.

Apple had a record year under the guidance of Tim Cook, generating $182.8 billion in sales with $38.5 billion in net income in fiscal 2014, a new high for the company. According to its October forecast Apple expects to see revenue between $63.5 and $66.5 billion for the first quarter of 2015.
Apple will announce its earnings for the first fiscal quarter of 2015 on Monday, January 27.
MacRumors
will provide live coverage of both the earnings release and the conference call.