The Apple TV has gained two new channels today in CBS Sports and USA NOW, bringing on-demand sports, drama, comedy, sitcoms and more programming to the set-top box in the United States. The new channels should be appearing on the Apple TV for all users today as an over-the-air update, with CBS Sports offering free sports clips for all users and USA NOW requiring a cable subscription to access most content.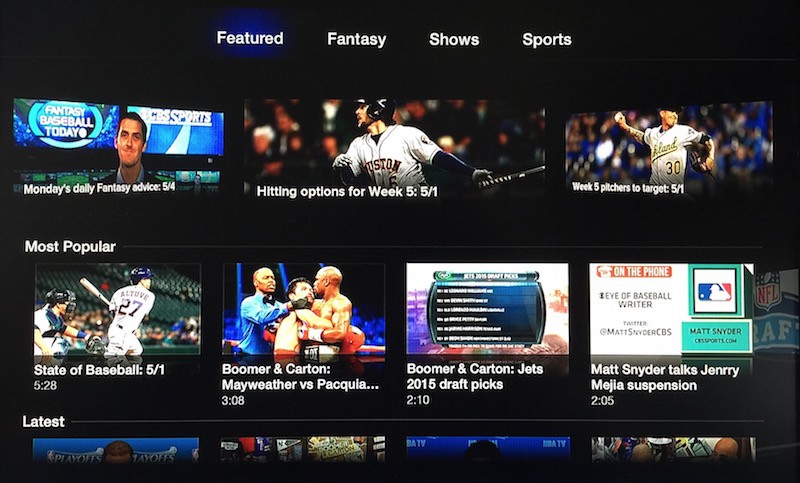 CBS Sports channel for Apple TV
The new channels arrive less than six weeks before Apple is expected to announce its
next-generation Apple TV
alongside a full-fledged streaming TV service at WWDC in June. The new A8-based set-top box will reportedly feature both an App Store and Siri, in addition to a redesigned
remote control with a touch pad
and significantly higher internal storage than the current 8GB model.
Apple's much-rumored streaming TV service will consist of a lightweight package of about 25 channels for between $30 to $40 per month, anchored by networks such as ABC, CBS and Fox. The service will be available on several devices, including the iPhone, iPad and Apple TV, with
other potential channels
in the lineup including Discovery Channel, Animal Planet, TLC, MTV, Comedy Central, FX and Nickelodeon.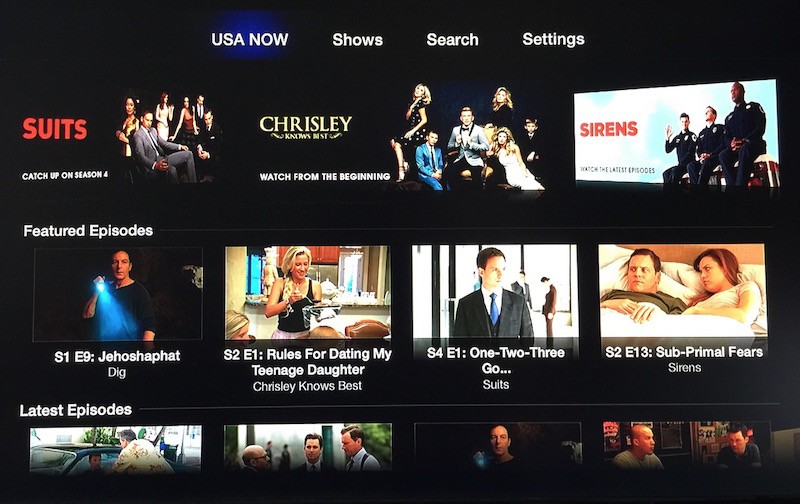 USA NOW channel for Apple TV
Apple has been steadily adding new channels to the Apple TV this year, including
NBC Sports
in late April,
CNNGo
and
TED, Tastemade and Young Hollywood
in March and Sports Illustrated's
120 SPORTS
in January.
HBO NOW
, a subscription-based service that provides on-demand HBO content, also went live on Apple TV in early April for $14.99 per month with a free trial available.
Update 11:05 AM PT:
Crave TV and Shomi are now available on Apple TV in Canada per
Rene Ritchie
, with the former requiring a Bell TV subscription and the latter needing a Rogers or Shaw subscription. French-German TV network Arte is also now available on Apple TV in Germany, Austria, Switzerland, France, Belgium and Luxembourg per
iFun.de
.
Apple today debuted a
new developer site
(via
Macotakara
) titled "Creating Bands for Apple Watch", which includes
band design guidelines
for third-party companies looking to make bands for the Apple Watch. The design guidelines include requirements for the bands to achieve Apple certification in the new Made for Apple Watch program, which is similar to the already established Made for iPhone program.

Apple Watch bands are easily changed with simple release buttons and lugs that secure the band to the Apple Watch case. When creating your custom bands, refer to the band design guidelines and lug profile. Apple Watch lugs will be available soon through the Made for Apple Watch program.
Firstly, the bands must integrate with the two lugs that mate with the Apple Watch Band Interface. They also should not integrate magnetic chargers and the lug latch must never be jammed while in an extended position. Bands also cannot prevent a user's skin from maintaining direct contact with the Watch's heart rate sensors or general back area. The band themselves must also compensate for any potential shifting or dimensional changes in material.
Apple also has recommendations for the materials that lugs and lug latches should be made of, with the lugs being made out of a specific silicone, nylon or stainless steel while lug latches are recommended to be made out of either nylon or stainless steel. Other requirements for band materials include compliance with applicable environmental regulations in regions where bands are intended to be sold.
Finally, Apple has physical requirements for what the bands for Apple Watch are not allowed to do, which include not obstructing Apple Watch hardware items like the mic or speaker, the charging pad, the antenna, and the heart rate sensors. They also cannot extend beyond the sensor windows, cover the glass or interfere with the Digital Crown or Force Touch.
While the Apple Watch only launched a little over a week ago and many early adopters have yet to receive their new devices, interest in third-party bands has been growing, with some
using parts
from the Classic Buckle to make their own custom bands. The guidelines for the Made for Apple Watch program are
now available
, and it's likely the first official third-party bands could be seen in the coming months.

Apple's next-generation Apple TV will include a new touch-based remote with a revamped design, reports
The New York Times
, citing sources with knowledge of Apple's plans. Described as being "slightly thicker" than the current version, the new Apple TV remote will gain a "touch pad" that will be used for scrolling, along with two physical buttons.
The touch pad will likely replace the circular click-wheel style control that's on the existing remote, giving users an easier way to scroll through content on the Apple TV. Currently, navigating through content on a channel like Netflix with the Apple TV remote requires users to click multiple times on the click wheel.
A touch-based control area on the remote would likely function similarly to the
Apple Remote apps
on the iPhone and the Apple Watch, allowing for swipe-based controls for scrolling through content available on the Apple TV. Using the Apple Watch or the iPhone to browse channels and make selections on the existing Apple TV is both quicker and easier than using the current physical remote.

Apple's Remote app for the Apple Watch
Size wise,
The New York Times'
source says the new remote will be similar in design to the remote control for the Amazon Echo speaker system, which is approximately 0.6 inches thick. The current Apple TV remote is 0.2 inches thick and has not seen a redesign since the second-generation Apple TV initially debuted in 2010.

Amazon Echo remote
Rumors have suggested that
Apple's redesigned Apple TV
could make an appearance in June, at the annual Worldwide Developers Conference. Along with today's rumor pointing towards a new design for the remote, previous rumors have indicated the device will include an A8 processor, Siri integration, a dedicated App Store, and expanded internal storage.
Apple is also rumored to be working on an
accompanying Internet-based television service
, which may see it providing between 20 and 30 channels at a price of $30 to $40 per month.
As construction on its "spaceship" campus in Cupertino continues, Apple has hired a new general contractor, sparking rumors questioning whether the new campus will be finished by the company's prospective 2016 completion date.
According to the
Silicon Valley Business Journal
, Silicon Valley company Rudolph & Sletten Inc. will take on the buildout of the Campus 2's interior structure, a job that was previously thought to be going to DPR Construction Co. and Skanska USA, the two companies heading up the construction project.

Most recent image of the ongoing construction of Apple Campus 2, from the City of Cupertino.
It's unclear why Rudolph & Sletten is being brought in and exactly what DPR/Skanska's involvement will be going forward. Two sources said the DPR-Skanska joint venture would still complete the core and shell -- or the basic structure -- of the circular building. It's also possible that DPR and Skanska never intended to do more than the core and shell.
Neither Apple nor the three companies involved in the construction of the main ring-shaped building would comment on the involvement of a new general contractor for the interior of the building, but sources in the local construction industry that spoke to the
Silicon Valley Business Journal
believe the new addition could potentially point towards delays.
Campus 2 delays could potentially end up causing the cost of constructing the massive structure to skyrocket beyond its
current $5 billion estimation
. Prior
budgeting issues
caused Apple to revise its Campus 2 plans, splitting construction into two phases to save money. Phase 1 includes the main Apple campus and several buildings like an auditorium and fitness center, while phase 2 focuses on the Tantau Development, a 600,000 square foot area housing research facilities. Plans for the second phase of construction were
submitted to the city
back in October of 2014.

The Tantau development area
In Cupertino, the base structure for the main ring-shaped campus has
been completed
, and walls have been going up for the last several months. Construction is also continuing on an underground parking garage and several ancillary buildings
Apple's second campus will feature a massive 2.8 million square foot ring-shaped main building, an underground parking facility capable of accommodating 2,400 cars, a 100,000 square foot fitness center, and a 120,000 square foot auditorium. The entire campus will
be outfitted
with hundreds of trees for 80 percent green space, along with a central garden with outdoor dining areas.
Thus far, city officials have
not received word
of a potential delay from Apple, suggesting construction may still be on track. Apple plans to complete its new campus by the end of 2016.
GE today
announced
plans to take advantage of Apple's HomeKit platform, creating intelligent, color-changing LED lightbulbs that will interface with iOS devices. GE's HomeKit-compatible LED lightbulbs will include GE's
Align technology
, which aims to improve sleep through controlling blue light output at critical times.
During the day, the Align technology is able to mimic daylight to suppress the production of melatonin for a more awake feeling, adding bright blue tones to white light, and at night, blue light is reduced to promote melatonin production and avoid disrupting circadian sleep rhythms.

"As we continue to grow our infrastructure business by connecting our brilliant industrial machines to the Internet, it is important that consumers experience connected things in easy-to-use, everyday ways. Lighting is how many first experiment with the idea of a smart home, and our insights show that consumers want the ability to control lighting from anywhere, automate lighting and pair lighting with other devices--like sensors, thermostats and door locks," says Comstock. "We're excited to announce our support for HomeKit as it will bring a seamless, intuitive user experience using Siri and superior quality of light from America's most trusted lighting brand for more than a century."
HomeKit is Apple's home control platform that will allow Apple devices to control various connected smart home products like lightbulbs, garage doors, locks, fans, thermostats, power outlets, and more. Users will be able to give Siri commands to perform actions that will control physical objects, such as "shut off the lights" or "close the garage," with
the Apple TV
serving as a home automation hub.
Through HomeKit, the GE bulbs will integrate with other HomeKit-connected devices and will be able to be controlled by voice using Siri. Lightbulbs will be available for individual control and can also be organized into groups for room-wide lighting scenes.
GE's upcoming lighting project will be a direct competitor to the Philips hue line of lights, which also allow consumers to choose lighting colors based on mood and control lights with their iOS devices. Philips is also one of Apple's HomeKit partners and plans to have its hue lighting system integrate with HomeKit.
Apple's HomeKit hardware specifications were
finalized in October of 2014
, further paving the way for the first HomeKit devices to come to market. In January,
Apple said
it was "excited" about the growing number of partners bringing HomeKit products to market. Some of those upcoming products include the
iDevices smart plug
, Elgato's range of
connected home devices
, and the
Schlage Sense smart lock
.
We still don't know when HomeKit-enabled devices will be widely available for purchase, but GE says that its lightbulbs will be available later in 2015.
Apple has been leveraging its power within the music industry in an attempt to push music labels to stop licensing freemium tiers offered by Spotify and other streaming music services, according to
The Verge
. The company has also reportedly offered to pay YouTube's music licensing fee to Universal Music Group if the label stops allowing its songs on the website, a popular destination for music videos.

The report claims that U.S. Department of Justice officials are looking into Apple's business practices in relation to its upcoming streaming music service, expected to be a
rebranded version of Beats Music
that will debut at WWDC next month. "DOJ officials have already interviewed high-ranking music industry executives about Apple's business habits," the report claims.
Apple's much-rumored Beats streaming service would naturally be a more competitive alternative over two of its biggest rivals in Spotify and YouTube if it successfully convinces music labels to force streaming services to ditch their freemium tiers. Apple's service is expected to have lots of exclusive content, and only about one-quarter of Spotify's 60 million customers have paid subscriptions.
Apple faces a
similar probe from the European Commission
over concerns that it's persuading labels to abandon free, ad-supported services such as Spotify in Europe as well. Apple's own Beats streaming service will reportedly not offer a free tier, requiring customers to pay a recurring fee of around $9.99 per month, similar to paid tiers offered by Spotify, Rdio and Google Play Music.
Apple's Beats-based streaming music service will reportedly be deeply integrated into iTunes on Mac and the stock Music app for iPhone, iPad and iPod touch, and apps will also be available for Apple TV and Android. Last month, the company seeded
iOS 8.4 beta
to developers with a redesigned Music app featuring a new MiniPlayer, a redesigned look for "Now Playing," global search capabilities, a streamlined design and more.
Earlier today Samsung debuted a
new video
on its YouTube channel called "Designing Possible", detailing the design process of the brand new Galaxy S6 Edge (via
iMore
). However, the video bears a striking resemblance to Apple's
video
on how the company designed the gold Apple Watch Edition.
Both videos feature men with English accents talking about the design process of the companies' devices while showcasing the manufacturing processes. The two videos also share similar cinematography, with both of them including almost identical images of lined up components in a dark area as a light zooms over them. The intent for both ads also appears to be the same, making sure people understand the kind of thought and detail that goes into the design of these devices.
While both ads are similar in tone, intent and content, there are a few differences. Samsung's ad, for example, seems to be a little more focused on Samsung as a design company. Apple's ad, on the other hand, seems slightly more focused on the product. Additionally, Apple's Jony Ive speaks in the Apple ad while the voice in the Samsung ad sounds similar to British actor Richard Ayoade.
The ad does potentially signal a shift in Samsung's marketing strategy, which had largely focused on
attacking
Apple products and
poking fun
at its
customers
. The shift could be the result of Samsung devices losing key differentiators that the iPhone could not boast, like screen size, user-replaceable batteries and a waterproof design, with the new Galaxy S6 and S6 Edge. While Samsung hasn't been accused of copying Apple's ads in recent years, the Korean company has been accused of copying Apple in
other areas
.
iFixit has released
Apple Watch repair manuals
for various components of the device, including the
battery
,
screen
,
adhesive
, and
NFC antenna
. The guides provide step-by-step instructions on how to replace the Apple Watch's OLED display and battery, alongside additional steps for repairing the adhesive and NFC antenna that can be damaged as a result of opening the casing.

The steps required to replace the OLED display and fused glass digitizer, in simplified terms, include separating the screen from the watch body with a sharp, curved knife and opening pick, prying and removing the internal battery, disconnecting the display data and digitizer cables, and removing the screen. The steps to replace the battery are nearly identical.
Replacing the Apple Watch's adhesive involves laying the backed adhesive tape down on the NFC antenna, around the edge of the case where the screen rests, using a plastic opening tool to reconnect the display data and digitizer cable connectors, reinstalling the metal bracket, pressing the battery back into its position, and pressing the casing down firmly on the new adhesive.

While many of the tools used in the repair guides are available for purchase, iFixit has not yet stocked the necessary Apple Watch replacement parts needed to make these repairs. Given that the Apple Watch has only been available for one week, it could be some time before the website makes replacement batteries, screens, adhesive and NFC antennas available through it online store.
Following a lull in rumors and news circulating Apple's so-called "iPad Pro", most likely due to the launch of the Apple Watch and reported
delays
in Apple's internal production timeline, a newly shared industrial rendering (via
nowhereelse.fr
) [
Google Translate
] of the device once again provides some claims of dimensions for the large-screened iPad.
The
industrial rendering
, dated December 2014, points to a 12.9-inch screen iPad Pro with dimensions measuring exactly 305.70mm x 222.60mm x 7.20mm, or 12 inches x 8.7 inches x 0.28 inches. These numbers line up closely with those seen in a previously purported
design drawings
for the device, although they are slightly larger than the earlier ones.
The latest rumor also supports the majority of sources so far pointing to a 12.9-inch display for the iPad Pro. A few sources have suggested it could carry a smaller
12.2-inch display
, but they are a small minority at this point.

Beyond dimensions, the industrial rendering does appear to support the four top- and bottom-based
speakers
mentioned in previous rumors, as well as the typical locations for the power button, headphone jack, Lightning port, and volume buttons. As with the iPad Air 2, this iPad Pro design appear to omit a mute switch in favor of a tiny microphone hole near the volume buttons.
Notably, the rendering does not include a port or other feature around the center of the left edge
as has been seen
in some previous case and mockup leaks. The exact identity of that feature is not clear, with suggestions it could be a SIM tray for cellular models, a second Lightning port for docking accessories in landscape orientation, or even a
USB-C port
.
Cases for the iPad Pro have begun
increasing in quality
recently, going from simple plastic molds to complex trifold designs with higher-quality materials, perhaps suggesting more confidence from manufacturers in these rumored designs and schematics.
Regarding its specs, the most recent rumors state the iPad Pro could have a triple-core A8X processor, 2 GB of RAM, and Touch ID, and possibly ship alongside a first-party
stylus accessory
of some sort. The latest rumblings suggest a production build-up in September with a launch perhaps coming in October alongside Apple's usual iPad lineup refresh.
Update 8:17 AM
: Unbox Therapy has shared a new video highlighting cases designed around the rumored iPad Pro design.
MacRumors is pleased to announce the
Sixth Annual MacRumors Blood Drive
, throughout the month of May 2015. Our goal every year is to increase the number of life-saving donations in real-world communities by encouraging everyone in our online community to step forward. While most blood drives are specific to a geographic location or collection center, our blood drive is online and worldwide. Our past blood drives have collectively recorded donations of over 250 units of blood and platelets.

Apple often supports
health, relief, and charity efforts, including facilitating cash donations after the recent
earthquake in Nepal
, but this drive is run by the staff and volunteers of MacRumors.
We ask that you:
1.
Donate
blood or platelets
at any donation center or hospital near you.
Join
the
bone marrow registry
in your country.
Sign up
for the
organ donor registry
in your state, province, or country.
2.
Post
in the
MacRumors 2015 Blood Drive!
forum thread. Tell us about your donation or registration experience. We'd like to thank you.
3.
Share
the news and our message with other people you know, online and in person. Convince one other person to donate blood in the month of May. Help us thank the donors who post about their experiences.
For details see the
MacRumors 2015 Blood Drive!
thread and our traditional
Honor Roll
of recognized donors.

Recent donation by a MacRumors forum member
Why donate blood or platelets? Why join the bone marrow registry? Why join the organ donor registry?
- Donated blood and platelets save the lives of people recovering from accidents, undergoing surgery, or struck by illness. These are people in your own neighborhoods who need your help. Donated blood and platelets are needed every 2 seconds, not just when hurricanes, earthquakes, and other disasters occur. An hour of your time could save up to 3 lives.
- With a simple cheek swab you are volunteering to donate stem cells or bone marrow if you match someone dying from a disease like leukemia. There are many thousands of people each year searching for donors to save their lives. You might be the one and only person who can save a particular patient's life.
- Thousands of people die every year while waiting for organ transplants. Your donation of organs when your own life ends could save the lives of as many as 8 people.
The lives you save may belong to your friends, neighbors, relatives, or complete strangers. Someday you may receive the same generosity from others. There's no gift more precious than the gift of life.
Do this today
1. If you are eligible to donate blood: Schedule a blood or platelet donation, in May if possible. Register for the bone marrow registry. Register as an organ donor. Find the details in our knowledge base articles:
Blood and Platelet Donation
and
Organ, Tissue, and Bone Marrow Donation
. We've added over 20 countries to these articles.
2. If you aren't eligible to donate blood: Check if you can still register for the bone marrow registry and register as an organ donor. You're welcome to discuss donor eligibility in our
Blood donor eligibility
forum thread.
3. Help our drive by thanking donors and convincing a friend or relative to donate blood.

While many customers have been receiving their Apple Watch pre-orders
earlier than expected
, all 42mm Apple Watch Sport and stainless steel Apple Watch models now have shipping estimates of July on the Apple Online Store in the United States for new orders. Apple Watch Edition shipping times have not changed.
Now that the calendar has turned to May, it is likely that Apple has simply bumped forward its original June estimates for 42mm models to July to remain conservative. Many pre-orders with initial shipping estimates of 4-6 weeks or later have already been shipped or delivered, as Apple appears to be making up ground on most models.
The only two Apple Watches that remain virtually nowhere to be seen are the 38mm and 42mm Space Black with Link Bracelet models, both of which remain available to ship in 4-6 weeks or later for most customers. Earlier this week, it was reported that a
Taptic Engine defect
may have contributed to Apple Watch supply constraints, but the issue was caught
before any units were shipped
to customers and has since been resolved.
After being put under multiple
torture
and
waterproof
tests in the week since its official launch on April 24, the Apple Watch this week faced some of its most hardcore trials yet from YouTuber Richard Ryan. Known as "
FullMag
" on YouTube, Ryan this week has put the Apple Watch Sport through a series of three destruction tests - Liquid Nitrogen, Hydrogen Explosion, and a 50-caliber bullet - on his technology destruction-focused channel (via
Cult of Mac
).
First posted on Monday, Ryan began his Apple Watch videos with a test focused on dropping the Sport version of the Watch into a container of liquid nitrogen and smashing the frozen wearable with a sledgehammer. As with most of Ryan's videos, the results are less about wondering if the Watch passed Ryan's tests, but more focusing on exactly how badly Apple's new wrist-worn device was destroyed.
One of Ryan's more elaborate experiments comes from the hydrogen explosion test posted on Tuesday, and also appears to be the least destructive of the trilogy of Apple Watch videos on the FullMag channel. The Apple Watch Sport at the end of the video appears relatively unharmed, but given that Ryan doesn't attempt to test the device's normal functions following the experiment, there's no telling what kind of damage was done to the wearable's basic functionality thanks to the acidic-based science experiment.
Most impressive is perhaps Ryan's most recent video, a short clip of the YouTuber shooting an Apple Watch Sport with a 50-calliber bullet. The resulting destruction is easily one of the most impressive, the cheaper Apple Watch getting cut nearly clean in half by the massive bullet shell. Ryan even promises that while the 50-caliber bullet will be the biggest firearm he sets his sights on to destroy the Watch, it won't be the last.
Ryan has performed less high-intensity tests on the Watch, according to
Cult of Mac
, but has yet to post them. The YouTuber found that from basic drop tests the stainless steel Watch "shattered" while the aluminum Sport was completely fine. Ryan's channel isn't focused solely on Apple products, however, with videos showcasing the destruction of everything from
Rolex watches
to destruction tests on other smartphones like the
Samsung Galaxy S6 Edge
.