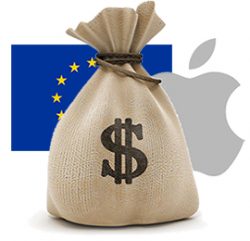 Apple must repay 13 billion euros ($14.5 billion) in back taxes dating back to 2003-2014, the European Commission has ruled (via
BBC
).
The Apple tax ruling was confirmed this morning, after the judgement was leaked to the media
yesterday
. In unequivocal wording, the EU commissioner Margrethe Vestager said Apple's tax benefits in Ireland are "illegal".
"The Commission has concluded that Ireland granted undue tax benefits of up to €13 billion to Apple. This is illegal under EU state aid rules, because it allowed Apple to pay substantially less tax than other businesses. Ireland must now recover the illegal aid."
Vestiges said this selective treatment allowed Apple to pay an effective corporate tax rate of 1 percent on its European profits in 2003 down to 0.005 percent in 2014. Therefore in 2014 Apple paid 0.005 percent tax on EU profits, which means that "For every million euros in profits, it (Apple) paid just €500 in taxes," said Vestager.
According to the EC's
press release
, the existing tax rulings endorsed a way to establish the taxable profits for two Irish incorporated companies of the Apple group (Apple Sales International and Apple Operations Europe), which did not correspond to economic reality:
"Almost all sales profits recorded by the two companies were internally attributed to a 'head office'. The Commission's assessment showed that these 'head offices' existed only on paper and could not have generated such profits. These profits allocated to the 'head offices" were not subject to tax in any country under specific provisions of the Irish tax law, which are no longer in force."
Ireland Finance Minister Noonan said the country "disagrees profoundly" with the back tax ruling by the European Commission. "The decision leaves me with no choice but to seek cabinet approval to appeal. This is necessary to defend the integrity of our tax system; to provide tax certainty to business; and to challenge the encroachment of EU state aid rules into the sovereign member state competence of taxation," he said.
The ruling follows a
three-year investigation
into Apple's tax arrangements in Ireland, where it has reportedly paid around 2 percent or less in taxes compared to the country's headline 12.5 percent corporate tax rate.
Update
: Apple has reacted to today's ruling with the following response:
"The European Commission has launched an effort to rewrite Apple's history in Europe, ignore Ireland's tax laws and upend the international tax system in the process. The Commission's case is not about how much Apple pays in taxes, it's about which government collects the money. It will have a profound and harmful effect on investment and job creation in Europe. Apple follows the law and pays all of the taxes we owe wherever we operate. We will appeal and we are confident the decision will be overturned."
Note: Due to the political nature of the discussion regarding this topic, the discussion thread is located in our
Politics, Religion, Social Issues
forum. All forum members and site visitors are welcome to read and follow the thread, but posting is limited to forum members with at least 100 posts.
The Eurasian Economic Union (EAEC) has issued new certificates for Apple products that suggest the company is set to release wireless earphones and multiple new versions of
Apple Watch
alongside the
iPhone 7
and 7 Plus.
Manufacturers are required to certify electronic devices for sale in countries that are signed up to the EAEC treaty (ratified last year), which includes Russia, Belarus, Kazakhstan, and Armenia. Russian website
iPhones.ru
found a reference to "AirPods" along with other Apple certificates added to the regulatory body's digital products registry yesterday.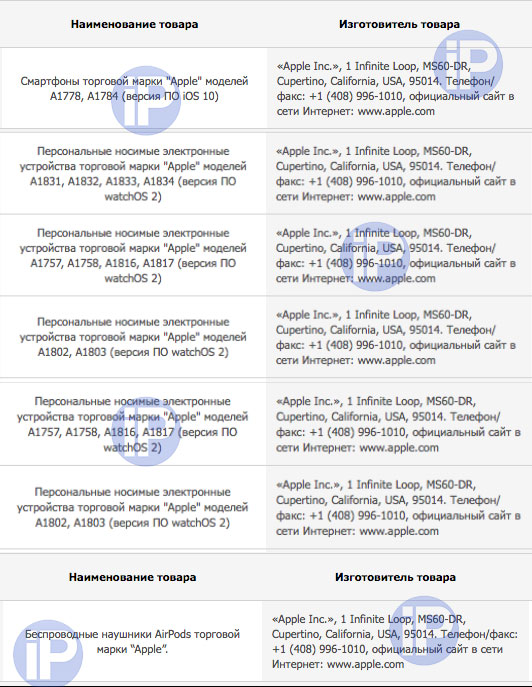 Last month,
MacRumors
revealed
that an "AirPods" trademark filing discovered last October seemingly confirmed Apple's work on upcoming wireless earphones in lieu of a headphone jack on the iPhone 7. This latest regulatory certification appears to cement that finding, although whether Apple plans to bundle the AirPods with its new phones or sell them exclusively as a separate accessory is
still unclear
.
Elsewhere, the documents list several new certificates for Apple Watch (although oddly these are labelled as running
watchOS 2
, not
watchOS 3
, as would be expected for new models) and
two certificates
for products running
iOS 10
, likely indicating Apple's upcoming iPhone 7 and 7 Plus expected to be announced in a
special event next week
.
Apple may use the same event to debut its second-generation Apple Watch, said to include better waterproofing,
better battery life
, an improved processor, and a built-in GPS chip – but no cellular. Design changes are not expected for the next-generation Apple Watch, but new materials and new bands are always a possibility.
VMware today announced
Fusion
8.5, Fusion Pro 8.5,
Workstation
Player 12.5 and Workstation Pro 12.5, the latest versions of its visualization software for running Windows on a Mac without using Boot Camp. Fusion and Fusion Pro 8.5 come with
macOS Sierra
support while both Fusion and Workstation suites come with Windows 10 Anniversary support.

Windows 10 Anniversary is a large upgrade to Microsoft's operating system, making Cortana smarter, allowing interactions with Android and Windows phones, more desktop apps and games in the Windows Store, a dark theme, Windows Edge extensions, click-to-play Flash and more.
Both Fusion 8.5 and Workstation 12.5 include Windows 10 Anniversary support and Windows 10 server support in addition to various bug fixes and performance improvements. The Fusion suite's Sierra support includes
Siri
integration and support for tabbed VM windows.
VMware also announced that
it's giving away
20 Oculus Rift headsets to the general public. Entrants must tweet (using #FusionLove) a short video of themselves telling a story of how Fusion has helped them accomplished something. Meanwhile, registered attendees of VMworld 2016 will receive 18-months of Fusion or Workstation.
Current VMware Fusion 8.0 and Workstation 12.0 users can receive the 8.5 and 12.5 upgrades for free. However, users of pre-8.0 versions of Fusion and Fusion Pro can upgrade for $49 and $119 respectively, while users of pre-12.0 versions of Workstation Player and Workstation Pro can upgrade for $79 and $149 respectively. Upgrade pricing eligibility extends back to users of Fusion 4 and Workstation 7.
Fusion and Fusion Pro 8.5 are priced at $79.99 and $119.99 for new users while Workstation Player and Workstation Pro 12.5 have new-user prices of $149.99 and $249.99 respectively. Both Fusion and Workstation can be purchased at
VMWare's online store
.
Apple today made a
submission
to the Australian Competition & Consumer Commission (ACCC), arguing that Australia's "Big Three" banks' request to collectively negotiate over
Apple Pay
is ultimately harmful to consumers, would stifle innovation in mobile payments, and would avoid competitive dynamics (via
AppleInsider
).

The Cupertino company argues that each of the big three banks (Commonwealth Bank, National Australia Bank (NAB) and Westpac) have resisted "serious engagement" with Apple on Apple Pay for the past two years.
Apple claims that they have tried and failed to negotiate with all of the banks, save for one bank who refuses to sign a confidentiality agreement that would allow Apple to send over its initial terms. Apple says that collective bargaining would slow negotiations further, dragging the collective to the level of the least willing member.
The collective, Apple argues, means that each of the banks has no fear of its competitors offering Apple Pay. Thus, the banks wouldn't fear a potential loss of consumers over the feature. This harms consumers by avoiding competitive dynamics, according to Apple.
The move would also stifle innovation in mobile payments, erasing incentives for existing players in Australia to build on top of or compete with Apple Pay. However, a spokesman for the banks told
AppleInsider
that they, alongside Australia's merchants and payment processors, have been working on contactless payments before Apple Pay.
The banks say that, unlike Android or Samsung, Apple blocks access to NFC payments and "wants to leave users with no choice but to use Apple Pay." They want to negotiate with Apple to offer other integrated wallets within Apple Pay. Last week, Australia's retailers and payment processors
sided with the banks
to collectively negotiate.
Apple's submission comes 10 days after the ACCC
denied interim approval
of the collective negotiations. The banks
first issued
their joint application in late July. The ACCC will make a final decision in October. Most recently, Australian bank ANZ
expanded support
for Apple Pay to MasterCard, adding to the already-supported Visa and American Express.
Apple is planning to refresh its Mac lineup, including the
MacBook Pro
and
MacBook Air
, as early as October, according to
Bloomberg
. The report also claims Apple is working on a standalone 5K display in partnership with LG Electronics, while it plans to update
iMac
models with an option for new graphics chips from AMD.

The report
reiterates
that the new MacBook Pro will be thinner and include an
OLED-based touchscreen strip
along the top of the flatter keyboard, which will present functions that dynamically fit the current task or application, as well as integrate
Touch ID
to enable users to quickly log in using their fingerprint.
For example, if a user is on their desktop, the screen will show a virtual representation of the standard function row, which includes brightness and media controls. When in an application, the virtual row will show options specific to the task at hand, but volume controls and a switch to show the default functions will always be present.
Apple has reportedly named the feature "Dynamic Function Row" internally, but its official name may differ when announced.
The tweaked MacBook Air models, meanwhile, are said to include multipurpose USB-C ports, which makes the inclusion of Thunderbolt 3 a possibility. No other details were shared about the planned MacBook Air and iMac refreshes.

Apple's plans to work with LG on a standalone 5K display surface two months after it
discontinued the five-year-old Thunderbolt Display
. It remains unclear if the monitor will be based upon the Retina 5K iMac, and it is also unclear if the report's broad late 2016 timeframe for "some of the new Mac products" includes the display.
The report makes it nearly certain that the focus of Apple's just-announced
September 7 media event
will be on the
iPhone 7
and the second-generation
Apple Watch
, the latter of which has now been confirmed for the event. Apple will also provide updates about its software, including
iOS 10
,
macOS Sierra
,
watchOS 3
, and
tvOS 10
.

Apple is planning new hardware and software features for iPad that cater to professional users, according to
Bloomberg
, including a new iPad with faster display technology that allows for smoother on-screen zooming, panning, and scrolling.
KGI Securities analyst
Ming-Chi Kuo
previously said Apple will
release a 10.5-inch iPad Pro model next year
alongside a 12.9-inch
iPad Pro
2 and a "low-cost" 9.7-inch iPad model. The fate of the iPad mini remains uncertain, but it is presumable that Apple could discontinue the 7.9-inch tablet due to its lack of
Apple Pencil
support and relatively close proximity in size to 5.5-inch Plus-sized iPhones.
The new hardware will be completed by wider iOS support for the Apple Pencil, the report adds. Apple is reportedly planning to introduce the new software features in a subsequent
iOS 10
update in the first half of 2017, but may decide to hold back on the improvements until iOS 11 is released later in the year.
Apple has considered allowing users to annotate objects in many applications across the whole operating system, including in Mail, the Safari web browser, and iMessage, similar to what Samsung Electronics Co. offers on its Note smartphones, the person said. Currently, Apple only supports Pencil functionality in specifically developed apps.
Apple saw its
iPad revenue grow slightly
for the first time in 10 quarters in July, and these improvements could help the company continue that trend.
Apple today released the eighth beta of macOS Sierra, the newest operating system designed for the Mac, to developers. Public beta testers have also been provided with their seventh beta version. macOS Sierra beta 8 comes one week after the
release of the seventh beta
and more than two months after the software was first unveiled at Apple's
2016 Worldwide Developers Conference
.
Developers and public beta testers can download today's update through the Software Update mechanism in the
Mac App Store
. Developers can also download the beta from the Apple Developer Center.

macOS Sierra is a major update that brings
Siri
to the Mac for the first time, allowing users to conduct voice searches to quickly find files, look up information, and more. New Continuity features offer an "Auto Unlock" option for unlocking a Mac with an
Apple Watch
and a "Universal Clipboard" for copying text on one Apple device and pasting it on another.
Deeper
iCloud
integration allows files stored on the desktop or the Documents folder of a Mac to be accessed on all of a user's devices, and Photos features deep learning algorithms for improved facial, object, and scene recognition. There's also a Memories feature for displaying photo collections, and Messages has rich links, bigger emoji, and "Tapback" response options.
Apple Pay
is coming to the web in macOS Sierra, with payments authenticated through an iPhone or Apple Watch, and new features like multiple tabs, Picture in Picture multitasking, optimized storage, and
revamped emoji
are also available.
Subscribe to the MacRumors YouTube channel for more videos.
macOS Sierra is currently available to developers and public beta testers, and it will see a wider public release this fall, with Apple possibly announcing a release date at its
September 7 media event
. For full details on all of the new features included in macOS Sierra,
make sure to check out our macOS Sierra roundup
.
Ahead of Apple's
"See You on the 7th" special event
next Wednesday, September 7 at 10:00 a.m. Pacific Time,
Siri
is now offering up some traditionally witty responses to users that mention the tagline for the upcoming event. iPhone users can test Siri themselves by saying "see you on the seventh."

Apple
sent out media invites
earlier today for the event, to be held at the Bill Graham Civic Auditorium in San Francisco, California. There, Apple CEO
Tim Cook
and other senior executives are expected to announce the
iPhone 7
and possibly a
second-generation Apple Watch
. Less likely is a new
MacBook Pro
, expected later in the year, but a September announcement cannot be ruled out entirely.
Apple will also likely provide an update on the prospective launch dates of
iOS 10
,
macOS Sierra
,
watchOS 3
, and
tvOS 10
.

The European Commission on Tuesday will rule that Apple received illegal state aid from Ireland, according to a 130-page judgment known by
Financial Times
.
Competition commissioner Margrethe Vestager circulated the final ruling to her counterparts in the EU's executive branch only on Monday morning, deploying a fast-track procedure in a bid to minimize leaks. The usual notice period is two weeks.
The ruling follows a
three-year investigation
into Apple's tax arrangements in Ireland, where it has reportedly paid around 2% or less in taxes compared to the country's headline 12.5% corporate tax rate.
The commission's ruling asks Dublin to raise a new tax assessment on Apple, which could have to restate its accounts as a result of the ruling, according to the report. One area of focus is Apple's tax arrangements for its intellectual property assets, which is "a hotly disputed area likely to lead to a large claim for back taxes."
The ruling means Apple could owe several billions of euros in back taxes. JPMorgan estimated the company could be forced to pay up to
19 billion euros
($21.2 billion) in back taxes, although a previous study placed the figure
around $8 billion
, and some analysts believe the amount could be a comparatively lower $1 billion.
Europe's competition commissioner Margrethe Vestager will provide an actual estimate of Apple's potential tax bill when the European Commission's findings are publicly released on Tuesday, according to the report.
Apple declined to comment on the matter, reiterating that the company fully complies with international tax law and that it is the
largest taxpayer in the world
. Apple said last month that both the company and Ireland would appeal any unfavorable ruling in European courts.
Apple joins the ranks of Starbucks, Fiat Chrysler, Amazon, Google, IKEA, and McDonald's as one of several large corporations accused of tax avoidance in Europe recently. Starbucks in particular is currently appealing its case in Netherlands, where it was ordered to pay as much as 30 million euros in back taxes.
Last week, the U.S. Treasury department warned that an adverse ruling against Apple could "
set an undesirable precedent
." It also said the European Commission is becoming a "supranational tax authority," going beyond acceptable enforcement of competition and state aid law and singling out U.S. companies.
Note: Due to the political nature of the discussion regarding this topic, the discussion thread is located in our
Politics, Religion, Social Issues
forum. All forum members and site visitors are welcome to read and follow the thread, but posting is limited to forum members with at least 100 posts.
Thomas Davidson of Pennsylvania, Todd Cleary of California, and Jun Bai of Delaware have filed a class action lawsuit against Apple over an alleged defect that causes
iPhone 6
and iPhone 6 Plus touchscreens to become unresponsive and fail, according to court documents filed electronically this week.
The class action complaint, filed with the U.S. District Court for Northern California, accuses Apple of violating California's consumer fraud statutes, through fraud, negligent misrepresentation, breach of implied warranty, unjust enrichment, and for violations of the Magnuson-Moss Warranty Act and Song-Beverly Consumer Warranty Act.
Apple has long been aware of the defective iPhones. Yet, notwithstanding its longstanding knowledge of this design defect, Apple routinely has refused to repair the iPhones without charge when the defect manifests. Many other iPhone owners have communicated with Apple's employees and agents to request that Apple remedy and/or address the Touchscreen Defect and/or resultant damage at no expense. Apple has failed and/or refused to do so.

As a result of Apple's unfair, deceptive and/or fraudulent business practices, owners of the iPhones, including Plaintiffs, have suffered an ascertainable loss of money and/or property and/or value. The unfair and deceptive trade practices committed by Apple were conducted in a manner giving rise to substantial aggravating circumstances.
The complaint, lodged by California law firm McCuneWright, LLP, seeks an order that requires Apple to repair, recall, and/or replace affected iPhones and to extend the warranties of those devices for a reasonable period of time. The plaintiffs also seek unspecified damages. A jury trial has been demanded.
The lawsuit cites repair website iFixit, which last week
shared a blog post and video about the defect
, nicknamed "touch disease." The defect presents as a gray flickering bar at the top of the screen and a display that's unresponsive or less responsive to touch. The problem is said to be caused by the touchscreen controller chips soldered to the iPhone's logic board losing contact after a period of normal usage.
The complaint specifically claims that Apple's failure to incorporate a "metal shield" or "underfill" over the logic board, as it did with the iPhone 5s and iPhone 5c respectively, makes the iPhone 6 and 6 Plus "substantially less durable to foreseeable and reasonable use by consumers and ultimately causes the touchscreen defect."

iFixit said the defect has affected a growing number of iPhone 6 and iPhone 6 Plus owners, citing its own repair shop colleagues and
dozens of complaints
on the Apple Support Communities. Multiple customers who brought their iPhones to
Apple Stores
were told that Apple doesn't recognize it as an issue and nothing could be done as their iPhones were no longer covered by warranty.
Apple today sent out media invites for an iPhone-centric event that will be held on Wednesday, September 7 at 10:00 am at the Bill Graham Civic Auditorium in San Francisco, California. Media invites (
via The Verge
) offer up a first look at the theme of the event and feature the simple tagline: "See you on the 7th."

The fall 2016 event is expected to see the debut of the next-generation
iPhone 7
and iPhone 7 Plus, which are rumored to feature improved cameras, better processors, and improved water resistance, implemented through the removal of the headphone jack and the introduction of a new flush, pressure-sensitive home button. Both devices are said to look similar to the
iPhone 6s
, with the same general size and shape, but with relocated antenna bands that no longer span the back of the devices.
Faster LTE and Wi-Fi speeds are rumored, as is a jump in storage space with 32GB positioned as the new minimum and a 256GB option rumored at the high end (possibly limited to iPhone 7 Plus). Display improvements first introduced in the 9.7-inch
iPad Pro
, including the True Tone feature able to adjust the display to match ambient lighting could be offered, and the larger iPhone 7 Plus is expected to have exclusive features like 3GB RAM and a dual-lens camera for crisper, brighter images.
Apple may use the event to debut a second-generation
Apple Watch
, said to include better waterproofing, an improved processor, and a built-in GPS chip. Design changes are not expected for the next-generation Apple Watch, but new materials and new bands are always a possibility. Apple rotates its Apple Watch band offerings on a regular basis and we expect to see new designs this fall.
Most of Apple's Mac lineup is due for an update, but the most highly anticipated machine, the
MacBook Pro
, will reportedly
not be debuting at the event
, coming later in the year instead. It's not known if other Macs will see a refresh announcement at the event, but it's unlikely, and we're also not expecting any iPad announcements at this time.
We will, however, get an update on the prospective launch dates of
iOS 10
,
macOS Sierra
,
watchOS 3
, and
tvOS 10
. We're expecting to see iOS 10 and watchOS 3 launch shortly ahead of the release date of the next-generation iPhone (
rumored to be
September 16 or September 23), while macOS Sierra could come a bit later, perhaps towards the end of the month. tvOS 10, as a new operating system, could launch alongside iOS 10 or alongside macOS Sierra.
In line with past events, the September 7 event will begin at 10:00 a.m. Pacific Time. As it has done with several past events, Apple is likely to stream the event live on its website and on the
Apple TV
.
MacRumors
will also be providing full event coverage, both on MacRumors.com and through
our MacRumorsLive Twitter account
.
Update
: Apple has announced it will indeed be
live streaming
the event.
While several rumors point towards Apple releasing its
first iPhone models with OLED displays
next year, the head of LCD manufacturer Innolux Wang Jyh-chau believes that OLED is unlikely to fully replace LCD technology in terms of performance-cost ratio and reliability long term, according to
DigiTimes
.

Instead, a new display technology called Micro-LED could eventually replace LCD to become the mainstream display technology, as noted by Innolux vice president and mobile product general manager Yang Hung-wen.
In response to market speculation that Apple will adopt OLED for its new iPhone to be launched in 2017, Innolux vice president and mobile product general manager Yang Hung-wen indicated that in order for product differentiation, Apple is likely to do so but it is uncertain whether it will be on a long-term basis, especially when Apple is developing Micro LED on its own.
Apple reportedly
opened a secret laboratory in northern Taiwan
last year to develop thinner, lighter, brighter, and more energy-efficient displays for future iOS devices, recruiting talent from local display maker AU Optronics and Qualcomm subsidiary SolLink. The report described the new displays as more advanced versions of LCDs currently used in iPhones, iPads, Macs, and other devices.
A subsequent report said Apple may be
developing Micro-LED technology
at the factory following its
acquisition of Micro-LED company LuxVue Technology
in 2014. In December 2013, LuxVue raised $25.2 million in funding to pursue the display technology, and the company also filed several Micro-LED patents. At the time, one of the company's investors said it had "a technical breakthrough in displays."
Micro-LED displays can be thinner and lighter and allow for improved color gamut, increased brightness, and higher resolutions. The panels do not require backlighting like traditional LCD displays, but they can be difficult and expensive to mass produce. Micro LEDs range in size from 1-micron to 100-micron.
Apple currently uses TFT-LCD displays for iPhones, while the
Apple Watch
is the company's only product with an OLED display. Rumors suggest the Apple Watch
may gain a Micro-LED display itself
as early as the second half of 2017, likely because the device's small size makes it suitable for testing new display technologies ahead of larger devices like the iPhone and iPad.
Today's report ultimately means that Apple's rumored switch to OLED display technology next year may only help keep up with the competition in the short term as it works to develop Micro-LED displays. Apple's tenth-anniversary iPhone in 2017 is expected to have
glass casing
and a
5.8-inch curved OLED display
supplied
by Samsung
. Meanwhile, it has been reported Apple still plans to introduce
4.7-inch and 5.5-inch models with flat LCD displays
like the
iPhone 6s
and iPhone 6s Plus.