For the past several months, Apple-leased Dodge Caravans with equipment-laden roofs have been spotted
driving around the United States
. While early speculation suggested the vans could be Apple's first attempt at
developing a self-driving vehicle
, it quickly became clear that the vans were being used for mapping purposes.
The Dodge Caravans are all outfitted with an array of LIDAR cameras, much like the vehicles that Google uses to capture images for its Street View mapping feature, so it is no surprise that a report shared today by
9to5Mac
suggests the images and data from the vans is going to be used for future improvements to Apple's Maps feature. Here at
MacRumors
, we have been aggregating Apple van sightings to give a clear picture of the areas where Apple is currently focusing its attention.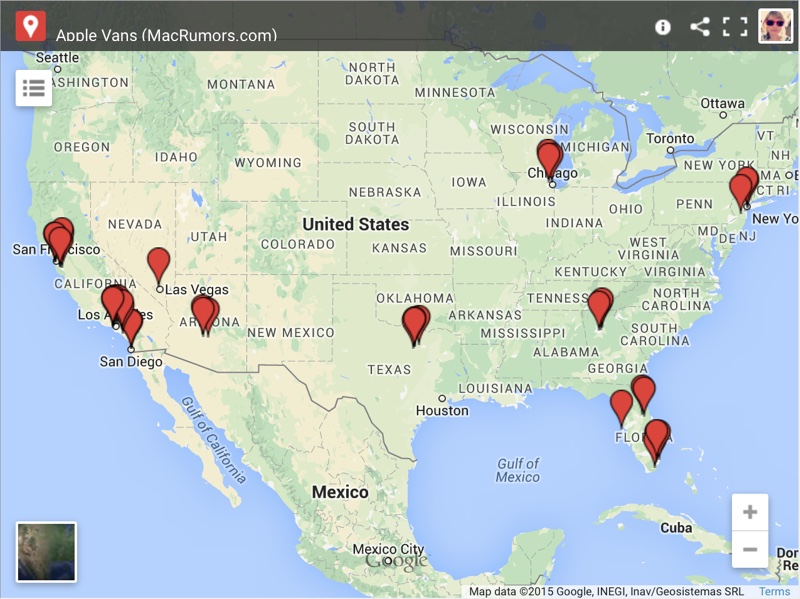 Click on the map to go to a full interactive view complete with pictures from each sighting
Apple has worked tirelessly to improve the Maps app since its 2012 launch, fulfilling
Tim Cook's promise
that Apple would work "non-stop" until Maps met its "incredibly high standard." The next step in Maps' evolution is the gathering of in-house data to reduce reliance on third-party companies like TomTom, which has provided data for Apple Maps since it launched. Just this month, TomTom and Apple
renewed
their mapping contract, so Apple's shift towards its own data system may still be several years off.
Using in-house data has the potential to significantly improve the Maps experience. Apple will not have to rely on third-party information that's potentially riddled with errors and inaccuracies, and the company will also be able to implement changes and fixes more quickly.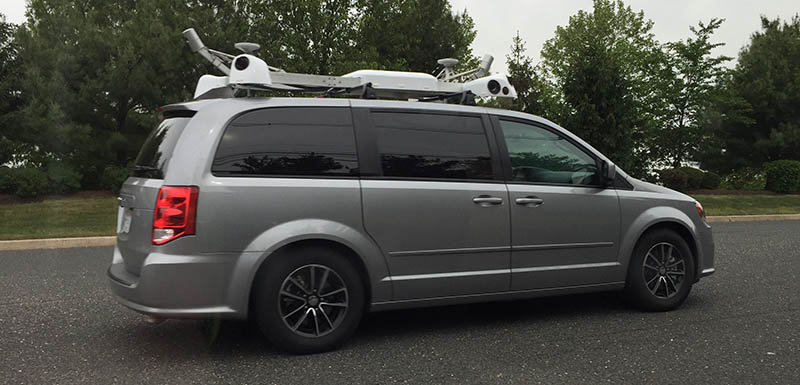 In the future, the imagery captured by the vans may be used by Apple to create its own 3D street level viewing experience to complement its existing Flyover feature. Flyover is designed to let Maps users explore landmarks and major cities around the world through an aerial view. A street level addition to Flyover could perhaps be useful in day-to-day life to get a look at nearby locations, but it's possible Apple has its eye on something grander, perhaps giving Maps users a way to explore exotic locations on a more granular level.
Apple is also reportedly using its fleet of Dodge Caravans to capture images of storefronts and businesses, and this data may be of more immediate use to the company. Imagery of stores, businesses, and restaurants may be incorporated into an upcoming iOS 9 revamp to Apple's Points of Interest system, replacing photographs pulled in from third-party sources like Yelp.
We may see the first fruits of Apple's new mapping project as soon as June 8, when Apple unveils iOS 9 at WWDC and provides it to developers for testing purposes. iOS 9 is rumored to have a few other upgrades in addition to a new
Points of Interest system
, including
transit routing information
in a
limited number of cities
.
Apple had the highest overall customer satisfaction for tech support among more than 3,200 computer owners surveyed by
Consumer Reports
, unsurprising given the company has been top-rated for tech support since the not-for-profit organization first surveyed customers about the topic in 2007. Apple has also routinely topped multiple
J.D. Power and Associates studies
for customer satisfaction over the past decade.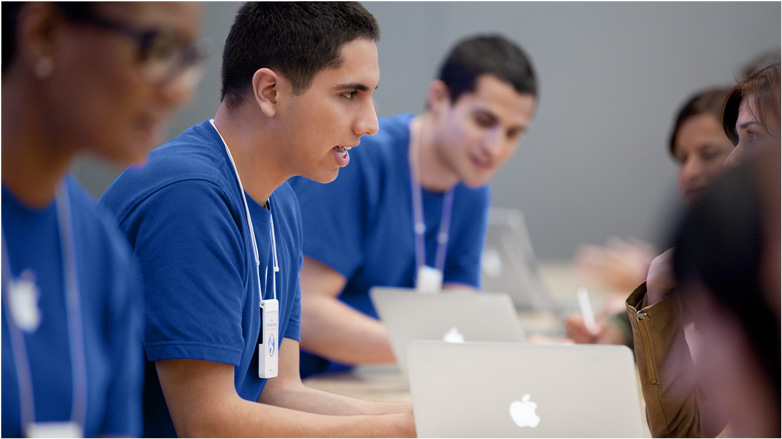 Apple earned high marks for the Genius Bar located at the back of most Apple retail stores, where customers can book an appointment to receive face-to-face technical support and troubleshooting for iPhone, iPad, Mac and several other Apple products and services. Consumer Reports praises the Genius Bar's free lifetime support as a differentiating factor over similar services, which generally require paying for help.
Windows-based PC makers did not receive the same accolades for tech support among survey participants:
"The help desks at Windows PC companies often didn't live up to that name. For four of the six PC brands in the survey, tech support solved only half of the problems consumers brought to them. Even the best of them—Lenovo and Dell—came through just 61 percent of the time."
Consumer Reports found that most Windows-based PC users were most satisfied by phoning tech support rather than seeking online help through web, chat or email support. Best Buy's Geek Squad and Staples' EasyTech services were found to be a step behind the Genius Bar, given that Apple serves as both the retailer and manufacturer and is subsequently more knowledgable about its own products and support information.
Apple provides 90 days of complimentary phone and online chat support that can be extended for up to two years with an AppleCare+ Protection Plan for iPhone, iPad, Mac, Apple Watch, Apple TV and other products. AppleCare+ also protects against up to two incidents of accidental damage with an applicable service charge, such as a cracked screen from dropping the device or water damage.
A couple days after a new iOS bug
was discovered
, allowing a select string of characters sent in an iMessage or text to reset iPhones and crash the Messages app, Apple has created a
new support document
to address the problem. The Cupertino company acknowledges the problem and says that it's working on a fix, offering temporary solutions in the mean time.

Apple is aware of an iMessage issue caused by a specific series of unicode characters and we will make a fix available in a software update. Until the update is available, you can use these steps to re-open the Messages app.

1. Ask Siri to "read unread messages."

2. Use Siri to reply to the malicious message. After you reply, you'll be able to open Messages again

3. In Messages, swipe left to delete the entire thread. Or tap and hold the malicious message, tap More, and delete the message from the thread.
In addition to Apple's suggestions, there are other possible fixes that have worked for
MacRumors
 in other scenarios.
For instance, if Messages was opened in conversation list view you can fix the issue by having someone send you a message or sending yourself a message via Siri or through the Share sheet in any app.
At its
I/O developer event
this morning, Google announced a new Google Photos platform that's designed to compete with both photo sharing sites like Flickr and cloud services like iCloud Photo Library.
Google Photos
is cross platform and available on iOS, Android, and the web.
Both the iOS app and
the web service
are now live, letting those in Apple's ecosystem make full use of Google Photos. The service is free for high-quality photos and it lets users upload an unlimited number of photos (up to 16 megapixels) and videos (up to 1080p).
A hands-on overview of Google's new Photos service
Photos with resolutions that exceed 16-megapixels
will be downscaled
to 16MP, and videos with resolutions higher than 1080p will also be downscaled. Google offers an option to store photos and videos in their original quality, but only with the 15GB of free storage that comes with any Google account. Additional storage is priced at $1.99/month for 100GB or $9.99/month for 1TB.
16-megapixel downscaling is suitable for most camera phones and point-and-shoot cameras, but the free storage option may not be as appealing to DSLR users who need to store original-quality images. According to Google, photos uploaded with a 16-megapixel resolution or lower will look "essentially" the same when uploaded to the site using the free plan.
Google designed Photos around three central ideas: a "home" for all of your photos, deep organization, and easy sharing. On iOS, Google Photos is not unlike the default Photos app that Apple offers. It includes a main photos view that's organized by when a photo was taken, and it's possible to zoom in and out to adjust the view using pinch gestures.
You can organize your photos and videos into albums, but Google has also built in its own organizational tools. Google Photos will group images based on the person in the photo, an item in the photo (like a dog) or the place where it was taken. Google demonstrated the facial recognition features on stage at Google I/O, showing how it was able to recognize the same child at multiple ages, starting from birth.
In the iOS app, there are tools for quickly enhancing photos to improve color, lighting, and more, plus it's possible to create collages, animations, and movies using the app's tools.

Google Photos has quick selection tools for grouping up multiple photos, and this feature works alongside the app's photo sharing tools. Users can create a link to any number of grouped photos, sharing all of them by simply sending the link. It's not necessary for those who view the photos to log into the Google Photos app, but doing so allows the shared photos to be downloaded to one's own library.
Sharing is also bolstered by a built-in Photos Assistant. This tool automatically makes videos, GIFs, and collages out of a series of photos, which can then be shared if so desired. Google Photos also includes tools to share photos to numerous social networks.
Google Photos
for iOS can be downloaded from the App Store for free. [
Direct Link
]
Apple recently acquired augmented reality startup
Metaio
, reports
TechCrunch
. According to the company's website, Metaio is a "pioneer in augmented reality and computer vision" that built the Metaio Creator, an augmented reality authoring tool. With the Creator, users could create augmented reality scenarios "within minutes."
Metaio has stopped taking new customers and a shareholder document concerning the transferring of shares has confirmed that it was purchased by Apple. Apple also provided
TechCrunch
with its standard acquisition confirmation statement: "Apple buys smaller technology companies from time to time, and we generally do not discuss our purpose or plans."
Metaio's augmented reality tools have been used by several companies to create interactive experiences. Ferarri, for example, created an augmented reality showroom with Metaio, and it's been
used in Berlin
with historical footage to let travelers see what the scene they're viewing would have looked like when the Berlin Wall was still in place.
It is not clear how Apple plans to use Metaio's technology, but there have been
persistent rumors
indicating Apple is interested in virtual reality and augmented reality. Based on patents, Apple has explored
a video headset
, a
motion-sensing virtual 3D interface
for iOS devices, and
3D "hyper-reality" displays
.
It's possible that Apple could use Metaio's AR creation tools to introduce unique features to Maps and other apps. A 2014 rumor suggested Apple was considering
adding augmented reality features
to Maps, and a more recent rumor points towards Apple's work on a "Browse Around Me" feature for iOS 9 that
includes an augmented reality view
.
Recent rumors have suggested that Apple has a small team
working on augmented reality projects
at its Cupertino headquarters, but it remains unclear exactly when we'll see Apple incorporating AR and VR features into its products.
Google today previewed Android "M," the next major version of its mobile operating system featuring Android Pay for mobile payments, app permissions, an improved web experience with Chrome Custom Tabs, app linking, Doze power management, USB-C support, direct sharing, simplified volume controls and a handful of other incremental improvements and bug fixes.
Google also announced free unlimited high-quality photo (16MP) and video (1080p) photo storage through a new service aptly named Google Photos for iOS, Android and the web, contextual information and a new "Now on Tap" feature for Google Now, and an "Internet of Things" operating system and HomeKit rival called "Project Brillo" for devices like thermostats and lightbulbs.

Android M prompts users with app permissions when access is required to certain elements of the operating system, including the microphone, location services, camera, contacts, phone, SMS, calendar and sensors. The new software version also features app linking, with verified links automatically redirecting to their related app without a cumbersome dialog popping up.
Android M delivers an improved web experience with Chrome Custom Tabs, which function as a Chrome web view overlaid in third-party apps with prefetched content. Google partnered with Pinterest, for example, to integrate Chrome Custom Tabs, providing all of Chrome's benefits such as signing in, saved passwords, autofill and multi-process security. Chrome Custom Tabs are available on the Chrome developer channel today and in Q3 for the public.
Doze is a new power and charging management system built into Android M that tracks your device sync activity and exponentially blocks background app activity when possible for up to double the amount of standby battery life, based on a side-by-side test of a Nexus 9 running Android Lollipop and Android "M" Developer Preview.
Google also briefly announced several other features of Android M, including USB-C support, simplified volume controls, improved Bluetooth low energy scanning, support for seven additional languages, unified Google and device settings, direct sharing and more. Android M is available today as a developer preview for the Nexus 5, Nexus 6, Nexus 9 and Nexus Player and in Q3 for the public.
Android Pay

Android Pay, essentially a rebranded and improved version of Google Wallet, is an NFC-based mobile payments service with virtually identical functionality as Apple Pay. Android Pay keeps payment information secure by generating a virtual account number and requiring fingerprint authentication for secure identification.
Android users can add their supported credit and debit cards to the Android Pay app and easily tap to pay at over 700,000 retailers and businesses that accept contactless payments, such as American Eagle, Bloomingdale's, McDonald's, Macy's, Staples, Target and Walgreens. Android Pay can also be used for in-app purchases in supported apps.
Google announced that four major credit card companies in American Express, MasterCard, Visa and Discover will support Android Pay, alongside major financial institutions and AT&T, Verizon and T-Mobile in the United States. More partners should be added in the future.
Project Brillo
Brillo is a slimmed-down version of Android that's designed to power the Internet of things. It's an operating system that will be made available to manufacturers, who can build it into devices like thermostats and lightbulbs. It includes support for Wi-Fi and Bluetooth 4.0.

Weave goes along with Brillo and serves as a communications layer that allows Internet of things devices to talk to one another. With Weave, Brillo devices, smartphones, tablets, and the Internet can communicate. Weave is cross-platform, so it can work with non-Android devices, and Android devices can auto-detect Brillo and Weave devices. Brillo will be available to devs in Q3, while Weave will be available in Q4.
Google Now
Google announced a new feature for Google Now in Android M: Now on Tap. With Now on Tap, you can tap on the home button of an Android device to get more information about what's on the screen.

For example, when listening to music in Spotify, if you tap and hold on the home button and ask a question about the artist, Google Now understands the context and will reply. When tapping on the home button, Google Now is able to read the content of any app that's running and bring up relevant, contextually aware Google Now cards. Apps don't need to implement support -- it works automatically.
Another example: On stage, a chat window with a discussion about laundry and a restaurant was brought up. A tap on the home button brought up a to-do card and cards for Maps, Yelp, and OpenTable.
Google Photos
Google announced a
new Photos app
centered around three ideas: a "home" for all your photos, deep organization, and sharing. Google Photos includes unlimited high-quality photo (16MP) and video (1080p) storage at no cost. It's launching today on Android, iOS, and web.

Google Photos backs up all photos from an Android device, much like iCloud Photo Library. The smartphone app looks quite similar to the Photos app on the iPhone, supporting a main view with all photos with pinch gesture controls for zooming in and out on albums and timelines.
Google Photos includes auto-organization that organizes photos by people and place. Its facial recognition capabilities are impressive, able to recognize a person even as that person ages. A Photos Assistant feature automatically creates GIFs and videos from your content, which you can share or delete. Sharing is simple -- you can group multiple photos and instantly get a link that lets other people see the images.
Juli Clover contributed to this report.

Apple has updated a
support document
on its website to reflect that the high-end 15-inch Retina MacBook Pro, equipped with AMD Radeon R9 M370X graphics, is capable of driving Dell's dual-cable UP2715K 27-inch 5K display. Apple initially released OS X 10.10.3 in April with support for the dual-cable 5K monitor on the
Retina 5K iMac and 2013 Mac Pro
, but no notebooks supported the display at the time.
Dual-Cable Displays

Some displays with resolutions higher than 4K require two DisplayPort cables to connect the display at full resolution. With OS X Yosemite v10.10.3 or later, the Dell UP2715K 27-inch 5K display is supported on the following Mac computers:

Mac Pro (Late 2013)
iMac (Retina 5K, 27-inch, Late 2014 and later)
MacBook Pro (Retina, 15-inch, Mid 2015) with AMD Radeon R9 M370X
Dell's dual-cable 5K display requires more bandwidth than is currently supported over a current single DisplayPort cable, so it uses a dual-cable solution that takes up two Thunderbolt ports on a Mac. The availability of Intel's Skylake platform with DisplayPort 1.3 support later this year will enable Apple to update Macs with support for external 5K displays that function over a single cable, at which point the company could theoretically release a 5K Thunderbolt Display.
The support document also lists the high-end 15-inch Retina MacBook Pro as capable of driving most single-stream 4K displays (4,096-by-2,160) at 60Hz on OS X 10.10.3, becoming the first notebook to support single-stream 4K displays alongside the Mac Pro (Late 2013) and iMac (Retina 5K, 27-inch, Late 2014 and later).
Apple initially listed the high-end 15-inch Retina MacBook Pro with AMD Radeon graphics as capable of supporting an ultra-wide display with up to 5,120-by-2,160 resolution at 60Hz, but has since updated the notebook's
technical specifications
to reflect its ability to drive a single external display at up to 5,120-by-2,880 resolution at 60Hz.
Apple overnight added signage to its upcoming retail location in the Upper East Side of Manhattan that confirms the store will open on June 13. The new store will be located at 940 Madison Avenue, on the corner of 74th Street, and remains under construction ahead of opening. The new store will be Apple's seventh retail location in New York City alongside Fifth Avenue, Grand Central, SoHo, Upper West Side, West 14th Street and Staten Island stores.

Apple Store in Upper East Side at 74th Street and Madison Avenue (Instagram/Krystyl)
Apple updated its retail store list today to reflect the new
Upper East Side location
, with store hours listed as 9:00 AM to 8:00 PM Eastern on Monday through Saturday and 11:00 AM to 7:00 PM Eastern on Sunday. Apple likely opted for earlier closing times than some other New York City locations to please Upper East Side residents that have
voiced their opposition
against the store and large crowds that it could attract.
The upcoming store at 940 Madison Avenue will occupy a former banking complex built in 1921 that most recently housed luxury retailer VBH. The building itself offers a large amount of space, featuring a 4,000 square-foot ground level and 1,000 square-foot mezzanine. Apple leased the building nearly one year ago and the site has been under renovation since at least October 2014.

Apple plans to introduce a new rewards program for Apple Pay at WWDC next month, reports
The New York Times
. In a piece covering upcoming mobile payment upgrades from Apple and Google, the site suggests that Apple will announce details about enhancements to Apple Pay at its Worldwide Developers Conference in June.
Few details are known about the rewards program that Apple plans to implement, but it is said to offer "perks" to customers who make purchases using Apple Pay.
But analysts have noted that a missing piece from Apple Pay was a rewards program to keep users returning to participating merchants. People familiar with Apple Pay said that next month, Apple will announce such a program offering perks to consumers who make purchases with the service, though they declined to reveal details.
There have been rumors about a rewards program for Apple Pay since before Apple Pay launched in October of 2014. In September,
a report suggested
Apple was working on a pilot program that could see it partnering with multiple third-party retailers to form an Apple Pay loyalty program.
Further rumors suggested the system
could tie into iAd
, delivering targeted ads to consumers via iBeacons and Bluetooth LE with coupons for free or discounted products, but it is not clear if that's how Apple's finished rewards program will work.
Upcoming Apple Pay competitor CurrentC offers a built-in
rewards program
that's able to incorporate loyalty cards and discounts for individual merchants, and CurrentC executives tout this as one of the major differentiating features of its system. With its own rewards program, Apple Pay will be better situated to compete with the reward-based features of CurrentC.
It is not known if Apple has plans to introduce additional Apple Pay features at its Worldwide Developers Conference, but it's possible that it could share details on an expansion of the service to additional countries like Canada. Canada is expected to be one of the first countries beyond the United States
to gain Apple Pay support
.

Target CEO Brian Cornell spoke at
Re/code
's Code Conference in Palos Verdes, California today,
where he confirmed
that the company plans to offer in-store support for Apple Pay in the future. According to Cornell, while he'd love to have Apple Pay available "right now," support will not be coming until Target upgrades its system to support integrated circuit credit cards to comply with new standards.
Integrated circuit cards (or chip-and-PIN cards) replace the magnetic stripe on a credit card or debit card with an embedded microchip. The microchip communicates with a supported point-of-sale system to authenticate transactions. Chip-and-PIN cards are already used in many countries around the world because they're believed to be more secure than traditional credit cards. In the United States, retailers are being encouraged to adopt point-of-sale systems that support chip cards by the end of 2015.
Target is especially eager to move to a more secure transaction system following a major data breach in late 2013 that saw hackers obtaining payment information for approximately 40 million of its customers. The move is a major transition for Target, and Cornell says he doesn't want to "distract the team" with work on other payment systems.
"Our focus is on getting chip-and-PIN in place in time for the holidays," Cornell said at the second annual Code Conference in Rancho Palos Verdes, Calif. "Down the line we want to accept all the types of payments that our guests want. But this decision was all about focus. ... It is a major undertaking to convert to chip-and-PIN, and I decided that we can't distract the team."
Cornell says he has met with Apple CEO Tim Cook, and once the chip-and-PIN transition is completed, Target will be "open-minded" about supporting additional payment systems like Apple Pay. Target already supports Apple Pay
in its iOS app
.
Apple is now offering same-day delivery of certain products in its
Apple Store
app, through a partnership with Postmates. In the San Francisco Bay Area, the
Apple Store
app is offering a same day delivery option on products that are available in local Apple Stores.
For example, ordering an Apple TV in the San Francisco Bay Area results in a four-hour same-day delivery window, as does an order for a Lightning cable. In some areas, like San Francisco, delivery turnaround times are as fast as an hour, but for some products, delivery times can take up to a day.

Customers who have Postmates delivery options available to them will see same-day delivery options listed whenever they search for a product that is available for purchase in a nearby Apple Store. After an order is placed, the
Apple Store
app offers live tracking options that let customers know where an item is and track it as it progresses from the Apple Store to the delivery location. The app also delivers notifications with estimated delivery times and tracking information.

Customers who do not live in an area where Postmates delivers will not see same-day delivery options for Apple products, instead receiving only standard shipment delivery times without an option for Courier Delivery.
Apple products have long been available for order through Postmates' own iOS app, but this is the first time that Apple's offered same-day delivery on orders in its own
Apple Store
app. Delivery price varies depending on location and the distance that needs to be traveled to transfer an item from the Apple Store to your doorstep. In our location in the South Bay, the delivery price was $19 regardless of what was ordered.
Postmates operates in several major U.S. cities, including San Francisco, New York, Los Angeles, Chicago, Washington DC, Seattle, Boston, Philadelphia, Miami, Atlanta, Denver, San Diego, Orange County, Portland, Phoenix, Austin, Houston, Dallas, San Antonio, Minneapolis, and Charlotte, but it appears that Postmates deliveries for Apple Store app orders may be limited in scope for the time being, available only in the San Francisco Bay Area.

Update:
We received our Postmates Apple Store order within 35 minutes, much faster than the four-hour delivery estimate. According to our delivery driver, Apple's partnership with Postmates is brand new, with Postmates deliveries from the Apple Store app kicking off today.
General Motors and its Chevrolet brand are announcing today expansive plans to bring support for both CarPlay and Android Auto to fourteen vehicle models for the 2016 model year, a move that will mark a significant step forward for the availability of enhanced in-car smartphone experiences. The first Chevy vehicles with CarPlay support will be the Tahoe, Suburban, and Volt, all of which are scheduled to enter production in July, with the remainder of the CarPlay lineup rolling out as the new models launch in subsequent months.

GM chief infotainment officer Phil Abram introducing CarPlay and Android Auto support for Chevrolet
MacRumors
attended a media event with Chevrolet marketing director Steve Majoros and GM chief infotainment officer Phil Abram yesterday where the company discussed its commitment to giving customers the flexibility to use both iPhones and Android phones responsibly while in the car and its desire to make a splash with a broad set of models that represented over half of Chevrolet's global sales in 2014.
For the 2016 model year, Chevrolet will offer Android Auto and Apple CarPlay compatibility in more models than any automotive brand. The 14 Chevrolet models include the all-new 2016 Cruze, which will debut on June 24. Cruze is Chevrolet's best-selling passenger car, with more than 3 million sold since launch.
Among the 14 models, CarPlay and Android Auto will be supported on all vehicles with 7-inch or 8-inch MyLink screens, which will include most trim lines. CarPlay support will be available as all of these new models hit the dealerships, while Android Auto support will initially be limited to those with 7-inch screens while 8-inch screen support is planned for later in the model year.
Supported 2016 Vehicles
-
7-inch Screens
: Spark, Cruze, Malibu, Camaro, Camaro Convertible, Silverado, Silverado HD
-
8-inch Screens
: Cruze, Malibu, Impala, Volt, Camaro, Camaro Convertible, Corvette, Corvette Convertible, Colorado, Silverado, Silverado HD, Tahoe, Suburban
Staff from Apple and Chevrolet were on hand at the event to answer questions about CarPlay integration, with Apple staff emphasizing the company's desire to make CarPlay available to as many users as possible by opening up the specification to all interested auto manufacturers. Apple also believes it is key for CarPlay to integrate with automakers' own in-dash systems rather than pushing for something like an dash-mounted iPad, giving the car companies flexibility to leverage CarPlay as they see it best fitting with their systems.
"For most of us, our smartphones are essential," said Mary Barra, CEO of General Motors. "Partnering with Apple and Google to offer CarPlay and Android Auto compatibility across the widest range of models in the industry is a great example of how Chevrolet continues to democratize technology that's important to our customers."
Apple's representatives also highlighted the company's early focus on support for third-party audio apps due to the clear demand for such functionality in the car. The company may open up APIs for other functionalities to let additional third-party apps gain CarPlay support in the future, but Apple is being conservative considering the duty it and the automakers have to minimizing driver distraction.
With the recent addition of the Apple Watch, Apple also highlighted the way the watch and CarPlay can work together through the linked iPhone to minimize driver distractions, such as with fewer notifications being passed to the Apple Watch and less mapping information available on the wrist when the user's iPhone is in CarPlay mode. With some information already being made available through the dashboard, there is less need for it to appear on the Apple Watch, and with everything being linked through

We asked Apple and GM about the potential for wireless CarPlay support, which was
spotted
in early betas of iOS 8.3 but not included in the final release. Chevrolet's initial CarPlay support will require the user's iPhone to be connected via a Lightning cable, but that will likely change in the years to come as future models gain Wi-Fi support for their in-dash systems.
Chevrolet was one of the first brands to offer
support for Siri Eyes Free mode
in select vehicles, and has been one of the more highly visible CarPlay partners as Apple and auto manufacturers have demoed the technology over the past year. Earlier this year, the 2016 Volt was
spotted carrying CarPlay support
on the floor at the North American International Auto Show in Detroit.
Announced over a year ago, CarPlay has taken a fair bit of time to come to market given vehicle development cycles and other factors, although a host of car manufacturers have committed to supporting the technology. Ferrari was the first to bring CarPlay-compatible systems to market late last year, followed quickly by aftermarket solutions from
Pioneer
and
Alpine
. Apple CEO Tim Cook noted at the company's
"Spring Forward" event
in early March that there will be over 40 car models offering CarPlay support by the end of this year.
Update
: This article has been updated to correct statements regarding wireless CarPlay.