Apple today quietly added a
new iCloud storage tier
, offering customers 2TB of data storage space at a price of $19.99 per month in the United States. Apple now offers four
iCloud
storage tiers at prices that start at $0.99.

The new 2TB iCloud storage option comes just over a week ahead of the company's September 7 event, where new versions of the iPhone and
Apple Watch
are expected to debut alongside new operating system updates.
Rumors have suggested camera improvements could be one of the features coming to the
iPhone 7
and the iPhone 7 Plus, and that could be one of the reasons Apple is introducing more storage space. A dual-lens camera, as is rumored for the iPhone 7 Plus, could potentially produce images that are larger, resulting in customers who need more space to store their photos and other files.
We've also heard rumors that the high-end iPhone models could offer up to 256GB of storage (perhaps limited to the iPhone 7 Plus), which could be another factor leading to Apple's decision to increase available iCloud storage space.
Perhaps the biggest reason for the jump in iCloud space is a new desktop syncing feature coming to
macOS Sierra
. In the new operating system, all files stored on the desktop or in the Documents folder of a Mac are automatically uploaded to iCloud to make them available across a wide range of devices.
In 2015, Corning announced "Project Phire,"
a new material
that combines the strength of Gorilla Glass with the scratch-resistance of sapphire, and as of today, the result of that project is ready to launch.
Now called "
Gorilla Glass SR+
," Corning's latest product is a composite material for wearable devices. It's been designed to cut down on visible scratches while continuing to deliver all of the features of the original Gorilla Glass.
According to Corning, Gorilla Glass SR+ offers scratch resistance similar to sapphire but with 70 percent better damage resistance against impacts and 25 percent better surface reflection. Corning says these optical improvements enable better battery life and improved outdoor readability.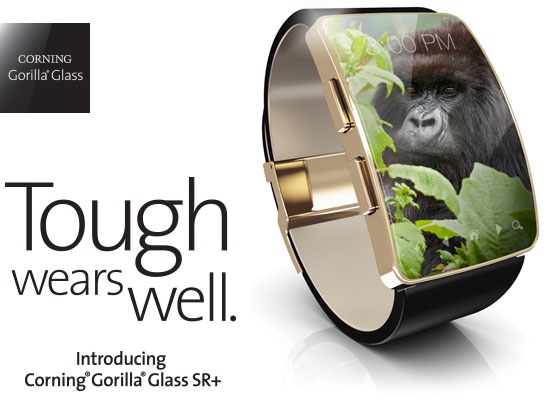 "In early 2015, Corning launched Project Phire with the goal of engineering glass-based solutions with the scratch resistance approaching luxury cover materials, combined with the superior damage resistance of Gorilla Glass," said Scott Forester, director, innovation products, Corning Gorilla Glass. "Corning Gorilla Glass SR+ delivers a superior combination of properties that is not available in any other material today - it is in a class of its own."
Corning is a long-time Apple Supplier, and its Gorilla Glass products have been used in the iPhone and the iPad for several years. For its wearable device, the
Apple Watch
, Apple currently uses Ion-X glass for the Sport model and sapphire glass for the stainless steel and Edition models.
It is not clear if Apple will consider Corning's newest product for any future versions of the Apple Watch, but if it is superior to current technology, it is a possibility. Corning says Gorilla Glass SR+ is now commercially available and is expected to be in products from "leading global brands" starting later this year.
iOS 10
lets
Siri
work with third-party apps
for the first time, enabling a whole range of features the personal assistant is able to help with, from summoning an Uber to sending cash to sending a message via WhatsApp.
Ahead of the launch of the new operating system update,
The Wall Street Journal
's Nathan Olivarez-Giles was able to go hands-on with some of the apps that will support Siri and give a little more insight into how the feature will work in practice.

After using the feature, Giles called Siri support for third-party apps "long-overdue" and a factor "important to making Siri more useful in everyday life." He was able to test apps for sending mobile payments, image search and messaging, but Siri will also support ride booking apps like Uber, VoIP calling apps like Skype, and workout apps. Giles says asking Siri to perform tasks was "quicker than launching the app" and carrying out the task himself.
As has been previously described by Apple, Siri commands like "Siri, send Catherine $20 for lunch with Square Cash" or "Send Jim a Message in LinkedIn" work in iOS 10, and with the former, security is maintained with
Touch ID
authentication. Commands vary from app to app and Siri support can also be built into
watchOS 3
apps.
Strings can get even more specific. For instance: "Siri, show me photos of what Kanye West wore to the VMA awards this year in Looklive." This command pulled up pictures of the rapper's wardrobe, along with links to buy what he was wearing, in the celebrity shopping app. In most of these demos, Siri carried out the task without opening the app itself. Instead, a card, styled like the app, appeared with the details of the action.
According to Giles, some of the first apps to integrate with Siri in the chat, mobile payments, and photos categories will include LinkedIn, WhatsApp, WeChat, Slack, Square Cash, Monzo, Pinterest, Vogue Runway, Looklive, The Roll and Pikazo. Apple has previously said apps like Lyft, Uber, and Fandango will be compatible with Siri, along with
CarPlay
-specific apps.
Not all apps will work with Siri, but Apple has plans to expand the app types that can interface with the personal assistant in the future. When iOS 10 launches, the following app categories will have the option to enable Siri support: ride booking, messaging, photo search, payments, VoIP calling, and workouts.
Apple has limited SiriKit to certain kinds of apps in order to keep a tight rein on privacy, control the Siri experience, and develop Siri's understanding of language and context. Apple has promised that third-party apps are only privy to the specific data necessary to perform a requested function, keeping user information locked down.
Siri support for third-party apps is baked into iOS 10 and will be available as soon as the new operating system launches to the public in September. Apps will need to update to support the new feature, but many companies are undoubtedly planning launch day updates to be among the first to work with Siri.

Actress and businesswoman Jessica Alba has signed on to serve as a mentor on Apple's upcoming reality television show "
Planet of the Apps
," reports
Variety
. Alba joins actress Gwyneth Paltrow, hip hop artist will.i.am, and tech investor Gary Vaynerchuk, all of whom will also be acting as mentors and advisors to app developers.
Jessica Alba has starred in a number of movies and television shows, including
Sin City
,
Fantastic Four
, and
Into the Blue
. In 2012, Alba moved beyond acting and founded The Honest Company, devoted to selling non-toxic household goods. The Honest Company has grown steadily since 2012 and is valued at $1 billion.
"I started The Honest Company because I saw an opportunity in the market for a brand that spoke to conscious consumers and created safe and effective products for every need," said Alba said in a statement. "As a mentor on 'Planet of the Apps,' I'm looking forward to meeting entrepreneurs looking to address a problem with an innovative solution, and to help them realize their vision. I can't wait to see the ideas the app developers bring to the table."
Lightspeed Venture Partners, one of the initial investors in Snapchat, has also joined the show as a venture-capital partner. Lightspeed will spend $10 million to fund app development during the course of the show.
"Planet of the Apps" is described on
a casting website
as an unscripted reality television series focusing on apps and the developers who create them. The exact format and content of the show remain a mystery ahead of its 2017 launch, but advisors will offer developers chosen for the show "hands-on guidance" and "funding from top-tier VCs" to improve their apps. Apple plans to use the show to promote iOS, macOS, tvOS, and watchOS apps and its
App Store
s.
Casting for "Planet of the Apps"
began back in July
and applications are still being accepted until September 21, with the series seeking up to 100 developers to participate. The inaugural season will take place in Los Angeles with filming beginning in late 2016.
After showing off the capabilities of its new 7th Generation Core, Kaby Lake, during the
Intel Developer Forum
earlier in the month, Intel corporate vice president Navin Shenoy today gave more
details
regarding the third "optimized" member of the 14 nm chip family following Broadwell and Skylake. In today's announcement -- focused on the speed and 4K UHD support the new CPUs provide -- Intel officially unveiled its first Y-Series and U-Series processors, which could be included in future
Retina MacBook
and
MacBook Air
updates, respectively.
The new Kaby Lake processors (prepared as a mid-generation update ahead of Intel's Cannonlake processors) offer a moderate upgrade on earlier Skylake chips, with Intel focusing on the user benefits of its 7th Generation Core processors. These advantages namely include: 4K ultra-HD video streaming, 360-videos, and more intensive graphical performance for video games on smaller computers.
In addition to gaining access to 4K content from services like YouTube and Netflix, Kaby Lake will grant users the power to create and edit their own 4K content with speeds up to 8x faster than a five-year-old PC. Kaby Lake was manufactured using an upgraded version of Intel's 14-nanometer process, referred to as 14nm+, which the company claims has produced a processor with 12 percent faster productivity performance and up to 19 percent faster web performance over previous generations.
Everyday users will see these manifested in smooth app switching, even within performance-heavy apps like 4K video editing software, and basic battery life improvements. In this department, Kaby Lake will bring up to 9.5 hours of playback on 4K videos in any computer it's found in this fall. The release of Kaby Lake will mark Intel's first processor released after the company
abandoned
its tick-tock release cycle, where "ticks" represented shrinking chip fabrication processes and "tocks" introduced new architectures.

Kaby Lake "Y-Series" chips appropriate for MacBook
The three Kaby Lake Y-Series processors announced today are suitable upgrades for the MacBook, which was just updated to Skylake chips in April and thus is not expected to see another upgrade in the near future. The three U-Series chips could potentially make their way into future MacBook Air models, assuming graphics performance is sufficient for Apple's needs. The new U-Series chips include Intel HD "GT2" graphics, while Apple has historically preferred to use chips with relatively higher-performance "GT3" graphics in the MacBook Air.

Kaby Lake "U-Series" chips possibly appropriate for MacBook Air
Apple is rumored to be launching updated MacBook Air models as soon as October, but it is unclear whether the machines will use Skylake or these new Kaby Lake chips, as the current models continue to run on earlier Broadwell chips.
More powerful mobile Kaby Lake chips with Iris graphics and desktop chips such as those appropriate for the
MacBook Pro
and
iMac
are expected to begin debuting in January, but Intel did not release a specific timeline or specs for those families.
Following the European Commission's ruling that Apple received illegal state aid from Ireland, and
must pay $14.5 billion in back taxes
to the country, the company has
published a new FAQ
that addresses potential concerns investors may have about the decision and the effect on its bottom line.

Apple started out by confirming the decision is not final and that it plans to appeal. The company is
"confident" the ruling "will be overturned"
by courts in the European Union, but it notes the process is "likely to take several years." In the meantime, Apple does not expect any near-term impact on its financial results.
How does this decision impact Apple's near-term financial results?
Will you take a tax charge? Does this alter your previous guidance?
We do not expect any near-term impact on our financial results nor a restatement of previous results from this decision. We have previously accrued U.S. taxes related to the income in question. The tax rate guidance for Apple's fourth fiscal quarter that we provided on July 26, 2016 does not change as a result of this decision.
Apple added that it does not currently expect the decision to have an impact on its tax rate or cash balance going forward, but the company anticipates it will place an unspecified amount of cash in an escrow account. Apple expects the amount will be reported as restricted cash on its balance sheet.
The European Commission's ruling followed a
three-year inquiry
into Apple's tax arrangements in Ireland, where it paid between 0.005% and 1% in taxes from 2003 through 2014, compared to the country's headline 12.5% corporate tax rate. Apple insists it "
follows the law and pays all of the taxes
" it owes.
Note: Due to the political nature of the discussion regarding this topic, the discussion thread is located in our
Politics, Religion, Social Issues
forum. All forum members and site visitors are welcome to read and follow the thread, but posting is limited to forum members with at least 100 posts.
Japanese website
Mac Otakara
, which previously said Apple would introduce a
darker color option to replace Space Gray
for the upcoming
iPhone 7
series, has shared a photo of an alleged SIM tray for the smartphone that suggests the color will be glossy black like the exterior of the 2013
Mac Pro
.

The website now believes the new glossy black option will be part of a five-color lineup, including Gold, Rose Gold, Silver, and Space Gray. It previously said the new color will be a
"much darker" variant of Space Gray
that is "close to black, though not quite black," and
mockups
of what an iPhone 7 in that color could look like, including the one above, quickly surfaced around the web.
Apple has announced it will be holding a
September 7 media event
at 10:00 a.m. Pacific Time, at the Bill Graham Civic Auditorium in San Francisco, where it is expected to announce the iPhone 7 series,
Apple Watch 2
, and possibly more. Apple will also likely provide an update on the prospective launch dates of
iOS 10
,
macOS Sierra
,
watchOS 3
, and
tvOS 10
over the coming weeks.

Tim Cook
has posted an
open letter
on Apple's website in response to the European Commission's
ruling
that Apple must pay 13 billion euros ($14.5 billion) in back taxes dating from 2003 through 2014.
Cook's letter begins by discussing Apple's long history in Ireland, which dates back to a small facility that housed 60 employees in 1980. That statistic has now expanded to 6,000 employees across Ireland in total, benefiting both the company and local economies.
As it's grown, Cook says that Apple has become "the largest taxpayer in the world," and that "Apple follows the law and we pay all the taxes we owe." Directly confronting the European Commission's ruling, Cook claims that the EC has "launched an effort to rewrite Apple's history in Europe."
As responsible corporate citizens, we are also proud of our contributions to local economies across Europe, and to communities everywhere. As our business has grown over the years, we have become the largest taxpayer in Ireland, the largest taxpayer in the United States, and the largest taxpayer in the world.

Over the years, we received guidance from Irish tax authorities on how to comply correctly with Irish tax law — the same kind of guidance available to any company doing business there. In Ireland and in every country where we operate, Apple follows the law and we pay all the taxes we owe.
The Apple CEO points out that the claim -- stating Ireland gave Apple a "special deal" on its taxes -- is completely false and "has no basis in fact or in law." Cook thinks the commission's ruling also has the potential to set a dangerous precedent, because it is attempting to replace tangible Irish tax laws "with a view of what the Commission thinks the law should have been."
The opinion issued on August 30th alleges that Ireland gave Apple a special deal on our taxes. This claim has no basis in fact or in law. We never asked for, nor did we receive, any special deals. We now find ourselves in the unusual position of being ordered to retroactively pay additional taxes to a government that says we don't owe them any more than we've already paid.
Apple's next move is to appeal the Commission's ruling, which Ireland is said to be doing as well, with Cook remaining "confident" that the decision will ultimately be reversed and the company won't have to pay the 13 billion euros after all. Throughout all of the current drama and turmoil, Cook reiterates that Apple is "committed to Ireland" and that the company has no plans to stop investing in a future not only for its customers there, but its employees as well.
Read Cook's full letter about the European Commissions' ruling
here
.
Note: Due to the political nature of the discussion regarding this topic, the discussion thread is located in our
Politics, Religion, Social Issues
forum. All forum members and site visitors are welcome to read and follow the thread, but posting is limited to forum members with at least 100 posts.

Apple must repay 13 billion euros ($14.5 billion) in back taxes dating back to 2003-2014, the European Commission has ruled (via
BBC
).
The Apple tax ruling was confirmed this morning, after the judgement was leaked to the media
yesterday
. In unequivocal wording, the EU commissioner Margrethe Vestager said Apple's tax benefits in Ireland are "illegal".
"The Commission has concluded that Ireland granted undue tax benefits of up to €13 billion to Apple. This is illegal under EU state aid rules, because it allowed Apple to pay substantially less tax than other businesses. Ireland must now recover the illegal aid."
Vestiges said this selective treatment allowed Apple to pay an effective corporate tax rate of 1 percent on its European profits in 2003 down to 0.005 percent in 2014. Therefore in 2014 Apple paid 0.005 percent tax on EU profits, which means that "For every million euros in profits, it (Apple) paid just €500 in taxes," said Vestager. "This is based on an in-depth investigation, it's based on the facts. I also think and hope that if it goes to the courts that it will be upheld by the European Court."
According to the EC's
press release
, the existing tax rulings endorsed a way to establish the taxable profits for two Irish incorporated companies of the Apple group (Apple Sales International and Apple Operations Europe), which did not correspond to economic reality:
"Almost all sales profits recorded by the two companies were internally attributed to a 'head office'. The Commission's assessment showed that these 'head offices' existed only on paper and could not have generated such profits. These profits allocated to the 'head offices" were not subject to tax in any country under specific provisions of the Irish tax law, which are no longer in force."
Ireland Finance Minister Noonan said the country "disagrees profoundly" with the back tax ruling by the European Commission. "The decision leaves me with no choice but to seek cabinet approval to appeal. This is necessary to defend the integrity of our tax system; to provide tax certainty to business; and to challenge the encroachment of EU state aid rules into the sovereign member state competence of taxation," he said.
Apple shares fell more than 2 percent in pre-market trading following the ruling, which comes after a
three-year investigation
into Apple's tax arrangements in Ireland, where it was initially thought to have paid around 2 percent or less in taxes compared to the country's headline 12.5 percent corporate tax rate.
Update
: Apple has reacted to today's ruling with the following response:
"The European Commission has launched an effort to rewrite Apple's history in Europe, ignore Ireland's tax laws and upend the international tax system in the process. The Commission's case is not about how much Apple pays in taxes, it's about which government collects the money. It will have a profound and harmful effect on investment and job creation in Europe. Apple follows the law and pays all of the taxes we owe wherever we operate. We will appeal and we are confident the decision will be overturned."
Apple CEO
Tim Cook
has also posted "
A Message to the Apple Community in Europe
" on the Apple website.
Note: Due to the political nature of the discussion regarding this topic, the discussion thread is located in our
Politics, Religion, Social Issues
forum. All forum members and site visitors are welcome to read and follow the thread, but posting is limited to forum members with at least 100 posts.
The Eurasian Economic Union (EAEC) has issued new certificates for Apple products that suggest the company is set to release wireless earphones and multiple new versions of
Apple Watch
alongside the
iPhone 7
and 7 Plus.
Manufacturers are required to certify electronic devices for sale in countries that are signed up to the EAEC treaty (ratified last year), which includes Russia, Belarus, Kazakhstan, and Armenia. Russian website
iPhones.ru
found a reference to "AirPods" along with other Apple certificates added to the regulatory body's digital products registry yesterday.

Last month,
MacRumors
revealed
that an "AirPods" trademark filing discovered last October seemingly confirmed Apple's work on upcoming wireless earphones in lieu of a headphone jack on the iPhone 7. This latest regulatory certification appears to cement that finding, although whether Apple plans to bundle the AirPods with its new phones or sell them exclusively as a separate accessory is
still unclear
.
Elsewhere, the documents list several new certificates for Apple Watch (although oddly these are labelled as running
watchOS 2
, not
watchOS 3
, as would be expected for new models) and
two certificates
for products running
iOS 10
, likely indicating Apple's upcoming iPhone 7 and 7 Plus expected to be announced in a
special event next week
.
Apple may use the same event to debut its second-generation Apple Watch, said to include better waterproofing,
better battery life
, an improved processor, and a built-in GPS chip – but no cellular. Design changes are not expected for the next-generation Apple Watch, but new materials and new bands are always a possibility.
VMware today announced
Fusion
8.5, Fusion Pro 8.5,
Workstation
Player 12.5 and Workstation Pro 12.5, the latest versions of its visualization software for running Windows on a Mac without using Boot Camp. Fusion and Fusion Pro 8.5 come with
macOS Sierra
support while both Fusion and Workstation suites come with Windows 10 Anniversary support.

Windows 10 Anniversary is a large upgrade to Microsoft's operating system, making Cortana smarter, allowing interactions with Android and Windows phones, more desktop apps and games in the Windows Store, a dark theme, Windows Edge extensions, click-to-play Flash and more.
Both Fusion 8.5 and Workstation 12.5 include Windows 10 Anniversary support and Windows 10 server support in addition to various bug fixes and performance improvements. The Fusion suite's Sierra support includes
Siri
integration and support for tabbed VM windows.
VMware also announced that
it's giving away
20 Oculus Rift headsets to the general public. Entrants must tweet (using #FusionLove) a short video of themselves telling a story of how Fusion has helped them accomplished something. Meanwhile, registered attendees of VMworld 2016 will receive 18-months of Fusion or Workstation.
Current VMware Fusion 8.0 and Workstation 12.0 users can receive the 8.5 and 12.5 upgrades for free. However, users of pre-8.0 versions of Fusion and Fusion Pro can upgrade for $49 and $119 respectively, while users of pre-12.0 versions of Workstation Player and Workstation Pro can upgrade for $79 and $149 respectively. Upgrade pricing eligibility extends back to users of Fusion 4 and Workstation 7.
Fusion and Fusion Pro 8.5 are priced at $79.99 and $119.99 for new users while Workstation Player and Workstation Pro 12.5 have new-user prices of $149.99 and $249.99 respectively. Both Fusion and Workstation can be purchased at
VMWare's online store
.
Apple today made a
submission
to the Australian Competition & Consumer Commission (ACCC), arguing that Australia's "Big Three" banks' request to collectively negotiate over
Apple Pay
is ultimately harmful to consumers, would stifle innovation in mobile payments, and would avoid competitive dynamics (via
AppleInsider
).

The Cupertino company argues that each of the big three banks (Commonwealth Bank, National Australia Bank (NAB) and Westpac) have resisted "serious engagement" with Apple on Apple Pay for the past two years.
Apple claims that they have tried and failed to negotiate with all of the banks, save for one bank who refuses to sign a confidentiality agreement that would allow Apple to send over its initial terms. Apple says that collective bargaining would slow negotiations further, dragging the collective to the level of the least willing member.
The collective, Apple argues, means that each of the banks has no fear of its competitors offering Apple Pay. Thus, the banks wouldn't fear a potential loss of consumers over the feature. This harms consumers by avoiding competitive dynamics, according to Apple.
The move would also stifle innovation in mobile payments, erasing incentives for existing players in Australia to build on top of or compete with Apple Pay. However, a spokesman for the banks told
AppleInsider
that they, alongside Australia's merchants and payment processors, have been working on contactless payments before Apple Pay.
The banks say that, unlike Android or Samsung, Apple blocks access to NFC payments and "wants to leave users with no choice but to use Apple Pay." They want to negotiate with Apple to offer other integrated wallets within Apple Pay. Last week, Australia's retailers and payment processors
sided with the banks
to collectively negotiate.
Apple's submission comes 10 days after the ACCC
denied interim approval
of the collective negotiations. The banks
first issued
their joint application in late July. The ACCC will make a final decision in October. Most recently, Australian bank ANZ
expanded support
for Apple Pay to MasterCard, adding to the already-supported Visa and American Express.