Adobe today released new versions of
Photoshop Elements
and
Premiere Elements
, its lower-cost photo and video editing software aimed at consumers. Both
Photoshop Elements 13
and
Premiere Elements 13
have gained several new features, focusing on improved editing tools, additional guided techniques, and Elements Live, a new portal that offers tips and tricks directly within each app.
"Our customers don't always have the time or the know-how to get the results they desire," said Shanmugh Natarajan, senior director, engineering, core technologies and products at Adobe. "In Photoshop Elements 13 and Premiere Elements 13, we focused on developing tools that automate the process or guide customers through the steps to create the photos they'll love and want to share."
Photoshop Elements 13
, Adobe's image editing software, includes updates that Adobe says were inspired by customer request. One of the main new features is the Photomerge Compose tool, which is used alongside the Refine Selection Brush to allow users to seamlessly copy people or objects from one image to another with just a few clicks.
There are new tools to create matching Facebook cover and profile photos, customizable with text and graphics, plus there are new guided edits available for creating black and white photos with hits of color. Guided edits are Adobe's interactive tutorials, which offer step-by-step instructions on completing various tasks in app.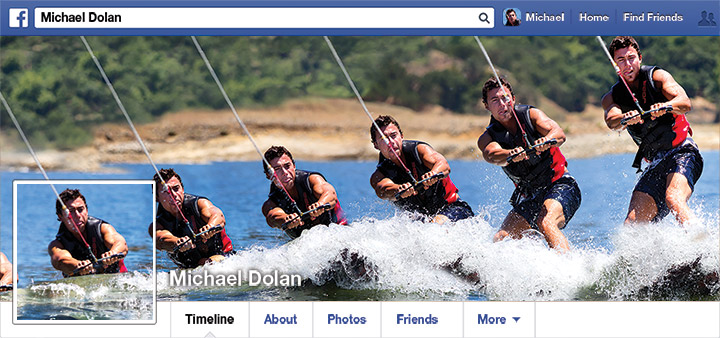 Photoshop Elements 13
also gains new Effects Variations, offering extra options for each existing effect to give users up to 50 filters that can be applied with a click, and there are impressive new cropping tools that include crop suggestions. The Intelligent Crop Suggestions tool analyzes faces and photo composition to select the four best crops for a particular image.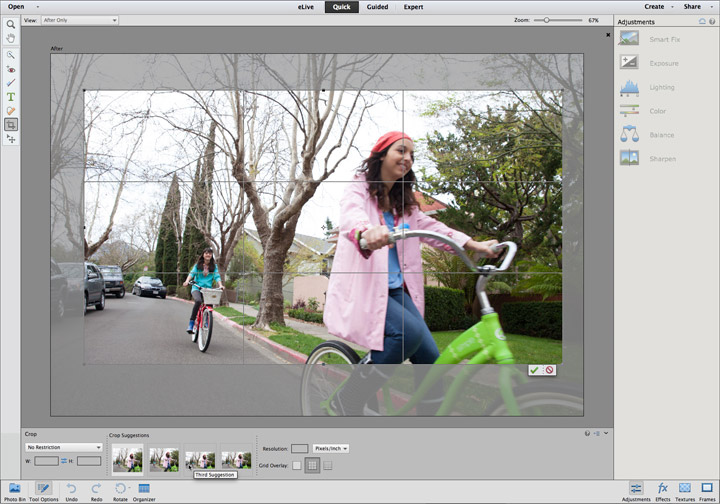 Premiere Elements 13
, Adobe's video editing software, introduces new tools to minimize the time that users spend editing their footage. Favorite Moments can be used to mark the best spots in a video, which can then be automatically assembled into a short movie, and Video Story assembles various clips, adds in transitions, music, and applies a theme for a particular occasion like a birthday party. Simple themed slideshows can also be created.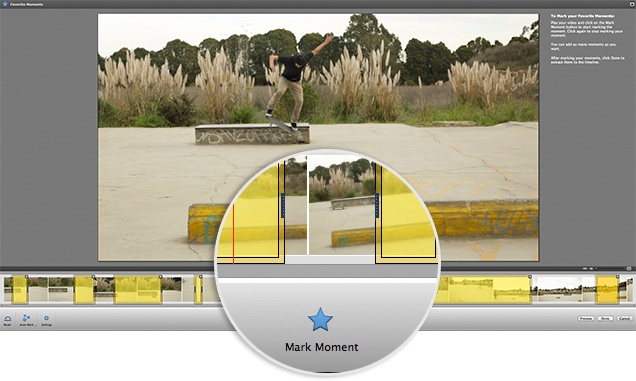 Premiere Elements 13
offers improved shake stabilization to improve the look of videos shot with hand-held devices like smartphones, and there are new Guided Edits to help users add motion to movie titles and improve dramatic effects in one area of a scene using masking techniques.
Elements Live, available in both Photoshop and Premiere 13, includes content curated by Adobe, tips, tricks, and tutorials. It also lets users see what other people are using the software to create.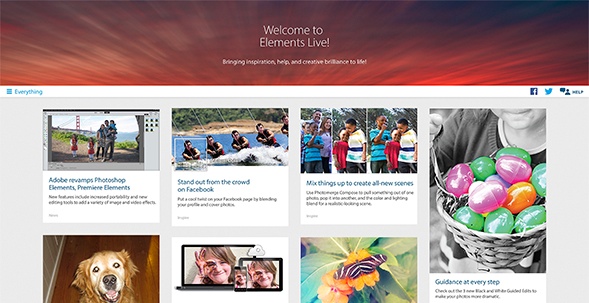 Both
Photoshop Elements 13
and
Premiere Elements 13
for Mac and Windows can be purchased separately on
Adobe's website
for $99.99 each, with bundles available for $149.99. Existing users can upgrade for $79.99 or $119.99 for the bundle.
Apple has begun rolling out a new print ad on the back of magazines like
Rolling Stone
showing off how big the new iPhone 6 and iPhone 6 Plus are compared to older iPhone models, as
noticed
by
The Mac Observer
.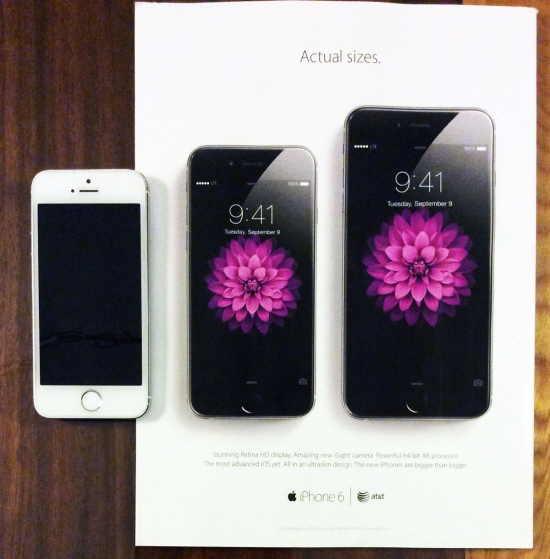 The ad simply depicts both of the new iPhones at actual size with the tagline "Actual Sizes", and could likely tempt users of older iPhones to compare their current model to the new ones to see the size differences between the phones. Below the iPhones, the ad includes copy that briefly talks about the new features of the phones.
Stunning Retina HD display. Amazing new iSight camera. Powerful 64-bit A8 processor. The most advanced iOS yet. All in an ultraslim design. The new iPhones are bigger than bigger.
Apple has made the larger sizes of the new iPhones one of the cornerstones of its marketing for them, also
debuting a TV ad
starring Jimmy Fallon and Justin Timberlake that talks about how "huge" the new phones are.
Apple may have acquired Prss, a Dutch-based company that created a web app aimed to help people design magazines for Apple's Newsstand and other magazine platforms, reports
iCulture
[
Google Translation
]. While there is no solid proof of the acquisition at this point,
iCulture
suggests that an inside source has revealed the purchase and Prss co-founder
Michel Elings
recently moved to the Bay Area.
The Dutch magazine platform Prss was acquired by Apple for an undisclosed amount. This discovery iCulture thanks to a knowledgeable source. This source confirms that several employees of Prss now employed by Apple.

Several other former Prss employees are also now located in the Bay Area according to their LinkedIn profiles, suggesting an acquisition might have taken place in the summer months. Prss announced in April that it would be shutting down in July, and the Prss website is now non-functional.
Prss was known for creating a browser-based collaborative tool that could be used to design magazines for Apple's Newsstand. The tool
included
a simple drag-and-drop interface and let up to 30 people collaborate on a project, with the team charging 5 cents per magazine download for published content.
iCulture
is unsure what role the Prss team will take on at Apple, but suggests the acquisition might have been about talent rather than product. As noted by the site, however, Apple could adopt Prss's publishing platform, making it much simpler for people to publish iPad magazines.
Update:
Apple has confirmed the purchase of Prss, giving
TechCrunch
its standard acquisition statement: "Apple buys smaller technology companies from time to time, and we generally do not discuss our purpose or plans."

Apple's former retail chief Ron Johnson is planning to launch a "high-end, on-demand delivery service for gadgets, reports
The Information
's Jessica Lessin. The startup has
reportedly
been described as "Best Buy's Geek Squad meets Apple's Genius Bar."
MacRumors
has heard similar rumors about Johnson's startup plans, with a source suggesting he's been attempting to recruit former and current Apple employees, including
Jerry McDougal
, who once served as Apple's vice president of retail under Johnson.
Before leaving Apple, Johnson worked at the company for more than 10 years. He's largely credited with transforming the Apple retail experience and setting the company on a path towards rapid retail growth. In 2011, Johnson
left the company
to take over as CEO of J.C. Penney, a position that he held for just two years.
Following Johnson's departure, Apple's retail division was left in flux, with no successor named.
John Browett
, formerly CEO of Dixons Retail, took over as head of retail at Apple in 2012, but he was ousted
later that same year
. Apple remained without a retail chief until the hiring of Angela Ahrendts, former Burberry CEO, who officially
joined the company
in May 2014.

Apple might be planning to unveil both its revamped music subscription service and its new branding alongside the upcoming 2015 Grammy Awards, reports
Re/code
, citing some "industry scuttlebutt."
When will Apple show off the new version of its subscription service and its new brand? Here's a guess backed up by some industry scuttlebutt: February -- presumably timed to the Grammy Awards, which will be held Feb. 8.
News of an upcoming rebrand first surfaced yesterday, after
TechCrunch
reported that Apple would be shutting down Beats Music. An Apple representative quickly refuted the claim saying it was "not true."
Re/code
went on to suggest that while Apple won't be shuttering Beats Music, the company may have plans to "modify it over time," changing the brand name.
Apple first acquired Beats Music back in May, and at the time, announced plans to leave the service untouched. There were no plans to integrate Beats Music into iTunes, with the company suggesting the streaming music service would remain as a standalone product. Beats Music was largely seen as Apple's answer to popular services like Spotify, aimed at improving declining music sales.
In recent weeks, Apple has made quite an effort to promote Beats Music, adding it to the list of "
Apps Made by Apple
" and recommending the app to new iOS users. Apple also added a
Beats Music channel to the Apple TV
last week alongside the release of iOS 8.
Thus far, there is no word on what Apple is planning for Beats Music, but a source at
TechCrunch
has suggested that Apple might roll the streaming music functionality into iTunes.
Apple today added the FXNOW channel to the Apple TV, providing users with content from the FXNOW network. Previously
rumored
in July, the new FXNOW channel is the on-demand portion of the FX, FXX, and FXM television channels, all of which are owned by the Fox Entertainment Group.

Rumors suggested the FXNOW Apple TV channel would include content from
The Simpsons
, branded Simpsons World, which includes all 552 episodes of
The Simpsons
. Early reports on the channel suggested users would be able to create playlists of episodes and share favorite scenes. Currently, however, the channel offers a variety of content from FX, including episodes of
The Strain
and
Sons of Anarchy
.

Like many cable-based channels on the Apple TV, much of the FXNOW content require cable authentication. Supported cable providers for the FXNOW channel include AT&T, Cablevision, Comcast, Cox, and Time-Warner.

As it routinely does for new devices, IHS iSuppli has taken apart the iPhone 6 and iPhone 6 Plus in an effort to estimate Apple's costs for the components included in the new devices,
sharing the results with Re/code
. According to IHS iSuppli's teardowns, parts and labor costs for the iPhone 6 are estimated to begin at $200 for the 16 GB iPhone 6 model, giving Apple a roughly 69 percent gross profit margin on the devices.
That number of course does not take into account an array of other costs, from research and development to software to marketing and distribution, but it does offer an interesting glimpse at what goes into an iPhone.
The margins are in line with more recent iPhone models but higher than the earliest ones. The gross margin on the iPhone 5, released in 2012, and the iPhone 5s, released last year, were about 69 percent, teardown studies at the time of their release showed. On the lower-priced iPhone 5c, also released in 2012, the gross margin was closer to 68 percent. By comparison, the gross margin on the very first iPhone, released in 2007, was closer to 55 percent.
Apple does earn slightly higher margins on higher-capacity iPhone 6 models, as the 128 GB of storage is estimated to cost $47 more than the base 16 GB storage while the device retails for $200 more.
The iPhone 6 Plus is also a higher-margin item for Apple, with IHS iSuppli estimating the device costs just $16 more to produce than the corresponding iPhone 6 models, with roughly half of that difference coming from the display and the remainder presumably related to the rear camera module with optical image stabilization, a larger battery, and other minor differences.
Another interesting observation from IHS iSuppli is that Samsung does indeed remain involved in production of the main A-series processor for the iPhone.
Early teardowns
had shown the iPhone 6 and 6 Plus using A8 chips manufactured by TSMC for the first time, but IHS iSuppli says TSMC is providing 60 percent of A8 chips while Samsung is handling the remaining 40 percent.

Earlier this month, it was reported that Apple was
preparing to seed carrier partners
with iOS 8.0.1 even before the media event officially announcing launch dates for iOS 8 and the iPhone 6 and 6 Plus. Details on the update were unknown at the time, but we noted that we'd seen a significant uptick in activity from devices running iOS 8.0.1 in recent weeks.
Web traffic from devices running iOS 8.0.1 on Apple's networks peaked around the time of Apple's media event before tailing off a bit, but Apple does indeed appear to have provided the update to carrier partners and
MacRumors
has received word from a source that the updates addresses several bugs present in the iOS 8 golden master version released to the public last week. Among the issues:
- Phone: Addresses bugs with call forwarding and freezing when accessing visual voicemail
- Keyboard: Fixes an issue with keypad not appearing to enter iCloud Keychain verification codes
- Safari: Fixes a problem with videos occasionally not playing
- Sharing: Fixes AirDrop support for Passbook passes
- VPN: Addresses an issue with installing VPN profiles
Beyond the documented fixes, iOS 8.0.1 will undoubtedly fix a number of other early users have been experiencing although it will likely still be several more minor updates before most of them can be addressed. A release date for iOS 8.0.1 is not yet known, but it could appear fairly soon given that it is already in the hands of partners for testing and approval.
As highlighted in a few reports
shared in the MacRumors forums
, a small but growing number of iPhone 6 Plus owners have reportedly bent their phones after carrying the devices in their pockets just days after launch. In
one instance
, a new iPhone 6 Plus was bent during a day of dancing, dining, and driving to a wedding.

Photo by hanzoh
Yesterday, I left at 10am with the iPhone in my left FRONT pocket of my suit pants. I drove 4 hours to a wedding, which also involved a lot of sitting during dinner etc but also 2-3 hours of dancing. I left at 2am and went to bed, driving home 4 hours back.

So in total, the 6 Plus was about 18 hours in my pocket while sitting mostly.

As I lay it on the coffee table and sat down on the couch to relax from the drive (yes, sitting again ), I saw the reflection of the window in the iPhones slightly distorted.
This potential for bending is of course not unique to the iPhone 6 Plus, with reports of bent
iPhone 5
and
5s handsets
surfacing in the past few years. As iPhones get thinner and larger, however, storage of the handset in a pocket becomes riskier. Unlike smaller phones that can slide out of the way, pressure points from sitting or bending now have greater potential to cause the longer iPhone to flex in a way that will damage the device.

Photo by DevinPitcher
To prevent bending, iPhone 6 Plus owners may want to remove their iPhones from their pockets before sitting or bending. If a pocket is unavoidable, then customers may want to place their device in a roomier pocket that allows the device to slide out the way. A rigid case may also provide protection from flexing or bending, as well damage from dropping the device.
Roughly a week after its initial release,
iOS 8
is now installed on 46% of devices connected to the App Store, according to the latest numbers posted on
Apple's App Store developer support page
(via
iClarified
). The numbers also indicate that 49% of users are using iOS 7 while 5% of users are on older versions of iOS.

Earlier this month, Apple's analytics
indicated
that 92% of devices connected to the App Store were using iOS 7, while 7% were using iOS 6 and 1% were on earlier versions of the mobile operating system. In December 2013, iOS 7 usage was at
74 percent
, which jumped to
78 percent
later that month. In
late January
, iOS 7 usage was at 80% and then scaled to
85% in March
.
iOS 8 was released last Tuesday and brought several new features like Continuity, third-party keyboards, interactive notifications and more. However, a number of users have
experienced a variety of problems
with the operating system's initial release, including irregular battery drain, slow Wi-Fi, app crashes, and more.
Apple today debuted two brand new ads called "Huge" and "Cameras", focusing on the larger sizes of the iPhone 6 and iPhone 6 Plus and all of the new features of the highly praised new camera in both devices. Both ads
once again
feature Jimmy Fallon and Justin Timberlake having some banter.
The first ad, "Huge", has Fallon and Timberlake talking about how big the new phones are. While Fallon points out "huge" new features like the Health app while Timberlake repeatedly points out how the phones are literally "huge".
The second ad, "Cameras", has the duo talking about the camera features like time lapse, 240 frames per second slow-motion video and image stabilization for video while using their voices to vocally represent what each app does.
The ads are the third and fourth in a new series of ads starring Fallon and Timberlake. Earlier today, Apple
announced
that the company sold 10 million iPhone 6 models over the weekend.
Apple has plans to
introduce
the next-generation iPad Air in October, according to Taiwan's
Commercial Times
[
Google Translate
]. The site says the updated tablet will enter production in September, shipping next month.
Commercial Times
also suggests that the next-generation Retina iPad mini might not launch alongside the iPad Air, coming instead in early 2015, with the 12.9-inch iPad Pro to follow in the second quarter of 2015.

Physical mockup of the second-generation iPad Air
While the rumor suggesting the 12.9-inch iPad Pro will be coming in the second quarter of 2015 is in line with previous rumors, there has been no prior indication that second-generation iPad Air and the next-generation Retina iPad mini will see separate launch timelines.
Previous rumors have indicated that both the Retina iPad mini and the iPad Air 2 will be
introduced simultaneously at an event in October
. Recently, a rumor suggested the two tablets could be introduced at an
October 21 media event
, but that prediction was quickly shot down by
The Loop
's Jim Dalrymple. Dalrymple did not, however, rule out an event at another date in October, so an October unveil of the two tablets remains likely. According to recent report from
Bloomberg
, the iPad Air 2 is in production and the Retina iPad mini 2 is entering production soon.
Both the next-generation iPad Air and Retina iPad mini are expected to gain updated A8 processors,
camera improvements
, and the
Touch ID fingerprint sensor
first introduced with the iPhone 5s. Apple's iPad Air 2 may also gain an
anti-reflective screen coating
and it may also ship in gold, silver, and space gray, much like the iPhone.