Apple has launched a
new page
on its iTunes Store allowing users to donate to
City of Hope
, which is a non-profit charity focusing on medical research and treatment for cancer, diabetes, and other conditions. The page can be accessed through the desktop iTunes Store as well as the iTunes and App Store apps on iOS, with options for $5, $10, $25, $50, $100, and $200 donations available.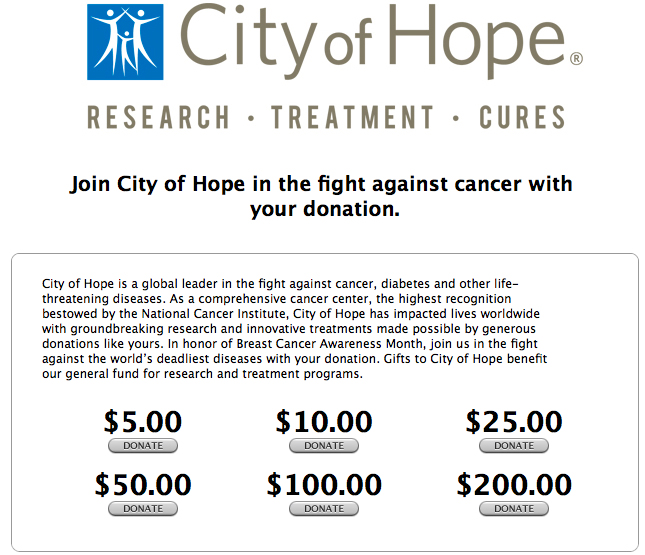 Apple will transfer 100% of each donation to City of Hope, as all donations will be billed to an iTunes account. With Apple currently holding
800 million iTunes accounts
, the company has a large customer base that can take part in the donation program.
Apple has conducted similar donation campaigns throughout the past few years, which include programs for
Super Typhoon Haiyan relief efforts in 2013
,
Superstorm Sandy relief in 2012
,
Japanese earthquake and tsunami relief in 2011
, and
Haitian earthquake relief efforts in 2010
.
Hours after Apple
released
a candidate golden master version of OS X Yosemite to developers and members of the public beta, the Cupertino company has begun
asking developers
to begin submitting their Yosemite apps to the Mac App Store. Additionally, developers can now submit their apps written in Swift to the Mac App Store as well.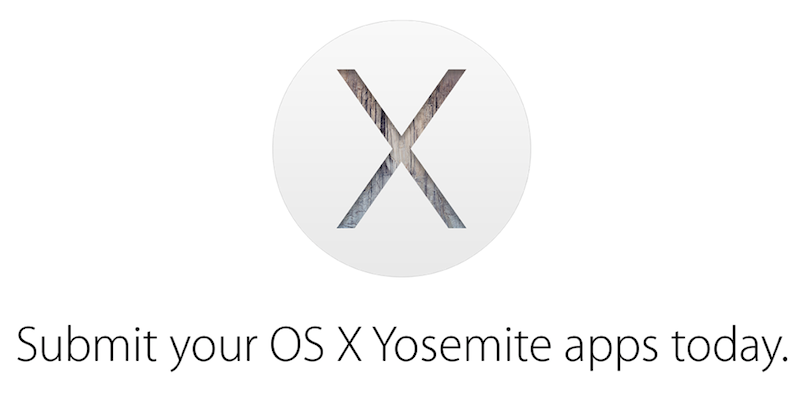 Make sure your apps take advantage of all the great new features in OS X Yosemite, which will be available to millions of customers around the world later this fall.

Add powerful new functionality throughout OS X Yosemite with app extensions, explore the innovative new Swift programming language, and take advantage of advances in game technologies, Safari, iCloud, and more. To prepare your apps for the Mac App Store, download and build with the OS X Yosemite GM candidate and Xcode 6.1 GM seed from the Mac Dev Center. With the latest releases, Swift is now final and you can submit your Mac apps written with Swift to the Mac App Store.
The public release of the new OS is expected in late October and will include a redesigned interface and new features like Continuity, iCloud Drive and more.
Thanks Justin!
Apple is planning to offer its new 9.7-inch iPad, which has thus far been known as the iPad Air 2 unofficially, in a gold color choice in addition to the already available silver and space gray variations,
reports
Bloomberg
. The new option would bring the iPad up to color parity with its iPhone models, which have been offered in three colors since last year's iPhone 5s.

New versions of the company's 9.7-inch iPads, anticipated to be unveiled this month, will include gold as a choice of color for the rear metal cover, adding to the silver and gray available for the lighter iPad Air, the people said, asking not to be identified ahead of an announcement. That brings the color palette into line with the iPhone 5s, which come with silver or gold backs for models with a white faceplate, and space gray for those with a black front.
Bloomberg's
sources indicate that the new color choice may be an attempt to boost iPad sales, which dropped slightly in the past year. CEO Tim Cook previously said the iPad sales dip was a "
speed bump
".
In early September, KGI Securities analyst Ming-Chi Kuo
predicted
that Apple would announce an iPad Air 2 with a gold option amongst other features like an anti-reflective display and the Touch ID Home button.
Microsoft today
unveiled
its next-generation Windows operating system, Windows 10, previewing the OS at an event in San Francisco focused on its corporate users. Like Windows 8, Windows 10 utilizes live tiles, but it also draws in design elements from Windows 7 to make it more appealing to users who have thus far opted not to upgrade to Windows 8.
The Start menu and taskbar, interface elements that are familiar to all Windows users, are placed front and center in Windows 10 in an effort to make the OS "familiar, compatible, and productive,"
according to
Microsoft's head of operating systems Terry Myerson.
While Apple has managed to get the bulk of its user base to update to the newest version of OS X on a regular basis, Microsoft has had less success in recent years.
As of April
, 49 percent of Windows users continued to use Windows 7 (introduced in 2009), while 28 percent continued to use Windows XP, an operating system more than 12 years old. Windows 8 and 8.1 were installed on just 11 percent of devices in April. In a
press release
, Microsoft outlines some of the specific features that are coming to Windows 10:
Expanded Start menu. The familiar Start menu is back, providing quick one-click access to the functions and files that people use most, and it includes a new space to personalize with favorite apps, programs, people and websites.

Apps that run in a window. Apps from the Windows Store now open in the same format that desktop programs do. They can be resized and moved around, and have title bars at the top allowing users to maximize, minimize and close with a click.

Snap enhancements. Working in multiple apps at once is easier and more intuitive with snap improvements. A new quadrant layout allows up to four apps to be snapped on the same screen. Windows will also show other apps and programs running for additional snapping, and it will even make smart suggestions on filling available screen space with other open apps.

New Task view button. The new Task view button on the task bar enables one view for all open apps and files, allowing for quick switching and one-touch access to any desktop created.

Multiple desktops. Instead of too many apps and files overlapping on a single desktop, it's easy to create and switch between distinct desktops for different purposes and projects — whether for work or personal use.
In addition to introducing some familiar Windows 7 features into Windows 10, Microsoft is also hoping to focus on personalization, creating a Windows experience that is customized to each individual user's preferences. Windows 10, like Windows 8, will run on a wide range of devices, including both PCs and tablets, with "a tailored experience for each device."
Windows 10 adapts to the devices customers are using — from Xbox to PCs and phones to tablets and tiny gadgets — and what they're doing with a consistent, familiar and compatible experience, enabling even greater productivity. Windows 10 will run across the broadest range of devices ever from the Internet of Things to enterprise datacenters worldwide.
Many of the details on Windows 10 remain unknown at the time being, as the software is in the early development stages. Microsoft is aiming for a public release in the fall of 2015.
On Wednesday, Microsoft will launch a
Windows Insider Program
that will provide beta testers with a technical preview of Windows 10 for laptops and desktops, with access on other devices coming later. With the program, Microsoft is hoping to make the development of Windows 10 the "largest-ever open collaborative development effort."
Apple and PayPal
were in talks
that would potentially have seen PayPal becoming a "preferred payment process" for Apple Pay, reports
Bank Innovation
, but those talks ended abruptly after PayPal inked a deal with Samsung to allow users to make PayPal payments with the Galaxy S5's fingerprint sensor.
Apple was reportedly so annoyed with the partnership between the two companies that it ended talks with PayPal and even went so far as to
exclude PayPal
from Apple Pay all together, not listing it as an acceptable payment platform in its developer documentation.

But while these talks were going on, PayPal went ahead and partnered with Samsung on the Galaxy S5 fingerprint scanner, a move that was reportedly forced onto PayPal by eBay CEO John Donahoe. PayPal's now-former president David Marcus was purportedly categorically against the Samsung deal, knowing that it would jeopardize PayPal's relationship with Apple. Donahoe won the day, however.
Apple and PayPal appear to be in somewhat of a dispute following the introduction of Apple Pay and PayPal's exclusion, with the latter company recently
launching an ad campaign
that subtly attacks Apple and Apple Pay.
In the advertisement, PayPal alluded to the recent hacking of celebrity iCloud accounts and suggested PayPal was the safer platform for transferring money. Without a deal between the two companies, PayPal is facing significant competition from Apple Pay.
In addition to allowing users to make purchases in retail stores with their phones, Apple Pay also lets users buy items in support apps using a debit or credit card connected with an iTunes account. PayPal works in a very similar way, letting users attach a credit or debit card and then make purchases through the service, alleviating the need to enter credit card details.
Apple has plans to launch Apple Pay in the coming weeks, through an update to iOS 8.
Pebble is dealing with the threat of Apple's upcoming Apple Watch by making jokes about the enthusiasm Apple employees have shown for the device. On
its website
, Pebble has a graphic of a gleeful Pebble, which says "Chill." Above that, are the words "Breathe, Jony. It's just a watch."
Further down, Pebble advertises the seven day battery life of its smart watches. "Why measure battery life in days? 'Cuz we can." This is a reference to the poor battery life seen in other smart watches, including Samsung's Galaxy Gear and the Moto 360, both of which last less than a day before requiring a charge.

Though Apple has not announced battery life of the Apple Watch, rumors have suggested that it will
last for about a day
, requiring nightly charging. It is likely, however, that the company is continuing to make tweaks to improve battery as much as it can, which is why no specific information on battery has been released.
Pebble also touts its customizability and its relatively low cost while poking a bit of fun at some of Apple's Apple Watch statements. "Overpriced trophy watch wasn't on our to-do list," reads the site. "Pebble is made by real people, for real people keeping it real," it says, wrapping up with the following statement: "Just to recap, we made a watch. We didn't solve global warming."
In addition to highlighting the capabilities of the product with sly references to the Apple Watch, Pebble has also announced plans to cut the prices of both the Pebble and the Pebble Steel. The standard Pebble watch now retails for $99, while the more recently introduced Pebble Steel retails for $199. Both options are quite a bit more affordable than the Apple Watch, which is said to start at a price of $349.
Pebble has also
introduced
new health and fitness capabilities for Pebble devices. Following an update, Pebble users are now able to track activity non-stop and monitor their sleep habits. Additionally, Pebble watches will be available in more retail locations, including Sam's Club, Fry's Electronics, and more.
Back in April 2013, it was announced that Apple had agreed to a
$53 million settlement
in a class action lawsuit involving iPhone and iPod touch units that may have been improperly denied warranty coverage due to liquid damage indicators having been triggered in the devices.
The settlement, which covers iPhones denied warranty coverage on or before December 31, 2009 and iPod touches denied coverage on or before June 30, 2010, stems from Apple's use of triggered liquid damage indicators as sufficient reason for denying warranty coverage. Given the timeframe for the issue, the settlement is limited to iPhone 3GS and earlier and third-generation iPod touch and earlier models.
With the indicators' manufacturer, 3M, acknowledging the indicators could be at least partially triggered by humidity and not necessarily direct liquid contact, some owners pursued a case against Apple for improperly denying warranty coverage. Apple did later
adjust its procedures
to require additional visual inspection for liquid damage on devices where the indicators had been triggered, but for those who had already paid out of pocket to replace their devices, the case continued.

As outlined on the
settlement home page
, administrators finally began sending out settlement checks to eligible claimants last week, and a number of
MacRumors
readers have reported
receiving
their checks over the past few days.
Owners of several different iPhone models have reported receiving checks for $251.55, with some reporting amounts as high as $300 while others have received smaller amounts for affected iPod touch units. Users receiving checks have until January 21 to cash or deposit them.
Apple today released a candidate golden master version of OS X Yosemite to developers, just over two weeks after releasing the
eighth Developer Preview
alongside the third public beta of the upcoming Mac operating system.
The latest update for developers, which arrives as Build 14A379a, can be downloaded from the Mac App Store and through Apple's Mac Dev Center. Apple has also released Xcode 6.1 GM seed and a new version of OS X Server 4.0 developer preview.

OS X Yosemite brings a flatter, more modern look to OS X, with an emphasis on translucency and redesigned dock, windows, and more. It also includes a multitude of new features, such as improved integration with iOS 8 through Continuity, a new "Today" view in Notification Center that offers integration with third-party apps, a retooled Spotlight search with new data sources, and several new features for apps like Mail, Safari, and Messages.

Over the course of the beta testing period, each Developer Preview has added new features and refined the look and performance of OS X Yosemite, although changes have become less obvious in more recent builds as Apple begins finalizing Yosemite ahead of its public release, which is expected in late October.
The current build may or may not be a final version of OS X Yosemite, depending on the outcome of final testing. As an example, Apple last year seeded its planned golden master build to developers on
October 3
, although it did release a
second golden master version
a few weeks later just ahead of the public release on October 22.
Update 11:07 AM
: Apple has also
released
the fourth public beta of OS X Yosemite, which carries a
slightly different build number
of 14A379b compared to the golden master candidate build distributed to developers.
Update 11:54 AM
: Both the developer and public beta releases
include the fix
for the "Shellshock" bash security flaw. Apple
released fixes
for OS X Mavericks, Mountain Lion, and Lion yesterday.

Apple is reportedly finalizing the details on its upcoming Apple Watch as it prepares to begin mass production of the device ahead of its launch early next year. Mass production of the smartwatch device may begin January 2015, reports Taiwanese news source
AppleDaily
(via
G For Games
).
According to the news report, Apple is working only with long-time manufacturing partner Quanta to produce the device. This contradicts an earlier report suggesting Quanta would be handling the bulk of the production with Inventec supplementing the supply.
Quanta has allegedly received Apple's heads-up and has begun making preparations (which involve increasing its worker head count to 4 million). Even more, it is said that Apple and Quanta have entered a deal which prohibits the Taiwanese company from manufacturing/assembling smartwatches for Apple's rival OEMs.
Inventec was among several assembly companies said to be vying for Apple Watch orders months ago, but Quanta may have won an exclusive arrangement due to the complexity associated with manufacturing the device.
Apple says its Watch is unlike any device it has ever made, with cutting edge sensor and haptic feedback technologies. Given the advanced features of the device, it's not surprising Apple has selected to work with only one manufacturer as it streamlines the production process, as others may have been unable to meet Apple's standards.
Relatively reliable KGI Securities analyst Ming-Chi Kuo had previously reported that Apple was planning a
November production ramp
for the Apple Watch, so a shift to January could indicate Apple believes it needs a bit more time to finalize the product's design.
Apple is expected to begin selling the Watch starting in early 2015, with one insider saying Apple would be "lucky" to launch it in time for Valentine's Day on February 14. A production ramp beginning in January would indeed make it difficult for Apple to have significant quantities available in time for Valentine's Day purchases. The smartwatch will retail at a starting price of $349 for the base model, with several collections including 18-karat gold luxury options available at higher prices.
Smart energy company
Velvetwire
today
announced
Powerslayer Blu, the latest addition to its Powerslayer lineup of USB chargers. This new model offers Bluetooth low energy (BLE) connectivity and is compatible with Apple's HomeKit technology rolling out with iOS 8. Apple's vision for HomeKit is to make it easy for developers to allow users to control and interact with accessories around the home, leveraging BLE for energy-efficient communications.

"We are proud to be among the first group of companies to produce HomeKit-compatible devices," said Eric Bodnar, co-founder and CEO at Velvetwire. "By integrating Bluetooth technology into the Powerslayer, we're offering customers a new way to interact with their devices and be part of Apple's HomeKit. Velvetwire is committed to developing intelligent, energy-efficient devices that allow users to live more consciously without sacrificing convenience. We look forward to sharing Powerslayer Blu and future generations of our power-saving devices with the world."
The Powerslayer Blu improves upon earlier Powerslayer models with HomeKit integration and iOS app support that gathers information from the charger using Bluetooth LE. Users can receive notifications about the charging status of their devices and view energy level information via Velvetwire's iOS app. The device also includes the option to switch between a fast, high-power charging profile and an energy conservation mode that maximizes battery life.
The Powerslayer Blu will be available before the end of the year and will retail for $89. While the price tag is likely to be a hurdle for many potential customers, Powerslayer Blu serves as a good example of the potential of HomeKit to use iOS as a hub for bringing together devices from around the home.
Samsung will supply Apple with displays for the second-generation
iPad Air
and the 12.9-inch 'iPad Pro' starting later this year, reports Korean-news outlet
inews24
(via
Digitimes
). The Korean company will begin manufacturing the displays in the coming months, as the panels are said to feature IPS technology similar to Apple's current line of iPads.

Physical mockup of the second-generation iPad Air
If the report is legitimate, it is likely that Apple will have a steady supply of panels for its first batch of iPad Air 2 units, which may
launch in time
for the upcoming holiday shopping season. Some reports have also claimed that the 12.9-inch iPad Pro could be
released in early 2015
, which may lead to Samsung becoming the top supplier of displays for the new tablet if other suppliers are unable to meet Apple's demands.

Rendering of a 12.9-inch iPad next to a 13-inch MacBook Air
Apple has been attempting to reduce its reliance on Samsung as a component supplier due to tensions between the two companies as they have become top competitors in the mobile device market. However, Samsung's technological advantages and production capacity as a display supplier have proven valuable to Apple over the years, as the Korean company even
became Apple's top iPad display supplier in Q1 2014
.
The iPad Air 2 is rumored to feature a
slightly thinner body
, a faster A8 processor,
2GB of RAM
,
support for Apple Pay, and a Touch ID fingerprint sensor
. Meanwhile, the 12.9-inch iPad Pro is said to include a
more powerful A8X processor
to power its larger, high-resolution display.

The European Commission today announced the results of its formal investigation into Apple's tax arrangements in Ireland, accusing the company of receiving illegal state aid from the country,
reports
The Wall Street Journal.
In its findings, the regulatory body stated that deals between Apple and Ireland struck in 1991 and 2007 helped Irish authorities "confer a selective advantage upon Apple" that resulted in a lowering of its tax liability. The Commission also added that Apple's increase in sales for its business in Ireland appear to be inconsistent when related to comparable operating costs that would come with growth. Furthermore, the Commission notes that there was a reported increase in "sales income" by 415%, but states that most of the profit-generating work was done elsewhere.
Accordingly, the Commission's of the opinion that through those rulings the Irish authorities confer an advantage on Apple. That advantage is obtained every year and on-going, when the annual tax liability is agreed upon by the tax authorities in view of that ruling.
Apple's tax policies have been questioned on numerous occasions throughout the past few years, as the company is said to utilize
multiple subsidiary companies
located in the Irish city of Cork to move money around
without significant tax penalties
. This in due in part to an exemption in the region's law, which allows companies that are managed abroad but located in Ireland to be exempt from taxes. CEO Tim Cook
defended
the company's tax practices in 2013, calling for a
tax reform
and simplified corporate tax policies along with lower rates for repatriation.
Apple and the Irish government will now have one month to respond to the findings published in the Commission's reports, as the case will likely take up to 18 months to reach a conclusion. In addition to its findings regarding Apple and Ireland, the European Commission also announced that it is investigating state aid cases involving coffee company Starbucks and car maker Fiat and their arrangements with the Netherlands and Luxembourg, respectively.
Note: Due to the political nature of the discussion regarding this topic, the discussion thread is located in our
Politics, Religion, Social Issues
forum. All forum members and site visitors are welcome to read and follow the thread, but posting is limited to forum members with at least 100 posts.