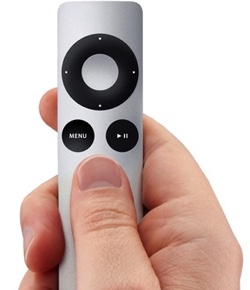 In a report corroborating several oft-rumored features of the
next-generation Apple TV
, including an A8 chip and a native SDK for creating apps,
TechCrunch
editor-in-chief Matthew Panzarino has revealed that the set-top box will also have a motion sensitive remote control with multi-axis sensors, a touchpad on the top, physical buttons on the bottom and a microphone for Siri.
Panzarino claims the
redesigned remote control
will likely be targeted at casual gamers:
A game controller with a microphone, physical buttons, a touchpad and motion sensitive controls would be extremely capable. While Apple is likely going to target the broad casual gaming market, I would not be shocked to see innovative gameplay blossom from that type of input possibility. Think, for instance, of multi-player gaming with several people using voice input, or many popular genres of party games that would do far better on the TV than on an iPad or iPhone.
A new Apple TV with an App Store and easy-to-use controller could lure a significant number of casual gamers away from competing platforms such as Nintendo, in the same way that smartphones have undermined other handheld gaming devices. Coupled with on-demand movies and TV shows,
home automation
and a
streaming TV service
, the new Apple TV could dominate the living room.
Almost instantaneously, the Apple TV will no longer be Apple's "hobby" product.
If Apple did indeed 'delay' the Apple TV from being released at WWDC, then it probably had a reason. And, if my sources are correct, that reason could well be polish, polish, polish. The experience of using it is said to blow away the types of junky smart TV interfaces we've had to deal with so far. This is the first real Apple TV product.
Apple is expected to announce the new Apple TV at its
September 9th media event
.
MacRumors
has learned that British electronics retailer
Currys
, which co-brands some locations as Currys and PC World, has added the Apple Watch to its internal inventory system as it gears up to begin selling the wrist-worn device.
Currys and PC World has a large presence throughout the United Kingdom and Ireland, with a combined 295 superstores and 73 high street stores in both countries. It remains unclear how many of those locations will be carrying the Apple Watch.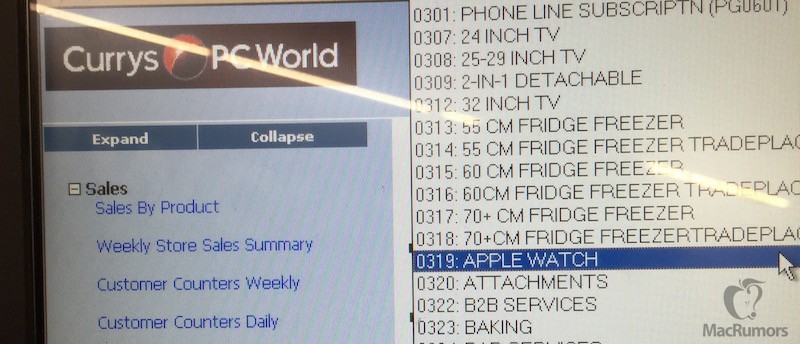 When searching for the Apple Watch on the Currys website, a banner informs customers that the device is "currently not available at Currys and PC World" and advertises a range of smartwatches from Sony, Motorola, LG, Pebble and others.

Apple has been expanding Apple Watch availability beyond Apple Stores over the past few months.
Best Buy in the U.S.
began selling the Apple Watch in early August, followed by
Best Buy in Canada
,
Harvey Norman
and
Myer
in Australia and
Fnac in France
.
Related Roundups:
Apple Watch,
watchOS 2
Tags:
United Kingdom,
Currys,
PC World
Buyer's Guide:
Apple Watch (Neutral)
Following a closer look at Intel's upcoming
Skylake processor lineup
for the
MacBook Air
,
CPU World
has shared new details about sixth-generation Core M chips appropriate for the 12-inch Retina MacBook. Intel reportedly may brand the low-power Skylake-Y chips as Core m3, Core m5 and Core m7 based on performance.

The low-end Core m3 6Y30 has a 900 MHz dual-core processor with Turbo Boost up to 2.2 GHz. The chip has 4MB of L3 cache, HD 515 graphics, a maximum GPU frequency of 850 MHz and 4.5 watt thermal design power (TDP). This chip would likely be suited for the base model 12-inch MacBook sold for $1,299.
The mid-tier Core m5 6Y54 and Core m5 6Y57 are similar chips with 1.1 GHz dual-core processors and Turbo Boost up to 2.7 GHz and 2.8 GHz respectively, 4MB of L3 cache, HD 515 graphics, a maximum GPU frequency of 900 MHz and 4.5 watt TDP. These chips would likely be suited for the high-end stock model 12-inch MacBook sold for $1,599.
The high-end Core m5 6Y75 is a 1.2 GHz dual-core processor with Turbo Boost up to 3.1 GHz, 4MB of L3 cache, HD 515 graphics, a maximum GPU frequency of 1 GHz and 4.5 watt TDP. This chip would be suited for the top of the line 12-inch MacBook model that carries a $150 premium over systems with the high-end stock chip.

CPU World
shared further details about the processor specifications, noting that Core M chips can be run at 7 watts to allow for higher CPU clock speeds. Apple boosted the 900 MHz
5Y31 chip
to 1.1 GHz, 1.1 GHz
5Y51 chip
to 1.2 GHz and 1.2 GHz
5Y71 chip
to 1.3 GHz for the current 12-inch MacBook lineup.
All chips have up to 2 SATA 6Gb/s ports, 10 lanes of PCI-Express interface, 6 USB2/USB3 ports and eMMC 5.0 interface. They support USB OTG and Rapid Storage Technology 14. The Core m microprocessors work with DDR3L-1600 and LPDDR3-1866 memory, and they are rated at 4.5 watt TDP and 3 watt SDP. They can also run at higher 7 watt TDP if needed.
Last month, a
leaked Intel slide deck
revealed that "Y" series Skylake processors appropriate for the 12-inch Retina MacBook will have up to 17% faster CPU performance, up to 41% faster Intel HD graphics and up to 1.4 hours longer battery life compared to current-generation Core M architecture.
Intel's sixth-generation Core M processors are expected to launch next month, possibly at the IFA Berlin trade show this September 4-9.
Related Roundup:
Retina MacBook
Tags:
Intel,
Skylake
Buyer's Guide:
MacBook (Neutral)
iHome's
iSP5 SmartPlug
is one of the first five HomeKit-compatible devices
on the market
, and it's the most affordable option for Apple users who are looking to try out the company's home automation platform. The SmartPlug is a simple device that plugs right into any outlet, transforming any appliance - from lights to fans - into an iPhone-controlled Siri-compatible smart product using WiFi.
We tested out three of iHome's SmartPlugs, simulating what it might be like to control lights and fans across multiple rooms to turn an ordinary home with ordinary outlets into a smart home with a reasonable monetary investment and a bit of time.

As with the Elgato Eve review
I did earlier this summer
, using the iHome SmartPlugs makes it clear that there are still
a lot
of issues that need to be resolved with HomeKit and Apple's HomeKit partner companies, but at the $40 price point, I can recommend the SmartPlug to anyone curious about HomeKit who has the patience to deal with bugs that can range from minor inconveniences to frustrations that make you want to toss your SmartPlug across the room in anger.
Hardware Overview
The iSP5 SmartPlug is a no-frills device that plugs into any outlet within the home to transform it into a WiFi-connected outlet. Each SmartPlug connects individually to a home's WiFi network, so a central bridge is not required. SmartPlugs are rectangular in shape and fairly compact -- small enough that two can be plugged in next to each other in a single 120v wall outlet.

Setting up the SmartPlugs is as simple as plugging them in and downloading the
iHome Control
app. From there, a WiFi network needs to be confirmed within the app and the HomeKit code supplied with each SmartPlug needs to be entered to register the devices with HomeKit and an iCloud account.
Click here to read rest of article...
Apple Music senior director and former Beats Music CEO Ian Rogers has resigned from Apple nearly two months after the launch of the streaming music service, the company confirmed to the
Financial Times
today.

Rogers was among a group of executives that joined Apple last year when the iPhone maker
acquired Beats for $3 billion
. Rogers's official title was Senior Director of Apple Music, a position he held since August 2014, according to his
LinkedIn profile
.
Rogers, who served as Beats Music CEO between January 2013 and August 2014, departed Apple to join an undisclosed "Europe-based company in an unrelated industry" on the west coast. He is credited for hiring Beats 1 DJ Zane Lowe, who worked at BBC Radio 1 from 2002 to 2015.
Beats 1 is a 24/7 streaming radio station built into Apple Music, featuring a mix of the latest music and guest appearances from artists such as Drake, Dr. Dre, The Weeknd, Eminem, Pharrell Williams and others.
As
predicted in August
, Apple is planning to hold a media event on Wednesday, September 9 at the Bill Graham Civic Auditorium in San Francisco, California. Media invites were sent out today, with
Yahoo's Alyssa Bereznak
sharing the first look at the artwork and tagline for the invitations: "Hey Siri, give us a hint."

Image via The Loop
This year's iPhone-centric event is expected to see the debut of the next-generation iPhone 6s and iPhone 6s Plus, which, according to rumors, will include a reinforced body constructed from stronger 7000 Series aluminum, Force Touch, an A9 processor, 2GB RAM, and an improved camera.
Rumors have also suggested Apple will use the event to unveil the next-generation Apple TV, a major update from the existing set-top box. It will include a redesigned chassis with an A8 processor, more storage space, and a touch-based remote control, along with a new software system that includes Siri support and a full App Store.
We'll also get an update on the launch dates of iOS 9 and watchOS 2, and shortly after the event ends, we may see golden master software releases for the two software updates ahead of their final public launch.
In line with past events, the September 9 iPhone unveiling will begin at 10:00 a.m. Pacific Time. Apple has not yet confirmed whether the event will be live streamed on its website and through the Apple TV, but it is likely details on a live stream will be announced a few days ahead of the event.
Update
: Siri itself is also getting in on the festivities with some witty responses.

Update 2:
Apple will be
live streaming
the media event on the web for Mac, iPhone, iPad, Apple TV and PC users.
MacRumors
recently learned that Apple's
One to One
training program for Mac, iPhone and iPad may be
coming to an end soon
, and we can now confirm that Apple Stores are holding meetings with retail employees about phasing out the membership-based service, which has been available under its current name since May 2007. One to One members should be informed about the changes in the near future.

Apple is retiring One to One to focus on free public workshops such as Mac Basics, Personalize Your Mac, iPhone and iPad Basics, iCloud Basics and iPhone Photography. Group Training and Open Training will be discontinued immediately, while Personal Training will remain available for customers that recently purchased One to One until their membership expires, according to sources.
One to One costs $99 per year and provides customers that purchase a Mac with individualized tutoring sessions from Apple retail employees related to Getting Started With Your Mac, Getting Started With Your iPhone, Getting Started With Your iPad, iCloud, Mail Contacts & Calendars, iPhoto, GarageBand, iMovie, iTunes, Pages, Keynote, Numbers, Aperture, Final Cut Pro, Motion and Logic Pro.
Update:
One to One will be retired on September 28th per an internal memo obtained by
9to5Mac
.
A new feature of the upcoming "iPhone 6s" and "iPhone 6s Plus" will be a collection of improved animated wallpapers for the smartphones' lock screen, according to a few sources speaking with
9to5Mac
. The designs of the wallpapers will be similar to the "Motion" watch faces seen on the Apple Watch, with the suggested hint that each animation will dynamically change and animate every time the user wakes their phone to interact with it.

The new themes will range from fish in a koi pond to different color smoke clouds, the latter of which are suggested as becoming animated versions of the
static backgrounds
that got added in an iOS 9 beta update earlier in the month. The same sources do warn the feature could have been dropped at the last second, but a questionable leaked photo of a purported iPhone 6s Plus box -- which does in fact
showcase a koi pond-like fish image
-- could point to the feature's inclusion in the new line of iPhones.
Apple introduced dynamic wallpapers in iOS 7, but the options were limited, with one theme stretching over seven different color choices. Today's report suggests the company could be going into as
deep and obsessive detail
of capturing unique and interesting lock screen images as it did for the Apple Watch. Including a few in-depth
photos
and
videos
shared with us, news and rumors surrounding the next-generation of iPhone have begun pointing towards a
September 9 media reveal
for the devices, with a launch a week-and-a-half later on September 18.
Following our look at a
partially functioning "iPhone 6s"
built from parts earlier this week, we're now getting some more details on the iPhone 6s display assembly itself. While the part has been seen in a
few leaks
over the past several weeks, a source has now provided us with some new information and high-quality photos of the part.

Display assemblies from iPhone 6 (left) and iPhone 6s (right)
Numerous rumors have pointed toward the iPhone 6s including support for Force Touch, which will allow the device to sense how hard the user is pressing on the screen and present different interface options or functionality based on the amount of pressure. We've yet to see confirmation that such functionality is present in these display assemblies that have been circulating, but there are some tantalizing differences from the corresponding iPhone 6 part.

Top portion of iPhone 6s display assembly with unknown chip
The first is a small rectangular chip visible on the rear of the display. It has been seen in all leaked parts seen so far, and its function remains unconfirmed, but our source suspects it is indeed related to Force Touch. The chip is visible due to a cutout in the metal shielding behind the display.
Click here to read rest of article...
The latest data from market research firm
IDC
estimates Apple Watch sales totaled 3.6 million worldwide in the second quarter of 2015, making it the second most popular wearable device during the three-month period ending June 30. Apple was within striking distance of market leader Fitbit, which sold an estimated 4.4 million fitness trackers in the second quarter.

IDC estimates that Chinese electronics maker Xiaomi trailed in third place with 3.1 million wearables shipped in the quarter, representing 17.1% market share. Garmin and Samsung rounded off the top five with 700,000 (3.9%) and 600,000 (3.3%) wearables shipped respectively, while all other vendors accounted for a combined 5.7 million shipments and 31.5% market share.

Last month, Strategy Analytics estimated
4 million Apple Watch sales
in the second quarter, so IDC's estimate is within close range. Apple has not disclosed Apple Watch sales numbers since it launched in April, instead grouping the wrist-worn device with iPod, Apple TV and Beats Electronics accessories under an "Other Products" category in quarterly earnings reports.
Apple CEO Tim Cook vaguely mentioned that Apple Watch sales have "
exceeded expectations
" during an earnings call last month.
Related Roundups:
Apple Watch,
watchOS 2
Tags:
Samsung,
IDC,
Fitbit,
Xiaomi
Buyer's Guide:
Apple Watch (Neutral)
A new photo obtained by
cnBeta 
[
Google Translate
] (via
Mac Otakara
[
Google Translate
]) allegedly shows off what appears to be the packaging of the upcoming iPhone 6s Plus. The photo depicts a standard white iPhone box, similar to what Apple has used as packaging for previous phones.

The box is unfolded and has what appears to be a gold iPhone 6s Plus on the front, a gold Apple logo on the bottom and "iPhone 6s Plus" written on the side. The "S" is within a small square, as is standard on iPhone "S" packaging. The box also shows off what looks to be a brand new wallpaper featuring a black and gold fish or flower.
Additionally,
cnBeta
says that the iPhone 6s' battery capacity will be down to 1715 mAh from the iPhone 6's 1800 mAh, while the iPhone 6s Plus will be down to 2750 mAh from the iPhone 6 Plus' 2910 mAh.
Mac Otakara
says they've also heard the battery capacity for both models will be lower, lining up with
earlier rumors
that the battery capacity in the phones would be smaller. If true, it likely indicates Apple has increased the battery efficiency of both "S" phone models in order to make up for the smaller battery capacity.
However, it's unclear how authentic the photos of the iPhone 6s Plus packaging are. The material of the box appears to be a thinner material than current iPhone packaging and displays an unfamiliar wallpaper that has not appeared in any iOS 9 betas thus far.
Apple is expected to announce both the iPhone 6s and iPhone 6s Plus at a September 9 event. The Cupertino company is also
expected to finally unveil
its new Apple TV with a new touch-based remote and full App Store. New rumors
indicate
the event could be held at the Bill Graham Civic Auditorium in San Francisco.
Related Roundups:
iPhone 6,
iPhone 6s (2015)
Tag:
cnBeta.com
Buyer's Guide:
iPhone (Don't Buy)
Earlier this week, there was some speculation that Apple might be planning to hold its upcoming September 9 iPhone event
at the Bill Graham Civic Auditorium in San Francisco
, and now there are new details that further hint towards Apple's involvement with the site.
Beginning on Monday, SFPD officers and private security guards began patrolling the grounds at the auditorium, prompting San Francisco news site
Hoodline
to do some digging into what was going on. It turned out the auditorium was booked for a "trade show" set to run from September 4 until September 10, but because it was registered to a company called "Adams and Associates," nothing linked the booking back to Apple.

A police officer outside the auditorium, via Hoodline
Hoodline
now reports that a "trusted source" has confirmed the Bill Graham Civic Auditorium will indeed be used for Apple's September iPhone event.
Our source, who wished to remain anonymous due to the extreme privacy surrounding the event, has shown us documentation from event logistics indicating that Apple is renting the building through September 12th. This timing is consistent with what we were told by a security guard on Monday.
Hoodline
has also unearthed information on planned street closures that heavily lines up with the timeline when we expect Apple to hold its event. One street will be shut down from 6 p.m. on September 8th until 11:59 on September 10th, while another will be closed on Wednesday, September 9 between 4 a.m. and 11:59 p.m.
The mysteriousness surrounding the booking at the auditorium combined with the information obtained by
Hoodline
and the upcoming street closures all seems to point towards Apple, but there continues to be no concrete evidence Apple has rented the site for its iPhone event.
In an interview with
SFGate
, the project director for the Civic Center said he had no knowledge of what the building was being used for, while a spokeswoman for the Planning Department said the "trade show" information was all department was told.
"I'm even the landlord of the building, and they won't tell me," said Rob Reiter, project director for the Civic Center. "I've never seen anything like it before, but I'm just a guy in the basement," he said of his office in the bowels of City Hall.
As was shared on Monday, the San Francisco Planning Department is involved because four window panels are set to be removed to accommodate an "exterior wall mounted star graphic sign," which may be a placeholder for an Apple logo.

In past years, Apple's iPhone-centric September events have been held at a variety of locations around the Bay Area, so it would not be a surprise to see the company hold its event at the Bill Graham Civic Auditorium. With just two weeks to go until Apple's September 9 event, it won't be long before the company's plans are unveiled. Media invites for the event will most likely be going out soon, confirming the event location.
(Thanks, Tom!)