OS X El Capitan Now Available
One of the key features of the new Apple TV set to launch later this month is universal search, which allows users to find content across a number of different services using text entry or, in some countries, Siri voice search. Universal search will work across iTunes, Netflix, Hulu, HBO, and Showtime at launch, but it was initially unclear whether the feature would be expanded to include additional content sources over time.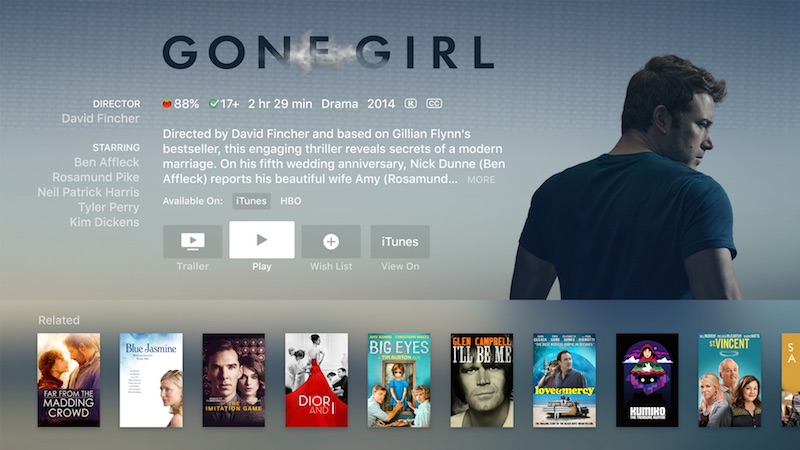 In a
follow-up story
on his
interview
with Tim Cook last month,
BuzzFeed
's John Paczkowski relates some additional details on Apple TV shared by Cook, including word that developers will indeed be able to make their content available to universal search via an API.
"At launch we'll have iTunes, Netflix, Hulu, Showtime, and HBO — so we'll have five major inputs into universal search initially," Cook said. "But we're also opening an API, so that others can join in."

And Apple's confident that they will do just that. "I think that many, many people will want to be in that search," Cook said. "And that's great for users. Think about your experience today. Even if you're fortunate enough to have the content you want to watch in an app, you sometimes don't remember exactly where that show is, so you're going to Netflix or Hulu or Showtime. You shouldn't have to do that. It should be very simple."
Cook went on to note that universal search will be intelligent enough to know which services the user is subscribed to, highlighting which sources are available free or with existing subscriptions. This is true even when different services offer only a portion of a television series' seasons, such as a show where older seasons are available through Netflix with an existing subscription but newer seasons may need to be purchased through iTunes or through a new HBO subscription.
Apple has purchased
VocalIQ
, a startup located in the United Kingdom that has developed a natural language API to allow computers and people to have a more natural dialogue, reports
Financial Times
. According to VocalIQ's website, the company has developed a self-learning dialogue API built on 10 years of natural language research, belief tracking, decision making, and message generation.
It's not always clear how Apple uses the technology from companies that it purchases, but with this acquisition, it's likely Apple will use the API to improve its voice-based personal assistant, Siri.
Financial Times
also believes Apple could use the technology for its upcoming car project, as VocalIQ specialized in in-car applications among other things.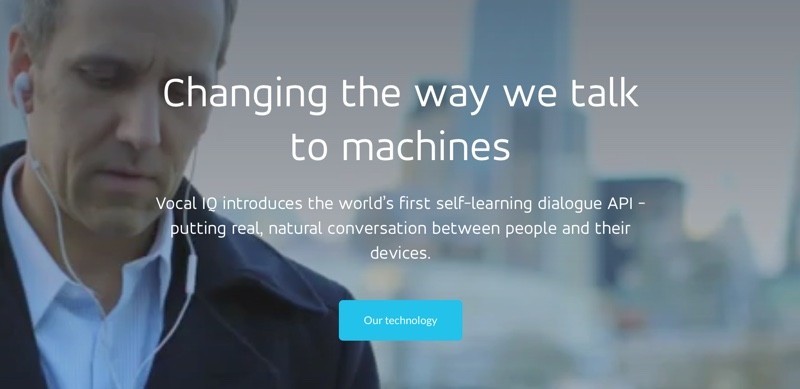 While VocalIQ's speech processing and machine learning technology could be incorporated into devices from wearables to the connected home, the company was particularly focused on in-car applications. This included a collaboration with General Motors.

In a blog earlier this year, VocalIQ described how a "conversational voice-dialog system" in a car's navigation system could prevent drivers from becoming distracted by looking at screens. Its "self- learning" technology allows "real conversation between human and the internet of things", VocalIQ wrote.
VocalIQ has criticized Siri in
a past blog post
, calling the virtual assistant a "toy" unable to understand context. The difference between VocalIQ's system and traditional speech-recognition services like Siri and Cortana is its ability to learn.
The reason for this state of affairs is that while Apple, Google and the some others have mastered how the use machine learning for speech-recognition, they are still stuck with medieval approach when it comes of conversational voice dialog. They are still using pre-programmed flow-chart based response that don't learn.

The consumer demand for a self-learning multi-domain conversational voice system where consumers can freely talk about movies, restaurants, music, hotel bookings and the meaning of life, is huge and undeniable. The first one to meet that demand will rule the smartphone and wearables market for the next decade.
Apple confirmed its purchase of VocalIQ with its usual statement: "Apple buys smaller technology companies from time to time, and we generally do not discuss our purpose or plans."
Apple's fourth-generation Apple TV includes support for a full App Store, making it possible for developers to create games and apps for the device for the first time. A platform like the Apple TV seems well-suited to multiplayer games, but it appears the new Apple TV will only support two Bluetooth controllers at once and three Bluetooth-connected devices total.
Our sister site
TouchArcade
got in touch with several developers who have Apple TV Dev Kits to test the limits of multiplayer gameplay on the devices, and these developers found they were only able to connect two controllers in addition to the Apple Remote control.

That means that at the current time, the Apple TV supports a total of three players for local gameplay using controllers, which will likely be the preferred method of control for games like first person shooters and platformers. Attempting to connect more than two controllers causes one of the first connected controllers to disconnect, and multiple Made for iPhone (MFi) controllers were tested by various developers.
Well, this is a bit of a bummer. We just got word from one of the developers who were lucky enough to win the Apple TV dev kit lottery (Who we're not naming because we don't want to cause more Apple TV NDA drama!) who raced out and bought a ton of MFi controllers with the hopes of making a 8 player party game.

These hopes were quickly dashed as they realized that the new Apple TV will only connect to two external Bluetooth devices at once, along with the included remote.
The limitations on Bluetooth-connected devices do not extend to the iPhone, which can also be used as a controller in multiplayer games. Implementing iPhone control methods is tricker than simple MFi controller support, however, as it requires developers to build custom iPhone support into apps.
All tvOS games and apps are
required to include touch-based controls
for the Siri remote, so most titles should work with simple iPhone controls, but many gamers may prefer using MFi controllers. Apple's decision to force developers to build games around touch support has not been a popular one, as it limits games to very basic control schemes.
Apple may be planning to expand the number of controllers supported by the Apple TV ahead of its October launch, but for now, it looks like the device will only support two controllers simultaneously, further limiting the gaming capabilities of the Apple TV.
Originally tested in an
iOS 9 public beta
back in August, AT&T ultimately held back on a wide public release for Wi-Fi calling due to its decision to wait for an FCC waiver that would temporarily relieve the carrier of needing to offer support options for deaf and hard-of-hearing people. The Federal Communications Commission's rules state that all calling services need support for a teletypewriter (TTY) service for the deaf, but AT&T wants the old-fashioned TTY replaced with real-time text (RTT) support instead.
Both TTY and RTT offer support for the deaf and hard-of-hearing to conduct non-voice conversations, but AT&T's RTT service wouldn't be ready until 2016, leading to the carrier's request for a temporary waiver from needing to implement TTY support until then. Yesterday, AT&T
resubmitted its request
for such a waiver to get its Wi-Fi calling service off the ground, simultaneously calling out Sprint and T-Mobile for deciding to move forward with similar services without supporting the FCC's rules (via
Fierce Wireless
).

The company stated that the original launch date for Wi-Fi calling was set to be September 25, alongside the launch of the iPhone 6s and iPhone 6s Plus, but without the proper waiver from the Federal Communications Commission, the carrier decided to hold off on the launch of the service for now.
"This past Friday, September 25, was the date on which AT&T intended to introduce Wi-Fi calling services in competition with other competitors in the market, namely T-Mobile and Sprint," AT&T wrote in its filing. "Those carriers have been offering Wi-Fi calling services for a significant period of time, well over a year on Android devices and for months on iOS devices.

Neither of those carriers has approached the FCC to request a waiver of the TTY rules. Because the commission has not granted AT&T's waiver petition, we are not in a position to provide Wi-Fi calling services to our customers even while our competitors provide those services in defiance of the commission's rules."
Wi-Fi calling was
introduced into the iOS ecosystem
with iOS 8 and lets calls be placed over Wi-Fi instead of a cellular network so users can take advantage of a potentially faster Wi-Fi signal when their carrier's connection strength is particularly weak. Since the feature was
made available
in the iOS 9 public beta, a limited number of AT&T subscribers have been able to test out Wi-Fi calling on their iPhones despite AT&T's delay of the full rollout.
Related Roundup:
iPhone 6s
Tags:
AT&T,
Wi-Fi calling
Buyer's Guide:
iPhone (Buy Now)
Popular retailer Target this morning
announced
that the Apple Watch would begin arriving at some of its stores this week, with a plan to have the wearable device available at all of its United States retail locations by October 25. Customers who are interested in buying the device online on Target's website can do so beginning October 18. The move sees Target gearing up for the holiday season, calling Apple's wearable "one of the season's hottest gift items."

The retailer says it will carry a total of 20 models of the Apple Watch, in both 38mm and 42mm sizes, specifically noting the availability of space gray and rose gold color options. "Select models and bands" will be available for customers at Target's physical locations, but the company notes that an "expanded assortment" of Apple Watch and Apple Watch Sport will be found online. Prices are said to range from $349 to $599, so undoubtedly customers can expect the aluminum and stainless steel options of the Apple Watch at Target stores.
In the beginning, Apple Watch was available exclusively at Apple's own retail and online storefronts -- and some select
high-end boutiques
-- but now the company has begun expanding the device's reach and availability for customers. In August,
Best Buy
began selling the wearable, along with some first- and third-party Apple Watch accessories, followed by an expansion into
department stores in the United Kingdom
, and then the physical locations of
carriers like T-Mobile and Sprint
.
Since the iPhone 6s and 6s Plus have been available on September 25, many users have begun
reporting
that their 6s or 6s Plus will randomly turn itself off completely, even when it's left unattended and with sufficient battery power. It's unknown what causes the shut off, but some users have also reported their home button feels warm to the touch when trying to revive their phones.

Users on
Reddit
, the Apple
support communities
and the
MacRumors
forums
 have experienced the issue. While 6s and 6s Plus users have seen the majority of incidents, some iPhone 6 users have also reported the issue, indicating that iOS 9 may the root of the problem.
After the issue turns off the phone, the only way to turn the phone back on is to hold the power and home button down for 10 seconds, forcing the phone to restart.
MacRumors
' forum users have been
organizing
around the issue, creating a poll to see how many people are affected and gathering data (model number, OS and actions before shut down) to send to Apple's engineering team.
Thus far, the
data collected
indicates that no specific action causes the shutdown. Additionally, iPhone 6s users and iOS 9.0.1 users appear to be the most affected by the bug.
Users experiencing the issue can contribute to the data pool in this
MacRumors
'
forum thread
.
Just days after Apple
updated and expanded
its privacy site to explain how it handles personal information, CEO Tim Cook
sat down
with
NPR's
Robert Siegel to talk about how the Cupertino company protects user data and when and where it uses that information.

Image via NPR
Cook starts off by noting that Apple designs its products with privacy in mind after being asked about government data requests. Apple wants the user to control the data and who gets to see or use it.
However, we design our products in such a way that privacy is designed into the product. And security is designed in. And so if you think about it ... some of our most personal data is on the phone: our financial data, our health information, our conversations with our friends and family and co-workers. And so instead of us taking that data into Apple, we've kept data on the phone and it's encrypted by you. You control it.
The Apple CEO goes on to address his thoughts on a "back door" that allows government agencies access to user data in an effort to pursue national security. Cook notes that if you leave an open door for the good guys in your product, there's an opportunity for the bad guys to find and use the open door. He believes that everyone, including government agencies, are coming around to the idea that a "back door" is a nonstarter and that encryption "is a must in today's world."
When asked whether Apple's emphasis on privacy is a dig to competitors like Google or whether it would exist if Apple wasn't a hardware company, Cook maintains that Apple's views on privacy are born out of the company's values.
Our values are that we do think that people have a right to privacy. And that our customers are not our products. We don't collect a lot of your data and understand every detail about your life. That's just not the business that we are in.
Cook also talked about how Apple uses user data, noting that he believes its fine for the company to know your purchasing history in iTunes or the App Store to recommend music and apps to customers. However, Cook draws the line at sharing data between apps, saying that he doesn't believe the News app should know what music you buy, or whether the content of your emails should be used to sell a different product.
This marks the third major occurrence in which the Apple CEO has addressed the company's stance on user privacy this summer. Two weeks ago, Cook spoke about
privacy concerns
regarding the new "Hey Siri" feature in the iPhone 6s during a ride to Apple's flagship 5th Avenue location in Manhattan. In June, Cook
spoke
about the importance of encryption and privacy at the Champions of Freedom event in Washington.
The entire interview can be listened to
at NPR's website
.
A
growing number of AT&T subscribers
on the
MacRumors
forums appear to be having issues downloading apps and streaming music over LTE, with some claiming AT&T is throttling App Store downloads and Apple Music content.
When connected to Wi-Fi, users report that apps download normally, but over LTE, app downloads do not progress. Other users are reporting issues streaming content from the Apple Music app, with songs that start and then hang. As described by
MacRumors
reader
Blizaine
:
I have three different iOS devices. Two are running iOS 9.0.1 and one is running iOS 8.4.1. When they are connected to wifi, apps download fine. When on LTE, the app just sits there and the progress bar does not move, even after a very long period of time. When I run a speed test over LTE, I'm getting a solid 10-15Mbps down (3-4 bars).

Also, i have a VPN configured on one of the iOS 9.0.1 devices and when I enable the VPN over LTE, apps download fine. One of the devices also uses a different iTunes account. I supposed it could be a regional problem. I'm in Indianapolis Indiana, USA. I've tried toggling the Download over Cellular option off and on and I've reset the network settings on one device and even did a factory reset on another, with no success.
Verizon and T-Mobile users do not appear to be experiencing any issues downloading content over LTE, suggesting the problem is limited to AT&T subscribers. Affected customers are using a range of iPhone and iPads, including the iPhone 4s, iPhone 6, iPhone 6s, and iPad Air 2.
One
MacRumors
reader contacted AT&T's Advanced Tech Support line and was told that this is an issue AT&T has been receiving multiple calls over. AT&T support claimed it was a problem related to iOS 9/iOS 9.0.1 that would be fixed with iOS 9.0.2, but yesterday's iOS 9.0.2 release does not seem to have fixed the problem for most users.
It is likely the trouble people are running into downloading apps and songs over LTE is a bug and not intentional throttling. Some users who are having trouble with downloads are also reporting slow speeds, pointing towards a possible network issue, but others say their LTE speeds are normal. The issue may also be limited to specific geographical areas, as there are some in California and Colorado that are not experiencing problems.
The problem seems to have begun over the past few days, and it does appear that AT&T is making an effort to fix it, with some users reporting intermittent success getting app downloads and Apple Music to work today.
Apple may be taking steps to protect the name "AirPods," based on recent trademark filings in a number of countries. While Apple itself is not directly linked to these applications, the pattern of filings is consistent with Apple's usual strategy and
MacRumors
believes Apple is indeed responsible for them.
A
trademark application for "AirPods"
was made in the United States on September 22 by a company called Entertainment in Flight, LLC, a Delaware firm housed at the Corporation Trust Center, a strategy Apple has used a number of times in the past to hide its trademark work. The company was created in early September and appears to have no visible operations other than last week's trademark filing.

We have been unable to find a concrete link between Apple and the AirPods trademark, but the evidence we've gathered is highly suggestive that Apple is indeed behind the filing. Assuming this is indeed the case, speculation then turns to the reasons why Apple is interested in the name.

The trademark filing in International Class 9 includes mention of audio accessories, earphones, microphones, wireless communication devices, and similar types of products, and with Apple already calling its existing line of earphones "EarPods" it seems reasonable to speculate the "AirPods" name could be intended for a wireless version of the company's earphones.
Audio components and accessories; sound recording and reproducing apparatus; digital video recorders and players; remote control apparatus; audio speakers; earphones, headphones; microphones; voice recording and recognition apparatus; radios, radio transmitters, and receivers; handheld digital electronic devices and software related thereto; wireless communication devices for voice, data or image transmission; electrical and electronic connectors, couplers, wires, cables, chargers, docks, docking stations, interfaces, and adapters for use with all of the aforesaid goods
Apple of course already offers several models of wireless earphones and headphones through its Beats brand, but Apple has so far kept the Beats hardware brand separate from its own and may prefer to offer a wireless earphone option under its own brand and styling.
Other circumstantial evidence pointing toward Apple being behind the filing includes:
- Citing a March trademark application in Jamaica as a priority date for the registration. Apple commonly files first in Jamaica to establish its claim on a trademark, as the country does not maintain an online trademark database, making it easier for Apple and other companies to hide such filings.
- Use of a Gmail account on contact information. Apple's shell companies almost always use Gmail addresses based on the companies' names for their filings, and this is the case with Entertainment in Flight.
- International trademark filings made by known Apple-associated law firms. Alongside the U.S. filing, Entertainment in Flight made similar filings in a number of other countries around the world, and in each case used the services of law firms previously used by Apple and other known Apple shell companies to handle the filings:
Locke Lord
in the European Union, Bryn Aaflot in Norway, Baker & McKenzie in Australia and
Canada
, and attorney
Pinar Arikan
in Turkey.
The European filing covers two additional classes of trademarks: Class 38 for "transmission of digital audio, video and multimedia content" and Class 41 for "entertainment services" such as non-downloadable media and reviews and recommendations of entertainment content.
Amazon plans to stop selling some streaming video devices that compete with its Fire TV and Fire TV Stick, reports
Bloomberg
. It will no longer offer Google's Chromecast or Apple's Apple TV for sale in its online store.

Amazon today sent an email to marketplace sellers notifying them of the upcoming change. The site plans to disallow new listings for the product and remove existing inventory on October 29. As a reason for the removal, Amazon is citing compatibility with its Prime Video streaming service, which is not available on devices from Google and Apple.
"Over the last three years, Prime Video has become an important part of Prime," Amazon said in the e-mail. "It's important that the streaming media players we sell interact well with Prime Video in order to avoid customer confusion."
Other set-top boxes and consoles, including those from Roku, Microsoft, and Playstation, do have apps that allow customers to stream Amazon Prime Video and thus won't be affected by the new ban.
For Apple customers, this means the new fourth-generation Apple TV will not be available for purchase via Amazon.com. It also suggests the device will not be gaining an Amazon video app and will continue to be incompatible with the Amazon Prime Video service.
Apple today seeded the second beta of OS X 10.11.1 El Capitan to public beta testers, just days after releasing the
second beta to developers
and a week and a half after
seeding the first public beta
. Today's second beta comes just after the
public launch of OS X El Capitan
.
The beta is available to those who are participating in Apple's Beta Testing program and can be downloaded through the Software Update mechanism in the Mac App Store.

The first beta of OS X 10.11.1 introduced support for Unicode 8 and new emoji like taco, burrito, cheese wedge, hot dog, middle finger, and unicorn head. The emoji are also included in iOS 9.1, which is also in testing.
Beyond new emoji, there have been no other outward-facing changes discovered, suggesting OS X 10.11.1 is a minor update that will bring bug fixes and performance enhancements. According to Apple's release notes, OS X 10.11.1 offers stability, compatibility, and security improvements.
Prior to the release of the iPhone 6s and iPhone 6s Plus, Eddy Cue sat down with
Evening Standard
to discuss a handful of topics, including the launch of the new smartphones, the impending end of the first wave of free trial users for Apple Music, and the issue of roaming charges on iPhone users traveling abroad.

Cue also addressed the topic of the
Apple Music Festival
, which ended its ten day run this week in London, calling the acts nabbed by Apple for the event "the best of the best" and pointing toward the "global" feel of the UK-based festival that would perhaps be lost in another city like New York or Los Angeles. When asked about his worry for the end of Apple Music's first set of three-month free trial users -- which were charged their $9.99 subscription fee on September 30 if choosing to stick around -- Cue remained expectedly optimistic.
However, with the first batch of free three-month trials expiring this week, is he worried about subscribers drastically falling? "Ultimately, you never know until it happens," he reasons. "But we're pleased with the number of people who have tried. Everybody gets fixated on the short term but we're in this for the long haul."
Although not allowed to discuss the iPhone 6s and iPhone 6s Plus in full detail during the pre-launch interview, Cue still walked
Evening Standard
through a few of the smartphone's new features, including the revamped version of Siri. Eventually, the Apple executive remarked on the topic of roaming data charges when traveling abroad, an issue
rumored to be worked on
by the company -- and later
denied
-- by launching its own mobile virtual network operator service in the United States and Europe.
He taps his phone and makes an offhand comment about "trying not to get roaming charges" while in London which, I note, proves how insanely expensive phone calls and data can be abroad. "It's sad, it's another problem," says Cue. "We're trying to fix it and we're making a little bit of progress but you've got to convince a lot of people." It sounds like an impossible task. But that, you would imagine, is where the famous flair will come in.
In the full interview, Cue also talks about new features of the iPhone 6s and iPhone 6s Plus like Live Photos and 3D Touch, also commenting on the topic of customers wanting to delete stock iOS apps, which CEO Tim Cook himself
touched on in September
. You can check out the full Evening Standard interview with Eddy Cue
here
.