Earlier today Samsung debuted a
new video
on its YouTube channel called "Designing Possible", detailing the design process of the brand new Galaxy S6 Edge (via
iMore
). However, the video bears a striking resemblance to Apple's
video
on how the company designed the gold Apple Watch Edition.
Both videos feature men with English accents talking about the design process of the companies' devices while showcasing the manufacturing processes. The two videos also share similar cinematography, with both of them including almost identical images of lined up components in a dark area as a light zooms over them. The intent for both ads also appears to be the same, making sure people understand the kind of thought and detail that goes into the design of these devices.
While both ads are similar in tone, intent and content, there are a few differences. Samsung's ad, for example, seems to be a little more focused on Samsung as a design company. Apple's ad, on the other hand, seems slightly more focused on the product. Additionally, Apple's Jony Ive speaks in the Apple ad while the voice in the Samsung ad sounds similar to British actor Richard Ayoade.
The ad does potentially signal a shift in Samsung's marketing strategy, which had largely focused on
attacking
Apple products and
poking fun
at its
customers
. The shift could be the result of Samsung devices losing key differentiators that the iPhone could not boast, like screen size, user-replaceable batteries and a waterproof design, with the new Galaxy S6 and S6 Edge. While Samsung hasn't been accused of copying Apple's ads in recent years, the Korean company has been accused of copying Apple in
other areas
.
iFixit has released
Apple Watch repair manuals
for various components of the device, including the
battery
,
screen
,
adhesive
, and
NFC antenna
. The guides provide step-by-step instructions on how to replace the Apple Watch's OLED display and battery, alongside additional steps for repairing the adhesive and NFC antenna that can be damaged as a result of opening the casing.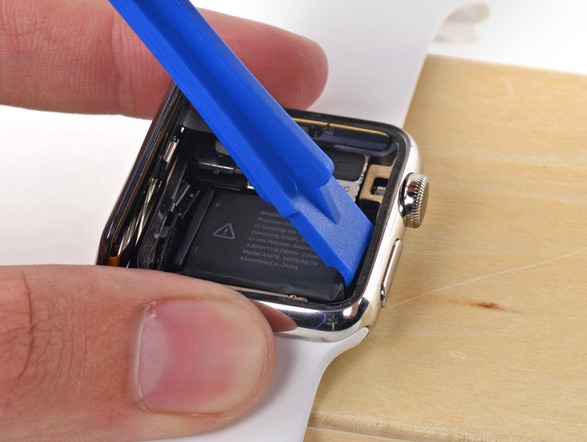 The steps required to replace the OLED display and fused glass digitizer, in simplified terms, include separating the screen from the watch body with a sharp, curved knife and opening pick, prying and removing the internal battery, disconnecting the display data and digitizer cables, and removing the screen. The steps to replace the battery are nearly identical.
Replacing the Apple Watch's adhesive involves laying the backed adhesive tape down on the NFC antenna, around the edge of the case where the screen rests, using a plastic opening tool to reconnect the display data and digitizer cable connectors, reinstalling the metal bracket, pressing the battery back into its position, and pressing the casing down firmly on the new adhesive.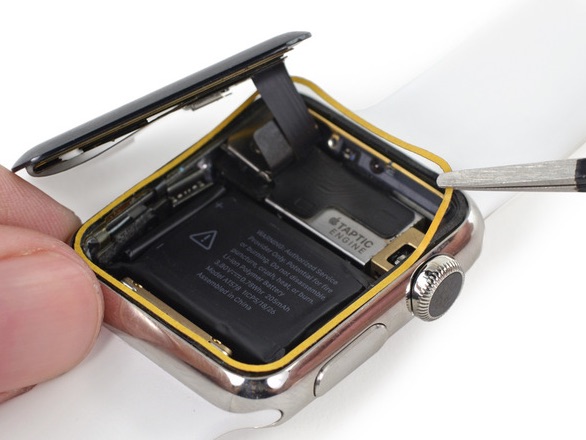 While many of the tools used in the repair guides are available for purchase, iFixit has not yet stocked the necessary Apple Watch replacement parts needed to make these repairs. Given that the Apple Watch has only been available for one week, it could be some time before the website makes replacement batteries, screens, adhesive and NFC antennas available through it online store.
Following a lull in rumors and news circulating Apple's so-called "iPad Pro", most likely due to the launch of the Apple Watch and reported
delays
in Apple's internal production timeline, a newly shared industrial rendering (via
nowhereelse.fr
) [
Google Translate
] of the device once again provides some claims of dimensions for the large-screened iPad.
The
industrial rendering
, dated December 2014, points to a 12.9-inch screen iPad Pro with dimensions measuring exactly 305.70mm x 222.60mm x 7.20mm, or 12 inches x 8.7 inches x 0.28 inches. These numbers line up closely with those seen in a previously purported
design drawings
for the device, although they are slightly larger than the earlier ones.
The latest rumor also supports the majority of sources so far pointing to a 12.9-inch display for the iPad Pro. A few sources have suggested it could carry a smaller
12.2-inch display
, but they are a small minority at this point.

Beyond dimensions, the industrial rendering does appear to support the four top- and bottom-based
speakers
mentioned in previous rumors, as well as the typical locations for the power button, headphone jack, Lightning port, and volume buttons. As with the iPad Air 2, this iPad Pro design appear to omit a mute switch in favor of a tiny microphone hole near the volume buttons.
Notably, the rendering does not include a port or other feature around the center of the left edge
as has been seen
in some previous case and mockup leaks. The exact identity of that feature is not clear, with suggestions it could be a SIM tray for cellular models, a second Lightning port for docking accessories in landscape orientation, or even a
USB-C port
.
Cases for the iPad Pro have begun
increasing in quality
recently, going from simple plastic molds to complex trifold designs with higher-quality materials, perhaps suggesting more confidence from manufacturers in these rumored designs and schematics.
Regarding its specs, the most recent rumors state the iPad Pro could have a triple-core A8X processor, 2 GB of RAM, and Touch ID, and possibly ship alongside a first-party
stylus accessory
of some sort. The latest rumblings suggest a production build-up in September with a launch perhaps coming in October alongside Apple's usual iPad lineup refresh.
Update 8:17 AM
: Unbox Therapy has shared a new video highlighting cases designed around the rumored iPad Pro design.
MacRumors is pleased to announce the
Sixth Annual MacRumors Blood Drive
, throughout the month of May 2015. Our goal every year is to increase the number of life-saving donations in real-world communities by encouraging everyone in our online community to step forward. While most blood drives are specific to a geographic location or collection center, our blood drive is online and worldwide. Our past blood drives have collectively recorded donations of over 250 units of blood and platelets.

Apple often supports
health, relief, and charity efforts, including facilitating cash donations after the recent
earthquake in Nepal
, but this drive is run by the staff and volunteers of MacRumors.
We ask that you:
1.
Donate
blood or platelets
at any donation center or hospital near you.
Join
the
bone marrow registry
in your country.
Sign up
for the
organ donor registry
in your state, province, or country.
2.
Post
in the
MacRumors 2015 Blood Drive!
forum thread. Tell us about your donation or registration experience. We'd like to thank you.
3.
Share
the news and our message with other people you know, online and in person. Convince one other person to donate blood in the month of May. Help us thank the donors who post about their experiences.
For details see the
MacRumors 2015 Blood Drive!
thread and our traditional
Honor Roll
of recognized donors.

Recent donation by a MacRumors forum member
Why donate blood or platelets? Why join the bone marrow registry? Why join the organ donor registry?
- Donated blood and platelets save the lives of people recovering from accidents, undergoing surgery, or struck by illness. These are people in your own neighborhoods who need your help. Donated blood and platelets are needed every 2 seconds, not just when hurricanes, earthquakes, and other disasters occur. An hour of your time could save up to 3 lives.
- With a simple cheek swab you are volunteering to donate stem cells or bone marrow if you match someone dying from a disease like leukemia. There are many thousands of people each year searching for donors to save their lives. You might be the one and only person who can save a particular patient's life.
- Thousands of people die every year while waiting for organ transplants. Your donation of organs when your own life ends could save the lives of as many as 8 people.
The lives you save may belong to your friends, neighbors, relatives, or complete strangers. Someday you may receive the same generosity from others. There's no gift more precious than the gift of life.
Do this today
1. If you are eligible to donate blood: Schedule a blood or platelet donation, in May if possible. Register for the bone marrow registry. Register as an organ donor. Find the details in our knowledge base articles:
Blood and Platelet Donation
and
Organ, Tissue, and Bone Marrow Donation
. We've added over 20 countries to these articles.
2. If you aren't eligible to donate blood: Check if you can still register for the bone marrow registry and register as an organ donor. You're welcome to discuss donor eligibility in our
Blood donor eligibility
forum thread.
3. Help our drive by thanking donors and convincing a friend or relative to donate blood.

While many customers have been receiving their Apple Watch pre-orders
earlier than expected
, all 42mm Apple Watch Sport and stainless steel Apple Watch models now have shipping estimates of July on the Apple Online Store in the United States for new orders. Apple Watch Edition shipping times have not changed.
Now that the calendar has turned to May, it is likely that Apple has simply bumped forward its original June estimates for 42mm models to July to remain conservative. Many pre-orders with initial shipping estimates of 4-6 weeks or later have already been shipped or delivered, as Apple appears to be making up ground on most models.
The only two Apple Watches that remain virtually nowhere to be seen are the 38mm and 42mm Space Black with Link Bracelet models, both of which remain available to ship in 4-6 weeks or later for most customers. Earlier this week, it was reported that a
Taptic Engine defect
may have contributed to Apple Watch supply constraints, but the issue was caught
before any units were shipped
to customers and has since been resolved.
After being put under multiple
torture
and
waterproof
tests in the week since its official launch on April 24, the Apple Watch this week faced some of its most hardcore trials yet from YouTuber Richard Ryan. Known as "
FullMag
" on YouTube, Ryan this week has put the Apple Watch Sport through a series of three destruction tests - Liquid Nitrogen, Hydrogen Explosion, and a 50-caliber bullet - on his technology destruction-focused channel (via
Cult of Mac
).
First posted on Monday, Ryan began his Apple Watch videos with a test focused on dropping the Sport version of the Watch into a container of liquid nitrogen and smashing the frozen wearable with a sledgehammer. As with most of Ryan's videos, the results are less about wondering if the Watch passed Ryan's tests, but more focusing on exactly how badly Apple's new wrist-worn device was destroyed.
One of Ryan's more elaborate experiments comes from the hydrogen explosion test posted on Tuesday, and also appears to be the least destructive of the trilogy of Apple Watch videos on the FullMag channel. The Apple Watch Sport at the end of the video appears relatively unharmed, but given that Ryan doesn't attempt to test the device's normal functions following the experiment, there's no telling what kind of damage was done to the wearable's basic functionality thanks to the acidic-based science experiment.
Most impressive is perhaps Ryan's most recent video, a short clip of the YouTuber shooting an Apple Watch Sport with a 50-calliber bullet. The resulting destruction is easily one of the most impressive, the cheaper Apple Watch getting cut nearly clean in half by the massive bullet shell. Ryan even promises that while the 50-caliber bullet will be the biggest firearm he sets his sights on to destroy the Watch, it won't be the last.
Ryan has performed less high-intensity tests on the Watch, according to
Cult of Mac
, but has yet to post them. The YouTuber found that from basic drop tests the stainless steel Watch "shattered" while the aluminum Sport was completely fine. Ryan's channel isn't focused solely on Apple products, however, with videos showcasing the destruction of everything from
Rolex watches
to destruction tests on other smartphones like the
Samsung Galaxy S6 Edge
.
With any new Apple product launch, there are always several issues that pop up in the days following release, and the Apple Watch is no exception. Thus far we've seen sensor issues with customers who have
dark wrist tattoos
and problems with
bands that don't lock
. It appears there's another minor problem Apple Watch users are encountering -- malfunctioning digital crowns. The
digital crown
is located on the side of the watch and is used as the primary input method on the Apple Watch, aside from touch.

A number of users on both the
MacRumors forums
and Apple's own
support communities
are reporting issues with the digital crown of the Apple Watch becoming stuck or difficult to turn. Some users have said the stickiness causes the crown to
feel stuck
for a moment before loosening when turned, while others say the digital crown feels consistently difficult to turn.
I'm experiencing light stickiness every time I go to turn the crown, but it smoothens out shortly after. And this repeats itself after the crown isn't touched for a few seconds. It wasn't like this on day one. Mine doesn't take considerable pressure to turn though, you just feel that it's sticky at first as if there was a bit too much friction.
On Apple's support communities, some users are speculating that the issue is perhaps caused by sweat getting into the digital crown resulting in crystallized particles that block movement, but there are reports of problems from users who have not used their devices while exercising. Many of the Apple Watches affected are the Sport model, but stainless steel Apple Watch owners have also reported issues.
Several users have taken their Apple Watches in to be assessed by Apple employees and
were told
that the stickiness of the digital crown is not normal.
Well started experiencing same issue with my sport. Bad enough that double clicking was almost impossible. Took in today to Genius and three diff people came over and tested. All said was not normal. But I decided to send back now. Will be interesting test to see how much I miss it. Bigger concern is why and perhaps the sport vs ss and possibility of it keeps happening.

Ps. We compared to four diff demo units and all had same tactile feel except mine.
Some users have discovered that the problem is resolved by a quick rinse in water, a fix that
Apple recommends in a support document
. According to Apple, if the digital crown gets stuck or won't move, it could have dust or debris underneath, fixable by running the Apple Watch under fresh water from a faucet for 10 to 15 seconds.

If the Digital Crown gets stuck or won't move, it might be because of dirt or debris. If you find substances like dust or lotion around the Digital Crown, follow these steps to clean, and repeat as needed:

1. Turn off your Apple Watch and remove it from the charger.
2. If you have a leather band, remove it from your Apple Watch.
3. Hold the Digital Crown under lightly running, warm, fresh water from a faucet for 10 to 15 seconds. Soaps and other cleaning products shouldn't be used.
4. Continuously turn and press the Digital Crown as water runs over the small gap between the crown and the housing.
5. Dry your Apple Watch with a non-abrasive, lint-free cleaning cloth.

Some affected users have said that a water rinse does not solve the problem, or solves it only temporarily, while others have expressed dissatisfaction at potentially needing to rinse the Apple Watch after every workout. Customers who have gone to Apple Stores for a fix for their malfunctioning digital crowns have received either repairs or replacement devices, with Apple quoting week-long wait times for a fix.
Ford has promised to bring CarPlay to its vehicles and is listed as one of Apple's
CarPlay partners
, but Ford executives say the company will also focus on compatibility with Android and its own Ford SYNC in-car infotainment system to give consumers as much choice as possible. In an interview with
Re/code
, Ford CTO Raj Nair explained that the company doesn't want people making car choices based on their smartphones.
CTO Raj Nair said part of the reason behind that is ensuring that car buyers have choice. "We want to make sure you are not pushed into a decision on a $40,000 car based on your $200 smartphone," Nair said.

Ford, like the other car makers, also sees its infotainment system, known as SYNC, as a key selling point. "The data shows SYNC has been a significant draw in the showroom," Nair said.
Ford's focus is on SYNC, but the company says that it is planning to support Android Auto and CarPlay and will look to integrate SYNC more closely with both systems. According to Nair, a customer who wants to use Google Maps but listen to Sirius radio using SYNC will be able to do so.
Despite not wanting to hand over control of its in-car infotainment systems to Apple and Google, Ford is eager to embrace new technology. At the meeting with
Re/code
, Nair was wearing an Apple Watch sporting one of the apps that the Ford team
built in a week
. A MyFord Mobile research app that links the PHEV Fusion Energi, C-MAX Energi, and Focus BEV cars to the Apple Watch was
shown off
on Twitter earlier today.

Image via Said Deep, Head of Ford North America Product Communications
Ford's upcoming SYNC 3 system is set to debut this summer with support for both CarPlay and Android Auto. Following the launch of the new system, Ford should be releasing vehicles with CarPlay support by the end of 2015.
IHS iSuppli often tears down devices to estimate component costs, and today, the research firm
released its report
on the Apple Watch, suggesting it has the lowest hardware costs compared to retail price of any Apple product IHS has researched.
The 38mm Apple Watch Sport dissected by IHS was estimated to cost $81.20 when broken down by component. In IHS' estimation, the most expensive component in the Apple Watch is the display (including OLED and Ion-X cover glass), priced at $20.50, followed by the processor on the S1 chip, priced at $10.20. In addition to component costs, IHS adds an estimated $2.50 for manufacturing costs, bringing its total estimate for the Apple Watch's raw cost to $83.70. IHS did not give similar cost breakdowns for the stainless steel or gold Apple Watches, both of which have sapphire cover displays and different casing materials.

At $83.70, IHS says the hardware costs of the Apple Watch are "only about 24 percent" of the manufacturer's suggested retail price of $349, while other
Apple product component costs
have ranged from 29 to 38 percent, giving the Apple Watch a higher potential profit margin. During Apple's most recent earnings call, the company announced that Apple Watch profit margins would actually be slimmer than other Apple products, at least during its first quarter of availability.
"It is fairly typical for a first-generation product rollout to have a higher retail price versus hardware cost," said Kevin Keller, senior principal analyst-materials and cost benchmarking services for IHS Technology. "While retail prices always tend to decrease over time, the ratio for the Apple Watch is lower than what we saw for the iPhone 6 Plus and other new Apple products, and could be of great benefit to Apple's bottom line if sales match the interest the Apple Watch has generated."
IHS' component cost estimations come just three days after
Apple CEO Tim Cook declared
that component cost breakdowns on Apple products are inaccurate. "There are cost breakdowns around our products that are much different than the reality," he said. "I've never seen one that is anywhere close to being accurate."
While these types of cost breakdowns look at the potential expense related to each individual component in a device, they do not take into account other possible expenses related to product creation like research and development, advertising, software, or distribution, making them of little practical use for estimating profit margin.
IHS iSuppli's report also looks at each component in the Apple Watch, many of which have already been well explored in other teardowns from
iFixit
and
Chipworks
. It doesn't offer much new information, but it does give an interesting look at the S1 chip in the Apple Watch, and a special coating added for electromagnetic shielding.
"To provide electromagnetic shielding, the encapsulated PCB assembly is further treated with a metalized coating deposited over the surface," Keller added. "This shielding process is used in place of conventional stamped sheet metal shielding, saving a significant amount of space, as well as cutting down slightly on weight."
IHS confirms that the Apple Watch Sport includes 8GB of Toshiba flash memory, 512MB of Micron RAM, and components manufactured by Broadcom, STMicro, Maxim, NXP, and Analog Devices. It also highlights the use of an accelerometer/gyroscope from STMicro instead of Invensense, something that was also
pointed out by Chipworks
last Friday.
At this point, we've had a very thorough look at the 38mm Apple Watch Sport, but we have yet to see into a 42mm device to see the differences between the two models. We haven't seen a detailed teardown of a stainless steel Apple Watch or an Apple Watch Edition, but iFixit
took a quick look
inside a stainless steel version and found its internals to be the same as the Apple Watch Sport.
Since the Apple Watch's initial unveiling last September, Apple has touted the S1 chip that serves as the brains of the device, with the company noting is has essentially packed an entire computer onto a single ultra-compact chip that is encapsulated in resin to help protect it from the elements.
iFixit was unable to delve into the S1 itself in the firm's
initial teardown
of the Apple Watch, and Chipworks offered an
early look
at the chip's internals starting x-ray imaging, but now ABI Research has more fully
deconstructed the S1
and identified a number of its components.

ABI's photo shows the center of the S1 dominated by the main processor carrying part number APL 0778, with 4 Gb (512 MB) of Elpida SRAM on top. We've yet to see a detailed look at the internals of the main processor, which should provide yet another interesting look at a custom Apple chip design when it does surface.
Also included on the S1 are an 8 GB flash storage chip, the Broadcom Wi-Fi chip
cleverly identified
by Chipworks from Apple's promotional footage last September, an accelerometer/gyroscope from STMicroelectronics rather than the predicted InvenSense, touch controllers unexpectedly from ADI, and a wireless charging chip from IDT to facilitate the Apple Watch's inductive charging.
"The design is an obvious variation from Apple's smartphones, with many high-end functions / chips included that normally would not be found in a simple watch," comments Jim Mielke, VP Engineering at ABI Research and head of the TeardownIQ group. "Judging by the complexity of the printed circuit board (PCB), and the number of parts on the PCB, one might think the Apple watch is a full-fledged cellular connected watch but in fact connectivity is limited to Wi-Fi, Bluetooth, and NFC."
In its
initial look
last week, Chipworks highlighted the 6-axis accelerometer/gyroscope, which marks the first time Apple has been able to include all of that functionality in a single component.

This is the first time that we see a true 6X sensor in an Apple product that doesn't require an external accelerometer. In the iPhone 6 and 6+ we saw an Invensense 6 axis sensor and a Bosch 3 axis accelerometer. Here in an even more compact design, the Apple Watch, we finally have a solution for all 6 axis in a single component.
As seen in iFixit's teardown, the S1 is a remarkably compact chip taking up a small percentage of the overall device volume in laying flat in the bottom of the casing. The majority of the space inside the casing is taken up by the battery and Taptic Engine/speaker assembly. We expect to see more details on the S1, particularly the main processor, in the coming days as chip experts get closer looks at the part.
The latest numbers from market research firm
IDC
's Worldwide Quarterly Tablet Tracker reveal that Apple continues to be the largest vendor in a declining tablet market, shipping 12.6 million iPads in the first quarter of 2015 to capture a 26.8% share of the global tablet market. Apple maintained the top position despite facing a 22.9% decline in tablet shipments compared to the year-ago quarter.

Samsung was the second largest tablet vendor with 9 million tablet shipments in the first quarter, good for 19.1% market share in the global tablet market and a 16.5% year-over-year decline. Lenovo, Asus and LG Electronics rounded off the top five, with 2.5 million, 1.8 million and 1.4 million global tablet shipments in the first quarter respectively for a combined 12.2% market share.
Apple, Samsung and several other electronics makers are feeling the effects of a prolonged slowdown in the tablet market, with the iPad declining in annual growth for five consecutive quarters and competing tablets experiencing similar trends. The launch of the larger iPhone 6 and iPhone 6 Plus and lack of major updates to the iPad lineup since 2013 are likely contributing factors to falling iPad sales over the past few years, while consumers also upgrade their tablets less often than smartphones.
Apple CEO Tim Cook, during the company's recent
earnings call
, said he believes that continued investments in the company's product pipeline and shift to the enterprise market will help the iPad be an "extremely good business over the long-term," although he stopped short of providing a forward-looking statement about when iPad sales could begin growing again.
"And so my belief is, that as the inventory plays out, as we make some continued investments in our product pipeline, which we're doing, that we already had planned and have had planned for some time," said Cook. "Between that, the inventory playing out, the enterprise starting to take over, I think still, i believe the iPad is an extremely good business over the long-term. When precisely it begins to grow again I wouldn't want to predict, but I strongly believe that it will."
Strategy Analytics shared
smartphone data
for the first quarter on Wednesday.
During its Wednesday earnings call, Apple rival Samsung Electronics
reported
net profit of 4.63 trillion won ($4.35 billion) for the January to March quarter, a 39% drop from its net profit of 7.49 trillion won in the year ago quarter. A sizable portion of the lost profit came from Samsung's mobile division, which brought in 2.74 trillion won ($2.5 billion) in the first quarter of 2015, vs. 6.43 trillion won in the first quarter of 2014.
Despite the year over year profit loss, Samsung's
earnings release
highlighted its quarter over quarter improvement and pointed towards increased sales of middle-end smartphones including the Galaxy A series. Samsung doesn't divulge its smartphone sales, but analysts believe the company sold 83.2 million smartphones during the quarter, compared to Apple's 61.2 million.

The high number of sales let Samsung regain its title of
the worlds largest smartphone maker
, but many of those sales were for lower-priced phones and not flagship devices, causing it to lose profit year over year. Much of Samsung's profit loss can be attributed to the introduction of the iPhone 6 and 6 Plus, letting Apple devices compete with Samsung devices on screen size for the first time.
Ahead of the launch of the two larger-screened iPhones, big screens were a feature that set Samsung devices apart from iPhones and drew customers for the South Korean company, but with the iPhone 6 and the 6 Plus, Samsung has lost some of its grasp on customers seeking devices with bigger displays.
Samsung expects its profits to increase during the second quarter following the global launch of the company's
new Galaxy S6 and S6 Edge
and on the strength of its semiconductor business. According to Samsung, demand for its curved S6 Edge has been high, but limited supplies have restricted sales.