New iPad, Mac mini, and Retina iMac
Apple continues to rank among the world's top tablet manufacturers both in customer satisfaction and shipments, according to reports released today by
J.D Power
and
IDC
, although the company is showing some signs of weakness as lower-cost competitors gain momentum and consumers look for more innovation in Apple's tablet lineup. Apple fell slightly behind Amazon in J.D. Power's semiannual customer satisfaction survey, while the company's lead in worldwide tablet shipping volume continues to shrink.

Worldwide tablet shipments in 3Q14 in millions of units (Source: IDC)
According to
IDC's Worldwide Quarterly Tablet Tracker
, Apple remains the global tablet market leader, despite a 12.8 percent decline in quarterly shipments year-over-year. Apple shipped 12.3 million units in Q3 2014, edging out both Samsung, which shipped 9.9 million units, and coming in well ahead of Asus, which climbed to the number three spot with 3.5 million units shipped.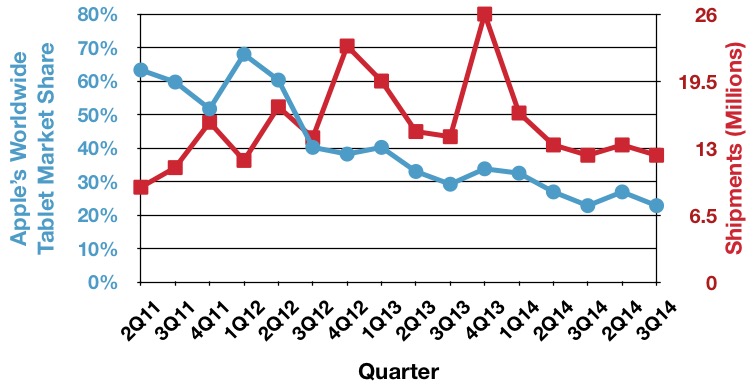 Apple's iPad shipments (red) and share of worldwide tablet shipments (blue) for 2Q11–3Q14 (Source: IDC)
Apple's market share is projected to increase in Q4 2014 due to the introduction of the iPad Air 2 and iPad mini 3, but the jump will likely be tempered as more consumers hold onto their existing tablets for a longer period. IDC also predicts iPad shipments will continue to be eclipsed by the popularity of the iPhone 6 and iPhone 6 Plus.
"Although the low-cost vendors are moving a lot of volume, the top vendors, like Apple, continue to rake in the dollars," said Jitesh Ubrani, Senior Research Analyst, Worldwide Quarterly Tablet Tracker. "A sub-$100 tablet simply isn't sustainable—Apple knows this—and it's likely the reason they aren't concerned with market share erosion."
While Apple remains first in market share, the company lost its number one spot in the latest
J.D. Power tablet satisfaction study
. Apple scored 824, taking the number two slot behind Amazon and its inexpensive line of Fire tablets. Samsung took the third slot, trailing the two market leaders with a score of 821. J.D. Power measures satisfaction on a 1,000-point scale using five criteria which include performance, ease of operation, feature set, styling/design and cost.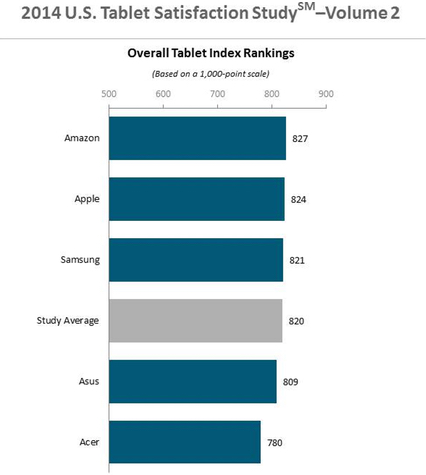 J.D. Power 2014 U.S. Tablet Satisfaction Study—Volume 2
Apple had
reclaimed
the top spot in J.D. Power's survey earlier this year after losing it to Samsung in the late 2013 rankings.
Apple now is offering its most expansive phone and tablet lineup to date, selling both older iPhone and iPad models, along with the new 4.7-inch iPhone 6, the 5.5-inch iPhone 6 Plus, the Touch ID-enabled
iPad mini 3
and the slimmer and faster
iPad Air 2
. Apple's ecosystem will expand again with the early 2015 debut of the
Apple Watch
, the company's first entry into the exploding wearables market.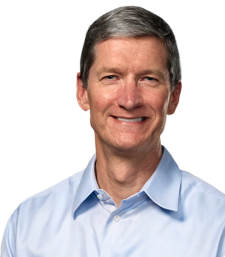 In a
letter written
for
Bloomberg Businessweek
, Apple CEO Tim Cook has publicly come out as gay while declaring his support for equality.
Cook, who has typically kept a low profile on his personal life, says that his decision to publicly acknowledge his sexuality was done to "bring comfort to anyone who feels alone" and to "inspire people to insist on their equality."
I'll admit that this wasn't an easy choice. Privacy remains important to me, and I'd like to hold on to a small amount of it. I've made Apple my life's work, and I will continue to spend virtually all of my waking time focused on being the best CEO I can be. That's what our employees deserve—and our customers, developers, shareholders, and supplier partners deserve it, too. Part of social progress is understanding that a person is not defined only by one's sexuality, race, or gender. I'm an engineer, an uncle, a nature lover, a fitness nut, a son of the South, a sports fanatic, and many other things. I hope that people will respect my desire to focus on the things I'm best suited for and the work that brings me joy.
Cook has expressed his thoughts on equality numerous times throughout the past couple of years, which include
highlighting
the subject in a speech at his alma mater Auburn University and
establishing
his and Apple's support for the Employment Nondiscrimination Act in an op-ed written for
The Wall Street Journal
.
Earlier this year, Apple also
marched
in support of the LGBT community during the 44th annual Pride parade, and issued a
statement
in support of Supreme Court gay marriage rulings in 2013. The company also has a
section about diversity on its website
, which goes into detail about its efforts towards improving employee diversity and its commitment towards equality and human rights.
Note: Due to the controversial nature of the discussion regarding this topic, the discussion thread is located in our
Politics, Religion, Social Issues
forum. All forum members and site visitors are welcome to read and follow the thread, but posting is limited to forum members with at least 100 posts.
Shortly after apps on the Mac App Store and iOS App Store
revealed
Microsoft's fitness wearable, the company has revealed its $199 Microsoft Band fitness wearable to
Re/code
. The device will go on sale tomorrow at Microsoft's online and retail stores.

The Microsoft Band is designed to last 48 hours on a single charge and can be worn all day and all night, as it tracks both physical activity and sleep. It includes 10 sensors that track standard health statistics like heart rate as well as unique points of data that other fitness bands do not track, like a UV sensor to measure sun exposure and galvanic skin response, which can identify stress. Like smart watches, the Band can also receive notifications from a user's smartphone.
Microsoft is also launching a cloud-based health service called Microsoft Health, which can gather data from both the Microsoft Band and other fitness data gathering devices, like smartphones and other fitness bands. The service spans the web and multiple mobile platforms like iOS, Android and Windows Phone. The Windows Phone app, however, integrates Microsoft's voice assistant Cortana.
The company also says that the feature set of device and services will grow, as users will be able to pay for things at Starbucks with the Band and will be able to see how certain events influence health or sleep.
The company also notes that–if customers want to– Microsoft Health can combine work and personal data and gather insights such as how a big meeting with the boss affects that night's sleep. Other features include access to Facebook and Twitter feeds, as well as weather and stock data.
The Microsoft Band goes on sale tomorrow for $199.
As Apple completes the launch of HealthKit and the
Health
app for iOS, its competitors Microsoft and Google have been preparing their own entrances into the health sector. Today, Microsoft apps for an upcoming fitness wearable have leaked in app stores as Google launched a new HealthKit-like initiative.
In July it was
reported
that Microsoft was working on a fitness band that would work with iOS. Now, the official app for the device, which appears to be called the Microsoft "Band", has appeared on the Mac App Store. The "Microsoft Band Sync" app, which was
first discovered
by
WindowsCentral
, appears to allow users to sync the data on their device to the app for tracking.

Another app called
Microsoft Health
has also been revealed for iOS and appears to include many of the same options as the "Microsoft Band Sync" app and also teases a future device called "Microsoft Band". A new
privacy statement
 (via
AppleInsider
) on Microsoft's website also makes mention of Microsoft Band, Microsoft Health and Microsoft Band Sync.
Live healthier and be more productive with the Microsoft Health app for iPhone®. Achieve wellness goals by tracking your heart rate, steps, calorie burn, and sleep quality. Maximize your fitness with Guided Workouts, 24-hour heart rate monitoring and automatic activity counting. Be more productive with email previews and calendar alerts at a glance. Personalize your Microsoft Band and get new features as they roll out.

Although the "Band" doesn't appear to be a fully functioning smart watch like Apple Watch, it does signal Microsoft's desire to enter the health market and provides an alternative to the health-tracking features of Apple Watch or FitBit bands. Similarly, the Microsoft Health app offers an alternative to the health center that is the
Health
app, provided the user opts for the Microsoft Band.
Meanwhile, Google launched its version of the
Health
app for Android (via
The Verge
). Called
Google Fit
, the app tracks health goals and workout statistics and is compatible with Android Wear devices and third-party fitness trackers. Much like the
Health
app,
Google Fit
can also track walking, running and cycling without the use of external apps or fitness trackers.
Microsoft Health
is a free universal app available in the App Store. [
Direct Link
]
Microsoft Band Sync
is a free app available in the Mac App Store. [
Direct Link
]

Following the publication of a blog post earlier today
outlining some details
of its upcoming CurrentC mobile payments solution and disclosure of a hack resulting in
unauthorized access
to users' email addresses, Merchant Customer Exchange (MCX) held a conference call with members of the press to further address questions and concerns.
During the call, MCX CEO Dekkers Davidson and COO Scott Rankin clarified that MCX merchants who choose to accept Apple Pay are not subject to fines. As stated in the blog post earlier today, merchants are also free to leave the consortium entirely at any time without penalty beyond forfeiting the time and money already invested in the effort.
As a result, MCX certainly appears to be placing the blame for its member retailers' refusal to accept Apple Pay on the merchants themselves. Asked whether Apple Pay and MCX's CurrentC solution should be able to exist side-by-side, the executives noted that believe they will in the future and that it will take two or three major players in mobile payments to allow the entire market to thrive.
But pressed as to why some retailers such as CVS and Rite Aid have shut down NFC entirely rather than allow unofficial Apple Pay payments in their stores, Davidson argued that merchants know their customers best and are making the choices they believe are right for their customers. He said the merchants believe customers want more than just mobile payments, and CurrentC's integration of payments with loyalty cards and coupons will in his opinion prove to be the best solution.
On the topic of the hack that has resulted in compromised email addresses, Davidson noted that attacks on their systems were expected and have been heavy over the past week but that the email breach did not affect the app or the actual CurrentC systems. As a result, the issue has not shaken MCX's confidence that the cloud is the best place to store personal information for CurrentC users. Asked why MCX has been the target of such attacks over the past week, Davidson speculated that with MCX "challenging the status quo" of large, entrenched payment systems, there are bound to be attacks.
Addressing privacy issues, Davidson and Rankin also highlighted the privacy dashboard that will be available to all CurrentC users. The dashboard will allow users to tailor their level of engagement with retailers, ranging from complete anonymity to identifiable relationships that will allow for customized offers, coupons, and other benefits.
The executives also touted CurrentC's technology and payment platform agnosticism, noting that while the system has been initially built out using QR codes for maximum compatibility, the system can easily pivot to NFC or other technologies as appropriate. Responding to questions of security with QR codes, the executives pointed to Starbucks, which processes 5-6 million transactions per week using the technology.
On the payment front, CurrentC will support a variety of methods including store cards, gift cards, debit cards, and checking account withdrawals, with two credit card companies even on board at this stage. Over time, MCX expects all cards to be welcomed, even with the interchange fees charged for credit card usage.
CurrentC is currently in limited testing with an undisclosed number of partners in undisclosed locations around the country, and a full nationwide launch is planned for early next year.
Update October 30 7:26 AM
: Following continued unclear answers and dodging from MCX executives, an MCX spokesperson has
confirmed to Business Insider has confirmed that consortium members who choose to accept Apple Pay must indeed leave the CurrentC group. During yesterday's conference call, the executives refused to share whether any retailers have left the group or are considering doing so.


GT Advanced's Chief Operating Officer Daniel Squiller yesterday filed some revised documents with the court, giving a bit more insight into what went wrong between Apple and GT Advanced that led to the latter company's
Chapter 11 bankruptcy filing
.
Shared by
Fortune
, Squiller's affidavit [
PDF
] delves further into the contractual obligations outlined in GT's agreement with Apple, which led to huge losses of money as the contract was highly favorable to Apple.

It was known that the terms of the contract prevented GT Advanced from selling its sapphire to customers other than Apple, but as it turns out, Apple also had a vast amount of control over GT's sapphire production. For example, GT was not able to modify equipment, specifications, or the manufacturing process without express consent from Apple, but Apple could modify the terms at any point. GT was also expected to fulfill any of Apple's purchase orders at Apple's demand, with severe penalties for failing to do so.
GTAT must accept and fulfill any purchase order placed by Apple on the date selected by Apple. If there is any delay, GTAT must either use expedited shipping (at its own cost) or purchase substitute goods (at its own cost). If GTAT's delivery is late, GTAT must pay $320,000 per boule of sapphire (and $77 per millimeter of sapphire material) as liquidated damages to Apple. To put this figure in perspective, a boule has a cost of less than $20,000. Apple, however, has the right, without compensating GTAT, to cancel a purchase order in whole or in part at any time and reschedule a delivery date at any time.
Apple was also in charge of the Mesa, Arizona facility that it acquired for GT Advanced, and delays at the facility cut into GT's production time. Apple reportedly decided it was too expensive to provide backup power for the furnaces and on multiple occasions, power interruptions led to delays and loss of sapphire boules. GT Advanced was also not in charge of the sapphire cutting tools that it received, and in his affidavit, the COO says that the tools did not "meet their performance and reliability specifications."
The contractual obligations ultimately resulted in GT's inability to meet "cost and production targets" for reasons that it says were "beyond its control." Issues in scaling its technology to create large 262kg sapphire boules to meet Apple's specifications also led to the bankruptcy filing.
The key to making the transaction profitable for both sides was the production of a sufficient number of 262kg boules of sapphire crystal meeting the specifications required by Apple. [...]

Unfortunately, the production of 262kg boules of sapphire could not be accomplished within the time frames the parties had agreed, and was more expensive than anticipated. These problems and difficulties resulted in a liquidity crisis at GTAT, which led to the commencement of these chapter 11 cases"
Though Apple and GT Advanced have reached an agreement to dissolve their partnership, the two will remain in contact as GT Advanced continues its research work focused on producing larger sapphire boules. The two companies will meet quarterly to discuss GT's progress on that front, with collaboration still possible if both sides agree to move forward.
GT Advanced has already begun winding down operations at the Mesa, Arizona sapphire plant, wrapping up sapphire boule production, decommissioning furnaces, and laying off employees. The plant is expected to shut down on December 31.
Both Verizon and AT&T appear to be engaging in some unsavory customer tracking techniques, using unique identifying numbers to deliver targeted advertisements to customers in what's called "Relevant Advertising." As outlined by
Wired
, Verizon is altering the web traffic of its customers by inserting a Unique Identifier Header or UIDH, a temporary serial number that lets advertisers identify Verizon users on the web.
According to Jacob Hoffman-Andrews of the Electronic Frontier Foundation, the UIDH serves as a "perma-cookie" that can be read by any web server to "build a profile" of internet habits. Verizon users cannot turn off the UIDH, but opting out of the Relevant Mobile Advertising Program prevents the information from being used to create targeted ads.
Verizon has been using Relevant Advertising techniques for two years, but the tracking has gone largely unnoticed until recently, when extra data from Verizon customers was noticed. AT&T appears to be engaging in similar tracking activities, and is testing its own Relevant Advertising system.

According to
Forbes
, AT&T is testing a similar code insertion program that will allow websites to track AT&T customers. Like Verizon, AT&T has plans to make the tracking codes temporary as a "privacy-protective measure," but according to one of the researchers that discovered the tracking, Kenneth White, the codes that AT&T is sending to some customers are persistent.
AT&T does not currently have a mobile Relevant Advertising program. We are considering such a program, and any program we would offer would maintain our fundamental commitment to customer privacy," read a statement from AT&T. "For instance, we are testing a numeric code that changes every 24 hours on mobile devices to use in programs where we serve ads to the mobile device. This daily rotation on the numeric code would help protect the privacy of our customers. Customers also could opt out of any future AT&T program that might use this numeric code."
Unlike Verizon, AT&T will not include the unique identifier code in the IP packets of customers who have opted out of the company's Relevant Advertising program.
Both Verizon and AT&T customers can check whether their devices are sending identifying codes by
visiting a website
created by aforementioned security researcher Kenneth White. Verizon customers appear to be unable to opt out entirely, but AT&T customers can visit the following website on their mobile devices (while connected to the AT&T network) to turn off Relevant Advertising:
http://205.234.28.93/mobileoptout/
.
Apple is forcing popular iOS calculator app
PCalc
to remove its Notification Center widget, which allows users to access calculator functions directly from the "Today" view of the Notification Center. According to Apple, widgets on iOS are not allowed to perform any calculations.
Apple's sudden decision to disallow
PCalc
's previously approved widget is somewhat surprising as the app is featured in multiple places in the App Store, including a section called "Extend Your Apps" featuring apps with unique widgets, and "Great Apps and Games for iOS 8," which also features a selection of Notification Center widgets.
Apple has told me that Notification Center widgets on iOS cannot perform any calculations, and the current PCalc widget must be removed.

— James Thomson (@jamesthomson) October 29, 2014
PCalc
was one of the
first apps
to be updated for iOS 8 and along with being featured on
MacRumors
in a
list of apps
with Notification Center integration, it was lauded for its convenient and unique use of the Notification Center in App Store reviews and in iOS 8 coverage from a variety of sites.

Apple appears to have some fairly strict guidelines governing the proper usage of Notification Center widgets.
PCalc
is not the first app that's facing the removal of its widget, as Apple previously pulled
Launcher
from the App Store
.
Launcher
installed a Notification Center widget that provided access to quick actions like making a phone call, opening a pre-defined Maps route, or sending a tweet.
Apple's App Extension guidelines do clearly state that Notification Center widgets should have a "simple, streamlined UI," a limited number of interactive items, and specifies that a widget is "not a mini version" of an app, but it does not appear to expressly disallow calculations. There's also a
Pcalc app
for OS X Yosemite that brings similar functionality to the desktop Notification Center and it is unclear whether Apple will also require the removal of that widget.
For the time being,
PCalc
can be downloaded from the App Store for $9.99, with access to the Notification Center widget included. [
Direct Link
]
Irish firm
Probendi
is seeking to capitalize on Apple's announcement of the Apple Watch earlier this year by using its existing "iWatch" trademark in Europe to launch its own smartwatch device. Probendi director Daniele Di Salvo confirmed in a recent RTE Radio interview that the company will "absolutely push ahead" with its plans to build a smartwatch device that will compete with the Apple Watch, reports news site
Herald.ie
.

Probendi owns
an iWatch trademark in Europe
and has been using the iWatch name for health and safety communication software. Di Salvo acknowledges the company's existing iWatch software product, but notes that "the name is easily associated with a smartwatch" when discussing the company's future plans.
It is unclear, however, how Di Salvo will be able to extend use of the iWatch name to a smartwatch, as the category protection for the company's trademark is somewhat limited within the computer software classification. Numerous other companies, including Apple, have filed for protection on the "iWatch" name in a variety of classifications and countries, something that may have contributed to Apple's decision to use the "Apple Watch" name for its product.
Speaking to RTE Radio, Di Salvo refused to comment on any potential discussions with Apple about the trademarked name, but did confirm that the company is in talks with Chinese manufacturers about producing a smartwatch device.
"We have been contacted by some very important manufacturers in China about the possibility of manufacturing a smartwatch and selling them with the name iWatch. Discussions are still ongoing. We are good at software but hardware is definitely not our business but we are evaluating this request," Mr Di Salvo said.
Di Salvo's iWatch will feature a square design, a touchscreen, GPS functionality, and an accelerometer. It reportedly will run the Android operating system, with support for fitness, health tracking and other apps. According to
Bloomberg
, Di Salvo is looking for manufacturers to assemble the device at a cost that is lower than the Apple Watch's $349 entry-level price.
Just hours after publishing a blog post
answering some questions
about its upcoming CurrentC mobile payments system and touting the security of its cloud-based storage of sensitive information, the company behind the effort, Merchant Customer Exchange (MCX) has alerted users of unauthorized access to their email addresses.
Thank you for your interest in CurrentC. You are receiving this message because you are either a participant in our pilot program or requested information about CurrentC. Within the last 36 hours, we learned that unauthorized third parties obtained the e-mail addresses of some of you. Based on investigations conducted by MCX security personnel, only these e-mail addresses were involved and no other information.

Details on the unauthorized access have not been disclosed, but
iMore
's Nick Arnott earlier this week
took a look
at some of the personal information being collected by MCX and CurrentC and noted that he could ping CurrentC's systems to look for valid registered email addresses on the system. While he did not find valid addresses, the system appeared capable of returning a substantial amount of personal information about such accounts.
Security has of course been one of the main selling points of Apple's new Apple Pay system, with data stored in a Secure Element on the device and payments authorized through Touch ID and tokenized account numbers being used instead of actual credit card numbers to process transactions.
Apple had the consumer in mind when it added
a multi-carrier SIM card
to its new iPads, said Apple vice president of iPhone, iPod and iOS product marketing Greg Joswiak in
a recent Re/code interview
(via
Fierce Wireless
). But that motivation does not mean the Apple SIM will be making its way to the iPhone any time soon, as Joswiak noted most consumers go directly to their carriers to buy iPhones, while the iPad more often is sold through Apple's retail channels.
"It's about the customer experience," he said during an appearance here at Re/code's Code/Mobile conference. "We ultimately don't know who you are going to use as the carrier, [and] we want to make it as easy as possible."

Joswiak said Apple has not discussed putting the Apple SIM into iPhones, but said that because of the way most customers buy an iPhone--through a carrier directly--the Apple SIM is not as well suited. "I don't think you're going to go to the Verizon store and say, 'Can you hook me up with AT&T?,'" he said.
With most iPhone customers committed to their carriers for a significant period of time, either through contracts subsidizing the phone cost or through payment plans, multi-carrier SIM cards make less sense for iPhones.
Apple's new universal SIM in theory allows customers to activate with one carrier and then switch to another carrier as needed, but there are some limitations. The Apple SIM is currently only compatible with AT&T, T-Mobile, Sprint and UK carrier EE. Verizon confirmed that is not adopting Apple's new SIM, instead requiring customers to activate with a Verizon-specific SIM.

In addition, while AT&T is listed as
a compatible carrier
, the provider is not fully supporting all the features of the SIM. Apple and AT&T have confirmed the carrier
is not allowing
its customers to switch once the Apple SIM has been activated on AT&T's network, instead opting to lock the SIM to its network following activation. Customers who activate service on AT&T will thus have to purchase a new SIM if they want to use their tablet with another carrier.
Apple introduced the new iPad Air 2 and Retina iPad mini 3 earlier this month with sales
beginning last week
. Both tablets feature a universal SIM, Touch ID, and storage options of 16, 64 and 128GB. The iPad Air 2 also includes a new A8X processor, antireflective display and 2GB of RAM. The
iPad Air 2
retails at a starting price of $499, while the
iPad mini 3
costs $399 for the base model.
Much of the Apple news in recent days has centered around Apple Pay and what Tim Cook referred to on Monday as a "skirmish" in which
several retailers
backing a
competing mobile payments initiative
known as CurrentC have shut down NFC payment functionality in their stores to prevent customer use of Apple Pay, Google Wallet, and other similar services.
Numerous sources have indicated that retailers backing CurrentC are contractually prohibited from accepting alternative forms of mobile payments, and sources
told The New York Times
that retailers breaking those contracts would "face steep fines."

Merchant Customer Exchange (MCX)
, the consortium of retailers backing CurrentC, has now
published a blog post
confirming that retailers working with MCX are indeed required to back CurrentC exclusively. While the group does not directly address whether consortium members could be fined for accepting Apple Pay, it does say members may leave the group without penalty if they so choose.
MCX merchants make their own decisions about what solutions they want to bring to their customers; the choice is theirs. When merchants choose to work with MCX, they choose to do so exclusively and we're proud of the long list of merchants who have partnered with us. Importantly, if a merchant decides to stop working with MCX, there are no fines.
While the lack of a fine for leaving the consortium means retailers such as CVS and Rite Aid could still pull out of the CurrentC effort and begin accepting Apple Pay, retailers are undoubtedly reluctant to do so as they view CurrentC has a key effort to escape from credit card swipe fees while maintaining the ability to mine customer information. Many have also already invested significant amounts of money in the CurrentC effort, money that would be lost if they stopped working with MCX.
Beyond its arrangements with retailers, MCX also addresses the features of CurrentC in its blog post, highlighting the fact that it will work with any phone, integrate coupons and loyalty cards, support multiple forms of payment including gift cards, credit cards, and checking withdrawals.
Addressing user privacy, MCX highlights CurrentC's privacy dashboard that will allow customers to control what information is shared with retailers and argues that the system's cloud-based storage of sensitive customer information offers more security than on-device storage that could be more easily compromised through hacking or theft.
MCX's CurrentC program is currently in limited testing, and is expected to launch nationwide sometime next year.