Apple Watch, Retina MacBook, New MacBook Air & 13" Pro
Apple CEO Tim Cook has called recent
"religious freedom" legislation
passed in Indiana and Arkansas "very dangerous" in a public op-ed letter published by
The Washington Post
. Cook argues that there are nearly 100 pro-discrimination bills in the United States that "go against the very principles" the country was founded on and "have the potential to undo decades of progress towards greater equality."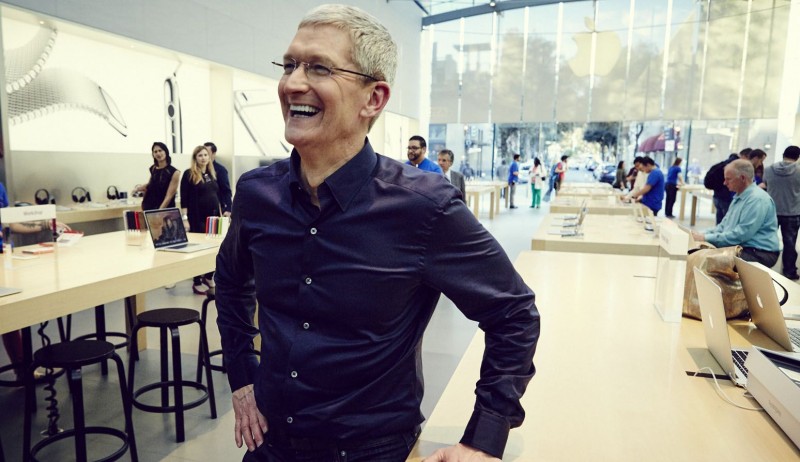 Cook's letter comes in response to Indiana governor Mike Pence passing the controversial
Religious Freedom Restoration Act
last week, following intense opposition from opponents that believe the bill supports discrimination, particularly against gays and lesbians. The bill, based on the federal Religious Freedom Restoration Act, signed by President Bill Clinton in 1993, takes effect July 1st.
"America's business community recognized a long time ago that discrimination, in all its forms, is bad for business," said Cook. "At Apple, we are in business to empower and enrich our customers' lives. We strive to do business in a way that is just and fair. That's why, on behalf of Apple, I'm standing up to oppose this new wave of legislation — wherever it emerges. I'm writing in the hopes that many more will join this movement. From North Carolina to Nevada, these bills under consideration truly will hurt jobs, growth and the economic vibrancy of parts of the country where a 21st-century economy was once welcomed with open arms."
Cook believes that the recently passed legislation in Indiana and Arkansas, and similar bills being considered in other states, draw comparisons to the days of segregation in the United States, adding that Apple will never tolerate discrimination regardless of the laws passed. "This isn't a political issue. It isn't a religious issue," he said. "This is about how we treat each other as human beings."
"Our message, to people around the country and around the world, is this: Apple is open. Open to everyone, regardless of where they come from, what they look like, how they worship or who they love. Regardless of what the law might allow in Indiana or Arkansas, we will never tolerate discrimination."
Cook tweeted last week that Apple is "open for everyone" and "deeply disappointed in Indiana's new law," calling on Arkansas to veto its similar HB1228 bill. Indiana has received a lot of backlash for signing the bill, with several organizations and companies throughout the United States vowing to stop supporting the state.
Around the world, we strive to treat every customer the same — regardless of where they come from, how they worship or who they love.

— Tim Cook (@tim_cook) March 27, 2015
Cook has remained committed to equality in the workplace as chief executive at Apple. In November 2013, he
publicly supported
the U.S. Employment Nondiscrimination Act, legislation proposed to prohibit many civilian, nonreligious employers from discriminating on the basis of sexual orientation or gender identity for the purposes of hiring or other employment practices.
Note: Due to the political nature of the discussion regarding this topic, the discussion thread is located in our
Politics, Religion, Social Issues
forum. All forum members and site visitors are welcome to read and follow the thread, but posting is limited to forum members with at least 100 posts.
The
Apple Watch
will be available for in store previews and Try-On appointments starting on April 10th. The Apple Watch comes in a variety of sizes, colors, and band-types which can make the decision of how to
pick a band and Apple Watch combination
complicated.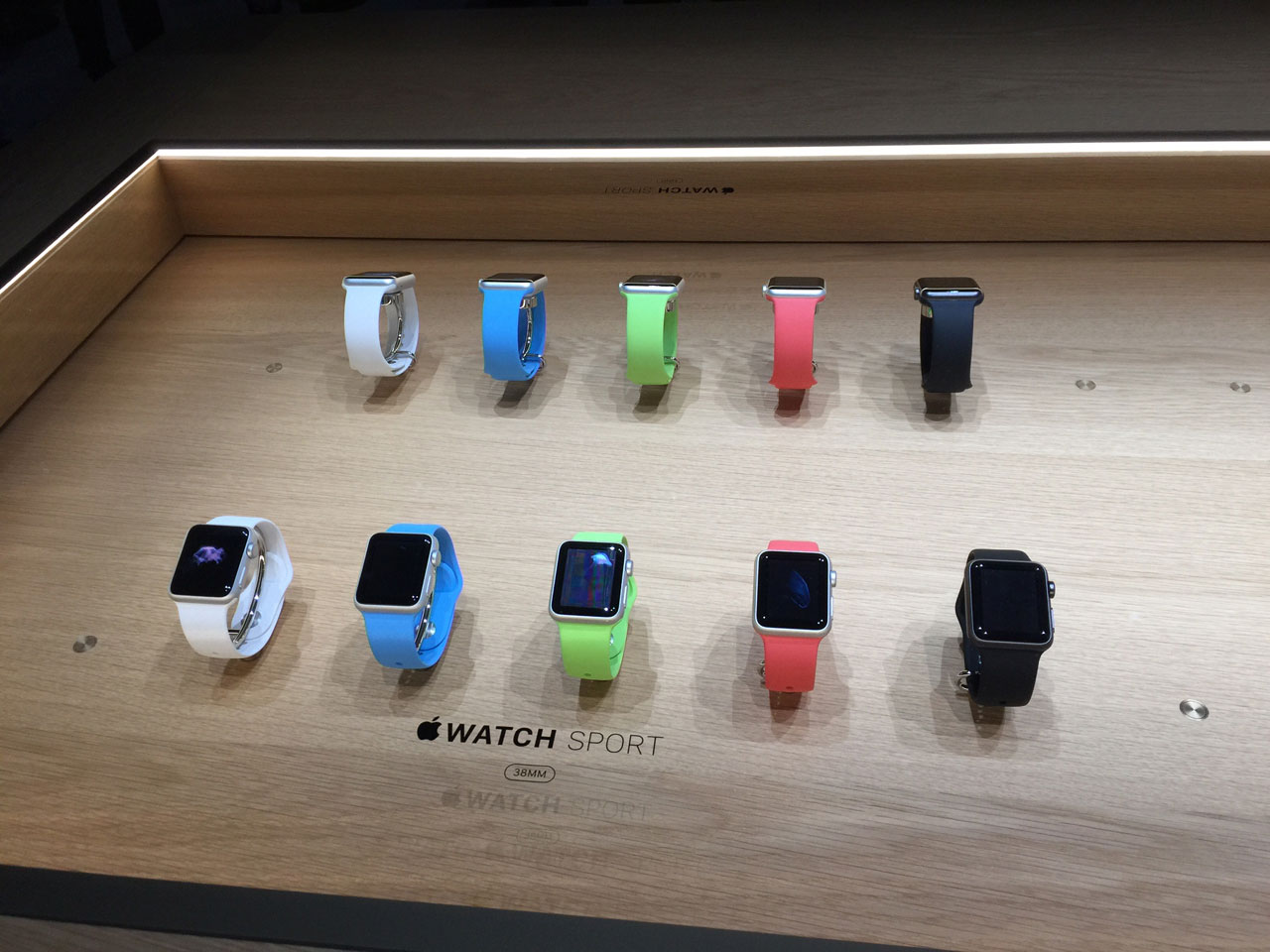 Apple has a number of recommended combinations highlighted on their
online store
, but also sells
bands separately
, allowing customers to potentially mix and match between the various Apple Watches and bands. Some combinations could yield a mix of materials that
readers feared
may not look natural together, such as an aluminum Apple Watch Sport and a stainless steel accented band. The stainless steel Apple Watch is the most cosmetically versatile but carries a $200 premium over the aluminum Apple Watch Sport.
Apple, however, will not allow customers to try arbitrary mix and match options during their
Apple Watch Try-On appointments
, presumably in the interest of time and simplicity. According to retail training materials
MacRumors
received, Apple specifically states that they "will not size links or swap bands" at the Try-on table or Try-on cases. Try-on appointments for
non-Edition Apple Watches
are meant to last only 5-15 minutes. Apple will have 18 specific Apple Watch combinations on display at their Try-On tables and 10 specific combinations at their Try-On cases.
Apple Watch pre-sales and try-on appointments start on April 10th, and the official launch of the Apple Watch is April 24th.
As the
Apple Watch
launch approaches, details have been leaking out about how Apple will be handling sales of their new device. According to leaked Apple documentation, the company will not be selling the Apple Watch to walk-in customers at launch.

Apple will begin offering online pre-sales of the Apple Watch starting on April 10th, with the first deliveries occurring on April 24th, the official Apple Watch launch date. During those two weeks, customers will be able to have hands-on "try-on" appointments at Apple retail stores in order to help make up their mind.
However, according to training documents that
MacRumors
has received, Apple is not allowing any walk-in retail purchases for the Apple Watch at launch. Instead customers must make an online "Product Reservation" to hold a specific Apple Watch model at a retail store. This new "Product Reservation" system is used instead of Apple's "Personal Pickup" system for Apple Watches. Apple's retail training documents indicate that "If a customer walks in and wants to purchase a watch, offer the option to try on a watch. Then help them place an order online or through the Apple Store app."
Apple seems to expect low inventory for the Apple Watches, and notes that "try-on" appointments also do not reserve a specific Apple Watch for purchase. Apple expects to eventually allow walk-in purchases, but not until the initial wave of demand has passed.
Earlier this month, Apple began inviting a select number of developers to an Apple Watch development lab in Sunnyvale, California, located near the company's main Cupertino campus. Developers were invited to reserve a testing appointment to test their Apple Watch apps on actual Apple Watch devices to get ready for the device's April 24 launch.
One of the developers who had a chance to visit Apple's WatchKit lab and get hands-on time with the Apple Watch shared his testing experience with
MacRumors
and gave us some of his thoughts on the device after spending all day using it.
Apple maintained strict control over the Apple Watches that developers were allowed to use for testing. Security guards were on hand, and developers were not allowed into the room until receiving a badge, which had to be worn at all times. Entering into the lab was done through two doorways, each of which was locked and could only be opened via an electronic keycard.

Developers had to cover their cameras and leave their bags on shelves, and they were not allowed to pair the Apple Watch with their own iPhones. No one was allowed to go to the bathroom or run out for coffee until they let Apple's security see their wrists to prove they weren't leaving with a watch.
Apple has used similar tight security when bringing the Apple Watch on location to be featured in magazines as well, and it's clear they're making sure none of these devices leak out ahead of April 24.
In the lab, there were 5 rows of long tables, and approximately 10 developers could fit at each table. Apple had five engineers on hand to help developers put the finishing touches on their apps, and all of the engineers in the room were described as helpful and insightful. It's still not clear what criteria Apple used to decide which developers to invite to Sunnyvale, but a lot of major app developers were there, as were teams from various startups and bigger companies.
Developers were given 42mm Apple Watch Sport models to test their apps with, and 38mm models were only supplied upon request. The developer we spoke to thought the Sport models were "extremely light" and did not look tacky or cheesy. He also thought that the 42mm Apple Watch was the ideal size, neither too big nor too small. The extra 4mm of screen size made a big difference when it came to reading text on the device, and he thought that people who used the Apple Watch for long periods of time might better appreciate the larger screen.

The design and the feel of the watch were described as "absolutely amazing" and software was described as "fluid" and not like other smart watches available on the market. "Animations on the Apple Watch are really what separate it from its competitors," he said. Handoff works very well, letting users transfer tasks from the Apple Watch to the iPhone with ease, and Siri's functionality was described as "absolutely phenomenal."
He also shared a bit of information about battery life. Wearing the watch all day, he used it regularly to send messages and test his app, and he said the watch battery lasted all day with some to spare. He was really impressed and said, "When Apple says all day battery life, they mean it."
Overall, the developer that we spoke with thought his time at the Apple WatchKit lab was an "inspirational experience" and in his opinion, Apple is on the right track with the Apple Watch.
Apple has heavily guarded the Apple Watch thus far, but two weeks from today, the general public will be able to see the device in person and test it out after Apple begins its
in-store try-on period
. The company will let people schedule 15 minute appointments beginning on April 10, which is also the day that Apple Watch pre-orders will begin.
The Apple Watch will officially launch on April 24, but pre-orders are recommended because supplies may be constrained.
Over the past couple of weeks, rumors have leaked pointing towards an Apple-branded
streaming television service
that could include 25 channels for $30 to $40 per month with partners like CBS, ABC, and Fox. NBC and parent company Comcast are not part of the negotiations, and according to a new report from
Re/code
, that's because Apple has not approached Comcast about a partnership.
Earlier rumors about the streaming television service suggested NBC's absence from the upcoming package was due to a falling out between Apple and Comcast, but on Thursday, Comcast said that wasn't true in a letter that it sent to the Federal Communications Commission. Comcast's letter was a response to a filing from
Stop Mega Comcast
, a group that's opposed to a Comcast-Time Warner merging, and in it, Comcast said Apple had not even approached NBC for a content deal.

Stop Mega Comcast's note, filed on Wednesday, said, "Comcast may be withholding affiliated NBCUniversal ("NBCU") content in an effort to thwart the entry of potential new video competitors." The note cited a recent Wall Street Journal report that said Apple wasn't talking to NBCUniversal because of a "falling-out between Apple and NBCUniversal parent company Comcast."

That's a bit right but mostly wrong, Comcast attorney Francis Buono wrote to the FCC: "Not only has NBCUniversal not 'withheld' programming from Apple's new venture, Apple has not even approached NBCUniversal with such a request." I've asked Apple for comment.
It is not clear why Apple has not approached NBC about a possible content deal for its most recent streaming television efforts, but Apple and Comcast
have attempted to negotiate a deal
in the past, which didn't pan out.
The Wall Street Journal
has suggested that earlier talks failed to establish a deal due to Comcast's focus on its own
X1 web streaming platform
.
As noted by
Re/code
, Apple could initiate talks with NBC in the future or potentially take advantage of a clause in the contract that was established when Comcast and NBC merged several years back, which would force NBC to license its content to Apple if Apple were able to establish deals with the company's competitors.
Apple may be planning to debut its streaming television service at this year's Worldwide Developers Conference in June. Many of the details about the service remain unknown, including the channel lineup Apple is aiming for, but the company is
said to be in talks
with ABC, CBS, Fox, Disney, ESPN,
Discovery, and Viacom
, which would give Apple access to channels like Animal Planet, TLC, MTV, Comedy Central, and Nickelodeon.
The streaming television service may be accompanied by
a revamped set-top box
, rumored to include an A8 processor, expanded storage, an App Store, and Siri support.
Apple CEO Tim Cook today sent out a series of Tweets
condemning
Indiana Governor Mike Pence's decision to sign a controversial "religious freedom" bill into law, saying Apple is "deeply disappointed" in the move and "open for everyone."
Apple is open for everyone. We are deeply disappointed in Indiana's new law and calling on Arkansas Gov. to veto the similar #HB1228.

— Tim Cook (@tim_cook) March 27, 2015
The
religious freedom legislation
that was approved by Pence on Thursday could let businesses turn away gay and lesbian customers by citing "religious freedom." The approval of the bill has earned Indiana national attention, and much of it has been negative, with organizations and companies throughout the United States vowing to stop supporting the state.

Senate Bill 101 prohibits state or local governments from substantially burdening a person's ability to exercise their religion -- unless the government can show that it has a compelling interest and that the action is the least-restrictive means of achieving it. It takes effect July 1.
Along with Apple's condemnation, the NCAA has
questioned the impact
the legislation will have on future sporting events, Salesforce has vowed to halt expansion plans in the state, several conventions typically held in Indiana have said they will find other venues, and San Francisco Mayor Ed Lee
spoke out against the decision
and barred all non-essential publicly funded City employee travel to the state.
In his tweets, Cook also called for Arkansas Governor Asa Hutchinson to veto H.B.1228, a similar bill that was recently
passed by the Arkansas state senate
, and he reiterated Apple's own commitment to equality and its efforts to treat every customer the same, regardless of "how they worship or who they love."
Around the world, we strive to treat every customer the same — regardless of where they come from, how they worship or who they love.

— Tim Cook (@tim_cook) March 27, 2015
Cook
came out as gay
last October, but even before then, he's had a long history of supporting equality and speaking out against discrimination. In 2013, he
lectured on equality
at his alma mater Auburn University, and during that same year, both he and Apple
publicly supported
the Employment Nondiscrimination Act.
Under his direction, Apple
released a statement
in support of Supreme Court gay marriage rulings, and Cook also led Apple to march in support of the LGBT community during the 44th annual Pride parade in San Francisco.
Note: Due to the political nature of the discussion regarding this topic, the discussion thread is located in our
Politics, Religion, Social Issues
forum. All forum members and site visitors are welcome to read and follow the thread, but posting is limited to forum members with at least 100 posts.
Wunderlist
has provided a closer look at its
Apple Watch companion app
, which appeared on the App Store on Thursday ahead of the device's launch next month. The app is designed with a unique Home View that provides access to your most important items first, with four buttons that display a bird's eye view of your to-do lists, agenda and reminders on your wrist.

Wunderlist for Apple Watch delivers a hand-free experience in situations where you might normally use your iPhone, such as while shopping at a supermarket and checking items off your grocery list, or when using smart voice input to add to-dos for an upcoming meeting. The combination of Glances and real-time notifications ensure that you will stay up to date with important things during your day, be it during your morning commute, at the office or at home.
"As you move through the day, you won't even have to open Wunderlist on your Watch to get stuff done. Just take a look at our Glance during breakfast to review your most important to-dos for the day. Thanks to Wunderlist's real-time notifications, a subtle tap on your wrist will let you know what your colleagues are working on during your morning commute, and remind you to pick up the milk on your way home from work."
Wunderlist for Apple Watch features custom animations for interacting with the app, and its developers have carefully considered which font sizes, layouts and interactions would work best with limited screen real estate. The result is a design that was inspired by Wunderlist's brand-new colorful sidebar icons, with the majority of the user interface consisting of white text on a black background.

Ultimately, the developers behind Wunderlist for Apple Watch wanted to create software that gets out of your way, all the while providing multipurpose functionality for managing your day-to-day life. Apple Watch, and by extension the wrist, provides a more natural setting for to-do apps such as Wunderlist and
Todoist
, so it will be interesting to see how developers build upon these apps in the future.
Wunderlist
[
Direct Link
] is free on the App Store for iPhone, iPad and Apple Watch.
As a few popular iPhone apps begin
rolling out updates
for their built-in Apple Watch apps ahead of the April 24 launch, a pair of transit-focused services have posted on
Medium
to share detailed looks into exactly what kind of experience users can expect from Citymapper and Transit App on the Apple Watch next month.
Sifting through the data gathered from its iPhone app,
Citymapper
learned that its users frequently turned their phone on and off throughout one trip, unlocking to reorient themselves and quickly locking the device again to save battery. That's where its upcoming Apple Watch app comes in, Citymapper promising an experience tailor-made for the wrist-worn device.

This is the nature of transit information when you move across the city. You need snippets of information. Different things at different times, depending on where you are along the way.

Transit info works well on a device that focuses attention on one thing at a time. And where the transaction cost (ie hassle) of getting additional information is low (raise your wrist and swipe). Using a wearable app may also be safer. City dwellers are generally walking too fast, crossing streets, using stairs, jostling through crowds.
Citymapper has a few cool things planned for its Watch app, with Glances showcasing "how messed up your city is", pointing out stalled bus and train schedules around a user's location. The app will even notify a user, with the much-touted wrist-tap feature, when to get off of a current bus or train route to continue along their way.
Citymapper on the Apple Watch will be available in every city Citymapper has already
established itself
, including places like New York City and Rome, and support English, French, Spanish, German, Italian, Japanese, with more cities and languages "coming soon."
Transit
's Apple Watch app appears to be providing less of a notification-heavy experience and more of a straight-forward curated list of departure times and easy-to-follow directions, with a static "Take Me Home" button always on hand for when users get lost. The company aims to shave off as many precious seconds as possible with its wrist-worn experience.

It's not every day that developers get the chance to build something for a completely new platform. And we think that the Apple Watch might just be the ideal platform for us. Sure, it's not so difficult to pull your phone out of your pocket. But it's while we're in transit that those seconds matter most.

With Transit App for Apple Watch, all of that friction is gone. No matter where you are, you will have instant access to departure times for nearby routes — on hand at all times. Sprinting for the bus? Need to know which route is leaving soonest? Don't want to interrupt your game of Candy Crush? We've got your back.
Both
Citymapper
[
Direct Link
] and
Transit App
[
Direct Link
] promise to be available on day one of the Apple Watch's April 24 launch.
Intel and Micron on Thursday
announced
the availability of new 3D NAND technology that enables high-density flash devices with three times more storage capacity than other NAND technologies in production. 3D NAND technology is also more cost efficient than planar NAND, with faster performance, improved latency and new sleep modes that result in low-power use by cutting power to inactive NAND die.

The advancements pave the way for future Macs and other devices with flash memory to be equipped with greater than 10TB solid-state drives, significantly more storage capacity than the maxed out 1TB PCIe-based flash storage upgrade option that Apple offers for the MacBook Pro, iMac and Mac Pro. As planar NAND faces practical scaling limits, Intel and Micron expect that 3D NAND will shape the future of flash memory.
"Micron and Intel's collaboration has created an industry-leading solid-state storage technology that offers high density, performance and efficiency and is unmatched by any flash today," said Brian Shirley, vice president of Memory Technology and Solutions at Micron Technology. "This 3D NAND technology has the potential to create fundamental market shifts. The depth of the impact that flash has had to date—from smartphones to flash-optimized supercomputing—is really just scratching the surface of what's possible."
3D NAND has innovative process architecture with a floating gate cell that enables greater performance and increased quality and reliability. Intel and Micron expect that 3D NAND technology, which "stacks flash cells vertically in 32 layers to achieve 256Gb multilevel cell (MLC) and 384Gb triple-level cell (TLC) die," will result in continued performance gains, cost savings and widespread adoption of flash storage solutions for mobile consumer devices and enterprise deployment.
Intel and Micron claim that the 256Gb MLC version of 3D NAND is being sampled by select partners beginning this week, while the 384Gb TLC design will be sampling later this spring. Both devices are slated to enter full production in the fourth quarter, and both companies are developing separate lines of SSD solutions based on 3D NAND technology that are expected to be available within the next year.
Given that flash storage solutions using 3D NAND are not expected to be available until the end of this year at the earliest, it is unlikely that larger SSDs based on the new technology will be included in any next-generation Macs for the foreseeable future. Apple also recently refreshed the
MacBook Air
and
13-inch MacBook Pro
, so those two notebook models in particular are still early in their product cycles.
Apple today officially announced April 10 grand openings for its three dedicated Apple Watch shops located in
high-end department stores
in London, Paris, and Tokyo. As previously outlined, the store-within-a-store locations are at
Selfridges
in London,
Galeries Lafayette
in Paris, and
Isetan
in Tokyo.

The new locations appear set to handle only Apple Watch viewing and sales, with customers being directed to other Apple retail stores for their support needs.
The
Selfridges Apple Watch shop
will be located near the entrance to the iconic Wonder Room, a massive shopping hall that houses a wide selection of luxury jewelry and watch brands alongside a concept store and mezzanine wine bar. Apple has reportedly been drawing employees from other retail stores in London to staff the new shop. The Galeries Lafayette shop will take over
four balcony sections
overlooking the main rotunda of the department store.

Apple Watch shop at Galeries Lafayette in Paris (Source: Getty Images via iGen.fr)
Apple will begin in-store previews and pre-orders for the Apple Watch on April 10, with launches in the first wave of countries coming two weeks later. The high-end gold Apple Watch Edition models will only be available at select Apple retail stores, and the dedicated Apple Watch shops at these luxury department stores will almost certainly also be featuring the gold watches, which are priced from $10,000 to $17,000.
Ahead of the Apple Watch's upcoming April 24 launch, apps that include Apple Watch support are beginning to be
released in the App Store
. As of today, several popular iOS apps have been updated with built-in Apple Watch apps, including
Evernote
,
Dark Sky
,
Things
, and
Target
.
Additional apps with Apple Watch support will be rolling out over the course of the day, giving us a first look at how many of the apps on the device will function. We'll be updating this post with a list of Apple Watch apps that are available as they come out in the App Store.
Apple has
already shared information
on many third-party apps that will be available for the Apple Watch, but the updates coming today will give us a lot more information on how some of our favorite apps will take advantage of the App Store.
According to
Evernote
's app description, for example, users will be able to dictate notes into the Apple Watch, which will be transcribed and synced to
Evernote
. Users will also be able to see recently created, updated, and viewed notes, and get reminders about items that are due.
Dark Sky
's weather information will be brought to the wrist, and according to the app release notes, it's been designed from scratch to fit on the smaller screen of the Apple Watch.

As we've mentioned before, Apple Watch apps are bundled into existing iPhone apps because the iPhone powers the app while a UI is extended to the Apple Watch. This helps to preserve battery and it controls the amount of access developers have to the watch. Apps that run fully on the Apple Watch are coming in the future, but are not available yet.
The Apple Watch will be available for pre-order and try-on sessions at Apple retail stores beginning on April 10. Third-party Apple Watch apps have likely started popping up today to allow Apple Store employees to install content on demo Apple Watches that will be shown off to customers.
Here's a comprehensive list of Apple Watch apps available with a brief description of what they'll do:
Click here to read rest of article...
Amazon on Thursday
announced
two new unlimited cloud storage plans for
Amazon Cloud Drive
, enabling users to store an endless amount of photos, videos, movies, music, and files. Amazon users can choose either the Unlimited Photos Plan for $11.99 per year or the Unlimited Everything Plan for $59.99 per year, with a free three-month trial available for each plan for customers that want to try the service.

The lower-tier Unlimited Photos Plan allows for an unlimited number of photos to be stored on Amazon Cloud Drive, alongside up to 5GB of additional storage for videos, documents and other files. The more expensive Unlimited Everything Plan allows for unlimited storage of photos, videos, files, documents, movies and music with no restrictions. Amazon Prime members are already provided with an Unlimited Photos Plan at no additional cost.
"Most people have a lifetime of birthdays, vacations, holidays, and everyday moments stored across numerous devices. And, they don't know how many gigabytes of storage they need to back all of them up," said Josh Petersen, Director of Amazon Cloud Drive. "With the two new plans we are introducing today, customers don't need to worry about storage space—they now have an affordable, secure solution to store unlimited amounts of photos, videos, movies, music, and files in one convenient place."
The addition of unlimited cloud storage makes Amazon Cloud Drive a more competitive alternative to other cloud storage services such as iCloud Drive, Google Drive, Microsoft OneDrive and Dropbox. Apple does not offer unlimited iCloud storage, providing customers with tiered storage options of 20GB, 200GB, 500GB or 1TB for between $0.99 and $19.99 per month. Google and Microsoft also have capped storage plans, while Dropbox offers unlimited storage to business customers only.