New iMacs and 'Magic' Accessories
Apple's line of newly updated 5K Retina 27-inch iMacs with Skylake will support up to 64GB of RAM, an upgrade from the previous-generation 27-inch Retina iMacs that would only support a maximum of 32GB of RAM. According to
OWC
, The current 27-inch Retina iMac includes four memory slots that support up to 16GB of memory per slot for a total of 64GB.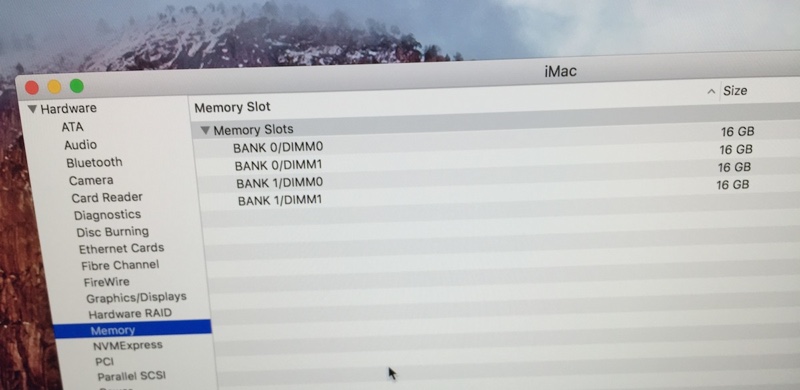 Image via OWC
Build-to-order options for the 27-inch Retina iMacs only allow it to be purchased from Apple with a maximum of 32GB RAM, but OWC will offer 16GB modules in
48GB and 64GB configurations
for the new iMac. OWC plans to start selling its new 48 and 64GB kits tomorrow, and pricing is as follows:
- Single 16GB module - $329.99
- 32GB Kit using 16GB x 2 Modules - $599.00
- 48GB Kit with 16GB x 2 + 8GB x 2 - $729.00
- 64GB Kit with 16GB x 4 - $1195.00
The new 27-inch iMacs were
announced this morning
and are available from Apple retail stores and
Apple's online store
. Pricing for the machines starts at $1,799 for a 3.2GHz quad-core processor, 8GB RAM, 1TB hard drive, and an AMD Radeon R9 M380 graphics card.
Update:
OWC has
torn down
the new 21.5-inch 4K Retina iMac and has learned that the memory is soldered in, which means it can't be upgraded. Customers purchasing a 21.5-inch Retina iMac should get the maximum amount of memory they can afford at the time of purchase as there will be no third-party upgrade options. The maximum amount of RAM for the 21.5-inch iMac models is 16GB.
B&H Photo is
now offering
several different models of the Apple Watch, both online and in its retail store located in New York. Like other third party retailers that sell the Apple Watch, B&H Photo is only offering select Apple Watch stainless steel and Apple Watch Sport models.
With the Apple Watch in retail stores like Target, Best Buy, and B&H Photo, we may soon start seeing small discounts on the device. Each of these sites offers several other Apple products and they often have sales and deals available. With Black Friday approaching, it's possible there could be Apple Watch models available at lower prices.

The
site is selling
four different varieties of the stainless steel Apple Watch, offering the Black Stainless Steel model with a Black Sport Band in 38 and 42mm configurations and the Silver Stainless Steel model in 38 and 42mm configurations with a Product (RED) Sport Band, the Milanese Loop, and the White Sport Band.
Several varieties of the Apple Watch Sport are available, including Silver, Space Gray, Gold, and Rose Gold models with recent Apple Watch Sport Bands in colors like Midnight Blue, Antique White, Stone, Blue, and Lavender. B&H Photo is also selling Apple Watch charging cables and offering standalone Apple Watch bands.
Since August, Apple Watch availability has expanded to
Best Buy
,
Target
, and
Sprint and T-Mobile
locations.

Last year, the Wisconsin Alumni Research Foundation (WARF), which protects the University of Wisconsin's intellectual rights and patents, sued Apple for infringing on one of its processor patents. According to the lawsuit, Apple used the University's technology in its A7, A8, and A8X processors included in the 2013 and 2014 iPhone and iPad lineup.
A Wisconsin jury today found Apple guilty of infringing on the patent owned by WARF, reports
Reuters
, and as a result, the Cupertino-based company could be forced to pay up to $862 million in damages. The jury also ruled that the patent was valid, negating Apple's argument that it was invalid and no infringement had taken place.
Cupertino, California-based Apple denied any infringement and argued the patent is invalid, according to court papers. Apple previously tried to convince the U.S. Patent and Trademark Office to review the patent's validity, but in April the agency rejected the bid.

According to a recent ruling by U.S. District Judge William Conley, who is presiding over the case, Apple could be liable for up to $862.4 million in damages.
Granted in 1998, the
patent in question
covers a method for improving processor efficiency and is titled "Table based data speculation circuit for parallel processing computer." It lists several current and former University of Wisconsin researchers as inventors.
Now that the jury has decided Apple used the university's technology in its processors, the trial will move on to decide the damages owed. Following that, there will be a third trial phase to determine whether Apple willfully infringed on the patent, which could significantly increase the damages owed.
The Wisconsin Alumni Research Foundation has also filed a second lawsuit against Apple for the same patent, accusing the company of using the technology in the A9 and A9X found in the iPhone 6s, 6s Plus, and iPad Pro.
Apple has updated its website with a wealth of new information following its announcement of
new 4K and 5K iMacs
and a new
Magic Keyboard, Magic Mouse 2 and Magic Trackpad 2
. Here are some of the more interesting tidbits that have been overshadowed by the larger announcements.
New iMacs
Then and Now
— Apple has published a new
"Then and Now" page
that compares the 1998 iMac G3 with the 2015 iMac, showing the progress that has been made over the past 17 years. The new iMac has 14 million more pixels, 62,000 times faster graphics, 366 times more processing power, 1,000 times more RAM and 750 times more storage.

5,400 RPM 1TB Hard Drive on 4K iMac
— The new 21.5-inch 4K iMac's standard configuration for $1,499 includes a 5,400 RPM 1TB Serial ATA hard drive, which is considered long obsolete for a 2015 desktop computer. Upgrades to a 1TB or 2TB Fusion Drive are available for $100 and $300 respectively.
Fusion Drive Changes
— To allow for lower prices, Apple's 1TB Fusion Drive is now a 1TB hard drive
paired with a 24GB SSD
. Previously, a 1TB Fusion Drive was a 1TB hard drive with a 128GB SSD. Mac users looking for 128GB of flash storage will need to upgrade to a 2TB or larger Fusion Drive. 256GB and 512GB all-flash storage options can also be ordered.
Magic Accessories
Automatic Pairing
— The new Magic Keyboard, Magic Mouse 2 and Magic Trackpad 2 have a new automatic pairing process with Mac using a Lightning to USB cable. Each accessory is also charged via Lightning to USB.

2-Minute Fast Charging
— The new Magic accessories each take about 2 hours to reach a full one-month charge via Lightning to USB, but
early reviews
found the Magic Mouse 2 can fast charge for nine hours of battery life in just two minutes.
Magic Mouse 2's fast charging is useful, since its bottom-facing Lightning port renders it unusable while charging. Magic Keyboard and Magic Trackpad 2 both have Lightning ports on the rear, meaning both accessories can still be used while charging.

Magic Trackpad 2 Requires Bluetooth 4.0
— Magic accessories connect wirelessly with a Mac via Bluetooth for a secure connection up to 30 feet away. For the Magic Trackpad 2, Apple requires a Bluetooth 4.0-enabled Mac. Magic accessories are also only compatible with Macs running OS X 10.11 or later.
Related Roundup:
iMac
Tags:
Magic Keyboard,
Magic Mouse 2,
Magic Trackpad 2
Buyer's Guide:
iMac (Buy Now)

Recently, Apple let
Medium
behind the doors
of its Input Design Lab while the company was in development for the new set of iMacs and accessories that just
launched today
. While visiting the lab, journalist Steven Levy got some behind-the-scenes glimpses of the "fanatical" production process taken by the team at Apple, and even discussed topics -- like the iMac's relevance -- with a few Apple executives.
Highlighting Apple's laser focus on details, Levy relates a story of how the Magic Mouse 2 initially "stirred consternation and late nights" among its creators due to the sound it made as it was moved around being "not right." While the team had kept the overall look and feel of the mouse the same as its predecessor, the internal changes had altered the amount of friction between the device and a table, thereby changing the sound it made.
"When we did the previous mouse we spent so much time dialing those feet, the material, the geometry, everything, so that it sounds good and feels good when you move it on the table," says John Ternus, whose title is VP for Mac, iPad, Ecosystem and Audio Engineering. "But then you change the mass of the product and you change the resonant frequency of the product and all of a sudden the feet that we loved weren't great anymore. They weren't what we wanted."
With the impending launch of the iPad Pro and the growing reliance on mobile computing over heavy desktop use, Levy also brought up the topic of the iMac line and its relevance in 2015 with Phil Schiller, Apple's senior VP of Worldwide Product Marketing.
Schiller explained Apple's products as a continuum, where you use the "smallest possible gadget to do as much as possible before going to the next largest gizmo in line." Starting with the Apple Watch, to the iPhone, iPad, and so on, he states that users shouldn't frantically try to use all of the company's products at once, but do as much on one at a time before needing to pick up another.
"...The job of the iPad should be to be so powerful and capable that you never need a notebook. Like, Why do I need a notebook? I can add a keyboard! I can do all these things! The job of the notebook is to make it so you never need a desktop, right? It's been doing this for a decade. So that leaves the poor desktop at the end of the line, What's its job?"

"Its job is to challenge what we think a computer can do and do things that no computer has ever done before, be more and more powerful and capable so that we need a desktop because it's capable," says Schiller. "Because if all it's doing is competing with the notebook and being thinner and lighter, then it doesn't need to be."
When asked about the possibility of introducing an iOS-like multitouch display into the iMac line, the team behind the desktop computers remained adamant against such a move. Schiller reiterated that any input on a desktop that sits above keyboard level feels "uncomfortable" and that the iMac was built from the ground up with a cursor input in mind.
"iOS from its start has been designed as a multi-touch experience — you don't have the things you have in a mouse-driven interface, like a cursor to move around, or teeny little 'close' boxes that you can't hit with your finger. The Mac OS has been designed from day one for an indirect pointing mechanism.

These two worlds are different on purpose, and that's a good thing — we can optimize around the best experience for each and not try to mesh them together into a most-common-denominator experience."
The entirety of
Medium's report
from the Input Design Lab at Apple is well worth a read, as it goes far more in depth with topics like the new iMac's color spectrum and even the technology, design, and instrument testing that resulted in the new Magic Mouse 2, Magic Trackpad 2, and Magic Keyboard.
Related Roundup:
iMac
Tags:
Magic Keyboard,
Magic Mouse 2,
Magic Trackpad 2
Buyer's Guide:
iMac (Buy Now)

Apple today launched new
4K and 5K iMacs
alongside the Magic Keyboard, Magic Mouse 2 and Magic Trackpad 2. The refreshed all-in-one desktop computers feature faster processors and graphics, two Thunderbolt 2 ports and more affordable Fusion Drive storage upgrade options.
Following the announcement, several media outlets have published hands-on reviews and first impressions of the new iMacs, including
Ars Technica
,
CNET
,
Engadget
,
Macworld
,
Mashable
,
Tech Insider
and
The Wall Street Journal
. Many of the reviews also provide a closer look at the new Magic accessories.
The early reviews of the new iMacs are generally favorable, with high marks awarded to their improved displays with wider color gamut. The 2015 models are widely considered among the best desktop computers available, but some critics view the lack of USB-C and base configuration of 5400 RPM hard drives as shortcomings.
Ars Technica
Then there are the frustrating choices Apple has made across the lineup: No Thunderbolt 3 or USB Type-C even though those technologies are apparently ready to go, and no standard Fusion Drive or SSD in any but the top-end 27-inch iMacs. At $100, the jump to a Fusion Drive (albeit a smaller one than in years past) is cheaper than ever, but Apple could really afford to stick that 24GB drive inside every single one of these iMacs to alleviate the unmitigated misery that is using a 5400RPM hard drive in a $1500 desktop computer in this the year of our Lord 2015.

If you're OK with the list of omissions and you can spring for the storage upgrade, the 4K iMac gets you a great professional-quality screen and a powerful quad-core processor for a pretty reasonable price. The 27-inch iMac is the computer that most blurs the line between consumer all-in-one and high-end workstation, but as long as you aren't gaming you can get some pretty serious work done on the 21.5-inch iMac. But if Apple can make Fusion Drives and 4K screens standard on all iMacs when the Skylake refresh comes around, we won't have much left to complain about.
CNET
For everyone else, even if you don't regularly view 4K content, a sharp-looking Retina-level display is one of those things that's nearly impossible to give up once you get used to it, and the new 4K iMac is competitively priced with the handful of 4K-display Windows PCs we've reviewed.

If you have a model from the past few years, this isn't a must-have upgrade, but it may certainly be worth picking up the new keyboard and mouse or trackpad to give your older iMac a facelift.
Engadget
The iMac is still the best all-in-one, with an attractive (if predictable) design, near-standard 4K and 5K screens, and even better color accuracy than before. The 21.5-inch version is in some ways the more interesting of the two models, as this is the first time the smaller Mac has been offered with a Retina display. […]

As you can see, then, the iMac mostly hits the right notes, although I wish Apple were more generous with the other specs -- besides display quality and resolution, that is. The 21.5-inch version is no longer offered with discrete graphics, not even on the 4K edition, which seems like a mistake. Meanwhile, hybrid Fusion drives only come standard on machines priced from $1,999.
Macworld
When four pixels are doing the work that only one used to do, the El Capitan interface really shines. Everything's sharper. Photos look startlingly real, almost like they were printed on paper. And then there's text, which looks razor sharp like it just rolled out of a laser printer. Even toolbars and Dock icons are more pleasant because all the on-screen graphics have added subtle details that were impossible at lower resolutions. […]

The base storage configuration of the 4K iMac is a 1TB, 5400rpm hard drive. It's been a few years since I regularly used a Mac with a spinning disk as its primary hard drive, and man, did it feel slow. Starting up was slow. Launching apps was slow. Everything... just... took... longer. It's disconcerting to take a brand-new, top-of-its-line Mac out of the box and be disappointed by how sluggish it feels, but that's what I experienced, and it's pretty much down to that slow hard drive.

Mashable
Apple did change how the Fusion Drive works in 2015. To allow for a lower-cost Fusion Drive option, Apple paired a 1TB hard drive with a 24GB SSD. In the past, the 1TB Fusion Drive matched a 1TB standard hard drive with a 128GB SSD. Now, if you want the 128GB SSD, you'll need to have a 2TB or 3TB Fusion Drive offering.

The upside of the new Fusion Drive configuration is that it makes the feature — and its faster response times — affordable for anyone. The downside is you don't see speed improvements of documents and apps offloaded to the SSD as much because the cache is smaller.
Tech Insider
It's not just about resolution though. The new iMac screens can show color better too. […]

But the average person probably won't notice. I had to look at side-by-side comparisons to really see what has changed. This feature is better for photo and video professionals, not necessarily regular users who just want to do some light editing of photos they took with their iPhone. Just know that you're getting a really nice screen and that Apple took the extra step to make sure it keeps getting better. Nothing wrong with that.
The Wall Street Journal
iMacs:
When you look at these new iMac screens, reds and greens in particular look brighter or more vibrant, like somebody cranked up the saturation dial to 11. With 25% more colors to work with, there's also more detail because the monitors aren't eliminating certain hues.

With an old and new iMac side by side, I could spot the difference on some photos, but not all. One problem is that many of our photos—including ones taken with the latest iPhone 6s—are saved in a reduced color palette called sRGB. To take advantage of the new screens, you need images or video saved in a format called DCI-P3. (Not coincidentally, the Mac's Photos app can now save to that format, but you'll have to start with high-quality images, like from a DSLR.) […]

Amid this flurry of iMac improvements, two mysteries remain. First, amid the rabbit warren of ports at the back of the iMac, Apple didn't include a port called USB Type-C—used on the new MacBook laptop (with some controversy) for charging and input alike. Not including USB Type-C on the iMac sends an odd message about Apple's commitment to that burgeoning standard.
Magic Keyboard, Mouse 2 and Trackpad 2:
I haven't had a chance to test how long the batteries last, but Apple reports all three can go for about month on a single charge, and the mouse can give you a nine-hour day's worth of pointing and clicking with a two-minute charge.
Apple's new 4K and 5K iMacs, Magic Keyboard, Magic Mouse 2 and Magic Trackpad 2 are available today.
Apple today
announced
that it has updated its
iMac lineup
, introducing new 21.5-inch iMac with Retina 4K Display and 27-inch iMac with Retina 5K Display models.

The all-new desktop computers feature faster processors and graphics, two Thunderbolt 2 ports and up to 2TB of Fusion Drive storage for stock configurations. The 4K 21.5-inch iMac has a 3.1GHz Core i7 Broadwell processor and integrated Intel Iris Pro Graphics 6200, while the 5K 27-inch iMacs have 3.2GHz to 3.3GHz Core i5 and i7 Skylake processors and dedicated AMD Radeon R9 GPUs.
"From the first iMac to today, the spirit of iMac has never wavered — deliver the ultimate desktop experience with the latest technologies, gorgeous displays and cutting-edge designs," said Philip Schiller, Apple's senior vice president of Worldwide Marketing. "These are the most stunning iMacs we've ever made. With our gorgeous new Retina displays, more powerful processors and graphics and all-new Magic accessories, the new iMac continues to redefine the ultimate desktop experience."
Apple has also launched all-new
Magic accessories
, including the Magic Keyboard, Magic Mouse 2 and Magic Trackpad 2.

The new Magic Keyboard, $99, features Bluetooth for wireless connectivity and a built-in rechargeable lithium-ion battery that charges fully in about two hours using a Lightning to USB cable. The redesigned keyboard has a reengineered scissor mechanism with 33% more key stability and a lower profile for more precise and comfortable typing.
The new Magic Trackpad 2, $129, features Force Touch and a larger edge-to-edge glass design with 29% more surface area. The new Magic Mouse 2, $79, also has a built-in rechargeable lithium-ion battery and redesigned internal structure that includes fewer moving parts. The trio of new wireless accessories are available through Apple and resellers today.
The new 4K 21.5-inch and 5K 27-inch iMac are available today through the Apple Store, Apple Online Store and select authorized resellers, with pricing starting at $1,499 and $1,799 respectively. Apple will also continue selling the non-Retina 21.5-inch iMac in two models starting at $1,099 and $1,299.
The new iMacs include a Magic Keyboard and Magic Mouse 2 in the box.
Related Roundup:
iMac
Tags:
Magic Keyboard,
Magic Mouse 2,
Magic Trackpad 2
Buyer's Guide:
iMac (Buy Now)
Last week Apple
addressed concerns over battery life
discrepancies between the TSMC and Samsung A9 chips used in the iPhone 6s and the 6s Plus, suggesting a real world battery life difference of only two to three percent between the chips despite
Geekbench battery tests
that had pointed towards a bigger gap.
Ars Technica
has now conducted controlled battery life tests on two iPhone 6s models, one with a TSMC chip and one with a Samsung chip, and its findings line up with Apple's statement. The site used two AT&T models, both with SIM cards removed and screen brightness set at the exact same level.
In Wi-Fi browsing, WebGL, and GFXBench tests, there were performance differences mostly in favor of the TSMC iPhone, but the variation between the two phones was slight. There was a more significant performance difference on the Geekbench 3 test, but as has been covered earlier, that test is not reflective of real world usage.

Aside from the Geekbench test, which saw a battery life difference of 28 percent between the two devices, the TSMC iPhone and the Samsung iPhone scored within two to three percent of each other. In
Ars
' opinion, in the real world, there's going to be little difference between a Samsung iPhone and a TSMC iPhone.
So there are definitely circumstances under which the TSMC phone will last longer than the Samsung phone, but it's not a universal problem. A Samsung chip that's mostly idling or even one under modest CPU and GPU load, though, is going to behave in just about the same way as a TSMC chip. And the kinds of CPU-intensive work that the Samsung chip seems to struggle with just aren't that common on smartphones. Most of the time, iPhone 6S battery life should be similar no matter which chip your phone is using.
According to Apple, the comparison of just two devices is too small of a sample size to make meaningful predictions about the performance between iPhones with Samsung chips and those with TSMC chips. As
Ars
points out, no one but Apple has the resources to collect enough data from enough devices to get an accurate picture of performance.
Ars Technica
's findings do line up with what Apple says it has seen in both lab testing and data gathered from hundreds of thousands of customers. Apple has said the variation between the TSMC and Samsung chips it has observed is "well within its manufacturing tolerances" and is a level of variation that can be seen between devices that have the same chip.
Related Roundup:
iPhone 6s
Tags:
Samsung,
TSMC,
A9
Buyer's Guide:
iPhone (Buy Now)
SAP and the One4 Project today
announced
a partnership with the band Imagine Dragons and Apple that aims to provide support to the UN Refugee Agency as it addresses the refugee displacement crises occurring in Europe (via
Forbes
). The new single by the band, called "
I Was Me
," is out now on iTunes for $1.29, and both Imagine Dragons and Apple have confirmed that all proceeds from its sales will go toward relief efforts.

SAP, the corporation supporting One4, has also announced it will donate 10 cents for each of the first five million purchases of the new single. Each member of the project hopes the funds not only aid in providing relief for the refugee crises, but bring the international issue into the public eye.
join us NOW & help @refugees w/our new song #iwasme proceeds provide aid http://t.co/ng1d0rzIUD #one4 @one4project https://t.co/H3iwvWUfCl

— Imagine Dragons (@Imaginedragons) October 12, 2015
Apple has already been
supporting the relief efforts
, opening up iTunes Store donations to the American Red Cross last month to help those displaced from their homes due to violence and forced to migrate across the Mediterranean Sea and into Europe. Those interested in supporting the cause can purchase
"I Was Me" on iTunes
right now.
Note: Due to the nature of the discussion regarding this topic, the discussion thread is located in our
Politics, Religion, Social Issues
forum. All forum members and site visitors are welcome to read and follow the thread, but posting is limited to forum members with at least 100 posts.
Apple today seeded the fifth beta of iOS 9.1 to registered developers and public beta testers for testing purposes, one week after seeding the
fourth iOS 9.1 beta
and two weeks after
releasing iOS 9.0.2
, the second minor bug fix update to iOS.
The new iOS 9.1 beta, build 13B137 (13B5137 for public testers), is available as an over-the-air update and through Apple's Developer Center. There's a second build, 13B139 (13B5139 for public testers), that's unique to the newly released iPhone 6s and 6s Plus.

iOS 9.1 offers new features and compatibility updates for upcoming Apple products like the new fourth-generation Apple TV and the 12.9-inch iPad Pro. The iPad Pro ships with two accessories, the Smart Keyboard and the Apple Pencil, both of which are deeply integrated into the operating system.
The update includes Unicode 8, adding support for emoji like the taco, burrito, cheese wedge, middle finger, unicorn head, and more, along with a new Messages option in the Settings app, allowing users to disable photos for their contacts.
It is not yet known when iOS 9.1 will be released to the public, but it's likely it will come in late October, coinciding with the launch of the new Apple TV. iOS 9.1 is required for setting up the new Apple TV through an iOS device.
Only a limited number of fans have been able to see
Steve Jobs
over the weekend, thanks to its initial small scale release in only Los Angeles and New York on October 9. Despite that limited run, the Danny Boyle-directed film has debuted with impressive numbers, making $521,000 in its first weekend with a per-theater average of $130,250 (via
Variety
).

Although those numbers landed the movie well below any top-earning spot for the weekend box office at large (
it placed sixteenth overall
), that per-theater average places
Steve Jobs
as the fifteenth highest PTA figure in film history. As the rollout for the film expands -- 25 new markets and 60 theaters on October 16, and then 2,000 theaters on October 23 -- Universal has doubled down on its release strategy, believing the slow trickle to wide release will help generate positive word of mouth.
"By holding back and platforming it in this way, we let the public know what this movie is all about and we generate a hotter 'want to see' among audiences," said Nick Carpou, head of Universal's domestic distribution operation.
Universal hopes these limited release numbers translate into bigger returns when
Steve Jobs
debuts in wide release next weekend, aiming for a similar trajectory as
The Social Network
's $97 million overall domestic haul. Current analysts predict at least a $20 million opening wide release weekend for the new film, pointing to the ubiquity of Apple products,
largely positive early reviews
, and the audience's hunt for "prestige movies" at this time of year as the main factors for its potential success.

Elon Musk
raised eyebrows yesterday
when he called Apple the "Tesla Graveyard" in an interview with German newspaper
Handelsblatt
, but this afternoon he attempted to smooth things over with a
series of tweets
clarifying his stance on the company.
"Yo, I don't hate Apple," he said before stating "it's a great company with a lot of talented people." Musk says he loves Apple products and he's "glad they're doing an [electric vehicle]."
In the interview, Musk called Apple the Tesla Graveyard after being questioned about Apple hiring some of Tesla's "most important engineers." Musk laughed off the idea that important Tesla employees had left the company for Apple and said people Apple hired had already been fired from Tesla. "If you don't make it at Tesla, you go work at Apple," he said. "I'm not kidding."
Musk also made fun of products like the Apple Watch, the iPad Pro, and the Apple Pencil, comments that he explained in a bit more detail today. In a
second tweet
, Musk said he wasn't a fan of the Apple Watch's functionality, but expects it to be a much more compelling product in the future.
Regarding the watch, Jony & his team created a beautiful design, but the functionality isn't compelling yet. By version 3, it will be.

— Elon Musk (@elonmusk) October 9, 2015
Apple and Tesla have been at odds in recent months as Apple has
entered the car business
. The two companies have been poaching employees from one another for several months running, but Musk has maintained that Apple has hired away "
very few people
" from Tesla despite attempting to lure Tesla employees with salary increases and large signing bonuses.