KGI Securities analyst
Ming-Chi Kuo
has released a new research report outlining his expectations for next Thursday's "Hello Again" event where Apple is expected to make a number of Mac-related announcements.

In line with long-standing rumors, Kuo believes the highlight of the event will be a redesigned
MacBook Pro
in both 13-inch and 15-inch sizes, adopting an OLED touch bar and
Touch ID
sensor, USB-C, Thunderbolt 3, and the same butterfly keyboard design introduced on the MacBook in 2015. Kuo also adds several new tidbits to the rumor mix:
Our new predictions also include: (1) Intel's (US) Skylake processor; (2) the same panel resolution but better display quality and energy efficiency thanks to an oxide panel; (3) a new option of 2TB SSD storage capacity; (4) adoption of a similar processor as Apple Watch to control the OLED touch bar more energy-efficiently in the new MacBook Pro models; and (5) a Type-C & MagSafe-like adapter rolled out by Apple or a third-party supplier, given positive reviews for the MagSafe charging design.
Beyond the MacBook Pro, Kuo says Apple will also be introducing a "13-inch MacBook," a claim he has
shared previously
. Rather than being a slightly larger version of the current 12-inch MacBook, however, this is likely to be a
MacBook Air
, which would align with
other rumors
claiming that only the 13-inch MacBook Air will be seeing an update with new USB-C ports.
On the desktop side, rumors have indicated that Apple is working on
updated
iMac
models with discrete AMD graphics options, as well as a new standalone external 5K display, but Kuo says those products will not be ready until the first half of next year. It is still possible, however, that Apple could announce them at next week's event.
We also expect Apple to launch new iMacs (21.5-inch and 27-inch) and Cinema Display (27-inch) in mid- 1H17. We cannot say for certain whether Apple will announce the new iMacs and Cinema Display on October 27 as the shipping schedule is not imminent.
Apple's event is being held at the company's Cupertino campus and kicks off at 10:00 AM Pacific Time on Thursday.
MacRumors
will have full coverage both here on the site and on our
@MacRumorsLive
Twitter account, and Apple will be offering a
live video stream
of the event.
Amid rumors suggesting AT&T is
considering purchasing
Time Warner, the parent company of networks like CNN and HBO,
The Wall Street Journal
says Apple is keeping a close eye on the situation as it would have a major impact on the television industry and could potentially impact future television deals Apple might make with the two companies.
Apple at one time was reportedly
in talks with Time Warner
about a potential streaming television deal and has been rumored to have been interested in purchasing Time Warner assets at one time, but negotiations stalled and the two companies are no longer holding talks.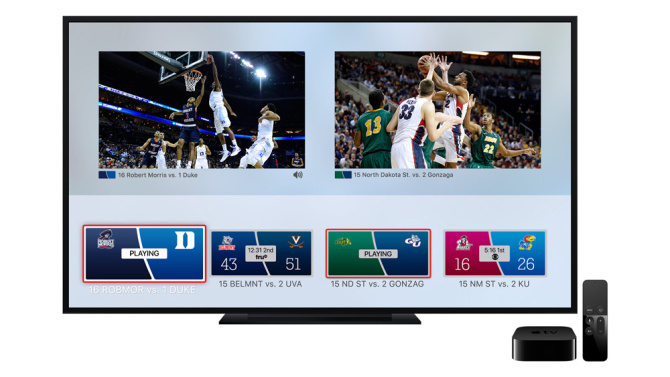 Apple Inc. a few months ago approached Time Warner Inc. about pursuing a combination, but the discussions didn't progress beyond a preliminary stage and none are currently under way, people familiar with the matter said Friday. [...]

From Apple's end, executives under Chief Executive Tim Cook were involved in the earlier talks, and now Apple is monitoring the current situation, one of the people said
Time Warner owns a huge number of assets that could have serve as the foundation of a streaming television service should Apple have struck a deal with the company. Networks like CNN, HBO, TBS, TNT, NBA TV, Cartoon Network, and Warner Bros. are all under Time Warner's umbrella, but with AT&T and Time Warner in "advanced talks" it seems unlikely Apple will do more than "monitor" the situation.
A deal between AT&T and Time Warner could be finalized as early as this weekend, but
The Wall Street Journal
suggests "a host of other contenders" could offer deals for Time Warner, putting an end to the AT&T acquisition.
Last year, Apple was pursuing a streaming television service that would allow it to offer a skinny bundle of channels from popular networks and cable companies for approximately $40 per month, but it wasn't able to establish the necessary deals and shelved its plans.
Apple is instead leveraging the
Apple TV
set-top box as a platform that allows cable companies and other content providers to offer television shows and apps through an Apple-designed interface and user experience.
Just this week
, Apple iTunes chief
Eddy Cue
said that television "needs to be reinvented" and called existing television interfaces "pretty brain dead."
Following their
addition to Apple.com
in the United States last month, Sonos speakers can now be purchased from Apple's website in several other countries.

Sonos Wi-Fi-connected PLAY:1 and PLAY:5 speakers are now available on Apple's online store in
Australia
,
Belgium
,
Canada
,
France
,
Germany
,
Italy
,
the Netherlands
,
Spain
,
Sweden
,
Switzerland
, and the
United Kingdom
.
Prices are set at $249 and $649 in Canada, $299 and $749 in Australia, £169 and £429 in the United Kingdom, and €229 and €579 in many other European countries. Prices may vary based on VAT and other regional taxes.
Apple is currently offering a free 3-month
Apple Music
gift card with the purchase of either speaker. The promotion is valid in the United States and all of the other aforementioned countries and runs until December 31.
Sonos speakers are also
available at 468 physical Apple retail stores
in the United States, Australia, Belgium, Canada, France, Germany, Italy, the Netherlands, Spain, Sweden, Switzerland, and the United Kingdom. In-store purchases likewise qualify for the free 3-month Apple Music gift card.

AT&T is in "advanced talks" to acquire media company Time Warner, and a deal could be finalized as early as this weekend, according to
The Wall Street Journal
.
Bloomberg
on Thursday said senior executives at AT&T and Time Warner
met in recent weeks
to discuss a possible merger, but it said the talks were informal at that stage.
The talks toward what likely would be a cash-and-stock deal have come together quickly, are fluid, and still could fall through, according the people familiar with the matter. An agreement also could be delayed, they said.
Time Warner CEO Jeffrey Bewkes has previously told investors he would entertain a sale of the media company, but only if it feels the price is right. In 2014, Bewkes and his board reportedly turned down an $85-a-share offer from 21st Century Fox, which valued Time Warner at more than $75 billion.
AT&T, looking to add more content and original programming, would gain a number of valuable assets from Time Warner, including CNN, HBO, TBS, TNT, NBA basketball, Cartoon Network and the Warner Bros. film and TV studio. Popular series airing on those networks include, among others,
Game of Thrones
and
Silicon Valley
.
New York Post
sources said
Apple was a possible suitor
to purchase Time Warner earlier this year, which
Financial Times
later said
was an idea proposed by Apple's services chief
Eddy Cue
. The discussions reportedly never progressed beyond the preliminary stage, however, and did not involve Apple CEO
Tim Cook
or Bewkes.
An acquisition would have provided Apple with content for its much-rumored
streaming TV service
, which it has reportedly
placed on hold
due to difficulties in negotiating deals. It was reported the Netflix-like service would have offered a skinny bundle of channels, including ABC, CBS, and FOX, as part of a monthly subscription.
An AT&T-Time Warner acquisition would likely be closely examined by federal regulators.
Originally opened in 2015 as a high-end location for users to browse various models of the Apple Watch, particularly the gold Apple Watch Edition,
Mac4Ever
is now
reporting
that Apple will close its location in Galeries Lafayette effective January 2017. A
number of upscale department stores
launched Apple Watch pop up shops when the original wearable device debuted in 2015, including
Galeries Lafayette
in Paris,
Selfridges
in London, and
Isetan
in Tokyo.

Today's report cites a lack of sales at the Apple Watch-centric shop, along with an apparent reduction of employees over the past few months that had been in preparation for its January closure. The remaining employees will be given jobs at Apple retail stores around Paris once the pop up shop officially closes, including Apple's
future location in Saint Germain
, expected to open by the end of the year. The status and potential closing dates of the
other luxury Apple Watch shops
was not confirmed.
The shops were some of the select few locations that users could browse and purchase the high-end Apple Watch Edition, which in Series 0 began at $10,000 and went up to over $17,000. The "shop-in-shops" were noted as being located in easily visible areas in each department store, nestled next to other high quality brand locations, and ensured that "customers looking to make major purchases" only received "the best service possible." These locations only handled Apple Watch viewing and sales, however, with customers getting directed to other Apple retail stores for their support needs.
With Apple's shift to health and fitness over fashion and luxury in
Apple Watch Series 2
, it makes sense for Apple to eliminate its high-end pop up stores that were marketing mostly in the now-retired gold Apple Watch Edition models. With Series 2, Apple's new Edition device comes in white Ceramic and is
noticeably cheaper
, beginning at $1,250 for 38mm and rising to $1,300 for 42mm.
At the Jamf Nation User Conference yesterday, designed for IT management professionals, IBM VP of Workplace as a Service Fletcher Previn talked about IBM's decision to start letting employees choose between Windows or Mac machines, the cost of PCs vs. Macs, and the
resulting changes to the company
.
IBM began
adopting Macs for its employees
in mid-2015, quickly becoming one of Apple's largest corporate customers. In the first year, IBM deployed approximately 30,000 Macs, and with employees have continuing to choose Macs over PCs, IBM now has 90,000 deployed Macs supported by five admins.

There were assumptions early on that Macs would be significantly more expensive than PCs, but over the last year, IBM has found that it's actually PCs that are more expensive. Over a four-year lifespan, Previn says IBM saves up to $543 per Mac compared to a PC.
But isn't it expensive, and doesn't it overload IT? No. IBM found that not only do PCs drive twice the amount of support calls, they're also three times more expensive. That's right, depending on the model, IBM is saving anywhere from $273 - $543 per Mac compared to a PC, over a four-year lifespan. "And this reflects the best pricing we've ever gotten from Microsoft," Previn said. Multiply that number by the 100,000+ Macs IBM expects to have deployed by the end of the year, and we're talking some serious savings.
At last year's Jamf conference, Previn made similar comments. At the time, it had been only months since IBM deployed the Macs, but already, IBM had been noticing savings because Macs
required less management
and setup efforts than PCs, despite costing more up front. "Every Mac that we buy is making and saving IBM money," Previn said last year, and at this year's conference, that remained true. "Every Mac we buy is in fact continuing to make and save IBM money," he reiterated.
Macs are continuing to grow in popularity with IBM employees, and 73 percent say they want their next machine to be a Mac. To keep up with demand, IBM is deploying 1,300 new Macs each week, using Jamf and Apple's Device Enrollment Program to get new users set up quickly.
Employees receive a consumer experience from the moment they receive their Mac, which continues with a Workstation Asset Management Tool and a re-designed intranet, providing employees with an Apple-like, self-help experience. Not only do these additions drive self-sufficiency among employees, but they also help create confidence with the product.
Along with IBM's success, the Jamf conference also highlighted the use of Apple products in schools and in healthcare. In La Crosse, Wisconsin, students across 11 elementary schools, six middle schools, and four high schools successfully use iPads and MacBooks in the classroom to meet unique learning needs.
At the upcoming Jacobs Medical Center at the University of California, San Diego, iPads and
Apple TV
s will be deployed in 245 patient rooms to make it easier for patients to access their medical records, get medication reminders, and control lights, blinds, and room temperature.
Apple iTunes chief
Eddy Cue
today sat down with HBO CEO Richard Plepler for a joint interview during Vanity Fair's
New Establishment Summit
in San Francisco, where both spoke passionately about the television industry, the partnership between Apple and HBO, and how TV will improve in the future.
According to Eddy Cue, television "needs to be reinvented" because of confusing, hard to navigate interfaces. "You live with a glorified VCR," he said. "You're still setting things to record. There are 900 channels, but there's nothing to watch." He went on to say that there's incredible stuff to watch, but the interface makes it impossible to find content. "The problem is the interface," he said. "The ways you interface with it are pretty brain dead."

Because Apple has been unable to negotiate the deals it needs to create its own streaming television service, the company has taken another approach to revolutionizing the television experience, through the
Apple TV
. The Apple TV, with a full
App Store
, now serves as a platform that allows content providers to offer content while Apple exercises greater control over the interface.
Apple has been aiming to improve the way we interact with the television through features like
Siri
, universal search, and live tune-in, which allow users to conduct voice searches, find content across multiple apps, and play live content automatically without needing to search through a directory, all of which Cue alluded to in the interview.
Using HBO Now as an example, Cue said it's representative of a much better television service with an easier to navigate interface than what he sees on his cable box or satellite.
Cue believes that television will continue to improve gradually, getting better each year as restrictions relax and content providers become more comfortable with emerging technology. "It's moving rapidly," he said. "Look, it's gonna get better every year."
On competition, he said Apple can compete with companies like Netflix, Amazon, and Spotify but "still be together" because all of those services are on Apple's platform. Cue says Apple's platform will win if the company gives customers the best way to pay for and access content, even content coming from direct competitors.
On Apple's partnership with HBO, Cue said that though HBO has more than 1 million subscribers on Apple devices, the relationship between the two companies "at the beginning" and will continue. Both Cue and Plepler offered high praise for one another and said they have a strong partnership. Cue said he loves working with Plepler because he "cares about making the best stuff," while Plepler said Cue offers solid counsel and is easy to work with.
I said to him 'look, our natural DNA is not tech - it's content. We have a long learning curve and we could use your counsel and input.' They gave us great input and counsel. I call them for counsel all the time, so it's been a great partnership. [...]

They're a pleasure to do business with. I'll never forget that any time the two of us got on the phone when there was an impasse, we solved it together in 10 minutes. That's rare.
Despite Plepler's praise, Eddy Cue's "hard-nosed" negotiating tactics are said to be
one of the reasons why
Apple has not been able to establish a stronger foothold in the television industry with its own streaming service. Cue and Apple refuse to settle with content providers for less than what Apple wants, which led to Apple walking away from its latest streaming television plans after networks refused to unbundle channels and demanded higher prices than the company was willing to pay.
Apple's focus is now on the Apple TV set-top box and on serving as an intermediary between people and content, but the company is also making some investments in
original television programming
.
With the
iPhone 7
and the iPhone 7 Plus, Apple elected to use LTE modems from two different sources, Qualcomm and Intel. The A1778 and A1784 iPhone models use a GSM-only Intel XMM7360 modem while the A1660 and 1661 iPhone models use a GSM/CDMA-compatible Qualcomm MDM9645M modem.
Apple's decision has already caused some disappointment among customers because the GSM-only Intel modem is
not compatible with as many carrier networks
as the GSM/CDMA Qualcomm modem, and now independent
testing conducted by Cellular Insights
suggests there are some significant performance differences between the two modems, with the Qualcomm modem outperforming the Intel modem.
Using an R&S TS7124 RF Shielded Box, two R&S CMW500, one R&S CMWC controller, and four Vivaldi antennas, Cellular Insights created a setup to simulate LTE performance at different distances from a cellular tower using two iPhone 7 Plus devices, one with an Intel modem and one with a Qualcomm modem.
The goal of the test was to measure the highest achievable LTE throughput starting at a Reference Signal Received Quality of -85dBm (a strong signal) and gradually reducing the power level to simulate moving away from a cellular tower where signal is weaker. Three LTE bands were tested: Band 12, Band 4 (the most common band in North America), and Band 7.

In all three tests, both the iPhone 7 Plus models offered similar performance in ideal conditions, but as power levels decreased, Cellular Insights saw "unexplainable sharp dips in performance" in the Intel modem, finding a gap "north of 30%" in favor of the Qualcomm iPhone 7 Plus. In the charts, the Qualcomm modem maintains noticeably higher throughput speeds than the Intel modem as signal strength decreases.

In real world conditions, this would suggest the Qualcomm modem does better in areas where the cellular connection is weak, with faster throughput speeds. Cellular Insights describes the Band 12 test below:
Both iPhone 7 Plus variants perform similarly in ideal conditions. At -96dBm the Intel variant needed to have Transport Block Size adjusted as BLER well exceeded the 2% threshold. At -105dBm the gap widened to 20%, and at -108dBm to a whopping 75%. As a result of such a huge performance delta between the Intel and Qualcomm powered devices, we purchased another A1784 (AT&T) iPhone 7 Plus, in order to eliminate any possibility of a faulty device. The end result was virtually identical. [...]

At -121dBm, the Intel variant performed more in line with its Qualcomm counterpart. Overall, the average performance delta between the two is in the 30% range in favor of the Qualcomm
Cellular Insights also created a chart that compares the edge of cell performance of several different smartphones. The increasing numbers on the X-axis below represent increasingly poor signal strength, while on the Y-axis, a higher throughput number indicates better performance. The iPhone 7 Plus with an Intel modem demonstrates the poorest performance of all phones tested.

According to Cellular Insights, in every single test, the iPhone 7 Plus with a Qualcomm modem "had a significant performance edge" over the iPhone 7 Plus with an Intel modem.
For more information on the testing methodology and greater technical detail on the results, make sure to check out Cellular Insights'
full comparison article
.
A week before Apple's
just-announced
October 27 Mac-centric event, a newly discovered trademark filing has been unearthed online, suggesting a potential name for the OLED panel on the new
MacBook Pro
. According to information rounded up by Brian Conroy at
The Trademark Ninja
(via
The Next Web
), a trademark filed by a company called "Presto Apps America LLC" for a device dubbed the "Magic Toolbar" could be Apple's name for the
touch bar panel
on its new MacBook Pro line.
Conroy lays out a line of evidence pointing to Apple's involvement with this particular name, beginning with Presto Apps' incorporation on January 22, 2016, and followed by its filing for the trademark just a few weeks later on February 5, 2016. The cost of the trademark application was furthermore estimated to be around €16,000.

The trademark's cost, along with Apple's stable of "Magic" products -- Magic Keyboard, Magic Mouse, Magic Trackpad -- fuel Conroy's main line of evidence. Given that Apple has a well-established reason to potentially do battle with any company in court who would file a trademark with "Magic" heavily featured in the title, Conroy says anyone would "have to be 100% certified insane" to spend so much money on something that a company like Apple could shut down with relative ease. He calls this "the main reason" he believes Presto Apps is Apple.
They would almost certainly be able to stop any other company applying for the trademark 'Magic Toolbar', on the basis it's similar to their existing trademarks and likely to cause confusion.

So, another company would have to be 100% certified insane to spend €16,000 in outlay for a trademark application that someone with the clout of Apple was almost certain to be able to object to and defeat. And that's the main reason that I'm putting my neck on the line and saying that 'Presto Apps America LLC' is actually Apple.
To top it all off, when investigating Presto Apps' trademark applications in Canada, Indonesia, and Malaysia, it was discovered that the "Magic Toolbar" application was filed by the same lawyers who applied for the "AirPods" trademark. As Conroy concluded, "either Presto Apps America is Apple and the Magic Toolbar is going to be part of the MacBook announced on 27 October or else it's the strangest set of coincidences and unlikely events I've ever seen."
Rumors that began earlier in the year suggested that the OLED panel on the MacBook Pro will dynamically change for specific apps that are open on the computer, as well as integrate
Touch ID
into Apple's MacBook line. Internally, Apple reportedly named the OLED panel the "
Dynamic Function Row
." Refreshed versions of the
MacBook Air
,
iMac
,
Mac Pro
, and
Mac mini
are also believed to be part of the October 27 event.
Apple today
sent out media invites
for a Mac-centric event that will be held on
Thursday, October 27
at 10:00 a.m. at Apple's Cupertino campus.
The October event is expected to focus on the introduction of new Macs, headlined by a much-rumored and highly anticipated revamped
MacBook Pro
. According to rumors, the new MacBook Pro will feature the first redesign to the machine since 2012.

A thinner, lighter body is expected, with a wider, pressure-sensitive trackpad and a flatter MacBook-style keyboard with the same butterfly key mechanism. The MacBook Pro will be available in the same 13 and 15-inch size options, and will feature USB-C with USB 3.1 support for faster transfer speeds, Thunderbolt 3, and
Touch ID
.
Touch ID is expected to be built into a new OLED touch panel built into the top of the MacBook Pro, where it will replace the physical function key row. The OLED touch panel is said to feature contextual buttons that will change based on each app that's in use. A
leaked chassis
suggests it will feature four USB-C ports and a headphone jack, but no HDMI port, no USB-A ports, no MagSafe connector, and no SD card slot.
Subscribe to the MacRumors YouTube channel for more videos.
A refreshed 13-inch
MacBook Air
with USB-C ports has also been rumored, but it is not clear if other internal changes will be made to Apple's low-cost machine. It's possible the 13-inch MacBook Air will be a standalone product going forward, based on rumors suggesting the 11-inch model
will be discontinued
.
Apple is also said to be working on updated
iMac
s with AMD graphics chips, which could be introduced at the event, and we might possibly see the debut of a rumored 5K Retina display with
an integrated GPU
. Apple
discontinued the original Thunderbolt Display
earlier this year, but an updated product has been in the works and it makes sense to release it alongside refreshed Macs if it's ready to launch.
Apple's
Mac Pro
and
Mac mini
are in dire need of refreshes, having been updated last in 2013 and 2014, respectively, but it is not clear if these machines will also see updates at the event.
MacRumors
plans to provide live coverage of Apple's October 27 event, both here on MacRumors.com and through our
MacRumorsLive Twitter account
. Apple will also
live stream the event
on its website and on the
Apple TV
.
Google has inked a deal with CBS for its upcoming web-based streaming television service, reports
The Wall Street Journal
. Called "Unplugged," the paid subscription service, available on YouTube, will see Google offering a bundle of several channels for a set price of $25 to $40 per month.
CBS, a major network, is now on board, and Google is also said to be close to reaching deals with both 21st Century Fox and Disney, putting it one step closer to establishing a streaming service. Google plans to launch "Unplugged" in early 2017 and has already
built out the necessary infrastructure
.

Google's YouTube Unplugged offering is aimed at cord cutters and is the type of television service that Apple was
hoping to provide
to customers before its streaming television plans were put on hold. Apple
wanted to offer
a "skinny bundle" featuring channels from major networks and popular cable channels, which would have been priced at approximately $35 per month.
Apple has been trying to create some kind of streaming television service for many years, but has continually run into negotiation difficulties with content providers due to its
"hard-nosed" negotiating tactics
and an inability to assuage fears about the interruption of traditional revenue streams.
Apple's latest streaming plans
fell through
because media companies demanded too much money for content rights and were
reluctant to unbundle channels
.
While Google and other companies are developing streaming television services, Apple is aiming to position the
Apple TV
set-top box and the tvOS
App Store
as a platform to allow existing content providers to share their content through Apple's interface. Apple is also working on some original television programming, including "
Planet of the Apps
," "
Vital Signs
," and "
Carpool Karaoke
."
Apple Inc. has been
listed as a 2017 exhibitor
at Mobile World Congress, which is an oddity given the company's trade show presence has been virtually nonexistent since the company's final appearance at Macworld in 2009.

If the listing is accurate, it would mark Apple's first time attending Mobile World Congress, the world's largest exhibition and conference for the mobile industry. MWC 2017 runs between February 27, 2017 and March 2, 2017.
Babel PR
pointed us towards Apple's exhibitor listing, which shows the company has booked space in the App Planet in Hall 8.1, as well as two spaces in the upper level that runs above Hall 2 in the Fira Gran Via Conference Centre.
App Planet is described as "a unique area focusing on the latest technology from the fast-moving apps industry," so Apple's presence could be related to promoting the
App Store
ecosystem or
Planet of the Apps
.
Apple's other upper level spaces appear to be meeting rooms, suggesting the company's presence may not be public facing. This would be unsurprising, given Apple has shifted new product announcements to its own media events.
Apple steadily stopped attending trade shows in the late 2000s, including the NAB Show, Macworld, and Apple Expo in Paris, and it has regularly passed on attending CES, the largest consumer electronics show, in Las Vegas.
In
announcing its departure from Macworld
, Apple said trade shows have become a very minor part of how it reaches its customers. For that reason, Apple's public presence at Mobile World Congress is questionable, although still plausible.
Apple is reaching more people in more ways than ever before, so like many companies, trade shows have become a very minor part of how Apple reaches its customers. The increasing popularity of Apple's Retail Stores, which more than 3.5 million people visit every week, and the Apple.com website enable Apple to directly reach more than a hundred million customers around the world in innovative new ways.
Should we receive confirmation about Apple's presence at Mobile World Congress, we will update this article accordingly.
Update:
Shortly after we published this article, Apple was removed from the list of exhibitors.
Update 2:
Apple told Babel PR it does "not have an official presence at the show," while the show's organizer GSMA told
The Mobile Network
it can "confirm that Apple will have meeting space at Mobile World Congress, as they have had previously."