While speaking at the
Code Conference
today in San Francisco,
Apple Pay
vice president Jennifer Bailey announced that 35% of U.S. merchants now accept Apple Pay,
reports
The Verge
. She said that only 4% of merchants accepted the payment option two years ago when it debuted.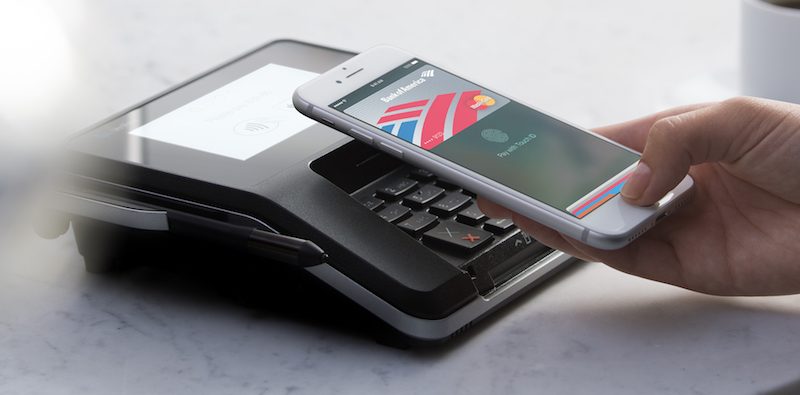 Bailey says the new EMV chip cards are annoying customers and have helped drive adoption. "Once you figure out you have to chip, you wait a while, you wait awhile," she said before imitating the "BEEP" sound the chip reader makes when you can remove your card.
Apple won't be marketing Apple Pay to take advantage of the annoyance toward EMV chips, Bailey said, instead focusing on creating new partnerships with banks and merchants. "Knocking EMV is not necessarily the way to go," she said. "I think it's to increase acceptance and work with great partners."
The Cupertino company is also focusing on offering deals with retailers and banks. In November, Apple debuted
exclusive holiday offers
for those who use Apple Pay on the web. Promotions included one- or two-day free shipping with Adidas and 50% off a one-year subscription to
The New York Times
. Bailey notes that Apple has to work with partners for special offers because Apple doesn't collect transaction data, eliminating its ability to offer promotions by itself.
Bailey says that Apple is excited by the speed of the transition to contactless payments. However, Bailey says that the challenge for Apple is that they have to match the speed of the transition to EMV chip readers. Apple has to get retailers and merchants to adopt Apple Pay at the same time they adopt EMV chip readers so that consumers can more easily see the benefit of Apple Pay.
Bailey also teased what was next for Apple Pay, saying that the company is thinking about "everything in your wallet."
Apple today published its annual Best of 2016 charts for the
App Store
, iTunes Store, and
iBooks
Store, naming photo editing app "Prisma" as the iPhone App of the Year and "Clash Royale" as the iPhone game of the year.
Released in June of 2016,
Prisma
is designed to turn photographs into works of art using a range of different filters. Prisma garnered a lot of interest in 2016 and continually introduced new art filters.
Clash Royale
, named Apple's best game, first came out in March of 2016. A card based game, Clash Royale encourages players to collect dozens of cards from the Clash of Clans universe and duel other players.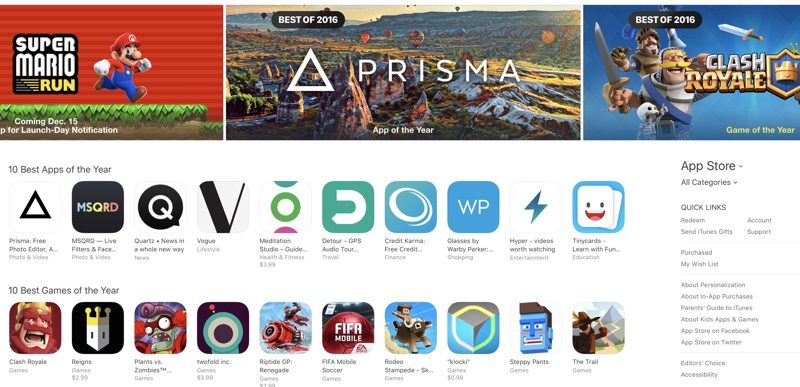 Apple also chose top apps and games for the iPad,
Apple TV
, and Apple Watch, with all of the top picks listed below:
iPhone App of the Year:
Prisma
iPhone Game of the Year:
Clash Royale
iPad App of the Year:
Sketchbook Motion
iPad Game of the Year:
Severed
Apple TV App of the Year:
Twitter
Apple TV Game of the Year:
Riptide GP: Renegade
Apple Watch App of the Year:
MySwimPro - Personal Swim Trainer
Apple Watch Game of the Year:
Field Day
Mac App of the Year:
Bear
Mac Game of the Year:
Life is Strange
Apple has named face-shifting app "
MSQRD
" as the runner up for best iPhone app, and swipe-based game "
Reigns
" as the runner up for best iPhone game, both of which are showcased alongside the winners in the main banner in the App Store.
Two new App Store sections, "
10 Best Apps of the Year
" and "
10 Best Games of the Year
" further break down the best apps chosen by Apple's editors, highlighting apps like Quartz, Vogue, Hyper, Plants vs. Zombies, Rodeo Stampede, and more. There are separate sections for both iPhone and
iPad apps
and
games
, each with different picks.
There are also a selection of apps in categories that include games
playable on one hand
,
card-based games
,
celebrity games
,
video making apps
,
tap-based games
,
productivity apps
,
shopping apps
,
indie games
,
coding apps
, and more.
In the
Mac App Store
, Apple has also published a full list of its picks for best Mac apps, with selections that include Spark, Polarr Photo Editor, Mini Metro, Doo, XCOM 2, Darkest Dungeon, Day One, Layers of Fear, and OmniGraffle 7.
Finally, Apple has announced the top apps based on overall App Store charts throughout the year, with Snapchat winning Top Free iPhone App and Heads Up! winning Top Paid iPhone App. For the iPad, YouTube was the top free app and Minecraft: Pocket Edition was the top paid app, while Netflix was the top free Apple TV app and Earthlapse TV was the top paid Apple TV app.
All of Apple's best app picks can be found in the App Store, with similar lists available naming the best music, TV shows, movies, and books in the iTunes and iBooks Stores.

Apple today
shared some tips
to "Shoot like a Pro" with depth-of-field "Portrait" effect in the
iPhone 7
Plus, highlighting a range of suggestions collected from professional photographers on its news site.
Tips include
getting up close to a subject to bring out details, minimizing the background, putting the sun behind a subject, slightly underexposing, and using soft, diffused lighting.
The suggestions are sourced from fashion photographer JerSean Golatt, celebrity photographer Jeremy Cowart, travel photographer Pei Ketron, and wedding photographer Benj Haisch, and are accompanied by photos shot on the iPhone 7 Plus.
For many years running, the iPhone has been the
most popular camera
on Flickr, which has encouraged Apple to make continual improvements to the camera equipment in its smartphones.
Along with dual cameras and the Portrait mode in the iPhone 7 Plus, both the iPhone 7 and the iPhone 7 Plus feature lens, sensor, stabilization, and image signal processor improvements that offer much improved performance compared to previous-generation devices, especially in low-light conditions.
Apple recently made a quiet
update to its Apple Support site
, introducing a new feature that allows customers to find and schedule repairs for iPhones, Macs, and iPads from Apple Authorized Service Providers.
When troubleshooting a product, choosing "Bring in for Repair" after going through Apple's support prompts now brings up all repair centers near a customer, including Apple's own retail stores and retail locations where customers can get repairs from Apple Authorized Service Providers.

In addition to including all nearby Apple Authorized Service Providers, the new repair site also lists availability, so customers can find the fastest repairs and get same-day service in many locations. There's even an option to book a repair right from the site.

Most of the time, getting a repair appointment at an Apple Store's Genius Bar requires a wait of several days to a week, while Apple Authorized Service Providers have much more open availability.
In the San Francisco Bay Area, for example, local
Apple Stores
do not have repair appointments until next week, but third-party repair shops like Best Buy, Clickaway, Mobile Kangaroo, and Computercare have appointments today or tomorrow.
Apple Authorized Service Providers have been officially authorized by Apple to perform repairs on Apple devices. Both
AppleCare
repairs and out-of-warranty repair services are available, but many customers may not be aware of local options outside of an Apple Store.
Apple's new focus on third-party service providers may provide some much-needed relief for Apple retail stores that are unable to keep up with repair requests and it will ensure customers are able to get faster service.
Apple today officially launched Single Sign-on, the service designed to allow cable subscribers to sign in once with their cable credentials to gain access to all cable-restricted content in iOS and tvOS apps.
Single Sign-on is limited to the United States, and according to a
support document
, is available for the following providers: CenturyLink Prism, DirecTV, Dish, GVTC, GTA, Hawaiian Telecom, Hotwire, MetroCast, and Sling.
While Single Sign-on was introduced and tested in the
tvOS 10
.1 and
iOS 10
.2 betas, the feature was remotely released today to all iOS 10 and tvOS 10 devices. Using Single Sign-on does not require one of the betas, and is instead immediately available to all iPhone and
Apple TV
users running iOS 10 or tvOS 10.

With Single Sign-on, customers with a supported provider will use the Settings options in iOS or tvOS to sign in with their cable credentials. From then on, when accessing a supported app that requires a cable subscription, the app will ask to use the saved sign-on credentials.
To get to Single Sign-on on iOS devices, open the Settings app and scroll down to "TV Providers." The process is the same on the Apple TV - open the Settings app and choose the TV Providers option to sign in.
Most cable channels and content providers offer individual apps on the Apple TV and iOS devices, but still require cable authentication before users can access content. Prior to Single Sign-on, customers were required to enter their credentials in each individual app, a frustrating and time-consuming process.
Single Sign-on will play a key part in the upcoming "TV" app that's set to debut in iOS 10.2 and tvOS 10.1. The TV app serves as sort of an Apple-designed television guide that lets customers find new content and keep track of what they were watching across multiple devices.
At the current time, Single Sign-on is available to a limited number of customers, but its availability will expand as Apple signs the necessary deals with cable providers. Single Sign-on also requires apps to implement support for the feature, and many apps have not yet introduced Single Sign-on support.
As Apple's
iPhone 6s
is facing scrutiny in China over
a battery issue
that causes unexpected shutdowns, a Chinese consumer group has complained of a separate problem with the iPhone 6 - spontaneous battery fires.
According to the
The Wall Street Journal
, the Shanghai Consumer Council says it received eight reports from Chinese users claiming their smartphones spontaneously caught on fire, but Apple inspected the devices and says "external physical damage" is to blame.

Apple said it analyzed the affected phones and found that the fires followed "external physical damage." The company encouraged customers with issues to visit an Apple store or contact company support.

"We appreciate that customers are more concerned than ever about the performance and safety of batteries in their mobile devices," Apple said in a statement.
Given that the iPhone 6 has been available since 2014 and there have been a limited number of report about device fires, Apple's physical damage explanation rings true. With the Samsung Galaxy Note 7, which had a
true faulty part
leading to fires, reports from around the world started flooding in just
weeks after
the device was released.
Complaints
from Chinese consumer groups over iPhone 6s battery problems led Apple to
introduce a repair program
for iPhone 6s devices that unexpectedly shut down, and Apple has gone out of its way in China to explain the issue and assure customers that it is not safety related.
Apple's repair program will see it providing new batteries to customers with iPhone 6s devices primarily manufactured between September and October of 2015. Just today, Apple
expanded the repair program
to encompass a small number of customers "outside of the affected range" who are also experiencing shutdowns.
On
its Chinese site
, Apple explained that the iPhone 6s shutdown issue was caused by exposure to "controlled ambient air" during the manufacturing process, which caused the battery to degrade faster than a normal battery.
Next week, Apple plans to introduce a diagnostic tool that will allow it to gather information and better manage battery performance levels to prevent shutdowns. With
iOS 10
.2 nearly ready to launch, it's likely the diagnostic capability will be included in that update.
As Apple's third largest market after the United States and Europe, China has become increasingly important to Apple over the last several years. Apple has made an effort to introduce a number of retail stores in the country, and it has made a $1 billion investment in Chinese ride-sharing company
Didi Chuxing
.
Despite its efforts, Apple has struggled in China. In Apple's
third quarter earnings report
, revenue in China was down 33 percent year over year, dropping from $13 billion in 3Q 2015 to $8.9 billion in 3Q 2016.
Chinese officials have said Apple is "too deeply established in the country's core industries," and along with recent trouble over its iPhones, Apple has also struggled with its iTunes Movie and
iBooks
Store in China, which
were shut down
by Chinese administrators in April.
Apple is continuing to add new providers to its Single Sign-on feature in
tvOS 10
.1 and
iOS 10
.2, and today introduced Single Sign-on support for four new providers: CenturyLink Prism, Hawaiian Telecom, MetroCast, and GTA (available in Guam). GVTC Communications, previously listed as a Single Sign-on option, has been removed.
With the new additions, when tvOS 10.1 and iOS 10.2 become available for the public, Single Sign-on will be available for eight cable subscription options: DirecTV, Dish, Hotwire, Sling TV, CenturyLink Prism, Hawaiian Telecom, MetroCast, and GTA. Apple will continue adding support for additional providers as it manages to secure the necessary deals.

Single Sign-on allows
Apple TV
and iOS users to enter their cable credentials once and then sign in to all available live cable content, even across multiple apps. Single Sign-on works automatically when you have a cable subscription through a participating provider, prompting you allow a compatible app to use your sign in credentials.
Many cable channels offer individual apps on the Apple TV and iOS devices, but still require cable authentication to access content. Without Single Sign-on, users need to enter their cable information for each app, a process that's a huge hassle.
Apps that take advantage of Single Sign-on and user cable subscriptions will be easier to find and track in tvOS 10.1 and iOS 10.2, with content located in the new "TV" app that's been introduced.
We expect to see tvOS 10.1 and iOS 10.2 introduced to the public next week alongside
macOS Sierra
10.12.2 and
watchOS 3.1.1
.
Like the
iPhone 7
and the iPhone 7 Plus, Samsung's next-generation Galaxy S8 will not feature a 3.5mm headphone jack, reports
SamMobile
. Samsung will instead use a single USB-C port to deliver both power and audio capabilities, using the space once taken by the jack for other components.
Samsung often takes design inspiration from Apple, something that's caused legal problems that are
still ongoing today
, but the decision to remove the 3.5mm headphone jack is curious given Apple's move was so controversial.
According to Apple, removing the headphone jack in the iPhone 7 and the iPhone 7 Plus took a lot of "courage." Apple executives have claimed that the 3.5mm jack is outdated technology that was
taking up essential space
and holding Apple back from implementing features like a new Taptic Engine and waterproofing.

Samsung's Galaxy Note 7
Many iPhone users have not been happy with the removal of the headphone jack, a fact that Samsung took advantage of when announcing the now-defunct Galaxy Note 7. "Want to know what else it comes with?" Samsung VP Justin Denison asked on stage, mocking the iPhone. "An audio jack, I'm just saying."
With the removal of the headphone jack in the Galaxy S8, Samsung users will face the same drawbacks iPhone users have had to deal with since September. There will be no way to charge and listen to music at the same time without a special adapter, and existing headphones will also be useless without a 3.5mm to USB-C adapter.
Samsung plans to debut the new Galaxy S8 at the 2017 Mobile World Congress in Barcelona, which takes place in February. In addition to overcoming any negative reaction to the removal of the 3.5mm audio jack, Samsung will also need to quell customer fears over the device's build and its battery.
The Galaxy Note 7 suffered from
an exploding battery issue
that injured dozens of people and eventually led Samsung to
discontinue the device
and pull it from store shelves.
The U.S. Supreme Court on Tuesday
ruled in favor of Samsung
in its longstanding smartphone design lawsuit with Apple, reversing a $399 million damages judgment awarded to Apple by a lower court. The case will now return to the U.S. Court of Appeals for further proceedings.

Supreme Court judges unanimously decided they do not have enough info to say whether damages paid to Apple should be based on the total device, or rather individual components like the front bezel or the screen. It urged the U.S. Court of Appeals to reconsider the $399 million penalty Samsung paid in 2012.
Absent adequate briefing by the parties, this Court declines to resolve whether the relevant article of manufacture for each design patent at issue here is the smartphone or a particular smartphone component. Doing so is not necessary to resolve the question presented, and the Federal Circuit may address any remaining issues on remand.
The lawsuit dates back to 2011, when Apple successfully sued Samsung for infringing upon the iPhone's patented design, including its rectangular front face with rounded edges and grid of colorful icons on a black screen. Apple's damages were awarded based on Samsung's entire profit from the sale of its infringing smartphones.
Calvin Klein, Dieter Rams, Norman Foster, and over 100 other top designers
backed Apple in August
, arguing the iPhone maker is entitled to all profits Samsung has earned from infringing designs. They cited a 1949 study showing more than 99% of Americans could identify a bottle of Coca-Cola by shape alone.
Update:
Apple has provided a statement on the ruling to
TechCrunch
, stating that the company will continue to protect the work that's gone into the iPhone's design.
The question before the Supreme Court was how to calculate the amount Samsung should pay for their copying. Our case has always been about Samsung's blatant copying of our ideas, and that was never in dispute. We will continue to protect the years of hard work that has made iPhone the world's most innovative and beloved product. We remain optimistic that the lower courts will again send a powerful signal that stealing isn't right.
When looking at the current state of the Mac lineup, the new
MacBook Pro
is the only model Apple has updated over the past seven-plus months. Even the latest MacBook Pro models required a 527-day wait, which was considerably longer than the average of 320 days between previous MacBook Pro refreshes.

A glance at our own
MacRumors Buyer's Guide
shows the new MacBook Pro is the only Mac currently listed with a "Buy Now" status, as all other models beyond the 12-inch MacBook have not been refreshed for significant periods of time. The longest overdue is the
Mac Pro
, last updated 1,084 days ago.
• iMac — 420 days ago
• MacBook Air — 638 days ago
• Mac mini — 782 days ago
• Mac Pro — 1,084 days ago
The lack of updates can be at least partially attributed to Apple having to wait on chipmakers and suppliers such as Intel, AMD, and Nvidia, each of which follow their own product roadmaps, although that cannot be the only reason given Skylake processors are now readily available for update-deprived Macs.
A lack of meaningful updates to several Macs this year impacted Apple's bottom line, as Mac revenue has declined for four consecutive quarters year-over-year. The declines have worsened each quarter, starting with a 3% drop in Q4 2015 and progressing to a 17% drop in Q3 2016, according to Strategy Analytics.
Apple investors now await the company's first quarter earnings results to see if the new MacBook Pro models will be able to reverse that trend.
Conversely, after several down quarters, the iPad has experienced a mostly upward trajectory over the past year, thanks largely in part to the
iPad Pro
's higher average selling price. Apple's tablet revenue is now stable on a year-over-year basis, after dipping as low as -21% one year ago.

Strategy Analytics senior analyst Eric Smith attributes the stabilizing effect to Apple's renewed focus on iPads. He said Apple entered the 2-in-1 tablet market with the iPad Pro and
Smart Keyboard
right in time to renew growth and capitalize on growing enterprise demand in the future.
Recognizing that Microsoft was changing the computing device market, Smith said Apple "pretty much forgot about Mac" in order to attack the 2-in-1 tablet segment with the release of iPad Pro models over the past year.
"Apple has been a master of cannibalizing its own business before other companies do so in a major way," Smith told MacRumors. "Apple let iPad slide until it became clear that Microsoft was changing the computing device market. It refocused on iPad with the Pro series and pretty much forgot about Mac to attack the 2-in-1 segment."
Apple's move was rather effective, as iPad market share has stabilized at 22% over the past two years after declining for the previous four years. But it would seem it took a change in stance to get there as, in the past, Apple essentially dismissed the idea of releasing a tablet-notebook hybrid.

During a
2012 earnings call
, when asked to comment on why the MacBook Air and iPad would not eventually converge, Apple CEO
Tim Cook
argued that combining the products would result in compromises. "You can converge a toaster and a refrigerator but those won't be pleasing to the user," he said.
By contrast, earlier this year Apple released a TV ad called
"What's a Computer?"
that positions the iPad Pro as a computer. "Imagine what your computer could do if your computer was an iPad Pro," the tagline concludes.
Likewise, Cook said the
iPad Pro is a notebook or desktop computer replacement
for many people. "They will start using it and conclude they no longer need to use anything else, other than their phones," he added. "I think if you're looking at a PC, why would you buy a PC anymore? No really, why would you buy one?"
In the post-PC era, it is perhaps unsurprising that Apple's attention has shifted more towards the iPhone—and by extension, the iPad. But many faithful customers are hoping Apple will eventually turn its sights back to the Mac, following what some critics believe was a
disappointing MacBook Pro update
amid an aging lineup of Macs.
Rumors suggest Apple will launch
new iMacs in the first six months of 2017
, and at least one model is said to include an
option for new AMD graphics chips
. The roadmap for other Macs remains less clear.
A few days after
issuing a message on its Chinese website
regarding the battery shutdown issue plaguing some
iPhone 6s
users, Apple today
added a new message
onto the site. The update reiterates on the cause of the issue -- some batteries were exposed to "controlled ambient air" during manufacturing -- while also expanding the scope of the affected range of customers facing the problem.
In the original message, Apple noted that "a small number" of iPhone 6s smartphones made in September and October of 2015 were facing unexpected shutdowns due to their prolonged exposure to controlled ambient air. Now, Apple said that it's discovered a few customers "outside of the affected range" who have also been facing unexpected shutdowns of their iPhone 6s devices.

A small number of customers outside of the affected range have also reported an unexpected shutdown. Some of these shutdowns can occur under normal conditions in order for the iPhone to protect its electronics. In an effort to gather more information, we are including additional diagnostic capability in an iOS software update which will be available next week. This will allow us to gather information over the coming weeks which may potentially help us improve the algorithms used to manage battery performance and shutdown. If such improvements can be made, they will be delivered in future software updates.
As it continues to face new issues with the "small number" of affected customers, Apple is preparing an iOS update that it said will introduce an "additional diagnostic capability" so the company can gather information and improve its ability to manage the battery performance levels and untimely shutdowns. The update, presumably
iOS 10
.2, will be made available sometime next week, and Apple mentioned that if any improvements and solutions are discovered thanks to the diagnostic tool, "they will be delivered in future software updates."
For those who think their iPhone 6s is affected, Apple launched a
repair program
last month offering free battery replacements for any iPhone 6s manufactured between September and October 2015 which are experiencing shutdowns. There's also a
new tool
so customers can enter their iPhone's serial number to see if it's eligible for the replacement program.
Earlier today data from market research firm IDC
said
that Apple Watch's share of the wearables market fell to 5% as fitness trackers "reigned supreme." In an
email responding
to a
Reuters
inquiry about the report, Apple CEO
Tim Cook
said Apple Watch's sell-through rate hit a new high recently.

"Sales growth is off the charts. In fact, during the first week of holiday shopping, our sell-through of Apple Watch was greater than any week in the product's history. And as we expected, we're on track for the best quarter ever for Apple Watch," he said.
Cook added that Apple's data shows that the Watch "looks to be one of the most popular holiday gifts this year." The IDC report estimated that Apple shipped 1.1 million Apple Watch units in the third quarter, down from 3.9 million shipments last year during the same quarter.
IDC attributed the decline to an "aging lineup" and an "unintuitive user interface." Apple addressed those concerns with the
Apple Watch Series 2
, but the model's launch date in mid-September hampered its impact in the third quarter.
While Cook told
Reuters
that Apple's sell-through rate was high, he has not yet responded to Reuters' request for specific sales figures. Apple doesn't disclose Apple Watch sales figures, instead grouping it into its "other products" category, which also includes iPod and
Apple TV
, in earnings results.