Earlier today the Apple Watch
went on display
at Milan's Salone Del Mobile Design, with Apple SVP of worldwide marketing Phil Schiller and design consult Marc Newson in attendance. Now, it appears that Jony Ive also made it to the event, revealing exclusive sport band colors for the Apple Watch at the same time.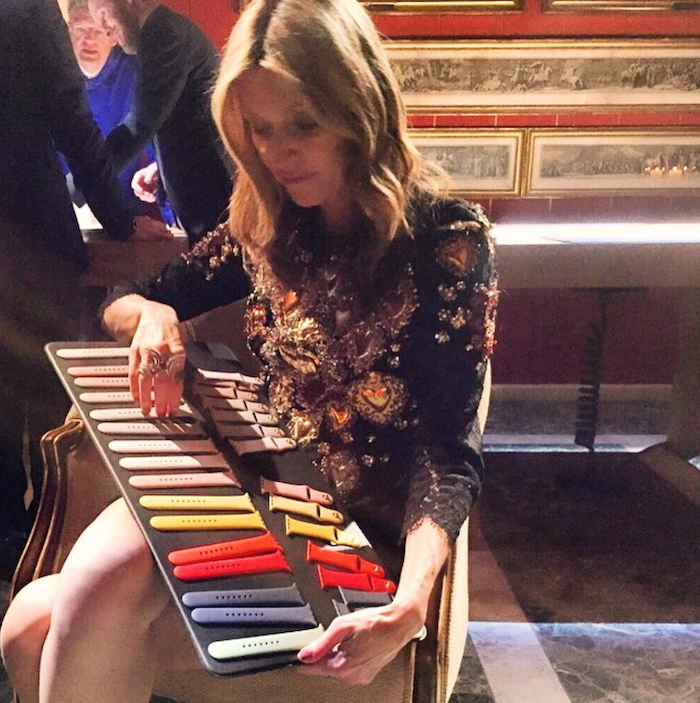 Image via Umberta Gnutti Beretta Instagram
Art enthusiast and philanthropist Umberta Gnutti Beretta posted a photo of a tray holding the new band colors on her
Instagram account
(
via 9to5Mac
). The colors include what appears to be two shades of blue, the
custom red band
seen earlier today and a range of "skin-tone" colors, going from darker browns to lighter tans and peaches. This marks the third time exclusive new Apple Watch band options have been seen in the wild, with the previous two being the custom red band and the
custom gold link bracelet
Karl Lagerfeld received.
Milan is known as one of the more important cities in the fashion world, and an important destination for Apple as it continues to
court
the
fashion world
to its brand new product. While it's unknown whether Apple will release these brand new and never-before-seen sport bands for the general public, it's been rumored that the Cupertino company is looking to introduce
additional casing materials
for the Apple Watch later this year, suggesting that new band options are also in the cards.
Developer demand for Apple's annual Worldwide Developers Conference always exceeds ticket supply, so Apple holds a lottery to determine which developers will win the chance to go to the conference. This year, Apple
accepted lottery entries
from April 14 until today, April 17, at 10 a.m. Pacific Time.
Now that the lottery has ended, Apple has begun sending out emails to developers who were selected and has charged their credit cards the $1,599 ticket price. Developers who won are currently sharing their good fortune on Twitter after receiving order confirmations.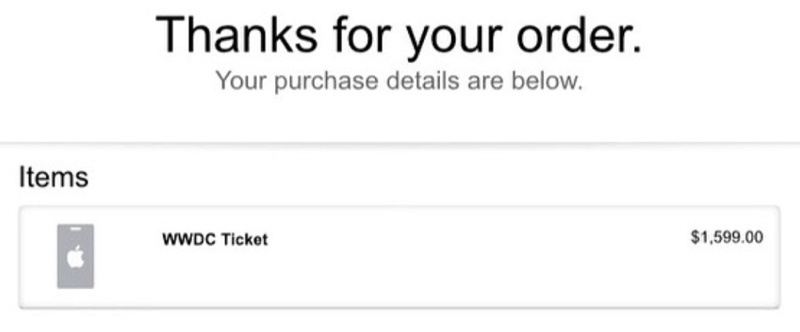 I GOT A GOLDEN TICKET! #wwdc https://t.co/nv8J4IqHvX

— Julie Johnston (@Julia_JJ) April 17, 2015
This year's Worldwide Developers Conference starts on June 8 and will run through June 12 at Moscone West in San Francisco. More than 1,500 Apple engineers will be on hand to host over 100 technical sessions and hands-on labs. The event is also likely to include a keynote to unveil new products, and it will include the annual Apple Design Awards.
At WWDC this year, Apple is expected to unveil the newest versions of iOS and OS X -- iOS 9 and OS X 10.11. There have also been rumors suggesting the event could be used to unveil a new television service, a revamped Apple TV set-top box, and a rebranded Beats music service.
Developers who are unable to attend or who do not win the ticket lottery will be able to watch several live streams of WWDC sessions that will cover a wide range of topics from the iPad and iPhone to the Apple Watch and MacBook, along with other Apple products and services.
Former Apple iOS chief turned
Snapchat advisor
Scott Forstall has taken on a new project, according to his
first ever tweet
on Twitter. Forstall is co-producing the upcoming Broadway musical
Fun Home
, a show that opens this Sunday.

I'm thrilled to be co-producing the Broadway musical Fun Home http://t.co/PqrKKZGcxY opening this Sunday. Bravo to the phenomenal team!

— Scott Forstall (@forstall) April 17, 2015
Forstall is listed as one of the producers of Fun Home along with his wife Molly on the
Internet Broadway Database
, and he and his wife also
have a paragraph
in the show's
playbill
.
The Forstalls (Producer). This is Scott and Molly Forstall's first foray on Broadway after years in Silicon Valley. They share their love of theatre with their children, Freya and Nils, both of whom are enthusiastic theatregoers and performers. Thanks to Carole for the magnificent journey.
Forstall's announcement of his position as Broadway producer comes just a day after leaked Sony emails suggested he'd received .11 percent of Snapchat's stock to serve as an advisor to the company. Since being
ousted from Apple in 2012
, Forstall has kept a very low profile, and this occasion marks his first public announcement and appearance in years.
Scott Forstall first fell in league with Apple in 1992, when he took on a job at Steve Jobs' company, NeXT. When NeXT was acquired by Apple in 1997, Forstall stayed on, working on the Macintosh user design team. He was promoted several times and in 2005, he began working on iOS. Forstall has been largely credited with the skeuomorphic design present in the early years of the operating system, an aesthetic that eventually led to disagreements with other executives at the company following Steve Jobs' death.

Apple is planning to launch
Apple Pay
in Canada later this year, according to
The Wall Street Journal
. The report, citing people familiar with the matter, claims Apple is in negotiations with six Canadian banks about a potential November launch of the mobile payments service, which debuted in the United States last October and has yet to become available in other countries.
The six Canadian banks reportedly in talks with Apple include the Royal Bank of Canada, TD Canada Trust, Scotiabank, Bank of Montreal, CIBC and National Bank of Canada. The financial institutions, which together account for more than 90% of Canadian bank accounts, are open to supporting Apple Pay in Canada, although have expressed concern about higher fees and potential security issues.
"The banks are open to an agreement, but they aren't happy with Apple's fee proposals and are concerned about security vulnerabilities like the ones that U.S. banks experienced as they rolled out the service, the people said."
Canada is a well-prepared candidate to receive Apple Pay support, as many retailers and businesses across the country are already equipped with contactless payment terminals that are required for the iPhone-based mobile payments service. The country was one of the earlier adopters of Chip-and-PIN debit and credit cards that can be tapped against a payment terminal when making a purchase, and Apple Pay would be a natural extension of that functionality.
The six Canadian banks have reportedly formed a consortium and hired consultancy firm McKinsey & Co. to develop a security protocol for Apple Pay. The financial institutions have also considered the need for secondary authentication to verify customer information, such as entering a PIN, logging on to a mobile banking app or using a one-time passcode sent via text message before cards can be used on Apple Pay.
Apple announced last year that it is targeting international expansion of Apple Pay, and speculation has mainly been focused upon Canada, China and the United Kingdom. Apple's efforts to launch Apple Pay in China have
faced some roadblocks
, however, and Apple's talks to roll out
Apple Pay in the United Kingdom
during the first half of 2015 are similarly stalled as some banks are concerned about potential privacy issues.
After being announced to appear at Milan's Salone Del Mobile Design Fair
earlier in the week
, today the Apple Watch was displayed for the first time to the public, outside of a retail store or pop up shop, at the design fair (via
Macitynet
) [
Google Translate
].

The Apple Watch on display in the Carlo e Camilla restaurant
On display at the Carlo e Camilla restaurant in Segheria, the Watch is displayed in long rows of glass-topped tables, identical to its presentation in Apple's own retail locations. The fair is even allowing customers to experience the same try-on appointments happening in retail stores since pre-orders began one week ago.

The entrance to the Apple Watch showcase at the fair
Interestingly, as the Watch is displayed at the Carlo e Camilla in Italy, pre-orders for the wearable aren't available to Italian customers due to Italy not being included in the first wave of launch countries for the Watch. There to experience the event is senior vice president of worldwide marketing at Apple, Phil Schiller, and
Marc Newson
, who works part time at Apple as a designer alongside Jony Ive.

Phil Schiller at the event in Milan
Although Apple has yet to confirm pre-order numbers for the Watch, analyst Ming-Chi Kuo believes the device could have sold more than
2.3 million
units during the initial pre-order wave. While the exact number remains a mystery, stock of the Apple watch definitely remains constrained as pre-orders for all devices slipped to a 4-6 week dispatch date, and beyond, only
6 hours
after going live.
British cyclist and former professional rugby player Will Carling has shared a pair of
new
photos
on Twitter that appear to reveal two unreleased Apple products. The first photo shows a stainless steel Apple Watch with what looks like a custom red sport band, while the second photo provides a side-by-side look at an Apple charger with a unique folding plug design for use in the United Kingdom.

Carling claims that Apple design chief Jony Ive provided him with the folding charger, which could be the official charger for the Apple Watch in the United Kingdom, and it is likely that is who gifted him the Apple Watch with a custom red sport band as well. Ive grew up in England and is known to be a rugby fan, and Carling was the former captain of England's national rugby team from 1988 to 1996.
It is possible that the photo is actually of an Apple Watch with the similar looking pink sport band, although the lighting in the shot gives the band more of a red appearance and Carling mentions that he prefers "the red band" on Twitter. Apple has given a custom watch to at least one other iconic figure, with designer Karl Lagerfeld spotted wearing an
Apple Watch with gold link bracelet
earlier this week.
It is possible that Apple may eventually release a
(PRODUCT)RED
version of the Apple Watch by offering this custom red sport band for sale. Apple gives a portion of sales generated from (PRODUCT)RED merchandise to the Global Fund to fight AIDS in Africa, raising over $70 million towards the initiative to date. Apple's current (PRODUCT)RED lineup includes iPods, iPhone 6 and 6 Plus cases, and iPad Smart Cases and Covers.
Starting on April 24, it appears that Apple will be offering "Apple Watch Basics" workshops in some of its retail stores around the world, helping customers who begin receiving their watches on that day to learn how to use them.
The classes are listed as an available option on April 24 on individual
retail store websites
and in the "Stores" section of the
Apple Store
app. Not all retail locations are displaying Apple Watch workshop availability at this time, but select stores both in the United States and in other countries are offering workshops as of today. Workshops take place at 1.5 hour intervals all day long in most locations and are also available on Saturday and Sunday. It appears that some locations may also be offering extended hours to allow more time for hosting workshops.

Customers who are interested in attending one of these workshops to learn more about the Apple Watch can schedule an appointment beginning today in a store where the appointments are listed. Not all stores are showing the workshops that will be available on April 24, however.
Some stores are showing additional Apple Watch classes beyond the introductory basics class, with a "Stay in Touch with Apple Watch" class also available in select locations.

Due to constrained supplies, there will be a limited number of customers who will be receiving their Apple Watches on April 24, but users who have pre-ordered and do not yet have their devices can also attend to learn more about the device. Given the few customers who will have watches in-hand on April 24, Apple recently ceased emphasizing the date on its website, replacing all "available 4.24.15" launch wording with "the Watch is coming."
Pre-orders for the Apple Watch began on
April 10 at 12:01 a.m. Pacific Time
and began selling out within mere minutes.
Within six hours
, all Apple Watches were sold out and no models offered the initial 4/24 to 5/8 shipping estimate. Apple Watch orders placed today will not ship until June and beyond.
(Thanks, Caleb!)
Apple today seeded the first beta of OS X 10.10.4 to developers, just over a week after releasing
OS X 10.10.3
with the Photos for OS X app to the public.
The new beta, build 14E7f, can be downloaded from the Mac Developer Center.

It is not yet clear what's new in the 10.10.4 beta, but according to the release notes, the update "improves the stability, compatibility, and security of your Mac." Earlier OS X Yosemite updates, including OS X 10.10.1 and OS X 10.10.2 brought only minor changes to the operating system in the form of bug fixes and performance enhancements. OS X 10.10.4 may serve the same purpose.
OS X 10.10.3, released last week, was the first major update to OS X Yosemite that brought new features, including the Photos for OS X app, a redesigned emoji picker, and new diversified emoji.
Famous film director and producer J.J. Abrams is the latest celebrity to be spotted with an Apple Watch, which he's wearing right now during the Force Awakens Panel at the Star Wars Celebration in Anaheim, California. Abrams appears to be wearing a stainless steel Apple Watch with a blue band. It is possible that the band is the Blue Modern buckle for the 38mm Apple Watch, but there's also a possibility that it's a custom made navy blue Sport Band created specifically for Abrams.

Along with Abrams, several other celebrities have been seen wearing the Apple Watch.
Pharrell Williams
wore it on reality TV show
The Voice
, and both Katy Perry and Drake shared Instagram photos of themselves wearing gold Apple Watch Edition models. Yesterday, a photo surfaced
of designer Karl Lagerfeld
with a custom gold Apple Watch with matching gold Link Bracelet.
As the launch of the Apple Watch approaches, we're likely to see it popping up on the wrists of other style icons, including celebrities, fashion designers, directors, and more, in an effort to introduce the Apple Watch to the public through these influencers. Apple's also been heavily marketing the Apple Watch in magazines and on television.

Following the April 8 public release
of OS X 10.10.3
, Apple has today released a supplemental update for software, which fixes a video driver bug that prevented Macs from starting when running certain apps that are designed to capture video.
Today's supplemental update is available immediately for all OS X Yosemite 10.10.3 users from the Mac App Store.
The OS X Yosemite 10.10.3 Supplemental Update fixes a video driver issue that may prevent your Mac from starting up when running certain apps that capture video.
OS X 10.10.3 brought several new features to Apple's desktop operating system, including the new Photos for OS X app, a revamped emoji picker, new diversified emoji, Spotlight suggestions for lookup, and a bunch of bug fixes and performance improvements.
From
design mockups
to
purported case leaks
, the much-rumored "iPad Pro" has been steadily building steam for the past few months. Today, several new cases apparently designed for Apple's iPad Pro have been leaked, and one in particular is far more detailed than any previously released (via
SonnyDickson.com
).

The notable new case leaked today is the first to feature a tri-fold design with a fabric cover, marking a substantial increase in complexity over the simple soft plastic cases seen previously. This increased complexity could be a sign that case manufacturers are increasingly confident in the iPad Pro's design specs and thus willing to invest in more expensive case designs such as this even months ahead of the expected launch.
Recent rumors point towards the iPad Pro's screen measuring between 12.2- and 12.9-inches, with the expected array of cutouts for the volume rockers, back-facing camera, lock button, and a charging port. The newly leaked cases have cutouts for all of these features, including what appear to be speakers at both the top and bottom of the device, in line with
previous rumors
surrounding the tablet.
The new cases also include the mysterious cutout on the left side of the device. Some previous rumored cases have
included
the cutout, with rumors variously suggesting it could be for a SIM-card tray on cellular models, a second Lightning port, or perhaps a USB-C port.
The Wall Street Journal
previously claimed Apple is indeed
considering including USB
on the iPad Pro.

As is always worth pointing out, these early case designs could still be far off from the actual design of whatever the iPad Pro turns out to be, due to case manufacturers creating molds off of leaked or unsubstantiated design elements. But while there have been some notable misses over the years, case designs have generally proven accurate indicators of upcoming product designs.
The latest rumors peg the iPad Pro as perhaps having a triple-core A8X processor, 2 GB of RAM, Touch ID, and possibly shipping with a first-party Apple manufactured
stylus accessory
. Release date rumors have fluctuated significantly as Apple as reportedly pushed back its internal timeline several times. The latest rumors suggest production could begin in September, perhaps setting up for an October launch alongside a refresh of the existing iPad lineup.
Apple's next-generation iPhones could adopt 7000 Series aluminum used for the Apple Watch Sport, according to Taiwan's
Economic Daily News
. The so-called "iPhone 6s" and "iPhone 6s Plus" would likely use Apple's custom Series 7000 aluminum alloy, which is designed to be 60% stronger than most aluminum, and one-third the density of stainless steel, while still maintaining a light weight.

Apple elaborated in more detail about the Series 7000 aluminum it used for the Apple Watch Sport on its website, noting that each casing is machined, polished and blasted with microscopic zirconia beads to achieve a consistent satin texture found on each Apple Watch. An additional anodized outer layer helps protect against scratches and corrosion, while the anodizing process also makes possible alternative colors like Space Gray.
For Apple Watch Sport, we started with 7000 Series aluminum — the same used in competition bicycles. We altered it to create a new alloy that's just as light, yet even more durable — it's 60 percent stronger than most aluminum, and one-third the density of stainless steel. It has a bright, lustrous colour and a uniform structure free of defects and impurities. Each case is machined and polished, then blasted with microscopic zirconia beads to achieve a consistent, satin texture. A special anodizing process creates a hard, clear outer layer that helps protect against scratches and corrosion.
Economic Daily News
has a mixed track record at reporting on Apple's upcoming plans, and the translated report does not offer many further details, so this rumor should be treated with a proverbial grain of salt. Nevertheless, it is common for Apple to introduce new features on one device before expanding to others. Force Touch, for example, was exclusive to the Apple Watch before making its way to MacBooks, and the technology is also rumored to be
included in the next iPhone
.