New MacBook Pro Models Announced
AMD has
shared some technical details
on the new Radeon Pro graphics cards included in the 15-inch
MacBook Pro
models, giving some insight into their performance and the differences between the three options.
The Radeon Pro 400 Series Graphics are built on AMD's Polaris architecture and are fabricated using the 14nm FinFET process to achieve high performance without sacrificing power efficiency. They offer memory bandwidth of up to 80GB/s.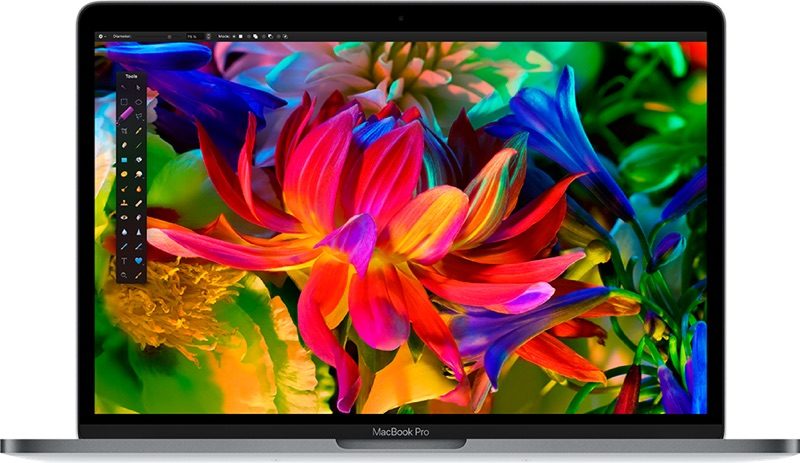 The Radeon Pro Graphics found in the MacBook Pro feature the latest Polaris architecture with 4th generation Graphics Core Next. Speed through your tasks with up to 16 compute units (1024 stream processors) and 1.86 Teraflops of horsepower. Radeon Pro Graphics on the MacBook accelerate workloads normally reserved for the main processor. It features versatile asynchronous compute, updated shader engines, enhanced memory compression and new geometry capabilities in a compact and efficient package.
The Radeon Pro 460, available as a $200 upgrade in the entry-level 15-inch MacBook Pro and a $100 upgrade in the higher-end 15-inch MacBook Pro, offers 1.86 Teraflops of horsepower and 16 compute units (1024 stream processors).
The Radon Pro 455, the default option in the higher-end 15-inch MacBook Pro, features 1.3 Teraflops of horsepower and 12 compute units (768 stream processors). The Radeon Pro 450, available in the entry-level 15-inch MacBook Pro as the default option, offers 1 Teraflop of horsepower and 10 compute units (640 stream processors).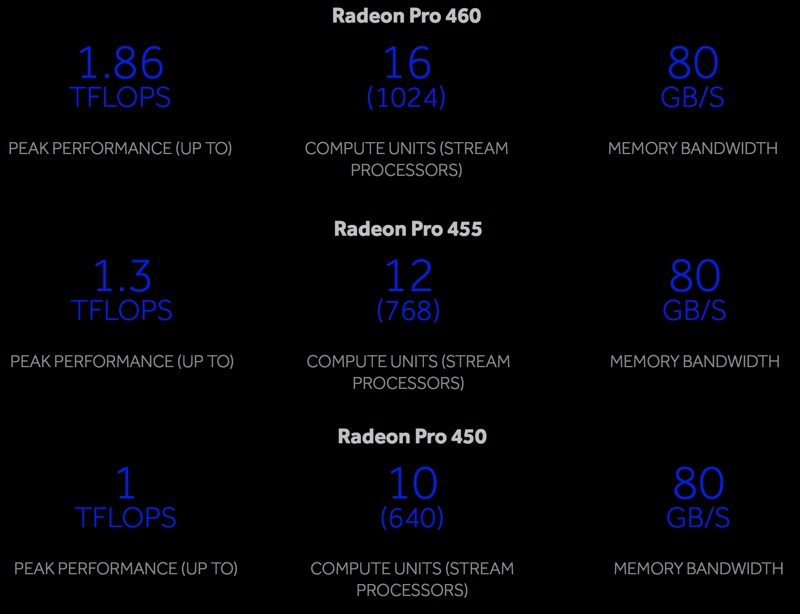 According to AMD, the Radeon Pro graphics processors inside the MacBook Pro are thinner than a US penny with a Z-height of 1.5mm but still pack in 3 billion transistors. The Radeon Pro features "advanced power technology" to allow the MacBook Pro to stay cool and quiet even during demanding tasks.
On its MacBook Pro website, Apple says the 15-inch MacBook Pro offers up to 130 percent faster graphics performance (with the Radeon 460) and up to 2.5x more computing power per watt compared to the previous-generation 15-inch MacBook Pro.
The 13-inch MacBook Pro uses integrated graphics instead of discrete graphics, but Apple says the Iris Graphics 550 are up to 103 percent faster than the Iris Graphics 6100 in the previous-generation 13-inch MacBook Pro.
The new
MacBook Pro
has only been
available for purchase
for about six hours, but shipping estimates on the machine have already slipped from two to three weeks to three to four weeks, meaning orders placed now won't deliver until late November or early December (November 25 to December 2).
Three to four week shipping estimates apply to all MacBook Pro models that have a Touch Bar and
Touch ID
support. At launch, those machines had shipping estimates of two to three weeks and delivery windows from November 17 to November 25. Supplies are likely to continue to dwindle as people place orders for the updated MacBook Pro models.

The new entry-level MacBook Pro without a Touch Bar continues to be available for delivery as soon as October 31 using the fastest shipping method. Apple Store pickup is not yet available for any of the MacBook Pro options, but the standard MacBook Pro should be in stores soon.
The 13-inch MacBook Pro with no Touch Bar is priced at $1,499, while 13-inch Touch Bar models start at $1,799. 15-inch models, which all include a Touch Bar, start at $2,399.
Apple is also continuing to sell 2015 MacBook Pro models, which are available at prices starting at $1,299.
Following the launch of the redesigned
MacBook Pro
,
CNET
has published an interview with Apple executives
Phil Schiller
, Jony Ive, and Craig Federighi, highlighting some of the design decisions that went into the new machine.
The contextual OLED Touch Bar on the new MacBook Pro, which is its key feature, has been in development under the direction of Jony Ive for at least two years, and according to Ive, it "marks a beginning" of a "very interesting direction" for future products.

Apple's new MacBook took so long to develop because the company didn't want to "just create a speed bump," aiming instead for something that's a "big, big step forward." Apple marketing chief Phil Schiller says the MacBook Pro will allow Apple to "create many things to come," some of which "we can't envision yet." He also said Apple isn't driven by a calendar, but is instead aiming to create "new innovations" in the Mac line.
Many customers are unhappy with the high price of the new MacBook Pro models, something Schiller addressed in the interview. An entry-level 13-inch MacBook Pro with a Touch Bar costs $1,799, a full $500 more than previous-generation models, and 15-inch models start at $2,399. Schiller says Apple cares about price, but has to design for experience rather than cost.
Affordability is "absolutely something we care about," Schiller says. "But we don't design for price, we design for the experience and the quality people expect from Mac. Sometimes that means we end up at the higher end of the range, but not on purpose, just because that's what it costs."
The MacBook Pro's Touch Bar doesn't signal a future move into touchscreen Macs, something the Apple executives made clear. A Mac with a touchscreen isn't "particularly useful," Ive said, while Schiller said Apple investigated the possibility of converging iOS and Mac devices but decided against it.
"We did spend a great deal of time looking at this a number of years ago and came to the conclusion that to make the best personal computer, you can't try to turn MacOS into an iPhone," Schiller says. "Conversely, you can't turn iOS into a Mac.... So each one is best at what they're meant to be -- and we take what makes sense to add from each, but without fundamentally changing them so they're compromised."
Both Federighi and Schiller believe the laptop is a form factor that's going to be around for a long time. "As far as our eyes can see, there will still be a place for this basic laptop architecture," Schiller said, pointing out that it's been useful for the past 25 years.
Apple's 13-inch MacBook Pro model with no Touch Bar is available for purchase starting today and will deliver in just a few days. The new 13 and 15-inch models that do include Touch Bars are available for order, but won't ship until mid-to-late November.
Along with a Touch Bar, Apple's new MacBook Pros feature upgraded processors, new graphics capabilities, improved displays, faster SSDs, Thunderbolt 3 support, and 10 hour battery life.
CNET
's
full interview
, which also focuses on the history of the Mac notebook lineup, is well worth checking out.
Apple hosted its "Hello Again" Mac event this morning, where it debuted a newly redesigned
MacBook Pro
with an integrated "Touch Bar" panel that supports multi-touch and a range of gestures to unlock new capabilities in apps.
Much of the event was actually spent covering existing features, demoing the Touch Bar, and highlighting
Apple TV
capabilities, allowing us to condense the full 82 minute presentation into four minutes. If you missed Apple's keynote, our recap is a great way to get caught up without having to invest an hour and a half.
Apple's new MacBook Pro models feature a thinner, lighter body, better battery life, upgraded processors, improved displays, and the aforementioned Touch Bar, but all that innovation comes at a price, which has many customers disappointed. Apple is charging $1,799 in the United States for the entry-level 13-inch MacBook Pro model with a Touch Bar, and the 15-inch MacBook Pro models start at $2,399.
While the MacBook Pro was the main highlight of the event, Apple also introduced a new Accessibility site, 4K and 5K monitors from LG, a new Apple TV app that serves as a TV guide to help users find what to watch. For a more in-depth look at everything that's new today, make sure to
check our full event recap post
.
With
pre-orders
for the new
MacBook Pro
up today, and a launch expected within the next two to three weeks, Apple has given a number of journalists access to the 13-inch and 15-inch devices so they can share their thoughts with anyone who is interested in the new flagship MacBook Pro line.
MacRumors
has already
rounded up a collection of opinions
regarding the newest feature on the MacBook Pro -- the Touch Bar -- so this roundup will be focused on other areas.
Namely, topics covered include the keyboard, trackpad, screen, and overall weight and feel of the device. Opinions on the keyboard appear to differ depending on whether or not the user is acclimated to the 2015 MacBook's Butterfly Enclosure keyboard, but otherwise the new MacBook Pro is getting positive initial reactions to its design, particularly in its ability to pack in powerful specs in such a lightweight enclosure.

Images via Engadget
Many of those who got a chance to touch the new MacBook Pros of course first interacted with the keyboard, and
The Verge
ended up liking it, while noting that it's essentially the same as the one introduced on the
Retina MacBook
in 2015, which might cause problems with anyone who hasn't owned one of those MacBooks. It also said that the trackpad is "absolutely massive."
The keyboard is almost identical to the Butterfly keyboard found on the tiny MacBook. That's going to cause some people to grind their teeth, but I think it's great and easy to type on — and I do think the keys might have sightly better travel, but don't hold me to that. In any case, I expect that this will be a sore spot for some people, but my level of sympathy isn't as high as it ought to be, because I think this keyboard is great.

The Trackpad is absolutely massive, so much so that Apple had better make sure it has its palm-rejection software perfect, because your palms are going to be resting on this thing all the time.
➜ Click here to read rest of article...
One of the headline features of Apple's
new MacBook Pros
is the
Touch Bar
, a Multi-Touch-enabled strip of glass above the keyboard that provides instant access to tools and commands that change contextually based on the app you are using or system task you are carrying out. It also has
Touch ID
built in.

Siri and Touch ID (Image: AOL)
The all-new Touch Bar replaces the standard row of function keys on the new
MacBook Pro
s, with system controls like an escape key, power, volume, and brightness still accessible at times. The middle part of the Touch Bar is the Control Strip, which changes automatically based on what you are doing.
Apple provided the media with an opportunity to demo the new Touch Bar following its
"Hello Again" event
earlier today, and a number of websites have now published early hands-on looks at the new feature. Read ahead for a roundup of Touch Bar first impressions alongside photos of it in action.

Image: Dieter Bohn/The Verge
Dieter Bohn at The Verge
noted the Touch Bar has a matte finish, which gives the on-screen controls a little more of a physical feel:
What you might not have gathered from the keynote is that it has a matte finish, which makes the buttons on it somehow feel a little more physical. It's bright, but not so bright that it distracts — it seems to be about on par with the brightness of the backlit keyboard.
Bohn added that the Touch Bar controls can be rearranged, while you can long-press on buttons to get to functions faster. Tapping and holding on Reply, for example, allows you to slide your finger over to Reply All. There is no haptic feedback when tapping controls, but Bohn said the Touch Bar worked accurately.
Brian Heater at TechCrunch
said the Touch Bar is "glossy" but "not quite slick," making it "frictionless enough so as to run a finger across with little effort."
The new Touch Bar is essentially a secondary Retina display that Heater described as "quick and responsive" during his demo:
It's quick and responsive, reacting to multi-touch and the amount of pressure the user applies. It also adapts quite quickly as you toggle between different apps. It's a really cool and really versatile new addition – like having a small mobile display embedded directly into the Notebook.
While the Touch Bar is mostly grayscale, it has some color. When using apps such as Messages, for example, you can access a row of frequently used emojis.

Image: Brian Heater/TechCrunch
Michael Gorman at Engadget
said Touch ID on the Touch Bar is "considerably faster than typing in a password" to unlock your Mac:
Plus at the right edge of that strip lies a Touch ID sensor, that allows folks to login to their Macs via their fingertips. In the limited time I spent with the new Pro, that sensor worked as it should -- which is to say considerably faster than typing in a password.
Ina Fried at Recode
said the Touch Bar "looks like the kind of thing that those who spend all day on a laptop will grow to really love."
➜ Click here to read rest of article...
After revealing the newest
MacBook Pro
to everyone today at its "Hello Again" event, Apple has now posted a
full video of the presentation
on its website, allowing anyone who was too busy to watch it live an easy venue to catch up with the presentation on their own time. As usual, Apple is expected to upload the video to YouTube and iTunes at some point later in the day.
Apple always shares a few commercials during its keynotes as well, and today was no different, with six videos hitting its YouTube channel in the minutes following the event's ending. The videos include a focus on Apple's venture into accessibility, and of course deeper dives into all of the features of the all-new 13-inch and 15-inch MacBook Pro with Touch Bar.
-
Apple – Accessibility – Sady (with Audio Descriptions)
-
Apple – Accessibility – Sady
-
MacBook Pro — QWERTY
-
MacBook Pro — Reveal
-
The new MacBook Pro — Design, Performance and Features
-
The new MacBook Pro featuring Touch Bar – So much to touch
In addition to the videos posted online about the MacBook Pro, you can catch up with all of the news out of the Hello Again event by checking out our list of keynote highlights below, which encompass all of
MacRumors
' event coverage posted today.
Besides plenty of news articles surrounding the MacBook Pro and Touch Bar, as well as the discontinuation of the
MacBook Air
, there's also pieces about the new "TV" app coming to tvOS and iOS, and gaming-related announcements, like Minecraft launching on the fourth-generation
Apple TV
.
MacBook Pro News
-
Apple Unveils New 13-Inch and 15-Inch MacBook Pros With Retina 'Touch Bar'
-
Apple Unveils Touch Bar Features in New MacBook Pros Including Touch ID
-
Microsoft Office Support Coming to Touch Bar on MacBook Pro
-
Apple Unveils Successor to MacBook Air With 13-Inch Entry-Level MacBook Pro
-
New MacBook Pro Models Now Available for Purchase as Apple Store Comes Back Online
-
Apple No Longer Sells a Mac With a CD Drive
-
Apple Continues to Sell Base Model 2015 MacBook Pros at Same Price Points
-
Apple Teams Up With LG for 4K and 5K Displays Designed for New MacBook Pro
-
Apple Updates Final Cut Pro X With Revamped Interface, Magnetic Timeline and Touch Bar Support
-
Roundup: Hands-On With Touch Bar on New MacBook Pros
-
Apple Releases $49 Thunderbolt 3 to Thunderbolt 2 Adapter Alongside New MacBook Pro
-
MacBook Pro First Impressions: A Lightweight 'Engineering Marvel' With Beautiful Screen
Everything Else
-
Apple Launches New Website to Promote Accessibility Features
-
Minecraft is Coming to Apple TV by the End of the Year
-
Apple Announces Universal TV App for 'Unified TV Experience'
-
Apple Still Offering 2015 13-inch MacBook Air, 11-inch MacBook Air Discontinued
Apple today
announced
the all-new
MacBook Pro
, confirming that the new computer will come in 13-inch and 15-inch sizes, in both Silver and Space Gray color options. The MacBooks are thinner and lighter than their previous generations, come with a Trackpad that's larger than the ones on the previous MacBooks, and have a redesigned keyboard for better typing.
Apple calls it "the most powerful MacBook Pro ever," and the 13-inch model features a 2.9 GHz dual-core Intel Core i5 processor with Turbo Boost speeds up to 3.3 GHz, 8GB of memory and 256GB of flash storage. The 15-inch version has a 2.6 GHz quad-core Intel Core i7 processor with Turbo Boost speeds up to 3.5 GHz, 16GB of memory and 256GB of flash storage. Both computers reach "up to 2.3 times the graphics performance" of the previous generation.

The 15-inch MacBook Pro features Radeon Pro discrete graphics, while the 13-inch model has Intel Iris Graphics. Each edition includes SSDs with sequential read speeds over 3GBps, and the ability to drive a 5K display through a single Thunderbolt 3 port thanks to the technology's consolidation of data transfer, video bandwidth, and charging abilities.
For the display, that means Apple has created "the brightest, most colorful notebook display" ever, with images that are more vivid and lifelike thanks to the screen's 500 nits of brightness. In total, that means the new screen is now 67 percent brighter than the previous generation MacBook Pro, has 67 percent more contrast, "and is the first Mac notebook display to support a wider color gamut." The company said that none of this negatively affects battery life, because with power saving technology in the MacBook -- including a larger pixel aperture, a variable refresh rate and more power-efficient LEDs -- the display now consumes 30 percent less energy.
"This week marks the 25th anniversary of Apple's first notebook; through the years each generation has introduced new innovations and capabilities, and it's fitting that this all-new generation of MacBook Pro is the biggest leap forward yet," said Philip Schiller, Apple's senior vice president of Worldwide Marketing.

"With the groundbreaking new Touch Bar, the convenience of Touch ID, the best Mac display ever, powerful performance, improved audio, blazing fast storage and Thunderbolt 3 connectivity in our thinnest and lightest pro notebook yet, the new MacBook Pro is the most advanced notebook ever made."
Regarding ports, the MacBook Pro now has four Thunderbolt 3 ports, any of which can be used to charge the laptop, and Apple has officially done away with MagSafe charging on its MacBook Pro line. The enclosure of the MacBook features an entirely new design and all-metal unibody construction, and the 13-inch model is 14.9 mm thin while the 15-inch option is 15.5 mm thin.
In comparison to the last edition of the MacBook Pro, the 13-inch model is 17 percent thinner and has 23 percent less volume, while the 15-inch is 14 percent thinner and 20 percent less volume. In terms of weight, the 13-inch is 3 pounds and the 15-inch is 4 pounds, both devices coming in at nearly half a pound lighter than their previous iterations.
Of course, the biggest addition to the MacBook Pro is the new "Touch Bar," which sits atop the keyboard and officially replaces the function keys on the laptop. As was rumored, Touch Bar is application specific and adapts to what's on screen, be it scrolling through months in Calendar, choosing an album in Photos, selecting emoji in Messages, and many more, including third-party apps like Microsoft Office.
Another advantage is Touch ID, which comes integrated into the power button on the new MacBook Pro. Once a user enrolls their fingerprint into the Touch ID system on MacBook, they can unlock the computer with the simple press of a finger, switch user accounts, and even make purchases with
Apple Pay
's new integration on the web.
A second generation butterfly mechanism in the keyboard provides more responsive typing. Below the keyboard, Apple expanded the Trackpad to be 50 percent larger in the 13-inch MacBook Pro, and twice as large than previous models on the 15-inch MacBook Pro. The speakers got an overhaul, too, with louder, more true-to-life sound that have double the dynamic range and improved bass.
The 13-inch MacBook Pro starts at $1,799, while the 15-inch starts at $2,399, and
both devices can be pre-ordered today
with a shipping date of 2-3 weeks. Apple has also decided to not create a new "Air" model, instead introducing an entry-level MacBook Pro without a Touch Bar that begins at $1,499, and it's on sale now on Apple.com.
The Apple Store has just come online following today's event, and the three new
MacBook Pro
models announced this morning are
now available for purchase
.
Available in Space Gray and Silver in 13 and 15-inch sizes, pricing on the new MacBook Pro starts at $1,499 for the entry-level model with no Touch Bar and goes up to $2,799 for the 15-inch machine.
The entry-level 13-inch machine, available to ship starting today, features a 2.0GHz Core i5 processor, 8GB of 1866MHz RAM, a 256GB SSD, Intel Iris Graphics 540, and two Thunderbolt 3 ports. It is priced at $1,499.
The mid-level 13-inch machine with a Touch Bar features a 2.9GHz Core i5 processor, 8GB of 2133MHz RAM, a 256GB SSD, Intel Iris Graphics 550, four Thunderbolt 3 ports, and a Touch Bar and
Touch ID
. It's priced at $1,799.

The high-end 13-inch machine features the same internals as the mid-level machine, but with a 512GB SSD for $1,999.
As for the 15-inch
Retina MacBook
Pro, the entry-level machine starts at $2,399 and includes a 2.6Ghz quad-core processor, 16GB of 2133MHz RAM, a 256GB SSD, a Radeon Pro 450 with 2GB memory, four Thunderbolt 3 ports, and a Touch Bar and Touch ID.
The high-end 15-inch Retina MacBook Pro features a 2.7GHz Core i7 processor, 16GB of 2133MHz RAM, a 512GB SSD, a Radeon Pro 455 with 2GB memory, four Thunderbolt 3 ports, and a Touch Bar and Touch ID.
There are also several build-to-order upgrade options available for improving the processor, storage space, and graphics card.
All MacBook Pro models with a Touch Bar and Touch ID ship out in two to three weeks.
Today at its October 2016 Town Hall event, Apple announced an
entry-level 13-inch MacBook Pro
that it is positioning as an appealing alternative for potential buyers of the
MacBook Air
, the 13-inch version of which remains
available to buy
for now, with the 11-inch version being discontinued.
The new entry-level Pro takes on many of the design features of the rest of the range, except for Apple's new
Touch Bar
, which replaces the traditional function key strip in the rest of its new Pro MacBooks.

The new entry-level
MacBook Pro
is 12 percent thinner than the current MacBook Air. It's also 13 percent smaller in volume, while staying the same weight.
Apple's senior VP
Phil Schiller
says the new entry-level MacBook Pro is faster than the MacBook Air in "every way." It has a 2.0GHz Intel Core i5 processor, 8GB RAM, a 256GB SSD, Intel Iris 540 Graphics, a larger Force Touch trackpad, two Thunderbolt 3 ports, and a new second-generation butterfly mechanism keyboard.
The entry-level MacBook ships starting today and is available starting at $1,499. In contrast, the existing MacBook Air with 1.6GHz processor and 128GB storage and is still available at $999. The new entry-level 13-inch MacBook Pro can be pre-ordered online now and will ship in 2-3 weeks.
Apple's
"Hello Again" event
kicks off at 10:00 AM Pacific Time today, with Apple expected to make several Mac-related announcements headlined by a
revamped MacBook Pro
with an OLED "Magic Toolbar" or "Touch Bar" and
Touch ID
support.
We're also expecting to see new
MacBook Air
models with USB-C ports, and perhaps some other new Macs as well. On a separate note, Apple is also said to be introducing a
new "guide" app
for
Apple TV
and iOS devices to help recommend TV shows to users across content providers.
Apple is providing a
live video stream
on its website and via Apple TV.

Photo via Dieter Bohn
In addition to Apple's video stream, we will be updating this article with live blog coverage and issuing Twitter updates through our
@MacRumorsLive
account as the event unfolds. Highlights from the event and separate news stories regarding today's announcements will go out through our
@MacRumors
account.
Sign up for our newsletter to keep up with Apple news and rumors.
Apple's online stores around the world are
currently down
in advance of the event.
"Hello Again" event highlights are available in reverse chronological order after the jump.
➜ Click here to read rest of article...
Apple's online storefront has been taken offline this morning, just over six hours prior to the company's
"Hello Again" media event
at its Cupertino, California headquarters, where
Tim Cook
and other senior executives are expected to announce an
all-new MacBook Pro
,
refreshed MacBook Air
, an
Apple TV guide
, and
possibly other new Macs and additional product and service updates
.

Apple will provide a
live stream
(
spoiler free
) of the keynote on the
Apple TV
and on iOS and Mac devices through its website, starting at 10:00 a.m. Pacific Time. MacRumors will also have full coverage of the event, with a live blog on our front page at MacRumors.com and updates in 140 characters or less through our
@MacRumorsLive account
on Twitter. Earlier this week, we outlined
what to expect at the event
.
We'll also have specific coverage of today's announcements in separate news stories, and
our community forums
are a great place for readers to discuss the announcements before, during, and after the event. Be sure to keep tabs on the
MacBook Pro
and
MacBook Air
sections in particular for the latest discussions.