OS X El Capitan Now Available
Apple today sent a few iPad Pros over to Disney, where Disney animators were able to use them alongside the Apple Pencil to test out the iPad Pro's drawing and sketching capabilities in a professional environment.
Disney Story Artist Jeff Ranjo
shared a Periscope
that demonstrates the iPad Pro in action, and several images of the Disney team's drawings were shared on Twitter. The Disney team was using a beta version of popular drawing app
Procreate
, which has been updated to work with the iPad Pro, and an iPad Pro version of
Paper by Fiftythree
was also shown off.
Apple brought in some cool new toys. If I could get the artists to put them down then I could get a turn. pic.twitter.com/WpuLHvRSvp

— Paul Hildebrandt (@paulhildebrandt) October 6, 2015
In the Periscope, Ranjo was impressed with the grip of the iPad Pro's screen when used with the Pencil, and he also was a fan of the palm rejection features. When drawing on an iPad Pro, the palm of a hand can be rested on the screen, but it's still responsive to zoom gestures. At the end of the video, which is well worth watching to see the iPad in action, he says "Let's order a bunch of them."
Several additional photos were shared by Disney Product Manager Paul Hildebrandt. Disney Story Artist
Paul Briggs
used the iPad Pro to sketch Olaf from the movie Frozen, while longtime Disney artist
Paul Felix
drew classic Disney character Mickey Mouse.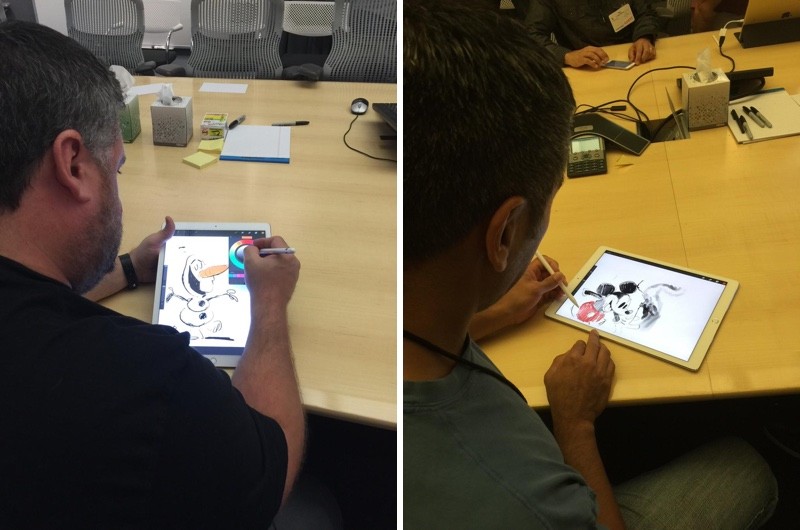 Apple's iPad Pro, Pencil, and Smart Keyboard will launch in November. Apple has not yet provided an exact release date for the new tablet, but recent rumors have suggested it
could debut
early in the month.
Earlier this week, AT&T announced that it had
delayed its promised Wi-Fi calling feature
as it had not been able to obtain an FCC waiver that would allow it to temporarily forgo offering support options for deaf and hard-of-hearing people. Following that announcement, the FCC has
now granted
AT&T's waiver request, allowing the carrier to proceed with its Wi-Fi calling launch plans.
The waiver is available on the FCC website [
PDF
] and grants AT&T the right to delay implementing a teletypewriter (TTY) service for the deaf until December 31, 2017. AT&T plans to instead use a newer form of communication, real-time text (RTT) as an alternative, and the waiver will allow it to avoid using a TTY service until its RTT service is fully operational.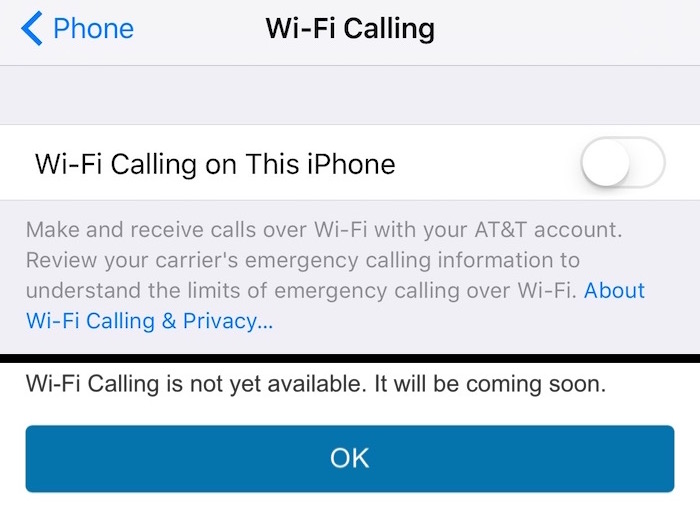 In response to the FCC's waiver grant, AT&T Senior Executive Vice President of External and Legislative Affairs Jim Cicconi gave
MacRumors
the following statement:
We're grateful the FCC has granted AT&T's waiver request so we can begin providing Wi-Fi calling. At the same time we are left scratching our heads as to why the FCC still seems intent on excusing the behavior of T-Mobile and Sprint, who have been offering these services without a waiver for quite some time. Instead of initiating enforcement action against them, or at least opening an investigation, the agency has effectively invited them to now apply for similar waivers and implied that their prior flaunting of FCC rules will be ignored. This is exactly what we meant when our letter spoke of concerns about asymmetric regulation."
In its original statement on the waiver delay, AT&T called out Sprint and T-Mobile for implementing Wi-Fi calling without obtaining similar permissions from the FCC, a sentiment that is again echoed in the above statement. Both T-Mobile and Sprint have allegedly implemented their Wi-Fi calling features without requesting a waiver for TTY rules.
Though AT&T now has its waiver, the company has not yet provided a timeline on when its subscribers can expect to have access to Wi-Fi calling. Ahead of the waiver fiasco, AT&T
made Wi-Fi calling available
during the iOS beta testing period, suggesting it is ready to debut in the near future.
(Thanks, Ryan!)
Apple plans to introduce the rumored 21.5-inch Retina iMac next week, reports
9to5Mac
. There will be several models that could show up in stores as early as October 13, but supplies may be somewhat limited until production ramps up in November.
As has been previously rumored, the 21.5-inch iMac will have a resolution of 4096 x 2304. Code discovered in OS X El Capitan
has pointed towards
Broadwell chips with Intel Iris Pro Graphics 6200 and AMD Radeon M380 - M395X discrete graphics for the new iMacs.

Rumors
have also suggested
the new 21.5-inch iMac will include an improved display quality with greater color saturation, but the external design of the machine will remain the same. Due to the new Retina displays, the 21.5-inch iMac models will be priced higher than existing iMac models.
The 27-inch iMac is not likely to receive an update alongside the 21.5-inch iMac and it is not clear if Apple will also debut new rumored accessories alongside the machine. According to regulatory filings, Apple is
working on
a second-generation Magic Mouse and a new wireless keyboard with Bluetooth 4.2 connectivity and a rechargeable battery.
As for the iPad Pro, Japanese site
Mac Otakara
recently suggested the larger-screened tablet would launch in early November, a rumor that
9to5Mac
concurs with in today's report.
At a media event today, Microsoft
announced a handful of new products
and several updates to existing products coming from the company in 2015 and beyond. Topics for
today's event
included the Microsoft Band 2, Lumia 950 and 950 XL smartphones, Microsoft Surface Pro 4, and the all-new Surface Book.
The company started off by going into detail about
the Microsoft Band 2
, the second version of last year's wearable device. Microsoft said it took in a great amount of customer feedback in designing and implementing the new Band, which includes a new curved screen that with durable Corning Gorilla Glass 3 and an improved touch display. New Cortana integration lets users speak to the Band in order to send texts and make reminders, and the device also includes a barometer that measures elevation for everything from hiking to climbing stairs.
The company's
Microsoft Health app
fuels the Band and lets users dig deeply into the data on everything from calorie burns to estimated recovery time for particularly intense workouts. The Band even includes an extensive golf measurement feature that can interpret the stroke of a swing and includes a score card that the company says is like "having your own personal caddy" on your wrist. Third-party partnerships with companies like Uber and Facebook are also incoming for the Microsoft Band 2, which will be available on October 30 for $249.
Microsoft also announced the
Lumia 950
and
950 XL
which are the newest iterations of the Lumia smartphone line, with 5.2-inch and 5.5-inch displays, respectively. Each of the new phones include a new feature called Glance Screen which showcases important pieces of information when a user pulls the phone out of his or her pocket, without the need to interact with the device directly and without using battery life. The Lumia 950 line also includes a 20-megapixel camera, Triple LED RGB natural flash, optical image stabilization, and a dedicated camera button on the side of the phone.
Click here to read rest of article...

Apple today seeded the fourth beta of iOS 9.1 to both registered developers and public beta testers for testing purposes, one week after seeding the
third iOS 9.1 beta
and
releasing iOS 9.0.2
, the second minor bug fix update to iOS.
The new iOS 9.1 beta, build 13B136, is available as an over-the-air update and through Apple's Developer Center. Apple has also released a third tvOS beta.
iOS 9.1 offers new features and compatibility updates for upcoming Apple products like the new fourth-generation Apple TV and the 12.9-inch iPad Pro. The iPad Pro ships with two accessories, the Smart Keyboard and the Apple Pencil, both of which are deeply integrated into the operating system.
The update includes Unicode 8, adding support for emoji like the taco, burrito, cheese wedge, middle finger, unicorn head, and more, along with a new Messages option in the Settings app, allowing users to disable photos for their contacts.
It is not clear when iOS 9.1 will be released to the public, but it's likely it will come in late October, coinciding with the launch of the new Apple TV.
Apple is now accepting iPhone 6s and iPhone 6s Plus in-store reservations through its Reserve and Pickup program in six European countries where the smartphones are set to launch this Friday, October 9, including
Belgium
,
Italy
,
Spain
,
Sweden
,
Switzerland
and
the Netherlands
.

iPhone 6s and iPhone 6s Plus reservations on Apple Online Store in Switzerland
European customers can select an iPhone model, color and storage size and make a reservation at a local Apple Store for in-store pickup on October 9. Most iPhone 6s models remain available for in-store reservation in all six countries, but iPhone 6s Plus models are very limited at most locations.
When you arrive at the Apple Store during your 30-minute check-in window, most locations should have a special line for customers with reservations. Only the person named on the reservation can pick up the iPhone -- bring a government-issued photo ID. Reservations are limited to 2 per customer.
The new iPhones launch in 40 more countries on October 9: Andorra, Austria, Belgium, Bosnia, Bulgaria, Croatia, Czech Republic, Denmark, Estonia, Finland, Greece, Greenland, Hungary, Iceland, Ireland, Isle of Man, Italy, Latvia, Liechtenstein, Lithuania, Luxembourg, Maldives, Mexico, Monaco, Netherlands, Norway, Poland, Portugal, Romania, Russia, Slovakia, Slovenia, Spain, Sweden, Switzerland and Taiwan.
Apple plans to launch the iPhone 6s and iPhone 6s Plus in over 130 countries by yearend.
Related Roundup:
iPhone 6s
Tags:
Apple Store,
Italy,
Spain,
Europe,
The Netherlands,
Sweden,
Belgium,
Switzerland
Buyer's Guide:
iPhone (Buy Now)
Earlier this year, Apple
expanded
its Made for Apple Watch program to include Apple Watch stands with integrated chargers. Popular accessory maker Belkin has now worked with Apple to develop the an Apple Watch stand with an integrated magnetic charger, which also includes a built-in Lightning connector for charging an iPhone.
The new
Charge Dock for Apple Watch and iPhone
is the very first third-party product to incorporate a Lightning connector and a charging puck for the Apple Watch, letting both an iPhone and an Apple Watch charge through the dock without the need for user-supplied cables.

Ahead of the launch of the Charge Dock, I went hands-on with it to see how it measures up to other Apple Watch and iPhone charging solutions on the market and whether it's worth its $130 price tag.
Design
Belkin's Charge Dock consists of an aluminum platform with a built-in Lightning connector for the iPhone and a chrome arm that houses an Apple Watch charging puck. It's a simple, unobtrusive design that fits well into any decor, but it does only come in silver, so it's not going to perfectly match all iPhones and Apple Watches.

The mix of a matte aluminum base and a shiny chrome arm may not be appealing to everyone, especially with the black accents on the base where the iPhone rests and the black detailing on the back of the Apple Watch stand.
Size wise, the Charge Dock is compact so it's not going to take up too much room on a nightstand or desk. It measures in at five inches long, three inches wide, and it's less than an inch thick. In length, it's a bit smaller than the iPhone 6s and about an inch smaller than the iPhone 6s Plus.
Click here to read rest of article...
Porsche has announced that its forthcoming 2017 Porsche 911 Carrera and Carrera S will support Apple's CarPlay platform. According to
Moto Trend
(via
AppleInsider
), Porsche selected CarPlay over Android Auto because under the agreement of partnering with Google, certain amounts of data would have been sent to the search giant.

Some of this data would have included vehicle speed, throttle position, and engine revs, all points of information that would constantly be flowing back to Google's headquarters each time a driver gets in the car. Comparatively, all Apple's CarPlay requires to know is whether the car is accelerating while the system is being used.
There's no technological reason the 991/2 doesn't have Android Auto playing through its massively upgraded PCM system. But there is an ethical one. As part of the agreement an automaker would have to enter with Google, certain pieces of data must be collected and mailed back to Mountain View, California. Stuff like vehicle speed, throttle position, coolant and oil temp, engine revs—basically Google wants a complete OBD2 dump whenever someone activates Android Auto. Not kosher, says Porsche.
Porsche's reasoning behind the decision points to not wanting to share the information with Google that could include the ingredients to its "secret sauce that makes its cars special," along with the fact that Google is reportedly building its own car at the moment. A
few other
vehicle manufacturers
have announced support for CarPlay, but the service is just this year beginning to see a
wider release
despite being announced -- as "iOS in the Car" -- over two years ago.
Apple debuted a new series of Apple Watch ads aimed at simply showing off specific features. The new ads, which are all set against bright backgrounds and feature people using their Watches for specific purposes, show off the device's fitness and messaging capabilities in addition to Apple Pay and Maps.
The first two ads, "Sing" and "Date" feature people using Apple Watch's messaging capabilities to live their lives. In "Sing", the user sends someone an audio message of a song he's singing.
In "Date", actress Lake Bell, who is the narrator of the iPhone 6s commercial, enjoys a night out and is updated on her child via Messages.
The second two ads, "Train" and "Cycle", showcase the Apple Watch's fitness capabilities. In "Train", boxer Gennady Gennadyevich Golovkin can be seen checking his heart rate as he air boxes.
In "Cycle," a user is completing their indoor cycling exercise and watching it get recorded by the Apple Watch.
In "Ride", a user is shown driving around until they stop to ask Siri for directions. The Apple Watch then provides directions to her destination and she departs.
Finally, in "Sprinkle", a mother carrying a child is shown using her Apple Watch to pay for more ice cream after one of her daughters drops her ice cream.
The new ads come nearly 2 weeks after the Cupertino company
released
watchOS 2 for the device, which adds native app support, new watch faces and third-party complications. Earlier today, Apple and Hermes
launched
the Apple Watch Hermes Collection in select Apple Stores and Hermes retail stores.

Apple has purchased Perceptio, a small startup focused on artificial intelligence, reports
Bloomberg
. Founded by Nicolas Pinto and Zak Stone, Perceptio was developing technology that would let smartphone companies create advanced artificial intelligence systems "without needing to share as much user data" in the cloud.
Perceptio's goals were to develop techniques to run AI image-classification systems on smartphones, without having to draw from large external repositories of data. That fits Apple's strategy of trying to minimize its usage of customer data and do as much processing as possible on the device.
According to
Bloomberg
, both Stone and Pinto are established artificial intelligence researchers who specialize in creating image-recognition systems using deep learning. There's little information available about Perceptio, but
Re/code
profiled the company last year
.
The duo were working on privacy-based artificial intelligence, figuring out how to run complex neural network algorithms on smartphones. Before being acquired by Apple, they were working on facial recognition technology and had released an unrelated video sharing app
called Smoothie
.
Apple confirmed the purchase with its standard acquisition statement: "Apple buys smaller technology companies from time to time, and we generally do not discuss our purpose or plans."
Apple's Siri personal assistant has lagged behind competing services like Google Now and Microsoft Cortana because of Apple's
strict privacy policies
and its reluctance to collect and utilize user data. It's possible the purchase of Perceptio will allow Apple to improve Siri without compromising on its dedication to user privacy.
Perceptio is the second Siri-related purchase Apple has made within the last few weeks. Apple also
recently acquired VocalIQ
, a UK-based startup that created a natural language API to allow computers and people to have a more natural dialogue.
Over the weekend, security site
Palo Alto Networks
detailed a new iOS malware that's able to infect non-jailbroken Apple devices using enterprise certificates and private APIs. It originated in Taiwan and China and was installed through several methods, including hijacking traffic from ISPs, an SNS worm on Windows, and offline app installation.
Called YiSpecter, the malware is able to download, install, and launch apps, doing things like replacing existing apps, displaying advertisements in legitimate apps, changing Safari's default engine, and uploading user information to remote servers.

A popup ad that was able to install YiSpecter on iOS devices
In response to the detailing of YiSpecter, Apple has released an official statement to
The Loop
explaining that YiSpecter is only able to target iOS users who are running an older version of iOS that have also downloaded content from untrusted sources.
"This issue only impacts users on older versions of iOS who have also downloaded malware from untrusted sources. We addressed this specific issue in iOS 8.4 and we have also blocked the identified apps that distribute this malware. We encourage customers to stay current with the latest version of iOS for the latest security updates. We also encourage them to only download from trusted sources like the App Store and pay attention to any warnings as they download apps."
Apple implemented fixes for YiSpecter in iOS 8.4, so iOS 8.4.1 and iOS 9 are immune to the malware. Users who want to avoid being targeted by YiSpecter should make sure to upgrade to the latest version of iOS and as always, should avoid downloading apps from unverified sources.
Apple has begun selling
official Apple Watch lugs
through authorized distributor Avnet that may only be used in third-party bands that adhere to the company's
Band Design Guidelines for Apple Watch
. Apple-designed stainless steel lugs are each marked with "Made for Apple Watch" laser etching to verify their authenticity.

The stainless steel lugs are available in 38mm and 42mm sizes and are compatible with all Apple Watch, Apple Watch Sport and Apple Watch Edition models. However, at the time of publication, Space Gray, Space Black, Yellow Gold and Rose Gold lugs are not listed for sale.
Apple has published
Apple Watch Lug Assembly Guidelines
that provide accessory makers with step-by-step instructions and a list of required tools for assembly, including a Pentalobe 1.1 screwdriver bit and clamping device. The document also outlines proper screw installation for the lugs.
Avnet is selling Apple Watch lugs in sets of 25 or 200 in both 38mm and 42mm, with prices ranging between $278.75 and $1,866.00 per package and between $9.18 and $11.33 per individual set. The distributor is also selling the Pentalobe 1.1 screwdriver bit required for lug assembly for $12.65. All prices are listed in U.S. dollars.
Apple Watch Lugs - 38mm (25 sets)
Price Per Unit: $11.15 USD

Package Price: $278.75 USD

Apple Watch Lugs - 38mm (200 sets)

Price Per Unit: $9.18 USD

Package Price: $1,836.00 USD

Apple Watch Lugs - 42mm (25 sets)

Price Per Unit: $11.33 USD

Package Price: $283.25 USD

Apple Watch Lugs - 42mm (200 sets)

Price Per Unit: $9.33 USD

Package Price: $1,866.00 USD

Avnet currently estimates a shipping lead time of 2 weeks for all lug sets and pentalobe screwdriver bits. Opening a commercial account with Avnet is required to complete the ordering process. Avnet's customer service team will contact customers within 24-48 business hours to complete the ordering process.



Related Roundups:

Apple Watch,

watchOS 2

Tags:

Apple Watch bands,

Avnet

Buyer's Guide:

Apple Watch (Neutral)