Apple today released a new security update that's designed to address a "critical security issue" with the Network Time Protocol service on OS X. Apple recommends that all Yosemite, Mavericks, and Mountain Lion users install the update "as soon as possible."

The update appears to address a problem that was highlighted
by the U.S. Government
on Friday, December 19 and originally discovered by the Google Security Team. The vulnerability has the potential to allow an attacker to execute arbitrary code using the privileges of the ntpd process.
Google Security Team researchers Neel Mehta and Stephen Roettger have coordinated multiple vulnerabilities with CERT/CC concerning the Network Time Protocol (NTP). As NTP is widely used within operational Industrial Control Systems deployments, NCCIC/ICS-CERT is providing this information for US Critical Infrastructure asset owners and operators for awareness and to identify mitigations for affected devices. ICS-CERT may release updates as additional information becomes available.

These vulnerabilities could be exploited remotely. Exploits that target these vulnerabilities are publicly available.

Products using NTP service prior to NTP–4.2.8 are affected. No specific vendor is specified because this is an open source protocol.
Apple has faced several vulnerabilities over the course of 2014, most recently releasing an OS X bash update in September to fix the "Shellshock" security flaw. Today's security update can be downloaded from the Mac App Store.
Microsoft is hoping to lure MacBook users to its Surface Pro 3
with a new site
that's aimed at users who are considering switching from an Apple laptop to one of Microsoft's surface tablets.
Launched
over the weekend
, Microsoft's "Making the Switch" site includes sections on Windows basics, questions and answers on transitioning from a MacBook to a Surface Pro 3, content migration, and using a Surface Pro 3 with an iPhone, iCloud, and iTunes.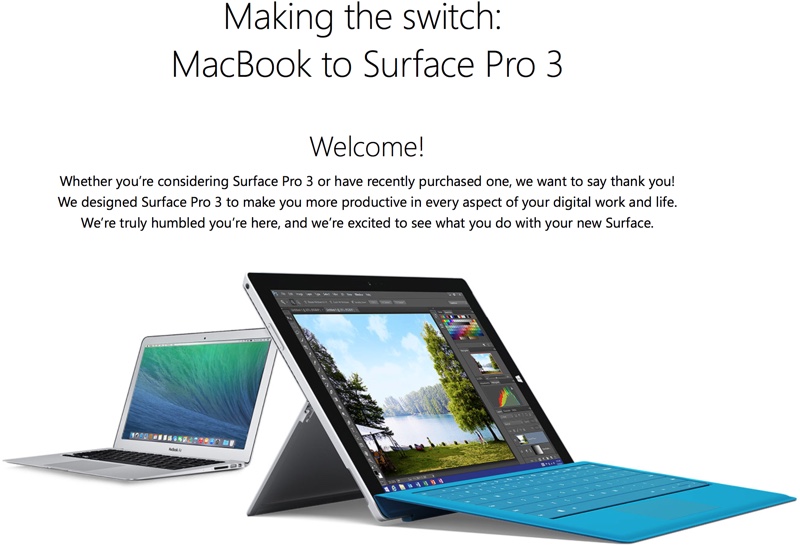 In the section dedicated to current MacBook users, Microsoft includes several tips on how to perform basic functions on a Surface Pro 3, like right clicking, searching, accessing system settings, installing applications, and more. The site also covers viruses and replacements for FaceTime and iMessage, with Microsoft recommending Skype over the Apple options.

Microsoft often tries to attract iPad and MacBook users to its line of Surface tablets, and has a history of publishing ads that compare its products to Apple products. In 2013 and early 2014, Microsoft focused
heavily on anti-iPad ads
that compared the tablet to the Surface 2, but after the May launch of the more powerful 12-inch Surface Pro 3, the company moved on and
began targeting
Apple's MacBook.
Most recently, Microsoft launched a November "Winter Wonderland" holiday ad that highlighted the Surface Pro 3's versatility compared to the MacBook Air, pointing out the tablet's kickstand and touch screen. Microsoft has run quite a few
anti-MacBook ads
over the course of 2014, featuring the Surface Pro 3's abilities to function as a full-on notebook computer, with the tagline "The tablet that can replace your laptop."
Apple today
launched
a new Tumblr page highlighting the touchstones of pop culture across 2014. Mirroring the album art layout of iTunes itself, the company's Tumblr site lists the best music, movies, television, and books of the past year by showcasing various images and GIFs related to the content.

As with any Tumblr blog, users can like a post, share the content on Facebook and Twitter, and reblog it to their own tumblr page. A "See All" button allows users to delve even further into each category, highlighting a more extensive list for each of the four main mediums beyond the central hub.
The Best of 2014 blog shows off a variety of different pop culture milestones from the past year.
Guardians of the Galaxy
,
The LEGO Movie
,
Fargo
,
Gone Girl
, and artists like Nicki Minaj and Charli XCX all get their own mention on the page.

Apple has seen a bit of a resurgence on social media recently, with the company previously
launching
a Tumblr blog for the iPhone 5c back in March, and Tim Cook himself
joining Twitter
in September of 2013. As noted by
9to5Mac
, Apple also
started an Instagram account
for iTunes just two weeks ago.
Apple's expanded social media presence comes four months after the company
picked up Musa Tariq
, Nike's former senior director of social media. Before working at Nike, Tariq worked closely with Apple's head of retail Angela Ahrendts at Burberry, helping with the brand's global expansion, and he may also be behind Apple's recent social media push.
Apple's 12-inch MacBook Air and the Apple Watch are expected to enter mass production in 2015 as the company's supply partners have accelerated component production for both products,
reports
Digitimes
. Supply chain sources note that the 12-inch MacBook Air will feature Intel's Broadwell processors and a new ultra-thin design. The new notebook is also expected to be available in limited supply when it launches due to yield issues with components, and will be primarily manufactured by Quanta Computer.

This information about the 12-inch MacBook Air provided by
Digitimes
lines up with previous reports, as Apple was rumored to be developing a
new form factor
complete with a buttonless trackpad and a fan-less cooling system for the laptop. Intel
launched
its new ultra low power Broadwell Core M processors this past November, which will likely power the 12-inch MacBook Air.
Aside from an ultra-slim design and a new processor, Apple will also
look to offer
the 12-inch MacBook Air in Silver, Gold, and Space Gray options when it launches in mid-2015.
Apple Pay is seeing impressive early adoption numbers according to a new
ITG Investment Research Report on Mobile Payments
(via
MarketWatch
), which suggests Apple's new payment service was responsible for a total of 1 percent of digital payment dollars during the month of November.
Apple still trails industry leaders like Square and PayPal, which captured 18 and 78 percent of digital payment dollars in November, respectively, but ITG analysts suggest Apple Pay is showing strong momentum given that it's available only to customers with the newest hardware and supported by a limited number of merchants.

According to the report, which uses data from ITG's Investment Research consumer panel, 60 percent of new Apple Pay customers used the service on multiple days throughout November, averaging 1.4 use times per week. In comparison, only 20 percent of new PayPal customers used the service multiple times during the same time period.
Among customers who used Apple Pay, Whole Foods was the location where the service was used most, capturing 20 percent of all Apple Pay transactions. Walgreens came in second, with 19 percent of transactions, and McDonald's was third, with 11 percent of transactions. Whole Foods was also saw the highest spending, responsible for 28 percent of all Apple Pay dollars spent.
Available since October 20, Apple Pay is accepted at several of Apple's partner stores and at more than 200,000 retail locations where NFC payments are accepted. Apple has given little indication of Apple Pay's early success, but in October, Apple CEO Tim Cook revealed that Apple Pay had seen
more than one million credit and debit card activations
during its first 72 hours of availability.

Actress Kate Winslet is currently in negotiations to play the lead female role in the upcoming Jobs biopic, reports
Variety
. Winslet, aged 39, is best known for dramatic movies like
Titanic
,
Divergent
,
All the King's Men
, and
Finding Neverland
.
It remains unclear what role Winslet will play, but female parts in the movie are rumored to include Steve Jobs' daughter Lisa Brennan and Katie
Cotton
, Apple's well-known former PR lead.
Natalie Portman was formerly in talks to play a major female role in the film, but she
pulled out of negotiations
in early December. Actress Jessica Chastain, of
The Help
, may also be in talks for a part.
After some difficulties in casting, it seems the Jobs biopic is finally taking shape. Both
Leonario DiCaprio
and
Christian Bale
passed on the role of Steve Jobs, leading it to be
taken by Michael Fassbender
, and the role of Steve Wozniak will be
played by Seth Rogen
.
According to
Variety
, Jeff Daniels is still being considered for the role of former Apple President John Sculley, and Boardwalk Empire's Michael Stuhlbarg recently
signed on to play
Andy Hertzfeld, one of the members of the original Macintosh development team.
The Jobs biopic, now
owned by Universal Pictures
, is based on Walter Isaacson's Steve Jobs biopic. Penned by Aaron Sorkin, the movie will consist of three continuous 30-minute scenes that cover
three of Steve Jobs' product launches
- the NeXT cube, the original Mac, and the iPod.
(Image via Mingle MediaTV)
While car manufacturers have been slower than anticipated to roll out support for Apple's in-vehicle CarPlay system,
Pioneer
and
Alpine
have delivered aftermarket options in the form of in-dash systems with CarPlay compatibility and large touch screens.
MacRumors
has had a chance to spend some time with Alpine's
iLX-007
, which carries a suggested retail price of $800 but commonly sells for $600 and offers a 7-inch capacitive touch screen that dominates the unit's front. The only other physical features come as a thin row of buttons along the bottom edge, including a pair for controlling volume, one for activating Siri, one for returning to the Alpine home screen, and another pair serving varying functions such as changing tracks, depending on the app currently in use.
The basic Alpine home screen offers access to only a handful of functions including traditional radio, any peripheral devices connected to the system's auxiliary input including support for a rear back-up camera, and CarPlay devices. Upon connecting the unit's Lightning cable to an iPhone, the CarPlay interface automatically launches, allowing access to the standard Phone, Music, Apps, Messages, and Now Playing apps, as well as any CarPlay-compatible third-party apps the user has installed on his or her device and a Top Menu button to return to Alpine's main home screen.

In order to provide support for Siri input, the iLX-007 comes with a microphone that can be mounted in an appropriate location such as the driver's sun visor in order to pick up voice commands. CarPlay-specifc app settings within the main iLX-007 interface include the ability to set microphone level and noise reduction, as well as which speakers Siri's output come through.
With just a narrow row of physical buttons along the bottom of the head unit, Alpine has certainly maximized the available screen space on the iLX-007, squeezing in a 7-inch display that makes it easy to see content. The small physical buttons can, however, be a bit difficult to easily find by touch while keeping eyes on the road. The large icons and other interface elements inside the CarPlay interface itself are easy to hit, although the lack of tactile feedback means at least a glance is probably needed to ensure the correct area of the screen is being touched.

As is to be expected, the CarPlay functionality on the iLX-007 is essentially the same as on other CarPlay systems, several of which have
already been reviewed
. The simple integration of having much of the phone experience appearing directly on the dashboard display in an easy-to-use format is a welcome addition, although certain aspects of the implementation leave something to be desired.
One fairly significant drawback that appears to be due more to Apple than Alpine is the lack of full support for multi-touch or even fluid scrolling input. While Apple may prefer to limit multi-touch availability in order to potentially reduce driver distraction while pinching or making other gestures that require a more extended glance at the dashboard display, scrolling is a much-needed feature for areas such as lists of contacts, music, and podcasts.

The iLX-007 clearly supports swiping input as seen in its own top-level settings (albeit with somewhat poor responsiveness), but within CarPlay users are essentially relegated to a more cumbersome method of paging through lists. A form of scroll swiping is supported on some lists such as in the Music and Messages apps, but swipes simply serve the same function as page up/down buttons and do not allow for smooth scrolling. Other apps entirely lack what would feel like natural swiping actions. Maps, for example, does not support swiping or pinching to pan or zoom maps.
CarPlay certainly shows a lot of promise, and it will only become more useful as additional third-party apps become compatible with the feature over time. For now, however, a main obstacle is getting CarPlay into users' cars. Despite initial promises of a handful of car manufacturers shipping new vehicles equipped with CarPlay-compatible entertainment systems this year, only Ferrari appears to have met that goal as others have had to push their plans into 2015.
Likely more important to the immediate potential success of CarPlay is the availability of aftermarket products that will allow users to retrofit their existing cars with CarPlay-enabled systems for a few hundred dollars. Alpine and Pioneer have indeed met their goals of launching CarPlay systems for their customers, and for now they are the means by which most consumers will be able to experience CarPlay in their vehicles. These aftermarket systems aren't particularly cheap, but with resellers offering lower-end models in the $450-$600 range, they are within reach of a decent number of consumers.
Apple CEO Tim Cook said he is deeply offended by allegations that Apple permits the mistreatment of workers in its supplier factories and mines, reports
The Telegraph
. The accusations were levied by the BBC news program
Panorama
, which sent undercover reporters to work in Chinese factories and Indonesian mines. The BBC aired the documentary titled "
Apple's Broken Promises
" last night on its BBC One channel.

Apple senior vice president of operations Jeff Williams relayed Tim Cook's message in an
email sent to its UK staff
. Cook and Williams both stated they were "deeply offended by the suggestion that Apple would break a promise to the workers in our supply chain or mislead our customers in any way."
"Panorama's report implied that Apple isn't improving working conditions," he continued. "Let me tell you, nothing could be further from the truth."
Williams also implied in the email that Apple provided the BBC with pertinent facts regarding the company's commitment to its workers worldwide, but that information was not included in the documentary.
The BBC report claims that Chinese workers were forced to work long hours assembling Apple devices and denied requests for a day off, even after working 18 days in a row. The BBC also uncovered issues with off-hour work meetings, underage workers and other violations with dormitories and ID cards.
The BBC also investigated tin mines in Indonesia, where it found children mining the ore in dangerous conditions. The BBC claims this tin makes its way into Apple's supply chain without the company's knowledge.
Note: Due to the political nature of the discussion regarding this topic, the discussion thread is located in our
Politics, Religion, Social Issues
forum. All forum members and site visitors are welcome to read and follow the thread, but posting is limited to forum members with at least 100 posts.
As the Christmas holiday approaches,
Apple Store shipping estimates
for both the iPhone 6 and the iPhone 6 Plus from all carriers in all colors and in 16 and 64GB capacities have now improved to just 1 business day in the United States, bringing the company close to reaching a supply/demand balance on those devices.
The larger-capacity 128GB devices remain somewhat more constrained than the lower-capacity models, and ship in 3 to 5 business days.
Shipping estimates are similarly improved in many other countries, including Australia, New Zealand, Canada, the United Kingdom, Mexico, Thailand, Philippines, and more.
Throughout the month of December, shipping estimates have been slowly improving as Apple has catches up with demand, and in early December, estimates
had improved to 3 to 5 days
for 16/64GB models and 7 to 10 days for 128GB models. Last week, estimates for the 16and 64GB models improved further, reaching 1 to 3 day estimates before jumping up again this week to just 1 day.

The iPhone 6 and 6 Plus have been severely constrained since their September debut, but Apple has worked hard to improve available supply, going so far as to reportedly delay mass production on the rumored iPad Pro to focus on producing more
iPhone 6 Plus units
.
In store supply of the iPhone 6 and 6 Plus has also seen major improvement over the course of the last few weeks, and in many stores around the country, it's now possible to walk in and purchase an iPhone 6 or 6 Plus. According to tracking tool
iStockNow
, iPhone 6 and 6 Plus units from all carriers and in all colors and capacities are widely available at most stores.
Back in October, Apple CEO Tim Cook said that demand for the iPhone 6 and 6 Plus was "far outstripping" supply, but based on the continually improving shipping times, Apple appears to be on track to meet its supply goals before the end of the year.
Earlier this week, BBC One announced plans to
air a documentary
called
Apple's Broken Promises
, detailing the factory conditions of the overseas workers who are creating components and assembling the company's iPhones.
Apple's Broken Promises
is set to air tonight, but ahead of the documentary's launch,
BBC News
has
published a story
outlining what they discovered when they visited Pegatron factories in China and mines in Indonesia.
During the visit, the
BBC
found that workers at Pegatron factories were forced to put in long hours assembling Apple devices, and that there were violations with ID cards, dormitories, work meetings, and juvenile workers.

Multiple reporters went undercover at the factory as part of the documentary, and one did not receive a day off after working 18 days in a row while another was exhausted by the long hours. There were also workers who were filmed falling asleep during 12-hour shifts.
One undercover reporter, working in a factory making parts for Apple computers, had to work 18 days in a row despite repeated requests for a day off.

Another reporter, whose longest shift was 16 hours, said: "Every time I got back to the dormitories, I wouldn't want to move.

"Even if I was hungry I wouldn't want to get up to eat. I just wanted to lie down and rest. I was unable to sleep at night because of the stress."
Undercover reporters were forced to do overtime, which is supposed to be voluntary, and the housing conditions were less than desirable, with one reporter subjected to a dormitory where 12 workers shared a single room. Another reporter had to attend after work meetings off the clock, receiving no compensation.
In response to the
BBC
's allegations, Apple released a statement suggesting that it's doing more than any other company to improve working conditions for factory employees. The company also said it monitors working hours at Pegatron, with employees at the factory averaging 55 hours per week.
"We are aware of no other company doing as much as Apple to ensure fair and safe working conditions.

"We work with suppliers to address shortfalls, and we see continuous and significant improvement, but we know our work is never done."
Apple also told the
BBC
that the overcrowding in the dormitory has been resolved, and that suppliers are required to retroactively pay workers if they have not received compensation for meetings.
The
BBC
's trip to Indonesia led the documentarians to allege that tin from illegal mines could be entering Apple's supply chain without its knowledge. Children were found digging tin ore in dangerous conditions, with the tin eventually being sold to a smelter that's on Apple's list of suppliers. Apple told the
BBC
that the situation in Indonesia is "complex" as thousands of miners sell tin through middle men.
Apple often finds itself in the spotlight over the conditions at the factories where its product components are produced, but over the last few years, the company has established a strict code of conduct for suppliers that prevents underage labor and provides safe, comfortable working and living conditions for workers.
Apple also maintains a Supplier Responsibility Team that performs regular audits to ensure compliance, but factory conditions continue to be an ongoing issue for Apple due to both the sheer number of suppliers the company works with and the fact that factories benefit from producing large quantities of product at a low cost.
The full documentary will be shown on BBC One on December 18 at 9:00 PM U.K. time, and it will be replayed later on
BBC iPlayer
.
Update:
The BBC has added a video clip from the documentary.
Note: Due to the political nature of the discussion regarding this topic, the discussion thread is located in our
Politics, Religion, Social Issues
forum. All forum members and site visitors are welcome to read and follow the thread, but posting is limited to forum members with at least 100 posts.
Apple today seeded the third beta of iOS 8.2 to developers, just over a week after seeding
the second beta
and one month after releasing
the first iOS 8.2 beta
.
The beta, Build 12D5452a, is available immediately to registered developers as an over-the-air update and it can also be downloaded from the iOS Developer Center. Today's update also includes Xcode 6.2 beta 3 with WatchKit.

According to the release notes, iOS 8 beta 3 fixes several bugs including an issue that caused opening Messages conversations to take a long time and a missing emoji button in iOS Simulator. It also includes two fixes for WKInterfaceController methods: openParentApplication:reply: now launches the containing app in the background when the iPhone (or iOS Simulator) is unlocked or locked and presentTextInputControllerWithSuggestions:completion: is now fully supported in iOS Simulator.
iOS 8.2 includes the WatchKit SDK, allowing developers to create apps, Glances, and notifications for Apple's upcoming wearable device ahead of its 2015 launch. The first iOS 8.2 beta, with WatchKit SDK and developer documentation, revealed several new details about the Apple Watch, including its heavy reliance on the iPhone and the different types of content developers can create for the device.
Update:
It appears the latest beta
reintroduces
blood glucose tracking in the Health app and adds new descriptions for various Health app features.
While there are several apps designed to turn the iPad or iPhone into a secondary display for a Mac, the most popular options use Wi-Fi, which can render them all but unusable at times due to unavoidable lag. A new app from developer and former Apple Engineer Rahul Dewan aims to solve these lag problems
with a tethered solution
that turns an iOS device into a more reliable secondary display.
Duet Display
, which is launching today, is the one of the first apps that transforms the iPad and the iPhone into an extra display for the Mac using a Lightning or 30-pin cable. By sending data over a cable instead of Wi-Fi, Duet Display is able to greatly improve on the lag is typically present when an iOS device is used as a secondary display.
Duet Display offers both a Retina mode and a non-Retina mode, along with options for 30 or 60 frames per second, and it's easy to install and setup, requiring just the Mac app, the iOS app, and a cable to connect the two devices.
The Duet Display app is inarguably an improvement over other options today, but it is not a perfect solution. As detailed in the video walkthrough of the app below,
MacRumors
experienced some issues when testing the app. On a 2012 Retina MacBook Pro, Duet Display's Retina mode caused a significant amount of cursor lag, rendering the app nearly unusable, and the CPU usage climbed to well over 200 percent.
Non-Retina mode (which is enabled in the app by default) offered a more lag free experience, but the trade off caused the secondary iPad Air 2 display to look fuzzy -- a disappointment given the inherent clarity of the screen on Apple's newest tablet. Non-Retina mode in Duet Display degrades the quality of all Retina displays to a noticeable degree.
According to the developer, performance is better on Macs released in 2013 or later, and users who only want to view one static window may not have any problems. Furthermore, many users may find the utility of a secondary iPad or iPhone display to be enough to outweigh the lack of a Retina experience.
Though the iPad Air 2 and other Retina devices don't look good in non-Retina mode, Duet Display is a great solution for older iPads that people might have little use for. An original iPad or iPad 2 does not have a Retina screen, and will work well with older Macs as secondary displays. iOS 5.1.1 is not yet compatible with Duet Display, but the developer is working on a fix.
Along with the Retina issue, potential buyers should be aware of some other small issues that we ran into. Even in non-Retina mode, on a 2012 Retina MacBook Pro, there was some slight cursor lag, and we also had problems with visual artifacts on some apps. When watching YouTube videos, for example, there were some occasional performance blips.
The developer assures us that he is working on improving Duet Display, and he plans to release iterative updates in the months to come to clear up lingering problems. As he suggests, it's better to have an app that works most of the time with just a few problems rather than one of the existing Wi-Fi solutions that can be almost non-functional.
The Duet website claims that all Macs using OS X 10.9 or later work with the app, as well as all iPads and iPhones, but
MacRumors
was unable to get the software to work with a 2010 MacBook Air running OS X 10.10.2. According to the developer, the issue was due to the 10.10.2 beta software, which does not work with the app.
Duet Display may not provide the perfect secondary display experience, but in our testing, we found that it was more reliable than current Wi-Fi options, and we believe it's a fantastic way to make good use of older iOS devices.
Duet Display for the Mac can be
downloaded from the Duet website
for free. The accompanying iOS app can
purchased from the App Store
for $9.99 for 24 hours, and then the price will go up to $14.99. [
Direct Link
]
Update 12PM PT:
Some of our forum members have not been able to get Duet Display to work on an iPad running iOS 5.1.1, and the developer
has asked people
who want to use it with an iPad running iOS 5.1.1 to wait for an upcoming update before purchasing.