Apple's Beats 1 radio station was recently updated to give users access to full replays of radio segments, with a new Beats 1: Replay feature. As highlighted by
MacStories
, Replay covers several Beats 1 shows, including those by Zane Lowe, Julie Adenuga, and Ebro Darden, letting users re-listen to a missed segment.
Since Apple Music's debut, there's been an option on Beats 1 radio to listen to playlists of songs by each DJ after a show ends, but there was often no way to listen to a full show with guests and commentary unless you caught it on the second playthrough, 12 hours after it first aired.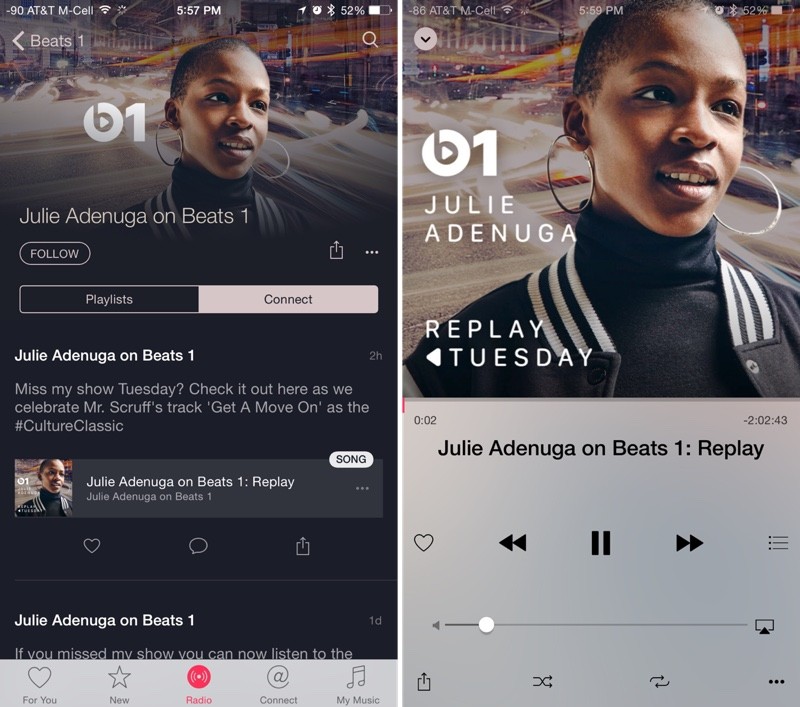 With the change implemented in the last few days, Beats 1 users can access both a full replay that's the same as listening to a show live and a playlist of songs from each program.
Though a feature that's likely going to be welcome by many Beats 1 listeners, Replay is somewhat hidden. Re-recordings of shows can be accessed by tapping on the Beats 1 logo in Apple Music to open the list of featured shows, tapping on a DJ, and going to the "Connect" page. Alternatively, it's also possible to search for an individual DJ to access their Connect section, or to search directly with a term like "Julie Adenuga Replay."
Tapping on the "Beats 1: Replay" option will play the entire show in one long block, with no option to see the songs that are playing as is possible when Beats 1 radio is playing live. As
MacStories
points out, it's akin to listening to one long podcast. Replaying a show eliminates the ability to heart songs and add them to playlists to enhance the Apple Music listening experience, but it does give users a way to listen to one-of-a-kind content and commentary that would have previously been missed.
Since Apple Music launched, Beats 1 radio has featured a near-endless stream of exclusive content, worldwide song debuts, and artist interviews, all designed to draw in listeners. The service's most recent exclusive was MTV's announcement of the
2015 Video Music Award nominees
.
Apple's licensing terms with record labels give the company permission to create up to five additional radio stations like Beats 1, reports
The Verge
, citing sources with knowledge of Apple's deals. Without needing to negotiate new terms, Apple could potentially launch additional Beats stations around the world, adding DJs in other countries or launching stations with a specific focus.
As part of the deal it struck with the major labels for Apple Music Radio, Apple has licenses for up to five additional stations like Beats 1, without having to renegotiate with the labels. That means Apple could launch a Beats 2 station headquartered in Australia or Asia, allowing it to provide live radio around the clock (Beats 1 is only live 12 hours a day).
It seems Apple is indeed considering and preparing for a potential expansion Beats 1 with new Beats radio stations, as the company has registered domains like beats2.com.cn, beats2.hk, and beats4.com.ru in various countries around the world. Beats 1 is broadcast worldwide, but in the future, Apple may wish to offer stations that cater to different languages and music tastes around the world.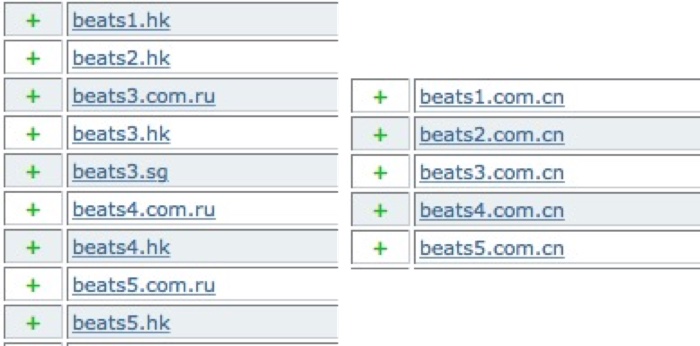 Labels may have given Apple permission to create additional radio stations due to the fact that Apple is allegedly paying more per-play than Pandora for music that is streamed on Beats 1.
The Verge
's sources also commented on the status of Apple Music, stating that labels are "pretty pleased" with Apple Music's performance thus far and that the service has gained a "substantial" number of users since it launched on June 30. Of course, all Apple Music subscribers right now have free access to the service until October, so it's still impossible to gauge how Apple Music measures up to competing services like Spotify.
As of this month, Apple has
initiated a major advertising campaign
for Apple Music, with billboards and signage popping up in cities around the world like San Francisco, Tokyo, Toronto, Los Angeles, and Mexico City, which should bump up subscriber numbers.
Apple has also maintained momentum with its Beats 1 radio station through a series of exclusive song releases and interviews with artists. Most recently, Beats 1 scored an exclusive with MTV, with the network using the platform to announce the
2015 Video Music Award nominees
.
Apple has kicked off a worldwide advertising campaign for its new streaming music service, with advertisements showing up in various cities like San Francisco, Tokyo, Toronto, Los Angeles, and Mexico City.
Billboards in San Francisco have been updated with new Apple Music ads, and the
Omotesando and Harajuku Metro Stations in Tokyo
have been updated with
Apple Music banners
. Some
bus stops
in Mexico City are also displaying Apple Music ads, and ads have also been seen on billboards in
Los Angeles
and
Toronto
.

Apple Music banners in Omotesando via Instagram
The banners mimic images that have been used to advertise Apple Music on
Apple's website
, featuring desaturated pictures of artists overlaid with the Apple Music logo in a variety of different fonts.

Apple Music banner featuring FKA twigs via Instagram
It is not clear when Apple began its Apple Music advertising push, but the banners and signage appear to have gone up over the last few days. This is the first major advertising campaign for Apple Music since its June 30 launch and the first public ads, aside from
videos
that debuted at WWDC when the service was introduced.
As Apple begins heavily advertising Apple Music around the world,
Billboard
has announced that songs streamed from Apple Music will now count towards the Billboard 200 and the Billboard Hot 100. Apple was recently added as a streaming provider and Apple Music songs will influence the August charts.
The
Billboard 200
lists the 200 most popular albums each week, based on direct sales, digital downloads, and on-demand streaming. The Billboard Hot 100 tracks individual songs or "singles" using the same methodology, ranking popularity on a weekly basis. New charts for both the Billboard 200 and the Billboard Hot 100 come out each Tuesday.
Other streaming providers that contribute to the charts include Amazon Prime, Google Play, Medianet, Rdio, Rhapsody, Slacker, Tidal, Spotify, and Groove Music Pass.
Apple today seeded the fourth beta of OS X El Capitan to public beta testers, nearly one week after seeding
the third beta
and just under a month after providing the first OS X El Capitan beta to the public
for testing purposes
.

The fourth public beta follows the launch of the
sixth OS X El Capitan developer beta
, which was seeded to developers yesterday. Aside from new wallpaper, no outward-facing changes were introduced with beta six, suggesting it's largely an under-the-hood update with bug fixes and performance improvements.
Beta testers who have signed up for
Apple's beta testing program
and already have the public beta installed can update through the Software Update mechanism in the Mac App Store.
OS X 10.11 El Capitan is expected to be released to the public in the fall after the beta testing process is complete.
Apple this morning directly responded to a
recent rumor
that the company would begin planning to launch its own MVNO service in both the United States and Europe, stating that it has "not discussed and is not planning" to become its own cellular carrier in the future.

The MVNO service would allow Apple to become its own carrier, leasing space from existing network carriers and building SIM cards that switch from network-to-network as need be. Rumors about such a service have been around for a while now, and today marks the first time that Apple has directly denied the existence of any such feature being built by the company.
BREAKING: Apple says it has not discussed & is not planning MVNO cellular service following reports saying it was planning on doing that.

— CNBC Now (@CNBCnow) August 4, 2015
Apple rarely responds directly to rumors, but the company apparently feels the MVNO claims are important enough and far enough off base that they warrant an official response to prevent unwarranted expectations regarding the company's future plans.
Update 8:31 AM
:
Reuters shares
the exact statement from an Apple spokeswoman: "We have not discussed nor do we have any plans to launch an MVNO."

In an
interview for the September cover story
of
Vanity Fair
, Taylor Swift reveals her thoughts and reasoning behind the
letter she wrote to Apple
concerning the lack of monetary support for artists during Apple Music's three-month free trial period. The singer notes that she wrote the letter in the early morning hours after a few of her fellow artists sent pictures of their Apple Music contracts.
"I wrote the letter at around four A.M.," Swift says. "The contracts had just gone out to my friends, and one of them sent me a screenshot of one of them. I read the term 'zero percent compensation to rights holders.' Sometimes I'll wake up in the middle of the night and I'll write a song and I can't sleep until I finish it, and it was like that with the letter."
Swift's main concern was that her letter would be taken as whining, particularly since she had addressed a similar issue regarding Spotify last year, but after running the letter past her mother, Swift decided to publish it.
Apple did indeed listen
, and later the same day reversed course on its decision and announced plans to pay artists during the initial free trial of Apple Music. In the
Vanity Fair
interview, Swift notes Apple's near-immediate response and genuine care for her and her fellow artists, further alluding to her
public break from Spotify
and that company's subsequent reaction to the pulling of her music from the service.
Says Swift, "Apple treated me like I was a voice of a creative community that they actually cared about," she says. "And I found it really ironic that the multi-billion-dollar company reacted to criticism with humility, and the start-up with no cash flow reacted to criticism like a corporate machine."
Although it's
hit a few bumps in the road
, Apple Music has been steadily providing its early adopters with
exclusive tracks
,
celebrity-hosted Beats 1 radio shows
, and
personalized music discovery
since its June 30 launch. Those who signed up on day one still have just under two months left to their three-month free trial, with monthly subscriptions priced at $9.99 for individuals and $14.99 for families after the trial. The company reportedly has
ten million users
on the free trial so far, but it remains to be seen how many of those will convert to paying users.
Apple's sixth OS X 10.11 El Capitan beta,
released on Monday
, includes a few lines of code that yet again reference the possibility of a forthcoming 4K 21.5-inch Retina iMac, as discovered by
Consomac
[
Google Translate
]. A similar occurance happened
back in June
, when some code in the second OS X El Capitan beta referenced a 4K 21.5-inch iMac screen, but, as yet, Apple hasn't given any word on the veracity of the rumors.
Consomac
's research into the code of the new OS X beta found three new files, two of which include screen resolutions that hint at the possible arrival of new 5K 27-inch iMacs, and the other with a 4096×2304 resolution. Like the
second El Capitan beta
, this code could potentially refer to a 21.5-inch Retina iMac display with 4K resolution coming down the line. Although, as
Consomac
discovered, an image accompanying the three files points to a design that will largely "remain unchanged" for the new line-up.

Beginning last October
, Apple launched a few
updates for the 27-inch iMac with Retina Display
, but the rest of the iMac line-up hasn't seen a proper upgrade since September 2013. The major reasoning behind the stalled upgrade cycle is the company waiting for Intel's various desktop components -- including the Broadwell and
Skylake processors
-- to be available for a more substantial update to Apple's smaller-sized desktop computer line-up.
An update to the 21.5-inch iMac line has been hinted at for a while now, including a rumor just yesterday from KGI Securities analyst Ming-Chi Kuo that pointed to the iMac line gaining a
significant boost this quarter
. Kuo points to display improvements with greater color saturation thanks to a few new processors, but never references directly the arrival of a retina display for the 21.5-inch iMac line. Still, the timing with back-to-school shopping swinging into gear, and the lengthy update cycle of the 21.5-inch line-up, definitely suggests an impending update for the model sometime soon.
Apple today released the sixth beta of OS X 10.11 El Capitan to developers for testing purposes, one week after releasing the
fifth El Capitan beta
and nearly two months after unveiling the new operating system at its
2015 Worldwide Developers Conference
.
The update, which arrives as Build 15A244d, is available through the software update mechanism in the Mac App Store and through the Apple Developer Center.

While early betas introduced minor design changes and features, the last few betas have focused on under-the-hood performance improvements and bug fixes to optimize OS X El Capitan ahead of its public release.
OS X El Capitan builds on the features introduced with OS X Yosemite, focusing on improving performance and user experience. Behind-the-scenes improvements in El Capitan have made a number of apps and processes on the Mac much faster, and the introduction of Metal makes system-level graphics rendering 40 percent more efficient.
Along with a new systemwide font, El Capitan includes a revamped Mission Control feature, a new Split View feature for using two full-screen apps at once, deeper functionality for Spotlight, and several new features for Safari, including Pinned Sites for housing frequently visited websites and a universal mute button that quiets all tabs.
OS X 10.11 El Capitan is available to both registered developers and public beta testers. After testing is completed, Apple will release El Capitan to the public in the fall.
Shortly after
leasing
a 300,000 square foot campus in North San Jose, Apple has expanded on its real estate holdings in the area, buying a 43-acre development site at 2347 North First Street for more than $138 million.
According to the
Silicon Valley Business Journal
, the site, which consists of undeveloped land, is approved for up to 2.8 million square feet of office space, much like Apple's Campus 2 location in Cupertino. Apple has not submitted building plans for the site, and it is unclear what the company plans to do with the land.

Map showing land bought by Apple and other available real estate in the same North San Jose area
Apple is expanding rapidly in the Bay Area. In addition to the second Cupertino campus and the 300,000 square feet of space leased in San Jose in July, the company made its
first real estate lease in San Francisco
last week, signing a deal for 76,000 square feet of office space.
Along with office space, Apple is also said to be seeking additional space for both industrial purposes and research and development, possibly for undisclosed projects like its Apple Car.
What's interesting in the latest transaction is that Apple opted to buy, not lease. It's possible Apple wants more control over whatever it does there, and simply felt more comfortable owning the land. In addition to office space, Apple has been in the market for broad swaths of heavy R&D and industrial space, industry observers tell me. The latter could be read as a tantalizing sign of Apple's interest in manufacturing, though such a possibility is for now market speculation.
The land that Apple purchased in North San Jose is located approximately 12 miles from its 1 Infinite Loop campus in Cupertino and is across the freeway from the Mineta San Jose International Airport. North First Street is already home to other major companies like Cisco and Samsung.
Update August 4, 5:57 AM
: Apple has
given a statement
to
Silicon Valley Business Journal
regarding its general plans for the site.
"As we continue to grow, we're planning to build R&D facilities and some additional office space in San Jose," spokeswoman Rachel Wolf said in an emailed statement. "The property isn't far from the future home of our new campus and we're looking forward to expanding our presence in the Bay Area."
A team of researchers has created the first firmware worm that's able to infect Macs, reports
Wired
. Building on "Thunderstrike" exploits
uncovered earlier this year
, the worm, dubbed "Thunderstrike 2," infects Macs at the firmware level, making it nearly impossible to remove. Embedded into firmware, malware is resistant to firmware and software updates, able to block them entirely or reinstall itself at will.
The worm was created by security engineer Trammell Hudson, who first discovered the Thunderstrike exploits, and Xeno Kovah, owner of firmware security consultancy LegbaCore. When Thunderstrike made waves earlier this year, it was a limited proof-of-concept attack with no known presence in the wild, but Thunderstrike 2 demonstrates a real-world worm able to target Macs using the same general vulnerabilities.
Thunderstrike 2, unlike the first demonstration of Thunderstrike, is able to infect a Mac remotely through a malicious website or email. Once on a Mac, it's able to spread itself to other Macs by hiding in the option ROM of peripheral devices like Apple's own Thunderbolt to Gigabit Ethernet adapter, external SSDs, RAID controllers, and more. Once infected by a Mac that has the Thunderstrike 2 worm, the peripheral would go on to infect any other Mac it connects to.
"People are unaware that these small cheap devices can actually infect their firmware," says Kovah. "You could get a worm started all around the world that's spreading very low and slow. If people don't have awareness that attacks can be happening at this level then they're going to have their guard down and an attack will be able to completely subvert their system."
Removing malware embedded into a Mac's firmware would need to be done at the hardware level, making it particularly dangerous. According to the researchers, Apple has not done enough to fix the vulnerabilities that leave Macs open to these kind of attacks.
"Some vendors like Dell and Lenovo have been very active in trying to rapidly remove vulnerabilities from their firmware," Kovah notes. "Most other vendors, including Apple as we are showing here, have not. We use our research to help raise awareness of firmware attacks, and show customers that they need to hold their vendors accountable for better firmware security."
Kovah and Hudson have notified Apple about the Thunderstrike 2 vulnerabilities, but thus far, Apple's only fixed one of five security flaws and introduced a partial fix for a second. Three of the vulnerabilities have not yet been patched, but it's likely Apple is working to get the flaws fixed in an upcoming security update.
More information on Kovah and Hudson's research and the Thunderstrike 2 exploit can be
found in a lengthy report
over at
Wired
.
Apple is currently in early talks to launch its own mobile virtual network operator (MVNO) in both the United States and Europe, according to
information gathered
by
Business Insider
. A few sources close to Apple suggest that the company is testing the service right now in the United States, with early negotiations beginning in Europe to bring the MVNO service overseas.
If completed, Apple would essentially become its own network carrier, freeing the company and iPhone users from any particular current carrier like T-Mobile or AT&T, and allow users to pay for the usual data, calls, and text services directly from Apple. The MVNO would allow Apple to lease space from network carriers already in the business of providing data to customers, with the Apple SIM card --
already included
in the cellular versions of the iPad Air 2 and iPad Mini 3 -- picking up and switching between carriers on the fly for the best service possible.

As
Business Insider
points out, the testing of the MVNO service doesn't guarantee its eventual arrival for customers using an iPhone in the United States and Europe. But, if the company does intend to eventually become a carrier itself, it would be a fairly long-term goal of five years or more to be fully implemented.
If Apple is testing the service then there's no guarantee that it will launch, and if it does, it's not going to roll out anytime soon. Telecoms sources say that Apple is looking long-term with its MVNO, and could take at least five years to fully launch the service. Apple has been in talks with telecoms companies for years over its MVNO plans, and it's an "open secret" amongst carriers that a virtual Apple network is on the way.
Speculation surrounding
Apple becoming its own wireless provider
has been swirling for a decade now, resurging in various rumor and patent stories
every now and again
over the years. With Apple rumored to be in "
advanced talks
" with mobile standards organization GSMA in the production of a standardized mobile electronic SIM card -- which would allow customers to avoid being locked into a dedicated network carrier -- the company appears to at least be positioning itself for the possibility of a future MVNO launch.
Following the release of
several photos
of a claimed display assembly for the "iPhone 6s" over the weekend,
Macfixit Australia
has
shared additional images
of what appears to be the same display assembly, further suggesting the leaked images to be real internal parts for the next-generation iPhone.

One of Macfixit's photos includes a quality control label showing a pass date of July 29, which, if legitimate, would put the assembly in a correct time frame for Apple's traditional September iPhone launches. The image also appears identical to those released over the weekend by repair company GeekBar, with the same possible cutouts for a taptic engine to fuel Force Touch and a slightly thicker frame.
A few possible third-party case manufacturer
design renders
have also been shared by
uSwitch
and
Nowhereelse.fr
's OnLeaks channel, backing the theory that this year's iPhone line will be slightly thicker than the iPhone 6 and iPhone 6 Plus. Theories that support Apple's reasoning behind increasing the iPhone's thickness -- other than the inclusion of Force Touch -- include attempts to avoid another
"Bendgate" controversy
from last year with a stronger body. Height and width of the iPhones shown in the renderings are also marginally larger than the measurements for the current lineup.
While the iPhone 6 came in at 6.9mm thick, the iPhone 6S is 7.1mm, according to our source.

The iPhone 6S Plus, which was the model most often cited in the so-called 'bendgate' scandal, has also been body-building. It's gone from 7.1mm thick to 7.3mm, we were told.
The renders also suggest that the "iPhone 6s" could be missing the slightly protruding camera found on the current lineup, perhaps made possible by the slightly thicker body. The "iPhone 6s Plus" renderings, however, continue to show a protruding rear camera.
uSwitch
does note the renders could simply be incomplete, so Apple's plans for rear camera designs remain unconfirmed. Otherwise, the site notes an overall similarity between generations, with a home button, volume rockers, lock switch, and screen size that make the new phones "largely indistinguishable" from last year's models.

Even with the possibility of a thicker frame, the size increase of the so-called iPhone 6s would be small enough to allow most accessories and cases to function with both generations of the device.
News
and
rumors
regarding the "iPhone 6s" and "iPhone 6s Plus" have begun to proliferate in the past few weeks, and will no doubt continue to do so as we head into the iPhone launch season.