Though it's not quite Friday, and many of you are still waiting to dig in to Thanksgiving dinners with family, many retailers are kicking off their Black Friday sales early this year. Stores like Best Buy, Target, and Walmart, where some of the best deals are to be had, will be opening their doors to shoppers as early as 5 p.m. local time.
While you can see a massive list of all the Black Friday discounts being offered on Apple products and accessories in our
comprehensive Black Friday roundup
, we've gathered up some of the most enticing Black Friday deals below. Many of the deals listed below are available now, with limited supplies. Some of the deals won't be available until Black Friday actually rolls around, and details on exact sale times can be
found in the roundup
.
iPhone
Sam's Club
is currently offering a
$100 discount
on the iPhone 6 in all capacities, which is one of the best deals available on the device. Best Buy is also offering a $100 discount on the device, but the deal is limited to the
16GB model
.
Frequent Walmart shoppers may want to purchase an iPhone there, as Walmart will be selling the 16GB iPhone 6 for
$179
and including a
$75 Walmart gift card
. The store will also be selling the 16GB iPhone 5s for
$79
, and that device also comes with a
$75 gift card
.

iPhones purchased directly from Apple, including the
iPhone 6 Plus
,
iPhone 6
,
iPhone 5s
, and
iPhone 5c
, will come with a
$50 iTunes gift card
.
iPad
Best Buy is discounting its
entire stock of iPad Air 2 tablets
by $100
, which is the best deal available on Apple's newest iPad. The $100 discount applies to all colors and capacities, and brings the price of the
16GB WiFi-only iPad Air 2
down to $399
.
Best Buy is also discounting all of its
iPad mini 3 stock
by $75
, dropping the price of the
16GB entry-level WiFi-only
model to
$324
. Shoppers looking for an especially good deal may want to check out Best Buy's supply of
iPad mini 2 tablets
, which are discounted by
$75 to $100
. At $75 off, the
16GB entry-level WiFi-only iPad mini 2
is just $224.99, the lowest price we've seen on it yet.
For those unable to shop at Best Buy,
Target
is also offering a solid deal on the iPad Air 2, providing a
$140 Target gift card
with
any iPad Air 2 purchase
(prices start at $499). Target is also offering
$100 gift cards
with the purchase of the
iPad mini 2
,
iPad mini 3
, and original
iPad Air
in all colors and capacities.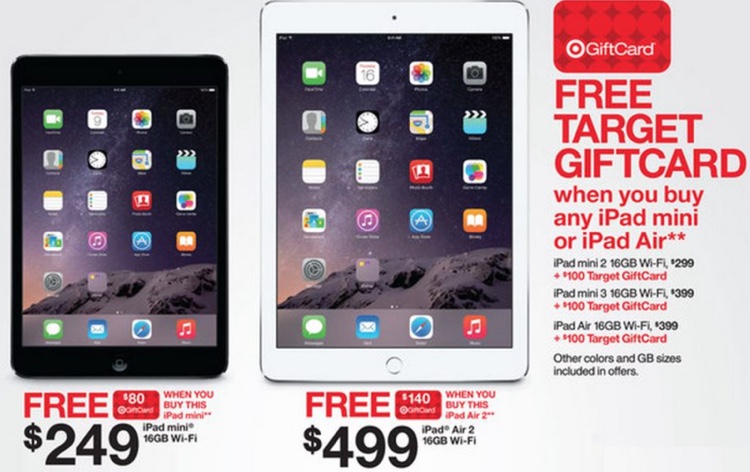 Macs
Mac deals are a bit more limited than iPhone and iPad deals, but both Best Buy and MacMall are offering solid deals on Apple's range of MacBooks, iMacs, and Mac minis, and Mac Pros.
Best Buy, for example, is selling the
low-end 21.5-inch 1.4Ghz/8GB/500GB iMac
for
$899
, a $200 discount and the lowest price we've seen on the machine. The retailer also has select
MacBook Air
and
Retina MacBook Pro
computers for
$150 off
.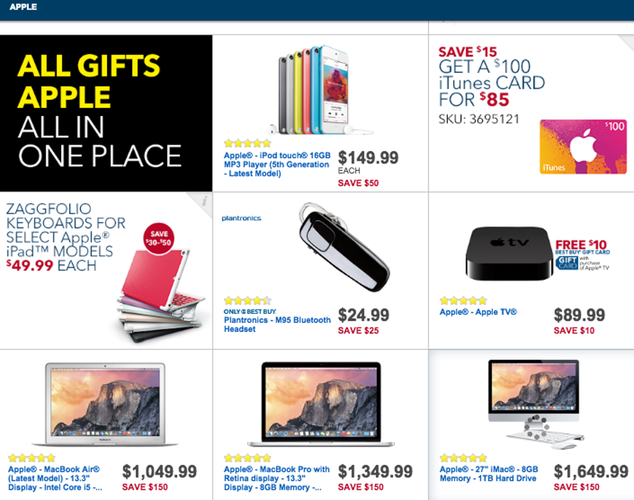 MacMall is
discounting its stock
of MacBook Air and Retina MacBook Pro computers by
$50 to $200
, depending on configuration. MacMall is also offering the Mac Pro for up to
$600 off
, the Mac mini for up to
$60 off
, and the iMac for up to
$120 off
.
Unlike many resellers, MacMall offers Apple machines with a variety of custom configurations, much like the online Apple Store, so
the site's Black Friday section
has a huge range of Macs at low prices.

Notable deals from MacMall include the
15-inch 2.5Ghz/16GB/512GB Retina MacBook Pro
for
$2,298
, a discount of $201, and the entry-level 13.3-inch
1.4Ghz/4GB/128GB MacBook Air
for
$898
, a discount of $101.
B&H Photo has a $200 discount on the new
3.5GHz/8GB/1TB
5K Retina iMac, dropping the cost down to
$2,299
, the lowest price we've seen yet. The site also has the
6-core 3.5GHz/16GB/256GB
Mac Pro for
$3,499
, a discount of $500, and the
15-inch 2.2GHz/16GB/256GB
Retina MacBook Pro for
$1,699.99
, a discount of $300.
Other Deals
Many retailers are also offering deals on an array of Apple products, with Beats headphones being a popular discount item. Many stores are also offering iPod touches, Apple TVs, fitness accessories, and more at low prices, and a list of deals is
located in the roundup
.
Alongside brick and mortar retailers, many online only shops are offering site-wide deals.
Twelve South
, for example, is planning to offer deep discounts on its products,
Speck
is offering 25 percent off many of its iPhone cases, and
Casetify
is offering an exclusive 25 percent off discount site wide for
MacRumors
readers with the discount code MACRUMORS.
App developers are also discounting their products, and highly popular apps like
Fantastical
for the iPad, iPhone, and iPad are available at the lowest prices of the year, and Adobe's cutting the price of
Elements 13
by 40 percent.
Softorino, the company behind the
WALTR
app that makes it easy to upload and convert any music or video file to an iOS device, is offering an
exclusive 49 percent off discount
for
MacRumors
readers, and Pixelmator is
offering its popular image editing app
for
50 percent off
, dropping the price to $14.99 for a limited time.
A full list of discounts in the iOS and Mac App Stores can be found through
our sister site AppShopper
, which lists all apps that have seen recent price drops.
Our Black Friday roundup will be updated throughout Thursday and Friday, so make sure to keep an eye on it for the
best Apple deals
this holiday season.
MacRumors is an affiliate partner with some of these retailers.
Just a couple days after releasing the
fifth and sixth
iPhone 6 ads starring Jimmy Fallon and Justin Timberlake, Apple has released a seventh called "Voice Text". The new ad focuses on one of the new features introduced to iMessage in iOS 8, the ability to instantly send audio messages quickly and easily.
The ad humorously highlights how voice messages can be used to better communication with friends, with examples pointing out how voice messages are good for sarcastic comments, singing and saying hard-to-spell words instead of typing them.
Apple, so far, has released two new iPhone 6 ads at a time,
releasing
"Duo" and "Health" during the iPhone 6 event in September, "Huge" and "Cameras" in
late September
and "Reservations" and "Gamers" a couple days ago. "Voice Text" marks the first time Apple has released an iPhone 6 ad by itself.
The marketing website for the
Apple Watch
has been updated (via
9to5Mac
) with additional details about how it functions
as a watch
, new ways that wearers will
communicate
, as well as more about the watch's
health and fitness
features.
Apple's marketing team has also added new animations to the site, showing how the Apple Watch will move between screens and how some of the apps will work. Much of the basic information was already located on the Apple Watch site, but lots of it has been broken out with more information and detail.

The new
Timekeeping
page reveals more about some of the watch faces that are included with the Apple Watch, including details about Complications -- specialized functions on a watch face like moon phases, sunrise and sunset, or, for the Apple Watch, stock quotes and weather.
Apple Watch is first and foremost an incredibly accurate timepiece. It does everything a watch should, but in ways no other watch ever has. It's also connected to your calendar, your contacts, and your schedule. So in addition to showing you the time, Apple Watch actually understands what time means to you. It helps you be more productive and efficient. So you get more out of every moment.
The
New Ways to Connect
page talks about the Friends feature that makes it easy to send messages, make a call, or reach out to other Apple Watch users. Wearers can send a tap, draw a picture, or share their heartbeat with other Apple Watch wearers, but they can also send and receive text messages, audio snippets, share a location, make phone calls and email right from the watch. Wearers can also use Handoff to start a call or email message from the Apple Watch and seamlessly transfer it to the iPhone.
You won't just send and receive messages, calls, and mail more easily and efficiently. You'll express yourself in new, fun, and more personal ways. With Apple Watch, every exchange is less about reading words on a screen and more about making a genuine connection.

Finally, the new
Health and Fitness
page talks about the different ways Apple Watch measures movement, as well as additional details on the included Workout app. The watch tracks movement, exercise and how often the wearer stands up throughout the day, giving subtle reminders as needed to encourage more movement.
The watch uses its accelerometer, heart rate sensor, as well as Wi-Fi and GPS locations from the iPhone to follow movement as well. The Workout app shows real-time stats including time, distance, calories burned, pace and speed for running, walking and cycling. All data is tracked over time, making it easy for wearers to track their improvement.
Apple Watch is our most personal device ever, and there's nothing more personal than your health. Just as Apple Watch is designed to keep you more efficient, organized, and productive, it's also made to keep you moving. Because being active is vital to living a healthy life.
The Apple Watch is scheduled to go on sale early next year, though Apple has not gotten any more specific than that.

MacMall
has kicked off its
60 hour Black Friday 2014 sale
on an array of Apple products both online and in its retail stores. Deals will last through 11:59 p.m. Pacific Time on Friday, November 28.
MacMall will be discounting its stock of MacBook Air and Retina MacBook Pro computers by $50 to $200, depending on configuration. Unlike other resellers, MacMall offers Apple computers with a variety of custom configurations, similar to the online Apple Store. MacMall is also offering the Mac Pro for up to $600 off, the Mac mini for up to $60 off, and the iMac for up to $120 off. The new iPad Air 2 will also see discounts of up to $75 off.
We've listed a sampling of the discounts on products of interest below, but MacMall's full range of discounts can be
found on its website
.
2014 Retina MacBook Pro
-
13-inch 2.6GHz/8GB128GB
- $1,197, $102 off
-
13-inch 2.6GHz/8GB/256GB
- $1,397, $102 off
-
13-inch 2.8GHz/8GB/512GB
- $1,697, $102 off
-
15-inch 2.2GHz/16GB/256GB
- $1,829, $170 off
-
15-inch 2.5GHz/16GB/512GB
- $2,298, $201 off
2014 MacBook Air
-
11.6-inch 1.4GHz/4GB/128GB
- $798, $101 off
-
11.6-inch 1.4GHz/4GB/256GB
- $998, $101 off
-
13.3-inch 1.4GHz/4GBGB/128GB
- $898, $101 off
-
13.3-inch 1.4GHz/4GB/256GB
- $1,098, $101 off
-
13.3-inch 1.7GHz/8GB/256GB
- $1,368, $81 off
iPad Air 2
-
16GB Wi-Fi (Gray)
- $459, $40 off
-
16GB Wi-Fi + Cellular (Gray)
- $589, $40 off
-
64GB Wi-Fi (Gray)
- $559, $40 off
-
64GB Wi-Fi + Cellular (Gray)
- $679, $50 off
-
128GB Wi-Fi (Gray)
- $649, $50 off
-
128GB Wi-Fi + Cellular (Gray)
- $754, $75 off
2013/2014 iMac
-
21.5-inch 1.4GHz/8GB/500GB
- $998, $101 off
-
21.5-inch 2.7Ghz/8GB/1TB
- $1,198, $101 off
-
21.5-inch 2.9Ghz/8GB/1TB
- $1,398, $101 off
-
27-inch 3.2Ghz/8GB/1TB
- $1,698, $101 off
-
27-inch 3.4Ghz/8GB/1TB
- $1,878, $121 off
-
27-Inch Retina 3.5 GHz/8 GB RAM/1 TB
- $2,348, $151 off
2013 Mac Pro
-
6-core 3.5GHz/16GB/256GB
- $3,698, $301 off
-
4-core 3.7GHz/12GB/256GB
- $2,798, $201 off
2014 Mac mini
-
1.4GHz/4GB/500GB
- $468, $31 off
-
2.6GHz/8GB/1TB
- $658, $41 off
-
2.8GHz/8GB/1TB
- $948, $51 off
MacMall will be discounting all
original iPad Air
models by
$30 to $40
, all
iPad mini 3
models by
$25 to $30
, all
iPad mini 2
models by
$20 to $25
. and all
original iPad mini
models by
$10 to $20
.
The site is also offering discounts on several different Mac and iPad/iPhone accessories, such as the
LaCie 20TB Thunderbolt External Hard Drive
, which is available for
$1,119.99
, a discount of $779, and the ASUS 31.5-inch 4K monitor, available for
$1,469.99
, a discount of $530. A full list of MacMall's accessory deals can be found in the
Black Friday section of its website
.
In addition to offering a large range of different Mac configurations, MacMall only charges sales tax in a limited number of states -- California, Colorado, Illinois, New York, Tennessee, Minnesota, Georgia, North Carolina, and Wisconsin -- making it an attractive choice for shoppers looking to save a bit more on a Mac or iPad.
MacRumors is an affiliate partner with MacMall.
Natalie Portman may take on a role in Universal's upcoming Steve Jobs biopic, reports
Deadline
. It is not clear what part she may play, but there are said to be several female roles in the movie, including the part of Steve Jobs' daughter Lisa Brennan.
Portman is a well known actress that has starred in high profile movies like
Black Swan
and
V for Vendetta
. Most recently, Portman has had a leading role in the last two Thor movies,
Thor
and
Thor: The Dark World
.

Image via Deadline
Earlier this week, the Steve Jobs biopic was
picked up by Universal Studios
after being dropped by Sony Pictures. The film has had trouble finding a leading man to take on the role of Steve Jobs, with
Leonardo DiCaprio
and
Christian Bale
both turning down the role.
Michael Fassbender, best known for his role as Magneto in
X-Men: First Class
and
X-Men: Days of Future Past
, has reportedly
signed on to play Steve Jobs
. Seth Rogen is also
rumored to be in talks
to possibly play Apple co-founder Steve Wozniak, and Jessica Chastain has also been in talks for a role in the film, which was written by Aaron Sorkin. Danny Boyle, who directed
Slumdog Millionaire
, will direct.
The biopic, based on Walter Isaacson's Steve Jobs biography, is said to consist of three continuous 30-minute scenes depicting
three of Apple's product launches
.
Foxconn Technology Group, Apple's main iPhone assembly partner, is reportedly gearing up to produce sapphire displays for Apple's next generation of mobile devices, according to a report by
China Economic Weekly
cited by Focus Taiwan
.
Foxconn has reportedly reached an agreement to build a display factory on an over 300-acre plot of land adjacent to an iPhone 6 assembly plant in the Chinese city of Zhengzhou, where the company had been
reported
last month to be looking into such a facility. Just last week, Foxconn was also reported to be
planning a new iPhone display plant
in Taiwan.
The China Economic Weekly reported Tuesday that Foxconn has signed an agreement with the Zhengzhou city government in Henan Province, central China, to set up a display factory on a 133-hectare plot of land next to an iPhone 6 assembly plant.

The new factory is expected to manufacture sapphire displays for the next generation of the Apple devices, the report said.
Rumors of Apple's continued interest in sapphire displays for the iPhone come less than two months after the company's previous sapphire partner GT Advanced Technologies
filed for bankruptcy
. Apple had been widely expected to use sapphire displays on at least some models of the iPhone 6 and 6 Plus, but that turned out to not be the case as production difficulties apparently prevented the move and led to the collapse of the partnership between the two companies.
According to the new reports, Apple "has not given up on a plan to use sapphire displays in its next-generation smartphones." Market observers, however, reiterated that Apple plans to cautiously evaluate the sapphire displays to determine feasibility and avoid shortages.

Following the reports concerning the adoption of sapphire displays in the next generation of iPhone, shares of Taiwanese sapphire manufacturers
rose sharply
. Share prices of local sapphire firms had been depressed following Apple's
decision
to not adopt sapphire displays for the iPhone 6 and 6 Plus.
Beyond the iPhone, Apple also
plans
to use sapphire displays in higher-end models of its upcoming Apple Watch, a plan Asia Securities Investment Consultant analyst Chang Chih-cheng says will boost local Taiwanese sapphire manufacturers in the near-term far more than rumors of the iPhone 6s or 7, as rivals see the possible benefits of the scratch-resistant display and adopt it for their own devices.
Industry sources indicate Apple is planning to lean heavily on Samsung as a component supplier for both new iPhone 6 builds and the upcoming Apple Watch,
reports BusinessKorea
(
via G for Games
). If true, this would be a marked change from Apple's reported goal of lessening its reliance on Samsung by seeking alternative suppliers for critical hardware components.

According to the report, Apple is looking to Samsung to supply RAM, NAND flash storage, and batteries for future iPhone 6 production, supplementing or replacing current suppliers for those components.
NAND flash has been a particular area of concern for Apple according to recent news reports, with the company's decision to use cheaper and slower TLC (triple-level cell) flash memory for larger-capacity iPhone 6 and 6 Plus models being blamed for
sporadic crashing issues
. Apple has reportedly moved to
stop the use
of its current TLC NAND flash chips and supposedly is back at the negotiating table with the South Korean supplier.
At first, Apple discussed with Samsung about the supply of NAND flash for the iPhone 6. Due to problems with prices, Toshiba's TLC NAND flash was used in the 128GB models, and components made by SK Hynix, Toshiba, and SanDisk were used in the 64GB models.

However, as overseas IT news sites reported functional defects in the 128GB models, Apple is said to be considering whether or not to replace the TLC NAND flash made by Toshiba with Samsung's own TLC NAND flash. If Apple and Samsung strike a deal, Samsung will supply both DRAM and NAND flash to the iPhone 6.
Beyond the iPhone 6, the same Korean industry sources also claim Samsung will supply Apple with application processors for the Apple Watch, which is slated to debut in early 2015.
Apple touts the Apple Watch as using a new "S1" module for the internals that seals nearly all of the internal components into a single resin-filled package for durability. The individual components of the S1 are undoubtedly being provided by several different manufacturers, but according to today's report the main application processor portion will be coming from Samsung.
Apple will discontinue the iPhone 5c next year, according to Taiwan's
Industrial and Commercial Times
. Production of the handset is said to be stopping in the middle of the year, as Apple suppliers Wistron and Foxconn will look to wind down production of the device. The news follows a
report
from KGI Securities analyst Ming-Chi Kuo earlier this week which noted that production of the iPhone 5c and the iPhone 4S would end later in 2015 after promotional plans.

Originally released as a lower-cost option last year, the iPhone 5c is
currently available
in a single 8GB configuration alongside the iPhone 5s, iPhone 6, and iPhone 6 Plus. It is likely that Apple will stop production of the iPhone 5c to streamline its iPhone lineup, as every handset would then likely be equipped with a Touch ID fingerprint sensor.
Apple's iPhone 5c saw
lower-than-expected sales
after its debut in 2013 due to high demand for the then-flagship iPhone 5s. Apple did attempt a renewed push late last year to promote the iPhone 5c, debuting ads for the device on
popular blogging platform Tumblr
and on websites
like Yahoo.com
. Other reports also suggested that Apple
cut iPhone 5c production
significantly while ramping up iPhone 5s production to meet customer demand last year.
Apple
renewed
its maps and search partnership with Google in 2010, but with that contract reportedly set to end in 2015, both Yahoo and Microsoft are actively vying to be the next default search provider for Apple's Safari products,
reports The Information
.
Both Microsoft and Yahoo have existing relationships with Apple, with Yahoo providing stock data to iOS and Microsoft supplying Siri with Bing search results. Executives from both companies have reportedly already approached Eddy Cue, Apple's Senior Vice President of Internet Software and Services, about a potential agreement that could see one of them displace Google to become the default search engine for iOS devices and Macs. There is no indication Apple has made any decision which company, if any, will replace Google.

Yahoo
has approached Apple
in the past about expanding their relationship on mobile, although things moved in the opposite direction with iOS 8 as Apple cut out middle-man Yahoo for weather data and instead
began sourcing data
directly from The Weather Channel.
Yahoo has also reportedly been
working on a revamp
of its mobile search in hopes of landing an agreement with Apple to be the default search provider on iOS, but for now the companies are still in the discussion stages as Apple's deal with Google remains in effect for the time being.
Microsoft was
said
to be
in the running
for the 2010 deal with its Bing services, but Apple ultimately opted to extend its deal with Google that has seen Apple reportedly receiving in excess of
$1 billion
per year.
Apple's stock continues its strong recent performance, hitting another milestone today with a market capitalization of $700 billion and once again setting a new standard as the highest market cap in history before pulling back slightly. The mark comes less than two weeks after Apple's market cap
passed $660 billion
to set its first new high in two years.

The company's market capitalization has doubled since Tim Cook was named CEO in August 2011.
Apple's stock is up nearly 60 percent over the past year and up 24 percent since the company's October 16 media event, which was followed just days later by a strong earnings report. Looking forward, Apple is expected to show blockbuster iPhone sales for the holiday quarter, and Wall Street is anticipating continued strong performance into 2015 as Apple looks to add yet another product category to its mix with the Apple Watch.
While Apple has been routinely setting new stock price highs for months, the new standards for market capitalization have not come until more recently, as the company's
aggressive stock buyback program
has reduced the number of shares available on the market. With market capitalization calculated as the share price multiplied by the number of shares outstanding, the share price has had to reach higher levels to make up for the lower number of shares. Apple's current share price of just under $120 is equivalent to nearly $835 on a
pre-split basis
.
Just under a week after Sony Pictures
dropped
the Aaron Sorkin-penned Steve Jobs movie, Universal Studios has picked it up,
according to The Wrap
.
X-Men: First Class
star Michael Fassbender is also now attached to star as Jobs.

Universal Pictures has picked up the Steve Jobs biopic less than a week after it was dropped by Sony, an individual with knowledge of the deal told TheWrap.
Sony suddenly dropped the film last Wednesday after it had developed it for two years. One report
indicated
the studio dropped the movie because of the shooting schedule. Director Danny Boyle wanted to start shooting in January 2015, when Fassbender would be available to shoot. Sony, however, wanted to shoot a little later, which would have clashed with Fassbender's schedule as he was set to shoot
X-Men: Apocalypse.
Earlier this month, Christian Bale
dropped out
of the film despite Sorkin confirming his involvement. Fassbender stepped into the role shortly afterward and actors Jessica Chastain and Seth Rogen have
recently emerged
as potential cast members, with Rogen possibly playing Steve Wozniak.
The film is expected to follow Jobs during three stressful, high profile product launches, including NeXT, the debut of the Macintosh in 1984 and the iPod debut in 2001.
Apple today launched two new ads featuring the iPhone 6 and iPhone 6 Plus, which are once again voiced by Jimmy Fallon and Justin Timberlake and highlight features like the iPhone 6's gaming capabilities and its ability to relay phone calls to Macs and iPads.
In the first humorous ad, entitled "Gamers," the focus is on the A8 chip in the iPhone 6, with the ad showing off the recently released multiplayer online battle arena game
Vainglory
. "The A8 chip is so powerful it brings gaming to the next level. I mean if you're into that kind of thing," says Fallon, before bantering with Timberlake about the gameplay.
The second ad, called "Reservations," highlights Continuity and the ability for the iPhone to
relay calls to Macs and iPads
. "Did you know you can use an iPhone 6 to make a call from almost any Apple device?" asks Fallon before the two go on to make silly calls from a variety of devices, including a Mac and an iPad.
The new ads launched today are the fifth and sixth iPhone 6 ads that Apple has released starring Fallon and Timberlake. The first two ads, "Duo" and "Health" were shown off during the iPhone 6's September debut, and
two additional ads
, "Huge" and "Cameras," were released later in September.