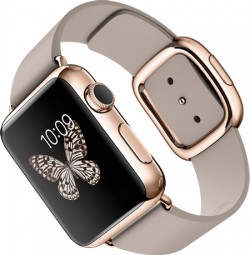 Apple design chief Jonathan Ive recently discussed the meticulous process that went into creating the Apple Watch in a new profile with
Financial Times
. Ive describes the Apple Watch as "the most personal product" that Apple has ever made, with "thousands and thousands of hours of evaluation and testing" invested into the device.
"Even now, when the design of the Apple Watch is incredibly mature and has gone through thousands and thousands of hours of evaluation and testing, we're still working and improving. You are trying to keep everything fluid for as long as possible because everything is so interconnected. The best products are those where you have optimized each attribute while being very conscious of other parts of the product's performance."
The iconic designer adds that he appreciates the convenience afforded by the Apple Watch, describing the wrist as the perfect place for the technology. The device, for example, will have a
Glances
feature on the watch face that delivers real-time information such as weather, stock quotes and upcoming calendar events without needing to take your iPhone out of your pocket.
"One of the things that struck me," says Ive, "was how often I'd look at my watch and have to look again quite soon afterwards, because I hadn't actually comprehended what the time was. If I had looked at something on my phone, because of the investment involved in taking it out of my pocket or my bag, I would certainly pay attention. I quite like this sense of almost being careless and just glancing. I think for certain things the wrist is the perfect place for this technology."
In what could be amounted to a mistake, the profile claims that both the anodized aluminum Apple Watch Sport and stainless steel Apple Watch will start at $349. It has been widely speculated that the stainless steel Apple Watch would have a starting price of at least $499, especially given that the mid-tier model is equipped with a sapphire crystal display. The report speculates the Apple Watch Edition will start at around $4,500.
"He runs through the three ranges of Apple Watch with their different materials – the stainless-steel Apple Watch, the anodised-aluminium Apple Watch Sport (both from $349) and the Apple Watch Edition in 18ct yellow or rose gold (with an as yet unconfirmed price of around $4,500)."
Ive's so-called "fanatical" attention to detail extends beyond the Apple Watch to the packaging of the wrist-worn device. The box for the Apple Watch Edition in particular will be crafted from premium materials, including aniline-dyed leather on the outside and an ultra-suede material on the inside. The small white box's bottom half can slide out based on friction, similar to past iPhone, iPad and iPod packaging.
"We didn't want the packaging to be a sort of shorthand for value, where the box needs to be big and we have to include expensive materials. We've always liked the idea that if we are heavy in our thinking, we can be much lighter in the implementation. So there's huge virtue, I think, in keeping the packaging small: at least, it is the right choice environmentally, it's easier to move things around and you don't end up with your wardrobes full of large watch boxes that you don't use."
Apple is expected to provide more details about the Apple Watch at its highly-anticipated "
Spring Forward
" media event on March 9th in San Francisco. Ahead of time, the company has been
working closely with developers
in a top-secret lab to create what will be some of the first apps for the wrist-worn device. Apple Watch will be available in April starting at $349 for the entry-level model.
Three weeks ago, it was
reported
that Apple was inviting developers to the company's Cupertino headquarters to receive help finalizing Apple Watch apps. A
new report
from
Bloomberg Business
provides a look into the secret lab where Apple is helping developers, offering a look at Apple's strategy for Apple Watch apps as well as the security around the project.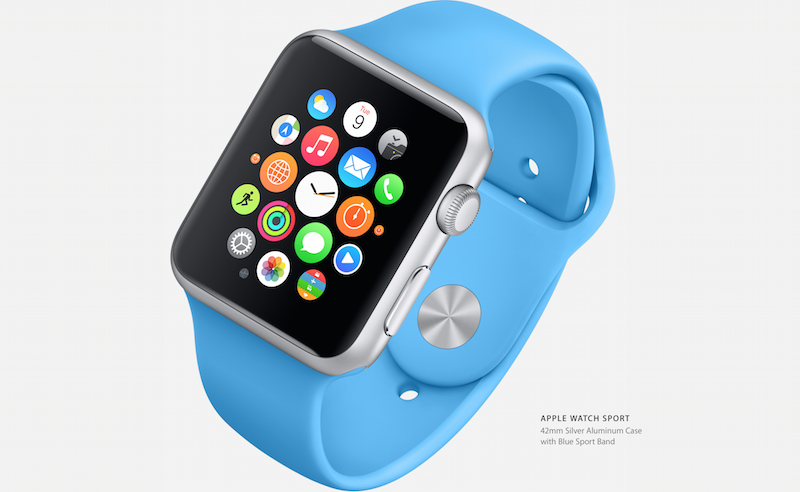 Developers from Facebook, BMW, Starwood Hotels and others have been making multiple trips to Cupertino, with each visit requiring confidentiality.
Apple, which will share more details about the gadget at a March 9 event, uses extreme measures to keep the work secret. Internet access is blocked inside the rooms, and no outside materials can be brought in to the labs with the test watches, a person who attended said. The companies, sometimes sharing a room, must bring in source code for their apps on a computer hard drive that can't leave Apple's headquarters. To prevent information from leaking out, Apple is storing the code and sending it to the companies closer to the watch's introduction date, the person said.
The unreleased Apple Watch is also available for the developers to test out their apps, allowing them to check for glitches and optimize user experience for the Digital Crown and Force Touch, two of the watch's unique interface options.
One of the challenges for both Apple and its developers has been to balance the apps so that they are useful but not annoying. Apple has recommended that developers be "judicious" about interrupting users with alerts that would constantly buzz or drain the battery. Instead, they suggest that apps should be used for no longer than 10 seconds at a time.
Another challenge for developers has been working on an unreleased product, as developers have noticed problems that still need to be worked through. One developer tells
Bloomberg
that the Bluetooth connection between the iPhone and Apple Watch caused lag with some applications. Additionally, some developers like Starwood have had to use computer simulations and cardboard cutouts to explain to the designers who weren't invited to Cupertino how its app would work.
Apple is expected to show off the Apple Watch apps developers have been working on, as well as more information about the new device, at its
"Spring Forward"
event on Monday, March 9 at 10:00 a.m. Pacific Daylight Time. Apple plans to
provide live coverage
for the event on its website and through a channel on Apple TV, and MacRumors will also be covering the event with both a live blog on
MacRumors.com
and through our
MacRumorsLive Twitter account
.
For years, Oracle has been bundling an Ask.com search toolbar with Java for Windows, relying on what some call deceptive methods to get users to install the add-on to their browsers. Now, the company has extended its adware strategy to Java for Mac,
according
to
ZDNet
.

Image via ZDNet
The unwelcome Ask extension shows up as part of the installer if a Mac user downloads Java 8 Update 40 for the Mac. In my tests on a Mac running that latest release of OS X, the installer added an app to the current browser, Chrome version 41. (In a separate test, I installed Java using the latest version of Safari, where it behaved in a similar fashion.)
The Java installer selects the option to install the Ask extension by default, which means that users casually clicking through the dialogue boxes would find the extension installed and enabled on their browser of choice. Oracle has also updated its
installation instructions
for Mac to account for the change.
As noted by
ZDNet
, Ask.com typically provides low-quality search results and numerous ads with little distinction between ads and organic results. Ask.com parent company IAC pays a commission to Oracle and other companies that bundle the Ask extension with its products.
Users who want to remove the Ask toolbar can do so from the Help menu for the Ask toolbar on Chrome. Alternatively, users can go to the Chrome menu bar, then Preferences, then the settings page, then Manage Search Engines to remove Ask, followed by removing the extension from the Extension tab. Safari users can do so by going to Extensions in the Safari preferences and turning it off.

Ahead of Monday's media event where Apple is expected to provide final details on the Apple Watch, a
new report from TechCrunch
details a hidden "diagnostic port" inside one of the channels on the Apple Watch where watch bands slip into place. While the port is currently used only for diagnostic purposes, the report argues it could be used in the future to interface with "smart band" accessories bringing additional functionality to the watch.
The port has a 6-dot brass contact array inside the groove for the 'bottom' strap connector slot. Several sources have confirmed its existence and placement to me. It is very similar to the connector for the Lightning connector in iPhones, as that connector currently only uses 6 of its 8 available pins. Apple recently began opening up the Lightning port for use by third parties. A source says that this port is currently for diagnostic purposes only — but that there is nothing preventing it from being a connection port for future accessories.
TechCrunch
's Matthew Panzarino is careful to state that he has no knowledge of any plans by Apple to launch such smart band accessories, but the idea remains an intriguing one. Possibilities for such bands include additional sensors, external batteries integrated into a band, and more.
Apple revealed a number of high-level details about the Apple Watch at the device's unveiling last September, but even now with a launch set for next month there is still much that remains unknown, including pricing details beyond the $349 starting price. Apple will undoubtedly address many of the details at Monday's events, but some of the technical details will likely need to wait until the device launches and users and technical experts can get a closer look at the device.
Update 2:13 PM
: The diagnostic port
will not be included
on the Apple Watch that ships to consumers, according to
9to5Mac
.

Apple will launch a revamped streaming music service in June at the company's annual Worldwide Developers Conference, according to
9to5Mac
and
TechCrunch
. The report claims the new Beats-based service will debut at Apple's WWDC keynote, likely during the week of June 8, as opposed to an announcement taking place at the upcoming "
Spring Forward
" media event on March 9.
"Apple currently plans to launch the new music service as part of an iOS 8.4 upgrade for the iPhone, iPad, and iPod touch following WWDC, but a final decision has not yet been made. It's possible that the service will be bundled into iOS 9 this fall, which is expected to have a significant focus on bug fixes and stability improvements."
As detailed
last month
, the purported streaming music service is expected to cost up to $7.99 per month, a few dollars cheaper than Apple-owned Beats Music and competitors such as Spotify, Rdio and Google Play Music. The service will be deeply integrated into iTunes on Mac and the stock Music app for iPhone, iPad and iPod touch, and apps will also be available for Apple TV and Android.
Apple is developing its first in-house Android application for the upcoming streaming music service, one of the rarer times that the iPhone maker offers cross-platform support for its products and services. Nevertheless, as the release of iTunes for Windows in the early 2000s helped drive sales of the iPod, expanding beyond the iPhone, iPad and Mac will provide Apple with a much larger pool of potential subscribers in the competitive streaming music market.
Apple is also reportedly wrapping up development of its next-generation Apple TV set-top box that could ship with an improved, tactile remote control and all-new operating system bundled with an App Store. Apple allegedly planned to release a new Apple TV as soon as this month, but the release may be delayed until later this year or beyond until Apple reaches agreements with more content providers like
HBO Now
.

Apple has sent an email to Aperture customers this afternoon as a reminder about the impending removal of the professional photo editing software from the Mac App Store. The email confirms that Aperture will be removed from the Mac App Store upon the release of
Photos for OS X
as we
initially reported
last month.
"When Photos for OS X launches this spring, Aperture will no longer be available for purchase from the Mac App Store. You can continue to use Aperture on OS X Yosemite, but you will not be able to buy additional copies of the app. 

You can migrate your Aperture library to Photos for OS X, including your photos, adjustments, albums, and keywords. After migrating, your Aperture library remains intact. However, Aperture and Photos do not share a unified library, so any changes made after the migration will not be shared between the apps."
Aperture users will be able to continue using the software on OS X Yosemite following its discontinuation, although the app will no longer be available for purchase on the Mac App Store and new feature updates are not planned. Aperture users can migrate their photo libraries to Photos for OS X, including photos, adjustments, albums and keywords.
Photos for OS X will be available this spring for OS X Yosemite.
Microsoft is today introducing a
preview of the next iteration
of its office software designed for Mac users, Office 2016. Office 2016 for Mac is the company's first major Mac release since Office 2011, and it brings new versions of
Word
,
Excel
, and
PowerPoint
with redesigned Retina-optimized interfaces, new features, and a heavy focus on collaboration and cloud integration.
Office 2016 for Mac, which is free to all Mac users running OS X Yosemite during the preview period, is the next step in Microsoft's plan to make its Office products available anywhere, anytime, on any device, and as such, it's been designed to work with Office 365 and OneDrive. Users will get the best experience when signed into Office 365 because that allows them to access all of their documents on all of their devices, but an Office 365 account is not required to use the software.

Office 2016 for Mac has adopted many elements previously found in both the Windows version of Office and in the mobile Office apps, released last year. There's a new Ribbon that reorganizes tools and formatting options, a task pane interface for greater graphics customization within all three apps (which can be manipulated and repositioned within each app), new themes and styles, and there's a Yosemite-style look that takes advantage of features like full-screen support.
Office 2016 for Mac is powered by the cloud so you can access your documents anytime, anywhere, and on any device. It's unmistakably Office – but thoughtfully designed to take advantage of the unique features of the Mac. The new apps offer full retina display support with thousands of retina-optimized graphics, full screen view for native immersive experiences, and even little Mac affordances like scroll bounce.
Microsoft believes that cloud connectivity is a key feature that people have come to expect from their software, so that's become a focal point for the company. With cloud support, Office 2016 for Mac lets users access a list of files created on any device, keep files up to date on all of their devices, and collaborate with other users. Each of Microsoft's new Office apps have received several new cloud-based features and other updates, as outlined below.
Word 2016 focuses heavily on collaboration. It's designed to improve the multi-author experience, with a consistent sharing interface at the top right of the app. Through this menu, users can invite coworkers to work on a document, send out links, and see who a document has been shared with.

Threaded comments have been added to the Mac for the first time and in Word's new Styles pane, users can make detailed edits on styles within the app as they can on Office for Windows.
Excel 2016 has deeper data analysis functionality with advanced statistical functions. There are also Slicers in PivotTables, a popular Windows feature that should make it easier for users to analyze large chunks of data to find patterns. With Office 2011, many users were frustrated that the Mac shortcut keys were not the same as the Office for Windows shortcut keys, so Microsoft has made all Windows shortcuts available on the Mac. Users already used to existing Mac shortcuts can continue to use them.

PowerPoint 2016 has a revamped presenter view, which is similar to the presenter view in the PowerPoint for iOS app. In the top left, the presenter sees exactly what the audience sees, including animations in real time. There's also a visual preview of the next slide, access to notes, a timer, and thumbnails for the entire slide deck.

As with the other two apps, there are deeper editing tools available through the right-side pane, which allows for functions like customized animations or shapes, with results that can be seen in real-time.
Along with Word, Excel, and PowerPoint, Microsoft's Office 2016 for Mac preview also
includes Outlook for Mac
, which was released in October, and Microsoft OneNote for Mac,
released last March
. Outlook for Mac has been limited to Office 365 users since its release, but as of today, it's available for anyone to use.
The Office 2016 for Mac preview has a built-in feedback mechanism, which Microsoft is hoping its customers will use to report bugs and share what they like and don't like about the software. Customer feedback will be an important tool that helps Microsoft decide on the next features to add to its software. According to Microsoft, the company is "data obsessed" and reads all of the feedback it receives.
Though it's been years since Microsoft last delivered a software update, the company plans to introduce bug fixes and feature updates quickly in the future, as such updates are possible now that the Microsoft Office experience is unified as a service across a range of devices.
Microsoft's
Office 2016 for Mac preview is available today
at no cost for all Mac users. It is officially supported on machines running OS X Yosemite. Microsoft has plans to launch the software in the summer following this beta testing period.

After initially reporting that iOS 8.2 would be released to the public
this week
,
BGR
now claims that the upcoming software update will arrive next week as Apple decided to seed one last beta to employees and carrier partners for testing. The final GM carries a build number of 12D508 and includes Health app improvements, stability enhancements and bug fixes.
While the initial report was incorrect, this new timeframe appears more plausible given Apple's upcoming
"Spring Forward" media event
for the Apple Watch on March 9. Apple also promised that a fix would be prepared by next week for the recently discovered
"FREAK" security vulnerability
affecting devices such as the iPhone, iPad and Mac. The security flaw was disclosed to Apple well in advance of the public.
The release notes for iOS 8.2 outline several improvements to Apple's stock Health app, including the ability to select units of measurement for body temperature, weight, height, distance and blood glucose. The software update also delivers stability enhancements for Mail, Flyover in Maps, Music, VoiceOver and Made for iPhone hearing aids.
Health App improvements


Adds the ability to select the unit of measurement for body temperature, weight, height, distance, and blood glucose

Improves stability when dealing with large amounts of data

Includes the ability to add and visualise workout sessions from 3rd-party apps

Addresses an issue that may have prevented users from adding a photo in Medical ID

Fixes units for vitamins and minerals

Fixes an issue where Health data wouldn't refresh after changes data source order

Fixes an issue where some graphics showed no data values

Adds a privacy setting that enables turning off tracking of steps, distance, and flights climbed
A number of bug fixes have been made in iOS 8.2, including a long-awaited fix for the so-called "
GMT bug
" causing calendar syncing issues for several iPhone and iPad users. Google
quietly fixed the GMT bug
on their backend early last month, but Microsoft Exchange calendar users have still been experiencing syncing issues. Other bug fixes are outlined in the
full release notes
shared in the
MacRumors
discussion forums.
iOS 8.2 will also include support for the Apple Watch ahead of its launch in April.

Apple's much-rumored 12.9-inch "iPad Pro" could have Oxide LCD display technology and will enter mass production in the third quarter of 2015, according to
DigiTimes
. The report, citing sources within the supply chain, claims that Apple has elected to use oxide panels for the tablet after weighing the cost versus performance of display technologies a-Si, TFT LCD and Oxide LCD.
"Market rumors over the last six months have stated that Apple would aim to release the device in the first half of the year, with mass production occurring in the first quarter. The company, however, has been assessing different panel technologies ranging from a-Si, TFT LCD and Oxide LCD in terms of cost versus performance, and has only recently decided to move forward with Oxide technology."
The report adds that Sharp, LG Display and Samsung Display have been sending Apple display samples as they compete to secure component orders for the iPad Pro. Sharp is expected to be the main supplier due to its advantages in Oxide LCD display production, with LG also in the running to be a secondary vendor. The panel suppliers will reportedly produce limited supply in May and begin mass production in July and August.
KGI Securities analyst Ming-Chi Kuo, who has a respectable track record at reporting on Apple's upcoming product plans, also forecasted in November that the iPad Pro would be
equipped with an oxide panel
for "high resolution, quick response, and high color saturation," with manufacturing difficulties pushing mass production of the tablet into the second quarter of 2015.
Oxide LCD technologies, one of the most popular being "
IGZO
," have been used since the
original iPad Air
and allow for thinner and more power efficient displays. Expected to have a large 12.9-inch screen, it would make sense for the iPad Pro to have an Oxide LCD display to ensure that the extra screen real estate is not a drain on battery life.
Bloomberg Business
reported
late Wednesday that Apple missed the mark on second quarter production of the iPad Pro and that manufacturing of the tablet is now slated to begin around September. The larger-screened tablet, rumored to potentially have
USB 3.0 ports
for faster data transfer, could help Apple reverse four quarters of declining iPad sales as overall tablet market growth has slowed.
German carmaker BMW on Thursday denied that its discussions with Apple involved developing an electric car, according to
Reuters
. German automotive magazine
Auto Motor und Sport
reported
hours earlier that Apple and BMW were in close negotiations about developing the automaker's all-electric i3 vehicle into a so-called "Apple Car."
"The BMW spokesman said: 'We are in regular talks with companies from the IT and telecommunications sector, including Apple, concerning topics like connected vehicles. Developing or building a car is not a topic of these discussions.'"

The German report claimed that the electric car could be manufactured by BMW and sold at Apple Stores, with Apple developing a full-fledged operating system for the vehicle that integrates with the car's fuel consumption and driving data. It is plausible that Apple is working to expand its CarPlay efforts on the dashboard, but it remains to be seen how closely integrated the platform will be with future vehicles.
Multiple reports claim that Apple is working on an
electric car
that is
possibly self-driving
and
could enter production in 2020
. Some other reports, however, downplay the rumors by suggesting that Apple is working on expanding its presence in vehicles through CarPlay. Any electric car project at Apple is likely in the early stages of research and development at this time.
Despite rumors earlier this week suggesting the
12-inch Retina MacBook Air
could see a launch during Apple's upcoming March 9 media event,
The Wall Street Journal
tonight released a report indicating the notebook won't be shipping until Q2 2015. The site shared the tidbit
in a detailed report
on upcoming features that might be added to the larger-screened 12.9-inch "iPad Pro."
While suppliers are gearing up to ship the new 12-inch MacBook Air in large quantities in the second quarter, Apple's launch schedule remains unclear, the people said.
A Q2 2015 shipment date for the 12-inch MacBook Air suggests Apple could be planning to launch the notebook around June, possibly at its Worldwide Developers Conference. Apple has launched products during WWDC before, introducing the Mac Pro in 2013 and the Retina MacBook Pro in 2012.

Rendering of the 12-inch MacBook Air next to an existing MacBook Air by Martin Hajek
Aside from a potential launch date for the notebook, there's one other significant point of interest in
The Wall Street Journal
's report -- a clear distinction between the 12-inch MacBook Air and the 12.9-inch iPad Pro. Some users have speculated that due to the similarity in screen size and the iPad-like features rumored for the 12-inch Retina MacBook Air, the two products are actually one, but this new report makes it very clear that Apple is developing two separate product lines.
Separately, Apple also plans to broaden its product offering with a new 12-inch MacBook Air, people familiar with the matter said.

Earlier this year, Apple's suppliers started mass production of a 12-inch MacBook Air, featuring a higher resolution display, they said.
There is some convergence between the two products, despite the fact that one is an iPad and one is a MacBook. The 12-inch MacBook Air is rumored to have iPad-like colors, fewer ports, and no Magsafe charger, while tonight's
WSJ
report points towards an iPad with USB ports, but it's likely the two products will continue to be separated by operating system.
Though Apple may not plan to launch the 12-inch Retina MacBook Air during its March 9 event, there's still a good chance the company may refresh its existing 11 and 13-inch MacBook Air lineup, which are overdue for an update. Screenshots said to be from a 13-inch MacBook Air with a Broadwell processor and integrated Intel HD 6000 graphics
were shared this afternoon
, suggesting a refresh is imminent.
Following up on a report from earlier today claiming Apple has
pushed back its plans
for the so-called "iPad Pro", asking suppliers to begin production in September rather than this quarter,
The Wall Street Journal weighs in
with its own claim that Apple is indeed now targeting the second half of this year for the mass production of the device.

Mockup of iPad Pro, iPad Air, and iPad mini
Beyond timing, the report also claims Apple is still tweaking plans for the iPad Pro's design and feature set, with the company considering including USB 3.0 ports to accommodate data transfer and peripherals connectivity.
"Apple has continued to rework some of the features of the larger iPad. It is now considering the faster technology for data synchronization between the larger iPad and other computing devices," said the person. [..]

The company has also been considering adding ports to connect to a keyboard and mouse, the people said.
Apple is reportedly also looking into ways to speed up charging time for the iPad Pro, as the device will almost certainly come with an even higher-capacity battery than the iPad Air family.
Finally,
The Wall Street Journal
's sources indicate the iPad Pro's display does indeed measure 12.9 inches diagonally, marking a substantial increase over the iPad Air family's 9.7-inch display. Rumors have been split between 12.9 inches and 12.2 inches for the iPad Pro's display.