iPhone SE
Apple's 4-inch iPhone, introduced in March of 2016.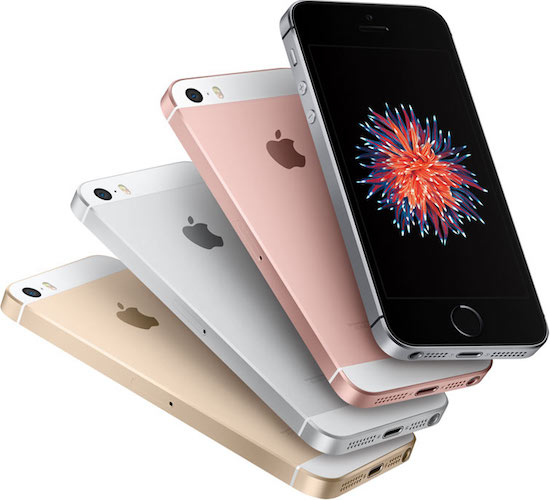 At A Glance
The iPhone SE is Apple's only 4-inch iPhone. It looks similar to an iPhone 5s, but has iPhone 6s internal specs, including an A9 processor, 12-megapixel camera, and support for Apple Pay. New 32 and 128GB storage tiers were introduced in March of 2017, and prices were lowered in Sept. 2017.
Features
4-inch display
A9 chip
Touch ID
Apple Pay support
12-megapixel rear camera
Live Photos support, but no 3D Touch
Metal casing
$349 starting price
iPhone SE Retired
With the launch of the iPhone XS, iPhone XS Max, and iPhone XR in September 2018, Apple discontinued the iPhone SE and stopped selling the device. The iPhone 7, priced starting at $449, has replaced the iPhone SE and the iPhone 6s as Apple's lowest-cost and smallest device available for purchase.
Despite rumors suggesting Apple was working on an iPhone SE 2, no such device ever materialized and it is believed that the iPhone SE line has effectively been discontinued. Apple could potentially have plans to revive it at some point in the future, but at the current time, it does not look like we're going to be seeing a second-generation iPhone SE.
What's Next for the iPhone SE
The Latest Rumors
With the iPhone SE positioned as a new device in Apple's iPhone lineup, its upgrade schedule is not yet known. Apple could decide to update the 4-inch iPhone on a regular basis like its flagship devices, but its internals are also powerful enough that it could remain a capable phone for multiple years without an upgrade. On March 21, 2017, Apple bumped up storage tiers, but did not introduce a new model.
Rumors about a second-generation iPhone SE have been circulating for multiple months now, but concrete details have been hard to come by. We've heard plenty of rumors and speculation, but a lot of the information has been conflicting and impossible to confirm.
Most recently, Japanese site Mac Otakara said Apple had not nailed down the final design of the iPhone SE and was exploring multiple prototypes ahead of a third quarter launch, an unlikely scenario as design elements would be established by now if Apple is planning to release the device in the fall. Mac Otakara also previously said the iPhone SE will come in May, so the site, which is sometimes accurate, is sharing several conflicting and confusing rumors at this time.
Case makers that spoke to Mac Otakara have said that the second-generation iPhone SE will be the same physical size as the current iPhone SE, and that it will continue to offer a Touch ID Home button. Apple may, however, eliminate the headphone jack, perhaps for improving water resistance, and a glass back could be added for wireless charging support. Other rumors sourced from case makers have, however, pointed to a range of different, more dramatic designs, including one that's similar to the iPhone X.
Case makers are often able to obtain information about iPhones from the Asian supply chain ahead of a device's launch to be the first to build cases for the new smartphones, and while this information can be quite accurate, it's not always reliable, so these details should be taken with a grain of salt.
It's also possible that case makers are confusing iPhone SE rumors and part leaks with 6.1-inch iPhone information, as Apple is said to be working on a lower-cost LCD iPhone that's coming in 2018 and set to be sold alongside a next-generation 5.8-inch OLED iPhone and a new 6.5-inch OLED iPhone. More information about these devices can be found in our 2018 iPhones roundup.
Mystery iPhones Registered in Europe
Apple in April registered several new iPhone models with the Eurasian Economic Commission that do not correspond to any devices in Apple's existing smartphone lineup, suggesting there are new iPhones on the horizon.
Apple registered A1920, A1921, A1984, A2097, A2098, A2099, A2101, A2103, A2104, A2105 and A2106, all of which are running iOS 11, but it is not clear what these devices are. They could correspond to new iPhone SE models, as a new iPhone SE has been rumored to be in the works, but the sheer number of new models puts this in question.
They may also be filings for Apple's planned 2018 flagship devices, but it's early for Apple to register those devices and the fact that iOS 11 is installed leaves it up in the air. We'll need to wait for more information to determine what these mystery iPhones are, but it's possible they're indicative of a future iPhone SE launch.
Kuo Says No Major Design Changes
KGI Securities analyst Ming-Chi Kuo, who often shares accurate information about Apple's future product plans, does not believe Apple has enough spare development resources to dedicate to an updated iPhone SE in 2018.
If there is indeed an iPhone SE 2 in the works, though, Kuo does not expect it to have new design features or outward-facing changes. Instead, it could feature updated internal specifications like a new processor, but it is unlikely to adopt other features like Face ID or wireless charging.
iPhone SE 2 Video?
A sketchy video depicting what's said to be a second-generation iPhone SE was spotted on Chinese social network Sina Weibo in April. The device in the video features an iPhone SE-style body with a glass back, which would allow for wireless charging.
Aside from the glass back, the device looks identical to the current iPhone SE, with all of the same features, including a 3.5mm headphone jack, which conflicts with other iPhone SE 2 rumors. It is not clear if this is a legitimate video as there are many fake and knockoff devices in China.
Alleged iPhone SE 2 Renderings and Accessories
Case maker Olixar shared renderings of what it believes the next-generation iPhone SE will look like based on information allegedly obtained from a "reliable source," but the renderings suggest the device will use an iPhone X-style design with an edge to edge display and no Home button, features Apple is unlikely to introduce in the low-cost iPhone.

The renderings depict an iPhone X-like device with a notch at the top, but the size of the notch would not support the necessary Face ID sensors, and without a Touch ID Home button, there would be no authentication method available for the iPhone SE, further casting serious doubt on this design.

Even if the notch was large enough, Face ID and the TrueDepth camera system require expensive components that have only been included in Apple's $999 iPhone X at this time. Given the cost of the parts, we don't believe Apple is going to introduce such features in a version of the iPhone SE, which has traditionally been a lower-priced device. For this reason, it's best to view these renderings with skepticism.
Sonny Dickson, known for sometimes leaking iPhone components, shared what he says is an iPhone SE 2 screen protector next to a screen protector for the iPhone X.

The iPhone SE 2 screen protector features the same notch cutout, but it's much smaller and would not be a proper size to house the TrueDepth camera system.
Multiple Prototypes?
Japanese site Mac Otakara does not believe that production has begun on the second-generation iPhone SE at this time, claiming that Apple is still considering a final design for the device ahead of a potential fall launch.
This is unlikely, however, as Apple would need to have the design locked down to begin production in the near future ahead of *Mac Otakara's claimed fall launch date.
Still, the site says that Apple is working on multiple prototypes, at least one of which has an iPhone X design. Other prototypes are allegedly similar in design to the current iPhone SE with the exception of a glass back.
Other Rumors
Taiwanese market research firm TrendForce has said Apple will introduce a new iPhone SE in 2018 to target the mid-range smartphone market, as have rumors sourced from the Taiwanese supply chain. The "iPhone SE 2" will reportedly be assembled exclusively by Taiwanese manufacturer Wistron at its factory in Bangalore, India, where some iPhone SE production currently takes place.
A sketchy rumor from a Chinese site without a reputable track record claimed Apple would introduce a second-generation iPhone SE at the Worldwide Developers Conference in June, but that did not happen.
The site said the new iPhone SE will look similar to the original iPhone SE, with the same metal back and frame, but a larger 4.2-inch display. It also suggests the new iPhone SE will have 2GB RAM, an A10 Fusion chip, and 32 and 128GB storage options.
A questionable and unverified rumor from Indian site Tekz24 suggests that the next iPhone SE will feature an A10 chip, 2GB RAM, a 12-megapixel rear camera, thinner side bezels, and a 5-megapixel front camera. The site has also said the device could feature a glass back for wireless charging.
The Current iPhone SE
Apple introduced the 4-inch iPhone SE, its first 4-inch iPhone since 2013, at a media event on March 21, 2016, with the official launch following on March 31, 2016. Described as the "most powerful 4-inch iPhone ever," the iPhone SE marries the design of the iPhone 5s with many internal components from the iPhone 6s, resulting in an affordable, highly capable device that's available in a smaller package.
Design wise, the iPhone SE uses the same body as the iPhone 5s, but it includes a color-matched inset stainless steel Apple logo and matte chamfered edges, contrasting the shiny chamfered edges and standard logo of the iPhone 5s. The iPhone SE is available in Silver, Space Gray, Gold, and Rose Gold.

An A9 chip with integrated M9 motion coprocessor, also used in the iPhone 6s and 6s Plus, powers the iPhone SE, enabling always-on "Hey Siri" functionality. Its efficiency results in longer battery life with up to 14 hours of talk time and 13 hours of Internet use.
Also adopted from the iPhone 6s is a rear-facing 12-megapixel camera which has faster focusing, better noise reduction, improved tone mapping, and a new image signal processor for sharper, more detailed photos. The iPhone SE can shoot 4K video and capture 63-megapixel panoramas, and it can take Live Photos, but there is no 3D Touch support.
The FaceTime HD camera has not been upgraded, continuing to support 1.2-megapixel photos and 720p video recording. Retina Flash, which lights up the iPhone's display for illumination, is included.

Other iPhone SE features include faster LTE with support for up to 19 bands at speeds of up to 150MB/s, plus it has fast 802.11ac Wi-Fi and Bluetooth 4.2 support. A first-generation Touch ID sensor and an NFC chip are available in the iPhone SE, enabling Apple Pay functionality.
The most appealing aspect of the iPhone SE is its low price, which starts at $349 for 32GB of storage and goes up to $449 for 128GB of storage.
How to Buy
The iPhone SE is available for order from Apple's online store or Apple retail locations in many countries around the world.
Following the September 2017 event that saw the debut of the iPhone X, iPhone 8 and iPhone 8 Plus, Apple lowered the price of the iPhone SE. It's now available in 32 and 128GB configurations, with the 32GB model priced at $349 and the 128GB model priced at $449. That's a $50 price reduction.
Issues
Power Management for Depleted Batteries
In devices that have degraded lithium-ion batteries, Apple has introduced power management features that can slow down the iPhone during times of peak power draw to prevent unexpected shutdowns.
Apple first introduced the power management features in iOS 10.2.1, but the issue received additional attention at the end of 2017 after it became clear that power management involved slowing down iPhones with batteries that are running at a sub-optimal level.
Several lawsuits have been filed against Apple accusing the company of deliberately slowing devices to encourage upgrades, which Apple says it does not do. Power management features are designed to extend the life of the iPhone rather than shorten it.
Following significant backlash over the issue, Apple announced a $29 battery replacement program, which allows customers who have an iPhone 6 or later to replace their batteries for $29 regardless of battery health. Each older iPhone is entitled to one low-cost battery replacement. Supplies were limited in early 2018 due to demand, but Apple is offering reduced-cost batteries through the end of the year.
Customers who already paid for a battery replacement for an iPhone 6 or later in 2017 from Apple or an Apple Authorized Service Provider are eligible for a $50 credit.
Any customers who are affected by the power management features and slowdowns because of a depleted battery will see improved performance after replacing the battery. It's important to note, though, that even those affected by throttling will not see it at all times -- it only kicks in at certain times when the processor is taxed.
As promised back in December, iOS 11.3 introduces a new "Battery Health" section to the Battery portion of the Settings app, which provides iOS users with more information about the health of their iPhone battery.
It includes details on current maximum capacity, current operating performance, and if an iPhone is subjected to throttling via power management features, it offers a toggle to turn it off. More details can be found in our how to post.
Power management features impact the iPhone 6, iPhone 6 Plus, iPhone 6s, iPhone 6s Plus, iPhone SE, iPhone 7, and iPhone 7 Plus.
Design
The iPhone SE shares a design with the iPhone 5s, the 4-inch aluminum iPhone that debuted in 2013. While the iPhone 6 adopted rounded edges and a curved display, the iPhone 5s and SE have a boxier design with a thicker body, chamfered edges, flat display, round volume buttons, glass antenna inserts, a power button located at the top of the device, a flush camera, and a pill-shaped rear flash.

Able to share cases, the iPhone 5s and the iPhone SE are hard to distinguish at a glance, but there are three distinctive indicators that denote an SE. The iPhone SE, instead of having the shiny chamfered edges of the iPhone 5s (which were easily scratched), adopts matte chamfered edges. It also has an inset Apple logo made from a separate piece of stainless steel, a feature adopted from the iPhone 6, and it has an "SE" labeling on the back of the device.
Size wise, the iPhone SE measures in at 4.87 inches by 2.31 inches, measurements shared by the iPhone 5s. It is 7.6mm thick, a good deal thicker than the 7.1mm thick iPhone 6s or the 7.3mm thick iPhone 6s Plus, and it weighs 3.99 ounces - lighter than any other iPhone. With a 4-inch display and compact body, the iPhone SE is easily pocketable and it can be easily used with one hand.

While the iPhone 6s is made of 7,000 series aluminum that's resistant to bending, the iPhone SE continues to be made of earlier 6,000 series aluminum. In a series of damage tests, the iPhone SE did not perform as well as Apple's newer iPhones. The iPhone 6s is also more water resistant than the iPhone SE, but neither phone should be exposed to liquids.
Colors
The iPhone SE is available in the same colors the iPhone 6s and 6s Plus are available in, including Silver, Space Gray, Gold, and Rose Gold, the newest color in the iPhone and iPad lineup.

Display
Since the iPhone 4, all of Apple's devices have included a Retina Display, and the iPhone SE is no exception. It features an LED-backlight Multi-Touch IPS Retina Display with a resolution of 1136 x 640 at 326 pixels per inch.
While the iPhone SE adopts many features from the iPhone 6s, 3D Touch is not one of those features, instead remaining limited to Apple's flagship iPhones. It does not include some recent advances in display technology either, like dual domain pixels, an iPhone 6 and later feature that improves the display when viewed at an angle.

The display is protected by a layer of Gorilla Glass, which is resistant to scratches and other damage, and there's a fingerprint-resistant oleophobic coating.
Processor
The iPhone SE uses the dual-core 64-bit A9 chip that was first introduced in the iPhone 6s and 6s Plus, so it is as powerful as Apple's more expensive flagship devices. With the updated chip, the iPhone SE offers CPU performance two times faster than the iPhone 5s and GPU performance three times faster.

A Geekbench test revealed the A9 chip in the iPhone SE runs at 1.85GHz, so it is able to perform at the same level as the iPhone 6s. On the Geekbench benchmark, the iPhone SE received a single-core score of 2538 and a multi-core score of 4421, on par or slightly better than tests conducted on the iPhone 6s.
Apple's A9 chip includes an embedded M9 motion coprocessor, enabling always-on "Hey Siri" functionality in the iPhone SE. With the always-on feature, Siri can be activated at any time by saying "Hey Siri." In older iPhones, "Hey Siri" hands-free capabilities are only available when the device is charging.
The M9 motion coprocessor also powers the iPhone SE's accelerometer, compass, and gyroscope, so the device can measure steps, track distance traveled, and keep an eye on other fitness-related metrics.
RAM
Apple does not announce the RAM in its devices, but testing and teardowns on the iPhone SE have revealed 2GB of RAM, putting it on par with the iPhone 6s and the iPhone 6s Plus, both of which also include 2GB RAM.
Compared to the iPhone 5s, which has just 1GB RAM, the iPhone SE is able to keep more apps and data in recent memory, something that has significant benefits when doing tasks like browsing the web with multiple tabs.
Battery Life
With an efficient processor, a small display, and room for a decent-sized battery, the iPhone SE offers battery life that outperforms the iPhone 6/6s and is nearly on par with the iPhone 6/6s Plus.

iPhone SE battery life is significantly better than the battery life of the iPhone 5s with up to 14 hours of talk time, up to 13 hours of Internet use, up to 13 hours of video playback, and up to 50 hours of audio playback.
Camera
For a 4-inch iPhone that starts at $399, the iPhone SE has an amazing camera. It adopts the camera module from the iPhone 6s, featuring a 12-megapixel camera and a number of upgrades to improve picture quality over the iPhone 5s.
With more megapixels, the iPhone SE is able to capture more detail in photos for crisper images, and an Apple-designed image signal processor offers better noise reduction and improved tone mapping, while autofocusing improvements make focusing to get the perfect shot much faster. Combined, all of these camera features result in clear, detailed images with rich, true-to-life colors.

Like the iPhone 6s and the iPhone 6s Plus, the iPhone SE can capture and edit 4K video at 30 fps, 240 fps Slo-Mo video (720p at 240 fps or 1080p at 120 fps), and Time-Lapse video. It can also record 1080p video at 30 or 60 fps and it supports taking 8-megapixel still photos while recording 4K video.
Live Photos can be captured with the iPhone SE, but without 3D Touch, they are played back on the iPhone using a long press. Live Photos are a new feature that add life and vitality to a standard still photo by capturing an extra 1.5 seconds of movement before and after a shot. The extra footage is used to animate the photo with movement and sound, similar to the animated photos shown in the Harry Potter movies.
Live Photos can be taken with the iPhone 6s, 6s Plus, and SE, but can be viewed with iOS devices running iOS 9 or later and Macs running OS X El Capitan or later.
Other photo features include 63-megapixel panoramas, auto HDR, Burst mode and Timer mode.
Front-Facing Camera
The iPhone SE uses the rear-facing camera from the iPhone 6s, but the front-facing FaceTime camera is an older module from the iPhone 5s. It features an f/2.4 1.2-megapixel camera capable of 720p video recording, while the iPhone 6s has an f/2.2 5-megapixel front-facing camera.
It does adopt one front-facing camera feature first introduced in the iPhone 6s -- a Retina Flash. With the Retina Flash, the display of the iPhone flashes brightly just ahead of when a picture is snapped, improving selfies in low light. It is three times as bright as the standard display and it has been engineered to match ambient light.
Other Features
Touch ID
Apple implemented a second-generation Touch ID fingerprint sensor in the iPhone 6s, but the iPhone SE continues to use the first-generation Touch ID fingerprint sensor found in the iPhone 5s and the iPhone 6. The first-generation Touch ID sensor is just as secure as the sensor in the iPhone 6s, but it is not as fast at registering fingerprints to unlock a device.

Touch ID is used in place of a passcode on iOS devices, allowing users to unlock their phones, approve purchases, and open passcode-protected apps using a fingerprint instead of typing in a numeric code.
LTE, Wi-Fi, and Bluetooth
Compared to the iPhone 5s, the iPhone SE features faster LTE that can reach speeds of up to 150MB/s, but it does not include the iPhone 6s LTE Advanced feature, which enables LTE speeds up to 300MB/s. There are two iPhone models supporting up to 19 LTE bands:
A1662: bands 1, 2, 3, 4, 5, 8, 12, 13, 17, 18, 19, 20, 25, 26, 29
A1723: bands 1, 2, 3, 4, 5, 7, 8, 12, 17, 18, 19, 20, 25, 26, 28 and TD‑LTE bands 38, 39, 40, 41
The iPhone SE supports fast 802.11ac Wi-Fi (speeds up to 433MB/s) and Bluetooth 4.2, the same as all of Apple's latest devices. Voice over LTE and Wi-Fi calling are supported for high-quality phone calls and the option to make calls over Wi-Fi when cellular connections are poor.
NFC

There's a built-in NFC chip in the iPhone SE, enabling Apple Pay. The iPhone SE is the first 4-inch iPhone to support Apple Pay on a standalone basis, joining the iPhone 6, 6s, 6 Plus, and 6s Plus. With Apple Pay, payments approved using Touch ID can be made in apps and stores through a credit or debit card linked to an iPhone.
The iPhone 5s and the iPhone 5c can be used with Apple Pay, but only when paired with an Apple Watch.
Sensors
The iPhone SE includes a three-axis gyroscope, an accelerometer, a proximity sensor, and an ambient light sensor, but it does not include a barometer, a feature added in the iPhone 6. Without a barometer, the iPhone SE can measure steps taken and distance traveled, but it cannot determine elevation.