8GB RAM on M3 MacBook Pro 'Analogous to 16GB' on PCs, Claims Apple
Following the unveiling of new MacBook Pro models last week, Apple surprised some with the introduction of a base 14-inch MacBook Pro with M3 chip, which replaced the discontinued M2 13-inch MacBook Pro in Apple's Mac lineup.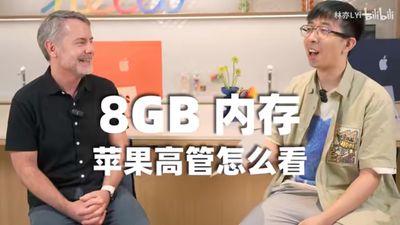 Starting at $1,599, the 14-inch M3 MacBook Pro comes with 8GB of unified memory. That makes it $300 more expensive than the $1,299 starting price of the now-discontinued ‌M2‌ 13-inch MacBook Pro with 8GB. Users can opt for 16GB or 24GB at checkout, but these configuration options cost an extra $200 and $400 at purchase, respectively, and cannot be upgraded at a later date because of Apple's unified memory architecture.
This has left Apple open to criticism from users who argue that 8GB is not a sufficient amount of RAM for most creative professional workflows, and that 16GB should be the bare minimum for a machine that is marketed as "Pro," rather than an additional several hundred dollar outlay.
In a recent interview with Chinese ML engineer and content creator Lin YilYi, Apple's VP of worldwide product marketing Bob Borchers has directly responded to this criticism. After YilYi characterized the base M3 MacBook Pro coming with 8GB of RAM as the "one major concern" of prospective buyers, Borchers replied:

Comparing our memory to other system's memory actually isn't equivalent, because of the fact that we have such an efficient use of memory, and we use memory compression, and we have a unified memory architecture.

Actually, 8GB on an M3 MacBook Pro is probably analogous to 16GB on other systems. We just happen to be able to use it much more efficiently. And so what I would say is I would have people come in and try what they want to do on their systems, and they will I think see incredible performance. If you look at the raw data and capabilities of these systems, it really is phenomenal. And this is the place where I think people need to see beyond the specs, and actually go and look beyond the capabilities, and listen to trusted people like you who have actually used the systems.

People need to look beyond the specifications and actually go and understand how that technology is being used. That's the true test.
While the 14-inch MacBook Pro with 8GB of unified memory is $300 more expensive than the M2 13-inch MacBook Pro it replaces, there are a number of other benefits worth considering aside from the faster processor, such as the larger, brighter mini-LED Liquid Retina XDR display, support for 120Hz ProMotion refresh rates, and better battery life. Other improvements include additional ports, a better 1080p FaceTime HD camera, a six-speaker sound system, Wi-Fi 6E support, and Bluetooth 5.3.
What do you think about the 8GB of unified memory supplied in the base configuration of M3 MacBook Pro? Does it suit your requirements, or make the "Pro" machine grossly underpowered for your use case? Let us know in the comments.