Apple in August 2019 released the Apple Card, a credit card that's linked to Apple Pay and built right into the Wallet app. Apple is partnering with Goldman Sachs for the card, which is optimized for ‌Apple Pay‌ but will still works like a traditional credit card for all of your transactions.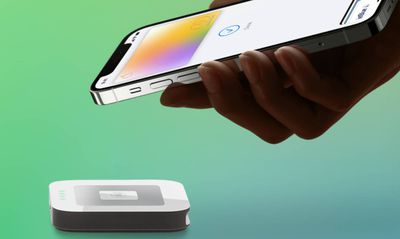 There's a lot of fine print associated with the Apple Card, so we've created this guide to provide details on what you can expect when signing up for the card. Apple Card has been available since 2019, and Apple is continuing to add new features. You'll find everything that you need to know about Apple Card below.
How do you get the Apple Card?
Signing up for Apple Card is as simple as opening up the Wallet app, tapping on the Apple Card interface, and walking through the activation steps. Much of the information you need is pulled from your Apple ID, which means Apple Card setup takes just a couple of minutes to set up. You can also apply on Apple's website when making a device purchase that uses the Monthly Installment Plan or through the Apple Card website.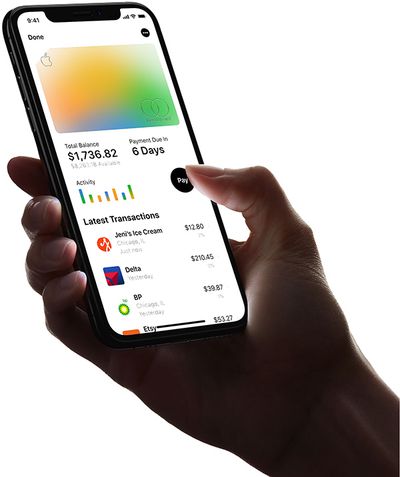 Information required includes first and last name, date of birth, phone number, home address, country of citizenship, the last four digits of your Social Security number, and your annual income. Some users may also be asked to scan their driver's license or state ID. There is an issue with the Apple Card right now that prevents Apple from accepting vertical IDs.
Once you've signed up for Apple Card, it will be available for use immediately for digital purchases. Availability is subject to credit approval, so you need to qualify for Apple Card just like you do with any other kind of credit card. While digital payments are available immediately, Apple will also ship out a physical Apple Card that can be used like a traditional credit card.
Who Qualifies for the Apple Card?
To get an Apple Card, you need to be 18 years or older and be a U.S. citizen or a lawful U.S. resident with a U.S. residential address (no P.O. Box).
An iPhone running iOS 12.4 or later is required to use the Apple Card, and it will not be available if you do not have an ‌iPhone‌. Two-factor authentication must be turned on, and you must be signed in to iCloud on your ‌iPhone‌ with your ‌Apple ID‌.
Using Apple Card with Apple Pay
Apple Card is designed to work with any other credit or debit card stored in the Wallet app for use with ‌Apple Pay‌. You can set it as the default card and use it for in store purchases on ‌iPhone‌ and online purchases on Apple Watch, ‌iPhone‌, iPad, and Mac.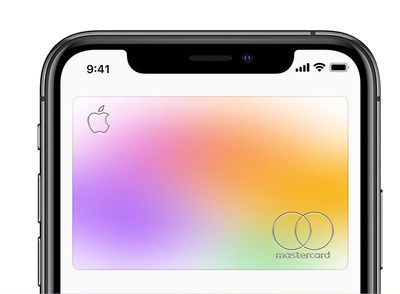 Using Apple Card for Non-Apple Pay Purchases
If you need to pay for purchases that can't be made with ‌Apple Pay‌, you can use the physical version of the Apple Card that Apple sends once you sign up. In addition to Goldman Sachs, Apple is partnering with Mastercard, so the physical Apple Card can be used wherever Mastercard is accepted.


When your physical card comes in the mail, setting it is simple. On a modern ‌iPhone‌, all you need to do is hold your device near the envelope that it came in for an NFC scan and then tap the "Activate" button on your ‌iPhone‌ when it pops up.
On the ‌iPhone‌ X and earlier, you need to open up the Apple Card, open the Wallet app, tap the "Activate" button in the Wallet app and then hold your ‌iPhone‌ near the packaging that the Apple Card came in. Unlike traditional cards, you do not need to place a phone call for activation purposes.
The Titanium Apple Card
With Apple Card you can make digital ‌Apple Pay‌ payments, but Apple is also providing a physical card. Since this is a credit card designed by Apple, it is, of course, unique among credit cards.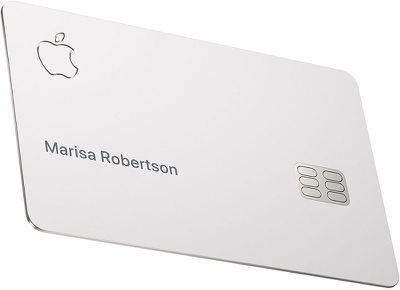 It's made entirely from titanium, which is laser etched with your name. The front of the card does not have a card number or an expiration date listed, and on the back, there's no CVV and no signature. If someone finds or steals your card, there's no real way for them to use it, at least for online purchases.
There's still a traditional magstripe on the back, along with a built-in chip. While the card number and CVV are not on the card itself, you can find them in the Wallet app if you need them.
The physical Apple Card does not support contactless payments itself -- you need to use your ‌iPhone‌ for ‌Apple Pay‌ payments. There is no cost for the card and there is no fee associated with replacing it if you lose it.
The titanium Apple Card weighs in at 14.7 grams, which is heavier than the Chase Sapphire Preferred and lighter than the AMEX Platinum, both of which are also considered heavier weight cards.
Apple Card on iPhone, iPad, Apple Watch, and Mac
The Apple Card offers deep integration with the Wallet app on the ‌iPhone‌, but it can also be used on the ‌iPad‌, Apple Watch, and the Mac for making purchases and viewing some credit card information.
Adding the Apple Card to ‌iPad‌ can be done via the Wallet & ‌Apple Pay‌ section in the Settings app and the Wallet & ‌Apple Pay‌ section of the My Watch tab in the Apple Watch app on ‌iPhone‌.
On Mac, you can add Apple Card by going to System Preferences, selecting Wallet & ‌Apple Pay‌, and clicking the "+" button to add the Apple Card. Adding an Apple Card to Wallet on Mac requires a Mac with Touch ID.
On Macs without ‌Touch ID‌, you can turn on the "Allow Payments" feature that will let you complete purchases on your Mac using authentication via an eligible ‌iPhone‌ or Apple Watch.
Credit Limits
As with any other credit card, there is a credit limit for Apple Card that will vary from person to person. A better credit score means a higher credit limit, and credit limit also increases over time.
Making Payments
Apple in July 2020 added an Apple Card website that allows users to apply for a card, check their balances, view statements, and make Apple Card payments online. With the addition of the website, an ‌iPhone‌ is no longer required to get an Apple Card, so it can be used for things like Mac purchases for those who want to sign up for Monthly Installment Options.
The website can be found at card.apple.com, and Apple Card holders can sign in with their Apple IDs.
‌Apple Pay‌ payments can also be made directly on an ‌iPhone‌ or ‌iPad‌ using the Wallet app.
Monthly Statements
Monthly Apple Card statements are provided in the Wallet app. You can save a PDF of the statement from the Wallet app so that you can access it on other devices.
Apple Card Family Sharing
Apple May 2021 debuted an Apple Card Family feature, which allows for spouses to share a single Apple Card account, with each person serving as a co-owner in order to build credit.
Apple Card Family also lets parents share an Apple Card with their children for making purchases, with optional spending limits and parental controls to help children learn smart financial habits. All spending by the family is tracked with a single monthly bill.
Up to five people can be added to an Apple Card account for sharing purposes, with sharing handled through the Wallet app. All users must be part of the same Family Sharing Group, and be 13 years of age or older.
Co-owners must be 18 years or older, and will have a combined spending limit and the ability to see each other's spending. Existing Apple Card customers will be able to merge their Apple Card accounts if they have two cards, resulting in a higher shared credit limit with the lower APR of the two accounts. Apple Card Family launched in May, but merging accounts won't be available until July.

Fees
Apple says there are no annual fees, international fees, fees for making a late payment or fees for exceeding your credit limit.
There may be no late fees, but if you make a late or miss one payment, Apple says this will result in "additional accumulating toward your balance." That means making a late payment will not result in penalty rates, aka increased interest rates. You're still going to have to pay interest on the outstanding balance, and a late payment will impact credit score, but interest rates won't increase.
There are no foreign transaction fees, but the exchange rate for foreign transactions is determined by Mastercard.
PIN for International Purchases
The Wallet app does not provide a PIN, which is often necessary when making credit card purchases outside of the United States. There is no PIN support, which means the Apple Card may not be accepted by some international vendors.
Interest Rates
The Apple Card offers an APR between 10.99 percent and 23.99 percent based on your credit score. On the low end, that's lower than the national average APR of 17.67 percent, but it doesn't offer APRs as low as some other credit cards.


Apple is aiming to make the Apple Card available to as many customers as possible with its wide APR range, offering it even to those with less than stellar credit scores. There are tools built into the Wallet app to encourage users to pay off their balances quicker to avoid interest fees.
Credit Check
A credit check is required when signing up for the Apple Card. Approvals are done by Goldman Sachs, and Goldman Sachs uses TransUnion for credit checks. If you have a credit freeze applied, you will need to unfreeze your TransUnion credit.
TransUnion has an option to temporarily release your credit report for a set number of days, which makes it easy to unfreeze and then refreeze your credit. Lifting your credit freeze temporarily is free.
Apple does a soft credit pull when you apply for Apple card so you can see Apple's offer with credit limit and APR. A hard pull happens after you hit the "accept" button.
Credit Ranges
Apple wanted to make the Apple Card accessible to as many people as possible, which means Apple Card partner Goldman Sachs is approving people with a wide range of credit scores.
Reports have suggested that some customers with credit scores in the 600s have been successfully approved. APRs and credit limits will vary based on credit score, but many people may be able to successfully get an Apple Card.
Rewards System
Apple offers a cash back rewards system for the Apple Card, providing daily cash up to 3 percent. Depending on your particular spending habits, there may be better options available (Apple Card Rewards vs Others).
With Apple Card, you get 1 percent cash back for all of your purchases, which is just okay compared to many other credit cards available. On purchases made with ‌Apple Pay‌, you get 2 percent cash back, a good motivator to use ‌Apple Pay‌ where available.


For purchases made from the Apple Store (physical or online) you'll get three percent back. This also includes purchases made from the App Store, iTunes Store, and Apple services.
You'll also get three percent back when using the Apple Card with ‌Apple Pay‌ for Uber, Uber Eats, T-Mobile, Walgreens, Nike, Duane Reade, Panera Bread, Exxon and Mobil gas station, and Ace Hardware purchases due to partnerships Apple has established with these companies.
Daily Cash
One of the perks of Apple Card's rewards system is "Daily Cash," with Apple paying out your cash back bonuses on a daily basis rather than making you wait weeks for them to show up on a statement.
If you've signed up for Apple Cash (the feature that adds an ‌Apple Pay‌ Cash debit card to your Wallet for sending and receiving money from friends) you will get your Daily Cash payouts on your Apple Cash card.


Apple Cash is required for Daily Cash, but if you don't have Apple Cash set up, you'll still get your rewards, just on a monthly basis as a credit on your statement balance. There is no limit on the amount of Daily Cash that you can get, according to Apple.
How Daily Cash Can Be Used
Your Daily Cash balance, which is transferred to your Apple Cash card (essentially an Apple debit card) can be used for ‌Apple Pay‌ purchases, sent to friends or family using the Apple Cash feature in Messages, or transferred over to your bank account.
Apple Cash can be transferred to your bank account at no cost, a process that takes between one and three days. There's also an Instant Transfer feature that will cost one percent of the total money being sent. The Instant Transfer fee has a minimum of $0.25 and maxes out at $10. Transfers can be initiated in the Wallet app after linking a bank account to Apple Cash.
Daily Cash - Returns
If you return a purchase that you made with Apple Card, you will be refunded the purchase price. Daily Cash that you received when making the purchase is charged back to the Apple Card.
Spend Tracking and Budgeting
All transactions made with the Apple Card are listed clearly in the Wallet app with color-coded categories like Food and Drinks, Shopping and Entertainment, and more. Apple Card also provides weekly, monthly, and yearly (as of iOS 14.2) spending summaries, again using the same color coding so you can see what you're spending at a glance.


Along with categorized spend tracking, the Wallet app provides a Total Balance summary that provides a look at your previous monthly balance, new spending (including pending transactions, and any payments or credits that have been made.


Interest charged and Daily Cash earned are also offered up, and users can see PDF statements from past months.
Daily Cash Savings Account
Apple Card owners can open a high-yield savings account from Goldman Sachs that houses Daily Cash, with Daily Cash automatically deposited when it is accrued. There are no minimum fees, no minimum deposits, and no minimum balance requirements.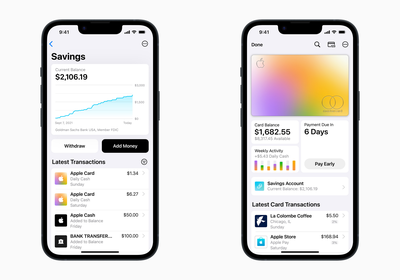 Apple announced the savings account in October 2022, and said it would be available "in the coming months." As of now, there is no information on APR.
Purchase Notifications
As is the case with many cards added to ‌Apple Pay‌, when you make a purchase with Apple Card, you'll get an instant notification right on your phone. This will let you know immediately if there's a charge that you don't recognize, and there are built-in tools for flagging a fraudulent purchase.

Clear Transaction Labeling
Apple is using machine learning and Apple Maps to make sure that all of your Apple Card transactions are clearly labeled. If you've opened up a credit card statement and have seen a confusing arrangement of truncated letters and numbers instead of a full merchant name, that's the problem Apple is solving.


All transactions are listed clearly with merchant name and exact location so you can better keep track of what was purchased and where it was purchased.
Payments
Apple Card shows you multiple payment options and it calculates the amount of interest that you'll be paying on different payment amounts in real time. Apple says Apple Card is designed to encourage customers to pay a bit more every month to cut down on interest, and it offers the flexibility to schedule payments in multiple ways -- weekly, biweekly, and monthly rather than just monthly. You can also make a one-time payment if desired.


Payments are made by linking a bank account to your Wallet app (or to your Apple Card though the website), but Apple Cash can also be used as an Apple Card payment method. If you've already linked a bank account for Apple Cash, Apple will ask you if you want to use the same bank account for Apple Card, but you can also select a different account or swap your account at any time.
Privacy
As with any credit or debit card added to Wallet, Apple creates a unique card number on ‌iPhone‌ for Apple Card that's stored in the Secure Element. All payments are confirmed with Face ID or ‌Touch ID‌ along with a one-time unique dynamic security code.
This system means Apple does not know which stores a customer shopped at, what was purchased, or how much was paid.
Goldman Sachs, Apple's partner, can see data for internal reporting purposes, but it cannot be used for external or internal marketing or advertising, and the same goes for any regulatory or operational third-party partner. Apple in March 2020 updated its privacy policy with the aim of sharing additional anonymized data to ultimately make Apple Card available to a greater number of users.
Benefits
Because Apple Card uses the Mastercard network for payment processing, it offers benefits available to Mastercard card holders, such as fraud protection, identity theft protection, and a free ShopRunner membership that offers free two-day shipping from some websites.
Other benefits include Mastercard's travel discounts and upgrades, Mastercard's exclusive "special events," Mastercard golf offerings, and home rental discounts via Onefinestay, all of which are available to all Mastercard users. Purchase protection and extended warranties offered by some credit cards as benefits are not available with the Apple Card.
Apple does offer a Disaster Relief Program for Apple Card holders affected by a natural disaster. This program lets users apply to skip a payment and pay no interest for two months.
Advanced Fraud Protection
Advanced Fraud Protection is a new feature in iOS 15 that's designed to keep Apple Card information more secure by changing the three-digit security code associated with the card on a regular basis.


When enabled, Advanced Fraud Protection will cause the three digit security code used for making purchases online to change every so often, which protects you if your card details are compromised by an online merchant. Apple says that the feature will not impact recurring purchases and subscriptions.
Advanced Fraud Protection can be enabled by opening up the Wallet app, tapping on the Apple Card, tapping on the card number icon, authenticating, and then toggling on the Advanced Fraud Protection option.
Interest-Free iPhone Payments
Apple Card customers can purchase a new ‌iPhone‌ and then pay it off over 24 months with no interest. It's the same general setup as Apple's current device payment plan options, but integrated into the Apple Card for convenience with cash back and the option to manage payments in the Wallet app.
The 24-month purchase option also applies to the SIM-free iPhone, allowing the SIM-free ‌iPhone‌ to be paid for in installments, something that was not previously possible with Apple's payment plans.
Interest-Free Payments for Mac, iPad, and More
Apple in June 2020 began offering interest-free monthly installment payment plans for Macs, iPads, AirPods, HomePods, and more. Users can pay for products over time with the Apple Card, and will also earn 3 percent Daily Cash for purchases.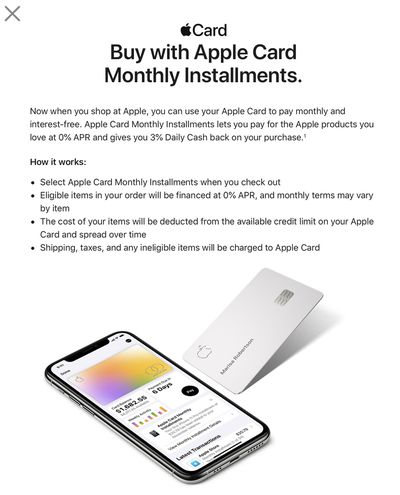 The installment plans can be used when checking out on the online ‌Apple Store‌. Products like Macs and iPads offer 12-month interest-free installment plans, while others, like the Apple TV, AirPods, and HomePod have 6-month interest-free installment plans.
There are no payment plans for Apple Watch or iPod touch, but there are payment options for accessories like ‌iPhone‌ and ‌iPad‌ cases.
Credit Reporting
For the first few months after launch Goldman Sachs was not reporting the Apple Card to credit bureaus, but that changed in December 2019. Goldman Sachs now works with TransUnion, Experian, and Equifax to report Apple Card information, so Apple Card holders will see Apple Card data on their reports.
Exporting Data
At launch, Apple Card did not support exporting data to financial apps, but Apple in early 2020 implemented a new option for downloading a CSV spreadsheet or OFX data featuring Apple Card transactions for the month. Apple also supports exporting in Quicken QFX and QuickBooks QBO formats as of May 2020.


Many financial and budgeting apps support imports, and at the current time, this is the only way to get Apple Card data into a financial app. There is no API for integrating Apple Card with third-party apps at this time.
The Apple card only allows transactions to be downloaded for a full statement, with no option to download recent activity. Downloads are also limited to the ‌iPhone‌ because there's no website designed for the Apple Card.
Virtual Card Numbers for Online Non-Apple Pay Purchases
There are no credit card numbers or other information on the physical titanium Apple Card. This data is instead available in the app, leaving some questions about online purchases where you often need a number and a CVV.
Apple Card is able to generate virtual card numbers for these kinds of purchases. The Wallet app provides a virtual card number and a virtual confirmation code, with the number being semi-permanent and able to be regenerated whenever you want. This info can be used for non-Apple Pay online purchases, over-the-phone purchases, and other similar situations.
There is not, however, support for single-use numbers or single-merchant numbers for having separate card numbers for different merchants. Purchases are also protected by a one-time use dynamic security code rather than a persistent CVV.
Apple Card Support
Apple Card support is handled through the Messages app, with support representatives available 24/7. All you need to do is send a text, which is a handy way to interact with support staff.
If you run into an issue with a transaction, you can select the transaction and tap on the "Report an Issue" option. This lets you provide feedback to Apple if the wrong spend category, merchant name, or location is listed.
It also provides tools for a Charge Dispute, Unknown Transaction, and Other, which will put you in touch with the Apple Card support staff.
Apple Card Denials
Apple has a detailed support document and webpage outlining reasons why people might be declined for an Apple Card, and what can be done about it.
Reasons for denial include low credit score, frequent credit card applications, heavy debt and low income, tax liens, bankruptcy, property repossession, past due debt obligations, a recent checking account closure by a bank, past due medical debt, and more.
For those denied, Apple recommends requesting a free credit report and checking for common errors that can be disputed if inaccurate.
Apple also has a "Path to Apple Card" program that's designed to help people who have their Apple Card applications declined improve their credit over a four-month period to quality. The program offers suggestions and goals like resolving past due balances, making payments to secured and unsecured debt accounts on time, and lowering credit card and personal loan debt.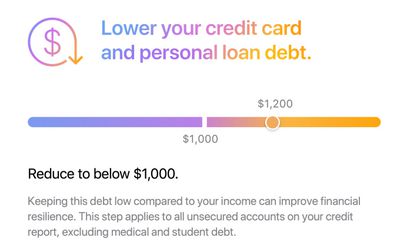 Apple Card Tutorial Videos
Apple has shared a range of videos on Apple Card setup and usage, including making a purchase in a store, making a purchase online, activating the card, making a payment, getting support, and more, with a full list below.
Availability and International Expansion
Apple Card is limited to the United States, but in the future, it could be expanding to additional countries much like ‌Apple Pay‌ has expanded, and Apple is already said to be in talks with European regulators about an expansion in Europe. Apple Card will be able to be used worldwide where Mastercard is accepted.
There's no word on when Apple Card might expand to other countries, but there were signs in 2020 that Apple is working to bring Apple Card to Australia at some point.
Customer Agreement
The Apple Card Customer Agreement provides additional insight into how the Apple Card works and the terms and conditions of its usage. Details are available on the Goldman Sachs website. [PDF]
Launch Date
The Apple Card launched to a limited number of users on August 6, 2019, and rolled out to all ‌iPhone‌ owners in the United States on August 20, 2019.
Apple Card Features
Up to 3% cash back
Daily cash back
No fees
Accepted worldwide (wherever Mastercard is available)
Engraved Titanium physical card with concealed numbers
Easy sign-up on ‌iPhone‌
Spending tracking
Clear transaction labeling
Privacy focused
Guide Feedback
See something we left out of our Apple Card guide or have a question not answered here? Let us know in the comments or Send us an email here.