The MacRumors Show: Product Designer Marcus Kane Envisions What Apple's AR/VR Headset Could Look Like
On this week's episode of The MacRumors Show, we discuss the design of Apple's upcoming mixed-reality headset with professional product designer Marcus Kane.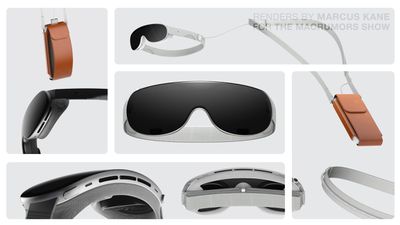 Marcus is an industrial designer and UX consultant who uses virtual and augmented reality headsets on a daily basis to support his workflow. He recently created detailed concept renders of what he expects Apple's mixed-reality headset will look like with YouTuber David Lewis based on rumors, Apple patent filings, and his own expertise.
We talk through Marcus's approach to the design and what existing Apple products inspired him, looking at some of the key aspects that Apple will have had to consider with the device. We also discuss the broader user experience with the headset, including its rumored
waist-mounted battery pack
– which Marcus has envisioned as enclosed in a pouch on a shoulder-strap that also contains a cable to power the device, potential restriction to indoors use only, and real-world passthrough with a "
reality dial
."


Since Marcus uses existing headset products to support his design work, we learn about some of practical use-cases for this category of device, where Apple could compete, and what key software features the company could deliver. See more of Marcus's work over in David Lewis's latest video, and follow him on Instagram and Twitter.
We also discuss some of this week's latest Apple news, including the rumor that watchOS 10 will include significant UI changes, iOS 17's purported Control Center redesign, display changes for 2025's iPhone lineup, and more.
Listen to The MacRumors Show in Apple Podcasts, Spotify, Overcast, Pocket Casts, Castro, Google Podcasts, or your preferred podcasts app. You can also copy our RSS feed directly into your podcast player. Watch a video version of the show on the MacRumors YouTube channel.
If you haven't already listened to the
previous episode of The MacRumors Show
, catch up for our discussion about WWDC 2023 and whether Apple's headset will finally emerge at the event.
Subscribe to ‌The MacRumors Show‌ for more episodes, where we discuss some of the topical news breaking here on MacRumors, often joined by exciting guests like Christopher Lawley, Frank McShan, David Lewis, Andru Edwards, Tyler Stalman, Jon Prosser, Sam Kohl, Quinn Nelson, John Gruber, Federico Viticci, Sara Dietschy, Luke Miani, Thomas Frank, Jonathan Morrison, iJustine, Ross Young, Ian Zelbo, Jon Rettinger, Rene Ritchie, and Mark Gurman. You can also head over to The MacRumors Show forum thread to engage with us directly. Remember to rate and review the show, and let us know what subjects you would like the podcast to cover in the future.