Trading in an old iPhone, iPad, or Mac can get you some extra cash to spend on a new device. Depending on where you decide to sell your device, you can get cash back or a gift card for a specific company like Apple, Amazon, or Best Buy.
What's most important to know when trading in a device is that there's no one best site or service. There are so many options out there and prices vary based on device and promotions that might be running, so your absolute best bet if you want to do a trade-in using a trade-in site is to spend 15 to 20 minutes doing price checks on some of the most prominent trade-in sites listed below.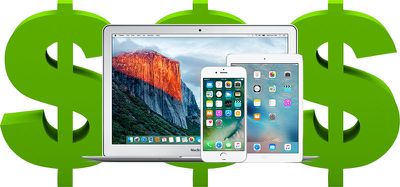 Using a comparison site like Flipsy, uSell, or SellCell to compare trade-in prices can also be beneficial when you want to do some shopping around to get the best price for your particular device.

Trade-in Options
There are generally three options when you have an old device you want to get rid of: Trading it in through a company like Apple or a service like Gazelle, selling it in person via a service like Craigslist, or selling it to a person online through a service like eBay or Swappa.
Using a trade-in service is always going to be more simple than selling to a person, but the convenience of doing so will cost you. You're never going to get quite as much money from a trade-in service as you can get from direct sales, but there are some tips and tricks worth knowing before considering a trade-in.

Device Condition
Device condition is going to make a huge difference in the amount of money that you're able to get back for an ‌iPhone‌, ‌iPad‌, or Mac. Most trade-in sites offer tiered payback based on condition, like Good, Fair, and Poor.
A functional device in good condition with no scratches or other damage is going to fetch the most money. Some sites will let small wear and tear issues slide, while others will deduct cash if a device isn't in perfect condition.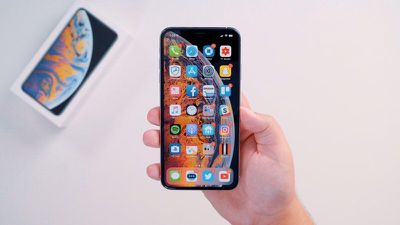 All trade-in sites will ask you specific questions about the condition of your device, making sure it powers on, is fully functional, has no display issues, and no cracks.
Cracks, display issues, and other problems will drastically lower the amount of money you can get for a device, and some trade-in sites will refuse to take broken devices at all.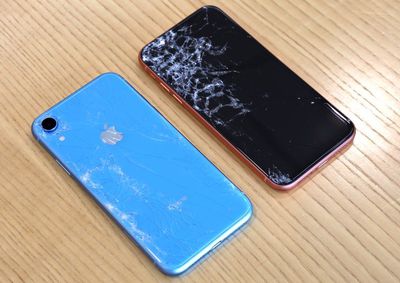 Services that receive your device will inspect it on their end to make sure the quality of your device matches up with how you described it. Most services have an option to pay less if the condition doesn't match up or send it back to you.

Activation Lock
You'll also be asked to make sure Activation Lock has been disabled by turning off Find My iPhone, which is standard operating procedure when trading in a device. Companies ask this to make sure the device will be usable after it's turned in.

Apple Trade-ins
If you're trading in an Apple product and want to upgrade to another Apple product, going the Apple trade-in route is a great idea. As seen in the price comparison listings below, Apple offers fair prices -- sometimes much higher than other trade-in sites -- and provides money for your old products in the form of an Apple gift card.
There's a caveat, though. To get Apple's top prices when trading in an ‌iPhone‌, you need to do the trade-in when purchasing another device. For example, Apple offers $349 for an ‌iPhone‌ X in good condition when using the standard trade-in site, but when purchasing another device, you can get $450 for that same iPhone.
There are no special trade-in prices for Macs, iPads, and Apple Watch devices, so this only applies to iPhones. Apple sometimes shifts the trade-in prices that it offers, so it's worth shopping around.
The Apple gift card you receive for a standard trade-in can be put towards a purchase from the Apple online store or an Apple retail store, but Apple trade-ins are limited in scope because there's no option to get cash. Apple will send you a full trade-in kit so you can box up your device properly and send it in conveniently without having to hunt down a box and shipping materials.
If you don't want to hassle with sending a device in, you can also do trade-ins right in Apple retail stores.

Major Retailer Trade-in Programs
Companies like Best Buy, Amazon, and Target have trade-in programs, but they're generally not as good as Apple's trade-in program and are not the best for Apple devices.
Best Buy's trade-in program offers Best Buy gift cards, Amazon's offers Amazon gift cards, and Target's offers Target gift cards or cash via PayPal.
If, for some reason, you prefer to do a trade-in in person to get a gift card or cash right away, Target and Best Buy both offer in-store trade-ins. Other big box retailers like Walmart, Game Stop, and all carrier stores offer trade-in options. With carriers, you can often trade your device in when purchasing a new smartphone to get a discount.
There are so many that we can't go through them all, but it's worth knowing that all of them offer similar prices for devices, though some stores will sometimes do promos.

Other Trade-in Sites
There are dozens of trade-in sites that want to buy your old gear. We'll list a few of the most popular below, but remember, as noted above, it's a good idea to shop around and visit a few sites to get price comparisons for your specific device.
Beyond the list here, there are literally dozens if not hundreds of other sites that will buy your old devices, but most of them are fairly similar. We'll be adding to this list if we come across any standout trade-in services that are worth highlighting.

Selling a Device Outright
You're always going to get the best price for an older device selling it yourself either in person using a platform like Craigslist to arrange a meetup or through a service like Swappa or eBay.


When using one of these sites to arrange a sell, your best bet is to search for similar devices to your own so you can see what the general price is, which will help you set your own price. You're generally going to want to price your device in the vicinity of the asking price of other devices so it will sell in a timely manner.
eBay - For smartphones and other electronics, eBay has an Instant Sale feature that estimates how much you can get on the site, which is handy. With Instant Sale, you can get an eBay voucher (rather than cash) right away from eBay. Not all devices are eligible for Instant Sale, so you may need to do a traditional listing and ship directly to a buyer. If you want cash, you can also do a standard listing.
Craigslist - Craigslist is designed to let you find buyers in your immediate area so you can cash for your devices quick. Setting up an in-person sale can be a hassle, and it will require meeting up with the potential buyer. Craigslist can let you sell your stuff without having to ship, and because it's a direct sale, you often get a lot more money than you do using a trade-in site.
Swappa - Swappa is basically like eBay, in that you can list your device for sale and sell it directly to a person to make more money than you'll get selling to a trade-in site. To sell on Swappa, your devices need to be fully functional, ready to activate (not locked or blacklisted) and without any cracks.
Sample Price Comparisons
Below, we priced out two devices. A newer ‌iPhone‌ and an older ‌iPad‌ to give you an idea of the differences you'll see on different trade-in sites. Remember, every device is going to vary in price from site to site, so it's best to shop around. Prices can even vary day to day, and we didn't always get the same price checking a few days after getting a price quote.
A 64GB ‌iPhone‌ X in silver color from Verizon in good or excellent condition, equating to no damage but some minor scratches from general use.
MacRumors - $390
Amazon - $357
Target - $330
Best Buy - $360
Verizon - $370
Gazelle - $352
It's Worth More - $516
BuyBackWorld - $480
Decluttr - $517
Apple - $349 ($450 w/ purchase)
Craigslist - ~$600
Swappa - ~$600
eBay - ~$550
A 32GB Wi-Fi only iPad mini 2 in good or excellent condition, equating to no damage but some minor scratches from general use.
MacRumors - $35
Amazon - $55
Target - $59
Best Buy - $70
Verizon - $45
Gazelle - $48
It's Worth More - $65
BuyBackWorld - $70
Decluttr - $63
Apple - $76
Craigslist - $75 - $100
Swappa - ~$100
eBay - ~$100
How to Get Your Device Ready to Sell or Trade-in
You're going to want to erase your ‌iPhone‌, ‌iPad‌, or Mac before you trade it in to make sure your personal data is gone and safe, and you'll also need to disable Find My ‌iPhone‌ and remove it from your iCloud account to make sure it's no longer Activation Locked.
Bottom Line
If you're selling an Apple device to buy another Apple device, going with Apple's trade-in program is a good idea. Apple sends you a box to make it easy, provides decent prices that beat out many other trade-in sites, and gives you an Apple gift card to put towards another Apple purchase.
If you want cash and convenience, a site like Gazelle or Decluttr is worth checking out, but if you want the absolute most money, use eBay, Swappa, or Craigslist to sell a device directly to a person.
When you need to buy a new phone from a carrier, many carrier trade-in programs could be worth checking out just for the convenience, but no carrier or big box retailer is going to offer the best prices.

Guide Feedback
Know of a great trade-in option we left out or want to offer feedback on this guide? Send us an email here.