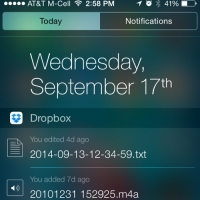 iOS 8 was released today, which means hundreds of app developers are releasing newly updated apps that take advantage of all the APIs introduced with the operating system upgrade. Those include third-party keyboards, which we covered earlier today, and
app extensions
, a set of APIs that allows apps to interact in new and innovative ways.
One of the neatest app extension features lets developers create widgets that show up in the Today view of the Notification Center. These widgets let users interact with apps and get information at a glance. Several apps have been updated to take advantage of Notification Center widgets, and we've rounded up a comprehensive list below. Many of these app updates are already available, but some will be coming later today and tomorrow.
Dropbox
(Free) [
Direct Link
] -
Dropbox
's new Notification Center widget displays all of the files that have been recently uploaded. Tapping on one of the files opens the file in the
Dropbox
app.
Duolingo
(Free) [
Direct Link
] -
Duolingo
displays how close a user is to reaching their daily language learning goals. Tapping on the widget in the Notification Center opens the
Duolingo
app and lets users continue with their current language lesson.
Evernote
(Free) [
Direct Link
] -
Evernote
's Notification Center widget is especially useful, including five different icons that let users create a document, reminder, or list, as well as snap a photo or access photos stored in the app. Tapping one of the icons opens the
Evernote
app and begins the task immediately.
Clear
($2.99) [
Direct Link
] -
Clear
's