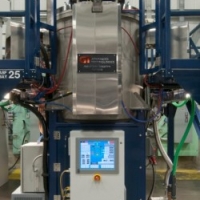 Earlier this week, it was revealed that Apple and its sapphire supplier GT Advanced Technologies had
reached an agreement
to effectively dissolve their partnership and allow GT to shut down operations at the Apple-owned sapphire production plant in Mesa, Arizona. Under the deal, GT will seek to sell off the over 2,000 sapphire furnaces currently installed at the facility, with the majority of the proceeds from those sales going to Apple to help repay $439 million in loans Apple made to help the operation get underway.
GT has now
officially announced
the deal and published the
full agreement
, redacting only the amounts Apple will be paid per furnace sold.
Under the terms of the settlement agreement, which is subject to approval by the Bankruptcy Court, GT will be released from all exclusivity obligations under its various agreements with Apple. GT will retain ownership of all production, ancillary and inventory assets located in Mesa and Apple is provided with a mechanism for recovering its $439 million pre-payment made to GT over a period of up to four years without interest, solely from a portion of the proceeds from ASF® [Advanced Sapphire Furnace] sales. The agreement provides for a mutual release of any and all claims by both parties. As a result of the agreed upon terms, GT retains control of its intellectual property and will be able to sell its sapphire growth and fabrication technology, including ASF and Hyperion™, without restrictions.
While the two companies are severing their production agreement, they will remain in contact as GT continues its research work