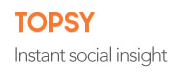 Following Apple's $200 million purchase of social analytics firm Topsy earlier this week, a wide variety of analysts and pundits have been considering what Apple might do with the company.
More than anything, Topsy is a search and analytics company, holding a number of search-related patents that could be implemented directly into the App or iTunes Stores to improve searches and discovery. One patent
helps rank search results
based on reputation and influence, which could be used to help higher quality apps rise to the top of App Store search results, for example.
Another patent
details the return of search results
to include popular items related to a specific query on a social media site. While not directly related, a similar technology could be incorporated into App Store search. For example, a user searching for Major League Baseball apps could be linked to other trending sports apps for the NFL or NBA.
Twitter
considered buying Topsy
as well because, according to
AllThingsD
, "Topsy's search technology and tools were even more effective than Twitter's own in-house search tools" but Twitter ultimately decided to pass on the purchase.
Apple has purchased companies in the past to boost its search results on the App Store,
most notably Chomp
, acquired by the company last year.
Apple has also been focusing on increasing its advertising revenue in recent years, first with iAd's in-app advertising, and more
recently with iTunes Radio
. Another
Topsy patent relates
to the display of certain advertisements to users based on an "influence score" that helps determine which