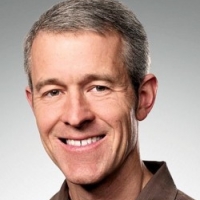 Apple's Vice President of Operations Jeff Williams today
took the stage
at
Re/code
's
Code Conference
in Rancho Palos Verdes, California, to speak about Apple's recently released wearable device, the Apple Watch.
Williams is the person who oversees Apple's supply chain, much like Tim Cook used to before he became Apple's CEO, and he was described by Walt Mossberg as the "quiet figure" behind many of Apple's popular products like the iPhone and the Apple Watch. Williams says he oversees 3,000 engineers in addition to the supply chain, and offered a tidbit on Apple's recent 74 million iPhone sales in the holiday quarter -- if you stack them like pancakes, they'd reach higher than the International Space Station.
According to Williams, who declined to give specific sales figures on Apple's wearable, the Apple Watch is doing "fantastic." When asked by what metric, he went on to say that customers "love the Apple Watch" even more than he expected. The Apple Watch, he said, is "gathering momentum" even in a market where other products aren't doing as well, because many millennials don't wear watches.
When pressed for details on Apple Watch sales numbers, Williams said that Apple would "rather spend time making great products" than focusing on the numbers, but he did say
Apple had sold "a lot" of them
.
On the topic of
Apple Watch apps
, Williams says third-party apps will get better when developers are able to release native apps and when access to native sensors is permitted. He gave an example of what a native Apple Watch app might do, suggesting an app like
Strava