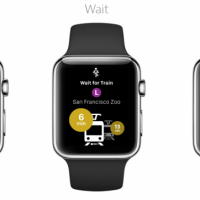 As a few popular iPhone apps begin
rolling out updates
for their built-in Apple Watch apps ahead of the April 24 launch, a pair of transit-focused services have posted on
Medium
to share detailed looks into exactly what kind of experience users can expect from Citymapper and Transit App on the Apple Watch next month.
Sifting through the data gathered from its iPhone app,
Citymapper
learned that its users frequently turned their phone on and off throughout one trip, unlocking to reorient themselves and quickly locking the device again to save battery. That's where its upcoming Apple Watch app comes in, Citymapper promising an experience tailor-made for the wrist-worn device.
This is the nature of transit information when you move across the city. You need snippets of information. Different things at different times, depending on where you are along the way.

Transit info works well on a device that focuses attention on one thing at a time. And where the transaction cost (ie hassle) of getting additional information is low (raise your wrist and swipe). Using a wearable app may also be safer. City dwellers are generally walking too fast, crossing streets, using stairs, jostling through crowds.
Citymapper has a few cool things planned for its Watch app, with Glances showcasing "how messed up your city is", pointing out stalled bus and train schedules around a user's location. The app will even notify a user, with the much-touted wrist-tap feature, when to get off of a current bus or train route to continue along their way.
Citymapper on the Apple Watch will be