New MacBook Pro Models Announced
Apple's
"Hello Again" event
has come and gone, leaving us with an abundance of
Apple-related news and updates
heading into the weekend. Below, we have shared some of the more interesting tidbits that have surfaced over the past 24 hours.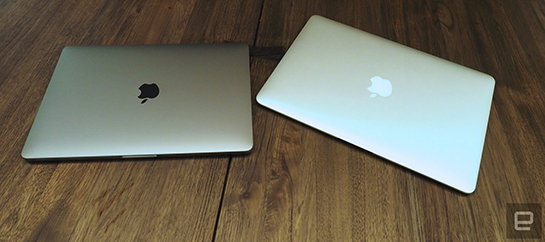 Image Credit: Edgar Alvarez, Engadget
Backlit Apple Logo Removed:
As it did with the 12-inch MacBook, Apple has removed the backlit Apple logo on new
MacBook Pro
models. In its place is a glossy Apple logo in black on the Space Gray model and in white on the Silver model. Apple's older MacBook Pros and 13-inch
MacBook Air
are now its only notebooks with backlit Apple logos that remain available for purchase. Apple's first notebook with a lit-up Apple logo was the third-generation PowerBook G3 released in 1999.
No Power Extension Cable:
In line with the 12-inch MacBook, new MacBook Pro models do not come with Apple's Power Adapter Extension Cable in the box. Previous MacBook Pro models included the extension cable in the box for several years. The extension cable, which provides extra length between the power brick and wall outlet, can be purchased as a
standalone product
for $19.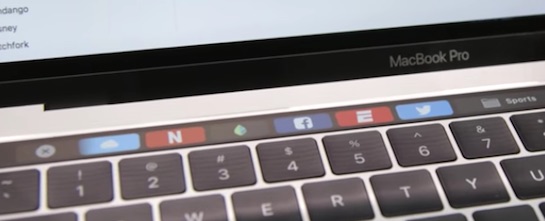 Touch Bar Has Automatic Brightness:
Jason Snell at Apple blog
Six Colors
spent time with the new MacBook Pro yesterday and discovered the Touch Bar's brightness is not manually adjustable. Instead, the mini Retina display's brightness varies based on lighting conditions, using the MacBook Pro's built-in ambient light sensor. Apple calls this feature Automatic Brightness on iOS devices. "I wasn't able to try and trick it or confuse it, but the entire time I was using it—in a dark room and in a much more brightly lit one—it seemed to match the keyboard well," he
explained
.
Price Changes:
Apple's price changes
extend beyond the United Kingdom
. The 12-inch MacBook, for example, has
increased $100 in price in Canada
, where the 256GB model now sells for $1,649 and the 512GB model retails for $1,999. Meanwhile, the reverse has happened in Norway, where 12-inch MacBook prices have
dropped by 1000 kroner
for each model. Likewise, in New Zealand, 12-inch MacBook prices are now
$200 to $250 lower
depending on the model. These adjustments are common as Apple keeps its pricing in foreign currencies in line with the U.S. dollar.

1Password Shares Touch Bar Concepts:
AgileBits was so excited about Apple's MacBook Pro event yesterday that it has
created some mockups
of how 1Password could work with the Touch Bar. 1Password users will be able to unlock the app with
Touch ID
, for example, while Touch Bar will make it easy to switch between password vaults, select new item types, and create website logins. 1Password also anticipates allowing users to slide their fingers across the Touch Bar to generate a strong password.
Know of an interesting Apple-related tidbit? Send an email to
tips@macrumors.com
or contact us on
Twitter
or
Facebook
.
Alongside the new
MacBook Pro
, Apple introduced a 27-inch 5K UltraFine Display
made in partnership with LG
, calling into question future plans for an Apple-branded display product.
While rumors have suggested Apple is working on a
Thunderbolt Display
replacement
powered by an integrated GPU
, Apple's LG partnership seems to indicate that Apple may have shelved plans to build a new display, something that's been confirmed by
The Verge
's
Nilay Patel
. According to Patel, Apple told him it is out of the standalone display business.
Good notes by @jsnell. I can add that Apple told me it's out of standalone display biz. https://t.co/6t1KqQODwD

— nilay patel (@reckless) October 28, 2016
The last rumors about an Apple-branded display came in June of 2016 from
BuzzFeed
's John Paczkowski, a reliable source, so if Apple has ceased work on its own display product, it's a decision that may have been made rather recently.
In lieu of its own display, Apple is selling the aforementioned 5K display product from LG and a second LG-branded 4K display, both of which have been designed with input from Apple and optimized for Apple products. As pointed out by Jason Snell of
Six Colors
, the brightness and settings of the LG display can be adjusted from the Mac, suggesting a deeper level of hardware integration than you'd get with a standard 5K display.
Priced at $1,299.95, the 5K LG UltraFine display uses multi-stream transport and connects to the new MacBook Pro using a single Thunderbolt 3 cable. Because it requires Thunderbolt 3 connectivity, it's only compatible with the MacBook Pro (and any future Macs equipped with Thunderbolt 3).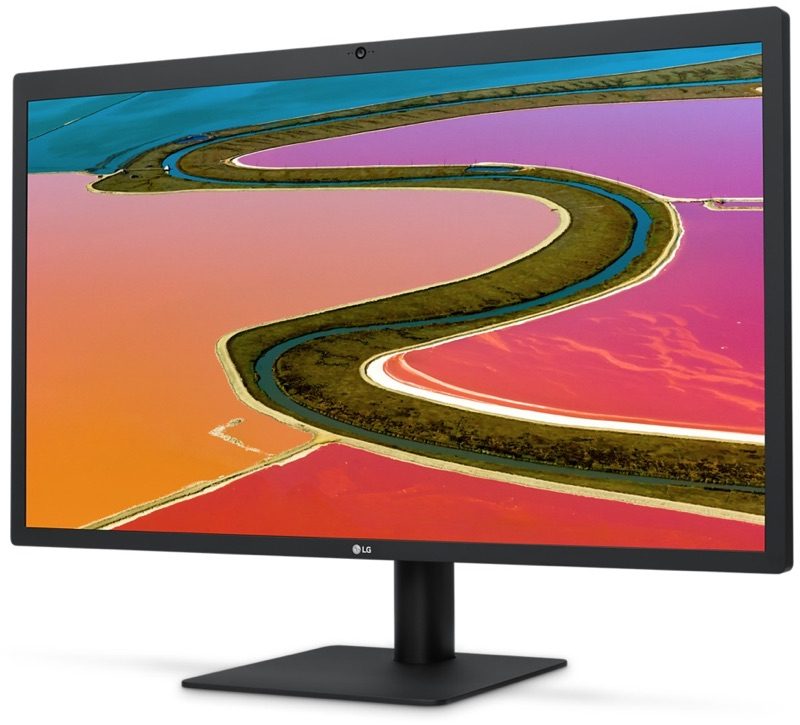 LG's 21.5-inch 4K UltraFine display is more affordable at $699.95, and because it doesn't require Thunderbolt 3, it's compatible with any USB-C Mac, including the new MacBook Pro and the less powerful MacBook.
Both displays offer charging capabilities, support for wide color gamut, built-in stereo speakers, and include additional ports on the back for connecting accessories. The larger 5K display also includes a camera and a microphone, offering all of the features that might have been included in an Apple-designed display.
Despite featuring more energy efficient Skylake processors, faster SSDs, better GPUs, and new thermal architecture, Apple's revamped
MacBook Pro
s continue to max out at 16GB RAM.
Many customers have been wondering why Apple didn't bump up the maximum RAM to 32GB, including
MacRumors
reader David, who emailed Apple to ask and got an explanation from marketing chief
Phil Schiller
. According to Schiller, more than 16GB RAM would consume too much power and have a negative impact on battery life.

Question from David: The lack of a 32GB BTO option for the new MBPs raised some eyebrows and caused some concerns (me included). Does ~3GBps bandwidth to the SSD make this a moot issue? I.e. memory paging on a 16GB system is so fast that 32GB is not a significant improvement?

Schiller's answer: Thank you for the email. It is a good question. To put more than 16GB of fast RAM into a notebook design at this time would require a memory system that consumes much more power and wouldn't be efficient enough for a notebook. I hope you check out this new generation MacBook Pro, it really is an incredible system.
While most average customers likely couldn't utilize 32GB RAM, the MacBook Pro is aimed at professionals who need more computing power and who may occasionally feel the constraints of being limited to 16GB RAM. There will undoubtedly be customers who are disappointed that Apple has not offered a choice between better performance and battery life.
For the 2016 MacBook Pro, Apple was able to reach "all-day battery life," which equates to 10 hours of wireless web use or iTunes movie playback. That's an hour improvement over the previous generation in the 15-inch machine, and a small step back in the 13-inch machine.
While none of Apple's portable machines offer more than 16GB RAM, 32GB of RAM is a high-end custom upgrade option in the 27-inch
iMac
.
Apple provided the media with demo units of the new
MacBook Pro
sans Touch Bar, and a handful of websites have now published their early thoughts and first impressions about the 13-inch notebook. The articles reveal some interesting tidbits beyond yesterday's Touch Bar model
hands-on
and
first impressions
roundups.

While the new MacBook Pro's keyboard is a controversial topic, with some users preferring Apple's traditional scissor design, most reviews said Apple's second-generation butterfly mechanism offers an improved typing experience compared to the 12-inch MacBook's first-generation butterfly keyboard.
Brian Heater of
TechCrunch
said the keyboard "feels more natural" and that individual keys have "better give":
The new technology certainly marks a step in the right direction. The process feels more natural, and the keys have better give. I still prefer the tactile feel of older keyboards, but a lot of that may just have to do with familiarity. After all, the device was only announced yesterday.
Jim Dalrymple at
The Loop
echoed that sentiment, noting there is "a little more travel distance when you press down on a key":
It seems to me that there is a little more travel distance when you press down on a key with the newer keyboard. I actually like that a bit better. After using both, the MacBook keys didn't have enough travel. This one feels much better to me.

Stuart Miles of
Pocket-lint
said the new keyboard is sandwiched between "louder, clearer, and cleaner" speakers with bass-heavier sound:
The keyboard is now sandwiched between two speakers that run the height of the keyboard and deliver a louder, clearer, cleaner noise which is considerably more rounded and bassy than the previous outings. That's achievable because Apple has changed the speaker technology moving away from bouncing the sound off the display, instead placing the direct firing speakers either side of the keyboard.
Likewise, Heater said the speakers deliver richer sound than before, noting that "things get loud. Really, really loud."
They're good for casual listening and maybe an episode or two of a TV show. Anything longer than that, I would go with a pair of headphones or Bluetooth speaker. Also things start to deteriorate when things hit top volume.
Dan Ackerman at
CNET
said the new non-Touch Bar MacBook Pro might be "the new default MacBook for most people," although its price is disappointing:
Meanwhile, Andrew Cunningham at
Ars Technica
highlighted the new MacBook Pro's brighter display and wider DCI-P3 color gamut:
Both screens are 2560×1600 and 227 PPI, the same resolution and density as the old design, though the screens are brighter and support the DCI-P3 color gamut, which is increasingly becoming the norm for Apple's devices.
Cunningham added that the new MacBook Pro scales to 1,440×900 pixels out of the box, which makes it look like it has a higher screen resolution:
The new 13-inch MacBook Pro support four display scaling modes: 1024×600, 1280×800, 1440×900, and 1680×1050. The old Pros used the 1280×800 mode out of the box, which just happened to match the display's native resolution. The new Pros use the 1440×900 mode out of the box, which means they look like they have a higher screen resolution even though they don't.
Cunningham said making comparisons between the new MacBook Pro and
MacBook Air
is "understandable but flawed." He argued "it's only really a comparison that works when all else is equal," which is not the case given the new MacBook Pro is upwards of $500 more expensive than the remaining 13-inch MacBook Air.

Dana Wollman at
Engadget
applauded the new MacBook Pro's smaller footprint, particularly compared to the MacBook Air:
Let's start with the design: Holy moly, is this thing small. I noticed it right away, just because my normal work laptop is a MacBook Air, which means I'm used to something much larger than this. The difference is especially obvious if you stack one machine on top of the other. Though both have 13.3-inch screens, the new MacBook Pro has a much smaller footprint — it's shorter and less wide. Truly, trimming down that humongous bezel from the Air makes a world of difference.
One aspect of the new MacBook Pro often criticized is its lack of ports. The non-Touch Bar model has only two Thunderbolt 3 ports, which carry power, USB, DisplayPort, HDMI, and VGA for video out over a single port. As with the 12-inch MacBook, customers will have to purchase
adapters
to connect certain devices and accessories.
Steve Kovach at
Business Insider
said the need for "a lot of dongles" is "the most frustrating thing" about the new MacBook Pro:
If you want to use older accessories or even charge your iPhone, you're going to need to buy a separate adapter or brand-new cable. That's going to be super annoying for a lot of people as the industry continues to shift to USB-C. For example, the cable that lets you charge your iPhone in the MacBook Pro will cost you $25. Yikes.
The new MacBook Pro is also expensive, although the non-Touch Bar model is slightly more affordable at $1,499. The non-Touch Bar model is
currently available for pre-order
and ships in 1 business day. Touch Bar models start at $1,799 and $2,399 for the 13-inch and 15-inch models respectively and ship in 4-5 weeks.
In a
series of tweets
sent out last night, and now in an
interview with The Verge
, developer Steven Troughton-Smith has detailed the inner workings of the
MacBook Pro
's new retina Touch Bar, describing its T1 chip as "a variant of the system-on-a-chip used in the Apple Watch." This means that the Touch Bar is essentially running watchOS on the T1 chip, which macOS then communicates with through an interconnected USB bridge that "relays multitouch events back to macOS."
The developer described this software setup as advantageous for the MacBook Pro's security, since the T1 chip also acts as a layer of protection and "gates access" to the laptop's FaceTime camera and
Touch ID
sensor. In the series of Tweets he sent out last night, Troughton-Smith also
theorized
that watchOS could power the Touch Bar alone without relying on macOS to be running on the MacBook Pro, which Apple software engineering chief Craig Federighi has
now confirmed
.

"From everything I can piece together, the T1 chip in the new MacBook Pro is a variant of the system-on-a-chip used in the Apple Watch," explains Troughton-Smith, in an interview with The Verge. "Running watchOS on the T1 lets the Mac benefit from Apple's deep work on iOS embedded security, as the T1 gates access to the Touch ID sensor and, from the looks of it, the front-facing camera in the new MacBook Pro too."
Despite the use of watchOS in the Touch Bar, the T1 chip "has no fixed storage" and boots from a 25MB ramdisk, so it's not the full version found on the Apple Watch that could run the complete watchOS UI with apps. As Troughton-Smith
described
it, "the 'watchOS' the T1 runs is presumably only 'watchOS' by dint of the CPU it's designed for. T1 must be very similar to S1."
The developer also confirmed that the T1 chip and Touch ID sensor are paired together at the factory, so if either begins acting up, "you can't replace one without the other." What this means for the future of the MacBook Pro line could be a device that more closely bridges the gap between macOS and iOS, according to Troughton-Smith.
"Perhaps someday it could run a higher class processor, like Apple's A-series chips, and allow macOS to 'run' iOS apps and Extensions, like iMessage apps, or manage notifications, system tasks, networking, during sleep, without having to power up the x86 CPU."
Yesterday,
Phil Schiller
commented
on the idea of Apple manufacturing a MacBook with a touchscreen, but he remained adamant that such a direct merger between macOS and iOS software wouldn't be "particularly useful." Likewise, Apple's newly published
guidelines for developers
describe the Touch Bar as "an input device," and "not a secondary display."

One of the biggest questions about the Touch Bar on Apple's new
MacBook Pro
is how it will work with Windows through Boot Camp. That led MacRumors reader Abraham to send an email to Apple's software engineering chief Craig Federighi, who shared good news for dual-booters.
Question from Abraham: Craig, am I correct in assuming that the Touch Bar becomes a row of visual function keys when using Windows with Boot Camp?

Federighi's answer: You are indeed!
Presumably, this means the Touch Bar will likely display virtual function keys between F1-F12, along with an Escape key, when running Windows. It remains to be seen if there will be specific controls for system-level tasks such as volume, playback, and display brightness. Meanwhile, the virtual power button should work, but without
Touch ID
.
MacRumors cannot fully confirm the authenticity of the email, but it does appear to be sent by Federighi through Apple's corporate servers based on
full headers
we saw. Apple executives occasionally respond to customer emails, or it is possible the response was handled by Apple's executive relations or public relations teams.
Boot Camp is an Apple utility that enables users to partition their SSDs or hard drives and install Windows directly on a Mac, allowing for macOS and Windows to be run side by side. It differs from virtualization software like Parallels and VMware Fusion, which allows Windows to run as a desktop app within macOS itself.
YouTube tech reviewer Marques Brownlee has shared an
exclusive interview
with Apple senior vice president of software engineering Craig Federighi. The pair chatted about
the new MacBook Pro
and its customizable Touch Bar, which Federighi said is "going to be great" and has "so much potential" for developers.

Touch Bar is a Multi-Touch strip of glass that replaces the standard row of function keys on the new
MacBook Pro
s, providing users with system-level and app-specific controls that contextually change. For example, when a user types text in a document, the Touch Bar might include controls for adjusting the font face and size.
MacBook Pro users can interact with the Touch Bar using gestures. Tapping activates a control, such as a button, or selects an item, such as an emoji. Touching and holding initiates a secondary action on a control, such as a button. Panning moves an element, such as a slider of photos or emojis, from side-to-side.
The questions and answers below were edited slightly for clarity and brevity.
"Why now? Why 2016 for us to arrive at the Touch Bar?"
A lot of it came together in terms of the technology being just right to really pull this off in this kind of form factor — such as Touch ID and the quality of the display. We wanted it to feel just completely native to the keyboard and completely real — and be so responsive. We were able to take so much that we've learned in the hardware for iOS devices — and even so much of the security model of iOS, like for Touch ID — and incorporate some of our custom silicon to make it happen. A lot of things had to come together to make this possible. It's exciting to finally have it out.
"Similar to Touch ID in the iPhone, Touch Bar will get better with time, right? What are you most looking forward to seeing, maybe in a year from now, when we have these and developers get their hands on it? What kind of stuff should we expect to see?"
What's been really awesome is that we've brought some developers in over the past month — and we just showed a small subset of the ones that had come in and already started doing work — and they have a lot of great ideas. Look at djay Pro. It's so exciting when we develop a product and we have a vision of what we can do with it with our apps. We know inherently this is a device with so much potential because it's just a versatile Multi-Touch display. When you get it in the hands of these developers and it's like, "we didn't think of that, but that's just awesome."

I'm really excited about what we've seen so far. I think, of course, a lot of people will do buttons and sliders, but I think there will be this next wave where people say, "hey, this is like custom hardware." You can create the control that supports the best mechanic for whatever it is you want to do in your app, whether that's a game doing something really novel or music, which is so awesome for those kind of real-time capabilities. It's going to be great, but I'm really excited about how fast it's already happening. I think day one, you get one of these, and it's going to be great.

Apple's newly published
design guidelines
refer to the Touch Bar as an extension of the keyboard and trackpad, not the display. Apple does not want developers to include display alerts, messages, scrolling content, or static content in their Touch Bar extensions, but rather controls that resemble the appearance of the physical keyboard keys in terms of size and color.
Although technically it's a screen, the Touch Bar functions as an input device, not a secondary display. The user may glance at the Touch Bar to locate or use a control, but their primary focus is the main screen. The Touch Bar shouldn't display alerts, messages, scrolling content, static content, or anything else that commands the user's attention or distracts from their work on the main screen.
The guidelines also tell developers not to include functions solely in the Touch Bar to ensure backwards compatibility with older Macs. There must always be a way to perform tasks using the keyboard or trackpad. Apple also tells developers not to use Touch Bar for well-known keyboard shortcuts such as find, select all, deselect, copy, cut, paste, undo, redo, new, save, close, print, and quit.
AMD has
shared some technical details
on the new Radeon Pro graphics cards included in the 15-inch
MacBook Pro
models, giving some insight into their performance and the differences between the three options.
The Radeon Pro 400 Series Graphics are built on AMD's Polaris architecture and are fabricated using the 14nm FinFET process to achieve high performance without sacrificing power efficiency. They offer memory bandwidth of up to 80GB/s.

The Radeon Pro Graphics found in the MacBook Pro feature the latest Polaris architecture with 4th generation Graphics Core Next. Speed through your tasks with up to 16 compute units (1024 stream processors) and 1.86 Teraflops of horsepower. Radeon Pro Graphics on the MacBook accelerate workloads normally reserved for the main processor. It features versatile asynchronous compute, updated shader engines, enhanced memory compression and new geometry capabilities in a compact and efficient package.
The Radeon Pro 460, available as a $200 upgrade in the entry-level 15-inch MacBook Pro and a $100 upgrade in the higher-end 15-inch MacBook Pro, offers 1.86 Teraflops of horsepower and 16 compute units (1024 stream processors).
The Radeon Pro 455, the default option in the higher-end 15-inch MacBook Pro, features 1.3 Teraflops of horsepower and 12 compute units (768 stream processors). The Radeon Pro 450, available in the entry-level 15-inch MacBook Pro as the default option, offers 1 Teraflop of horsepower and 10 compute units (640 stream processors).

According to AMD, the Radeon Pro graphics processors inside the MacBook Pro are thinner than a US penny with a Z-height of 1.5mm but still pack in 3 billion transistors. The Radeon Pro features "advanced power technology" to allow the MacBook Pro to stay cool and quiet even during demanding tasks.
On its MacBook Pro website, Apple says the 15-inch MacBook Pro offers up to 130 percent faster graphics performance (with the Radeon 460) and up to 2.5x more computing power per watt compared to the previous-generation 15-inch MacBook Pro.
The 13-inch MacBook Pro uses integrated graphics instead of discrete graphics, but Apple says the Iris Graphics 550 are up to 103 percent faster than the Iris Graphics 6100 in the previous-generation 13-inch MacBook Pro.
The new
MacBook Pro
has only been
available for purchase
for about six hours, but shipping estimates on the machine have already slipped from two to three weeks to three to four weeks, meaning orders placed now won't deliver until late November or early December (November 25 to December 2).
Three to four week shipping estimates apply to all MacBook Pro models that have a Touch Bar and
Touch ID
support. At launch, those machines had shipping estimates of two to three weeks and delivery windows from November 17 to November 25. Supplies are likely to continue to dwindle as people place orders for the updated MacBook Pro models.

The new entry-level MacBook Pro without a Touch Bar continues to be available for delivery as soon as October 31 using the fastest shipping method. Apple Store pickup is not yet available for any of the MacBook Pro options, but the standard MacBook Pro should be in stores soon.
The 13-inch MacBook Pro with no Touch Bar is priced at $1,499, while 13-inch Touch Bar models start at $1,799. 15-inch models, which all include a Touch Bar, start at $2,399.
Apple is also continuing to sell 2015 MacBook Pro models, which are available at prices starting at $1,299.
Following the launch of the redesigned
MacBook Pro
,
CNET
has published an interview with Apple executives
Phil Schiller
, Jony Ive, and Craig Federighi, highlighting some of the design decisions that went into the new machine.
The contextual OLED Touch Bar on the new MacBook Pro, which is its key feature, has been in development under the direction of Jony Ive for at least two years, and according to Ive, it "marks a beginning" of a "very interesting direction" for future products.

Apple's new MacBook took so long to develop because the company didn't want to "just create a speed bump," aiming instead for something that's a "big, big step forward." Apple marketing chief Phil Schiller says the MacBook Pro will allow Apple to "create many things to come," some of which "we can't envision yet." He also said Apple isn't driven by a calendar, but is instead aiming to create "new innovations" in the Mac line.
Many customers are unhappy with the high price of the new MacBook Pro models, something Schiller addressed in the interview. An entry-level 13-inch MacBook Pro with a Touch Bar costs $1,799, a full $500 more than previous-generation models, and 15-inch models start at $2,399. Schiller says Apple cares about price, but has to design for experience rather than cost.
Affordability is "absolutely something we care about," Schiller says. "But we don't design for price, we design for the experience and the quality people expect from Mac. Sometimes that means we end up at the higher end of the range, but not on purpose, just because that's what it costs."
The MacBook Pro's Touch Bar doesn't signal a future move into touchscreen Macs, something the Apple executives made clear. A Mac with a touchscreen isn't "particularly useful," Ive said, while Schiller said Apple investigated the possibility of converging iOS and Mac devices but decided against it.
"We did spend a great deal of time looking at this a number of years ago and came to the conclusion that to make the best personal computer, you can't try to turn MacOS into an iPhone," Schiller says. "Conversely, you can't turn iOS into a Mac.... So each one is best at what they're meant to be -- and we take what makes sense to add from each, but without fundamentally changing them so they're compromised."
Both Federighi and Schiller believe the laptop is a form factor that's going to be around for a long time. "As far as our eyes can see, there will still be a place for this basic laptop architecture," Schiller said, pointing out that it's been useful for the past 25 years.
Apple's 13-inch MacBook Pro model with no Touch Bar is available for purchase starting today and will deliver in just a few days. The new 13 and 15-inch models that do include Touch Bars are available for order, but won't ship until mid-to-late November.
Along with a Touch Bar, Apple's new MacBook Pros feature upgraded processors, new graphics capabilities, improved displays, faster SSDs, Thunderbolt 3 support, and 10 hour battery life.
CNET
's
full interview
, which also focuses on the history of the Mac notebook lineup, is well worth checking out.
Apple hosted its "Hello Again" Mac event this morning, where it debuted a newly redesigned
MacBook Pro
with an integrated "Touch Bar" panel that supports multi-touch and a range of gestures to unlock new capabilities in apps.
Much of the event was actually spent covering existing features, demoing the Touch Bar, and highlighting
Apple TV
capabilities, allowing us to condense the full 82 minute presentation into four minutes. If you missed Apple's keynote, our recap is a great way to get caught up without having to invest an hour and a half.
Apple's new MacBook Pro models feature a thinner, lighter body, better battery life, upgraded processors, improved displays, and the aforementioned Touch Bar, but all that innovation comes at a price, which has many customers disappointed. Apple is charging $1,799 in the United States for the entry-level 13-inch MacBook Pro model with a Touch Bar, and the 15-inch MacBook Pro models start at $2,399.
While the MacBook Pro was the main highlight of the event, Apple also introduced a new Accessibility site, 4K and 5K monitors from LG, a new Apple TV app that serves as a TV guide to help users find what to watch. For a more in-depth look at everything that's new today, make sure to
check our full event recap post
.
With
pre-orders
for the new
MacBook Pro
up today, and a launch expected within the next two to three weeks, Apple has given a number of journalists access to the 13-inch and 15-inch devices so they can share their thoughts with anyone who is interested in the new flagship MacBook Pro line.
MacRumors
has already
rounded up a collection of opinions
regarding the newest feature on the MacBook Pro -- the Touch Bar -- so this roundup will be focused on other areas.
Namely, topics covered include the keyboard, trackpad, screen, and overall weight and feel of the device. Opinions on the keyboard appear to differ depending on whether or not the user is acclimated to the 2015 MacBook's Butterfly Enclosure keyboard, but otherwise the new MacBook Pro is getting positive initial reactions to its design, particularly in its ability to pack in powerful specs in such a lightweight enclosure.

Images via Engadget
Many of those who got a chance to touch the new MacBook Pros of course first interacted with the keyboard, and
The Verge
ended up liking it, while noting that it's essentially the same as the one introduced on the
Retina MacBook
in 2015, which might cause problems with anyone who hasn't owned one of those MacBooks. It also said that the trackpad is "absolutely massive."
The keyboard is almost identical to the Butterfly keyboard found on the tiny MacBook. That's going to cause some people to grind their teeth, but I think it's great and easy to type on — and I do think the keys might have sightly better travel, but don't hold me to that. In any case, I expect that this will be a sore spot for some people, but my level of sympathy isn't as high as it ought to be, because I think this keyboard is great.

The Trackpad is absolutely massive, so much so that Apple had better make sure it has its palm-rejection software perfect, because your palms are going to be resting on this thing all the time.
➜ Click here to read rest of article...