Last month the United States Federal Communications Commission
announced
that it would fine AT&T $100 million for misleading customers about its unlimited data plans and not adequately warning customers about throttling their data speeds. AT&T has since responded, arguing that data throttling doesn't harm customers, the company is being prejudged and that its First Amendment rights are being violated in a
response
first found
by
The Hill
(via
Ars Technica
).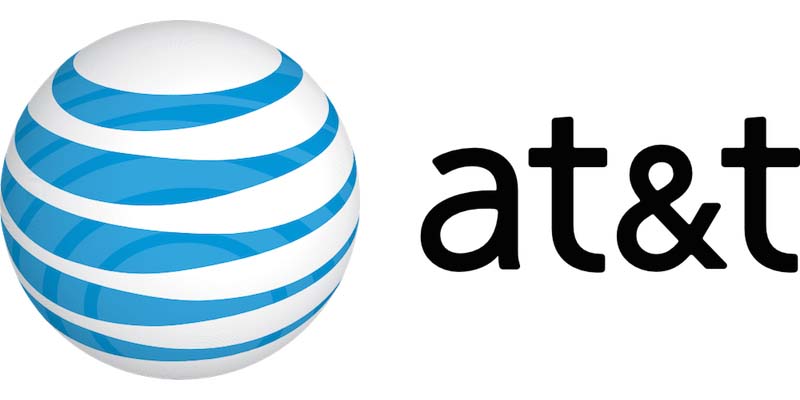 The Commission's findings that consumers and competition were harmed are devoid of factual support and wholly implausible. Its "moderate" forfeiture penalty of $100 million is plucked out of thin air, and the injunctive sanctions it proposes are beyond the Commission's authority. Both, moreover, reflect an unseemly effort to coerce settlement. And the NAL and the related press campaign confirm that the agency has already prejudged AT&T's liability, abandoning any pretext that the Commission remains an impartial arbiter of the case.
AT&T, who wants the FCC to drop the fine, claims that it has made all the required disclosures to customers, pointing out that its Unlimited Data Plan customers were more likely to renew their contracts than non-Unlimited Data Plan customers. Additionally, the telecommunications company argued the FCC would be outside of its authority in both imposing the fine and making other requests because the statute of limitations on the case has passed.
Lastly, AT&T argued that the FCC has no authority to order the company to inform its customers that it violated the Transparency Rule in not telling them about speed changes when throttling data because the statement would both be untrue and a violation of AT&T's First Amendment rights.
AT&T ceased selling Unlimited Data Plans years ago but continues to have customers grandfathered to its Unlimited Data Plans. Previously, the company throttled its Unlimited Data Plan customers once they exceeded 5 GB of LTE data, but in May the company
changed its policy
to only throttle customers when connected to a cell tower experiencing network congestion.
Intel and Micron today
announced 3D Xpoint
, a new class of memory that the companies are calling a "major breakthrough in memory process technology." 3D Xpoint (pronounced cross point) is said to be up to 1,000 times faster and more durable than the NAND Flash storage that's currently used in mobile devices and solid state drives. It's the first new memory chip to come to the market in 25 years.
Intel and Micron say that 3D Xpoint was built to create a non-volatile, high-performance high-capacity storage and memory solution that was also affordable. In addition to being faster than NAND Flash, it's also 10 times denser than the DRAM chips used in computers, which means much more data can be stored closer to the processor and accessed quickly.
A smartphone equipped with 3D Xpoint technology would potentially see much faster performance than a smartphone using existing technology. 3D Xpoint is also versatile -- fast enough to replace DRAM and stable enough to be used for long term storage. Initial capacity is 128 Gigabits (16GB) per die across two memory layers, but future generations of the 3D Xpoint will be able to increase the number of memory layers to improve system capacities.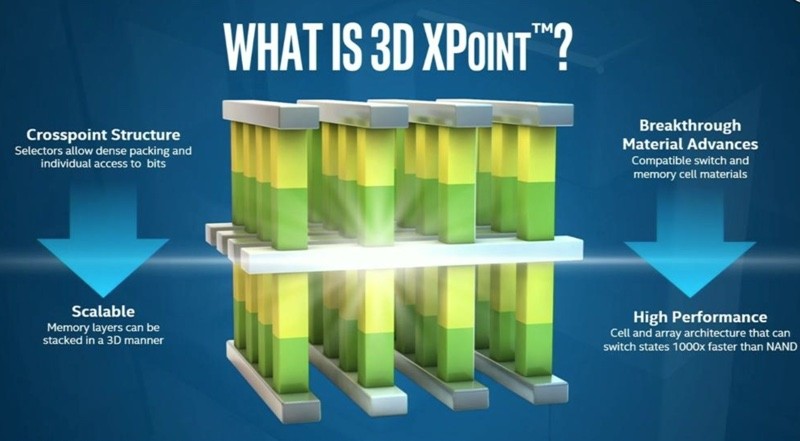 The innovative, transistor-less cross point architecture creates a three-dimensional checkerboard where memory cells sit at the intersection of word lines and bit lines, allowing the cells to be addressed individually. As a result, data can be written and read in small sizes, leading to faster and more efficient read/write processes.
Intel and Micron provide several use cases for 3D Xpoint technology, suggesting it will let retailers quickly detect fraud patterns in financial transactions and allow healthcare researchers to process and analyze larger data sets in real time. For consumers, 3D Xpoint will allow "faster interactive social media" and more immersive gaming experiences.
"One of the most significant hurdles in modern computing is the time it takes the processor to reach data on long-term storage," said Mark Adams, president of Micron. "This new class of non-volatile memory is a revolutionary technology that allows for quick access to enormous data sets and enables entirely new applications."
As a nascent technology, 3D Xpoint is designed to complement existing NAND Flash and DRAM options because it will likely be too expensive to serve as a standalone option at launch, but in the future, it has the potential to introduce dramatic performance improvements in mobile and desktop products.
According to Intel and Micron, 3D Xpoint samples will be available later this year to select customers, but mainstream use may be a ways off. It is not clear if Apple will adopt 3D Xpoint when it first becomes available, but the company does often aim to implement cutting edge technology in its devices for maximum speed and performance.
Less than four months after the Apple Watch launched, many early adopters are finding that the wrist-worn device has motivated them to make healthy lifestyle changes. From walking and exercising more often to making healthier choices and playing more sports, market research firm
Wristly
found that many Apple Watch buyers are taking full advantage of the wearable's health and fitness features.

Greater than 75% of survey participants among Wristly's panel of nearly 1000 Apple Watch buyers indicated that they "Strongly Agree" or "Agree" that they have been standing more since receiving the Apple Watch. Similarly, 67% of participants agreed that they walk more, 59% agreed they make better health choices and 57% said they exercise more often with the Apple Watch.

Early adopters are generally satisfied with the Apple Watch's health and fitness features, especially those included stock on the device. An aggregate 89% of survey participants were either "Very Satisfied" or "Satisfied" with the built-in Activity app, while around 80% were satisfied with the heart rate sensor and hourly standup reminders and just over 75% were satisfied with the Workout app.

Jim Dalrymple of
The Loop
echoed similar sentiments in his Apple Watch review in June, in which he shared his personal story about losing 40 pounds using HealthKit and Apple Watch. After ten months of exercising, weight lifting and healthier eating decisions, Dalrymple lost four pant sizes and two shirt sizes, and the Apple Watch kept him motivated to reach his goals:
Apple Watch furthered my transformation. I can see on my wrist every minute of the day where I'm at for standing, movement, activity, calories and much more.

One minute please, Apple Watch says I need to stand up.

If Apple Watch says stand, I stand. I still don't know why. Maybe I just want to complete those rings every day and feel good about that. Maybe standing every hour really is good for me. I don't know, but I'll indulge this little device on my wrist and stand.
Making healthy lifestyle changes requires consistency, and Wristly found that many early adopters are still wearing the Apple Watch regularly. 86% of survey participants said they are still wearing the Apple Watch on a daily basis, while 12.3% wear it on most days, 1.3% go several days without wearing one and three respondents reported that they no longer wear the Apple Watch.
While the Apple Watch is certainly not the only wearable device motivating people to get in shape, the Move, Exercise and Stand rings, workout summaries, achievement badges, progress updates, personalized feedback and its other health and fitness features appear to have challenged early adopters in ways they did not expect.
Wristly is the largest independent Apple Watch research platform with an opt-in panel of around 1000 Apple Watch buyers. The research firm recently found the Apple Watch to have a
97% customer satisfaction rate
, a number that Apple CEO Tim Cook cited during the company's recent
third quarter earnings results
conference call.
T-Mobile today
announced
that it has added Apple Music to
Music Freedom
, allowing Simple Choice customers to listen to the streaming music service without the cellular data counting against their monthly 4G LTE data plan. Apple Music joins dozens of other streaming music services supported by Music Freedom, including Spotify, Pandora, Rdio, Google Play Music, iHeartRadio, SoundCloud and SiriusXM.

T-Mobile also announced that customers who purchase an iPhone 6 for $15 per month through the JUMP! On Demand trade-in program will be automatically eligible to receive a free upgrade to the next iPhone -- the so-called "iPhone 6s" -- when it is released, with the $15 monthly promotional price carrying over to the new smartphone.
Purchasing an iPhone 6 through JUMP! On Demand will also land you priority access to the next iPhone, when T-Mobile receives inventory of the next-generation device, for those that upgrade within the first 48 hours of availability. T-Mobile claims these two new Apple promotions are the last of the carrier's Un-carrier Amped moves this summer.
Apple Pay today expanded its participating issuers list within the United Kingdom, adding support for both HSBC and First Direct customers. Both banks were announced as starting partners for the UK branch of Apple Pay, but were
delayed
until late July at the last minute.

HSBC and First Direct join a list of UK Apple Pay partners that includes: American Express, MBNA, Nationwide, NatWest, Royal Bank of Scotland, Santander and Ulster Bank. Still listed as coming soon are: Bank of Scotland, Lloyds Bank, M&S Bank and TSB. Although Barclays has confirmed
"imminent" support
for the contactless payment service, the bank has yet to be listed on Apple's
Apple Pay UK site
.
Along with the announcement of HSBC and First Direct support, customers using Apple Pay in the UK will also be able to start taking advantage of the service at both Five Guys restaurants and Wilko stores across the country. UK support of Apple Pay
launched on July 14
, and has been steadily expanding its roster of retail partners and financial institutions in the subsequent weeks.
Apple today introduced three new Apple Watch videos on its YouTube channel, highlighting third-party apps designed for the wrist-worn device. Each of the three videos focuses on a different subset of apps, covering
music
,
fitness
, and
travel
.
The videos all depict a single Apple Watch that displays a series of apps on the screen, with a selection of app icons in the surrounding space. Icons are enlarged to denote which app is on the screen.
In the "Music" video, for example, music discovery app
Shazam
, DJing app
Pacemaker
, and ticket-purchasing app
StubHub
are shown in quick succession.
The "Fitness" video highlights the
Nike+
running app, the
WaterMinder
hydration tracking app, and sports scores provided by the
MLB.com At Bat
app.
The third and final video, "Travel," gives a brief glimpse of travel app
Expedia
, transportation requesting app
Uber
, and recommendation app
Yelp.
Apple's newest short advertisements are the company's first that put third-party apps for the device directly in the spotlight. Previous ads have focused on showing off
the different use cases
for the device, including
four videos released last week
that depicted the Apple Watch being used in daily life while traveling, working out, and communicating with friends and family.
Apple today released the fifth beta of OS X El Capitan to developers for testing purposes, less than one week after releasing
the fourth El Capitan beta
and nearly two months after unveiling the operating system at its
2015 Worldwide Developers Conference
.
Today's update is available through the software update mechanism in the Mac App Store and through the Apple Developer Center.
It is not clear if this update will add any outward-facing changes to El Capitan, as the past few betas have focused on under-the-hood performance improvements and bug fixes to optimize the operating system ahead of its public release. We'll add new features and bug fixes in beta 5 to this post should any tweaks be discovered.
As an update complementary to OS X Yosemite, OS X El Capitan builds on the myriad features introduced last year. Behind-the-scenes improvements in El Capitan make a number of apps and processes on the Mac faster, and the introduction of Metal makes system-level graphics rendering 40 percent more efficient.
El Capitan introduces a new system-wide font, a revamped Mission Control feature, a split-view feature for using two full-screen apps at once, deeper functionality for Spotlight, and improvements to Safari that include Pinned Sites and a universal mute button.
OS X 10.11 El Capitan is currently available to both registered developers and public beta testers. Apple plans to release El Capitan to the public in the fall.
When Windows 10 is released to the public later this week, Windows users will have desktop access to Cortana, Microsoft's virtual assistant designed to compete with Apple's Siri. It appears Mac OS X users may also be able to access Cortana on OS X, using an updated version of the
Parallels
Windows virtualization software. For those unfamiliar with Parallels, it's software that's designed to let you run Windows and Windows apps on your Mac.
According to
a now-deleted leaked site
that details upcoming features in Parallels 11, the software is gaining a new Windows 10 feature that will let Cortana be accessed on OS X while Windows 10 is running in the background.

As explained by
Neowin
, who shared the leaked site over the weekend, that means Cortana can be accessed with the "Hey Cortana" command while using other applications on the Mac. It is not clear if all of Cortana's functionality is available when run this way, but in Windows 10, Cortana has a wide range of useful features.
The virtual assistant can search the web, find installed files and apps, monitor calendar appointments, access the weather, and more. Like with Siri, Cortana can be asked fact-finding questions like "What are the latest NBA scores" or "What's going on near me this weekend?"
Announced last year
, Cortana is a digital assistant named for an AI character in the popular
Halo
video game series and voiced by Jen Taylor, who also did the AI voice work. Cortana, which has a distinctly female personality, is powered by the Bing search engine and differs from Siri based on the ability to ask questions about users and monitor their activity to learn more about them.

Cortana has a "notebook" that stores information on each user's interests, favorite places, preferred music, relationships with people, appointment dates, preferred quiet hours, and more. When Cortana debuted, Microsoft described this feature as "her view of you," designed to let Cortana perform functions a wide range of personalized functions.
While Windows 10 is set to be released this week on July 29, there is no word on when Parallels 11 with full support for Windows 10 and the new Cortana feature will launch. Parallels 10, the current version of Parallels,
has been updated
with experimental support for Windows 10 preview builds, but it is not currently compatible with the release version of Windows 10 or Microsoft's Windows 10 upgrade program.
In addition to being available on Mac OS X through Parallels 11, Cortana is also coming to the iPhone. Microsoft plans to
launch a Cortana app for iOS
later this year.
While several reports since last December claimed that Apple was planning to release a new 4-inch "
iPhone 6c
" as a low-cost option alongside the so-called
"iPhone 6s" and "iPhone 6s Plus"
later this year, Cowen and Company analyst Timothy Arcuri recently told investors that supply chain evidence of the rumored smartphone has seemingly disappeared since around March.

Arcuri, in a research note obtained by
Business Insider
, speculates that Apple may have delayed or dropped plans to release the "iPhone 6c" due to concerns that the budget smartphone would cannibalize the iPhone 6, which has experienced record-breaking sales and could continue to be a hot product for Apple if given a price reduction alongside the "iPhone 6s" and "iPhone 6s Plus" in September.
"I think one of the reasons is because the iPhone 6 has sold so well," Arcuri said. "And they said, 'Look, why would we want to cannibalize? If we came out with an iPhone 6C, we would essentially cannibalize a price-reduced iPhone 6.'"
Arcuri believed that the "iPhone 6c" would essentially be iPhone 6 hardware shrunken down to the size of an iPhone 5s, including an all-metal unibody that would differentiate itself from the plastic iPhone 5c released in 2013. Investment banking firm Jefferies predicted in late June that a 4-inch metal "iPhone 6c" will be
released in early 2016
, but that timing appears questionable.
KGI Securities analyst Ming-Chi Kuo issued a note to investors in April that claimed a new
4-inch iPhone was unlikely in 2015
, and a few weeks later said that Apple is instead likely to release a
new 4-inch iPhone with Apple Pay
compatibility in 2016. Kuo said that Foxconn will be the primary manufacturer of the low-cost handset, but Apple's product roadmap could have changed since that time.
Apple frequently tests new products and services internally that are never released, so it is entirely possible that the company never planned to make the "iPhone 6c" available to the public.
Sketchy rumors
and
leaked images
of the purported "iPhone 6c" shell -- notably plastic -- began picking up in December, but few concrete details about the rumored smartphone have surfaced since that time.

Apple's fourth-generation iPad mini could be a miniaturized version of the iPad Air 2, according to Japanese blog
Mac Otakara
. The report claims that the iPad mini 4 will adopt some of the same features and specifications as the iPad Air 2, including an 8-megapixel rear-facing iSight camera, ultra-thin 6.1mm design and possibly a fully laminated display with anti-reflective coating.
Mac Otakara
claims that Apple may release the new iPad mini alongside an A9-based iPad Air 3, contrary to a sketchy report last week from Taiwan's
Economic Daily News
that said
no new iPad Air will be released in 2015
and that the iPad mini 4 could be Apple's last 7.9-inch tablet as the company focuses on its larger-sized iPad Air and much-rumored "iPad Pro" in the future.
KGI Securities analyst Ming-Chi Kuo, who has a respectable track record at reporting on Apple's upcoming product plans, recently issued a note to investors that also claimed the iPad mini 4 will essentially be a
smaller version of the iPad Air 2
. Kuo did not make any predictions about the iPad Air 3 or the "iPad Pro" in his note, but he has mentioned the latter 12.9-inch tablet in previous notes to investors.
Apple releasing a trio of new iPads later this year -- the iPad Air 3, iPad mini 4 and "iPad Pro" -- could help the company rebound from five consecutive quarters of declining iPad sales. Moreover, while
Mac Otakara
has a respectable track record reporting about Apple, there is not enough substantive evidence at this time to firmly suggest that all three tablets will actually be unveiled this autumn.
Apple has announced that its fleet of vehicles collecting street-level mapping data in multiple countries will begin surveying France and Sweden throughout August. The vehicles will be driving through the Malmö and Stockholm metropolitan areas in Sweden and Île-de-France region of Paris, Hauts-de-Seine, Seine-Saint-Denis and Val-de-Marne in France.

Apple Maps vehicles will also begin surveying Tennessee later in August, raising the total number of U.S. states that Apple has driven through to 30. Apple began collecting street-level mapping data in
13 more U.S. states
this month, including Colorado, Idaho, Indiana, Kentucky, Maryland, Minnesota, Mississippi, New Mexico, Ohio, Oregon, Pennsylvania, South Dakota and Wyoming.
Apple confirmed in June that it is
driving vehicles around the world
to collect data to improve Apple Maps, and the mapping imagery is almost certainly being used to create a Google Maps "Street View" competitor. Apple Maps vehicles are also taking photos of businesses and storefronts in major metropolitan areas to replace current imagery provided by third-party sources such as Yelp.
Apple has posted a complete list of new areas in the United States, France, Ireland, Sweden and the United Kingdom it will be surveying throughout August on its
Apple Maps vehicles
website, including extended coverage of unmapped areas in California, Florida, Georgia, Hawaii, Louisiana, Massachusetts, Michigan, Missouri, Nevada, New Jersey, New York, Texas, Utah and Washington.
Best Buy today
announced
it will begin selling the Apple Watch in some its U.S. retail stores and online on August 7, marking a substantial expansion of retail availability for the device. Starting with 100 stores and expanding to 300 over the next few months, he company will offer 16 models from the aluminum Apple Watch Sport and stainless steel Apple Watch collections, as well as nearly 50 accessories including stands and watch bands.

Starting Aug. 7, Best Buy will be the first national retailer, other than Apple Stores, where customers can buy the Apple Watch. It will begin to arrive in more than 100 Best Buy stores and will also be available on BestBuy.com. Another 200 of our stores will have the Apple Watch in time for holiday shopping.

"The Apple Watch is an important addition to an emerging product category, and we know our customers want it," said Jason Bonfig, senior category officer at Best Buy. "We are excited to bring Apple Watch to more consumers, especially with the holidays coming up."
Apple has
provided a statement to iMore
, noting the focus on expanding availability for the holiday shopping season.
"Customers love Apple Watch, and we are thrilled to begin offering it at Best Buy locations across the U.S. starting August 7," an Apple spokesperson told iMore. "More than 300 Best Buy stores will carry Apple Watch and Apple Watch Sport models in time for the holiday shopping season."
The Apple Watch is currently available in 19 countries with Apple gradually expanding availability as supplies have allowed, and an additional three countries — New Zealand, Russia, and Turkey — will be added to the list this coming Friday.