With the iPhone 14 Pro and Pro Max, Apple took the much-maligned notch that houses the TrueDepth camera equipment for Face ID and evolved it into a crucial part of the iPhone interface. Called the Dynamic Island, the new pill-shaped area on the ‌iPhone‌ not only accommodates the camera hardware, but also serves as a shape-changing hub for key ‌iPhone‌ alerts.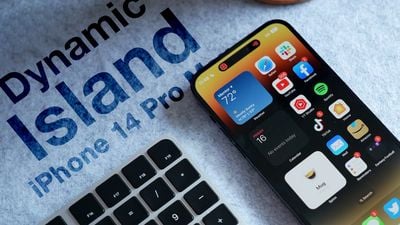 Dynamic Island Design
Prior to the launch of the ‌iPhone 14‌ Pro models, all of the rumors depicted a two cutout design with a pill-shaped cutout and a hole punch cutout, and late in the rumor cycle, we learned that Apple would combine the two into one pill-shaped area.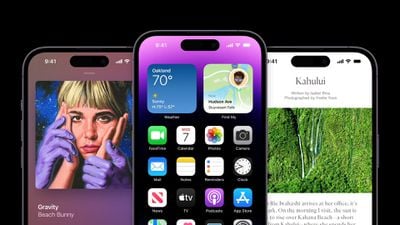 That's exactly what happened, and inside that pill-shaped Dynamic Island on the ‌iPhone 14‌ Pro and Pro Max, there are actually two hidden cutouts for the hardware necessary to make ‌Face ID‌ work. The space between and around the cutouts is interactive and can display content.
While Apple tried to hide the notch away, and other smartphone manufacturers have minimized cameras as much as possible with small hole punches, the Dynamic Island embraces the need for a camera cutout on the display, cleverly incorporating it into iOS in a way that both blends it into the interface while also putting it front and center.
The Dynamic Island is able to display content that's running in the background, such as timers and music controls, plus it shows interactions like ‌Face ID‌ unlocking, Apple Pay payments, incoming phone calls, and more. It is interactive, so you can tap into it to expand it.
Dynamic Island Shape Shifting
Apple designed the Dynamic Island to change in size and shape depending on what's being displayed. At rest, the Dynamic Island is a small rounded black area on the display that's smaller than the notch, taking up less space than before.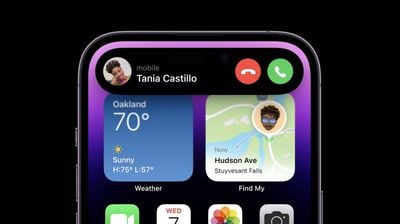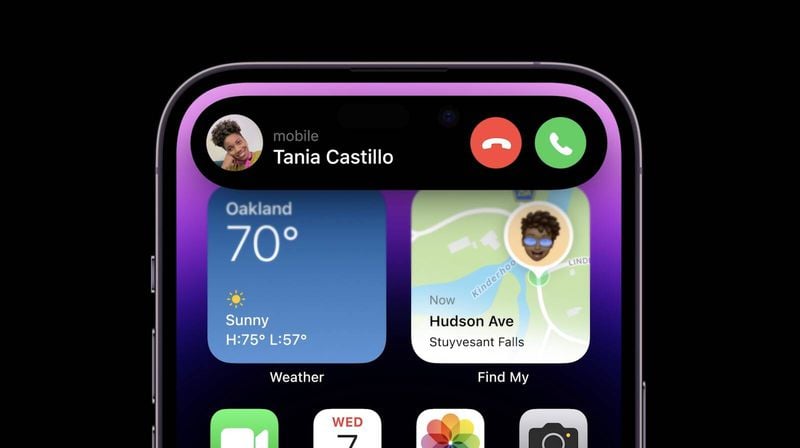 In use, it can elongate in either direction, and it can expand to take up the entire width of the display if needed.


When making an ‌Apple Pay‌ payment, for example, the Dynamic Island morphs into a square shape to match the ‌Face ID‌ confirmation, and while on a call, it expands into a large rectangle so you can quickly access phone controls.
Dynamic Island Functions
The Dynamic Island is able to display both active and background tasks. When you unlock your ‌iPhone‌, for example, you'll see the unlock icon in the Dynamic Island, or when you connect AirPods, you can see the connection status. Dynamic Island capabilities are listed below.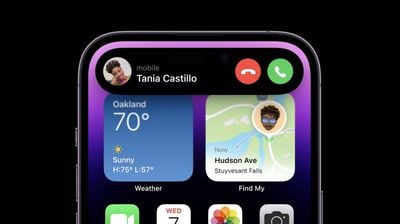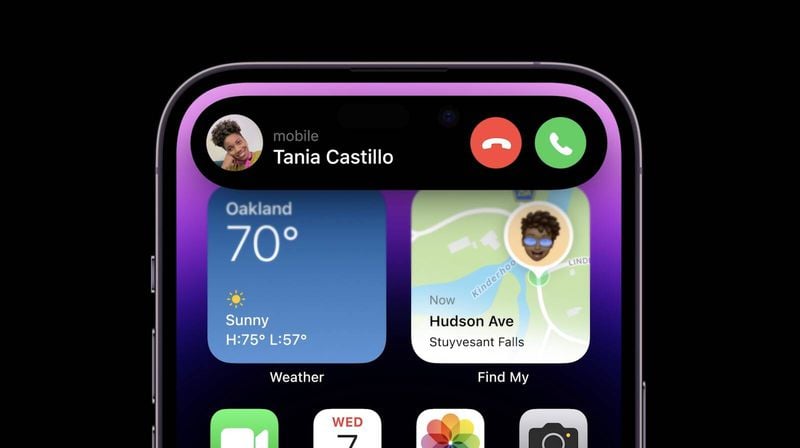 Dynamic Island: Display Outputs and Alerts
‌Apple Pay‌ transaction confirmations
Privacy indicators when microphone or camera is in use
AirDrop file transfers
AirPods connection status and battery life
‌iPhone‌ charging status and battery life
Low battery alerts
Silent mode turned on or off
‌Face ID‌ unlocking
Carkey locking/unlocking
Apple Watch unlocking
NFC interactions
AirPlay connections
Focus mode changes
Shortcut actions
Airplane mode/no data alerts
SIM card alerts
Accessories connect
Find My alerts
Shortcuts
Dynamic Island: Background Activities
Upcoming and turn-by-turn Maps directions
Incoming phone call and duration of call
Time remaining of playing song
Active timers
Live Activity sports scores
SharePlay sessions
Screen Recording
Voice memo recordings
Personal Hotspot connection
Interactions
When the Dynamic Island is displaying an app that's running in the background, such as a timer, phone call, or now playing widget for music, you can interact with it.
Tap the Dynamic Island to launch the app that's in the Dynamic Island, or long press to activate a widget that has quick access control options.
Split Island
Since the TrueDepth camera system is actually housed in two separate cutouts that are merged through software, the Dynamic Island can do a neat trick where it separates into a small pill on the left and a circle on the right, both of which are able to display different information at the same time, such as music controls and a timer.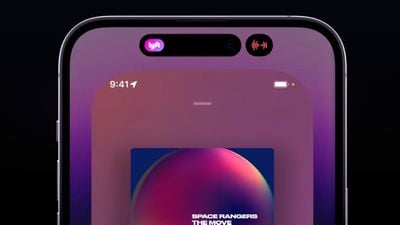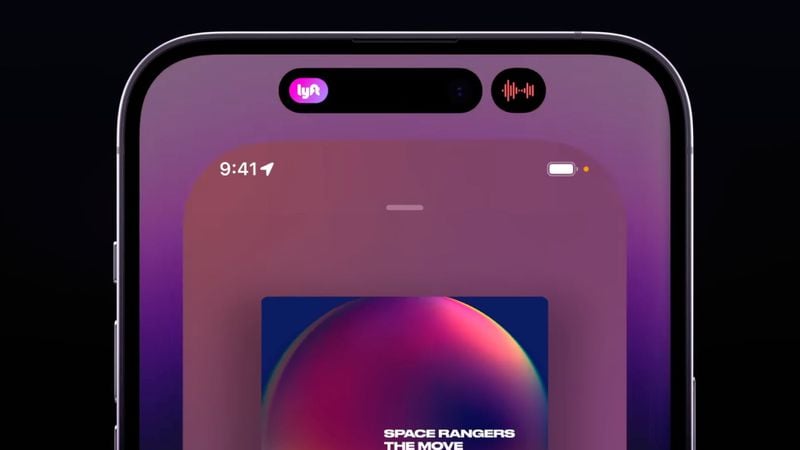 The Dynamic Island can display up to two background activities at once. You can interact with both apps, opening them up and swapping their location on the Dynamic Island.
Live Activities
The iOS 16 Live Activities feature (currently in beta) works with the Dynamic Island, so you can track live content from the ‌iPhone‌'s Home Screen. You can watch as an Uber drive approaches, get live sports scores on a game you're following, and more.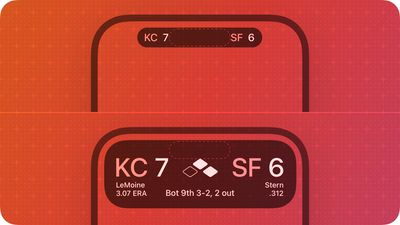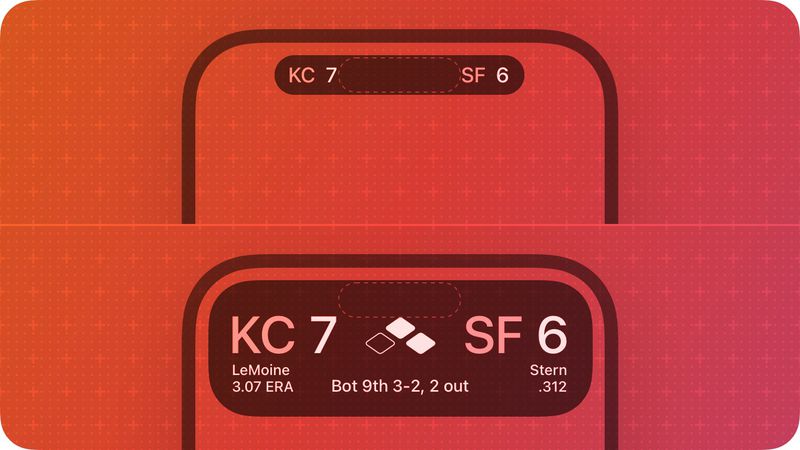 Up to two Live Activities can be tracked using the Dynamic Island at the same time.
Third-Party Apps
Third-party app developers can take advantage of the Dynamic Island, showing content in the area using an Apple-provided API. Some developers have created games and other fun Dynamic Island additions, and some apps like Spotify and YouTube show up in the Dynamic Island automatically when you play content.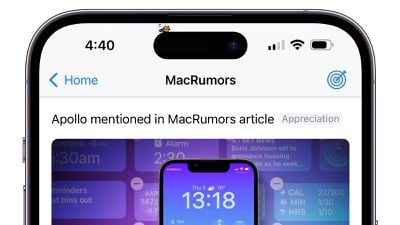 Devices With Dynamic Island
The Dynamic Island is available on the ‌iPhone 14‌ Pro and ‌iPhone 14‌ Pro Max. Standard ‌iPhone 14‌ models use a notch.