iWatch Rumors
Apple to introduce first wearable device September 9.
By MacRumors Staff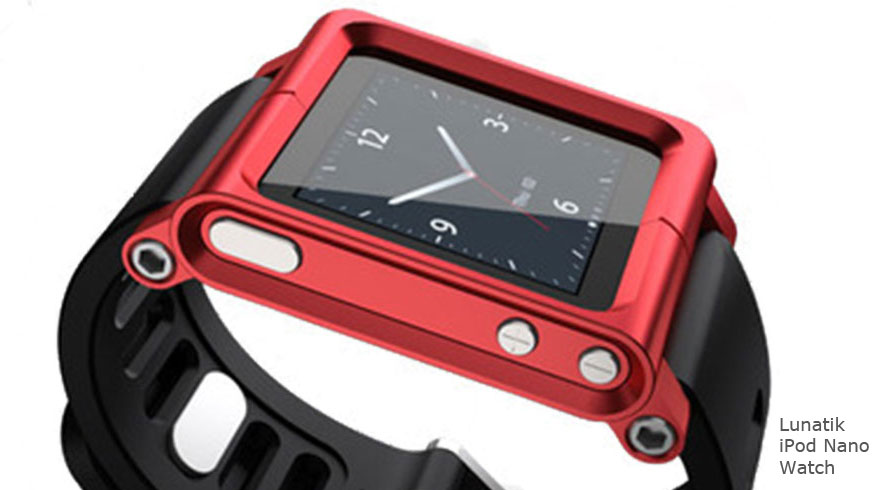 At a Glance
Apple's "iWatch" is a smart watch project that Apple is reportedly being introduced alongside the iPhone 6 at a September 9 media event. Expect a 'fashionable' device running iOS with biometrics and other features providing integration with other iOS devices.
Specs
Rumored sizes from 1.3 to 2.5"
"Full" iOS
Biometrics and other sensors
4-5 day battery life targeted
September 9, 2014 unveiling
---
Apple Watch Announced!: See details in our Live Coverage on MacRumors.com.
---
What We Expect

Apple has been rumored to be working on its "iWatch" smart watch since late 2012, but the company has begun accelerating work on the project as it tries to expand its family of mobile devices to the wrist. Apple has already started work on trademarking the name in a number of countries in preparation for an introduction reportedly taking place September 9 alongside the iPhone 6. Apple has confirmed the event date, but not whether the iWatch will be introduced at that time.
Because we don't yet know what an Apple iWatch will look like, the photos we've included in the roundup are either mockups or existing non-Apple products. For example, the red watch at the top of the page is the Lunatik iPod nano watch.
Recent reports from reputable sources like Reuters and The Wall Street Journal have pointed towards multiple screen sizes for the iWatch, in sizes up to 2.5 inches diagonally, a which is the size of the current-generation iPod nano. The iWatch face, said to be slightly rectangular, may protrude slightly from a band to create an arch shape on the wrist.
Along with multiple sizes, the iWatch may be available at several different price points, suggesting an array of different band and face options in various materials to position it as a fashion accessory. Apple executives are said to be mulling a price point around $400, with a range of higher and lower prices available.
Though we don't know exactly what the iWatch will look like, it is rumored to have a curved, flexible OLED display. The display panel will be protected with durable sapphire crystal, produced in collaboration with Apple partner GT Advanced. Apple and GT Advanced inked a deal that will see the latter producing large quantities of sapphire crystal for use in various Apple products.
While the iWatch will perform some tasks independently, it will likely be dependent on a compatible iOS device for functions like receiving messages, voice calls, and notifications. It is also expected to feature wireless charging capabilities and NFC integration.
Along with serving as a companion device to the iPhone and iPad, the iWatch will be able to measure multiple health-related metrics like steps taken, calories burned, sleep quality, heart rate, and more. The iWatch is said to include 10 different sensors to track health and fitness, providing an overall picture of health and making the health-tracking experience more accessible to the general public.
Apple has reportedly designed iOS 8 with the iWatch in mind, and the two are said to be heavily reliant on one another. The iWatch will likely take advantage of the "Health" app introduced with iOS 8, which may display all of the health-related information gathered by the watch.
Apple's iWatch is said to run third-party apps, with key developer partners already working on content for the device. Allowing developers time to create third-party apps for the device may also be a reason why Apple is planning to unveil it months before it is ready for launch.
Currently, Apple is gearing up to begin mass production on the iWatch, and has been testing the device's fitness capabilities with professional athletes such as Kobe Bryant, who will likely go on to promote the iWatch following its release.
In More Detail
Rumors of Apple working on a smart watch first surfaced in a December 2012 report claiming that the company was working with Intel on a Bluetooth-enabled watch carrying a 1.5-inch OLED display. According to the report, the device was originally scheduled to launch in the first half of 2013.
The rumor mill remained quiet for a number of weeks following that report, but by early February 2013 reports began surfacing in the mainstream media and other publications claiming details on Apple's smart watch project. The flurry was led by a report from The New York Times claiming that Apple was working on a smart watch device running iOS and taking advantage of curved glass materials.

Reports of a curved glass smart watch had included speculation that Apple could be using Corning's new Willow Glass as a material given its flexible nature and Apple's existing partnership with Corning for the high-strength Gorilla Glass used on Apple's mobile devices, but Corning president James Clappin indicated that the material had only just begun hitting the market and that it would take at least three years for complex components such as flexible displays using Willow Glass to reach the market.
Former Nike creative director Scott Wilson also revealed that he had sent Apple design chief Jonathan Ive a "ton" of Nike watches back in the mid-2000s, with Apple's staff following up with a number of questions about materials and processes related to the device, suggesting that Apple was indeed looking into the possibility of its own watch project at that time.
iWatch rumors have continued throughout 2013 and 2014 and in April, analyst Ming-Chi Kuo released a number of predictions for the device, pointing towards a late 2014 release date. According to Kuo, the watch will integrate with iOS devices, allowing users to receive notifications and access basic functions. He also supports the rumor that it will include a multitude of biometric sensors, coupled in a system-in-a-package design.
Apple's iWatch will offer a "fashionable design" according to Kuo, and could be available in multiple materials at different price points and in multiple sizes. Apple has been inviting top fashion editors and bloggers to its September event for the first time, further pointing towards the company's desire to position its wearable as a fashion accessory.
June rumors from Reuters and The Wall Street Journal have also pointed towards wireless charging, a multitude of sensors, and multiple sizes for the iWatch, with the former suggesting a screen size of 2.5-inches, much larger than previous rumors, which indicated a size of 1.3 to 1.7 inches. A rumor from the Asian supply chain has also pointed towards smaller sizes, with one model at 1.6 inches and two models at 1.8 inches. Due to the discrepancy between rumors, it is unclear what display sizes the iWatch will adopt in addition to the 2.5-inch version.
Building the iWatch Team
The first NYTimes report on the iWatch was quickly followed by a Bloomberg article revealing that Apple had a team of approximately 100 product designers working on the project. The size of the team, which was said to be at least partially under the leadership of senior director of engineering James Foster, suggested that the project was moving beyond the experimental phase.
In mid-April, it was reported that former Adobe executive Kevin Lynch, who had joined Apple as a vice president of Technologies the previous month, was heading up a team of engineers with experience on Apple's iPod projects, suggesting that the division may be involved with Apple's smart watch project.
Features under consideration include letting users make calls, see the identity of incoming callers and check map coordinates .... It would also house a pedometer for counting steps and sensors for monitoring health-related data, such as heart rates...

Peter Burrows & Olga Kharif - Bloomberg
Apple then hired Paul Deneve, former CEO of French luxury label Yves Saint Laurent, to work on "special projects", with many speculating that his fashion background would make him a natural fit to work on wearables such as the iWatch. Financial Times followed that with its own report indicating that Apple has begun another round of hiring for the project, looking at acquiring smaller firms and moving to retain key employees already on the project.
Apple's hiring efforts were also detailed in a report from 9to5Mac, revealing how Apple pursued employees at a number of companies involved in biometrics and health sensors while noting that the wide-ranging iWatch team is indeed being headed by Senior Vice President of Technologies Bob Mansfield, Kevin Lynch, and James Foster, with other teams contributing as needed.
During the last few months of 2013, Apple hired two new sensor experts, who may be working on the iWatch. Nancy Dougherty, formerly at Sano Intelligence, worked on designing a device to measure blood chemistry through microneedles. Ravi Narasimhan, Apple's second hire, formerly worked at biosensor technology firm Vital Connect, where he served as a vice president of research and development, responsible for "biosensor technology and algorithms for remote physiological monitoring with wearable medical devices."
Apple has also hired Michael O'Reilly, M.D., the former Chief Medical Officer and EVP of Medical Affairs at Masimo Corporation, a company that specialized in pulse oximetry, and it has hired Roy J.E.M Raymann, a sleep expert from Philips Research. Before joining Apple, Raymann headed up several sleep-related research products studying sleep and activity monitoring.
Marcelo Lamego, former chief technology officer of Cercacor, has also joined Apple to work on biometrics. At Cercacor, Lamego worked on sensor-based medical technologies like those used in the Pronto-7, a non-invasive, portable device that measures hemoglobin, oxygen saturation, pulse rate, and more.
In June, Apple hired Patrick Pruniaux, former sales director for luxury watch brand TAG Heuer. It is unclear what role Pruniaux will take on, but it is likely he will assist with marketing Apple's new device. June also saw the hiring of two new engineers from Nike's former FuelBand hardware division.
Apple may also be seeking FDA approval for the iWatch, and has met with the FDA several times over the course of the last year for guidance on health-related mobile apps and assuring that the technology industry and health regulators are on the same page.

'Slap Bracelet' Patent
In late February 2013, an Apple patent application surfaced revealing a new "bracelet" accessory with a wraparound display covering the entire outer surface of the device. While the word "watch" was not used anywhere in the filing, the idea of the "wearable video device" as a smart watch lent credibility to claims of Apple's interest in the area. A second patent for a wrist worn smart wristband called the "iTime" surfaced in July of 2014.
Features and Battery Life
In early March, another flurry of reports about Apple's iWatch plans arrived, with Bloomberg claiming that the device could include biosensors and mapping features and launch "as soon as" 2013. The Verge followed up with its own report claiming that the iWatch was indeed planned to run a "full" version of iOS rather than a simpler operating system such as that seen on the iPod nano.
In June, Apple launched iOS 8, which includes a health and fitness tracking app called "Health." Rumors have suggested that the iWatch will integrate with this new Health app, allowing it to collect data from the iWatch's sensors.
As work on the iWatch continues, Apple is placing a significant amount of focus on expanding Siri's ability to interface with third-party apps to improve the number of tasks executable via voice command. It is possible that the iWatch will rely heavily on voice-based input via Siri due to the limitations of its size.
With only days until Apple reveals its wearable device, rumors and leaks about the wearable are ramping up. According to The Wall Street Journal, the iWatch will be available in two sizes with a curved OLED display and support for NFC, which will also be added to the iPhone. With NFC support, users will presumably be able to make payments using the device.
According to The New York Times, the iWatch will take advantage of HealthKit, a set of APIs Apple introduced alongside iOS 8 that will integrate into existing health devices and apps, reporting data to a central location. It's also going to rely on Handoff, a Continuity feature that lets users seamlessly transition tasks from one iOS or Mac device to another.
Trademark Applications
Public evidence of Apple filing for "iWatch" trademarks began to surface in June, first in Russia and later in Japan and a number of other countries. Apple's initial filing was apparently made in Jamaica in December 2012, but in early June the company began making much broader efforts to protect the name, although it will face competition from existing marks in a number of major countries including the United States.
While Apple filed for its own trademarks under its own name in a number of major countries, it may have used a shell company called Brightflash USA LLC to file for "iWatch" trademarks in other countries like the United States, Australia, United Kingdom, Denmark, Macau, and several dozen other countries around the world.
In recent months, Apple has also extended its "Apple" trademark to cover jewelry and watches in countries like Ecuador, Mexico, Norway, and the United Kingdom.
Production Issues
Apple is reportedly working to overcome several issues with its iWatch development, which has hit snags in battery life, display technology, and manufacturing technique.
According to a report from The Information, battery issues caused Apple to consider a new screen technology for the iWatch in late 2013, though it is unclear whether Apple has indeed made a switch from OLED, the technology largely favored for the display in rumors throughout 2013. Early reports indicated that prototypes of the iWatch were seeing just one to two days of battery life, with Apple hoping to increase that duration to at least four or five days.
Apple employees have reportedly "set low expectations" for the iWatch's battery, suggesting Apple may not have hit its battery goals. The company is, however, said to be working on wireless charging capabilities, which will may make frequent charging an easier task.
A report from The New York Times has indicated Apple is experimenting with a number of charging methods for the iWatch, including wireless induction charging, potentially allowing users to recharge their watches wirelessly. Wireless charging has also been suggested by KGI securities analyst Ming-Chi Kuo and several other reports coming out of the Asian supply chain. A follow up report from The New York Times suggests Apple has indeed settled on wireless charging for the device, but the specifics remain unknown.
Along with wireless charging, Apple may incorporate LG's "stepped" batteries into the iWatch. Designed with a slight ridge, the technology increases a battery's capacity by 16 percent over a standard battery. Stepped batteries can be made in a variety of shapes and such a design could help Apple eke out extra longevity in the iWatch.
Early iWatch production is said to be seeing low yields, primarily due to the surface finish treatments for the body of the device. Apple is reportedly using metal injection molding methods for the iWatch, with the surface treatments being used to improve the look of the device.
Apple partner LG, said to be making the majority of the displays for the iWatch, reportedly continues to struggle with the power draw of the display. Apple is aiming for nearly zero energy use in standby mode, which LG has had difficulty achieving. This has allegedly resulted in a delayed release date for the device, but it is possible LG has overcome its issues as the iWatch is said to be entering mass production soon.
Apple is also said to be experiencing issues producing the sapphire crystal screen covers for the devices, with one analyst suggesting that only half of iWatches will ship with sapphire, while the other will have protective Gorilla Glass covers.
Concept Images
There have been no hints on what form factor Apple's iWatch might take on, but that hasn't stopped people from speculating. Several different iWatch concept images have surfaced, mimicking the design of existing products or adopting futuristic curved displays.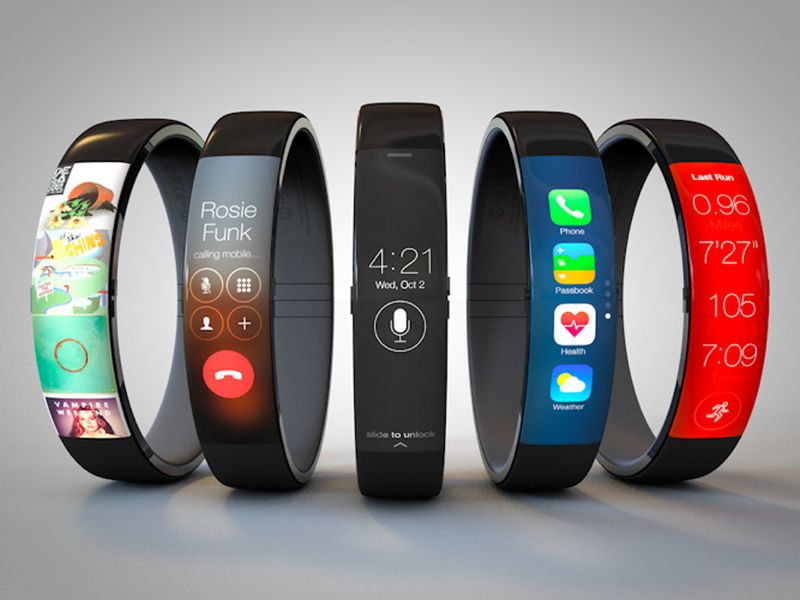 iWatch concept by Todd Hamilton, based on the Nike Fuelband

Screen-centric iWatch concept by DesignerEI

iWatch as a life style device concept by Tomas Moyano.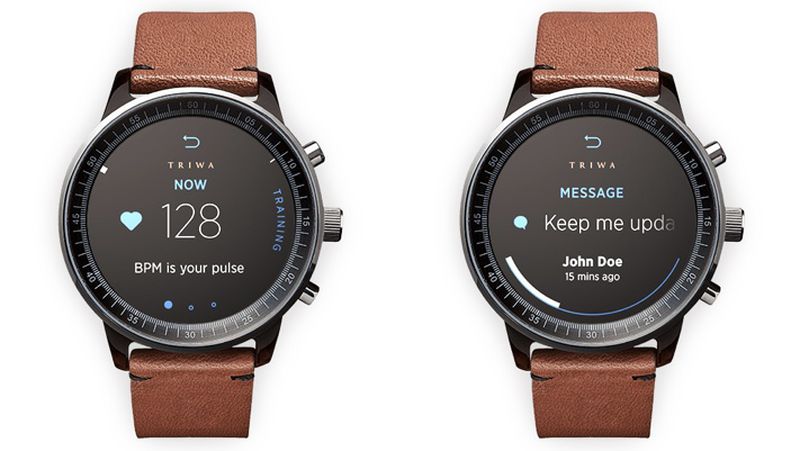 Traditional watch-style iWatch concept by Gábor Balogh.
2.5-inch iWatch concept from SET Solution with curved, rectangular display
Release Date
Rumors have widely varied on a prospective launch date for the iWatch, but have solidified around a late 2014 debut or early 2015 debut. While Re/code and Nikkei, two reliable sources, initially suggested Apple was aiming to introduce the iWatch in October, Re/code now says Apple's plans have changed and the company intends to unveil the iWatch at a September 9 media event alongside the iPhone 6. Apple may still hold an October media event, but that could be focused on new Macs and revamped iPads with Touch ID.
Rumors have disagreed on when the iWatch will enter production, with Reuters claiming production will begin in July while analyst Ming-Chi Kuo points towards November. Kuo also believes that initial iWatch shipments will be limited due to continued issues with the sapphire display of the devices.
A November production date would mean Apple plans to preview the iWatch at its September event, shipping it to consumers several months later as it did with the Mac Pro, while a July production date would mean the iWatch could begin shipping as early as this fall. An updated report from Ming-Chi Kuo, supply chain rumors, and reports from Re/code, The Wall Street Journal, and The New York Times have all suggested the iWatch may not make its way to store shelves until 2015, indicating an unveiling may indeed come before the device is ready to ship.
iWatch Rumors Timeline