iPhone 6 Sapphire Display Limited to 5.5" Model as LG Struggles with iWatch Display Power Draw?
With conflicting opinions about whether Apple and partner GT Advanced Technologies will have enough sapphire crystal production ramped up for both rumored iPhone 6 models and the iWatch, Taiwan's Economic Daily News is now weighing in [Google Translate, via G 4 Games] with its own claims that only the larger 5.5-inch iPhone 6 model will include a sapphire display due to production limitations.
According to the report, the smaller 4.7-inch model will continue to use Corning's Gorilla Glass and represent the bulk of shipments for the new iPhone. From G 4 Games:
The source also claims that the 4.7 inch iPhone 6 will hit the market with Gorilla Glass in tow. The main screen suppliers allegedly are LGD and JDI, and in anticipation of the handset's success, the company expects to ship 60 million units (we assume that by the end of 2014). [...]

As far as the 5.5-inch iPhone 6 goes, it will allegedly be built in limited quantities due to low sapphire yield, leading to a limited supply in 2014, therefore contradicting a recent report which claimed that Apple will have enough sapphire for both iPhone 6 models AND the iWatch.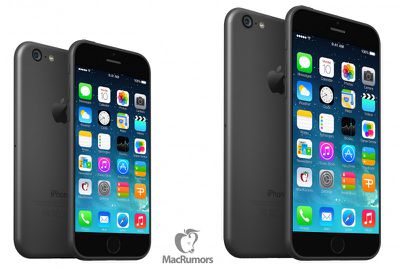 The report also addresses Apple's rumored iWatch, claiming that LG Display has been struggling to meet Apple's demand of nearly zero energy use in standby mode for the device's display. From G 4 Games:
Reportedly, Apple has constantly pushed back the gadget's release date because the device failed, in the past, to meet the company's expectations. One of Apple goals with the iWatch is for the smartwatch's display to draw almost no power when in standby, but this has proven to be a big challenge. And speaking of the display, the device will reportedly feature an OLED screen (between 1.3 and 1.6-inches in size) which will be supplied exclusively by LG Display, just as it's been reported back in January 2014.
Sources for the report reiterate previous claims that Quanta will be handling the bulk of iWatch production, although Inventec will reportedly also be helping out.
According to today's report, the iPhone 6 and the iWatch will be introduced at the end of the third quarter, roughly in line with rumors and Apple's recent iPhone launch history putting this year's introductions in the September-October timeframe.