New Report Tempers iWatch Expectations, Device May Have 'Simpler' Technological Capabilities
Apple's much-rumored iWatch has been depicted as a standalone device able to function as a typical smart watch and monitor everything from glucose to blood pressure, but a new report from Brian Dolan of MobiHealthNews (via NetworkWorld) suggests that the iWatch's actual functionality may be somewhat more simple, with Apple aiming to make the health-tracking experience more accessible to everyone.
In a report that covers existing rumors and predictions for Apple's iWatch, Dolan aggregates known information and adds a few tidbits from his own sources, which he says "have limited but direct knowledge of Apple's plans for the iWatch and Healthbook."
While rumors have indicated the iWatch may be a standalone device able to function without an iPhone, that may not be the case. Poised as a peripheral device, the iWatch may require connectivity to a smartphone for its full functionality.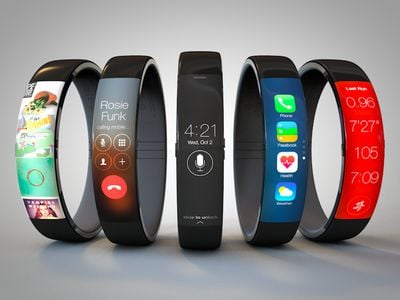 Throughout 2013, Apple made a number of health and sensor related hires for its iWatch, indicating the device could potentially track a wide range of health-related functions with advanced sensors, including glucose sensing and hydration levels.
Actual iWatch functionality may be somewhat more simple, however, as many of the hires are said to be focusing on making basic health-tracking functions more effective. Some of the hires' more exotic expertise, in fields like blood and glucose monitoring, may not make it into the iWatch.
A source tells us that the team Apple has assembled is intended to ensure that the health sensing capabilities of the device are efficacious. Some fitness tracking devices available today primarily give users feedback in the form of an arbitrary points system — like Nike Fuel. Apple will likely not do this, but instead focus on real metrics like calories. Having a team with such advanced pedigrees will help ensure Apple's device is accurate. Don't expect glucose sensing though.
Today's report confirms the existence of the Healthbook concept that was detailed in late January, but could not verify the app's rumored name. The app is said to serve as a repository for all health and fitness information and could integrate not only with the iWatch, but other health-tracking apps and devices on the market. It focuses on simple concepts like exercise, diet, sleep, stress, and medication adherence.
Apple's overall focus with the iWatch is said to be on the experience rather than the technology. With the iWatch and its accompanying health-related app, Apple aims to make health tracking "a mass market behavior" by increasing its mass market appeal and moving the concept beyond something that interests just "data-obsessed" people.
The report speculates that Apple's recent FDA meeting may have been about keeping the iWatch unregulated, which would inherently limit its ability to collect and analyze medical data and prevent it from collecting data from regulated medical devices, again pointing to a somewhat more simple device than previous rumors have suggested.
Information on the iWatch remains sketchy, but we may begin to get a clearer picture as we creep nearer to a release date. It is unknown when Apple plans to launch the iWatch, but in the fall alongside iOS 8 is a strong possibility.
Though Brian Dolan does not have an established track record for reporting rumors, he was the first to report on Apple's hiring of former Masimo Chief Medical Officer Michael O'Reilly.