Apple to Unveil Wearable Device on September 9 Alongside iPhone 6
Apple has plans to unveil its upcoming wearable device in September, alongside the iPhone 6, reports Re/code. The site previously suggested Apple had planned to debut the device at an October event, but now says that Apple's plans have changed.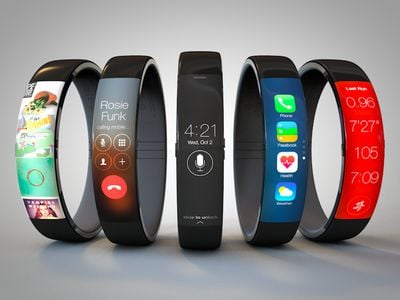 iWatch concept by Todd Hamilton, based on the Nike Fuelband
Remember back in June when I said Apple hoped to schedule a special event in October to show off a new wearable device? Remember how I also said this: "Could things change between now and fall? That's certainly possible." Turns out that was a prescient hedge, because things have changed. Apple now plans to unveil a new wearable alongside the two next-generation iPhones we told you the company will debut on September 9th.
According to Re/code, the device will "make good use" of both HealthKit and HomeKit, two sets of APIs that were introduced during WWDC. HealthKit, which ties into Apple's iOS 8 Health app, focuses on health and fitness, while HomeKit is a home automation platform designed to allow users to control a variety connected devices.
Though Apple has plans to introduce a wearable device in September, there is no word on when the device might ship. Given a lack of part leaks and rumors pointing towards a late 2014 or early 2015 launch, it is likely the device will be shown several months before it will be available to consumers.
Apple's upcoming wearable device has been frequently referred to as the iWatch by both MacRumors and other rumor sites, but it remains unclear what Apple will call the device at launch. It is expected to be a wrist worn device, however, and rumors have suggested that it will come in multiple sizes with several different designs available at multiple price points.
It is also expected to incorporate an array of different health and fitness sensors to measure various health-related metrics like steps taken, sleep quality, heart rate, and more.