Live Coverage of Apple's September 2014 iPhone and iWatch Event [Event Over]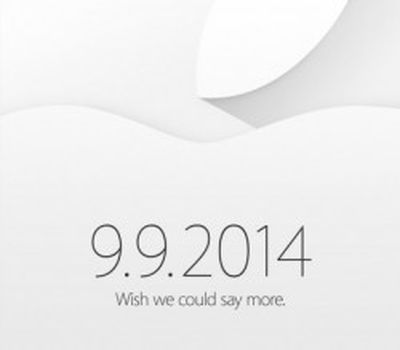 Apple's highly anticipated September media event is being held today at the Flint Center for the Performing Arts in Cupertino, the site of the unveiling of the original Macintosh and iMac.
The event begins at 10:00 AM Pacific Time / 1:00 PM Eastern Time, and Apple is expected to unveil several new products including the iPhone 6 and an "iWatch" wearable device.
Apple will be providing a live video stream on its website for Mac and iOS users and via Apple TV, and the company is also sharing some photos and live blog updates on its event page.
Live Video Stream of Apple's September 2014 iPhone 6 and iWatch Media Event
In addition, we will be updating this article with summary coverage and issuing Twitter updates through our @MacRumorsLive account as the event unfolds. Separate news stories regarding the event announcements will go out through our @MacRumors account.
Apple's online stores around the world are currently down in advance of the event.
Archive of Live Updates in Reverse Chronological Order

12:01 pm: The keynote is concluded.
12:01 pm: Thank you everyone for coming, it's been a privilege to see you this morning."
12:00 pm: "We have the most amazing hands on experience, far beyond what we've ever had, waiting for you. I hope you take the time to go in and get your hands on the new iPhones and the Apple Watch and try out Apple Pay. We promise not to use your credit card.
12:00 pm: "You are the reason we're able to do this."
12:00 pm: Craig Federighi for building iOS 8. Eddy Cue for driving Apple Pay. And Everyone at Apple.
12:00 pm: Calling out Jony Ive for his contributions to the Apple Watch, and Jeff Williams for running the engineering team.
11:59 am: Asking Apple employees involved in the development of the products to stand up.
11:59 am: "You've just witnessed the biggest album release in the history of music and it's going to sound absolutely fantastic on your iPhone 6"
11:57 am: Apple and U2 previewing new ad touting the free album on iTunes.
11:57 am: "I'd really like to thank the band."
11:56 am: Every iTunes customer in 119 countries, available in your iTunes music library, iTunes Radio and Beats Music, exclusive through October 13.
11:56 am: That's a half a billion customers. And it makes music history. It's the largest album release of all time!
11:55 am: "Just to make sure that we're all clear, every iTunes customer gets this album for free."
11:55 am: Offering the album free on iTunes, starting... right now.
11:54 am: Bono and Tim Cook are "negotiating" about offering U2's newest album for free on iTunes.
11:53 am: Could you get this to iTunes users?
11:52 am: New Bono album is called "Songs of Innocence". How do we get our album to as many people as possible?
11:52 am: Bono just called Tim Cook a "zen master of hardware and software"
11:51 am: "Frickin'"
11:51 am: Tim: "You guys are friction' great!"
11:50 am: Bono and the rest of U2 is on stage performing.
11:46 am: U2 has agreed to perform for you today. We could not be more excited about this. Among the most respected artists in the world. Among the best selling. Won more Grammy awards than any band in history.

11:45 am: U2 coming on stage
11:45 am: Techs are wheeling out equipment on stage.
11:45 am: We celebrate our love for music with the iTunes Festival.
11:44 am: iTunes is the center of that experience.
11:44 am: Our love for music.
11:44 am: One other thing I'd like to talk about...
11:44 am: Will redefine what people expect from a watch.

11:43 am: Everything is built into Apple Watch.
11:43 am: Apple Pay works with Apple Watch!
11:42 am: The iPhone 6 and 6 Plus, best iPhones we've ever made. Amazing larger displays, but better in every way. Biggest advancement in history of iPhone.
11:42 am: It's been an incredibly fun morning for us.
11:42 am: We are so excited about Apple Watch and I hope you are as well.
11:42 am: Empowers people and enriches their lives. Apple Watch is the most personal device Apple has ever created.
11:42 am: People are going to love to use Apple Watch. Going to love to wear it. Something functional, yet incredibly beautiful.

11:41 am: Available in early 2015. "Is worth the wait."
11:41 am: Apple Watch starts at $349.
11:41 am: Designed so its simple to charge at night. We're using inductive charging, has a magnet that aligns perfectly to the back of the watch. So simple and elegant. Something only Apple could do.
11:41 am: 200 million people already can use Apple Watch. We expect usage of Apple Watch through the day to be incredible. So many things you can do with it.

11:40 am: Works with iPhone 6 and 6 Plus, also works with 5s, 5c and 5.
11:40 am: Requires the iPhone because it's been designed to seamlessly work together with Handoff. Might read an email on your watch and then respond to it on the iPhone.
11:40 am: Apple Watch has been curated into three collections. Apple Watch, Sport and Edition.
11:40 am: That list will get even longer.
11:39 am: I use mine to control my Apple TV. Another member uses theirs as a viewfinder for the iPhone camera. Walkie talkie ability. List of features is a mile long.
11:39 am: "It's a precise timepiece with an incredible ability to customize. New way to communicate directly from your wrist. Comprehensive health and fitness device. So much more."
11:39 am: Tim: "We could not be more excited about bringing these health features to the Apple watch."
11:38 am: We think ti's gonna help a lot of people live a better life
11:38 am: Can suggest goals that are personal, realistic and achievable.
11:38 am: Over time, Apple Watch gets to know you the way a good personal trainer would. Intelligent reminders to keep you motivated and on track.
11:38 am: Stores workout data and shows history. Shares data with iPhone's Health app.
11:37 am: Set a goal based on how long you want to work out.
11:37 am: Dedicated workout app: provide more detailed measurement when you need it most.

11:37 am: Stand ring shows how often you stand to take a break from sitting. This may seem like a small thing but sitting less can improve your health.
11:36 am: Exercise ring captures brisk activity that you've done. Any activity done at the activity of a brisk walk or above. Close the ring when you hit the globally recommended 30 minutes of exercise per day.
11:36 am: Move ring measures calories burned. Best overview of how active you are. Move ring is customized to you.
11:36 am: Measures 3 aspects of movement: Goal to sit less, move more and get some exercise.
11:36 am: Wanted to give complete picture of all day activity.
11:35 am: Can track a wide variety of activities through a number of sensors. Custom sensor to track heart rate and intensity. GPS and Wi-FI in iPhone to track how far you've moved.
11:35 am: Apple Watch is designed to help you lead a more active life.
11:35 am: We've built an incredible team in health and fitness to work on Apple Watch. They're going to show you how all of this comes together to give you a comprehensive view of your daily activity. Video:
11:34 am: Fitness app monitors activity and movement, workout app that sets goals for specific types of workouts like cycling and running.
11:33 am: Apple builds great products that enrich people's lives. Arguably we can take that to a whole new level with Apple watch. Being more active is one of the best things you can do to improve your health. Apple Watch gives us the ability to motivate people to be more active and more healthy."
11:33 am: "Very important area for me, and very important area for Apple."
11:33 am: Health and Fitness:
11:33 am: "Amazing what you can do from your wrist."
11:33 am: Lynch leaves the stage to applause, Cook back on stage.
11:32 am: MLB, Honeywell, Lutron, Nike.
11:32 am: BMW shows charge level of your electric car. Shows map to where the car is.
11:32 am: City Mapper gets mass transit directions, including reminders to get off at the right stop.
11:31 am: American Airlines created app that allows check in on the watch. Starwood lets you check in and unlock room door by waving watch in front of the door.

11:31 am: Create apps on the home screen.
11:31 am: Twitter app shows custom notifications.
11:30 am: New API called WatchKit. "Rich actionable notifications, WatchKit apps, and Glances."

11:30 am: Any third party notifications from iPhone apps can appear.
11:30 am: Working to enable third-party developers to extend their apps to Apple Watch. App Store on Watch. "Great opportunity"
11:30 am: "This has been a collaborative effort across Apple."
11:29 am: Can send heartbeat. Not just an emoji, reads heartbeat instantly.
11:29 am: Can draw and send messages instantly.
11:28 am: Rich, live communication. "You tap on screen and they feel vibration."

11:28 am: Digital Touch: Press button below the digital crown. Communicate just by tapping on them. Can phone or send message, or create new form of digital touch communication.

11:27 am: "It's like having this invisible guide with yuo."
11:27 am: Gives tactic feedback ahead of each turn, different haptic feedback for left and right turns.
11:27 am: Shows walking and driving directions.
11:27 am: Can search via dictation, favorites or recent searches.
11:26 am: Pan around on Maps by swiping, rotate crown to zoom in and out.
11:26 am: All photos that favorite on the iPhone or Mac show up on the watch.
11:25 am: Photos app, shows overview of photos. Digital crown zooms in and out. Swipe through photos.
11:24 am: Built Siri into Apple Watch. Press digital crown and speak.

11:24 am: "Send a lot of emotion without interacting much with your watch."
11:24 am: Control eye and mouth to make perfect emoji. Sending animated emoji to view on iPhone or Apple Watch.
11:23 am: Dictation can send audio reply, or translated text, animated emoji created for the Watch.
11:23 am: Quick replies, contextually analyzed to show replies based on message content.
11:23 am: Different buttons will show up depending on the notification
11:22 am: Choose notifications from phone that show up on their wrists. Actionable notifications.
11:21 am: Swipe up from any screen to get to Glances.

11:21 am: Glances: A dashboard-esque brief look at individual apps. Next meeting, location on a map, current weather, NASDAQ, music.
11:20 am: Whole variety of watch faces.
11:20 am: Can show Solar System, showing actual position of the planets.
11:20 am: Can show moon phase in real time.
11:19 am: Showing Astronomy face, shows where you are on the earth, can fly to the moon.

11:19 am: Tap on an app to open it. Watch faces can be customized. Force touch on the display, swipe between watch faces.
11:18 am: Rotating the crown zooms out.
11:18 am: Clock is the center of the universe. You can pan by swiping on the screen.
11:18 am: Connected to digital crown. Press takes to app home screen.
11:18 am: First thing to see is the clock. "Thought a lot when we were designing about who to reveal the whole ecosystem of applications on the device."

11:17 am: Lynch is former CTO from Adobe.
11:17 am: iPhone is required for Apple Watch.
11:17 am: Kevin Lynch, coming on stage to see first live demo.
11:17 am: "We've been working on Apple Watch a long time. Assembled an amazing team to do so. Covered every discipline at Apple. One of the key people is here this morning."
11:16 am: Cook back on stage to massive applause.
11:16 am: We're at a compelling beginning. Designing technology to be worn. To be truly personal.
11:16 am: Apple watch is a whole range of products.
11:15 am: Creating beautiful objects that are as simple and pure as they are functional. That's always been our goal.

11:15 am: Apple Watch Edition: 18K Gold, metallurgists have developed to be twice as hard as standard gold.
11:15 am: Apple Watch Sport: Ion exchanged cover glass, anodized aluminum case that's 60% stronger than standard alloys, incredibly light and durable.

11:14 am: From different cases and straps, three distinct collections. Apple Watch with polished case with stainless steel alloy.
11:14 am: Two different Apple Watch sizes with matching smaller straps.
11:14 am: Stainless steel mesh with magnetic enclosure.
11:14 am: Leather classic buckle references watch vocabulary. Stainless steel has slim deployment clasp.
11:13 am: Leather modern buckle closes with solid metal clasp and wraps symmetrically around the wrist.
11:13 am: Leather loop, soft quilted leather with magnets for adjustment. Designed for optimum comfort.
11:13 am: Personalization extends beyond watch face. Six different watch straps, easily interchangeable. Refinement and precision borne of functionality. Sport band has range of bold colors. Tough durable, sweat and chemical resistant elastomer.
11:12 am: Mickey Mouse watch face!
11:12 am: We've designed a range of watch faces. You can personalize both their appearance and their capability.
11:12 am: Works closely with horological experts to help us understand cultural and historical significance of timekeeping. Profoundly informed our design.

11:11 am: Back crystal includes charging solution, combines MagSafe with inductive charging. No alignment required, no exposed contacts.

11:11 am: Zirconia back, four sapphire lenses. Infrared and visible light LEDs with photo sensors detect pulse rate. Gyroscope and accelerometer, watch provides comprehensive picture of daily activity.
11:10 am: Custom designed chip, S1 processor, integrates many subsystems into one module. Completely encapsulated to protect the electronics.

11:10 am: "Discreet and nuanced experience."
11:10 am: Called Taptic Engine
11:10 am: Designed not only what you see, but what you hear and feel. Haptic feedback.
11:09 am: Recognize difference between a tap and a press. Instant access to whole range of contextually specific controls.
11:09 am: Adding a new dimension to the user interface.
11:09 am: Other input technologies designed specifically for a product this small. Senses touch, and also force.
11:09 am: All apps take advantage of flexible retina display. Laminated, machined and polished with a single crystal of sapphire.
11:08 am: These are subtle ways to communicate that technology inhibits rather than enables.
11:08 am: Pressing the button below the crown instantly shows you friends you can contact. Digital Touch gives new way to connect intimately with others. Send a quick sketch or tap to others. Share something as personal as your own heartbeat.

11:08 am: Messages, Siri. Smart replies and dictation. Glances let you swipe through information efficiently.
11:07 am: Digital crown is also the home button. Showing many different apps.
11:07 am: Navigation is fluid and vital. Magnifying content on a small display is fundamentally important. Whole new interface specific to the challenges of a product this small.
11:07 am: Watch senses that you're raising your wrist and activates the screen.
11:06 am: to embrace individuality and inspire desire

11:06 am: Apple Watch is a completely singular product. You can't determine a boundary between the physical object and the software.
11:06 am: We've designed a range of products so personal, you don't put them on your pocket, you wear it on your wrist.
11:05 am: Apple Watch has an amazing and rich design story. And we've prepared a video of that this morning that Jony Ive narrates. There is no one better to tell the story than Jony.
11:05 am: It's as much about personal technology as it is about style and taste. Seamlessly combines materials and software and technology and we thought not only of the function, but of the way it looked.
11:04 am: If you're in an app as the clock, if you press the crown, it returns to the home screen.

11:04 am: When you have a list, you can scroll and do all of this without blocking the screen.
11:04 am: When you turn the crown, the map zooms in and out.
11:04 am: Infrared LED and photo diodes that translate rotary movement into digital data. Simple and elegant and amazing input and navigation device.

11:04 am: SO we placed extra functionality in a mechanism that's been on the watch for decades. This dial, it's called a crown. On the Apple Watch it's called the digital crown.
11:03 am: Gesture like pinch to zoom... covers the content! obstructs your view, it just doesn't work.
11:03 am: What we didn't do was take the iPhone and shrink the user interface and strap it on your wrist. The display is too small, it would be a terrible customer experience.
11:02 am: Apple Watch required the same attention.
11:02 am: With every revolutionary product that Apple has created, a breakthrough in user interface was required. With Mac, we introduced the mouse to make navigation so simple on a personal computer. Clickwheel on the iPod. Multitouch on the iPhone.
11:02 am: One of those is the user interface.
11:02 am: Took very deep thinking and out of this came some truly remarkable innovations.
11:01 am: Communicate directly from your wrist. Works seamlessly with iPhone. Comprehensive health and fitness companion.

11:01 am: Incredibly customizable. You can find one that reflects your personal style and taste. An intimate way to connect and communicate.
11:01 am: Accurate to +/- 50 milliseconds
11:01 am: "This is the most personal device we've ever created. We've set out to make the best watch in the world. One that is precise. It's syncronized with a universal time standard."
11:00 am: Named Apple Watch. (With Apple logo, then Watch)
11:00 am: Tim Cook now wearing a white watch.
11:00 am: Standing ovation from the audience.

11:00 am: Apple Watch. Many designs for the face and the bands.
10:59 am: multiple sensors on the rear of the device.

10:59 am: Stainless steel, sapphire coated display. Lots of different bands to choose from.
10:59 am: Stunning design. Looks like a traditional watch with a crown on the side, interchangeable bands.
10:58 am: A watch!
10:58 am: Showing earth from space.
10:58 am: Here it is. Video running.
10:58 am: "I am so excited and so proud to share it with you this morning. It is the next chapter in Apple's story."
10:57 am: We've been working incredibly hard for a long time on an entirely new product. And we believe this product will redefine what people expect from its category."
10:57 am: "We love to make great products that really enrich people's lives. We love to integrate hardware, software and services seamlessly. We love to make technology more personal."

10:56 am: "We have one more thing."
10:56 am: "We've really gone through enough to call it a day. But we're not quite finished yet."
10:56 am: "Apple Pay will forever change the way all of us buy things."
10:56 am: Tim Cook coming back on stage.
10:56 am: Launching in US starting next month. Available as free update to iOS 8. Working hard to bring Apple Pay to more countries.
10:55 am: New Apple Pay API coming.
10:55 am: Sephora, Starbucks, Panara Bread, Starbucks.
10:55 am: Groupon adding ApplePay to their app. Uber. MLB.com At Bat, Apple Online Store, OpenTable.

10:54 am: With Apple Pay, you can check out with a touch.
10:54 am: Target integrating Pay into their shopping app.
10:53 am: one-touch checkout for commerce, no card entry, no typing addresses, no card info shared with merchant.

10:53 am: "What about online?"
10:53 am: And Disney, including Disneyworld.
10:53 am: Whole Foods, Apple Retail.
10:52 am: Citi, Bank of America, Capital One, Wells Fargo, Chase many more banks. 83% of credit cards purchase. Works with 220,000 us merchants. Walgreens, Duane Reade, Macy's, Bloomingdales, Staples, Subway, McDonalds (including Drive Through).
10:51 am: Pay starts in US with Amex, Mastercard and Visa. Credit cards and debit cards.
10:51 am: Cashier doesn't see your name, credit number or security code.
10:51 am: When you go to a physical location, Apple doesn't know what you bought, where you bought it, or how much you paid. Transaction is between you, the merchant and your bank.
10:51 am: Security is at the core of Apple Pay. So is Privacy.

10:50 am: If iPhone is lost or stolen, Find My iPhone can suspend all payments. Since card number is never stored on the device, no need to cancel credit card.
10:50 am: Card number is never stored nor shared. Stored in Secure Element. Uses one-time number and dynamic security code.
10:50 am: Hundreds of millions of credit cards and debit cards. Easy to add new card or use card from iTunes. Use iSight camera to take picture of physical credit card.

10:49 am: Shows all credit cards in Passbook.
10:49 am: Touch ID plus Secure Element chip. Stores all payment information encrypted and securely.
10:49 am: Apple Pay is built into every iPhone 6 and 6 Plus. NFC antenna built across the top.
10:48 am: Eddy Cue coming on stage to discuss Pay.
10:48 am: "It is so cool!"
10:48 am: Apple Pay used by holding thumb on Touch ID button.

10:48 am: Shows video, multi-step process replaced by holding phone to a sensor. "That's it!"
10:47 am: This is exactly what Apple does best. We've created an entirely new payment process, and we called it Apple Pay.
10:47 am: Most people that have worked on this have started by focusing on creating a business model centered around their self interest instead of focusing on the user experience.
10:46 am: So easy to lose your card or have it compromised. No wonder that people have dreamed of replacing these for years.
10:46 am: Totally reliant on the exposed numbers and outdated and vulnerable magnetic stripe interface.
10:46 am: This whole process is based on this little piece of plastic.
10:45 am: Showing a video of the "traditional" credit card payment process.
10:45 am: Fairly antiquated payment process.

10:45 am: 200 million daily US transactions.
10:44 am: Payments is a huge business.
10:44 am: "We spend $12 billion in credit and debit transactions per day in the US"
10:44 am: "Now I'd like to talk about an entirely new category of service, and it's all about the wallet."
10:44 am: Show's ad with acapella group singing the 2001 theme. Justin Timberlake and Jimmy Fallon!

10:42 am: Launching "fun new ads."
10:42 am: Tim is back on stage: "A great product isn't just a great collection of features. it's how it all works together. How it makes you feel."

10:41 am: iOS 8 launches September 17.
10:41 am: 115 countries by end of the year.
10:41 am: US and 8 other countries. Preorder starting September 12.
10:40 am: Launching September 19

10:40 am: iPhone 5c 8GB $0, iPhone 5s starts at $99, iPhone 6 at $199, iPhone 6 Plus $299
10:40 am: iPhone 6 Plus: $299/$399/$499 for 16GB/64GB/128GB

10:39 am: 16GB/64GB/128GB for $199/$299/$399.
10:39 am: iPhone 6 starts at $199/$299/$399 with two-year contract.
10:39 am: iPhone 6 comes in Gold, Silver and Space Gray.
10:39 am: Silicone cases, coming in 6 colors, including Product Red. New leather cases in 5 colors.
10:38 am: Phones are environmentally friendly. Now Beryllium-free.
10:38 am: "They're the best we know how to make."
10:38 am: "These are the best phones ever made. iPhone 6 and iPhone 6 Plus.
10:38 am: Going over features announced in iOS 8 back in June.
10:37 am: New Health app works with M8 motion coprocessor to track fitness.
10:37 am: Both phones will come with iOS 8.
10:36 am: Single-shot HDR photos, using one picture and not multiple. HDR in videos as well.
10:36 am: Front-facing FaceTime HD camera, new sensor, f2.2 aperture that lets in 81% more light. Improved face detection and burst selfie mode.
10:35 am: Time-lapse photo mode. Focus pixels do continuous automatic focus when shooting video

10:34 am: New phone shoots video at 1080p at 30fps and 60fps, and slo-mo at 240fps, up from 120fps on the 5s.
10:33 am: "I'd bet the iPhone has become the world's most popular camcorder.
10:33 am: "No surprise we don't see a lot of "point and shoot cameras anymore.

10:32 am: Nearly identical cameras, but optical image stabilization coming to the 6 Plus only.
10:32 am: Better face and smile and blink detection.
10:31 am: Image stabilization is built into the A8 chip.
10:31 am: Macro photos work better now. New gyroscope makes stitching better on panoramic images.
10:31 am: Panorama mode is up to 43 megapixels now.

10:30 am: Much faster autofocus.
10:30 am: Focus Pixels: as the lens moves in and out, it can tell if an object is in or out of phase. Better autofocus. Next-gen tone mapping and noise reduction.

10:29 am: 8MP iSIght camera, True Tone flash, 1.5 micron pixels, 2.2 aperture, all-new sensor.
10:29 am: Great new cameras in the 6 and 6 Plus.
10:29 am: T-Mobile in US and EE in the UK, more will support over time.
10:28 am: Wi-Fi calling! Standard call made in same way, goes out over Wi-Fi, transitions onto cellular network seamlessly.
10:28 am: 802.11ac Wi-Fi included, 3x faster than 802.11n. 433Mbps.
10:27 am: VoLTE works with Verizon, AT&T, T-Mobile, and other carriers.

10:27 am: More LTE bands than any smartphone in the world.
10:27 am: Adding VoLTE - voice over LTE.
10:26 am: Supports 20 LTE bands, Apple working with 200 carriers around the world.
10:26 am: New advanced wireless specs, 150Mbps LTE.

10:26 am: Barometer, measures relative elevation from air pressure.
10:25 am: Measure elevation changes, such as climbing stairs.
10:25 am: New M8 motion coprocessor. M8 can now estimate distance.

10:25 am: iPhone 6, 50 hours audio, 11 hours video, 11 hours wifi browsing, 10 hours LTE browsing. 80/14/12/12 for the 6 Plus
10:24 am: Phil is back on stage. "That's not bad for their very first game!"
10:23 am: "We are so thrilled about the performance now possible on the iPhone 6 and Metal."
10:23 am: Teams attempt to destroy a crystal, a bit like capture the flag. There's a big Kraken that teams fight over to control and have them fight on their side.
10:22 am: Running at 60fps, 1.3 million polygons. New particle and lighting effects.

10:21 am: Multiplayer battle arena perfected for touch.
10:21 am: Demoing Vain Glory, a multiplayer battle game.
10:21 am: Epic, Ubisoft, Gameloft, EA, Disney. Super Evil co-founder Stephan Sherman coming on stage to demo.
10:20 am: Uses Apple's Metal platform for games, announced at WWDC. Lots of developers using it already.
10:19 am: 50% more energy efficient than the A7.
10:19 am: Fifty times faster than the original iPhone CPU and 84x faster on graphics.
10:18 am: Next generation A8 chip, 2 billion transistors and 64-bit support. Uses 20nm process. 25% faster CPU performance. 13% smaller chip than the previous A7.
10:16 am: Desktop-class scaler to take advantage of different screen sizes.
10:16 am: Legacy apps "just work".
10:16 am: Double touch the Touch ID button, and the whole display slides down to the lower half of the screen. One-handed mode.
10:15 am: Making phones easier to use one-handed.
10:14 am: New horizontal home screen view with dock on right side.
10:14 am: We took special advantage of the iPhone 6 plus. Messages app has new horizontal two-up display. Weather shows more of your day. Stocks show new horizontal view. Mail shows more. Keyboard on iPhone 6 plus shows more keys including dedicated keys for cut, copy and paste.

10:13 am: Text is incredible too.
10:13 am: Stunning displays, with more pixels, and thinner than ever before. Contrast is higher, blacks are darker, angles of view is broader. More to see.
10:13 am: Thinner than anything we've ever made. iPhone 6 is 6.9mm, iPhone 6 Plus is 7.1mm. Compared to 7.6 in the 5s.
10:12 am: 38% more pixels on the iPhone 6, 185% more pixels on the iPhone 6 Plus.

10:12 am: iPhone 6 has more than 1 million pixels. 2 million pixels on iPhone 6 Plus.
10:12 am: 1334x750, 326ppi. 1920x1080, 401ppi.
10:11 am: 4.7", 5.5" displays
10:11 am: Ion-strengthened glass, improved polarizer, photo aligned IPS liquid crystal, ultra thin backlight."
10:11 am: "They are new in every way."
10:10 am: Called "Retina HD" display.
10:10 am: Power button on the right side.
10:10 am: "I hope you'll agree that they're the best phones you've ever seen."
10:10 am: The iPhone 6, and iPhone 6 Plus
10:10 am: "Glass front, curves around the side to meet seamlessly with the aluminum back."


10:09 am: Showing new iPhone, extended camera lens, looks very similar to the leaks. Rounded edges
10:08 am: Showing an iPhone launch video.
10:08 am: "I couldn't be more excited and more proud to show it to you now.
10:08 am: "Today, we are launching, the biggest advancement in the history of iPhone."
10:06 am: Going straight into new phone updates. Too much else to cover.
10:06 am: Apple appears to be having some problems with the livestream feed.
10:05 am: On this stage, 30 years ago, Steve introduced the Macintosh to the world. On this stage, we introduced the iMac.
10:05 am: "It is great to be back in the Flint Center"
10:04 am: "Welcome!"
10:04 am: "Good morning!"
10:04 am: Tim Cook takes the stage to huge applause.
10:03 am: The keynote is starting with a new video.
10:02 am: "While others are distracted by the new, you focus on a whole new take"
10:01 am: Event is starting with an introductory video
9:58 am: Two minutes.
9:56 am: "Ladies and gentlemen, the presentation will begin shortly. Please take this opportunity to switch all devices to silent mode."
9:54 am: "Please take the edge of your seats" - Apple's website
9:54 am: You aren't imagining things... Apple's livestream is playing two songs at once.

9:49 am: And on Apple.com!
9:49 am: Ten minutes ahead of the event, the stream has gone live on the Apple TV.
9:45 am: Fifteen minutes before showtime, members of the media, Apple employees and invited guests are beginning to take their seats inside the Flint Center.
9:38 am: More celebrities are arriving, including actor Stephen Fry, musician Coco Lee and fashion editor Derek Blasberg. Unusual for Apple, the company is featuring celebrity and company executive tweets on its website.
9:07 am: Luminaries from a wide range of industries are in attendance, including Rupert Murdoch, Vogue's Anna Wintour, Dr. Oz and many more.
8:59 am: One hour ahead of the show, press is milling about the Flint Center speculating about what the mysterious white building is for.