Apple Planning Mid-September Event for 4.7-Inch iPhone 6, Timing of 5.5-Inch Model Unclear
According to 9to5Mac, Apple is putting the finishing touches on iOS 8 in advance of a September iPhone and iOS 8 launch event. Based on current projections, Apple is unsurprisingly tentatively planning to hold this iPhone-oriented event in mid-September. In line with previous reports, Apple is said to be aiming for a second product launch event in October for the iWatch and OS X Yosemite.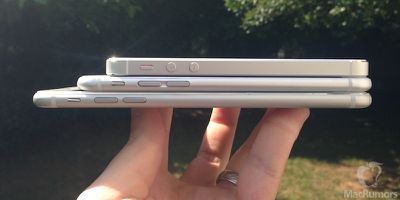 iPhone 5s with mockups of 4.7-inch and 5.5-inch iPhone 6 models
Similar to other recent September events, Apple is reportedly planning to focus on only iOS 8 and the iPhone 6 in this year's September event. While the 4.7-inch iPhone will headline the presentation, the debut of the 5.5-inch model is still uncertain as it is further behind the 4.7-inch model in both testing and manufacturing.
These people say that the second and third weeks of September are the mostly likely weeks for the event to be held, but they add that manufacturing uncertainties could alter the event's timeframe. A decision has not been finalized, and sources made it clear that the plans are in flux.
This information aligns with an earlier report that suggests Apple may push off the 5.5-inch model until 2015.
The report claims iOS 8 is on track for its public release this fall, with a fifth and final beta version expected on Monday, August 4, although a separate report from BGR claims a sixth beta is planned for Friday, August 15. A golden master version may debut a few weeks later at the end of August or early September. As rumored, dual-screen multi-tasking for the iPad and Maps improvements are still in the works, but these features are not expected to be available at launch and would come in a later iOS 8 update.
Following the September event, Apple also is planning a second event in October that will showcase the iWatch, Apple's entry into the wearables market. This late fall event also will be used to discuss OS X Yosemite as well as unveil new iPad models. The iPad update is expected to be a modest refresh with hardware additions such as Touch ID and a faster A8 processor.