Apple Recruiting Pro Athletes to Test iWatch's Fitness Capabilities
Apple's iWatch is currently being tested by professional athletes from the MLB, NHL, and NBA to measure its fitness capabilities in rigorous training environments, reports 9to5Mac, citing a source with knowledge of the testing. Apple has reportedly invited several athletes, like LA Lakers player Kobe Bryant, to its Cupertino campus to discuss the iWatch.
Apple is said to be working with Los Angeles Lakers basketball player Kobe Bryant, Los Angeles Kings right winger Dustin Brown, and a few other star athletes, including a player from the Boston Red Sox, on the testing project. The athletes are said to have signed non-disclosure-agreements regarding the existence of the upcoming Apple wearable device.
Kobe Bryant was seen on the Apple campus back in May and is said to have met with Apple's chief designer Jony Ive, who has a leading role developing the iWatch. The athletes are likely testing out the multitude of health and fitness sensors built into the device, said to measure everything from sleep quality to heart rate to provide an overall picture of health.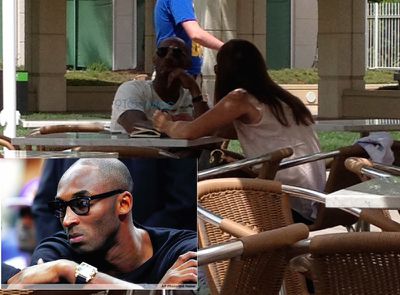 Kobe Bryant at the Apple campus in May, image via 9to5Mac


The source also reiterates that Apple's iWatch will be "positioned as a fashion accessory," which is in line with previous reports from KGI Securities analyst Ming-Chi Kuo. Kuo has predicted that Apple will release the iWatch at multiple price points and in a variety of materials, competing with low and high-end watches alike. At the higher end, the iWatch could retail for thousands of dollars.
Both former Yves. St. Laurent CEO Paul Deneve, who serves as a vice president, and Angela Ahrendts, in charge of retail stores, are said to be involved in marketing and strategies for selling fashion products at Apple locations.
According to recent reports from reputable news outlets, the iWatch will come in at least two sizes, with one device having a screen size of 2.5 inches. The design is said to feature a slightly rectangular face that protrudes slightly from a band to create an arch shape around the wrist. The iWatch, which may launch at an October event, is also said to include a sapphire crystal display, a touch interface, integration with existing iOS devices, and wireless charging capabilities.