Apple's 'iWatch' Said to Arrive in Separate 1.7- and 1.3-Inch Display Sizes for Men and Women
Last month, NPD DisplaySearch analyst David Hsieh offered an overview of Apple's display plans for future devices, based on sources in the company's supply chain. Among the products included in Hsieh's analysis was Apple's long-rumored "iWatch" smart watch device, with Hsieh only briefly noting that Apple appeared to be looking to source both 1.3-inch and 1.63-inch flexible AMOLED displays with resolutions of 320 x 320 pixels.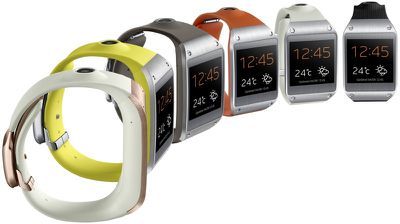 Samsung's Galaxy Gear smart watch
According to the Korea Herald
(
via Unwired View
), Hsieh offered a few additional details on Apple's plans at a conference today, noting that the company will be using the two sizes to offer watches targeting men with a larger 1.7-inch display and women with a smaller 1.3-inch option.
Apple's wearable iWatch is expected to come with a 1.7-inch OLED display for men's watches and a 1.3-inch OLED screen for women, David Hsieh, DisplaySearch's Vice President of the Greater China Market, said at a conference today in Taiwan, citing Apple sources. [...]

It is yet to be confirmed whether the displays will be flexible but sources said it was a possibility, since Apple will want to upstage Samsung's Galaxy Gear.
Separate from Hsieh's comments, the report claims that Apple could introduce the iWatch as soon as late this year, but that appears to be extremely unlikely given that it is already mid-November and that recent rumors have pointed to a late 2014 timeframe for launch.
Just days ago, fellow NPD DisplaySearch analyst Paul Gagnon noted that Apple appears to have put its major television product plans on hold for the time being in order to focus on wearables such as the iWatch. Apple's ambitious TV plans have reportedly been stymied by difficult negotiations with content providers, with the company feeling that it needs to have the content side in place before being able to offer something more substantial than the current Apple TV box on the hardware side.